PPC (Pay-per-Click) advertising brings twice the number of visitors compared to other digital marketing channels.
It's one of the leading eCommerce advertisement strategies of modern-time marketing, where the brand pays the publisher only when the ad link is clicked. A PPC campaign is usually run on platforms like search engines, social media, or websites belonging to the Display Network, featuring ads to the interested audience.
Whether big or small, Pay-per-Click advertising perfectly works for eCommerce businesses of all types and sizes, bringing sales from day 1 and generating an ROI of up to 200%.
High-quality PPC advertising can become a real game-changer for your eCommerce business, given you know how to launch them properly. But when the time is limited, or you don't have specialized knowledge and skills, the best thing to do is to hire professional eCommerce PPC experts. 
An experienced eCommerce PPC agency will help you create high-converting ads and cover the full cycle of PPC management, including monitoring ad spending and analytics and optimizing the campaign for better results. 
As an industry leader in PPC services, we recognize the significance of creating a distinct and powerful PPC management strategy. With countless new players entering the market every day, the demand for professional support is at an all-time high. To facilitate your search for the most suitable and well-versed service provider, we have compiled a list of some of the top eCommerce PPC companies, sharing the services and offers, used platforms, customer ratings, and other important facts.
Why Using PPC For eCommerce Is Worthwhile
Promoting your online store with the help of well-planned PPC advertising can bring some valuable benefits:
Low initial investments and high ROI
While getting a spot on the first page of Google's search results through organic means demands a great deal of perseverance and a significant investment of time and resources, PPC advertising is an affordable and effective promotional method bringing immediate results. Hiqh-quality ads have a good conversion rate and generate around $2 for every 1$ invested. 
Completely data-driven approach
Another crucial advantage of PPC campaigns is they provide actionable insights into the reach and conversions, helping businesses make better decisions and manage their budget wisely. Investing in PPC guarantees substantial returns on investment, given that the appropriate keywords are utilized and your target audience is reached through relevant channels.
Customizable and scalable campaigns
With PPC, you can control your budget and adjust your ad campaigns as per your changing business needs. Moreover, you have the flexibility to target specific audiences, select ad placement options, and tweak your ad copy to maximize performance. This scalability and customization make PPC ads a highly effective way to reach and engage with your target audience while staying within your budget.
Using PPC, you can rest assured that every penny invested will yield fruitful outcomes. As long as you employ the appropriate keywords and target the intended audience on relevant channels, a whopping 65% of potential purchasers are inclined to click on the advertisements displayed in search results.
The Best eCommerce PPC Agencies And Services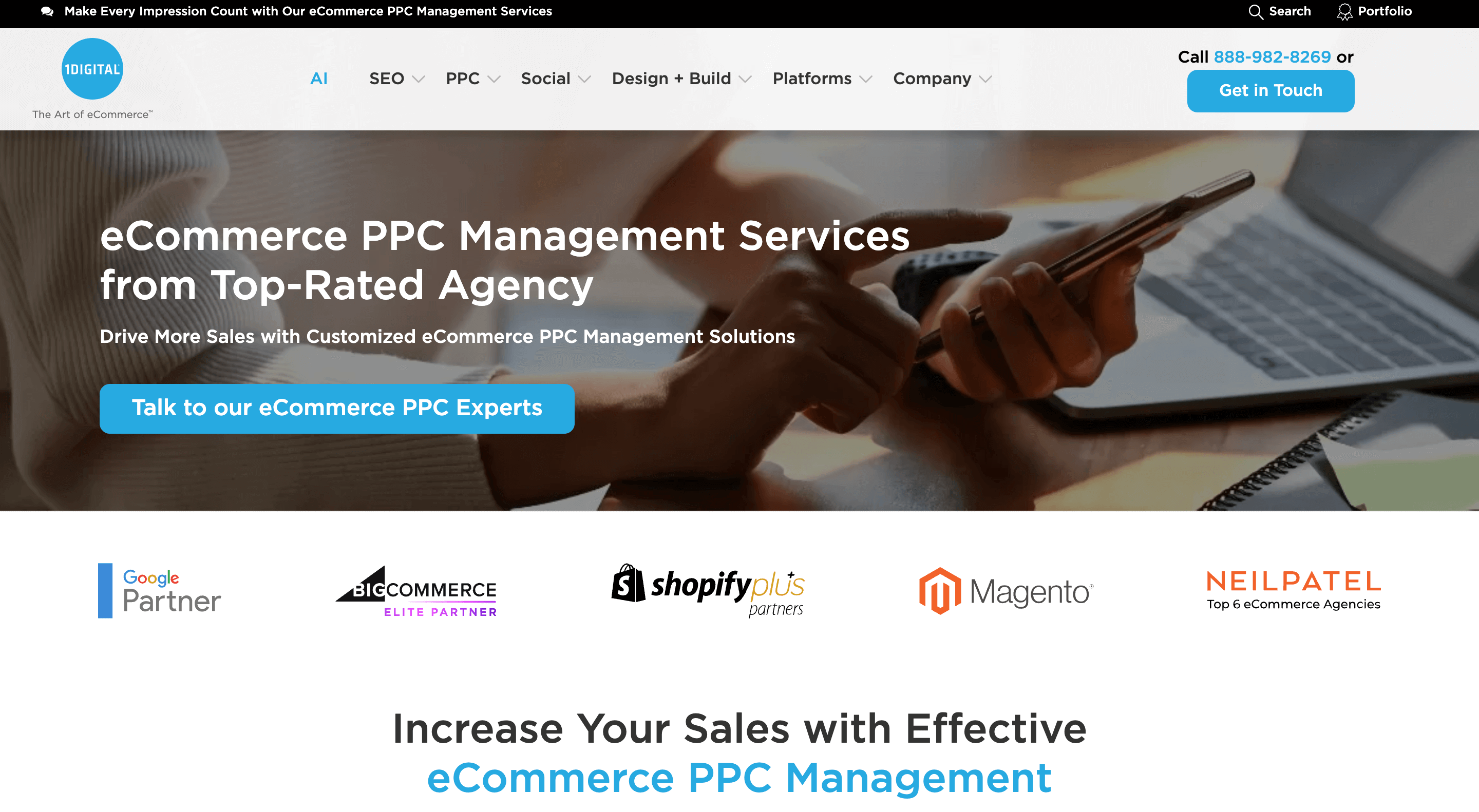 Top on our list is 1Digital Agency, one of the best eCommerce digital agencies based in Florida. Founded in 2012, this experienced company has served clients from various industries with a focus on eCommerce, Automotive, and Legal services.
1Digital Agency has a talent pool of 50+ experts proficient in numerous areas, including but not limited to eCommerce SEO, eCommerce PPC, and online store development and design. The team has extensive experience running customized eCommerce PPC campaigns for stores built with Shopify, WooCommerce, Magento, etc.
The list of their eCommerce PPC services includes:
So, if you are looking for a superior PPC agency with a decade of eCommerce success and a comprehensive batch of proven advertising strategies, contact them today.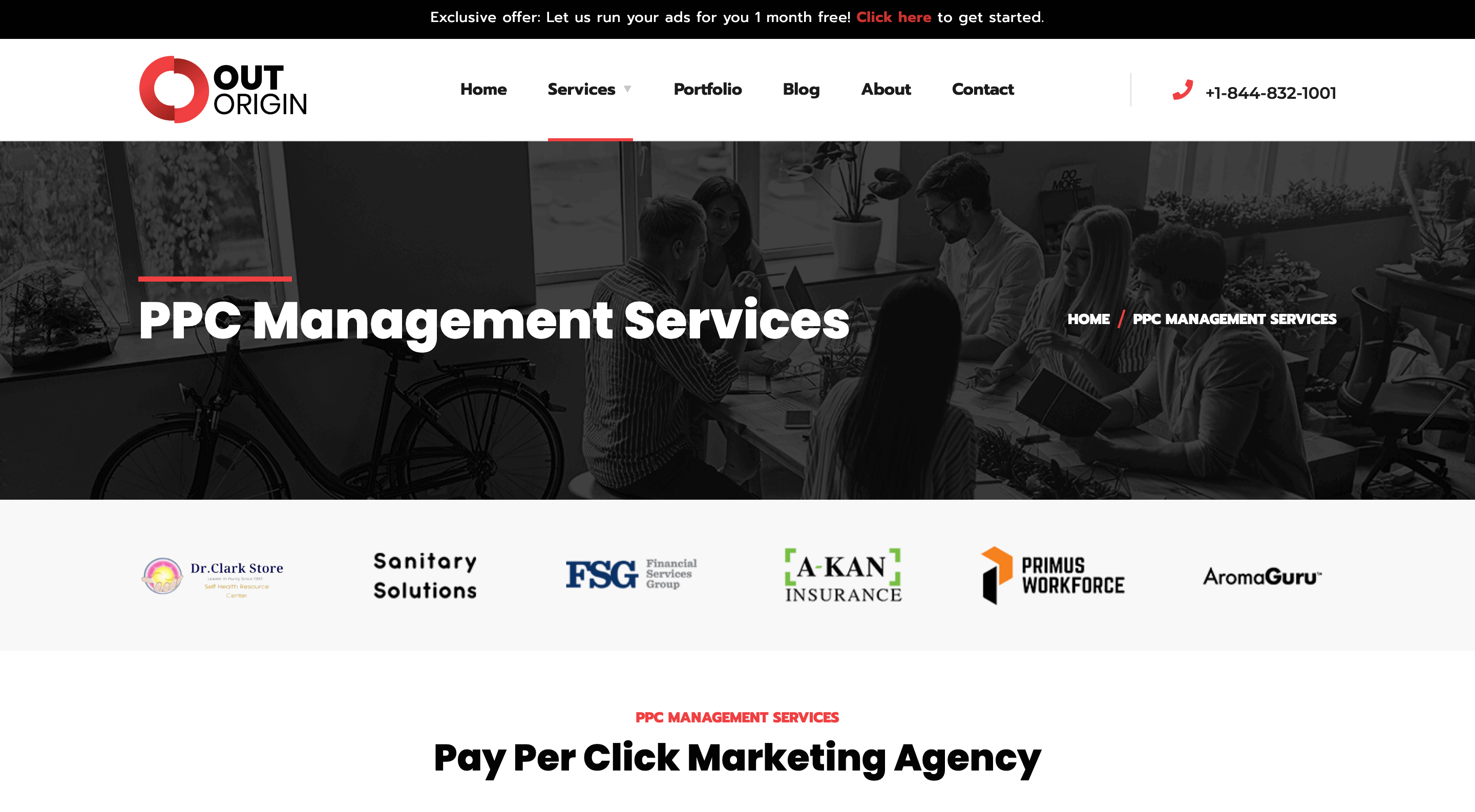 Out Origin is a leading PPC management agency providing customized IT and digital marketing services to world-renowned organizations since 2014. Based in Canada, but a majority of their customers are in the USA, they focus on creating websites that not only look good but also sell well through high-converting PPC campaigns. Their team aims to establish long-term relationships with clients by delivering target-oriented digital marketing strategies that drive businesses to new heights of success.
Out Origin's diligent and proficient team of top-notch experts provides sustainable and satisfactory IT solutions for both small and large-scale businesses. They offer a comprehensive range of PPC management services:
Google Ads
Microsoft Bing Advertising
TikTok Advertising
Facebook Advertising
Instagram Advertising
YouTube Advertising
With the help of Out Origin's digital marketing strategies and creative IT solutions, businesses can drive high-quality organic traffic and increase conversions in a constantly evolving digital landscape.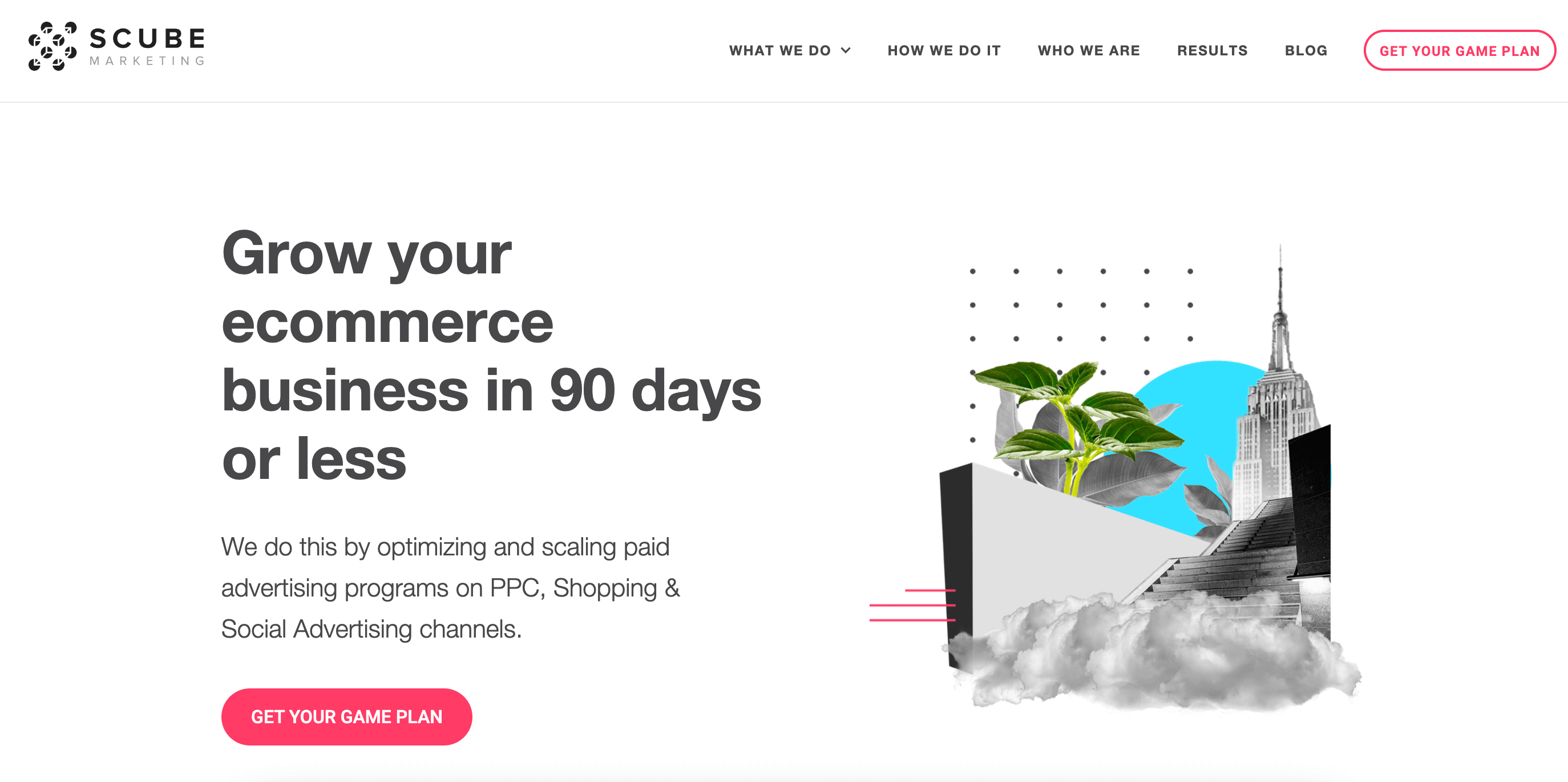 Scube Marketing is one of the best eCommerce PPC companies operating in Chicago, Illinois. The company delivers unique solutions to drive eCommerce growth with PPC, shopping, and social media ads to B2B, B2C, and D2C clients. 
Their small yet knowledgeable team comprising SEO experts and ad managers guarantees sustainable growth of your eCommerce business in less than 90 days.
They provide a complete range of eCommerce PPC services:
Google Ads (Keyword Testing, Bid Management, and Budget Optimization)

Facebook & Instagram Ads (Audience Targeting, Ad Testing, and Shopping Feeds management)

Google Shopping

Remarketing & Display Ads

Pinterest Ads (Audience Targeting, Ad Testing, and Shopping Feed management)
Founded in 2006, HawkSEM is a leading PPC agency focused on ROI-driven strategies. HawkSEM helps companies improve their marketing results through their exclusive ConversionIQ System, a three-step approach to digital marketing that drives fantastic conversions.
HawkSEM's success-conscious and ROI-focused team is here to help you succeed in a highly competitive market and continually improve your bottom line. Whether you require PPC management, SEO, email marketing, or social media marketing strategies, HawkSEM is committed to providing you with end-to-end solutions aimed at achieving your key business objectives.
From strategy to strong partnership – HawkSEM follows a unique approach to deliver exceptional results for any business looking to drive sustainable growth through digital marketing. Request a free consultation with their first-class professionals to discuss your specific needs and see how the agency can take you forward.
Founded in 2019, Berriman Web Marketing is a leading digital marketing agency based in Burlington, Vermont, offering premium PPC services to clients throughout New England and beyond. In addition to PPC, the Berriman agency provides SEO, Google Ads and paid search marketing, Facebook Ads, eCommerce marketing, and digital media buying services.
With over a decade of experience specializing in SEO and pay-per-click advertising, PPC Advertising Professional Mitch Berriman and his agency hold numerous certifications for delivering exceptional performance. They have worked with many Vermont and New England-based businesses across various ad platforms with every size budget.
Working with low-budget startups and clients with investments exceeding $60,000 per month, the agency delivers outstanding results regardless of your requirements, business size, and industry. Additionally, they provide monthly reviews, custom reports, on-site visits, and highly-experienced support services.
By employing best practices, optimal bidding strategies, and superior expertise, Berriman Web Marketing can become your reliable partner to trust with any kind of digital services to improve your online presence and drive more sales to your website.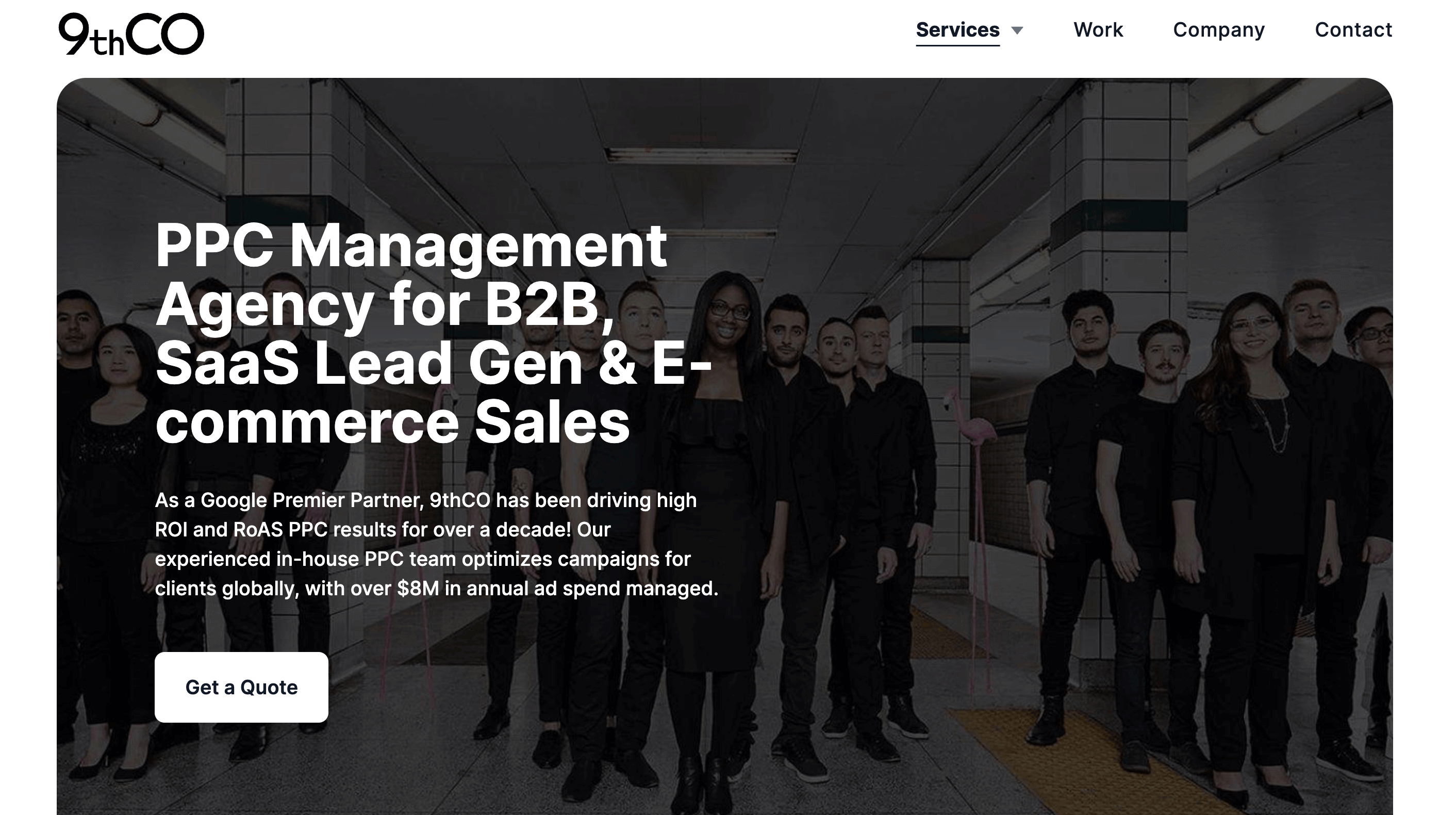 9thCO is a renowned eCommerce PPC management services provider headquartered in Toronto, Canada, catering to B2B, B2C, and SaaS businesses with customized solutions. They specialize in creating modern and powerful digital products, reinforcing them with cutting-edge marketing strategies to generate great profits. Their goal is to help clients maximize their potential by driving more leads, boosting store visits, and delivering high returns on ad spend.
The company's top-level PPC experts bring extensive expertise to the table, optimizing campaigns for clients globally and managing over $8 million in annual ad spend. 9thCO managed to reduce clients' cost-per-acquisition (CPA) by over 50% in multiple campaigns, helping them to achieve unprecedented growth and success. Applying a careful combination of PPC management, A/B testing, and data analysis, they fine-tune campaigns to deliver maximum results based on the client's budget.
Being a premier Google Partner, at the heart of the company's operations is its commitment to building long-term client relationships, which they have proven with numerous successful partnerships. With over two decades of experience driving high ROI and RoAS PPC results and 19 industry accolades, 9thCO has gained extensive knowledge and experience, helping businesses across North America and Europe strengthen their online presence.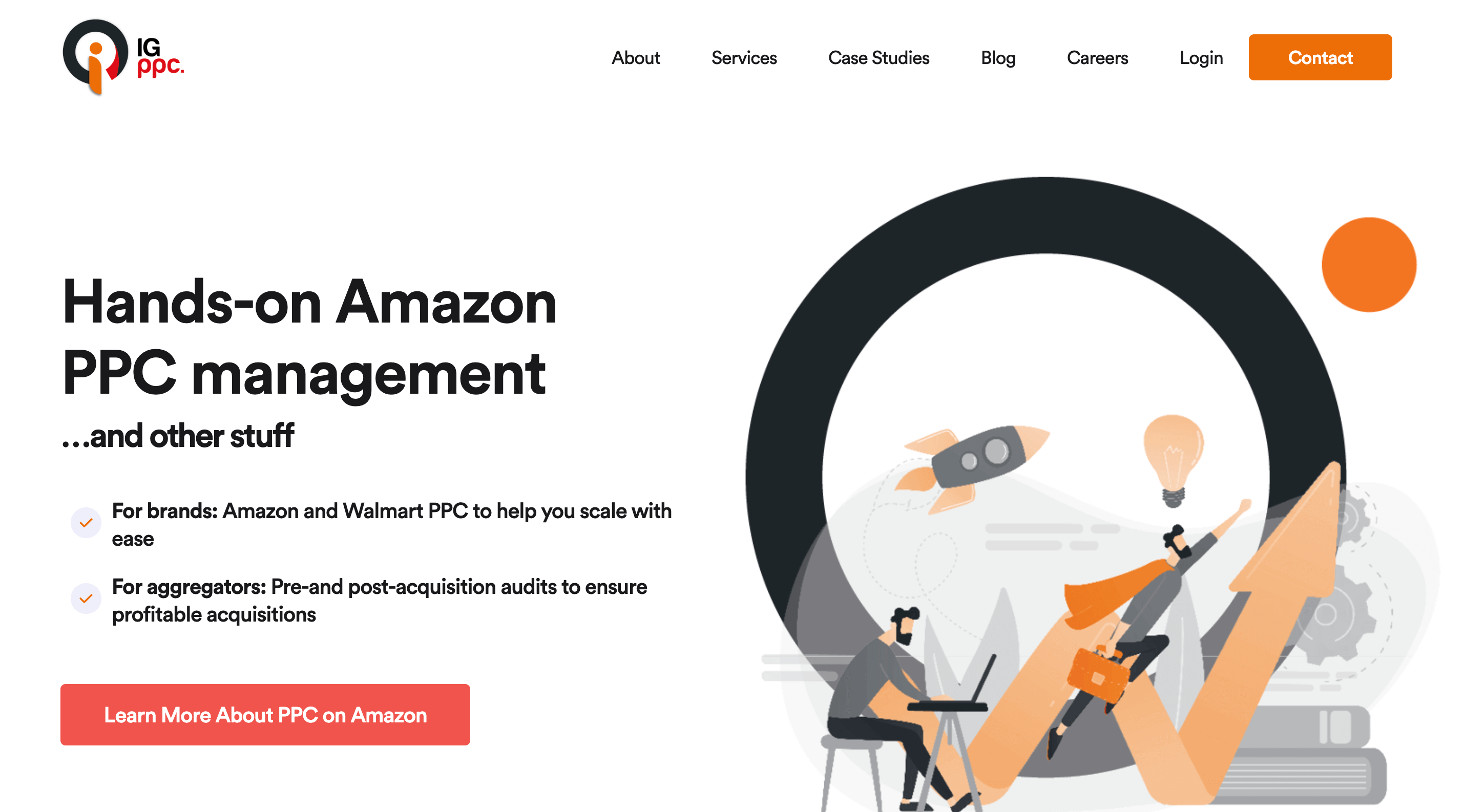 IG PPC is a leading eCommerce marketing agency that helps Amazon sellers achieve category dominance on the platform through premium SEO and PPC marketing services. With a focus on ad customization and strategic planning, IG PPC's team works closely with clients to efficiently scale their brands and outrank their competitors. And boasting a proven track record of success, including trusted partnerships with 7-9 figure Amazon businesses and aggregators, IG PPC is a go-to partner for sellers looking to improve their performance.
This top-notch team brings a level of expertise and nuanced understanding that machines can't replicate. They offer clients flexibility and peace of mind with month-to-month contracts and dedicated account managers who monitor metrics and provide tailored guidance and support.
Applying responsive communication, a holistic approach, and extensive expertise in Amazon PPC management, the agency has brought over $1.5 billion in annual sales managed in 2021 and a 95% client retention rate, helping sellers succeed on the platform and beyond.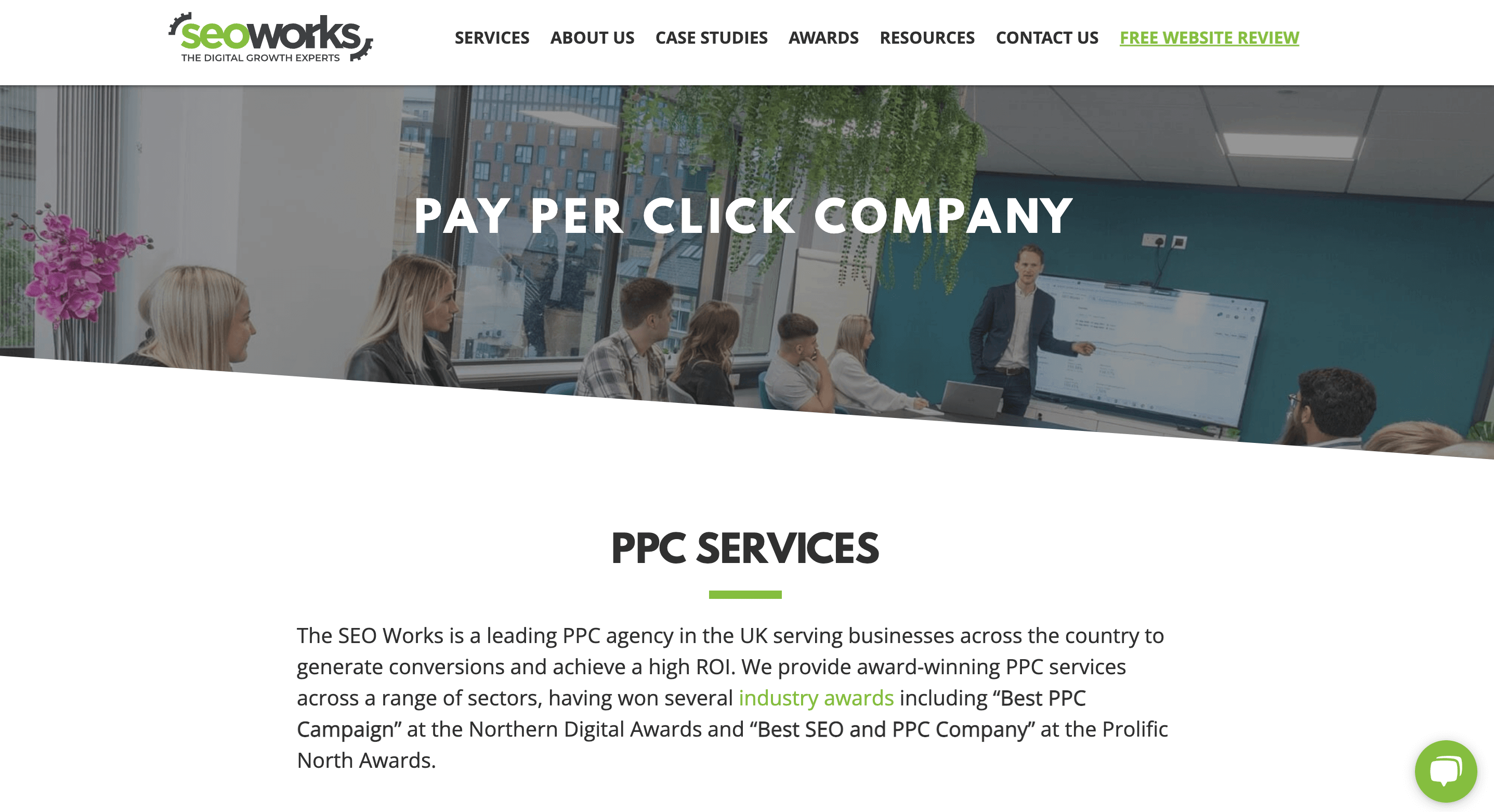 The SEO Works is an award-winning PPC agency that offers a broad range of digital marketing services to leading brands and SMEs. Specializing in Pay-per-Click, Google Ads Management, Google Shopping, and Paid Social Ads, the agency covers every aspect needed to run a successful advertising campaign with the help of top-tier Google, Microsoft, and Bing PPC Account Managers.
With a decade of experience launching successful Digital PR and PPC campaigns for various sectors, including eCommerce, Medical, B2B, Education, and Professional Services, the agency has successfully delivered significant growth for hundreds of global organizations. Following a data-focused approach, The SEO Works ensures your business gets more customers online within the allocated budget.
The expert team at The SEO Works includes content creators, web technologists, and experienced digital marketers who provide tangible and measurable results using proven techniques, intricate technical knowledge, and cutting-edge toolkit. With numerous national and international awards for their work, the agency is a reliable partner for any business looking to increase brand visibility and achieve a significant return on investment.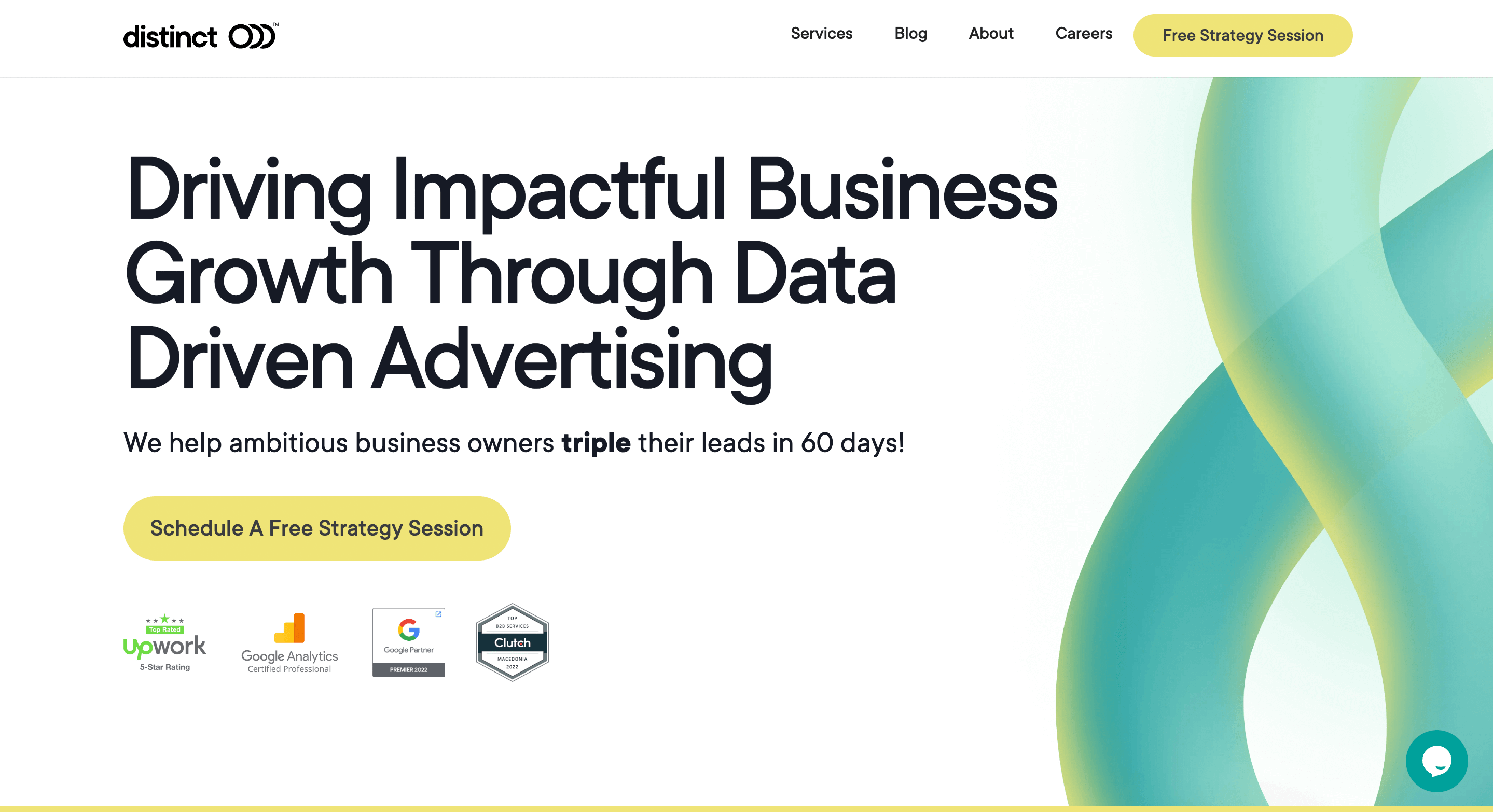 Distinct PPC is not just any PPC agency on the market. With over 9 years of experience in digital marketing, they have mastered the art of eCommerce pay–per–click advertising, lead generation, and funnel building. Their award-winning team of marketing specialists, designers, and consultants perfectly knows how to handle clients' budgets most effectively, ensuring no penny goes to waste.
Going above and beyond, ensuring their customers get the best results possible, Distinct has become a reliable partner for the world's most popular consumer brands and innovative startups. The company strives to align its expert knowledge and skills with your business goals with yours to fuel your sales and lead generation by leveraging the power of paid advertising services.
With 250+ successful projects and 100+ positive reviews, they are proven masters in the following areas:
Search

Engine Advertising
Paid Social Media Ads
Google Ads
Bing Ads
GDN
Google Shopping Ads
YouTube Ads
As a certified Google partner with an impeccable reputation, Distinct helps both big and small businesses boost their brand visibility and sales through next-gen advertising strategies.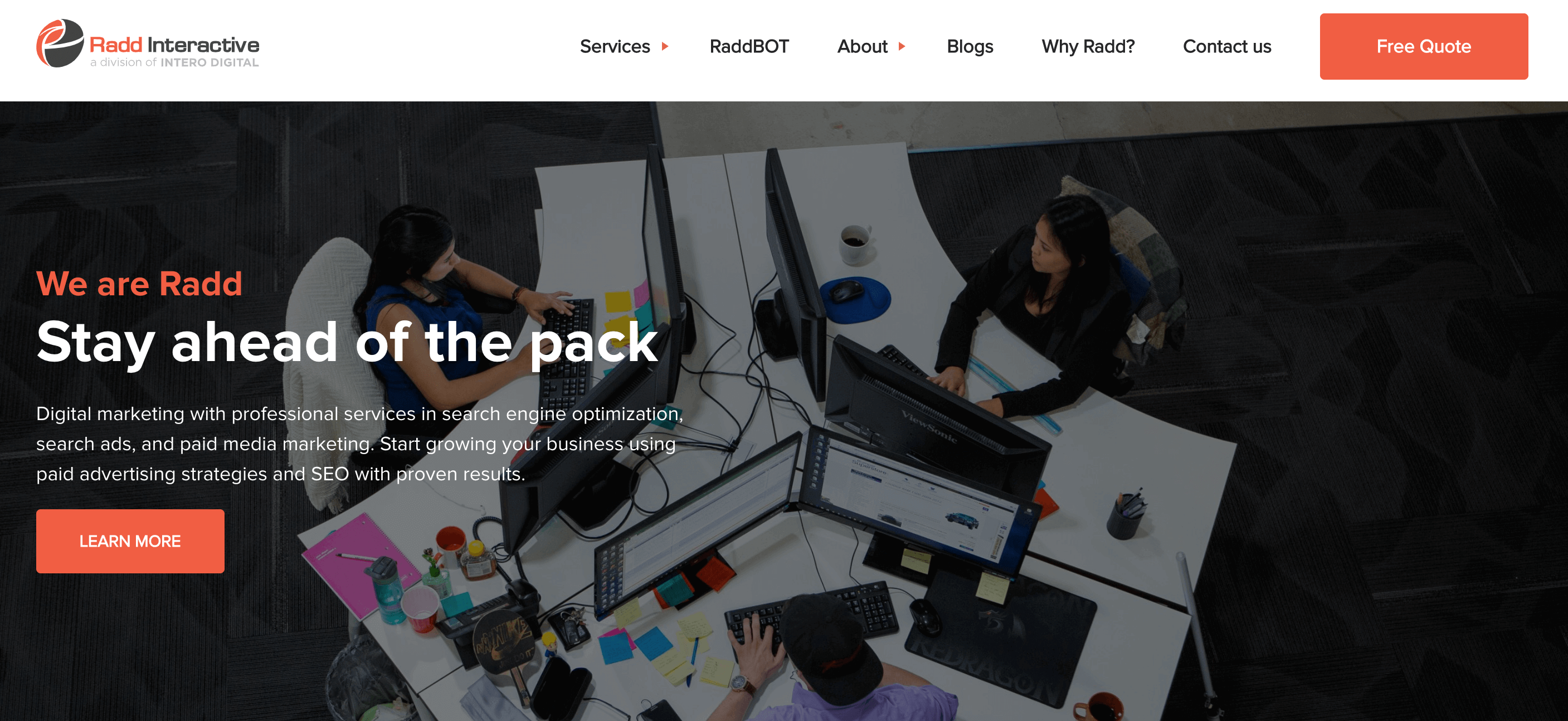 Radd Interactive is a team of top-level digital marketing experts who provide top-notch search engine optimization, paid media, search ads, and social marketing solutions. The company has accreditation from leading platforms such as Google, Bing, Big Commerce, and Clutch. Their professionals utilize modern strategies and tools to help businesses grow their market share as well as revenue. 
Radd Interactive provides services for major PPC ad networks such as Google & Bing, Facebook & Instagram, LinkedIn, and Amazon. Under PPC services, they ensure account audit, performance tracking, insights & pattern analysis to ensure every paid click matters.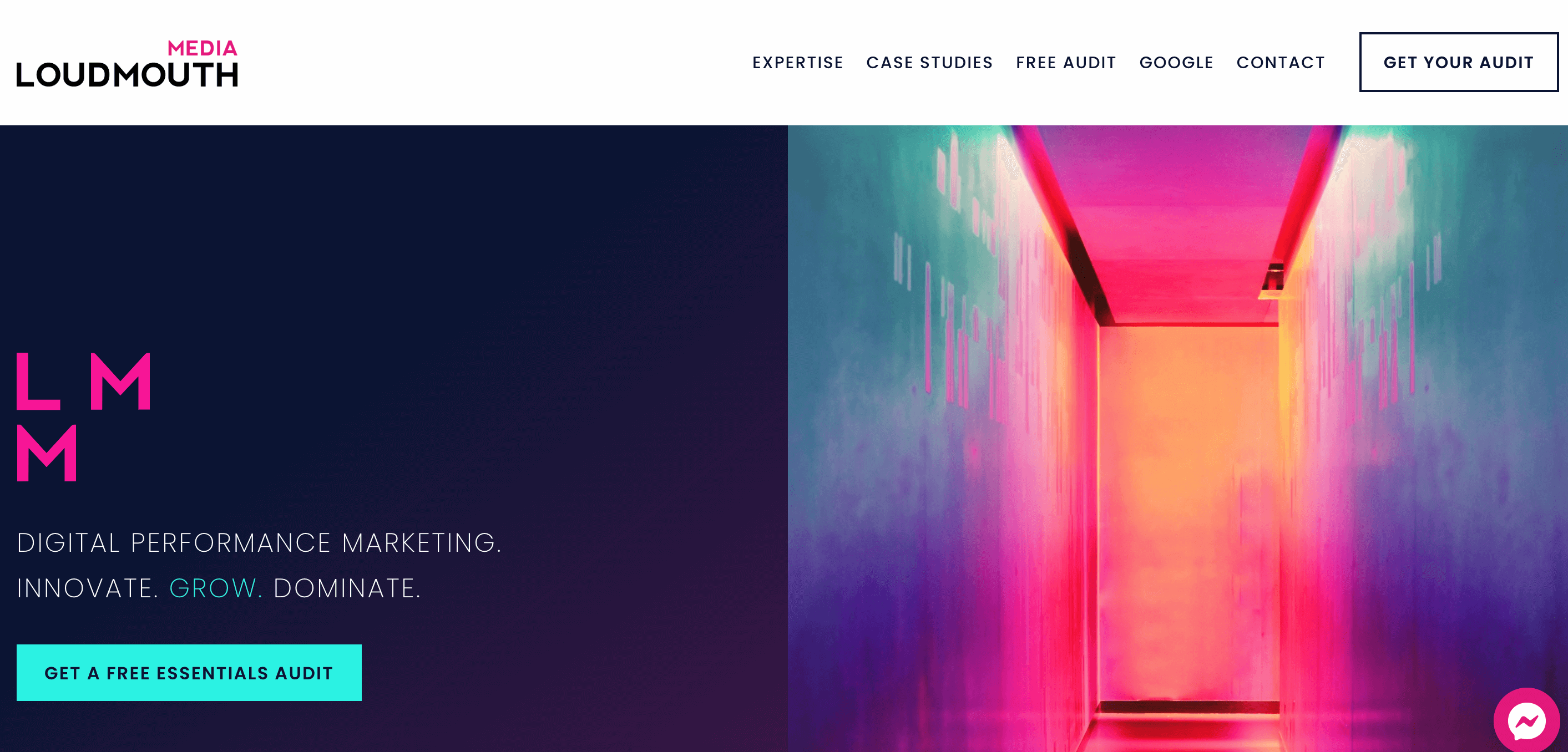 With a 5-star rating and around 50 positive reviews, Loud Mouth Media is among the best eCommerce PPC agencies present on Clutch. It's headquartered in Belfast, UK but also has offices across Dublin, London, and Glasgow. Loud Mouth Media is a Google Premier Partner ranked in the top 3% in performance marketing across UK and Ireland. 
The company provides all sorts of digital marketing solutions ranging from eCommerce Pay-per-click services to SEO services. Their PPC services majorly include paid search marketing across Google and Bing and paid social marketing across Facebook, Instagram, TikTok, and LinkedIn. In addition, the company also provides lead generation and eCommerce PPC audits.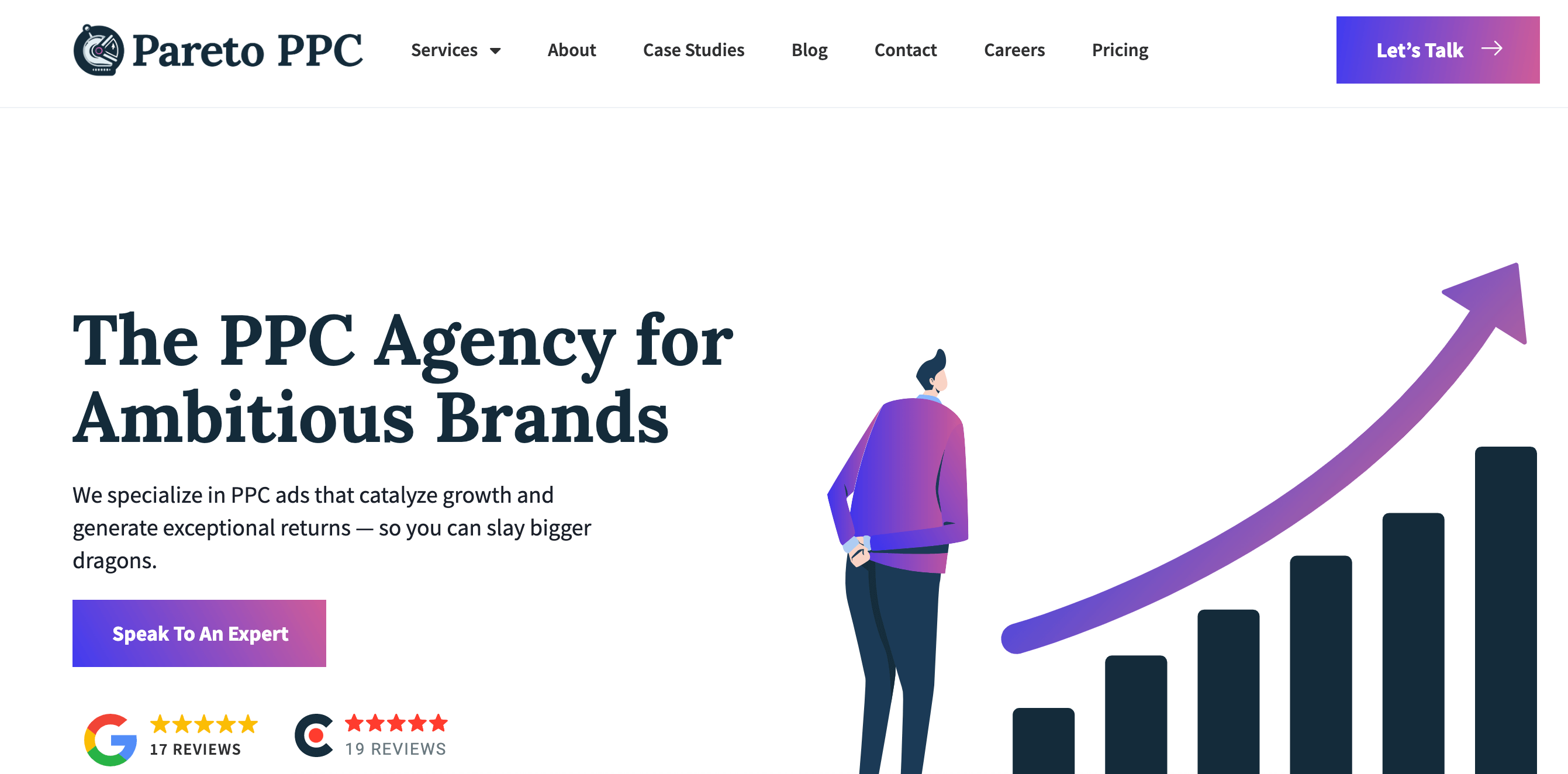 Founded by ex-eBay employees, Pareto PPC is another top-rated digital marketing agency based in Philadelphia, Pennsylvania. Founded in 2019, the company majorly focuses on PPC advertising along with digital strategy and SMM (Social Media Marketing) for more significant players in the market. The good news is they offer a free 30-minute call where they provide PPC recommendations by first-class experts. 
The list of their PPC services includes running and managing Google Ads, Google Shopping, Facebook & Instagram Ads, Microsoft Ads, and YouTube Ads. In addition, the agency provides a package of marketing & optimization services, including Growth Marketing, Insights & Analysis, Campaign testing, and much more.
Their pricing starts from Ignition ($4000/month) to Orbit ($12000/month).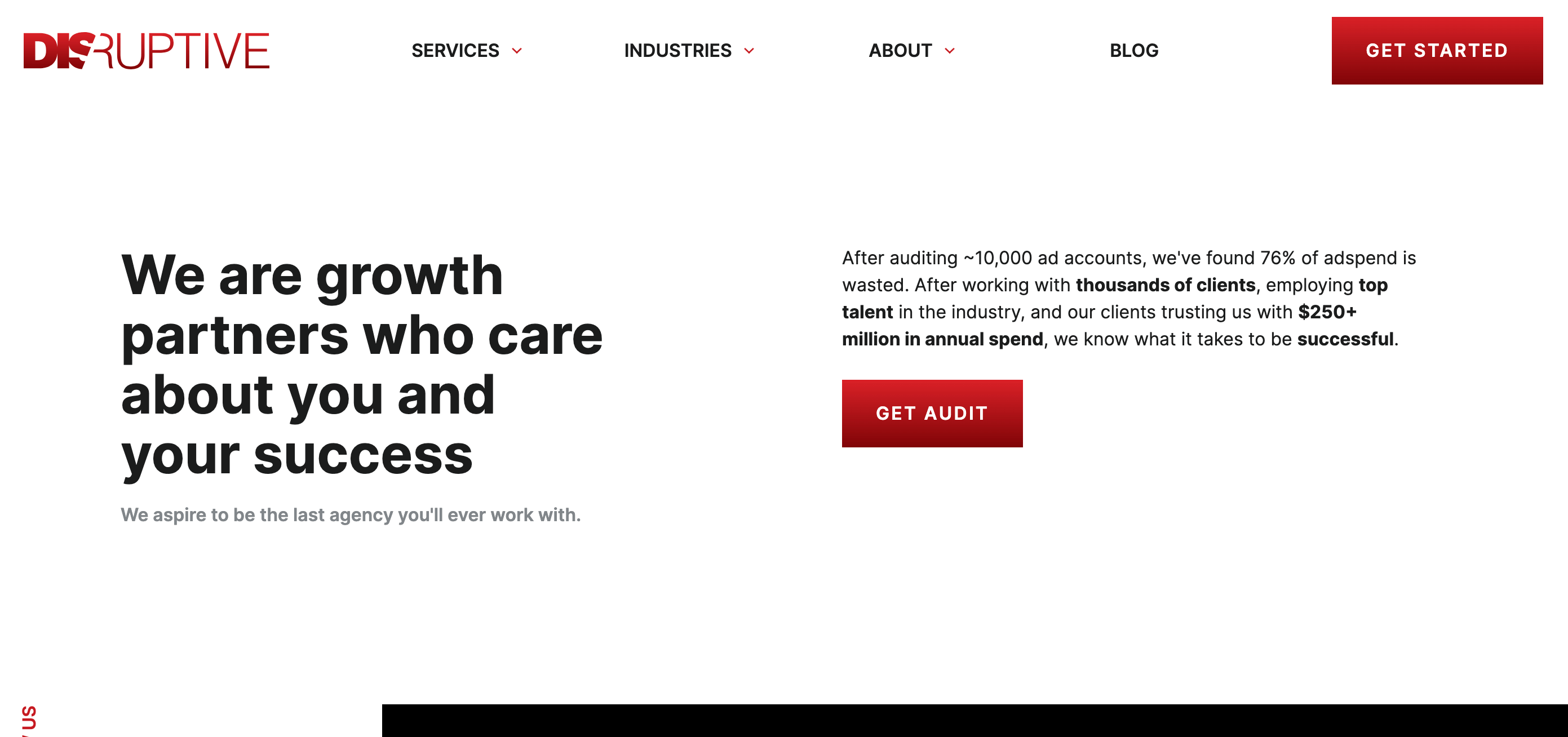 Disruptive Marketing is one of the best eCommerce pay-per-click companies, with 300+ reviews and a 4.8-star rating on Clutch. They believe in making the most of every dollar spent on marketing, which may be why the agency handles over $250 million in annual sales spend. The company was founded in 2011 and has grown to a team of more than 120 people. 
Disruptive Advertising provides a wide range of eCommerce PPC services:
Google Ads

Microsoft (Bing) Ads

YouTube Ads

Retargeting

Social Media Ads (Facebook & Instagram Ads, Linkedin Ads, TikTok Ads, and Twitter Ads)
Along with PPC services, they provide complete SEO and creative marketing solutions.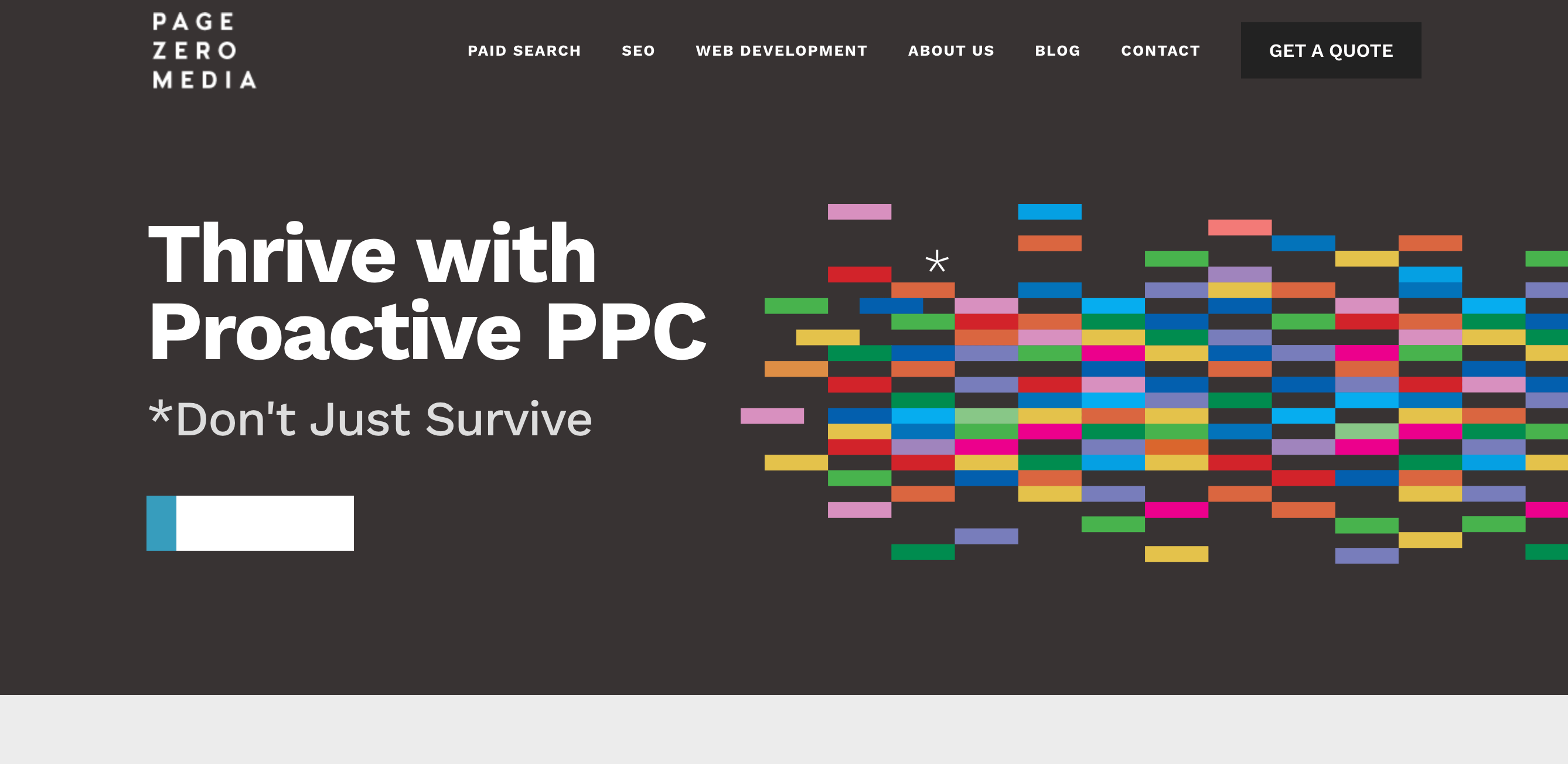 Page Zero Media is another leading contender amongst the best eCommerce PPC agencies. The firm is based in Toronto, Canada, and is one of the earliest eCommerce PPC management agencies, founded in 2001. They are also a Google Ads Premier and a Bing Select Partner. Their PPC experts have industry experience of 10+ years and have brought growth and revenue for eCommerce, Finance, IT, and Consumer Products businesses. 
The list of their PPC services includes:
Providing PPC services is not about creating campaigns and generating revenue, but it is also about monitoring the metrics, and that's something Page Zero does perfectly. Visit their site today to get a free Account Diagnosis of your eCommerce business.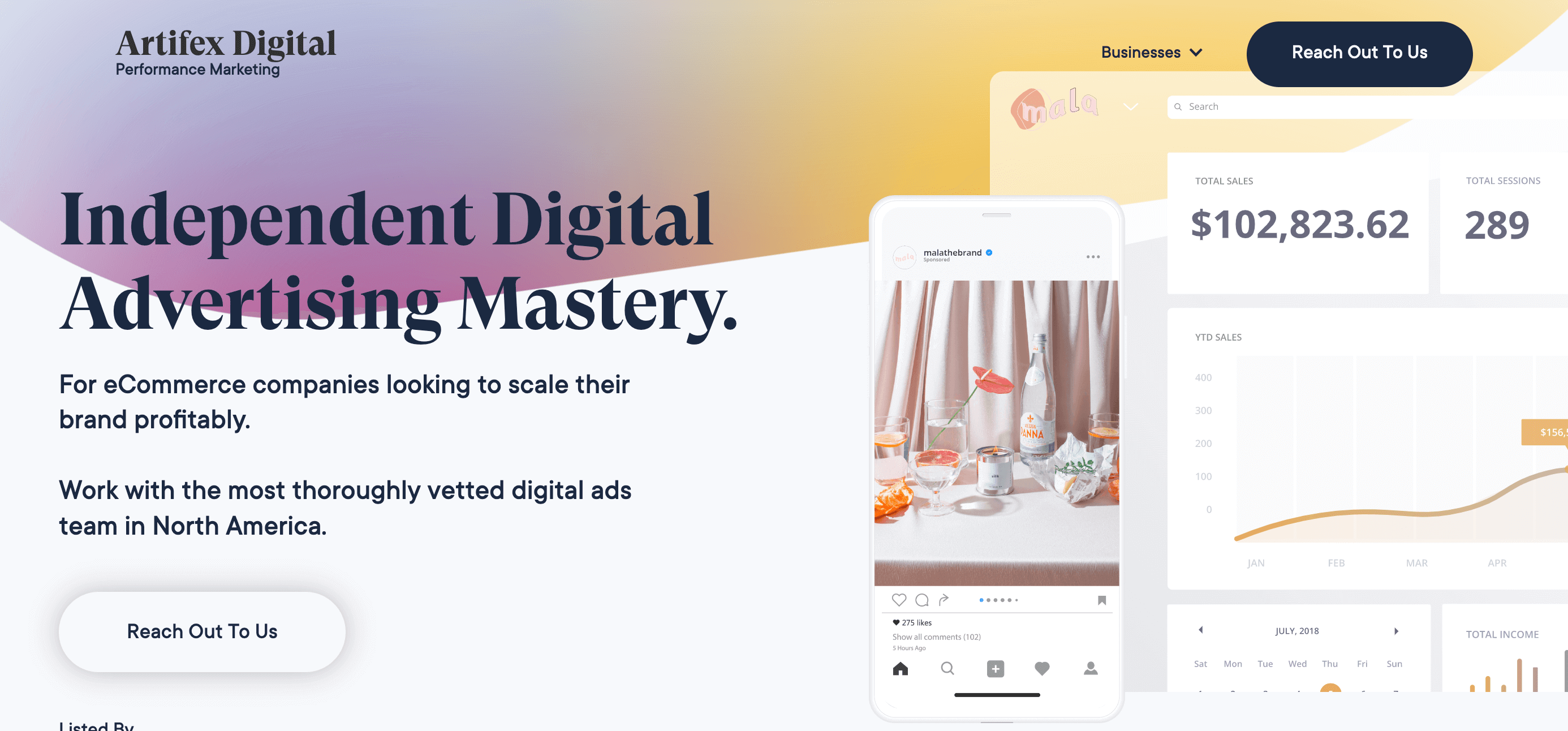 Artifex Digital is a performance marketing firm from Vancouver, Canada providing personalized solutions to brands that aspire to generate profit. It exclusively provides paid marketing solutions to eCommerce, Entertainment, and SaaS startups. Founded in 2019, the firm has partnered with over 150 brands across digital channels in just about 3 years. 
Artifex Digital provides complete PPC solutions:
Social Ads (Facebook, Instagram, Snapchat, TikTok)

Shopping Ads

Search Engine Ads (Google, Bing, YouTube)

Dynamic Remarketing
All these services come along with Monthly Account Auditing and Management.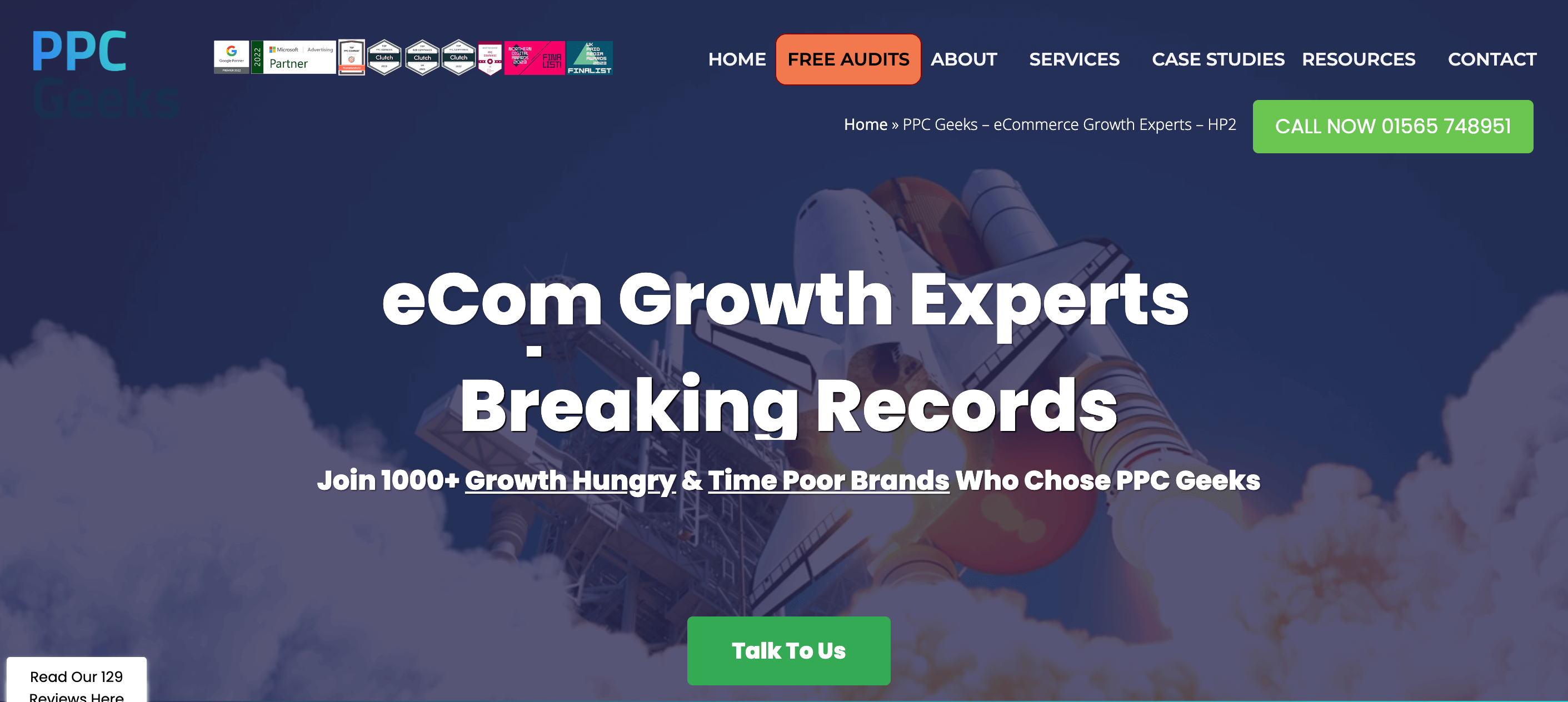 PPC Geeks is one of the best eCommerce PPC agencies in the UK, providing a wide range of PPC Ads services. Based in Knutsford, UK, the agency has helped over 1000+ global clients to gain revenue and growth in their eCommerce business. PPC Geeks is a certified Google Premier Partner and ranks among the top 3% of agencies. Speaking of stats, they helped their clients gain around 10x ROAS(Return-on-ad-spend) in Q1 & Q2 of 2022.
They provide eCommerce PPC management, PPC Audit & Strategy, and PPC Ads services. Their advertising platforms list includes Google Ads, Bing Ads, Facebook Ads, TikTok Ads, LinkedIn Ads, Amazon Ads, and much more.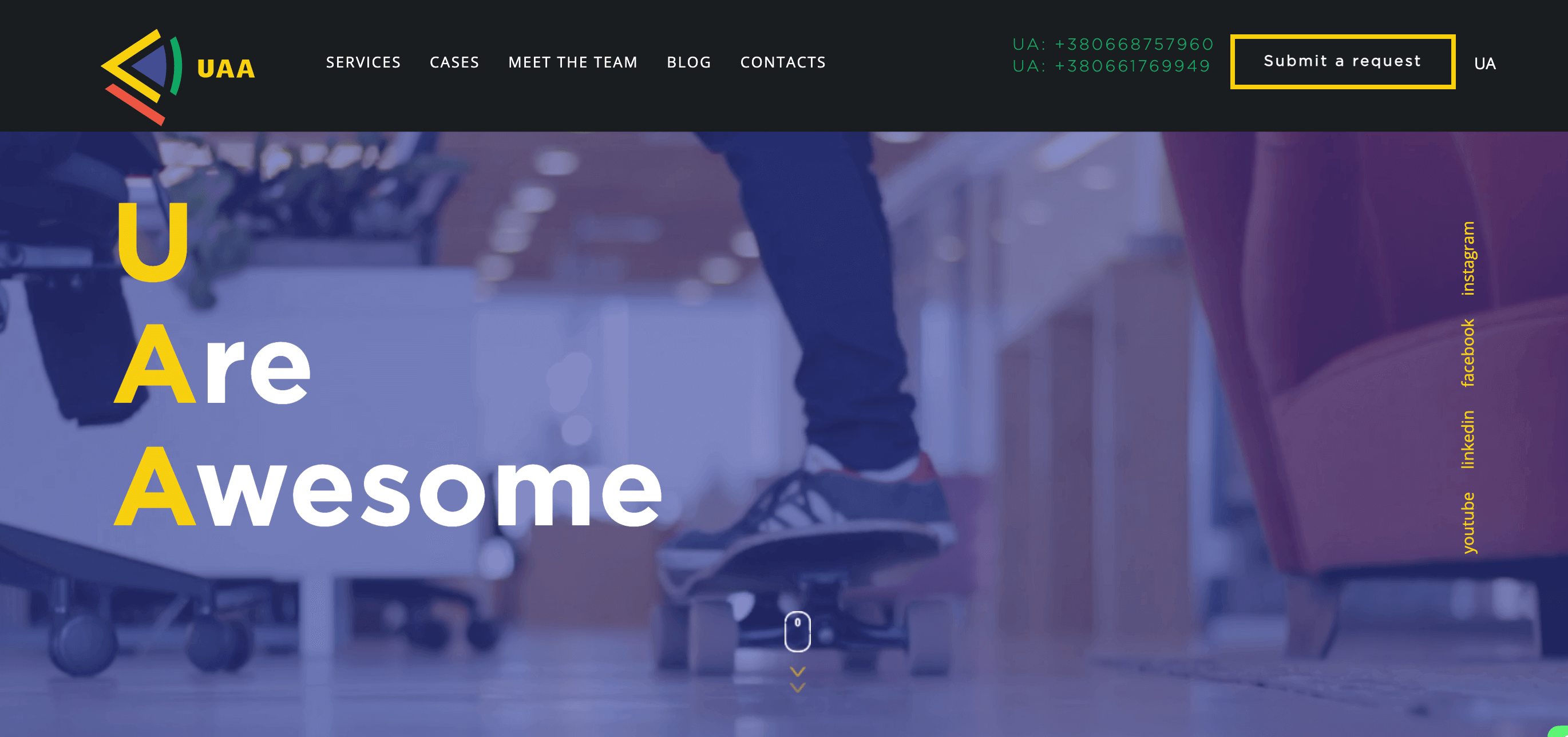 UAATEAM is your one-stop solution if you are looking for smart marketing advice. The company is based in Ukraine and provides paid search (PPC), SEO, and email marketing solutions to small and mid-sized eCommerce businesses. The company has been a Google Premier Partner and Facebook Marketing Partner since 2016. 
Under their PPC Management services, they offer:
Google Ads

Bing Ads

YouTube Ads

Facebook Ads

Amazon Ads
With their regular performance audits, proper keyword placement, and effective bidding strategies, topping the search results is guaranteed. 
Conclusion
Businesses must have a robust online presence in today's scenario. However, there is cut-throat competition among eCommerce companies for generating sales and bringing growth. Therefore, you need to consider adopting a data-driven and scalable advertising solution to stay ahead. PPC marketing is one of the most impactful strategies for you. 
Hiring an experienced and proven eCommerce PPC agency for rapid growth in the eCommerce sector is crucial. We hope this list comprising some of the best eCommerce PPC agencies helps you find the right one. 
If you want to feature your eCommerce PPC company and services in this list, contact us by email. After a thorough review, we'll decide whether it is a worthy addition.