As a restaurant owner, you strive to engage with your clients, provide quality service, and create a smooth and convenient process for customers to make their orders so that they return to you again and again. 
In fact, about 31% of American consumers use third-party food delivery services at least twice a week. The faster and easier it takes to make an order, the more satisfied your customer will be. 
Ultimately, restaurants that have an online ordering system are capable of increasing their takeout profits by 30% more compared to those that do not. This type of software helps optimize and automate the food ordering process, reduce the number of human errors, and learn more about customers' preferences to create personalized offers. It creates a seamless restaurant management system.
We've listed the top online restaurant ordering systems that will help you run your business more productively and better serve your customers with a sales optimized website and app. Select the most suitable vendor according to your unique needs, preferences, and budget.
The Best Online Ordering Systems For Restaurants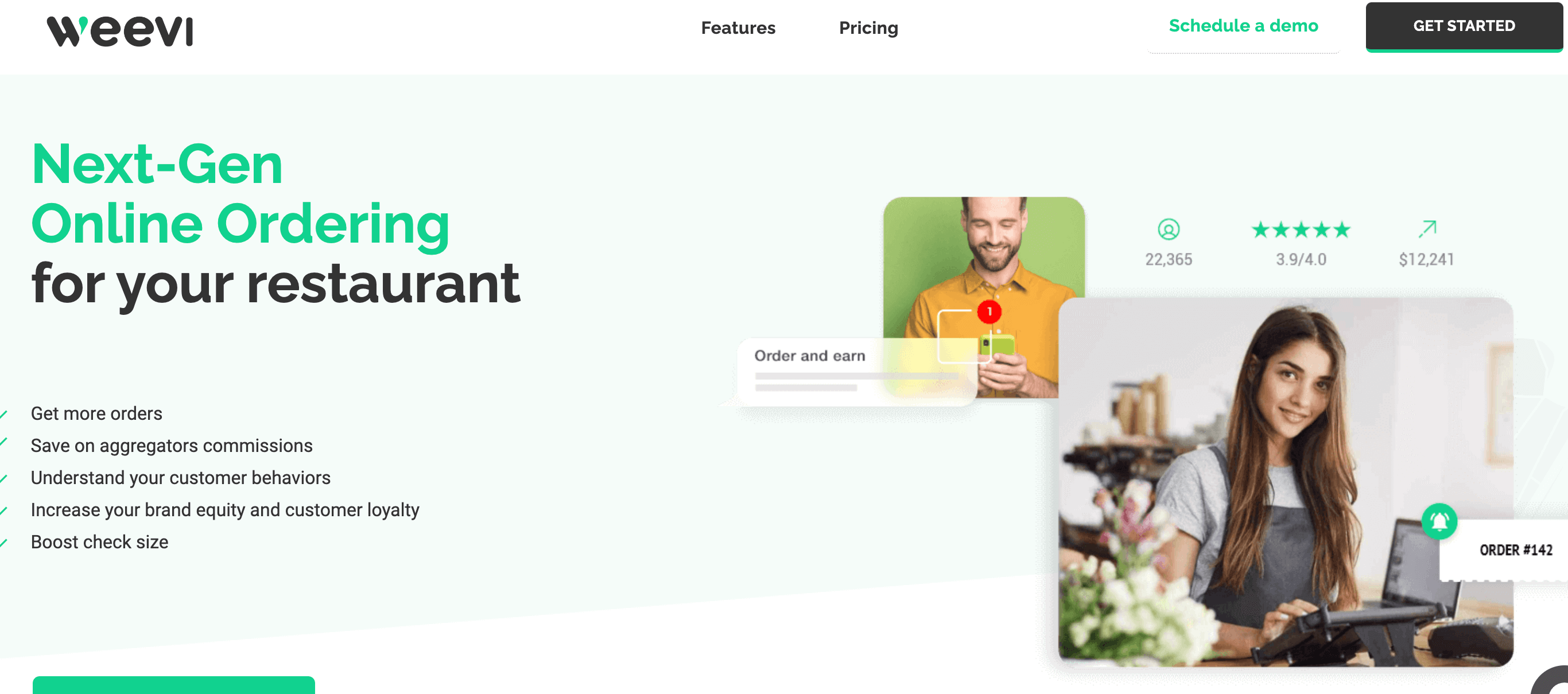 Weevi is a next-generation online ordering system for restaurants integrated with a loyalty program and effective marketing tools. With just two years on the market, the company has delivered custom solutions for over 400 restaurants ranging from big chains restaurants and QSR to independent small business restaurants, scaling their businesses online. You can find Burger king, Subway, Classic burger, Salata, and Paul on their customer list.
Being one of the best online ordering systems, Weevi provides complete setup assistance and introduces new features monthly. When using this system, you get powerful and accessible tools: managing menus and availability, processing deliveries and pick-ups, tracking delivery logistics, offering special discounts, and sending marketing notifications. 
Key features Weevi offers:
Serve clients through your own channels like website, app, Facebook page, Google listing, and more;

Process and manage the orders and pickups in a snap;

Customize your ordering process with advanced features, including live calorie counting, saving favorites, r

eordering previous orders and saved meal preferences, one-page checkout, and order status updates via push notifications;

Use various effective sales and growing tools;

Implement localization so that customers can see items availability according to the location, as well as change currency, languages, and payment systems;

Measure your results through modern reports;

Integrate your service with popular delivery providers and tools.

Benefit from their advanced loyalty program with tiers of incentives, rewards, and referral programs.

Use dine-in, on-table, and kiosk ordering features.

The Weevi team also offers full customization of your ordering system to match your brand.
All in all, Weevi's online food ordering services will help you create an exclusive and highly effective user experience for your customers and team. Contact them to get a custom quote for your business.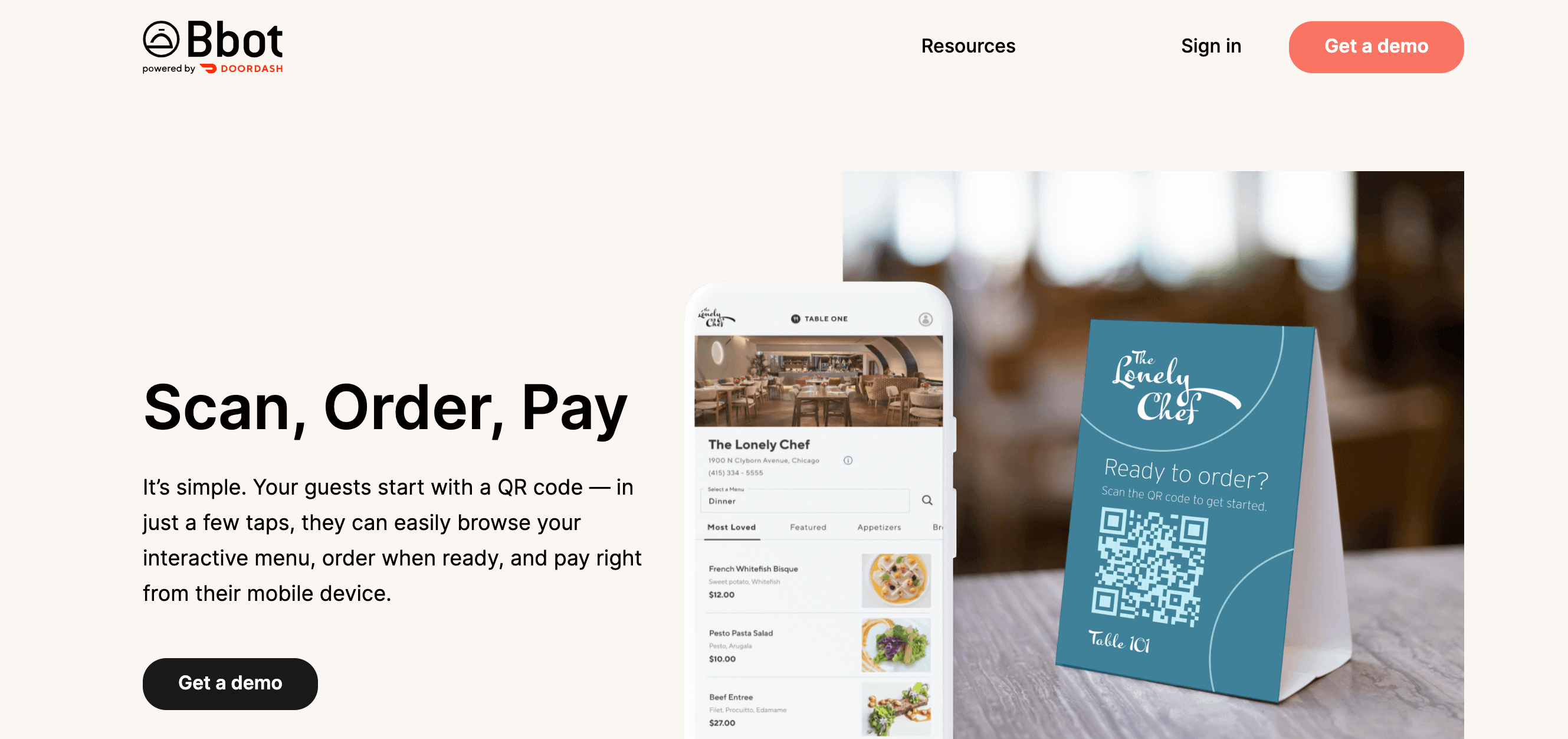 Bbot Smart Ordering is known for working with many prominent names in the industry, integrating seamlessly with the most widely used restaurant software. Their partners range from loyalty programs to reservation tools, so you can create a custom toolbox according to your business needs, all in one place.
Bbot helps restaurants streamline their on-site orders, curbside pickup, take-out, and delivery orders with branded and interactive digital menus. You will also likely increase staff tips, average checks, and turn tables faster.
The power of Bbot is its genius simplicity: Scan, Order, Pay. Guests start interacting with restaurants via a QR code; with just a few taps, they can easily browse your interactive menu, order and pay right from their mobile device.
Key features Bbot offers:
Remarkable menu design that keeps your brand top of mind;

Easy payment via Apple Pay and Google Pay, and numerous other payment options;

Shared carts for users so they can easily order together;

Location codes for each table, so customers know exactly where they are ordering from;

One of the best features is printer routing. Bbot directs orders and tickets to your designated printers. 
Boost your bottom line with Bbot; contact their team for a custom quote for your business.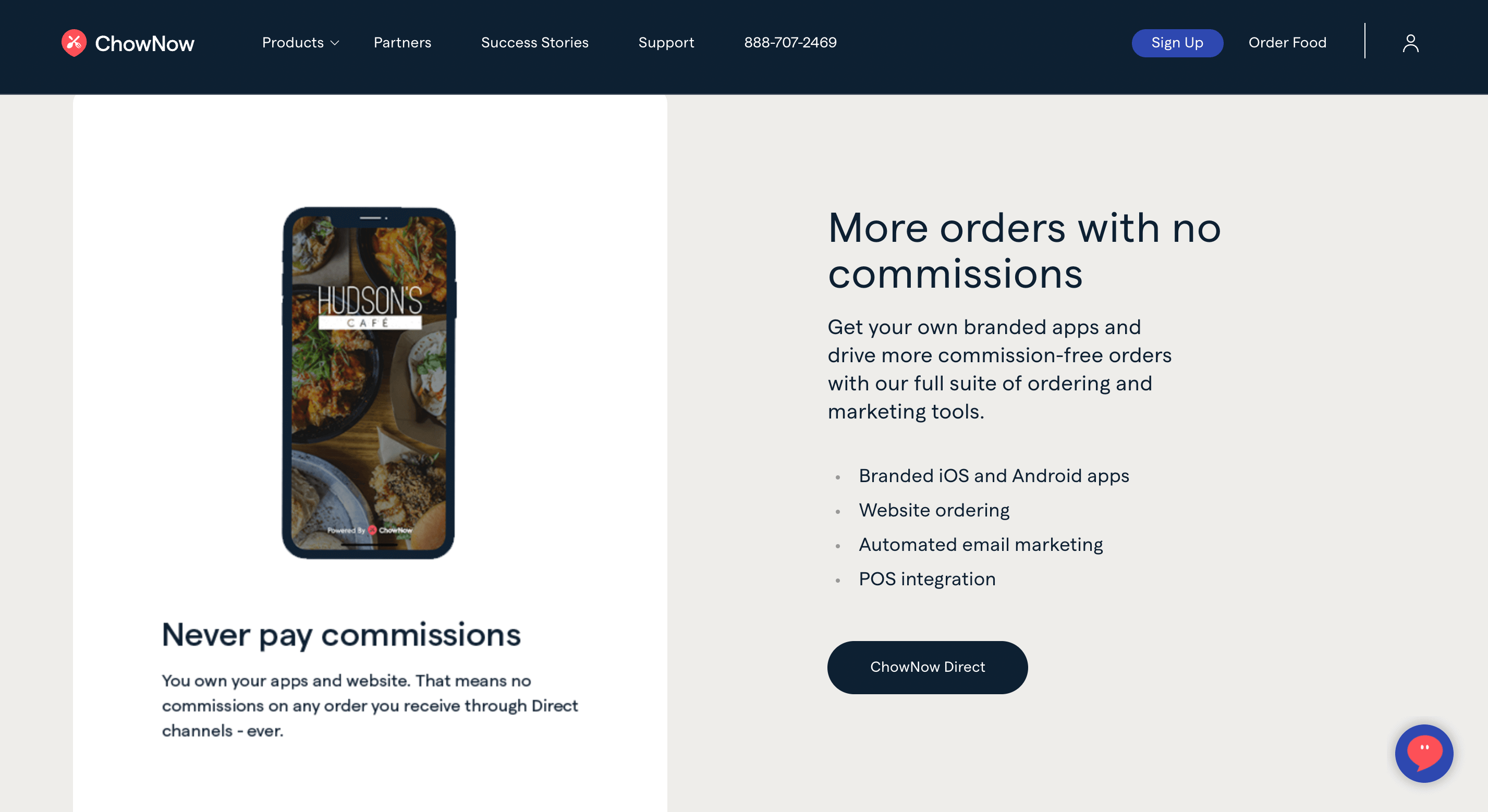 Chownow has been enhancing local restaurants in California, LA, since 2011, serving more than 10 billion orders. This system allows customers to easily order via a mobile app, Instagram, Google search, or your restaurant's website. 
Chownow connects you with a team of drivers providing full-service, 24/7 delivery support. Or you can handle the delivery with your team. 
The program also shares valuable customer data so you can generate effective marketing campaigns and loyalty programs.
Key features ChowNow offers:
'Order Better' network – makes it easier to discover a restaurant on high-traffic sites; 

'ChowNow Marketplace' – the only marketplace for local restaurants;

'ChowNow Direct' – an exclusive set of tools you need to boost your restaurant's online presence. 

A custom membership program – taking your relationship with customers to the next level. Premium members can enjoy perks each time they order directly from your restaurant. 

24/7 support – Chownow's support system handles all online operations and queries round-the-clock.

Zero fees for you and your dinners. 
Whatever task you have, Chownow offers you a full online ordering service package from website ordering, customer database, and branded apps to marketing and guidance. 
Pricing:
Enjoy unlimited commission-free orders, a dedicated onboarding specialist, and 24/7 support. ChowNow offers a one-time setup fee at a cost of $199. You can get a Chownow tablet for just 20$ per month.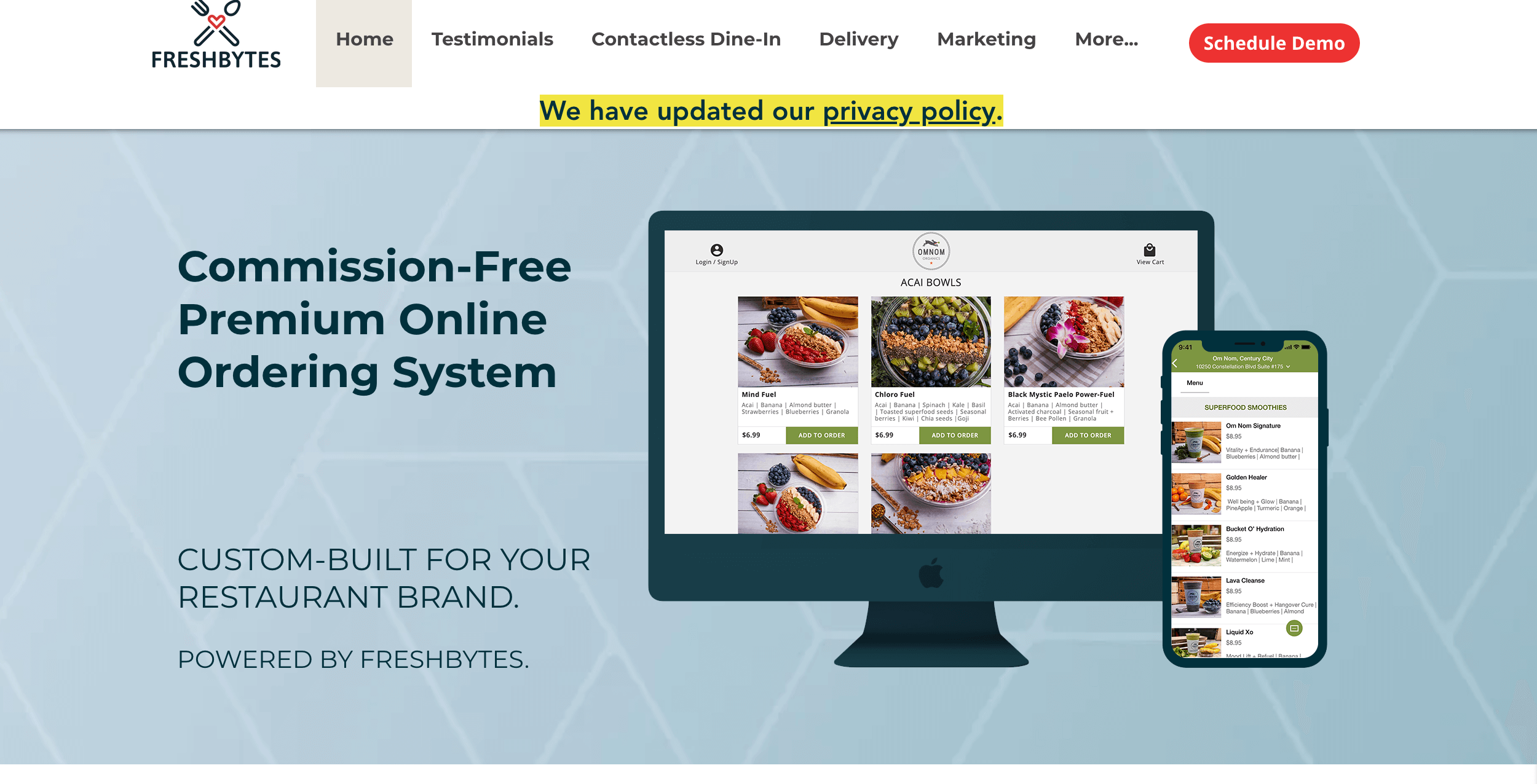 FreshBytes is a commission-free premium online ordering system created to empower a greater experience between restaurants and customers. 
Mainly focused on medium size restaurants, this is an affordable and easy-to-use online ordering system with cutting-edge features. Enhance user experience with vivid menu pictures, one-touch reordering, real-time order status, and smart messaging. 
With the help of FreshBytes, you can increase takeout orders, repeat orders, and catering orders. 
Key features FreshBytes offers:
No more physical menus and checks. The safest and most convenient way to order and pay in restaurants is a dine-in experience. 

Deliver food straight from your restaurant without the help of a third party. Instead, use the advantageous DoorDash Driver network via FreshBytes. 

Integrate email marketing campaigns that work on auto-pilot and based on customers' purchase history. To understand the impact of marketing campaigns, you will be given reliable reports to analyze sales data quickly.
Pricing:
You can choose one of these plans:
Website ordering

Marketing automation add-on

Website ordering and mobile apps
Request a demo or contact FreshBytes's team to get a custom quote for your business.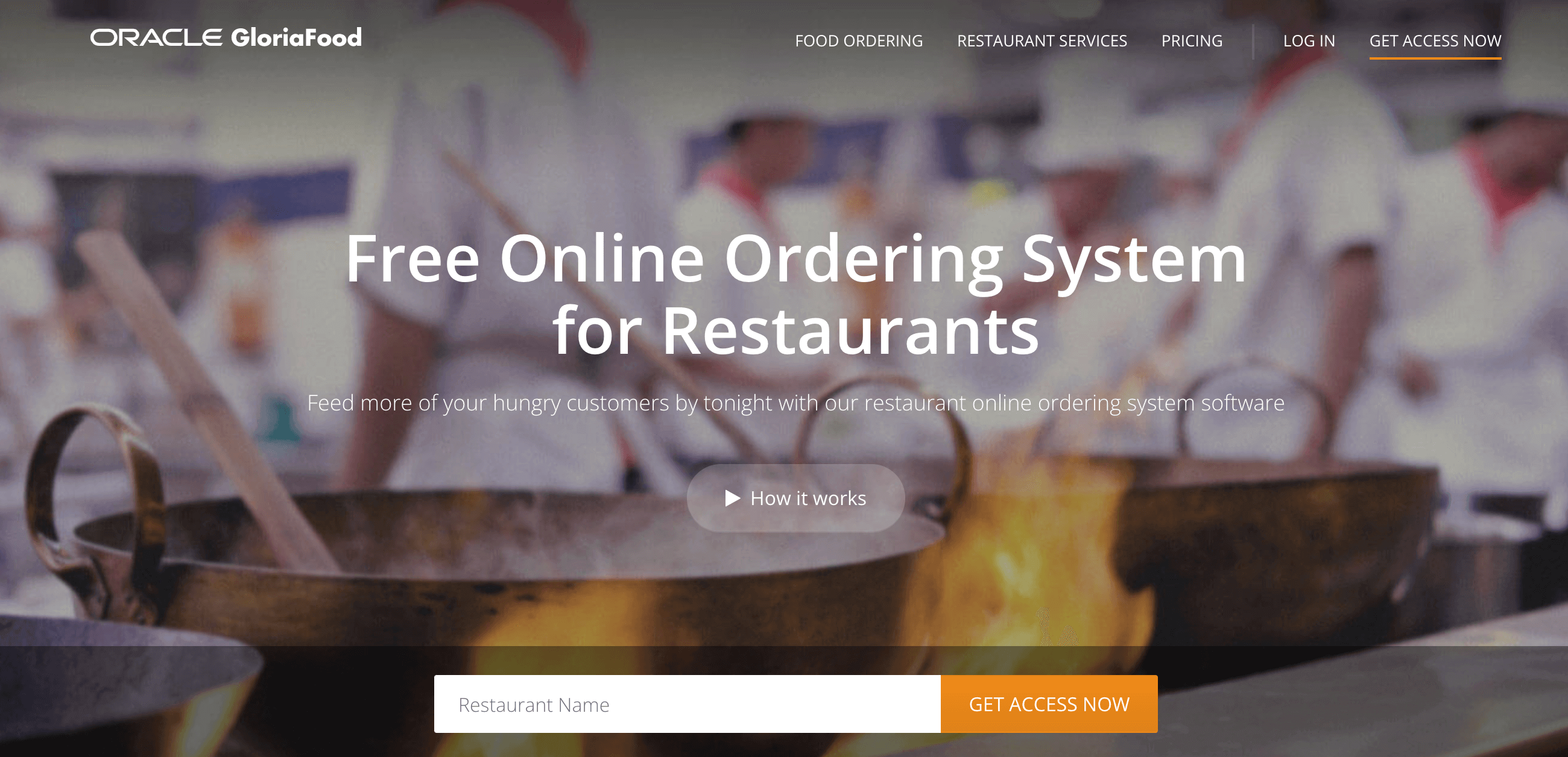 Want to turn your website into a money-making machine? GloriaFood is the top online ordering solution to consider. 
No matter your business size – GloriaFood fulfills the needs of both small and medium restaurants. The company provides you with free unlimited orders from your website, mobile app, or Facebook page at zero cost. 
Key features GloriaFood offers:
The free plan with no hidden costs, setup fees, and contracts. You get superior food ordering system's benefits at no charge: unlimited orders, unlimited locations, no commission per order, no monthly fee, and no credit card required.

Centralized online food ordering and delivery systems. All pick-up, delivery & dine-in orders are available in one solution, so you can easily control your business.

An easy-to-use free restaurant order-taking app. Receive and confirm orders with one tap on your smartphone or tablet, literally taking orders at your fingertips. 
Pricing: 
Apart from the free plan, GloriaFood provides a few advanced paid plans with premium features that can bring extra value to your business:
Online / Credit Card Payment Service – $29 per month

Advanced Promo Marketing – $19 per month 

Sales Optimized Website – $9 per month

Branded Mobile Apps – 59$ per month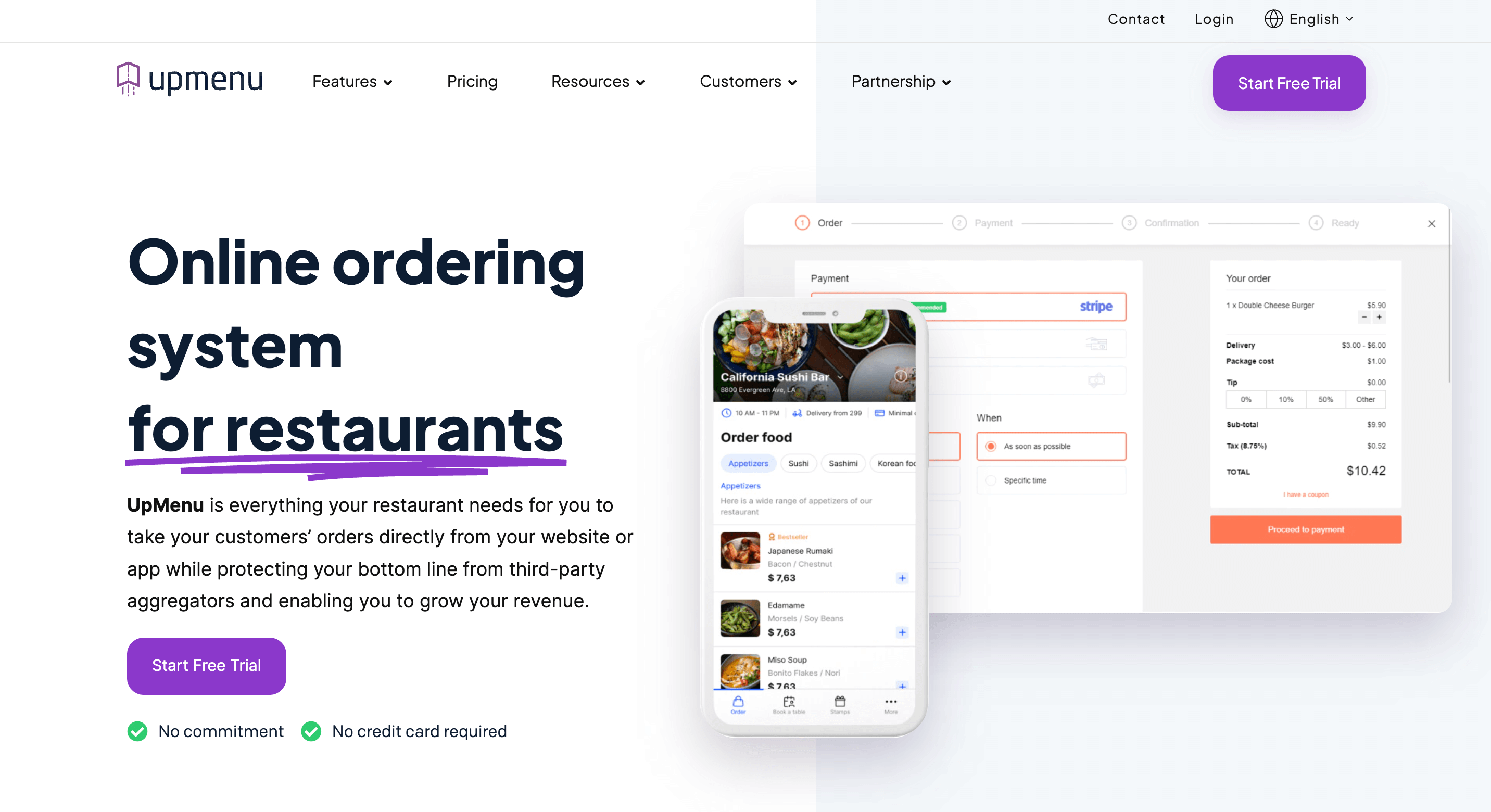 UpMenu is a top-tier online ordering system designed for restaurants of all sizes. They specialize in providing robust digital solutions that enable businesses to streamline their online presence and increase their revenue.
With its user-friendly platform, UpMenu has transformed over 7600 restaurants worldwide into dynamic online entities. Among their clientele, you can find well-known chains, Quick Service Restaurants (QSRs), as well as independent establishments seeking to enhance their digital footprint.
Regarded as a reliable and innovative online ordering platform, UpMenu consistently rolls out new features and offers comprehensive setup assistance. When choosing UpMenu, you gain access to a suite of powerful tools, including menu management, order processing for deliveries and pickups, promotion creation, and delivery of marketing communications.
Key features UpMenu offers:
Facilitates online orders through your own channels, including website, mobile app, Facebook page, Google listing, and more.

Efficient management of orders, pickups, and deliveries.
Customization of your ordering process with advanced features like allergen information, order status tracking, favorite orders, and more.
Sales boosting and growth tools that promote customer retention.
Localization features that display menus based on location, currency, language, and payment methods.
Advanced reporting for a comprehensive understanding of business performance.
Integration with popular delivery providers and marketing tools.
A sophisticated loyalty program with customizable rewards and referral schemes.
Dine-in and on-table ordering capabilities.
Full customization of your online ordering system to reflect your brand.
Pricing:
UpMenu's online ordering services provide a comprehensive and customizable solution designed to create an exceptional user experience for both your customers and your team starting at zero cost and ending with a Premium plan at $169/month. Reach out to them for a custom quote tailored to your business needs.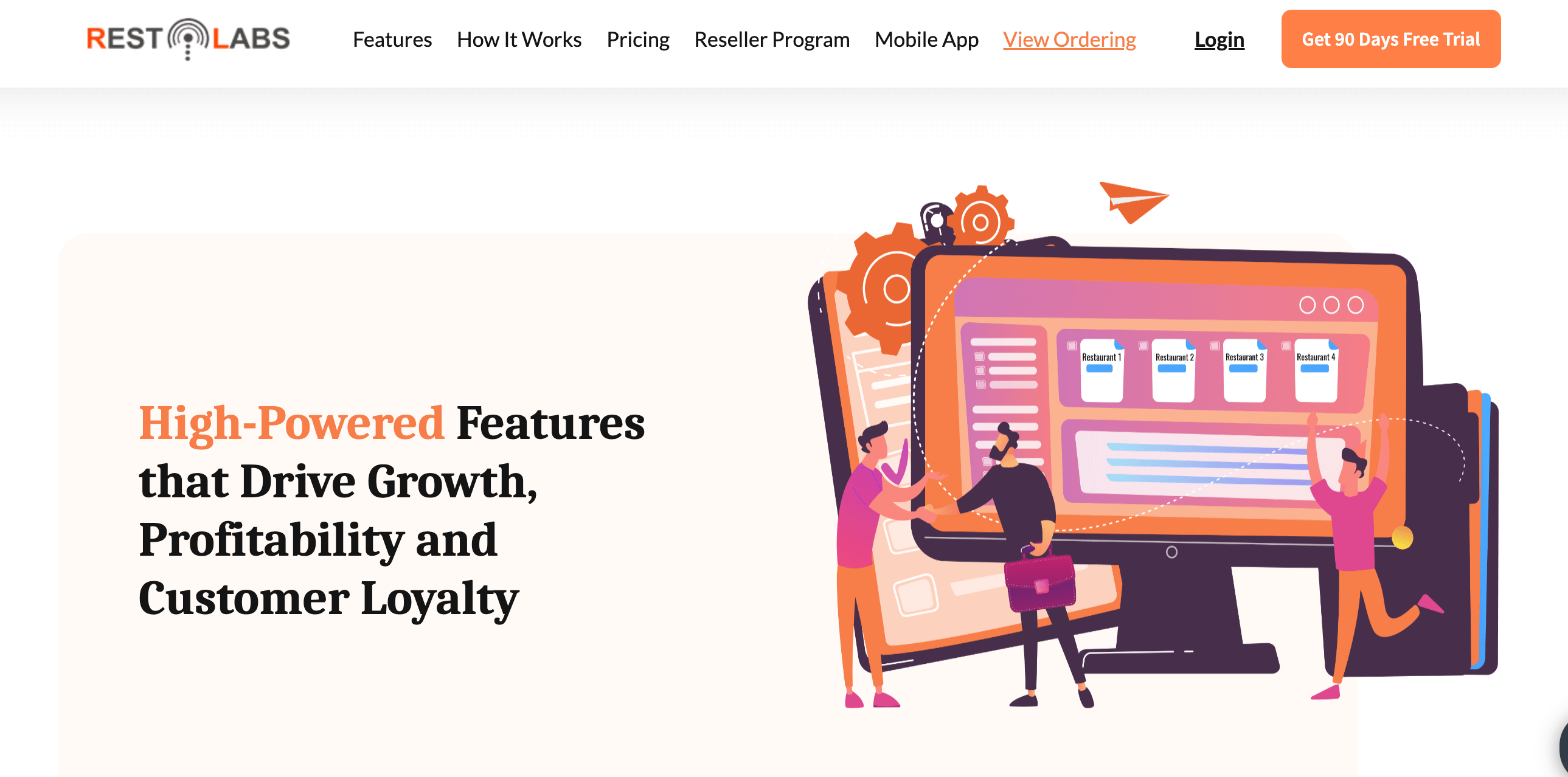 Restolabs is a fully-integrated digital ordering system for restaurants with extended capabilities to drive business growth. It provides in-built marketing tools, integrations, insightful analytics, and reporting, as well as 24/7 dedicated support. 
Bridge the gap between your online and offline operations with Restolabs's features that connect you to your customers at all touch points. A personalized experience, improved loyalty, and a better conversion rate are what Restolab promises.
Key features Restolabs offers:
A gateway integration with more than 50 providers, including Heartland, Worldpay, Stripe, Authorize, Checkout and Telr, and many more. 

For multi-location restaurants, you can easily manage the menu, operations, and even staff through a single dashboard. Separate store configuration functions can be added for each location. 

A high-powered dashboard helps you manage all incoming orders easily as well as provides detailed reports on sales, customers, and products.

Simple and flexible integrations with all major POS platforms, so you do not have to deal with multiple software to manage ordering operations. 
Pricing:
Restolabs offers monthly and yearly plans, including:
Basic ($69 per month/$828 per year)

Premium ($99 per month/$1188 per year)

Enterprise ($199 per month/$2388 per year) 
Also, you can get a 90-day free trial. Join more than 4000 restaurants that have started driving growth and profitability with Restolabs!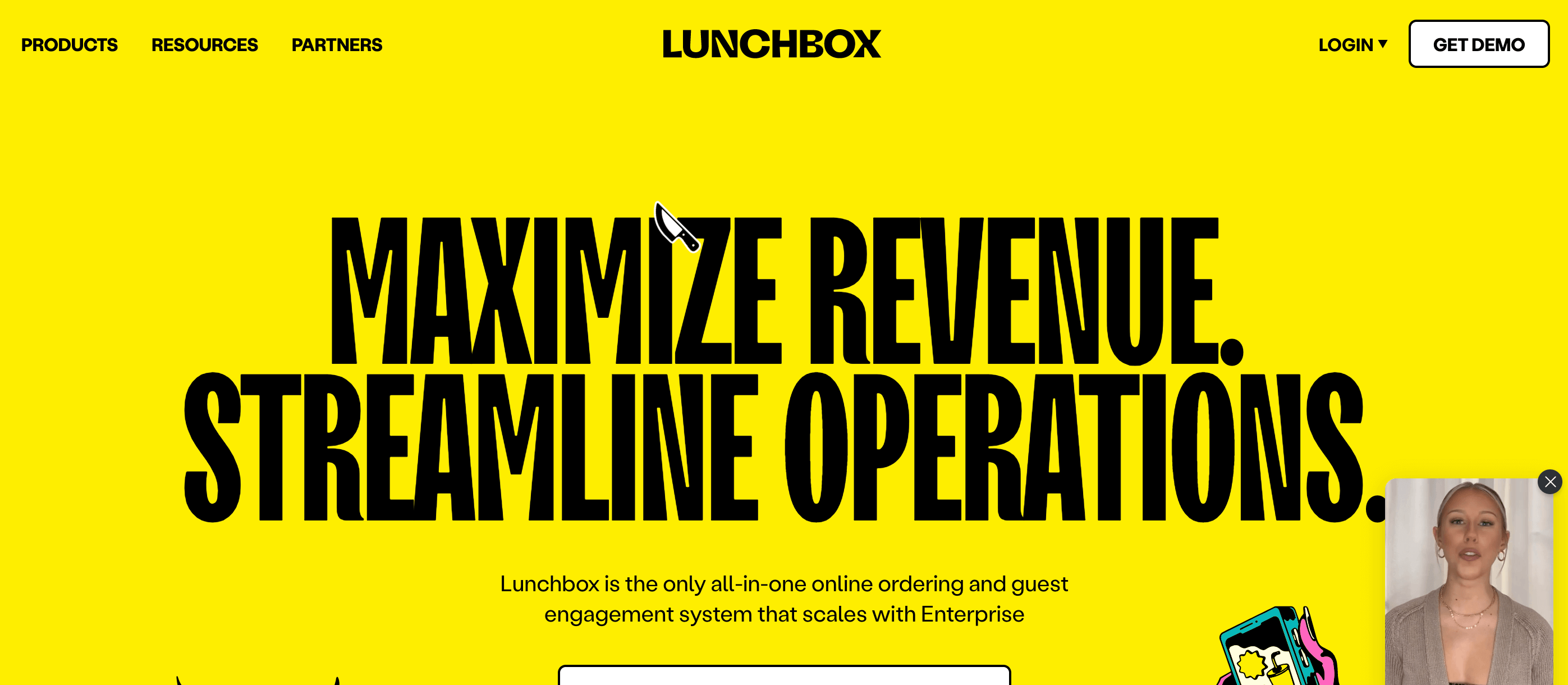 Lunchbox is the all-in-one online ordering solution for restaurants designed to grow your revenues. High-growth restaurants choose Lunchbox for its incredible native app and web ordering, loyalty, marketing, and third-party order aggregation systems. 
This world-leading company works with restaurants of all sizes, so consider giving it a try.
Key features Lunchbox offers:
Seamlessly manage your orders and guests, change menus, and edit locations in real time.

Benefit from comprehensive software integration with all the major POS systems. 

Grow loyalty among customers, making guests order 3 times more within their lifetime. The main loyalty features are a tier system, birthday rewards, in-store rewards,  and cash back. 

Take advantage of using impactful marketing and re-engagement tools like push notifications, emails, sms, and social media with your 1st-party data.

Take your marketing to the next level with the help of Lunchbox's Studio, an in-house team of top-level branding experts who'll create outstanding creatives, presence, and unique designs for your brand.

Run business more efficiently as all your digital orders will be managed from your POS. According to Lunchbox, their order aggregation will save you time and money. 
You can schedule a product demo tour and connect with the team to get a quote for your business.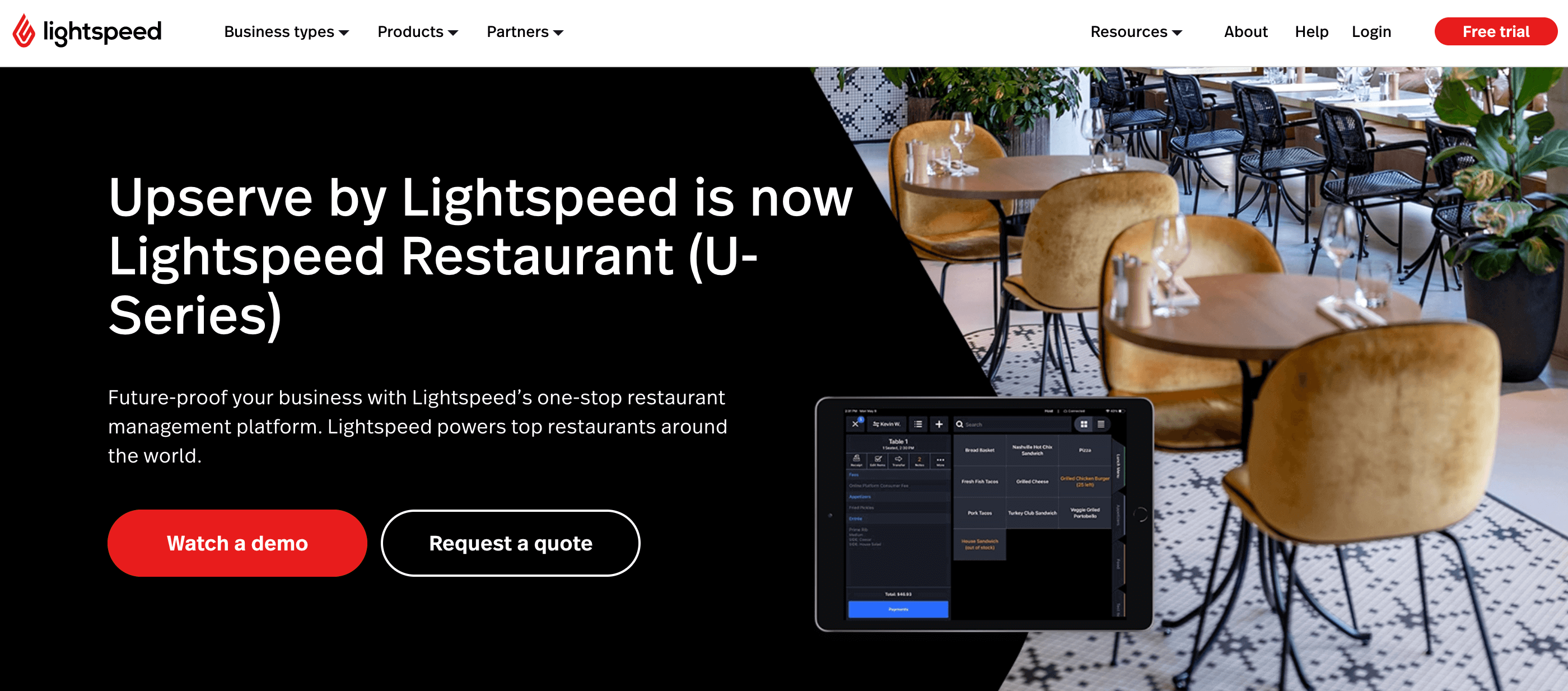 Lightspeed's clients are businesses of different types, including Retail, Golf, and Restaurants. The company's story began in 2009, and over the years, Upserve became the premiere hospitality solution for business owners who want their systems and data to work harder while retaining crucial information about guest preferences. 
According to Upserve, their system helps the world's best restaurants work 40% faster than other leading POS systems. 
Key features Upserve offers:
One of the top features is an adjustable floor plan. With it,

your staff always knows where to go, and customers never wait too long. Also, it covers staff profiles, customizable menus, and all the hardware. 

You can easily allow

your staff to clock in and out of the system when they start and end their workday to calculate work hours better. See the employee reports, end of days reports, and scheduling integrations. 

24/7 support is promised. Besides that, you are able to watch webinars and onboarding sessions and get assistance through emails and chat. Make the best use of POS and give quick answers to users' questions. 

Process takeout and delivery orders in one system and see orders as they come in on your Kitchen Display System. 

Upserve's online ordering system is easy to set up, and it can be integrated with other  POS systems, payment services, and mobile apps.

Let customers order and pay at the table directly from their phones to save time. Visa, Mastercard, and Apple Pay – users can choose any preferred payment method.
Pricing:
Upserve's plans start with an Essential plan, which is the most affordable package and costs $69 per month. The recommended plan is called Plus and costs $189 per month. The Pro plan will cost you $399 per month. The most advanced plan is a custom package, Enterprise.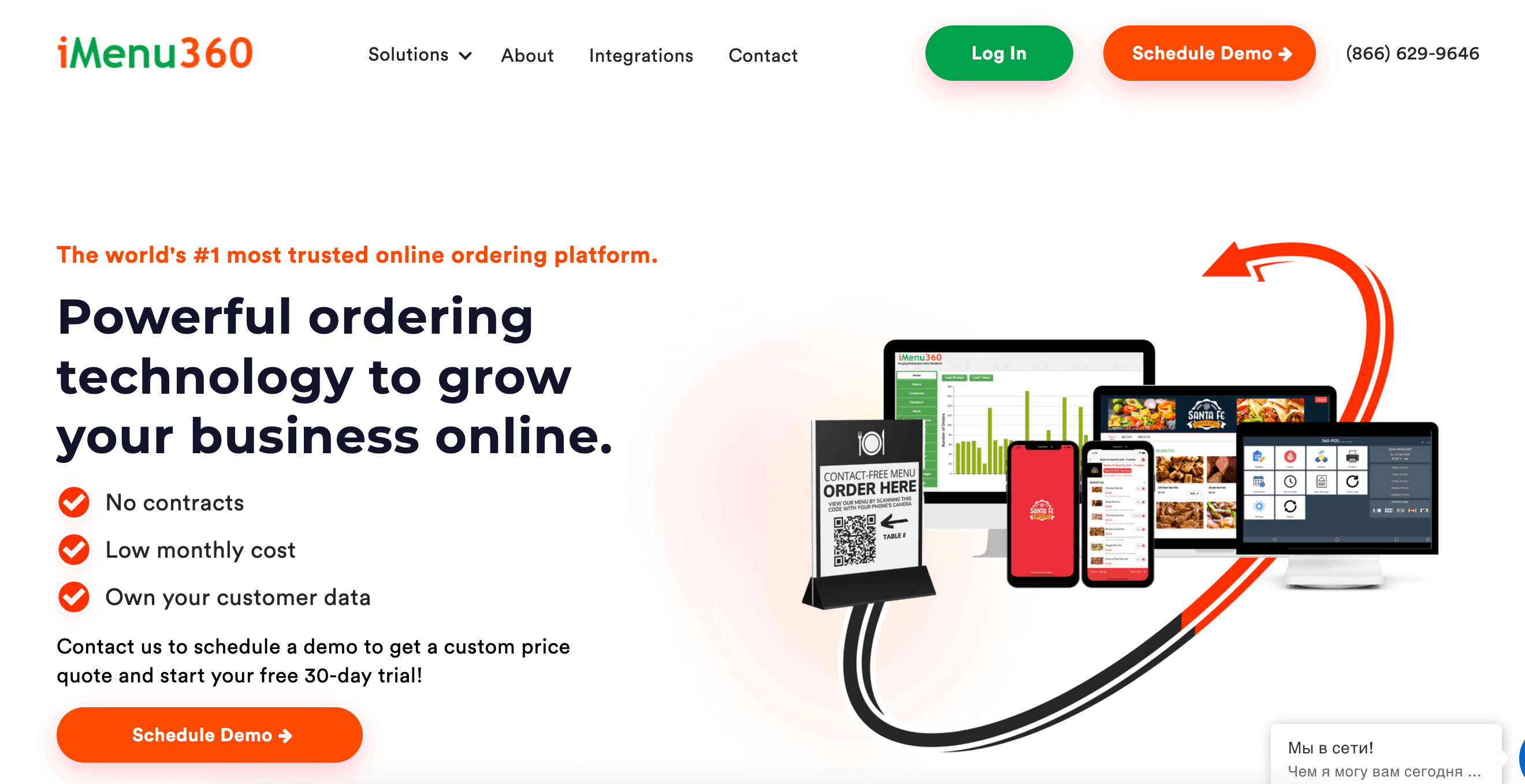 iMenu360 provides the best-in-class online food ordering services with no contracts, low monthly cost, and offers to own your customers' data. The company has proudly partnered with thousands of restaurants worldwide for over 15 years and has a team of industry experts. 
Key features iMenu360 offers: 
Mobile-friendly online ordering allows guests to easily make orders directly through an online

menu for restaurants

, providing essential customer data for marketing purposes 100% commission-free.

Contact-free transactions allow you to cut down on staff and save money. Eliminate errors between staff & kitchen by using safe, no-touch dine-in & to-go ordering.

iMenu360 puts your restaurant in the App Store & Google Play so guests can easily place orders through your online menu while you build loyalty and increase brand awareness.

The system works with the most popular tools and can be integrated with lots of POS systems for you to run your restaurant more effectively. 
Contact iMenu360 to get a custom quote and start your free 30-day trial!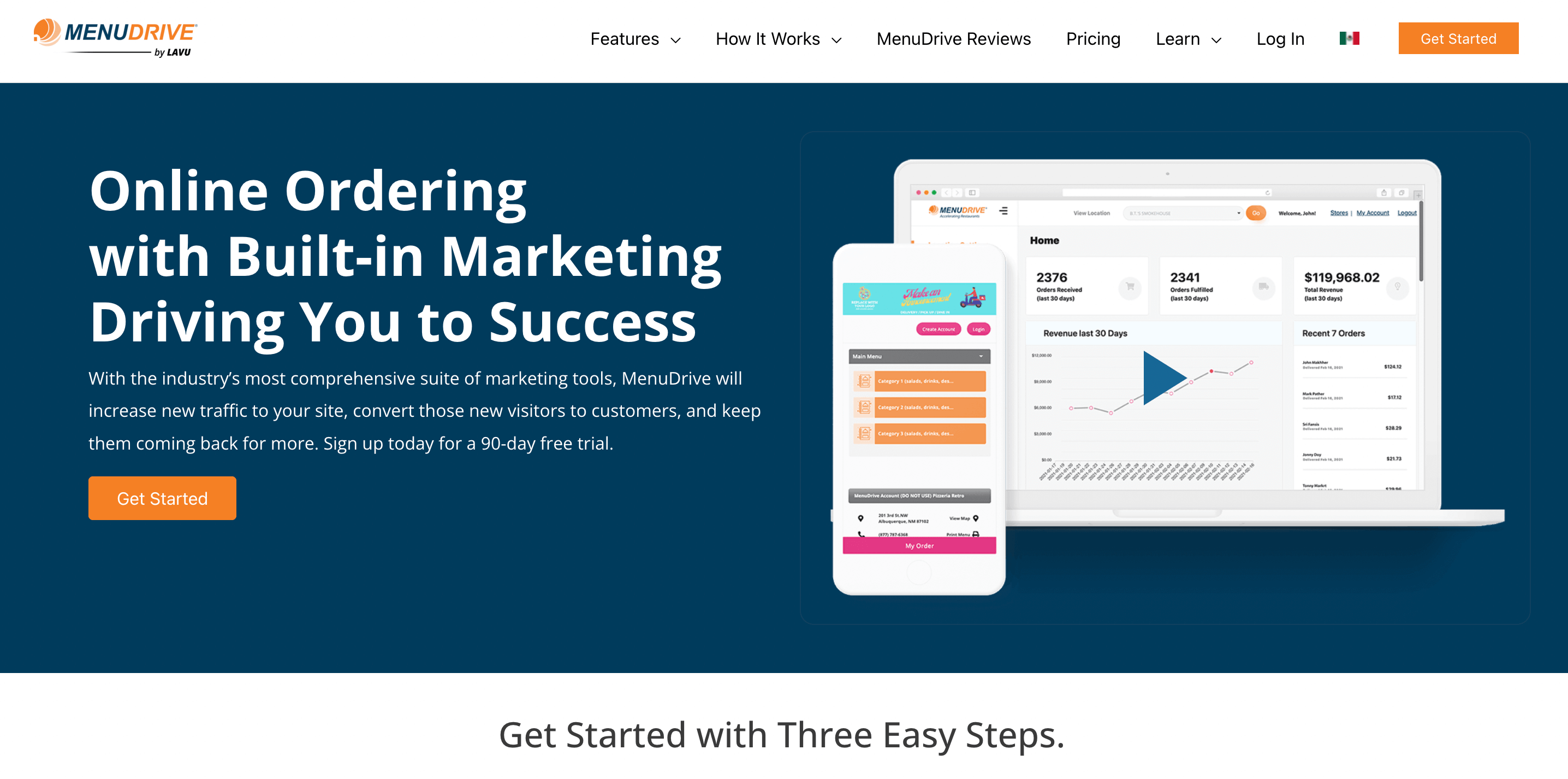 MenuDrive helps restaurants earn over $100k monthly in online sales with up to $1 billion in profit on one coupon alone. It's one of the best restaurant online ordering systems with the most comprehensive suite of marketing tools. A real market star, it was featured on Forbes, Cheddar, Yahoo Finance, and more.
Key features MenuDrive offers:
Comprehensive customization for the first positive impression.

MenuDrive provides storefront templates, a color palette generator, photo uploads, and on-site announcements to grab customers' attention. Plus, you can benefit from its social media kit, QR code generator, and signage maker. 

Revenue optimization.

Make your business more profitable and effectively manage costs by using a recipe cost calculator, profit margin calculator, loyalty ROI calculator, CRM calculator, and numerous other MenuDrive's tools. You can also easily audit your business, analyzing traffic, competitors, cost, and engagement.

Customer retention.

Analyze reports to get information on order history, check averages and total sales, and apply these insights to improve your customer retention rate. 

Grow & profit features.

Keep an eye on real-time business performance, advertise promotions and business announcements, create cost-effective marketing campaigns, and encourage regular customers – all this is possible with a fantastic toolkit offered by MenuDrive.
Pricing:
ManuDrive offers a single restaurant plan for $149/month. You can start with a 90-day free trial to test all the app features. 
Conclusion 
Choosing the right online ordering solution for your business is essential. With hundreds of services available in the market, picking the best-fit system might be truly challenging. 
Each service offers a unique set of features, terms, and prices and differs in the convenience of use. Hopefully, our list of the best online ordering systems for restaurants helps you select the most suitable and convenient platform.
If you want to add your online ordering solution to this list, drop us a line with the product's details. After a quick review, we'll decide whether it's a valuable addition.