A content management system (CMS) can significantly drive business success, empowering website owners in efficient content creation and distribution.
In 2022, the global CMS market generated a value of $19.05 billion, and is expected to grow up to $27.48 billion by 2028. With over 2 billion websites on the internet, more than 40% are made using CMSs. 
A content management system simplifies the process of building and hosting websites and eCommerce platforms, offering a quicker and simpler way of creating a full-fledged site from scratch. A multitude of CMS tools allow modern companies to efficiently manage their online presence, leading to high engagement rates as well as increasing conversions and ultimate revenues.
With hundreds of CMS solutions available in the market, choosing the ideal platform can be challenging. To help you find the best content management system according to your unique requirements and budget, we've compiled this list of the top CMS vendors suitable for all types of organizations, from startups and small businesses to large enterprises.
The Best Content Management Systems For Cost-Efficient Website Development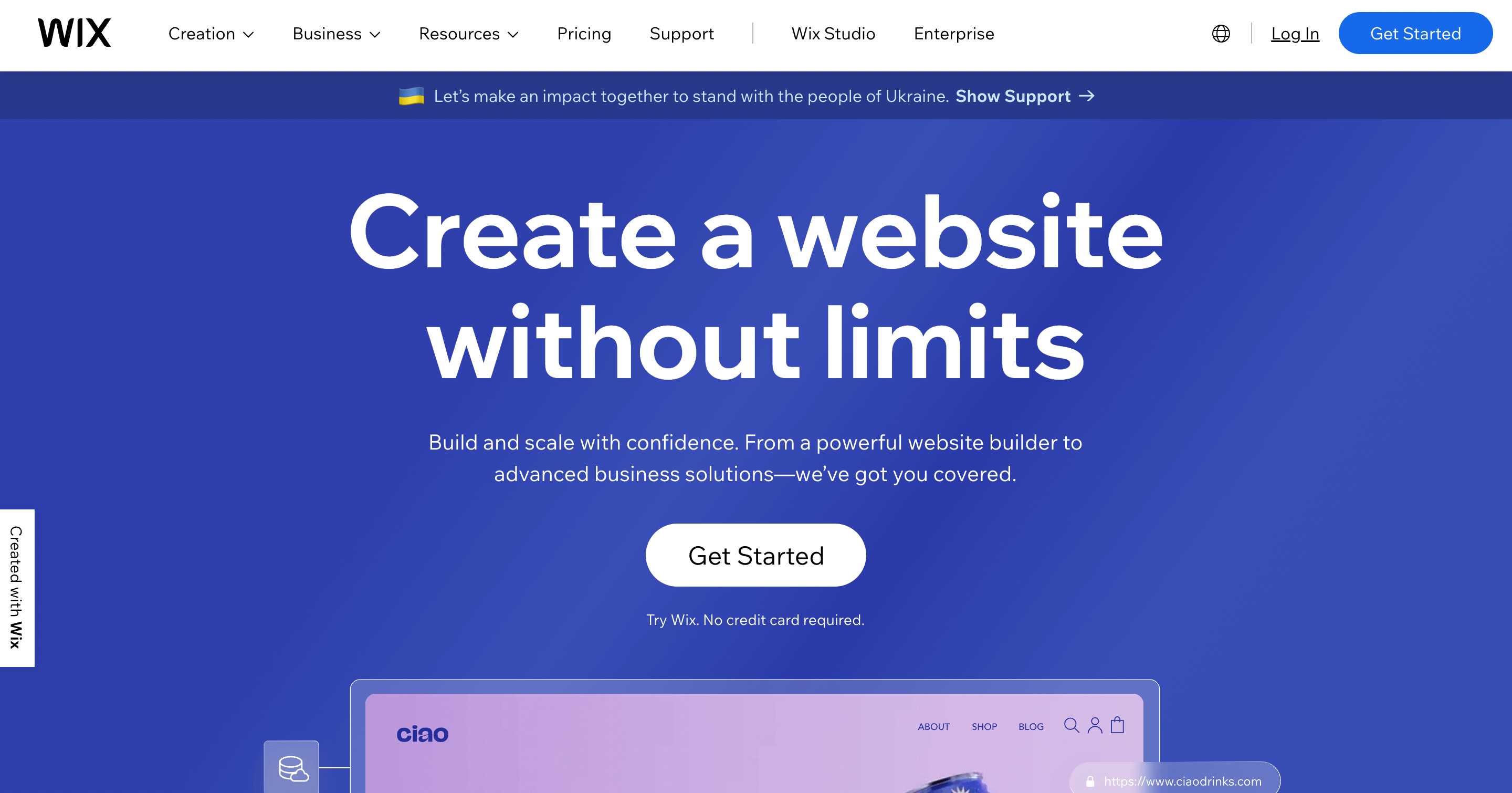 Recognized as a top content management software, Wix is an all-in-one CMS platform for creating brand-new websites and implementing advanced business solutions. Incorporating enterprise-level infrastructure into each site, along with dependable free web hosting, ongoing maintenance, and fully managed security, Wix ensures a seamless operation of your website.
With Wix, you can bring your vision to life quickly and effortlessly using a fantastic library of 1000+ ready-made, customizable templates and features. Additionally, you get access to a great marketing toolkit to promote your website through SEO, AI-powered ads, email campaigns, and engaging social media posts. 
Wix is undoubtedly one of the most popular CMS companies in the world. Over 220 million people have already chosen it to expand their online presence while benefiting from 24/7 customer support.
Key features: 
Drug-and-drop website builder 

A vast collection of website design templates

eCommerce features

Mobile optimization 

SEO tools

Blog integration 

Security and hosting 

24/7 customer support 

Analytics and reports 
Pricing:
Wix gives you 100 templates, unlimited pages, and top-grade hosting absolutely for free. If you want to get more possibilities, you can upgrade to one of the Premium plans: 
Website plans:

from $4.5 to $24.5 per month.

Business and eCommerce plans:

 from $17 to $35 per month.

Enterprise plans:

custom price.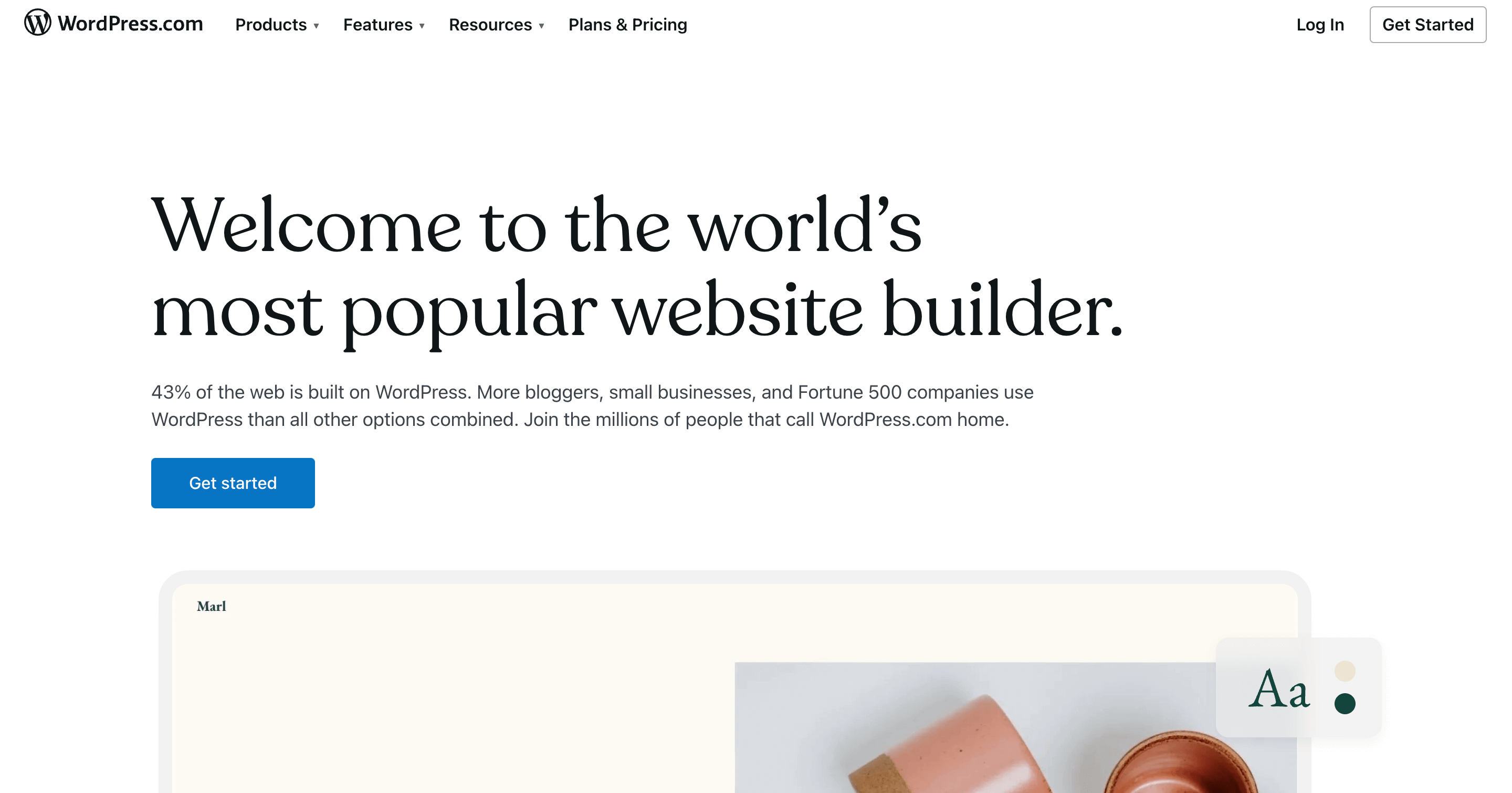 With an impressive market share of over 60% among websites built with CMS platforms, WordPress is deservedly the best content management system for businesses of all types and sizes. Being especially popular for blogging, it serves as an ideal CMS solution for branding purposes. 
WordPress provides a wide range of web development services covering website design and building, hosting, domain name, blog and newsletter, online store, courses, as well as enterprise solutions. A notable advantage of WordPress is it offers an incredibly broad range of functionalities at an affordable cost starting from just €9.
One of the most compelling features of WordPress is its extensive selection of ready themes and plugins. These budget-friendly and easy-to-implement plugins range from SEO, eCommerce, and social media functionalities to sophisticated cybersecurity features; you'll find absolutely everything tailored to your specific needs.
Key features: 
Design and editing tools (videos, themes, pre-built block patterns, block editor, etc.)

55,000+ plugins

Marketing tools (email marketing, SEO, SMM, custom domain name)

Widgets and in-built customizer 

24/7 support 

Hosting and security 

Google analytics and jetpack stats

Site management  
Pricing:
WordPress offers a free use and five paid plans with up to 40% savings on its annual billing: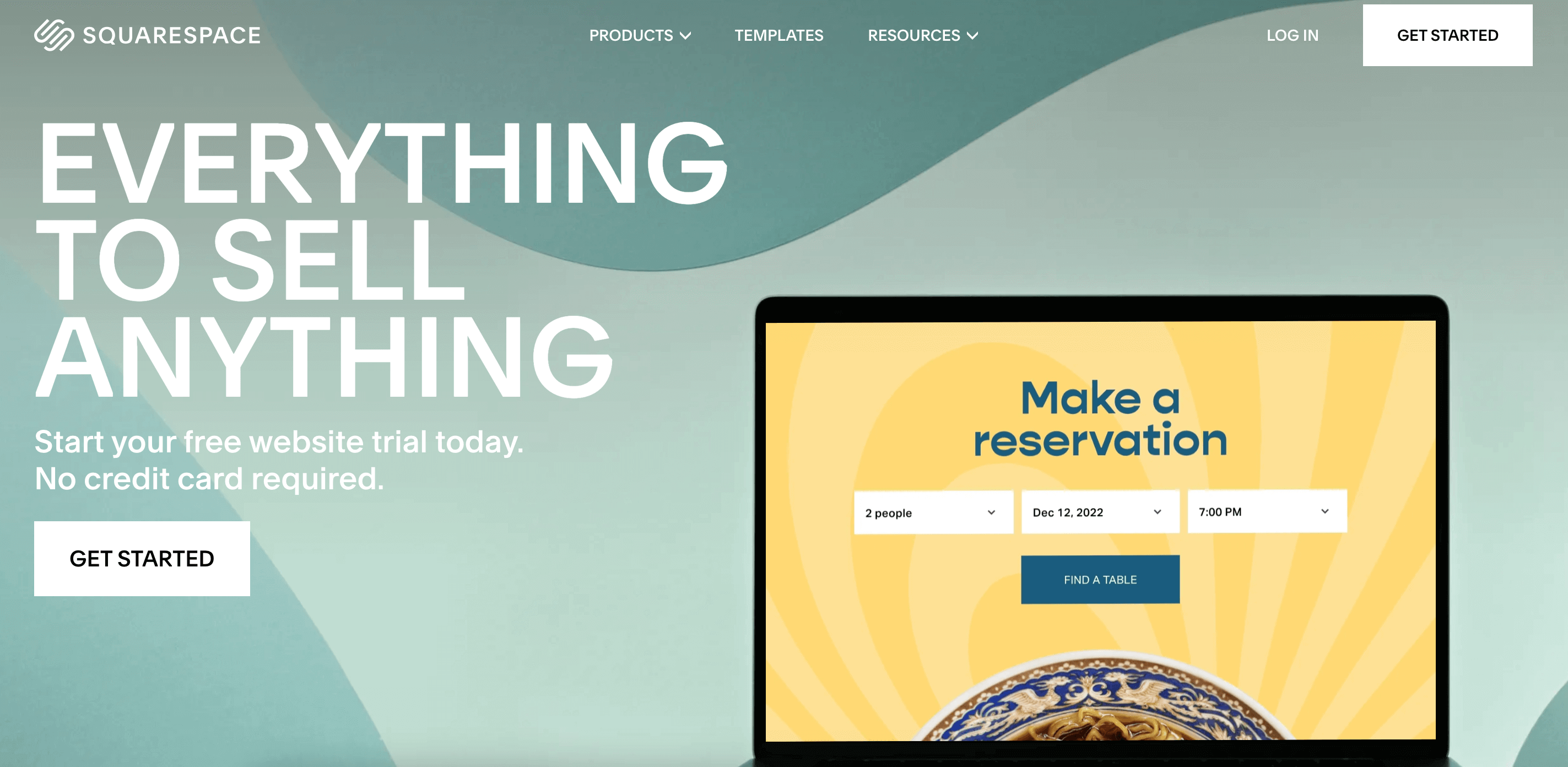 Squarespace has established itself as one of the best content management systems. With a strong focus on eCommerce websites, the platform shares hundreds of customized templates so you can showcase your products at their best. In addition, Squarespace enables you to manage shipping and fulfillment, handle taxes, process payments, and more – all in one place. 
The system caters primarily to the following groups of users: artists, bloggers, content creators, restaurants, beauty and fitness professionals, photographers, as well as enterprises. With Squarespace, the process of selling has never been easier and more engaging.
Key features: 
Website builder 

Ready-made templates 

Blogging platform 

In-depth website analytics tools

Marketing tools 

Domain name 

eCommerce solutions 

Store management 

Marketplace to sell products and services 

Integration with third-party services

24/7 customer support
Pricing:
Squarespace offers a free 14-day trial period and 4 paid plans with up to 40% savings on its annual billing:
Personal:

$23 per month.

Business:

$33 per month.

Commerce Basic:

 $36 per month.

Commerce Advanced:

$65 per month.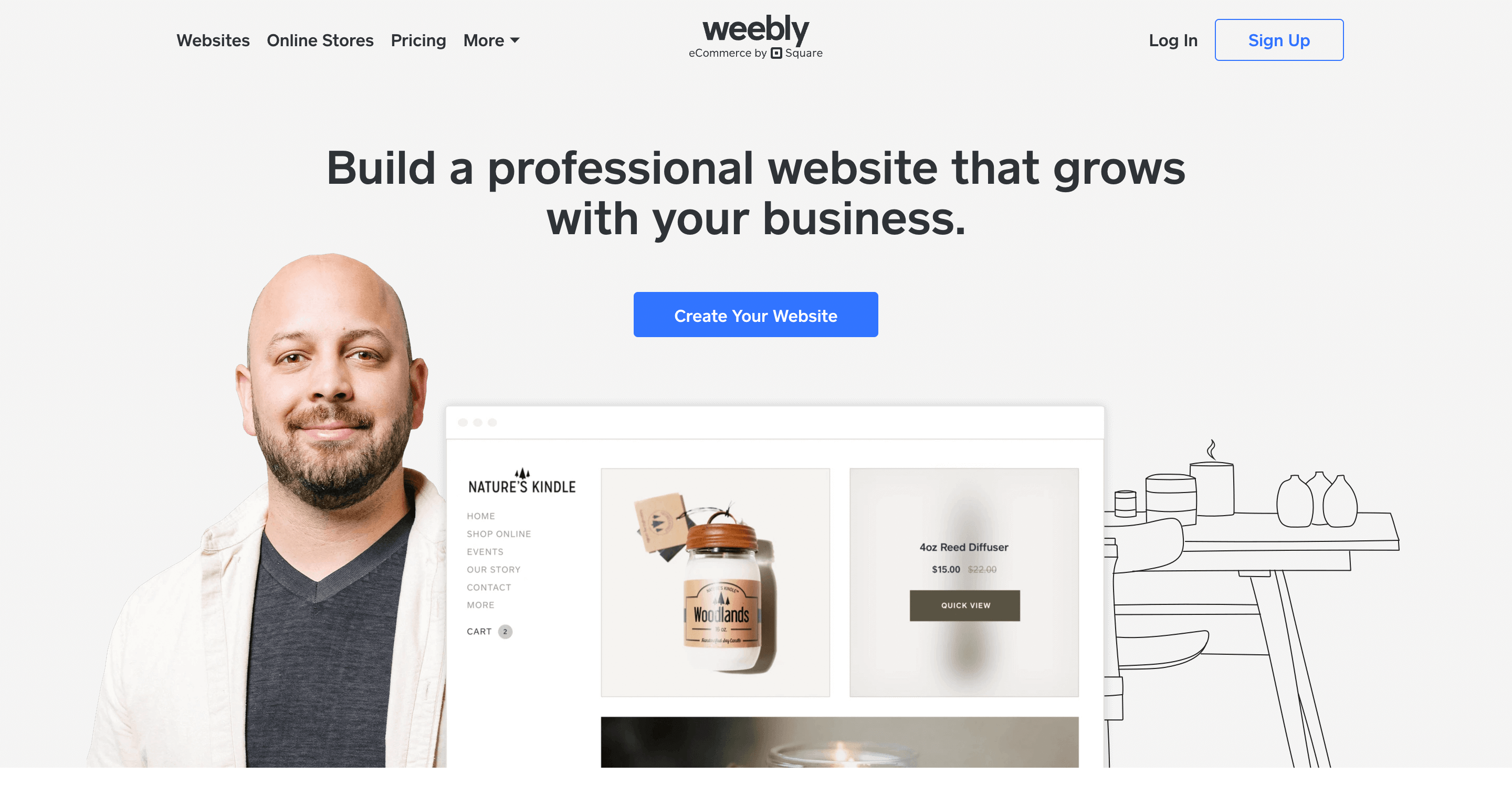 Weebly is the perfect content management software for small businesses, offering an enticing blend of robust features and budget-friendly pricing. Affordability sets Weebly apart. Their pricing plans range from $10 to $26 per month, making advanced features accessible for startups, novice entrepreneurs, and creative minds without compromising quality.
Using customizable templates and drag-and-drop elements, users can easily build unique websites with a personal touch, incorporating features like eCommerce support, blog, gallery, and more. When your website is ready, you will get assistance at every step to launch your online store with full confidence and zero mistakes. 
Key features: 
24/7 email and chat support 

Blogging platform 

Digital marketing tools (SEO, SMM, AdWords)

Hosting 

SSL security

Domain management 

Mobile app

Integrated analytics

Website builder with an option to customize a website with HTML/CSS & JavaScript 

Custom fonts 

Image editor

Audio and video functionalities
Pricing:
Weebly offers a free plan and 3 paid plans:
Personal:

10$ per month.

Professional:

$12 per month.

Performance:

$26 per month.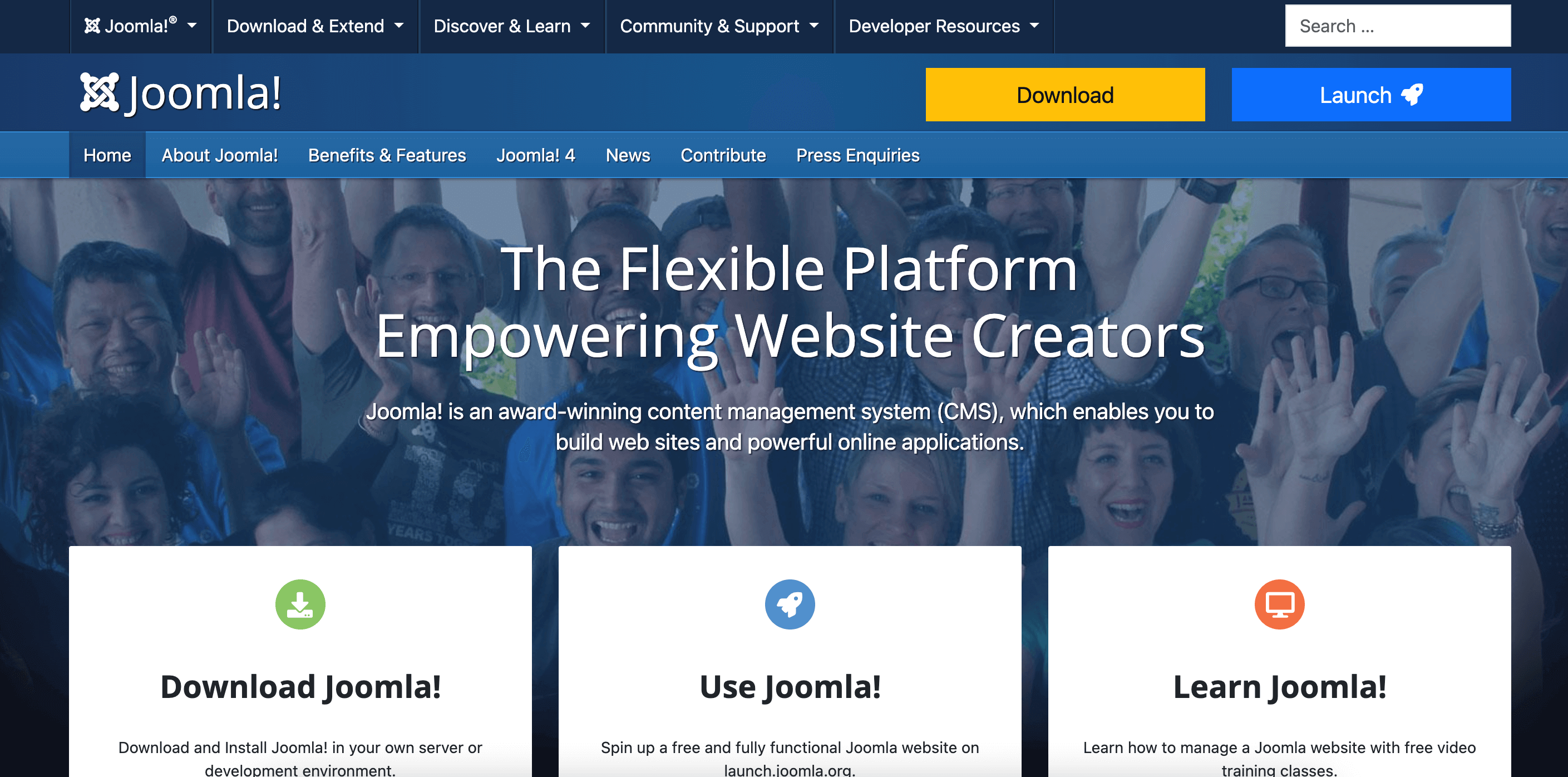 Joomla is one of the top CMS systems that helps startups and large organizations create dynamic and interactive websites. Also, this platform is in high demand among software agencies due to its wide spectrum of comprehensive features for website design, development, and management, requiring minimal instructions. For non-techies, it will be really easy to install and make the most out of Joomla. 
The platform can be used to build the following types of websites: corporate websites, online magazines, newspapers, eCommerce stores, government, non-profit, community-based, public, and online reservations. The best part of it is that Joomla is a totally free, open-source website content management platform. So why not try it right away?
Key features: 
Multilingual platform: supports 70+ languages 

SEO tools 

A variety of content types, including articles, blog posts, media, and custom content

Custom content types, fields, and categories tailored to specific requirements

Content editing and publishing tools

Flexible framework

Global and professional support 

Thousands of extensions and templates 
Pricing:
Joomla is open-source software and is available for free.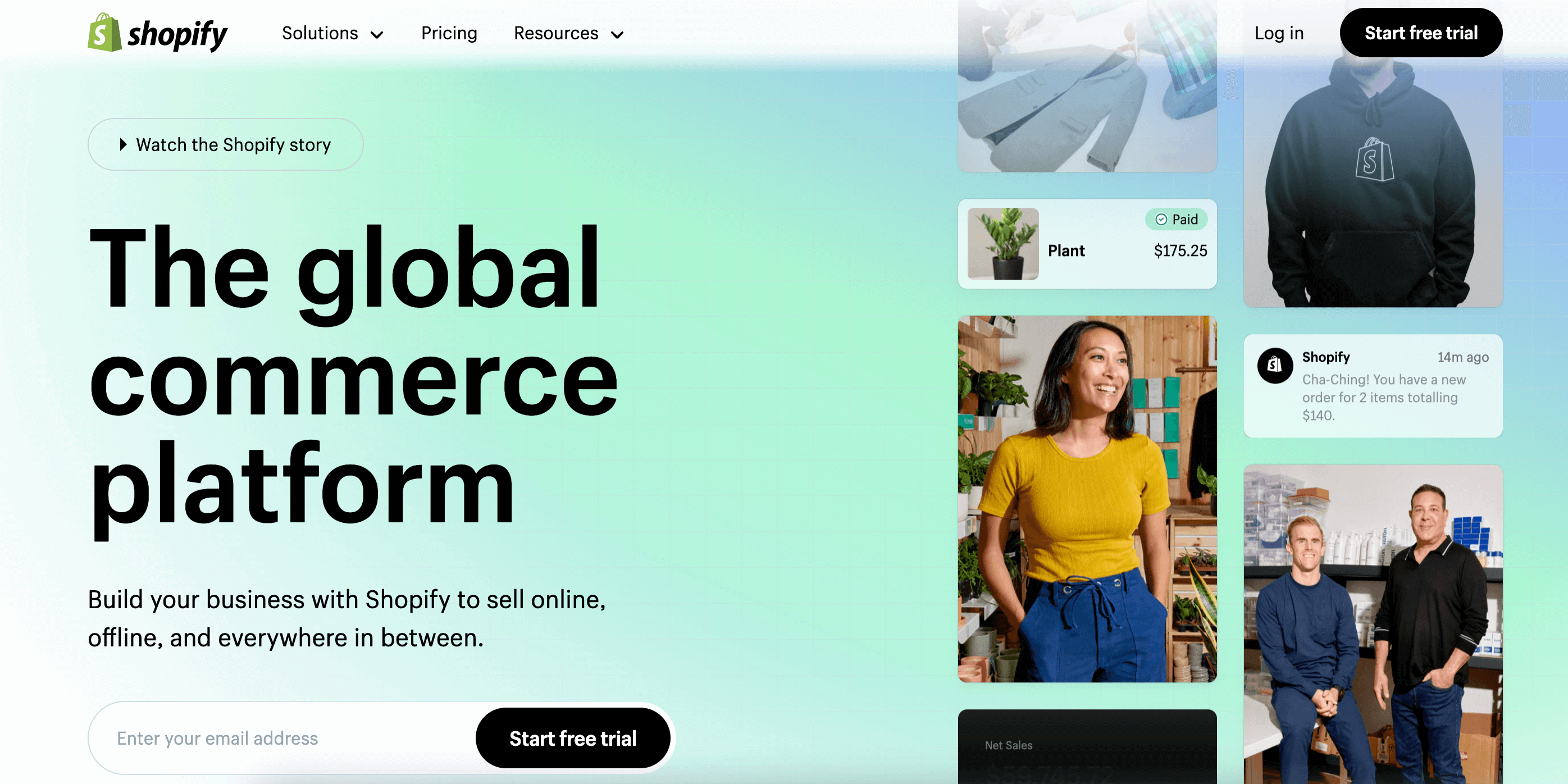 Shopify is a leading eCommerce CMS platform that helps businesses to establish, manage, and expand their online stores. It provides all-in-one eCommerce solutions, including payment processing, shipping benefits, inventory management, and, for selected sellers, even access to loans.
Starting at $29 per month, Shopify offers three paid subscription plans. Every Shopify plan includes a full set of business management and online selling tools: product sourcing, sales and inventory monitoring, payment processing, shipping, customer accounts, marketing tools, and analytics. Start selling easily and effectively from day 1 with one of the best content management systems ever! 
Key features: 
eCommerce builder

Website design and templates

Domain and hosting 

Shopping cart and checkout

Payment integrations

International and B2B sales 

Marketing tools 

Product management 

Customer support 

Shipping and fulfillment
Pricing:
Shopify offers you to try 3 days for free, and then enjoy your first 3 months for just $1. Then, you can go with any paid plan, getting up to 25% savings on its annual billing. 
Basic:

$32 per month.

Shopify:

 $92 per month. 

Advanced:

$399 per month.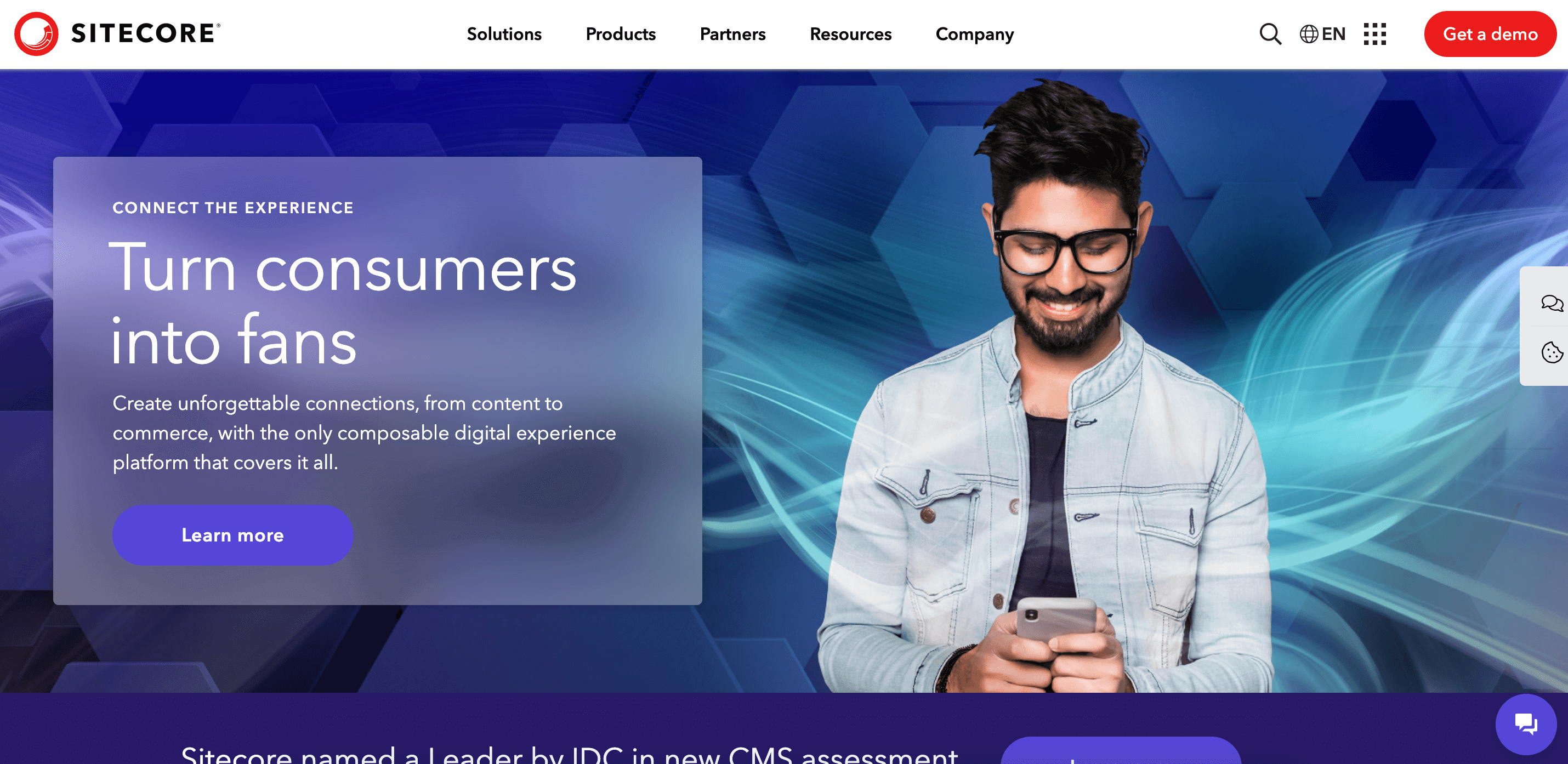 Sitecore provides a variety of CMS tools, from content management to customer data management, marketing automation, and order management. It was recognized as a leader in the Hybrid Headless Content Management Systems category by the top analyst firm, IDC, showcasing Sitecore's exceptional expertise and authoritative position in headless CMS solutions.
Sitecore is a perfect CMS platform for small businesses, providing both content and customer experience management within a single integrated solution. This dual functionality enables website owners to seamlessly organize and deliver content to individual users based on their preferences, behaviors, and interactions. 
Key features: 
Content management 

Customer experience management 

Storefronts and marketplaces 

Digital asset management 

A/B testing and optimization 

Digital marketing tools 

Multichannel experience 

eCommerce integrations 

Security 

Customer support 
Pricing:
Contact Sitecore to get a custom price based on your needs.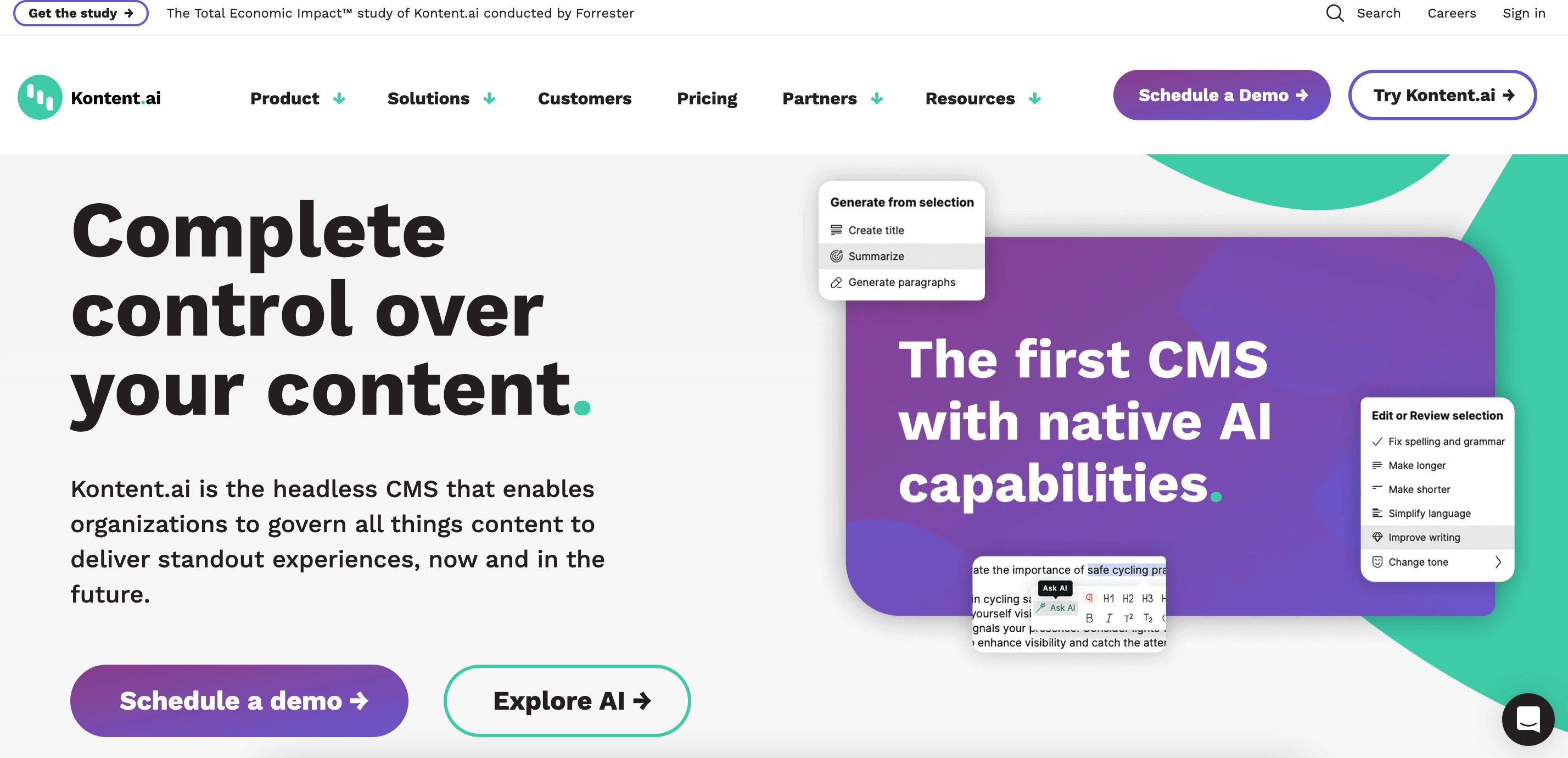 Kentico Kontent is one of the top CMS platforms aimed at helping clients maximize ROI and deploy new content faster by 90%. Being a headless CMS system, Kentico allows you to easily adapt and publish content across multiple channels, such as websites, mobile apps, and even IoT devices, passing by the constraints of a traditional CMS. 
The platform is mostly used in industries like manufacturing, education, healthcare, finance, insurance, retail, travel, software, and technology. It provides developers with the tools to integrate content into various applications, enhancing user experience. Kentico's built-in localization capabilities make it one of the best enterprise CMS vendors, allowing content to be adapted for different regions and languages.
Key features: 
Custom content model

Multilingual platform

Custom UI elements

Web preview 

Scheduled publishing 

Third-party integrations 

Cloud-based SaaS

Enterprise-grade scalability and security 

Customer support 

Multisite and omnichannel delivery 
Pricing:
Kentico Kontent offers three following plans: 
Developer:

free.

Scale:

custom price.

Enterprise:

custom price.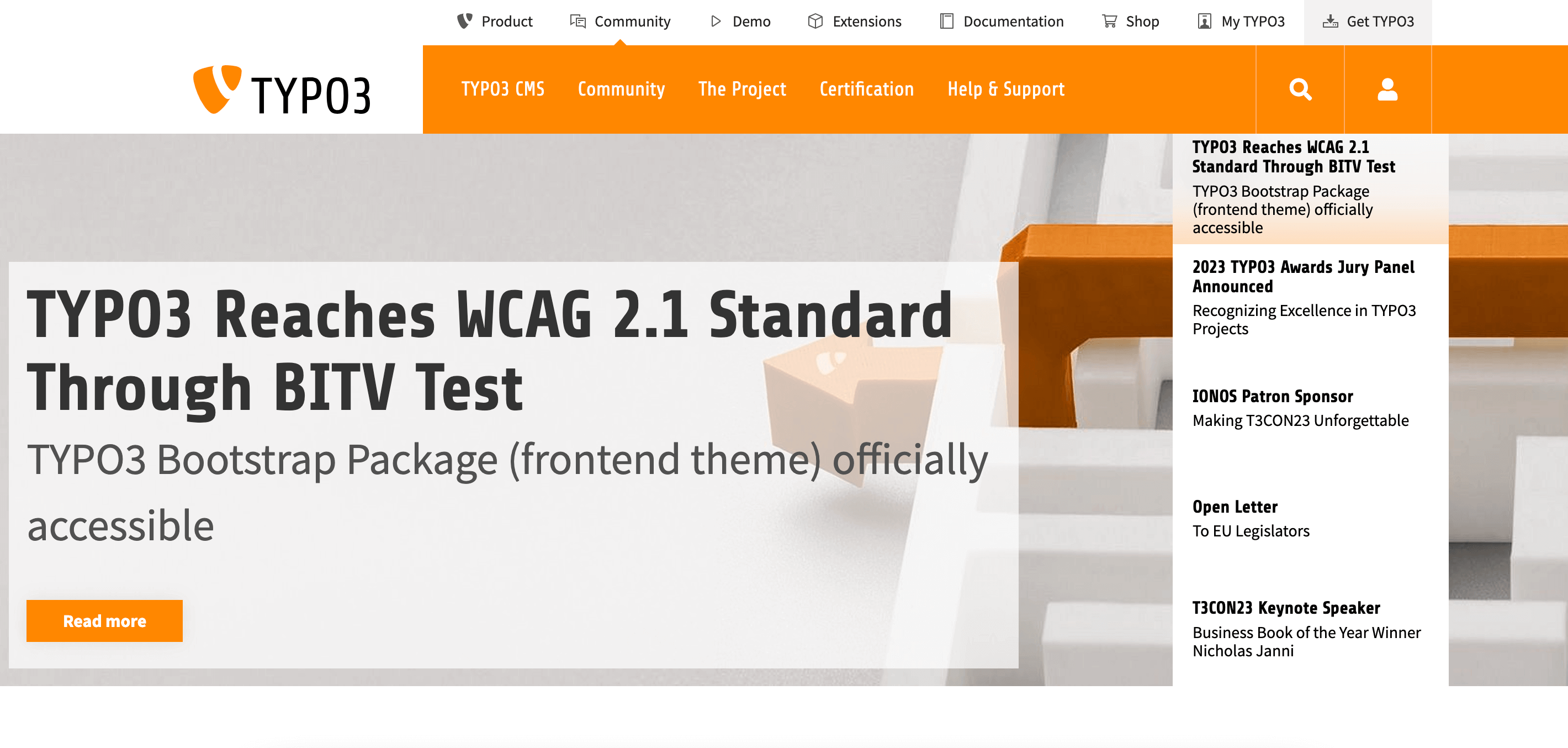 As one of the best open-source and most flexible CMS platforms, TYPO3 has a large global community. With a focus on enterprise-level applications, TYPO3 allows users to manage and deliver digital content across various platforms at scale. 
The modular structure and a huge library of extensions offered by this CMS enable users to customize websites and applications to perfectly suit their unique requirements. TYPO3's multilingual support, robust user permissions, and comprehensive content management make it a favored choice for large organizations with complex web projects. 
Key features: 
Drug-and-drop website building and editing tools

Digital marketing tools 

Massively multisite and multilingual platform

Third-party integrations 

Web-based custom templates 

Scalable system architecture

Rich text editing tools
Pricing:
TYPO3 is free, open-source software.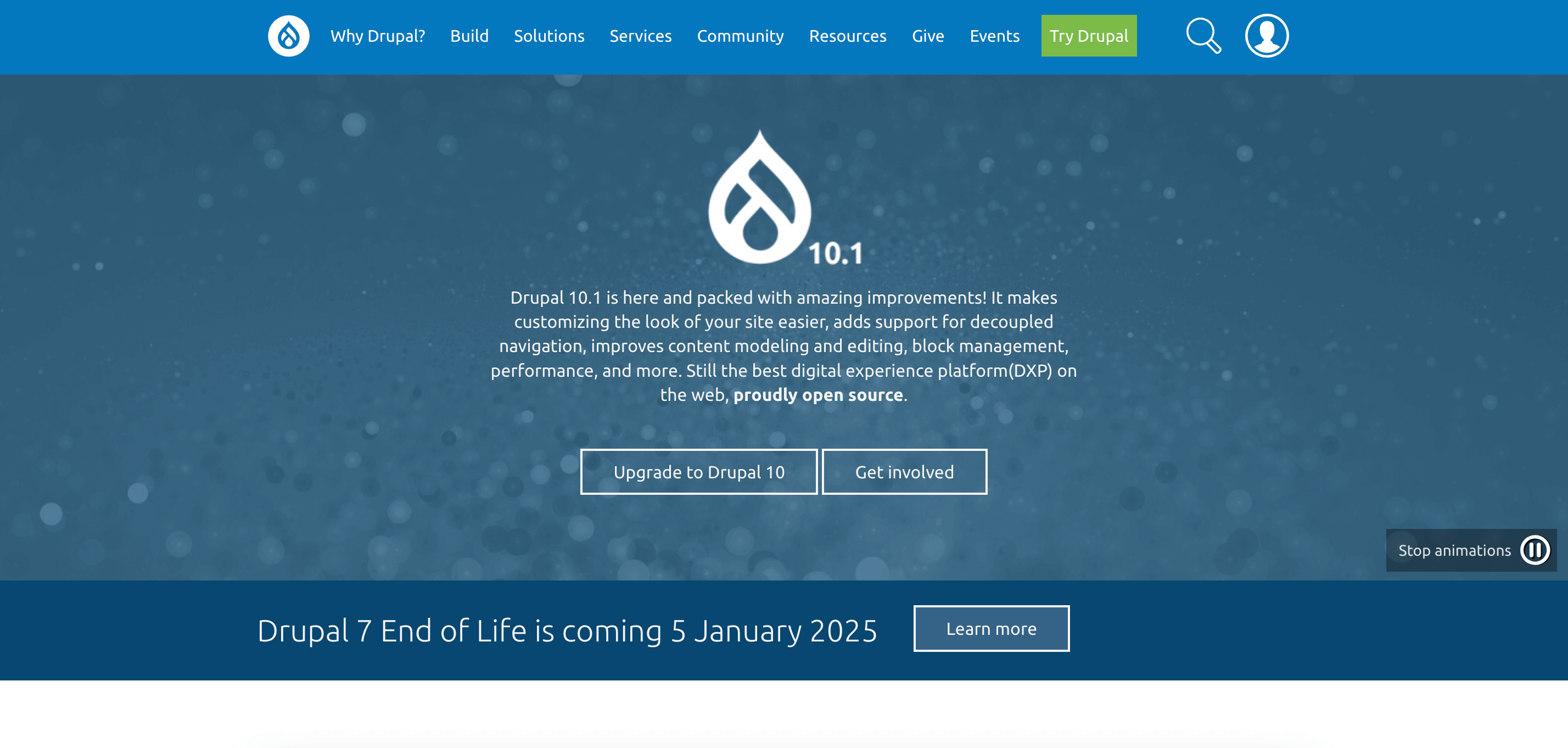 Drupal is a famous CMS system adored by millions of users for its versatility and great customization capabilities. Built on a robust framework, it allows you to create and manage different types of websites, from simple blogs to complex enterprise portals. 
As an open-source solution, Drupal offers a cost-effective option for businesses and individuals seeking to establish a strong online presence with tailored features and functionalities. Benefit from the power of the largest open-source community!
Key features: 
Security and protection

Performance and scaling

Multilingual translation 

Marketing automation 

Content authoring 

Personalization 

Content as a service (from blog posts to white papers, emails, webinars, etc.)

Numerous themes and templates

API support 

Website builder

Third-party integrations
Pricing:
Drupal is open-source software available for free.
Conclusion 
The market of the top CMS platforms offers a multitude of choices for businesses of all sizes, whether they need eCommerce integration, custom templates, multilingual and global support, content personalization, or cloud-based solutions.
These tools have evolved into essential components of successful digital strategies, streamlining content management and driving business growth.
Hopefully, this article serves as a useful guide to help you find the best website content management platform that meets your needs.
If you want to add your CMS system to this list, contact us with details. After a thorough review, we'll decide whether it's a valuable addition.