According to DesignRush, almost 30 million live websites have .NET as their core framework for developing applications. 
And that's a smart choice. Whether you want to build a high-performance web app, desktop software, or mobile app, the .NET platform allows you to create powerful cross-platform solutions for any device. 
The key benefits of .NET technology include the following:
Language interoperability

Enhanced security and reliability

Great scalability

Versatility and flexibility

Cloud compatibility

Improved efficiency
The fantastic possibilities of .NET have made it an irreplaceable technology in the software development market. Literally every  IT outsourcing company provides .NET development services to help clients build robust digital products of any size and complexity, from the basic web and mobile apps to innovative systems powered with AI, ML, cloud computing, or IoT technologies.
So are you looking for a team of top-notch .NET developers for your next project? Stay with us. Here we list the top .NET development companies boasting extensive expertise in various industries, impressive portfolios, prominent rewards, and, surely, rave customer reviews. 
The Best .NET Development Companies
To Build Innovative Software Solutions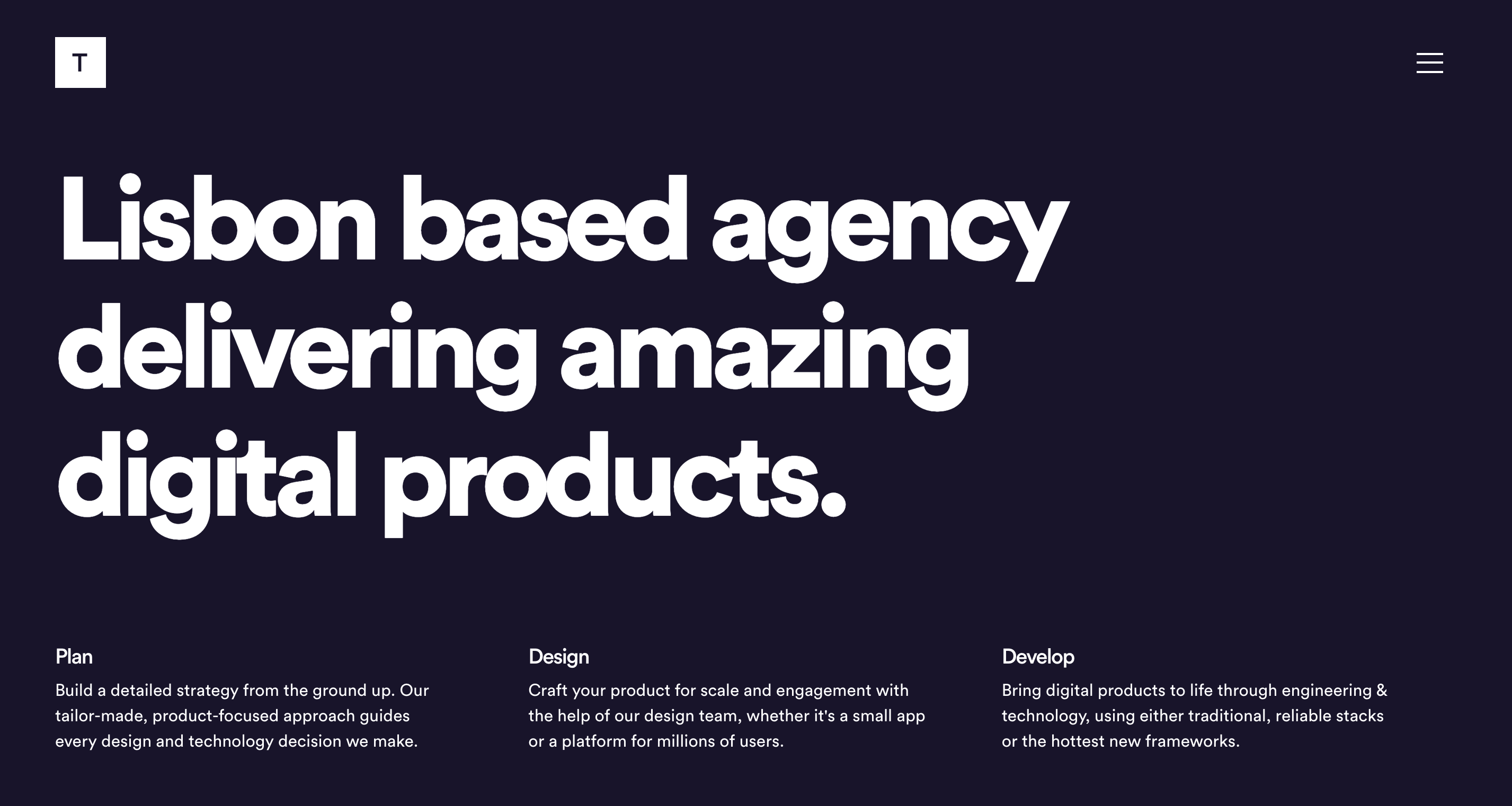 Twistag, the top Lisbon-based .NET development agency, delivers exceptional digital products by leveraging engineering mastery and high technology. The company is renowned for its expertise in using tried-and-tested tech stacks as well as the latest frameworks to bring customers' ambitious ideas to life. Whether you require assistance with product planning, design, or development, Twistag has got it covered.
In addition to custom software development, Twistag offers strategic partnerships, remote outsourcing, and nearshore teams with customized skillsets to help organizations and IT departments roll out new projects seamlessly and lightning-fast. Their services also cover product strategy, business consulting, ideation, planning, analytics, optimization, design thinking, user research, rapid prototyping, and more.
With a great story of helping customers transform their businesses for the innovative future, Net Solutions has gained numerous long-term partners. The agency has also won several awards from technology market leaders, proving it's the best .NET development company for those striving to create next-gen digital experiences.
Services and expertise:

product design, web and mobile application development, eCommerce solutions, AI development, custom integrations, and data science

Tech stack: .NET, React Native, WordPress, Shopify, WooCommerce, and more
Clients: Nike, Volkswagen, Sanofi, Autodesk, and numerous other big names and promising startups
Company size: 50-100 experts
Location: Lisbon, Portugal
Rewards: Clutch 2020 Leader Award for Top .NET Development Agencies in Portugal and the European Excellence Award for Best Corporate Social Responsibility Initiative
Industries they serve: eCommerce and Retail, Automotive and Transportation, Sports and Fitness, and Food and Beverages, to mention a few
Core values: teamwork, innovation, quality, flexibility, and transparency
Unique features and offers: Twistag is ready to assist you at any stage of product development, be it product implementation from scratch or an immediate team augmentation to help you cover urgent projects. Their rich experience of working with global giants within various industries makes them a proven and versatile partner for any business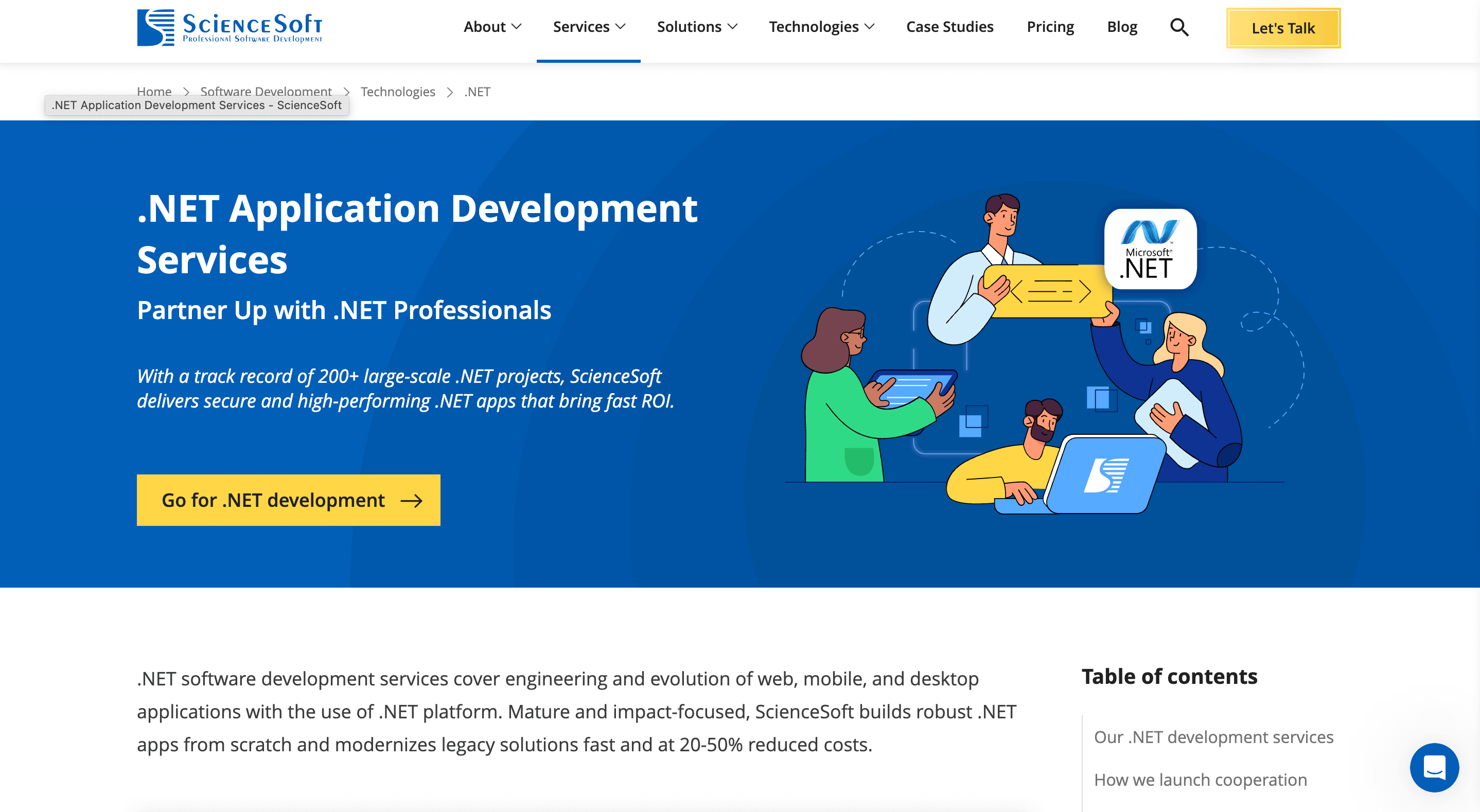 ScienceSoft is an established .NET development partner with 19 years in the field and 200+ successful large-scale projects. The firm offers full-cycle .NET services, from software architecture design to long-term application support.
Being an experienced vendor, ScienceSoft perfectly knows how to build long-term relationships with its clients: the company gets 62% of its revenue from the customers it has served for 2+ years.
ScienceSoft is ready to conduct a feasibility study before the project start and promptly deliver a PoC. ISO 9001- and ISO 27001-certified, this prominent software house ensures the high quality of its services and the full security of the data entrusted to the team.
Services and expertise

: web and mobile application design, .NET development, testing, support and evolution, legacy software modernization, cloud migration, system integration, SaaS development, enterprise software development, big data, IoT solution development

Tech stack

: .NET, C#,

C/C++, VB.NET,

ASP.NET, Python, JavaScript, Microsoft Silverlight, WCF, iOS, Android, Xamarin, Kafka, Spark, Azure, AWS, Google Cloud, NHibernate, Jenkins, Kubernetes

Clients

: Nestle, Deloitte, IBM, eBay, Walmart, NASA JPL, PerkinElmer, Leo Burnet, Lixar, Viber

Company size

: 750+ experts

Location

: HQ in McKinney, TX; offices in Atlanta, GA, the UAE, and across Europe (Finland, Latvia, Lithuania, Poland)

Rewards

: ScienceSoft has been included in the Global Outsourcing 100 list by IAOP in 2022 and 2023. The Financial Times has also named ScienceSoft USA Corporation among the Americas' fastest-growing companies in 2022 and 2023

Industries they serve

: Healthcare, BFSI, Manufacturing, Retail & Wholesale, eCommerce, Transportation & Logistics, Oil & Gas, and over 20 more

Values

: bringing tangible business results to the clients; continuously balancing costs, risks, and business outcomes; fast time-to-value; continuous improvements in cooperation with clients; realistic performance estimates and uncompromised commitment to quality software development

Unique features and offers

:

ScienceSoft offers 1.5–2x faster development speed due to .NET coding best practices, parallel testing, and mature Agile and DevOps processes. The company has partnerships with Microsoft, AWS, Oracle, Adobe, ServiceNow, and other tech leaders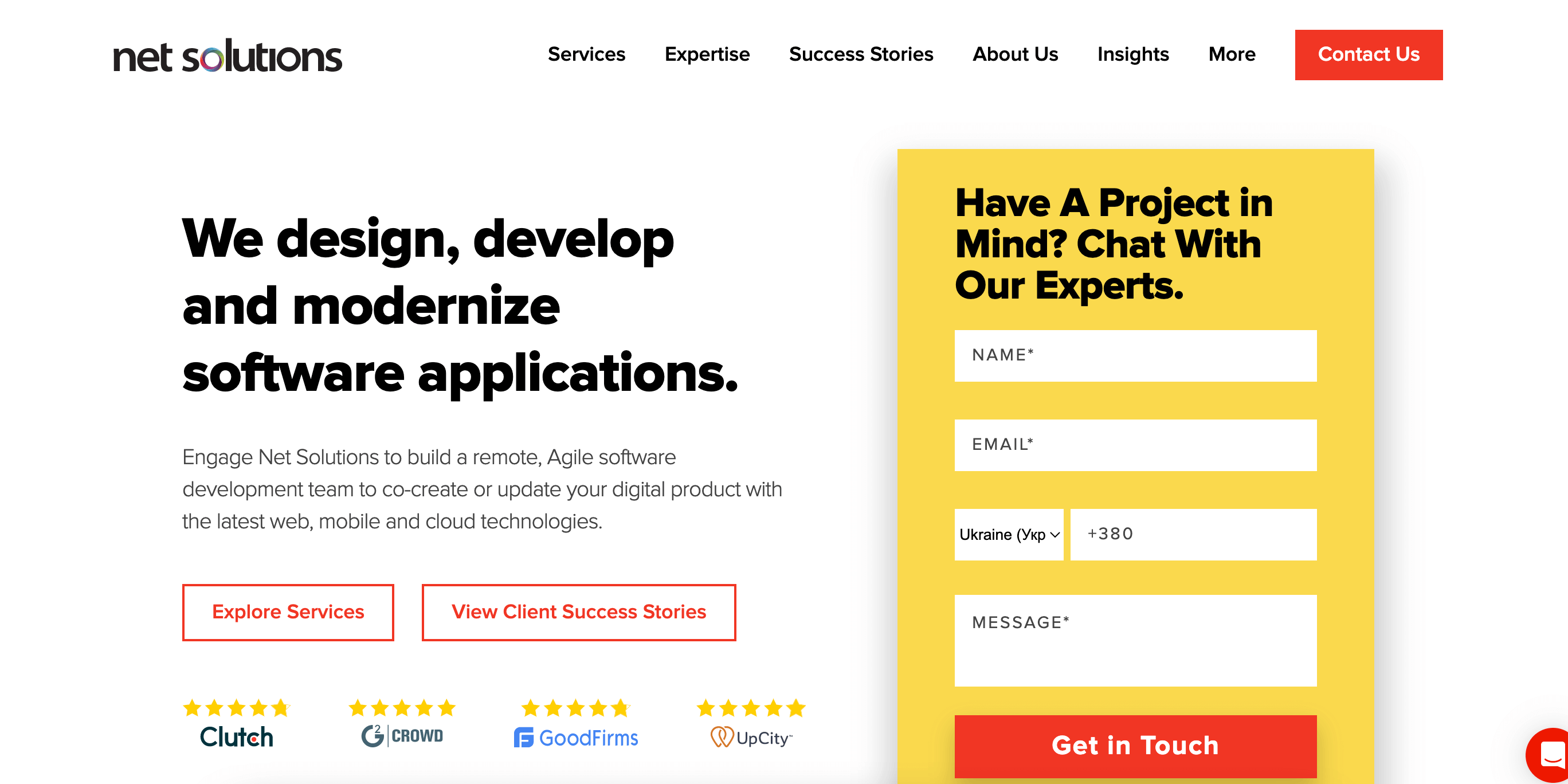 Net Solutions is a world-renowned agency serving businesses seeking affordable and reliable .NET software development services. Founded in 2010, the company offers advanced frameworks, processes, automation, and rich expertise that enable it to build top-quality, fast, and cost-efficient web and mobile apps. 
Following a customer-oriented approach, Net Solutions creates modern applications that delight end users and ultimately grow their clients' businesses. Their work has generated over $465 million in exit value, and the systems they've built have handled over $1 billion in transactions.
Services and expertise:

web & mobile app development, data analytics, digital transformation, dedicated teams, offshore development services, experience design, software consulting

Tech stack: .NET, PHP, Python, JavaScript
Clients: Unilever, Microsoft, Harvard Business Review, IMG, Mothercare, Porsche, Euro Car Parts, etc.
Company size: 250-999 professionals
Location: Toronto, Canada
Rewards: Forrester's Vendor Landscape of Top 65 Digital Experience Service Providers 2017 and Gartner Cool Vendors 2017 Guide as CRM Application Software Specialists in the Asia Pacific
Industries they serve: Healthcare, Education, Retail, Finance, and more
Core values: customer satisfaction, innovation, teamwork, and integrity.
Unique features and offers: affordable development supported by advanced frameworks, processes, automation, and expertise; personalized approach to build loyalty and help drive your organization's growth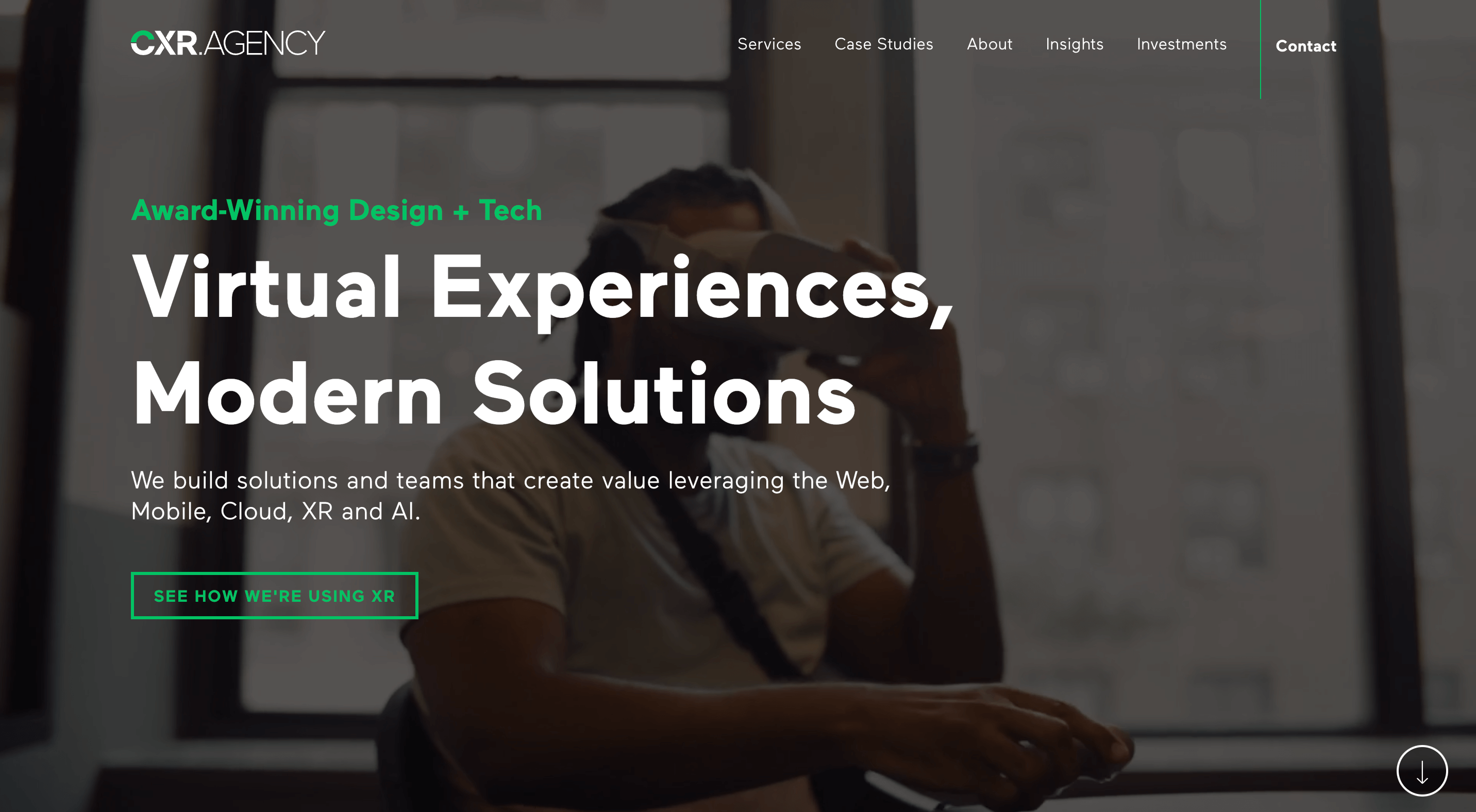 CXR.Agency is a leading .NET development company offering full-cycle software development and IT consulting services. Founded in 2009 and based in New York, the company specializes in building world-class full-stack web, mobile, blockchain, AI, virtual, augmented, and mixed reality applications, as well as providing staff augmentation and dedicated teams.
Being an award-winning agency trusted by well-known brands, they help clients solve IT expertise gaps, cost reduction, and digital transformation challenges. Their team provides flexible, transparent, and cutting-edge web and mobile apps from concept to deployment.
With top-notch experts who know how to modernize any business through innovative tech solutions, CXR.Agency is the top .NET development service provider for brands looking to build interactive, engaging, and informative experiences that resonate with their audience and deliver impactful results.
Services and expertise:

full-stack web and mobile app development, blockchain solutions, virtual experiences through VR and AR, 3D modeling, AI and ML development, cloud services, UX/UI design, DevOps, immersive training, and many more

Tech stack: .NET, React, Laravel, Node.js, Swift, WordPress, ARCore, Unity, AWS, and many more
Clients: Richemont, Harvard Medtech, Essence, HBOMax, Montblanc, etc.
Company size: 150+ experts
Location: New York, USA
Rewards: Top VR & AR Company by DesignRush, Top Web Development Company by Clutch, Top 100 Companies in 2022 by Clutch, and 30+ more prominent awards
Industries they serve: eCommerce, Information Technology, Financial Services, Education, Consumer Products & Services, etc.
Core values: building products that accelerate growth, thinking innovatively to integrate best-in-class design solutions, and adhering to industry best practices
Unique features and offers: CXR. Agency is an award-winning software development firm with a truly extensive tech stack and expertise, making it a skilled partner to implement products of any type, size, and complexity, especially solutions that automate and augment workflows. In addition to full-cycle product development, they provide in-depth training sessions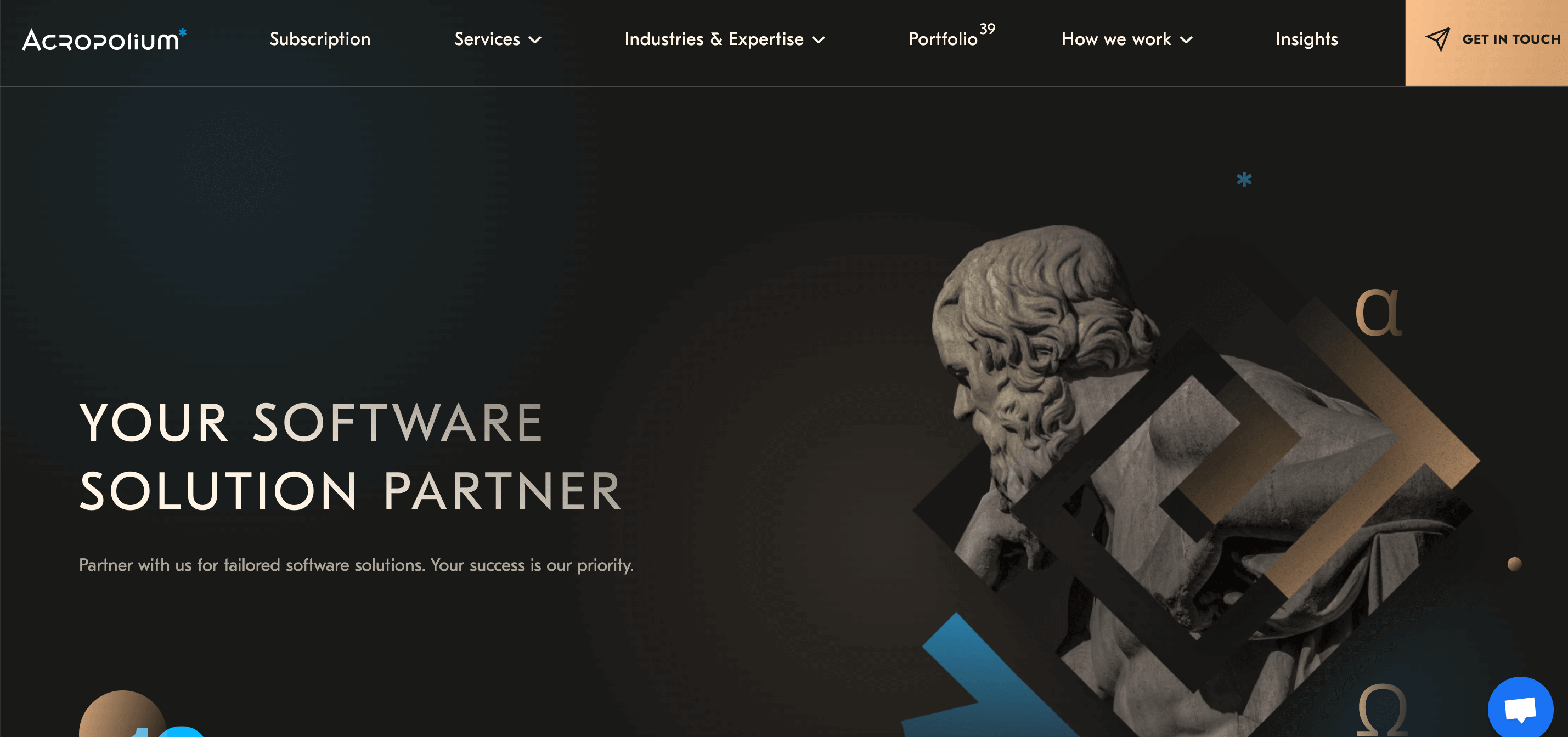 Acropolium is an exceptional software development and technology consulting company with a strong focus on fruitful partnerships. As a top .NET development agency, Acropolium has been empowering businesses to disrupt new markets and achieve their goals by delivering outstanding digital solutions for the last 19 years.
They provide top-level software engineers and business analysts for projects of any type, speeding up the go-to-market of startups with pre-set solutions. Their experts know how to scale businesses safely and flexibly to achieve business goals while allowing clients to focus on a business strategy without micromanagement in the technology environment.
Acropolium's ISO 9001 certification, 450+ delivered applications, unicorns among clients, and 60% core specialists with 10+ years of experience, make them an ideal partner for any business. In addition, they have a proven track record of delivering best-in-class applications for SMBs and enterprises across various industries quickly and stably, committing to the highest standards.
Services and expertise

: software engineering & product development, SaaS development, tech audit & consulting, platform development, high-load systems, cloud solutions, custom chatbots, ERP and CRM systems, big data, AI, and ML

Tech stack: ASP .NET, C#, ASP .Net core, JavaScript, Node.JS, Vue.JS, React.JS, Angular, PHP, Laravel
Clients: cryptocurrency trading platform, project management app, car dealer chatbot, inventory management software, and others
Company size: 100+ experts
Location: the United States and Ukraine
Rewards: ISO-certified developer, Microsoft Azure certified, Top React Native Development Companies in 2023 by Superb Companies, Top B2B Services Companies in the Czech Republic in 2022 by Clutch, and Top Software Developers in 2022 by Techreviewer
Industries they serve: Hospitality, Transportation & Logistics, Healthcare, Oil & Gas, Building & Construction, Risk Management, Automotive, Fintech, Retail, Marketing & Events
Values: partnership and a client-focused approach. They believe in creating solutions that solve real business problems
Unique features and offers: a highly experienced team with over 60% of specialists having 10+ years of experience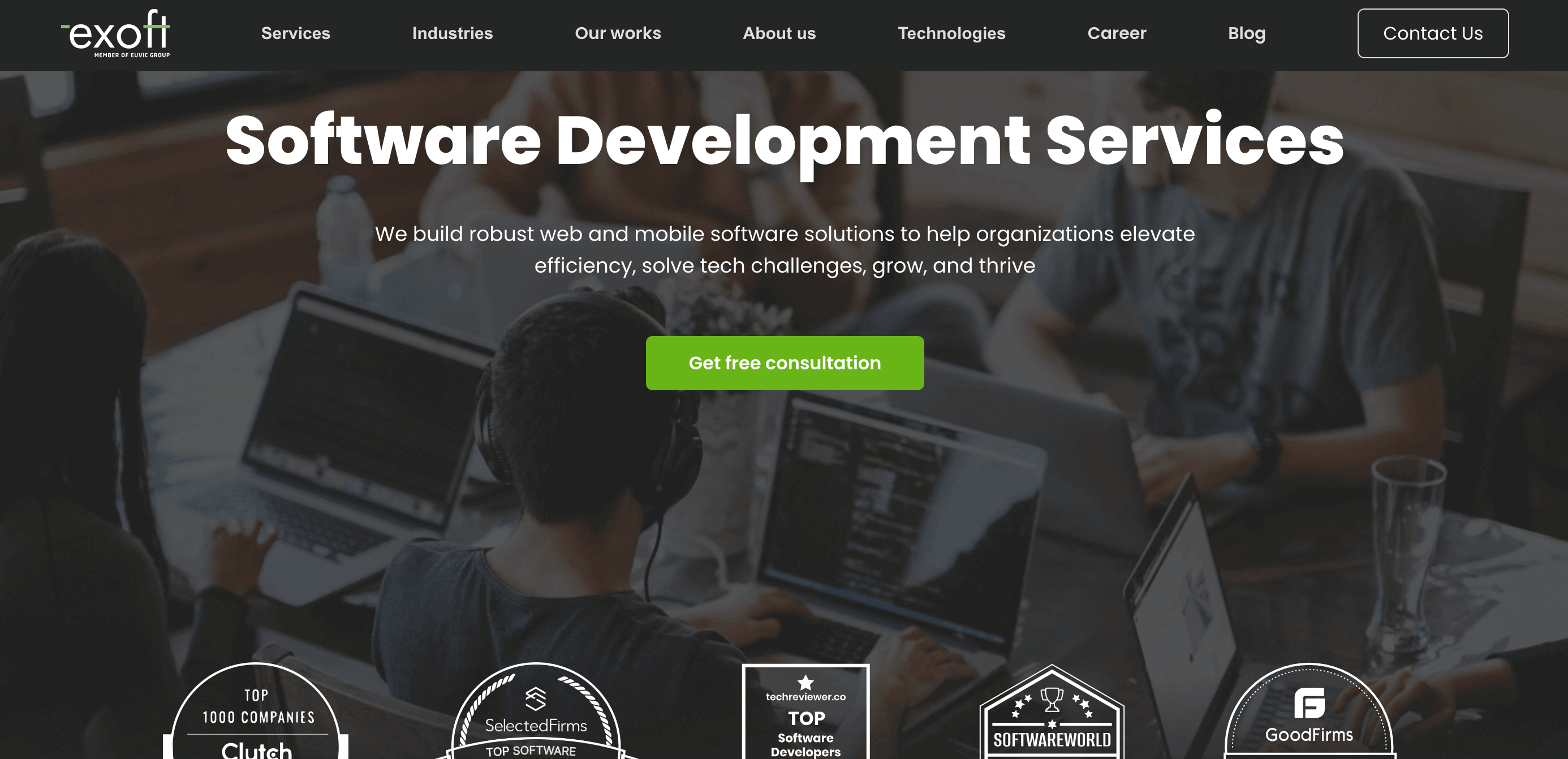 Exoft is a superior .NET software development company providing end-to-end software solutions to businesses of all sizes. With extensive experience in Microsoft technologies, Exoft has become a trusted partner for Healthcare, Logistics, Education, Construction, Energy, and Fintech clients.
Specializing in developing complex systems, the company can create customized solutions to help organizations elevate efficiency, solve tech challenges, grow, and thrive. Exoft's team of skilled .NET experts not only covers a traditional development cycle but also brainstorms to deliver the best final product possible. 
Services and expertise:

.NET software development, ASP.NET web development, .NET Core development, Azure development services, Xamarin development, ASP.NET enterprise solutions, dedicated development team, app lifecycle management, QA, and support

Tech stack: .NET, ASP.NET, .NET Core, Azure, Xamarin, Java, Angular, React, Swift
Clients: their notable projects are SCOM: Health Check V2, Medical Information System, Custom Telemedicine Solution, STD Status App, and others
Company size: 150+ experts
Location: headquartered in Lviv, Ukraine, and has additional offices in Kyiv, Ukraine, and London, UK
Rewards: Top Software Development Company in Ukraine 2020 by Clutch, Top .NET Development Company 2020 by Techreviewer, and Top Software Development Company 2019 by GoodFirms
Industries they serve: multiple industries, but their key focus is on Healthcare, Logistics, Oil and Gas, and ERP
Core values: customer satisfaction, transparency, quality, innovation, continuous learning, teamwork
Unique features and offers: extensive experience in .NET software development, a result-oriented approach, a dedicated support team of business analysts, the optimal price/quality ratio, and a focus on healthcare industry innovation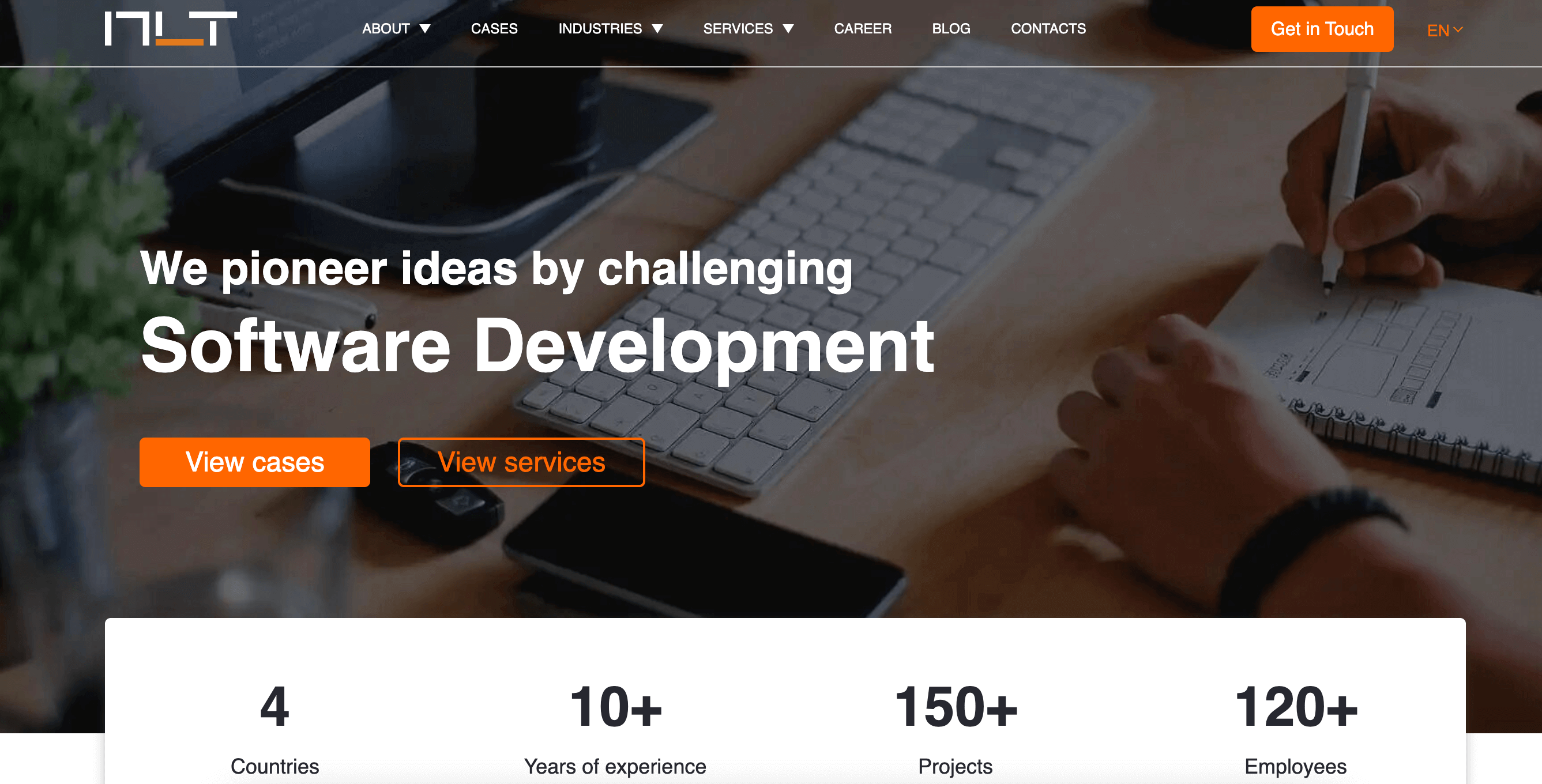 New Line Technologies is among the best .NET development companies with 10+ years of experience in providing custom software development, support, and managed delivery services, allowing clients to focus on their core business tasks.
Having successfully completed over 150 projects, with an average project duration of 6+ years, New Line Technologies has become a reliable partner for businesses seeking top-quality solutions to their technical challenges.
Services and expertise:

web and mobile development, dedicated teams, team extension, QA, DevOps, UI/UX, blockchain, big data, BI, cloud, AI, AR/VR, etc.

Tech stack: .NET, Java, Node.js, React, Angular, Swift, Objective C, Kotlin, and Dart/Flutter
Clients: Cinamaker, Karabag, Kuva, Outfit, Solidus Labs, Superfry, Vitalerter, and others
Company size: 120+, with an annual staff growth of 15%
Location: headquartered in Kharkiv, Ukraine; offices in Atlanta, Georgia, Plovdiv, Bulgaria, and Antalya, Turkey
Rewards: Top .NET Developers in Ukraine by Clutch, Top Blockchain Developers, and Expertise Best Mobile App Developers in Ukraine by GoodFirms
Industries they serve: Real-Time Multimedia, FinTech, Education and E-learning, Insurance & Healthcare, Internet Of Things, and others
Core values: transparency, accountability, quality, teamwork, and continuous learning
Unique features and offers: The company has experience in managing long-term projects and offers services such as project rescue, audit, technology migration, further development, support, and project management to ensure your project is delivered on time and within budget. New Line Technologies also offers team extension, dedicated team, and hybrid team models to help clients find the right resources for their tasks.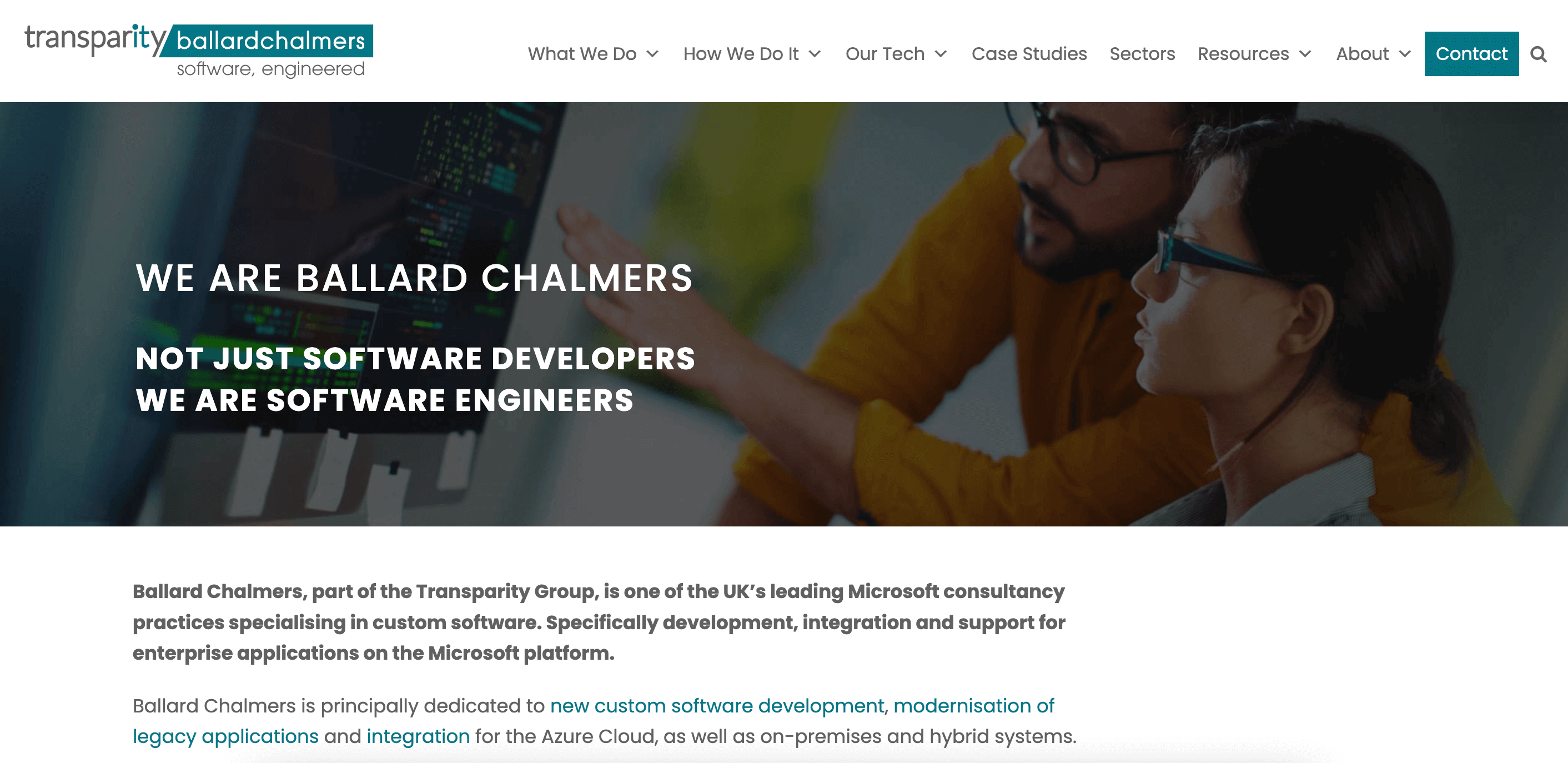 Ballard Chalmers is a premier custom software development company specializing in building enterprise applications using the Microsoft Platform. As one of the leading Microsoft Partners in the UK, the firm has built a solid reputation for providing expert .NET software development services at reasonable rates.
Ballard Chalmers offers a flexible and mature approach to app development and adapts methodologies and business terms to cater to clients' unique requirements. The company's technical and business expertise allows them to work closely with clients, interpret briefs, and deliver projects within scope, budget, and on time.
Their best .NET developers provide impactful custom software development, consulting, and app support. Each client has an  assigned dedicated project manager who acts as a single point of contact throughout the development process to ensure all parties are on the same lengthwave.
Services and expertise:

custom software development, application modernization, application integration, mobile app development, and application management, short-term consultancy, outsourced development projects, team augmentation, support & DevOps

Tech stack: Azure Development Platform, Azure Integration Services, .NET, SQL Server, BizTalk Server
Clients: Electrolux, American Express, Transport of London, Vodafone, NHS, VennGroup, Investec, HM Revenue & Customs, BCA, Experis, Equality and Human Rights Commission, IMO, British Heart Foundation, and others
Company size: 30+ experts
Location: Wimbledon, London, UK
Rewards: Microsoft Partner, the 2021 UK Enterprise Award for Best Custom Software Development Company, and the 2021 Technology Innovator Award for Best Azure Integration & Development Consultancy
Industries they serve: Finance, Healthcare, Insurance, Retail, Logistics, and Manufacturing
Core values: client satisfaction and focus on delivering custom software solutions to meet their client's unique business needs.
Unique features and offers: custom software development on the Microsoft Platform, extensive experience in Azure development and integration services, and consultative approach to software engineering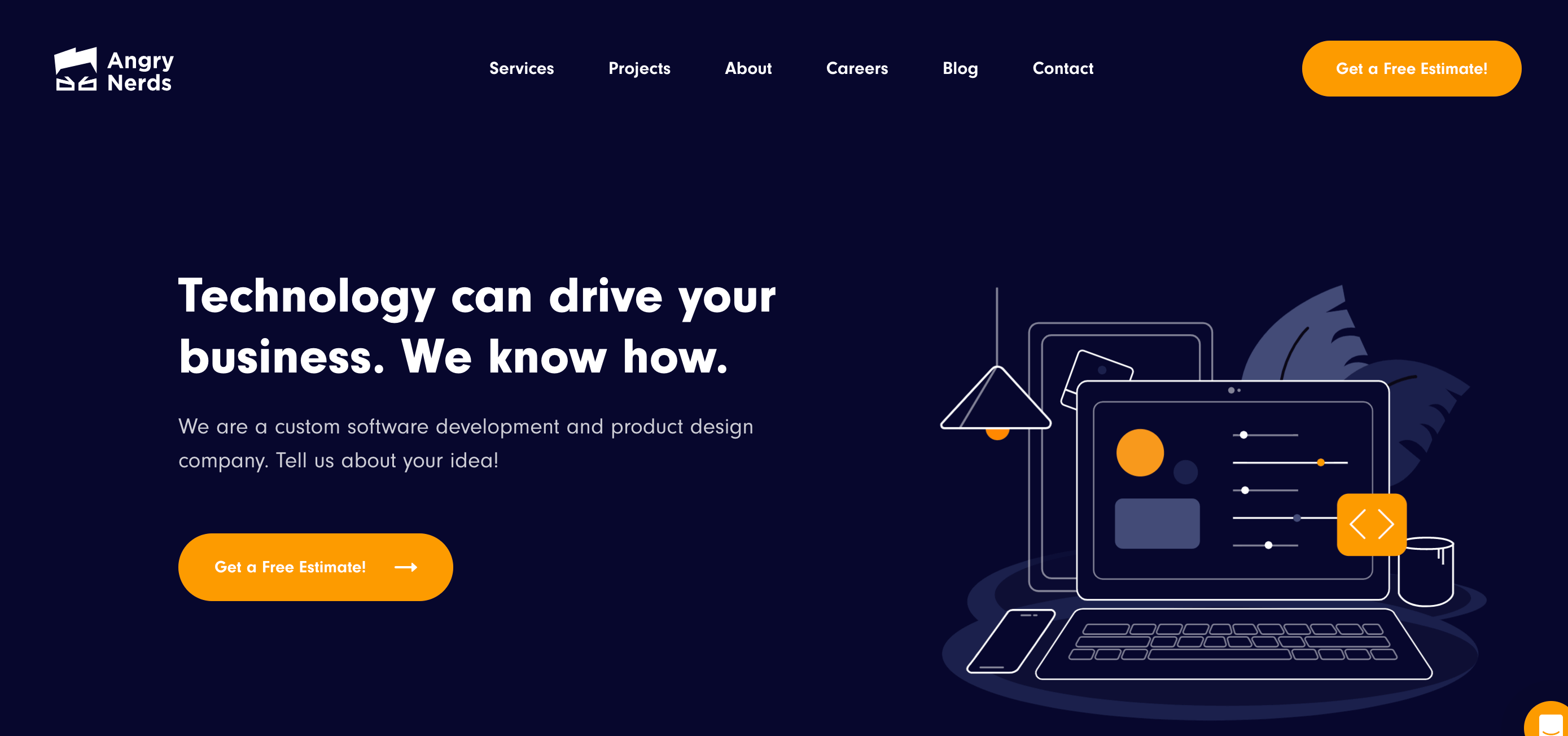 Angry Nerds is a leading .NET development company that was born in 2015. Their team of over 100 tech-savvy professionals specializes in providing custom software solutions that bring clients' visions to life. The firm is headquartered in Wroclaw, Poland, and has a remote team that works from multiple locations across the world.
Angry Nerds has delivered 545+ projects globally, helping businesses of all sizes, from startups to multinational enterprises. They provide technical support and advice, deliver projects of any type and complexity, create custom solutions, provide short-term dedicated teams, and carry out digital transofrmations.
Services and expertise:

web and mobile development, custom software development, UX/UI design, AR, technology consulting, IoT, staff augmentation, digital transformation

Tech stack: .NET, .NET Core, C#, Xamarin, Unity, React, Angular, Vue.js, Node.js, AWS, Azure
Clients: Roche, BNP Paribas, PKP Intercity, and Raiffeisen Bank
Company size: 100+ professionals
Location: Wroclaw, Poland, and a remote team
Rewards: Clutch Top B2B Company in Poland in 2020 and a Deloitte Technology Fast 50 Central Europe winner in 2019
Industries they serve: Finance, Healthcare, Transportation, eCommerce, and more
Core values: professionalism, flexibility, quality, commitment, boldness, team spirit, curiosity
Unique features and offers: technology-agnostic approach, cross-platform development expertise, deep specialization in .NET and related technologies, agile-driven and flexible project management approach, focus on building long-term relationships with clients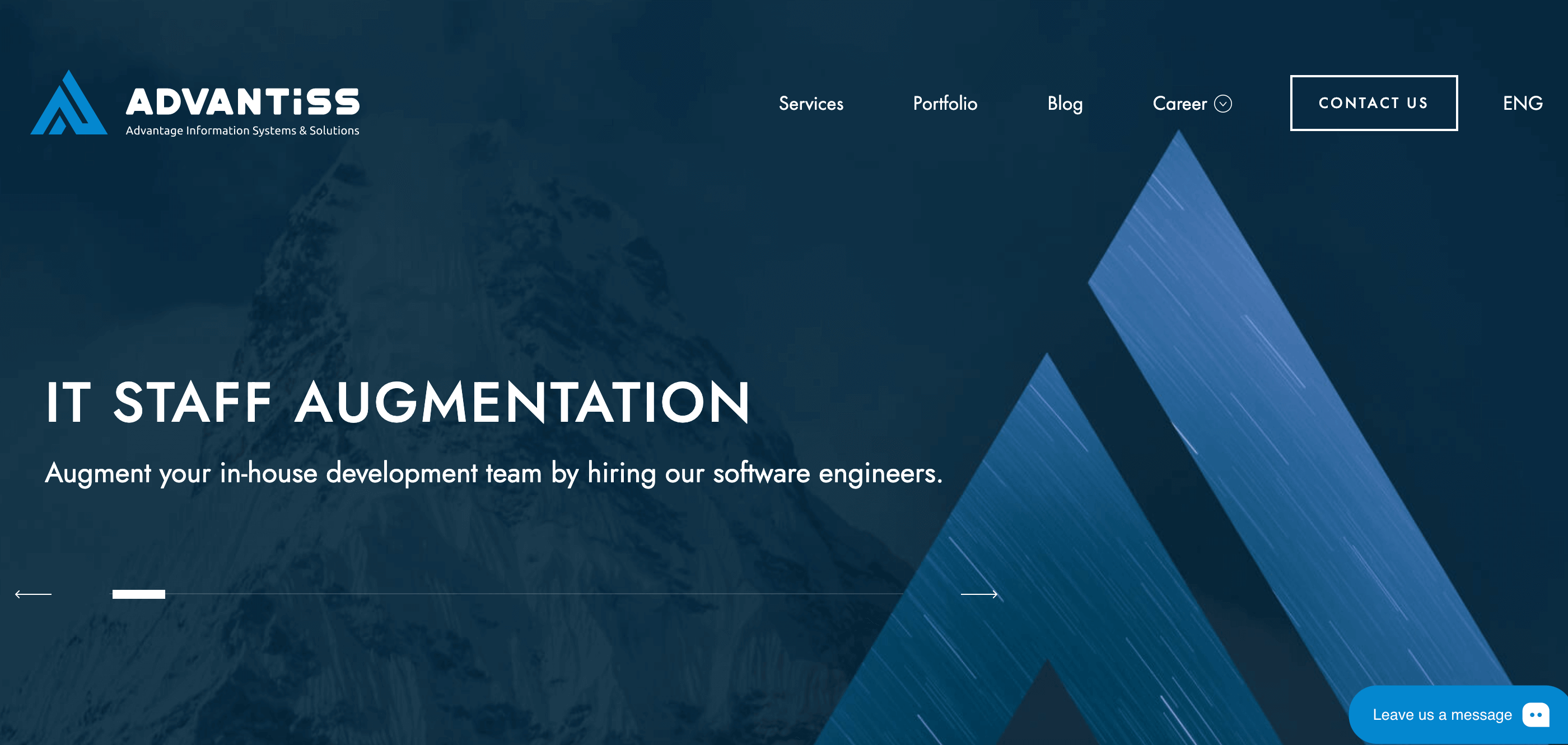 AdvantISS is a supreme .NET development company providing custom software solutions for companies across various industries. With a team of over 50 IT professionals, AdvantISS helps clients reach their business goals faster through high-quality and innovative software solutions.
The company adopts a lean and practical approach to help organizations build and integrate software systems to fit specific needs, improve pain points, boost efficiency, save money, and gain a competitive edge. In addition, AdvantISS provides a flexible working model, allowing them to join a client's team at any stage of the project, fix bugs and inaccuracies, redesign the structure, and give new life to the project.
What's more, AdvantISS offers an easy way to hire .NET developers to close the need for missing specialists quickly, becoming the go-to .NET development agency for any business.
Services and expertise:

custom software solutions for businesses, full-stack web application development, legacy software modernization, technology migration, startup MVP development, cross-platform desktop and mobile application development, APIs integration, databases design, technical support, performance optimization, data integration, synchronization, and QA testing

Tech stack: C# .NET Core, ASP.NET Core, HTML5, CSS3, Javascript, NodeJS, ReactJS, Angular, NestJS, Typescript, Git, OCR Tesseract, and OCR Tensorflow
Clients: AdvantISS addresses the IT needs of companies of all sizes, ranging from startups to large enterprises.
Company size: 50+ professionals.
Location: Ukraine.
Rewards: Top .NET Development Company by Clutch, GoodFirms, and UpCity.
Industries they serve: Legal, Fintech, Real Estate, and Brokerage
Core values: customer satisfaction with a customer-centric approach. They also value their employees, offering a comfortable work environment and personal and professional growth opportunities
Unique features and offers: profound digital expertise, lean and effective approach, and flexibility in working with clients at any project stage. They are also distinguished by their ability to handle legacy code and an easy-to-use hiring process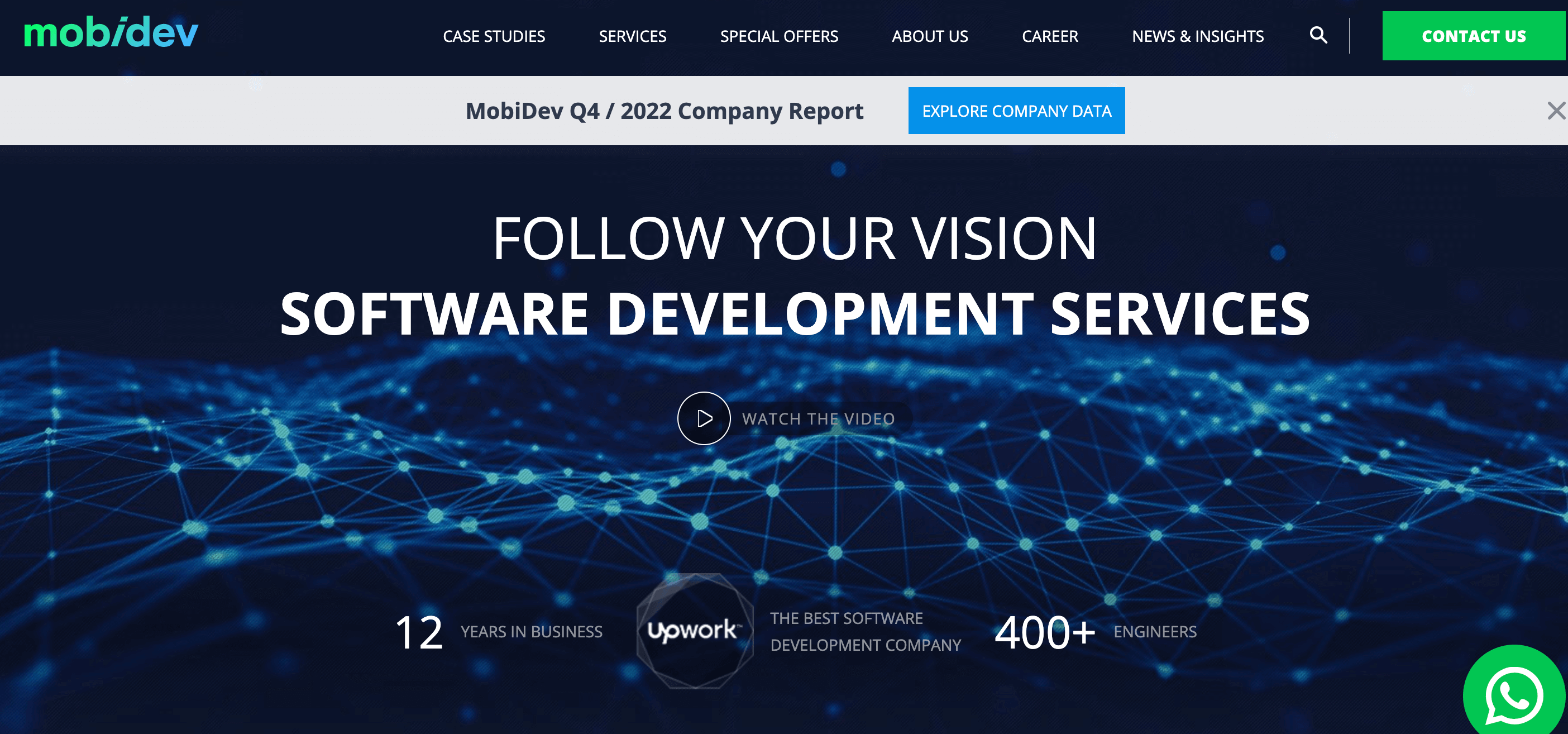 MobiDev is a leading .NET development company that empowers businesses to conquer the digital world with exceptional web products. With 12 years of experience, the company has become the go-to partner for businesses looking to create complex and value-driven websites and web apps.
Offering custom web application development services, their team of the best .NET developers received numerous awards for its high-quality work. From development to support, the company will help your businesses succeed, turning your vision into reality.
Services and expertise:

custom web app development, mobile app development, DevOps and cloud infrastructure development, data science, and AI development

Tech stack: .NET, React, Angular, Node.js, Ruby on Rails, Python, Docker, Kubernetes, AWS, Google Cloud, Azure, and more
Clients: Siemens, Toyota, T-Mobile, Intercontinental Exchange, and others.
Company size: 400+ experts
Location: Atlanta, Georgia, plus offices in the UK, Germany, and Ukraine
Rewards: Best Software Development Company by Upwork, Top Web Development Company by Clutch, and Top Mobile App Developers by GoodFirms
Industries they serve: Healthcare, Finance, Logistics, Education, Retail, eCommerce, and others
Core values: teamwork, transparency, continuous learning, improvement, and customer satisfaction
Unique features and offers: a team of data science and AI experts with a strong focus on DevOps and cloud infrastructure development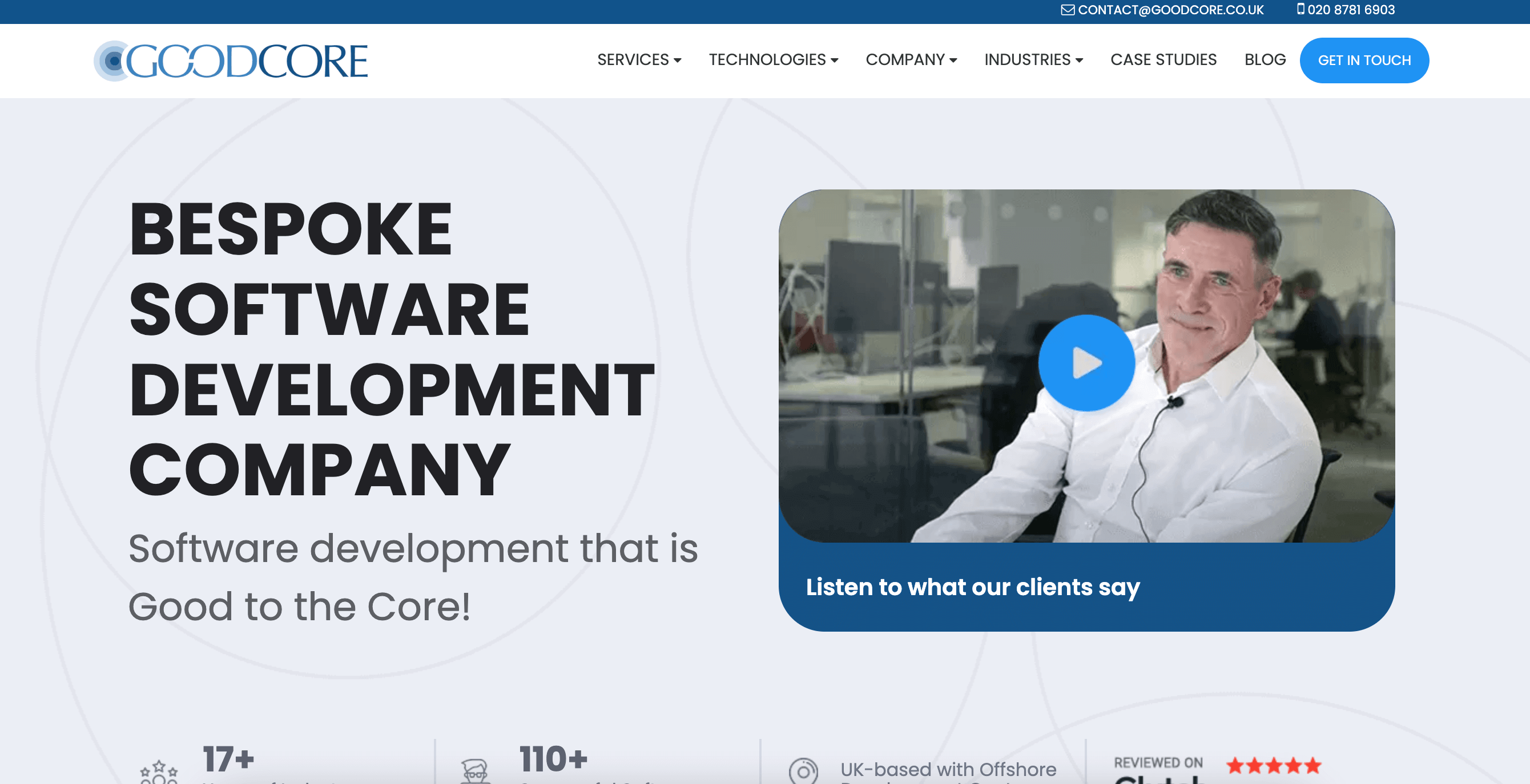 GoodCore is one of the best .NET development agencies with over 16 years of experience in the industry. Their .NET development team has vast expertise in building high-performance web and desktop applications using old-fashioned and modern technologies, including Windows Forms, WPF, MVC, and Blazor frameworks.
The company understands the nuances of each client's business and delivers cutting-edge digital solutions to solve complex problems. Their experts combine business domain knowledge with technical finesse, producing exceptional software products that perfectly meet customer needs and expectations. 
GoodCore offers top-tier .NET software developers with impeccable skills, knowledge, and years of experience. They've delivered numerous custom .NET projects in various industries, including Education, Sports, Telecommunications, and Healthcare. The company guarantees on-time and on-budget project delivery, tailored solutions, 24/7 support and maintenance, and IP protection.
Services and expertise:

custom software development, web

.NET application development

, mobile application development, software testing and quality assurance, and technology consulting

Tech stack: .NET, Java, Ruby on Rails, React, Angular, Node.js, Swift, Python, and many more
Clients: Santander, JLT Group, Tata Communications, the NHS, etc.
Company size: 50-249 experts
Location: the UK, with offices in London and Leicester
Rewards: the Technology Innovator Awards, the UK Business Awards, and the Global Business Insight Awards
Industries they serve: Healthcare, Finance, Education, eCommerce, and many more
Core values: transparency, collaboration, and innovation
Unique features and offers: GoodCore distinguishes itself through its rich expertise in a wide range of technologies and in-depth client communication and collaboration throughout the development process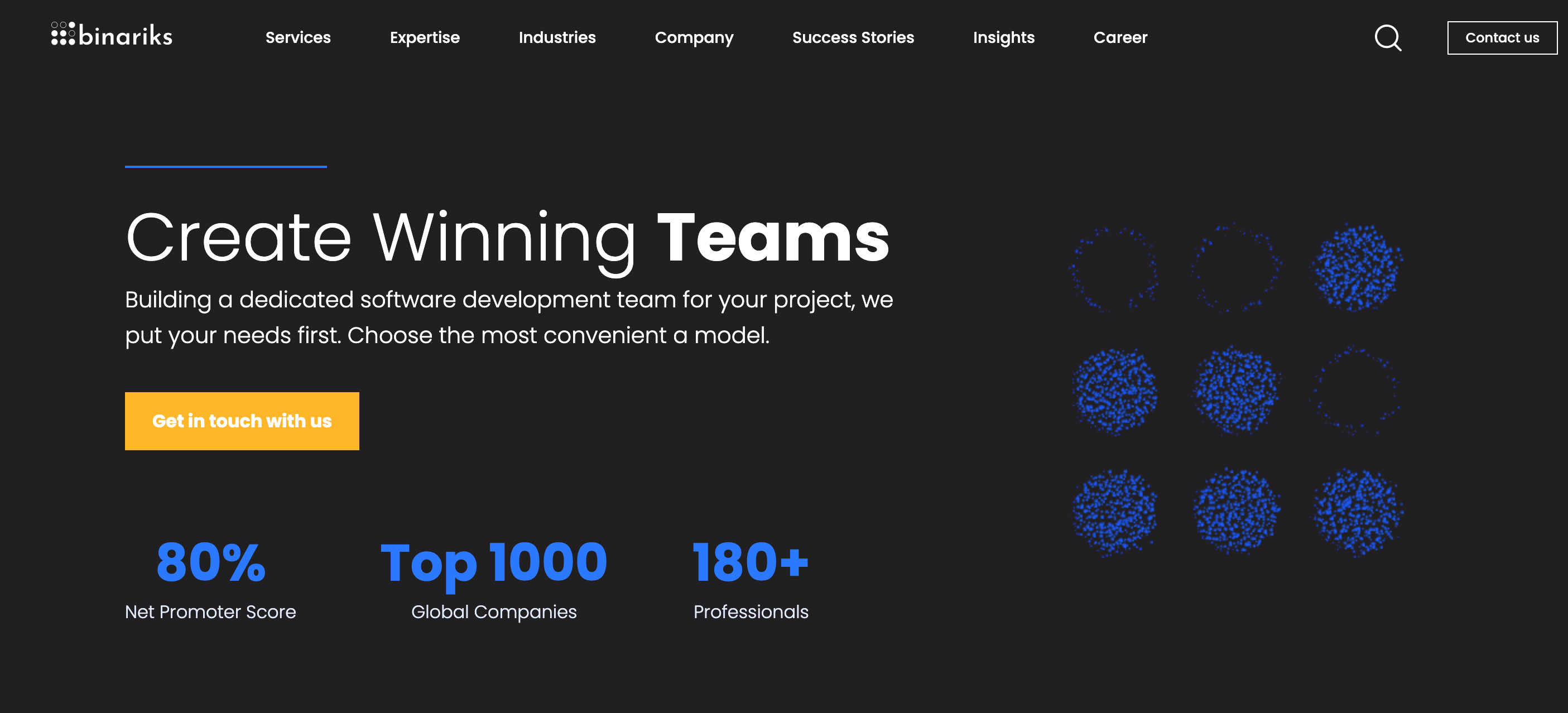 Binariks is a top-rated software engineering and consulting agency that provides custom .NET development services to businesses worldwide. With headquarters in the US and delivery centers in Central & Eastern Europe, Binariks boasts a team of the best .NET coders who possess a wealth of knowledge and expertise in building robust and scalable .NET applications.
The firm is committed to providing tailored solutions to clients, offering a range of services, including cloud development and adoption, cloud migration and consulting, ML & AI, big data, and IoT. With its deep focus on product quality and customer satisfaction, this is the top .NET development company for businesses looking for a reliable and competent tech partner.
Services and expertise:

web app development, web integration, custom development, desktop app development, app integration with legacy systems, app migration, mobile app development, UI/UX services, cloud computing, IoT development, big data, and analytics

Tech stack: .NET, React, NodeJS, Java, iOS, Android, Angular, PHO, Python
Clients: Strabo, YourCoach Health, Infometrics, Swedebeat
Company size: 200+ professionals
Location: Torrance, CA, with delivery centers in Ukraine, Poland, and Romania.
Rewards: Top .NET Development Company and a Top Software Development Company by Clutch and has been listed as one of the Top 1000 Global Companies by Inc. 5000.
Industries they serve: Healthcare, Delivery, Education, Insurance, Automotive, and Fintech
Core values: honesty, transparency, innovation, excellence, and customer satisfaction
Unique features and offers: AWS Select Consulting Partner, Google Cloud Partner, Gold Microsoft Partner, ISO 9001:2015, ISO 27001:2013 security and quality certificates. Binariks distinguishes itself from other agencies by its focus on quality, expertise in a wide range of technologies, commitment to customer satisfaction, and ability to provide tailored solutions to businesses across various industries
Conclusion
Choosing the right .NET development company is important for any business that wants to build next-generation apps. After reviewing top .NET developers for hire in the market, we have named the most reliable agencies to deliver scalable and innovative software solutions for startups or established enterprises. Hopefully, this list helps you find the best-fit partner for your future project.
If you want to add your .NET development company to this list, drop us a line with details. After a thorough review, we'll decide whether it's a valuable addition.