Thanks to the no-code development platforms, the days when software development was solely programmers' plays were gone. 
No-code development platforms are specialized tools that allow you to build an app or website without having to write a single line of code. Instead, they offer a graphical user interface, i.e., the drag-and-drop feature. Thus, people with meager or no coding skills can launch their businesses online effortlessly.
However, it doesn't mean developers have no space on these platforms. On the contrary, many engineers prefer using no-code tools nowadays to launch app samples or MVPs (Minimum Viable Products).
No-code tools have not just removed the programming barrier but have also reduced the software's launch time. From building simple websites and applications to implementing workflow automation, the no-code tools help startups, freelancers, and enterprises to launch their products faster. 
Today, many no-code app builders are available in the market. And with such a wide range comes vast confusion and uncertainty. Therefore, selecting the right no-code app development platform that suits your project needs perfectly is essential. 
To help you make a winning decision, we have compiled a list of top no-code development tools that let you build modern and high-quality apps and websites quickly and effortlessly. 
The Best No-Code Development Tools For Entrepreneurs And Developers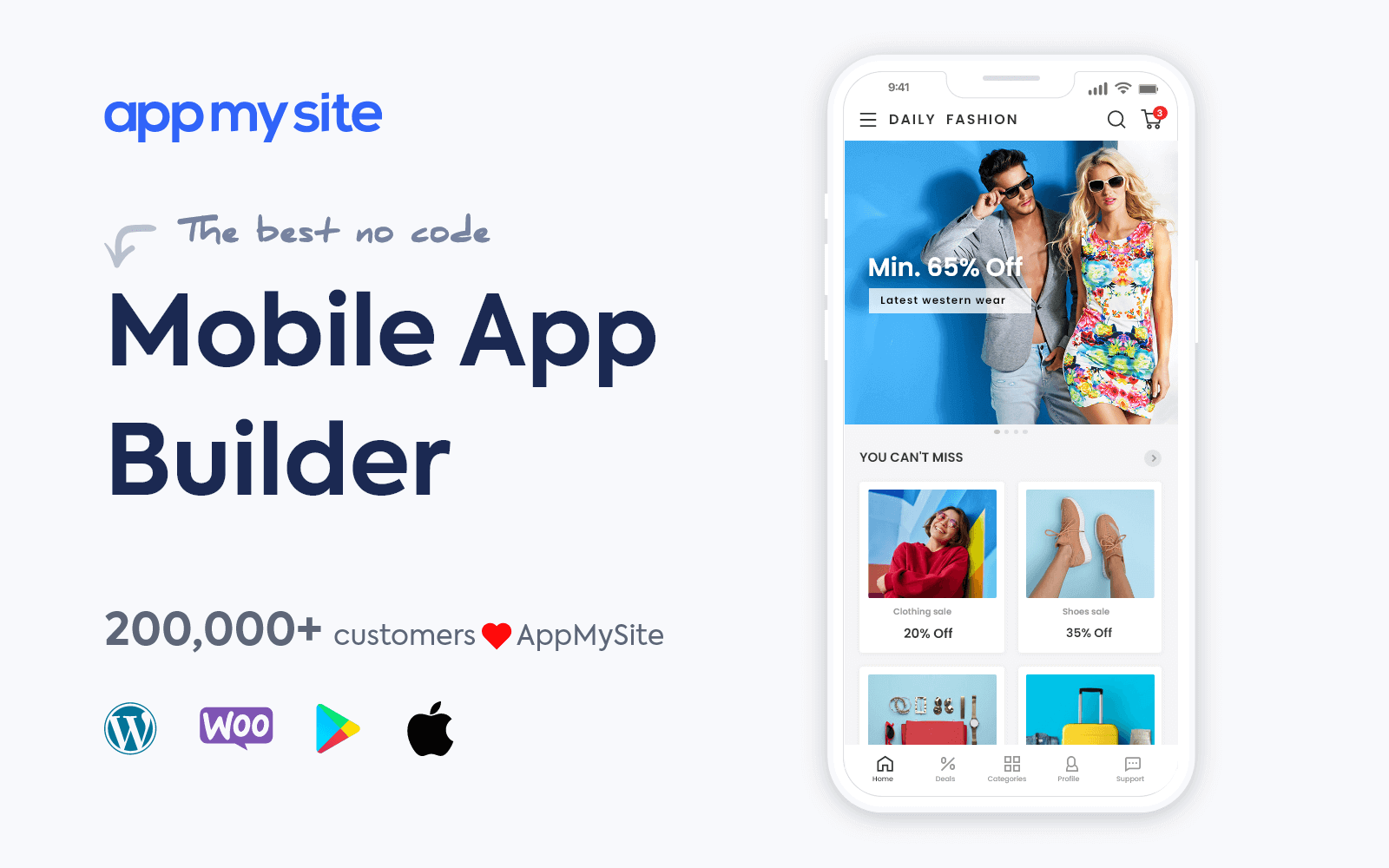 AppMySite makes app development super easy and lightning-fast. It enables users to build premium native mobile apps for Android and iOS without writing a single line of code. It only takes a few minutes to build enterprise-level apps for any kind of website, industry, business, or organization.
AppMySite's intuitive DIY app builder lets users design their apps like a professional and add unlimited features with point-and-click options. Complex and advanced features like multiple payment gateways, push notifications, monetization, in-app chat, etc., can be effortlessly configured in the app, and everything from development to deployment can be managed with ease.
While anyone can turn any kind of website into an app, AppMySite also enables deep integration with WordPress and WooCommerce. Users can build and preview high-performing native apps for free and pay later to upgrade and launch the apps on the Google Play and Apple App Stores. 
Pricing:
Preview:

Create and preview your Android and iOS apps for free. Build and test prototypes and personalized demo apps for WordPress, WooCommerce or any other website. 

Starter:

Starts at $9/month. Build an Android app for WordPress, WooCommerce or any other website. Select monthly, yearly or lifetime plans.

Pro:

Starts at $19/month. Build Android and iOS apps for WordPress, WooCommerce or any other website. Select monthly, yearly or lifetime plans.

Premium: Starts at $39/month. Build Android and iOS apps for WordPress, WooCommerce or any other website, with premium features and priority support. Select monthly, yearly or lifetime plans.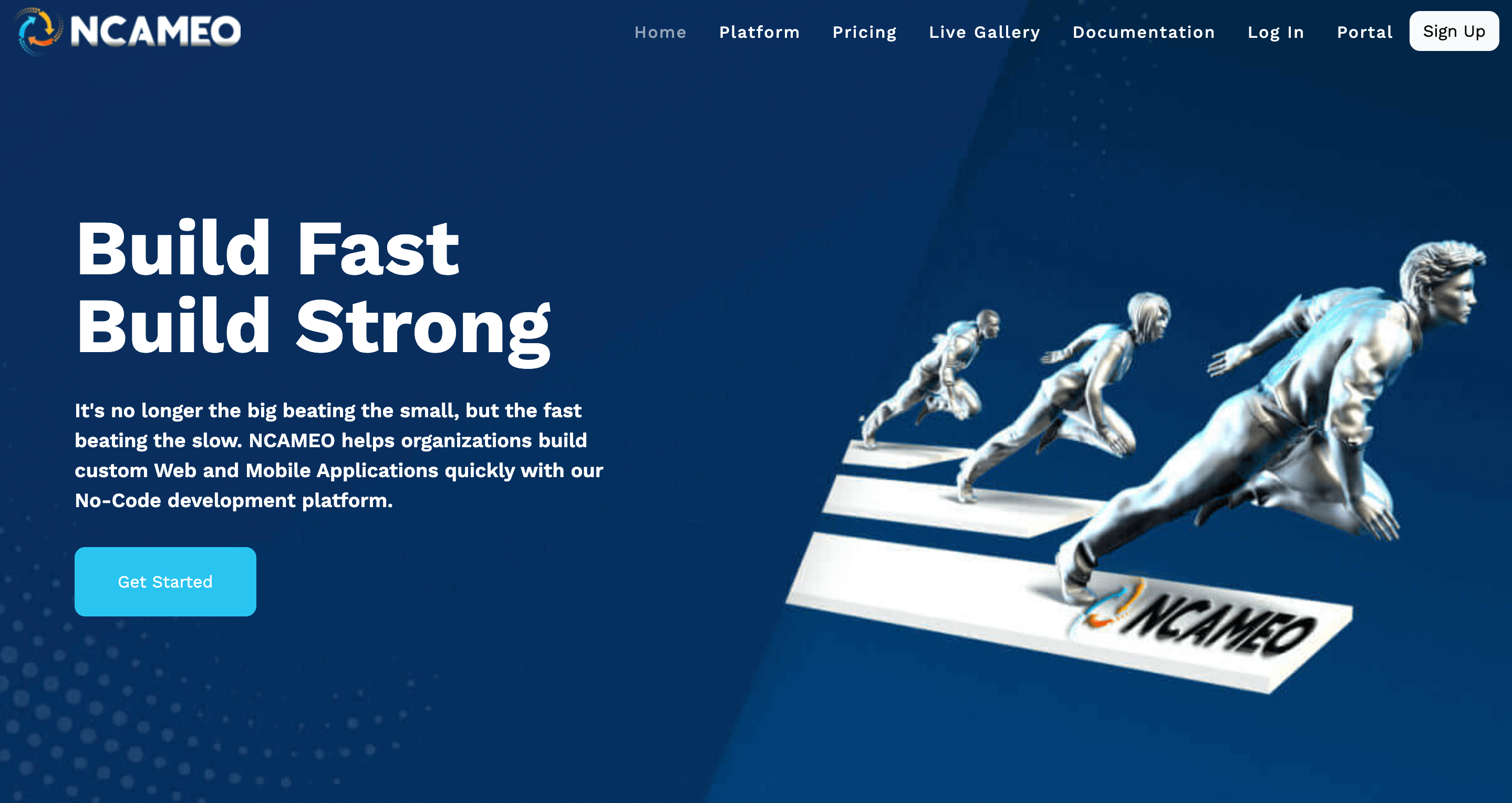 NCAMEO is a powerful no-code platform that streamlines web and mobile app development. With this budget-friendly solution, you can develop fully-customized software within days or weeks. Its inbuilt quality and cloud scalability that lets you rapidly digitize your team makes it the perfect no-code tool for enterprises. 
The NCAMEO platform actively utilizes 19 technologies, including  Viewport Meta, SPF, and iPhone/Mobile Compatible. The superb product's features include campaign management, database integration, process customization, and application design, not to mention numerous others.
NCAMEO's pricing comes in a free plan and a pro-version at $49 per month. For more sophisticated business cases, you can go with their custom expert solutions or a dedicated plan allowing you to host the platform in your own cloud.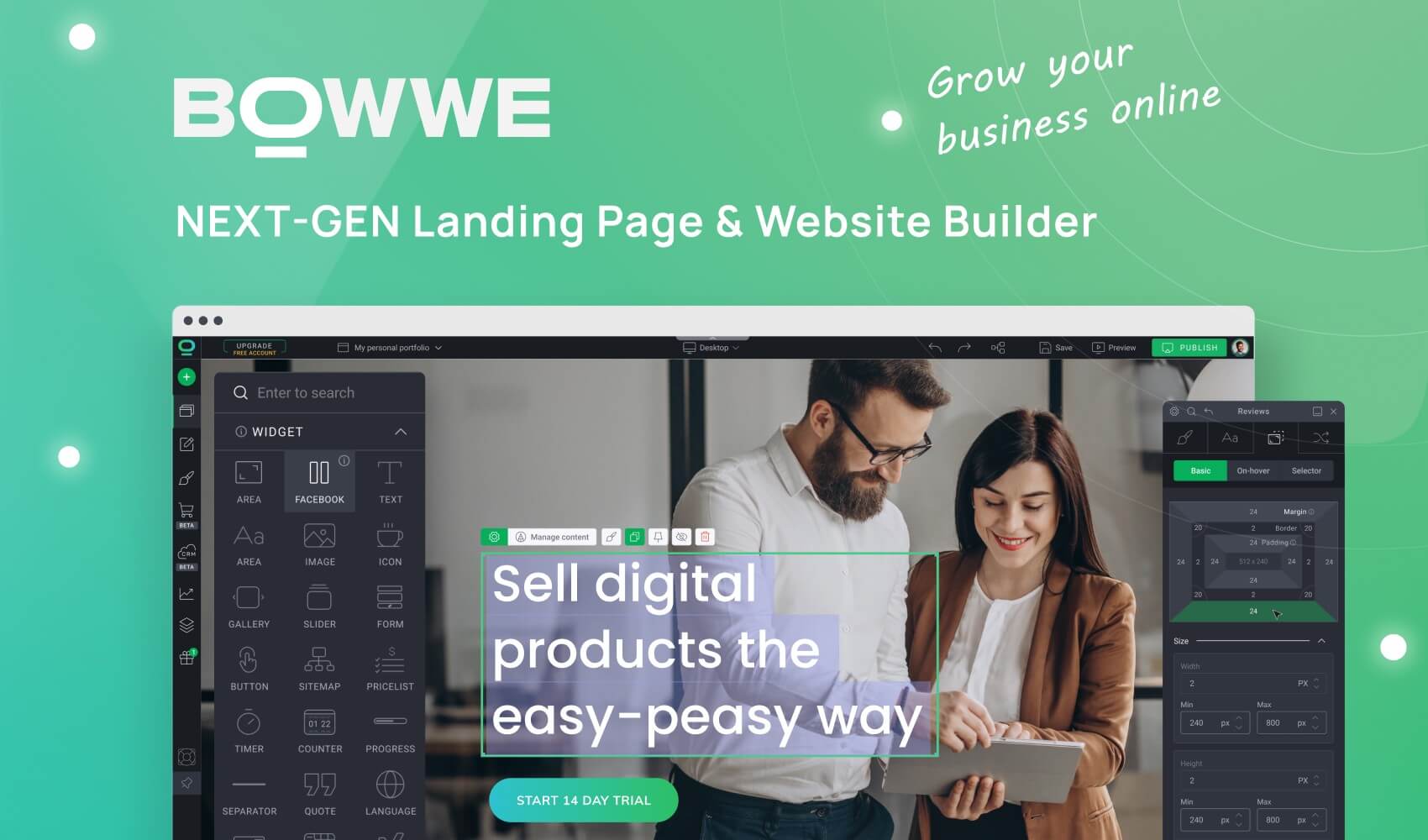 BOWWE is an exceptional no-code development tool that allows users to create different types of software, including websites, portfolios, landing pages, micro pages, and very soon – online stores and mobile & web apps. All under one platform.
They got +200 beautiful, optimized website templates, but what is hugely impressive is the ability to build software from scratch. The platform generates stellar code at the level of an experienced programmer, that improves all aspects of the site. Moreover, easy-to-use drag & drop functionality, broad SEO settings, and unlimited customization options let effortlessly build websites that are ready-to-use, responsive, fast, and high-converting.
Operating on the market for over 7 years now, BOWWE has already acquired 100,000+ users and helped them implement over 30,000 projects. Understanding the needs of its customers and constantly improving the product, BOWWE's team does its best to deliver top-notch results through the platform.
Pricing:
BOWWE offers three plans with the possibility to subscribe monthly or annually, or for 3 years. Moreover, you may test BOWWE for 10 days completely free. Even if you buy a plan, you have a 10-day satisfaction guarantee. That total gives you plenty of time to thoroughly test the tool.
Standard: £8/month (£96/year). Use your own domain and get access to Google Analytics, Social Media integration, SEO setting, blog, 1GB content hosting, 2 team members, and support.
Advanced: £14/month (£168/year). Standard plan + premium widgets, custom HTL code widget, 2 language versions, 5 GB content hosting, 4 team members, support, free user registration up to 200 users.
Professional: £24/month (£288/year). Advanced plan + no BOWWE branding, annual website audit, unlimited language versions, 15GB content hosting, UTM statistics, 8 team members, free user registration up to 1000 users, custom team roles.
Showroom Labs is the award-winning no-code platform that helps people boost conversion and increase engagement from interactive quizzes, forms, surveys, and educational tests. In 2022 they won a Red Dot Design Award in the Interface and User experience category. 
The tool offers numerous useful features to help you build the ultimate customer experience, including powerful text styling, customization, a logic editor with an adaptive preview, responsive design, calculation, multiplayer, partial submission, and integrations. With Showroom, teams gather feedback, measure satisfaction, and then collaboratively create customized, interactive flows in minutes instead of days.
During the time of service, Showroom has already helped companies within various industries — marketing, customer success, product, education, HR, events, sales, and freelance — to efficiently represent visual feedback in a responsive, conversational, and fun way. 
Start communicating with your audience and boost engagement using a fantastic Showroom toolkit!
Pricing:
Showroom Labs offers three packages meeting various business requirements, offering users to try each for free for 14 days.
Starter

: 5€/month. 1,000 responses per month, 1 published project, 100Mb image uploads, White label, integration with Zapier, and other features.

Pro: 20€/month. 5,000 responses per month, 1 collaborator, unlimited published projects, 500Mb image upload, 10 colors for customization, Custom Unpublished pages + everything from the Starter package.
Custom

: 80€/month. 10,000 responses per month, 3 collaborators, redirect on completion, custom pages, priority support, plus everything from the Pro package.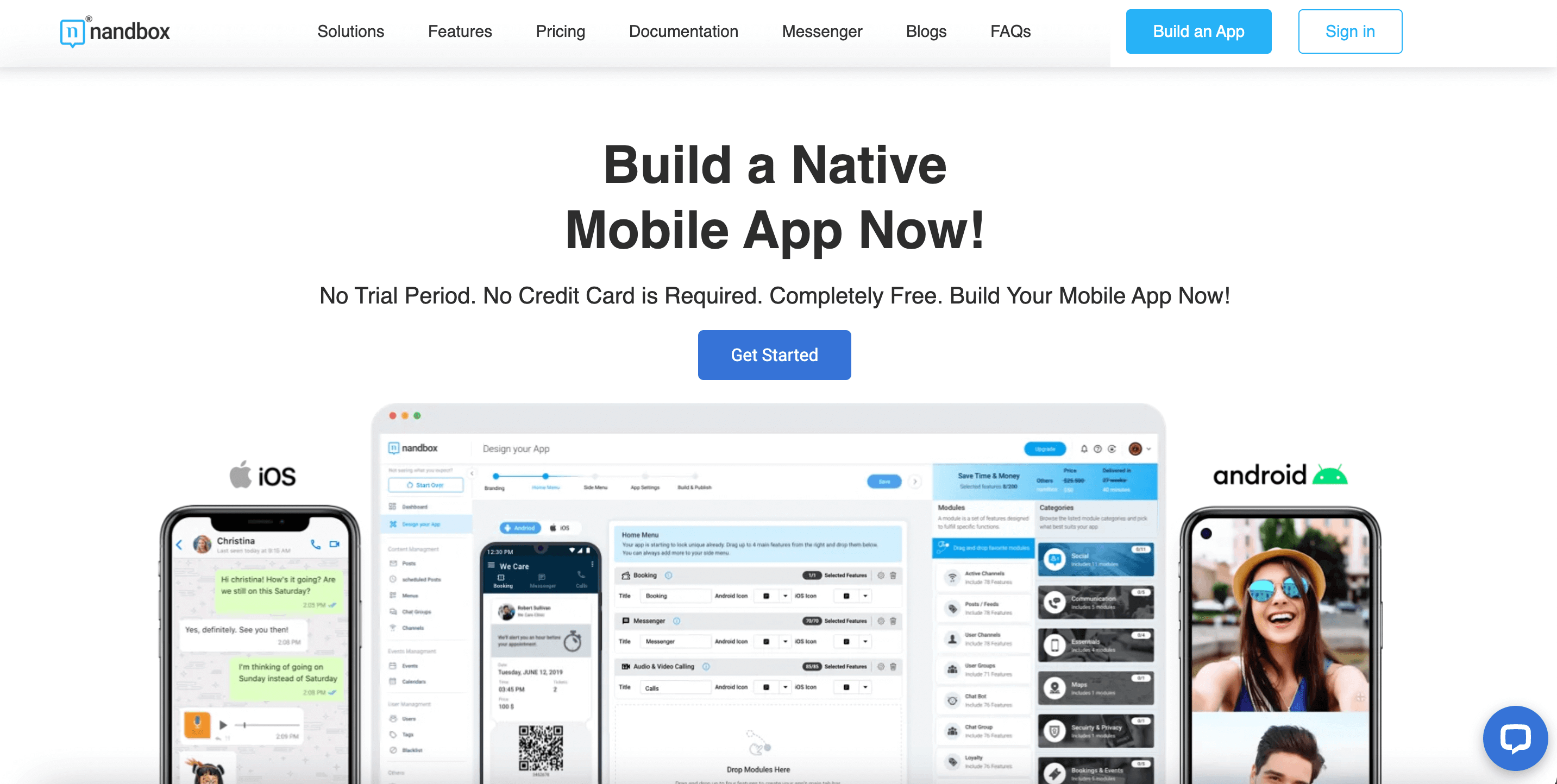 nandbox app builder is the only native app builder in the market. The tool has been dedicated to offering the most advanced app functionality, giving hundreds of premium features to their clients.
Create Android and iOS native apps without any coding background using nandbox. Join over 12,000 satisfied customers, select from free and professionally designed templates, and try out the product with a 14-day trial, all without spending a dime on development or needing any prior experience with programming.
Pricing:
nandbox guarantees to fit any budget. Their plans are as follows:
Professional app: Get your first 500 app users on board with 5GB of storage and 100GB of bandwidth for $59 a month.
Growing app: Expand your outreach and grow your app with 2000 users, 20GB of storage, and 400GB of bandwidth for $159 a month.
Pay as you go: 6000 users with flexible pricing options with 50GB of storage and 1TB of bandwidth for $359 a month.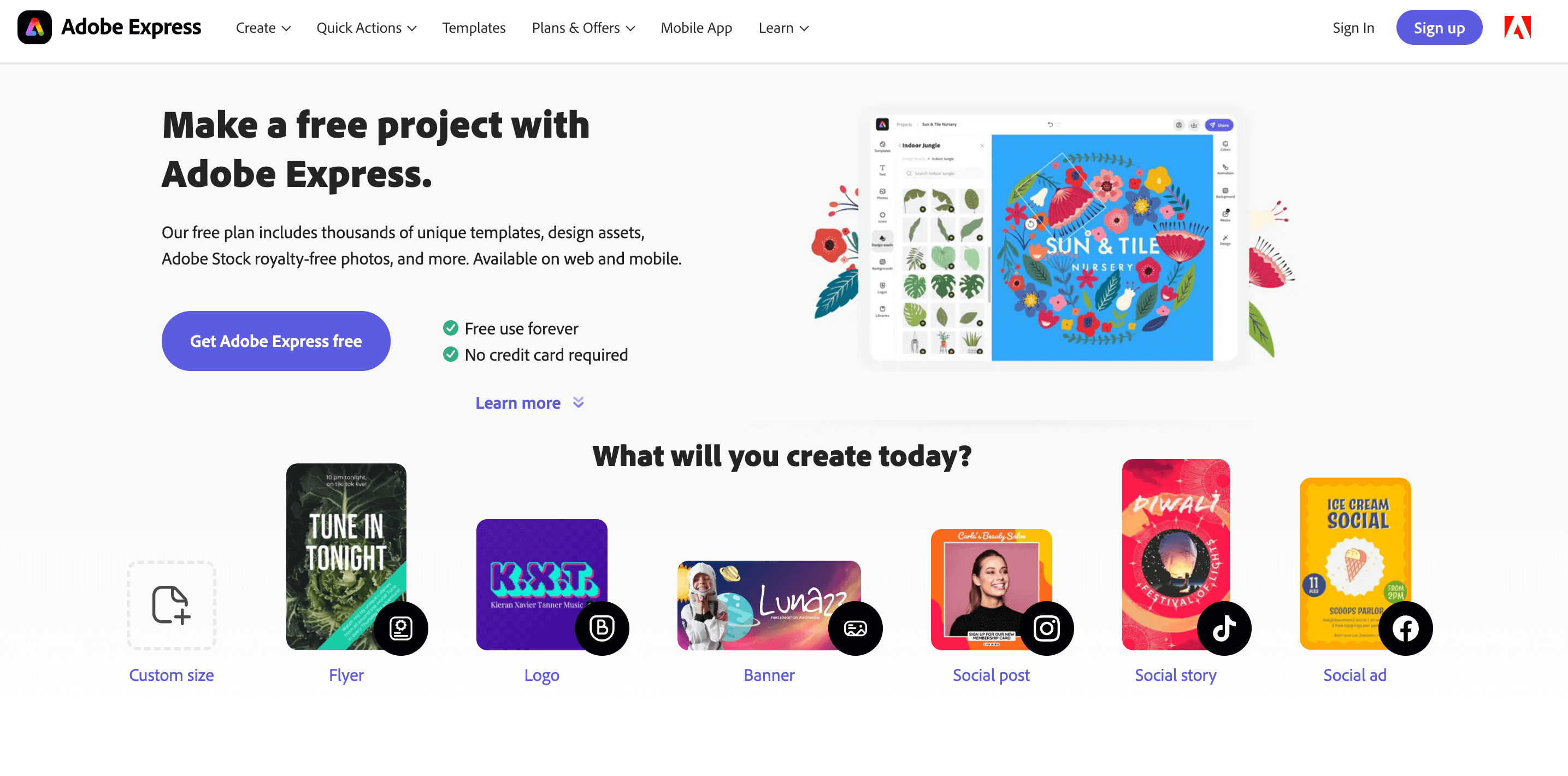 Adobe Express is one of the most popular no-code platforms for creating your design on both the web and mobile with little to no effort. With Adobe Express, you can make your content stand out from the competitors, customizing your design the way you like to match your brand guidelines.
Accessing over 100,000 templates and design assets, Adobe Express gives you all the necessary tools to create outstanding design concepts. What's more, with its free QR code generator, you can make a custom QR code for your marketing and branding materials to boost customer engagement and improve the UX.
Pricing:
Adobe Express offers you to choose between two different plans:
Free plan: Absolutely for free, you will get thousands of unique templates, design assets, Adobe Fonts, 2GB of storage, a limited collection of Adobe Stock photos, and basic effects.

Premium plan: $9.99/mo ($99.99/yr) with the possibility of a 30-day free trial. In addition to everything from the Free plan, you get premium templates and design assets, 20,000 licensed Adobe Fonts, Adobe Stock collection photos, 100 GB of storage, and many other necessary features.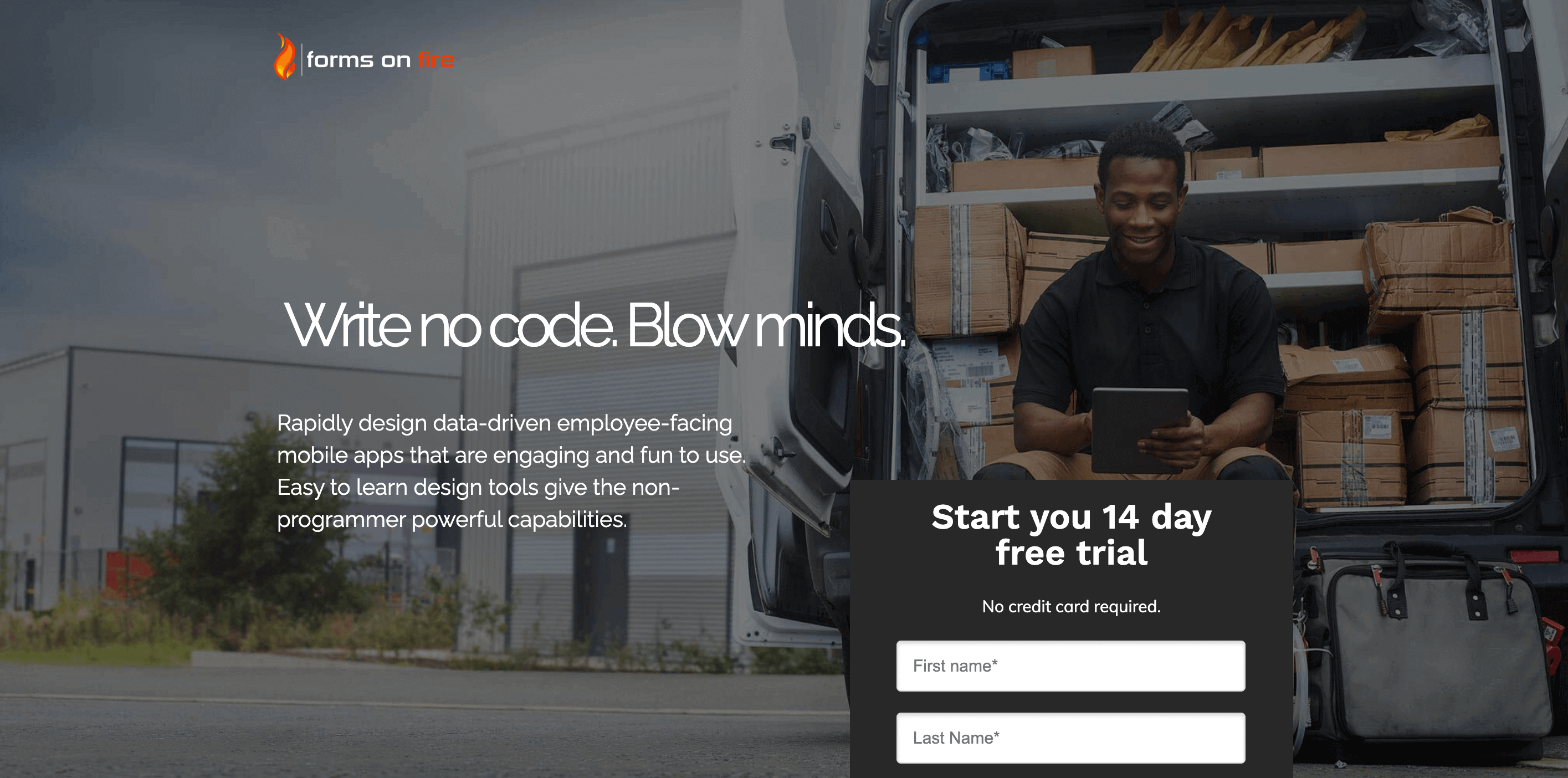 Forms on Fire offers a no-code development tool with an impressive set of features to build an engaging and effective app without any programming skills needed. Allowing users to get the most enhanced workflow system and mobile data collection, the company offers simple yet functional design tools for non-programmers.
Efficiency and productivity are two main goals of Forms on Fire, and the company shows it through numerous success cases. Using a single platform, businesses can obtain unlimited powerful possibilities to create, customize, improve, and analyze their app easily. 
Pricing:
Forms on Fire help you achieve impressive ROI, with plans starting as low as $20 per month.
Standard Edition

: $25/mo ($240/yr). Provides a multi-platform with unlimited storage and apps, open API, and Customer Support.

Premium Edition

: $35/mo ($336/yr). The most popular choice that offers everything in Standard Edition + unlimited entries, premium connectors, workflow/tasks/dispatch, and document management.

Enterprise Edition

:

$45/mo ($432/yr) for 25+ users. Offers everything in Premium Edition + SSO with AAD, Pink, or Okra, enterprise toolkit, SYNQL for MS SQL or MySQL.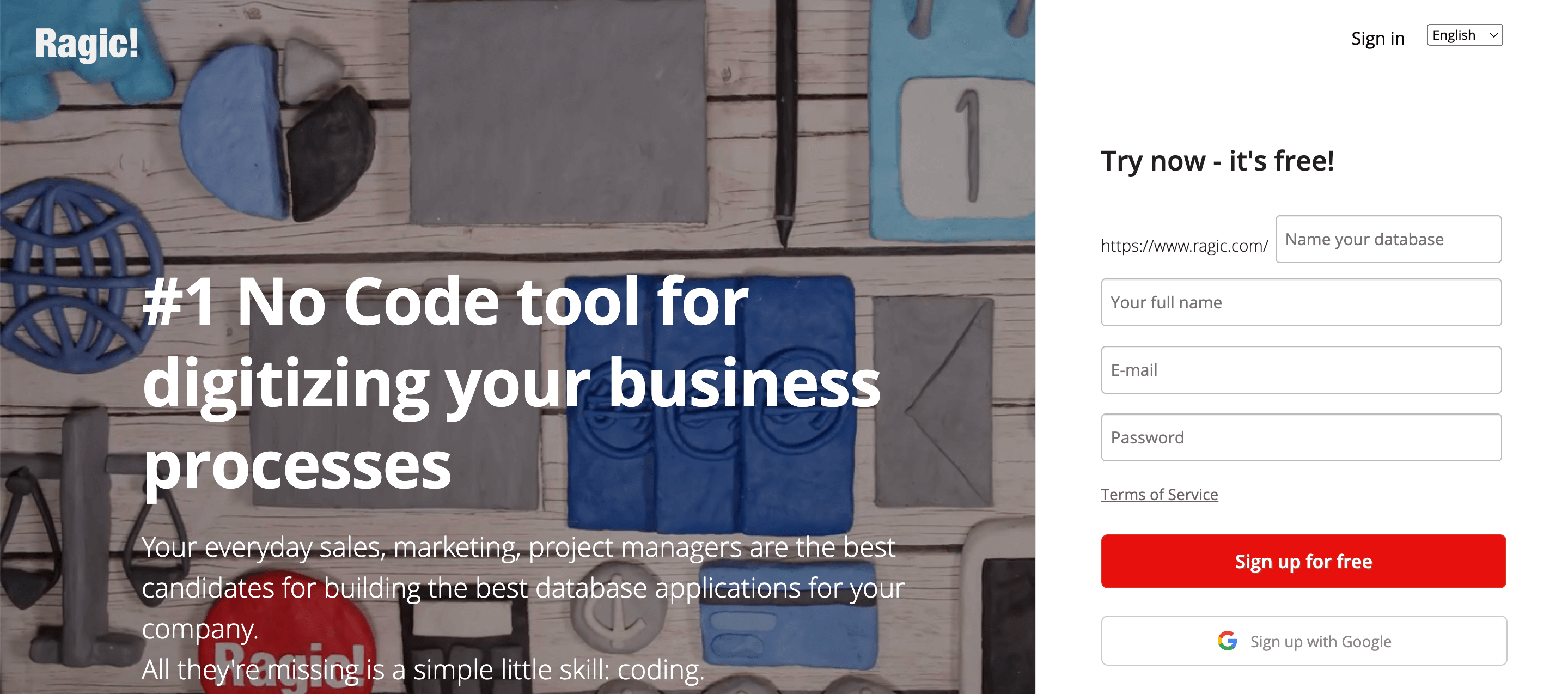 Ragic is a no-code tool for digitalizing everyday business processes — sales, project management, and marketing — and allows companies to build various apps without a single line of code. Anything from small contract databases to fully-fledged EPR systems — Ragic will enable you to create, build, and manage all the necessary data in a single tool.
With simple yet powerful technology, magic takes web database building to another level. Reports, building relations between sheets, controlled access, reports, Excel and Word documents, calendar, history, search & query, mobile access — Ragic provides one of the most comprehensive no-code app builders' functionalities.
Pricing:
Ragic provides different pricing models for companies to choose from depending on their needs:
Free

: Costs $0, offers a broad range of templates with unlimited records and 3 custom sheets with 1000 records each.

Lite

: Costs $5, offers tons of records and light customization. You can also try it for free.

Professional

: Costs $19, the most popular choice, offers unlimited customization and an on-premises option. You can also try it for free.

Concurrent users

: Costs $499, best suitable for big companies with many users. You can also try it for free.

Enterprise: Costs $550, for dedicated, managed VM, SSO, and SLA.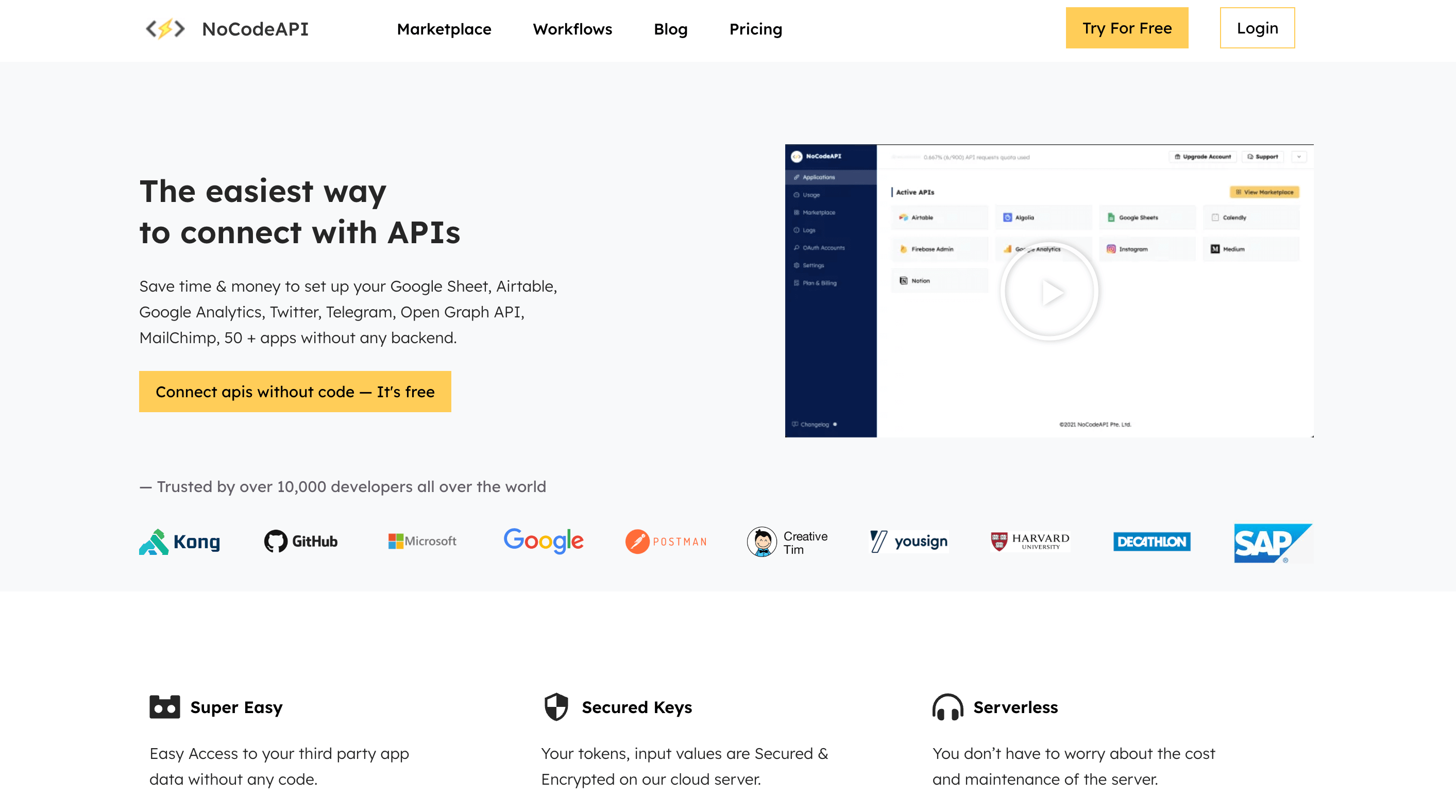 NoCodeAPI offers the ultimate no-code platform for API development that saves both time and money to set up over 50+ apps without any backend needed. The platform is fast, encrypted, serverless, easy to use, and domain-secured. 
NoCodeAPI offers an impressive set of app-building features you can start benefiting from absolutely for free. Founded in 2019, the company is already trusted by over 10,000 developers worldwide.
In addition, NoCodeAPI can be integrated with GitHub, Slack, WordPress, Google Analytics, Stripe, and other popular tools, providing easy access to third-party data without any hassle.
With NoCodeAPI, you can start building API for your custom services in a single click.
Pricing:
The NoCodeAPI offers four pricing plans: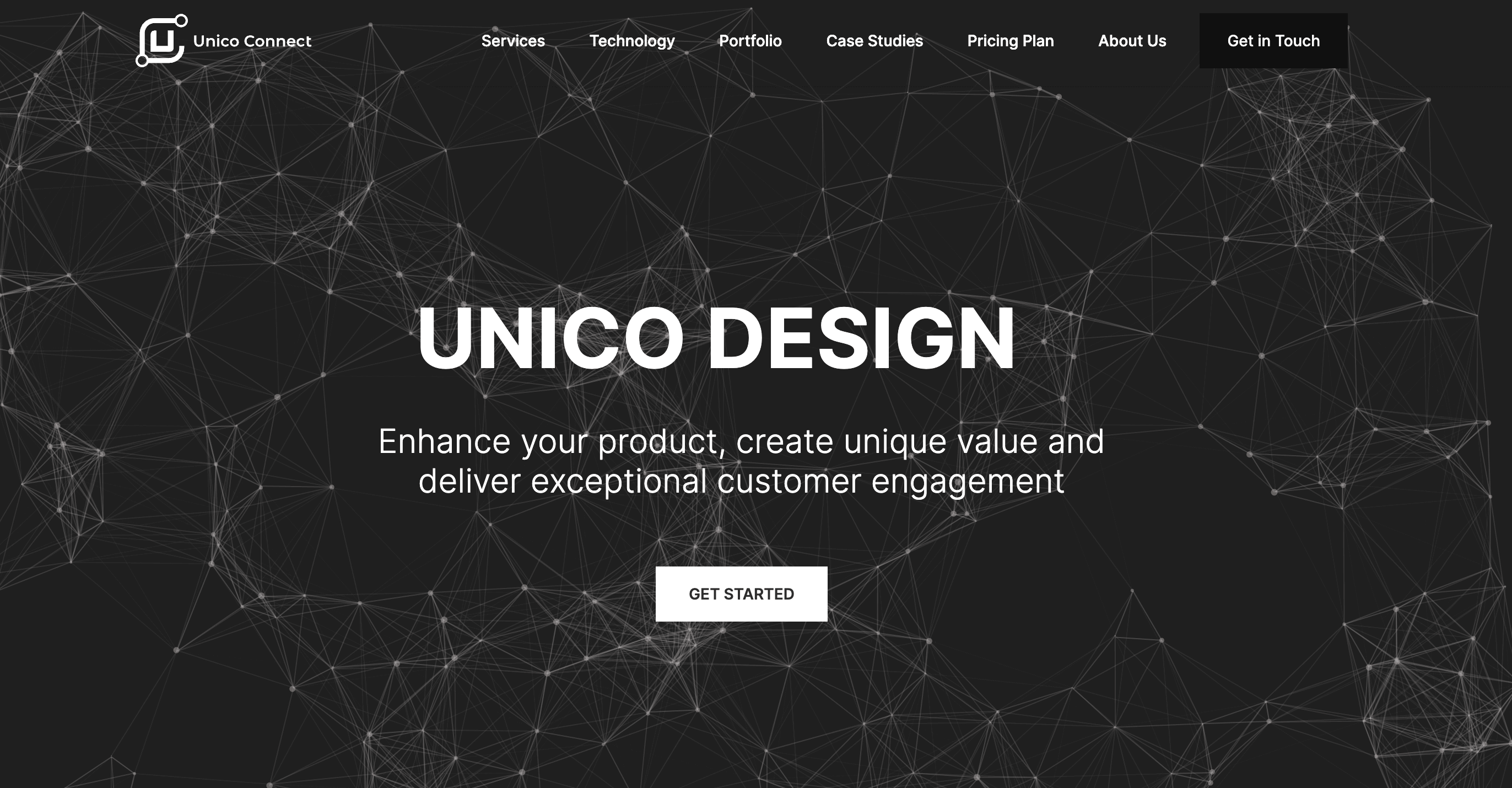 Unico Connect is one of the best no-code development agencies that provides businesses with cutting-edge software solutions lightning-fast.
Using endless no-code development capabilities of Xano and other technologies, the company can quickly build and deploy custom web and mobile applications for your business much faster and cost-efficiently than when using traditional development. Utilizing an impressive tech stack, Unico Connect helps enterprises automate their processes and workflows, improving their overall efficiency and productivity.
Being on the market since 2014, the company has gained valuable knowledge in various industries and technologies, including no-code tools and code-based programming languages. Their proficient team works closely with international clients to understand their unique needs and provide tailored app solutions to help them achieve their key business objectives.
Unico Connect's team of tech experts selects the best technology stack to build and deploy custom scalable apps faster while also providing ongoing support to ensure your business achieves the desired results.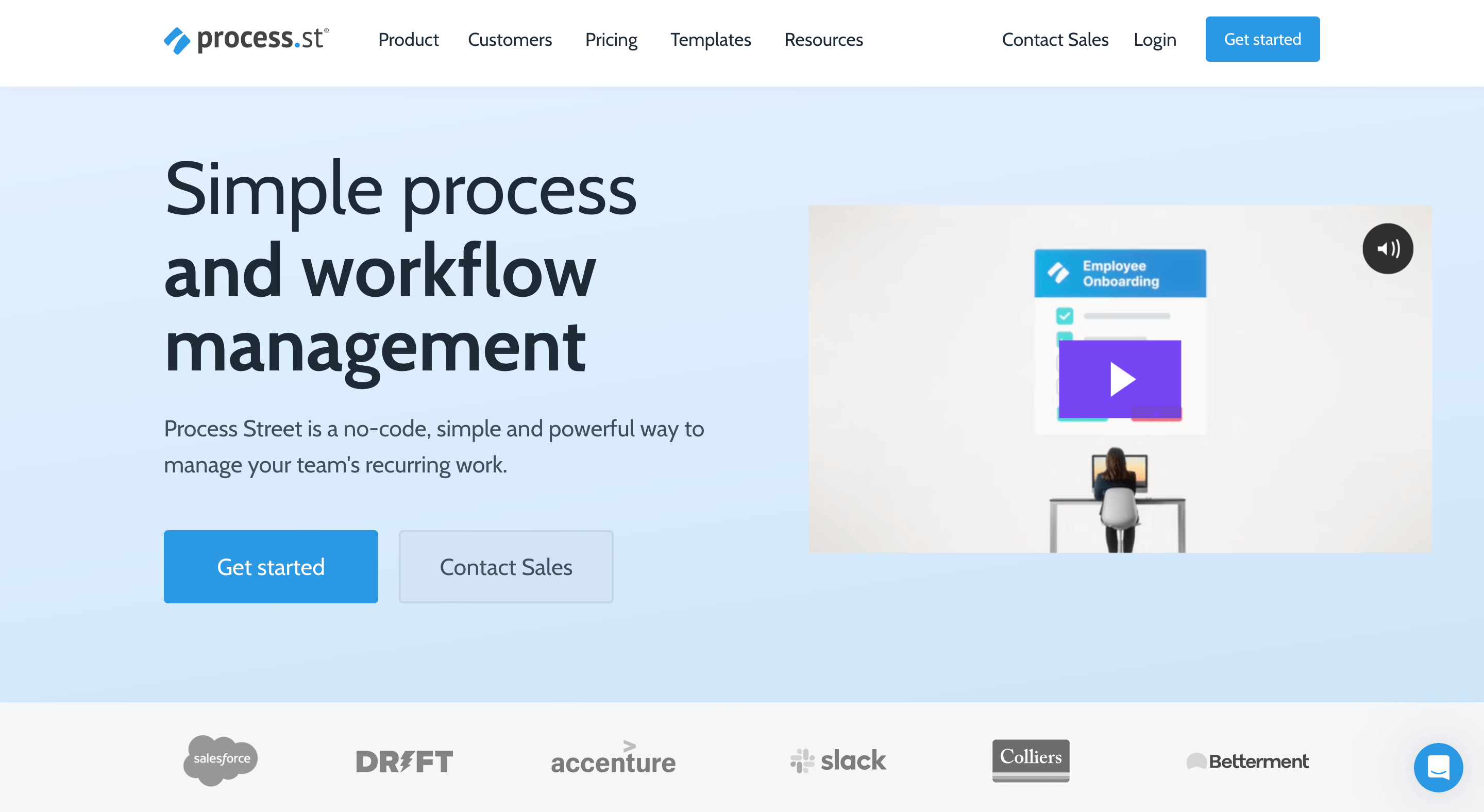 Process Street is a top no-code development platform that provides an innovative solution for workflow management. The platform's intuitive design and drag-and-drop interface allow teams to get started quickly and see results immediately. With the workflow software, you can create powerful workflows tailored to your specific needs, automating work across the system and making it more efficient.
Trusted by startups and Fortune 500 companies worldwide, including Drift, Colliers, Salesforce, Accenture, and thousands of other enterprises, Process Street offers top-notch security, compliance, and speed, allowing teams to build powerful processes. This is a complete process platform for high-performing teams in various industries, including Human Resources, Technology, Marketing, Legal, Sales, and more.
With over 650,000 workflow collaborators, Process Street is the go-to platform for businesses looking to optimize their processes and workflows. Whether for simple process management or complex workflows, the agency offers a broad set of practical tools to manage your team's recurring work with maximum efficiency.
Pricing: 
Startup:

$100/mo (or $1,000/yr). You can try it for free. Offers unlimited workflows and pages, up to 5,000 data set records, 5 members, 10 guests, unlimited file storage, and other features.

Pro:

$415/mo+ (or $5,000/yr). You can try it for free. Offers unlimited workflows and pages, up to 12,500 data set records, a custom number of members and guests, unlimited file storage, all the features from the Startup version + more available customization.

Enterprise:

$1,660/mo+ ($20,000/yr). Offers everything from Pro and even more.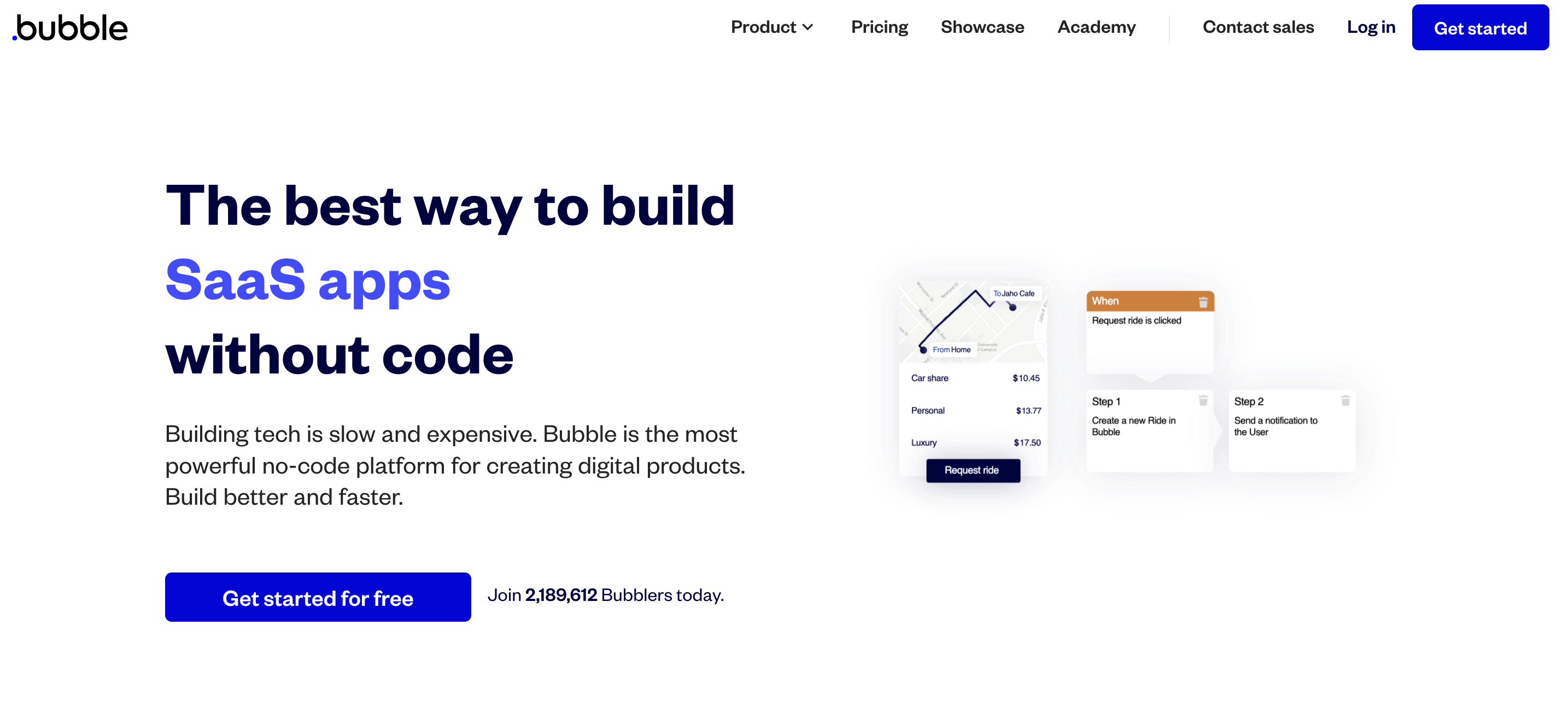 Bubble is one of the most advanced no-code web development tools on the market that allows building highly functional websites, internal business tools, and web apps fast, easy, and hassle-free. Without heavy coding, users can create any application by using various intuitive visual tools, plugins, features, and integrations to provide functionalities to the application.
With the array of design features, Bubble indeed excels with its software interfaces. In addition, the tool abstracts the backend processes and automates deployment to robust cloud-hosted servers, allowing customers to focus on more important business tasks.
Suitable for both startups and enterprises, Bubble has already helped to raise investments and innovate countless companies worldwide, including Dividend, Coins, Comet, Teal, and others.
Join 2,362,280 Bubble users today and bring your CRM/social network/marketplace/SaaS app/dashboard idea to life! 
Pricing:
Bubble offers users to start with a Free plan to learn about the platform, as well as paid plans with additional features to build Bette websites.
Free: $0/month. Offers core platform features, Bubble branding, and community support.
Personal: $25/month. Offers core platform + API, custom domain, email support, and many other features.
Professional: $115/month. Offers 3 units of server capacity, 2 application editors, 2 development versions, and many other features.
Production: $475/month. Offers c10 units of server capacity, 15 application editors, 20 development versions, and many other features.
Custom: upon request. Offers dedicated server, scale to any configuration, choice of hosting region, and priority support.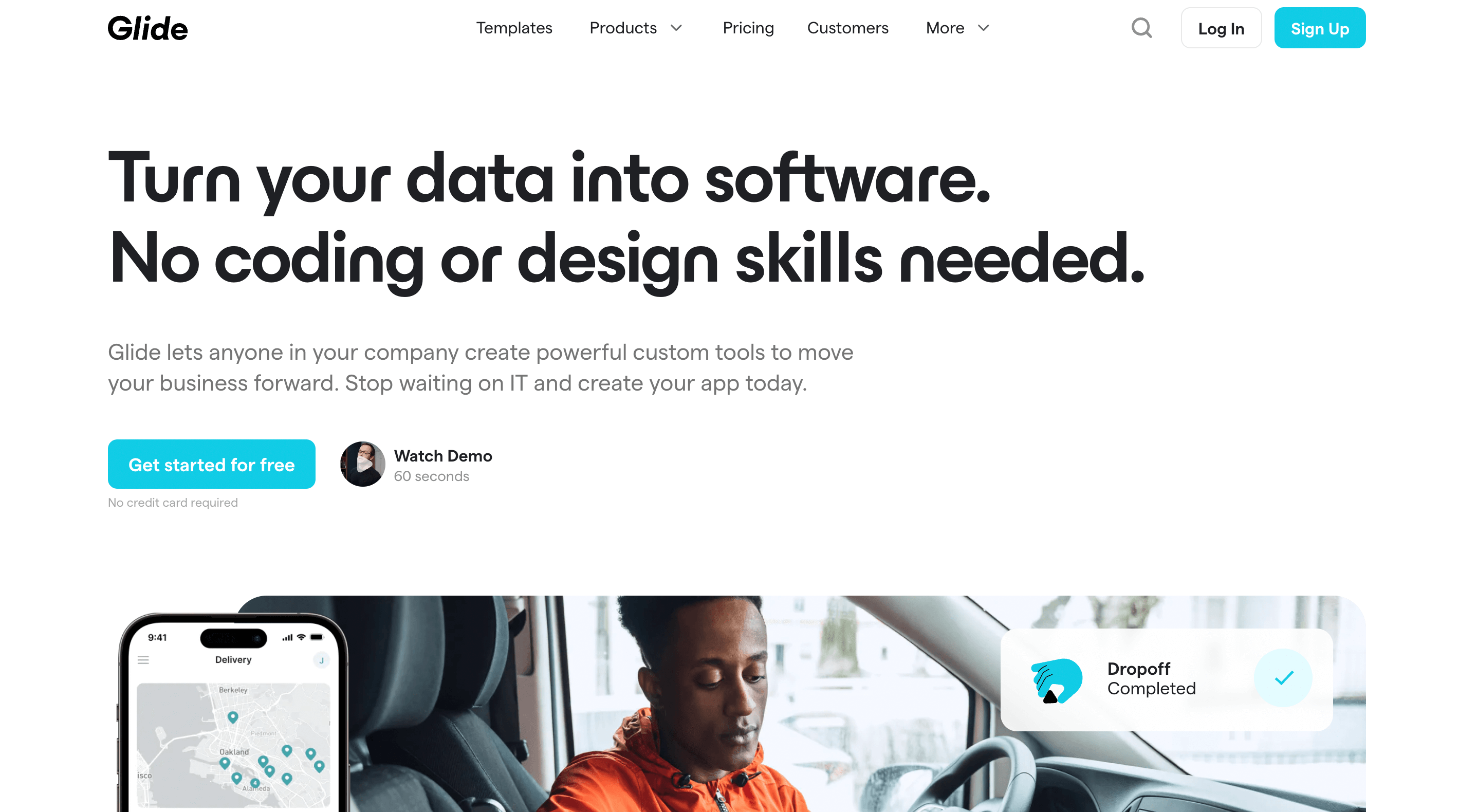 Glide empowers anyone to create powerful custom apps without writing code. Whether you're an IT beginner or a seasoned developer, Glide's intuitive drag-and-drop interface makes transforming spreadsheet data into custom apps a breeze.
Turning your spreadsheet data into powerful Glide apps is remarkably easy. Jumpstart with hundreds of ready-to-go templates and quickly customize them to match your needs. Once finished, deploy your app instantly to one or thousands of internal or external users, in any location, on any device. No download or install required.
From inventory management, CRM, customer portals, employee directories, event planning, and so much more, Glide enables businesses to unlock growth and productivity across their organizations.
Pricing:
Glide offers a variety of plans to suit the needs of individuals, growing businesses, and enterprises:
Starter: For building small apps, costing $25/month.
Pro: For teams and costs $99/month.
Business: For interactions with many features, costing $249/month.
Enterprise: For big businesses. It offers customization and costs $799/month.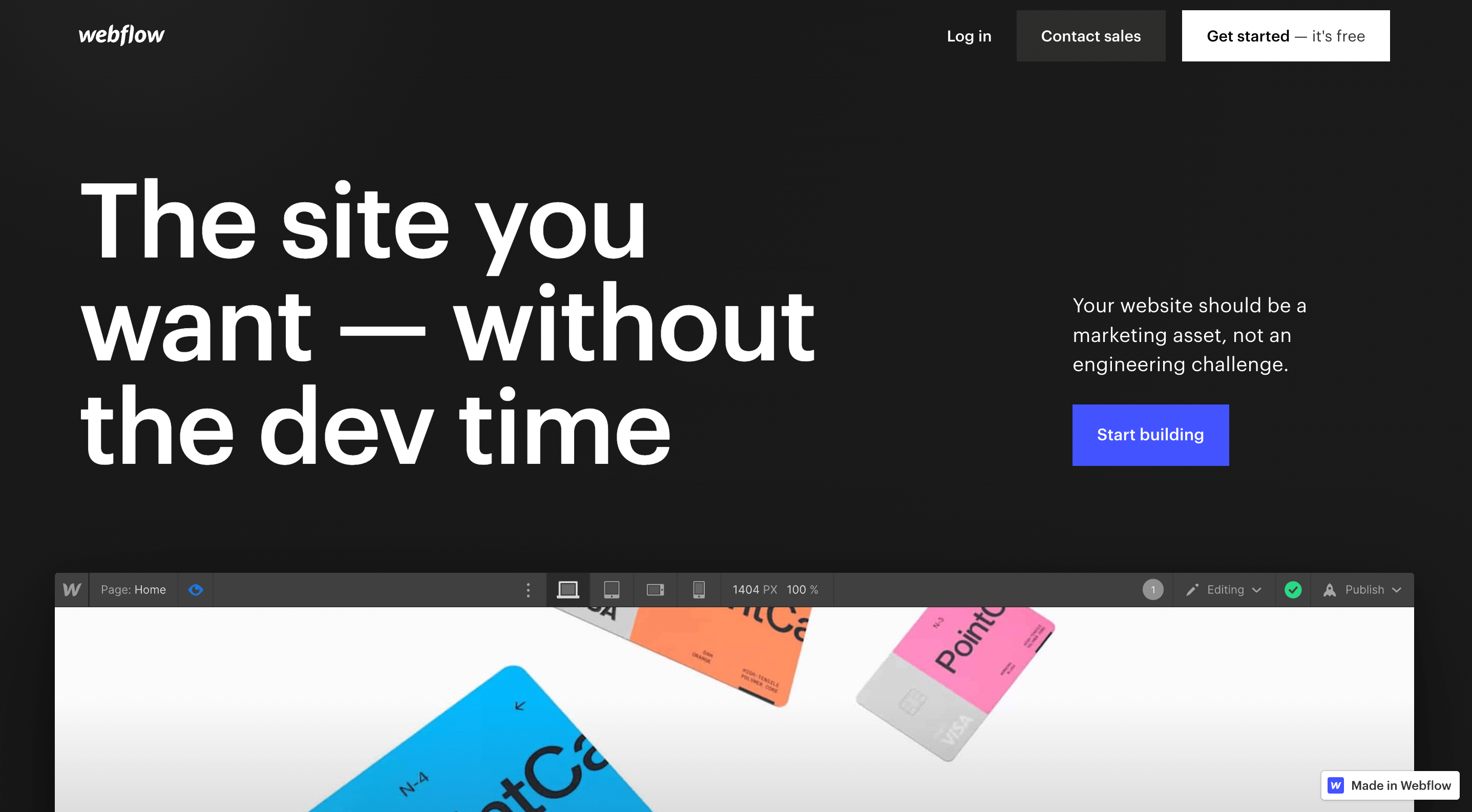 Webflow is one of the most popular no-code platforms for building attractive websites and apps. It comes with responsive templates to build your website in real-time. The Webflow designer also allows you to create your web page in a visual canvas, making it easier to edit. 
Furthermore, with in-built features like CMS and SEO, you can define your site's content structure and optimize it for search engines. And with Webflow Editor, you can edit the content right on the page. Altogether, Webflow can favor all your basic and advanced web development needs.
Pricing:
Webflow offers various plans for general users, freelancers, and agencies:
Basic: Costs $14/month and provides a custom domain and 50GB of bandwidth.
CMS: Costs $23/month and provides 2000 CMS items, 200GB bandwidth, a custom domain, etc.
Business: Costs $39/month and provides features like 10000 CMS items, 400GB bandwidth, 10 guest editors, and a custom domain.
Enterprise: Offers custom bandwidth and monthly form submissions. To buy an enterprise plan, you need to contact their sales team.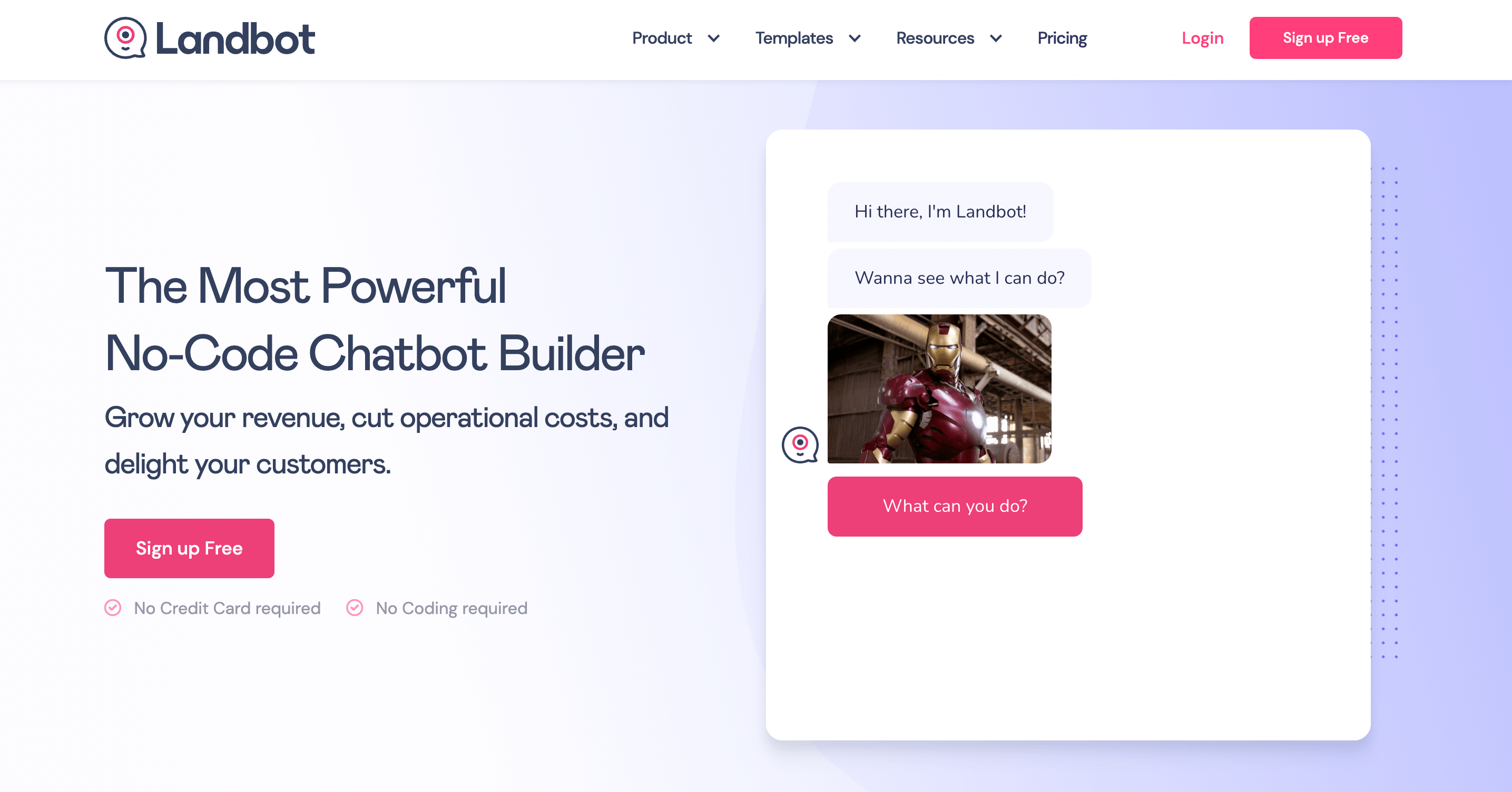 Landbot is one of the famous no-code chatbot builders used majorly to build a chatbot for websites and mobile apps. We all know how chatbots can help sales and conversion for a website. 
With Landbot, you can create customized chatbots according to your business or website. Using Landbot's features like Website Chatbot, WhatsApp Automation, and API/SDK, building chatbots for various apps and platforms is as easy as never before.
Pricing: 
Landbot offers different pricing plans for both Websites and WhatsApp.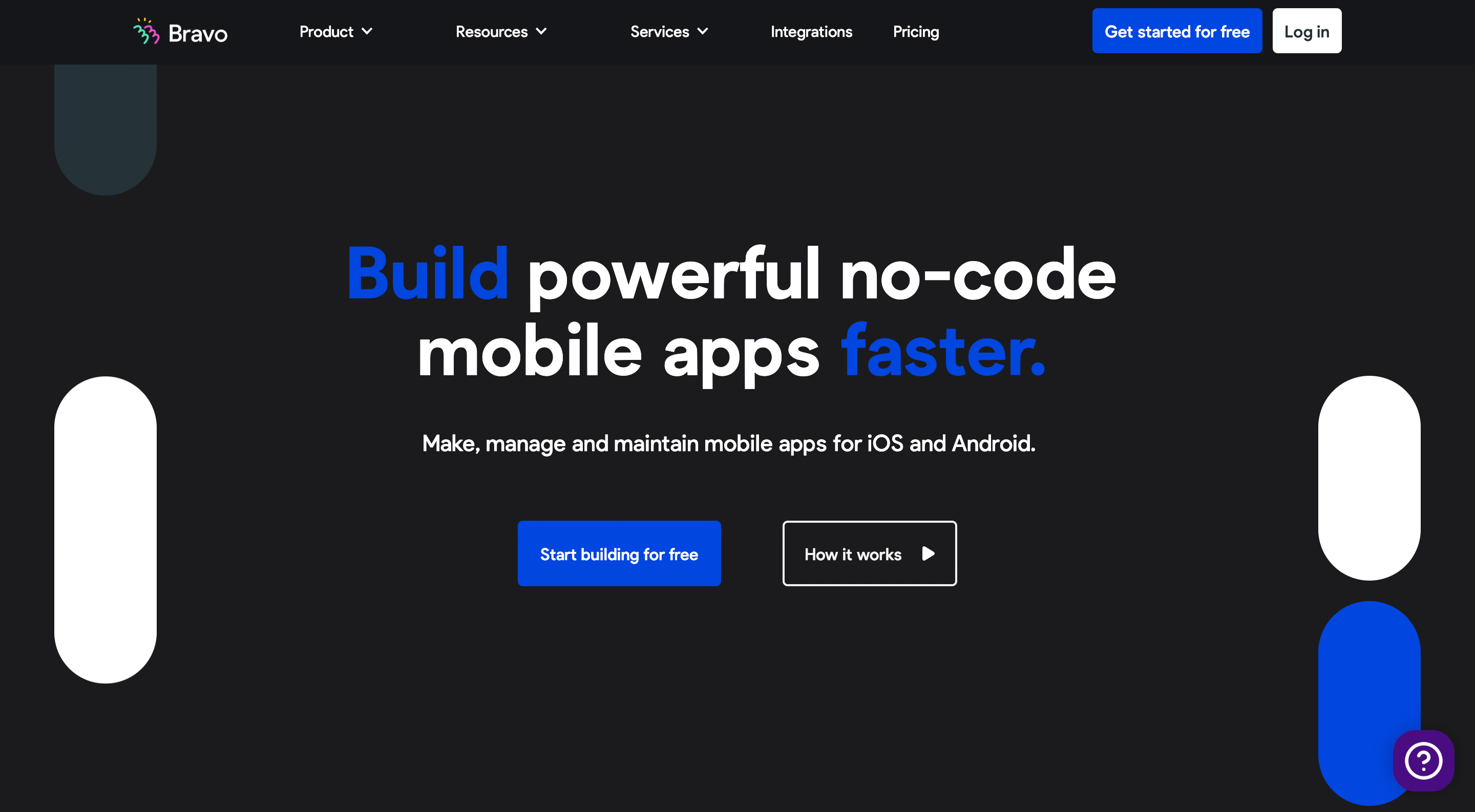 Bravo is the famous no-code app builder used to convert Figma and Adobe XD designs into native apps for iOS and Android. 
The platform requires just two things to work with: design and backend. Then, it connects your app with REST APIs. After this, you can test your MVP and publish it on App Store or Google Play Store. 
Pricing:
Bravo is free for beginners, but it offers two paid plans:
Ole: Costs 15.75€/month. For a Pro upgrade, an additional 7.88€/month and for a Business upgrade, an additional 82.92€ is required.

Support Package: For the support package, you need to book a call with their team.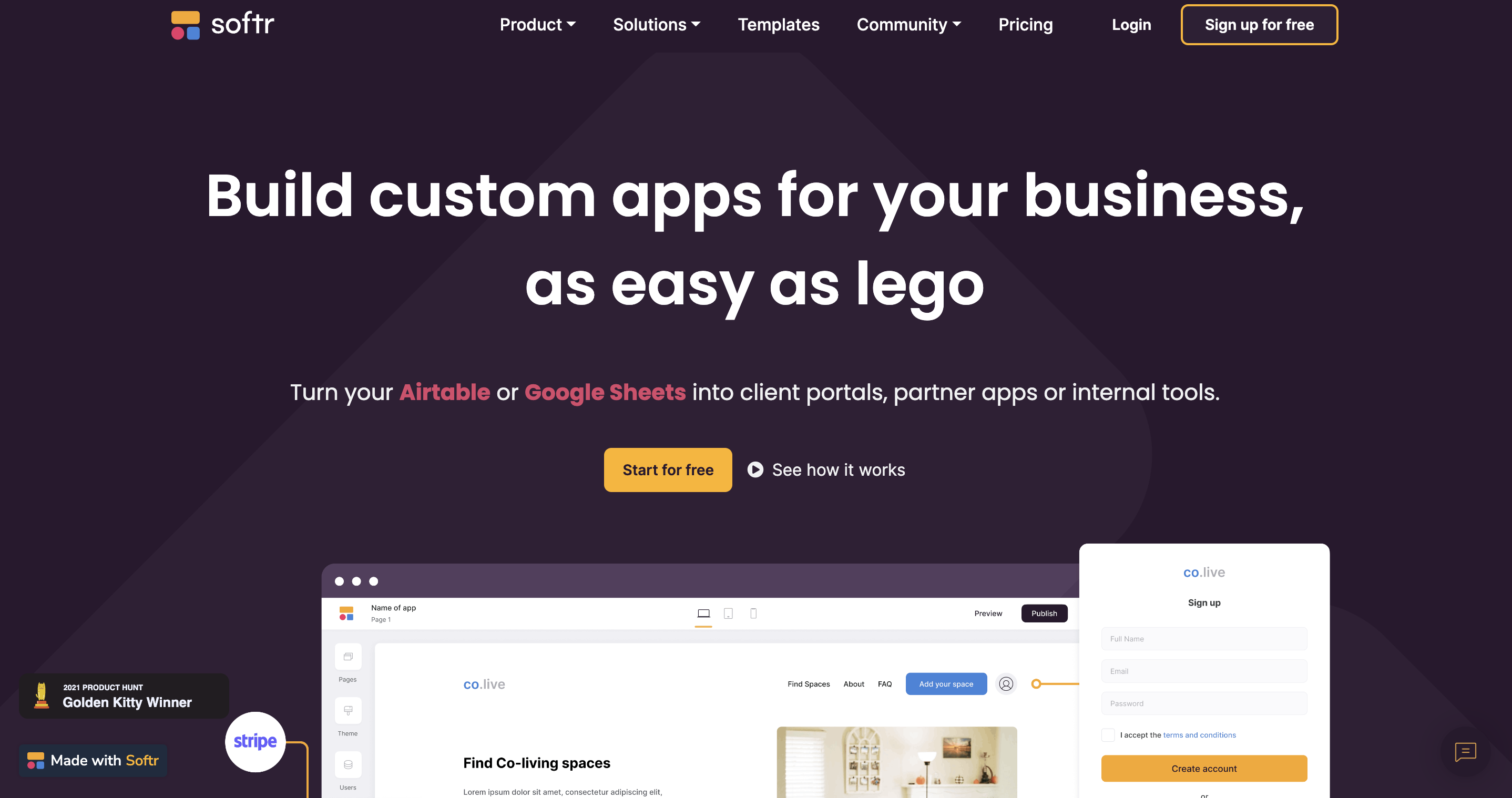 Softr is a powerful no-code software used to build webpages from Airtable bases. It also offers beneficial features like SEO, Designs, Dynamic List Layouts, Custom Form Builder, Dynamic search, Filtering and Sorting, On-page Editing, and Embedded tools. 
In addition, the platform provides integration features to connect with platforms like Google Analytics, Mailchimp, Stripe, etc. 
Pricing:
Softr is free for primary use. Also, on yearly payment, it offers 2 months free on all other plans. The plans are the following:
Starter: Costs $24/month.

Professional: Costs $65/month and is intended for companies that need custom apps with advanced features.

Business: Is designed for more prominent companies with heavy workflow and costs $165/month.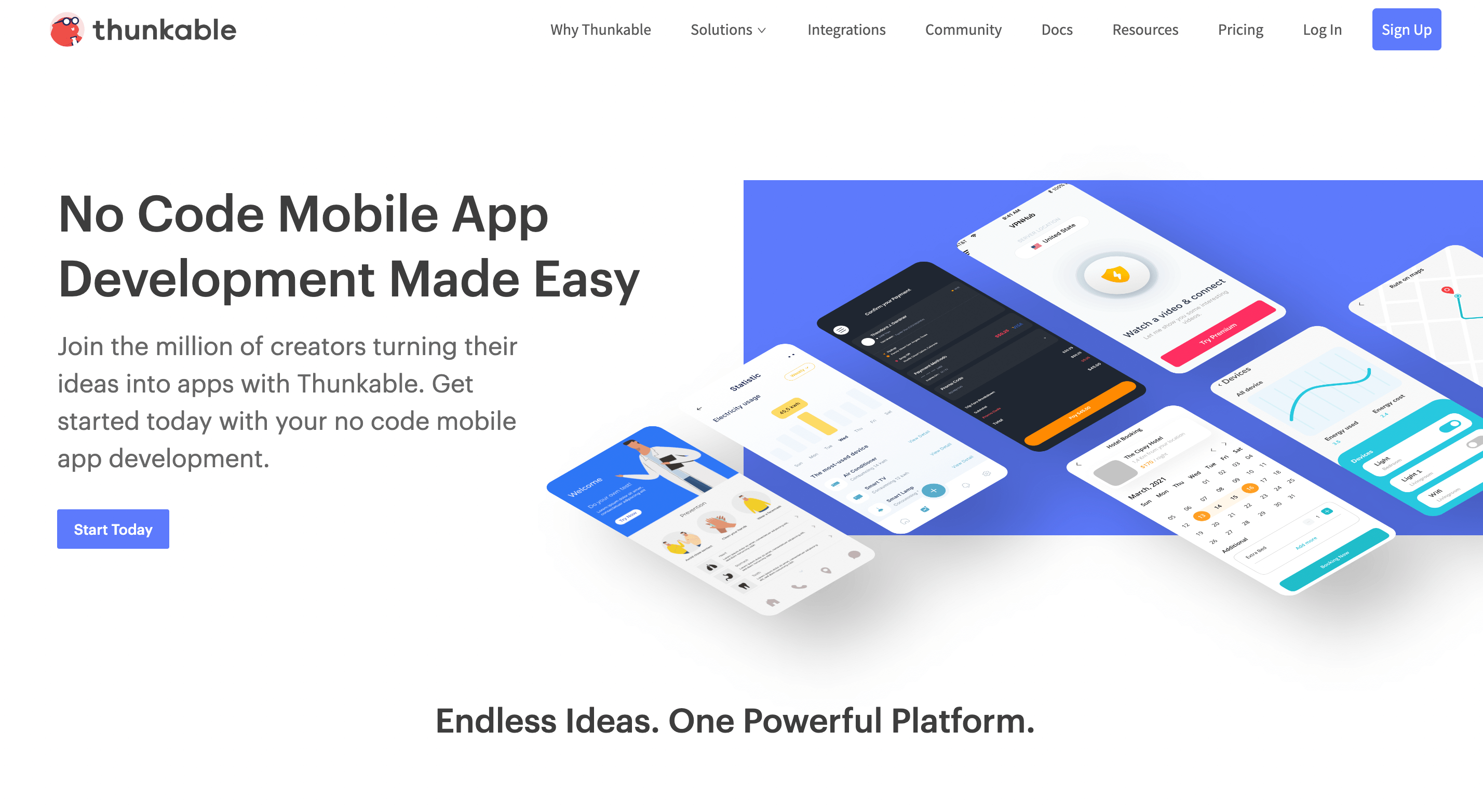 Thunkable is another top-rated no-code app platform designed to build no-code apps for mobile and desktops. With it, you can create an interactive and powerful app with features like drag-and-drop components, integration with third-party apps, and advanced logic. 
The platform has grown tremendously, recently expanding to more than 3M users.
Pricing:
Thunkable offers a free plan for beginners. Their advanced paid plans include the following:
Starter: Costs $13/month.

Pro: Lets you share your app everywhere, costing $38/month.

Business: Comes with many additional features. To get one, you need to contact their sales team.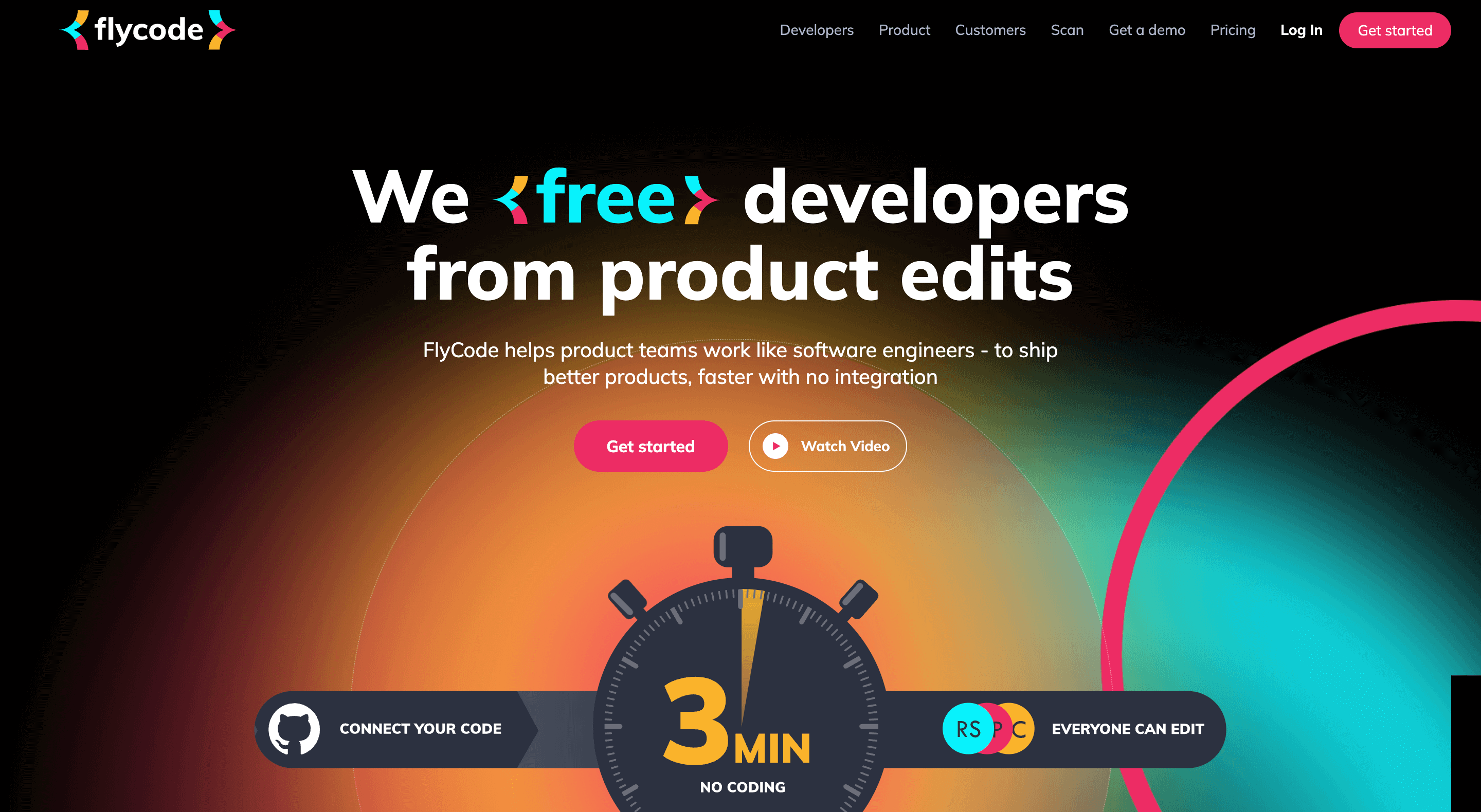 FlyCode is a Git-based copy and translation editor software for web applications. You just need to connect your GitHub repository with FlyCode software. After connecting, you can edit the content of the pages and the hardcoded text directly with the help of a visual canvas.
Pricing:
FlyCode offers free access to open-source teams. The paid plans include:
Team: Costs $79/month if billed annually.

Business: Offers unlimited changes and custom teams. It costs $499/month.

Enterprise: Is suitable for large ventures, and thus the prices and features offered are customizable.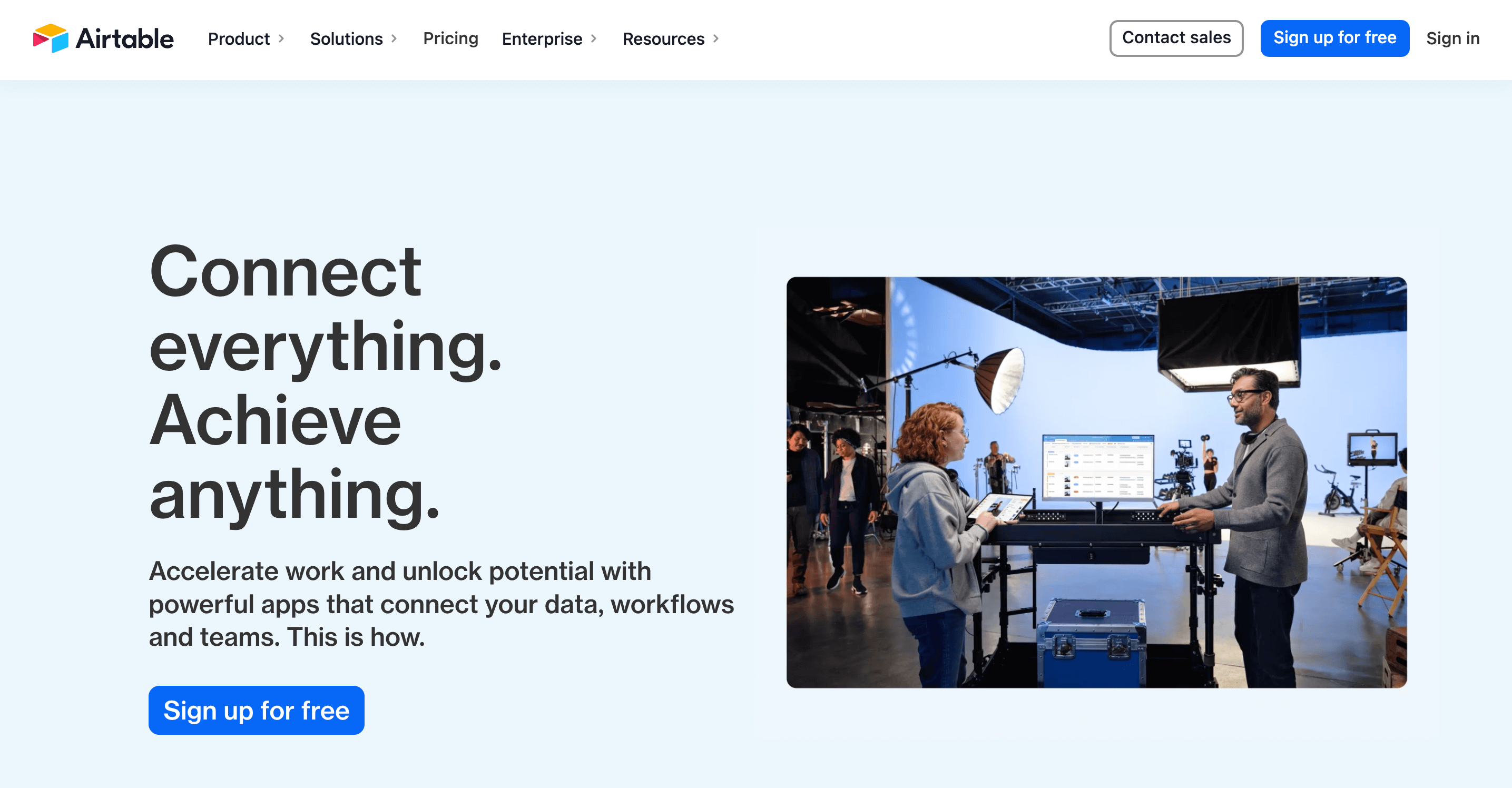 Airtable is one of the best no-code tools to build workflows and processes without writing a single line of code. It offers various templates for different purposes, such as marketing campaign trackers, content operation, project calendars, and many more.
Airtable can also be used as a CRM tool. It provides features like data integration and visualization with the help of graphs, bars, and dashboards.
Pricing:
Airtable is free for small businesses and individuals. However, it offers a variety of plans for users with more complex needs:
Plus: Costs $10/month if billed annually.

Pro: Costs $20/month and offers additional features from the Plus plan.

Enterprise: To buy an Enterprise plan, contact their sales team. 
Conclusion
The market for digital services is snowballing, and thus the demand for no-code tools has also increased. People with no coding skills and professional developers highly appreciate no-code app builders for their convenience, ease of use, truly impressive functionality, and wide range of templates. 
Choosing a proven and user-friendly no-code platform is vital to building great no-code apps. Hopefully, this list helps you select the suitable tool for implementing your fantastic project idea.
In case you want to add your no-code software to this list, contact us by email, and after a thorough assessment, we'll decide whether it's a valuable addition.