Graphic design has emerged as a powerful force, seamlessly blending artistry and technology, and plays a pivotal role in conveying brand messages, captivating the audience, and evoking their emotions.
Thousands of prominent design studios are ready to provide professional assistance to create fantastic visual concepts for your brand, so it might be challenging to choose the best-fit partner.
The good news is you've come to the right place. ReVerb is a leading graphic design agency with rich UX/UI expertise and a fine understanding of aesthetics and the latest design trends and tools. We're here to bring your ideas to life, breathing creativity and perfection into every pixel. Whether you need eye-catching illustrations, a memorable logo, or stunning advertisements, you can trust us with any task.
With so many projects emerging daily, the need for professional graphic design services increases exponentially. Thus, we've decided to compile a list of partner agencies to cover you all. 
Read on to discover top graphic design firms, diving into their scope of services, unique strengths, distinctive features, and portfolios. 
Best Graphic Design Agencies To Develop A Memorable Brand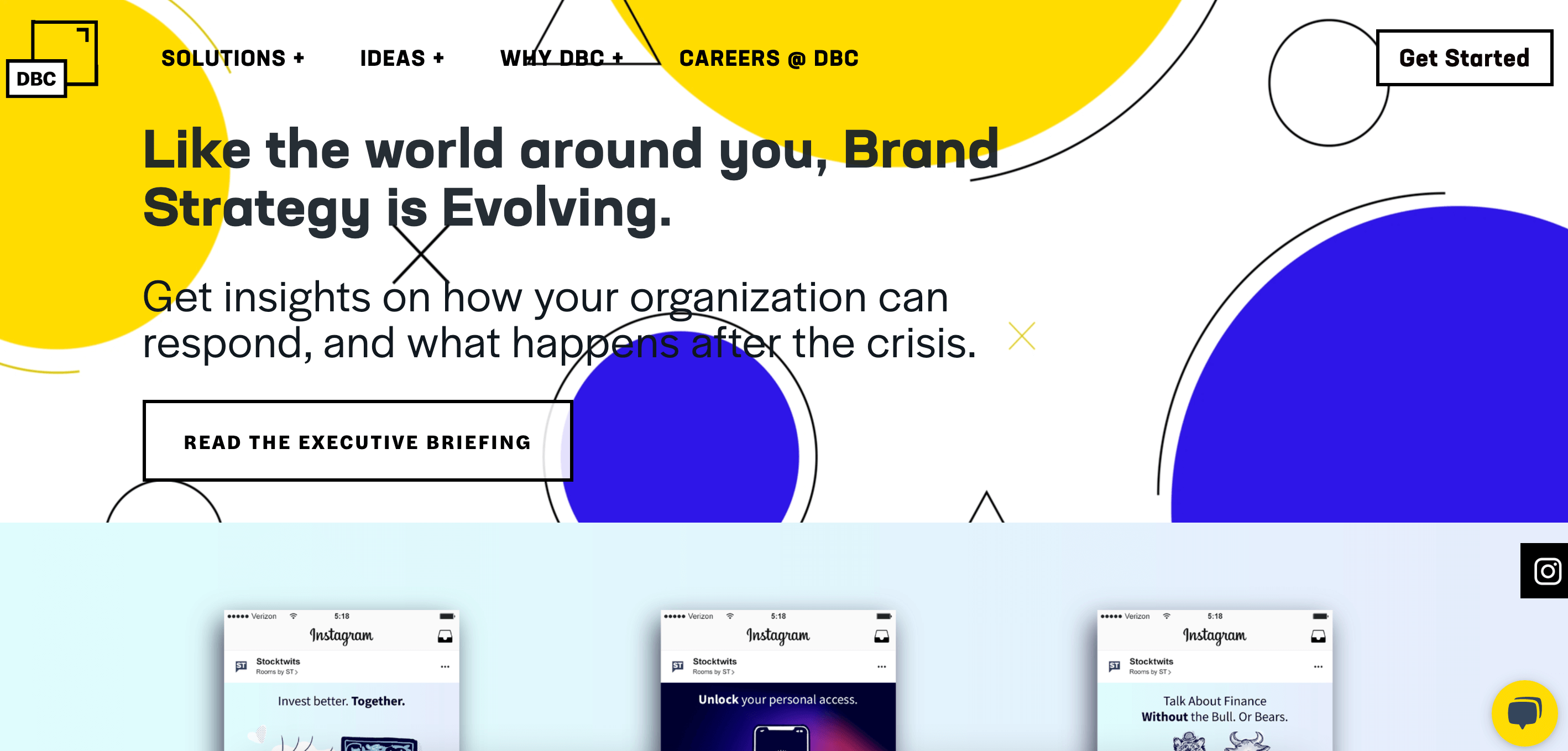 If you want to work with one of the best data-driven graphic design teams, DBC is an excellent choice. Its experienced international designers combine data with creativity to create design solutions that solve complex communication problems.
DBC specializes in developing brand strategy, positioning, visual identity, environmental, public and media relations, brand voice, and brand architecture and delivers a wide range of graphic design solutions, including logos, infographics, motion design, print campaigns, social media posts, and packaging. 
The agency works with current and future market leaders across various industries and crafts impactful visuals that transform brands and help them stand out. 
Best suited for

businesses of all types, sizes, and stages seeking large-scale growth and strategic digital transformation

Services and expertise:

urgent graphic design support, rebranding for growth, launching new ventures, presentations that drive action

Location:

New York, USA

Industries they serve:

Retail, eCommerce, Financial Services, Hospitality, Technology, Entertainment and Media

Portfolio:

American Express, Spotify, Courtyard Marriott, White & Case, Meta, Google, Bank of America, Bain & Company, NBPA Foundation, Strategic Education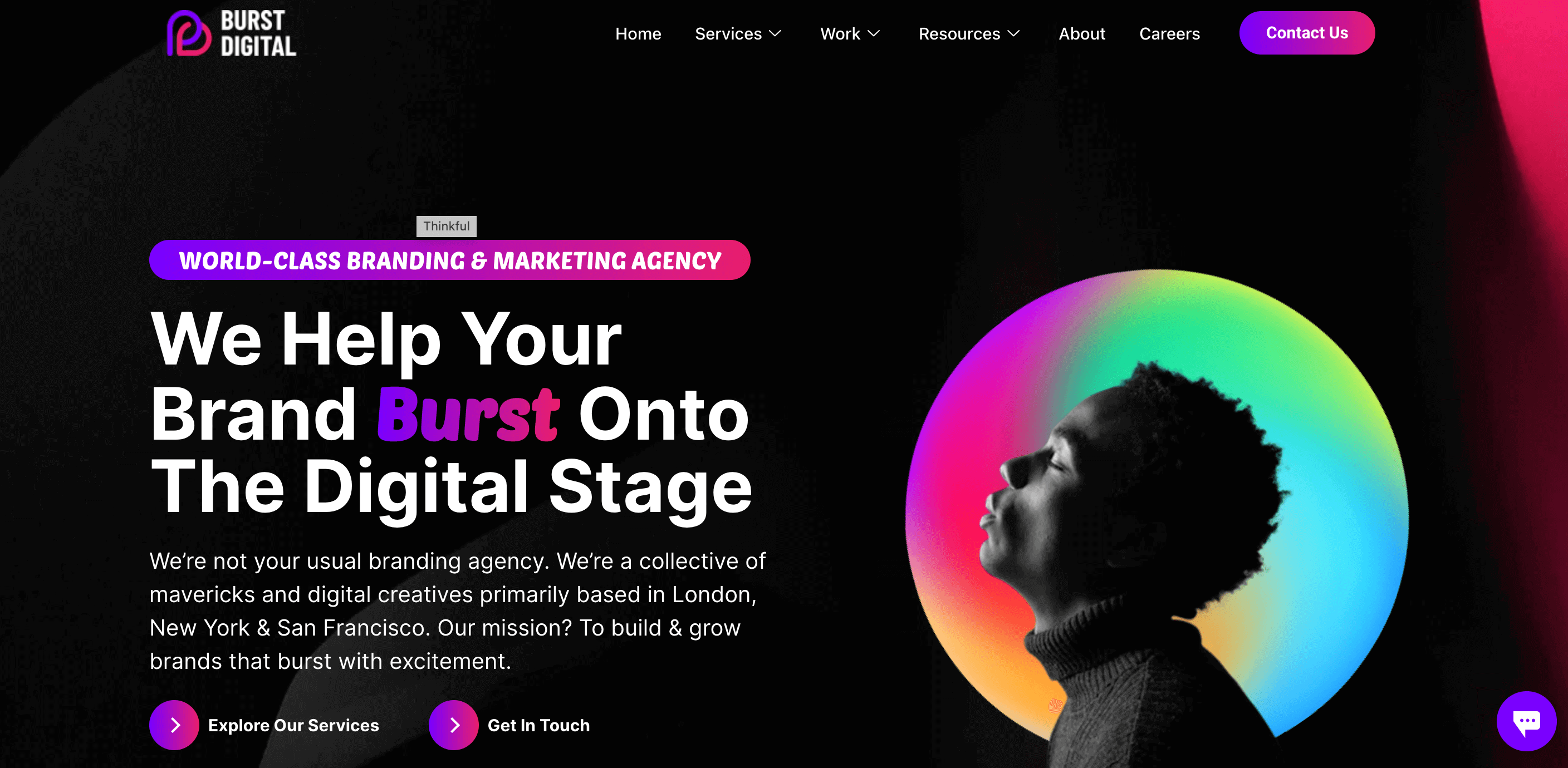 Burst Digital is a notable graphic design company creating award-winning brand identities, from visual assets, including logos and color schemes to impactful messaging. With over 100 transformative branding projects under its belt, Burst Digital agency has extensive experience in building show-stopping brands in Tech, Business, and Financial sectors.
Whether you are a startup or a large enterprise, Burst Digital will ensure your brand bursts onto the digital stage. Their top-tier designers will help you manifest your vision by curating inspiring mood boards, defining the perfect color scheme and typography that best portrays your company identity, and creating an unforgettable logo. The result – you'll see your brand skyrocket!
Best suited for:

startups and established businesses in various industries striving to become world-class brands

Services and expertise:

branding, web design, digital marketing, SEO, social media, pitch deck design

Location:

New York, San Francisco, USA; London, UK

Industries they serve:

Entertainment, Fashion, Finance and Investment, Healthcare, Technology, Government

Portfolio:

Vertical Future, Howden Group Holdings, Vivienne Westwood, Clean Kitchen, Cogency Global, NOVA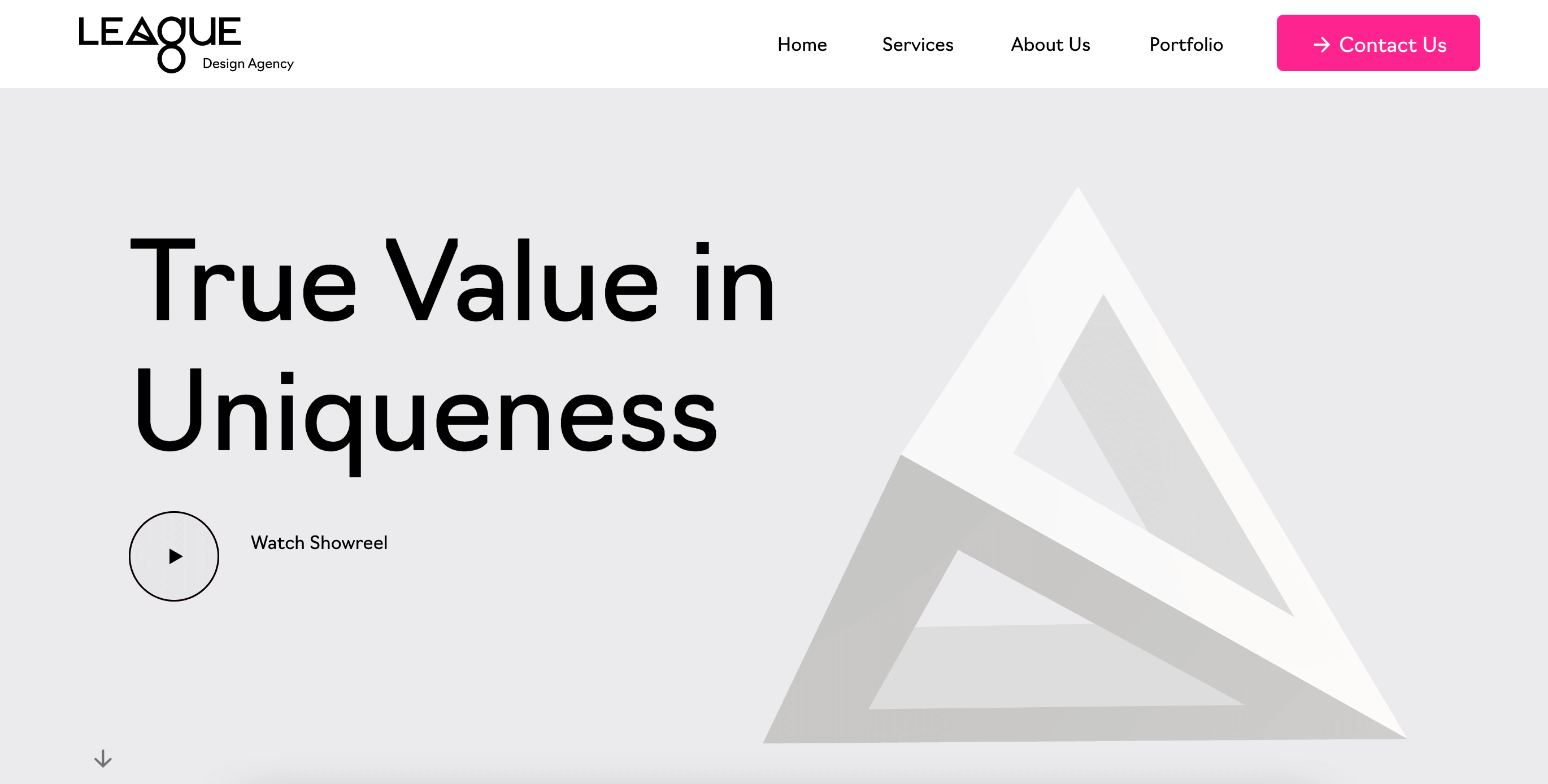 League Design Agency is a Ukrainian-based graphic design firm offering incredible user experience and captivating visual aesthetics. They only start the design process after ensuring they clearly understand everything about your project, from your company's essence to your ultimate goals and preferences.
The agency expresses its values and soul through exclusive graphic design and brand identity services, providing consistency in all produced materials. Their team is proficient in creating outstanding logo designs, brand identity designs, social media graphics, motion graphics, animations, illustrations, and infographics – everything you need to communicate effectively with your target audience and share aesthetic visual storytelling. 
What's more, they promise to deliver the best possible design solutions by using their secret sauce… Sounds intriguing, isn't it?
Best suited for:

businesses of all sizes, but primarily product companies, R&D companies, manufacturing companies, and IT firms

Services and expertise:

digital design, brand identity, eCommerce design

 
Location:

Kyiv, Ukraine; Katowice, Poland

Industries they serve:

Education, Technology, Cosmetics, Music, Healthcare, Social Media and Entertainment, Sports, Food and Beverages, Cryptocurrency 

Portfolio:

Tarilka, CXDOJO, InList, Power Building, OU Israel, Synergy, Muso.AI, Geo protocol, Kritika, Barfli, Litsa, Human Code, Whiskas, Ignilife, OMG, Chioture, Blip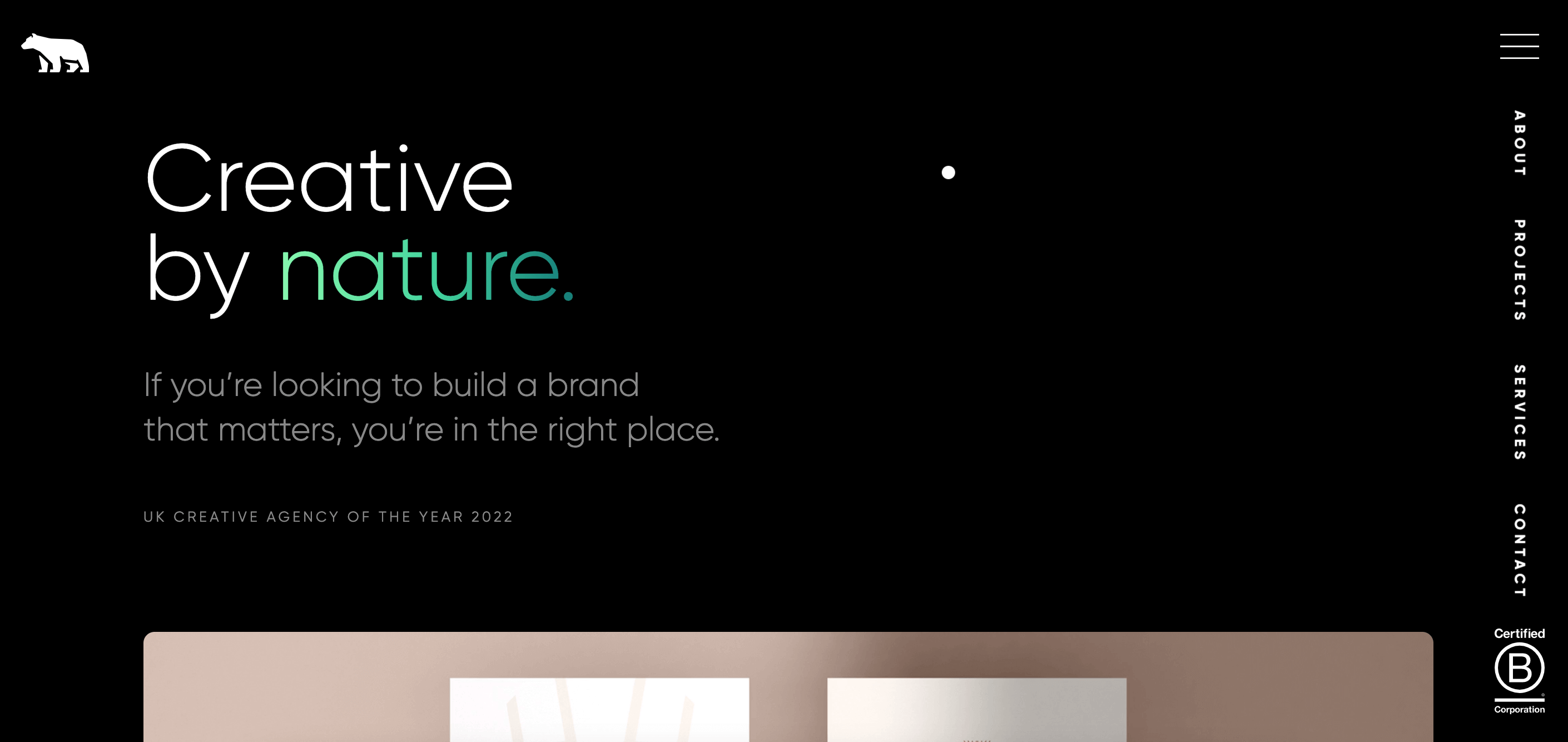 A UK-based graphic artist agency, Polar, works with businesses of all sizes worldwide following one vital principle: they only say yes to those clients who are ambitious, agile, and passionate about their goals. 
The company specializes in branding, design, and web services, as well as creates brand identity and architecture, strategy, naming, print collateral, and packaging, and provides top-notch graphic design services, including ad materials, illustrations, infographics, and animations. By delivering highly professional and creative visual design solutions, Polar will help you engage with your audience and inspire them. 
So if you are an aspiring entrepreneur looking to build a brand that matters – Polar is your go-to studio!
Best suited for:

brands and businesses of all sizes looking for bold design solutions

Services and expertise:

branding (brand strategy, brand architecture, positioning, naming, brand identity), design (graphic design, UX/UI design, art direction, ad campaigns, illustrations, photography), web services (web design and development, hosting, content management system), marketing (content creation, copywriting) 

Location:

Essex, London, UK; San Francisco, USA 

Industries they serve:

Technology, Events and Entertainment, B2C Products, Real Estate and Property, Pet Care, Healthcare, Sports, Food and Beverages, Hospitality, Non-profit, Leisure, Insurance,

Portfolio:

Strix, Aqua Optima, Charlton Athletic, Link Mobility, GSMA, Teledyne E2V, Wag Tails, Maidens Barn, Ignite
The Label Collective is a brand-focused graphic design company based in Texas, USA. Since 2012, they have partnered with numerous medium and large businesses across diversified industries, helping them tell their visual stories, starting from the first steps of building a brand to delivering exceptional creatives and ongoing marketing support.
Their team of professionals assists clients in two core areas: brand strategy and brand management, which include digital strategy, social media and brand strategy, illustrations, motion graphics, logo concept and design, art direction, packaging, and many more. 
This prominent graphic design studio guides you throughout the entire process to help you create visual materials that reflect your brand and make it prosper. At the Label Collective, you'll find an ingenious team of graphic designers for hire to get full-cycle in-house support or assistance with a few projects.
Best suited for:

medium and large businesses that are just starting to build a brand and need careful guidance and marketing support

 
Services and expertise:

graphic design, creative direction, art direction, brand and visual identity, web and mobile design, web and mobile development, packaging, event and tradeshow graphics, content creation, brand strategy, illustrations, motion graphics

Location:

Texas, USA

Industries they serve:

Insurance, Government, Technology, Events, Food and Beverages, Science, Environment, Healthcare, Architecture, Gaming and Entertainment, Manufacturing 

Portfolio: Plural, Olson, Ontic, The Regis Company, Personify, Amherst, Austin Design Week 2021, Anaconda, Agliff, TACFS, Bellezza, Capital Metro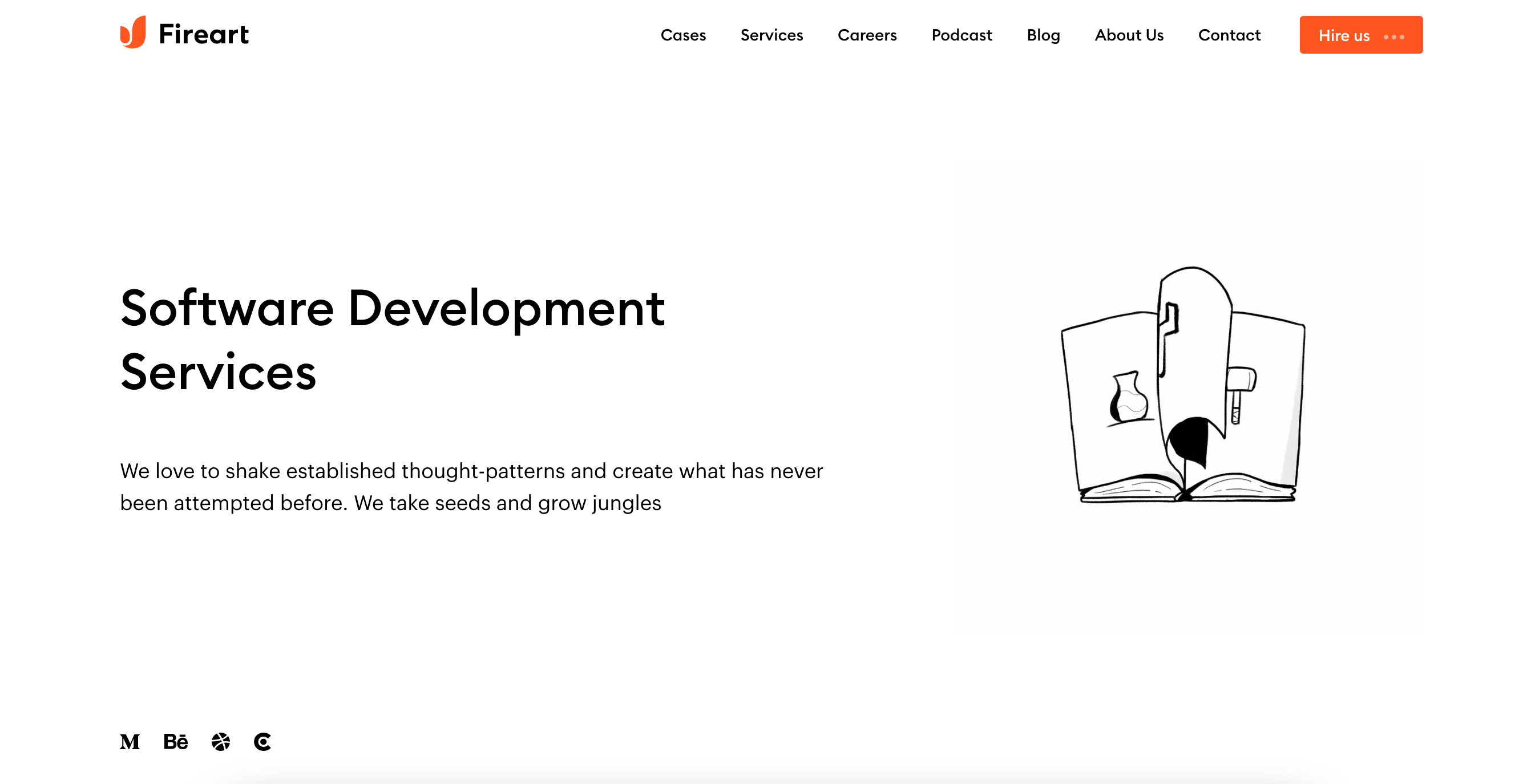 Applying strategic thinking, creativity, and innovation, Fireart Studio offers a diverse range of graphic design services and delivers exceptional visual solutions for startups and the world's leading corporations. The company's approach lies in the intersection of superior brand identity, product design, and development. 
Their skilled and friendly team of graphic designers excels in branding, design strategy, and motion graphic services. Also, the agency provides some additional services like collateral design, illustration exploration, and outdoor marketing advertisements. 
Fireart Studio will help you define the features that make your brand extraordinary and translate them to the world; scale and transform your business with their outstanding services! 
Best suited for):

forward-thinking enterprises and startups looking for professional design assistance in building custom digital products and wanting to try something new

Services and expertise:

digital product design, branding, motion design services, design outstaffing, software and product development 

Location:

Warsaw, Poland

Industries they serve:

Automotive, Banking, eLearning, eCommerce, Insurance, Fintech, Healthcare, Real Estate, Travel, Government, Construction, Retail, Dating, Music, Grocery, Sports, Pharmacy 

Portfolio:

Pipedrive, LimeHome, Rolls-Royce, Google, ByNext, Just Eat, SwissCom, Atlassian, Bolt, Back Office, My Taxi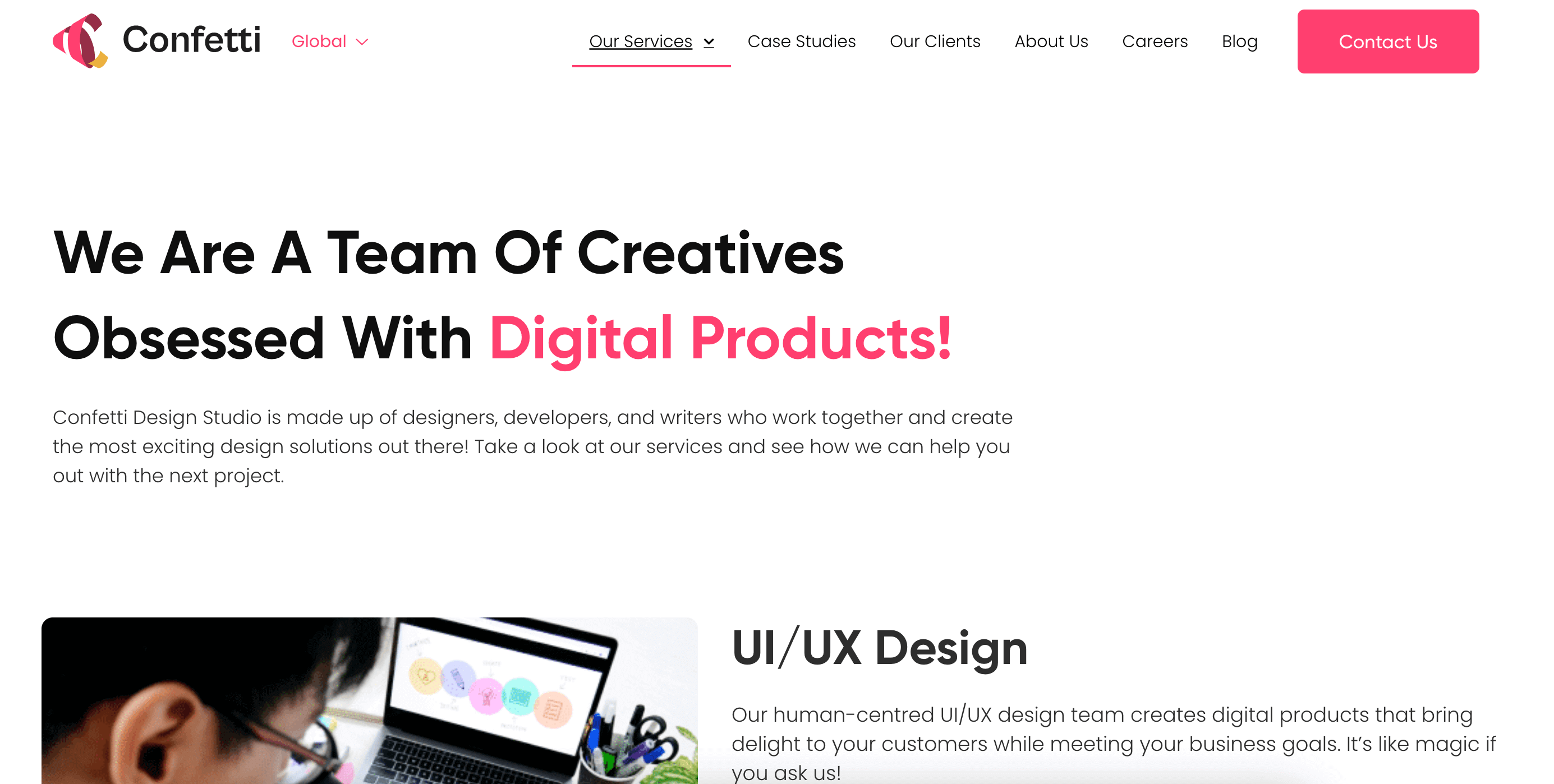 Confetti Design is one of the top graphic design studios that help businesses create better impressions. They love working with early and mid-stage startups to build brands and identities that form a lasting connection with the audiences. 
Confetti Design's areas of expertise include branding and identity design, packaging design, logo design, and branding strategy. By partnering with companies of all sizes across different industries, Confetti Design has built an impressive portfolio. Hire the best graphic designers from Confetti Design agency to get desired results and maximize ROI through the most exciting design solutions. 
Best suited for:

early and mid-stage startups that want to create

products, brands, and digital experiences that make an impact

Services and expertise:

graphic design, UX/UI design, web development 

Location:

Bangalore

, India

Industries they serve:

FMCG, Fintech, Entertainment, Healthcare, Blockchain and Web 3.0, Dating and Social Media, eCommerce

Portfolio:

Cryptograd, Unlisted, CHIPN, MyCaptain, StockPe, FNP, Coasters, Baaris, PetFriends. Vibcare, Bumble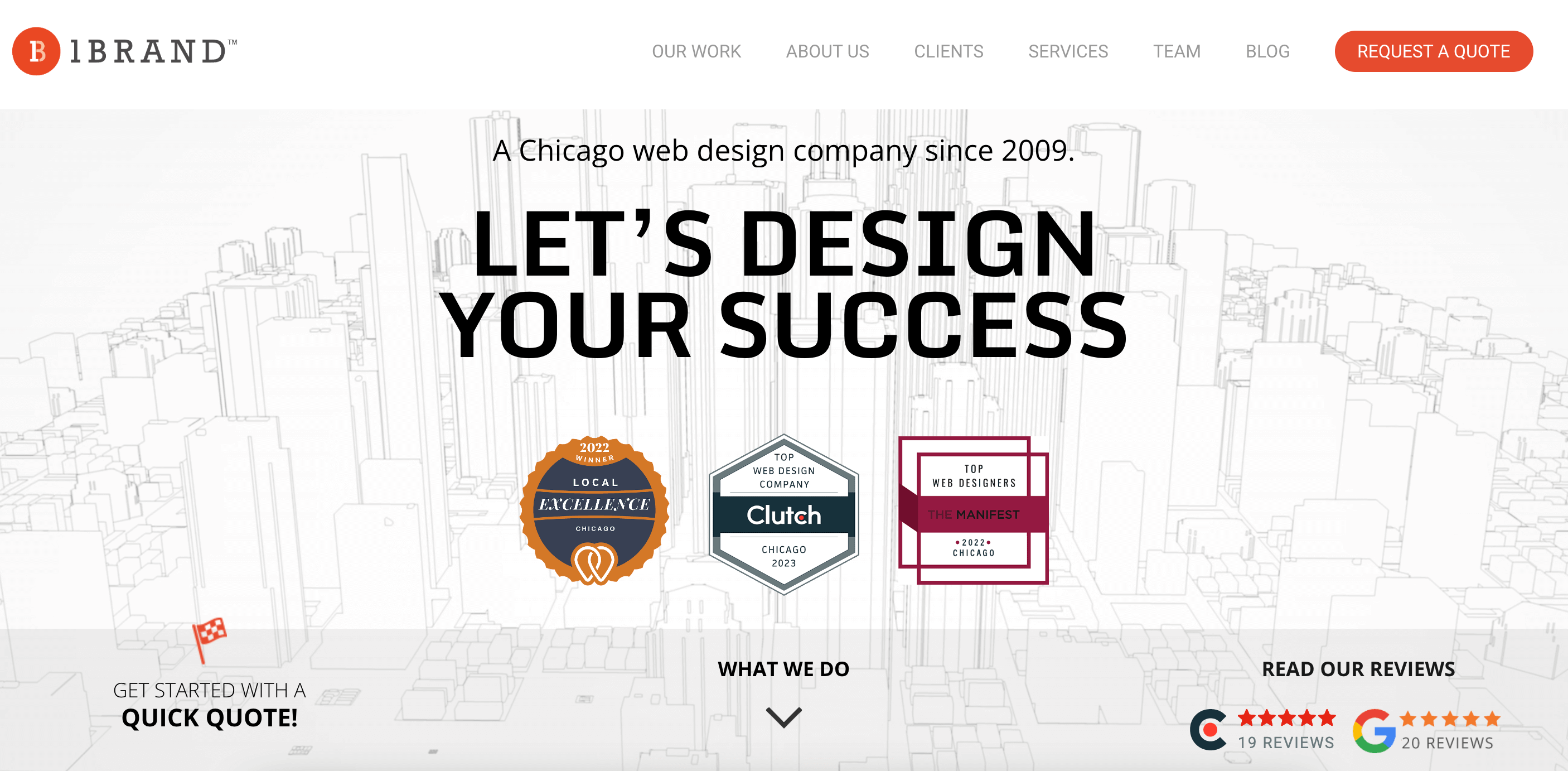 1Brand Design Studio was founded in Chicago in 2009, and notably, its team finds creative inspiration and motivation from this city full of art influencers and many culturally diverse art neighborhoods. 
The agency generally helps small businesses, startups, and midsize businesses stand out with the help of stunning graphics and print pieces, illustrations, and marketing collaterals. In addition, they offer direct mail creatives, logo design, brand identity, promotional items, vector graphics, and infographics as a part of their graphic design and branding services. 
If you are looking for a reliable, experienced graphic design studio that can surprise you with amazing visual concepts that aren't only beautiful but also drive traffic to your site, 1 Brand Design is a worthy agency to consider.
Best suited for:

businesses of all sizes, from startups to Fortune 500 companies, looking to create award-winning graphic design solutions 

Services and expertise:

graphic design and brand identity, web design and development, SEO, animation and video, SMM, WordPress maintenance, social media marketing 

Location:

Chicago, USA 

Industries they serve:

Music, Technology, Automotive, Fintech, eCommerce, Games, Entertainment, Media, Aircraft, Sports, IT

Portfolio:

Fiat, Peachtree, JG Wentworth, HardRock, The Marks Group, Digital Telegraph, Social Reality, Chicago City Roofing, Opportunity Desk, Green Business Systems, PGH Music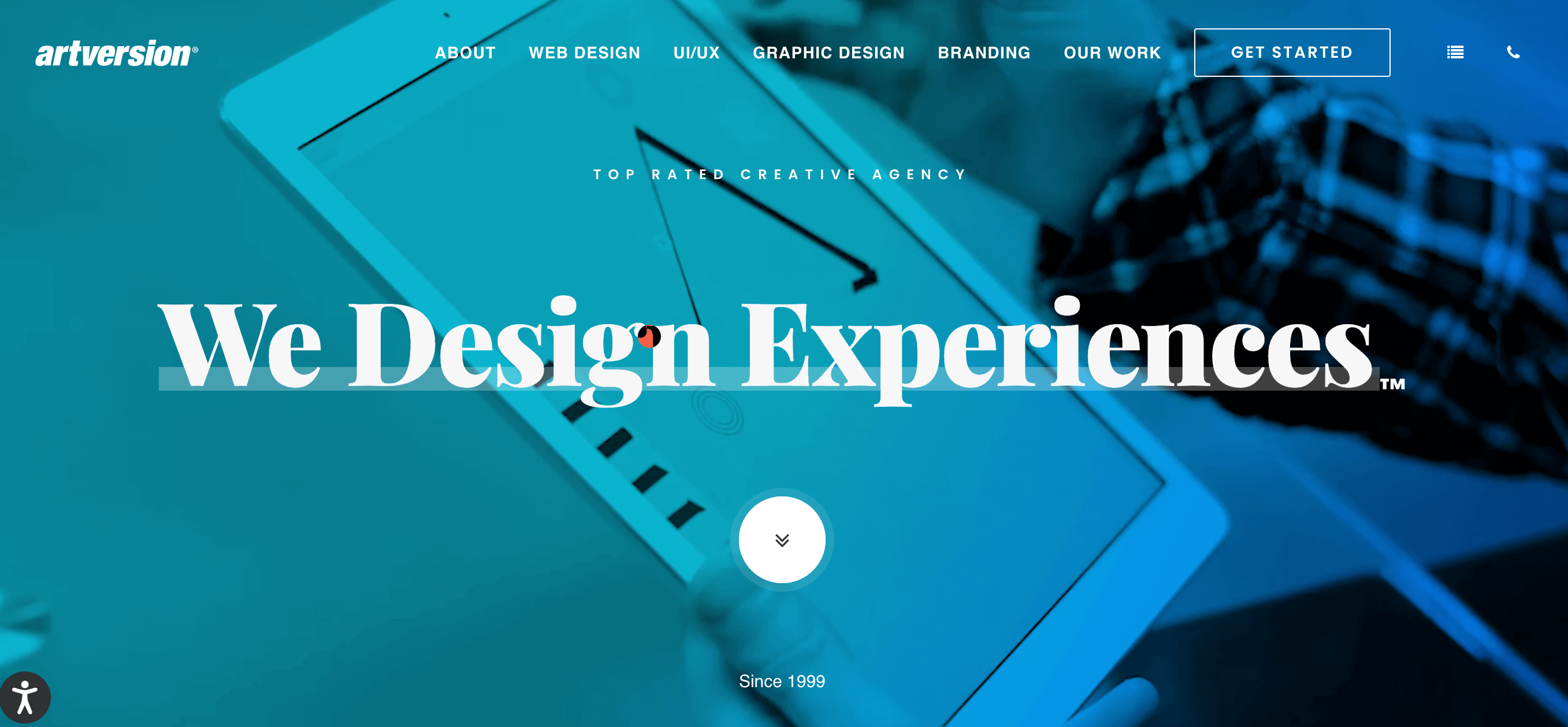 Being a top-rated graphic design company working with world-known names, Art Version follows an iterative design process to create materials that evoke emotions and engagement between brands and consumers. Their primary graphic design services include the creation of logos, catalogs, packages, annual reports, white papers, infographics, brand identity, design systems, tradeshow graphics, and marketing collaterals. 
Art Version's ultimate goal is to help clients catch their audience's attention. Equipped with exclusive insights, best practices, and data, Art Version applies the most relevant graphic design methods to craft intuitive and professional layouts to turn readers into customers and take your company to the next level. 
Best suited for:

Fortune 500 companies, midsize businesses, and notable startups having complex branding, digital, and print design needs

Services and expertise:

graphic design, web design, UX/UI design, branding 

Location:

Chicago, USA

Industries they serve:

Real Estate, Insurance, Automotive, Music, Technology, Government, Internet Society, Cosmetics, Education, Architecture, Science, Healthcare

Portfolio:

Hilton, Cartier, Pepsico, Mack, Chicago Public Schools, Transunion, United States Federal Reserve System, Realtor, Volvo, Morgan Stanley, The Wall Street Journal
DD.NYC is a top graphic design agency with 10+ years of experience and an impressive portfolio. Whatever your business needs are, DD.NYC will provide you with top-quality, effective branded materials on a budget. The company specializes in creating pitch decks, marketing materials, advertising, and corporate designs. 
Their team of top-level graphic designers will make your business stand out by preparing lacking design elements, from logo to impeccable typography and imagery, creating any size campaigns, and designing effective and compelling presentations. 
Customers choose DD.NYC to get result-driven design solutions that attract new audiences and help expand brand coverage. 
Best suited for:

businesses of all sizes seeking a fast and reliable graphic design services provider

Services and expertise:

graphic design, packaging design, branding, web design, UX/UI design 

Location:

New York, USA

Industries they serve:

Beauty, Hospitality, eCommerce, Food and Beverages, Manufacturing, Technology, Property, Social Media, Web 3.0, Media, Entertainment, Real Estate

Portfolio:

Gett, Theodo, Loreal, Walmart, Havas Group, Groupon, Symphony Sleep, Airatae, Roommate, Chef Antoine Lours, CO2, 1010 Wilshire, Cyber Yachts, ShotCam
Conclusion 
Outstanding visuals have the power to leave a lasting impression, so creating a solid brand identity, user-friendly interfaces, and captivating marketing materials is vital for your business's growth and success. 
By partnering with one of the best graphic design agencies, you can elevate your brand's visual presence, stand out from the competition, and expand your market coverage.
If you want to add your graphic design studio to this list, drop us a line. After a thorough review, we'll decide whether it's a valuable addition.