As remote work continues to gain traction, the traditional workplace is rapidly transforming, and companies must adapt to stay competitive.
In fact, over 80% of companies worldwide offered flexible work options in 2022. In this new landscape, human resources software has become essential for companies to manage their remote workforce effectively from a distance. 
To assist businesses with their HR needs, including strategies to combat loneliness while working from home, we have prepared a list of the best human resources software solutions customized for remote teams. This article delves into each product's unique features and use cases, providing a comprehensive guide to help companies select the best-fit HR software.
So if you're seeking to streamline your HR processes and enhance your remote team's efficiency, continue reading!
What Is The Best HR software?
Human resources (HR) or human resources management (HRM) software is a technological solution that helps managers keep track of different HR functions, such as employee data, payroll, employee attendance policy, benefits, performance management, and recruitment. Introducing top HR software into workflows can simplify HR tasks and enhance the company's efficiency, resulting in improved business outcomes.
While choosing the best HR software solution, make sure it provides the following essential features:
Centralized employee database that enables easy access to stored information

Payroll management capabilities for efficient and accurate payroll processing

Benefits management tools for enrollment, administration, and tracking of employee benefits

Performance management tools for goal-setting, performance tracking, and feedback collection

Recruiting and applicant tracking features for posting vacancies, tracking applicants, and managing the entire hiring process

Reporting and analytics capabilities for analyzing data and making informed decisions
Now, let's explore our exclusive HR software list with the top platforms for human resources specialists, considering their benefits, functionalities, and pricing.
The Best HR Software
To Hire And Manage Like A Pro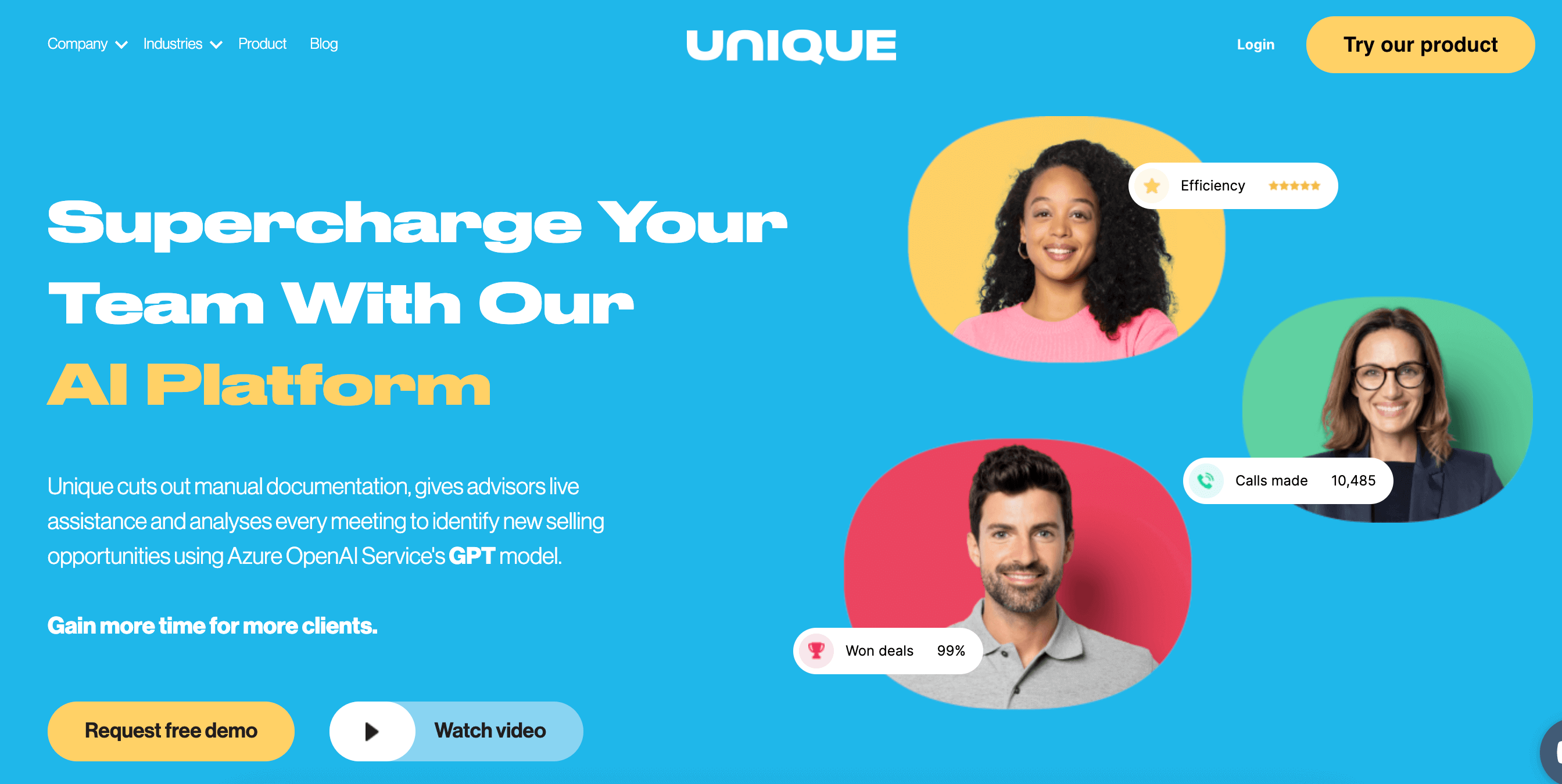 Unique is an innovative, cutting-edge HRM software that empowers businesses with a visionary Client Intelligence Platform designed for remote teams. 
The software aims to revolutionize internal communication processes by making conversations easy, transparent, and inspiring. With Unique, businesses can unlock hidden opportunities in every information exchange and build more profound and productive relationships with their employees.
By utilizing large, pre-trained AI models, such as GPT-4, Unique equips HR professionals with the ability to streamline their operations and maximize productivity. These models leverage the power of client data, allowing companies to enhance data quality, automate routine tasks, and align processes, ultimately improving lead management. 
Main features of Unique:
ChatGPT-generated reports

CRM automation and data-driven insights

Real-time insights with the Unique Bot joining calls automatically and displaying relevant call analytics, signals, checklist, transcript, and highlights

The transcription that recognizes speech on the go translates transcripts, and shares with multi-lingual teams

Smart to-dos that remind HRs of crucial moments in the call, accelerating the recruitment cycle

Coaching and upskilling for employees with Coaching Rooms, where users can share knowledge and learn from others, creating a faster sales onboarding process

Custom agenda creation to stay consistent and follow a structured process during every interview

Self-coaching and easy feedback rounds, enabling users to learn from best practices or hone their skills by avoiding others' mistakes.
Pricing: Custom pricing upon request.
The Unique top Human Resources software, with its comprehensive features, allows business owners to save time and focus on high-value tasks, such as building stronger relationships with employees and connecting candidates with hiring managers in the most efficient way.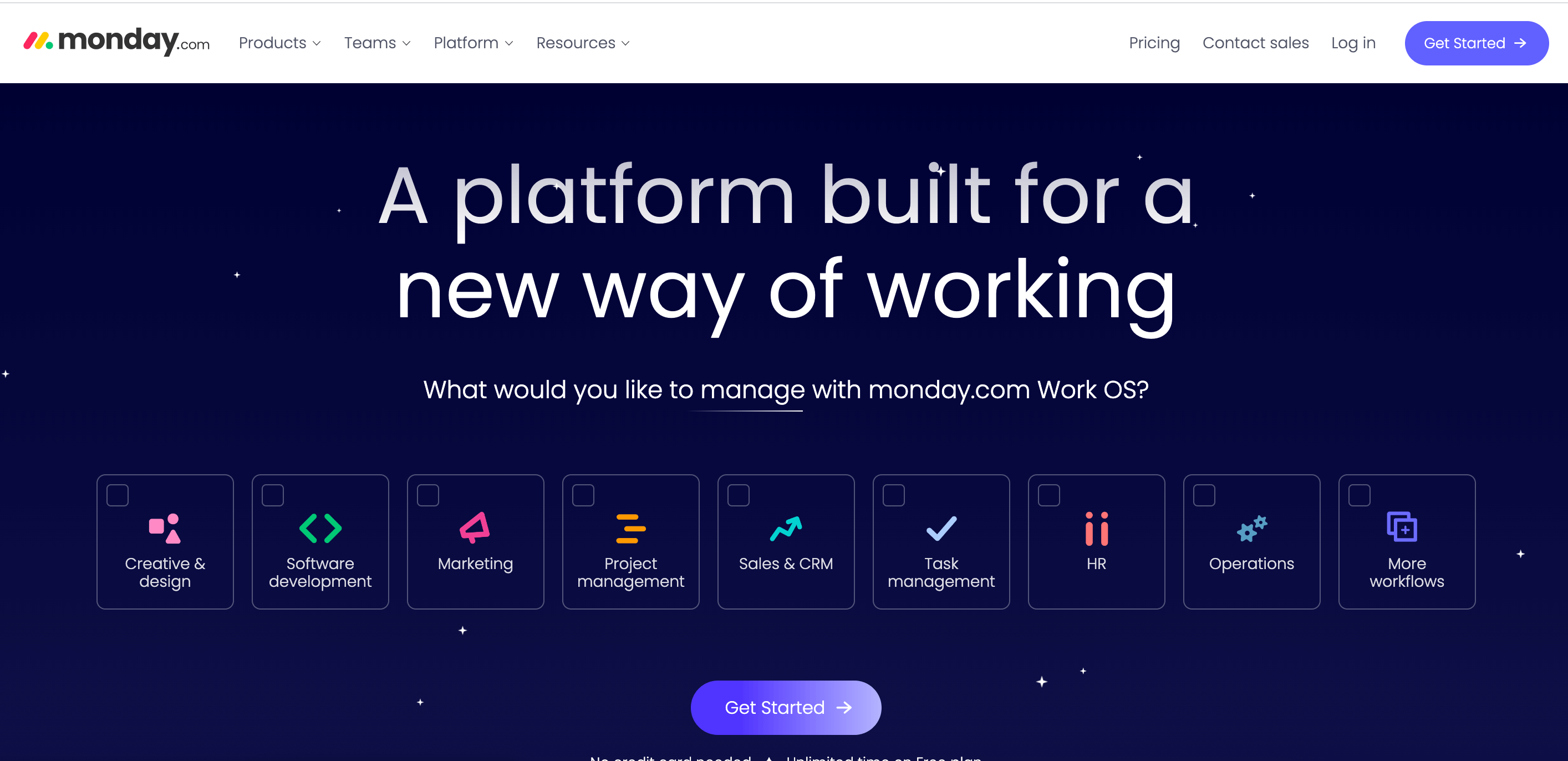 Monday is an award-winning HR platform adored by ReVerb's employees and other customers worldwide. With over 10,000 positive user reviews, Monday is known for its exceptional feature set and corporate values. 
According to Forrester, it's the best no-code platform they've ever seen, and the Total Economic Impact Report shows a 345% uplift in ROI when using the tool. Additionally, Monday.com is a recognized market leader across 18 categories, which isn't surprising as this product offers flexible, near-endless possibilities.
Monday allows you to make data-driven decisions, collaborate efficiently, and track progress with intelligent software that adapts to your work. Whether you want to manage projects, streamline your HR processes, or collaborate with your colleagues remotely, Monday has got you covered. 
This one of the best HR software has been used by industry leaders such as Canva, Coca-Cola, Lionsgate, and Universal Music Group, among numerous others. 
Main features of Monday:
Customizable business automation

Integrations with your favorite apps

File management

Dashboards 

Kanban boards

Gantt charts

A great library of templates
Pricing:
Individual

: free forever — up to 2 seats for individuals looking to keep track of their work.

Basic

: €8 per seat /month (billed annually) — manage all your teams' work in one place.

Standard

: €10 per seat/month (billed annually) — the most popular package; collaborate and optimize your team processes.

Pro

: €16 per seat/month (billed annually) — streamline and run your teams' complex workflows.

Enterprise

: price per request — for organizations seeking enterprise-grade features.
Monday is the perfect solution to manage your team remotely or locally. Use this best-in-class platform today and experience the unlimited benefits of efficient work management and team collaboration. On the other hand, there are many excellent Monday alternative platforms worthy of trying.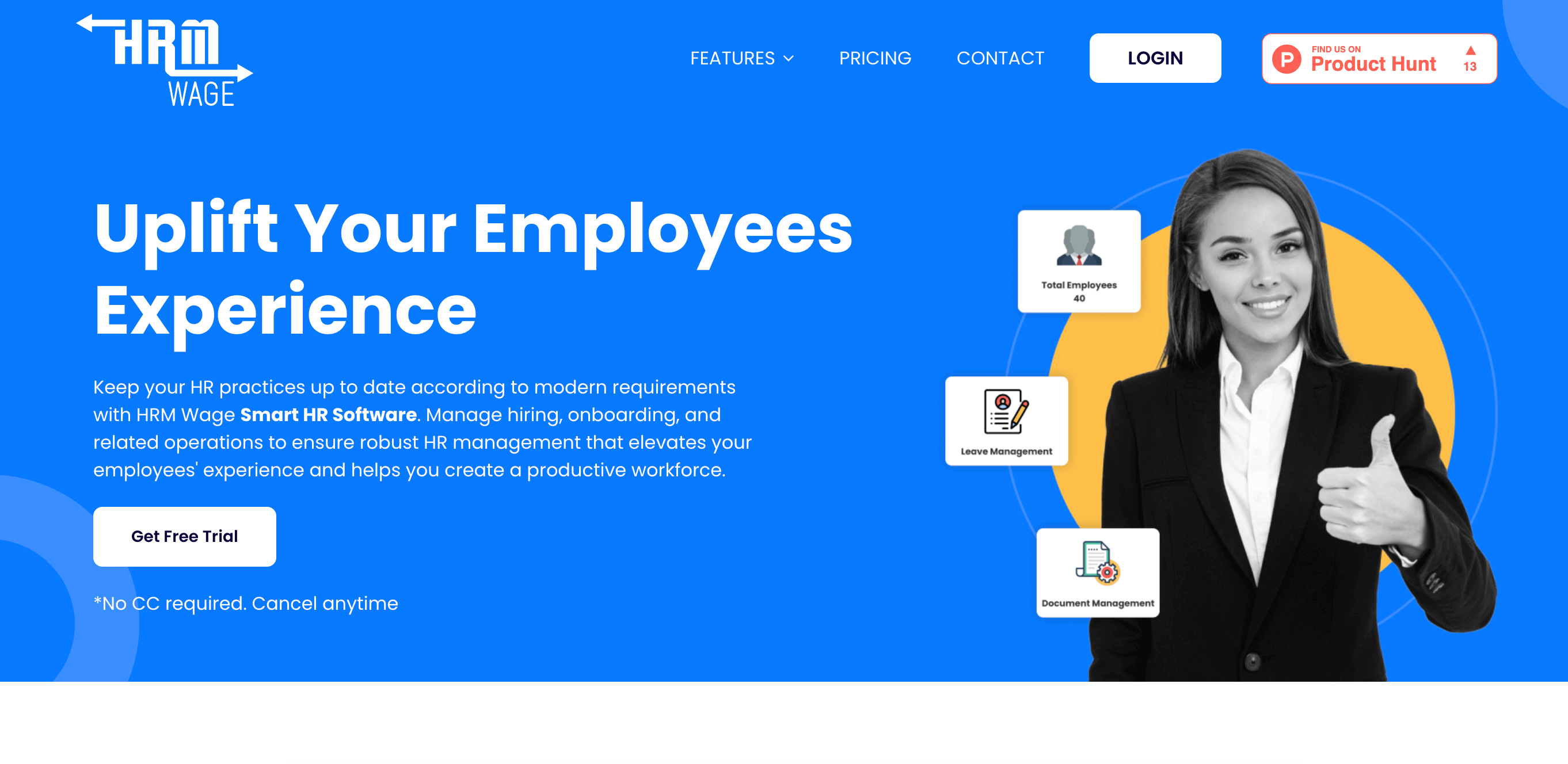 HRMWage is a top HR management software solution trusted by over 1000 businesses worldwide. It's a smart HR program that uplifts the employee experience and helps you create a more productive workforce. 
HRMWage offers simple, feature-rich software that streamlines regular tasks based on an "employee-first" strategy. It aims to ensure that your workforce is happy and satisfied and stays with your organization for a long time. With HRMWage, tasks like arranging interviews, analyzing employee performance, payroll management, and more are as easy as never before.
The user-friendly interface helps HR professionals manage their daily operations with maximum efficiency. It provides detailed analytics and insights to optimize core human resources systems and allows for exceptional time and attendance management. 
In addition, HRMWage provides seamless employee performance tracking, allowing HR specialists to identify and nurture talents resulting in business growth. 
Main features of HRMWage:
Employee Management

Timesheets

Attendance management

Performance management

Payroll management

Applicant tracking

Expense management

Reports and analytics

Employee onboarding

Time off management

Ticket management

Training management 

Recruitment management

Case management

Document management
Pricing:
14-day free trial

, no credit card required.

$5/month

– doesn't include ticket management, recruitment management, or training management system.

$10/month

– offers a full package of all the

HR tools

needed for efficient management. 
Keep your HR practices up-to-date with modern requirements with HRMWage's easy-to-use features that help manage hiring, onboarding, and related operations to ensure robust HR management.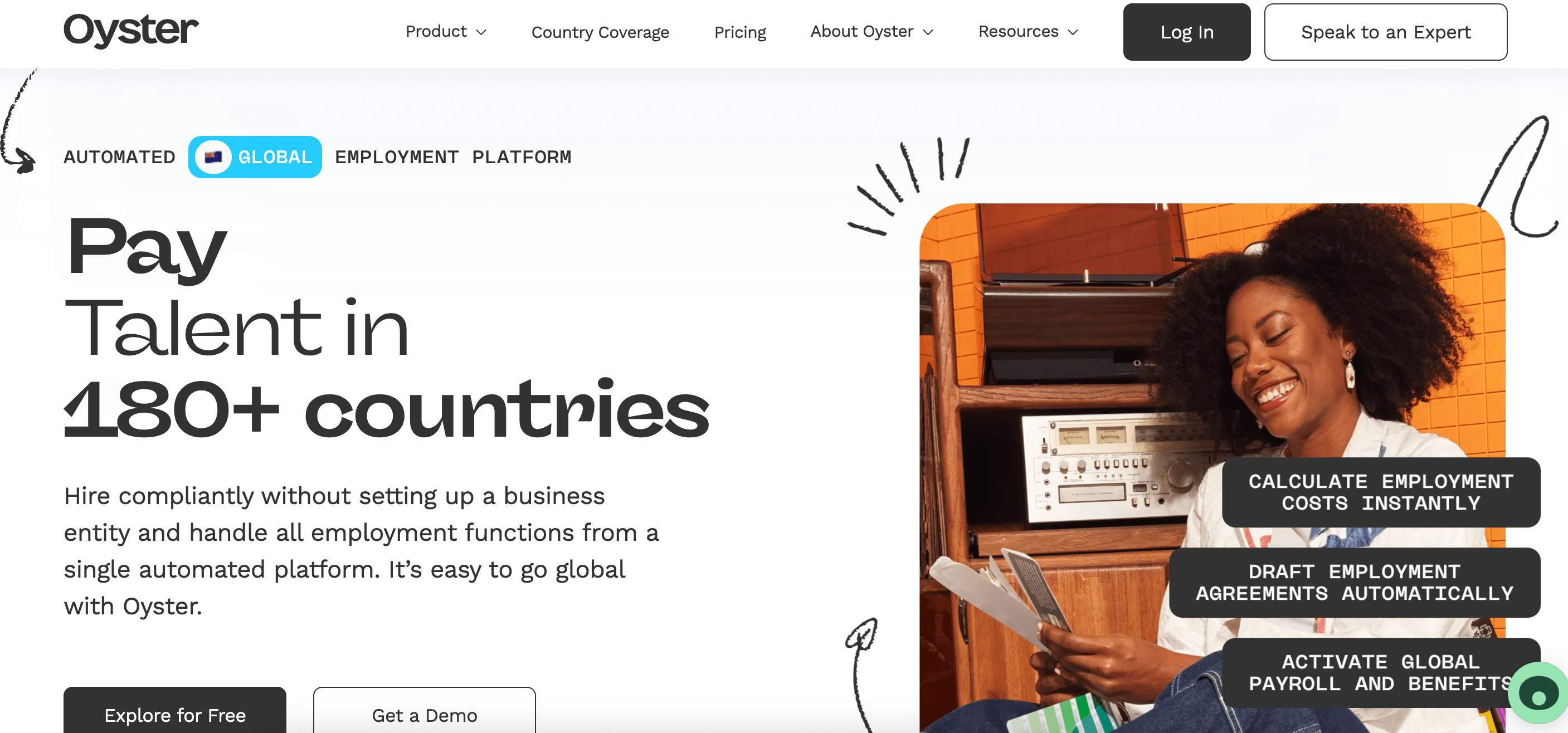 Oyster is a cutting-edge HR management system software founded in 2019 that is preferred by notable names like Quora, Bolt, and Bumble. With this innovative platform, companies can pay talent in more than 180 countries while handling all employment functions from a single fully automated system.
A super user-friendly interface, actionable insights, and dedicated support teams make Oyster the ultimate solution for businesses that want to hire and manage global talent in a superior way. One of the key benefits of using Oyster is that it allows companies to hire compliantly without setting up a business entity. 
The platform's intuitive design and streamlined process provide an equitable employment experience that eliminates location-based differences.
Main features of Oyster:
Generating, editing, and signing compliant contracts in minutes

Access to management tools that streamline paperwork, onboarding, and payments

Assessing global worker misclassification risks and compliantly converting contractors to full-timers

Running payroll in over 120 currencies

Offering pre-created local and international benefits packages to remain competitive in local markets

Onboarding new hires quickly and in one place

Providing dedicated legal and support teams to ensure compliance and ease the hiring process

An employment cost calculator to understand the total cost of employment around the world

Automated workflows to make global hiring, payroll, and benefits management easy

Built-in expense management

Oyster Academy with courses to build skills and succeed in distributed remote work
Pricing:
Contractor

: $29 per contractor/month –

an all-in-one solution to quickly generate contracts, set up global payments, and streamline contractor management.

Employee

: $499 per employee/month billed annually – ​​a global employer of record and end-to-end full-time employee management solution to help you compliantly onboard, pay, and care for international teams.

Scale

: Custom pricing – customized global employment support, dedicated success managers, and cost savings for large and growing international teams.
Oyster is an all-in-one HR management software that enables businesses to go global while remaining compliant and competitive in the local market.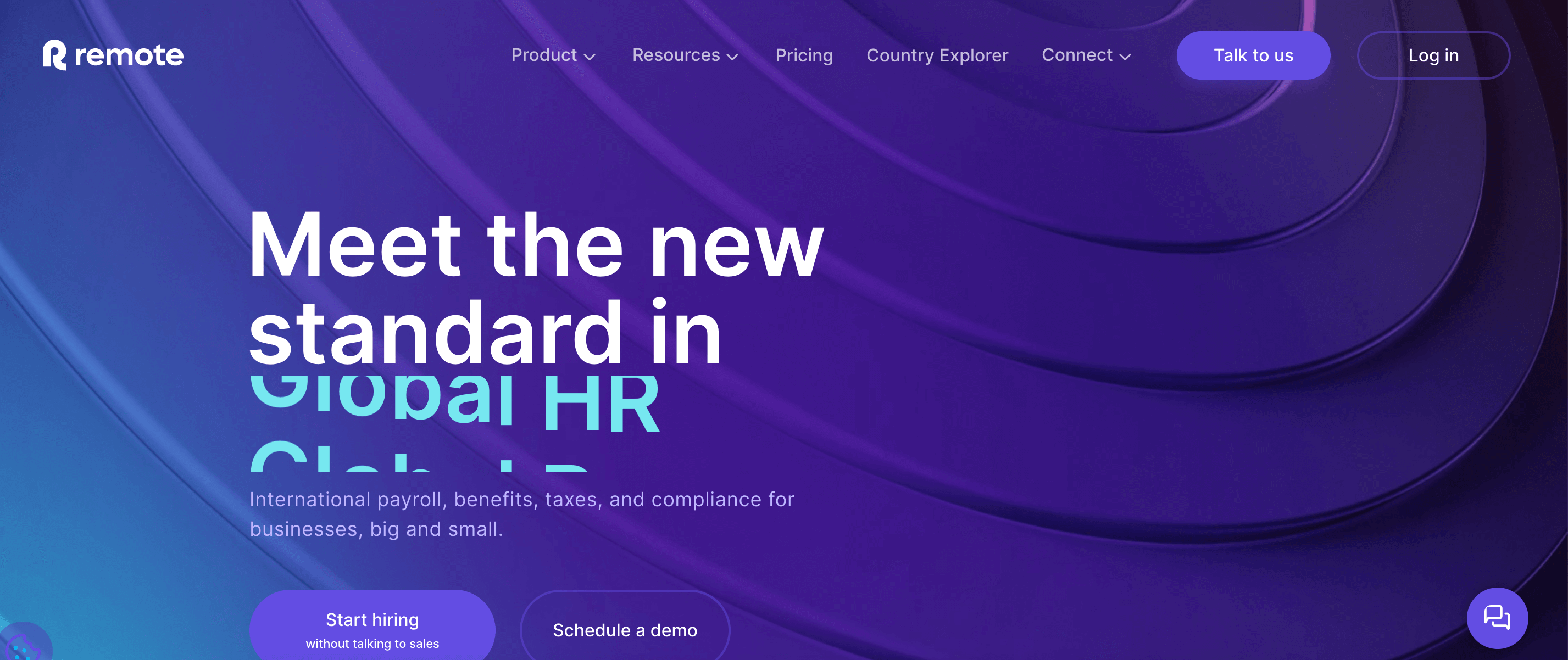 Remote is a leading HR management software that has revolutionized how businesses manage their global workforce. With Remote, companies of all sizes can seamlessly manage their payroll, benefits, taxes, and compliance for their international employees and contractors. 
The platform offers an easy self-onboarding feature, full local compliance, and low flat pricing, making it a popular choice among organizations worldwide. Remote has gained the trust of some of the world's most prominent companies, including Aston Martin, Burger King, Maveniod, and Cargo.
The platform has a rigorous local compliance process that ensures businesses can mitigate the compliance risks of hiring international employees and contractors. Its in-country teams of labor law experts are well-equipped to handle any compliance-related challenges. 
Additionally, Remote's payroll, benefits, and document management features are easily accessible through a centralized platform, allowing businesses to manage these critical tasks efficiently.
Main features of Remote:
Onboarding platform for both employers and employees

Rigorous local compliance

Payroll, benefits, and documents in one place

A straightforward invoicing system for different countries
Pricing:
where you don't have entities.
Global payroll:

price per request – multi-country payroll in countries 

where you have entities.

Remote enterprise:

custom pricing – tailored solutions for global enterprises.
Remote is best suitable for HR & People, Finance & Operations, Legal & Compliance, and startup founders. It's also an excellent option for businesses operating in the global market that manage remote employees and contractors.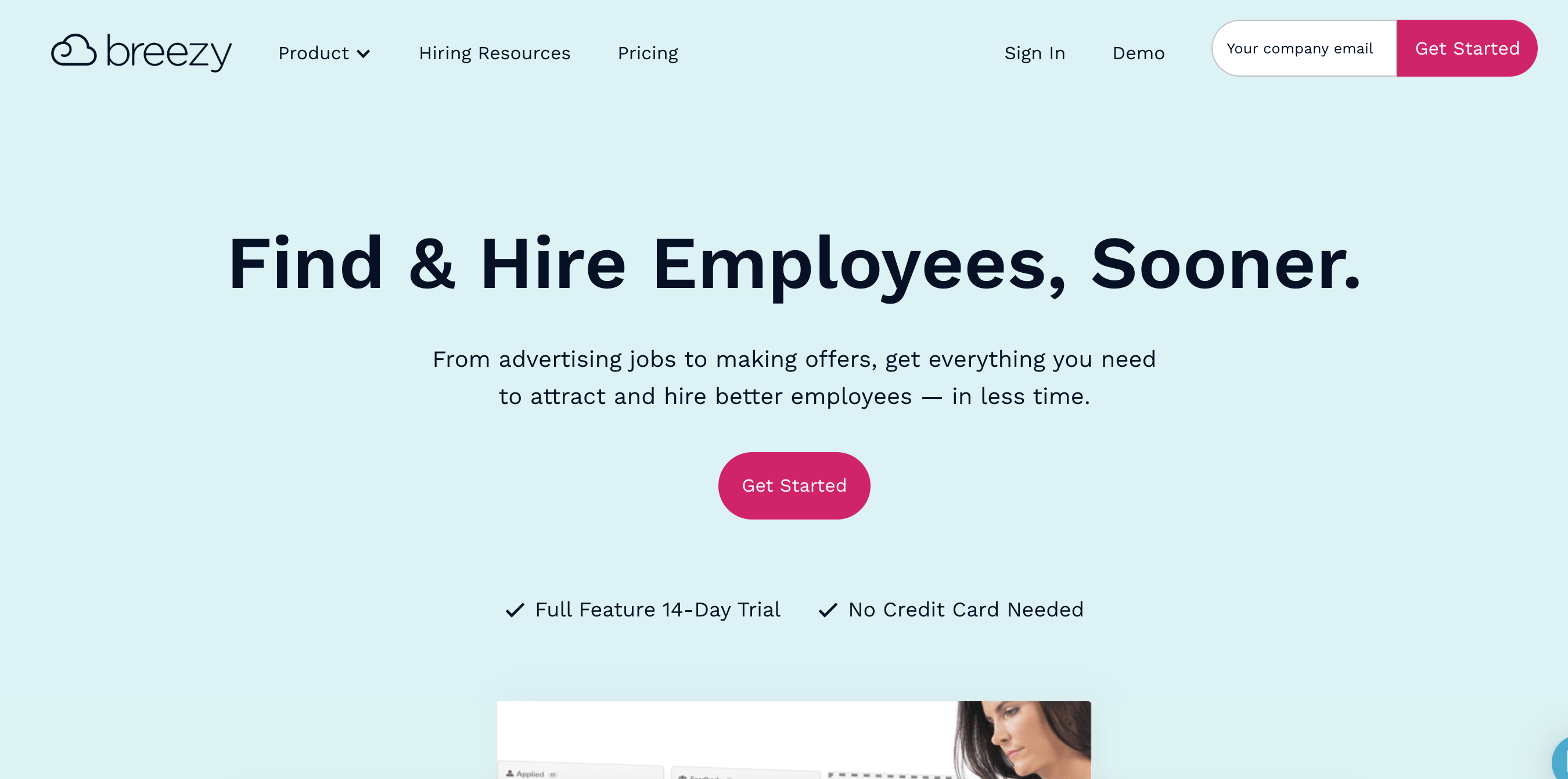 Breezy is a top-of-the-line HR management software designed to streamline and optimize the hiring process for businesses of all sizes. From advertising job postings to making job offers, Breezy offers a full suite of features necessary to find and hire employees quickly and efficiently. 
With over 17,000 companies using Breezy to automate their hiring processes, clients can rest assured that they made the right choice.
Main features of Breezy:
Advertise & Attract – advertise job openings on over 50 top job sites with a single click, making it easy to get the word out and attract top talent.

Automate & Qualify – save businesses time and energy by taking care of repetitive hiring tasks such as pre-screening candidates, scheduling interviews, and collecting feedback from team members. This allows businesses to focus on finding the right fit for their company culture and needs.

Hire & Measure – management and HRIS integrations make it easy to turn applicants into employees.

Hire from Anywhere – a mobile app for hiring on the go, world-class customer support, free templates and resources, and integrations with other employee management systems.

World-class support.

Free templates & resources.

ISO/IEC certification for the protection of businesses' and candidates' data.
Pricing:
​​Bootstrap

: Free forever. Includes all the basics for one position or pool.

Startup

: $157/mo. The

most popular HR software pricing package that

includes enhanced hiring tools to get off the ground.

Growth

: $273/mo. Allows to hire better together with a growing team.

Business

: $439/mo. Offers ultimate hiring control & flexibility.
With Breezy, turning great candidates into new employees is easy-breezy, lemon squeezy.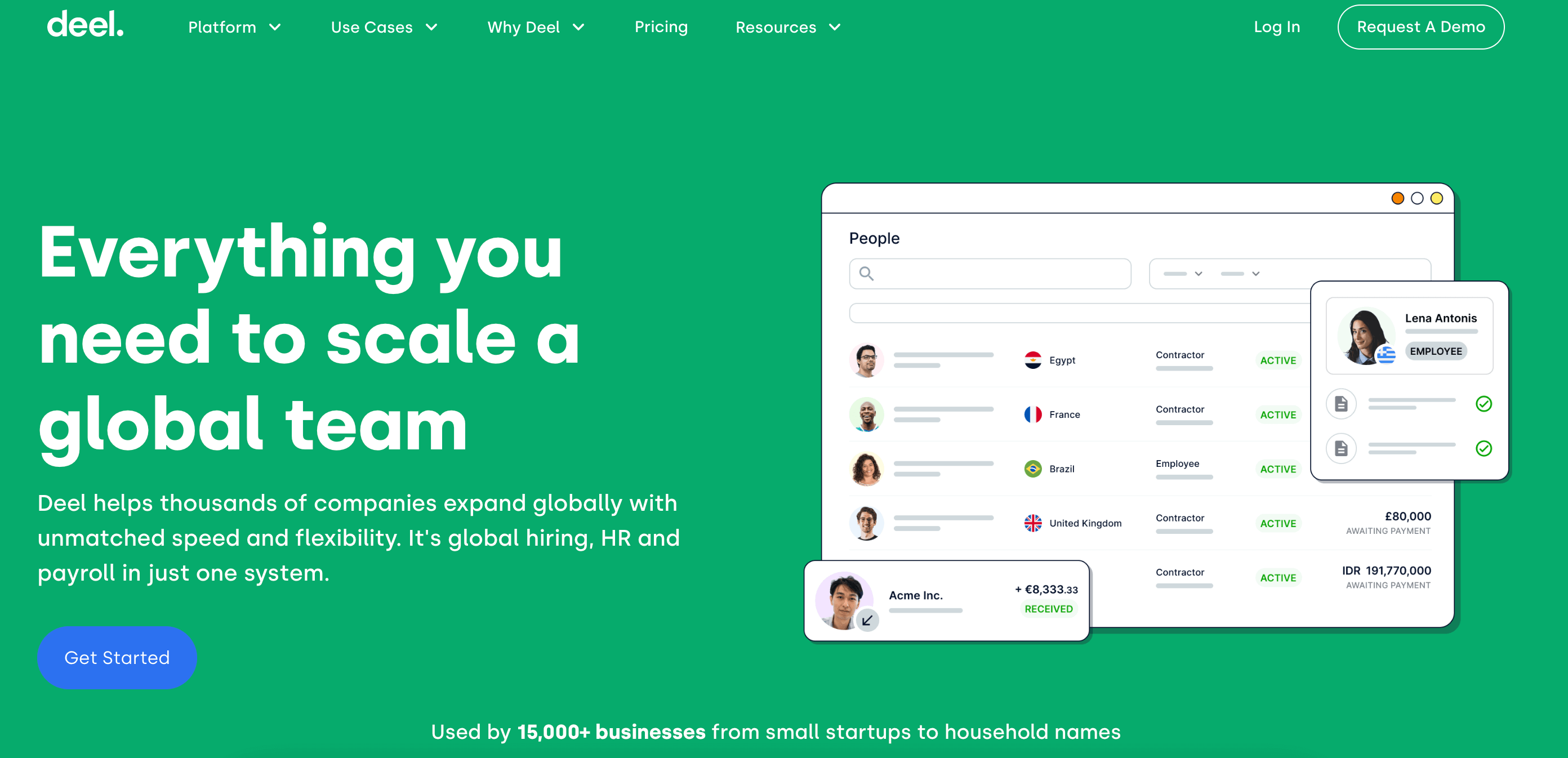 Deel is another groundbreaking HR management software designed to help businesses expand their global teams quickly and flexibly. It provides a comprehensive international hiring, HR, and payroll management solution for EOR employees, contractors, and direct employees in one system. 
With Deel, companies can effortlessly hire contractors and employees worldwide, streamline HR for their global team, and consolidate payroll for everyone while complying with local laws and regulations. Over 15,000 businesses, including well-known companies such as Revolut, Change.org, Project44, and EEG, have saved time, money, and resources using this superior HR tool. 
In addition, Deel provides in-house tax, payroll, legal specialists, and local expertise just a click away. It guarantees top-tier service and industry-leading worldwide coverage, giving businesses peace of mind when managing their global teams.
Main features of Deel:
Easy hiring and payment for EOR employees where there are no entities

Built-in compliance and automated invoicing for contractors

Quick onboarding and compensation for direct employees hired through entities

One platform for HR and payroll management, saving time and reducing errors

A holistic view of employer costs, headcount, and churn

Automated contractor invoicing and 15+ flexible payment methods

In-house tax, payroll, and legal specialists

Local, legal, tax, and accounting expertise is just a click away

Guaranteed top-tier service and industry-leading worldwide coverage
Pricing:
​​Contractors

: starting from $49 — hire and pay contractors compliantly in 150+ countries.

EOR employees

: starting from $599 — hire and pay employees through Deel-owned entities in 90+ countries.

Direct employees

: start for free — onboard and run payroll for employees hired through your own entities.
Book a demo to experience all the fantastic benefits of this top-notch HR management software.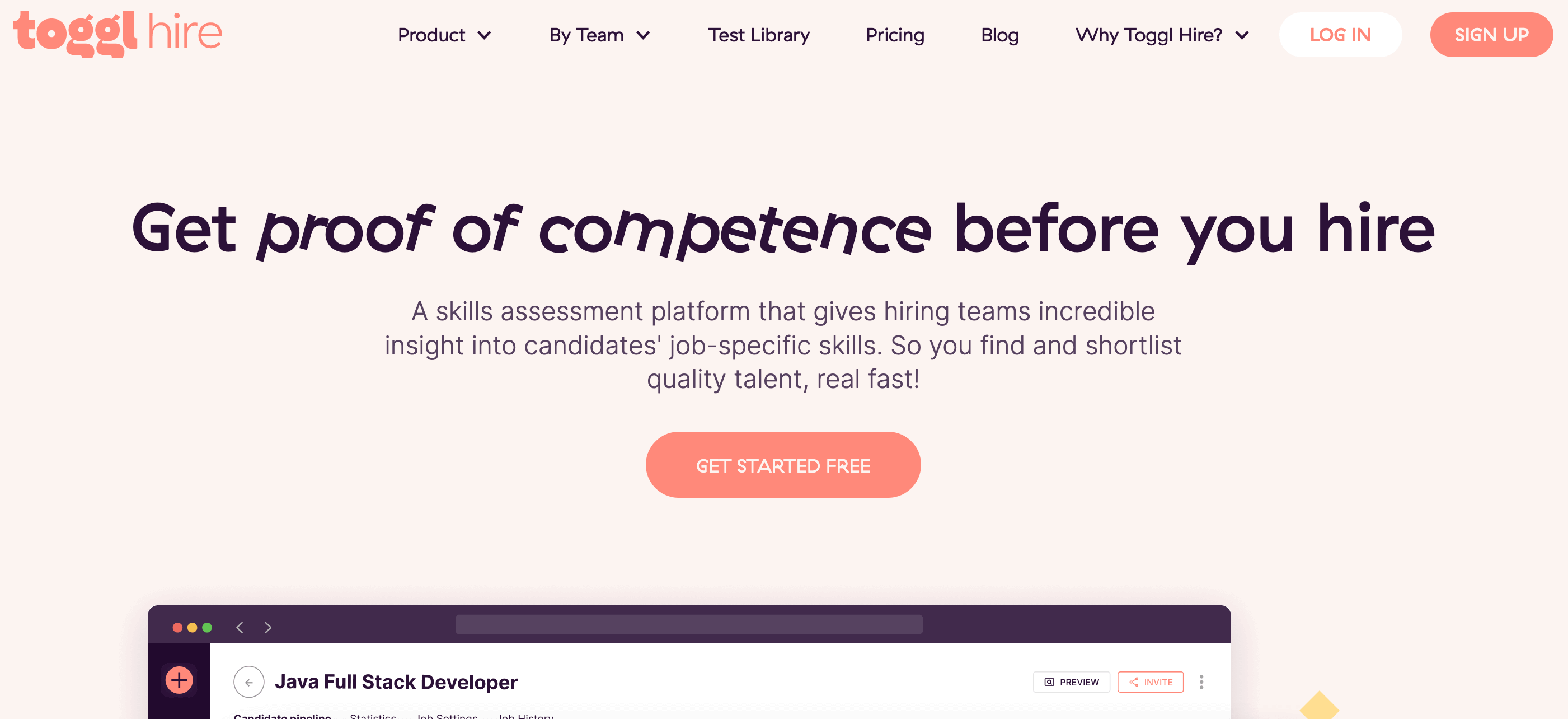 Toggl is an innovative HR management software that helps recruiters find and shortlist quality talent quickly and efficiently. With Toggl, employers can assess candidates' job-specific skills and gain insight into their competence before making final hiring decisions.
Toggl's skills assessment platform includes a library of pre-built assessment templates that cover technical and soft skills, ensuring that new hires have the expertise required for a position.
Finally, this all-in-one platform allows employers to map out their hiring process visually, stack assessments, and automate tedious work, saving time and increasing efficiency. With its data-driven and transparent process, Toggl helps to eliminate bias and allows for objective hiring decisions. 
Main features of Toggl:
150+ templates for quick and relevant skills assessment, multi-level assessments, and the ability to create a role-specific hiring process

Skills assessment platform to assess candidates' job-specific skills

Pre-built assessment templates covering technical and soft skills

Automated screening and next-step invites to save time

Anti-cheating measures for reliable results and smooth team collaboration tools to help the hiring team make informed decisions

Smooth team collaboration tools

Remote work expertise and experience management system
Pricing:
Free

: $0/month — essential features for new businesses hiring occasionally.

Basic

: $17/month (only billed annually at $199) — a pay-as-you-go

HR software for small businesses

.

Premium

: $299/month (billed annually at $3,588) — the most popular plan for startups and growing businesses.

Business

: $469/month (billed annually at $5,628) — an unlimited hiring solution for bigger teams and hyper-growth scale-ups.
With Toggl, employers can move away from the traditional CV-based hiring process and make winning hiring decisions, focusing on candidates' job-specific skills.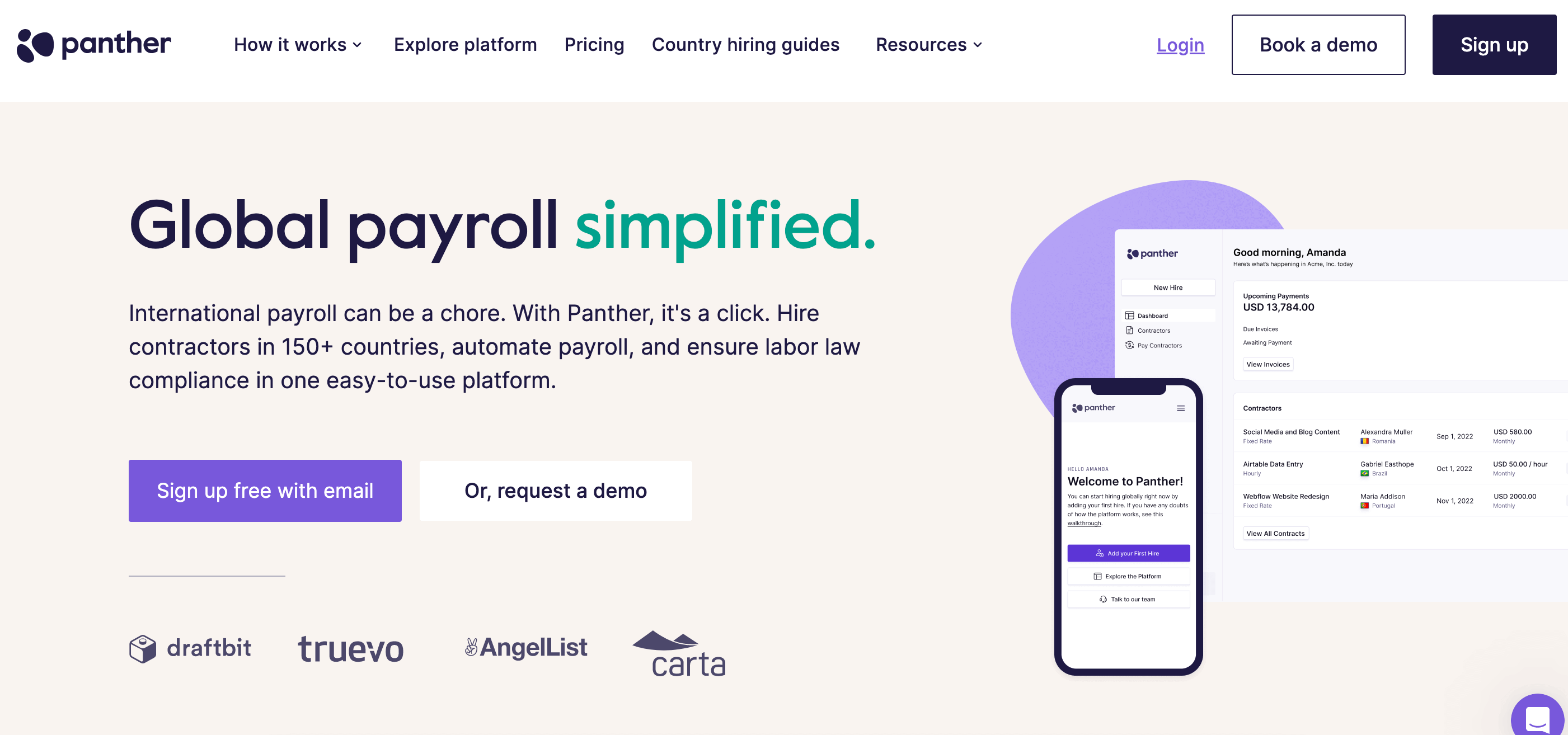 Panther is one of the best HR management software aimed at simplifying the management of international payroll. It's an easy-to-use platform that enables businesses to hire contractors in more than 150 countries, automate payroll, and ensure labor law compliance in just a few clicks. Panther puts compliance and payroll on autopilot, so companies can focus on finding great talent worldwide.
The platform eliminates the complexity and time-consuming nature of running payroll for global contractors. It also handles currency conversion to help users avoid individual payments and exorbitant fees.
Main features of Panther:
Global payroll simplified

Hire and pay people across borders with a lot less paperwork

Make international hires in minutes, not months

Provide benefits, like healthcare plans through SafetyWing, a leading global health insurance provider

Add stipends to keep your team happy

Generate locally compliant contracts. All you need to do is sign

You can view and manage your invoices, all from the Panther platform

You'll never have to worry about currency exchange again

Pay all your contractors with a click anywhere in the world
Pricing: 
Free

— the easiest way to manage international contractors.

$49 per hire/month

— pay all your international contractors in a single click.
With Panther, businesses can make one payment and have their entire team paid.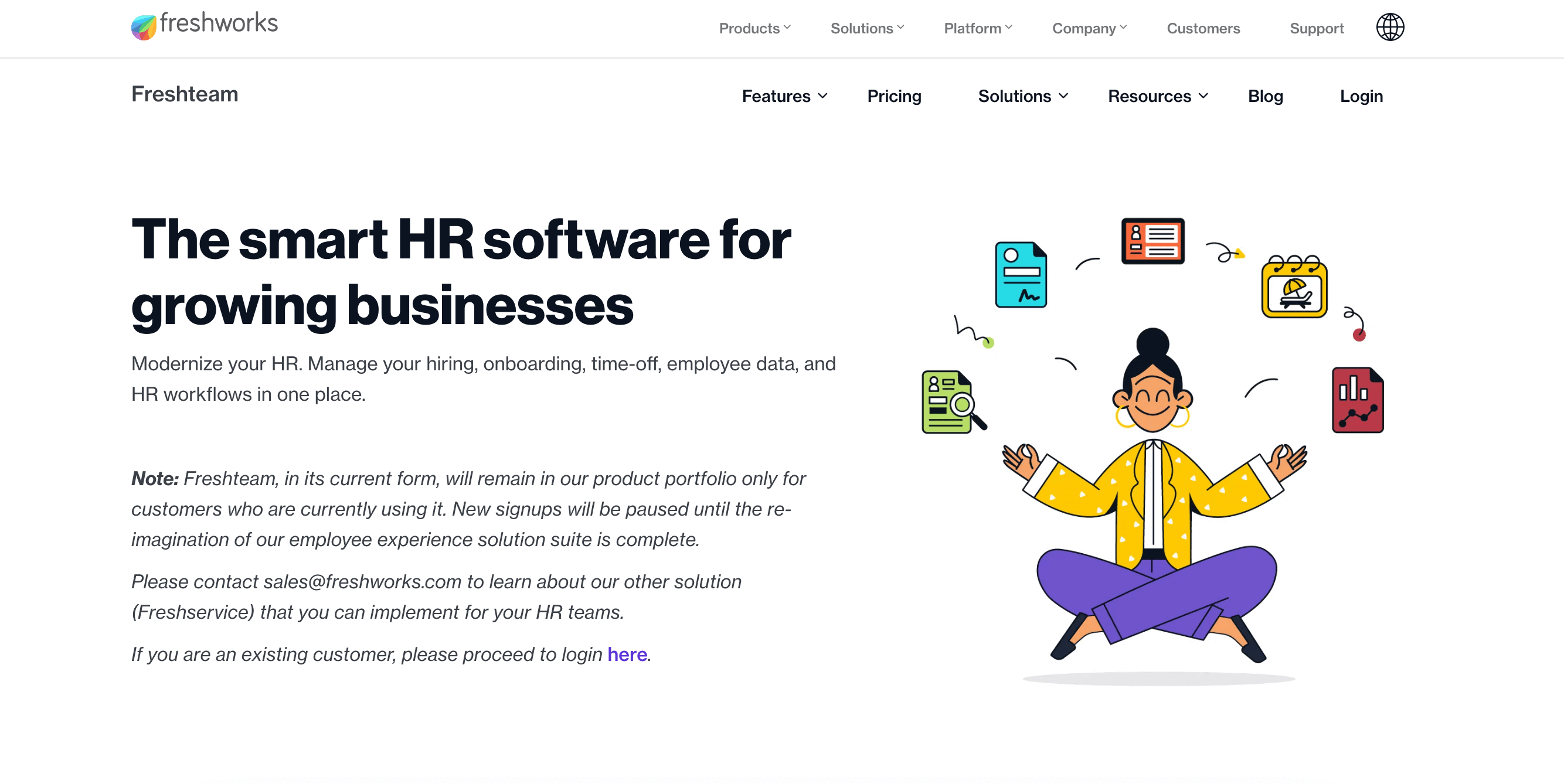 Freshteam is an affordable HR management software designed for growing businesses to modernize their human resources processes. Trusted by more than 9000 businesses worldwide, it's a top-rated platform highly recognized for its reliability and affordability. It has an active user base of over 700,000 users across 115+ countries. 
Freshteam enables enterprises to manage their hiring, onboarding, time-off, employee data, and HR workflows in one place, making HR seamless and impactful. It offers a broad range of features, including automating repetitive routines, faster onboarding, better data organization, easier time-off management, and powerful recruitment automation. 
Main features of Freshteam:
Candidate sourcing

Resume screening

Talent pool management

HR automation

Interview scheduling and self-scheduling

Offer management

Candidate and employee search

Recruitment workflows

Interview scorecards and feedback

Recruitment reporting

Quick employee onboarding

Instant sign-off with e-signatures

Handy onboarding checklists

Proactive reminders and follow-ups

Accessible employee directory

Efficient employee self-service

Easy-to-use org charts

Secure document management

Payroll data sync

Customize time off policies

Global time off policy management

Automate time-off approval workflows

Holiday calendars management
Pricing:
Free

: €0 — a basic plan to set up your HR processes, free forever for up to 50 employees.

Growth

: €1.20 per employee/month + €71 platform fee/month — an essential HR assistant for growing businesses.

Pro

: €2.40 per employee/month + €119 platform fee/month — chosen by 70% of customers, contains everything you need to streamline your HR.

Enterprise

: €4.80 per employee/month + €203 platform fee/month — an advanced HR system for complex business needs.
With Freshteam, businesses can significantly reduce hiring costs, shorten time-to-hire, and reduce onboarding queries.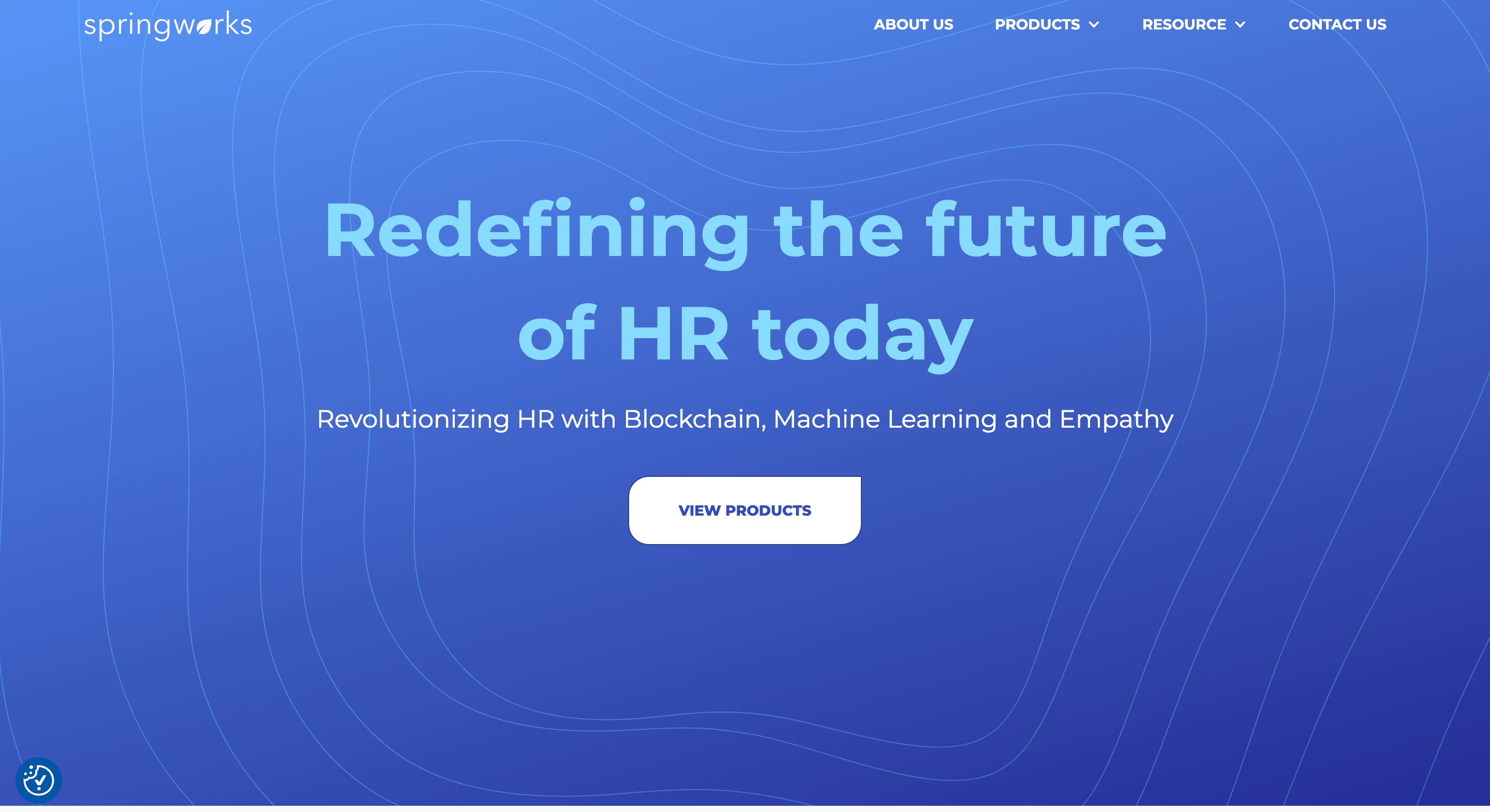 Springworks is a well-known provider of HR software offering a range of tools and platforms designed to streamline and automate various HR processes. Here are some of the key HR software solutions provided by Springworks:
Employee Management: Springworks provides employee management software that allows businesses to efficiently manage their workforce. This includes features such as employee profiles, attendance tracking, leave management, and performance evaluations.
Recruitment and onboarding: Springworks offers recruitment and onboarding software to simplify the hiring process. This includes features like applicant tracking, resume management, interview scheduling, and new employee onboarding workflows.
Time and attendance: Springworks provides time and attendance software that enables businesses to track employee working hours accurately. This can include features such as time clock integration, timesheet management, and automated attendance tracking.
Main features of Springworks:
Employee database
Time and attendance tracking
Leave management
Performance management
Recruitment and applicant tracking
Onboarding and offboarding
Payroll and benefits administration
Employee self-service portal
Compliance and reporting
Analytics and insights
Springworks aims to provide scalable and user-friendly HR software solutions that cater to the needs of growing businesses. Their solutions are designed to streamline HR processes, improve efficiency, and enhance employee experience. It's important to note that the specific features and capabilities may vary based on the package or plan chosen by the business.
Conclusion
Choosing the right human resources management software can significantly improve the performance of your remote teams by simplifying communication, enhancing efficiency, and managing vital employee data. 
Make sure to consider your team's unique requirements and budget when selecting from the numerous available options, ranging from basic time-tracking tools to comprehensive all-in-one HR suites. 
The right HR software for remote teams will help your company grow and operate more productively, regarding of its location. Therefore, investing in a suitable HR solution can create a highly efficient work environment for your remote team.
If you want to add your HRM software to this list, drop us a line with the product's details. After a quick review, we'll decide whether it's a valuable addition.