In today's digital era, businesses without a robust web presence have little chance of success. A user-friendly and appealing website or application is as crucial for brands as a passport for a person.
88% of users will unlikely return to a website delivering a lousy experience. At the same time, a good UI (user interface) can yield your conversion by 200%, while a well-thought-out UX (user experience) design can raise it by 400%. And that's what professional design agencies can help you with. 
To facilitate your search and help you find and hire the best UX and UI designers for your dream website or app, we've compiled a list of the top UX/UI design agencies. 
When selecting the most reliable and proficient design services providers, we've paid special  attention to the following essential features and qualities offered by the agencies:
A prominent portfolio of successful design projects

A deep understanding of user experience (UX) principles

Excellence in user interface (UI) design

Positive client reviews 

Rewards and recognitions by market leaders
So, without further ado, let's take a look at the design wizards who can bring your vision to reality, exceeding your expectations. 
The Best UX/UI Design Agencies
For A Fantastic Web Presence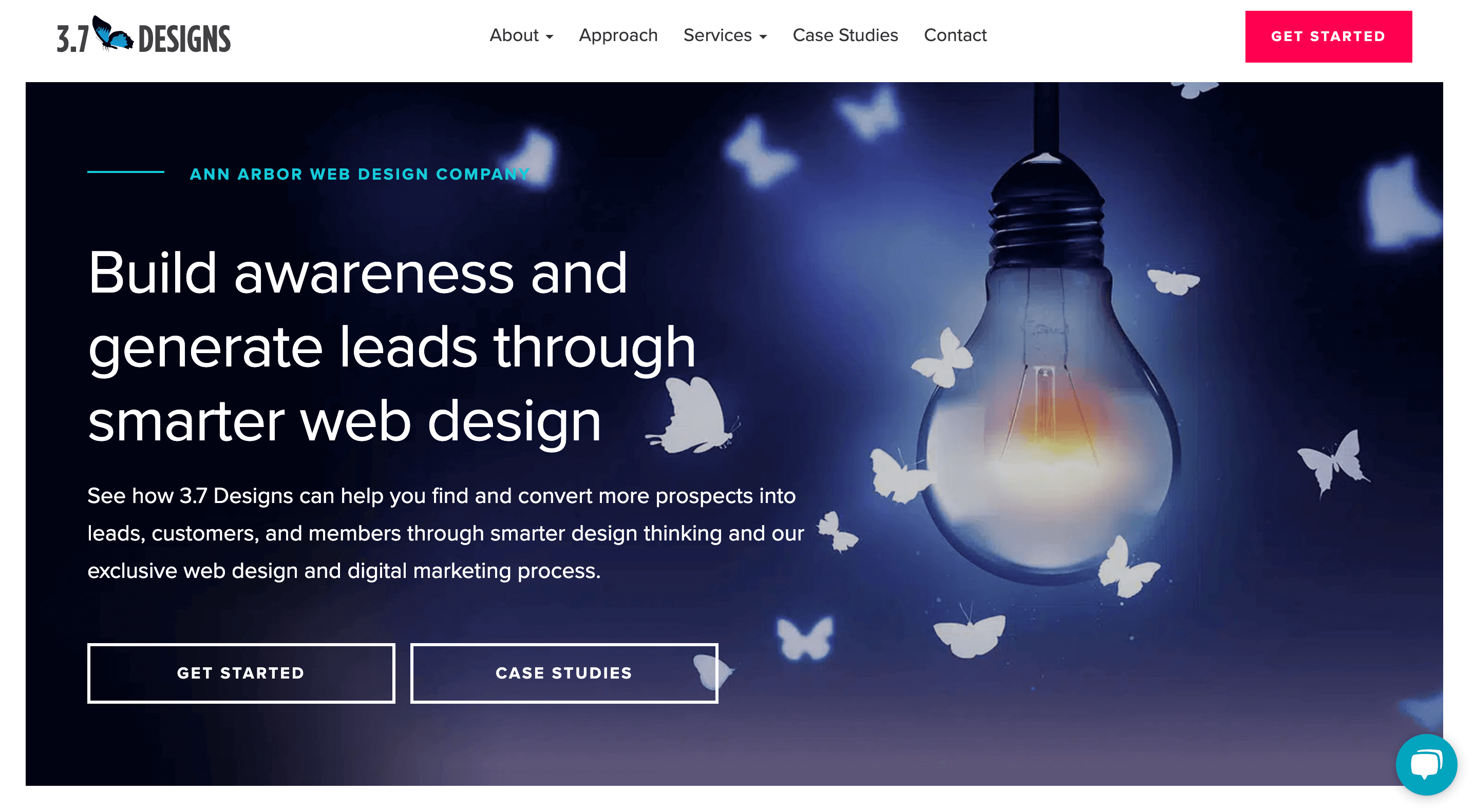 Founded in 2005, 3.7 Designs is a world-renowned UI/UX design agency that helps businesses convert more prospects into qualified leads, long-term customers, and loyal members through their exclusive Six Layers of Design process and advanced design psychology knowledge. With a team of industry experts focused on purpose-driven design that aligns with how visitors think and behave, the agency has helped rescue dozens of interfaces.
By offering a comprehensive spectrum of top-notch design, branding, and consulting services, 3.7 Designs helps businesses build awareness, generate leads, and retain clients. Their next-gen approach has been proven to boost website conversions by up to 400%, creating highly usable, beautiful, and emotionally engaging interfaces that delight users.
Based in Michigan, 3.7 Designs expands its presence globally, working closely with clients and their in-house design and development teams to deliver the best results in the quickest time. Whether optimizing workflows, improving the content architecture, or bringing design best practices to outdated projects, this prominent agency will help businesses of all sizes and industries succeed online.
Services and expertise:

user research, user experience design, interface design, user testing, branding, and consulting

Clients:

startups, small and medium-sized businesses, and Fortune 500 companies, such as Huron River Watershed Council, Insulgard, Polymershapes, SPARK, and others 

Company size:

30+ experts

Location:

Michigan, USA

Rewards:

3.7 Designs has been recognized for its exceptional work and has won several awards, and has been featured in various design publications

Industries they serve:

Healthcare, Finance, Education, eCommerce, and many more

Values:

teamwork, continual improvement, integrity, commitment, initiative, passion

Unique features and offers:

an exclusive Six Layers of Design methodology based on using more ingenious design thinking with advanced design psychology to create interfaces that appeal to users and drive business success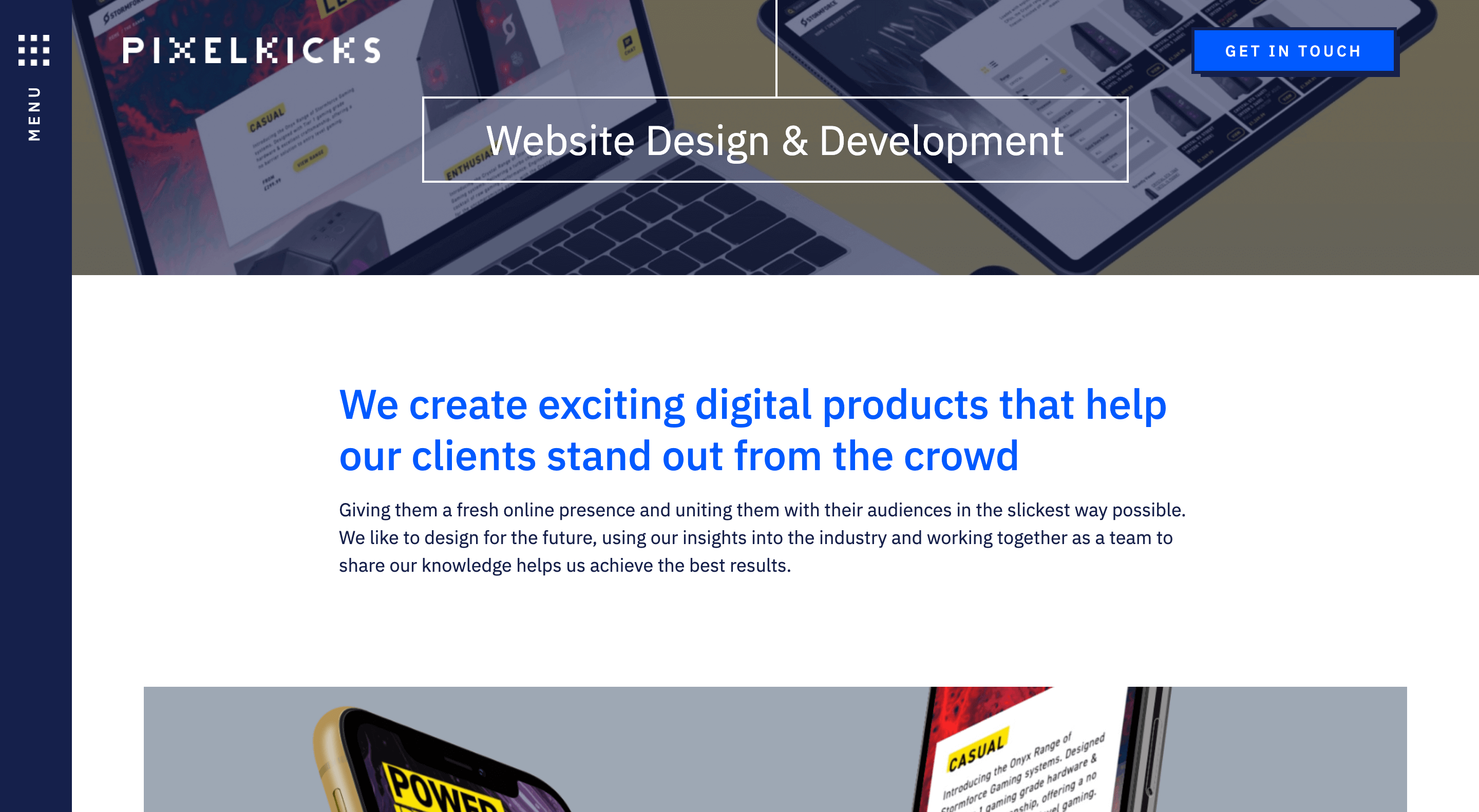 Founded in 2011, Pixel Kicks is a leading UX/UI website design agency located in Manchester, UK, but getting high recognition from clients worldwide. With the goal of designing & developing the most stunning and powerful websites and tailored digital marketing strategies for B2B and B2C businesses across various industries, the firm has gathered the best-in-class specialists onboard to deliver the best results.
From branding and full-scale UX/UI design to customer support throughout the whole project, Pixel Kicks' team applies its extensive skills and knowledge to prepare a robust executive strategy and follow it from A to Z. Having worked with many prominent global clients, the company has received numerous recognitions and awards proving their rich expertise. They leverage their experience in building high-traffic engaging websites, enhancing design and development services with result-driven SEO, PPC, social media management, and creative content solutions.
Services and expertise: website design & development, branding, digital marketing, eCommerce development and marketing, SEO, PPC, social media, email marketing, photography & video
Clients: B2B and B2C companies, including M247, Equator, UA92, Sterosport, Marvellous!, Orka, and others
Company size: 10-49 experts
Location: Manchester, the UK
Rewards: Digital Agency of the Year 2021 by MPA Awards, Digital Entrepreneur Awards, Best Website 2018 by Laboratory Awards, Northern Marketing Awards, Best Ecommerce Website 2019 by Northern Digital Awards, and Talk of Manchester Awards
Industries they serve: Gaming & Social, Health & Education, Hospitality & Events, Industrial & Engineering, IT & Tech, Legal & Finance, Lifestyle & Travel, Retail, and Sports
Values: honesty, integrity, and transparency. They are committed to providing exceptional customer service and building long-lasting relationships with their clients
Unique features and offers: Pixel Kicks is the best agency in Manchester, UK, that reinforces its exclusive UX/UI services with impactful digital marketing strategies ranging from SEO and PPC to social media management. With a customer-centric approach, they focus on delivering products with a seamless user experience driving conversions and sales. Additionally, they provide ongoing support to ensure that their clients' websites and apps remain up-to-date and secure
The design makes all the difference, and Perspective Design is the UX/UI agency that stands out. This Netherlands-based team of talented designers and visual developers is committed to working closely with customers, becoming an extension of their team. Such a collaborative approach ensures a deep understanding of the client's brand vision and goals, resulting in impactful and cost-effective design solutions. The agency offers everything you need in one Subscription — logo design, branding, UI kits, illustrations, and Webflow development services, making the entire process seamless and efficient.
Whether your company is just starting out or already has a design team in place, Perspective Design offers flexible options to suit all sorts of your needs. From providing an entire design team at a fraction of the cost of a full-time designer to supporting existing designers during busy periods, they ensure their design efforts align with your business goals.
All in all, Perspective Design is the agency that goes above and beyond to create exceptional visual experiences that leave a lasting impression.
Services and expertise: UX/UI design, website design, branding, Webflow design and development
Company size: up to 10 experts
Location: Eemnes, the Netherlands
Industries they serve: Technology, eCommerce and Retail, Healthcare, Finance, Travel, Education, etc.
Values: collaboration, communication, innovations, user-centricity, scalability, and quality design
Unique features and offers: comprehensive branding and design services packaged in one easy-to-manage monthly subscription; an extended team model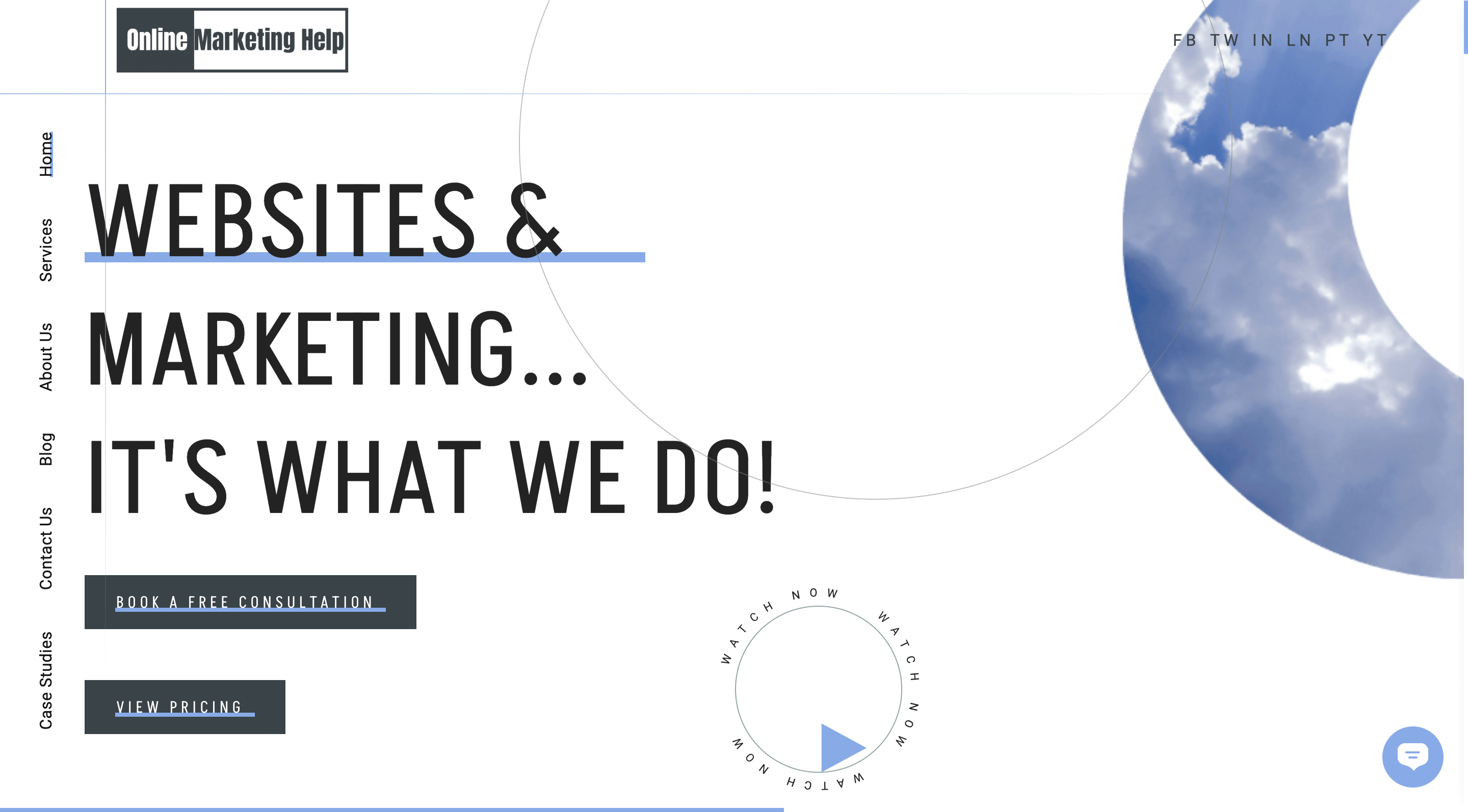 Online Marketing Help is an award-winning UX/UI design agency renowned for its unparalleled design expertise and global customer reach. Possessing a deep understanding of online marketing, Online Marketing Help excels in key areas such as web design and development, graphic design, branding, and content writing.
The agency's unwavering commitment to excellent customer service and ethical client management sets it apart. Whether clients require full-service marketing support or targeted activities, Online Marketing Help has got you covered. Take your web presence to the next level with their well-thought-out design solutions and advertisements.
What's more, the company helps you achieve your business goals while reducing costs, increasing efficiency, and enhancing return on investment. Following a consultative and high-energy approach, their seasoned web designers and marketing experts leverage their 100 years of combined experience to deliver outstanding results.
Services and expertise: UX/UI design, Google Ads management, graphic design, SEO, website maintenance, website development, SMM
Clients: Deliveroo, Ucas, Browns, Fleming, Cubri Services, The Accountancy Partnership, Hays, Maid 2 Clean, and others
Company size: 15 experts
Location: United Kingdom
Rewards: 5.0 on Clutch, Best B2B Companies by Clutch, Top PPC Agencies by Clutch, certified Google Partner, recognized by Women in Marketing
Industries they serve: Hospitality, eCommerce, Retail, and others
Values: ethical and transparent client management, exceptional customer service, a collaborative and results-oriented approach
Unique features and offers: active customer support ready to assist you at every step of the way and a free website audit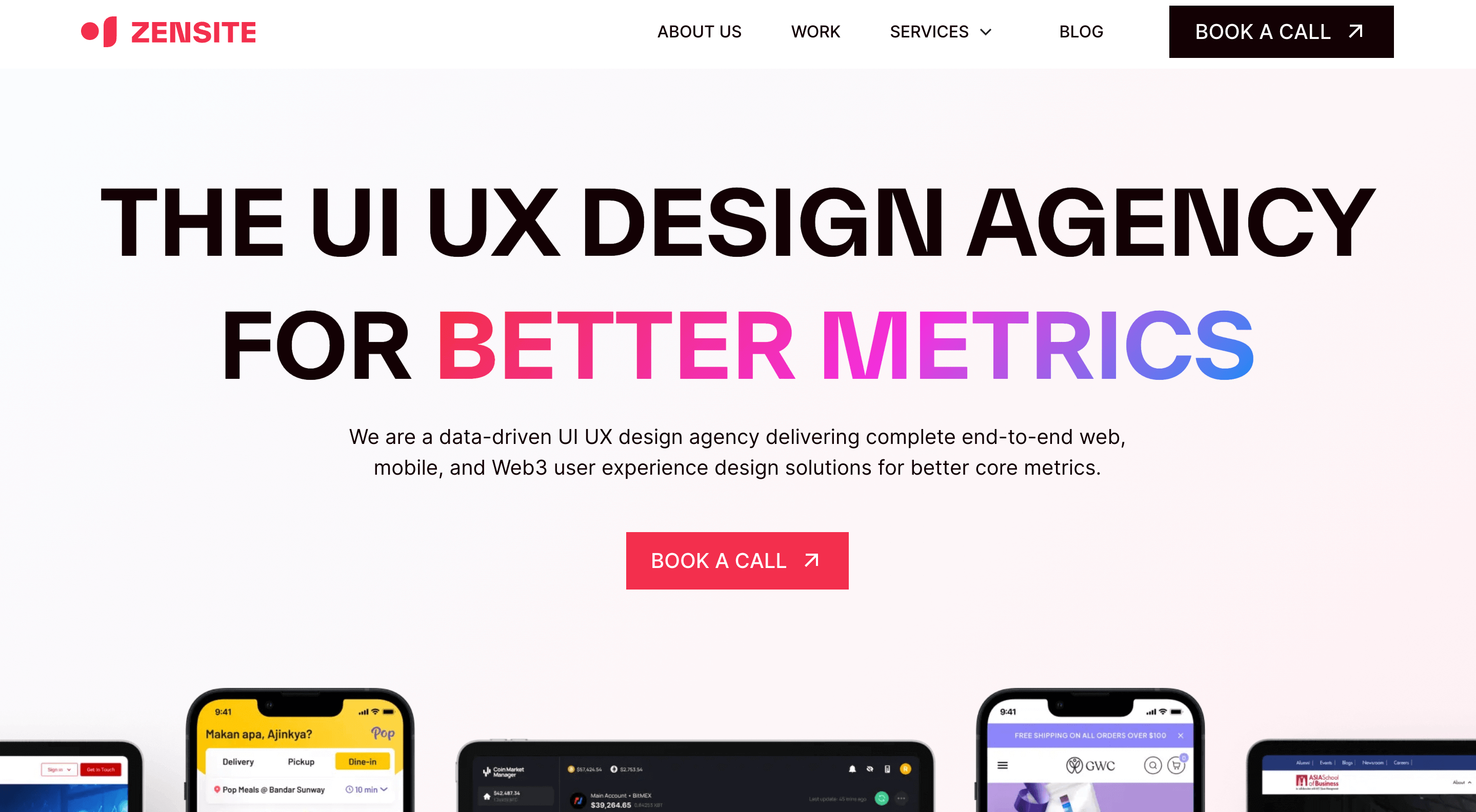 Zensite is a trusted UI/UX design agency founded in 2016, known for delivering data-driven design solutions focusing on success metrics such as revenues and retention. 
Using the Double Diamond Design Process, considered the gold standard for global design processes, their team delivers fantastic concepts that are data-driven, challenge conventional ideas, and are collaborative. Zensite also emphasizes communication, with weekly calls to review updates and a dedicated team member who is a single point of contact with a client throughout the project lifecycle.
Zensite's expertise in both traditional and emerging technologies, combined with their international experience and collaboration with global experts, allows them to provide unique and valuable creative perspectives. If you're searching for revenue-generating design solutions that perfectly meet the needs of your end users, Zensite is the right agency to choose.
Services and expertise

: UI/UX design, website design, mobile app design, product design, Web3 design (NFTs and Blockchain), and product strategy

Clients:

small startups, mid-sized businesses, and large enterprises, including Coin Market Manager, GWC, Urbanmetry, and others

Company size:

10-49 experts

Location:

headquartered in Malaysia, with members and collaborators worldwide

Rewards:

numerous awards for their outstanding design work

Industries they serve:

Technology, Healthcare, eCommerce, Finance, and more

Values:

collaboration, communication, and creativity

Unique features and offers: Zensite offers a collaborative process that allows clients to communicate their ideas and changes effectively. They also offer global perspectives and expertise from their members and collaborators worldwide, providing unique and valuable creative insights. Additionally, Zensite's Double Diamond Design Process, focused on data-driven design solutions, ensures its clients' success metrics are at the forefront of their design process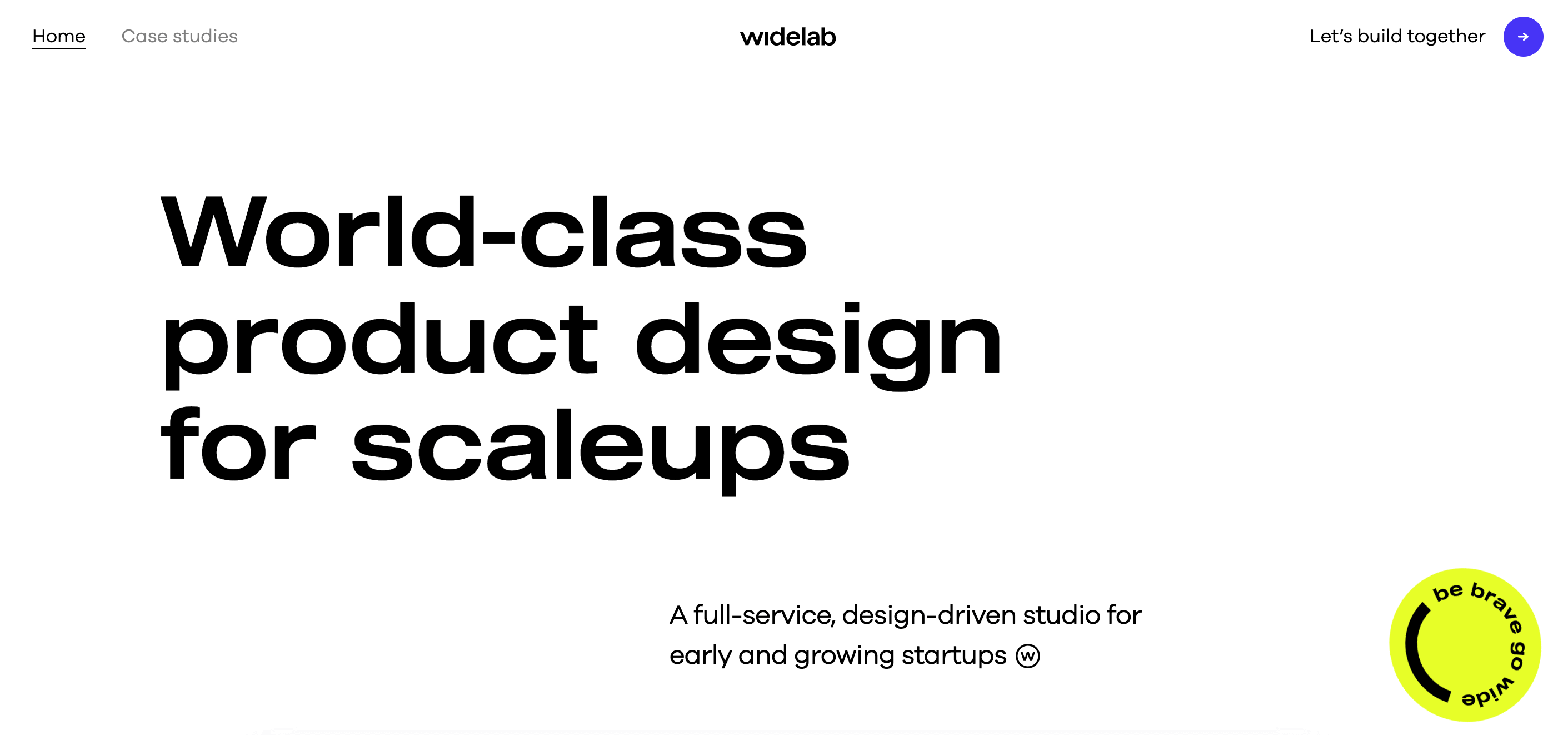 Widelab stands out as one of the best UX/UI design companies offering various scale-up services through high-quality web & app design and custom software development for businesses in 25 countries. 
Following a client-centric approach, Widelab's team of expert designers is dedicated to comprehending each client's specific needs, business objectives, and vision, delivering innovative, tailored solutions. 
The company boasts a proven track record of success, having partnered with over 300 clients and completed several exciting projects valued at over 1 billion USD.
Services and expertise:

UX/UI design, branding, digital product development, custom software development, front-end development, back-end development, DevOps, crypto development

Clients:

80+ names, including Frontegg, Diesel, Moncler, FitchRatings, CloudKitchens, and others.

Company size:

50 – 249 professionals

Location:

headquartered in Warsaw, Poland, with additional offices in New York, USA, and Zurich, Switzerland

Rewards:

Clutch Top B2B Companies in Poland 2021, GoodFirms Top Mobile App Development Companies in Poland 2021, and TopDesignFirms Top UI/UX Design Companies 2021

Industries they serve:

a range of industries, including FinTech, Healthcare, eCommerce, Logistics, and more

Values:

customer satisfaction, efficiency, and quality in everything they do

Unique features and offers: extensive expertise in various technologies, allowing them to provide powerful and customized solutions tailored to each client's project as well as the commitment to delivering world-class product design and a collaborative approach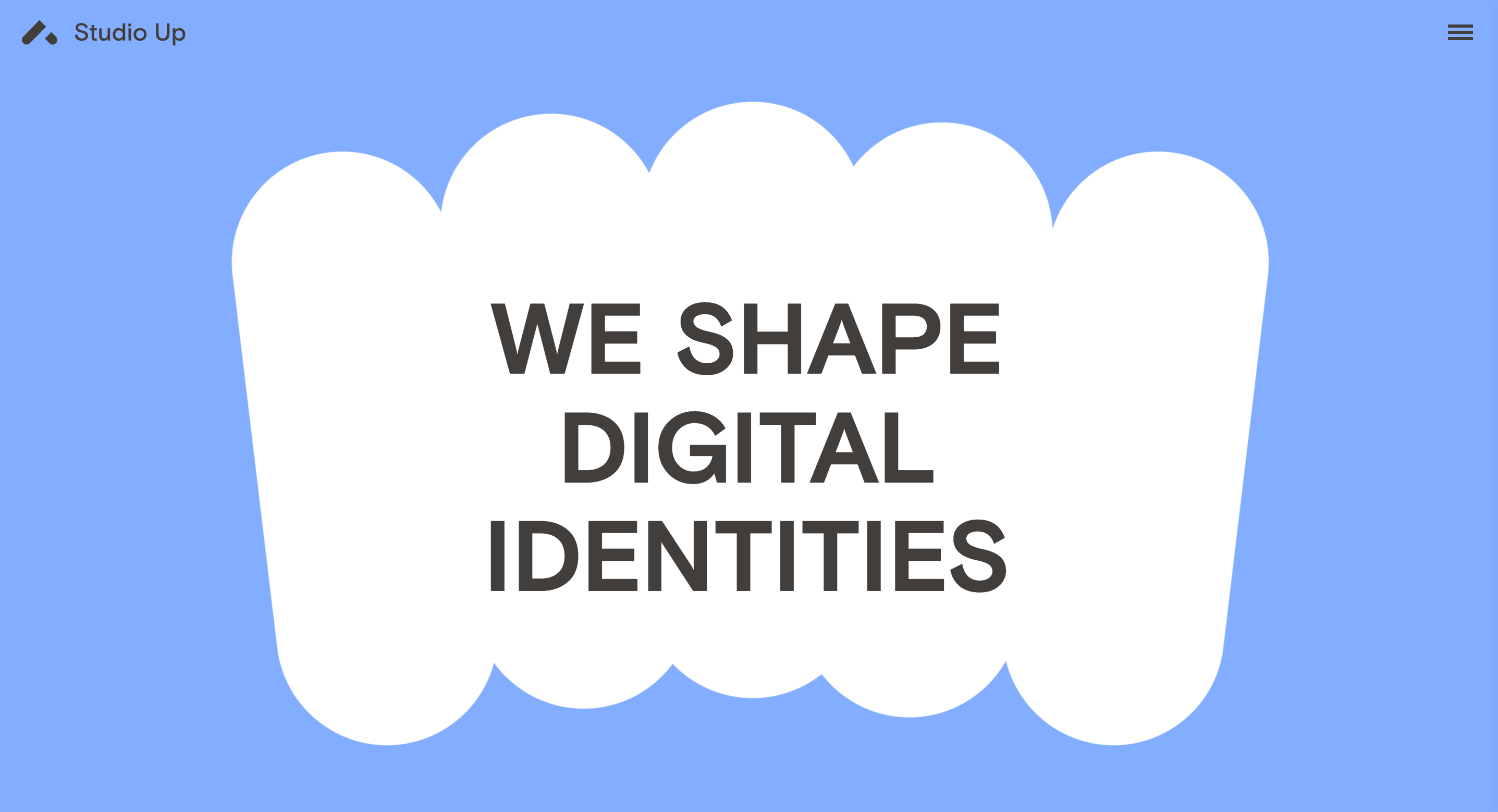 StudioUp is a creative agency based in Milan that specializes in creating unique communication strategies and versatile visual identities for businesses of all sizes. Being a full-service digital agency, their multidisciplinary team comprises top-tier graphic designers, UI/UX designers, project managers, digital strategists, and full-stack developers. They also collaborate with creatives and technicians from different disciplines to ensure their products and services adhere to the highest standards.
From strategy to shaping your brand into digital identities through appealing websites, eCommerce platforms, blogs, and social networks, StudioUp delivers the end product that meets your target audience, business goals, and project requirements. With 10+ years of experience and knowledge, the agency skillfully balances creativity and functionality to help brands of any industry create a truly exceptional and high-performing web presence.
Services and expertise: UX/UI design, digital

strategy, branding, web design, web development, content creation, digital marketing, ongoing support, and maintenance 

Clients:

Schindler, Coca-Cola HC Italia, Add, Domina Vacanze, Generali, Park Hyatt, Spazio Lenovo

Company size:

up to 10 experts

Location:

Milan, Italy

Rewards:

Google Partner, Iubenda's Silver Partner; 5.0 on Clutch; numerous recognitions for the agency's impact on the UX/UI design market 

Industries they serve:

Retail, ​​Pharmaceutical, IT, Hospitality, Finance, Real Estate, etc.

Values:

creativity, innovation, and teamwork, committing to delivering high-quality solutions that meet their client's needs and design & development standards

Unique features and offers:

an exclusive 3-step, 15-point process covering Strategy, Branding, and Digital to create an outstanding online presence for businesses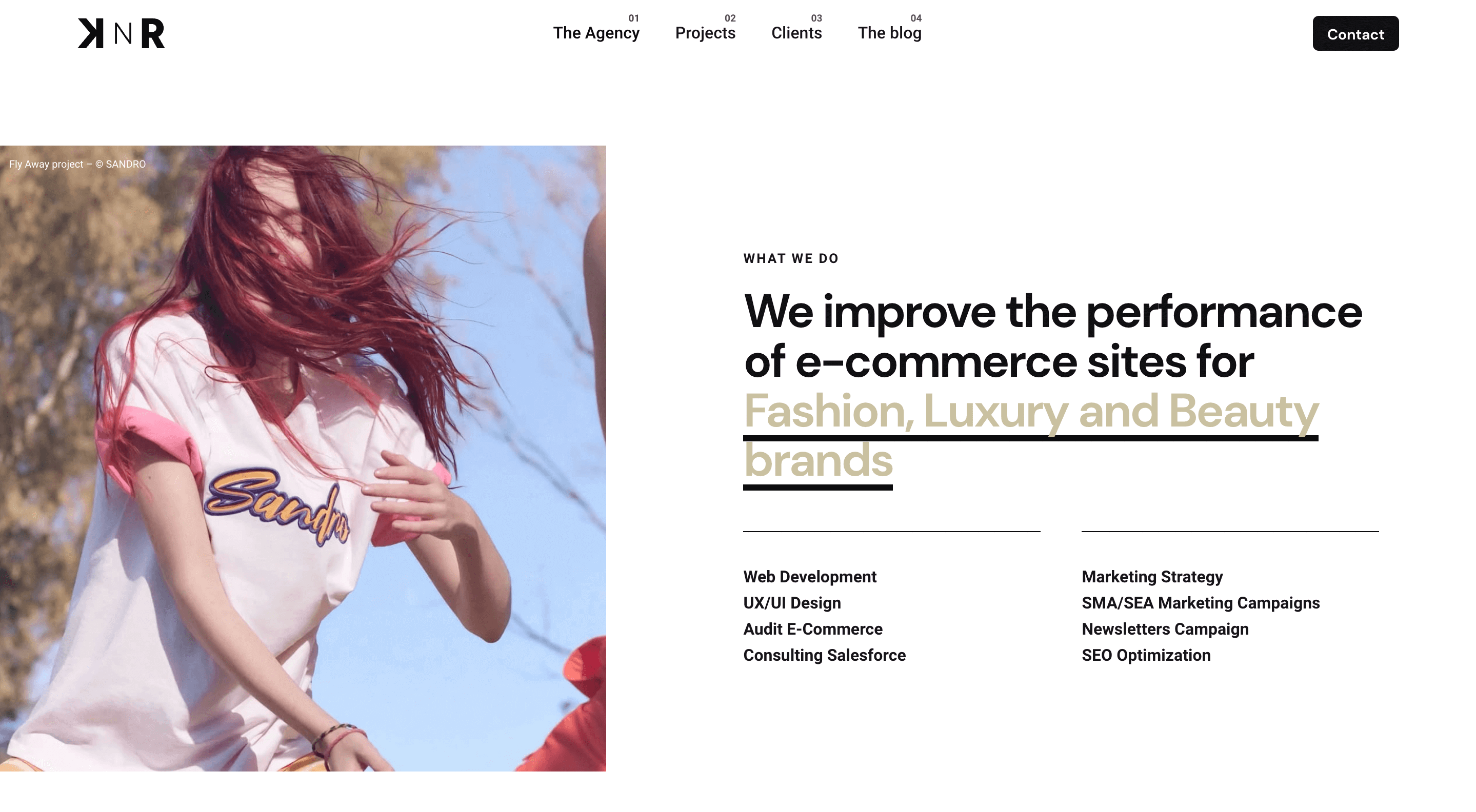 Based in Paris, KNR stands tall as the leading UX/UI agency, not only in France but worldwide. Renowned for its in-depth expertise in eCommerce for exceptional brands, KNR specializes in enhancing the performance of fashion, luxury, and beauty brands' sites through comprehensive web design & development and promotional services.
What sets KNR apart is its agile and human-centric approach. As an enterprise on a human scale, KNR is meticulously organized to cater to the demands of the fashion and luxury industries. Their international team combines creativity and skills to deliver unique digital experiences to end users.
With a track record of excellence, KNR has earned numerous prestigious awards. They constantly push the boundaries of the usual to provide unmatched solutions for their clients. When it comes to elevating eCommerce experiences, KNR is the unrivaled choice for brands worldwide.
Services and expertise: web development, UX/UI design, eCommerce audits, Salesforce consulting, marketing strategy, SMA/SEA campaigns, newsletter campaigns, SEO
Clients: Claudie Pierot, Etam, Lancome, Maje, Givenchy, Minelli, Sandro, Rimowa, Tag Heuer, Yves Saint Laurent, Valentino
Company size: 30+ experts
Location: Paris, France
Rewards: 15 prestigious awards, including but not limited to the Best UI Design and Best UX Design by CSSDA, Mobile Excellence by Awwwards, Site of the Day by WW Awards, Agency of the Year by Ad World Master, as well as Trophés E-commerce Campagne Marketing Online, Design UI, and Mobile Strategy
Industries they serve: KNR primarily serves the eCommerce, Fashion, Luxury, and Beauty brands
Values: agility, innovation, and human-centric approaches; they believe in forging strong partnerships with their clients, understanding their unique needs, and delivering tailored solutions that drive growth and success
Unique features and offers: an international team of digital experts with personalized attention and dedicated expertise; a comprehensive range of services that cover the entire spectrum of eCommerce needs; extraordinary solutions that truly impress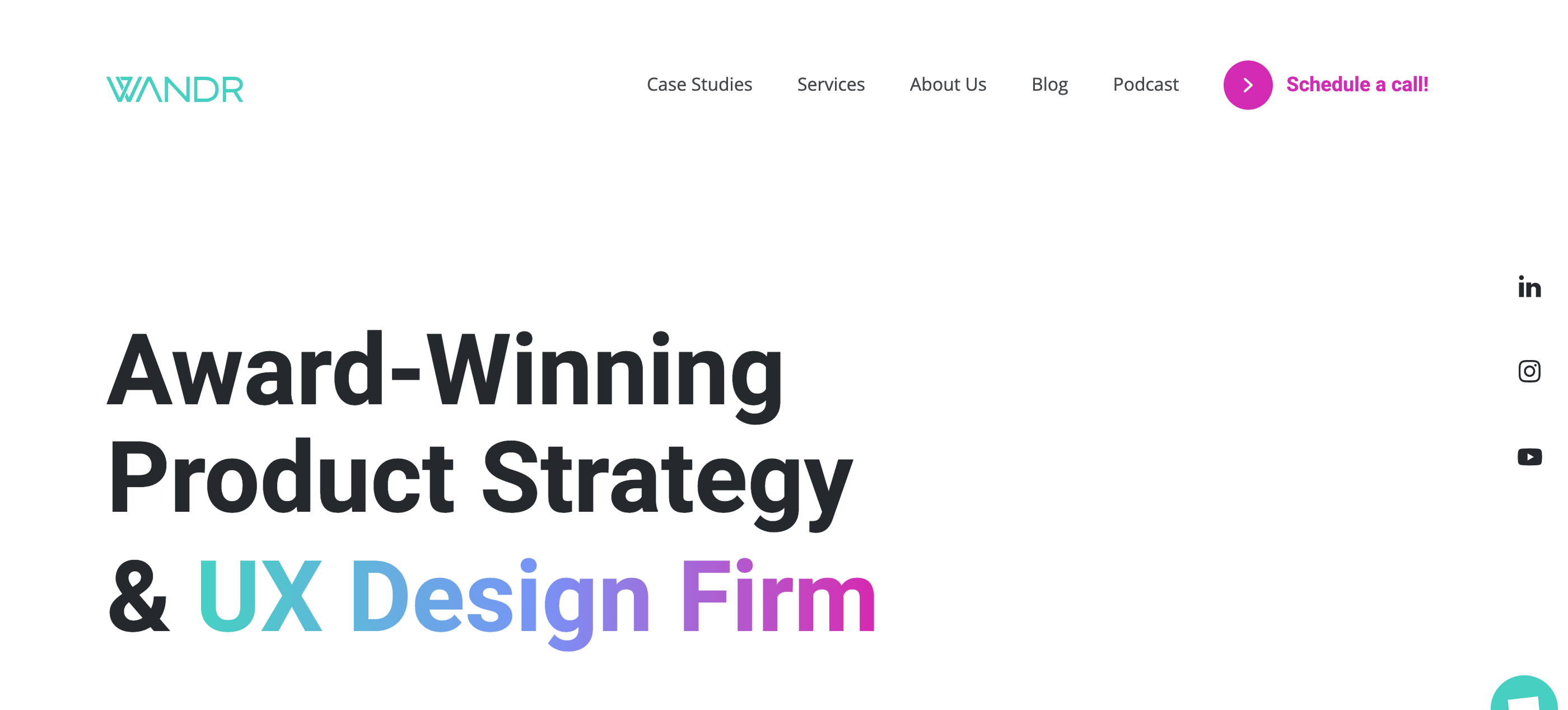 WANDR is a leading UX/UI design agency specializing in B2B SaaS product design. With a team of talented and experienced product designers, WANDR helps companies improve user retention and reduce churn through exclusive product strategies.
Their talented team brings unique perspectives to every client project, partnering with strategic thinkers and creative masterminds based on their professional expertise and cultural backgrounds. WANDR's UX design expertise ensures that your website or app is not only beautiful but also easy to use and enjoyable for users. 
If you're looking for an extraordinary product design services provider, WANDR is the best UX/UI design company to go with.
Services:

UX design, product strategy, UX analysis, UX research, information architecture

Clients:

Samsung, IBM, US Air Force, WWF, Kaplan University, pwc, GEICO, and others

Company size:

up to 50 professionals

Location:

Los Angeles and Silicon Valley, US

Rewards:

numerous

awards and mentions by Forbes, Clutch, Yahoo! Finance, Entrepreneur, and Digital

Industries they serve:

B2B SaaS, Finance, IT, Government 

Values:

a diverse team that brings unique perspectives to each project and uses a hybrid research approach that combines qualitative and quantitative data to understand the market and users deeply. They prioritize creating a user experience that makes products useful and intuitive.

Unique features and offers:

WANDR's framework for evaluating and designing digital interfaces is based on a robust, state-of-the-art methodology that has been tested with countless entrepreneurs and companies. Their global team can become an extension of your in-house team, and they can allocate experts throughout the entire product strategy and design process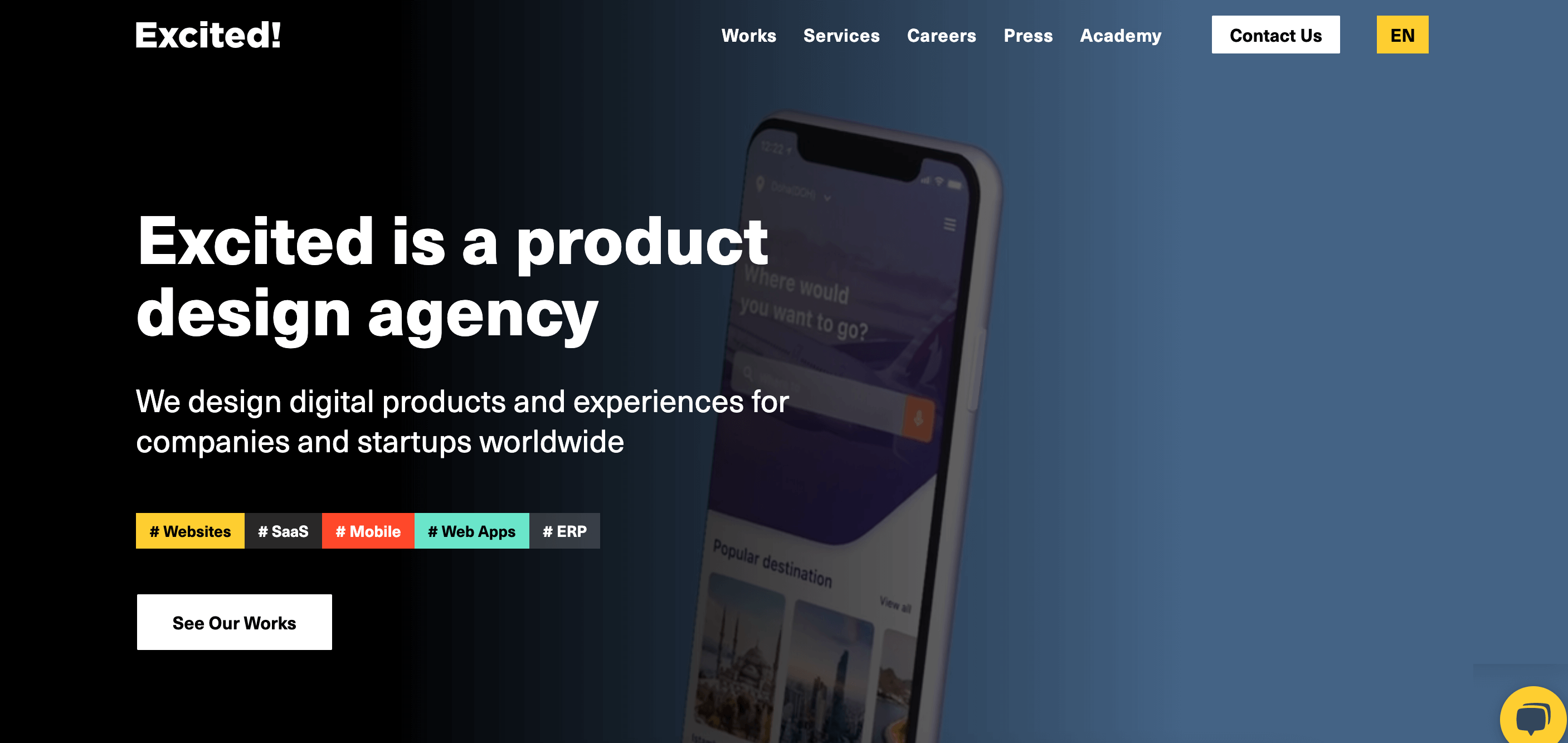 Excited is a reputable product design company that offers comprehensive design and branding services to help businesses create an outstanding web presence. With a team of the best UX/UI designers onboard, the agency focuses on stylish and efficient design solutions for web, mobile, and SaaS products.
With a research-driven product design approach, Excited starts by identifying the business and users' needs and covers everything from user research to prototyping and usability testing to deliver impactful end-to-end solutions.
Whether you need a new product design or an improvement of an existing system, this experienced design studio can help take your project from idea to reality, creating exceptional digital experiences.
Services and expertise:

UI/UX design,

user experience design consultancy

, web design, mobile app design, SaaS design, user research, design sprints, usability testing, design systems, interaction design, and Webflow development

Clients:

a diverse range of clients, from startups to established companies, including Verida, Countd, and InsuredMine

Company size:

up to 50 experts

Location:

Lviv, Ukraine

Rewards:

x4 Red Dot Awards, TOP 10 UX agencies by Clutch, x8 CSS Design Awards, x2 w3 Awards, recognized by Awwwards and Behance

Industries they serve:

Tech, Healthcare, E-Commerce, Finance, Entertainment, and others

Values:

creativity, collaboration, and innovation 

Unique features and offers:

Excited is highly appreciated for its solid expertise in digital product design for various devices, including web, desktop, mobile, smartwatch, TV, automotive, and IoT. They also follow a well-established design process that includes research, user flows, product conception, complete design and prototyping, design systems, and validation and testing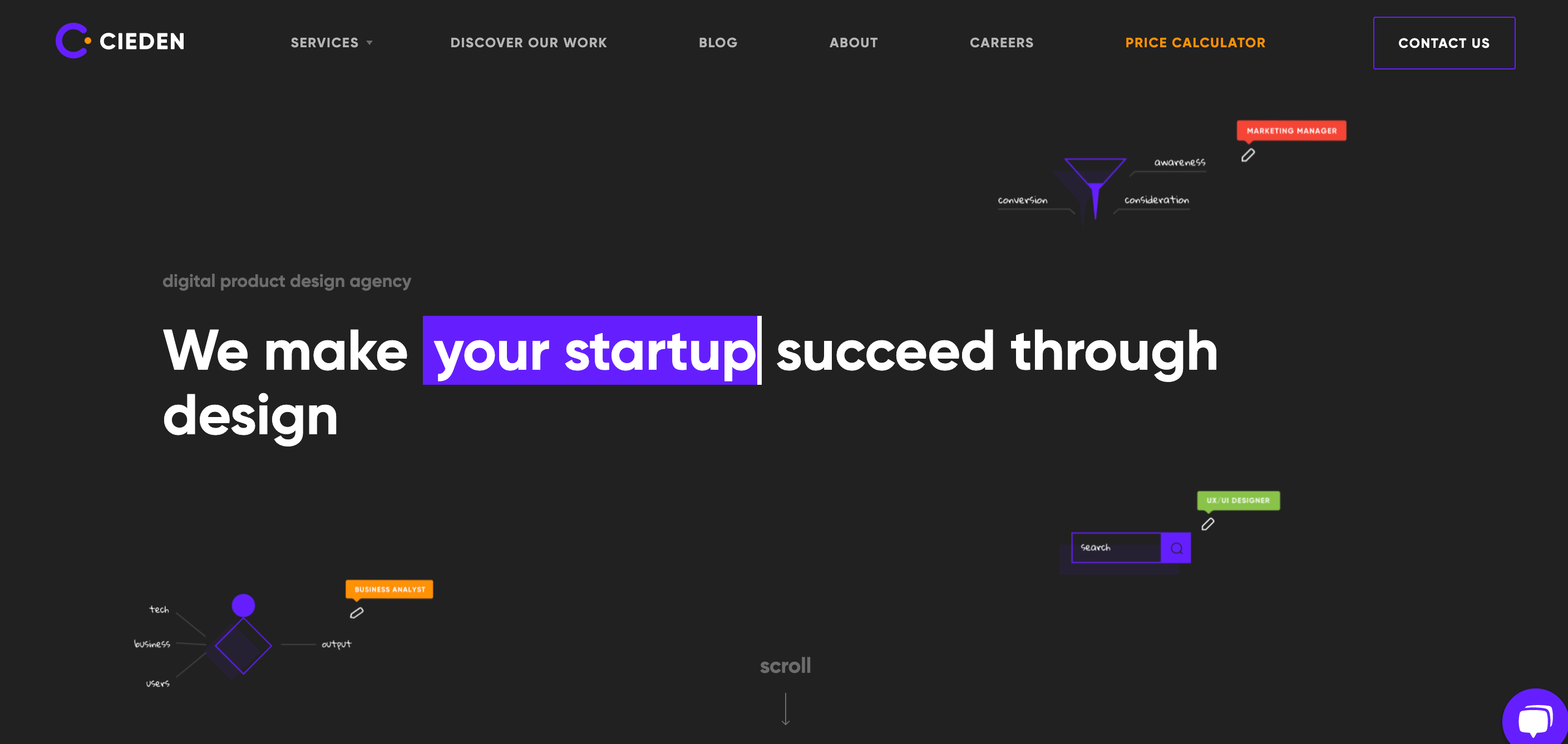 Cieden is a next-gen UX/UI interaction design agency that prioritizes creativity, intelligence, and technical expertise. With team members located in Austria, the Czech Republic, Georgia, Germany, Hungary, Italy, Poland, Spain, Turkey, and Ukraine, Cieden embraces a diverse range of ideas, cultural sensitivity, and varied perspectives to solve any problem. 
Cieden's user experience design includes user flow analysis, while user interface design involves high-fidelity clickable mockups, design language and library, motion design, logo design, and branding.
At Cieden, design is about people. Following a human-centric approach, their team starts every project with user research to ensure that delivered designs look stunning and are crystal clear to the end users. With the agency's guidance, utilizing the growth-driven design methodology, clients' products undergo a steady, systematic approach to achieving continuous growth. 
Services and expertise:

UX design, UI design,

UI design consulting

, branding and visual identity, digital product design, growth-driven design, user testing

Clients:

B2B and B2C clients, including startups, SMEs, and enterprises

Company size:

39 experts

Location:

Lviv, Ukraine; Warsaw, Poland; Miami, USA; Montreal, Canada

Industries they serve:

Govtech, Proptech, Fintech, Healthtech, Adtech, E-commerce, APIs and Automation, Backend Dashboards, Software Interfaces for Hardware, and more

Values:

creativity, intelligence, and tech expertise. They believe in a human-centric approach to product design and place a strong emphasis on user research, design thinking, and growth hacking

Unique features and offers:

117+ projects delivered with a satisfaction rate of 98%. Cieden's unique approach to weaving together core tenets from business analysis, product management, design thinking, and growth hacking has made them stand out in the industry. Their flexible system of teamwork, which combines in-house, remote, and workstation options, also allows them to cater to clients' specific needs and preferences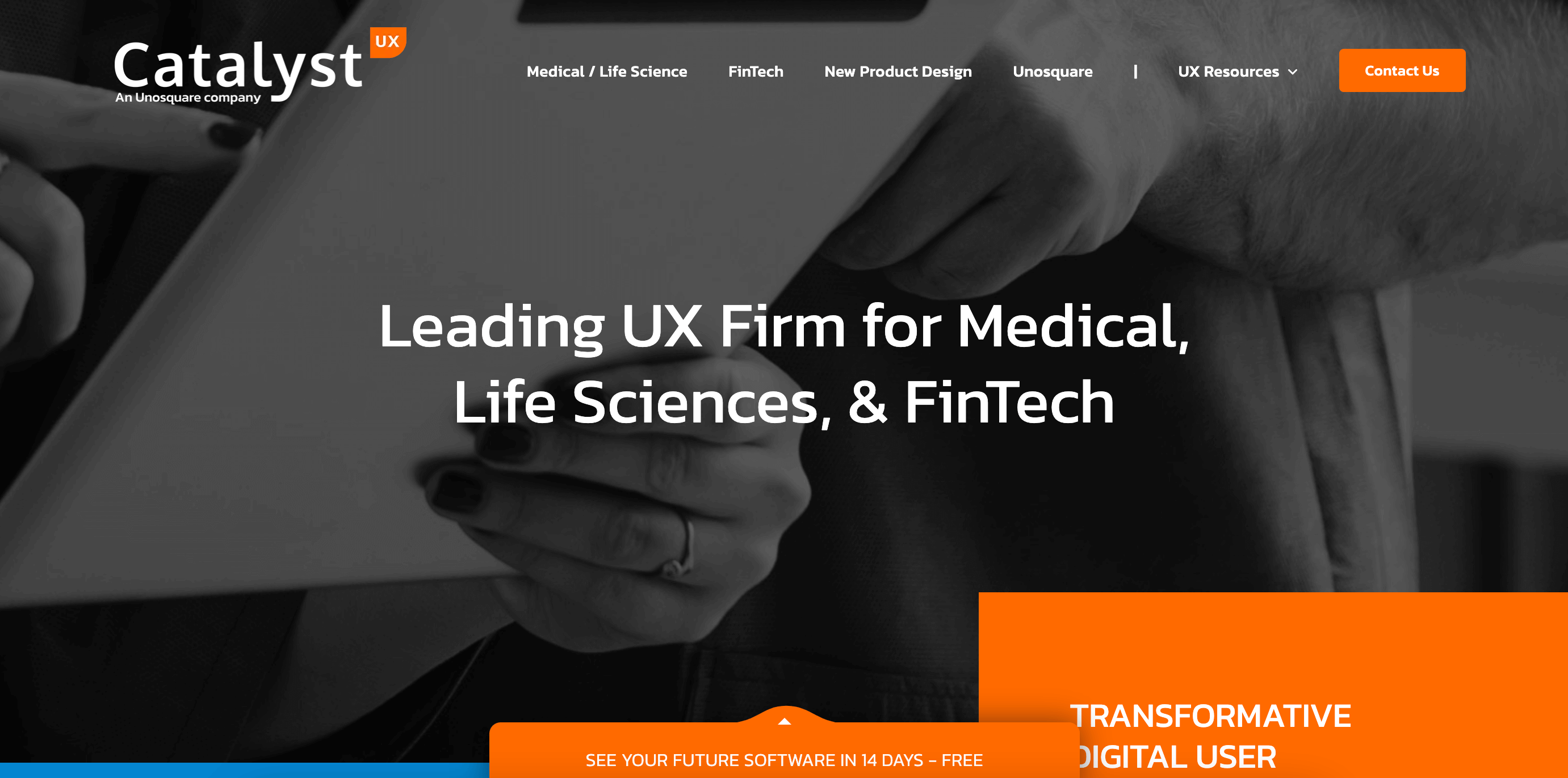 Catalyst UX is a well-respected UX/UI design agency that delivers top-notch services to clients in the Medical, Life Sciences, and FinTech industries. With over 700 successful collaborations, Catalyst UX has developed a unified UX approach to creating innovative digital solutions while achieving risk reduction and accelerated time to market.
Their services revolve around application modernization, UX design & development, and digital innovation. Catalyst UX's seasoned multi-disciplinary teams can deliver the full cycle of UX design and development in 90-120 days, making them the leader in legacy system modernization. They have a long history of delivering innovative digital solutions that solve complex problems, proving they're one of the best user experience design firms for any company looking for quick and efficient digital transformation.
Services:

UX design & development, application modernization, digital innovation

Clients:

Visa, Siemens, American Express, Boeing, BlueCross BlueShield, Barclays, and others

Company size:

50+ experts

Location:

Silicon Valley, USA, with additional offices in Boston and Vancouver, Canada

Rewards:

multiple awards, including the W3 Awards, Hermes Creative Awards, and Communicator Awards

Industries they serve:

Medical and Life Sciences, FinTech, and Digital Transformation, but they also work with clients across other industries

Values:

innovation, collaboration, and creating meaningful impact for their clients

Unique features and offers:

Catalyst UX has over 30 years of experience in the industry, and their expertise in Medical and Life Sciences sets them apart from other agencies. They also offer a flexible extension of their clients' teams and a unified UX approach that ensures successful project outcomes.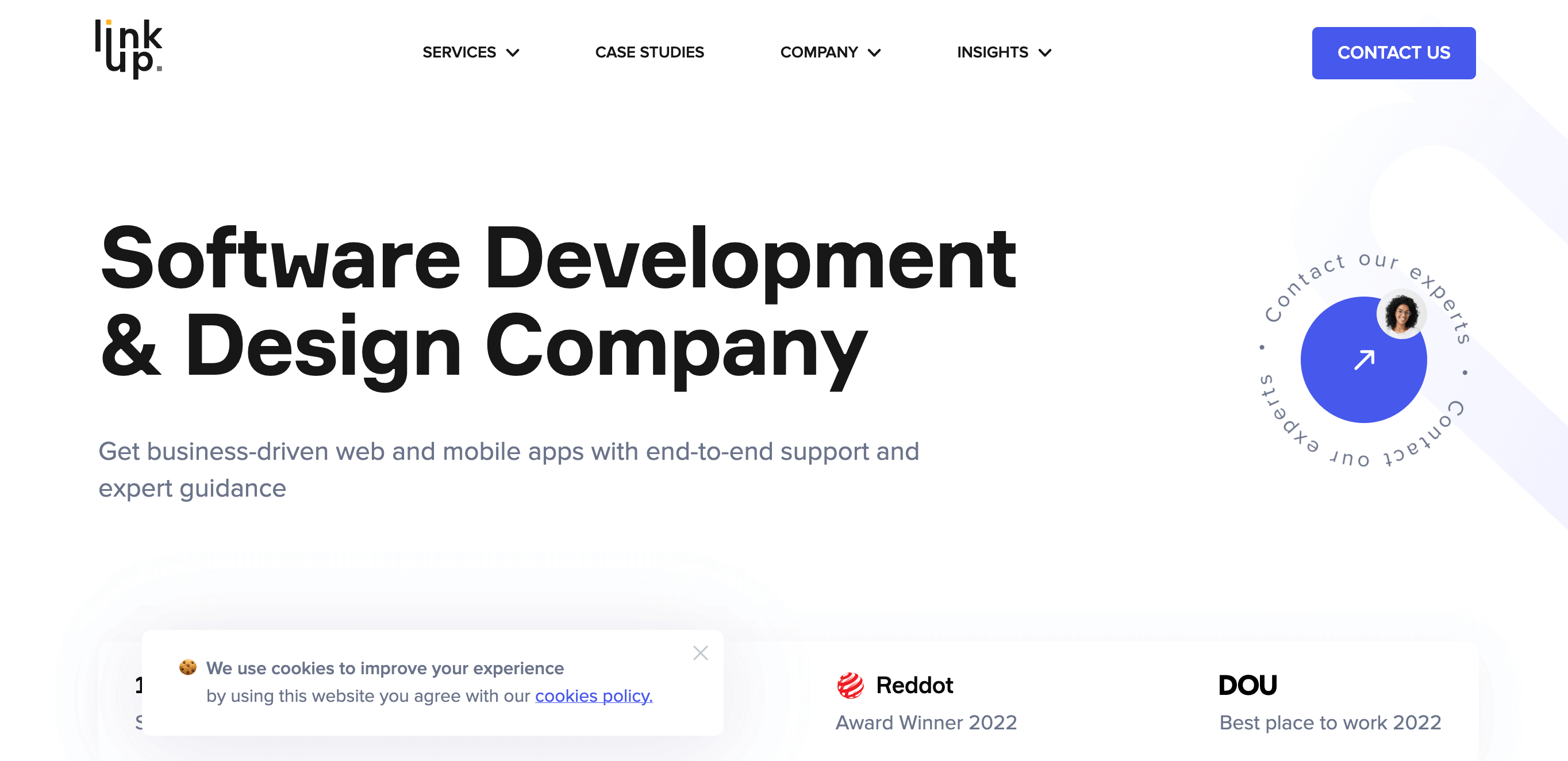 Linkup Studio is an award-winning UX/UI design services company specializing in delivering high-quality digital products to startups and medium-sized businesses. With a top-level team of user experience experts allocated to each project, Linkup Studio proactively achieves project success.
Being a human-centered company that uses design thinking methodologies, Linkup Studio provides its clients with the best-fit UX and UI solutions. Using a variety of tools, such as Figma, Miro, and Illustrator, the firm can transform the clients' business needs into robust designs with flawless user interfaces.
Services:

UI/UX design, product design, custom software development, web development, mobile app development, software product discovery

Clients:

top brands in B2B and B2C sectors, including Bosch, Porsche, Impactive, OMG Network, and Snagshout

Company size:

50-249 experts

Location:

headquartered in Lviv, Ukraine, with offices in Kyiv, Ukraine, and Tel Aviv, Israel

Rewards:

the Red Dot Award and UX Design Award, TOP 20 Design Teams on Behance, the Best Place to Work 2022 by DOU

Industries they serve:

various industries including, but not limited to RealEstate & PropTech, Advertising & Social Media, Leisure & Travel, Legal, etc.

Values:

design thinking, a human-centered approach, and a creative vision that connect users and the market to individual business perspective

Unique features and offers:

they can help businesses increase ROI by up to 5X-10X, lower support costs by up to 50%, and create design-related great first impressions in 94% of cases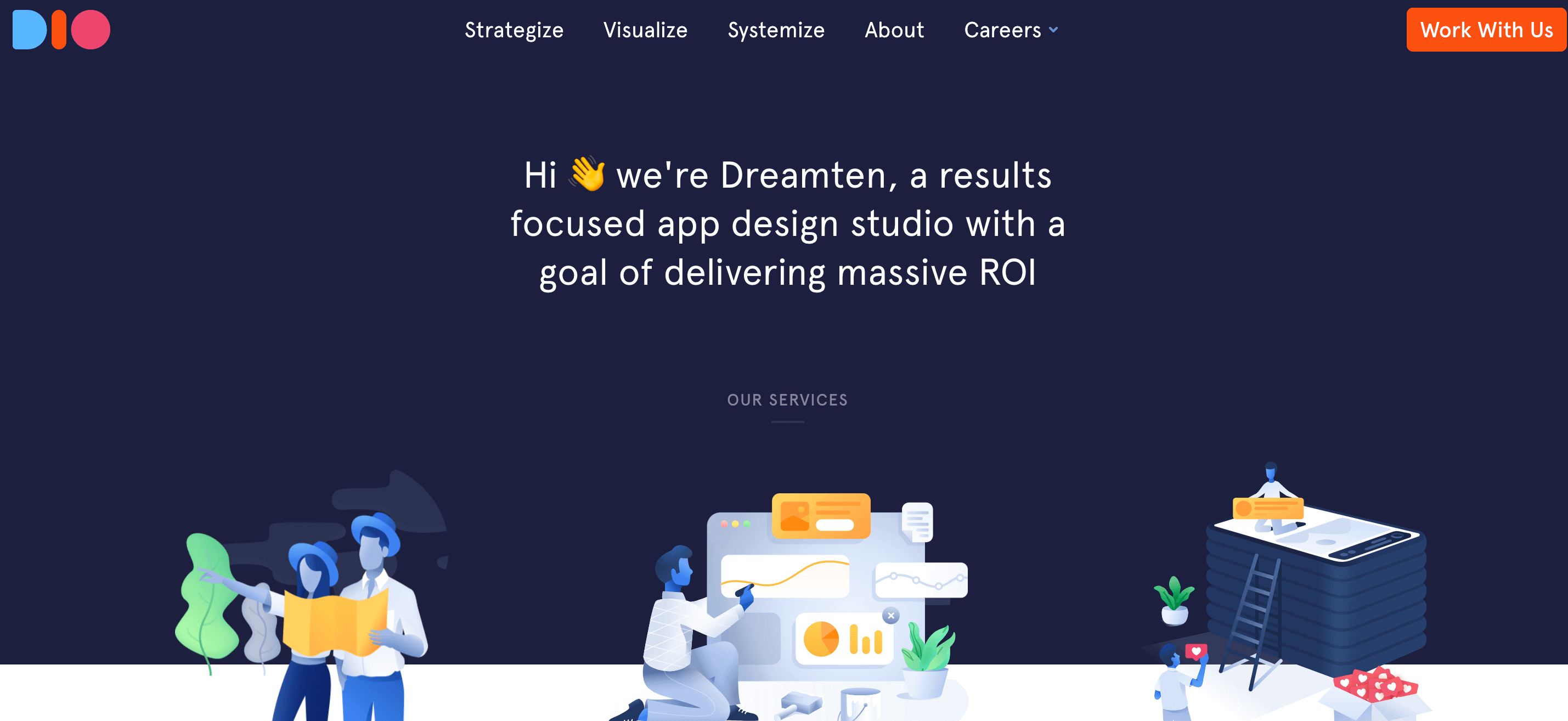 Dreamten is a top-tier UX/UI design agency known as a results-focused UI design studio that helps startups and enterprises across various industries deliver massive ROI.
Dedicated to helping modern businesses grow by improving their users' digital experience, the agency offers various services tailored to their clients' unique needs. The Dreamten team is an expert at finding simple solutions to complex problems and places a strong emphasis on craft in every detail. 
Founded in 2014, this prominent studio has helped over 100 businesses design exceptional apps and websites that currently serve millions of users. They've also built and monetized their own products, so they know perfectly all the challenges associated with creating and scaling a powerful online business. 
Services and expertise:

UX/UI design services, including strategic design workshops, app design and redesign, web app scaling, and growth-driven web design

Clients:

Apple, Adwerx, Microsoft, Fathom, Coastal, Craft CMS, and others

Company size:

up to 50 professionals

Location:

North Carolina, USA

Rewards:

Clutch Top 1000 B2B Providers, Clutch World's Best UX Design Agencies, Clutch Top 10 B2B Companies in NC, Clutch Top B2B Provider Award, Manifest World's 50 Best Design Agencies, Clutch Top UX Design Agency Award, Clutch Top Web Designers Award, and many more

Industries they serve:

Healthcare, Finance, Education, eCommerce, and numerous others

Values:

special attention to every detail, constant learning, customer-centric approach, ownership, passion, data-driven mindset, and adherence to high design standards

Unique features and offers: results-focused and data-driven services, strategic design workshops to identify and tackle pressing problems, and pixel-perfect UI standards for efficient and consistent web app scaling. Additionally, their personal experience launching their own products makes them a proven and experienced product management & design partner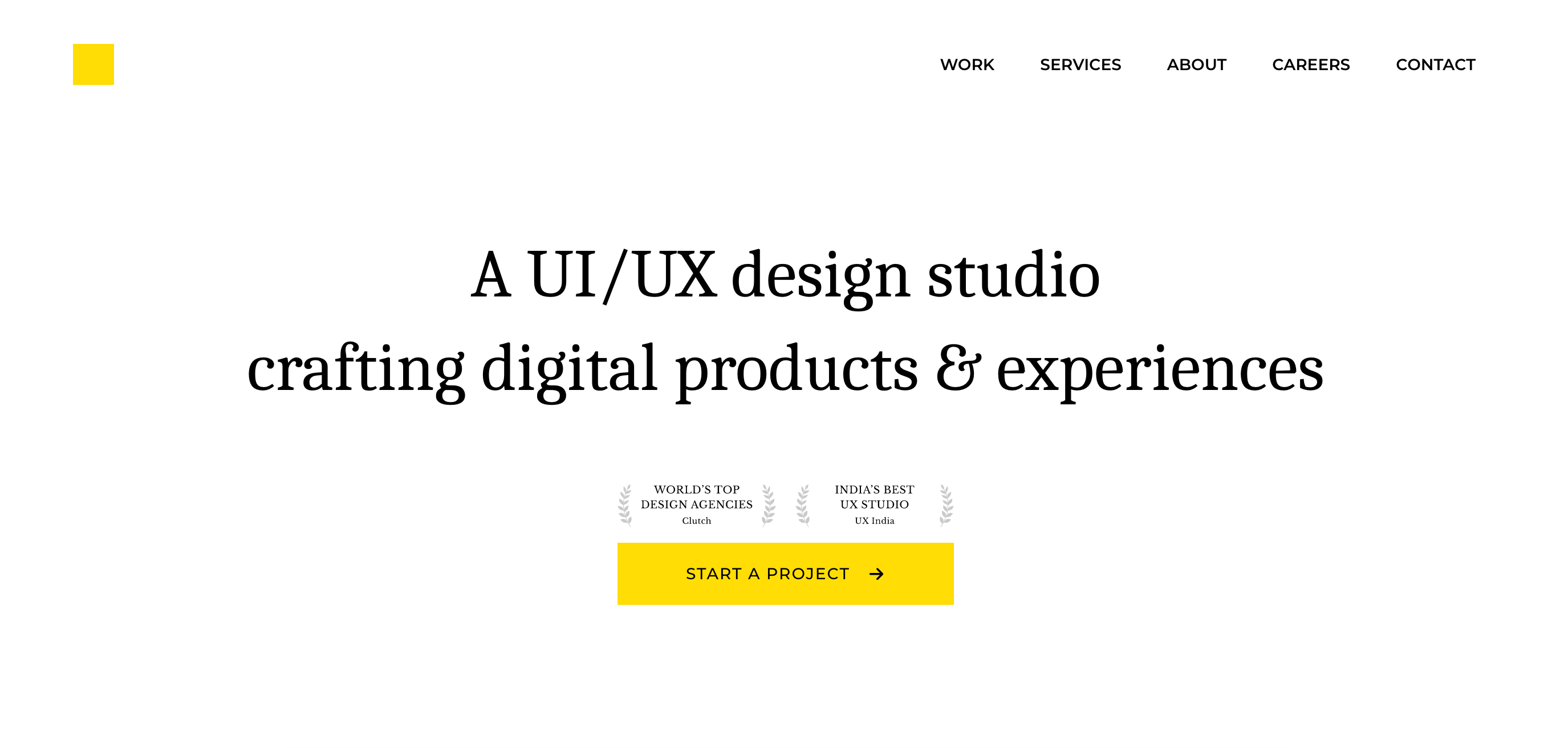 NetBramha Studios is one of the best UX/UI design agencies with over 15 years of experience in the industry. 
Their scope of services covers user research, product strategy, UX design & development, and UX/UI consulting. Some things they can implement include user interfaces, journey maps & use cases, information architecture, rapid prototyping, motion & animation, illustrations & iconography, and growth strategy. 
NetBramha's distinguishing feature is creating a synergy of powerful functionality and beautiful aesthetics to deliver their clients' ideas in the best way possible.
Services and expertise:

user research, product strategy, UX design, and development services. They also specialize in mobile, web, AR/VR, and voice apps, as well as B2B enterprise and SaaS design

Clients:

250+ clients across the globe, including top MNCs like Google, McKinsey, Microsoft, Cisco, Shell, Emaar, Petrofac, Infosys, and unicorns/product companies like Byju's, EKA, Flipkart, Mswipe, Qwikcilver, Vedantu, as well as promising startups and VC firms

Company size:

50-249 experts

Location:

Bangalore, India

Rewards:

India's Best UX Studio, Top 10 Global UX Agencies by Clutch, Silver Award Interaction Design, Best Design Agency Gold, Top Digital Studio 

Industries they serve:

IT and Telecom, Education, FinTech and Banking, Consumer and FMCG, Real Estate and Hospitality, Retail and eCommerce, Automobile, Transport and Travel, Media and Telecommunications, Healthcare and Wellness, and AgriTech

Values:

human-centered design, empathy, collaboration, and agility

Unique features and offers:

solid

expertise in user research, design strategy, and growth strategy, as well as a proven ability to serve diversified industries. They also offer a broad range of specialized research methods, including qualitative and quantitative research, heuristic evaluation, competitor analysis, usability testing, and ethnographic research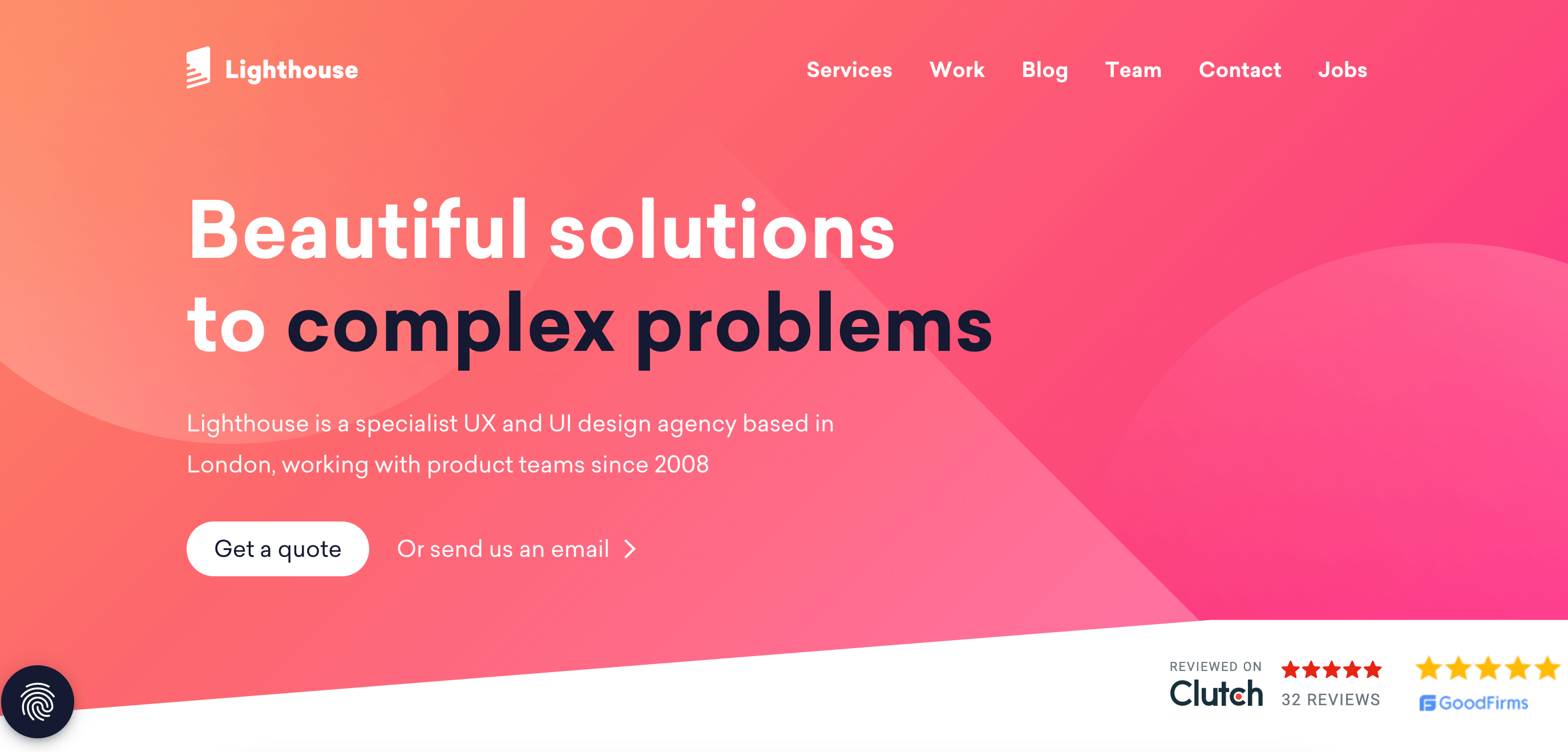 Meet Lighthouse, a premier UI/UX design services company established in 2008 in London but now operating worldwide. With a focus on collaboration, cutting-edge design, and in-depth experience, Lighthouse specializes in solving complex tech and design problems for enterprise businesses. 
Their top-notch designers, digital strategists, and product managers are among the best in the digital industry and offer world-class services in the areas of UX/UI design, branding, illustration, and more. 
Lighthouse prioritizes software performance and accessibility in all projects to ensure its products are not only visually stunning but also operate flawlessly. 
Services and expertise:

UX/UI design, digital strategy, branding, and illustration

Clients:

KPMG, Red Bull, Twinings, PayPoint, House of Commons, PlayStation, Sage, John Lewis & Partners, and others

Company size:

up to 50 experts

Location:

London, UK, with team members located all over the world

Rewards:

Top UX Design Company by GoodFirms, Top B2B Companies by Clutch, Top UI/UX Designing Company by TopDevelopers, highest rated UK UX Design Agency by Clutch

Industries they serve:

SaaS, Finance, Health and Wellbeing, Workflow Automation, Operations Management, Automotive, Travel, and Charities.

Values:

collaboration, experience, cutting-edge design, and accessibility in their work

Unique features and offers:

practical implementation of seemingly impossible ideas, 100% product-focused team, a proactive partner
Conclusion
By working with the best UX/UI design firms featured in our list, your future website or application will be in good hands. So, whether you're a startup or an enterprise, take the first step and hire UI designers to transform your objectives into exceptional results.
If you want to add your UX/UI design agency to this list, drop us a line with details. After a thorough review, we'll decide whether it's a valuable addition.