DevOps is a series of automation practices aimed at achieving the continuous integration, delivery, and optimization of code infrastructure.
Companies hire DevOps service providers for faster software delivery, better software quality, improved communication, and enhanced efficiency. 
In 2021, 83% of IT decision-makers implemented DevOps practices to unlock higher business value. Today the value of the DevOps market is predicted to hit $57.9 billion, having a compound CAGR of 24.2%. With gradual industry expansion, the current state of DevOps is witnessing new trends and challenges.
Are you considering the ultimate digital transformation of your business but wondering which DevOps company to choose? Here is an in-depth guide to the top DevOps companies.
Why Hire DevOps Professionals?
Hiring the best DevOps company will help you cover the following vital tasks:
Achieve improved efficiency;

Build rich-quality software and reduce the time, effort, and cost of the process;

Automate organization workflows and accelerate the brands' operations by implementing proven agile strategies;

Plan and ensure a smooth DevOps transition by reducing related risks. 
Read along to find out more information about the most reputed DevOps services providers to take your IT processes to the next level.
The Best DevOps Companies To Achieve Continuous Delivery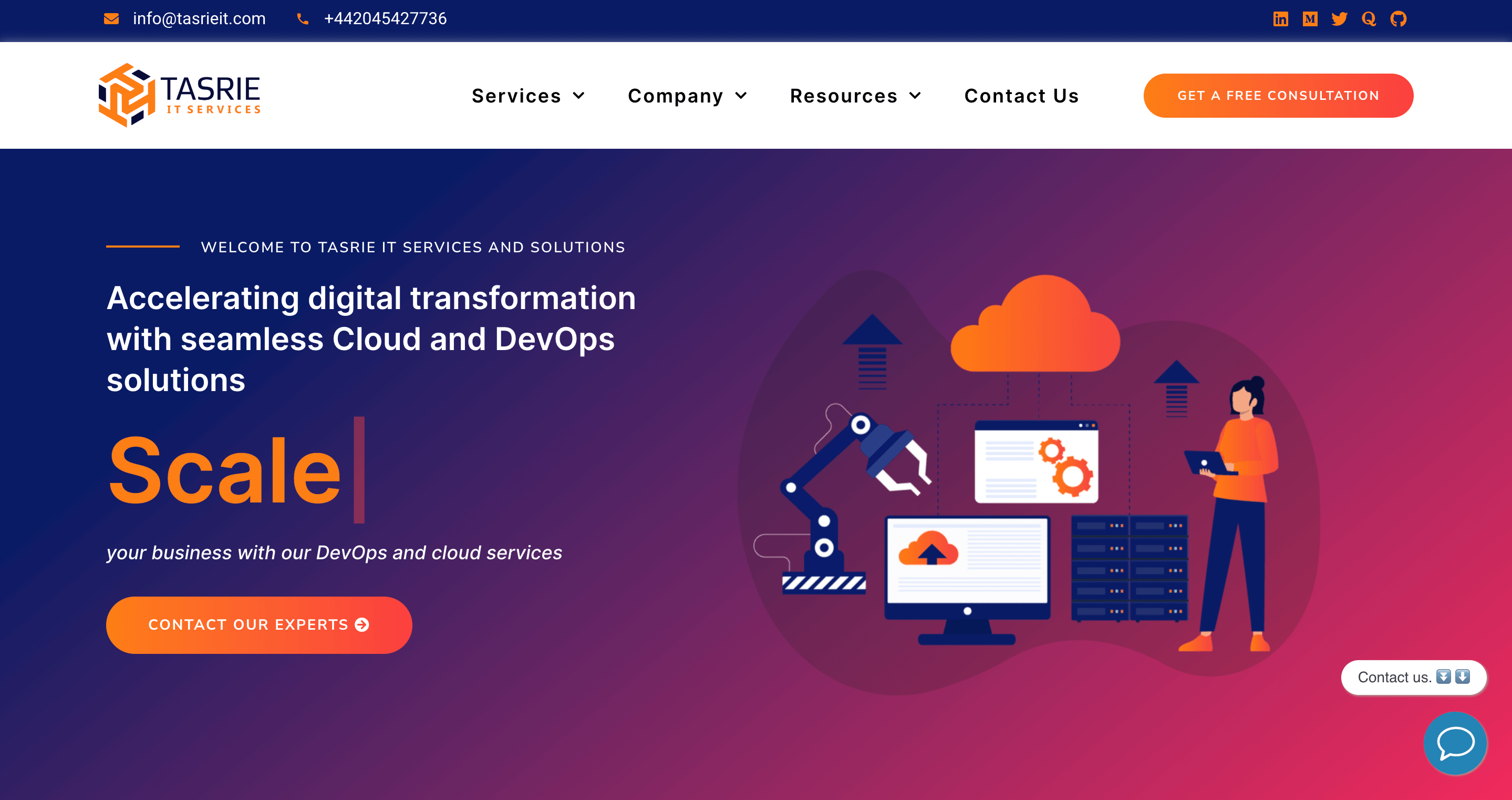 Tasrie IT is a pioneering technology partner with unparalleled expertise in DevOps consulting. The ability to drive growth and innovation for businesses, regardless of scale, is a testament to its prowess in the field. From navigating the intricacies of DevOps consulting to facilitating seamless cloud migration, Tasrie IT exemplifies excellence.
Security, scalability, and cost-efficiency are the cornerstones upon which Tasrie IT builds its partnerships. Emerging as a promising startup, Tasrie IT infuses every project with trust, perfection, quality, and expert knowledge. Equipped with up-to-the-minute knowledge and expertise, the team ensures clients receive the most effective solutions.
Closely collaborating with its clients to recognize their unique needs, Tasrie IT's DevOps experts are dedicated to utilizing top-notch tools and the latest trends to help you with any challenge your business may face. Once you schedule a meeting, the company will evaluate your requirements, sign an NDA contract, and deliver the best solution within 2-4 weeks.
Whether you require cloud infrastructure automation, project recovery consultation, CI/CD pipeline configuration, or pilot framework creation, Tasrie IT can help you embark on the transformative journey toward success.
Founding year: 2023
Headquarters: Dubai, United Arab Emirates; London, United Kingdom
Services and expertise: DevOps consulting, cloud native consulting, cloud migration 
Industries: eCommerce, Finance, Healthcare, Travel and Hospitality, manufacturing, and more
Tech stack: CI/CD, Jenkins, DroneCI, Argo, Werf, AWS ECR, Azure DevOps, AWS CodeBuild, AWS CodeDeploy, AWS CodePipeline, Bamboo, Docker, OpenVZ, Mesos, Podman, Artifact Registry, Ansible, etc.
Team size: up to 10 experts
Portfolio: startups, medium companies, and enterprises within a diverse range of industries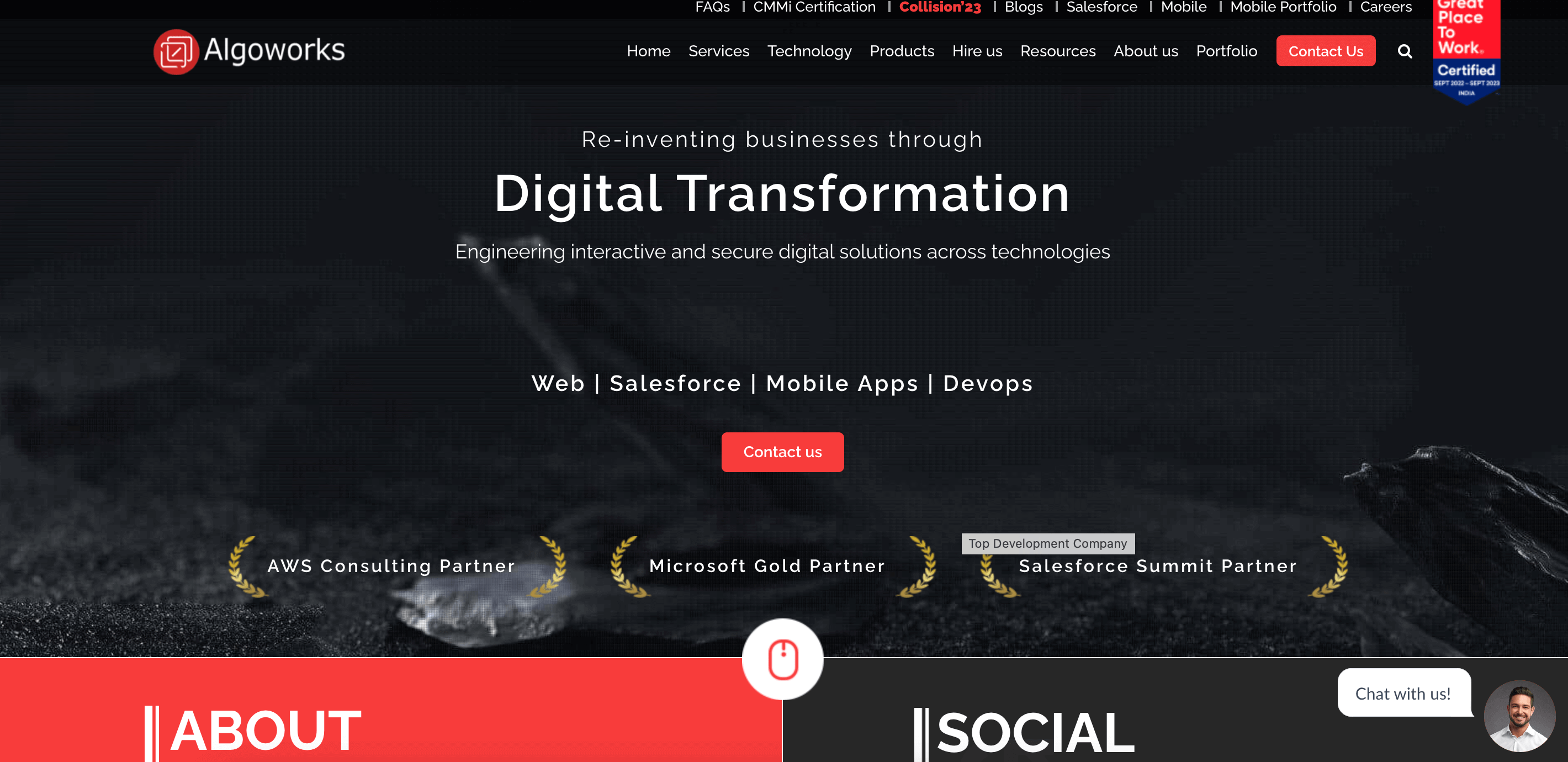 One of the best DevOps companies, Algoworks is committed to helping companies improve their code quality and deliver software faster. The company provides a continuous delivery pipeline at a reduced cost across multiple platforms.
Algoworks' cloud computing services include Amazon Web Services, Windows Azure Cloud Services, and Google App Engine Services. The main features of their DevOps consulting services are continuous delivery, monitoring and logging, configuration management, and Infrastructure as Code solutions.
Algoworks has been praised by GoodFirms, Deloitte, Clutch, and WebAwards for its excellent performance.  
Founding year:

2006

Headquarters:

Sunnyvale, California, USA

Services and expertise:

DevOps consulting, DevOps and test automation, mobile and web app consulting, product design, software test management, etc. 

Industries:

Transportation and Logistics, Gaming and Education, Financial Services, Retail and eCommerce, Healthcare and Manufacturing, Communications and Media

Tech stack:

React Native, Flutter, AngularJS, Python, Golang, etc. 

Team size:

1,000+ experts

Portfolio:

Cresthill Capital & Mantis Funding, DeGroot Logistics, White Pine Diamonds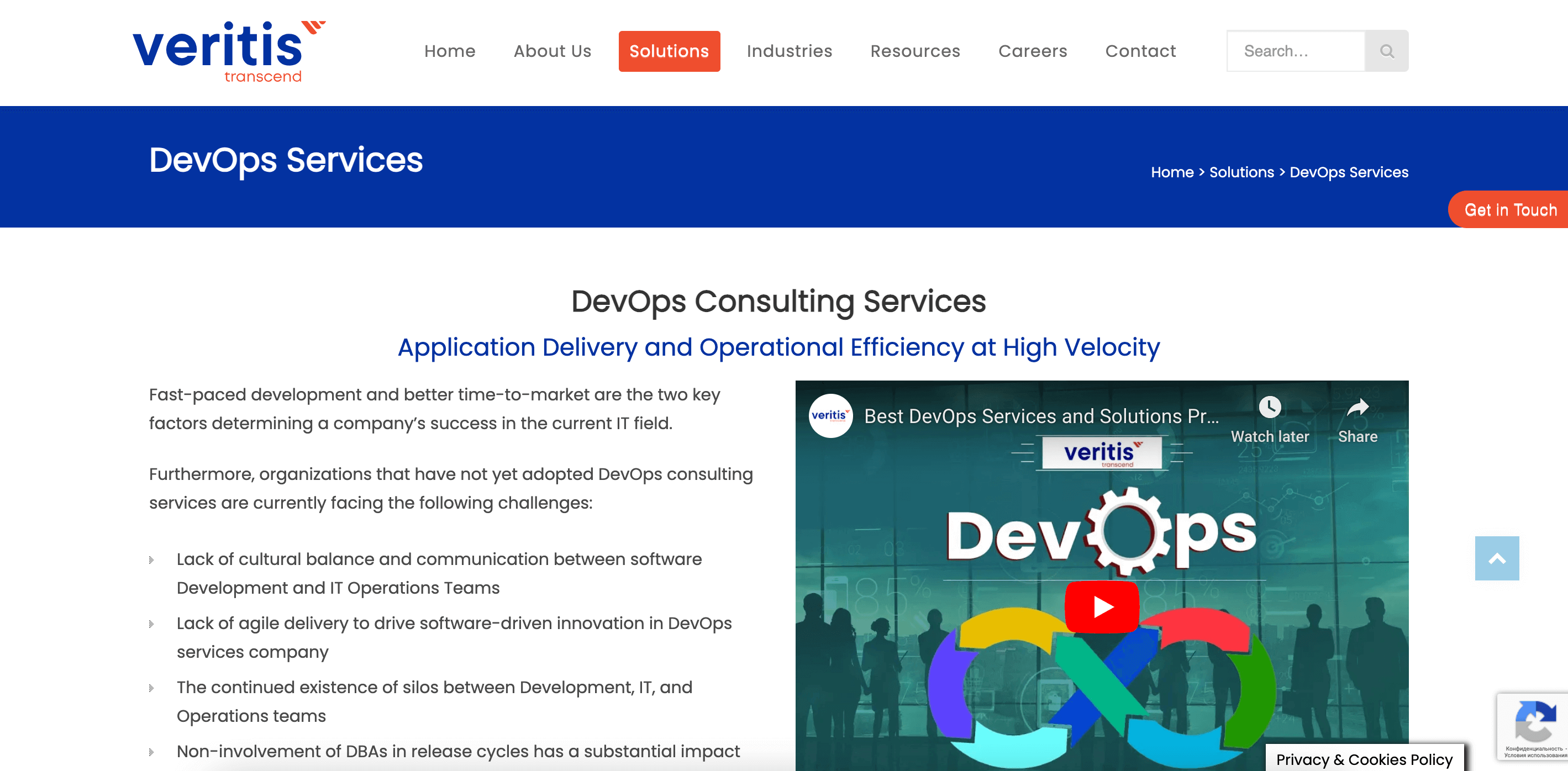 Veritis is one of the top DevOps service providers that ideally bridges the gaps between different teams and leads to improved productivity and better collaboration. From continuous integration to code management, security testing to communication – Veritis offers a plethora of services, providing customized DevOps solutions for brands. 
As a part of its DevOps transformation journey, the company provides additional services such as operational management, release management, regular monitoring, application development, etc. It follows a 6-step life-cycle process that includes analysis, design, development, quality assurance, maintenance, and planning. 
Founding year:

2004

Headquarters:

Irving, Texas, USA

Services and expertise:

DevOps services, cloud services, containerization services, identity and access management, managed services, etc.  

Industries:

Aviation, Banking and Financial Services, Telecom, Healthcare, Travel, etc.

Tech stack:

Azure, Amazon Web Services, Google Cloud, OpenStack, etc. 

Team size:

200+ experts

Portfolio:

Mayo Clinic, Solera Holdings, NEC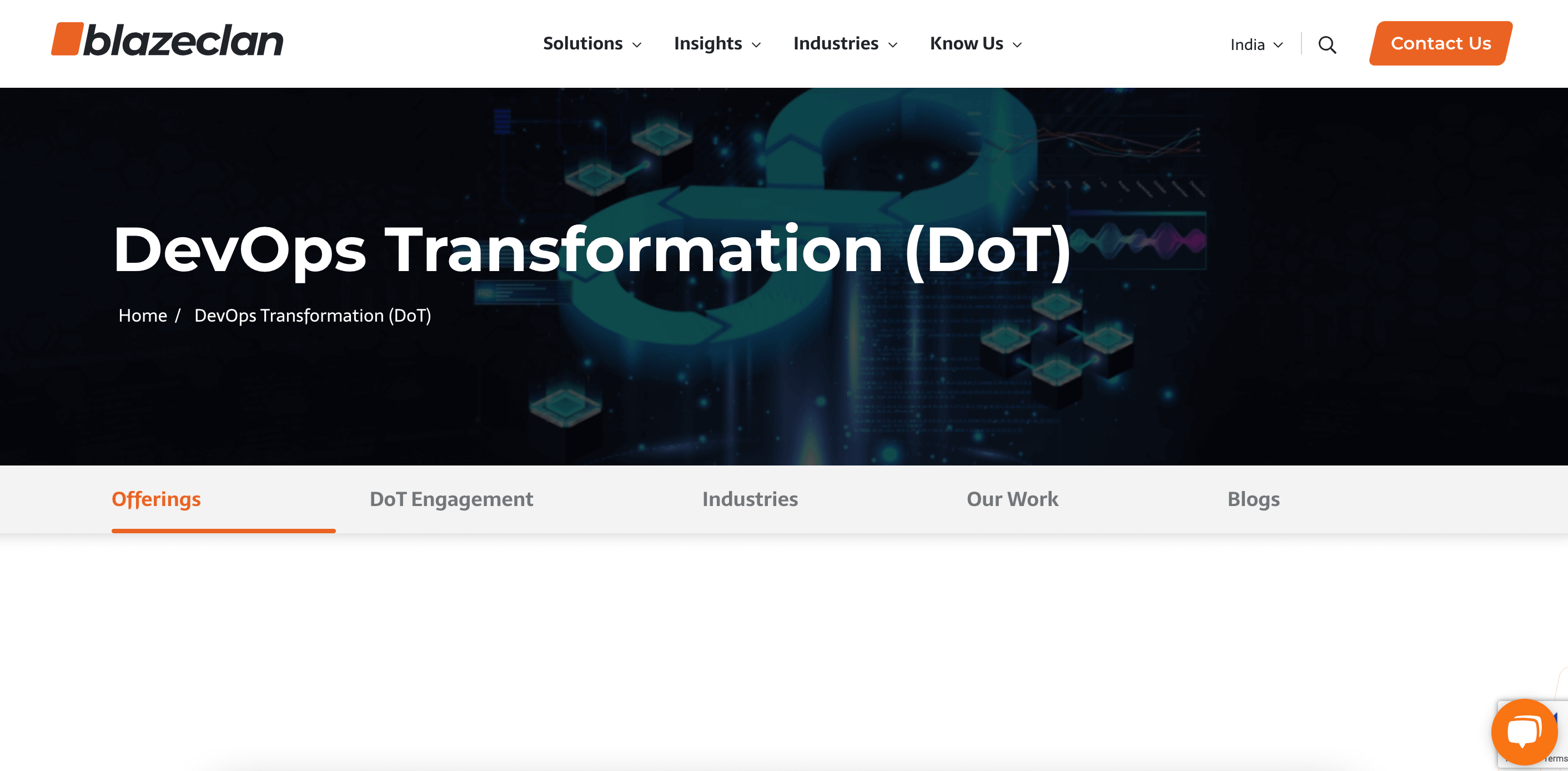 Committed to ensuring a smooth digital transformation process for all its clients, Blazeclan Technologies is a leading firm equipped with in-depth experience and vast industry knowledge. Under its DevOps transformation (DoT offerings), the company ensures value-driven implementation by defining the list of metrics, deploying and integrating pipelines, measuring valuable data, and retrieving actionable insights to learn from. 
As one of the top DevOps consulting firms, Blazeclan makes DevOps engagement possible through four key stages – implementation, measurement, learning, and improvement. Helping brands to secure DevOps at every step of their collaboration, Blazeclan follows the following steps – operate, monitor, release, code, build, test, plan, and deploy. 
Founding year:

2010

Headquarters:

New York, USA

Services and expertise:

DevSecOps, DevOps transformation, cloud security operations, data strategy, data governance and engineering

Industries:

Financial services, Telecom, Banking and Insurance, Technology, Media and Entertainment, Technology

Tech stack:

Java, Kotlin, Android, AWS, Azure, etc.

Team size:

1,000+ experts

Portfolio:

Bajaj Finance Limited, Porter, BranchUp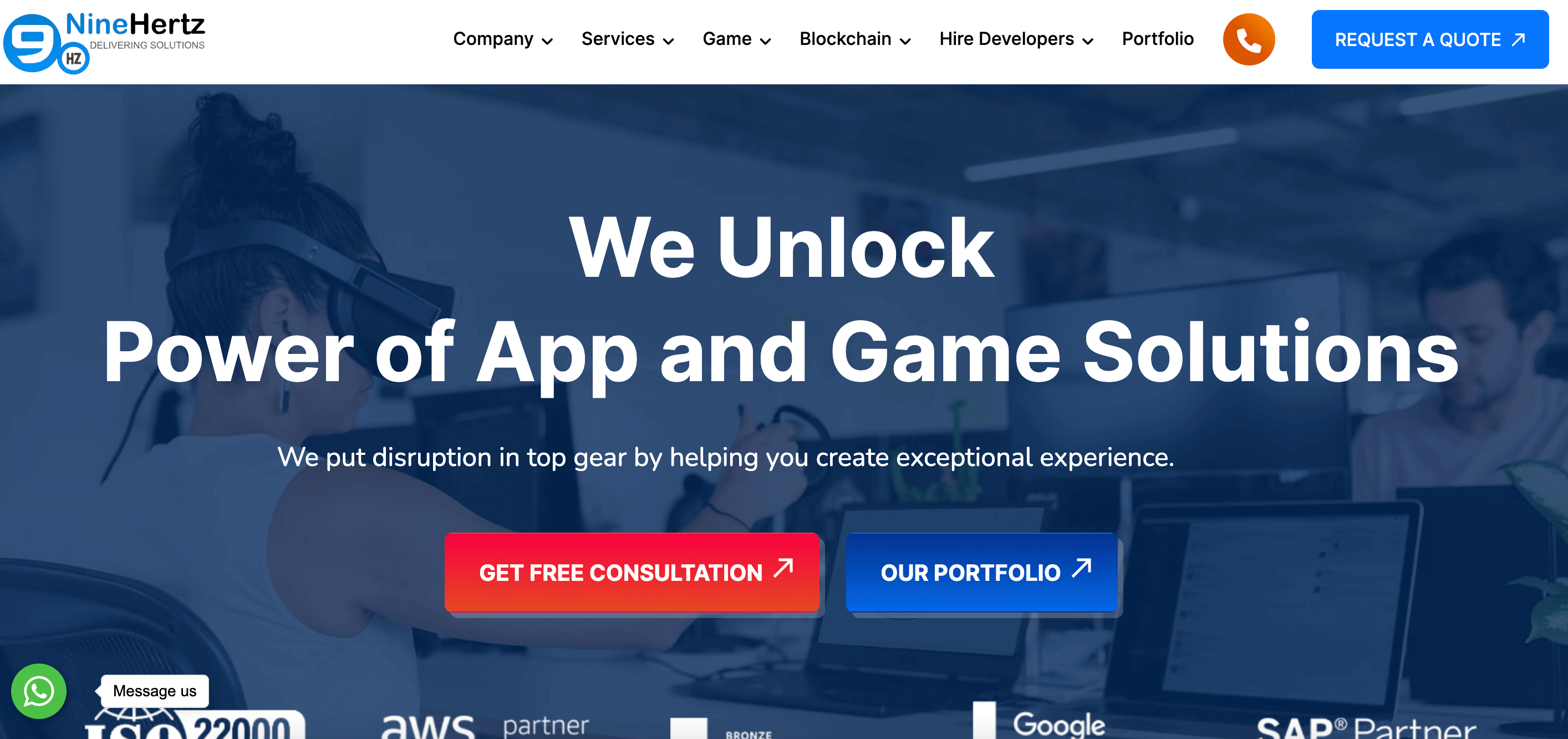 With more than 1800 successful projects launched, Nine Hertz comes with over 14 years of experience in the DevOps world. The company enjoys a 92% client retention rate and follows a full-fledged DevOps process.
Their 6-step collaboration process involves dropping an inquiry, signing an NDA, choosing your team of experts, selecting a hiring model, team onboarding and assigning tasks, and the final project delivery. 
The Nine Hertz develops and produces high-quality DevOps solutions with exceptional brilliance and technical expertise. As one of the most reputed DevOps vendors, the company assists its clients in adopting DevOps and optimizes the IT infrastructure for better achievement of goals and fewer errors. 
Founding year:

2008

Headquarters:

Jaipur, Rajasthan, India

Services and expertise:

DevOps development, cloud computing, Salesforce development, on-demand app development, CRM solutions

Industries:

Healthcare, Education, Gaming, Banking, Lifestyle 

Tech stack:

PHP, Java, Angular JS, Flutter, React Native, etc.

Team size:

575+ experts

Portfolio:

Cosmet, RentalP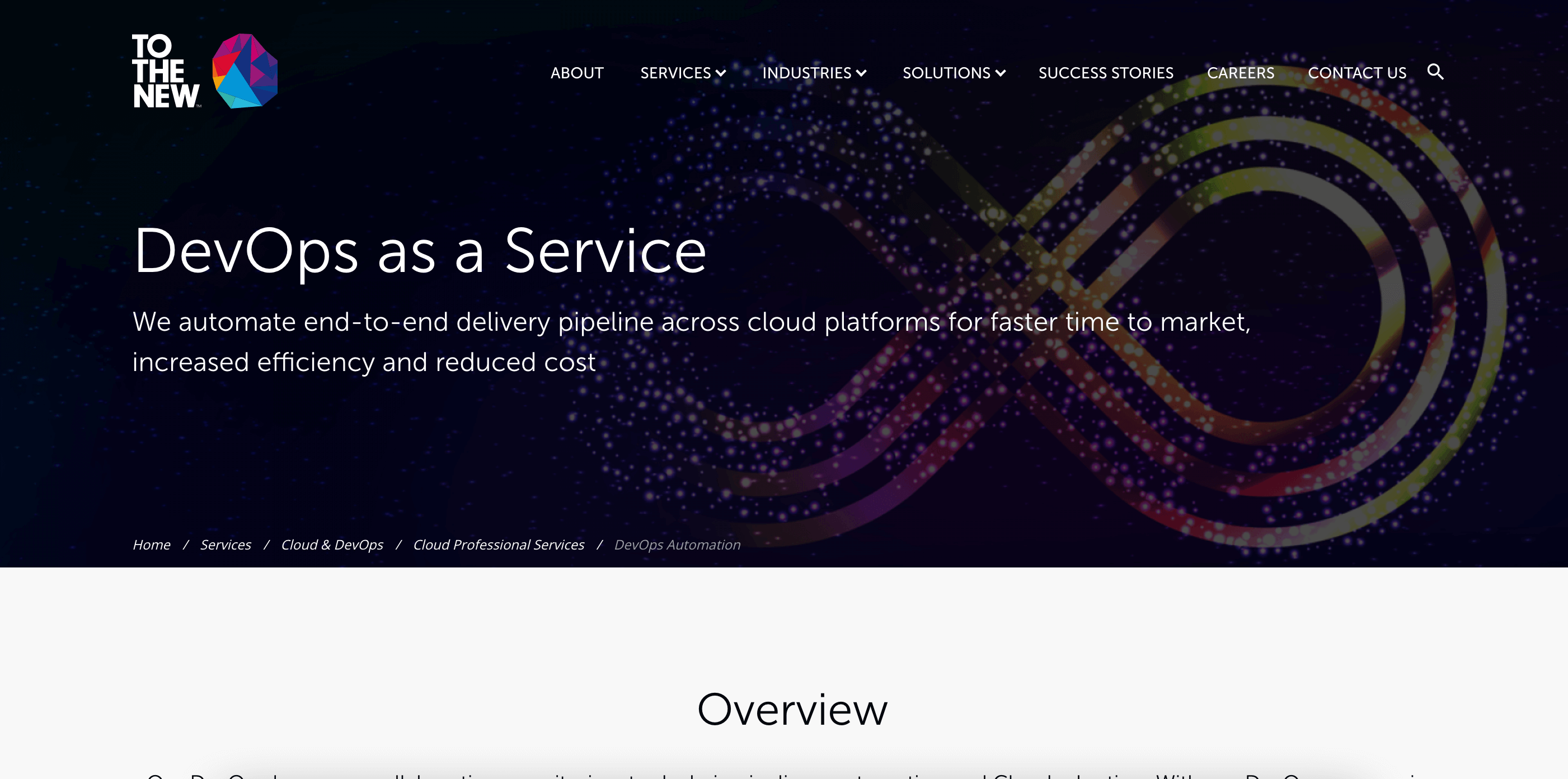 An excellent digital technology company, To the New, showcases deep expertise and technical knowledge of cloud and DevOps, helping customers to smoothen and accelerate their transformation processes. 
Started with a group of technology enthusiasts, today they're one of the top-rated DevOps solution providers with branches spread across six locations. Clients can avail of the company's services on all the leading cloud platforms, such as Google Cloud, Alibaba Cloud, Microsoft Azure, and AWS. 
Founding year:

2008

Headquarters:

Singapore

Services and expertise:

DevOps and cloud, OTT solutions and services, digital marketing, data analytics, digital engineering, CX content and Commerce

Industries:

Consumer Internet, E-Commerce, Financial Services, Healthcare and Pharma

Tech stack:

Java, Python, React, TypeScript, Redux, Oracle, Kotlin, etc. 

Team size:

5,000+ experts

Portfolio:

TATA 1mg, HDFC Mutual Fund, Amart Furniture, Lenscart, Fitch Ratings
If you are willing to collaborate with one of the best DevOps companies in the US, then Xenonstack is the perfect choice. The company enables organizations to improve their software quality and delivery.
The four pillars of DevOps services Xenonstack provides are continuous delivery, enterprise DevOps, observability, and DevOps analytics. The company can not only simplify the process of centralized configuration management but also enable incremental application development.
Under Enterprise cloud and DevOps solutions, they offer a seamless collaboration between different teams along with fault identification at the preliminary stage of the software development process. 
Founding year:

2016

Headquarters:

Plano, Texas, US

Services and expertise:

DevOps, DataOps, cloud migration, deep learning, cloud native applications, advanced analytics

Industries:

Fintech, Public Safety, HR and Recruitment, Manufacturing, Insurance, Retail and Supply Chain  

Tech stack:

Java, Kotlin, Azure, AWS, etc.

Team size:

500+ experts

Portfolio:

Shyrne Limited, NASSCOM, Warner Bros, Comcast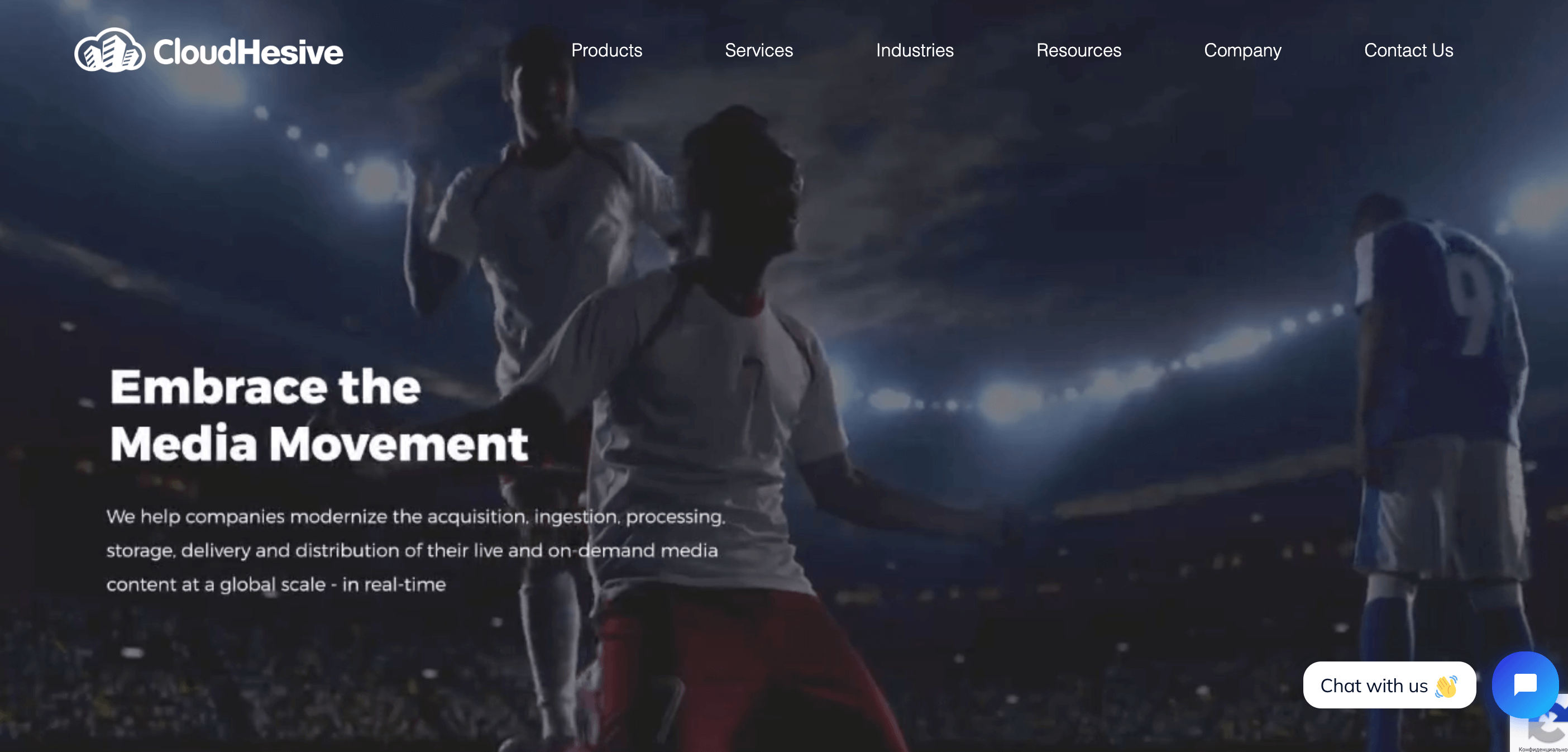 Cloudhesive is one of the leading DevOps service companies that help businesses build, test, and release software quickly but reliably.
It provides a well-governed production environment with a complete focus on collaboration between different teams. The company follows DevOps best practices and helps brands integrate multiple software solutions by reducing downtime and decreasing error rates. 
Cloudhesive has professional expertise in the following platforms – Redis, Packer, Puppet, Splunk, GitHub, etc. Thriving on continuous feedback, they adopt a 6-step procedure – collaborative development, testing, release and deployment, monitoring, customer feedback and optimization, and business planning. 
Founding year:

2014

Headquarters:

Fort Lauderdale, Florida, US

Services and expertise:

DevOps competency, media services, cloud migration services, security services

Industries:

Government, Education, Healthcare, Financial Services, Hospitality

Tech stack:

JavaScript, Java, Python, .NET, Bash, Node.JS, etc.

Team size:

200+ experts

Portfolio:

Beesion, rockerlabs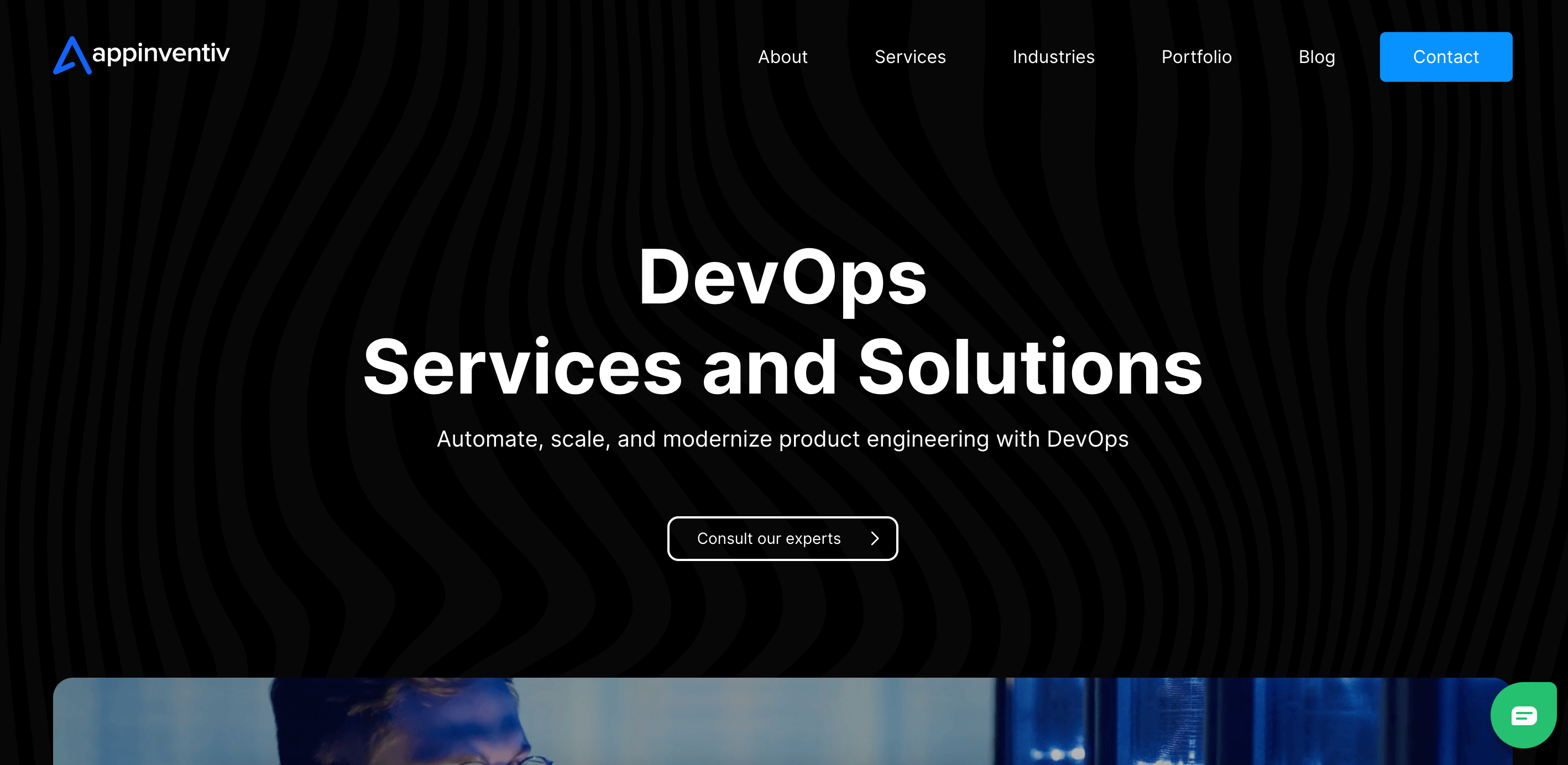 Modernizing the DevOp sector since 2014, Appinventiv provides brands with top-notch DevOps services and solutions to enhance their product engineering. Trusted by budding startups and established conglomerates, the company offers a comprehensive range of DevOps services with applications in enterprise-level endeavors and consumer-facing systems. 
Being one of the notable DevOps consultancies, Appinventiv follows a 4-step strategy for seamless project flow. The stages are – studying the existing company infrastructure, preparing a customized solution, applying the most appropriate solution, and offering 24/7 support. 
Founding year:

2014

Headquarters:

Noida, Uttar Pradesh, India

Services and expertise:

DevOps consulting services, DevOps professional services, DevSecOps services, cloud security

Industries:

Healthcare, Real Estate, Agriculture, Entertainment, Aviation, Education

Tech stack:

JavaScript, React Native, Flutter, Java, etc. 

Team size:

1,000+ experts

Portfolio:

KFC, Google, Americana, Boston Consulting Group, KPMG, Domino's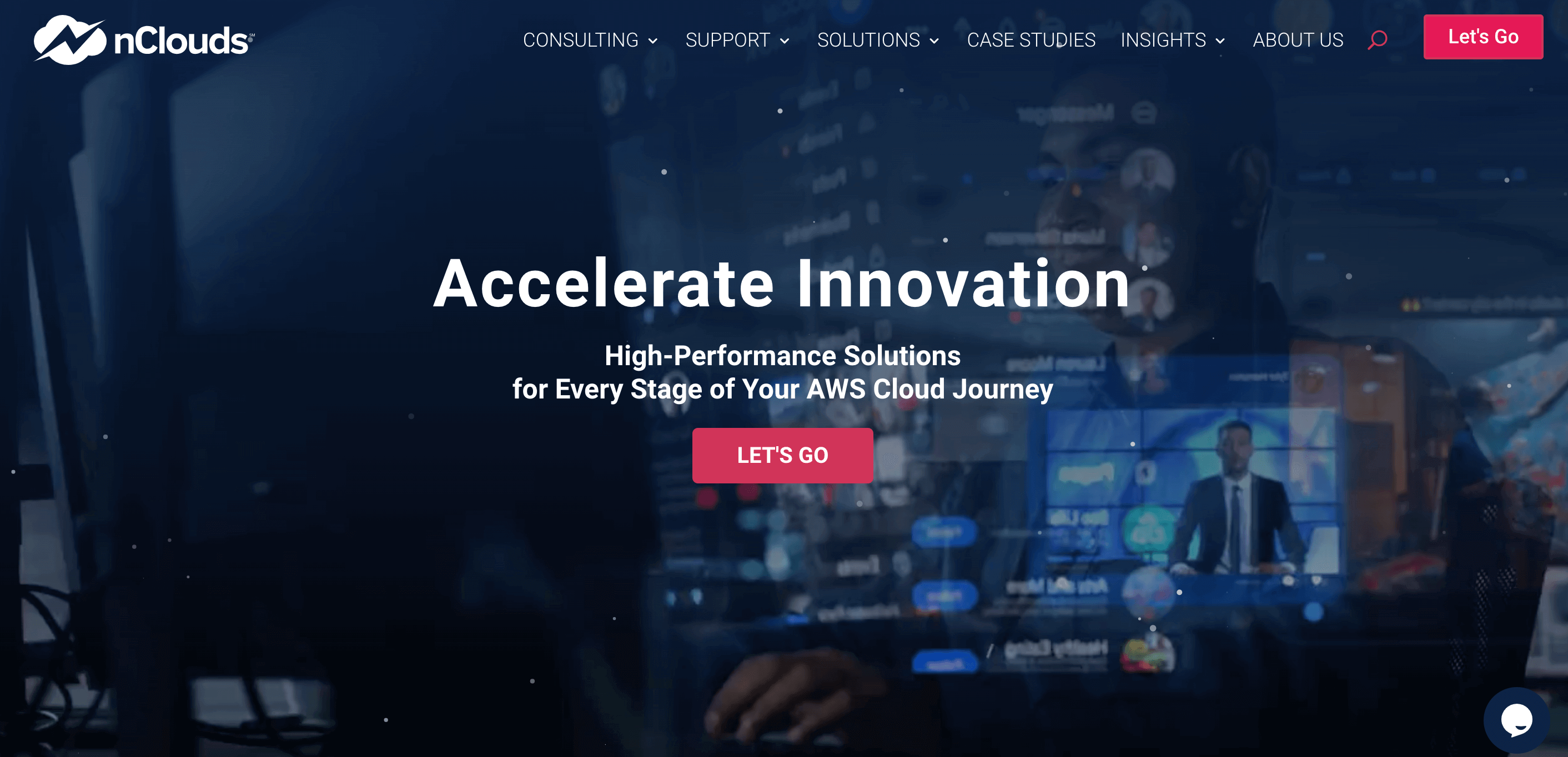 The DevOps experts at nClouds assist brands in building reliable, scalable, and sustainable systems for better and faster software delivery. Based on the three principles of automation, collaboration, and feedback, the company delivers comprehensive DevOps solutions, embracing the leading technologies and adopting modern tools and services. 
An AWS-certified company, nClouds comes with over 10 years of experience and has been delivering top-notch solutions across the DevOps toolchain and landscape with the highest level of excellence. 
Founding year:

2012

Headquarters:

San Francisco, California, US

Services and expertise:

DevOps consulting services, cloud optimization services, cloud migration services

Industries:

Energy, Media and Entertainment, Public Sector, Software Development, Data Management

Tech stack:

AWS, Azure, Kotlin, Android, Java, etc.

Team size:

200+ experts

Portfolio:

Violet Grey, TetraScience, Petstablished, The Pill Club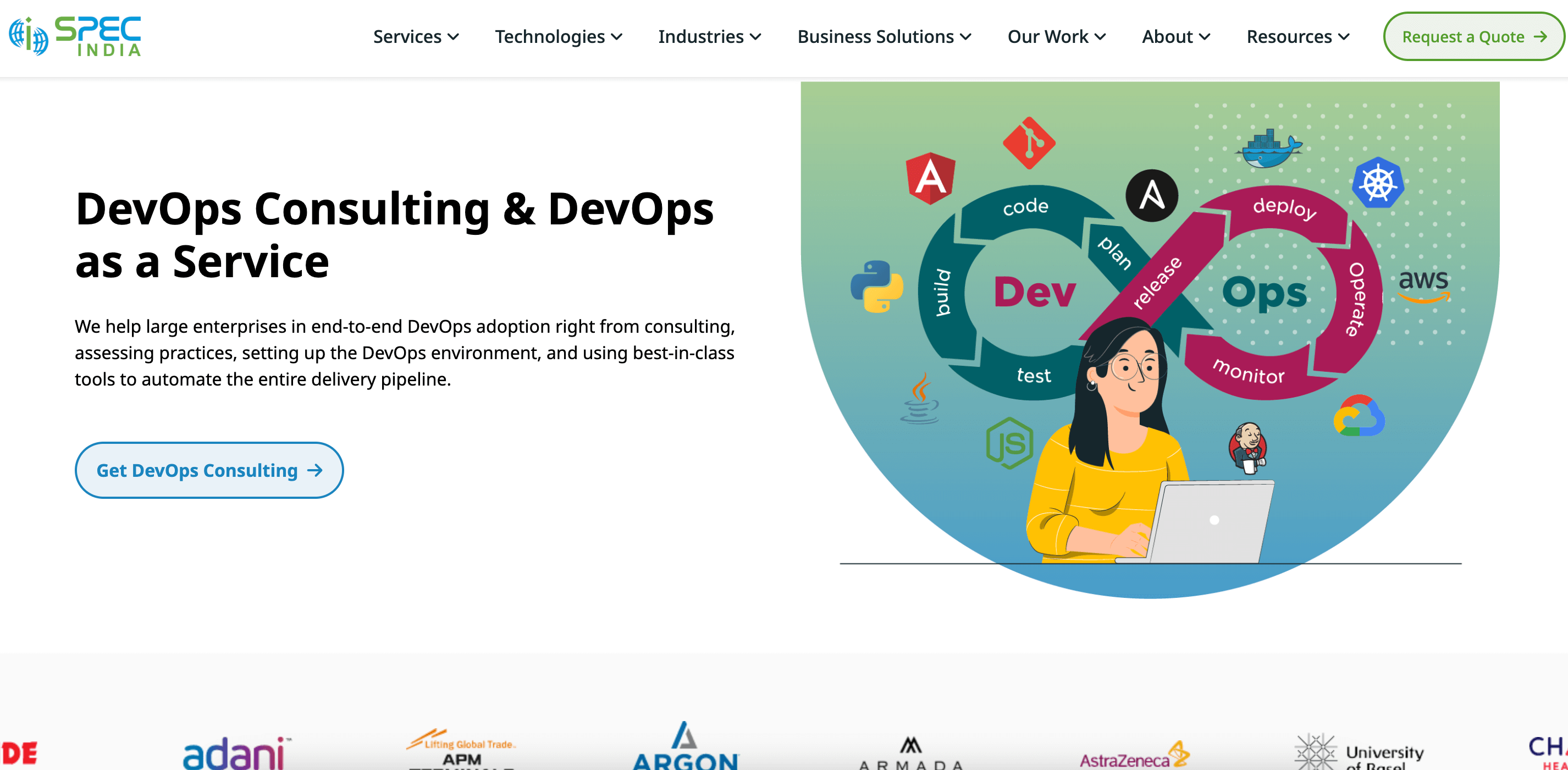 Providing DevOps consulting services for more than three decades, SPEC India has completed over 12 projects with a brilliant client retention rate of 96%. From the initial consultation to the final setting up of the DevOps environment, they provide the best-in-class tools to automate the whole delivery pipeline. 
The well-trained and expert team at SPEC India focuses on the 4Cs – Continuous Planning, Continuous Integration, Continuous Testing, and Continuous Deployment. Their specialists are well-versed in using a wide range of DevOps tools such as Jenkins, Selenium, Docker, Kubernetes, Puppet, and Ansible. 
Founding year:

1987

Headquarters:

Ahmedabad, Gujarat, India

Services and expertise:

DevOps consulting, application development services, web development, business intelligence services, etc. 

Industries:

Retail, Supply Chain and Logistics, Education, Healthcare, Media and Entertainment, etc. 

Tech stack:

Azure, AWS, Kotlin, Android, Flutter, Python, Java, Angular, etc. 

Team size:

500+ experts

Portfolio:

TATA, Trinity Law School, AstraZeneca, Gujarat Gas, Indian Oil
Conclusion
DevOps best practices are aimed at systematizing various procedures and forming a connection among diverse IT teams leading to proper analysis and successful release of software products. Used unanimously by small, medium, and large businesses, DevOps helps companies reduce expenses and enliven systems for smooth operations. 
Working with the best DevOps companies, brands not only streamline their workflows but also can automate mundane and repetitive tasks.
Do you own a DevOps company and wish to get featured in this list? Here's your chance to grab a spotlight. Email us with your request, and after a quick review, we'll decide whether it's a valuable addition.