Do you want to launch a robust mobile application, cloud system, or AI-based solution using Java?
Wise decision.  Almost half of all active developers (49%) worldwide prefer Java, while 3B devices, regardless of their platform (Windows, Mac OS, UNIX, Android), use Java for development.
Wrongly considered old-fashioned, this evergreen programming language is widely used in the most complex technological areas, including developing smart systems, scalable cloud applications, enterprise-level web apps, and IoT devices, not to mention video games and social media networks.
Do you need a helping hand to cover the development process and build unfailing and completely reliable software using Java? We're here to help. Go through this ultimate list of the top Java development companies to find and hire the best developers who'll create fast, secure, and cost-efficient Java apps and systems for your business. 
The Best Java Development Companies To Build High-Tech Software Solutions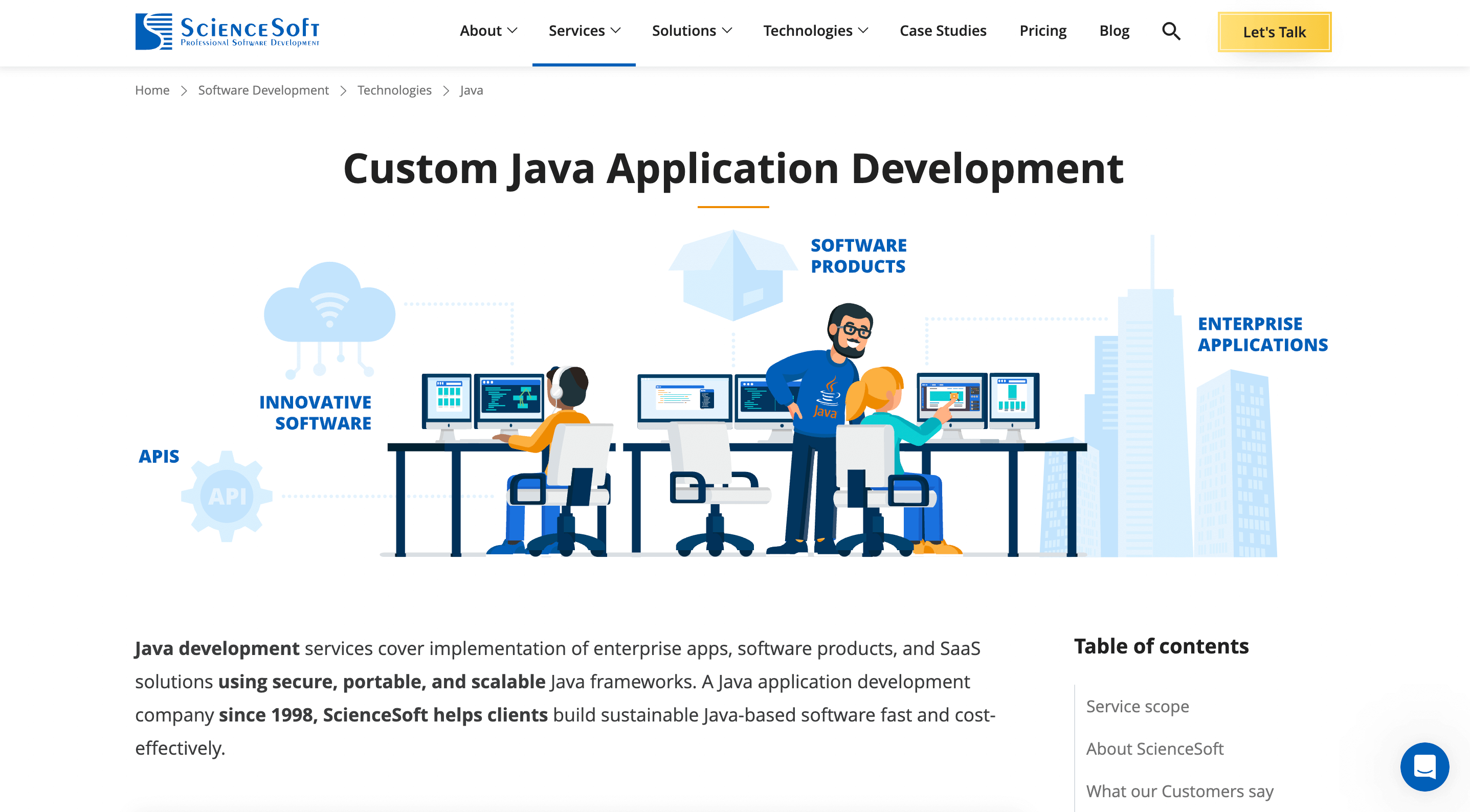 Being in Java development since 1998, ScienceSoft has successfully completed over 110 large-scale Java projects. ScienceSoft's Java developers deliver apps 1.5–2x faster due to Java coding best practices, strong Agile and DevOps skills, and a mature, ISO 9001-certified quality management system. 
If data security is one of your main priorities, ScienceSoft is the right partner for you. With 20 years of experience in cybersecurity and an ISO 27001 certification, the vendor ensures top-flight security of its apps. 
Services and expertise

: end-to-end Java application development, SaaS and enterprise software development, Java application support and evolution, legacy software modernization, big data, AI/ML, IoT, blockchain development, DevOps, cloud enablement, cybersecurity

Tech stack

: Spring Framework (Spring Boot, Spring Data, Spring Cloud, etc.), Vert.x, Hibernate, Java Persistence API (JPA), Apache Tomcat, JBoss WildFly, Jakarta EE / Java EE / J2EE), Rabbit MQ, Kafka, Spark, Azure, AWS, Google Cloud, Jenkins, Kubernetes

Industries

: Healthcare, BFSI, Manufacturing, Retail & Wholesale, eCommerce, Transportation & Logistics, Oil & Gas, and over 20 more

Team size

: 750+ experts

Portfolio

: Nestle, Deloitte, IBM, eBay, Walmart, NASA JPL, PerkinElmer, Leo Burnet, Lixar, Viber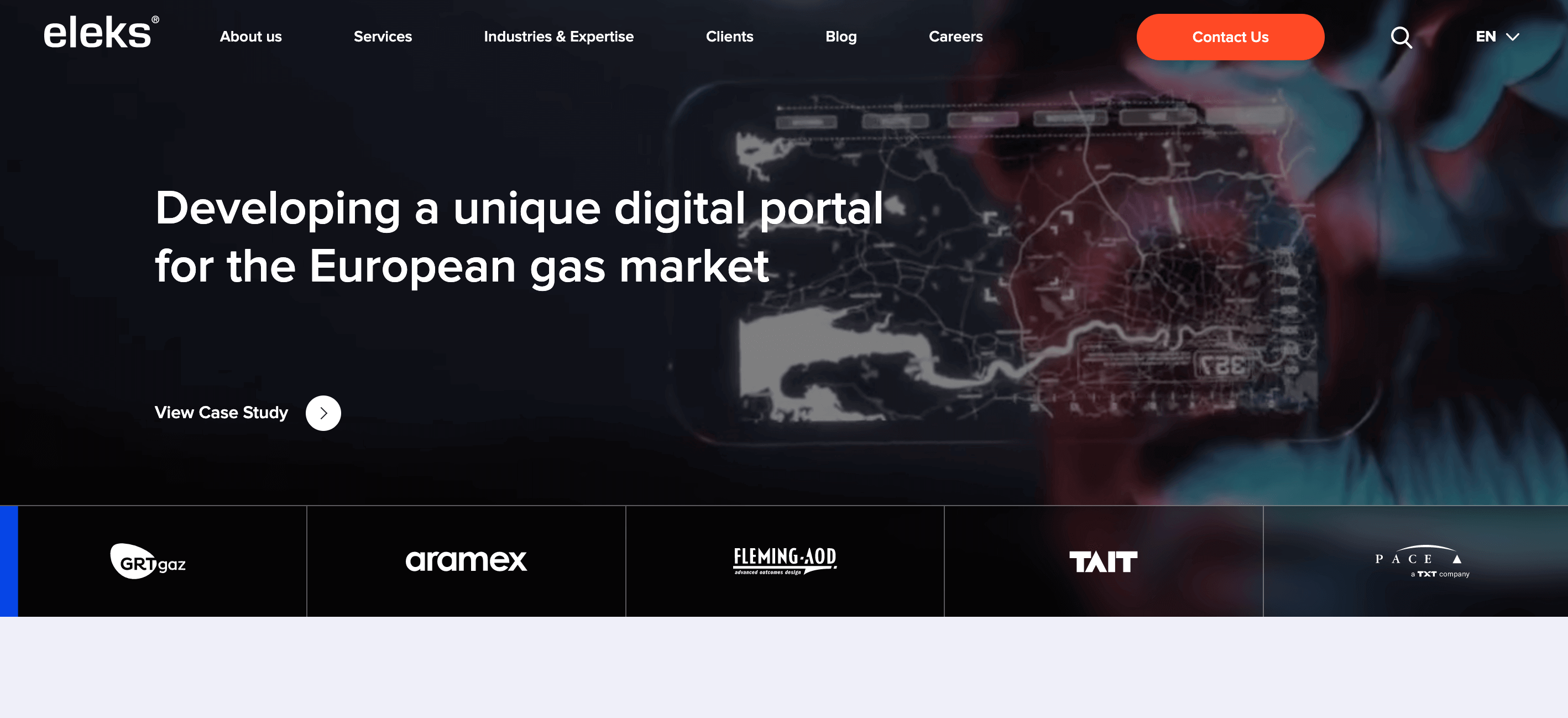 One of the world-leading Java development companies headquartered in Ukraine, Eleks is the home to the best Java developers with rich expertise in building market-leading solutions.
What makes ELEKS stand out in the market is that in addition to full-cycle custom software development, they provide impeccable consultancy services and suggest the most ingenious product designs. The company not only strives to meet clients' business requirements but also incorporates contemporary and agile technologies to strengthen their digital ecosystems. 
Services and expertise:

product and service design and development, cybersecurity, data strategy, sustainability consulting, cloud migration, PoC development, enterprise applications, application re-engineering, software audit, support, quality assurance, DevOps, IoT, Blockchain, UX Consulting, VR, AR, MR, digital enterprise and nearshore development

Tech stack:

Java, Python, JavaScript, React, .NET, C++, Kotlin, Swift, PHP, NodeJS, and many more

Industries:

Logistics, Retail, Automotive, Agriculture, Media & Entertainment, Government, Energy, Healthcare, Insurance, and Fintech

Team size:

2000+

Portfolio:

iPg, AVG, Oculus, Leo Software, Larta Institute, TechnipFMC, Accelerated Analytics, MapleLife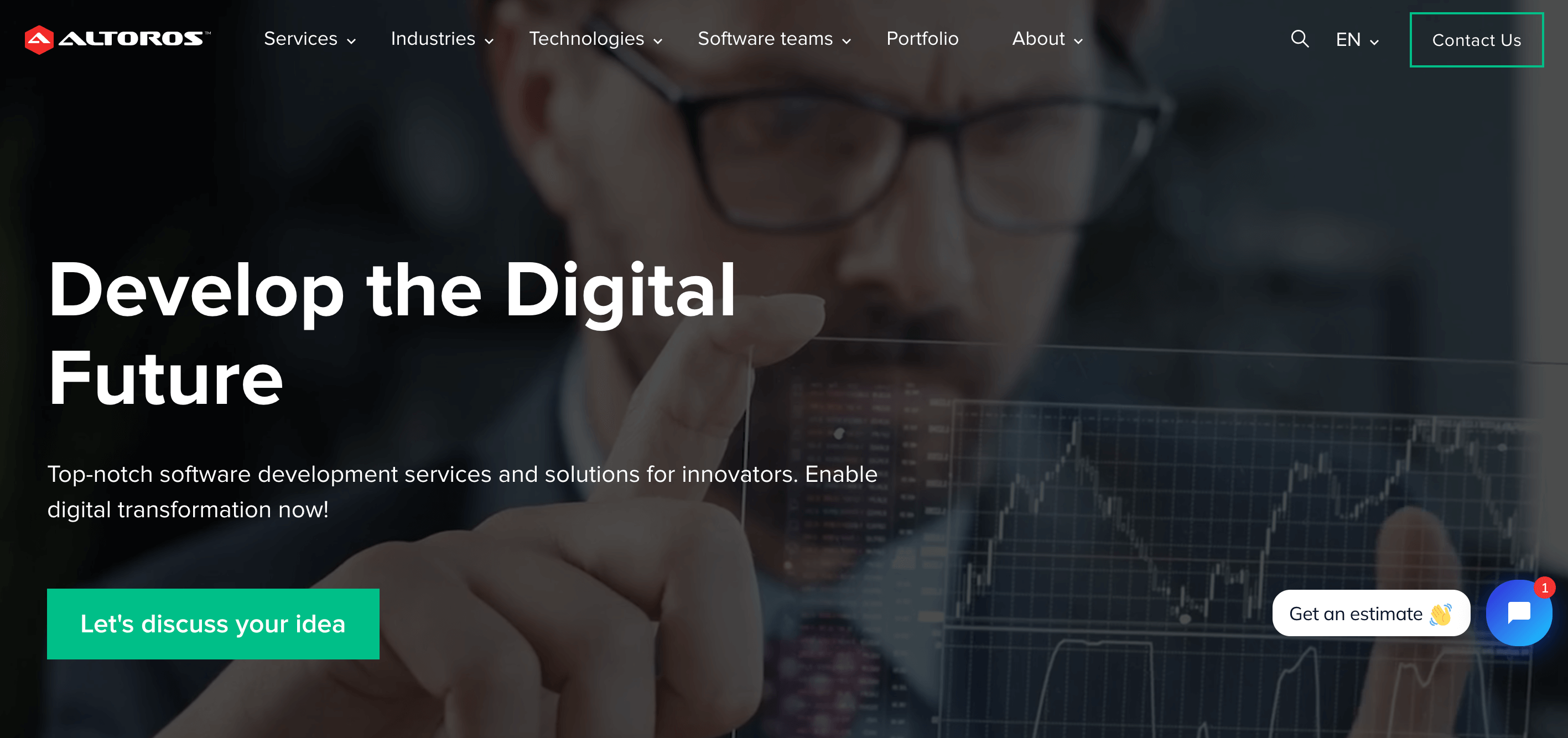 If you are willing to collaborate with some of the top Java developers equipped with rich experience covering 1420+ projects, then Altoros is your perfect partner. Having served more than 750 happy customers from 30 countries since its foundation in 2001, the company has gone a long way to building a dream team capable of solving any tech challenge and receiving hundreds of positive reviews.
The Altoros' professional software engineers and consultants have been partnering with businesses belonging to various domains, offering supreme code quality with top-notch communication.
Services and expertise: custom software e

ngineering services, mobile app development, dedicated teams, legacy software modernization, big data and data engineering, software testing, and QA

Tech stack: Java, .NET, C#, NodeJS, Ruby on Rails, Python, React, Angular, PWA, Xamarin, Flutter, AWS, etc.
Industries:

Automotive, eCommerce, Education, Finance and Banking, Healthcare, IoT, Manufacturing, Telecommunications, Sports, Logistics and Transportation, and Insurance

Team size:

350+

Portfolio:

Toyota, Hitachi, Couchbase, Siemens, Sony, Locus, Inventiv, MediSapiens, Mom Trusted, Revere, Trace Data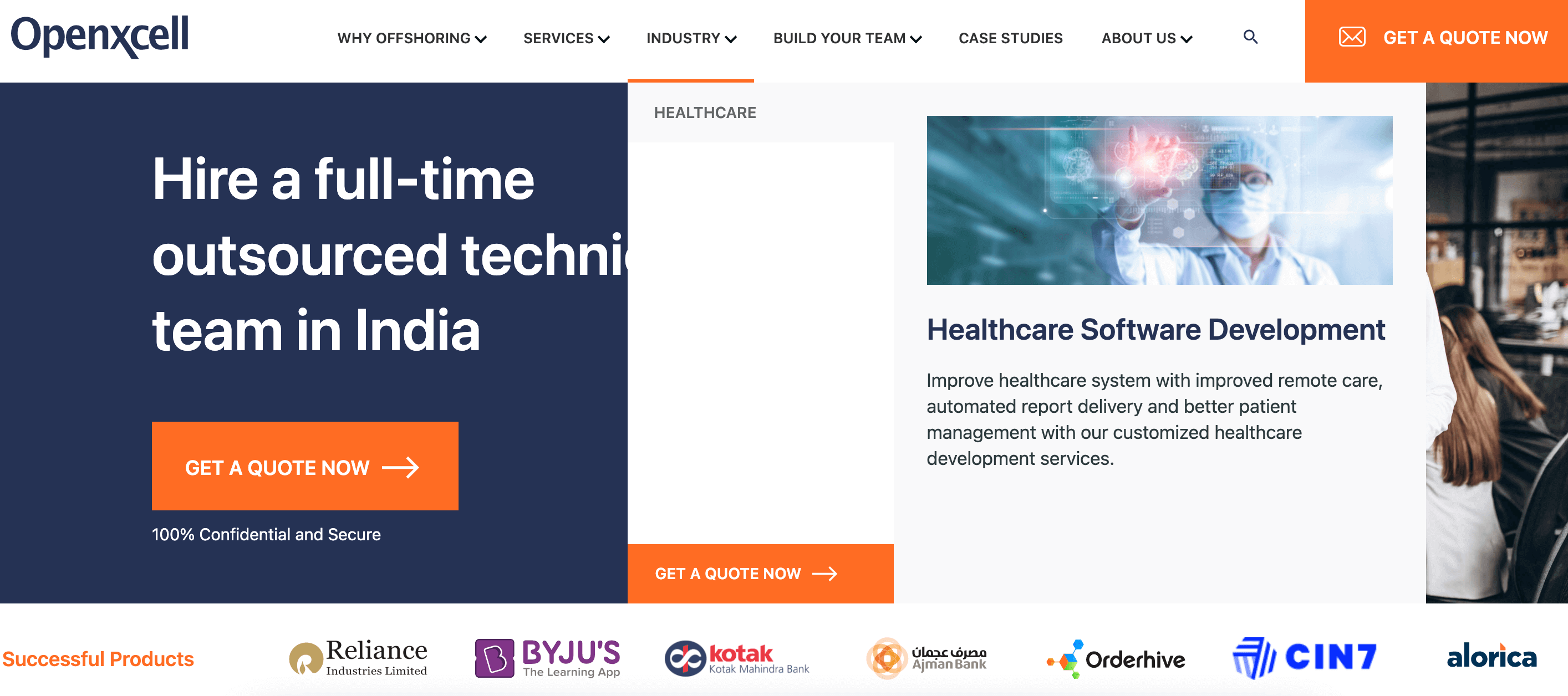 Following the values of transparency and authenticity, Openxcell has a reliable team of more than 500 software engineers and other technical staff. The company provides top Java developers for hire who have designed, developed, and deployed innumerable scalable and flawless solutions, fulfilling various business needs.
Highly recognized by Clutch, Openxcell is also an ISO 9001:2008 certified company and is notable for its quick product delivery, project ownership, transparent cost, and state-of-the-art facilities. 
Services and expertise: s

oftware development, blockchain, artificial intelligence and machine learning, DevOps, eCommerce, Q/A testing, mobile app development, UX/UI design, product engineering, web development

Tech stack:

Java, Python, Kotlin, JavaScript, PHP, C/C++, Android, iOS, .Net, WooCommerce, Shopify, Oracle, My SQL, No SQL, Microsoft SQL

Industries:

Media and Entertainment, Food and Lifestyle, Utility, Logistics, Hospitality, Education, Business, Finance, Technology, Healthcare, Wellness, eCommerce, Sports, Travel, Advertisement, and Marketing

Team size:

 500+

Portfolio:

Renault Nissan Mitsubishi, Johns Hopkins University, Byju's, Kotak Mahindra Bank, Orderhive, Cin 7, Ajman Bank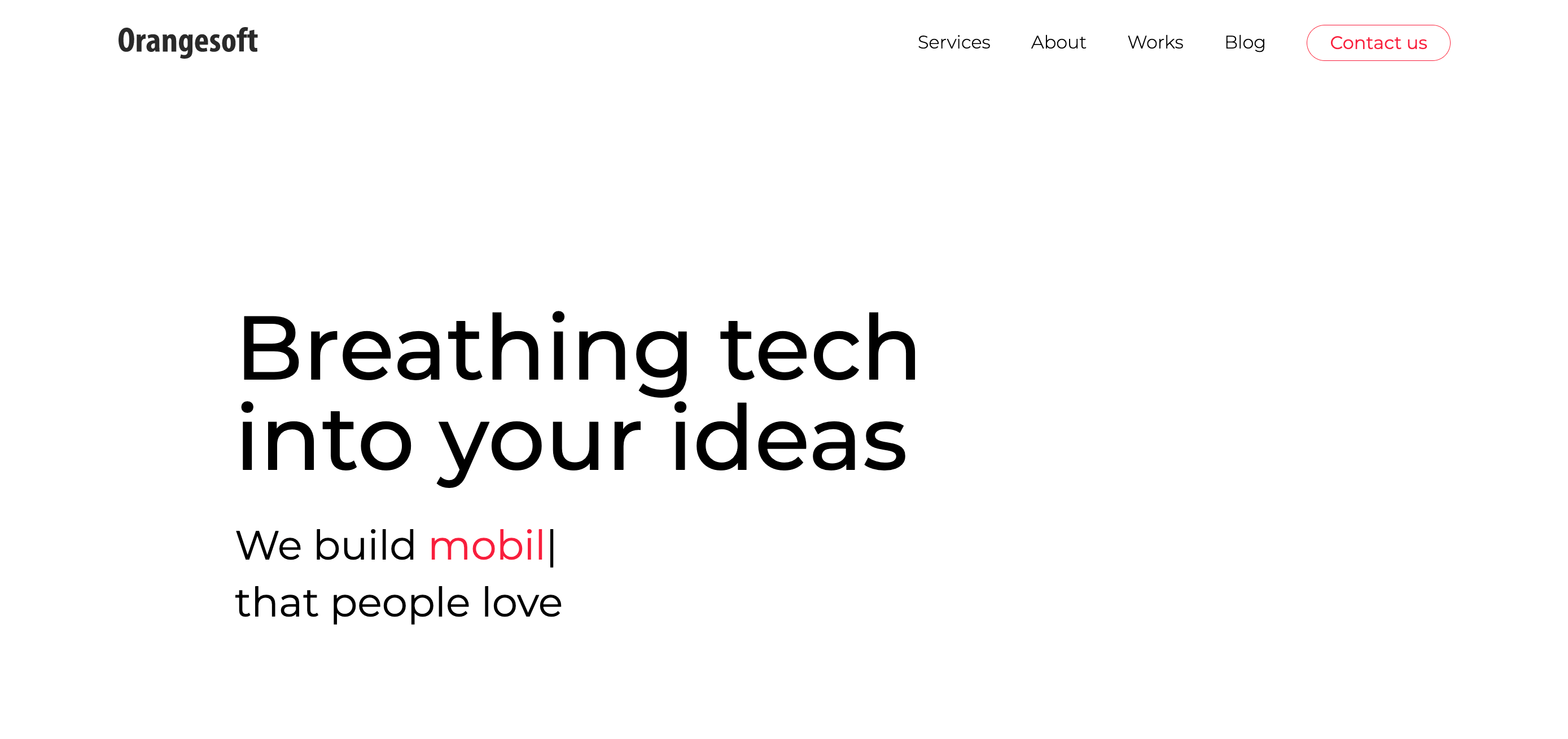 Established in early 2011, Orangesoft is a premier Java development company that has completed over 300 projects working with famous clients worldwide. The firm comes with a strong experience of more than 11 years and boasts a 5-star rating from Clutch.
So if you are looking for the best Java developers with extensive expertise and great customer reviews, Orangesoft is worthy of your consideration. Focusing on 3Qs – quality code, quality service, and quality applications, Orangesoft promises full transparency, quick results, and long-term partnerships. 
Services and expertise:

Android app development, tech consulting, web app development, quality assurance, UI/UX design, project management, iOS app development, MVP app development for startups

Tech stack:

Java, Python, Kotlin, JavaScript, PHP, C/C++, Android, iOS, .Net, WooCommerce, Shopify, Oracle, My SQL, No SQL, Microsoft SQL server

Industries:

Automobile, Entertainment, eCommerce, Social Networking, IoT, Finances, Health and Fitness, Enterprise

Team size:

90+

Portfolio:

Hamleys, IKEA, Philips, Adidas, Liquid Barcodes Knowledge Base, CoachNow, Warehouse+, MerryKitchen, Asportuguesas, Voicelator, Ghost Hunt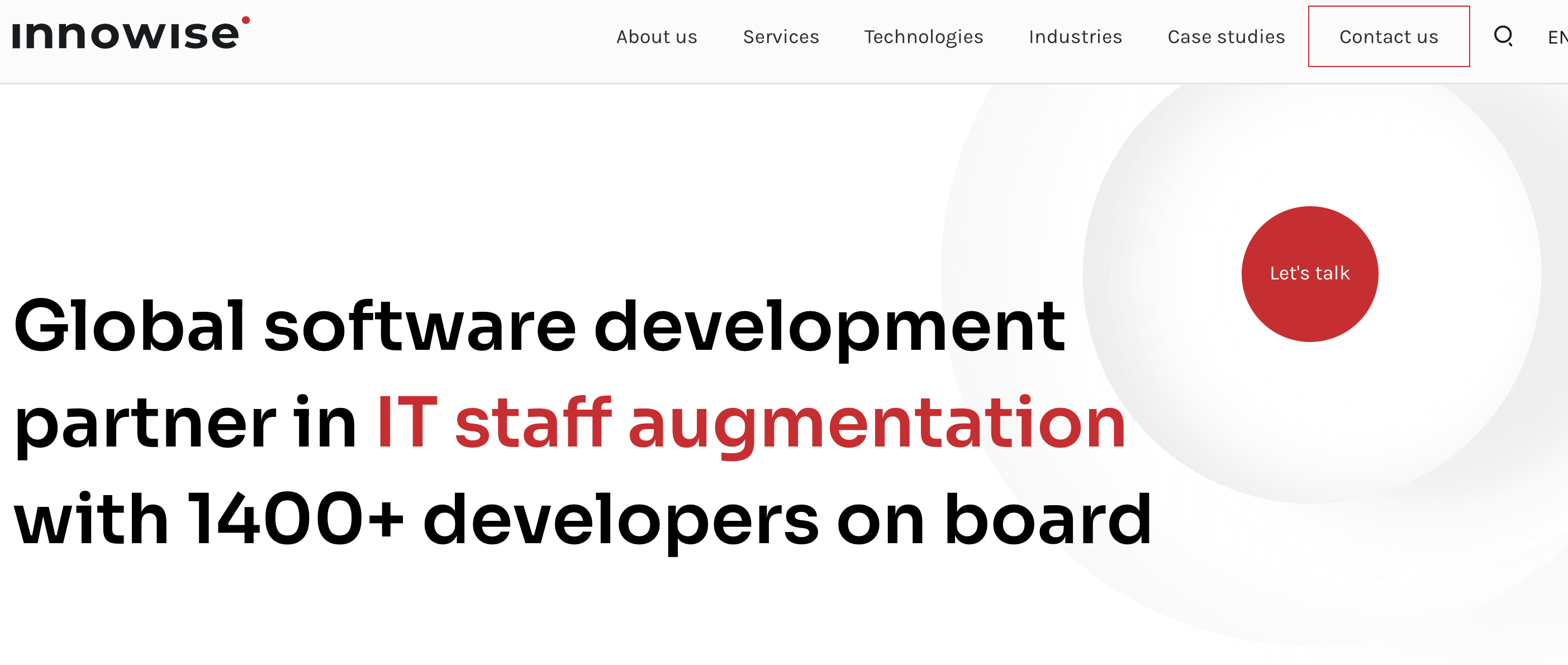 Providing exceptional Java software development services, Innowise is a well-known name in the tech industry recognized for its smart solutions using the latest technologies. Founded in 2007, it has 16+ years of experience working in over 40 business domains.
While the company's vision is to develop the world technologically, its mission lies in developing quality software and building meaningful relationships with its clients. Their team promotes flexibility and openness, and the 3 challenges it seeks to solve include cost reduction, digital transformation, and IT expertise gap. 
Services and expertise:

web development, mobile development, custom software development, business analysis, cyber security, 3D design, software testing, blockchain solutions such as NFTs and metaverses, IoT, business intelligence, machine learning, AR and VR, data engineering, etc.

Tech stack:

Java, React, Angular, Vue, PHP, Rust, Golang, Cobol, iOS, Android, Flutter, Swift, Kotlin, AWS, Azure, Salesforce, etc.

Industries:

Healthcare and Life Sciences, eCommerce and Retail, eLearning and Education, Automotive, Logistics and Transportation, Media and Entertainment, Enterprise and Manufacturing, Finance, Banking and Insurance, Hi-tech and Innovations, Construction and Real Estate, Art and Culture, Advertising and Marketing, etc. 

Team size:

 1500+

Portfolio:

Naip, Trumpet, NFT Pro, Topcon Agriculture, Switchbackr Worldwide, Inc., OneStop Pro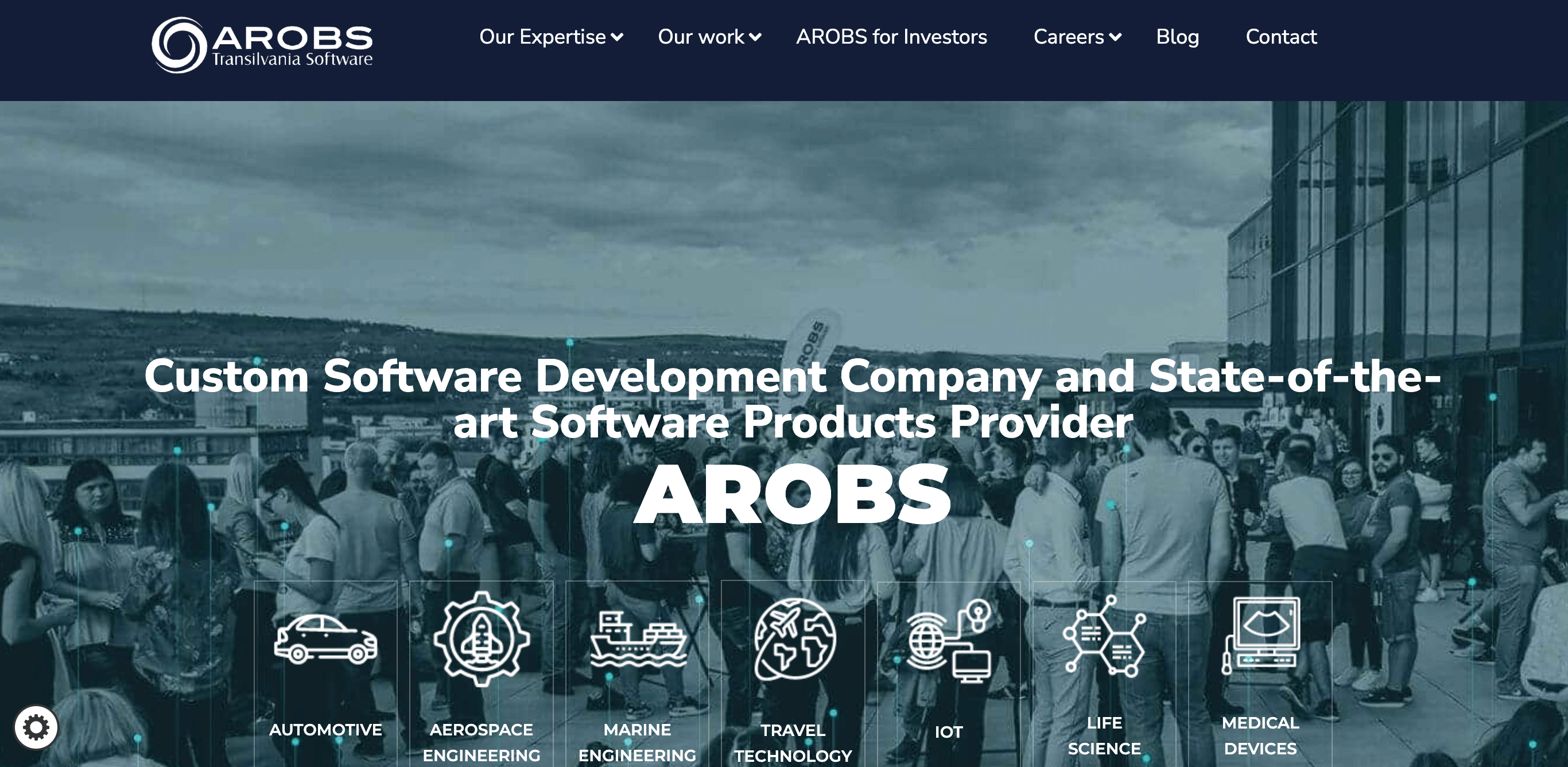 Arobs is an expert Java software development company producing state-of-the-art software products. Established in 1998 in Romania, this long-running firm already has 9 international branches and extensive expertise of over 25 years in the IT sphere.
Acknowledged by Deloitte for its outstanding service and contribution to market success, Arobs aims to build a sustainable future with fast and super-customized solutions. A trusted software development partner, Arobs rightfully owns a place in the Bucharest Stock Exchange as the largest technology company. 
Services and expertise: s

oftware services, payment solutions, fleet management, business optimization, cybersecurity, cloud solutions, artificial intelligence and machine learning, intelligent automation, innovative projects

Tech stack: Java,

iOS, Android, blockchain, reactive programming, JavaScript, Java 8, Oracle 12, Typescript, Flexbox

Industries:

Automotive, Fintech, Biomedical, Life Science, Travel and Technology, Enterprise Solutions, Aerospace Engineering, Retail and Office Automation, IT Outsourcing, Marine Engineering 

Team size:

1000+ 

Portfolio:

European Space Agency, JobCloud, GIATA, Travelport Hotelzon, etc.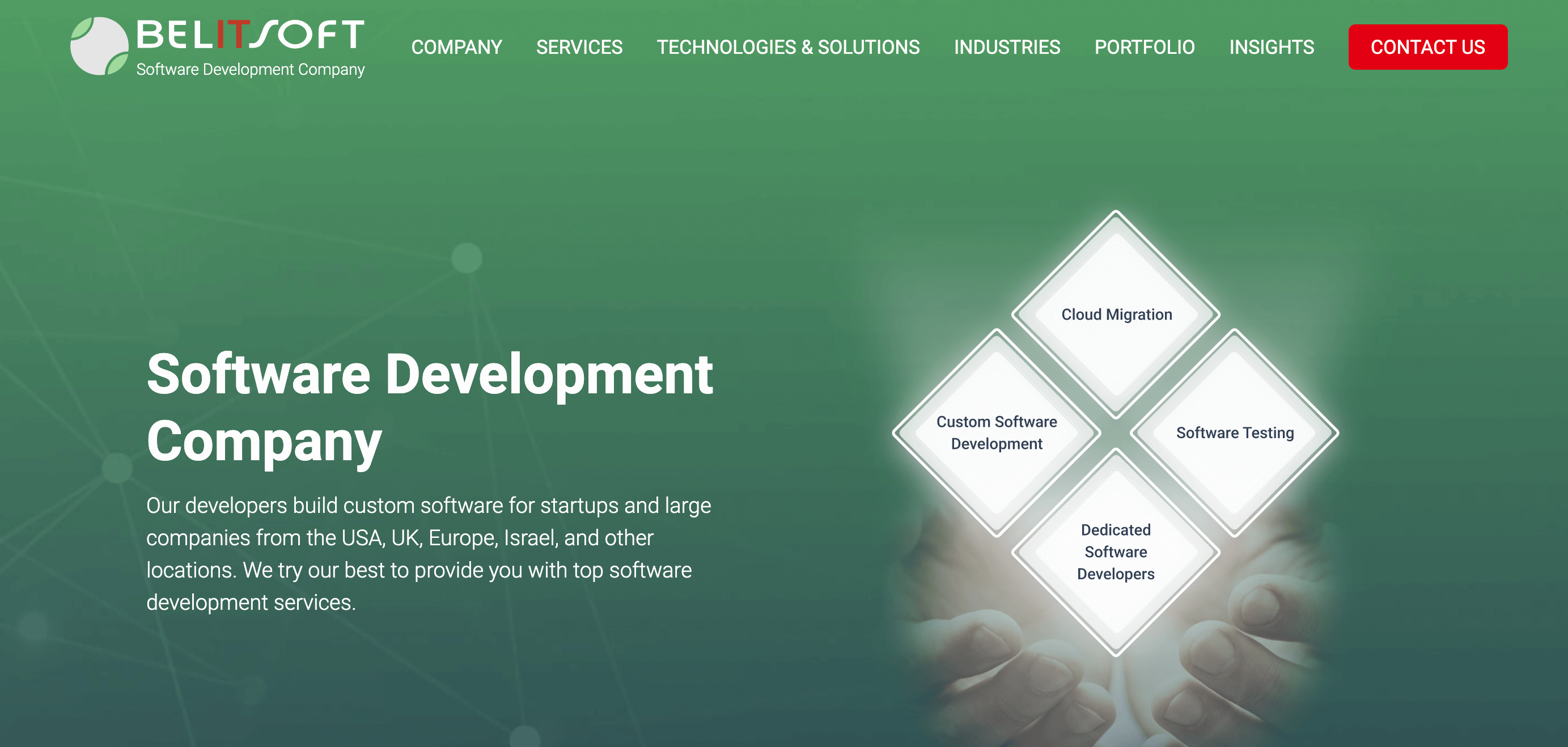 A client-oriented agency motivated to provide the best-in-class Java application development services, Belitsoft has completed more than 200 successful projects for small companies and medium-sized enterprises. Founded by Alexander Beresnyakov and Vladimir Tursin, the company has over 1000 customers and over 5 million users worldwide.
From the United States to the United Kingdom, Switzerland to France, it has 11 official branches worldwide and is trusted by companies like Honeywell, Insly, Crimson, and IDT Corporation. 
Services and expertise:

custom software development, web development, mobile development, maintenance and support, consulting, software modernization, cloud migration, Angular migration, application modernization, software testing, CRM development, SAAS development, IoT

Tech stack:

Java, .NET, PHP, Python, iOS, Android, ReactJS, etc.

Industries:

eLearning, Logistics and Transportation, Finance, Telecommunications, eCommerce, Sports, IoT, Music, Travel and Hospitality, Digital Marketing, Agriculture, Media and Entertainment, Automotive, Government, Music, Manufacturing, Voice

Team size:

400+

Portfolio:

Parrot, Siemens, ticken, Crimson, LMS365, Hathway Tech, Howcast, Apollo Matrix, Elearning Force International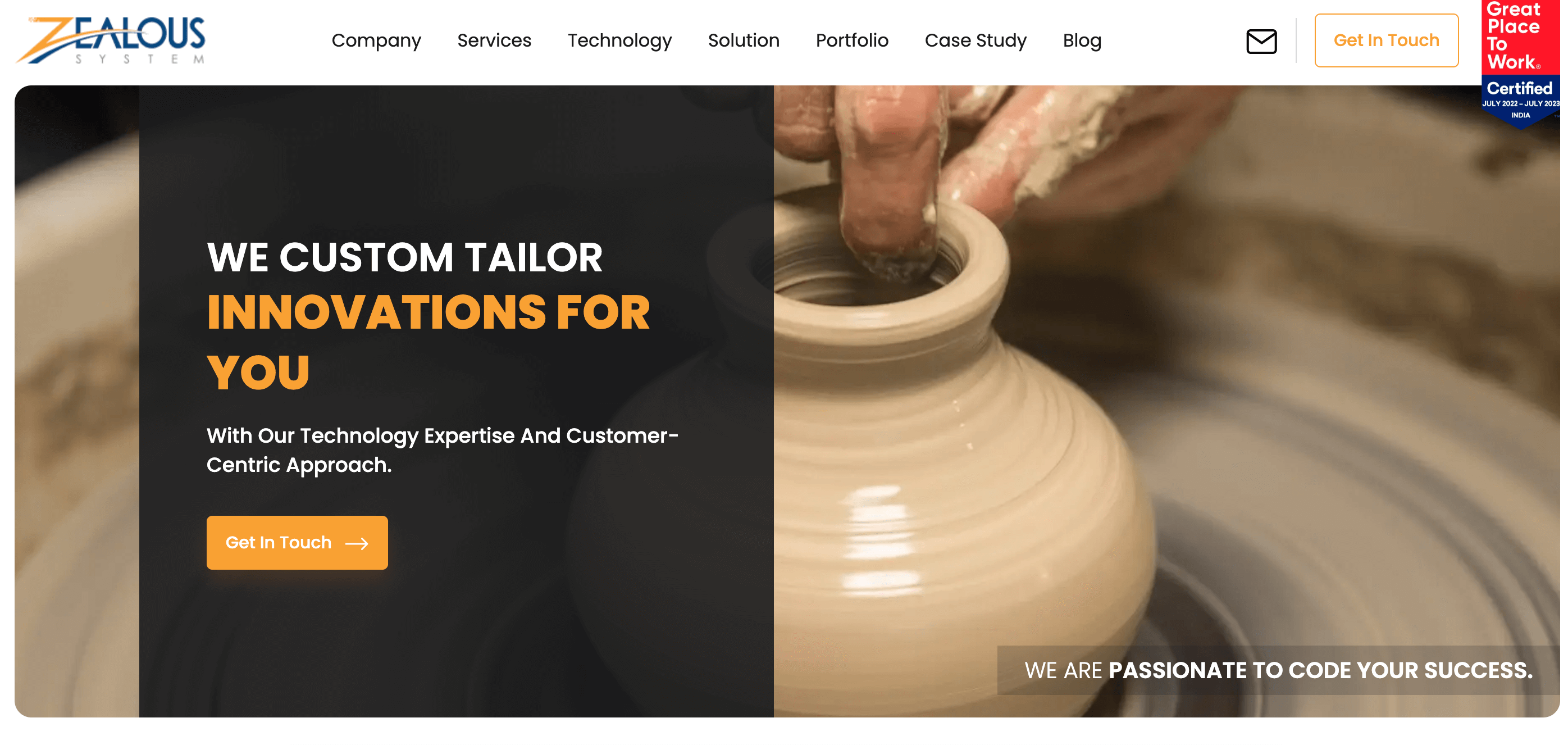 Passionate to code success for all its clients, Zealous System brings a customer-focused approach with a rich portfolio and a proven track record of working with top companies for over a decade. With offices in the USA, Canada, Namibia, India, Australia, and New Zealand and the hub of experienced Java coders, the company delivers value-driven solutions using cutting-edge technologies.
Zealous System's core value is shaped by constant development, the right application of logic and structure, and limitless creativity. 
Services and expertise: m

obile app development, software development, eCommerce development, web development, quality assurance, cross-platform app development, trending technologies, product engineering services, enterprise mobility, ERP solutions, UX design and strategy

Tech stack:

Java,

MVC.Net, PHP, Joomla, Drupal, Magento, Codeigniter, AngularJS, NodeJS, React, Android, iOS, Kotlin, Xamarin, Flutter

Industries:

Health and Fitness, Real Estate and Property, Social Media, Media and Entertainment, Education and eLearning, Travel and Hospitality, eCommerce Retail and B2B, On-demand solutions

Team size:

200+

Portfolio:

Piramal, BlueMotions, ImpulseDecisions, Jetweb, Tidal Marketing, OLSPS Analytics, Achievement Awards Group, Civica, Kerson Wallaw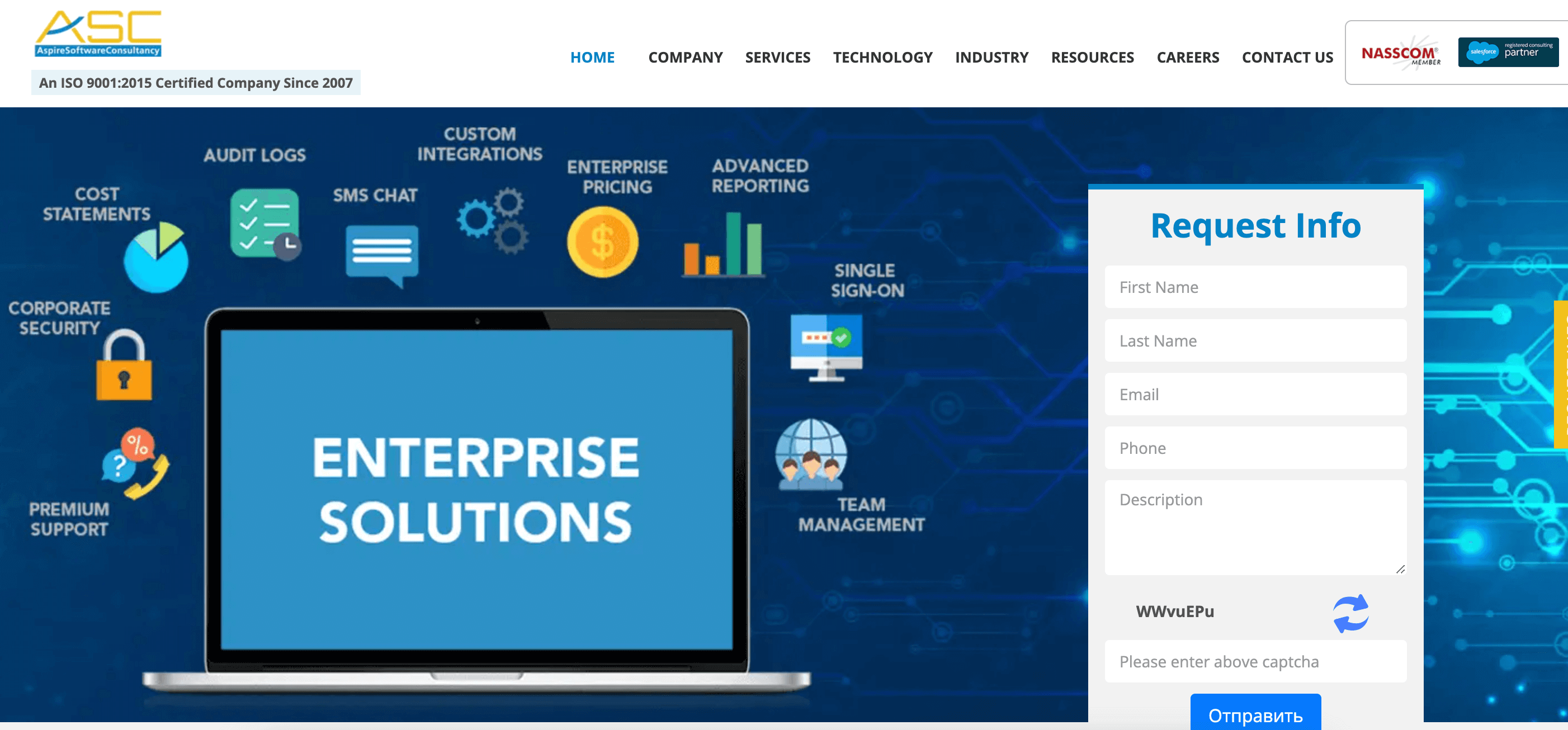 An ISO 9001:2015 certified company, Aspire Software Consultancy is spread across 12 countries, providing exceptional software development and outsourcing services to its clients. It offers end-to-end solutions from visualizing your project to designing the prototypes to the actual launch of products, followed by top-quality development and maintenance.
If you are looking to work with knowledgeable Java software developers who respect deadlines, provide on-time delivery, and offer professional yet dedicated support throughout your technological journey, then Aspire Software Consultancy is a great team to work with. 
Services and expertise: p

roduct engineering, desktop application development, IT consultation, offshore software development, technical support services, web development, enterprise solution development, eCommerce development, software development outsourcing

Tech stack: Java,

SQL server, Razor Syntax, React, JavaScript, HTML, CSS, .NET Core, KAFKA

Industries:

Enterprise Resource Planning, Healthcare, Customer Relationship Management, Finance, Media and Entertainment, eLearning and Education, Logistics, Travel and Hospitality, Marketing and Campaign Management 

Team size:

200+

Portfolio:

ByBox, UMix, HRMS, Toby, Dentnet, Renovo Financial, Lomado, Brokerengine, Veritas eDiscovery, Kodiak Networks, Digi Bee, The Quick Cash Club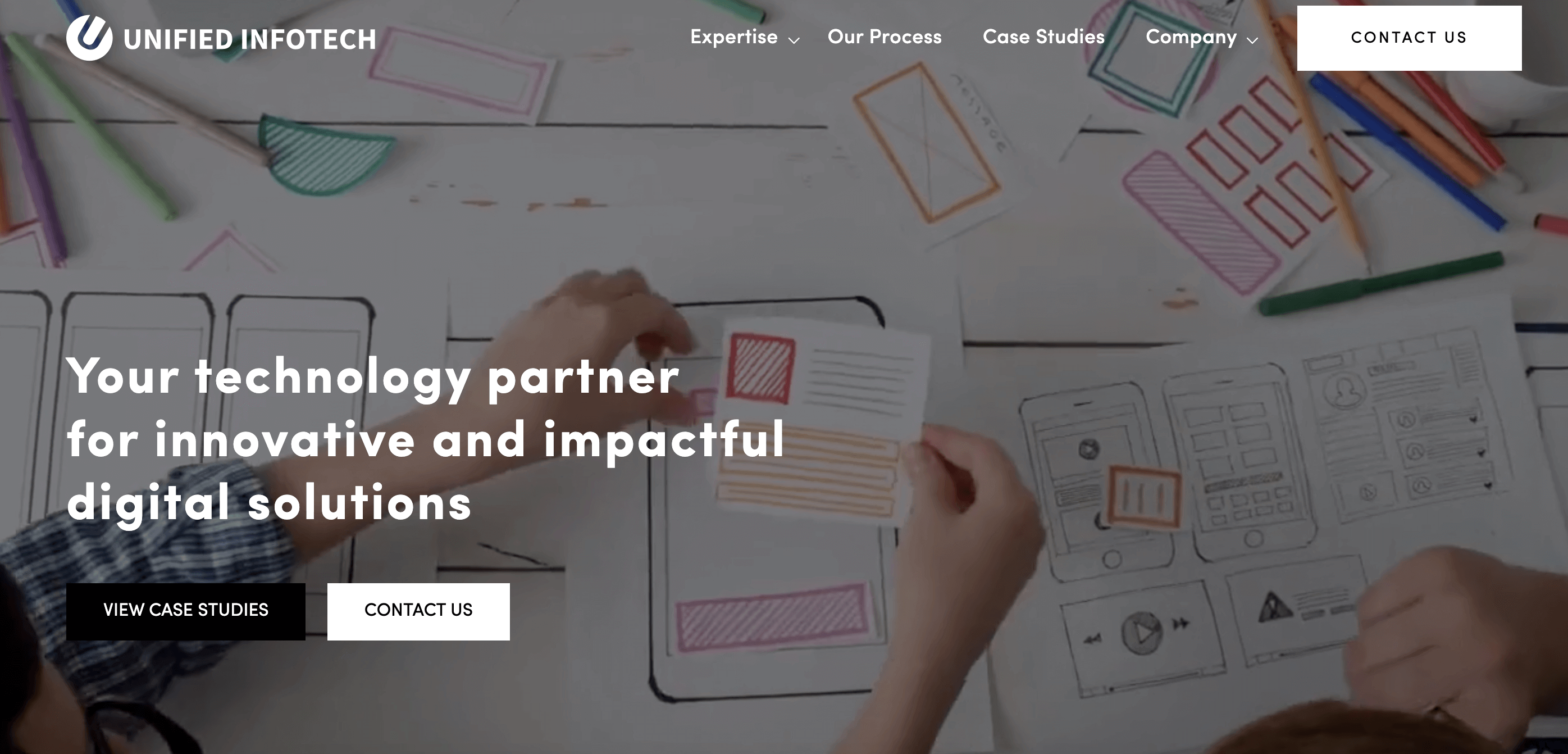 Applying the latest technology to create impactful and innovative software solutions, Unified Technologies has been recognized by Deloitte as one of the 50 fastest-growing tech companies.
Their expert Java team follows a 6-step framework where it discovers the client's objectives, creates the blueprint planning, designs the app layouts, develops the product, manually tests each sprint, and finally, conducts security audits and regular maintenance checks.
So, if you are looking to hire Java developers with a well-established agile approach and game-changing product ideas, Unified Infotech is the right company that can accelerate your business. 
Services and expertise:

consulting, custom software development, mobile app development, web development, web design, UX UI design, blockchain development, eCommerce solutions

Tech stack: Java,

Angular, NodeJS, PHP, Magento, Laravel, Ruby on Rails, Python, Vue, WordPress, etc.

Industries:

Media, Pharmaceutical, Technology, Banking, eLearning, Artificial Intelligence, eCommerce, Architecture, Skincare, etc.

Team size:

200+

Portfolio:

Citibank, NBCUniversal, United Nations, JohnsonLambert, CQfluency, McGraw Hill, Colorcon
Frequently Asked Questions:
Why should I hire a Java development company?
Hiring an experienced Java development company helps businesses to create personalized, reliable, and flexible solutions at budget-friendly expenses. In addition, organizations can get the best development services delivered adhering to the industry's best practices. 
How to choose professional Java developers?
Before hiring the best Java developers, review their portfolios and customer reviews. Determine how they will handle your company's sensitive information and learn more about their solutions and how they approach business problems. 
Is Java still relevant in today's technological world?
Java has been the go-to programming language during the initial days of software engineering. However, even in 2023, it stands relevant and popular thanks to its reliability, flexibility, and robustness. From small to medium-sized startups to established companies, businesses of all types and sizes use Java even today to build high-performing, enterprise-level applications. 
Conclusion
Navigating Java can be daunting at times. But with this list, you can quickly get in touch with the top companies providing Java software development services and start your innovative journey.
From running critical systems to assisting you in application development, trusted Java development companies will understand your business needs, learn about your goals and objectives and suggest scalable, reliable, and robust solutions. So, choose the one that fits your requirements and get ready to take your business to the next level. 
If you want to feature your Java development company in this list, drop us a line with details. After a thorough review, we'll decide whether it's a valuable addition.