Like any other institution that means to make a substantial impact on society, nonprofit organizations should consider marketing an essential aspect of their overall strategy.
Digital marketing is the perfect tool for nonprofits to amplify their messages, engage with their supporters, build effective relationships, and even attract funding for their causes. However, it can be challenging for a nonprofit to navigate the digital space effectively since that's not their area of expertise.
To leverage online platforms and social media to create a lasting impact, these organizations need to consider working with top marketing agencies for nonprofits. The advantages of working with a professional firm include the following:
They possess great expertise in the craft. They can create compelling digital marketing strategies that effectively convey your brand message and mission.

They provide fresh perspectives and approaches as they are always up-to-date with strategies, digital trends, and technologies or avenues.

They come with valuable resources and scalability of marketing efforts.
So, what are the best marketing agencies for nonprofit organizations you can work with for better results? We'll explore some of the leading companies that will help you achieve your strategic goals and make a real difference.
The Best Marketing Agencies For Nonprofit Organizations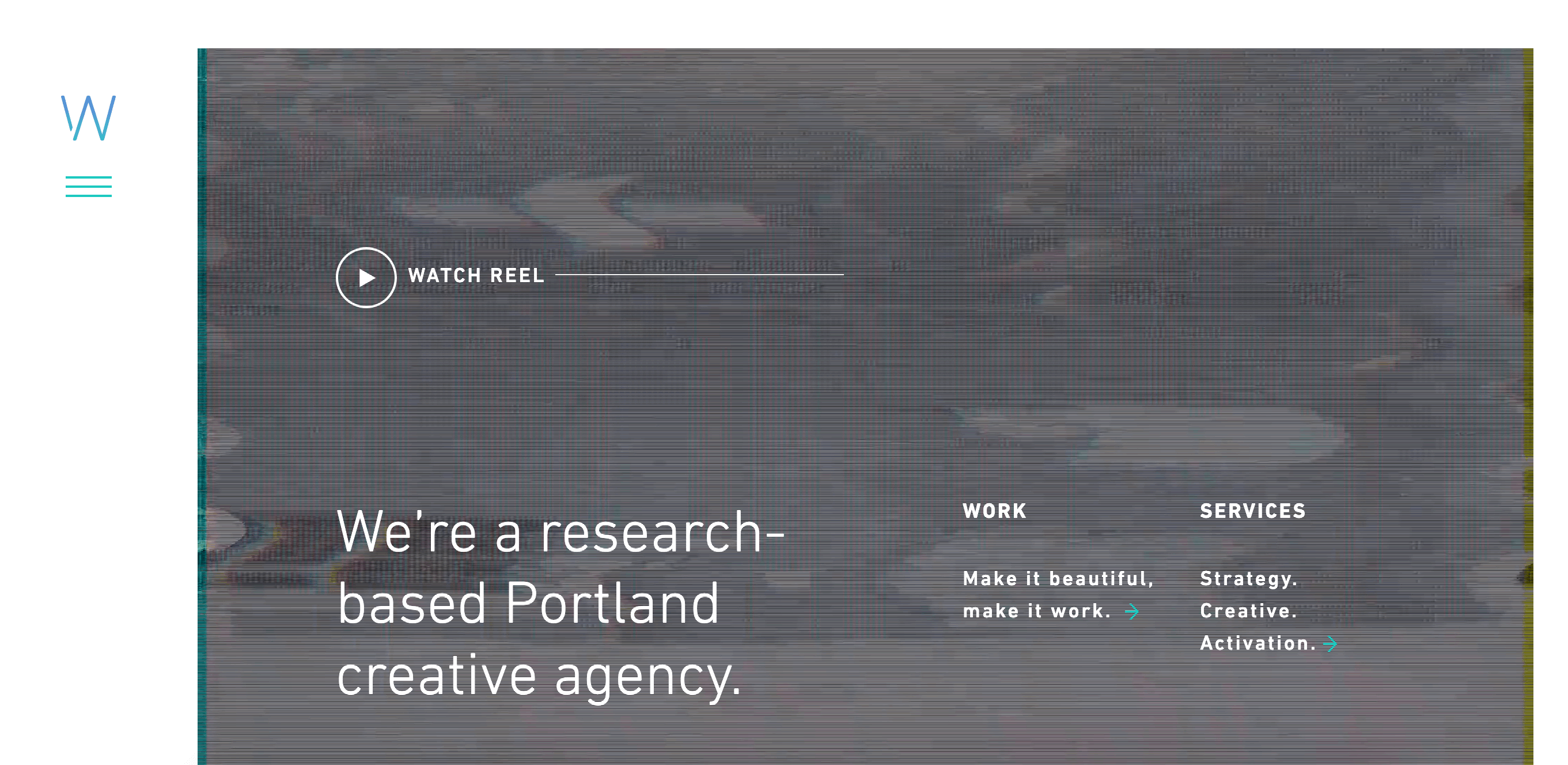 Watson Creative Agency knows perfectly that digital marketing needs lots of research to optimize growth strategies, identify target audiences, and understand market trends. This top nonprofit marketing agency will dig down to build up a fantastic organization's online presence and amplify your impact. 
Their thorough research, compelling storytelling, creative design, and clever messaging structure help clients reach their target audience on deeper levels. With an arsenal of innovative research tools, their team of strategists enables you to seize opportunities and pave the way for marketing breakthroughs like never before.
Armed with Watson's exclusive knowledge, you can masterfully strategize your brand's values and communication tactics, thus creating a sense of community. The company embraces collaboration and transparency and forges strong client partnerships, fostering long-term relations and a shared vision for success.
Services and expertise:

nonprofit marketing, branding, design, content creation, digital marketing, market research, event marketing

Location:

Portland, Oregon

Industries they serve:

Non-profit, Sports, Destinations & Attractions, Arts & Entertainment, Athletes & Celebrities, Legal, Banking & Finance, Architecture & Construction, Public Service, Health & Wellness, Footwear & Apparel, Urban Development, Software & Technology, Consumer Goods, Spirits, Beer & Wine

Portfolio:

Autism Society of America, Craft 3, YMCA, Oregon Wine, Oregon State University, Oregon Zoo, Oregon Ballet Theatre, Oregon Cultural Trust, Oregon Symphony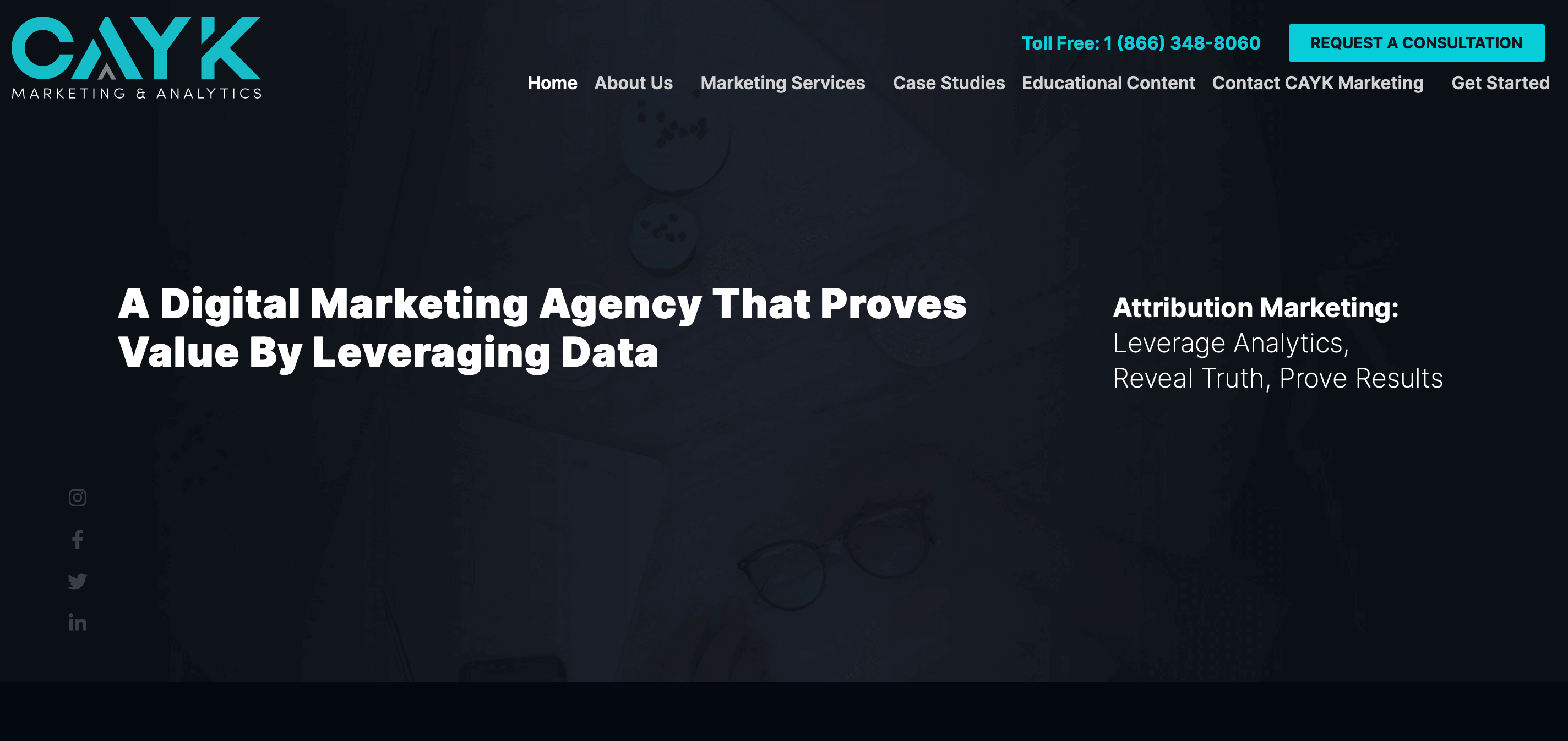 If your primary nonprofit organization's goal is lead generation, CAYK Marketing Agency is what you need. This agency understands all ins and outs of the digital landscape and will guide you on how your non-profit can leverage the online space and reach more target audiences.
CAYK experts will help you with your search optimization, content creation and marketing, paid advertising, and other data-driven activities aimed at enhancing your value and growing your organization.
Services and expertise:

nonprofit marketing, advertising, branding, content marketing, digital strategy, market research, marketing strategy, SEO

Location:

Calgary, Canada

Industries they serve:

Non-profit, Advertising & Marketing, Business Services, Education, Financial Services, Government, Hospitality & Leisure.

Portfolio:

Christ The Redeemer Catholic Schools of Alberta, 1st Quality Safety Consulting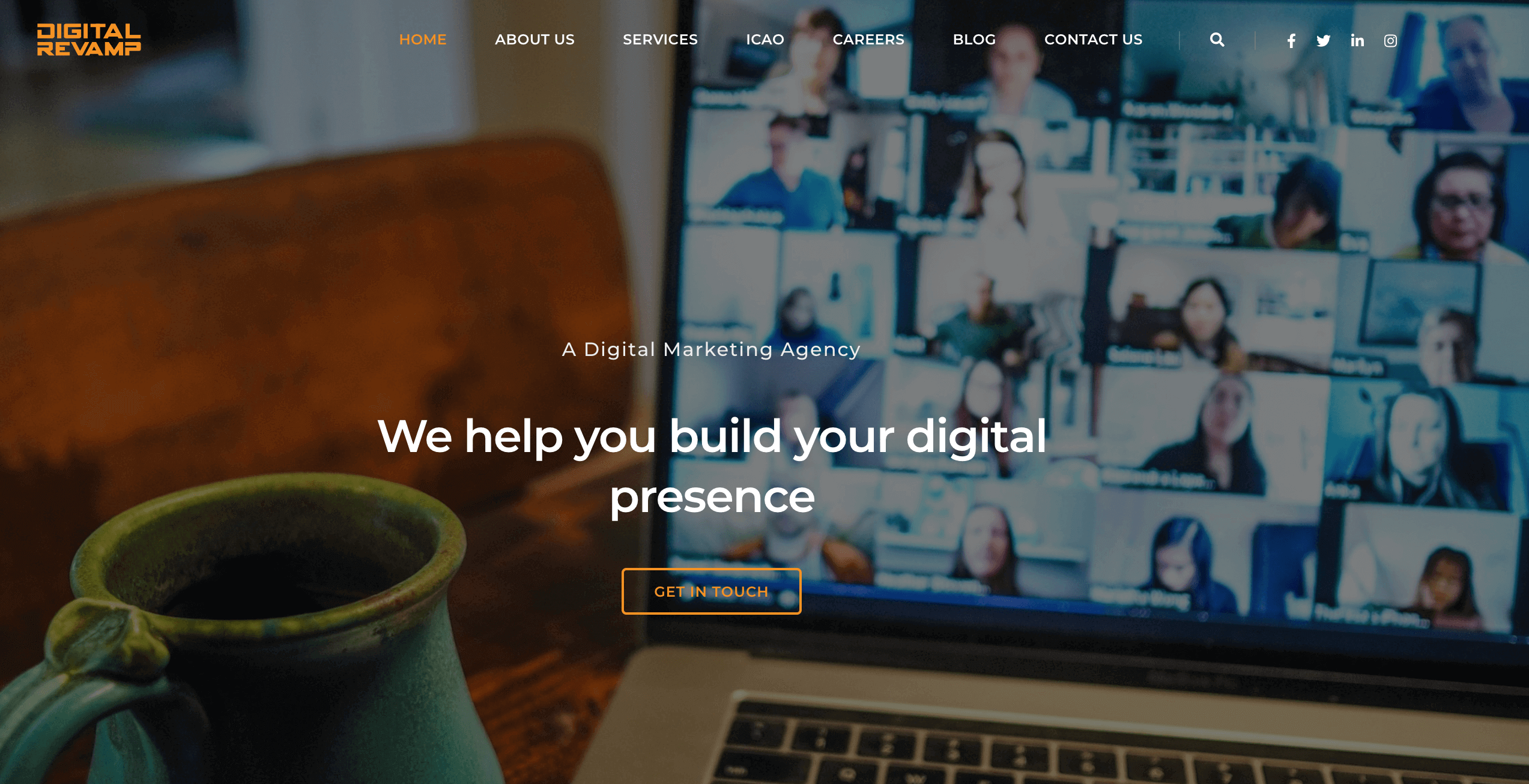 Digital Revamp has more than eight years of experience in digital marketing serving organizations, businesses, and nonprofits. They focus on building a client's brand as a thought leader in its industry or cause.
Their thorough discovery process allows them to capture an organization's voice and create content that resonates with the target audience. In addition, Digital Revamp's top-notch experts provide training and coaching services to help your team become skillful marketers and produce winning promotional strategies.
Services and expertise:

nonprofit marketing, social media marketing, digital strategy, content marketing, public relations, SEO, marketing training, advertising

Location

: Arlington, VA, United States

Industries they serve:

Non-profit, Government, Business Services, Advertising & Marketing, Information Technology, Education

Portfolio:

Committee (ADC), World Bank, Department of Defense, PlastiLab, SHRM, Tantus Tech, Develop Intelligence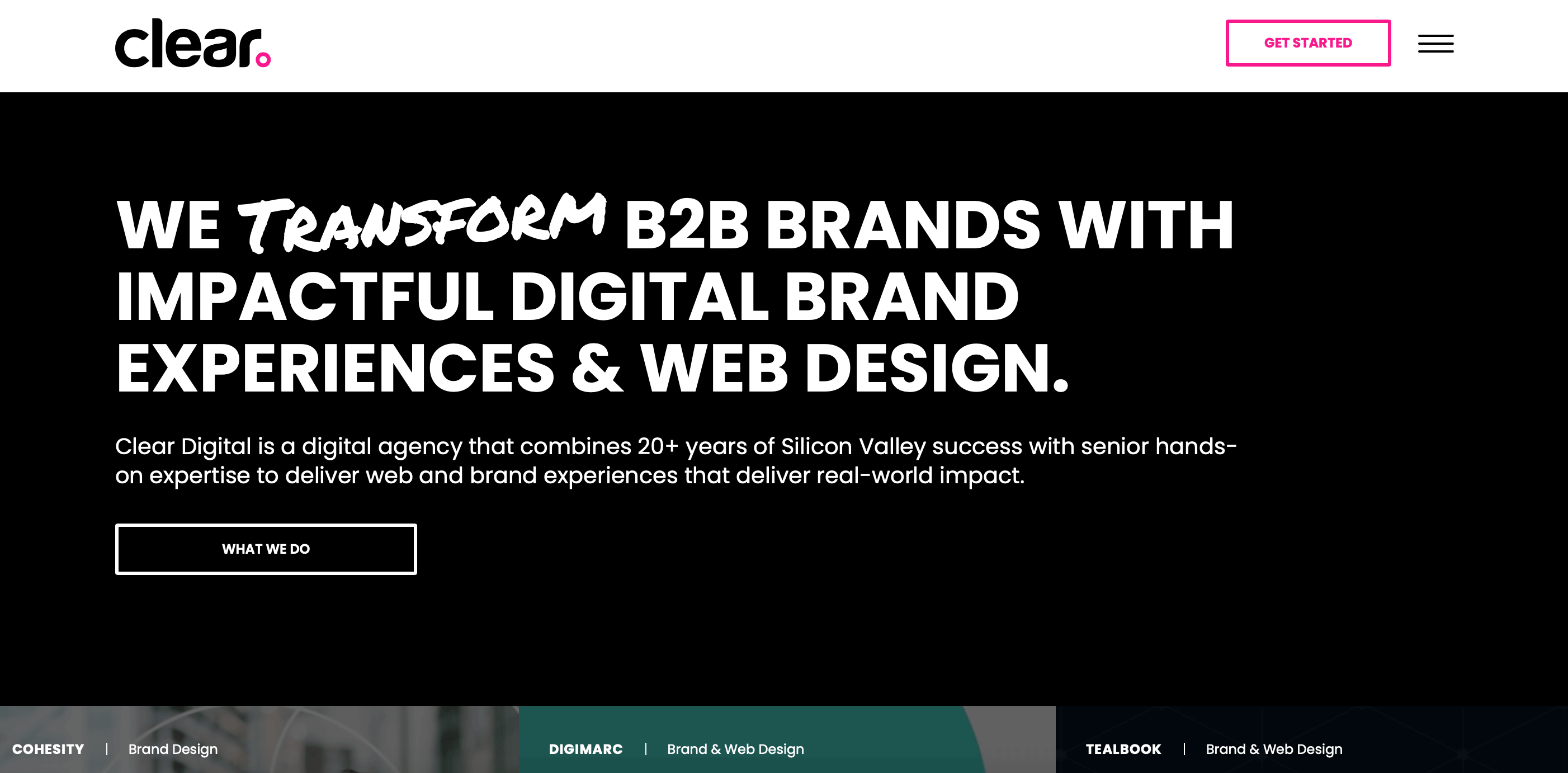 Clear Digital, a leading Canadian digital marketing agency, will help your nonprofit boost SEO results so that your content ranks high in search engines and reach more potential users.
The company also offers a broad range of other marketing services, making it a go-to partner for nonprofits and other businesses that want to take full advantage of the internet traffic.
Services and expertise:

nonprofit marketing,

w

eb design, brand strategy, SEO, digital strategy, UX/UI design, creative services, web development, motion graphics, content development, digital marketing, systems support

Location:

San Francisco, CA, United States

Industries they serve:

Non-profit,

Consumer Products & Services, Information Technology, Advertising & Marketing

Portfolio:

Cisco, VMware, Stanford University, Citrix, McAfee, Riverbed, Cohesity, Tenable.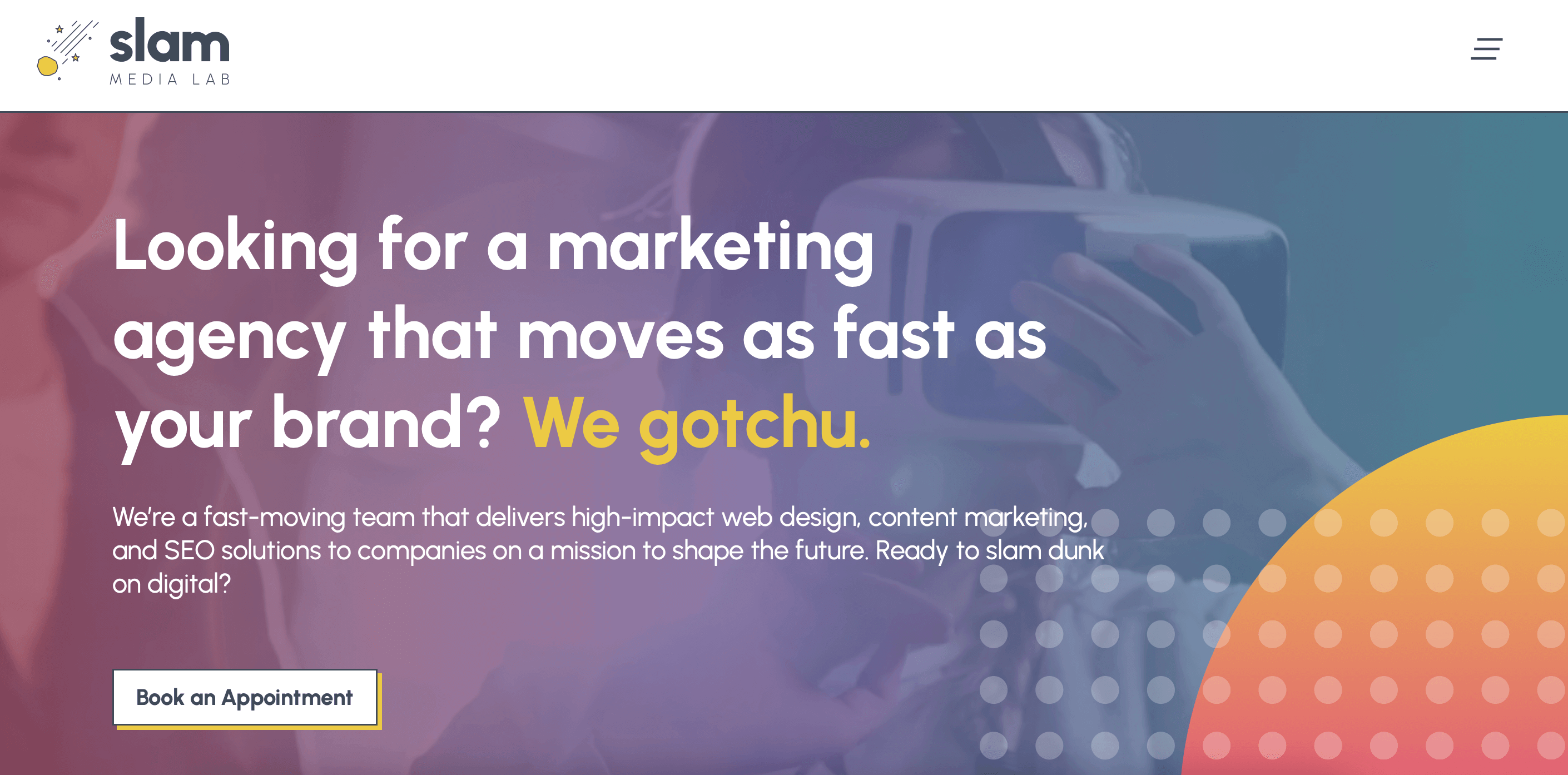 Slam Media Lab promises to grow your organization, create a bigger impact, and, generally, help you win in your online endeavors. They've successfully assisted hundreds of businesses and nonprofits globally, so they'll easily define what will work for your case.
As one of the best nonprofit marketing firms, Slam Media Lab cares for its client's marketing efforts and ensures they move fast and use proven strategies.
Services and expertise:

nonprofit marketing, search engine optimization, web design, content marketing

Location:

Walnut Creek, CA, United States

Industries they serve:

Education, Information Technology, Non-profit, eCommerce, Consumer Products & Services, Energy & Natural Resources

Portfolio:

Peer Health Exchange, Quiet Films, XQ Institute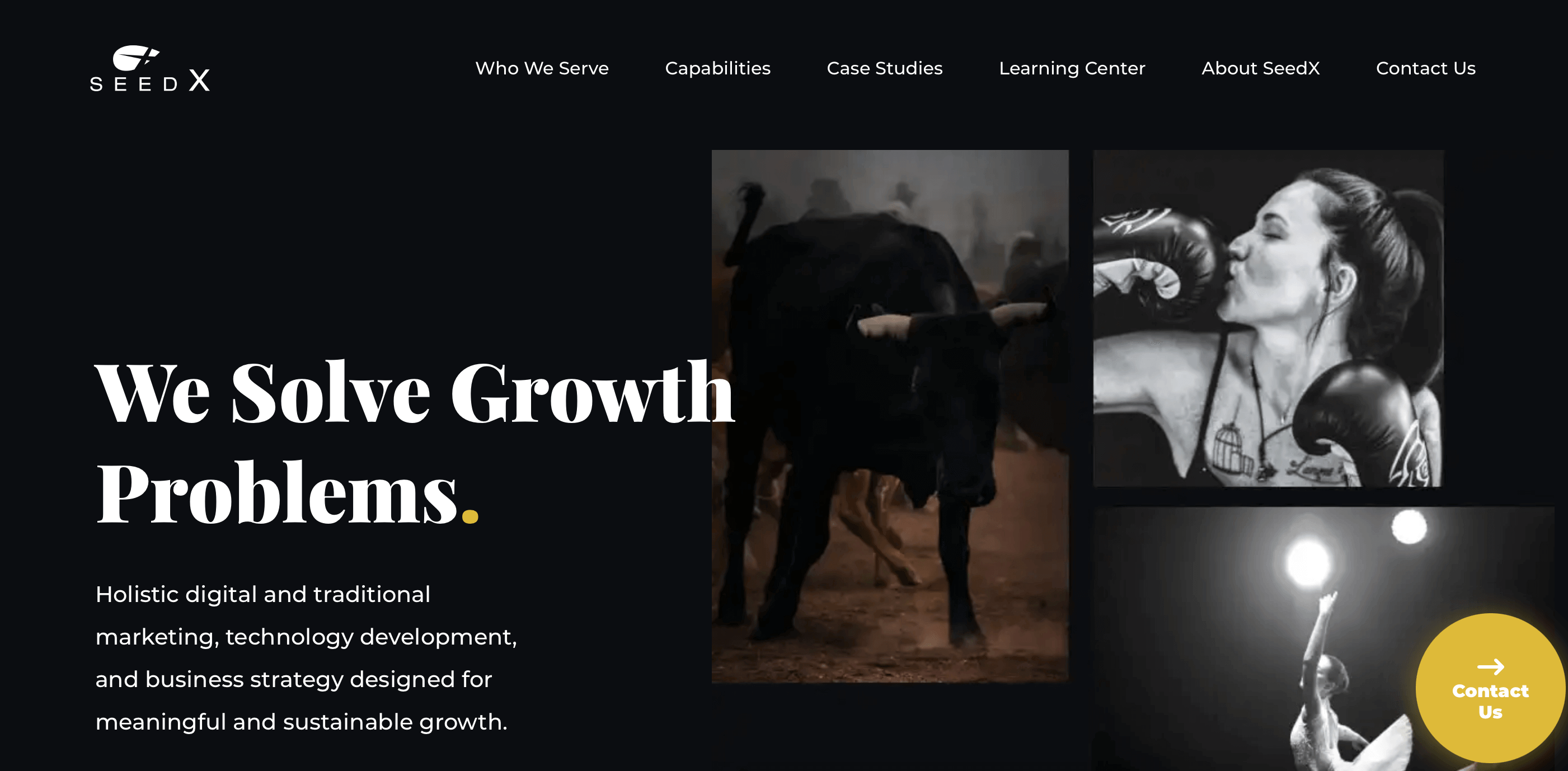 SeedX is a leading online marketing agency that employs the best holistic digital and traditional marketing tools to deliver meaningful and sustainable growth for all types of companies, including nonprofits.
Apart from marketing services, this company offers comprehensive business strategy, product development, and growth hacking services. So by partnering with SeedX, your marketing efforts will get an ideation, strategy, and technical skill boost. 
Services and expertise:

nonprofit marketing,

a

dvertising, eCommerce marketing, SEO, web design and development, UX/UI design, email marketing, pay-per-click ads

Location:

Los Angeles, CA, United States

Industries they serve:

Non-profit,

Business Services, Consumer Products & Services, eCommerce

Portfolio:

On Your Mark Ekso Bionics, Millenium Alliance, CPG, Harvard University, Adidas, Yeezy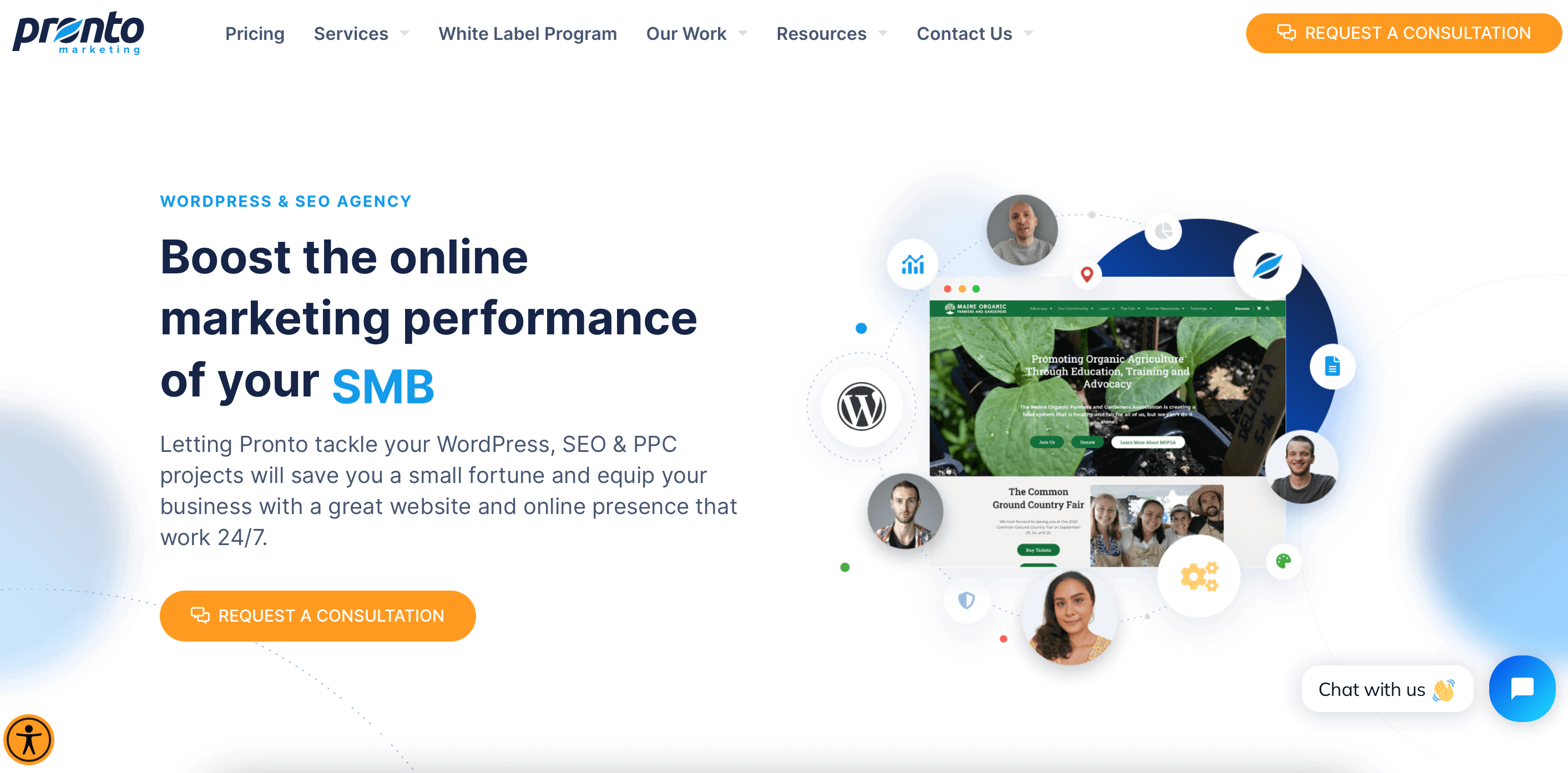 Pronto Marketing specializes in WordPress website creation and search engine optimization campaigns. Since WordPress is one of the most affordable web development solutions for organizations on a budget, Pronto Marketing will help you grow your nonprofit brand presence cost-efficiently.
Being the top nonprofit marketing company, they know the power of a well-done SEO strategy and tend to maximize your online impact through an SEO-optimized website. In addition, they'll help you implement powerful customer support tools so you can serve your users 24/7 on autopilot.
Services and expertise:

nonprofit marketing, digital marketing, website development, WordPress maintenance, SEO audit and strategy

Location:

Seattle, WA, United States

Industries they serve:

Non-profit, B2B, Construction, Manufacturing, Marketing Agencies, MSP & IT, B2C, Financial Services, Law Firms, Medical Practices

Portfolio:

Club 4 Fitness, ComTech Network Solutions, Evergreen Janitorial Services, IFI Professionals, Iconic Roofing & Exteriors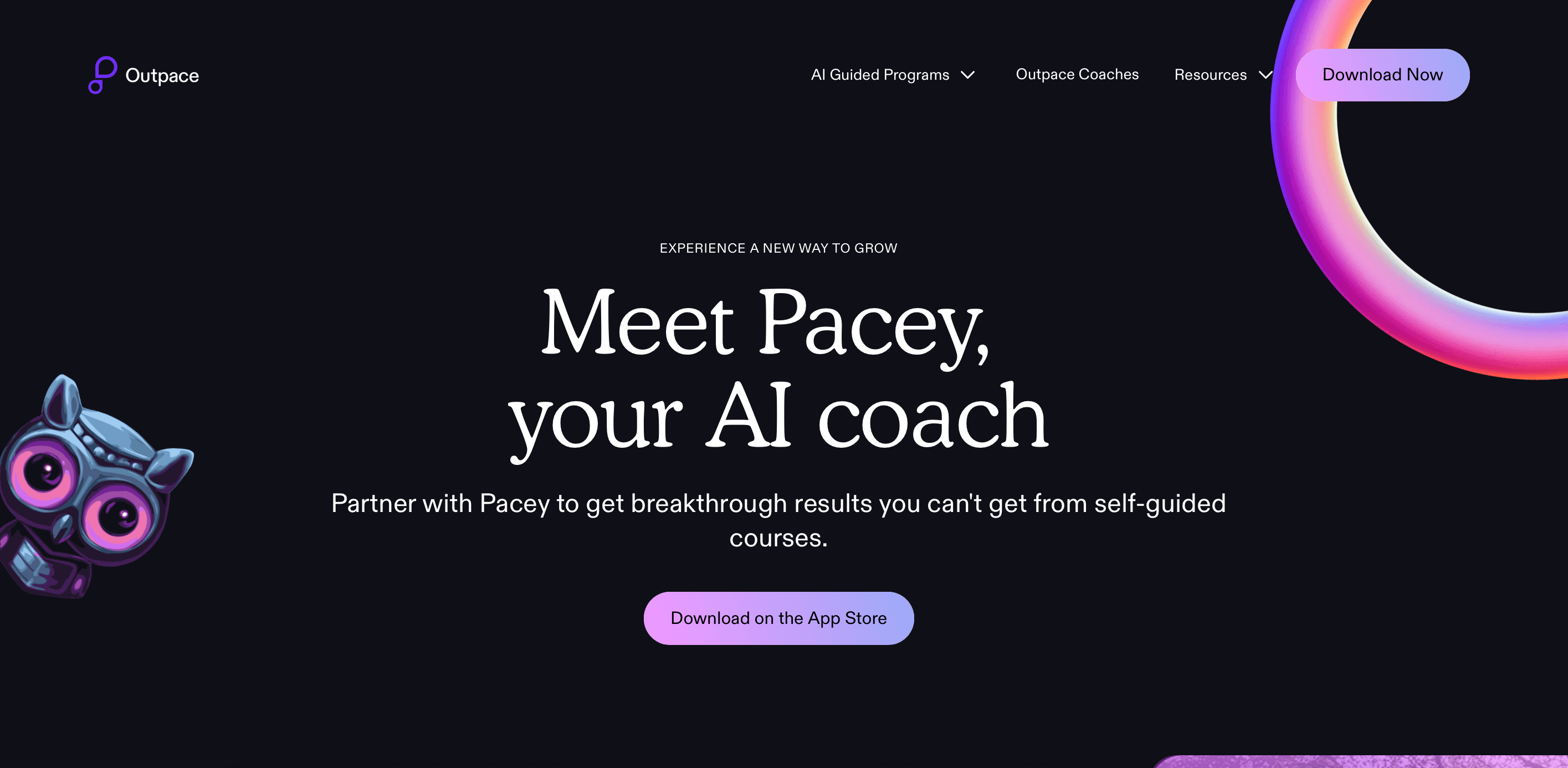 Outpace is a prominent digital marketing agency for nonprofits that focuses on SEO, and its expert services have enabled it to stand out in the American market.
Apart from SEO, Outpace will help your organization maintain a positive online reputation, develop content and earn high-quality links to boost search results.
Services and expertise:

nonprofit marketing, SEO, content creation, link earning & development, on-site optimization, local search, reputation management

Location:

Oklahoma City, OK, United States

Industries they serve:

Business services, Nonprofit, Financial services, Information technology, Legal, Legal Cannabis, Manufacturing

Portfolio:

Sports Training Agency, Oklahoma Foundation Solutions, Stone Countertop Company.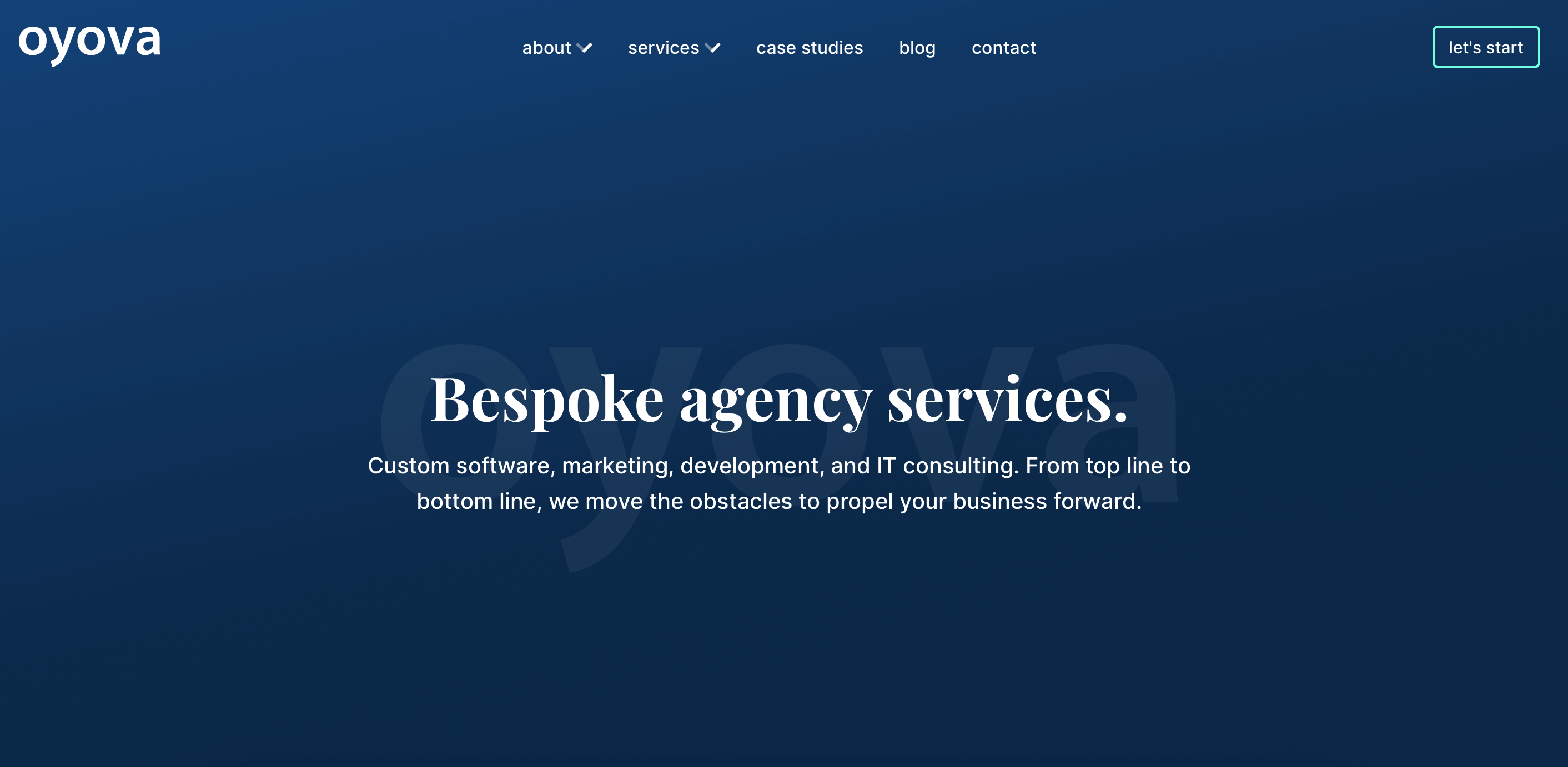 Oyova agency is a hands-on digital marketing agency that can promote your nonprofit organization's growth through social media marketing, SEO, web development, and many other impactful activities.
Oyova's approach is consultative, allowing a close partnership between the team and organizations. From A to Z, they'll help you navigate all the challenges of the digital landscape to propel your company forward.
Services and expertise:

nonprofit marketing, social media marketing, digital strategy, custom software development, web development, eCommerce development, SEO

Location:

Jacksonville Beach, FL, United States

Industries they serve:

Business Services, Legal, Non-profit, eCommerce

Portfolio:

The Tom Coughlin Jay Fund, University of Florida Foundation, CCW Safe, Agora, ME Land Surveying, UltimaCase, Aude Smith Architecture
eAccountable is a fully-fledged digital marketing agency that will support your nonprofit's marketing efforts in several ways. They craft creative content and marketing strategies and execute them efficiently to help clients get more customers and retain them for a long time.
Almost half a thousand global companies have trusted eAccountable with digital marketing strategies, so you're in good hands!
Services and expertise:

nonprofit marketing, email marketing, digital strategy, affiliate marketing, eCommerce marketing, pay-per-click ads

Location:

Denver, CO, United States

Industries they serve:

eCommerce, Advertising & Marketing, Consumer Products & Services, Non-profit

Portfolio:

Snapfish, CW Hemp, Discount School Supply, Vital Choice, Waterford Crystal, Peter Millar
Is It Worth It Working With A Digital Marketing Agency As A Nonprofit Organization?
Working with nonprofit marketing agencies can be truly beneficial to your organization. However, whether a marketing agency's services are worth it depends on several factors.
To make an informed decision before taking the next step, consider the following aspects:
Non-profit advertising agencies have the expertise to craft effective marketing strategies since they have experts with skills and experience in several marketing fields. They also have the necessary resources to scale any marketing campaign.
Outsourcing marketing needs is time efficient as the process will be handled by a qualified team that knows what is done. Meanwhile, your organization will free up time for other essential operations that are core to your purpose.
To get the most out of your financial investment, consider working with marketing companies for nonprofits that meet your budget or are ready to be flexible with their billing. Also, weigh the cost against the potential benefits your agency will bring before committing to a partnership.
Nonprofit marketing agencies can develop customized strategies to work with your nonprofit's goals and target your audience accurately. Also, they can measure results and provide valuable insights that can improve your marketing in general.
Access to new technologies and trends
Unlike a nonprofit organization, a marketing agency is always up-to-date with the latest marketing trends, technologies, and tools. They can introduce innovative approaches to help your nonprofit stay relevant in the digital landscape and maximize emerging opportunities.
Networking and partnerships
One unique advantage marketing agencies have over nonprofit organizations is that they have established connections with who is who in the marketing world, including influencers, media outlets, and other organizations. It's, therefore, easier to leverage these partnerships for nonprofits to expand their reach, increase brand awareness, and collaborate with like-minded entities.
Flexibility and scalability
Agencies are well-equipped to scale marketing campaigns or adapt to the ever-changing marketing landscape.
Conclusion
Ultimately, working with the top marketing agencies for nonprofits can significantly enhance your organization's digital marketing efforts. Work with the best ones!

If you also provide digital marketing services for nonprofits and want to add your agency to this list, email us with your request. After a quick review, we'll decide whether it's a valuable addition.