Trusting a random software company for your headless CMS (Content Management System) development can be risky. 
As the popularity and demand for headless CMS increases, thoroughly evaluating a development partner has never been more crucial.
If you're in the market for expert CMS development services, we've covered you with our carefully curated list of top headless CMS developers you can trust. These companies have a proven track record of delivering cutting-edge CMS solutions that businesses and organizations can leverage.
So, consider hiring top-notch headless CMS experts for your tech needs, whether you're a small business or an enterprise-level organization.
The Best Headless CMS Development Companies For Managing Websites Quickly And Easily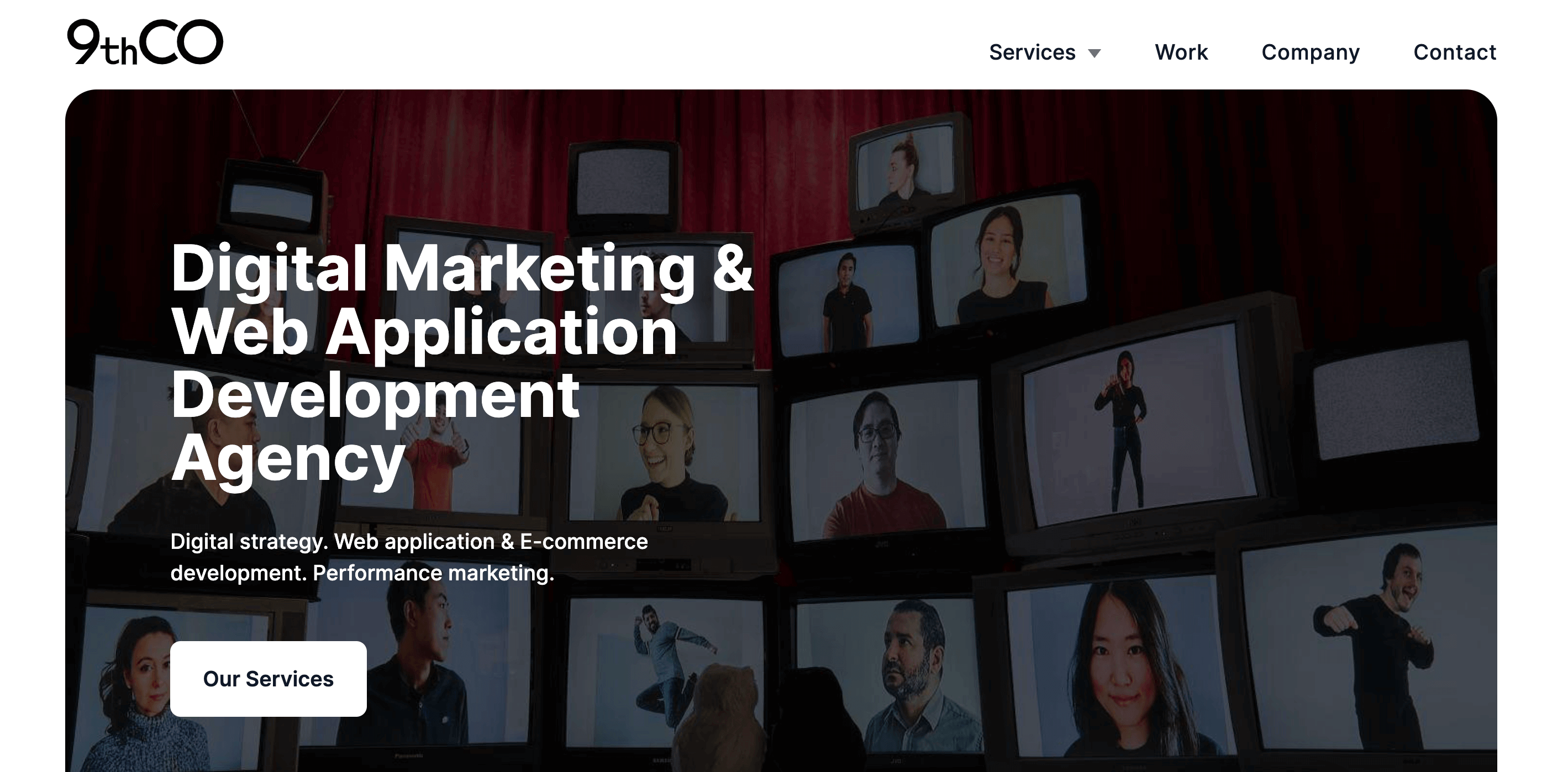 First on our list is 9thCO, a top-notch web and app development agency based in Toronto dedicated to delivering exceptional headless CMS solutions.
If you're seeking full-cycle eCommerce headless CMS development assistance, trust 9thCO to lead your project success. The skilled team of developers has a wealth of experience with a wide range of technologies and frameworks, enabling them to handle any CMS project easily. They are proficient in several CMS software, including Storyblok, Strapi, Prepr, and, Sanity.
9thCO has successfully worked on several notable headless CMS projects, with one of them resulting in an increase in FTB sales by 26.2%.
In addition to their expertise in headless CMS development, the 9thCO team excels in DevOps and crafts exceptional digital marketing strategies, encompassing PPC and SEO. Hence, if you strive to hire the best CMS developers who can simultaneously enhance your search rankings, 9thCO is your go-to agency.
Services and expertise: headless CMS development, web and mobile app development, digital marketing, UX/UI design, content management, eCommerce solutions, website migration, SEO, PPC
Tech stack: Storyblok, Jamstack, React, NodeJS, Strapi, Prepr, Python, NextJS, VueJs, Shopify, Express, AWS, etc.
Location:

Toronto, Canada

Portfolio: Noisy Cart, Dicentra, TMX, Global, Bluivy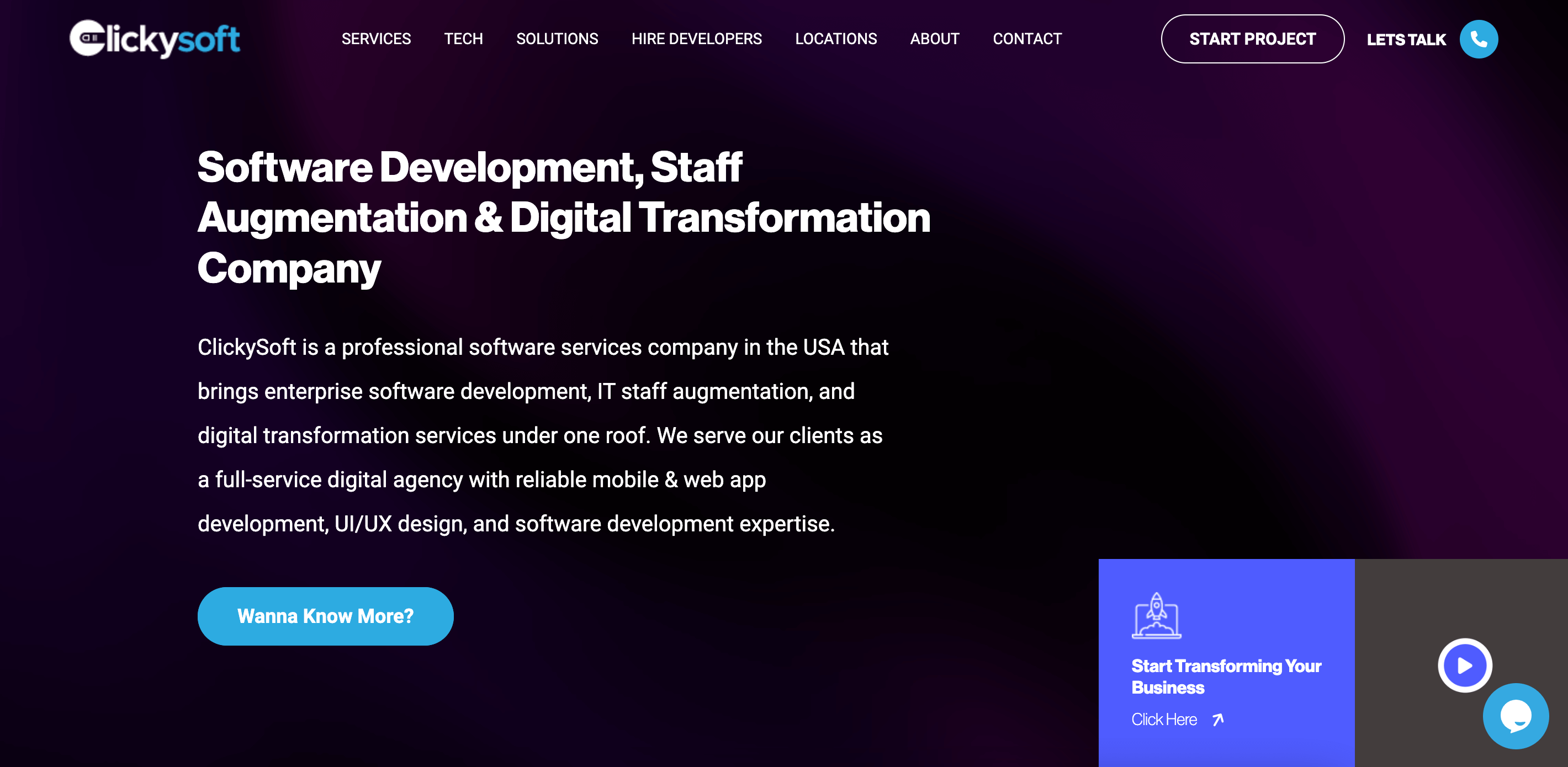 ClickySoft has years of experience developing headless CMS systems for various industries, with a core focus on eCommerce. Their process essentially includes one-on-one communication with their developers, so you can be sure all your customization will be understood and implemented effectively.
ClickSoft's headless CMS development approach is to decouple the frontend of the website development, isolating it from the complexities of the backend systems. The results are a website with greater flexibility, scalability, and faster loading times.
When you hire CMS developers from this agency, you can be sure of a project delivery tailored to your website's end-user intention, improving its experience and usability.
Services and expertise:

eCommerce development, mobile app development, web design and development

Tech stack:

Agility CMS, Contentful, Contentstack, Netlify, Sanity, Strapi, Kontent.ai

Location:

Sugar Land, Texas, USA

Portfolio:

Taskmatch, MusicMerchNow, Shore Summer Rentals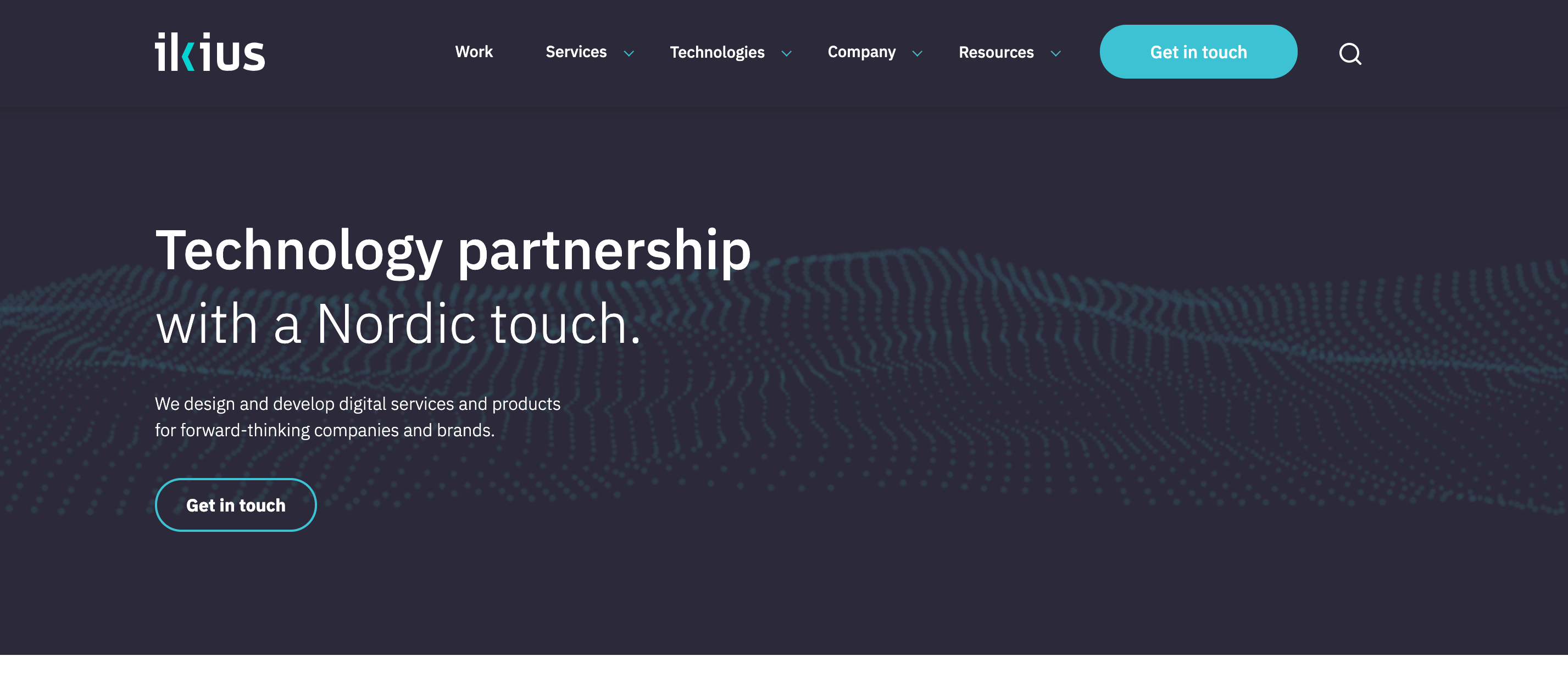 Ikius has the best headless CMS developers on board, who can help you craft a result-driven digital strategy and offer in-depth technical consultation and project management. You'll get assistance in choosing the right technologies and support services to future-proof your business's digital presence.
Developers at Ikius can also handle complex headless CMSs projects, providing end-to-end services for every development aspect. Their notable work was a website development for Hotel Radio that resulted in a 96% increase in spending per customer. Ikius has also helped UJET migrate from an old WordPress website to a headless Next.js and Agility CMS. 
With such a great experience and proven results, be sure your project will get the attention it deserves, including exclusive website features specific to your needs.
Services and expertise:

headless CMS development, web and mobile app development, Shopify eCommerce, headless commerce development, Payment gateway integration, UX/UI design, Digital transformation consulting

Tech stack: Hygraph, Agility, DatoCMS, Uniform, Sanity.io, Contentful, Kentico Kontent (now Kontent.ai), Prismic, Storyblok
Location:

Turku, Finland

Portfolio:

Hotel Radio, UJET, Teleport, Bank Grader, Brightway Careers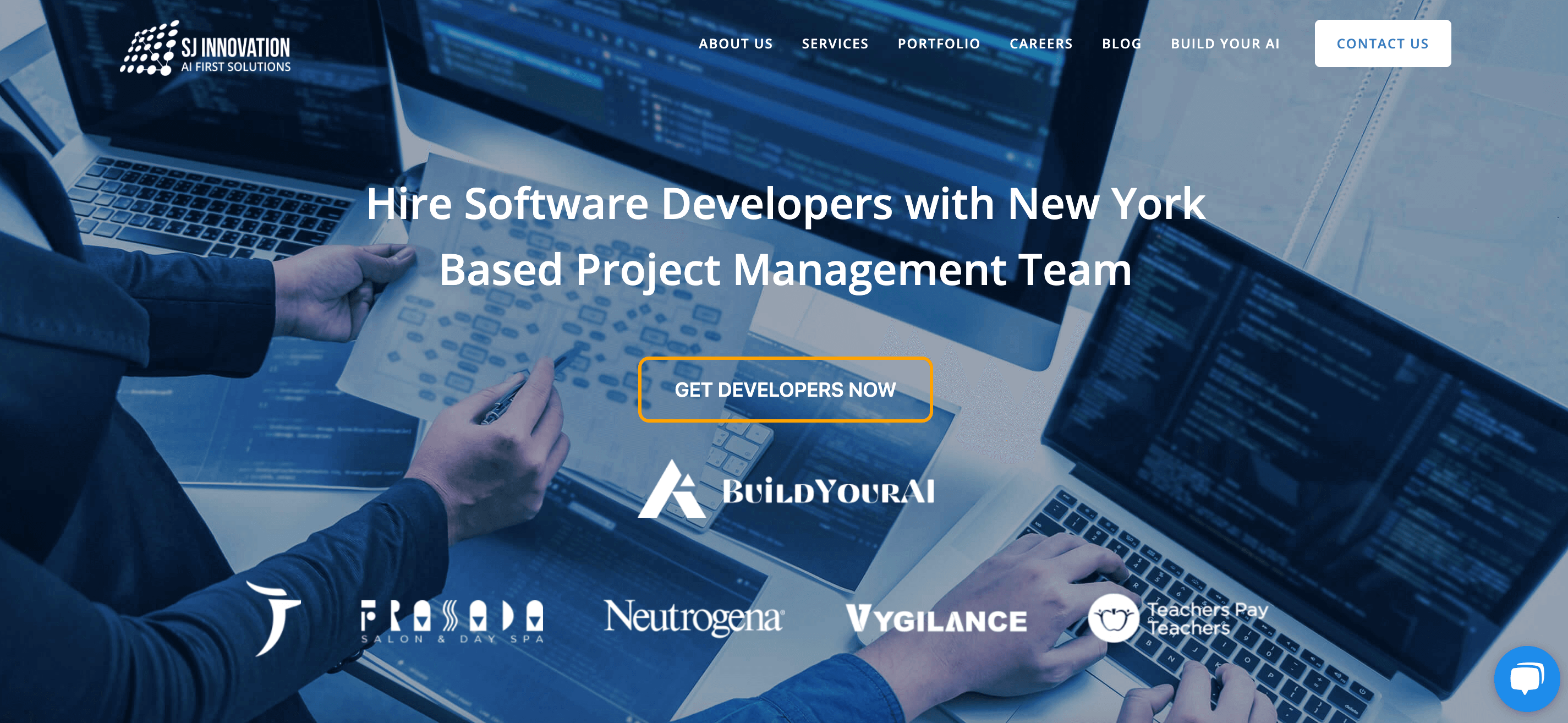 SJ Innovation's headless CMS development services will help you swiftly switch from traditional CMS solutions, allowing you to embrace the benefits of the modern headless architecture. Their results-oriented developers will devote their time to ensure your project gets the deserved success.
The company's development process adheres strictly to a structured approach, with all testing stages based on a detailed analysis of the entire software. Their team is experienced, knowledgeable, and excellent at communication, serving global clients of all types and sizes.
Services and expertise:

headless CMS Development, healthcare software solutions, mobile app development, AWS cloud services, Magento services, CRM services, QA automation, Shopify services, OpenAI and ChatGPT development services

Tech stack:

Contentstack, Contentful, Strapi, Sanity.io

Location:

New York, NY, USA

Portfolio:

Johnson & Johnson USA, Janssen Pharmaceuticals, TeachersPayTeachers, Council on Foreign Relations, Job Searcher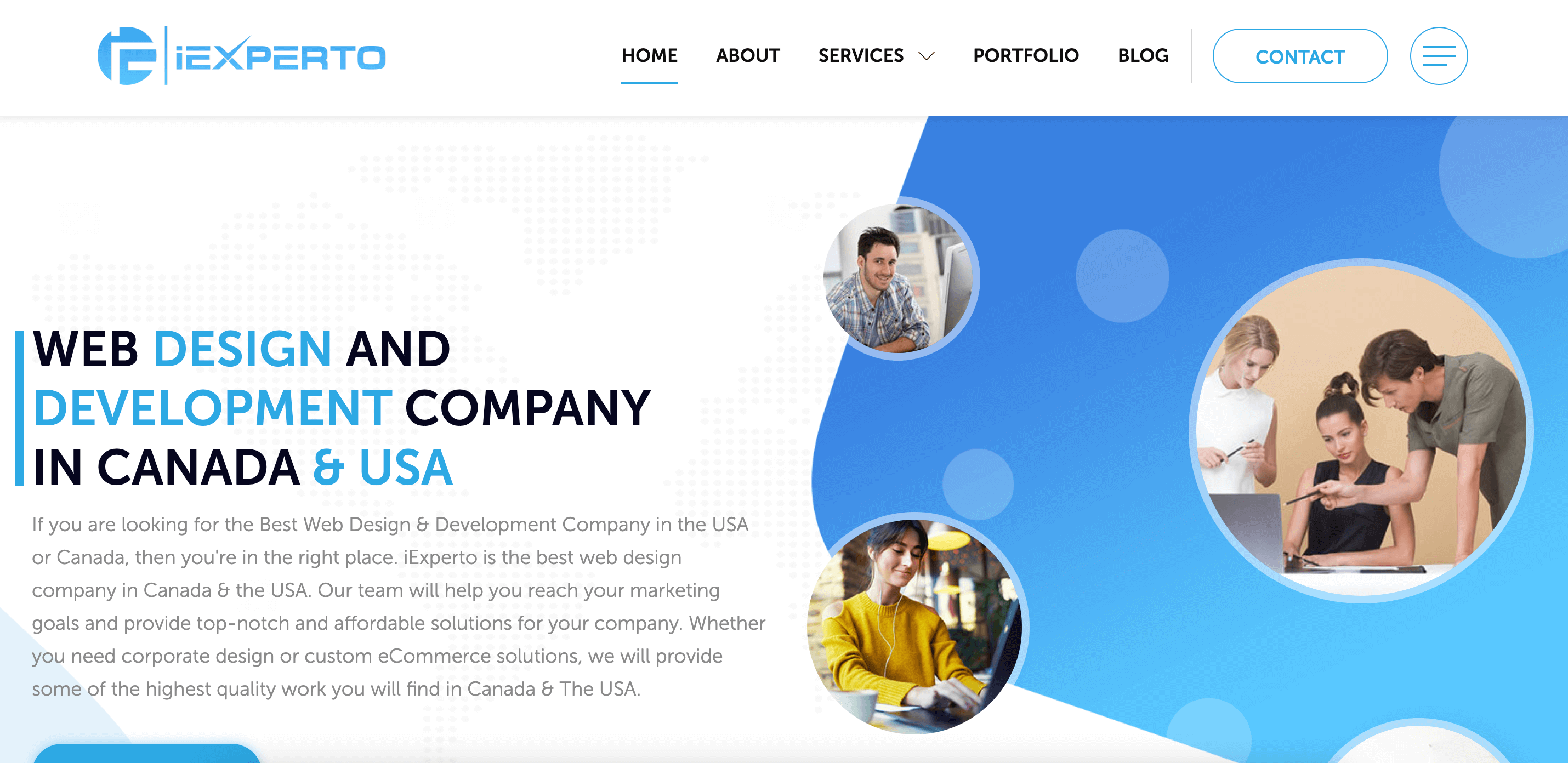 iExperto's headless CMS development is one of the best-in-class options available in the market. Their developers have a wealth of experience in headless technology, providing services that will help you customize and future-proof your apps.
Apart from being headless CMS experts, iExperto also offers SEO services that can help rank the content on your website for more traffic. They understand the importance of seamless content delivery across various channels and platforms, including websites, mobile apps, and IoT devices.
Services and expertise:

headless CMS development, learning management systems, website design and development, digital marketing, website speed optimization, SEO, eCommerce web design

Tech stack: React, Vue, Python, WordPress, Shopify, Sanity, WooCommerce, etc.
Location:

St Montreal, Canada

Portfolio:

Talent Map, Noxster, SFM marketplace, My Hemden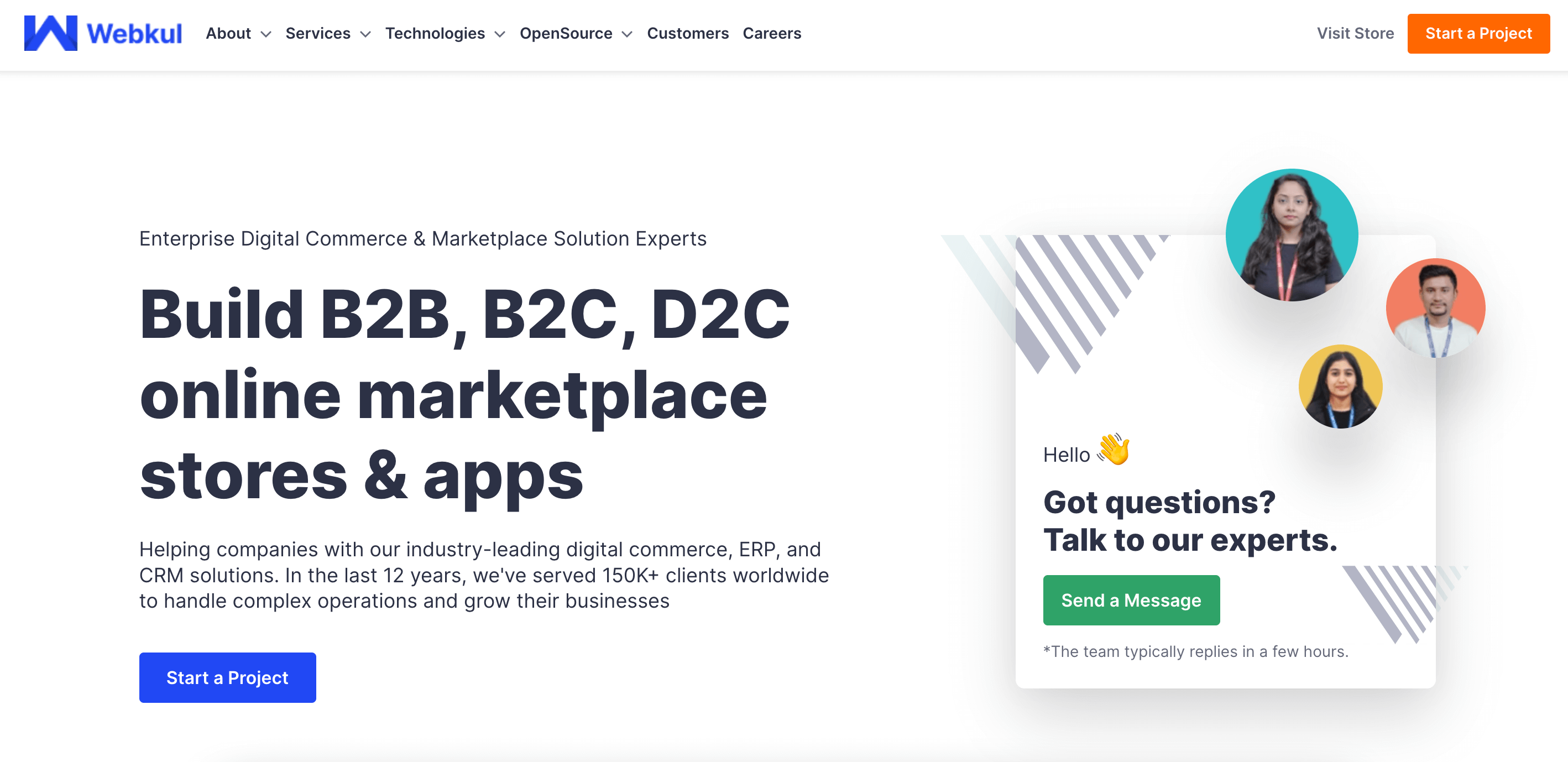 Webkul is among the largest headless CMS development companies offering a wide range of custom solutions, including headless payment method integration, headless plugin development, cross-platform PWA development, headless shipping method integration, and theme development.
Webkul has served more than 80,000 world's leading clients since its founding in 2010, and with this wealth of experience, they know perfectly what it takes to develop exclusive headless CMS solutions that cater to diverse business needs. 
Services and expertise:

custom headless CMS development, mobile app development, headless commerce Development, CMS development, website development, eCommerce marketplace development, custom CRM development, Point of Sale development, social commerce development

Tech stack:

React, Vue, Gatsby, NextJS, Vue Storefront, Shopify Hydrogen, Adobe Commerce PWA Studio, Hyva Themes

Locations:

Noida, India; Delaware, USA

Portfolio:

Huawei, Asus, FashionHub, VmartGo, Zapacucos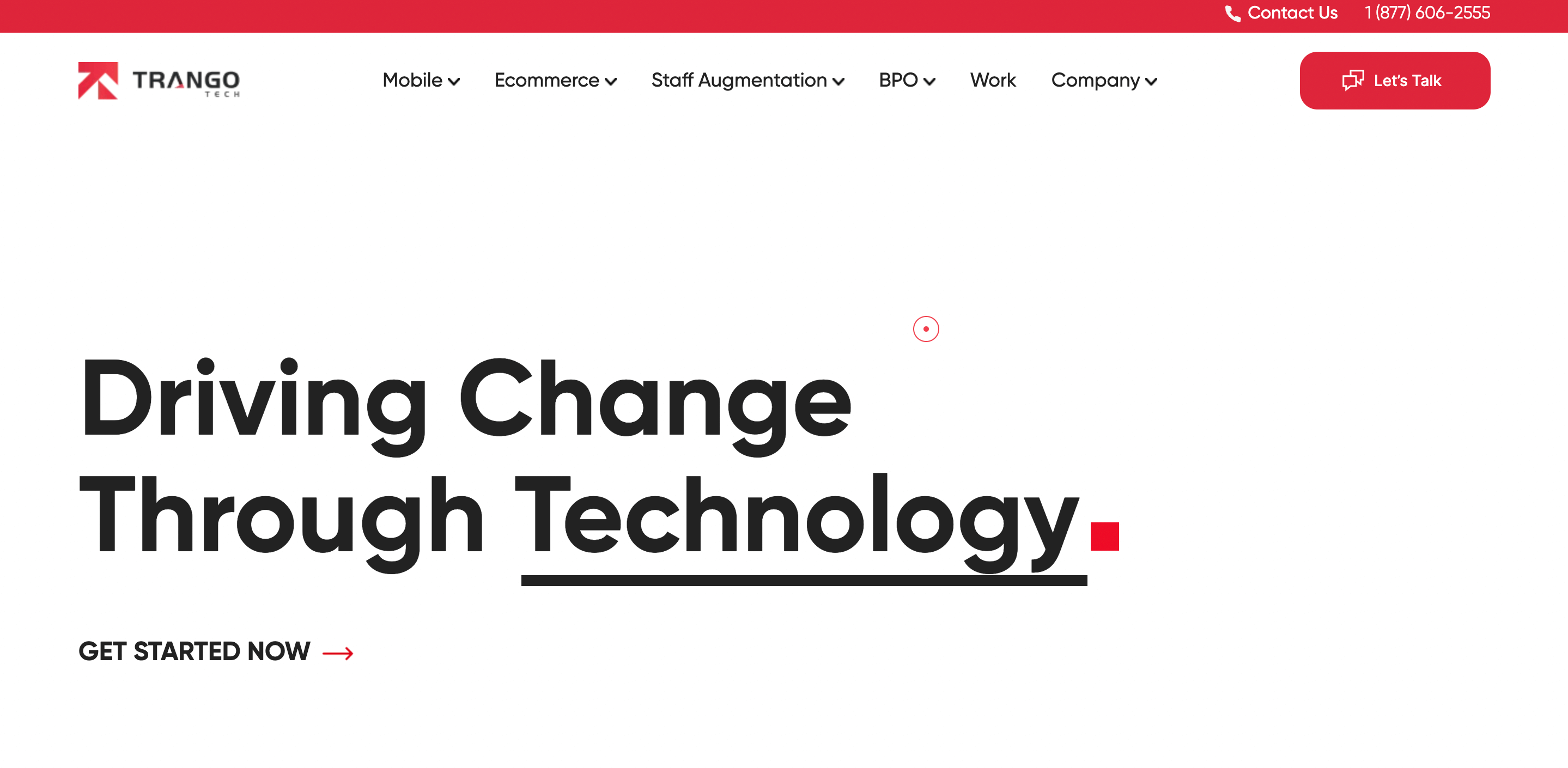 With over 10+ years of experience, Trango Tech lies at the epicentre of technological innovation with its state-of-the-art mobile app development services. Their team of 100+ certified developers, project managers, UI/UX designers, QA specialists, and solutions architects are committed to empowering start-ups, SMEs, and multi-tier enterprises with dynamic and user-centric mobile applications that not only enhance engagement, but streamlines processes, and amplify growth.
They aim to bridge the gap between innovation and practicality by leveraging the latest technologies and design principles to develop apps that inspire, captivate, and drive tangible results.
Services and expertise: web app development, mobile app development, game app development, MVP startup development, AR development, VR development, Adobe commerce development, Adobe commerce migration, Adobe commerce support, Adobe commerce customization, Shopify development, Shopify app development, Shopify migration, Shopify integration, WooCommerce development, BigCommerce development
Tech stack: Android, iOS, Flutter, React Native, cross-platform
Locations: Houston, TX, USA
Portfolio: Click n Collect, Shifaam, Matchbox, Helpp, Oaks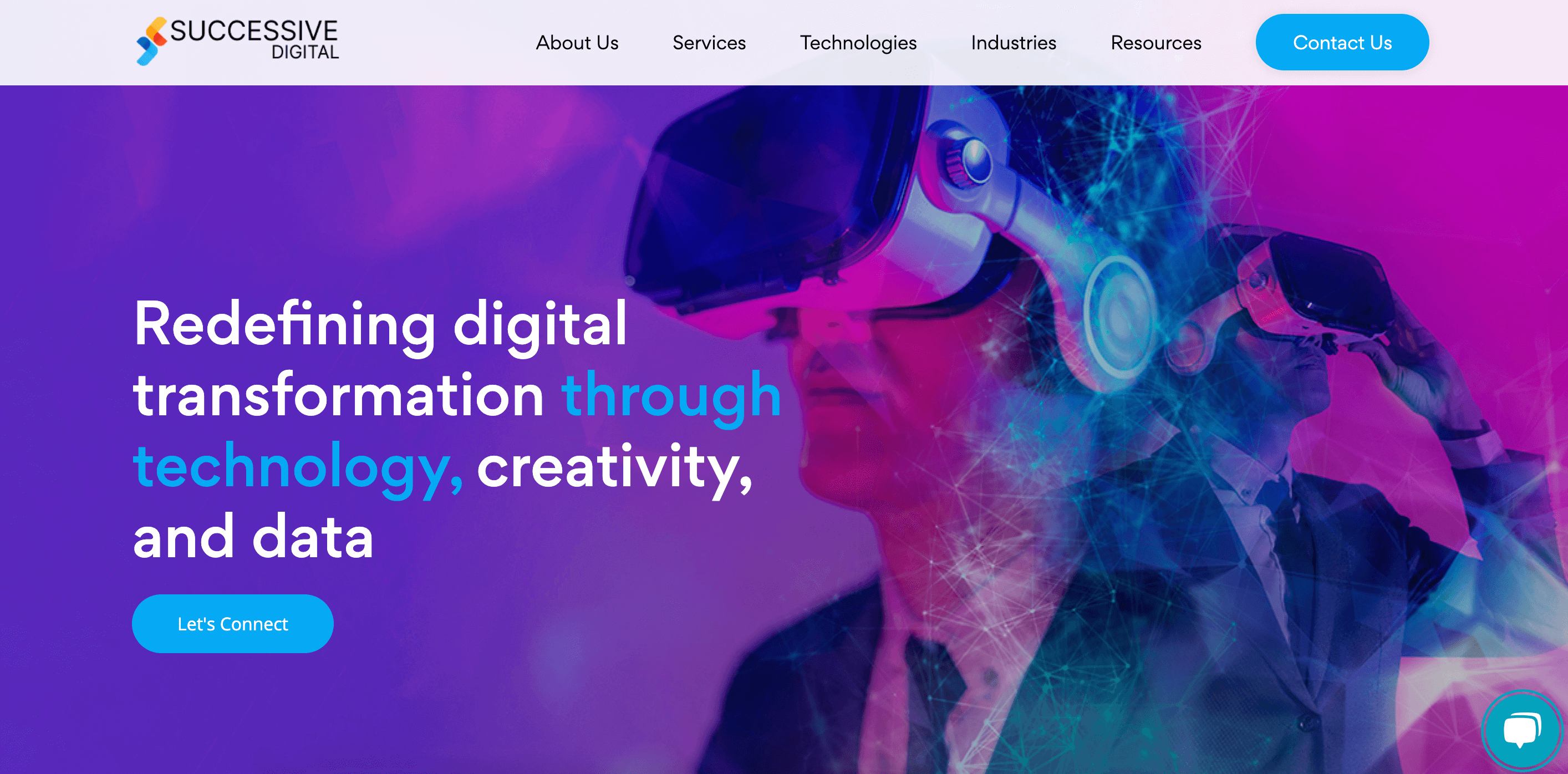 Successive Technologies takes a notable place on our list of top headless CMS developers. With more than five years of experience developing custom CMS solutions, they'll bring a wealth of knowledge and expertise to your project.
Their CMS developers for hire always work closely with their clients to deeply understand their goals and deliver the best-fit solutions using the most relevant technology.
Successive Technologies work with businesses of all sizes and across multiple industries, including Healthcare, Media and Communication, Retail, Travel, and Automotive.
Services and expertise:

CMS selection, CMS migration & upgrades, API migration & customization, custom plugin development & integration, mobile responsive design, support & maintenance

Tech stack:

AngularJS, Adobe Commerce, NodeJS, WordPress, ReactJS, Shopify, Strapi, VueJS, Python, Android, PHP, Flutter, Java, iOS

Location:

Texas, USA

Portfolio:

Nokia, Paloalto, Acl a Sinch Company, Dentsu Inc., Johnson Controls, Isobar, FIITJEE, RTI International, NC State University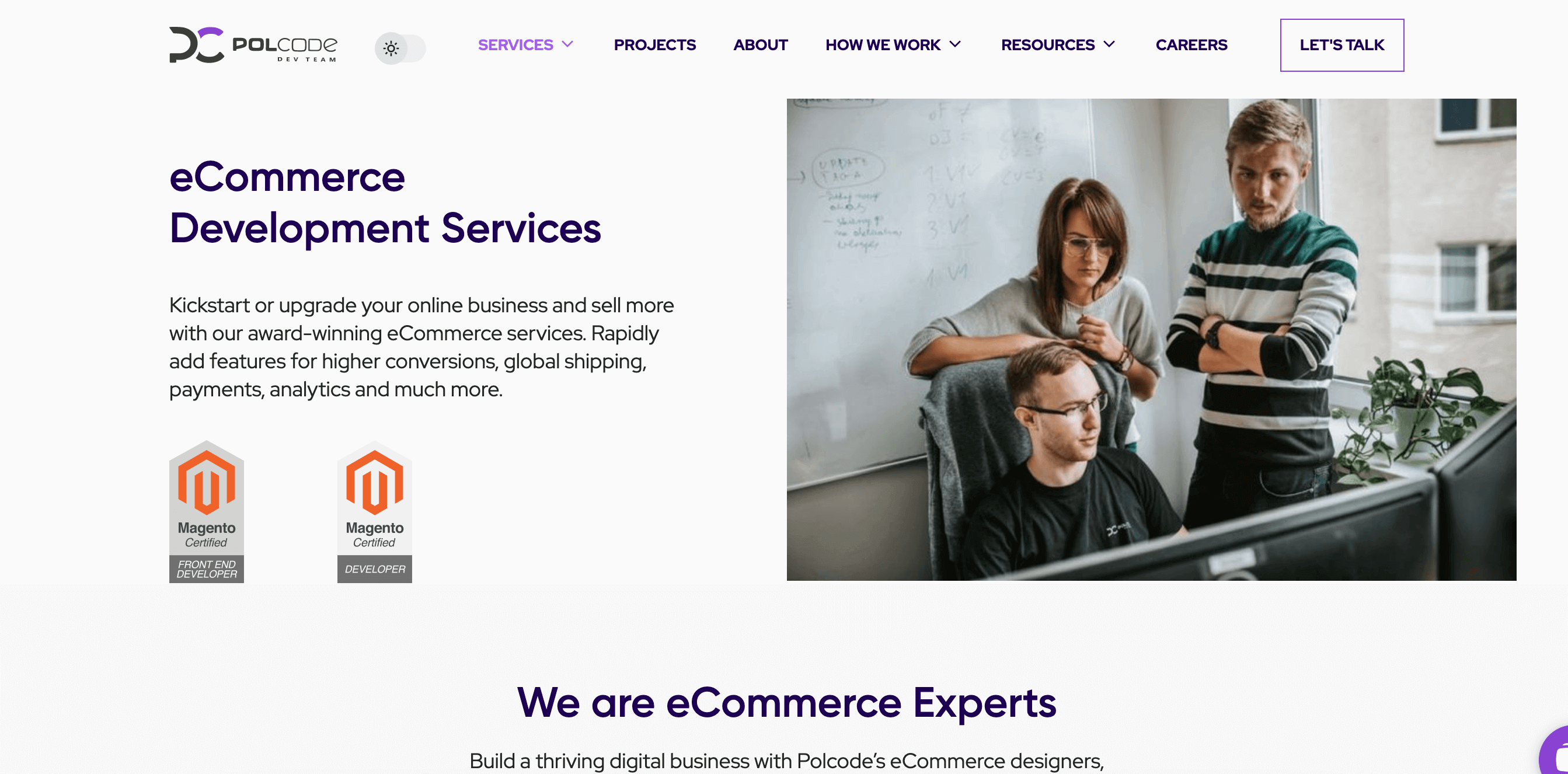 Looking for a fresh, cutting-edge online store or an upgrade to your existing one? Polcode, backed by a track record of 1400 successful projects and a team of 100+ exceptional eCommerce developers, is poised to propel your business forward and optimize conversions.
Specializing in headless CMS development services, Polcode offers a wide spectrum of top-tier eCommerce solutions. These include crafting online stores with seamless UI/UX design, facilitating global payment processing, providing omnichannel support, generating analytics and reports, and integrating customer engagement tools. All these services are designed to empower you to maximize your sales potential.
Polcode stands out as a versatile technology partner due to its extensive technology stack and 360-degree expertise across marketing, programming, and design realms, all dedicated to driving growth. The team boasts a 5-star rating on Clutch and a 100% job success rate on Upwork, solidifying its reputation.
Services and expertise:

headless CMS development, eCommerce solutions, custom plugin development, payment systems development and integration, web and mobile app development, product design

Tech stack:

ReactJS, AngularJS, VueJS, React Native, Flutter, PHP, Symfony, Laravel, NodeJS, Magento, Shopify, etc.

Location: Warszawa, Poland
Portfolio:

BizzyOwl, GreenWay, Muse, Puccini, Sitevibes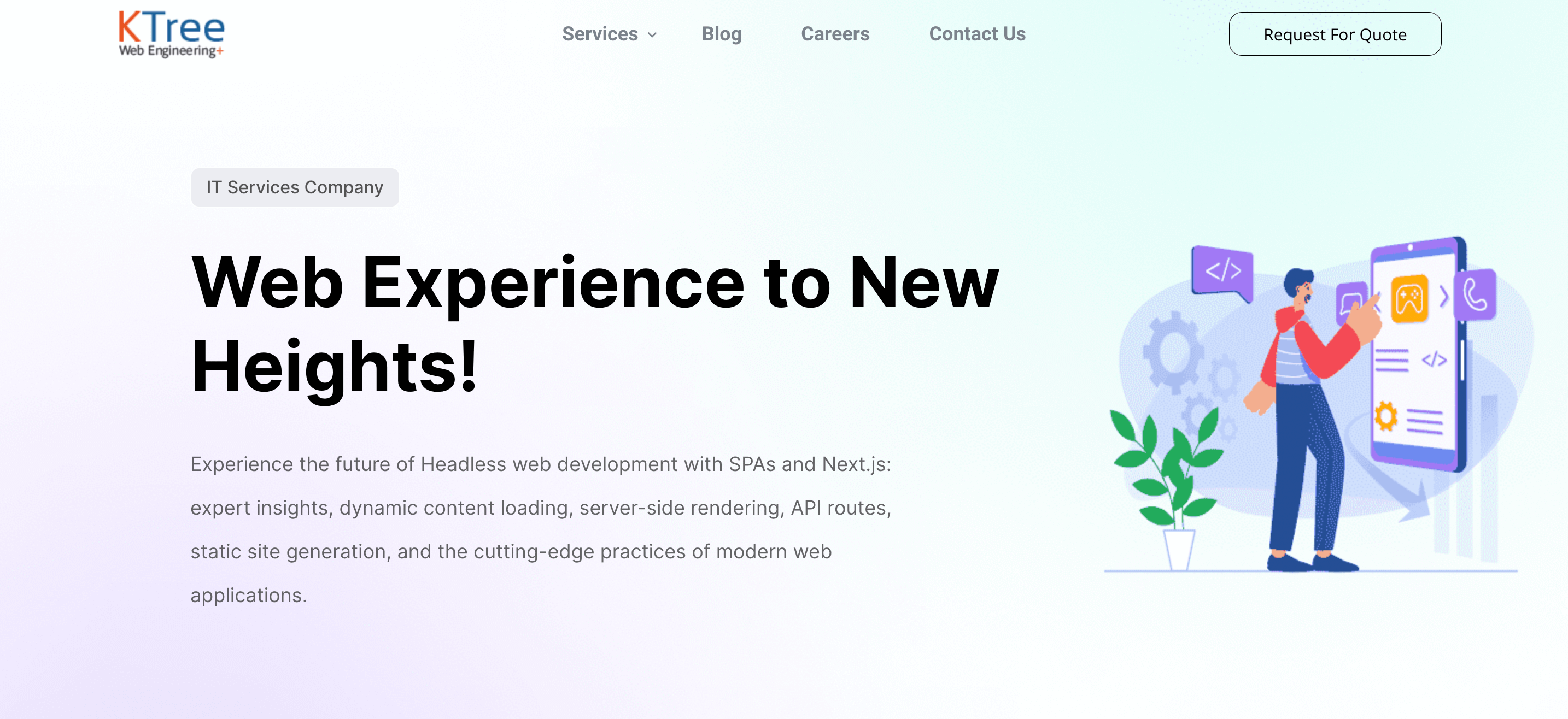 KTree is a pioneer headless web and app development agency based in Hyderabad, India, dedicated to delivering exceptional headless experiences.
For all your headless requirements, turn to KTree. With 16 years of specialization, the company is adept at delivering top-notch headless solutions, whether it's for headless CMS, headless WordPress, or headless eCommerce platforms with Shopify, BigCommerce, Magento, or WooCommerce. Their seasoned developers are poised to craft the most optimal solution for all your headless aspirations.
Beyond their specialization in headless development, KTree also excels in AWS cloud services, web and mobile app creation, serverless application development, AI/ML integration, as well as React and NextJS development.
Services and expertise: headless app development, headless CMS, headless eCommerce, AWS cloud web and mobile app development, serverless app development, AI/ML, mobile app development, React and NextJS development
Tech stack: NextJS, React, NodeJS, Strapi, Python, Shopify, Express, AWS, etc.
Location: Hyderabad, India
Portfolio: AutoValue, BumperToBumper, MicroBiz, RedChillies Entertainment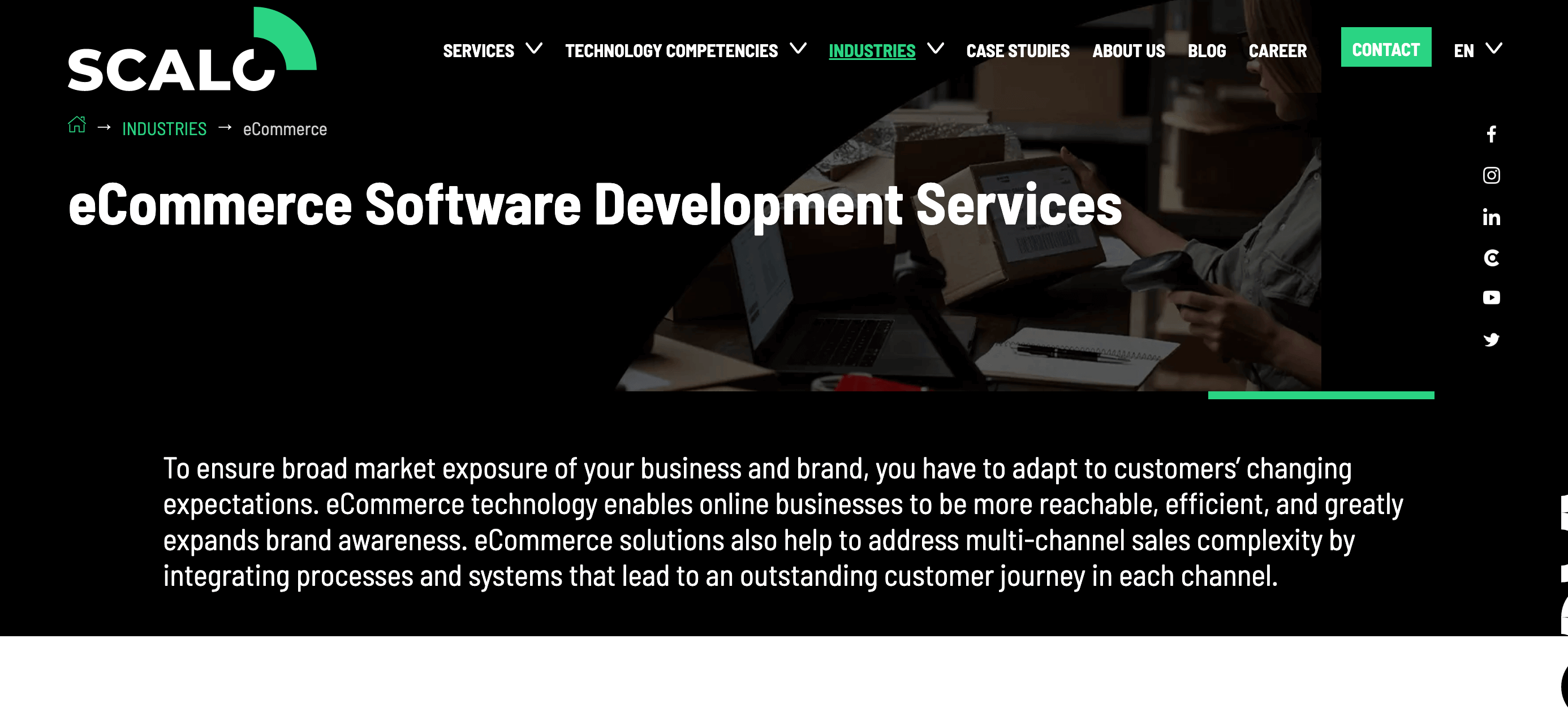 When it comes to specialized headless CMS development services, Scalo emerges as the ideal choice for establishing a long-term partnership. Boasting an impressive 15-year track record in digital services and a formidable team of 600 developers, Scalo has triumphantly completed over 750 projects. Their list of esteemed collaborators includes numerous renowned brands from all over the world.
Scalo's CMS developers offer a diverse range of technological solutions tailored to your needs. From custom systems and app/web development to microservices architecture and cloud-based software, they have you covered. Furthermore, they specialize in implementing secure payment and data protection systems.
Empower your online business with enhanced efficiency and elevate brand awareness through Scalo's unrivaled industry practices and multi-channel strategies.
Services and expertise:

headless CMS development, software development and consulting, project management, QA, IT staff augmentation, offshoring, embedded solutions

Tech stack:

.NET, Java, Python, C#, PHP, C++, NodeJS, AngularJS, ReactJS

Location: Wrocław, Warszawa, Kraków, Katowice, Poland; Tel Aviv, Israel
Portfolio: Vodeno, Onet, BNP Paribas, Interia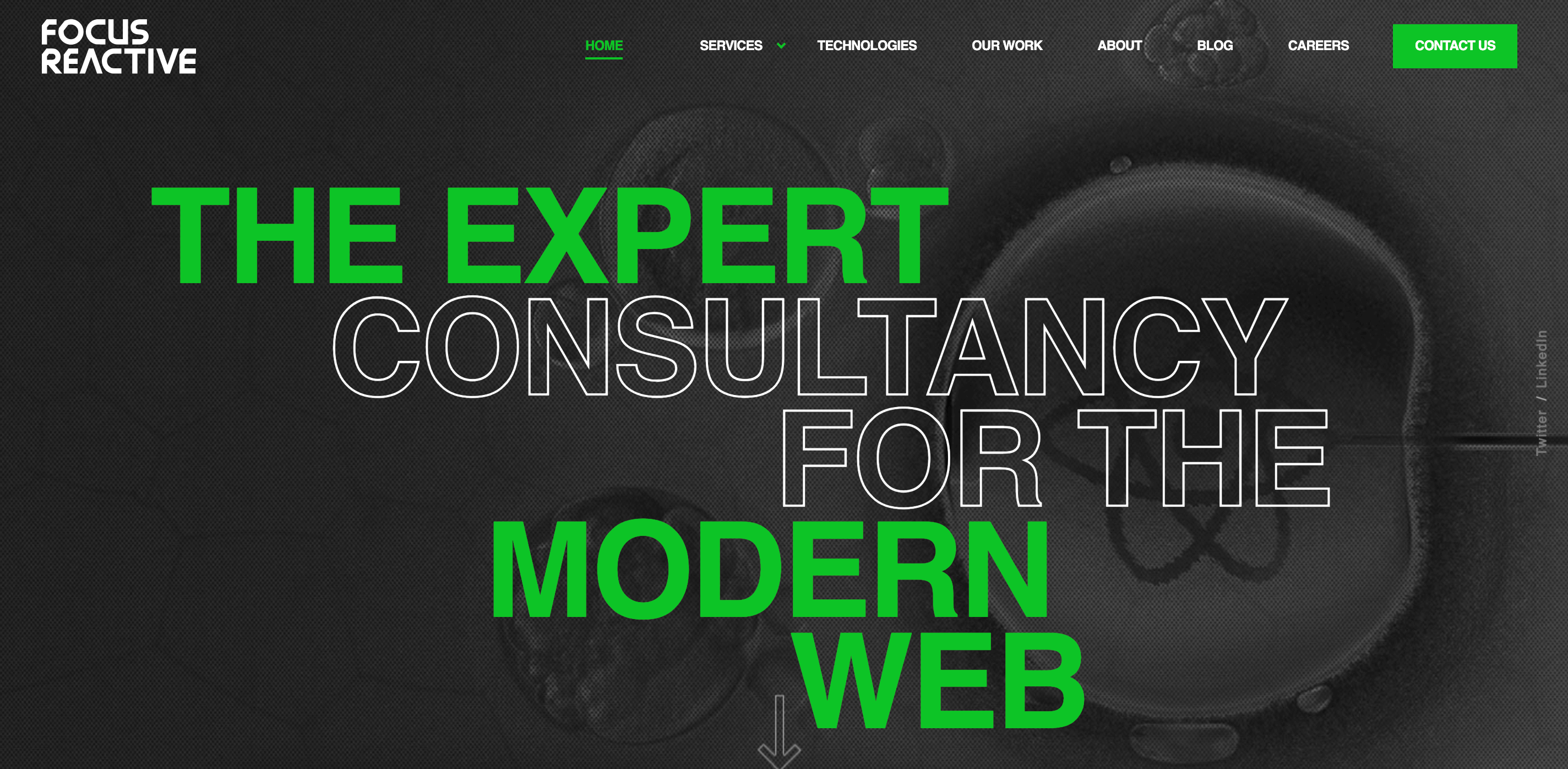 Based in London, FocusReactive is a renowned private tech company that specializes in headless CMS development services. Their comprehensive offerings encompass full-cycle web and mobile development. They excel in providing solutions for Storyblok, Sanity, Contentful, and Prismic.
Since its inception in 2019, FocusReactive has prioritized delivering software that is scalable, efficient, and user-friendly. Their team of expert consultants harnesses industry-leading best practices to create and tailor solutions that give clients a distinct competitive edge.
What sets FocusReactive apart is their significant contributions to the JavaScript community. They actively engage in collaborative learning programs and participate in global conferences, spearheading advancements in the realm of JS alongside other esteemed developers.
Services and expertise: eCommerce development, web development, mobile app development
Tech stack: NodeJS, React, NextJS, Vercel, GraphQL
Location: London, UK
Portfolio: TrafficGuard, BigRiver Tipico
What To Consider While Hiring A Headless CMS Development Company
There are several considerations you need to take into account when hiring the best CMS development company. They include the following apsects:
Thoroughly evaluate the expertise and experience of your company of choice. A good firm has a proven track record of successful development, an organized portfolio of past projects, and several client testimonials that support its proficiency in delivering high-quality headless CMS solutions.
Different projects require different technologies and frameworks for better results. Asses the technologies the candidate's company specializes in and ensure they are what you need. Also, make sure their CMS developers for hire are well-experienced in the technologies that will be used in your project.
Customization and scalability
Best headless CMS developers should be able to tailor solutions to your business requirements. Therefore, when looking forward to hiring a CMS development company, check if they offer customization and guarantee a solution that can promote the scalability of your business.
Ensure you have a candid discussion with the company about the budget and timeline to accommodate your requests and requirements. You want to avoid bumping into hidden charges or experiencing unexpected delays during development.
Always inquire about how the company approaches to support and maintenance post-development. You want to partner with a reliable company that offers ongoing support, updates, and bug fixes and can address issues promptly when they arise.
Security and data privacy
Ensure your company has good security measures to protect your data and other sensitive information. A good tech partner always adheres to industry standards and best data protection practices.
Conclusion
Headless CMS solutions are gaining popularity, with more businesses recognizing the benefits of decoupling their content management systems.
However, always consider hiring developers from the best company with a good reputation for delivering CMS solutions that meet your specific needs and requirements perfectly. 
If you want to add your headless CMS development agency to this list, email us with your request. After a quick review, we'll decide whether it's a valuable addition.