BigCommerce may sound like a play on words, but it's exactly what it offers to businesses – a leading open SaaS platform for cross-channel commerce.
Powering over 47,700 stores in more than 150 countries, BigCommerce provides industry-leading web development services to create scalable, flexible, and cloud-based eCommerce solutions. Helping businesses of all sizes succeed in the digital marketplace, BigCommerce has become a go-to choice for online retailers worldwide.
You can enjoy a range of great features with this platform, although some are more basic than others. For instance, those who want to blog on BigCommerce often turn to alternative tools such as DropinBlog, as the native blogging solution is pretty basic. 
The benefits of BigCommerce are countless, including:
However, to make the most of your BigCommerce site development, you need to hire the right tech partner. We've compiled a list of the top BigCommerce developers and development companies based on their expertise, experience, and customer reviews. So, whether you're a small business or a market leader, we'll help you find the best BigCommerce agency to fit your business requirements perfectly. 
The Best BigCommerce Development
Companies And Developers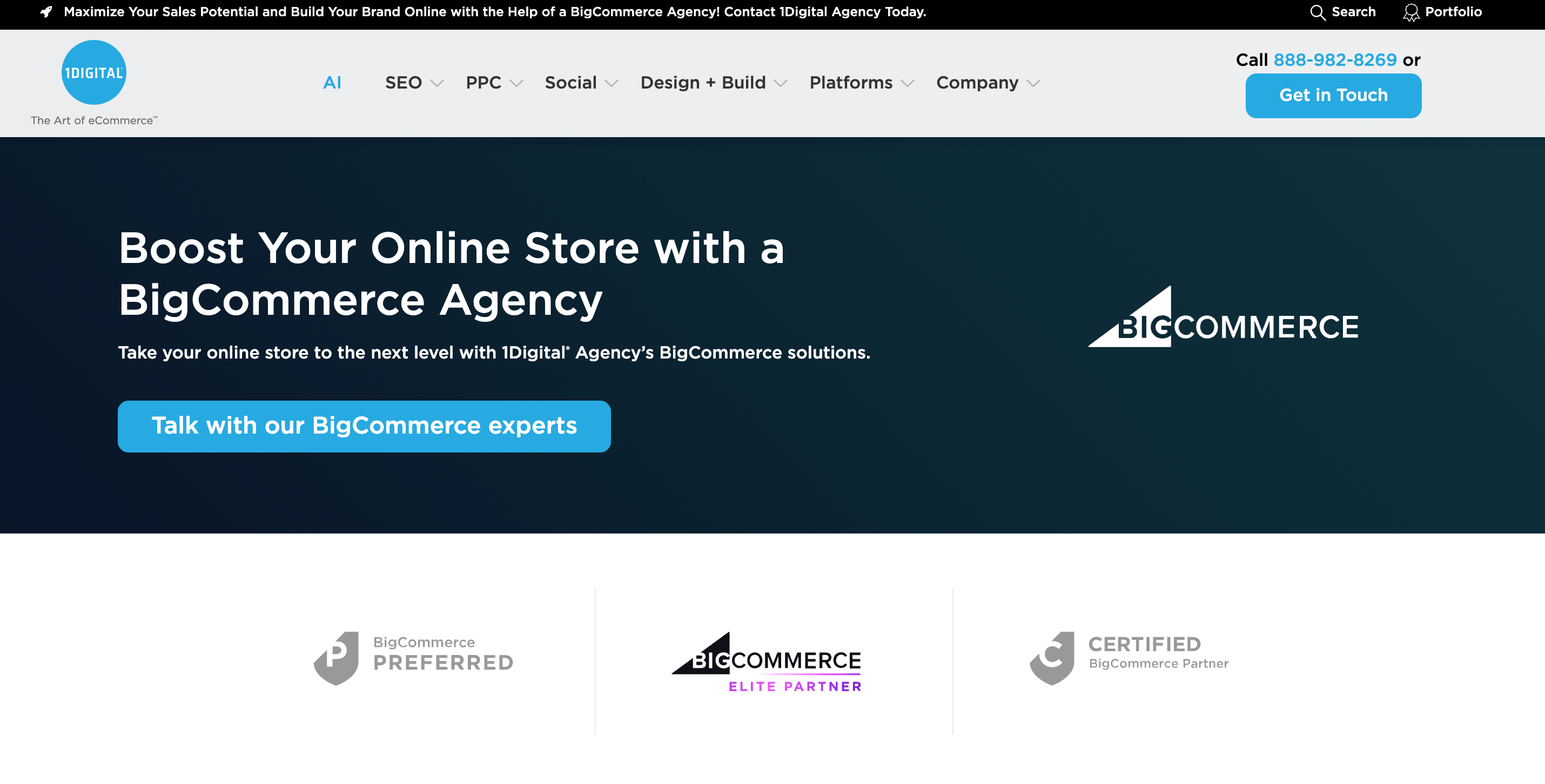 And we're starting strong with 1Digital Agency, a leading eCommerce agency that boasts a superior team of 50 experts with an extensive background and certification in BigCommerce. Since 2012, they've been dedicated to crafting next-level digital solutions to power growth, and increase organic rankings and traffic, resulting in higher conversions. Based in Miami, the company works diligently to establish brands in the US and internationally, helping them reach new heights of success.
 As an Elite BigCommerce Partner, the agency offers various services, including web design and development, digital marketing strategies, and industry-leading SEO and PPC services. Their custom BigCommerce development services are second to none, and they pride themselves on delivering results that exceed their client's expectations.
So whether you require migration to BigCommerce or full-service web development from scratch, 1Digital is the right partner to maximize your online visibility, ensure optimal performance, and help your business stand out with tailored solutions.
Since 2014, DigitlHaus has emerged as the top BigCommerce agency, earning recognition for its proficiency in providing top-tier development services to B2B and D2C brands. Being an award-winning partner, DigitlHaus boasts in-depth expertise in design, commerce development, SEO, and growth services. With a fantastic track record of over 150 successful BigCommerce launches for 500+ brands worldwide, they can be rightfully called the #1 BigCommerce Executive Team.
DigitlHaus has a 5-star rating and significant certifications in BigCommerce's Storefront API, Checkout SDK, Shipping, Catalog API, and Stencil. Their talented designers, developers, and strategists can help you increase brand awareness, generate traffic, boost conversions, and ultimately future-proof your business by re-platforming or creating a new custom online shop.
The company also offers a broad range of BigCommerce support services, including platform and technology evaluation, theme upgrades, speed optimization, project rescue, and code audit and review.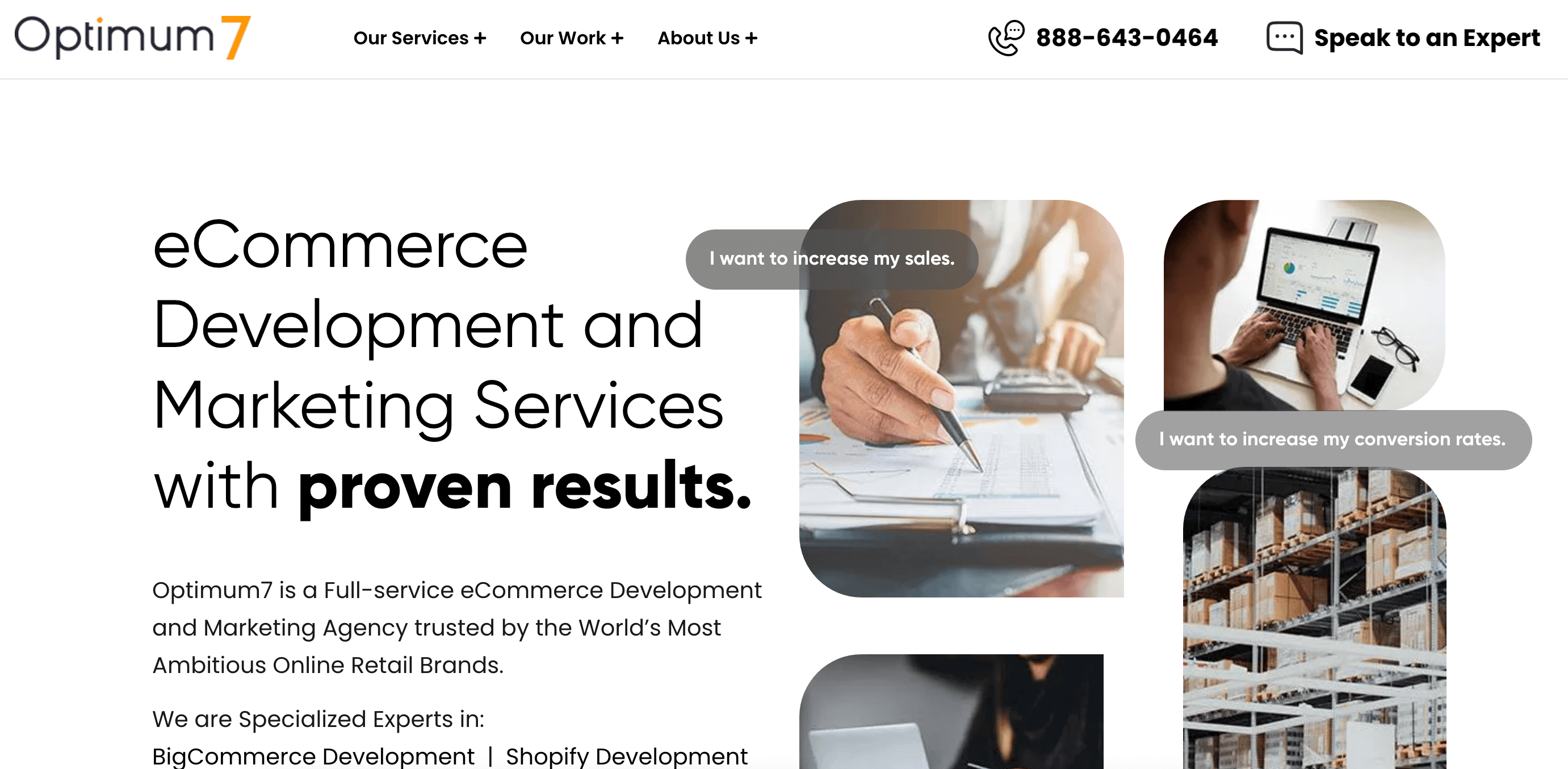 Optimum7 is a full-service eCommerce development and marketing agency trusted by the world's most ambitious names, like Intel, Pearson, Dior, Electrolux, Dr. Pepper, and Florida International University (FIU). Founded in 2007, Optimum7 has become the best BigCommerce agency with 10,000 happy customers worldwide. Their ingenious Miami-based team will help you develop robust and user-friendly web solutions to handle a large volume of traffic and transactions.
Optimum7 offers the following BigCommerce services: store development and migration, custom app development, API development and integration, theme & web design, as well as site speed optimization. In addition, they provide result-driven SEO, omnichannel marketing, and CRO services to boost your site's conversion rates and increase sales.
Featured in Forbes, Inc., Mashable, and Techco, Optimum7's professional team delivers high-quality, transparent work within deadlines.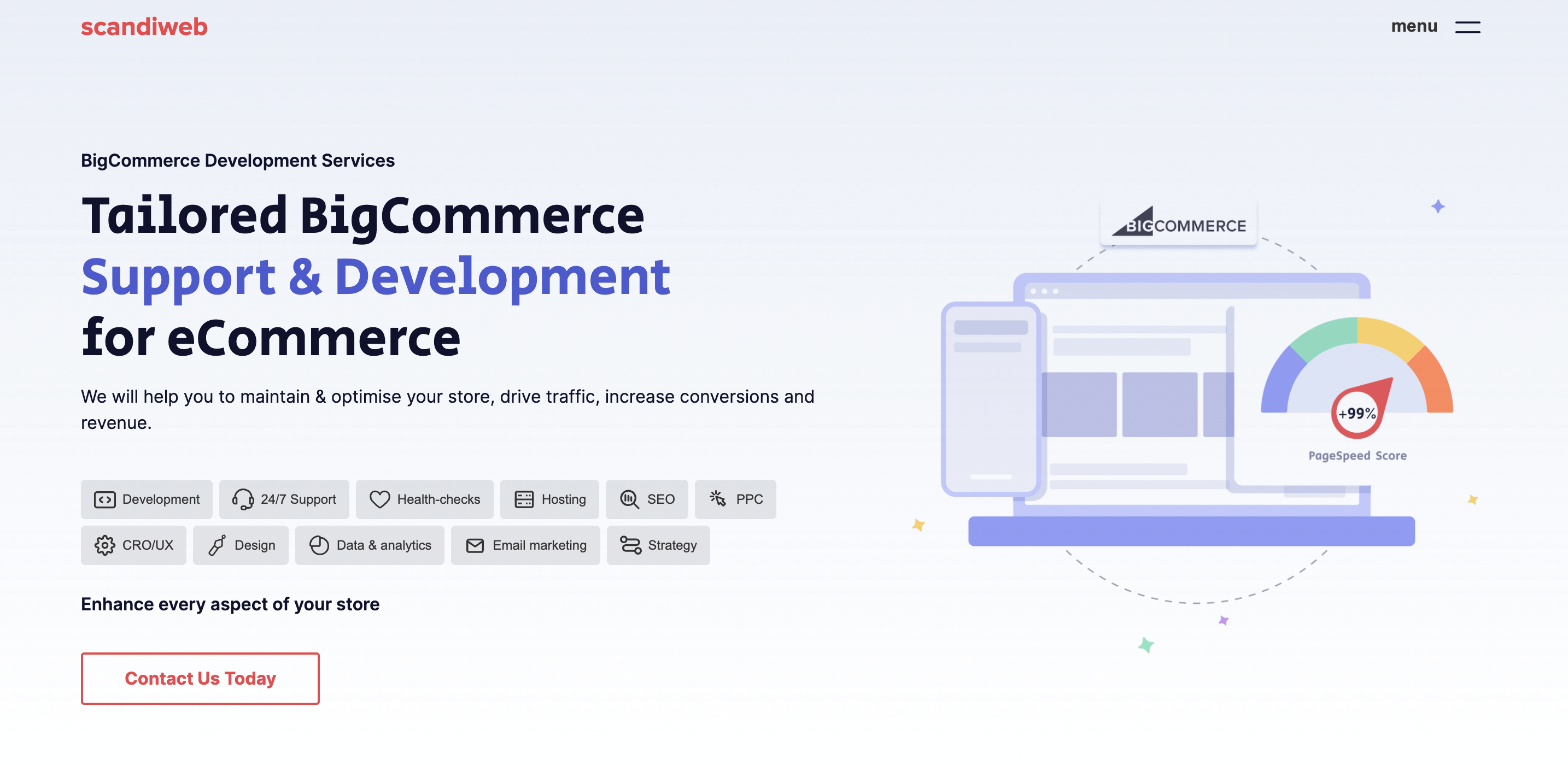 scandiweb is a full-stack agency with a certified and innovative team, delivering eCommerce projects to bootstrapping startups and Fortune 500 enterprises. ‍They have crafted exclusive eCommerce solutions with BigCommerce and other technologies for brands such as Puma, Jaguar Land Rover, Walmart, Thomson Reuters, and The New York Times, among many others.
Today, scandiweb has gone global, with 600+ teammates from 33 countries working in offices and leading remote teams across the globe. In addition to working with ambitious brands worldwide, their teams have crafted eCommerce industry-shaping products—ScandiPWA, ReadyMage, RemoteDesktop, Mosaic, GreenPixel, and Crowdbonus, to name a few.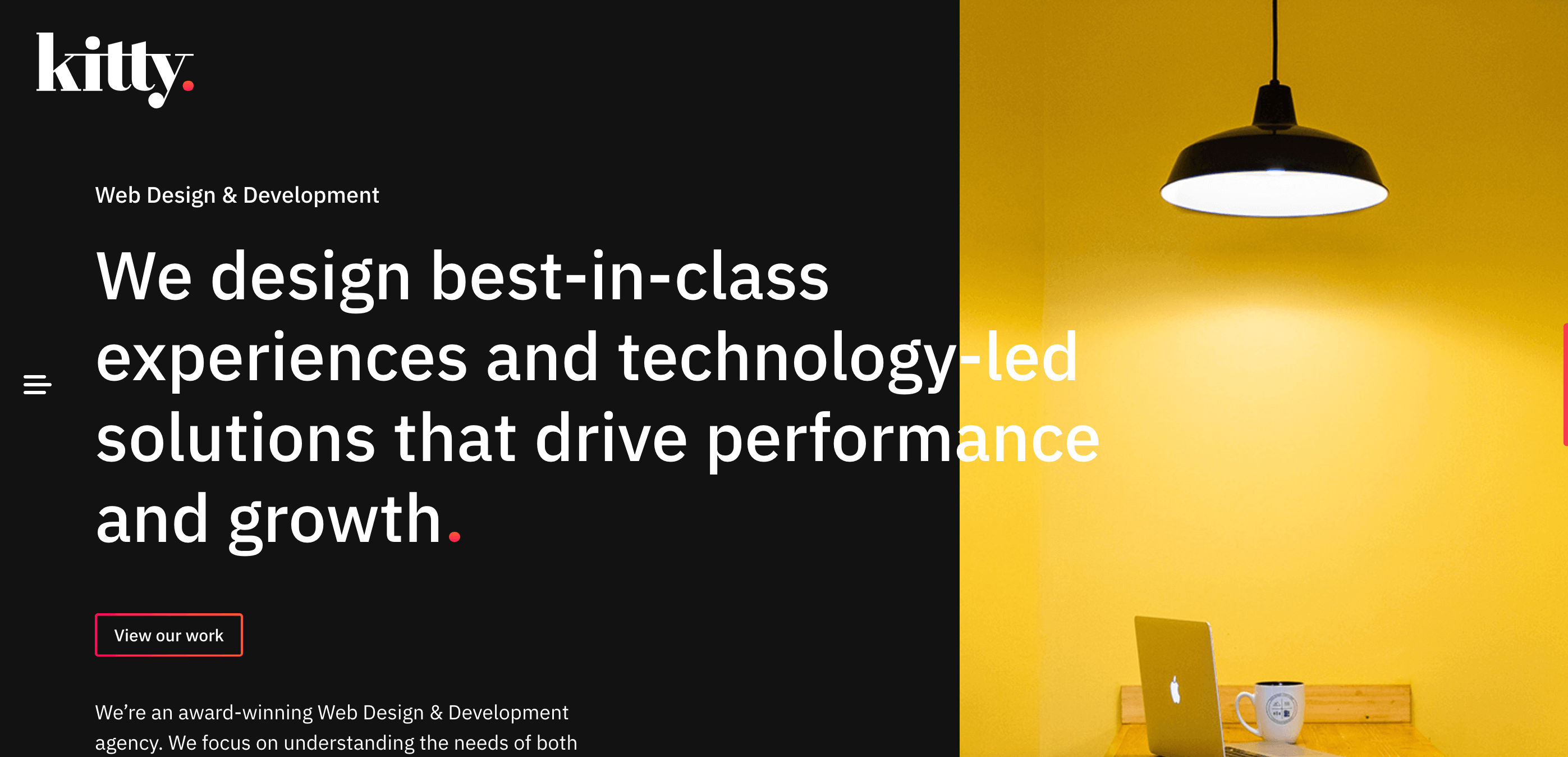 Being a BigCommerce partner, Kitty is an award-winning web design and development agency based in London, specializing in creating user-centric experiences to drive stores' performance. Focusing on the needs of both the brand and the customer, the agency offers complex eCommerce consultancy services to help clients reach their potential and generate revenue. They design and develop online stores on various platforms, including BigCommerce, with the aim of converting visitors to customers and generating revenue for businesses.
With Kitty, clients can expect a personalized approach to their BigCommerce projects. From custom designs to tailored development solutions, the company works closely with you to ensure that your online store reflects the brand and meets business objectives. As a result, Kitty's customers enjoy a seamless and effective eCommerce experience that drives conversions and grows their business.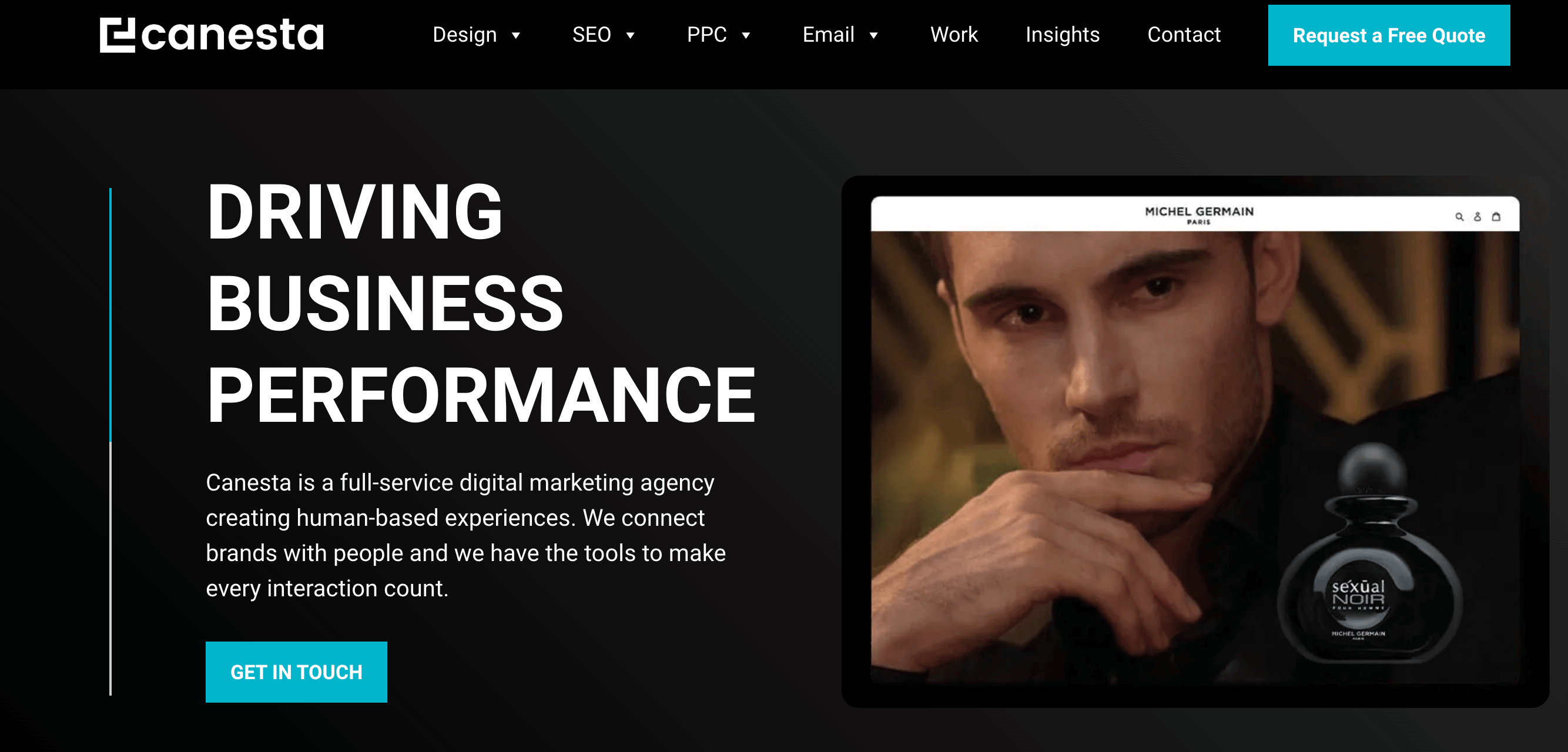 Founded in 2016, Canesta is a full-service digital marketing agency that provides BigCommerce development services. Working together with clients to understand their needs and elevate their brand value, Canesta helps design and develop solutions that drive engagement and help businesses achieve their goals.
From strategy to development, the team of expert BigCommerce developers from Canesta can bring any idea to life. In addition, they tailor impactful SEO strategies and techniques to every project helping businesses boost their sales through the roof.
Working with numerous industries, the agency easily overcomes any challenges to deliver the best end result. With a focus on user experience, Canesta ensures that each solution they create is both functional and visually appealing. They also provide ongoing support and maintenance to ensure their clients' eCommerce platforms run smoothly and efficiently.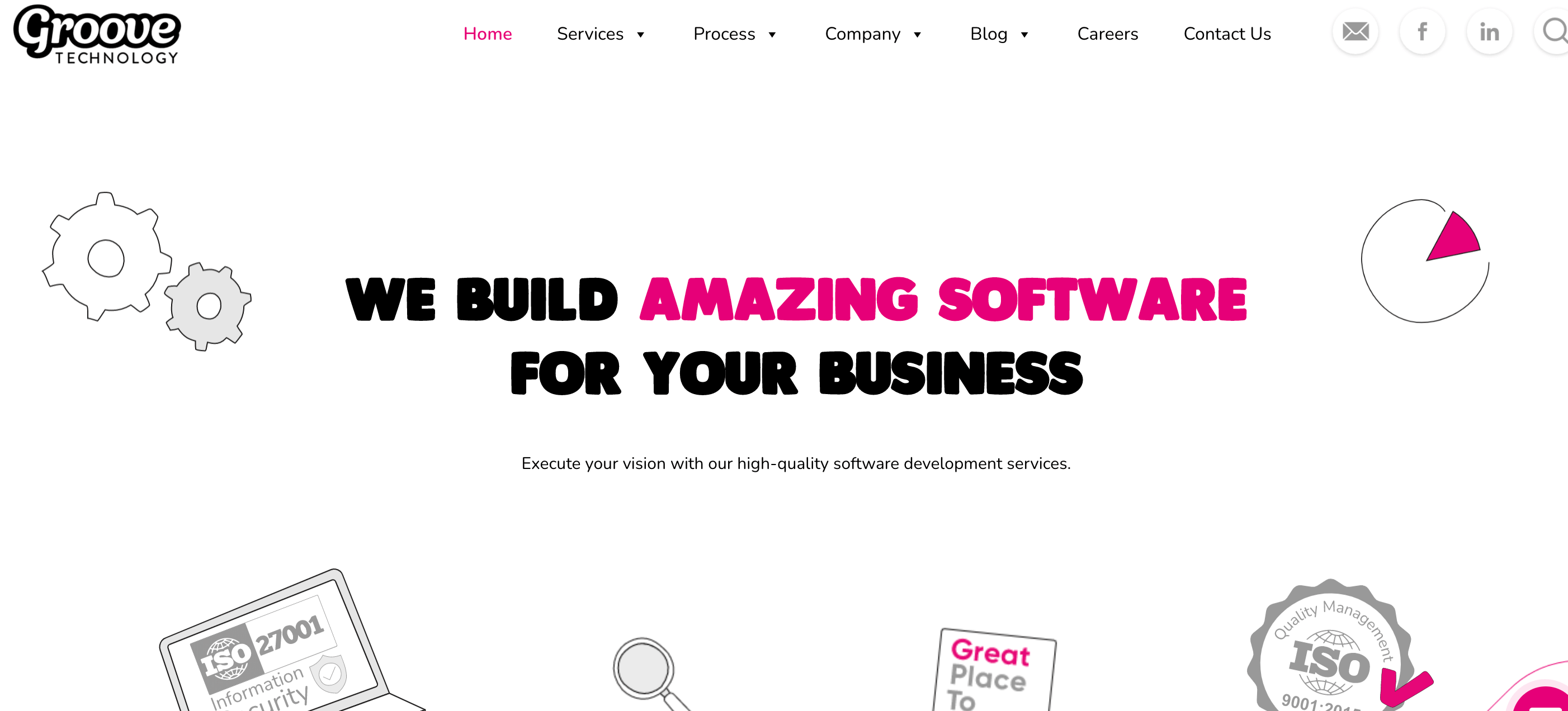 Web design, theme development, API integration, store migration, maintenance, performance optimization, and extension development – Groove Technology is a cutting-edge agency that can do it all when it comes to BigCommerce. Being on the market since 2016, this Australian-based firm has already helped countless companies obtain prominent results by allocating its well-oiled offshore teams.
Offering affordable rates, secure and flexible solutions, superior UI/UX, and well-tested software, Groove Technology is a go-to BigCommerce development service provider. They stay up-to-date with the latest industry trends and technologies and follow a customer-centric approach to ensure that each delivered solution is tailored to their client's specific needs. Their commitment to excellence is reflected in their many satisfied clients and long-standing reputation as a leader in BigCommerce services.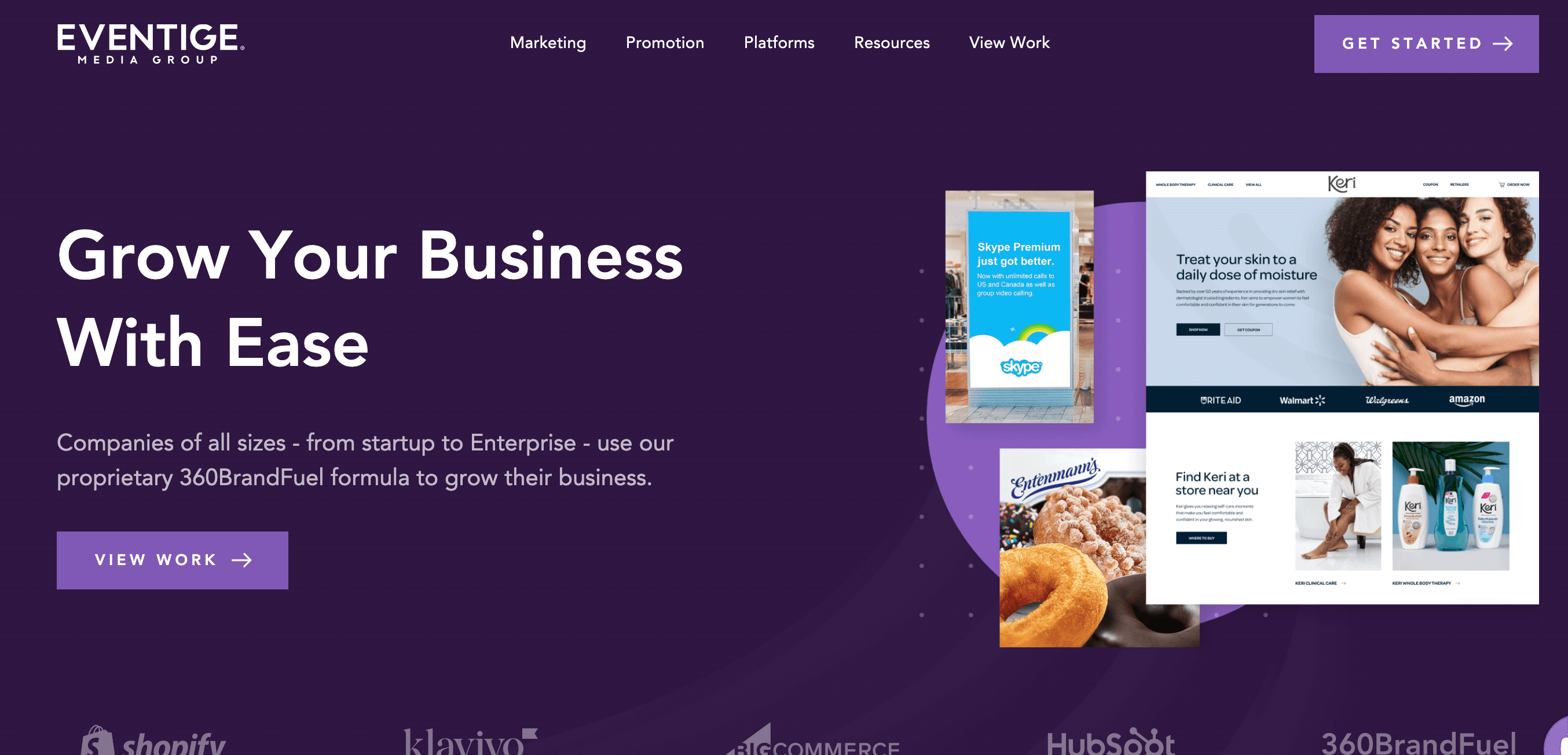 Eventige is a leading BigCommerce agency that helps brands build incredible stores since 2009. Having already launched and grown hundreds of successful BigCommerce stores, the company has gained valuable expertise and experience in creating innovative, beautiful, scalable, and high-revenue web solutions. The agency covers a full range of services, including strategy, design, development, and BigCommerce optimization.
The certified experts from Eventige are exceptional at providing winning solutions to mission-critical design, merchandising, and technical challenges. From store migration to custom BigCommerce themes, they utilize creative strategies and a data-science approach to provide digital services that help businesses stand out.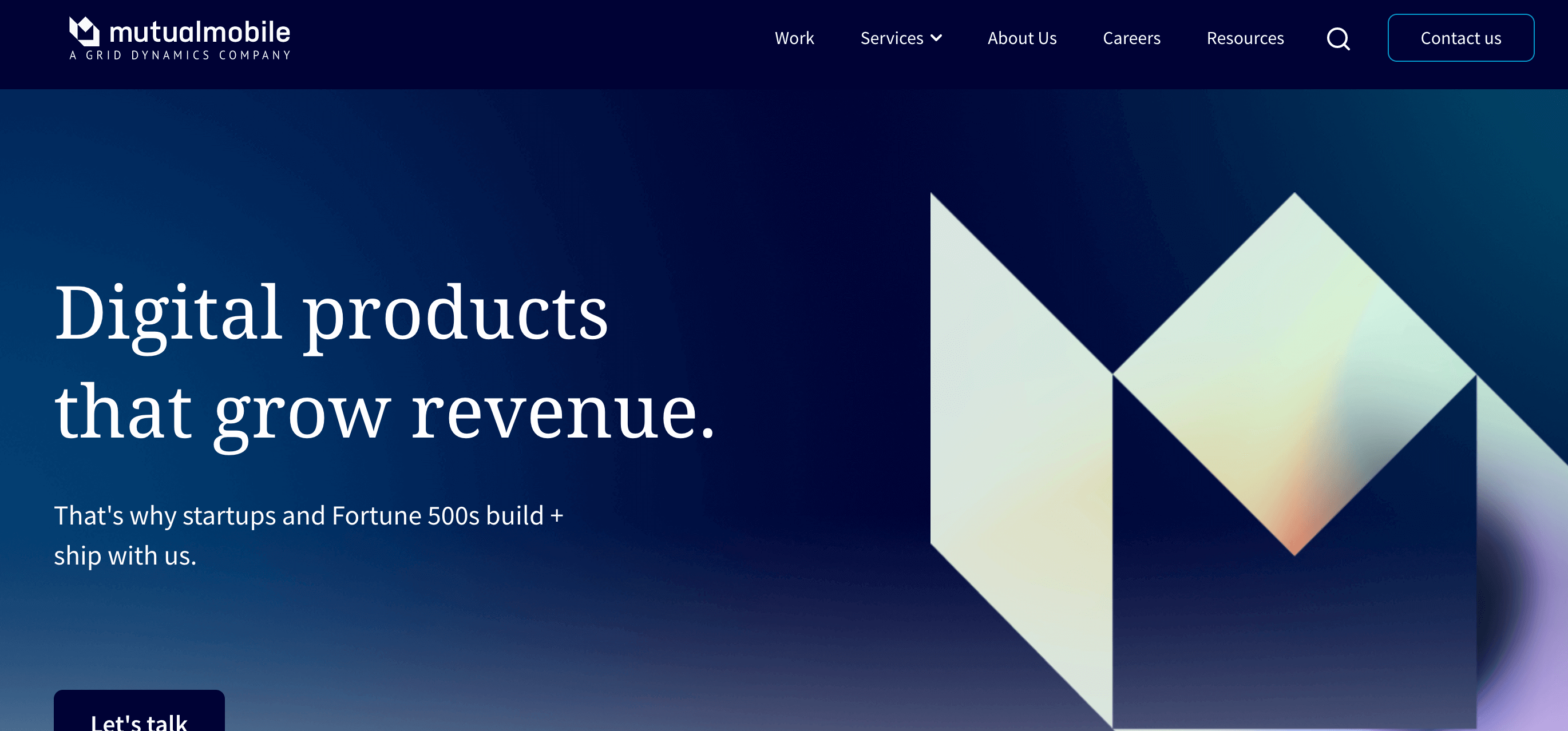 Mutual Mobile is an American eCommerce service provider that, for the last 14 years, has been partnering with various brands across all possible industries to provide the best BigCommerce solutions. Working with world-known companies like Barnes & Noble, Under Armour, and H-E-B putting their faith in the agency to build excellent eCommerce sites, Mutual Mobile knows how to combine design, technology, and strategy to deliver impactful results.
Having helped over 500 clients in 20 industries with 100+ projects, their BigCommerce experts have gained rich experience in creating scalable, high-quality, and transparent solutions to help businesses outsmart competitors and lower their expenses of maintaining and developing the online shop.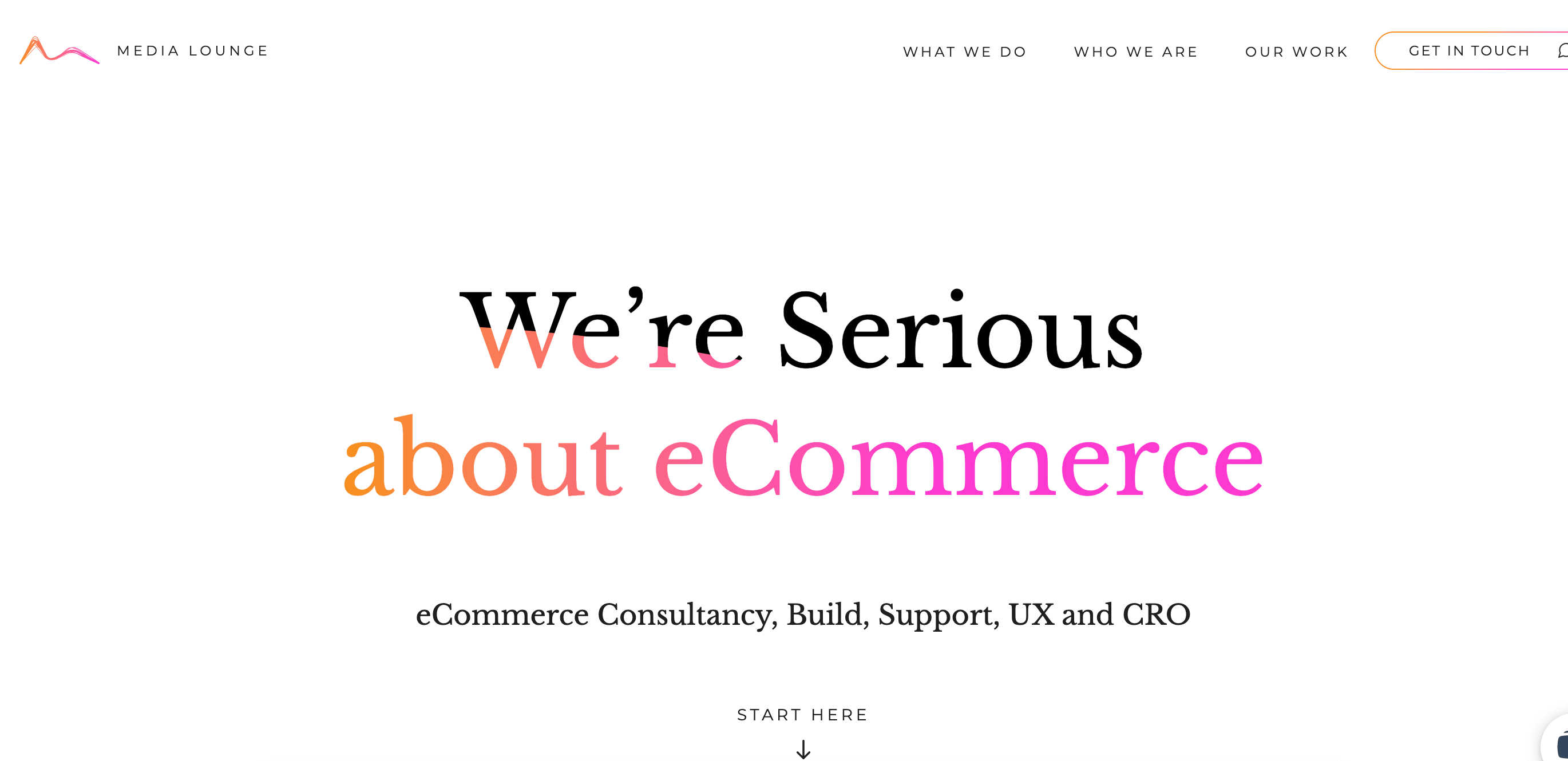 Media Lounge is a full-service eCommerce consulting agency based in Bournemouth, UK. With the best BigCommerce developers on board, the firm specializes in architecting and developing profitable eCommerce platforms using cutting-edge technologies. Media Lounge has established itself as a leading eCommerce specialist since 2008, having worked with over 400 retailers to build and maintain successful stores that convert.
As a BigCommerce Preferred Partner, Media Lounge has years of experience with various platforms and has won numerous awards and accolades. Their team is committed to innovating with new technology and improving its knowledge of how eCommerce impacts retailers' day-to-day operations. They collaborate closely with retailers to ensure their stores deliver on the fundamentals, from small conversion rate optimizations to larger integrations.
With superior in-house expertise, Media Lounge creates complex omnichannel experiences and provides the necessary infrastructure and support, allowing online retailers to focus on taking their business to the next level.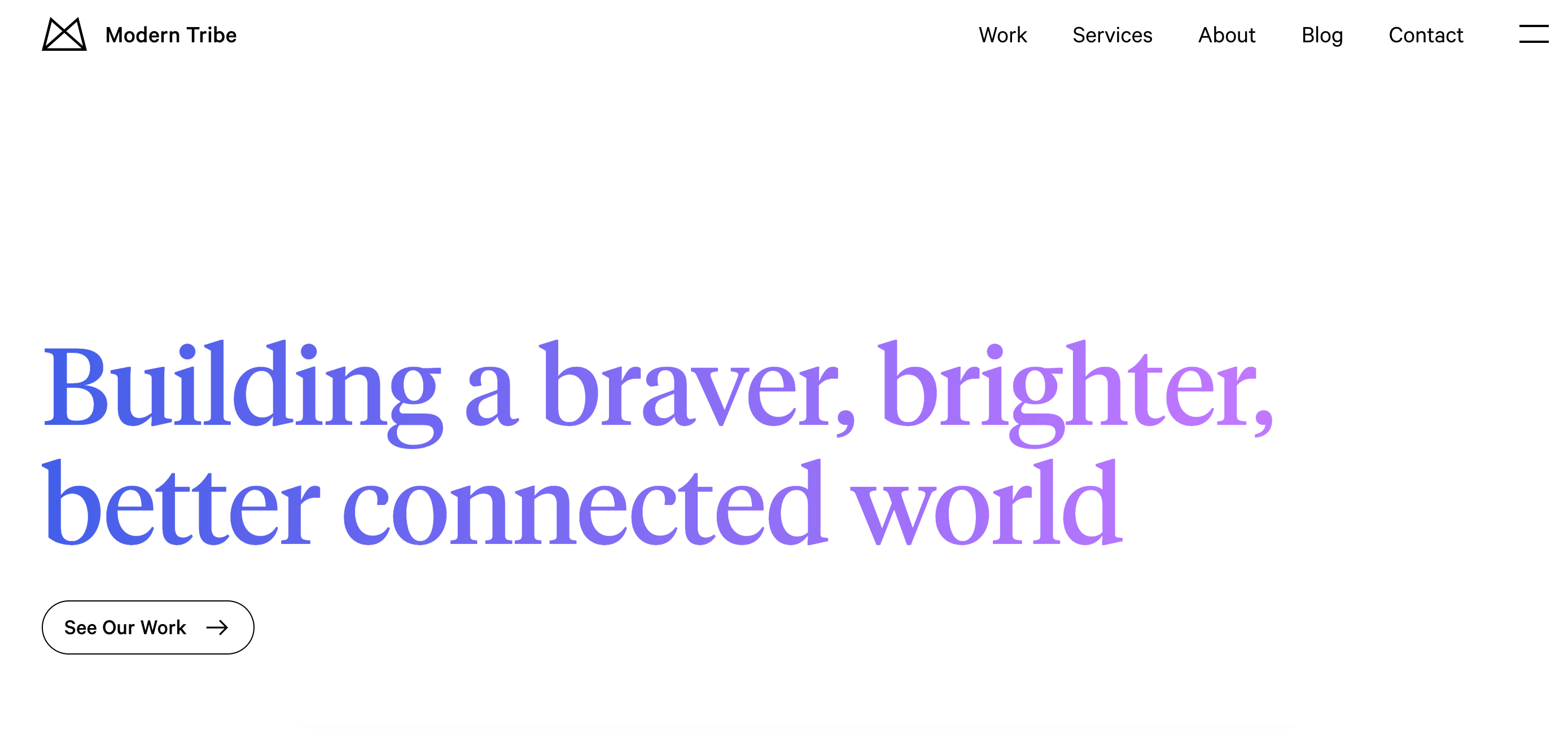 Being engaged in building digital solutions for over 15 years, Modern Tribe is a prominent web design agency that helps global businesses deliver tangible results. Focusing on BigCommerce, the company creates custom websites and apps, embracing the toughest challenges.
Whether you need a fresh perspective on your BigCommerce strategy or assistance from a full-service dev team, Modern Tribe will help you connect all the dots. Their custom solutions for brands include creating outstanding eCommerce experiences, design systems, and custom software applications that integrate seamlessly with your existing platforms.
With a team of the best BigCommerce developers passionate about problem-solving and committed to providing measurable impact, Modern Tribe is the ideal partner for any brand looking to take its BigCommerce platform to the next level.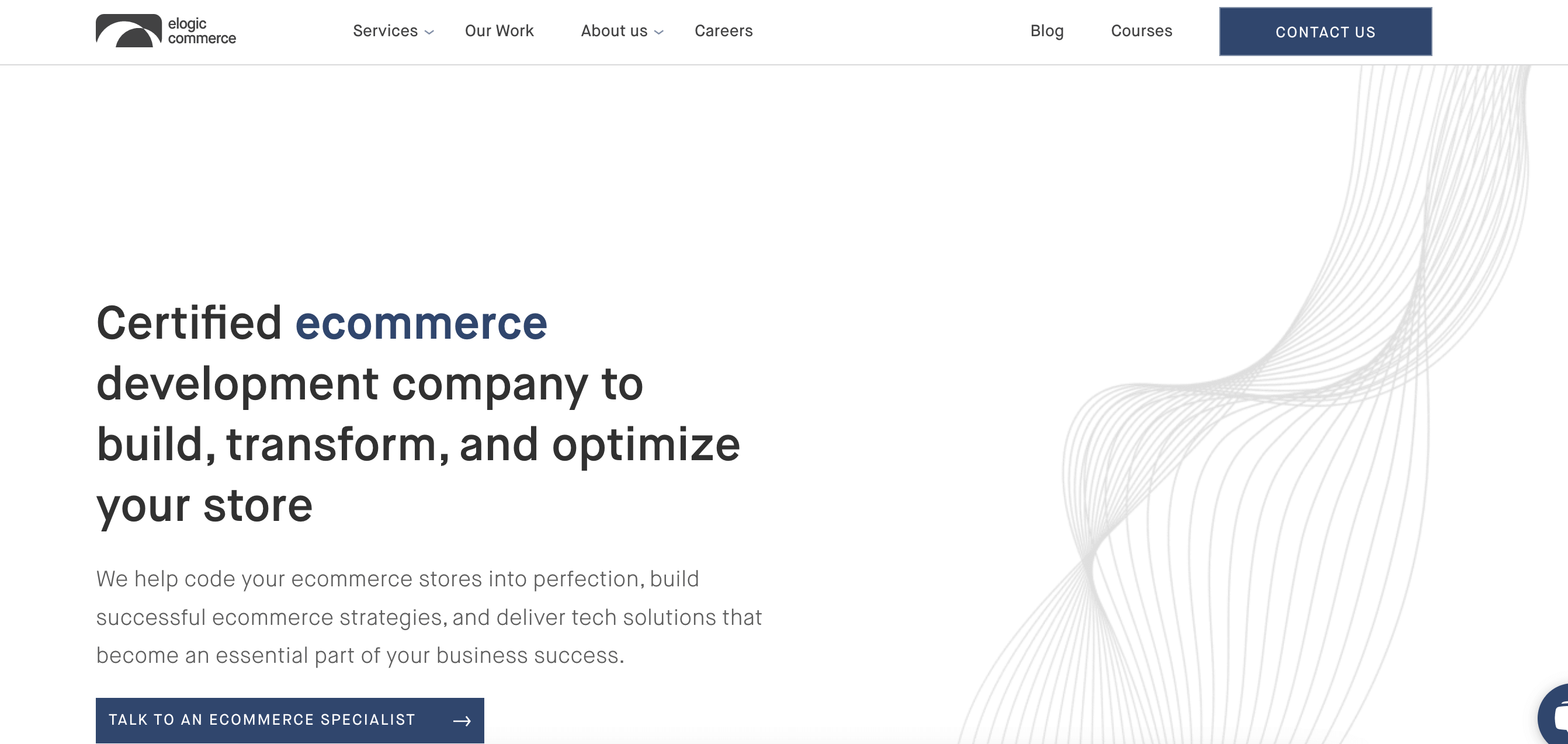 Since 2009, Elogic has been a certified end-to-end eCommerce development agency that creates, designs, and optimizes online storefronts. With over 100 BigCommerce experts on board, the company helps businesses in B2B, B2C, DTC, marketplaces, and wholesale implement innovative solutions that meet their specific requirements. 
Offering integration, migration, design, headless development, support, and mobile development services, Elogic helps businesses in Fashion, Luxury Goods, Industrial Automation, and other industries build their ideal online stores. With fast, high-quality deployment, the company will deliver flexible, transparent BigCommerce solutions for your business on time and within budget.
In addition, for every project, Elogic offers a dedicated Account Manager to ensure the development is performed according to the client's requirements.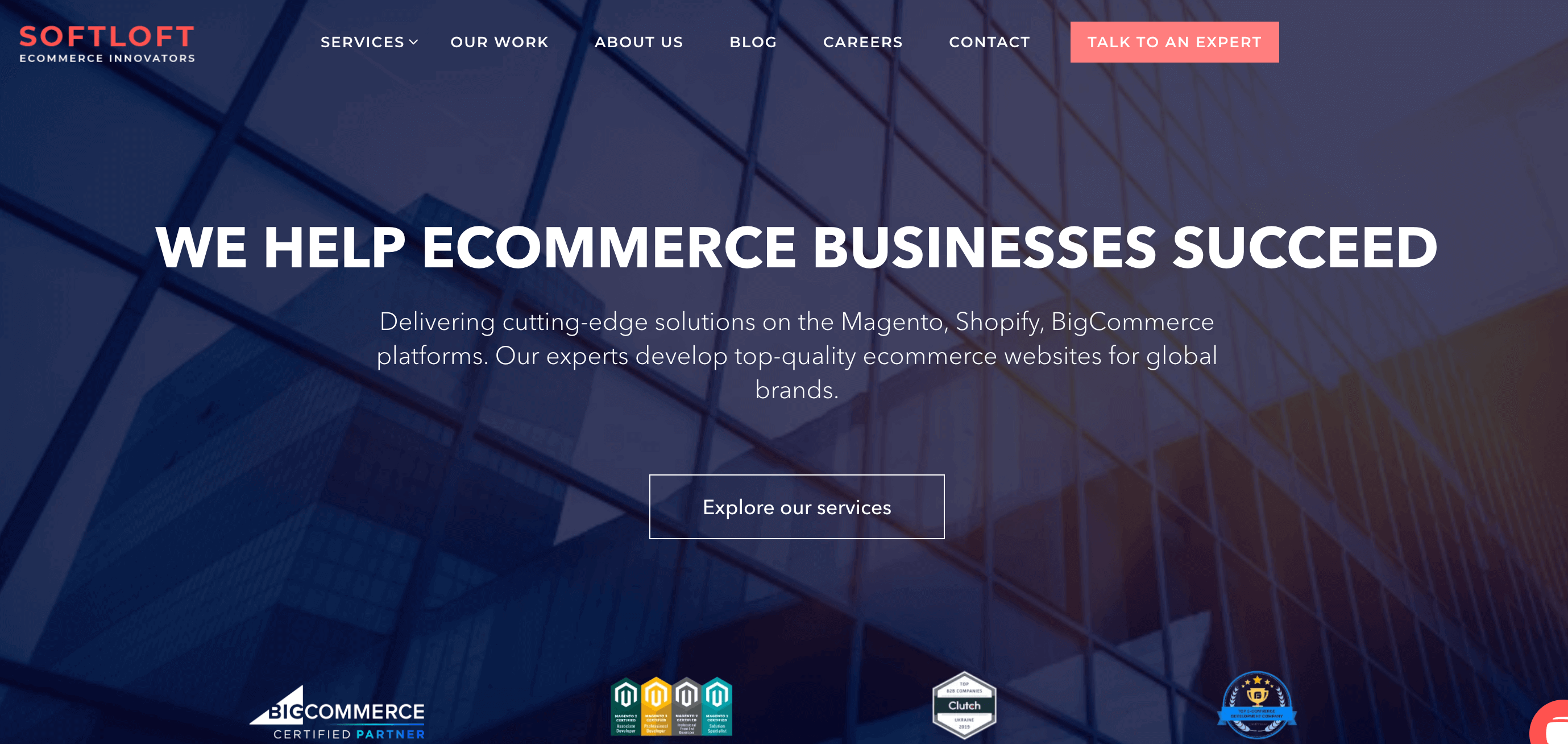 SOFTLOFT is a reliable eCommerce partner providing BigCommerce development services, among many others. Founded in 2008, the agency delivers agile, high-quality, and cost-effective digital solutions to customers all over the world. 
From store setup and theme customization to design, development, and maintenance – SOFTLOFT provides fully customized services to meet the unique demands of every customer. Solving daily challenges and adhering to the highest standards, they help clients drive their business growth through highly secure and scalable eCommerce solutions.
Hiring the best BigCommerce developers from SOFTLOFT ensures the final product meets your business requirements; otherwise, they'll give you a 100% money-back guarantee. The company has worked with notable names like Deep People, Burrow, ToolSaver, ResMed, and others.
Conclusion
Now you know where to find and hire BigCommerce developers with extensive expertise and years of experience to help you create an online shop that stands out. Whether you're a small business just starting your digital journey or a large enterprise looking to expand your eCommerce capabilities, the listed BigCommerce development companies will help you achieve your exclusive goals.
If you want to add your company to this list, please contact us via email. Our team will thoroughly review your profile and determine whether it's a good fit.