It's hard to underestimate the importance of SEO tools for modern marketers and businesses aiming to achieve sustainable success. 
From comprehensive keyword research to in-depth analytics and content optimization, all-in-one SEO software is essential to get higher search rankings and increase organic traffic. Using powerful search optimization tools helps marketing specialists analyze massive volumes of data to develop a robust SEO strategy to outperform competitors. 
As search engines become smarter and user preferences are dynamically changing, the majority of advanced SEO platforms utilize artificial intelligence and machine learning to predict search robots' behavior and adjust recommendations appropriately. 
So whether you are a seasoned marketer or a proactive business owner looking to enhance your brand's online presence, choosing from a diverse range of software programs that cater to your specific needs might be challenging. Thus, we've compiled this ultimate list of the top SEO tools available on the market, highlighting their key features, advantages, and pricing.
The Best SEO Tools To Boost Organic Traffic And Rankings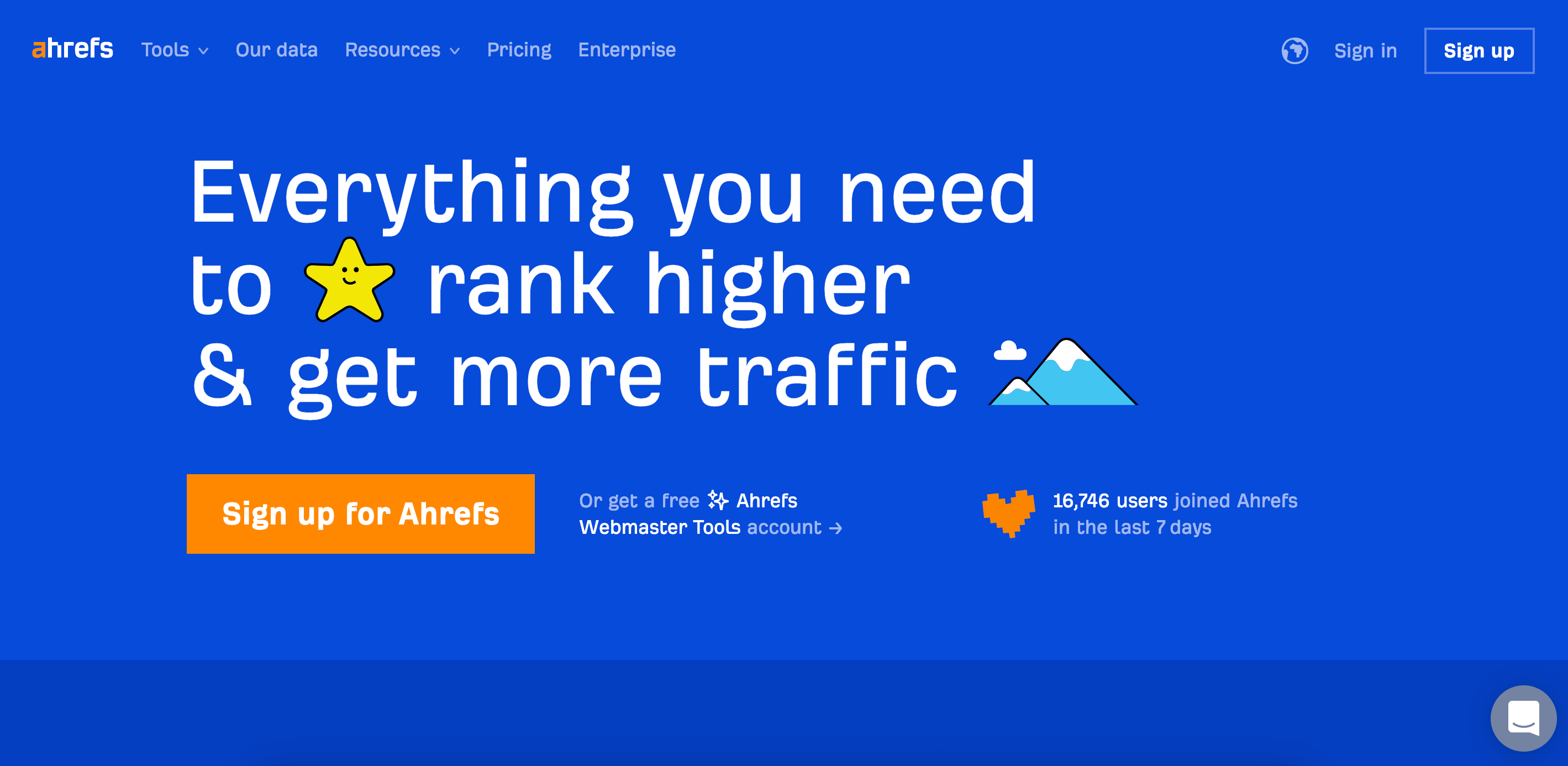 Ahrefs is one of the most popular and comprehensive tools for SEO (we use it at ReVerb as well!). Notably, AhrefsBot is the fastest web crawler in the "Search Engine Optimization" category on Cloudflare Radar. Additionally, it's ranked as the third most active web crawler globally. 
The program boasts an impressive content index size of over 13 billion pages and a total keyword index size of 20 billion keywords. Moreover, it holds the record for the world's largest index of live backlinks, which is consistently updated based on fresh data every 15–30 minutes.
Ahrefs' suite of services amazes: from site auditing, keyword research, and content explorer to rank tracking, domain comparison, and backlink profile analyzer. Its user-friendly interface and regular updates make it a top choice for SEO professionals and businesses within various industries seeking to enhance their search engine visibility and drive organic traffic to their websites. 
Key features:
Site Explorer 

Keyword Explorer

Content Explorer

Site Audit

Rank Tracker

Competitive Analysis

Backlink Analysis
Pricing:
Ahrefs offers monthly and annual plans, with a free 2-month trial:
Lite:

$99/per month. 

Standard:

$199/per month.

Advanced:

 $399/per month.

Enterprise:

$999/per month.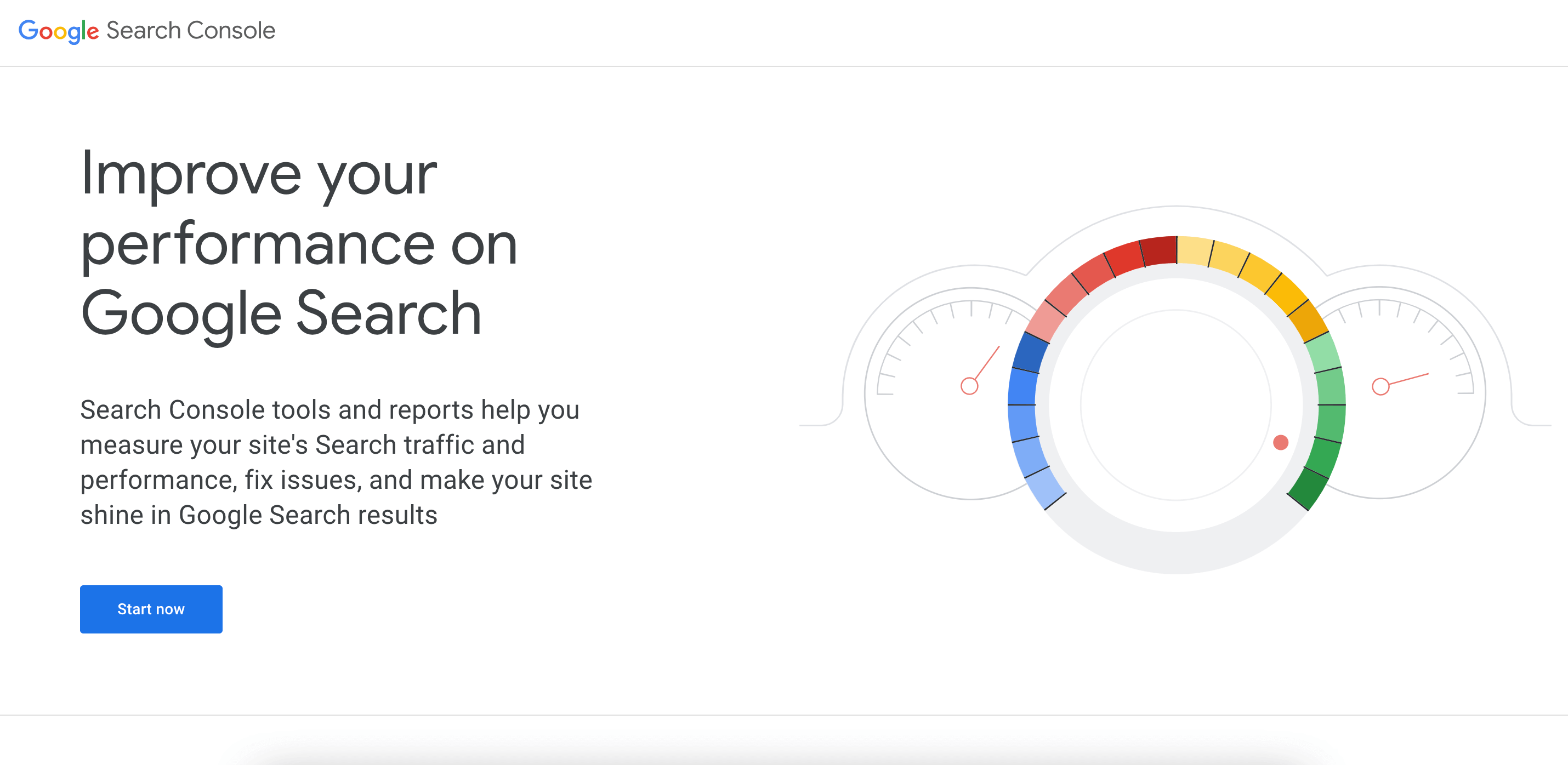 Google Search Console is a powerful SEO tool for website owners and marketers offered by Google. It serves as a comprehensive platform to monitor and optimize a website's presence in Google's search results. The main advantages of using Google Search Console are its absolute accuracy and free.
This leading SEO tool provides access to critical performance data, including search impressions, clicks, click-through rates, and average site position for specific queries. Also, Google Search Console offers valuable insights into a website's index status, revealing which pages are successfully indexed by Google and whether any crawling or indexing errors need attention.
In addition, Google Search Console assists in resolving critical issues related to mobile usability, security, and broken links, empowering website owners to improve their site's user experience, security, and overall search performance.
Key features: 
Pricing:
Google Search Console is an absolutely free web service provided by Google.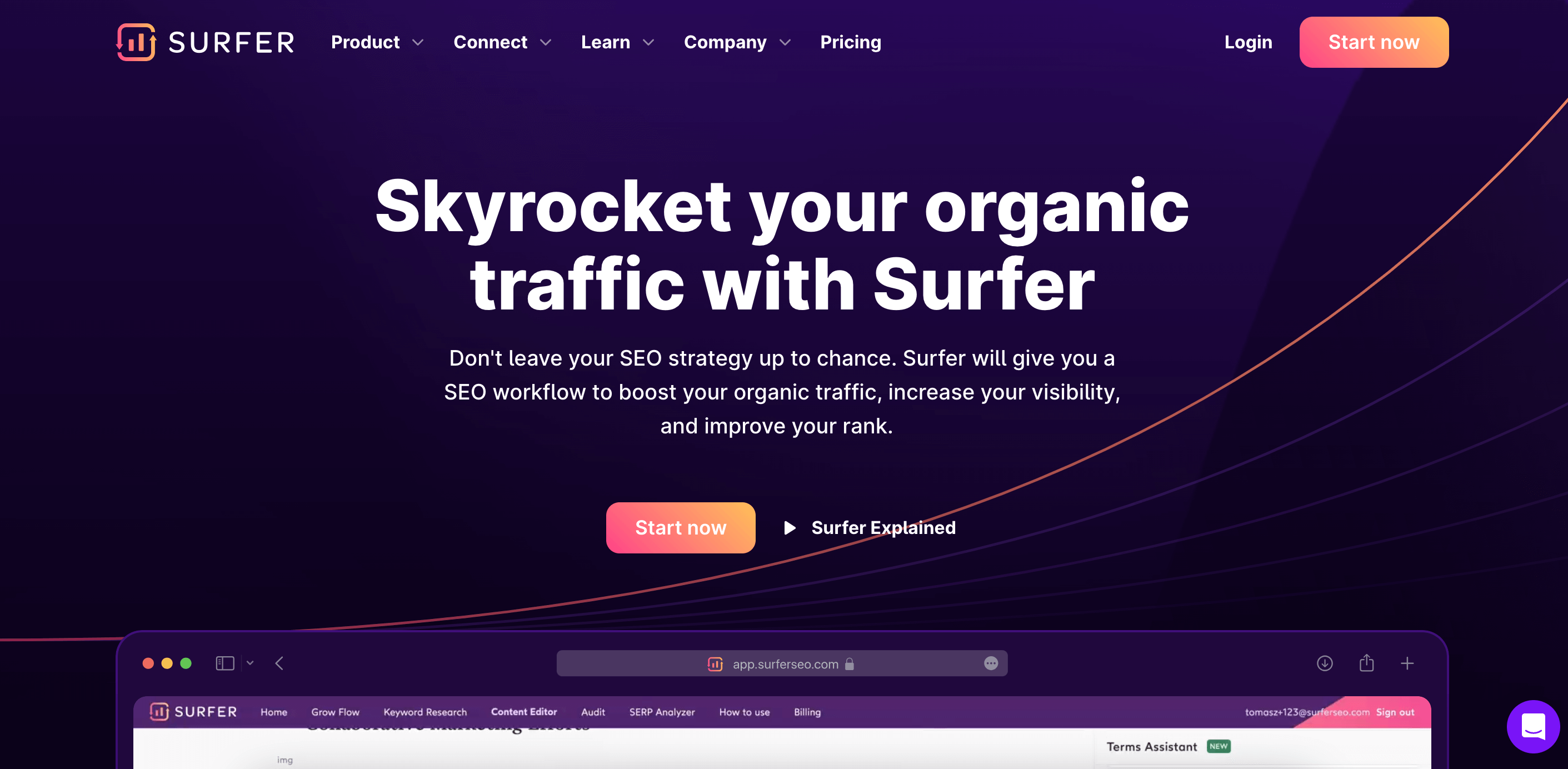 Surfer belongs to the best SEO analytics tools aimed at enhancing your organic traffic, boosting visibility, and elevating your search rankings. Whether you need sophisticated keyword research to identify high-impact keywords or uncover valuable content ideas and optimization tips, Surfer has got you covered!
Powered by AI, Surfer SEO software effortlessly generates top-quality, well-optimized articles in any language within 20 minutes through seamless research, writing, and optimization. 
Key features: 
On-Page SEO Analysis

SERP Analysis

Keyword Research

Content Editor

Backlink Analysis

Competitor Analysis

Local SEO

Page Audit
Pricing:
Surfer SEO offers four plans for yearly and monthly billing. In addition, you get a 7-day money guarantee and can save up to $600 by choosing the annual plan. 
Essential:

$89/month.

Advanced:

$179/month.

Max:

$299/month.

Enterprise:

custom quote.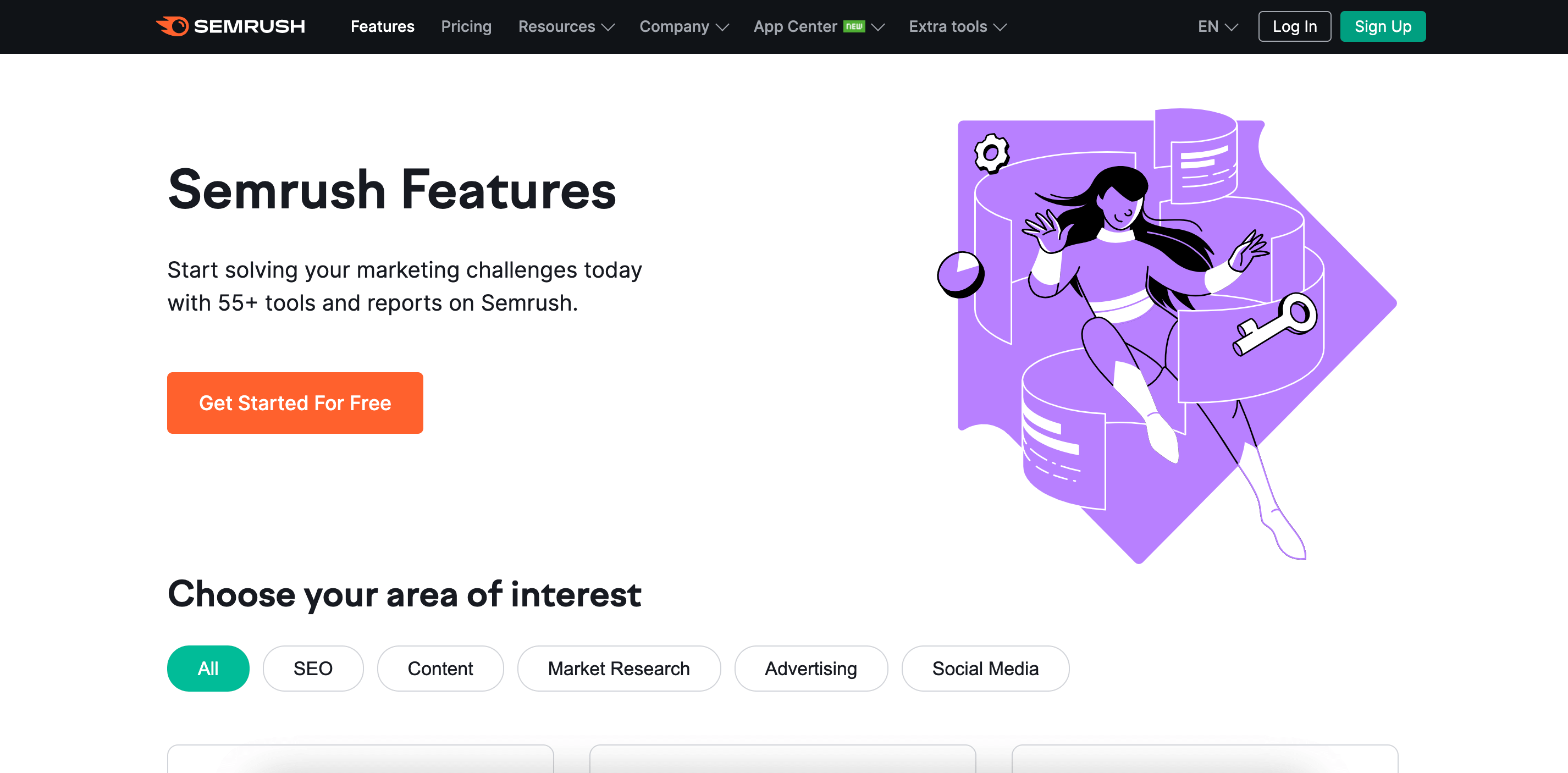 Semrush offers 20+ award-winning search engine optimization tools (and 55+ features in total) to solve complex marketing challenges. Its extensive databases and rapid backlink crawler enable you to reveal actionable insights your competitors don't know about. 
This all-in-one SEO platform has gained popularity for its fantastic range of features, from keyword research to backlink and log file analyzer. Try the best tools for SEO offered by Semrush to uncover millions of global and local keywords, analyze any domain's backlink profile, run a technical SEO audit, and track your SERP positions daily. 
Key features:
Keyword Research

On-Page SEO

Local SEO

Rank Tracking

Link Building 

Competitor SEO Analysis
Pricing:
SEMrush offers the following paid plans: 
Pro:

$129.95/month

Guru:

$249.95/month.

Business:

$499.95/month.
Keep in mind that you can save up to 17% if you pay annually.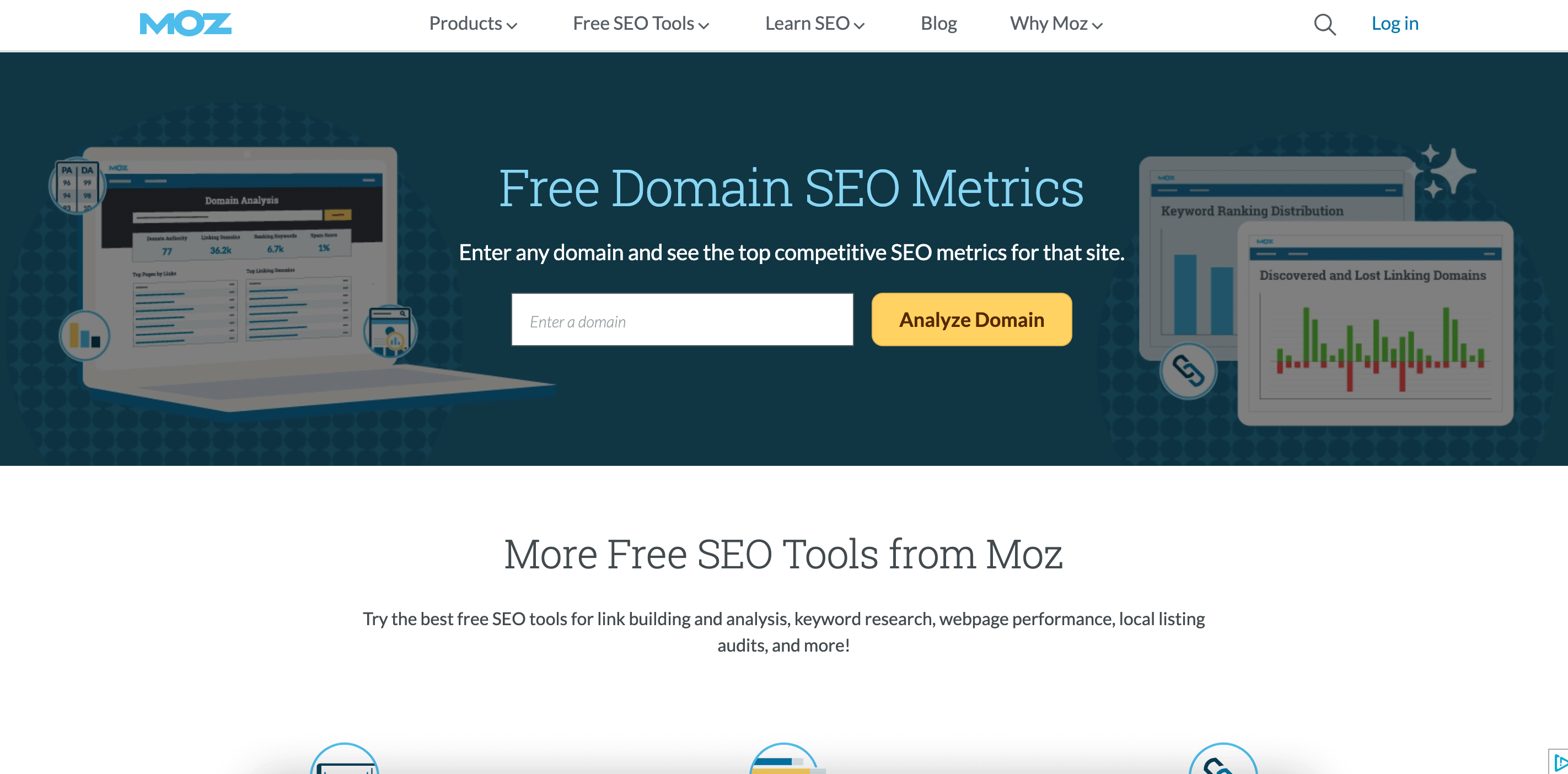 MOZ is one of the top SEO apps that helps businesses increase their site's traffic, rankings, and visibility in search results. The platform offers both free and paid SEO tools. The free version provides limited access to some basic features, allowing users to get a taste of MOZ's capabilities at no cost.
MOZ's paid plans, such as Moz Pro, Moz Local, and Moz API, offer more advanced features, including in-depth keyword research, comprehensive backlink analysis, website audit, rank tracking, and other powerful search engine optimization possibilities. These premium plans are typically designed for professional SEO experts, digital marketers, and businesses with extensive SEO needs.
Key features:
Keyword Research 

Link Explorer

Site Crawl and Site Audit 

Rank Tracking 

Local SEO

Competitor Analysis

Custom Reports and Analytics

On-Page Optimization

SERP Tracking 
Pricing: 
MOZ offers full access to the Moz Pro plan that includes all-in-one SEO essentials free for 30 days and up to 20% savings on its annual billing. The paid plans are the following:
Standard:

$99/month.

Medium:

$179/month.

Large:

$299/month. 

Premium:

$599/month.
MOZ Local plans start at $14 and allow you to save up to 25% when you pay annually:
Lite:

$14/month.

Preferred:

It costs $20/month.

Elite:

It costs $33/month.
MOZ Links API gives free access for one request every ten seconds, up to 2,500 rows per month. Also, it provides the following paid plans:
Entry Level: $250/month.
Low Volume: $500/month.
Mid Volume: $2,000/month.
Enterprise: It costs $10,000/month.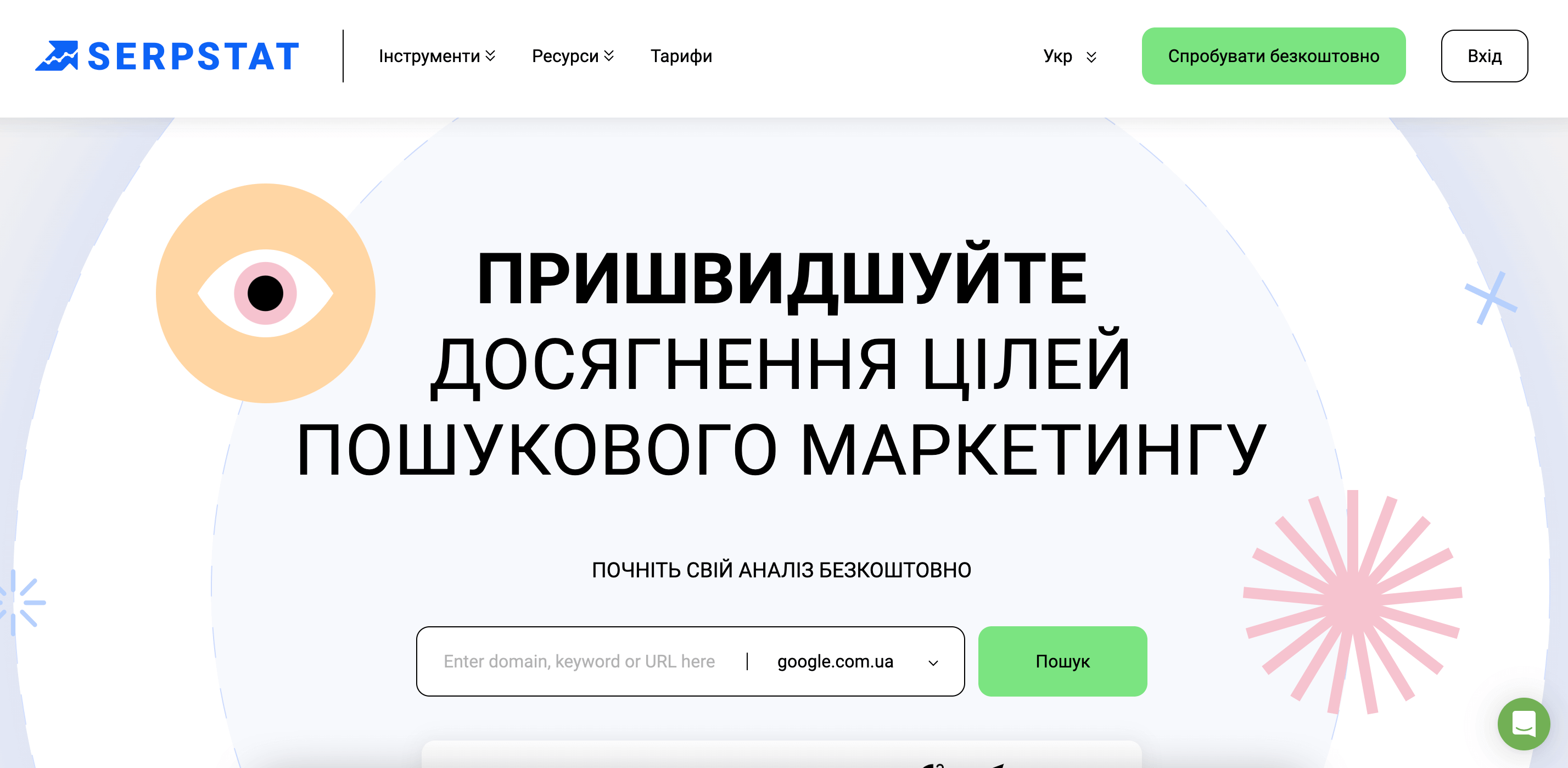 Serpstat is a renowned SEO software with over 50 SERP tools for individual SEO and PPC professionals, marketing experts, and digital agencies. With its powerful SEO ranking tools, Serpstat provides exclusive data for optimizing websites and crafting effective SEO strategies.
Serpstat also excels in competitor analysis, enabling users to track their rivals' rankings, backlinks, and top-performing keywords – everything to accelerate your marketing results. 
Key features:
Pricing:
Serpstat offers a free 7-day trial period, 4 paid plans, and up to 10% savings on its annual billing: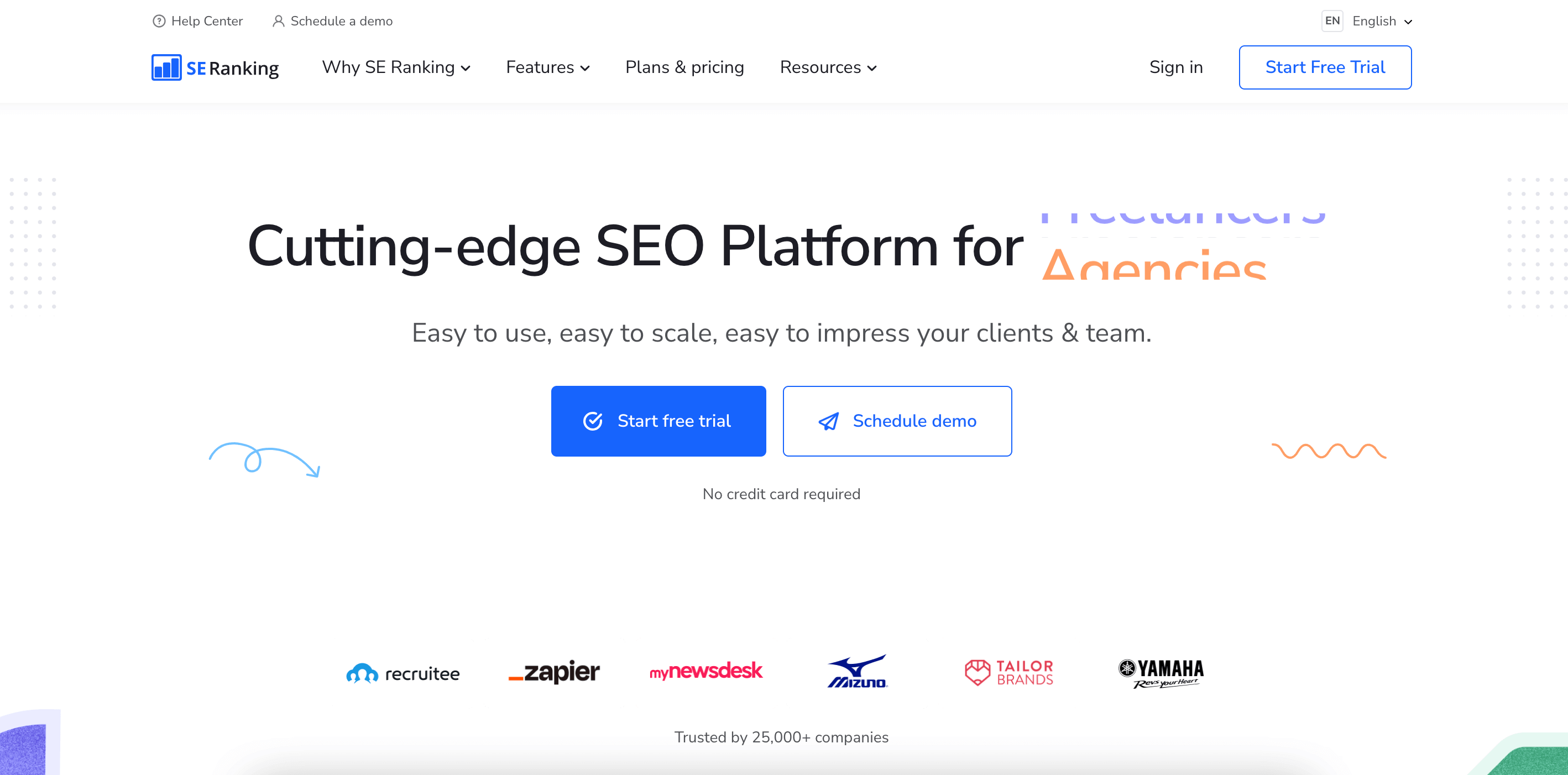 SE Ranking is deservedly the best SEO platform for any project, any level, and any budget. It supports you at every step and provides a very simple, user-friendly interface. 
SE Ranking functionality includes an SEO ranking tool, keyword suggestion tool, keyword grouper, content editor, content marketing tool, SERP checker, backlink tracking tool, SEO reporting tool, lead generator, and API. It's super easy to scale your business with SE Ranking; no wonder this software is recognized as a top SEO tool for SMBs, agencies, and enterprises and is trusted by 800,000+ users all over the world.
Key Features: 
Keyword Rank Tracker 

SERP Checker 

On-Page SEO Checker 

Website Audit 

Competitor Analysis Tool 

Backlink Checker

SEO Report Generator 

White Label

SEO Software 
Pricing:
SE Ranking offers the following paid plans with up to 20% savings on its annual billing: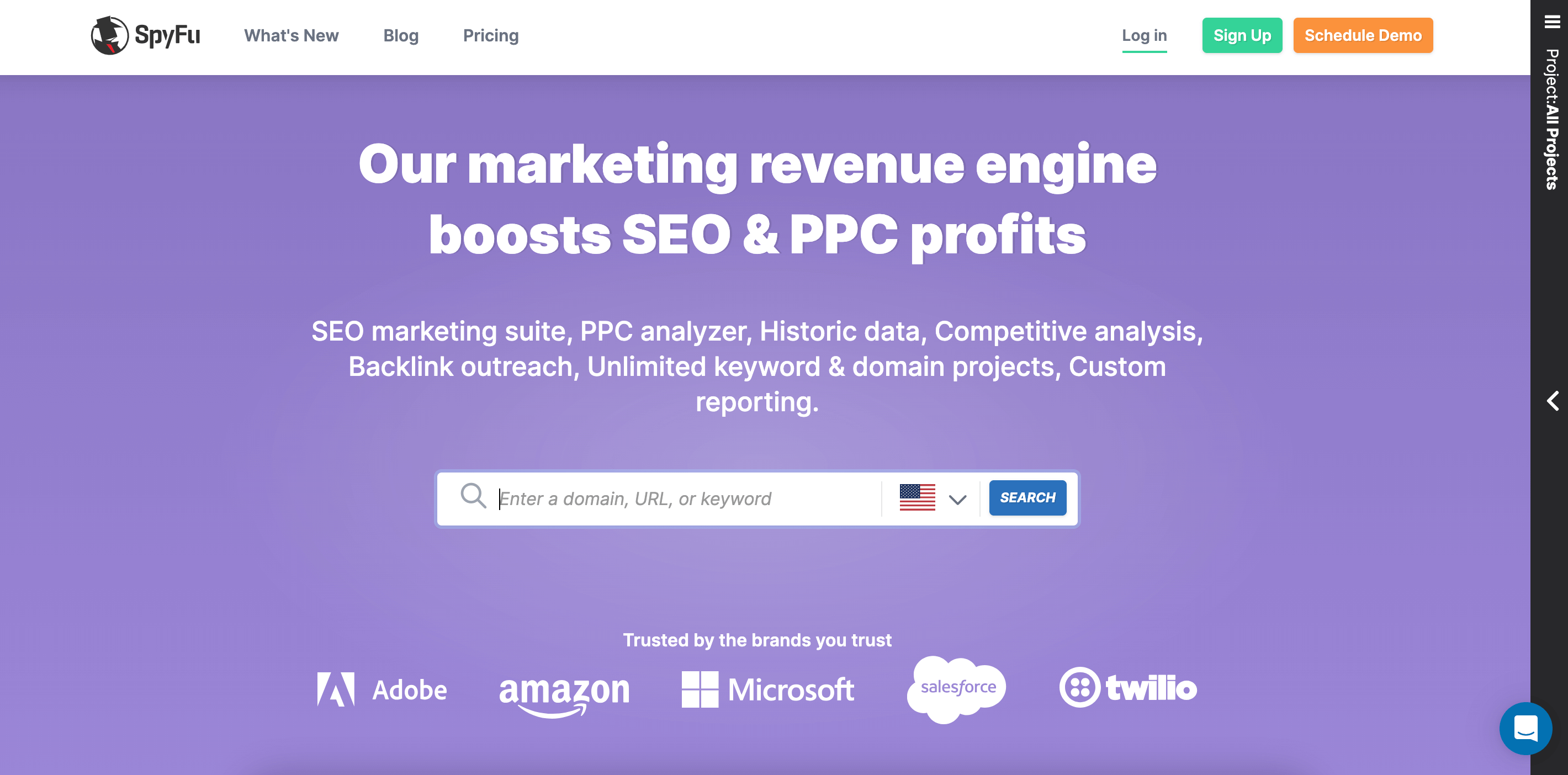 Focusing on search engine marketing and search engine optimization, SpyFu offers a great suite of tools and features to reveal competitors' most profitable keywords, ad campaigns, and backlink profiles to increase your website traffic and SERP rankings. 
Covering 7 billion results across 109 million domains, SpyFu's robots provide valuable insights into the top strategies used by industry leaders, as well as smaller competitors that you can relate to. It's one of the best platforms for SEO, featured as one of the Top 50 Products for Marketing in 2023. 
Key features: 
Competitor Analysis

Backlinks Builder 

Keyword Research

Rank Tracking

SERP Analysis

Compare Domains 
Pricing:
SpyFu offers the following paid plans with the possibility to save up to 50% on its annual billing:
Basic: $39/month.
Professional: $39/first month; $79/month thereafter.
Team: $299/month.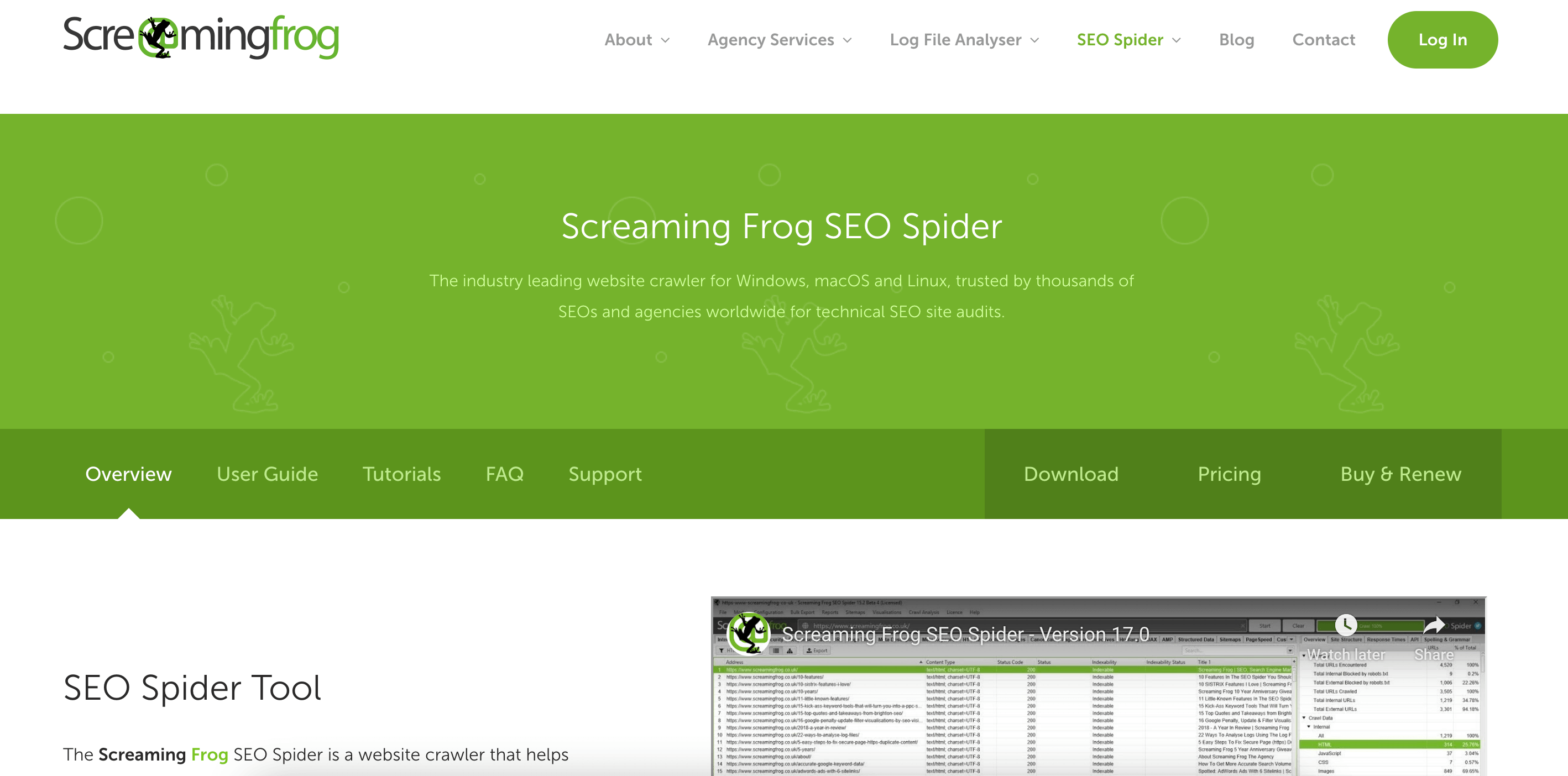 Meet Screaming Frog, the top-rated website crawler for Windows, macOS, and Linux platforms, trusted by marketing professionals and agencies worldwide and renowned for its effectiveness in conducting technical site audits. This prominent SEO software is capable of crawling both small and tremendous websites, providing real-time analysis of the results.
The tool is available for free download and use. However, a free version comes with limitations, allowing you to analyze only up to 500 URLs in a single crawl. Additionally, it doesn't provide access to advanced features like JavaScript rendering, custom extraction, Google Analytics integration, and more.
Key features:
Links Analysis

Audit Redirects

Meta Data and Page Titles Analysis

XML Sitemap Generator

Custom Extracted Data

Robots and Detectives Review 

Website Crawling

On-Page SEO Analytics

Pagespeed Insights

Integration with Google Analytics and Search Console
Pricing:
The Screaming Frog SEO Spider is free, however, you can purchase a license to crawl more than 500 URLs and get access to advanced features:

$259 per license annually (1 to 4 licenses) 

$245 per license annually (5 to 9 licenses)

$235 per license annually (10 to 19 licenses)

$225 per license annually (20+ licenses)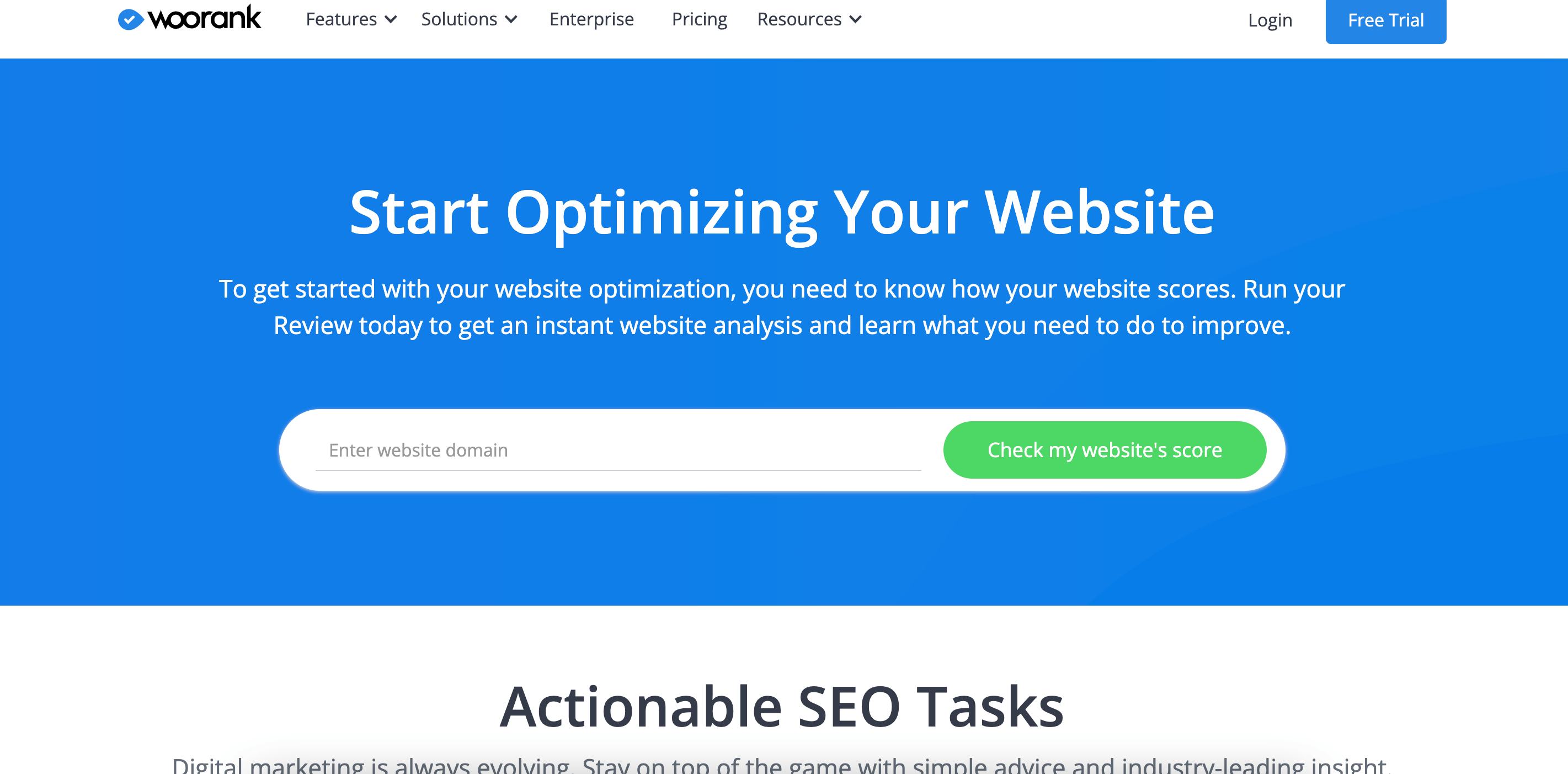 WooRank is a go-to SEO solution for businesses seeking a wide range of search engine optimization tools that help to save time and money and achieve great results for less marketing effort. With WooRank, you can quickly analyze your SEO, uncover keyword opportunities, and detect technical issues – all in one dashboard.
Moreover, the software goes beyond the traditional SEO kit, offering valuable social media monitoring features that help businesses gauge their online presence across different platforms. All in all, WooRank is one of the best SEO apps that can be a solid foundation for your killer marketing strategy. 
Key features: 
Marketing Overview 

Website Reviews

Keyword Tracking

Competitors

Site Crawl

Backlinks Analysis
Pricing:
WooRank offers the following paid plans and 3 months free on its annual billing:
Conclusion
The value of SEO apps lies in their fantastic ability to empower marketers with data-driven insights, keep them ahead of evolving trends, and enhance overall efficiency and productivity. 
Hope this list of the best SEO tools can help you choose the best program to craft effective SEO strategies, outperform competitors, and achieve sustainable online success.
If you want to add your search engine optimization tool to this list, contact us with your request. After a thorough review, we'll decide whether it's a valuable addition.