Web3, the future generation internet, is set to break records. The variety of possibilities and the security it offers individuals and businesses are unexplainable.
The core aspect of Web3 is decentralization which provides complete data ownership to users, which was missing in Web2. It is surely going to provide a next-level online experience to consumers. Most importantly, access to the internet has become easier due to advanced IoT sensor-based gadgets.
While the Web3 concept is relatively new, finding a reliable and experienced tech partner to implement your innovative metaverse, cryptocurrency, NFT, or another blockchain-powered startup might be a real challenge. But don't worry; we have compiled a list of top Web3 development companies worldwide to kickstart your project. The candidates were selected based on the following criteria:
Overall experience

Awards and recognition

Brand partnerships

Services and offers

Customer ratings
Work with the best ones to enter the Web3 space successfully!
The Best Web3 Software Development Companies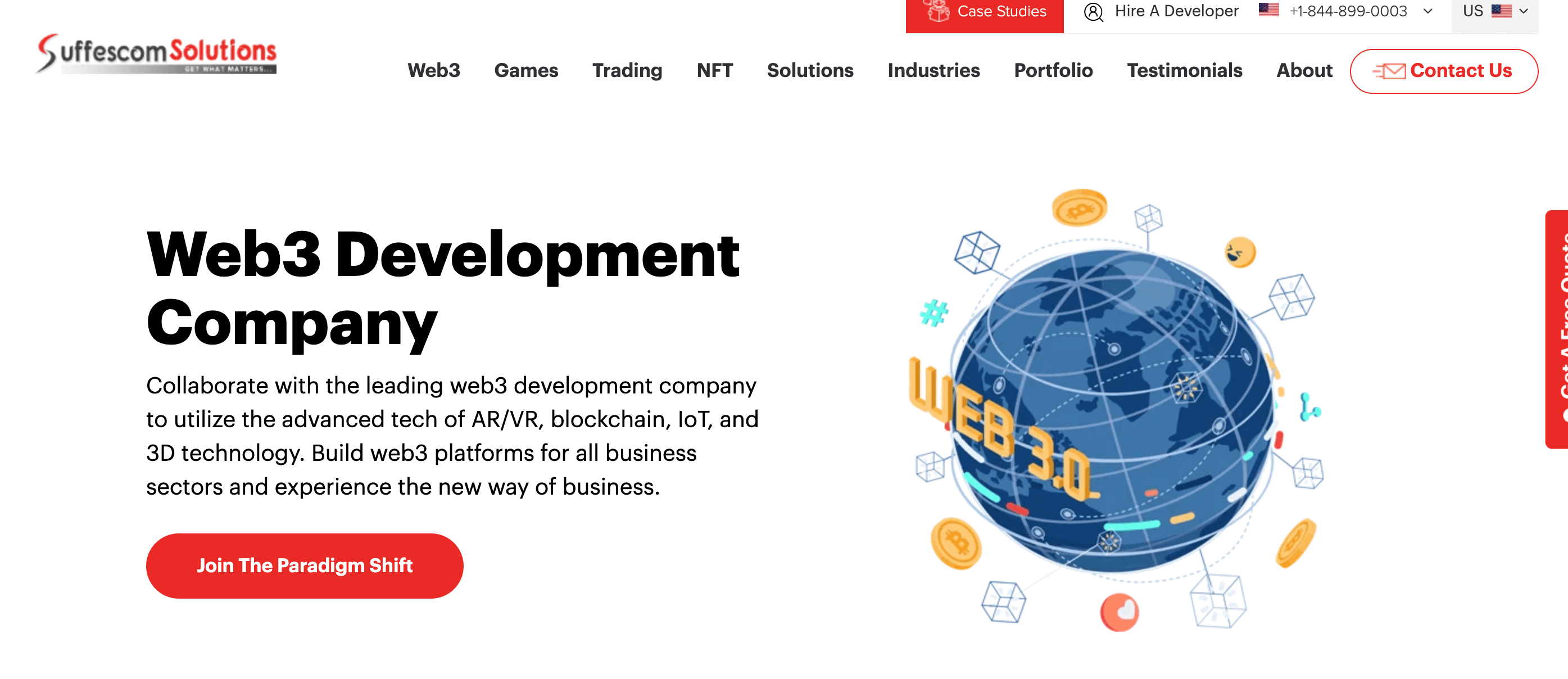 Suffescom Solutions Inc. is one of the top Web3 development companies in the USA. With 13+ years of overall experience in the IT field and 5.5+ years of blockchain experience, they are the pioneers in providing customized Web3 solutions to their clientele.
The company is awarded by National Media as the emerging Web3 & blockchain company. Additionally, GoodFirms keeps them in the TOP 10 of the best Blockchain Development Agencies in the USA. They are partners with some notable brands like Shopify, Kentico, Google, and more.
The team at Suffescom Solutions Inc. provides stupendous Web3 development services consisting of enterprise solutions, portal development, smart applications, etc. Their top-notch Web3 experts have built incredibly powerful, unique platforms for clients all over the world. Customers gave them 5 stars on GoodFirms and 4.8 stars on Clutch.
Founding date – 2013

Team size – 250-999

Hourly rates – $25-$49/hr

Location – California, USA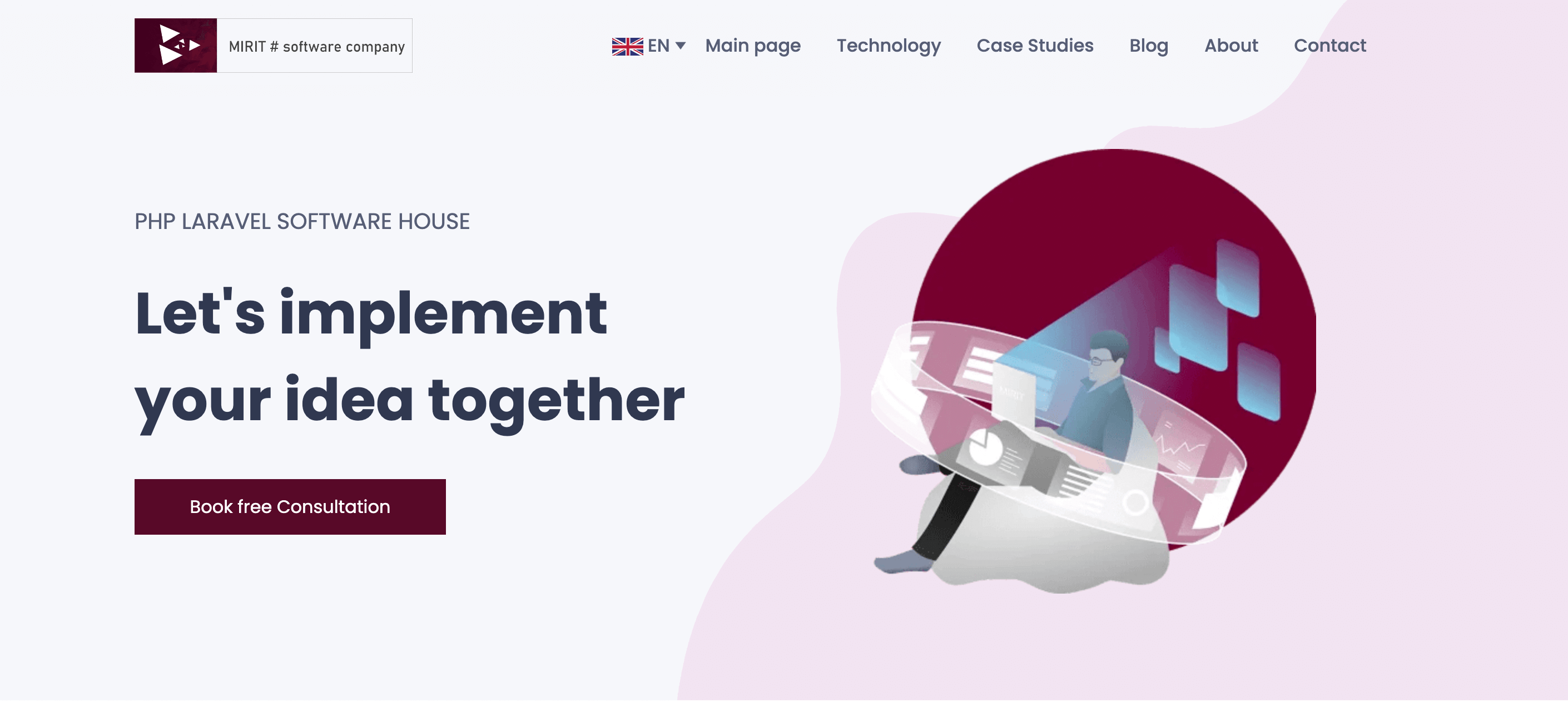 Mirit is a superior Web3 development company that provides a broad spectrum of unmatched IT services to clients worldwide. With a team of highly skilled and experienced engineers, Mirit develops innovative, customized solutions for projects of any complexity from A to Z, covering quality assurance and UX/UI design. Their core tech stack comprises Laravel, Elixir, Symfony, Vue, React, Flutter, and C#.
The company prides itself on job transparency and offers hourly settlements for developers' work, ensuring clients always know what they're paying for. Mirit also emphasizes joint problem-solving cooperation, meaning they work closely with clients to develop digital products that perfectly meet their needs. The company constantly masters new, modern technologies to ensure clients' businesses are always at the forefront of the latest trends.
One of Mirit's most notable achievements is the development of an advanced infrastructure for monetizing games using Web3 solutions for their client, Insert Stonks. This top-rated product offers a personalized experience for game developers and players, allowing them to earn real money without additional coding. The platform actively promotes the idea of playing for fun and earning, revolutionizing the gaming industry.
Founding date – 2018
Team size – 10-49
Hourly rates – $35 – $65/hr
Location – Pleszew, Poland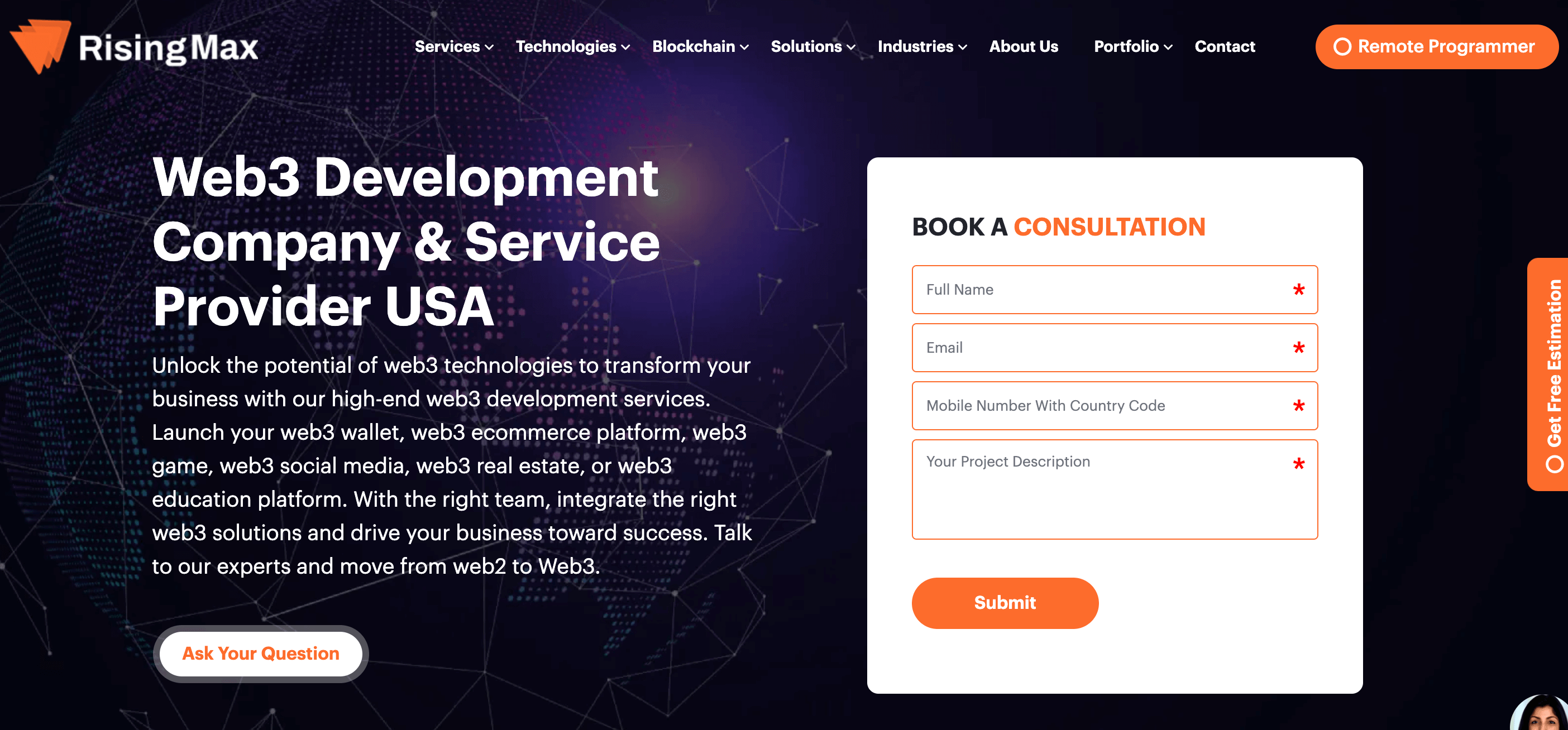 RisingMax Inc. was founded in 2011 and provides best-in-class consulting services in all possible domains. They are regarded as the top Web3 company in the USA.
RisingMax Inc. is an independent Web3 technological firm that has built superior relations, partnerships, and alliances with the most prominent global brands. They have worked on diverse projects with startups and FORTUNE 500 enlisted companies.
The agency offers access to world-class Web3 developers with impressive skills and vision. They're known for utilizing advanced technologies to solve business challenges and open up new opportunities. Their Web3 development services cover digital twins, Web3 gaming, social media platforms, crypto wallets, streaming services, DAOs, DeFis, etc.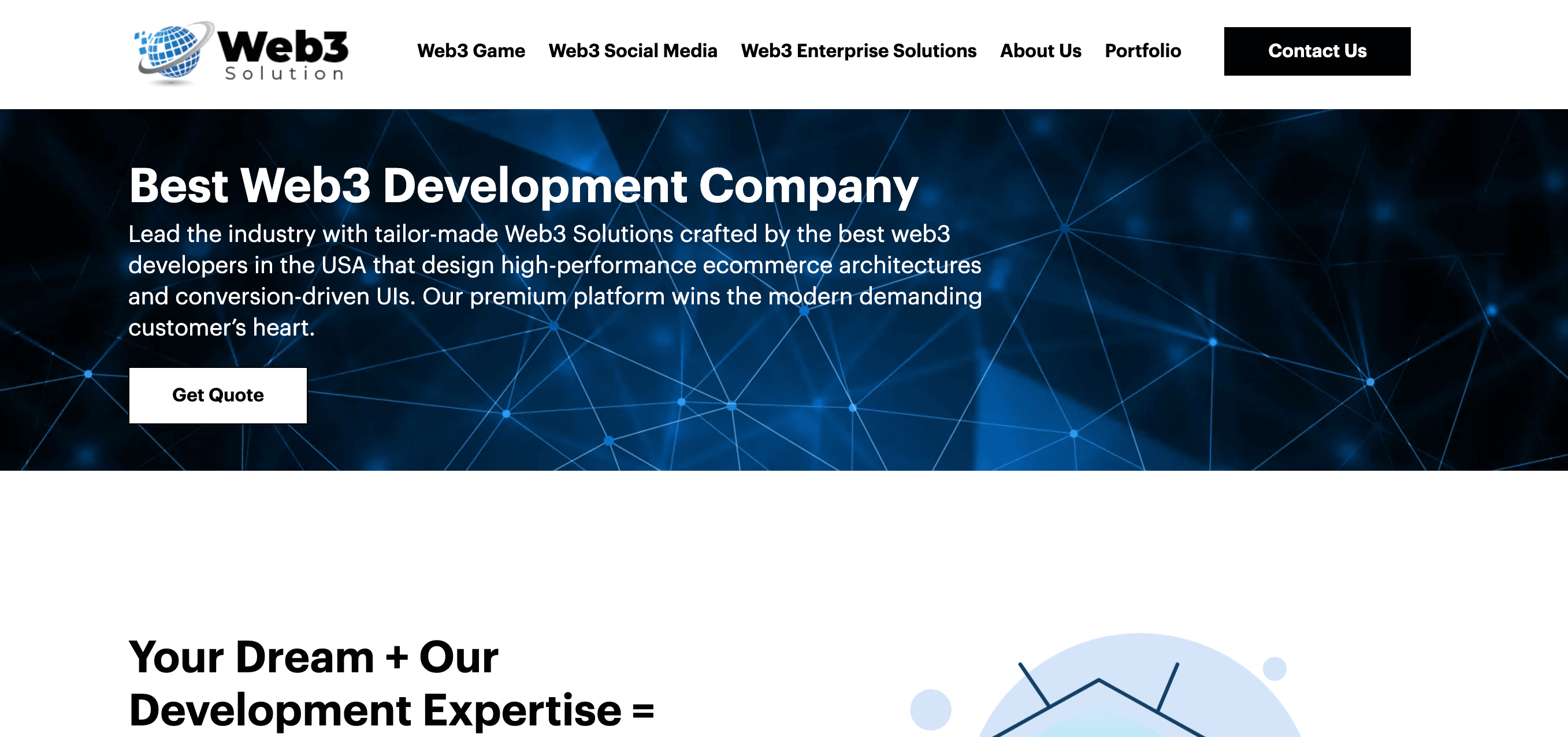 Founded in 2013, this top-rated Web3 development company has delivered numerous game-changing blockchain solutions to its clients within various sectors. Their Web3 development services are mainly focused on categories like gaming, social media, enterprise solutions, and more, delivering Web3 payment infrastructure and smart contracts.
The company's highly-skillful engineers and analysts have established several proven strategies to drive businesses' tech progress quickly and efficiently. Their key objective is identifying and unleashing the client's potential through integrated solutions packed up with cutting-edge technologies and comprehensive consulting services.
Founding date – 2013

Team size – 250-999

Hourly rates – $25-$45/hr

Location – California, USA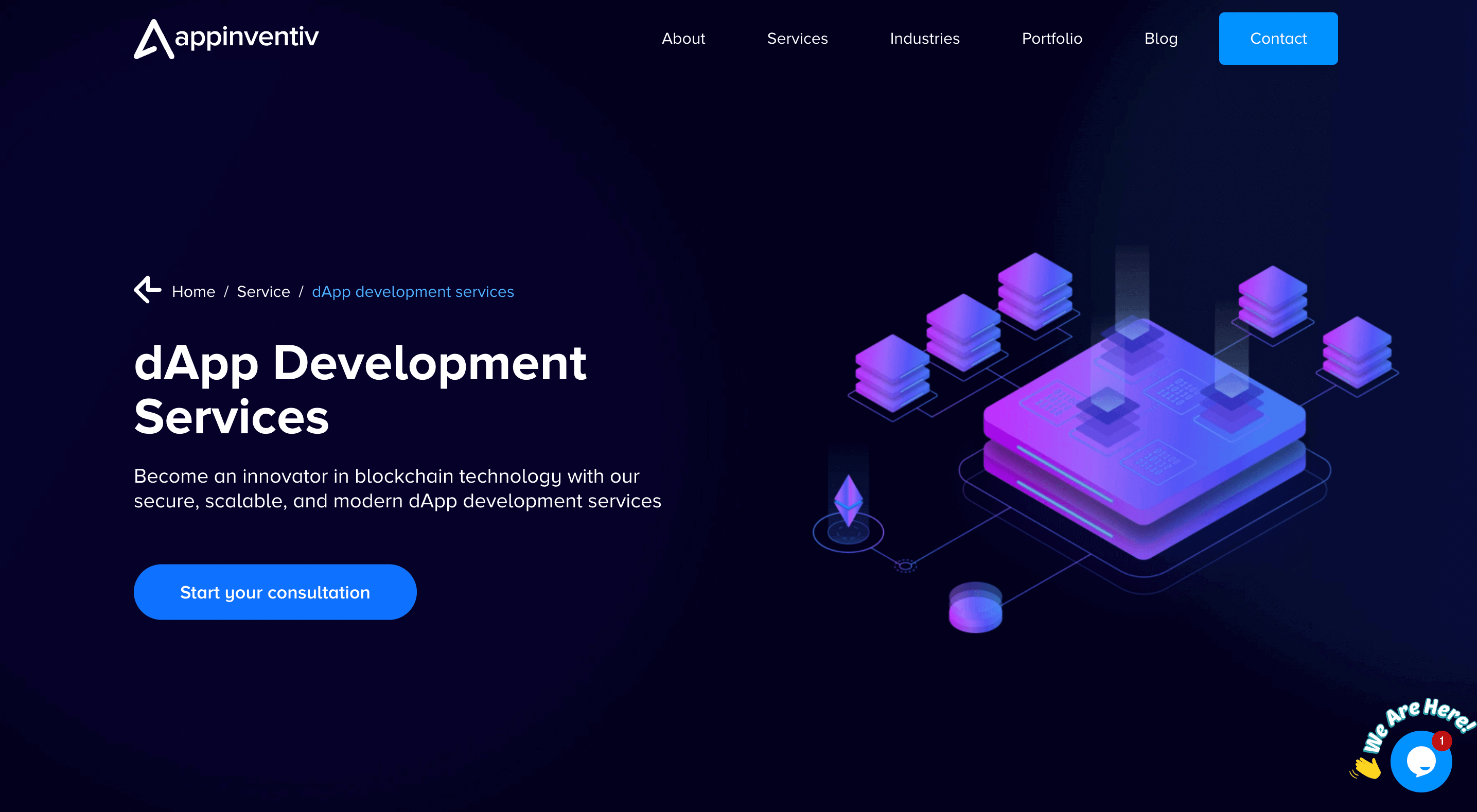 Appinventiv is a one-stop Web3 engineering enabler, with an army of 1200+ agile developers equipped with the latest tech that serves the new-age needs like asset tokenization platform, metaverse, augmented reality, and dApp blockchain application development.
With their customer-centric approach and design-led engineering, they've supported the vision of a global clientele including Americana Group, Emirates NBD, and Adidas. Using robust blockchain networks with a proven history of transforming workflows enables high scalability for their clients.
Within 8 years of being in the industry, Appinventiv provided 1500+ cutting-edge digital products and worked on 150+ blockchain projects. In addition to offering top-notch Web3 software development services, the company boasts years of experience in developing immersive applications using AR/VR and AI technologies.
Founding date – 2015
Team size – 1200

Hourly rates – $25-$45/hr

Location – Delhi – NCR, India; New York, USA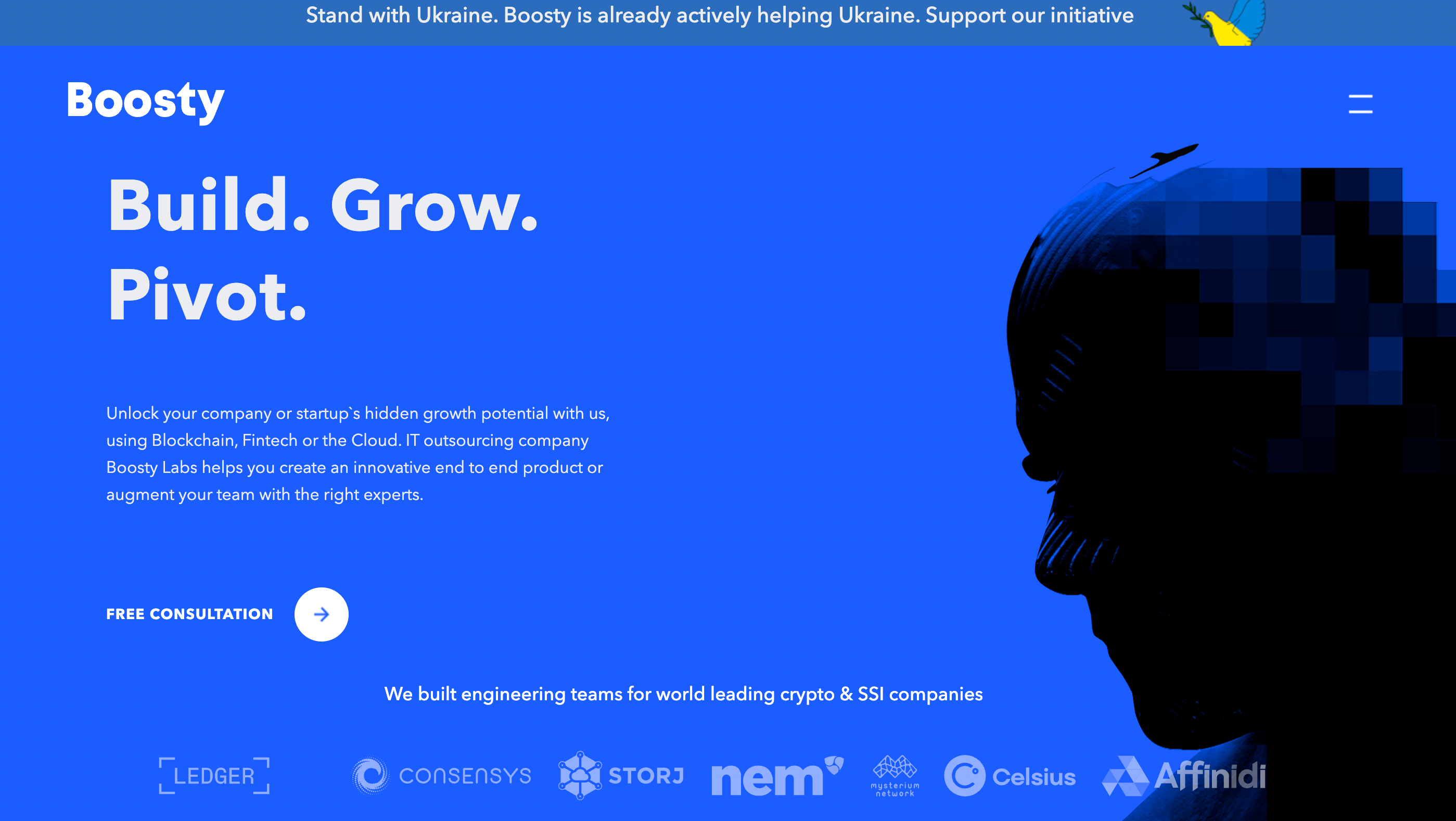 BoostyLabs is a renowned provider of cutting-edge Web3 development services with offices in Kyiv, London, New York, and Berlin. With unmatched expertise and over 5 years of experience in the field, the company offers blockchain consulting, strategy, engineering, and product design.
From startups to large enterprises, BoostyLabs has a proven track record of delivering outstanding results. Their technical skills and innovative solutions have helped clients in various industries, such as Gambling, Retail, Trading, Manufacturing, Automotive, and Education.
The company has an impressive portfolio of clients, including McKinsey & Company, Samsung, Vodafone, Alfa Bank, and many others. With numerous awards, BoostyLabs' reliability and rich expertise are evident. Their team can deliver bespoke Web3 services tailored to your project idea, including blockchain development, smart contract development, cryptocurrency exchanges, DeFi, Dapps, and secure cryptocurrency storage. These digital solutions aim to improve your business and address your customers' struggles, ensuring your success in the ever-evolving Web3 ecosystem.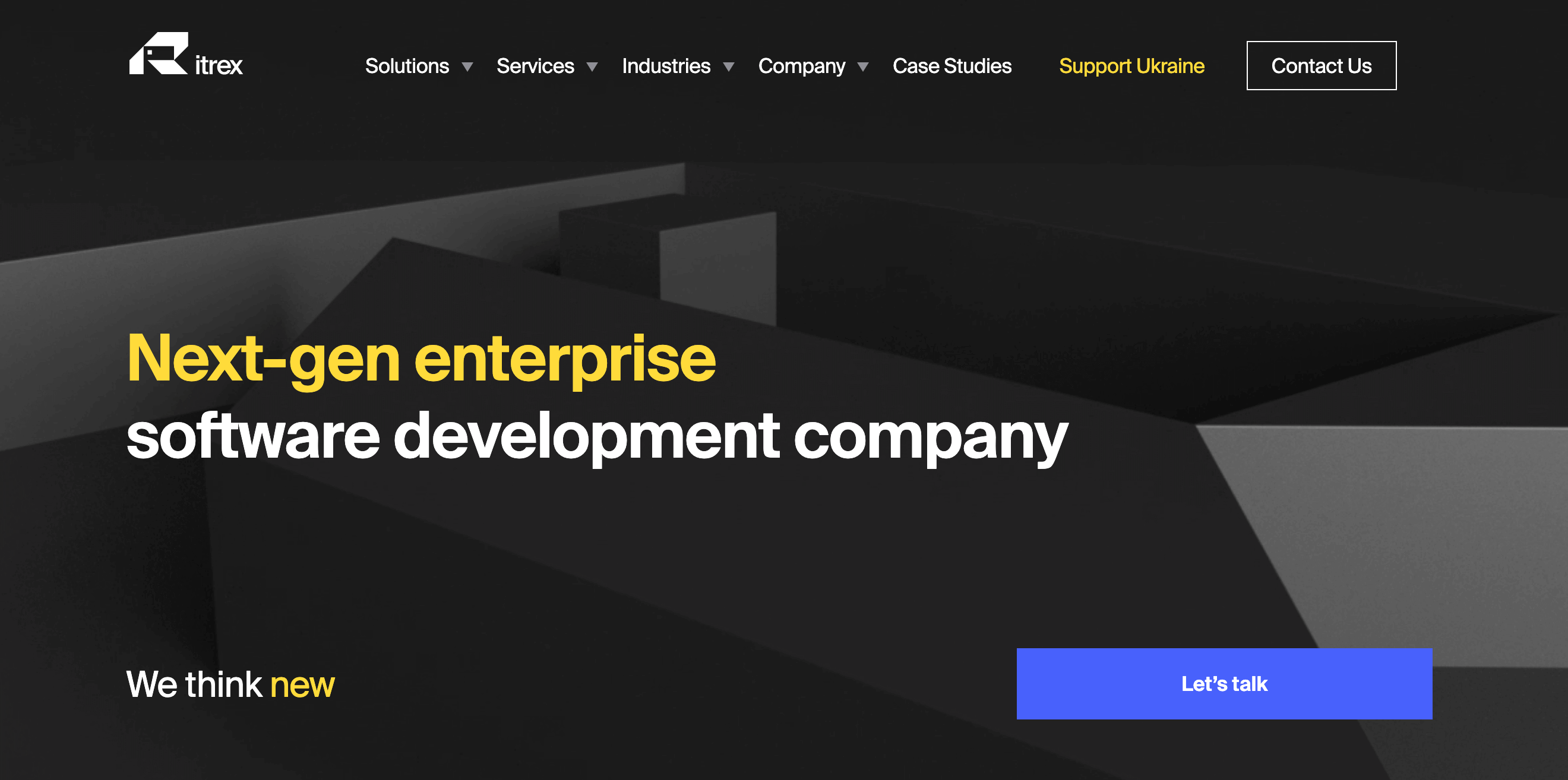 ITRex is among the best Web3 companies, with over 300 blockchain and software specialists on board. It provides services like asset tokenization platform development, metaverse and augmented reality development, smart contract development, cryptocurrency wallet creation, and blockchain consultancy.
The company uses a robust technology stack encompassing proven blockchain networks like Hashgraph, Hyperledger, Ethereum, Stellar, Corda, EOS, Tron Tezos, and programming languages like Solidity, C++, C#, Angular, Python, Rust, React Kotlin and Express.js. Their ultimate goal is to transform the entire client's workflows related to products, and services, boosting business growth.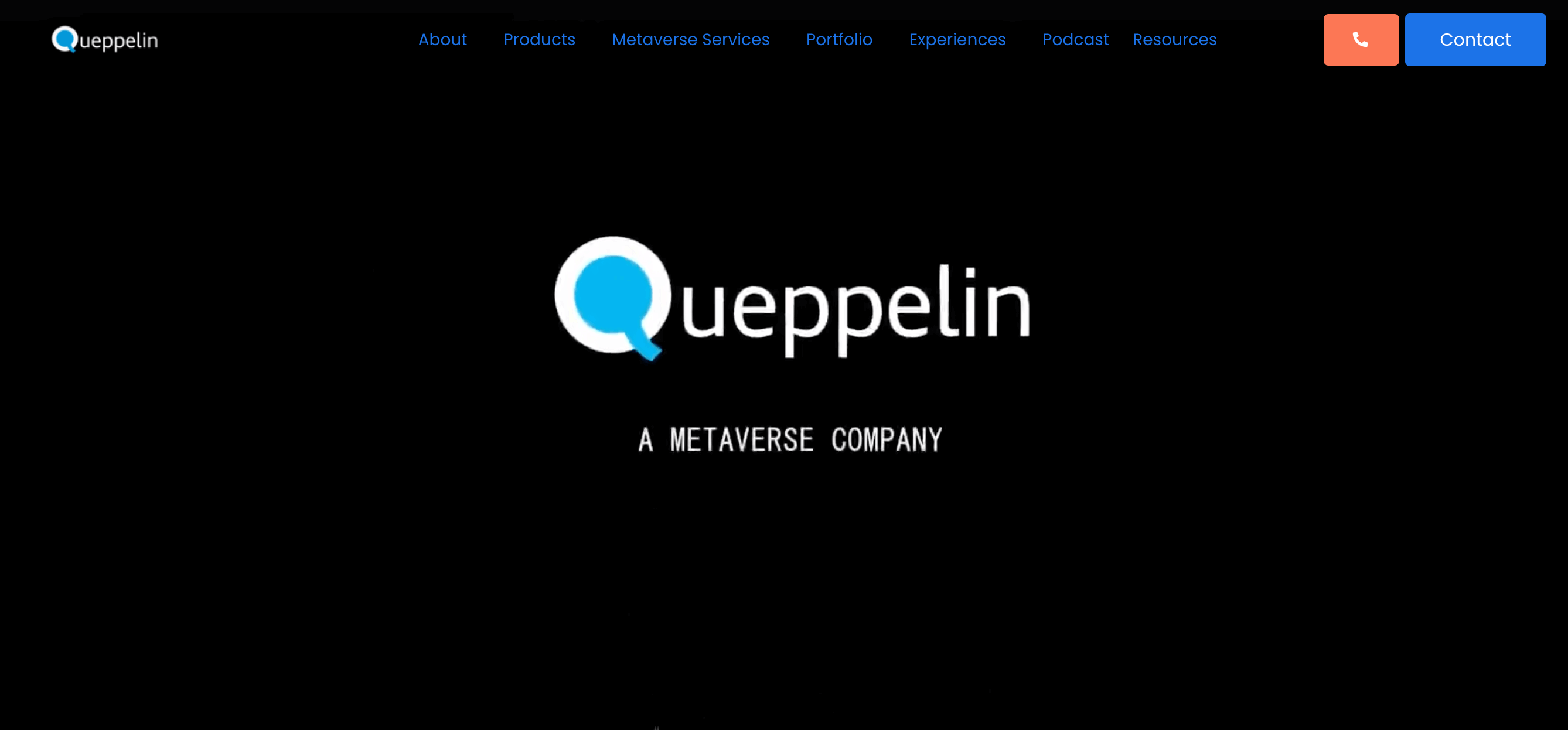 Queppelin is one of the top Web3 development companies founded in 2010. During this period, they have won accolades like the Red Herring Asia awards in Hong Kong and have received worldwide recognition at Mobile World Congress. They are credited as the best software development company by Clutch and the top AR/VR development company by Goodfirms.
Queppelin's in-house team of 250+ experts can provide unparalleled services in the domain of Web3. The company is helping clients form a better understanding of the Web3 concept and make a significant shift toward this fabulous technology.
Founding date – 2010

Team size – 250-999

Hourly rates – <$25/hr

Location – New York, USA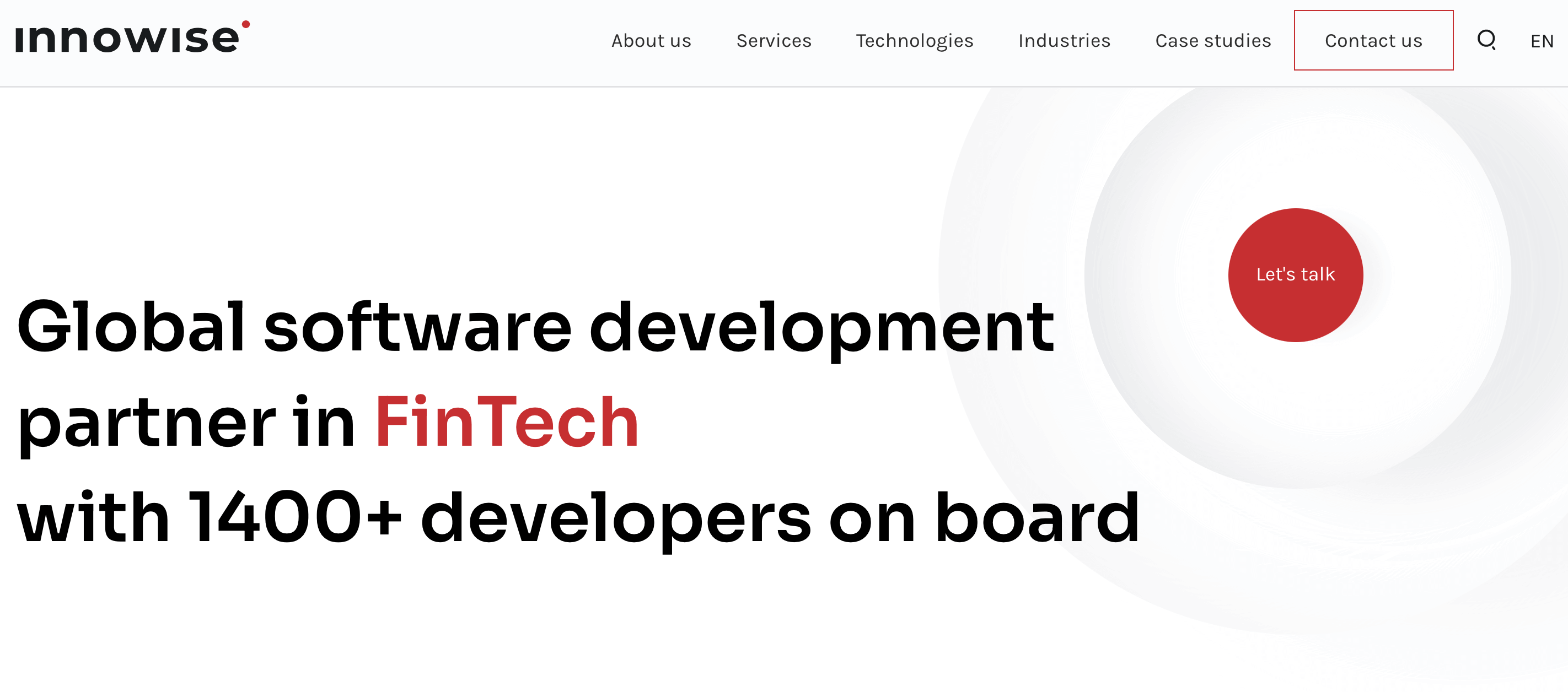 Innowise Group is a reputed Web3 design services company that covers a full-cycle development workflow. They have their key centers in Europe with top-class Web3 experts possessing extensive expertise in this field. 
The company offers a wide range of services, including IT outsourcing, web & mobile app development, UX/UI design, auditing & consulting, 2D/3D design, and more. They have about 16+ years of experience in the IT industry and have successfully delivered 800 projects in 40+ domains. Innowise Group follows a flexible, transparent, and result-oriented model to ensure the maximum satisfaction of its clients.
Founding date – 2007

Team size – 1,000-9,999

Hourly rates- $50-$99/hr

Location – Florida, USA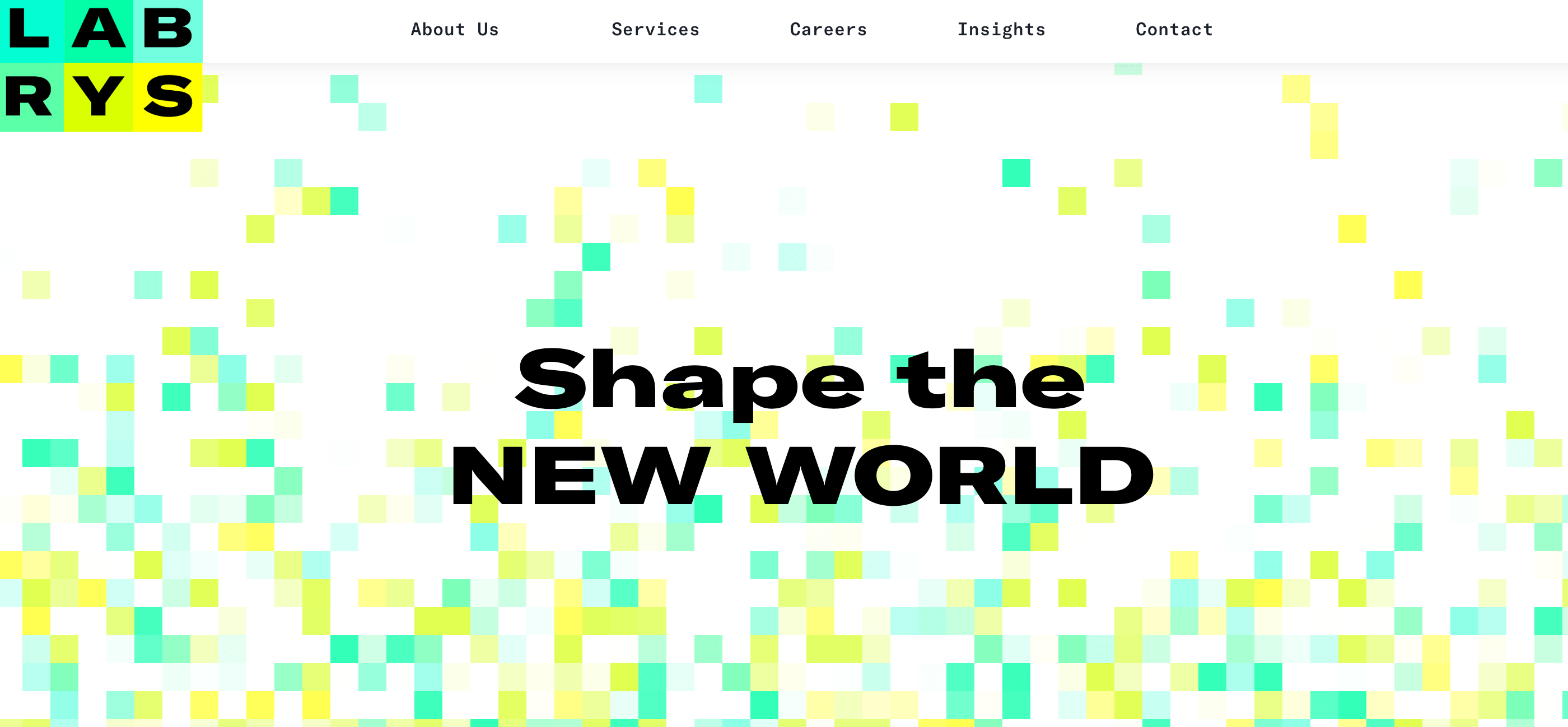 Labrys is a prominent Web3 development company that designs and launches innovative products using Web3 and blockchain technology. They have all the required tech infrastructure for web, mobile app, and API integrations to implement powerful Web3 solutions.
The company has assisted various government organizations, small-/medium-scale firms, and large enterprises in modifying and replacing their pre-existing business operations with innovative ones. They are a reputable Australian-based IT firm with an in-house team of the best Web3 developers proficient in building mobile apps, NFTs, smart contracts, web apps, custom enterprise software, tokens, wallet layer-2 scaling systems, and more.
Founding date – 2017

Team size – 10-49

Hourly rates – $150-$199/hr

Location – Fortitude Valley, Australia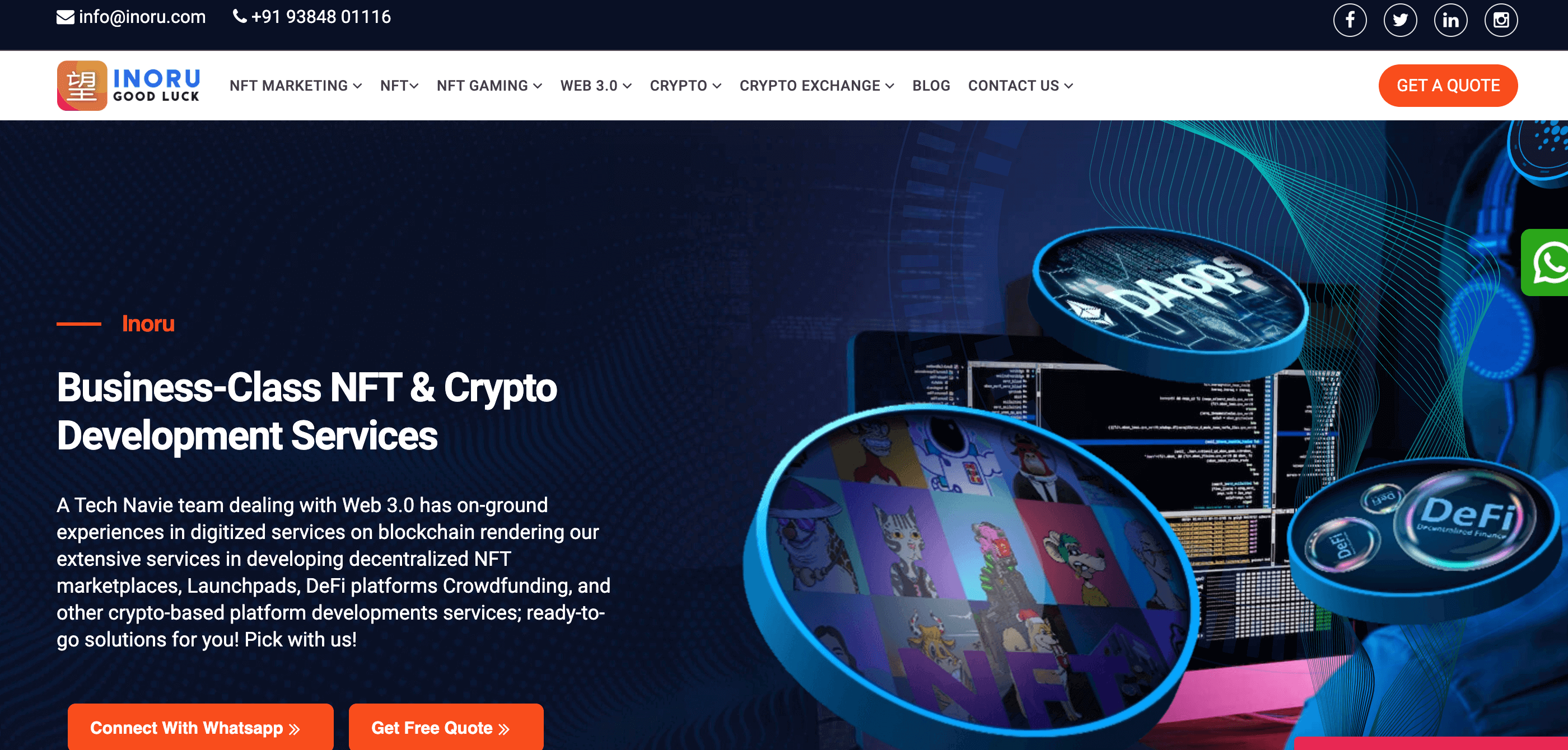 This impeccable Web3 development agency was founded in 2006 and has helped make transformative business solutions. Apart from Web3 development, they offer services in NFT marketing, white-label NFT solutions, blockchain, DeFi, crypto, launchpad, and more.
They have worked on 150+ projects with 100+ happy clients and delivered 80+ crypto exchange solutions. INORU has excelled in all possible domains and is constantly working towards upscaling the business using top-notch marketing strategies.
Founding date – 2006

Team size –  250-999

Hourly rates – <$25/hr

Location – Singapore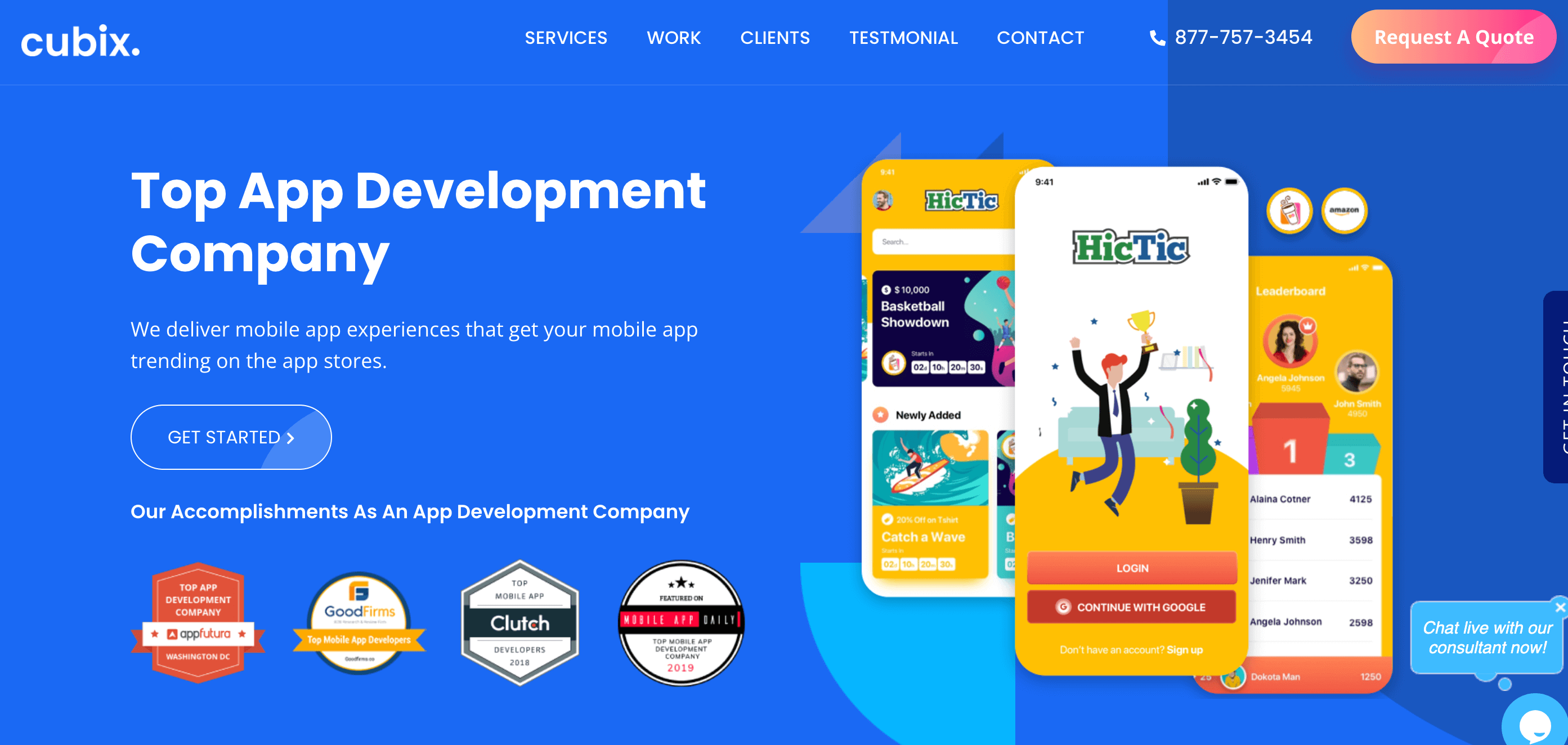 Cubix is a reliable Web3 development company that has risen to fame due to its ultra-modern services to clients and their end users. They have a plethora of hi-tech solutions pertaining to Web3, web/mobile apps, gaming, AR/VR, big data, MVP development, and other areas.
Talking about their solutions, they can help you deliver AI-based chatbots, event management apps, social media platforms, etc. Cubix's experts know how to develop high-performant platforms and applications compatible with futuristic web solutions. During their 12+ years of experience, they have worked with various enterprises, individuals, and startups. 
Founding date – 2008

Team size – 50-249

Hourly rates- $25-$49/hr

Location- Florida, USA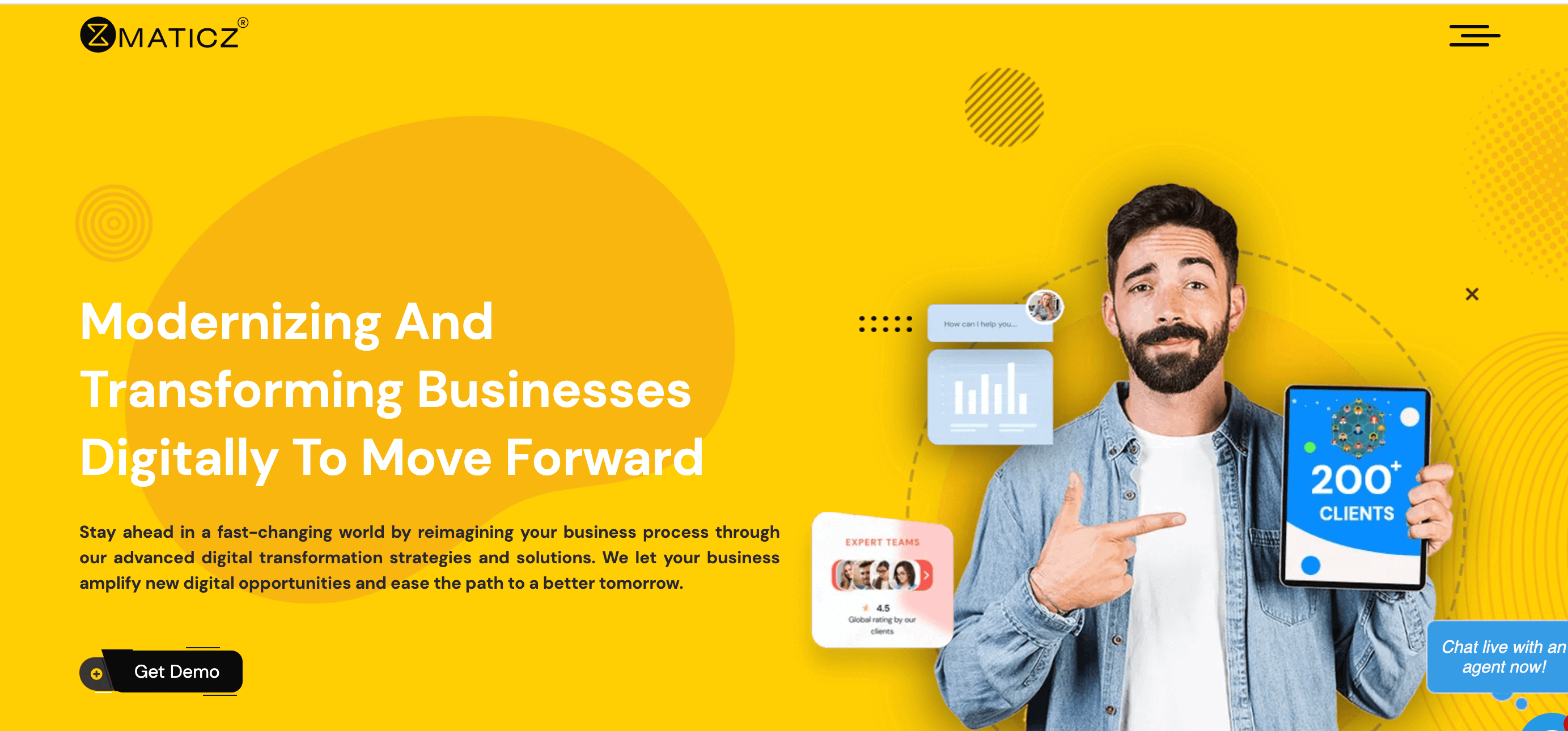 Maticz is the next-level Web3 development agency that provides first-class software consulting services worldwide. They have donned multiple hats like Web3 development, software development, DeFi, IDO launchpad, wallet development, NFT marketplace development, and more, completing 350+ projects and getting a presence across 50+ nations.
The company has helped various organizations starting, from small-scale startups to large enterprises. Their hard-working Web3 developers ensure the delivered product is absolutely flawless, with an intuitive interface and great performance. They are known for providing high-end development and consulting services resulting in significant business transformation and modernizations.
Conclusion
Developing a seamless Web3-based platform is a strenuous task. More than that, performing research to hire the top Web3 company is even more difficult. Well, we have eased this job for you. Hopefully, this list helps you find the best-fit agency with the relevant experience and domain knowledge.
If you offer Web3 software development services and want to add your company to this list, email us with details. After a thorough review, we'll decide whether it's a valuable addition.