Although using Webflow for building websites is pretty straightforward, some custom projects require sophisticated features and integration, which might be quite challenging. 
So if you strive to develop a cutting-edge website, be it a corporate site, a CRM system, a marketplace, or a social network, but lack expertise, hiring a Webflow agency is a wise choice.
Professional Webflow agencies master this technology and have all the necessary skills and experience to build a user-friendly website of any type and complexity according to your business needs. 
To help you find a reliable and skillful team, we've compiled a list of top Webflow agencies to assist you with your web development project.
The
Best Webflow Development Companies
And Developers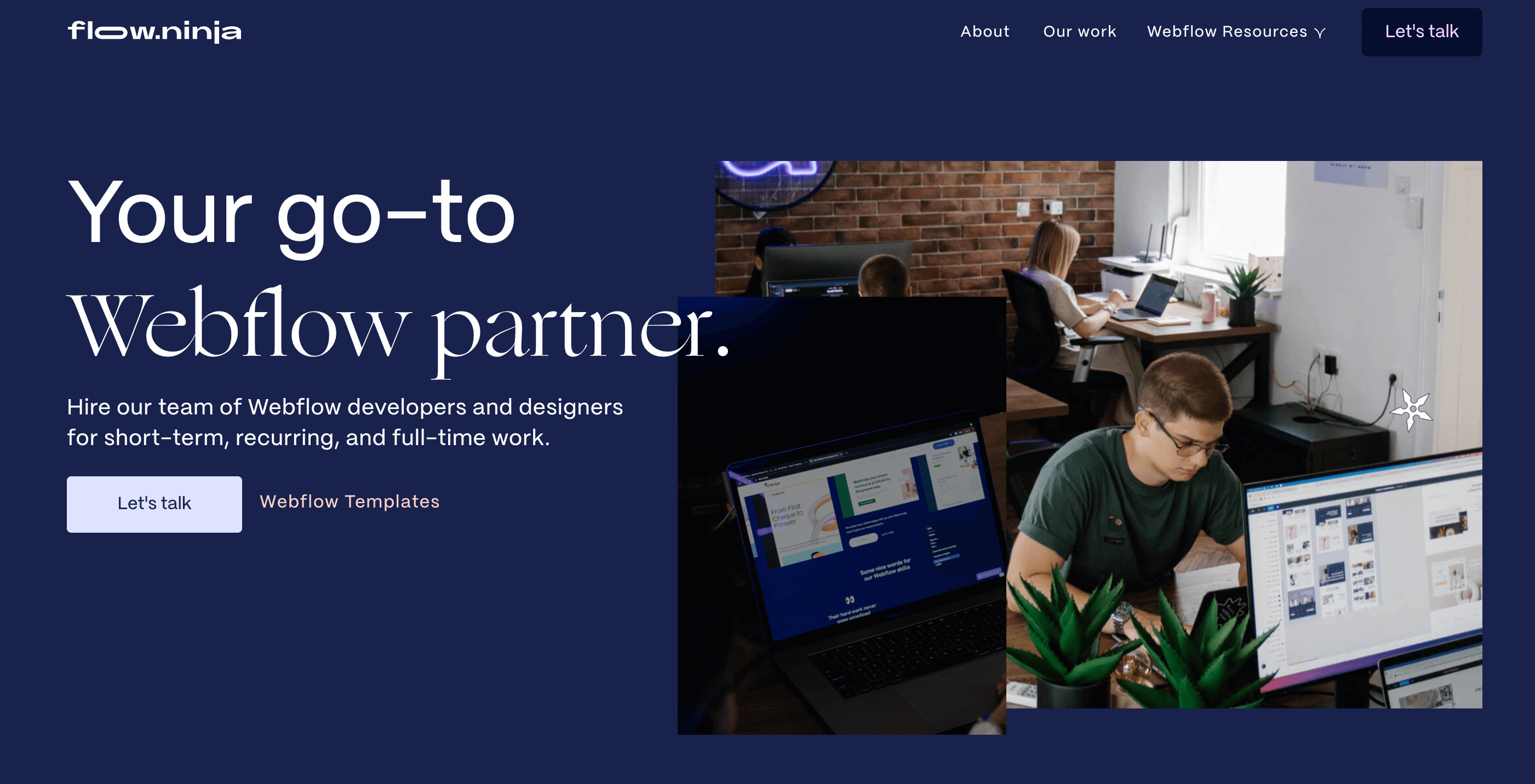 Flow Ninja is a top-rated Webflow-certified agency that helps businesses turn their vivid ideas into compelling websites. 
Founded in 2015, Flow Ninja has become a globally recognized Webflow partner & contributor. In addition to offering premium Webflow templates, the company provides custom web design and development services, as well as ongoing support to ensure the delivered product matches your business vision and goals perfectly. 
Whether it's short-term, recurring, or full-time work, their team will provide you with flexible Webflow development services, including creative design and consulting to help your jumpstart the project. Releasing the potential of Webflow technology, the Flow Ninja's dedicated team will deliver fast and high-quality results to you, avoiding lengthy coding processes and extra expenses. 
Their top-tier marketing, design, and engineering experts have already built from scratch and redesigned 10,000+ pages for over 100 clients, including Upwork, Death to Stock, TextNow, ACELR8, FutureBens, Bitfiner, and other global brands.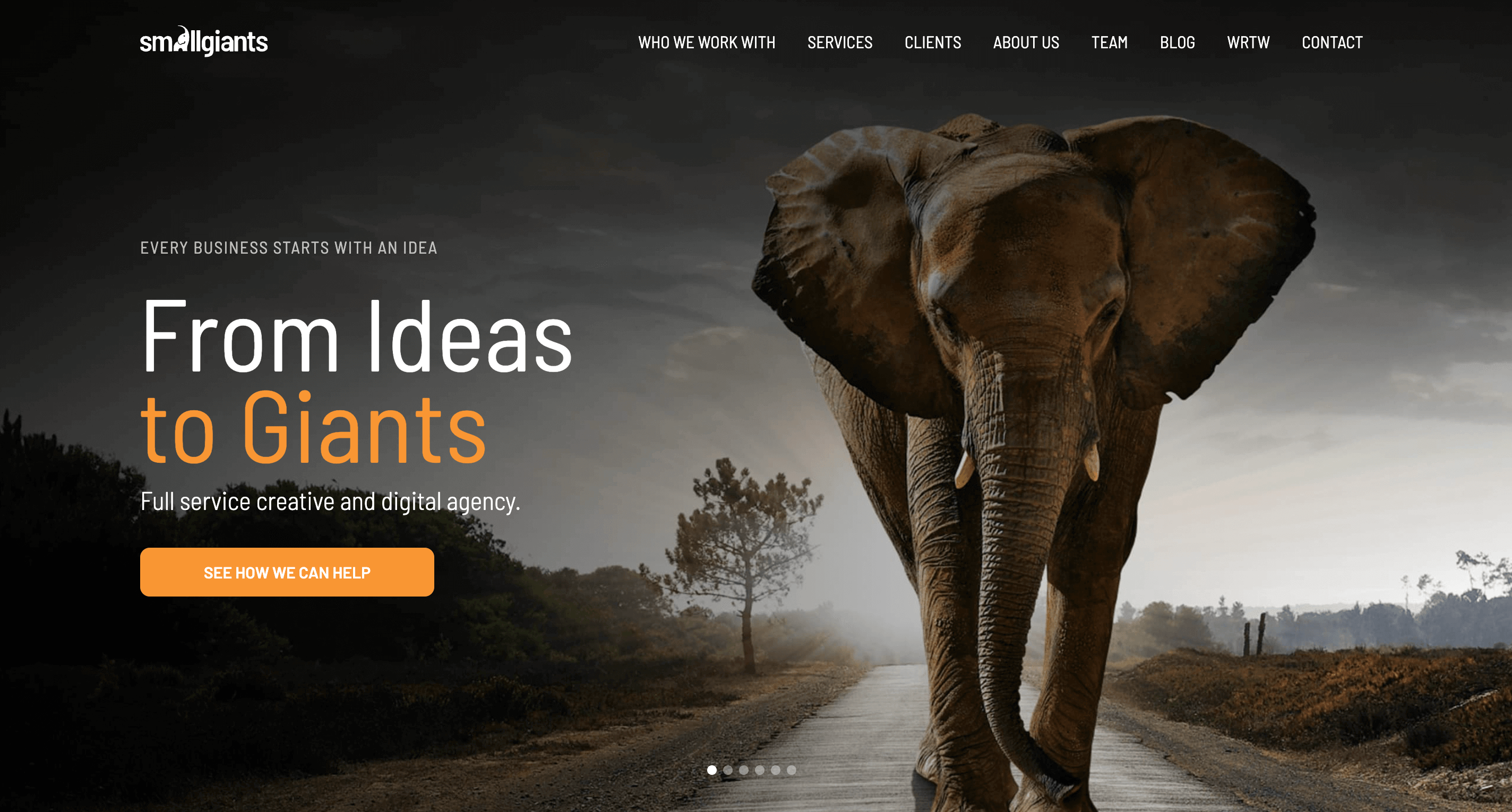 SmallGiants is a London-headquartered Webflow agency that has served clients globally since 2018. From day one, they have helped brands turn their ambitious ideas into outstanding websites and successful businesses.
SmallGiants believes that every firm has the potential to become a market giant. Using Webflow, they combine agile development and ongoing experimentation with a structured approach to help clients build revolutionary websites. By leveraging the power of digital technology and years of experience, their team will boost your business's growth.
SmallGiants is committed to helping startups and established scale-up enterprises implement marketing automation, acquire new consumers, engage with current users, and elevate their experience by designing and developing high-performance, customer centric, CRM and SEO-enabled websites.
With a traditional web development approach, building a high-quality website requires time, a big talent pool, and a large budget. When hiring SmallGiants for Webflow development services, you'll get a full-fledged website that drives prominent results with much fewer expenses and resources.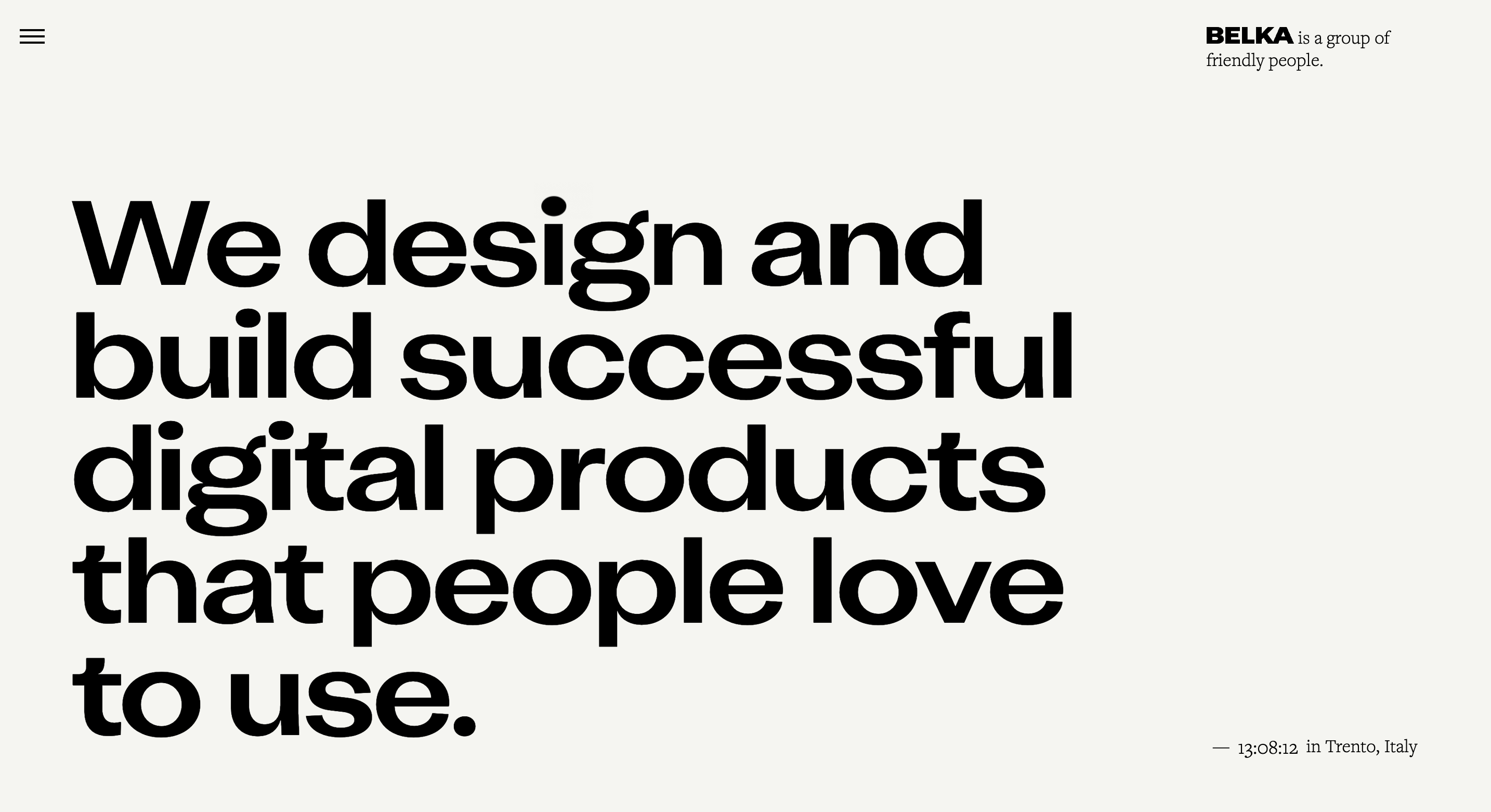 Belka is an Italian digital product firm that develops digital products for businesses, such as websites, applications, and games. They are a 17-person team comprised of the best Webflow developers, designers, producers, and strategists that will help you establish a fascinating digital presence for your brand from the ground up. 
Having over 7 years of experience, their Webflow designers work hand in hand with the clients to ensure they prioritize, sync, and plan all project tasks to achieve maximum productivity and the fastest results possible. 
Belka experts helped launch over 50 projects for clients in the US and Europe, which proves they're a reliable firm to contact if you want to build a top-notch website. They'll provide you with full-cycle web development services, including UX/UI design and usability testing.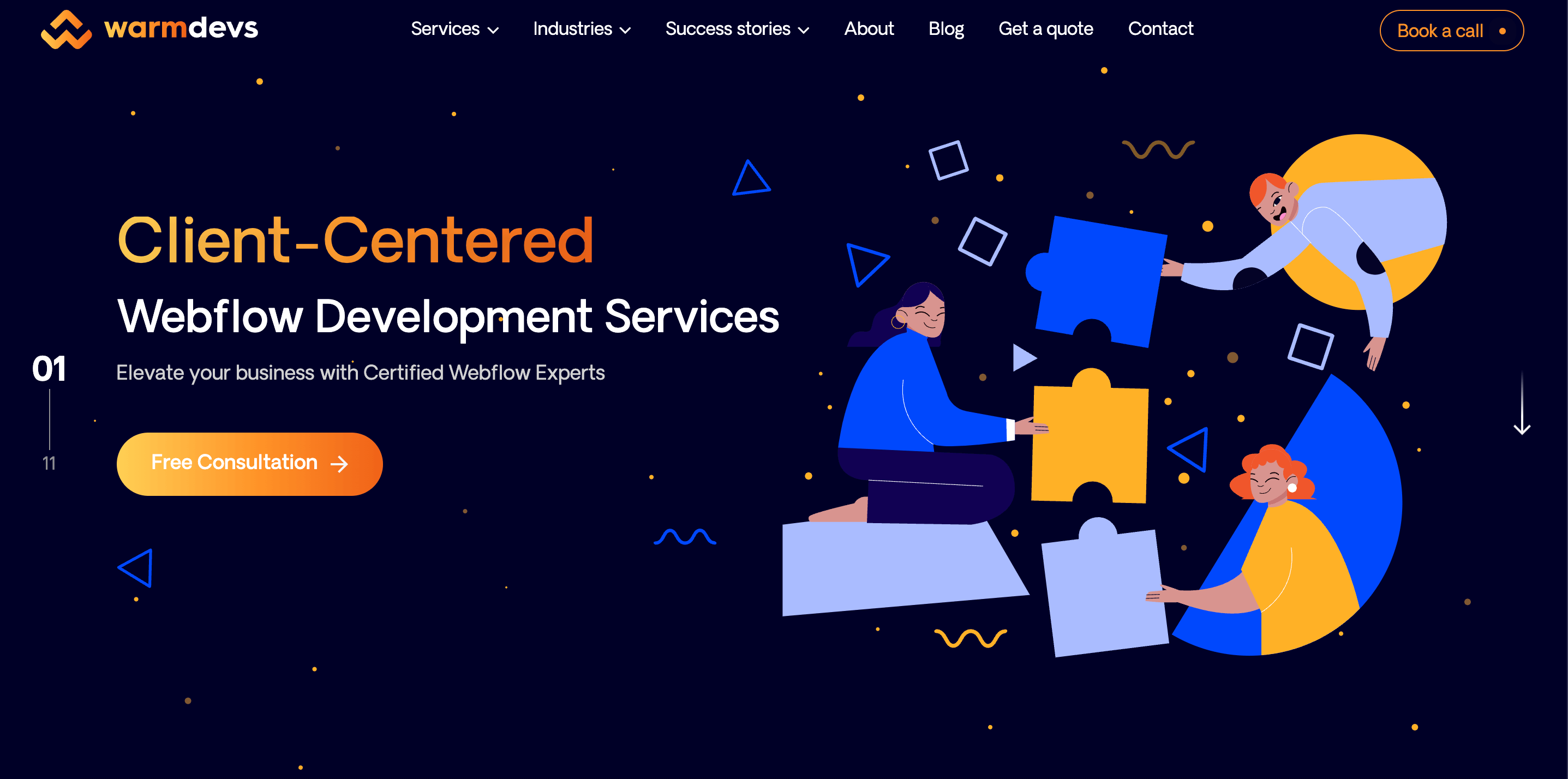 Warmdevs is a Ukrainian-based Webflow development agency that, in 2022, got officially recognized as Webflow Professional Partner. The company has been around since 2016, and by now, they've managed to finish 300+ successful projects and get awarded as the #1 Webflow Agency by Clutch. 
They are experts in creating appealing marketing static webpages, but that's not all they can do. If you have more needs to cover, they can integrate third-party services and incorporate a Login form, Payment operations, Financial calculators, and Live chats into your page.
Whether you need access to an integrated database, optimize a CRM system, or connect a crypto wallet and develop a custom smart contract, they will implement that for you and much more. And, of course, they'll ensure your custom website is SEO optimized to increase your ranking on Google!
In addition, Warmdevs offer various services such as Business Analysis, UX/UI design, Motion Design and Lottie animations, and Third-party API integrations. They have much to show you through the collection of case studies detailing the team's completed projects in their webflow showcase.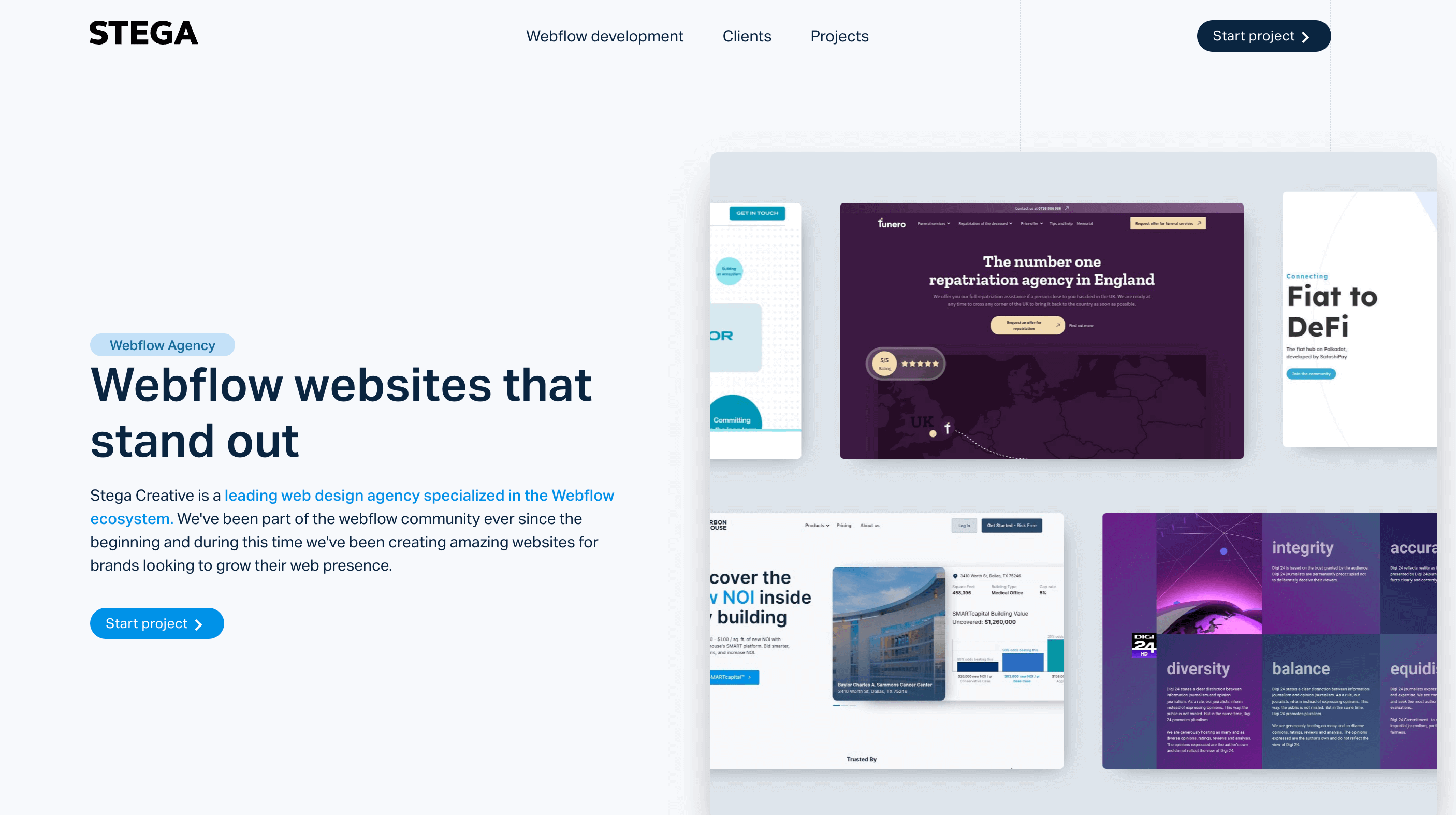 Obsessed with the details to achieve perfection, Stega Creative is a top Webflow development agency. They put a great emphasis on the visual part of the website to maximize the impact of attention-grabbing elements on their users. 
Being in the Webflow community for over 5 years and spending time and energy learning all the ins and outs of the platform, their team will help you build a fantastic high-converting website for your business. 
In their Webflow development approach, Stega Creative focuses on SEO and accessibility, pushing the boundaries and ensuring the end product is competitive and unique. 
Among the company's clientele are Wednesday, Pay, DIGI, HCP Group, SatoshiPay, and others.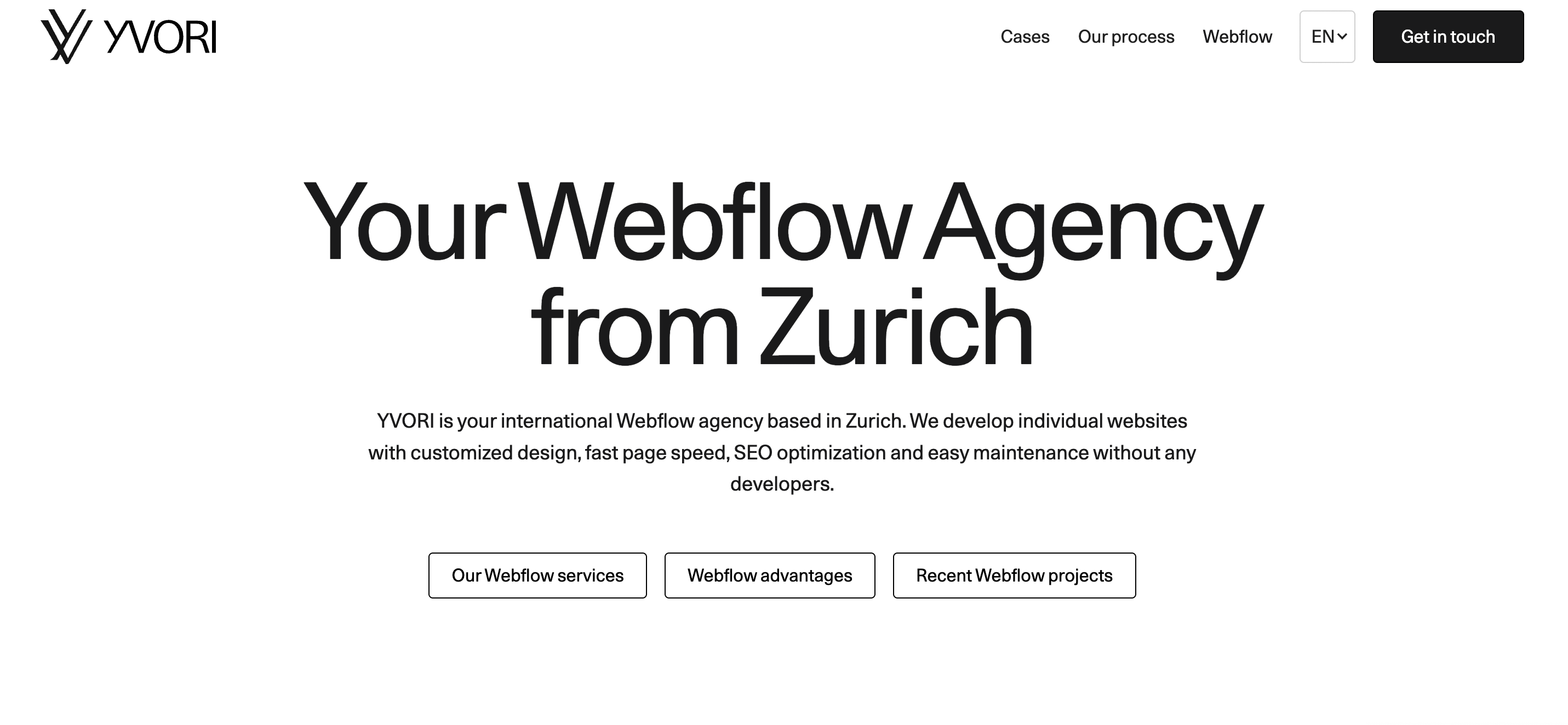 YVORI is a Zurich-based but serving worldwide Webflow agency founded in 2021. Providing best-in-class Webflow developers, the company helps clients create business websites with custom designs, excellent performance, perfect SEO, and easy maintenance.
They build a fantastic digital presence for high-end companies — from the branding to the Webflow screen design and development of your whole website. 
Offering fast, simple, and highly customizable web development services, the agency also provides maintenance and integrations without requiring developers. Additional services they deliver include hosting and web flow design.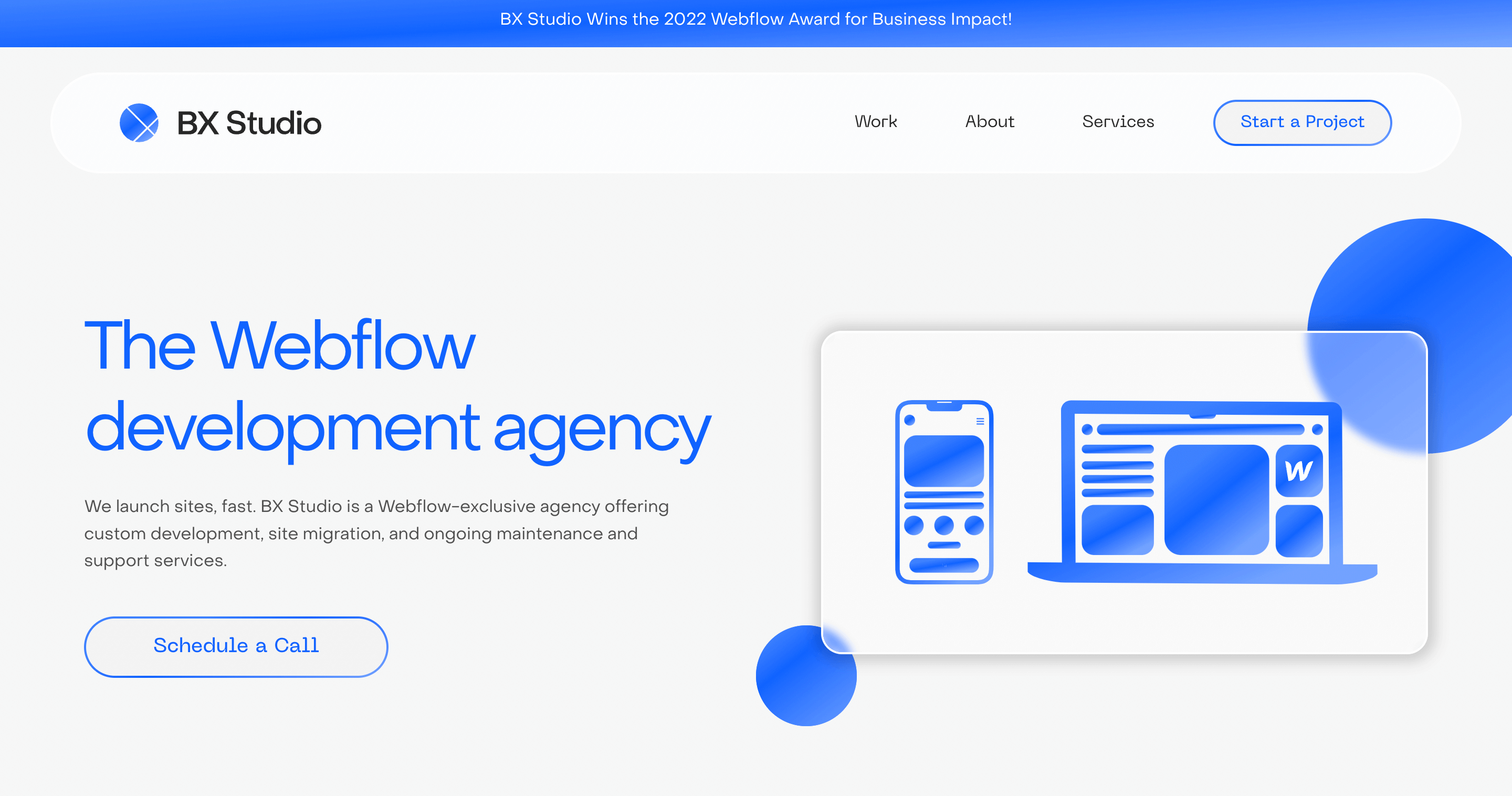 BX Studio is a top-rated Webflow agency that received a Webflow Expert Agency 2022 award. Being a customer-oriented firm, BX Studio is part of Barrel Holdings, a group of digital agencies.
They offer custom development, site migration, as well as ongoing maintenance and support. BX Studio also provides an option for semi-custom website development in less time and at a reduced cost. 
While helping various businesses with analytics, SEO, ADA/Accessibility, GDPR & CCPA, social sharing, page speed, and other website development tasks, BX Studio offers a BX Certificate of Quality after the launch, illustrating technical and QA standards. 
In addition, the company guarantees a launch with a straightforward maintenance plan for ongoing support.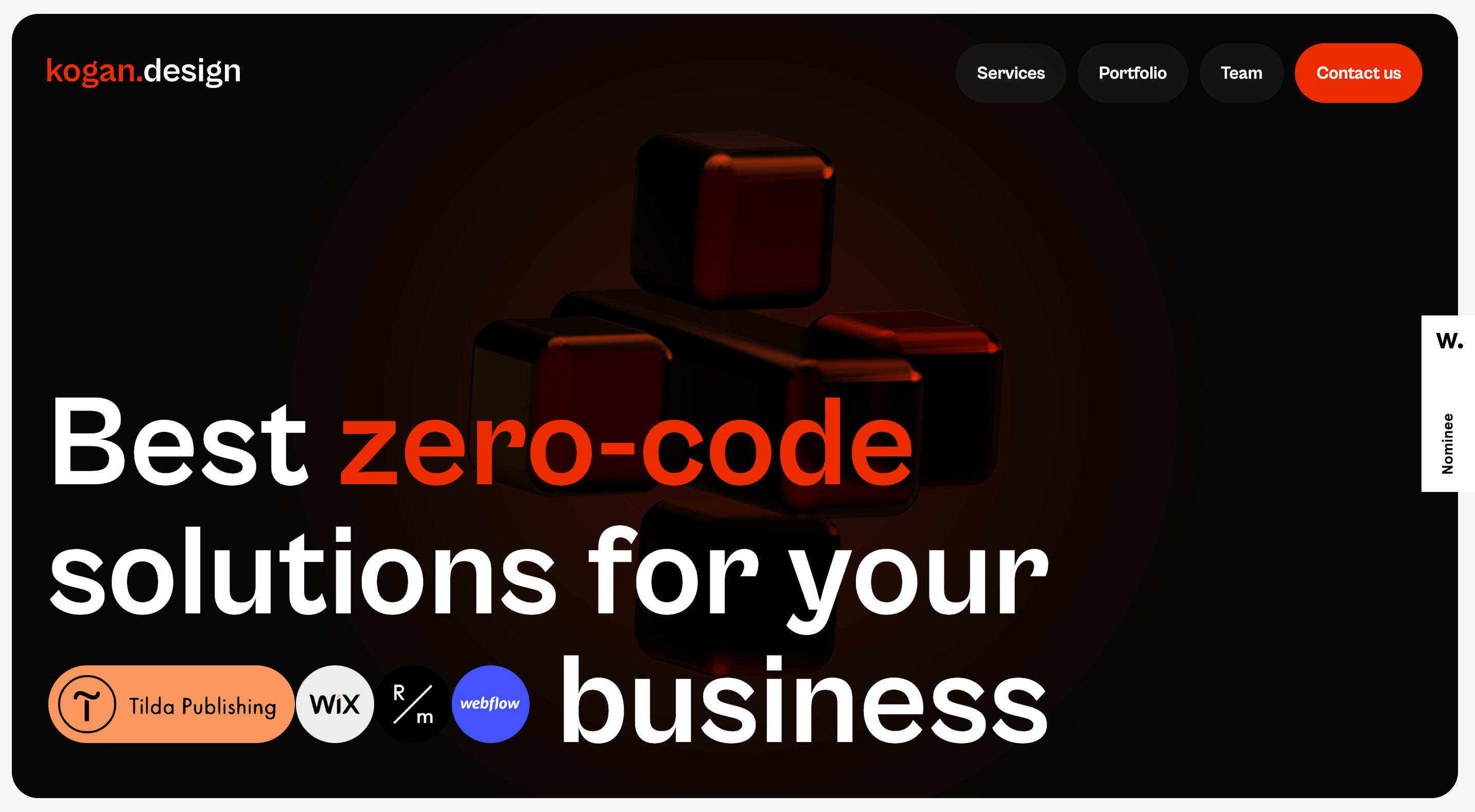 Kogan.design is an Israel-based Webflow agency with an international team that serves clients all around the globe. They provide zero-code solutions to help businesses achieve success faster and easier.
With over 15 years of experience in software development, Kogan.design experts built over 100 projects from scratch, turning ambitious clients' ideas into a profitable reality. They design and develop landing pages, small websites, and scalable eCommerce projects. Their own website built on Webflow was nominated for the Awwwards, which proves this agency is the right place to refer for impactful Webflow development.
So, if you are looking for a reliable partner with solid zero-code expertise, particularly in Webflow, don't waste a minute and contact Kogan.design right now!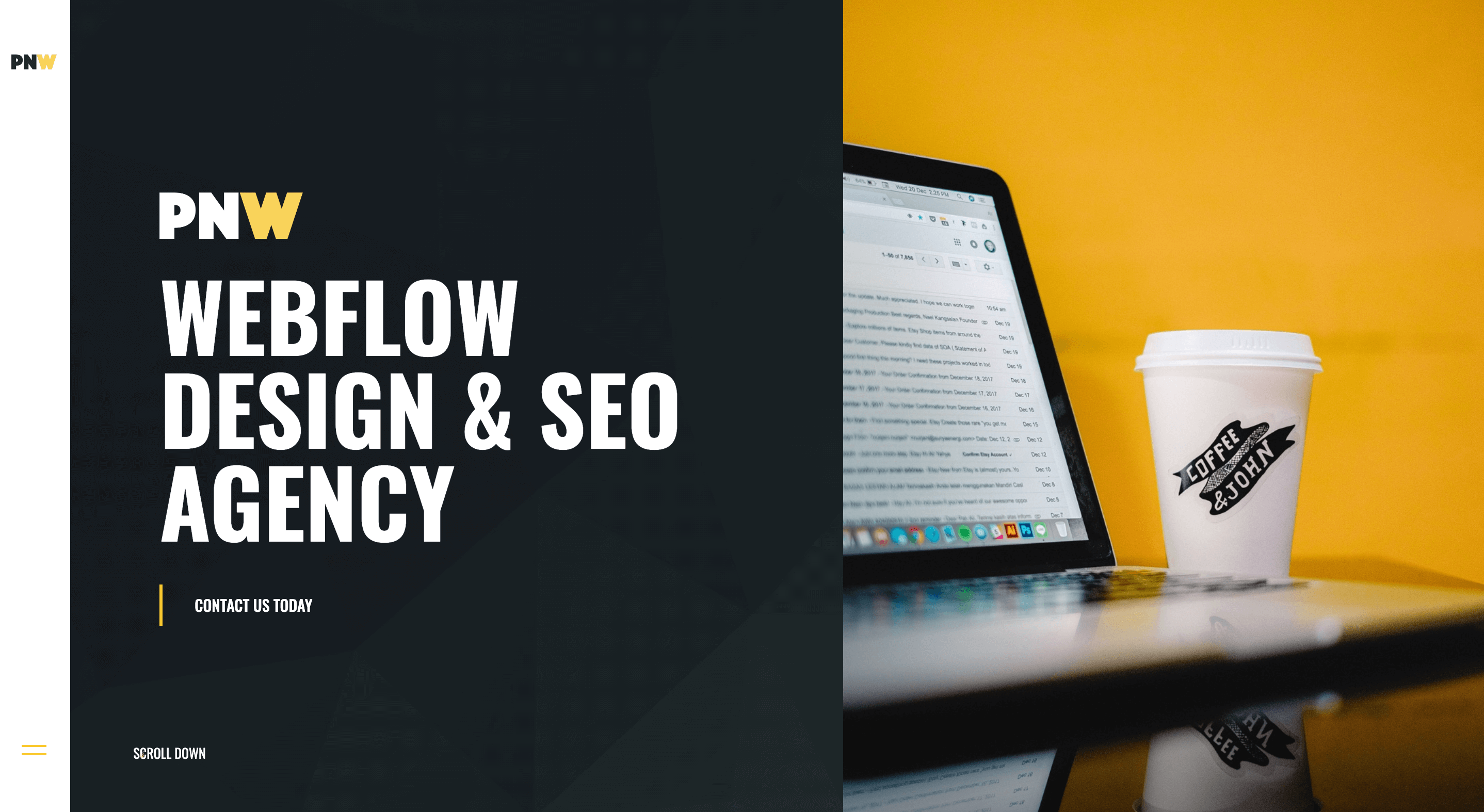 Pretty Nice Websites (PNW) is a Webflow design and development agency ready to make a beautifully branded, SEO-optimized, responsive, and unique website for your brand. 
Their small but talented team of Webflow experts delivers outstanding solutions for businesses within various industries, whether it's Retail, Healthcare, Education, or Gaming. With hundreds of implemented projects, PNW has acquired vast knowledge and skills to make any creative idea come true. 
In addition to basic website design and development, and SEO, the agency also provides Webflow site management. This service allows for easily updating your website without the need to hire expensive developers.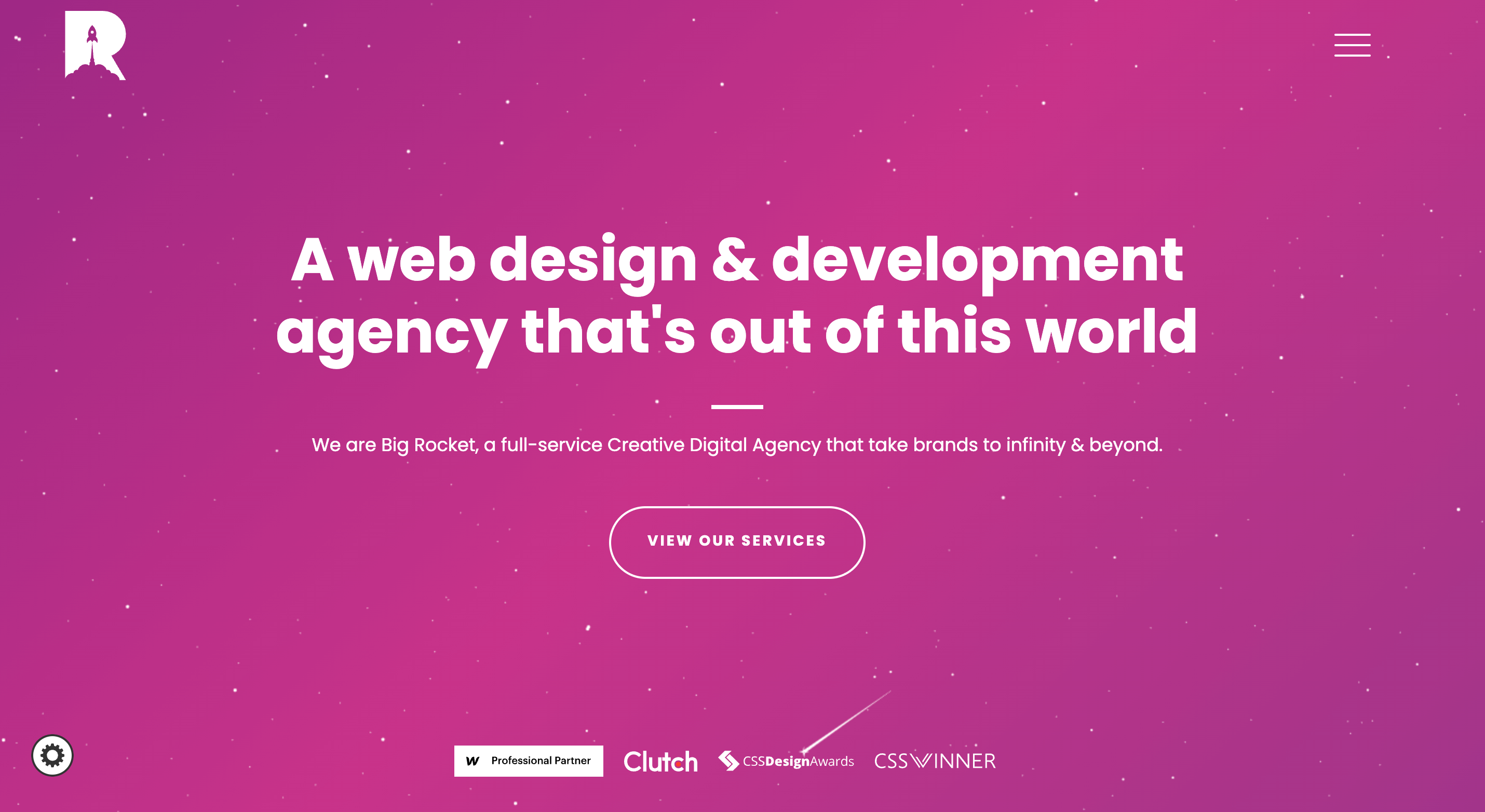 Big Rocket is an award-winning Webflow design and development agency in the UK. As a certified Webflow Professional Partner, the company creates custom high-performance Webflow e-commerce storefronts. Big Rocket also assists brands and businesses of all sizes in their branding, digital marketing, and SEO efforts. 
From website redesign to building a whole new site and managing your online presence, Big Rocket is here to help. They've worked with numerous outstanding companies on their branding through a website to complement their offline store. 
Whether you're just starting or want to modify an existing project, Big Rocket will help you design a gorgeous, user-friendly storefront for your e-commerce shop while keeping your business objectives in mind.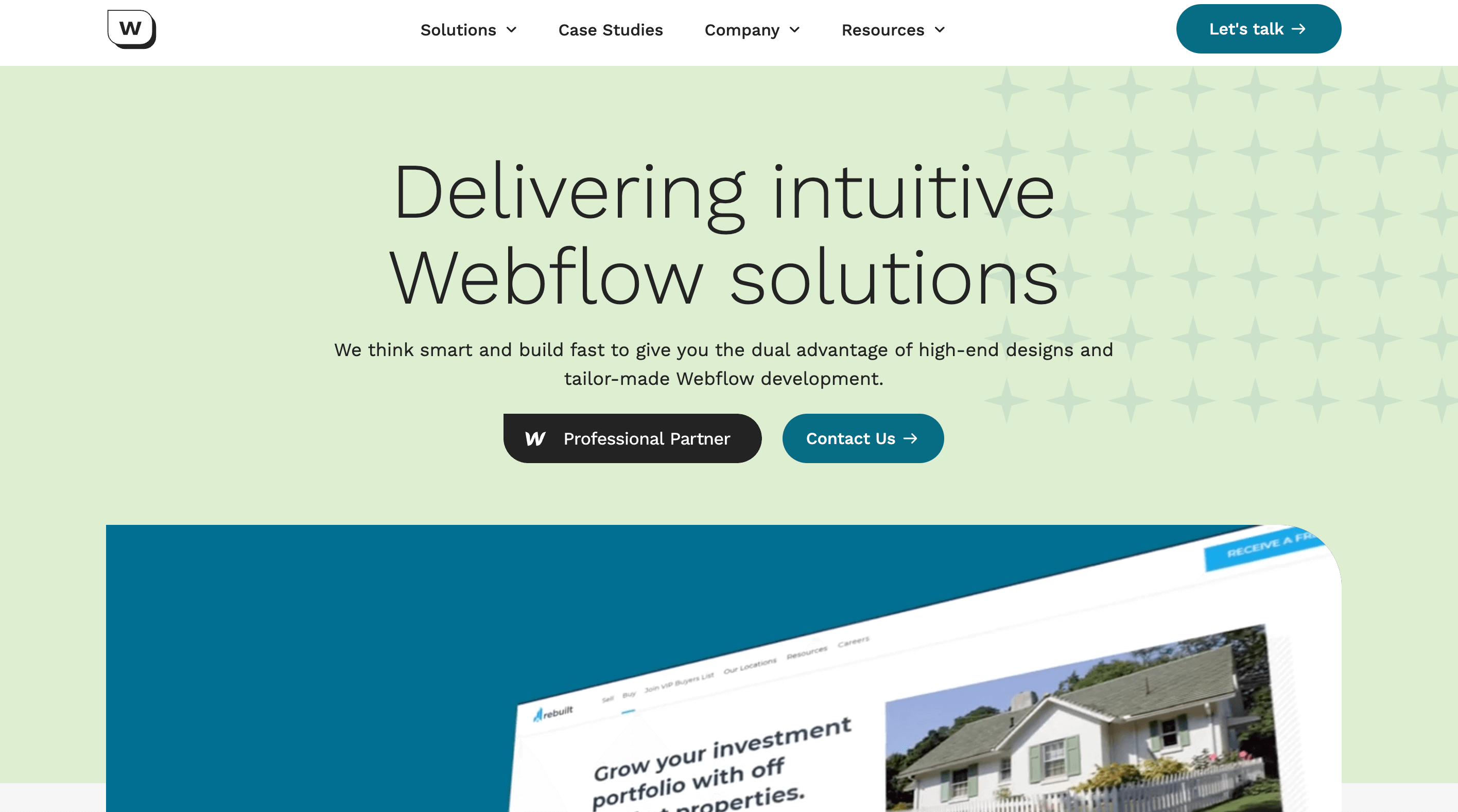 Workshare is a Goa-based Webflow agency that specializes in delivering intuitive tailor-made web development solutions. Using no-code and low-code technologies, their team of Webflow experts can assist you with developing responsive high-end design, CMS systems, animations, and micro-interactions for your project. 
Founded in 2018, Workshare has already managed to deliver 100+ successful sites for both startups and enterprises. Having a great understanding of marketing trends and customer needs, the agency creates 100% mobile-friendly, ready-to-scale websites for higher conversion rates. 
From the MVP to full-fledged business solutions, Workshare can become your long-term Webflow partner.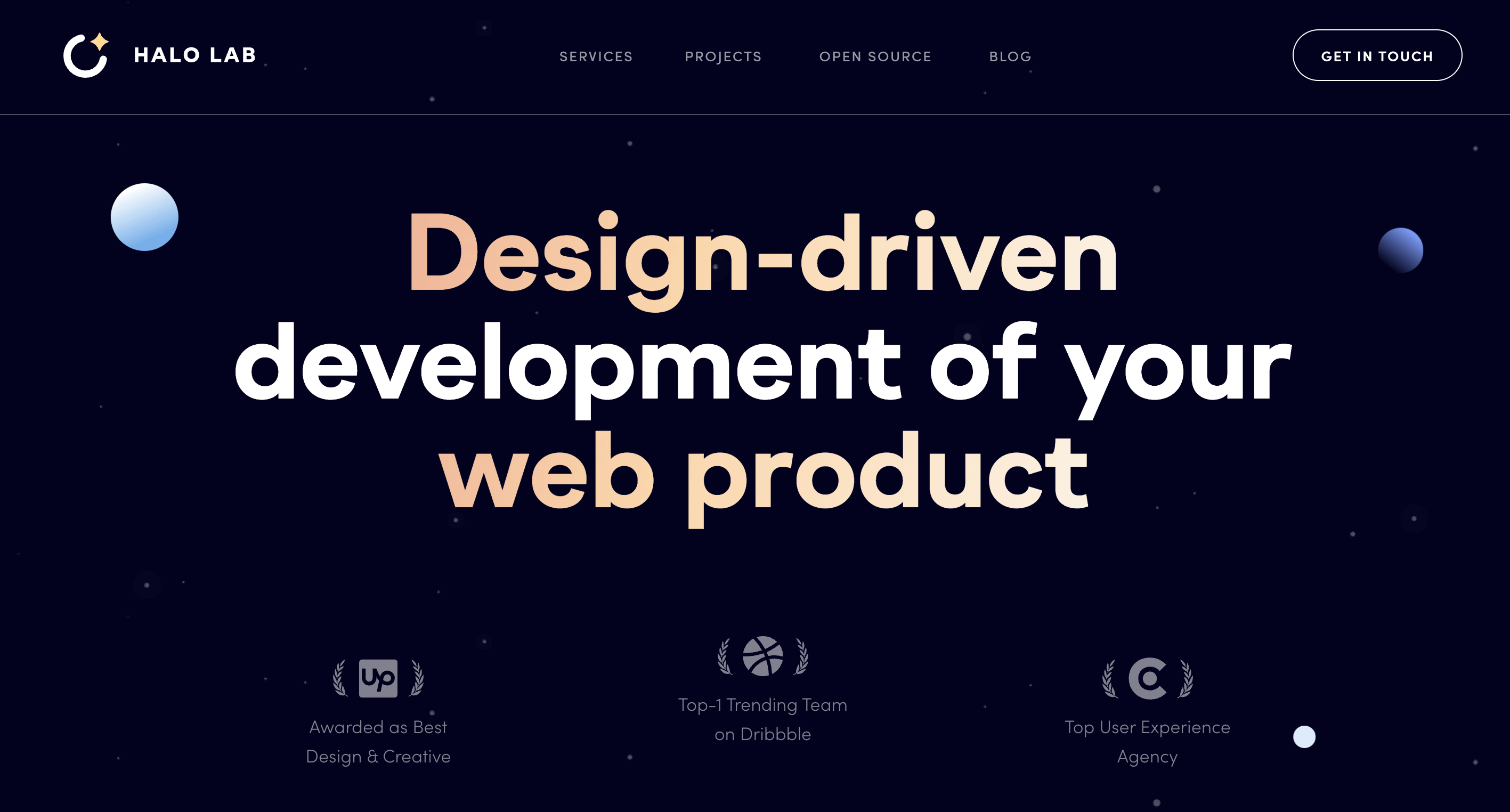 Founded in 2013, Halo Lab offers flexible Webflow development services that go beyond basic website building. Using a variety of helpful tools, plugins, and widgets, the company will take your website to the next level, ensuring its high security and performance.
Over the last 10 years, Halo Lab has collaborated with numerous eCommerce platform owners, digital service companies, and startups to deliver custom website design, Webflow front-end development, and continuous support & integration.
The agency has provided clients with outstanding custom design solutions for their dream websites and helped them to raise over $600M. Among the company's noble clients are Labs, Mighty Buildings, Raven, Kinetik, and others.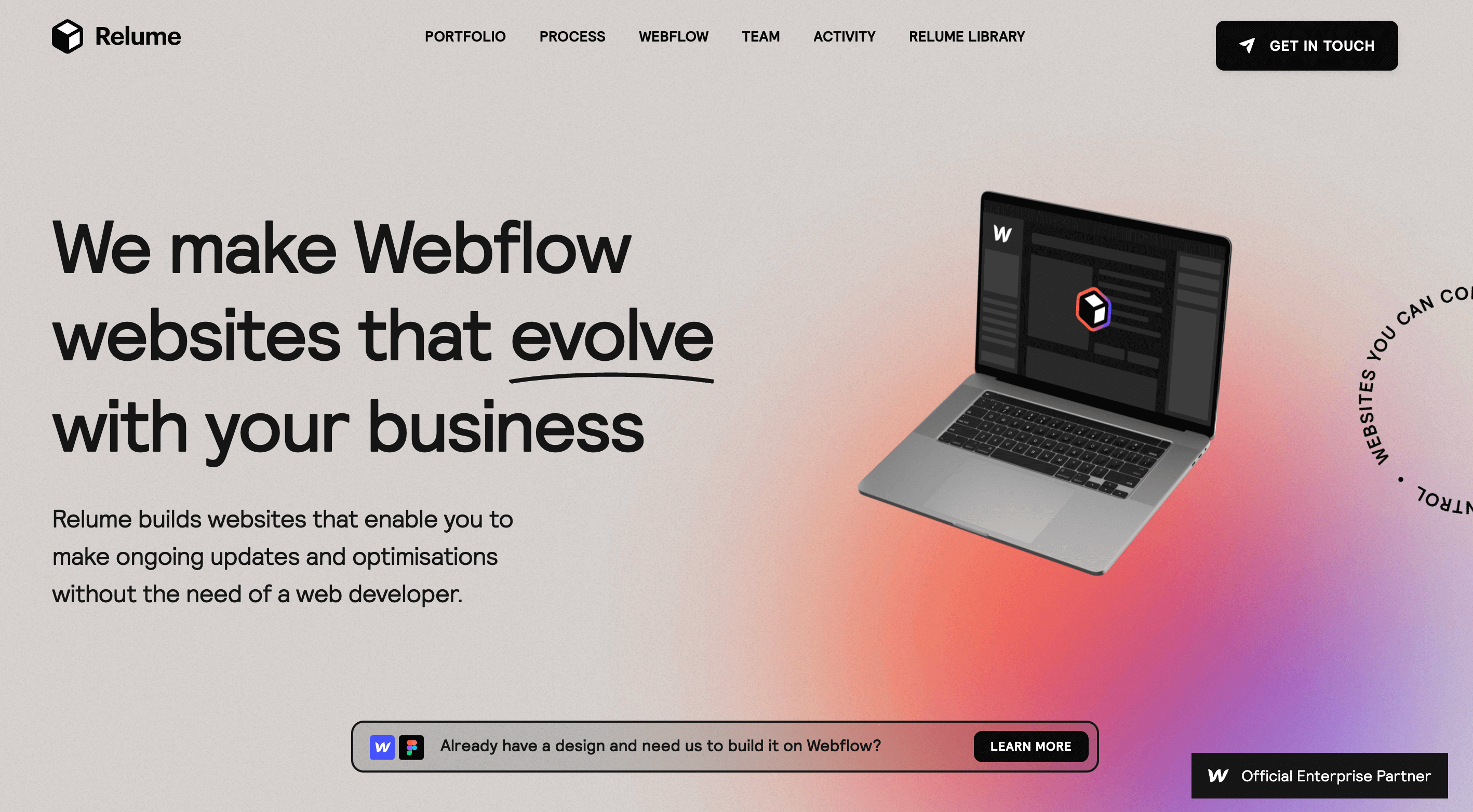 Relume is a superior Sydney-based agency specializing in designing Webflow websites with scalable design systems that enable them to make updates easily. 
Their talented Webflow experts utilize a wide range of supportive tools to make website development easier and faster. They work with clients according to the 5-step procedure — from an exploration session to delivering a ready-to-use website. 
Without the need to hire professional web developers, startup and enterprise owners can trust Relume with their project implementation, be it site redesign or building a website from scratch. Their service also includes in-depth project discovery, UI/UX design, branding, the ultimate Webflow development, and onboarding.
Work with Relume to get everything needed for seamless and streamlined web development.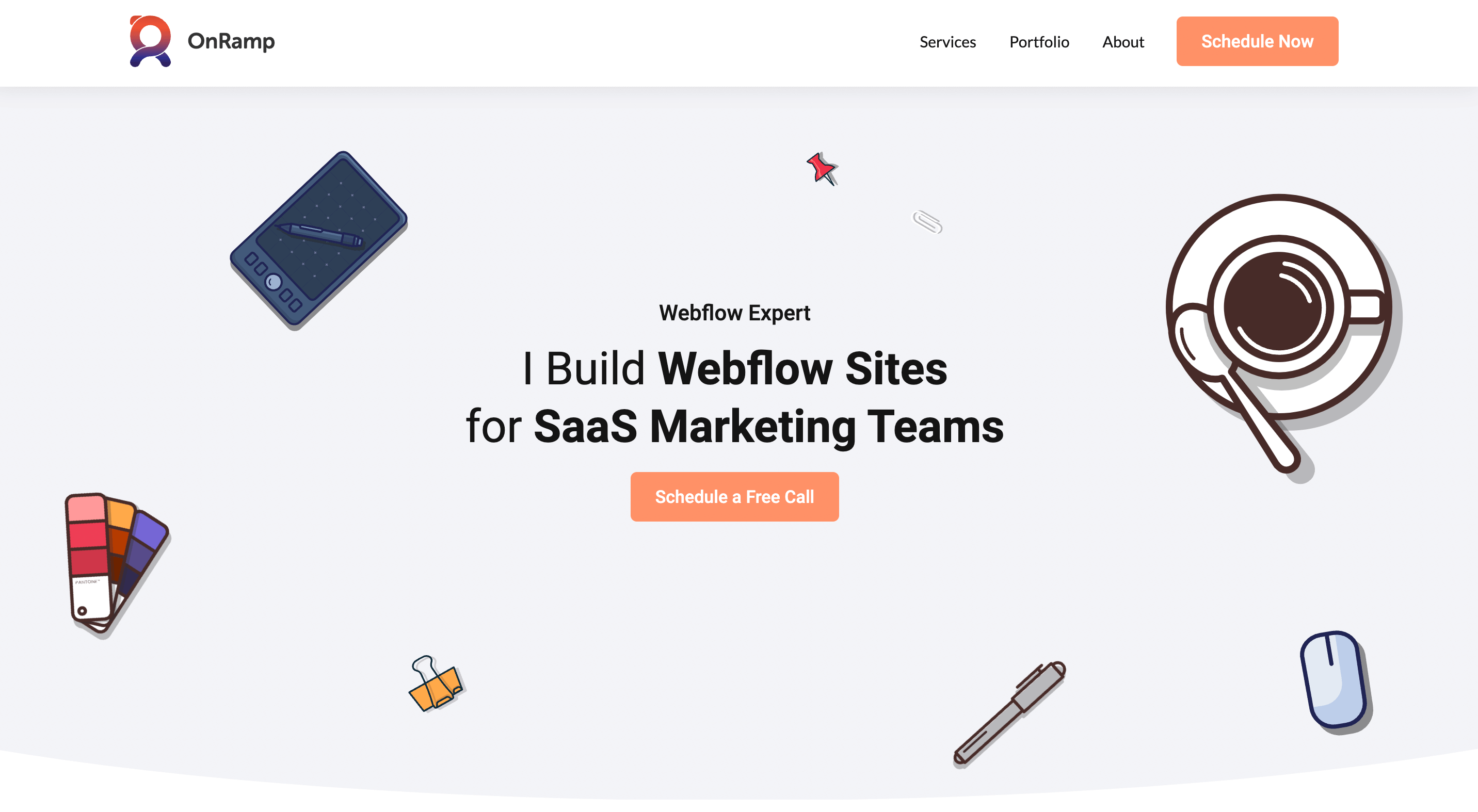 One of the best Webflow development agencies on the market, OnRamp Data, founded by Emmett Armstrong, helps clients to build modern and multifunctional websites lightning-fast. 
With years of experience collaborating with SMBs, marketing teams, and individual designers, OnRamp Data will assist you in creating a high-performance Webflow website that looks and feels fantastic.
Their main goal is to deliver innovations, creativity, and high quality through such services as Webflow website design and development, brand language, and funnel automation. Some of their advanced features include creating embedded 3D files and comprehensive hover animations, scroll interactions, code cleanup, and ongoing support.
So whether you need to upgrade a poorly implemented website or create a powerful web platform from scratch, OnRamp Data is the right expert team to work with. Turn your design ideas into reality and streamline your business with OnRamp Data's best Webflow developers!
Conclusion
Here you go, our list of the best Webflow agencies to take a look at to choose a perfect candidate. 
It's essential to hire a reliable and experienced Webflow development team to build a high-performance and eye-grabbing website quickly. To make the right choice, revise your business requirements and the scope of tasks related to the website development to ensure the selected partner can implement it all. We hope this list helps you find the best-fit Webflow experts! 
If you want to add your Webflow agency to this list, please contact us via email, and after a thorough review, we'll consider featuring your company.