Although using Webflow for building websites is pretty straightforward, some custom projects require sophisticated features and integration, which might be quite challenging. 
So if you strive to develop a cutting-edge website, be it a corporate site, a CRM system, a marketplace, or a social network, but lack expertise, hiring a Webflow agency is a wise choice.
Professional Webflow agencies master this technology and have all the necessary skills and experience to build a user-friendly website of any type and complexity according to your business needs. 
To help you find a reliable and skillful team, we've compiled a list of top Webflow agencies to assist you with your web development project.
The
Best Webflow Development Companies
And Developers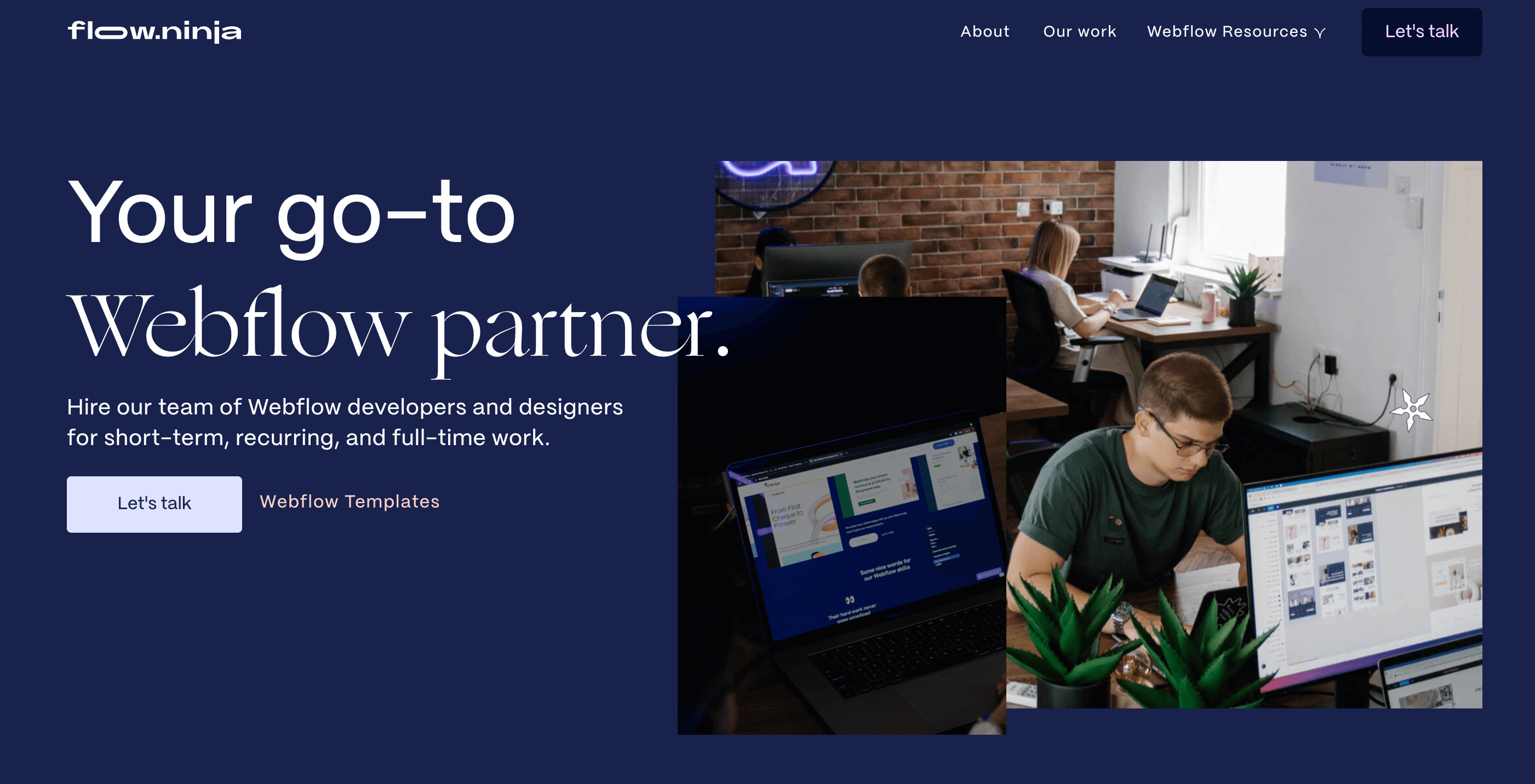 Flow Ninja is a top-rated Webflow-certified agency that helps businesses turn their vivid ideas into compelling websites. 
Founded in 2015, Flow Ninja has become a globally recognized Webflow partner & contributor. In addition to offering premium Webflow templates, the company provides custom web design and development services, as well as ongoing support to ensure the delivered product matches your business vision and goals perfectly. 
Whether it's short-term, recurring, or full-time work, their team will provide you with flexible Webflow development services, including creative design and consulting to help your jumpstart the project. Releasing the potential of Webflow technology, the Flow Ninja's dedicated team will deliver fast and high-quality results to you, avoiding lengthy coding processes and extra expenses. 
Their top-tier marketing, design, and engineering experts have already built from scratch and redesigned 10,000+ pages for over 100 clients, including Upwork, Death to Stock, TextNow, ACELR8, FutureBens, Bitfiner, and other global brands.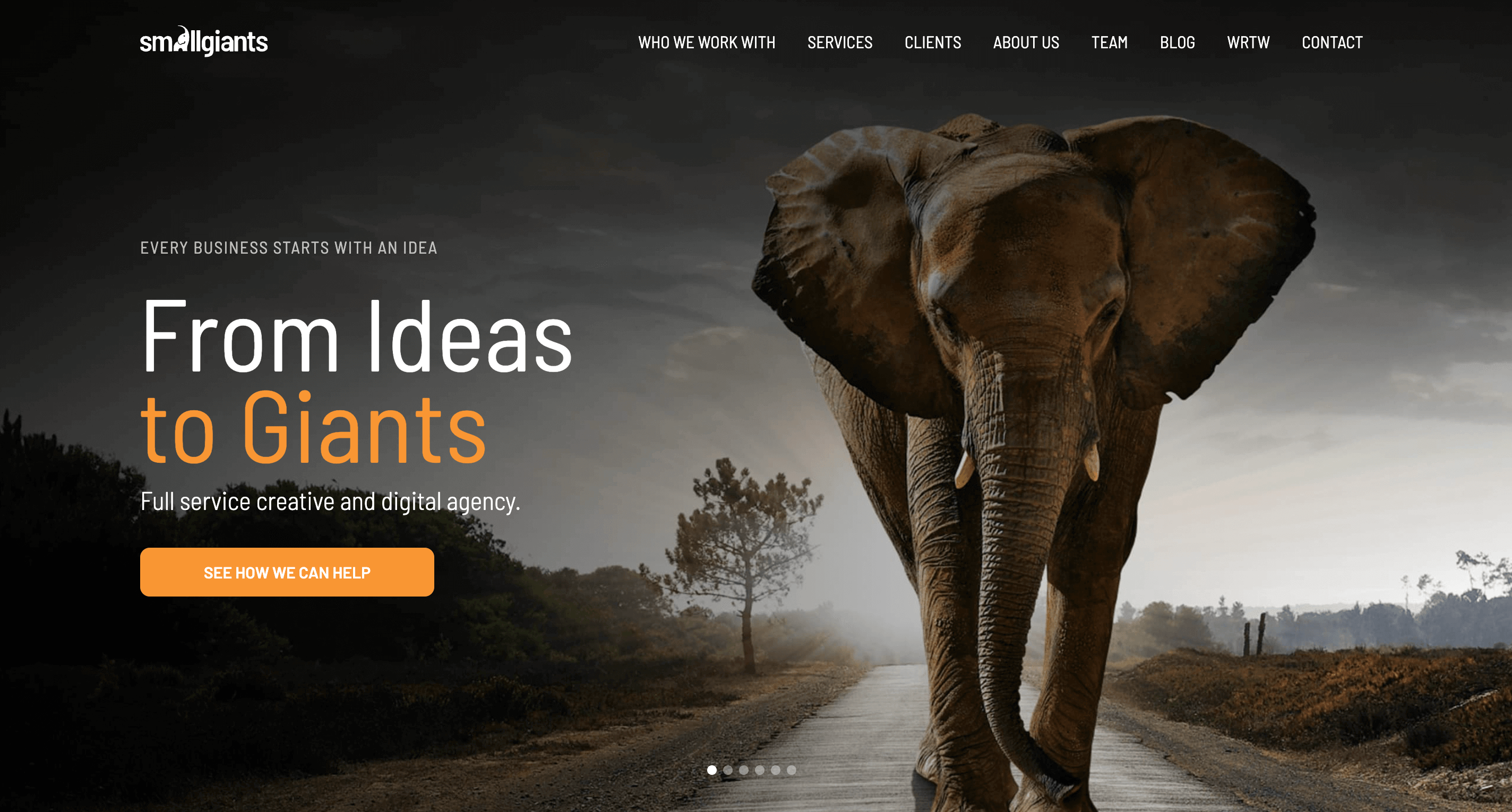 SmallGiants is a London-headquartered Webflow agency that has served clients globally since 2018. From day one, they have helped brands turn their ambitious ideas into outstanding websites and successful businesses.
SmallGiants believes that every firm has the potential to become a market giant. Using Webflow, they combine agile development and ongoing experimentation with a structured approach to help clients build revolutionary websites. By leveraging the power of digital technology and years of experience, their team will boost your business's growth.
SmallGiants is committed to helping startups and established scale-up enterprises implement marketing automation, acquire new consumers, engage with current users, and elevate their experience by designing and developing high-performance, customer centric, CRM and SEO-enabled websites.
With a traditional web development approach, building a high-quality website requires time, a big talent pool, and a large budget. When hiring SmallGiants for Webflow development services, you'll get a full-fledged website that drives prominent results with much fewer expenses and resources.
Established in 2020 and already boasting a fantastic portfolio and excellent client reviews, Ammo Studio can be proudly named the top Webflow development agency delivering best-in-class Webflow sites to businesses of all sizes. They specialize in designing and creating custom, scalable, pixel-perfect websites tailored to their client's needs, be it an enterprise-level web platform or a branded site for a growing startup
Ammo Studio's expertise goes beyond standard website development. The agency takes branding seriously, ensuring every client's brand is treated with care and grows alongside the business. Thus, in addition to building an exceptional website, they create unique illustrations and animations to engage target audiences creatively and provide copywriting services to help clients tell a great story and attract new customers, top talent, and investors.
Ammo Studio prides itself on working 10x faster than its peers while delivering consistent results. Being only for a couple of years on the market, this ingenious California-based team has helped numerous customers jumpstart their digital journey and generate extra revenues.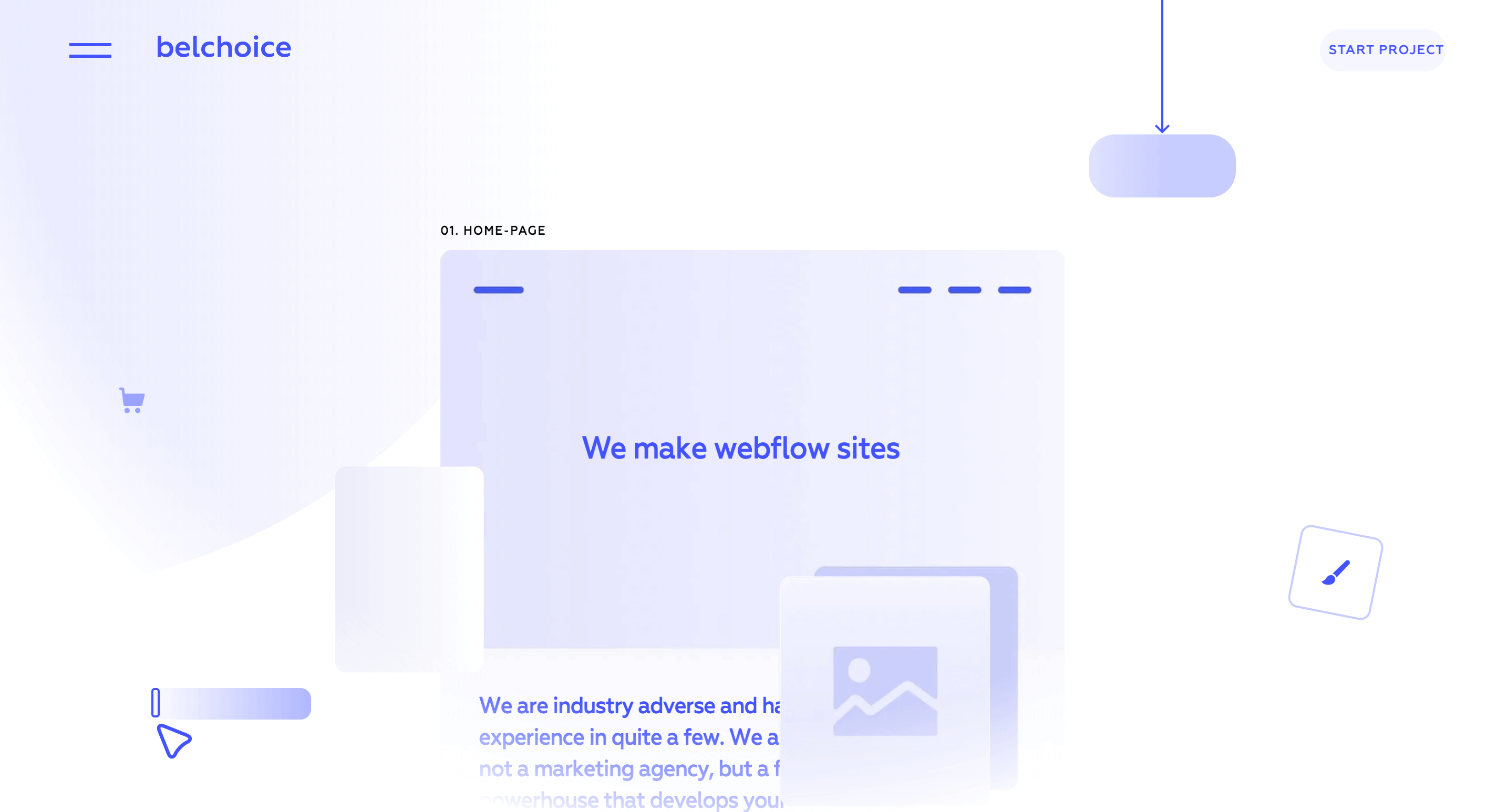 Belchoice is a renowned Webflow agency that provides a complete range of website development services — design, integration, customization, and custom product development for any business.
With a team of experienced, knowledgeable, and passionate Webflow developers who know the technology from A to Z, Belchoice is an excellent partner to transform your business and take it to a whole new level.
Focusing on the marketing side of a business, Belchoice has built numerous Webflow sites that hundreds of thousands of people use on a daily basis. Their professional team can easily turn an idea into reality by implementing the best practices in web design and development and reinforcing your site with powerful integrations, be it Mailchimp, Zapier, Airtable, etc.
Through the years, Belchoice has become a trusted partner for businesses worldwide and can become yours whenever you're ready to improve your business with fantastic Webflow solutions!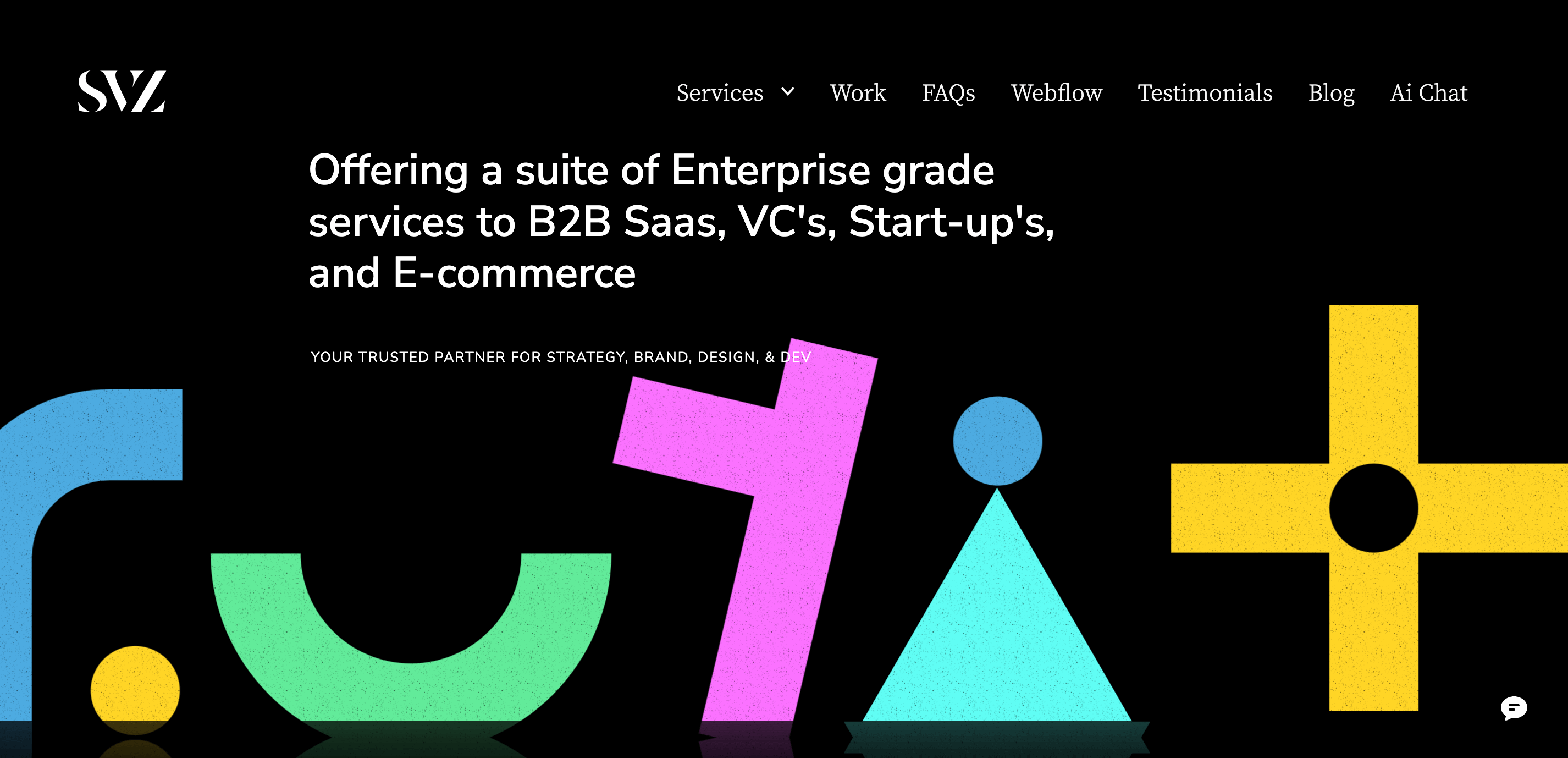 SVZ Design is the top choice for modern companies seeking comprehensive Webflow development services. Based in San Francisco, they've been creating impressive web designs and solutions since 2013, customized for B2B SaaS, startups, eCommerce, and venture capitalists. Their clientele includes notable names like Envoy, Patreon, Saildrone, Instead, Square, NCR, Vanta, Kajabi, and Zenhub as well as smaller startups such as MyStudio, Jrny, Burner App, Butlr, Dusty Robotics, and more.
The agency is shortlisted by A16z, FirstRound, and Ycombinator as they've completed 326 +websites on Webflow for clients over the last 10 years. What's more, SVZ is a 2022 & 2023 Webflow Awards finalist in the Agency Partner — Enterprise Partner of The Year category.
Their services cover everything from user-centric genius-level strategy and branding to full-cycle Webflow design and development, and CMS training. SVZ goes the extra mile, helping clients grow by uncovering potential, understanding competition, and planning effective digital campaigns. Thus, they strive to provide scalable digital marketing solutions along with tried-and-true project managment, not just pretty designs.
Connect with their innovative team through a free 15-minute consultation and experience the capabilities of the leading Webflow agency.
Perspective Design distinguishes itself as a premier UX/UI design agency with an outstanding Webflow portfolio. Their certified Webflow designers and developers foster close collaborations with clients, seamlessly integrating into their in-house teams. This synergistic approach guarantees a profound understanding of the client's brand vision and objectives, yielding design solutions that are impactful and cost-effective.
Their comprehensive Subscription model includes all essential services, such as web design, logo design, branding, UI kits, and illustrations. Most notably, they'll provide you with a complete Webflow design and development team at a fraction of the cost of hiring a single employee.
Irrespective of your company's stage, whether in the Seed phase or already equipped with an in-house design team, Perspective Design offers flexible options tailored to your diverse needs and budget. Let this ambitious agency surpass your expectations, crafting exceptional digital experiences that leave an indelible impression on your end users.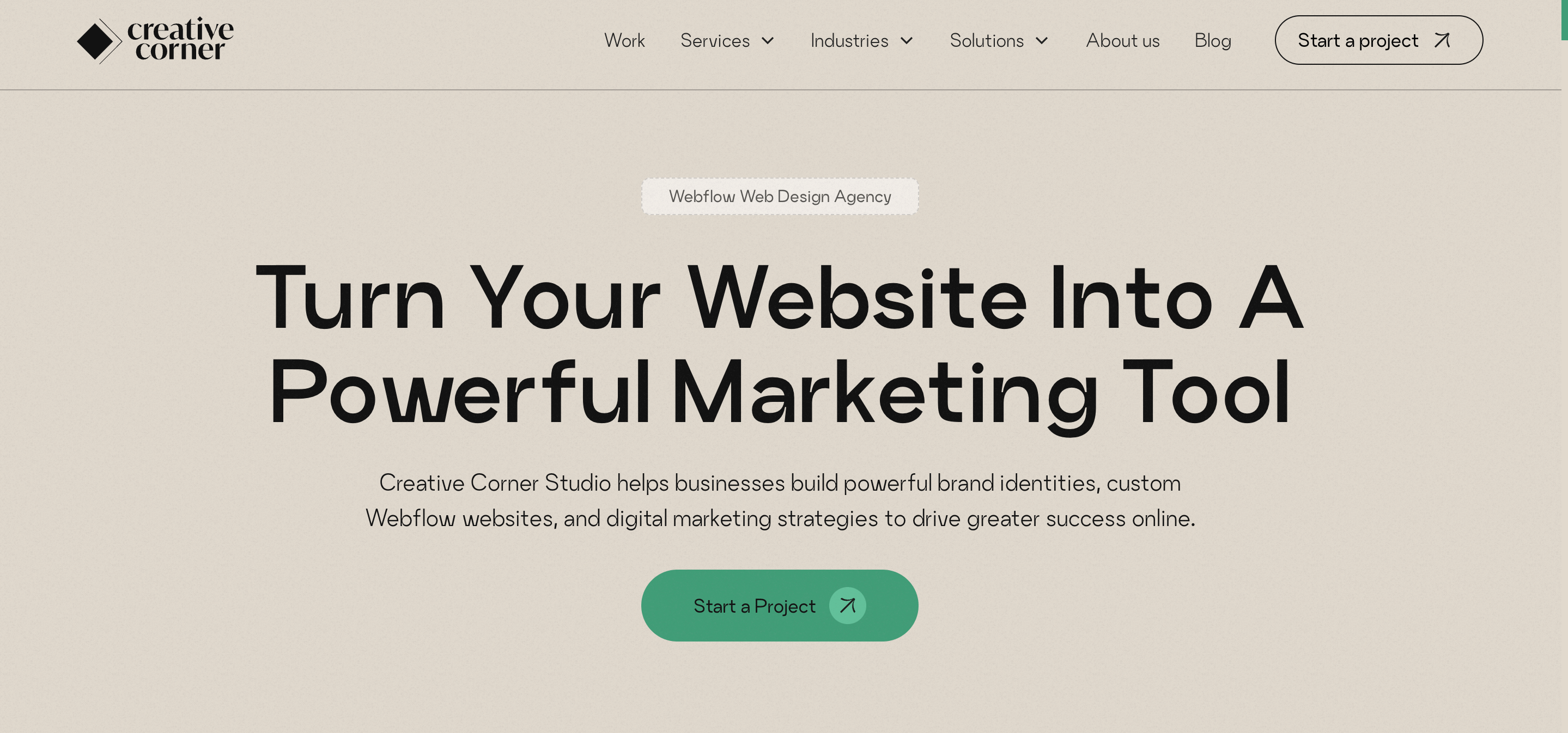 Creative Corner is a supreme Webflow development company founded in 2019 that can help your business grow with full-service web design and development. 
With a profound understanding of customer behavior and their desired digital experience, Creative Corner covers a comprehensive suite of services tailored for tech businesses, B2B enterprises, and real estate companies. From digital strategy and branding to web design, UI/UX design, copywriting, and Webflow development, they're here to create a perfect website for your brand.
As an official Webflow partner, Creative Corner is your go-to Webflow agency that always sticks to high industry standards and can elevate your online presence regardless of your company's stage. Whether you're a startup or an established corporation, they'll deliver digital products that will position you for growth. They've left their indelible technological mark on esteemed clients like Philips, Anker, Home2U, PulsarVision, Henkel, B-eye, and Innspire, accumulating over 9 years of experience across various sectors. 
Their user-centric Webflow design and development services will help you captivate your target audiences, drive conversions, make your web presence stand out, and showcase your values. When it comes to exclusive Webflow solutions for online success, Creative Corner leads the way.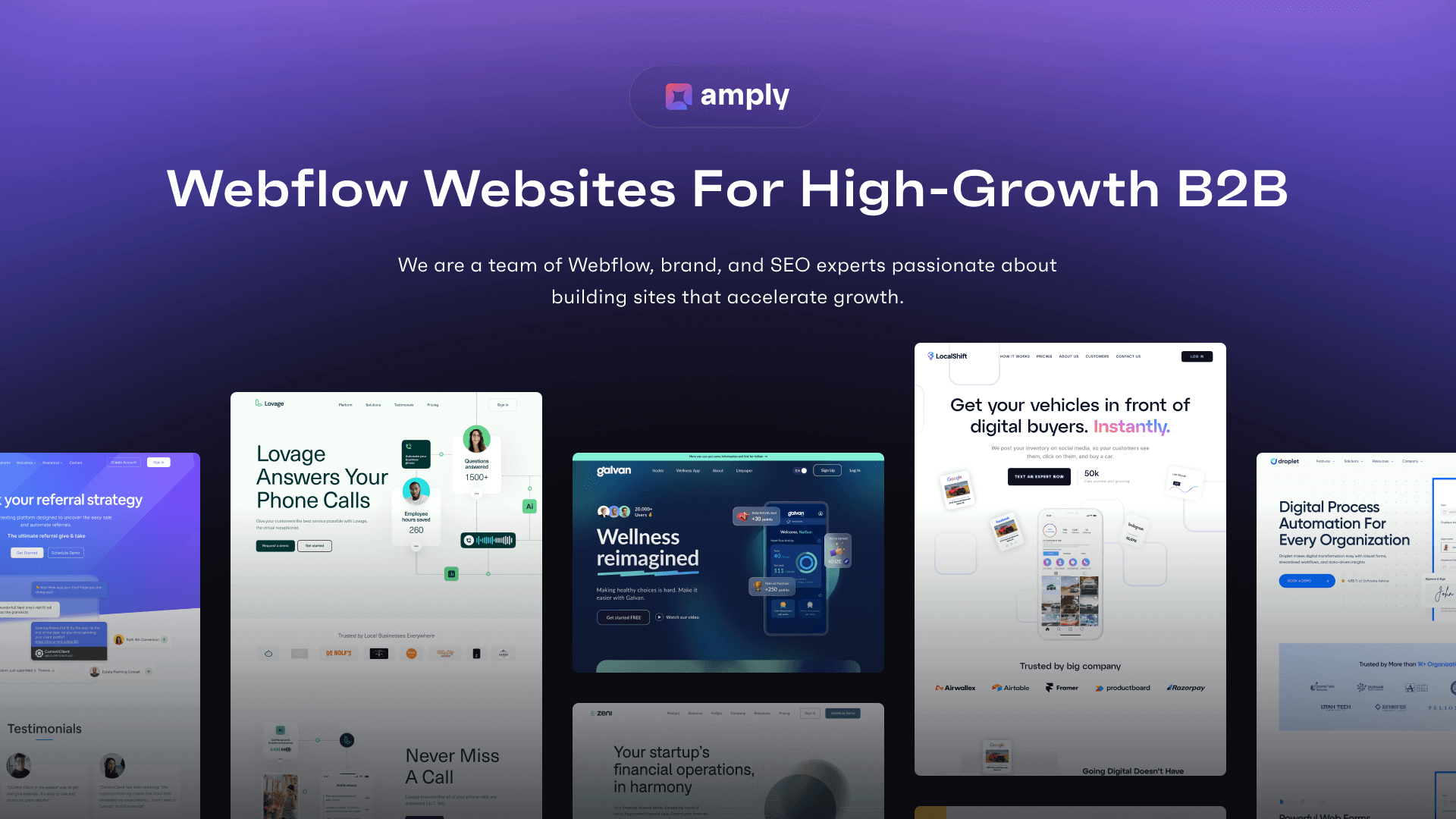 Based in Utah, Amply is the premier B2B Webflow agency, comprised of a fully distributed team of top-notch experts in Webflow, branding, and B2B design. With a passion for bringing brands to new heights, Amply will become a valuable extension of your team or build easy-to-scale websites for your business from scratch.
Helping clients craft websites that captivate users and generate conversions, the agency utilizes the power of Webflow to integrate your marketing and sales systems under one roof, ensuring optimal performance and maximizing your ROI. In addition, Amply will help optimize and scale your website, delivering technical excellence and design consistency and enabling your brand to conquer the top rankings in Google's SERPs. Amply serves various industries, including Saas, AI, Blockchain/Crypto, FinTech, and Health/MedTech.
From understanding the unique needs of your industry to delivering tailored solutions that meet your business objectives, Amply possesses unparalleled expertise and dedication as the leading Webflow agency, ready to help you unlock the true potential of your online presence and drive your brand to unprecedented success.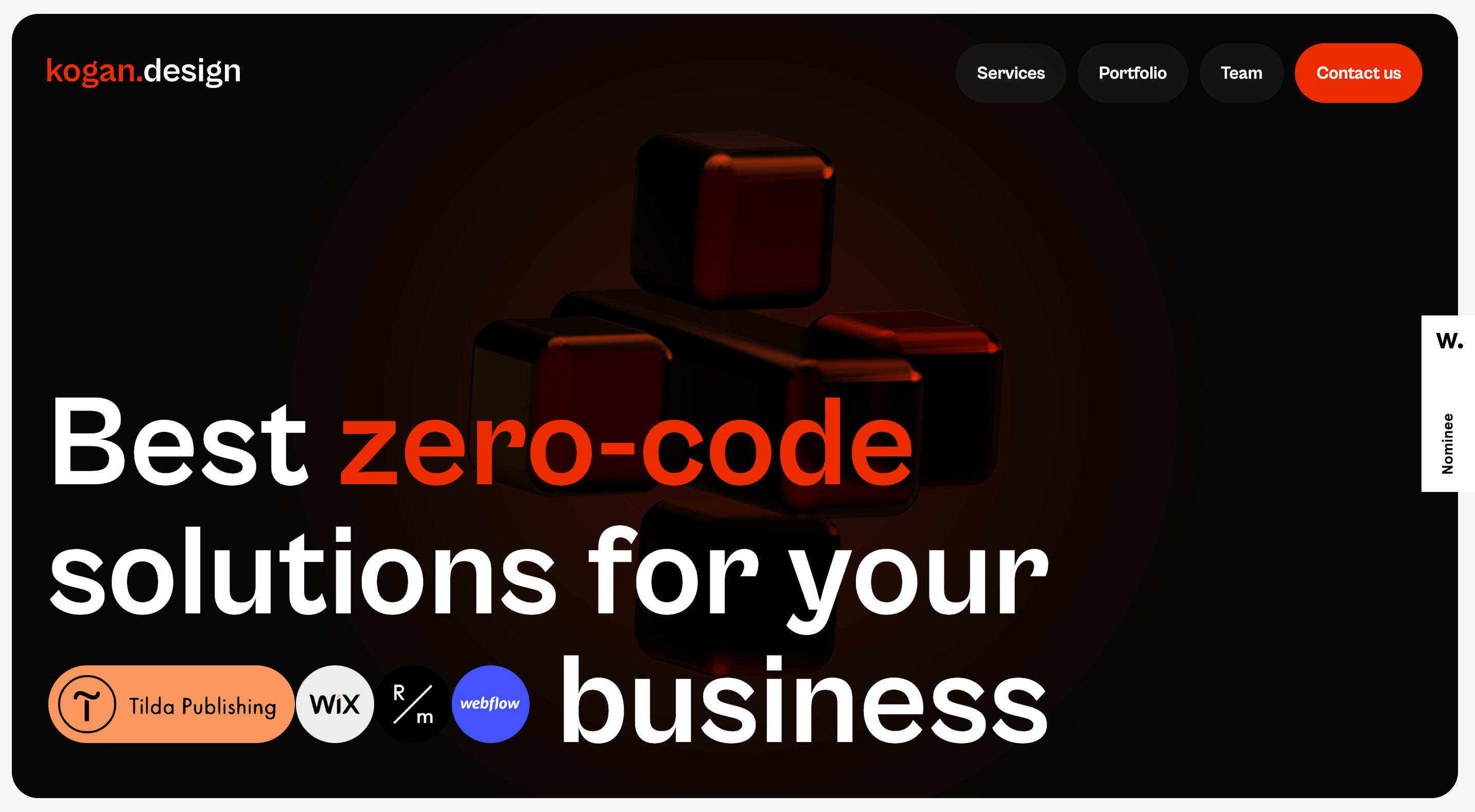 Kogan.design is an Israel-based Webflow agency with an international team that serves clients all around the globe. They provide zero-code solutions to help businesses achieve success faster and easier.
With over 15 years of experience in software development, Kogan.design experts built over 100 projects from scratch, turning ambitious clients' ideas into a profitable reality. They design and develop landing pages, small websites, and scalable eCommerce projects. Their own website built on Webflow was nominated for the Awwwards, which proves this agency is the right place to refer for impactful Webflow development.
So, if you are looking for a reliable partner with solid zero-code expertise, particularly in Webflow, don't waste a minute and contact Kogan.design right now!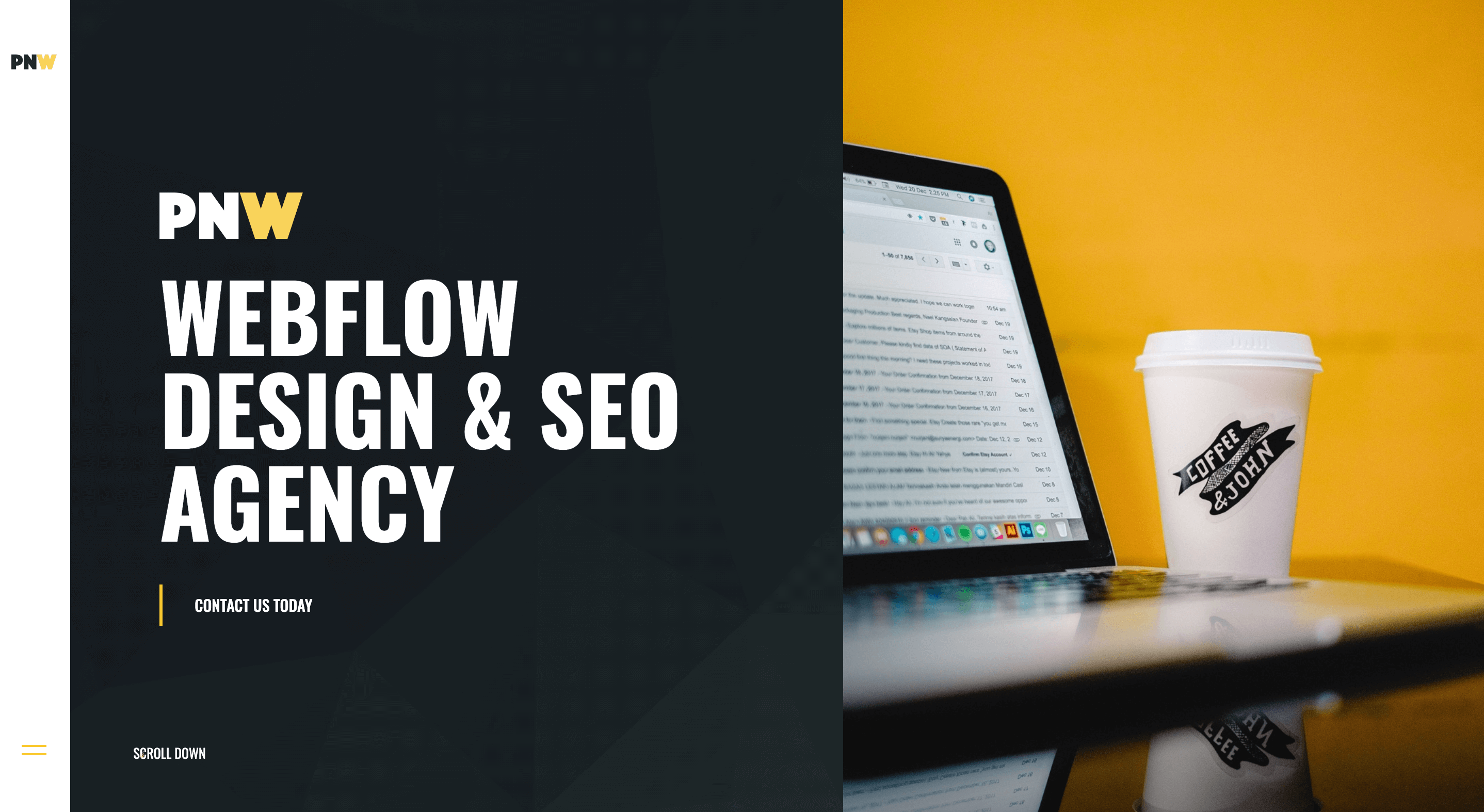 Pretty Nice Websites (PNW) is a Webflow design and development agency ready to make a beautifully branded, SEO-optimized, responsive, and unique website for your brand. 
Their small but talented team of Webflow experts delivers outstanding solutions for businesses within various industries, whether it's Retail, Healthcare, Education, or Gaming. With hundreds of implemented projects, PNW has acquired vast knowledge and skills to make any creative idea come true. 
In addition to basic website design and development, and SEO, the agency also provides Webflow site management. This service allows for easily updating your website without the need to hire expensive developers.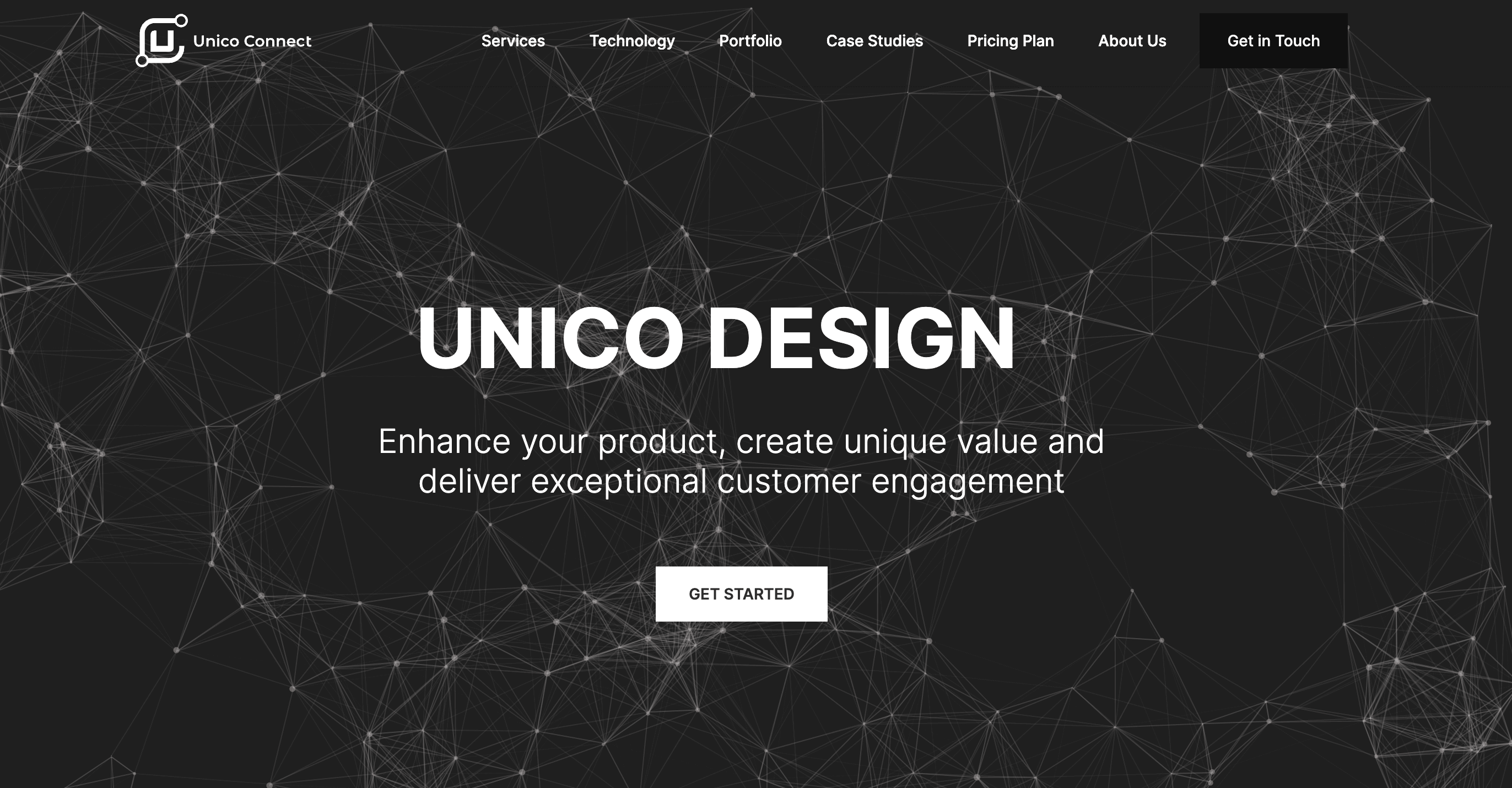 Unico Connect is a top-notch Webflow development company that provides businesses with cutting-edge websites lightning-fast.
Using endless Webflow's no-code development capabilities, the company can build and deploy a custom website for your business much faster and cost-efficiently than when using traditional development. Leveraging the power of a platform's Designer, in-built CMS, SEO tools, and other superior no-code features, Unico Connect helps clients create exceptional web resources with superior efficiency, productivity, and security.
Being on the market since 2014, the company has gained valuable knowledge in various industries and technologies. Their proficient team works closely with international clients to understand their unique needs and provide tailored web solutions to help them achieve their key business objectives.
Unico Connect's Webflow experts also provide ongoing support to ensure your team is able to utilize the platform and achieve the best results with the delivered solutions.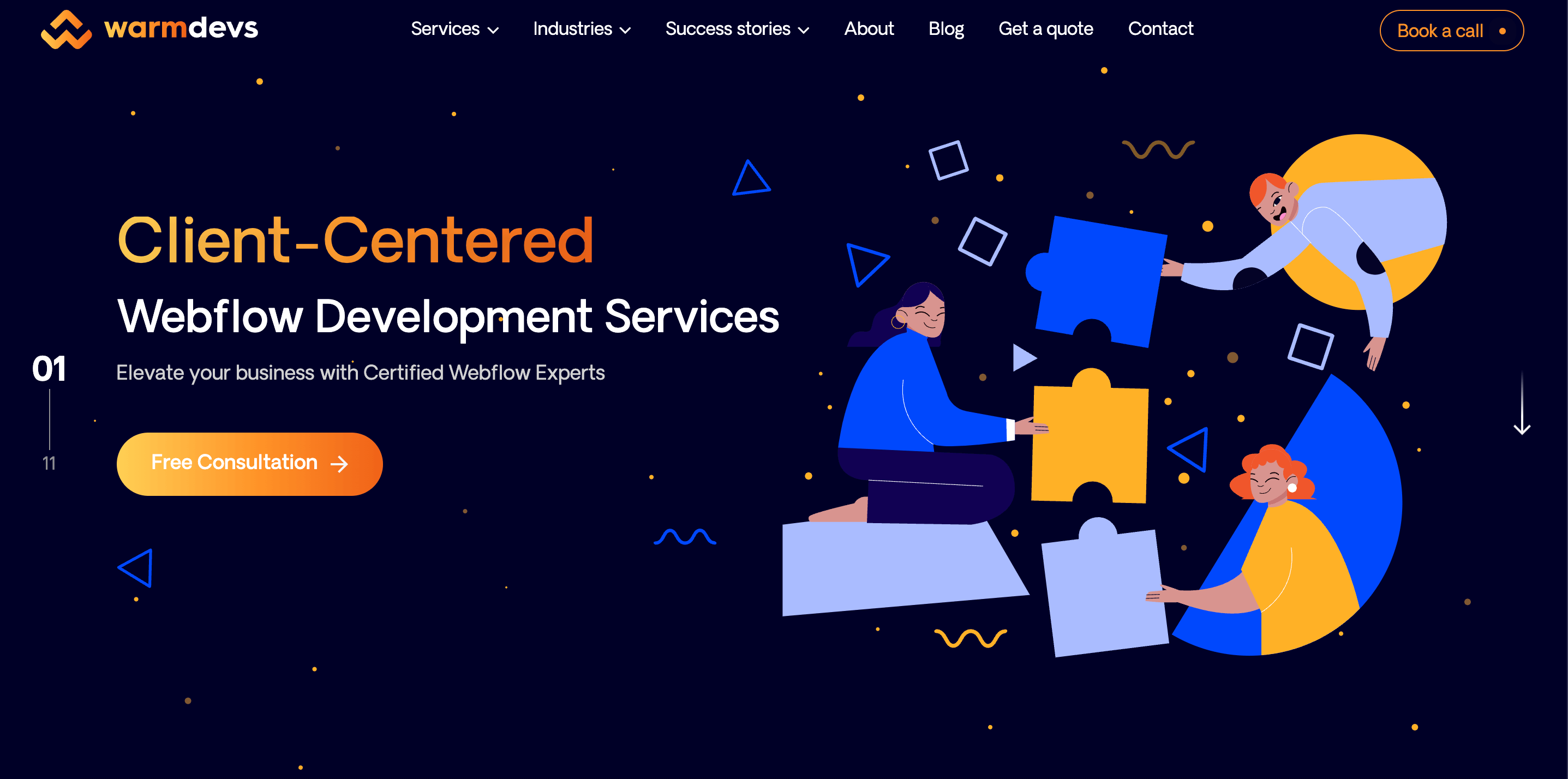 Warmdevs is a Ukrainian-based Webflow development agency that, in 2022, got officially recognized as Webflow Professional Partner. The company has been around since 2016, and by now, they've managed to finish 300+ successful projects and get awarded as the #1 Webflow Agency by Clutch. 
They are experts in creating appealing marketing static webpages, but that's not all they can do. If you have more needs to cover, they can integrate third-party services and incorporate a Login form, Payment operations, Financial calculators, and Live chats into your page.
Whether you need access to an integrated database, optimize a CRM system, or connect a crypto wallet and develop a custom smart contract, they will implement that for you and much more. And, of course, they'll ensure your custom website is SEO optimized to increase your ranking on Google!
In addition, Warmdevs offer various services such as Business Analysis, UX/UI design, Motion Design and Lottie animations, and Third-party API integrations. They have much to show you through the collection of case studies detailing the team's completed projects in their Webflow showcase.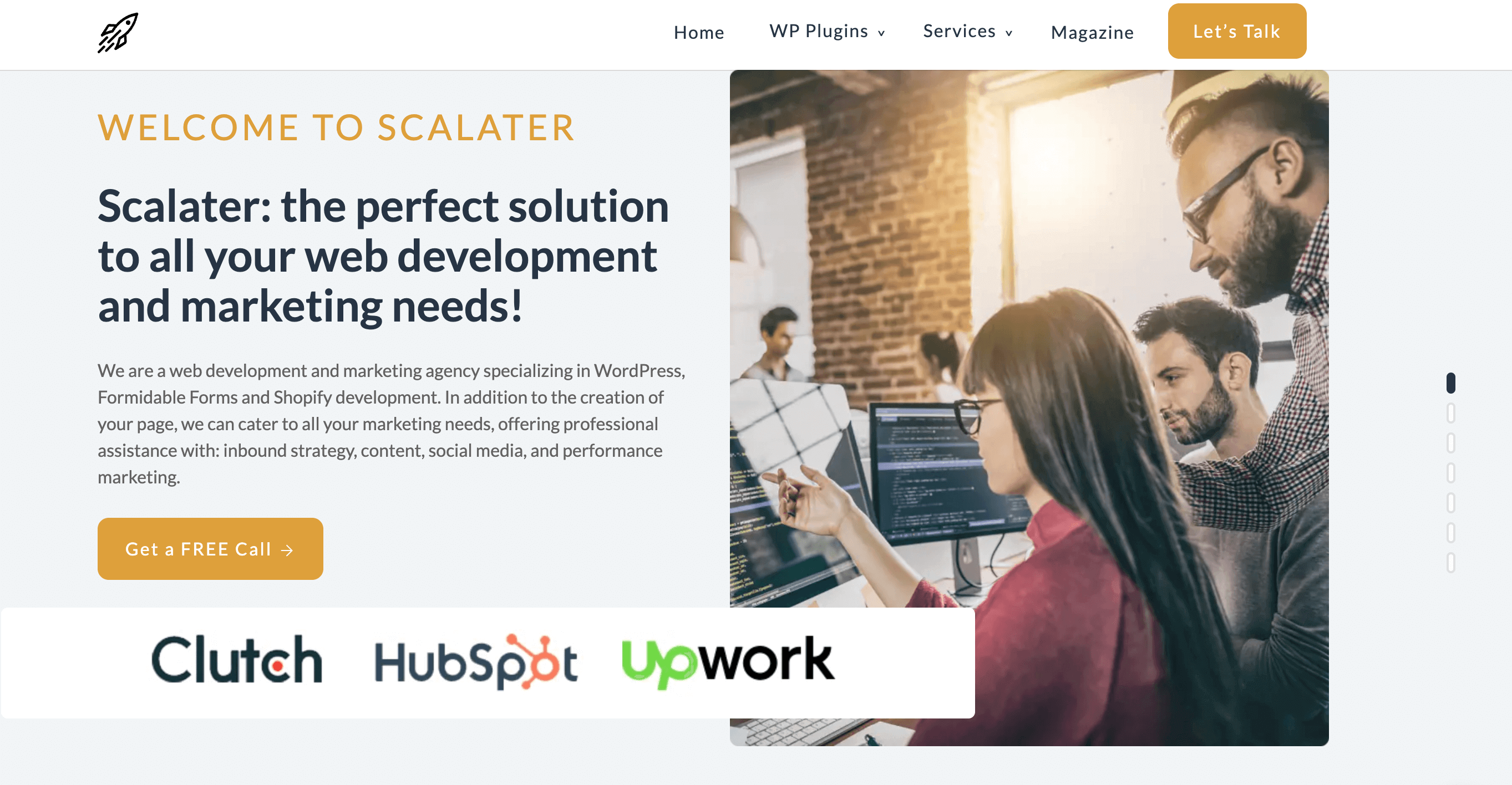 Scalater, an award-winning software development company based in Estonia, specializes in providing full-cycle web development services, offering both traditional and no-code development using WebFlow. They also cover plugin and theme development, SEO services, custom API creation, and IT consulting.
Scalater's team comprises experts with an in-depth understanding of the latest technologies and trends in WebFlow development, making them a top-tier IT service provider for businesses of any industry. Since 2020, Scalater has established itself as a reliable development company, earning numerous rewards and recognitions. Their extensive expertise allows them to create tailored solutions and stunning web designs to engage your target customers and provide the perfect virtual storefront to meet your business needs.
Scalater's commitment to providing an intuitive user experience, appealing web design, and optimized website performance makes them an ideal partner for companies seeking to increase profits and attract more customers. Whether you're looking to enhance your existing WebFlow website or build a new one from scratch, Scalater is your go-to service provider.

GetDevDone is a US-headquartered company offering top-quality web design and development services to digital agencies and businesses worldwide since 2005. The company has gained global recognition for its client-focused Webflow development services, becoming an official Webflow partner in 2022 – solid proof of its unrivaled expertise and professionalism.
GetDevDone provides a wide range of services that help agencies and brands grow and boost their revenues. From migration to Webflow, customizing a template, recreating a website to match the client's unique brand style, building a website from the ground up, or something else, the team has all that it takes to convert the boldest creative ideas into reality.
The company puts a special emphasis on helping clients reduce their development costs. If a client has no design, the team can make it right in Webflow and then turn it into a full-fledged website, saving the client a significant portion of their budget.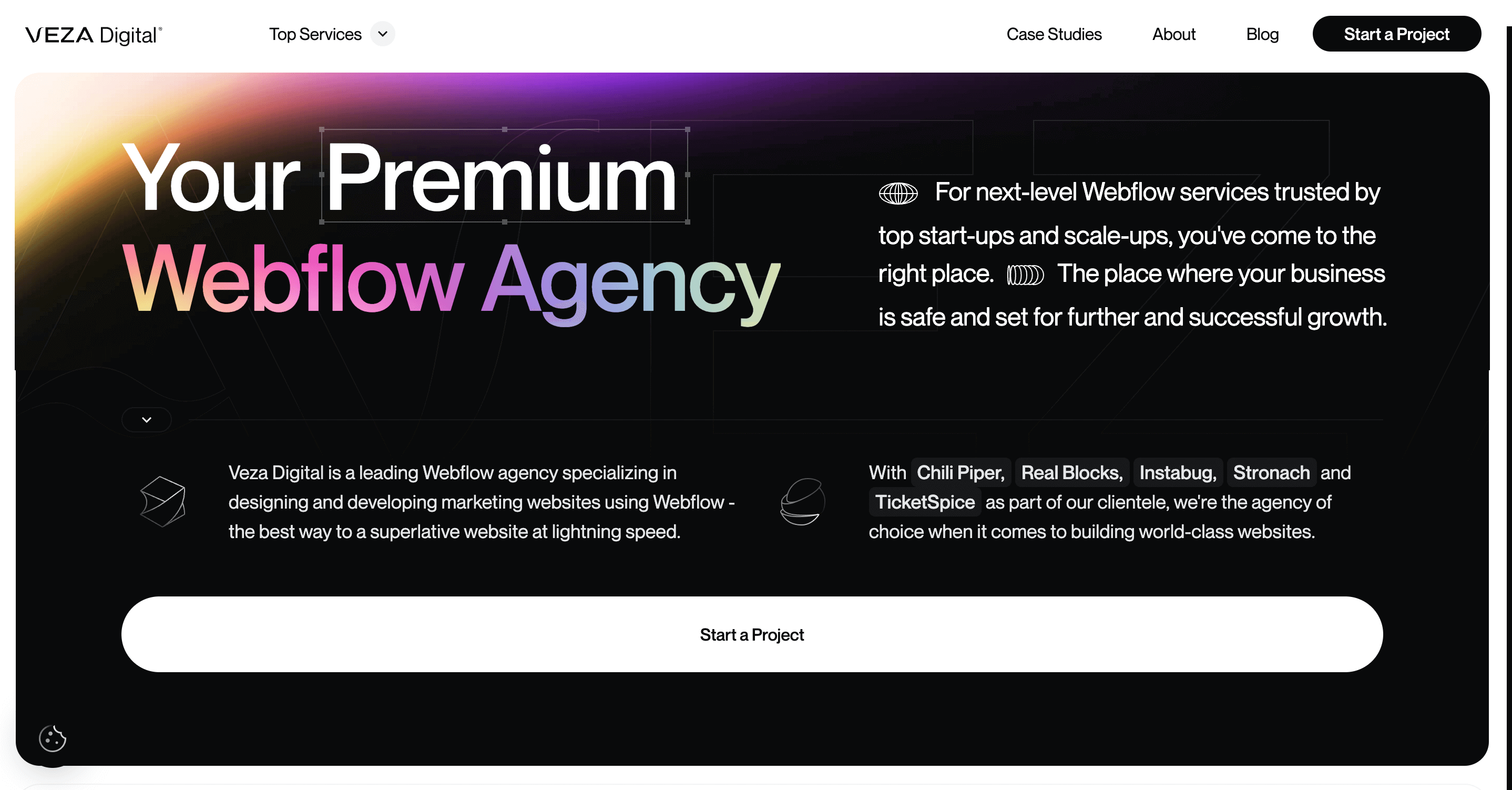 Veza is a top-rated Webflow-certified agency dedicated to crafting state-of-the-art digital experiences. Established with a mission to reshape the digital landscape, Veza has swiftly climbed the ranks to become a prominent Webflow development agency. Beyond just offering outstanding Webflow templates, Veza excels in delivering tailored web design and development services. Every project they undertake is backed by a commitment to ensure the end product aligns seamlessly with your business aspirations and objectives.
Whether you're looking for short-term assistance, recurring web solutions, or a full-fledged partnership, Veza's team is adept at offering flexible Webflow development services. This includes insightful design consultation and strategies to kickstart your initiatives. Harnessing the full power of Webflow's capabilities, the Veza team promises prompt delivery of top-notch outcomes, sidelining the traditional hassles of prolonged coding and additional costs.
Their elite team of marketers, designers, and engineers boasts an impressive portfolio, having created and revamped thousands of pages for numerous esteemed clients around the globe.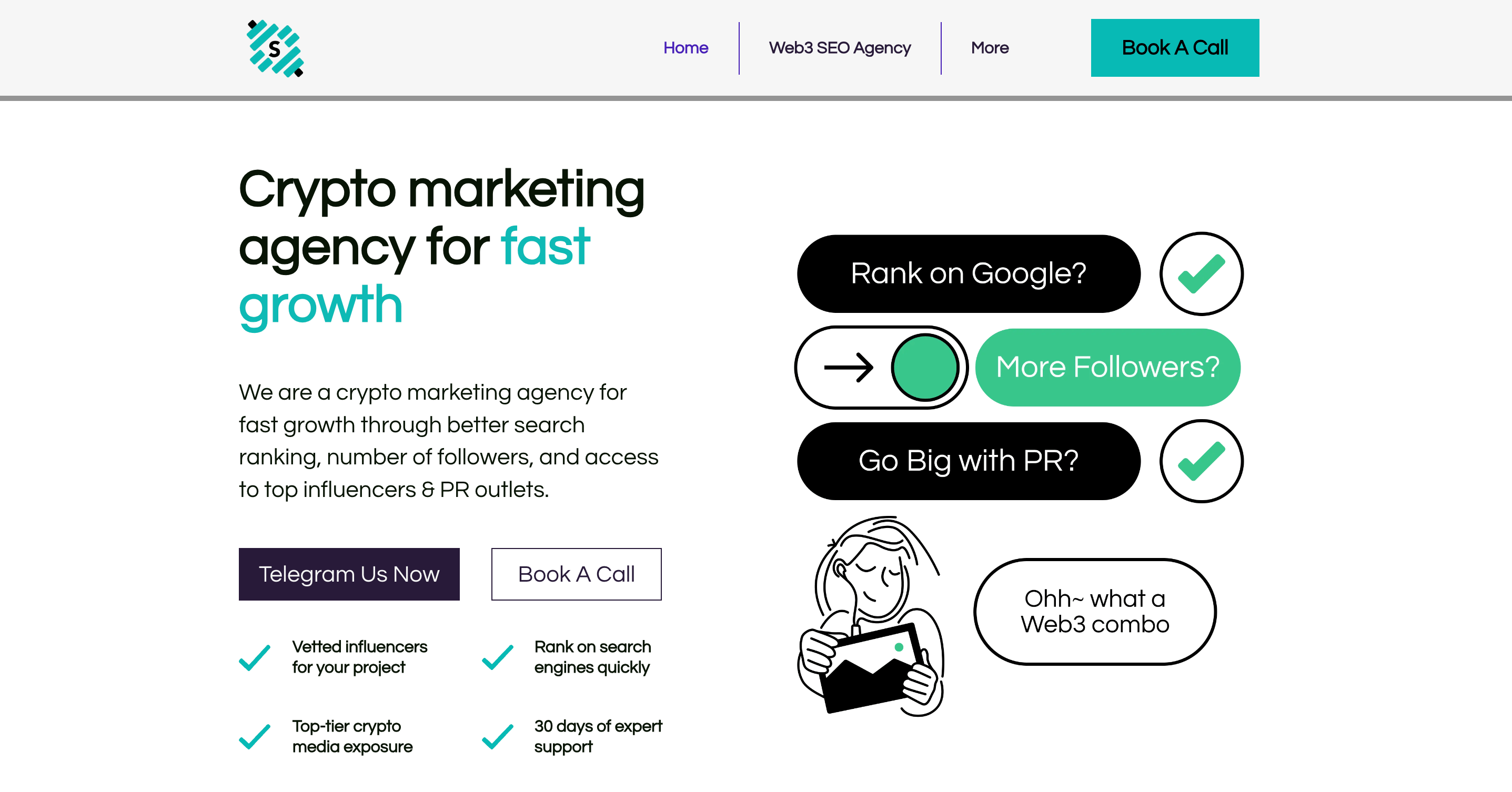 Solid Metrics is a fast-growing Web3 marketing agency that focuses on content marketing, SEO, SMM, influencer marketing, as well as Webflow development for small and medium-sized projects.
Solid Metrics' Webflow design and development services are tailored for businesses seeking to harness the full potential of search engine traffic as a cornerstone of their marketing initiatives. Prioritizing long-term strategies, the agency allows clients to thrive regardless of market conditions.
Moreover, Solid Metrics offers a remarkable one-month FREE SEO content creation experience for those using their Webflow services. What truly sets them apart is their commitment to delivering value to clients. They do not charge for backlink acquisitions based on DR ratings for clients with their SEO subscription plan. 
Solid Metrics' commitment to driving organic, long-term growth makes them a trusted partner for businesses seeking the ultimate Webflow, SEO, or other content marketing services.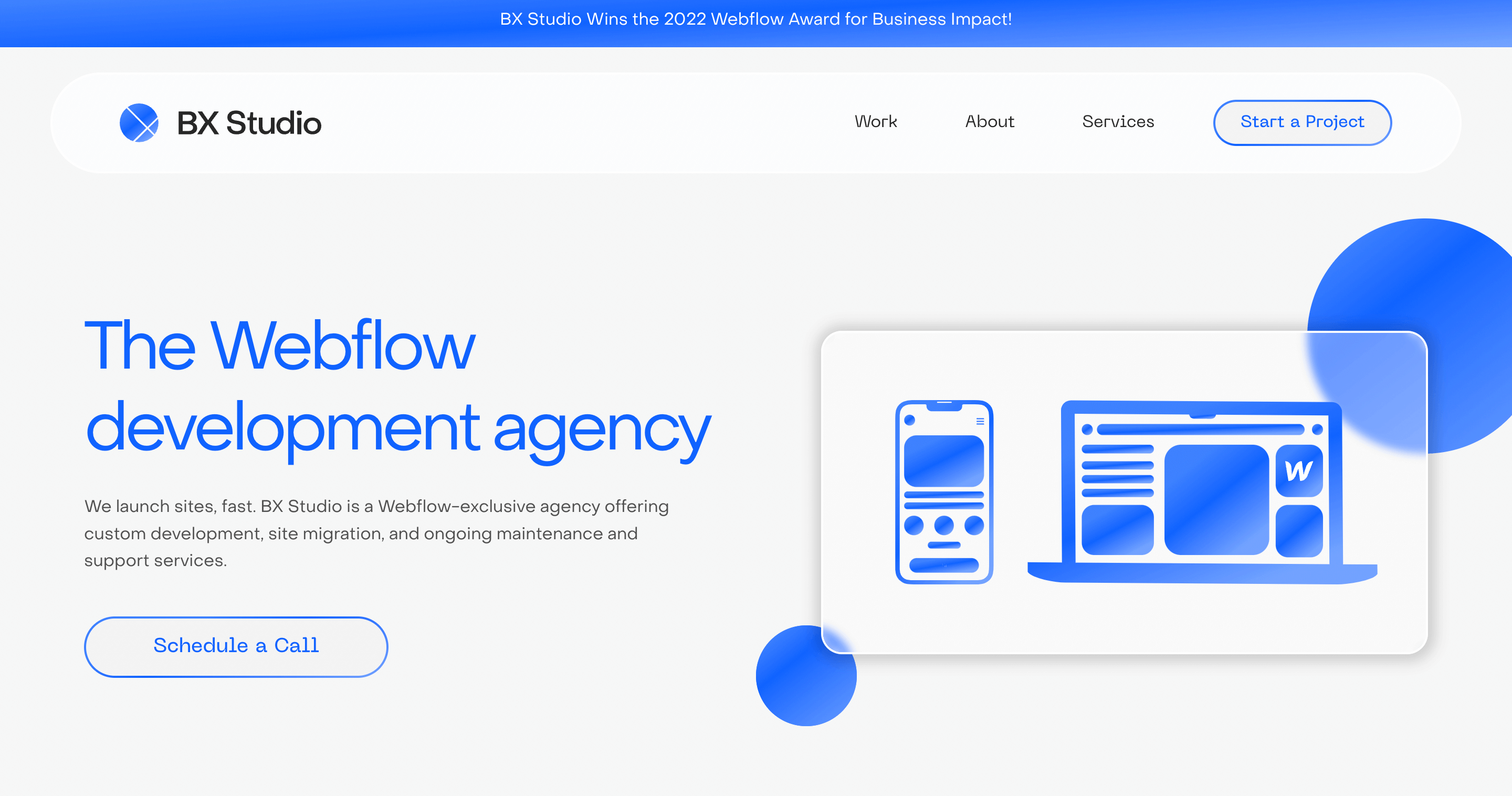 BX Studio is a top-rated Webflow agency that received a Webflow Expert Agency 2022 award. Being a customer-oriented firm, BX Studio is part of Barrel Holdings, a group of digital agencies.
They offer custom development, site migration, as well as ongoing maintenance and support. BX Studio also provides an option for semi-custom website development in less time and at a reduced cost. 
While helping various businesses with analytics, SEO, ADA/Accessibility, GDPR & CCPA, social sharing, page speed, and other website development tasks, BX Studio offers a BX Certificate of Quality after the launch, illustrating technical and QA standards. 
In addition, the company guarantees a launch with a straightforward maintenance plan for ongoing support.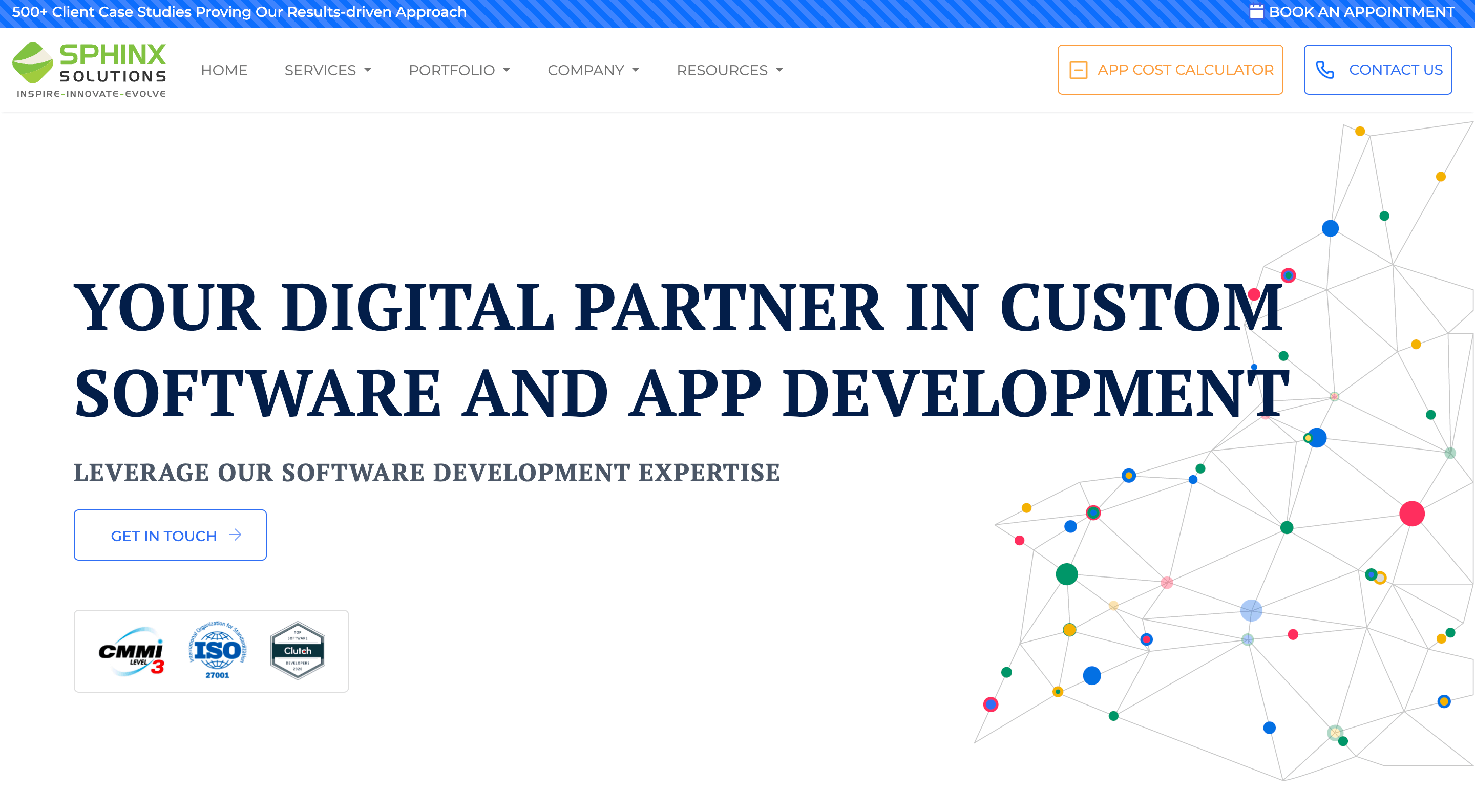 Sphinx Solutions is one of the leading ISO-certified & CMMI level 3 web application development companies that transform modern businesses with innovations. With more than 13 years of experience, the company has been offering comprehensive services in multiple industry domains, including Healthcare, Entertainment, eCommerce, Education, Banking, Information Technology, and more.
Sphinx aims to focus on a customer-centric approach and core technical expertise to timely deliver unparalleled solutions and meet all client expectations. Their professional team of developers and engineers tirelessly work together to ensure seamless implementation & integration.
With a solid commitment to thorough learning and staying informed with the current technology trends, Sphinx remains one of the trusted partners for businesses that want to achieve long-term success by embracing massive digital transformation. Sophisticated services, proper support, and transparent client communication place them on the list of top digital IT solution providers.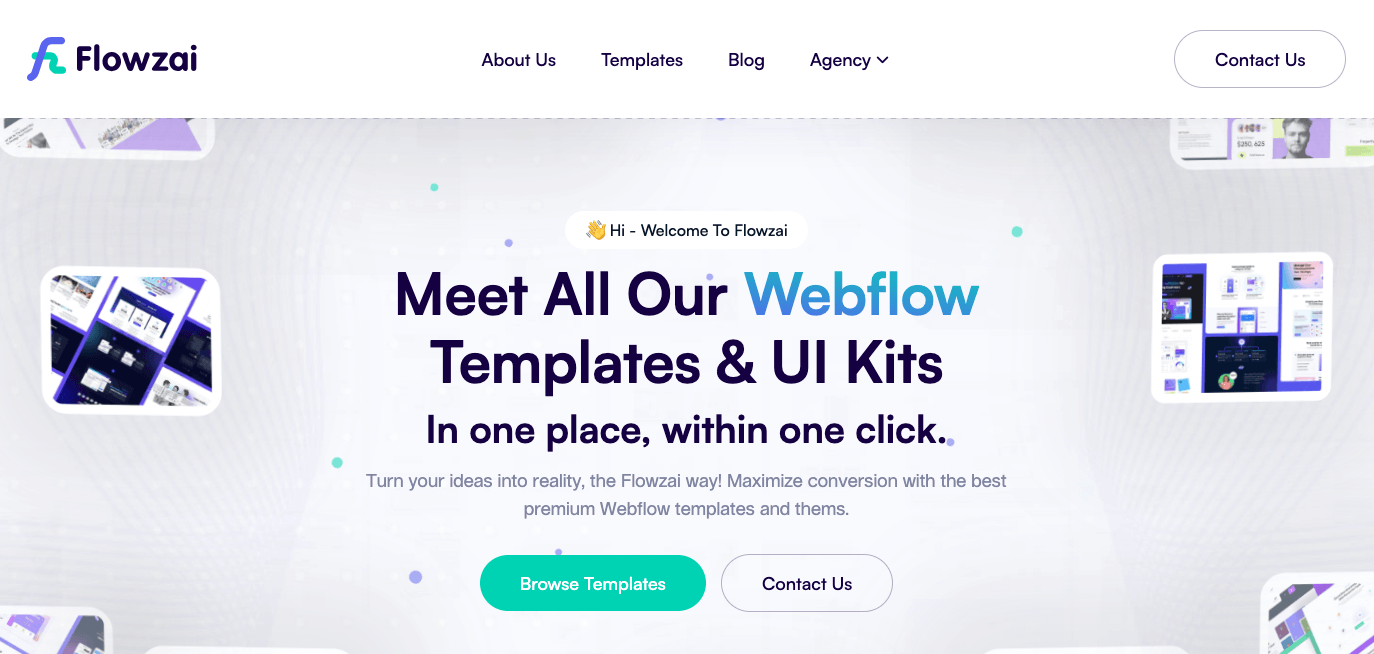 Flowzai is a well-known Webflow agency that's been around since 2021. They're famous for creating fantastic websites and have even worked with big companies.
What's cool about Flowzai is that they have lots of templates for different kinds of websites. So, if you need a website for something like a construction company or a beauty salon, they've got you covered. Their websites are also super fast and look nice. They can even make custom websites just for you!
But the best part is that they have a team of experts who work day and night to help you. If you have questions or need help with your website, they're there for you 24/7. People who have worked with Flowzai say they're really good at what they do. So, if you want a great website, Flowzai is the way to go.
Flowzai is not your typical web development agency; they are digital dream weavers. Their expertise in turning ideas into captivating web realities is unmatched. Their commitment to quality, responsiveness, smooth animations, and speed optimization is evident in every website they create. 
So, Why Wait? Try Right Now..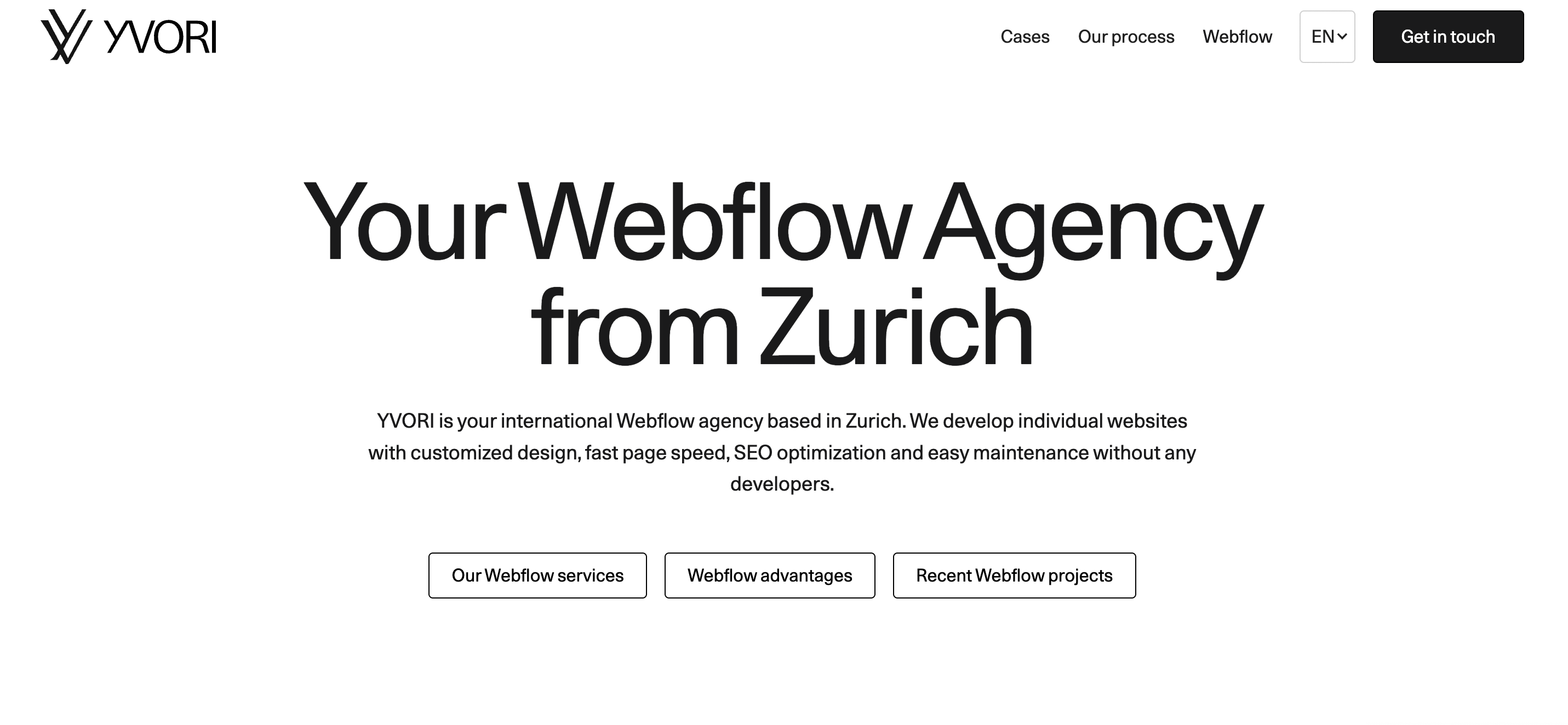 YVORI is a Zurich-based but serving worldwide Webflow agency founded in 2021. Providing best-in-class Webflow developers, the company helps clients create business websites with custom designs, excellent performance, perfect SEO, and easy maintenance.
They build a fantastic digital presence for high-end companies — from the branding to the Webflow screen design and development of your whole website. 
Offering fast, simple, and highly customizable web development services, the agency also provides maintenance and integrations without requiring developers. Additional services they deliver include hosting and web flow design.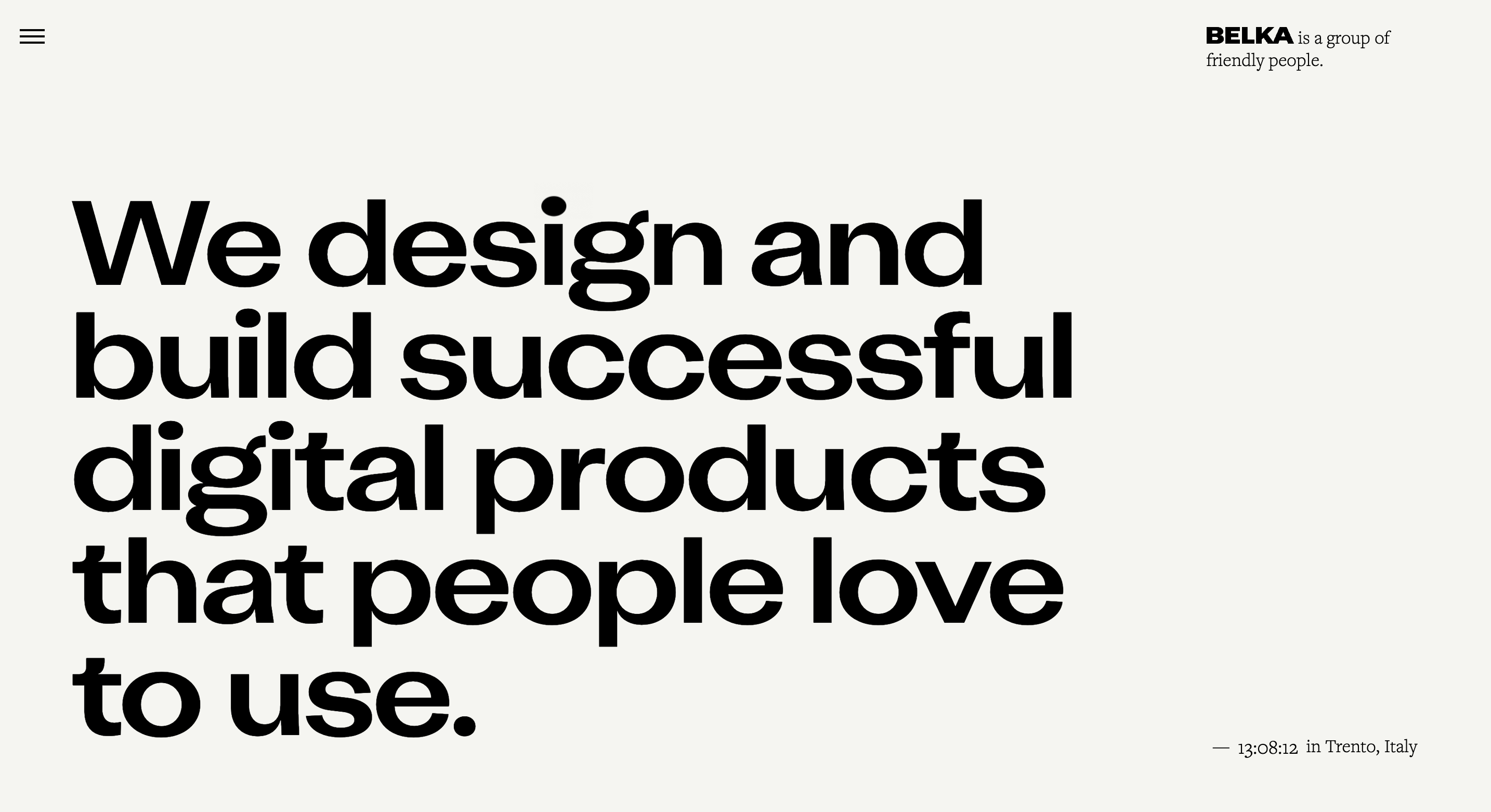 Belka is an Italian digital product firm that develops digital products for businesses, such as websites, applications, and games. They are a 17-person team comprised of the best Webflow developers, designers, producers, and strategists that will help you establish a fascinating digital presence for your brand from the ground up. 
Having over 7 years of experience, their Webflow designers work hand in hand with the clients to ensure they prioritize, sync, and plan all project tasks to achieve maximum productivity and the fastest results possible. 
Belka experts helped launch over 50 projects for clients in the US and Europe, which proves they're a reliable firm to contact if you want to build a top-notch website. They'll provide you with full-cycle web development services, including UX/UI design and usability testing.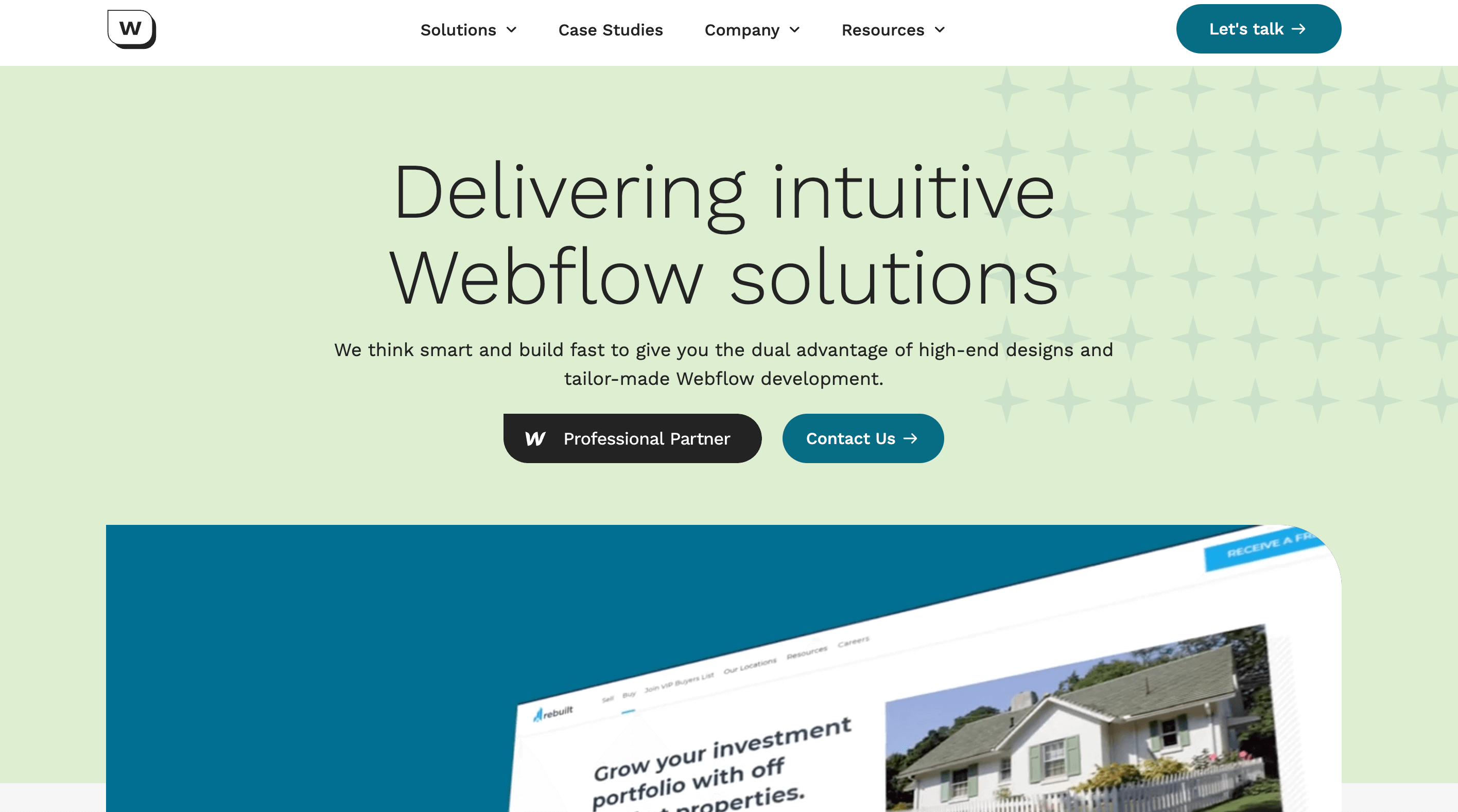 Workshare is a Goa-based Webflow agency that specializes in delivering intuitive, tailor-made web development solutions. Using no-code and low-code technologies, their team of Webflow experts can assist you with developing responsive high-end design, CMS systems, animations, and micro-interactions for your project. 
Founded in 2018, Workshare has already managed to deliver 100+ successful sites for both startups and enterprises. Having a great understanding of marketing trends and customer needs, the agency creates 100% mobile-friendly, ready-to-scale websites for higher conversion rates. 
From the MVP to full-fledged business solutions, Workshare can become your long-term Webflow partner.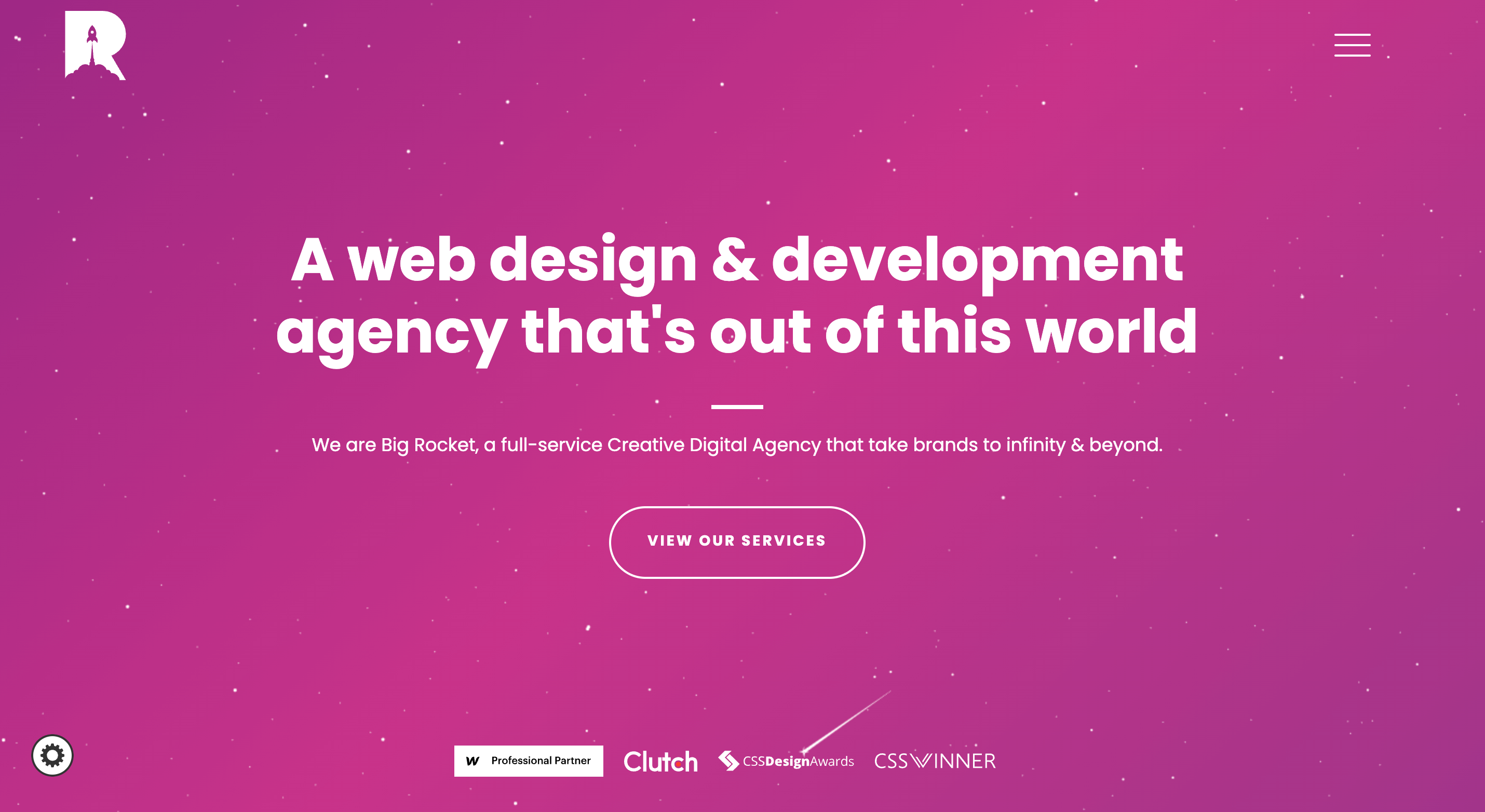 Big Rocket is an award-winning Webflow design and development agency in the UK. As a certified Webflow Professional Partner, the company creates custom high-performance Webflow e-commerce storefronts. Big Rocket also assists brands and businesses of all sizes in their branding, digital marketing, and SEO efforts. 
From website redesign to building a whole new site and managing your online presence, Big Rocket is here to help. They've worked with numerous outstanding companies on their branding through a website to complement their offline store. 
Whether you're just starting or want to modify an existing project, Big Rocket will help you design a gorgeous, user-friendly storefront for your e-commerce shop while keeping your business objectives in mind.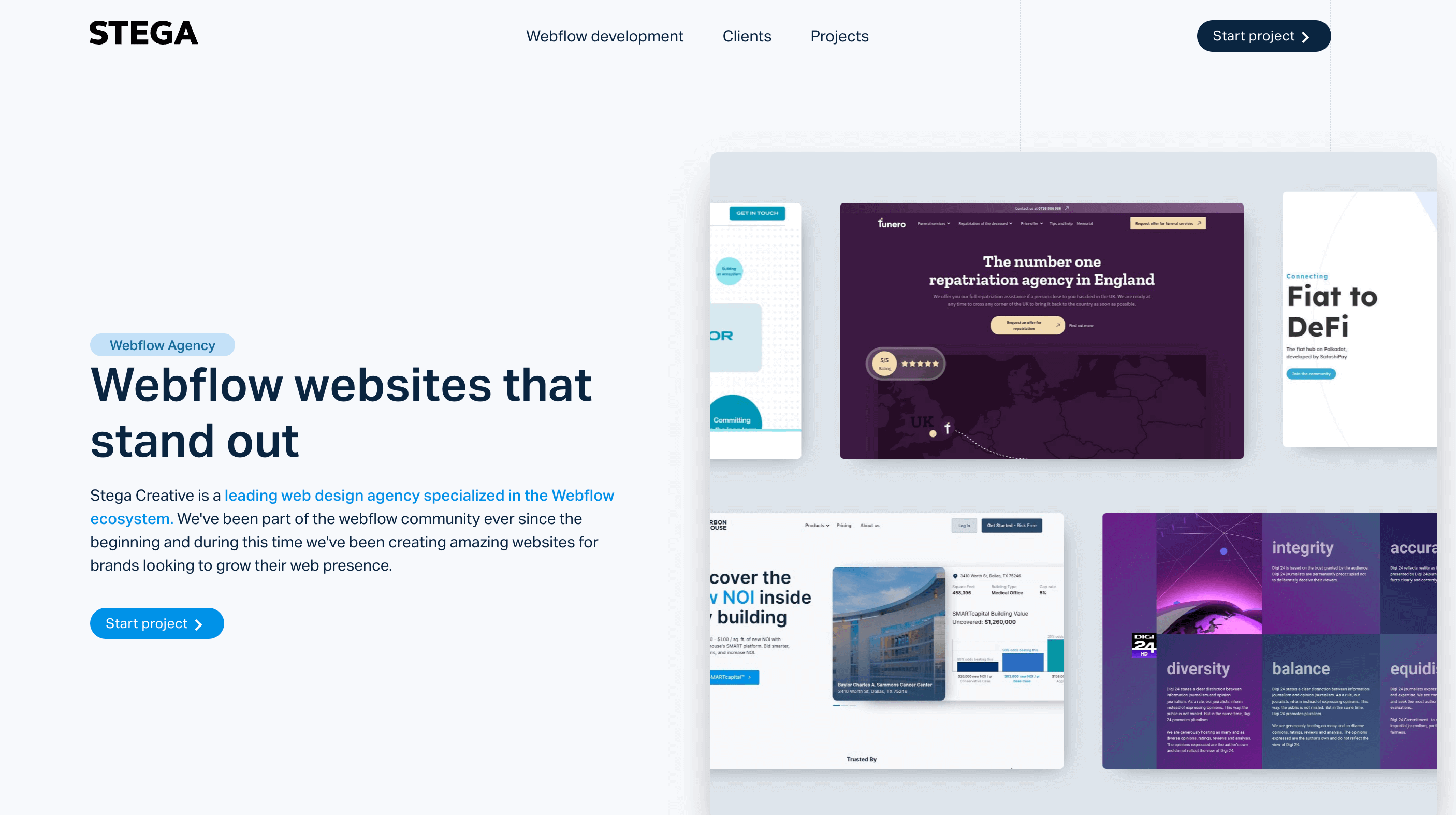 Obsessed with the details to achieve perfection, Stega Creative is a top Webflow development agency. They put a great emphasis on the visual part of the website to maximize the impact of attention-grabbing elements on their users. 
Being in the Webflow community for over 5 years and spending time and energy learning all the ins and outs of the platform, their team will help you build a fantastic high-converting website for your business. 
In their Webflow development approach, Stega Creative focuses on SEO and accessibility, pushing the boundaries and ensuring the end product is competitive and unique. 
Among the company's clientele are Wednesday, Pay, DIGI, HCP Group, SatoshiPay, and others.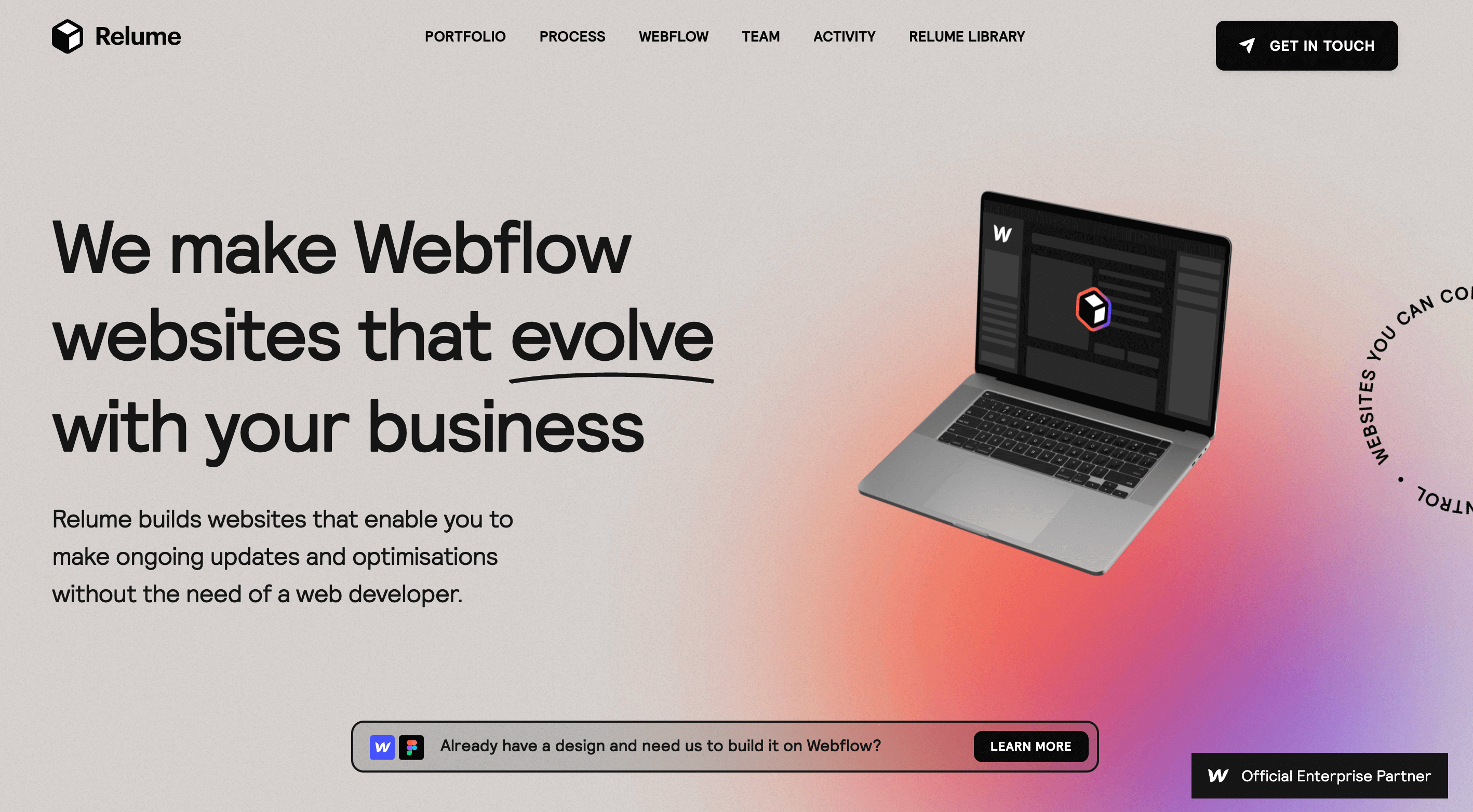 Relume is a superior Sydney-based agency specializing in designing Webflow websites with scalable design systems that enable them to make updates easily. 
Their talented Webflow experts utilize a wide range of supportive tools to make website development easier and faster. They work with clients according to the 5-step procedure — from an exploration session to delivering a ready-to-use website. 
Without the need to hire professional web developers, startup and enterprise owners can trust Relume with their project implementation, be it site redesign or building a website from scratch. Their service also includes in-depth project discovery, UI/UX design, branding, the ultimate Webflow development, and onboarding.
Work with Relume to get everything needed for seamless and streamlined web development.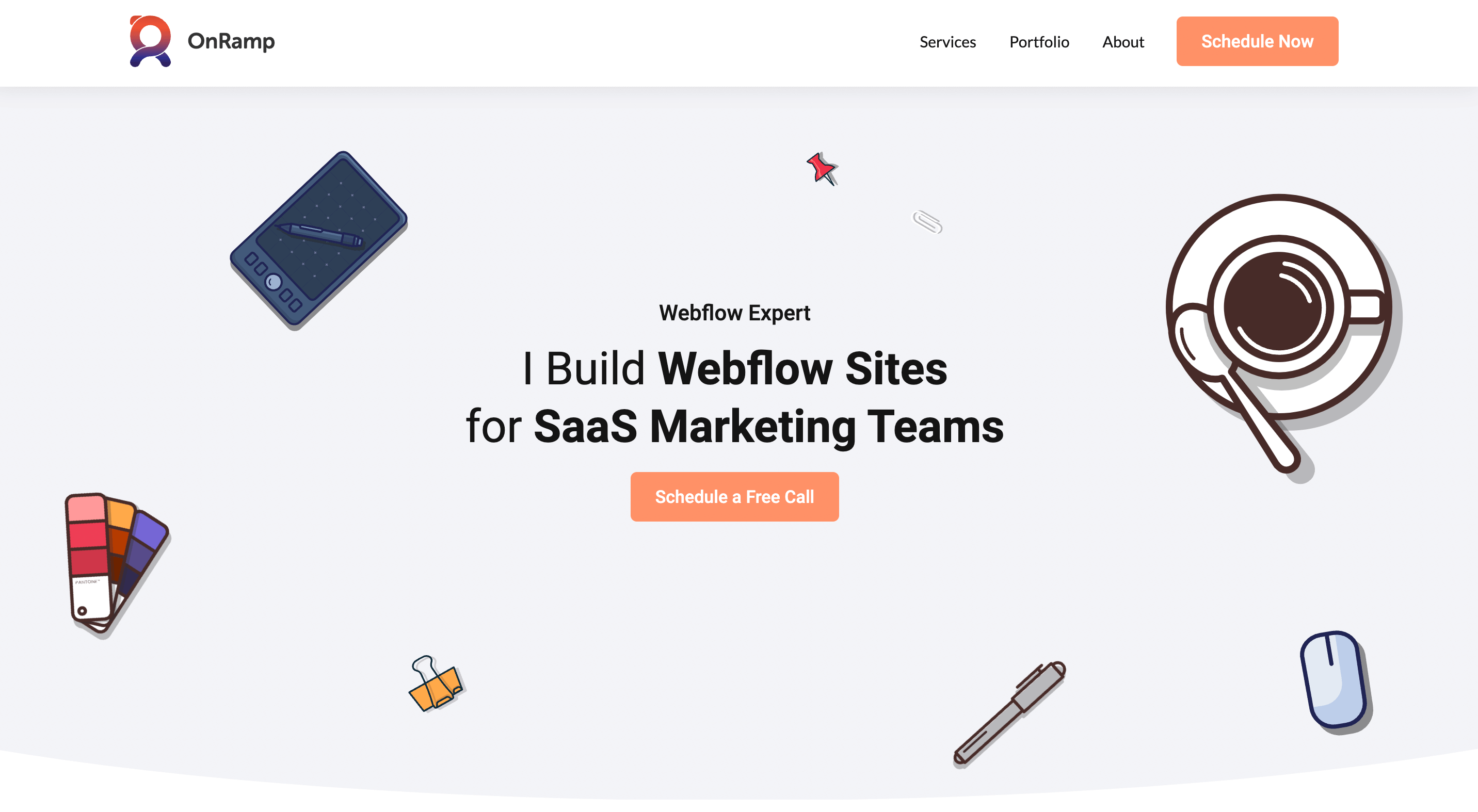 One of the best Webflow development agencies on the market, OnRamp Data, founded by Emmett Armstrong, helps clients to build modern and multifunctional websites lightning-fast. 
With years of experience collaborating with SMBs, marketing teams, and individual designers, OnRamp Data will assist you in creating a high-performance Webflow website that looks and feels fantastic.
Their main goal is to deliver innovations, creativity, and high quality through such services as Webflow website design and development, brand language, and funnel automation. Some of their advanced features include creating embedded 3D files and comprehensive hover animations, scroll interactions, code cleanup, and ongoing support.
So whether you need to upgrade a poorly implemented website or create a powerful web platform from scratch, OnRamp Data is the right expert team to work with. Turn your design ideas into reality and streamline your business with OnRamp Data's best Webflow developers!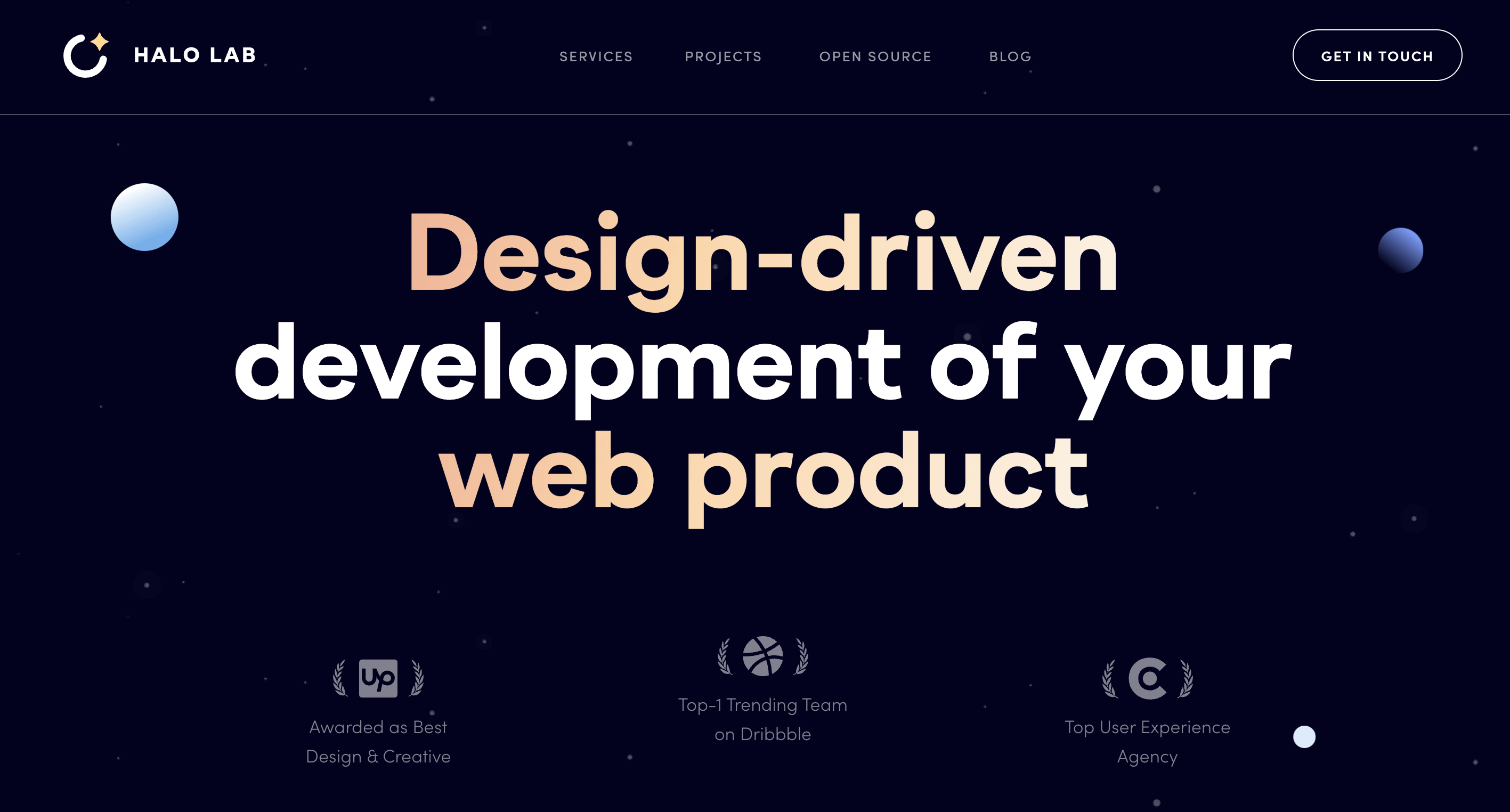 Founded in 2013, Halo Lab offers flexible Webflow development services that go beyond basic website building. Using a variety of helpful tools, plugins, and widgets, the company will take your website to the next level, ensuring its high security and performance.
Over the last 10 years, Halo Lab has collaborated with numerous eCommerce platform owners, digital service companies, and startups to deliver custom website design, Webflow front-end development, and continuous support & integration.
The agency has provided clients with outstanding custom design solutions for their dream websites and helped them to raise over $600M. Among the company's noble clients are Labs, Mighty Buildings, Raven, Kinetik, and others.
Conclusion
Here you go, our list of the best Webflow agencies to take a look at to choose a perfect candidate. 
It's essential to hire a reliable and experienced Webflow development team to build a high-performance and eye-grabbing website quickly. To make the right choice, revise your business requirements and the scope of tasks related to the website development to ensure the selected partner can implement it all. We hope this list helps you find the best-fit Webflow experts! 
If you want to add your Webflow agency to this list, please contact us via email, and after a thorough review, we'll consider featuring your company.