Being an extension of JavaScript, the most widely used programming language globally, TypeScript has become a popular technology for creating robust, scalable, and maintainable web applications.
TypeScript's ability to add static type-checking to JavaScript allows developers to enhance code quality, set type definitions for variables and function parameters, and efficiently identify type-related errors during the development process. Also, this high-level programming language is a perfect option for creating large-scale applications. 
All these advantages have led to an increased number of TypeScript development services providers. If you are currently seeking highly professional engineers with in-depth expertise in TypeScript, this article is right for you. Here, we list top TypeScript development companies, highlighting their service areas, notable clients, and other essential facts for the best choice. 
The Best TypeScript Development Companies For Next-Level Web Applications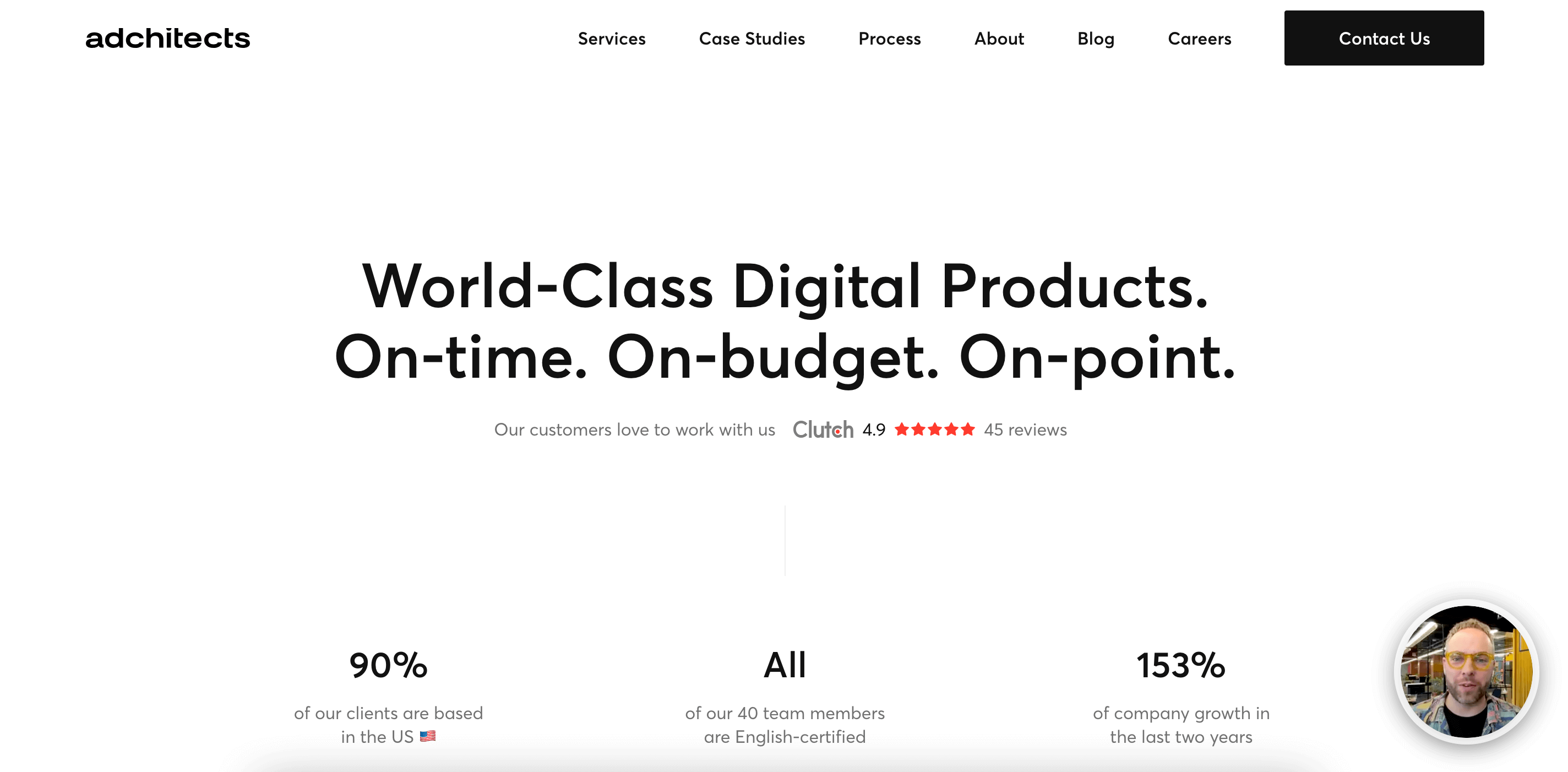 Strive to build a world-class digital product? Adchitects is a perfect partner to help you achieve this goal. Showcasing a remarkable growth rate of 153% over the past two years and offering a broad spectrum of development and marketing services, they seamlessly combine a creative mindset with profound technical expertise to bring your vision to life.
Leveraging TypeScript as a key programming language, the agency can provide you with English-certified coders to start working on your project. Hire TypeScript developers from Adchitecs to build a powerful web application, helping you become a competitive player in your industry. 
Services & expertise:

product discovery and scoping, market research, growth strategy and optimization, UI/UX design, branding, web development, quality assurance, SEO services, maintenance and support

Tech stack:

TypeScript,

HTML, Next.JS, WordPress, Shopify, React, Node.JS, PHP, JavaScript, Flutter, Gatsby, Nest, AWS, Vercel, Docker

Industries: Finance and Banking, IT Services, Retail, Non-profit, Media and Entertainment, Education, Consumer Products, Arts, Music, Chemicals and Biotechnology
Location:

Poznan, Poland; New York, USA

Clients:

Apollo, The Explorers Club, Huddly, Seneca, Pathlock, Wiliot, Jagermeister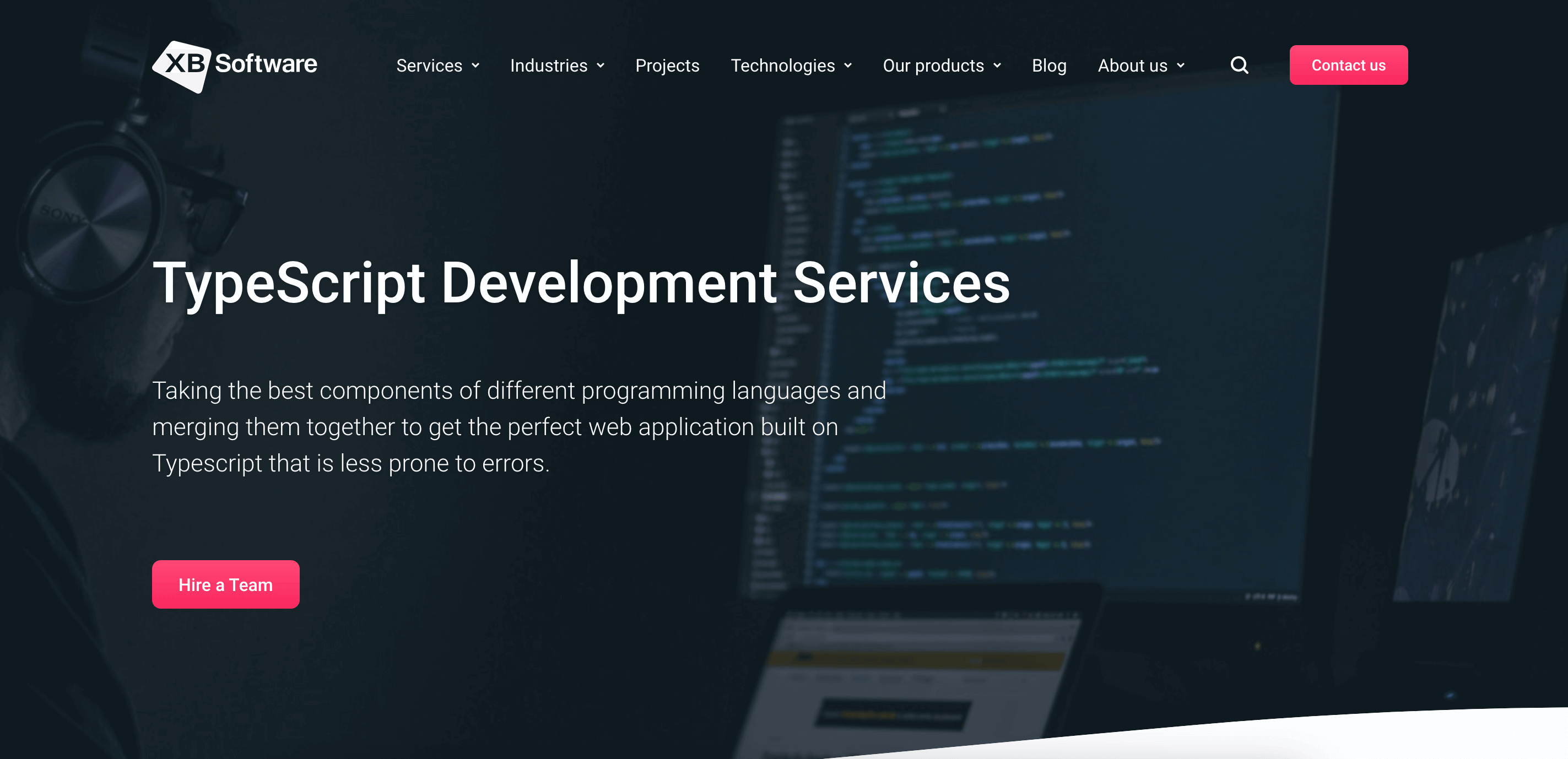 XB Software stands out as a prominent TypeScript software development company, offering exclusive solutions for building and maintaining customized TypeScript applications. They boast an impressive portfolio full of famous brands like Boeing, Google, Bank of America, and BMW.
XB Software's top-notch TypeScript developers promise to make the development process easier and build fast and innovative apps that perfectly meet your business needs. In addition, their engineers can rapidly identify software bugs and ensure the complete stability of a product before its deployment. 
Services & expertise:

web and mobile app development, SaaS development, cloud software development, UI/UX design, project management, artificial intelligence, product customization, IT outsourcing services, dedicated teams, IT staff augmentation

Tech stack:

TypeScript,

React.JS, Webix, DHTMLX, Node.JS, .Net, PHP, Golang, Angular, C#, React Native, Flutter, ArangoDB, MongoDB, Redis, SQLite, Oracle, MySQL, PostgreSQL, AWS, Azure

Industries: Logistics, Energy and Utilities, Education, Construction, Real Estate, Manufacturing
Location:

Warsaw, Poland

Clients:

BBC, Google, BMW, Samsung, Universal, Audi, Apple, Intel, Lufthansa, Morgan Stanley, Boeing, Bank of America, Cisco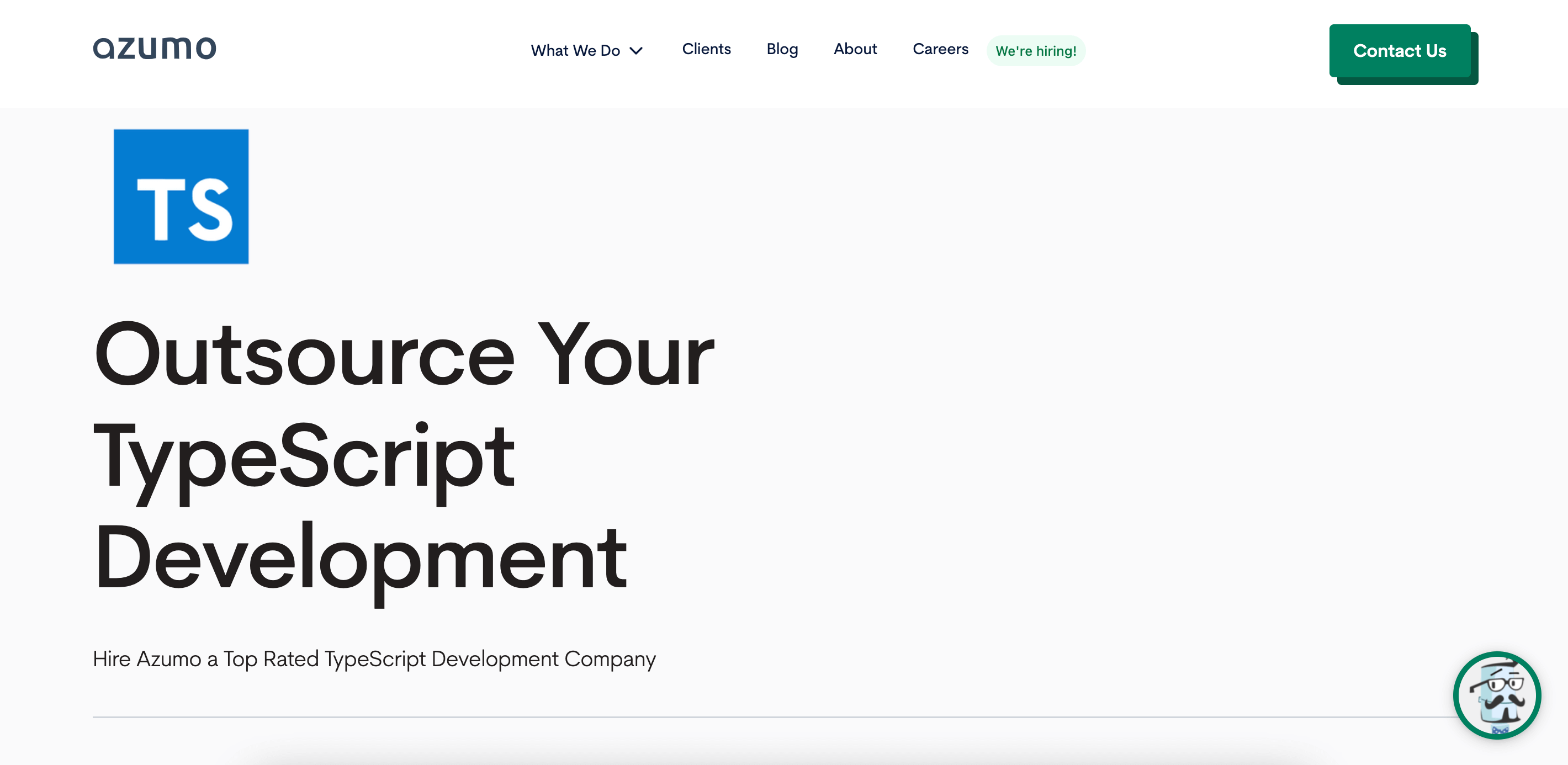 Focusing on custom software development, data engineering, and cloud services, Azumo has earned a reputation as a premier IT outsourcing partner, helping businesses of all scales in driving their projects forward. The history of this leading nearshore company from Latin America started in 2016. Since then, Azumo has collaborated with numerous global leaders such as Facebook, Discovery Channel, Omnicom, United Health, and various others.
The company offers TypeScript developers for hire to reinforce your in-house team and let you focus on your core business objectives. Their engineers possess proficiency in a wide spectrum of frameworks and libraries tailored for TypeScript development, which encompass Definitely Typed, ts-node, InversifyJS, and TypeORM. So, if you are looking to work with one of the best TypeScript software development companies, Azumo is a great choice. 
Services & expertise:

web and mobile app development, chatbots, data engineering, cloud services, artificial intelligence, dedicated teams, staff augmentation, IT outsourcing

Tech stack:

TypeScript,

.

Net, Android, Golang, C#, Node.JS, Python, React, iOS, AWS, Angular, Java, PHP, Ruby on Rails

Industries: Education, Information Technology, Telecommunications, Chemicals and Biotechnology, Entertainment, Music, Gaming, Media
Location:

San Francisco, USA; Rosario, Argentina

Clients:

1st Constitution Bank, Big Run Studios, Discovery Channel, Meta, Twitter, Zemax, Inteleos, Food Network, Edify
Based in Ukraine, Keenethics offers extensive software development services, including tech consulting, product creation, user experience improvement, quality assurance, and software maintenance. With TypeScript coders from Keenethics, you will achieve not only a robust performance of your application but also cost-effectiveness, streamlined code maintenance, and strong support from first-class experts. 
Operating in the market since 2015, the company has received many awards and established itself as a reliable partner for solving complex business challenges by building powerful digital products, including TypeScript-based web apps. 
Services & expertise:

web and mobile app development, custom cloud solutions, machine learning and artificial intelligence, chatbots, IoT development, MVP development, dedicated development teams

Tech stack: TypeScript,

Node.JS, Nest.JS, Next.JS, React, Elixir, Vue.JS, Express.JS, Fastify, Angular, Svetle.JS, Meteor, MongoDB, MySQL

Industries: Education, Healthcare, Logistics, Retail, Finance and Banking, Nonprofit, Real Estate, Agriculture
Location:

Kyiv, Ukraine; Oss, Netherlands; New York, USA; Krakow, Poland

Clients:

Brainable, Epson, uMore, Cordian, StoryTerrace, Ruuster, Banker Advisor
Being one of the most experienced software development firms in the global IT market with over 650 team members on board, Radix boasts a notable two-decade track record. During this time, the company has successfully delivered thousands of high-performance solutions to over 3,500+ clients, ranging from fast-growing startups to esteemed Fortune 500 enterprises.
Radix possesses deep expertise in web, mobile, and cloud development, as well as DevOps and emerging technologies. Furthermore, the company provides premier TypeScript web development services, placing customer needs at the forefront and ensuring its team delivers the best possible results for your business's growth. Hire the best TypeScript developers from Radixweb to build high-quality and time-tested applications!
Services & expertise:

strategy consulting, custom software development, digital transformation, web and mobile application development, maintenance and support, UI/UX design, quality assurance and testing, eCommerce development, DevOps, embedded products, dedicated developers

Tech stack:

TypeScript,

Angular.JS, Vue.JS, React.JS, JavaScript, CSS3, HTML5, Vite.JS, PHP, Java, Python, C#, C++, Golang, .Net, etc.

Industries: Healthcare, eLearning, Legaltech, Fintech, Manufacturing, Retail, Travel and Hospitality, Industry 4.0
Location:

Frisco, USA; Ahmedabad, India; Calgary, Canada; Melbourne, Australia

Clients:

Xerox, Barr Credit Services, Visiun, APS Marketing Group, Easydisk, ECAT, Color Copies USA, Compact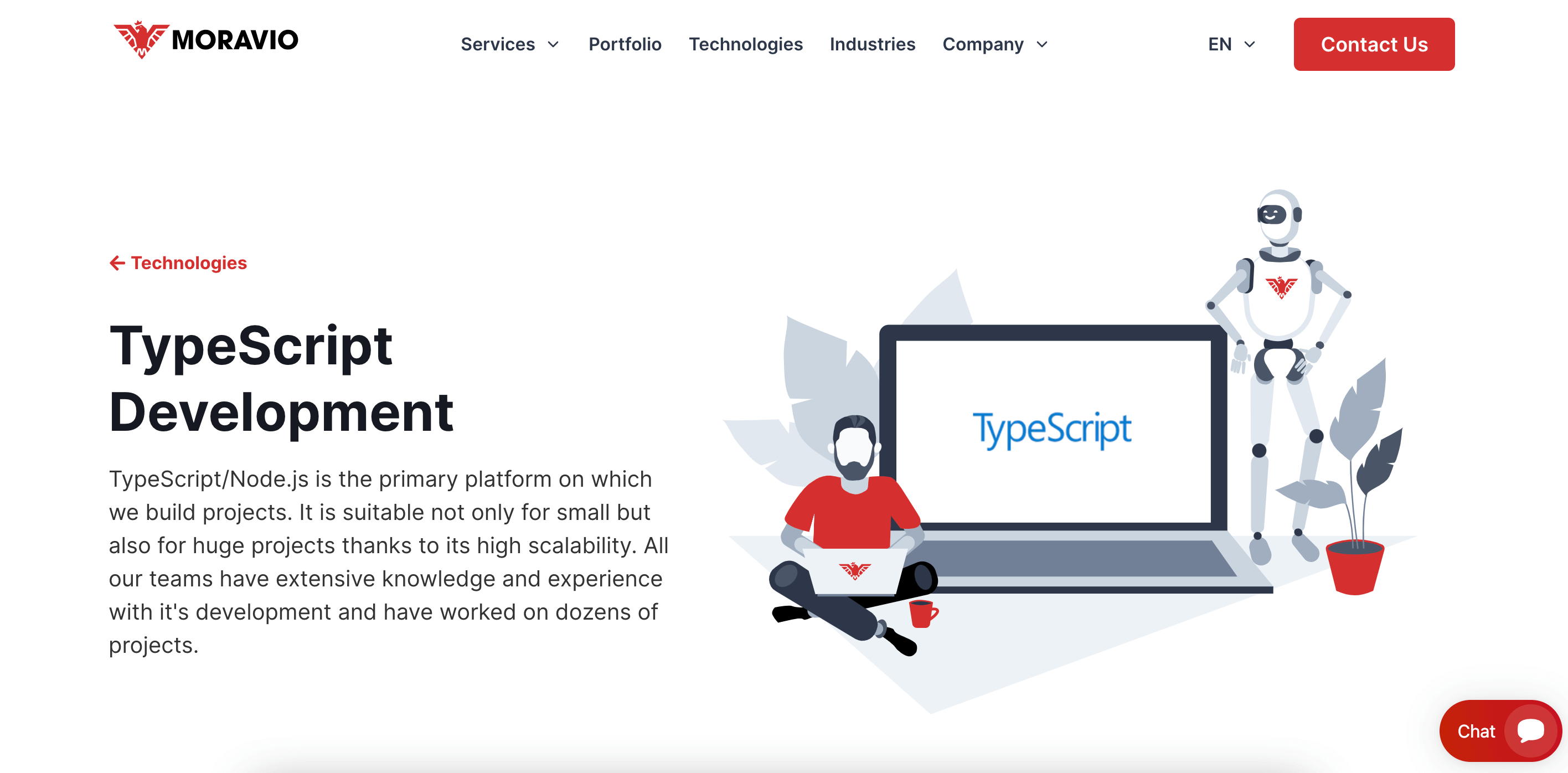 TypeScript is one of the primary technologies Moravio builds its projects with, especially high-scale sophisticated software systems. The company has over 10+ years of experience and can assist you at every stage of the design, development, and maintenance processes, offering a diverse range of web and mobile applications.
With 45+ TypeScrips software developers on board operating in different time zones, you have the flexibility to hire either an individual engineer or an entire team. Their proficiency extends across various industries, from Energy and Insurance to Real Estate and Telecom.
Services & expertise:

web development, mobile app development, product management, product research, UI/UX design, site audit

Tech stack:

TypeScript, Node.JS, PHP, GraphQL, Laravel, JavaScript, Python, C#, .Net, React, Vue.JS, Next.JS, Angular, etc.

Industries: Real Estate and Proptech, Travel and Hospitality, Live Streaming and Video, Telecom, Media and Entertainment, Energy, Finance, eCommerce, Insurance, Healthcare, Transportation and Logistics
Location:

Prague, Ostrava, Czech Republic; Barcelona, Spain

Clients:

Stardio, JLL, NDA, Ridera, Sareza, Hyundai Transys, Dame Jidlo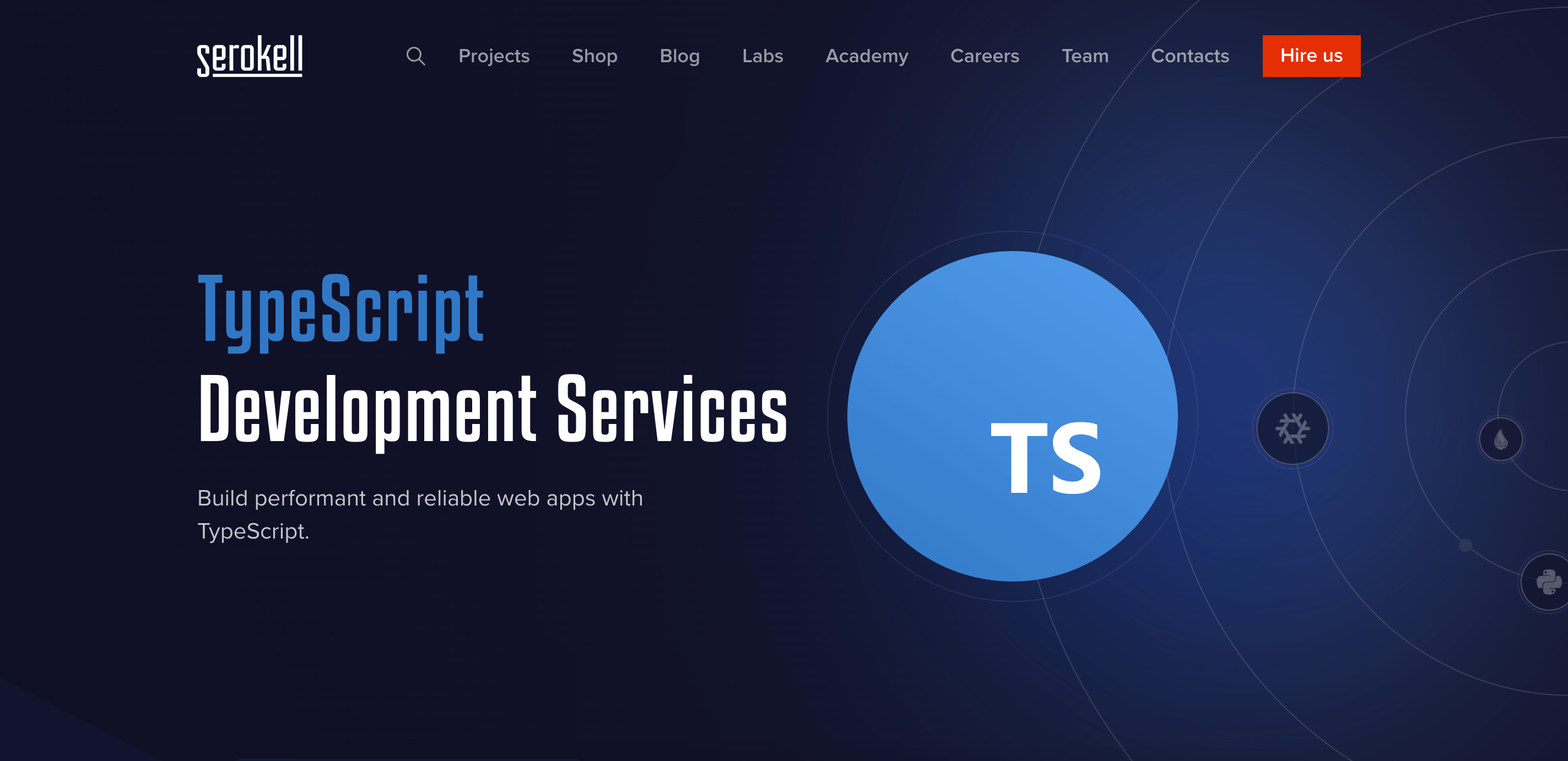 Serokell is an Estonia-based IT company with core competencies in AI and blockchain development. Their engineers can easily develop client-side and server-side applications, which will be flexible and easy to maintain, by leveraging the power of TypeScript. 
In addition, Serokell offers a vast suite of TypeScript-related software development services involving consulting, web app development, custom app development, dedicated developers, application optimization and maintenance, and seamless JS to TS migration.
Services & expertise:

web and mobile development, MVP development and testing, AI consulting, chatbots, business intelligence systems, blockchain development, auditing, machine learning

Tech stack:

TypeScript,

Nix, Elixir, Haskell, Rust, Python, Agda

Industries:Finance and Banking, Sports, Manufacturing, Chemicals and Biotechnology, Cryptocurrency, Entertainment and Music, Software, Information Technology
Location:

Tallinn, Estonia; San Francisco, Los Angeles, New York, USA

Clients:

TQ Tezos, Omega Media, Telegram, IOHK, StakerDAO, Disciplina, Yakkertech, Quorum, Cypress Premium Funding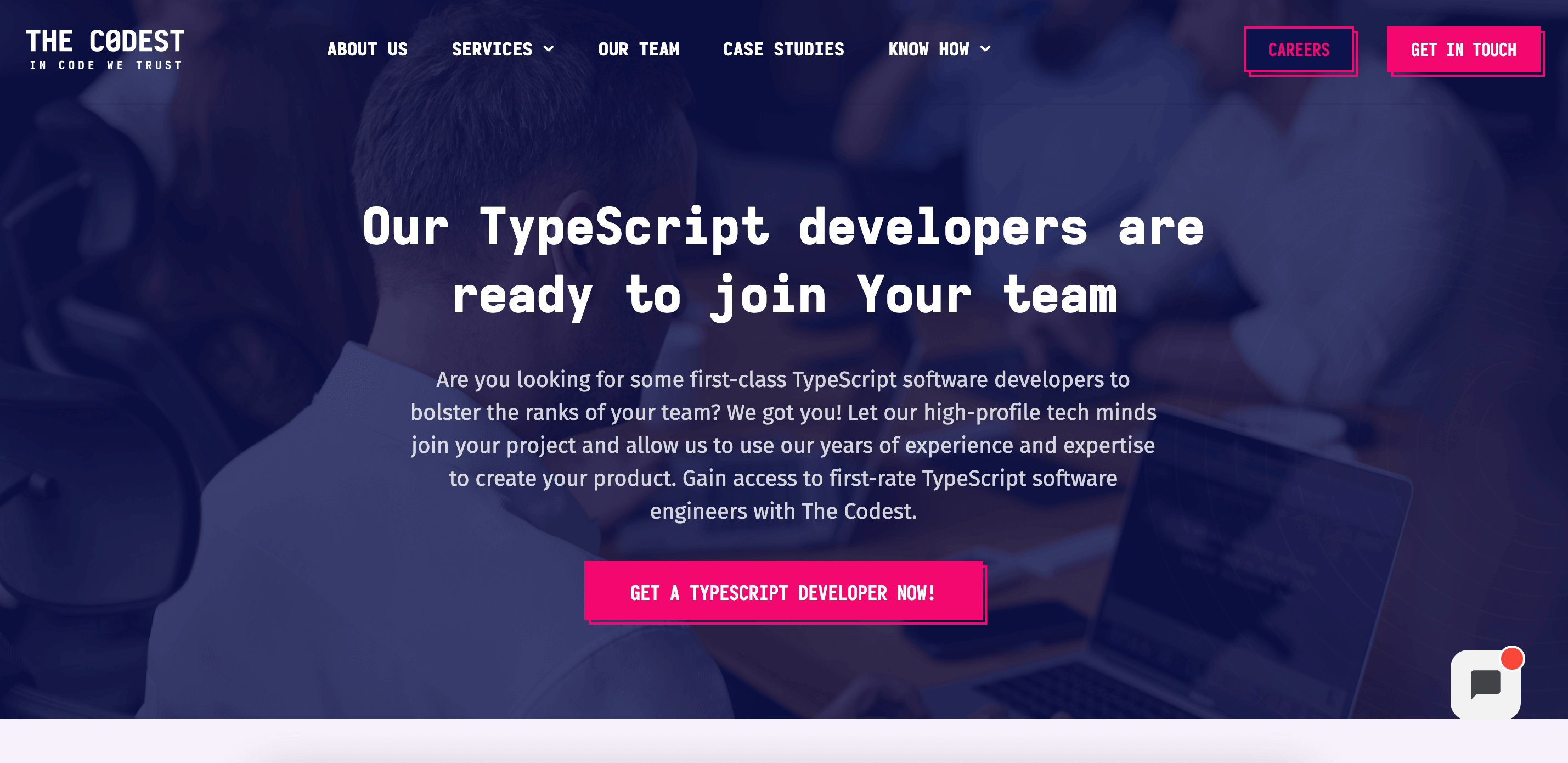 Based in Poland, The Codest specializes in web development, cloud engineering, DevOps, and quality assurance and offers two models of collaboration: team extension and full project development. Their successful track record is based on 15 years of experience and core values such as a customer-centric mindset, trust, and commitment to quality.
At The Codest, you will find the best TypeScript developers aimed to unleash their profound expertise to deliver digital products of the best quality possible. With over 90+ senior-level TypeScript developers, The Coders can enhance your team's capabilities within just 7 days.
Services & expertise:

staff augmentation, project development, cloud engineering, quality assurance, web development

Tech stack:

TypeScript,

WooCommerce, Magento, BigCommerce, PrestaShop, WordPress, Joomla, Drupal, PHP, Java, Ruby on Rails, React, Vue.JS, Python

Industries: Advertising and Marketing, Healthcare, Information Technology, Consumer Products, Media, Publishing, Finance and Banking
Location:

Krakow, Warsaw, Poland; London, UK

Clients:

Pixie, MittMedia, Yogobe, Avobis, Supplier Plus, Min Mave, Ramp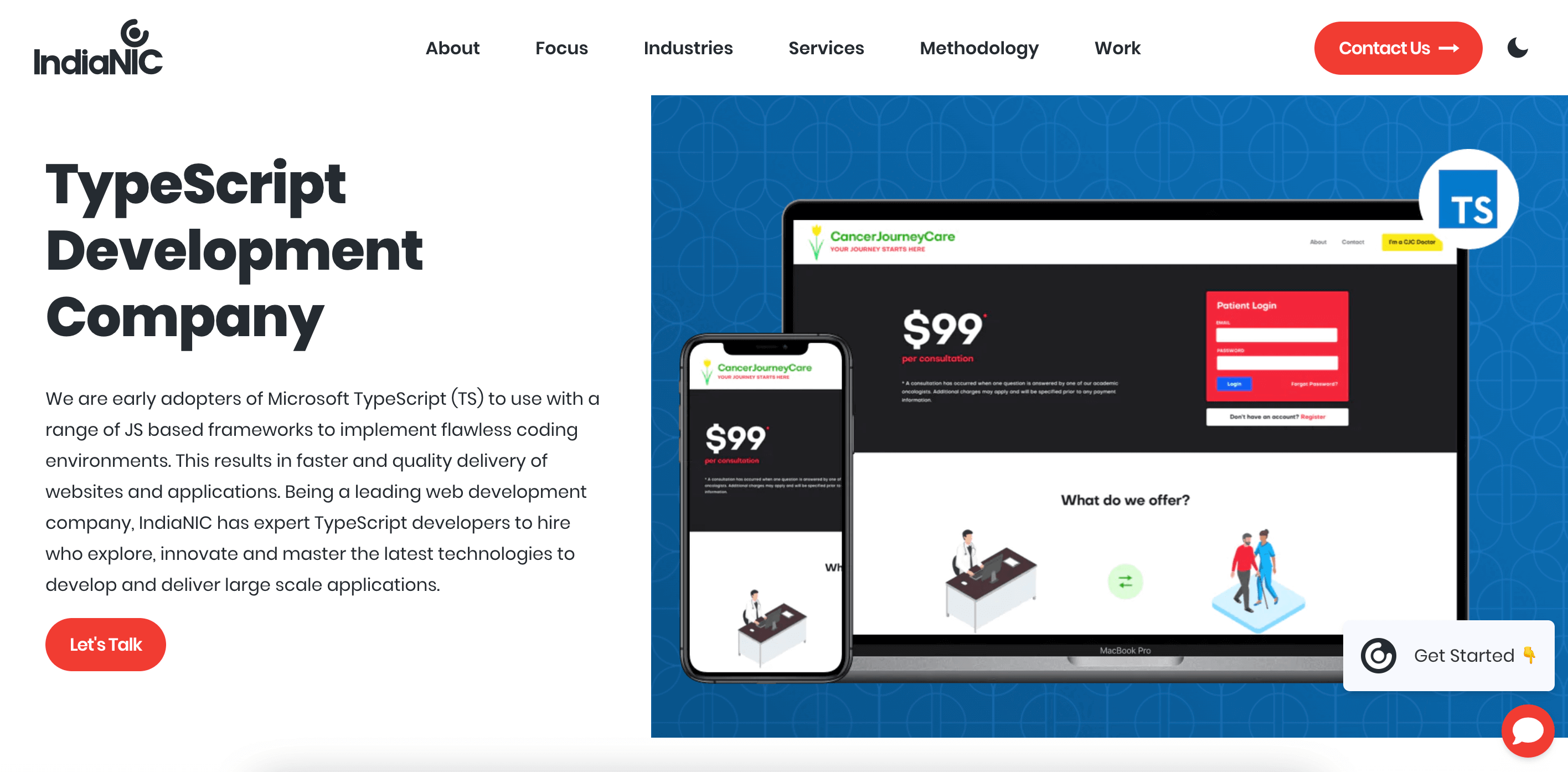 As a top-level web development firm, IndiaNIC will extend your team with talented and skilled TypeScript developers who are open-minded, innovative, and proficient in recent technologies to help you build large-scale apps. IndiaNIC offers a free consultation to provide a solid foundation for your business idea and guarantees that you will be amazed by its team. 
The company also covers various TypeScript development services, including JS to TS migration, consultation, enterprise app development, and custom web app development. Since 1998, IndiaNIC established itself as a trusted development partner with 100% delivery success. 
Services & expertise:

web and mobile app development, UI/UX design, artificial intelligence and machine learning, DevOps, IoT development, QA services

Tech stack:

TypeScript,

Shopify, WordPress, Magento, PHP, Java, Laravel, HTML5, Drupal, Angular.JS, MongoDB, MySQL

Industries: He

althcare, Logistics, Education, Media and Ott, Travel, Retail, Construction, Beauty and Lifestyle, Sports, Legal, Finance, Social Media, Insurance, Manufacturing, It and Telecom, on Demand

Location:

Beverly Hills, USA; Ahmedabad, India; Melbourne, Australia; Dubai, UAE

Clients:

Playnero, Boston Consulting Group, Astra Zeneca, Tata, Cosmopolitan, UNSW Sydney, Vodafone, Adidas, Cartier
ProCoders is a prominent IT staff augmentation company with strong expertise in the Healthcare, Real Estate, Litigation, and Supply Chain industries. Its primary mission is to deliver the best talents to enhance your team and fill the existing technical gaps with highly experienced engineers fluent in English. 
The firm provides access to a dynamic team of 50+ skilled TypeScript developers ready to assist you in crafting exceptional web applications that stay ahead of the competition. Delight your users with fascinating UI solutions delivered by ProCoders!
Services & expertise:

mobile and web app development, software discovery services, IoT development, artificial intelligence, GPT chat solutions, staff augmentation, UI/UX design

Tech stack:

TypeScript,

Symphony, Vue.JS, PHP, Node.JS, React.JS, Flutter, React Native, Laravel 

Industries: Healthcare, Finance, Legal, Education, Travel, Food and Beverages, Wellness and Fitness, Consumer Products, Logistics and Supply Chain
Location:

Lisbon, Portugal; Zagreb, Croatia; Tirane, Albania

Clients:

Roth River, Coffeesseur, Vetz Petz, Think Better Group, SIRL Inc., Mesh Payments, Avanto Care
Conclusion
TypeScript programming language not only improves code quality but also empowers developers to create intricate, large-scale digital products with enhanced efficiency and fewer errors.
Hence, to succeed in the modern digital landscape, you have to work with the right TypeScript development company. Hopefully, this list can help you find the best TypeScript developers to build a robust custom web application.
If you want to add your TypeScript development agency to this list, email us with your request. After a quick review, we'll decide whether it's a valuable addition.