As the demand for cutting-edge optical solutions continues to grow across industries such as aerospace, telecommunications, medical devices, and consumer electronics, choosing the best optical design and simulation software that enables efficient design, analysis, and optimization of optical systems is vital.
These programs provide a virtual platform to conceptualize, refine, and validate optical systems before moving into the physical prototyping stage. By leveraging sophisticated algorithms and computational capabilities, designers can optimize parameters such as lens shapes, material properties, light sources, and detector placements to achieve enhanced performance, efficiency, and cost-effectiveness.
This article will explore the top optical design software tools available today. They offer a wide range of functionalities, including ray tracing, diffraction analysis, optical aberration correction, and tolerance analysis, among others. We'll delve into each program's key features, user interfaces, and embedded tools to help you select the one that best suits your unique requirements.
The Best Optical Design Software For Various Industries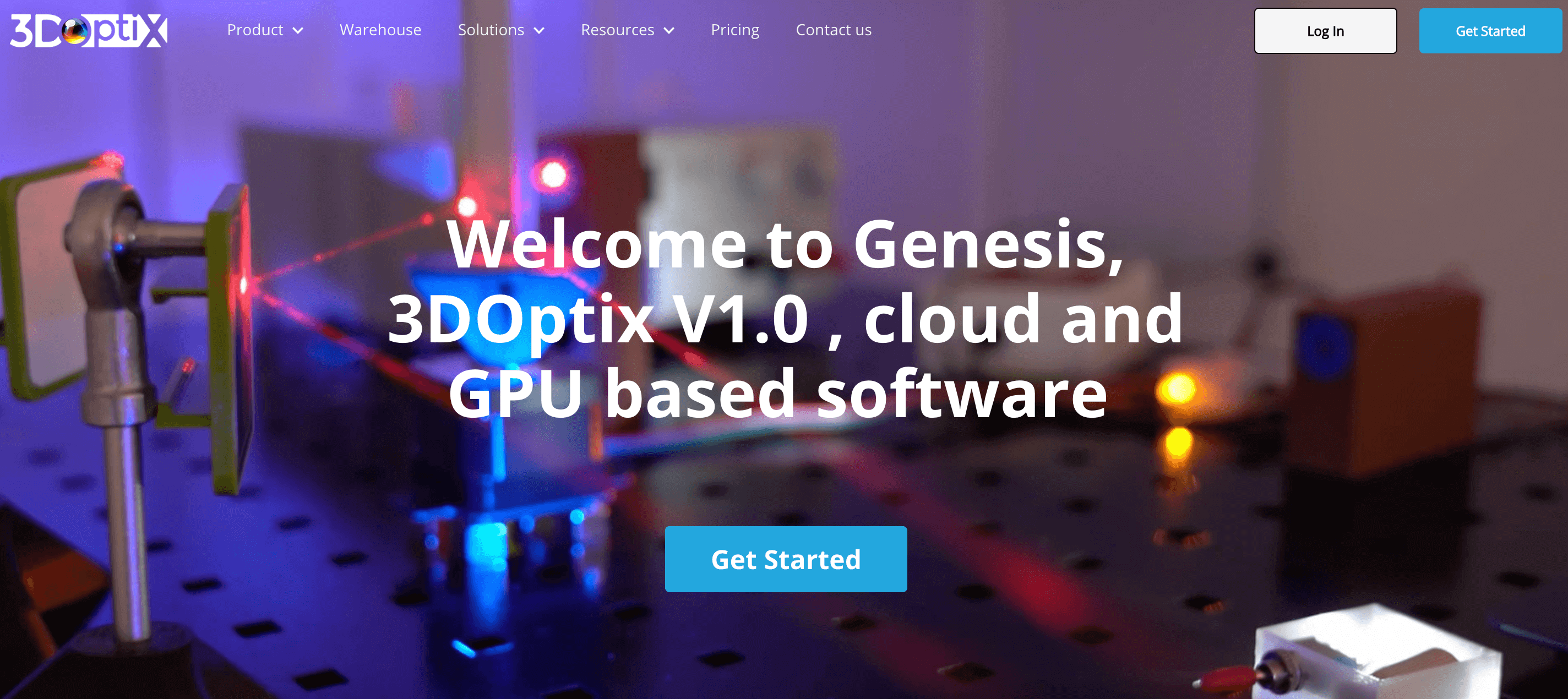 3DOptix is the best optical simulation software, offering a broad range of advanced features that make it the top choice for engineers and designers in many fields. With its innovative GPU and cloud-based ray tracing engine, 3DOptix can trace billions of rays per second, surpassing the speed of other tools. 
The software's straightforward interface allows users to easily design both simple and complex optical systems and make informed decisions based on real data. The state-of-the-art GPU ray-tracing engine ensures the accuracy of simulated lighting, generating realistic and true-to-life scenes. Being cloud-based, 3DOptix requires no additional hardware, making it accessible from any web browser.
With its seamless integration with CAD tools, 3DOptix streamlines the design process and enhances productivity. Users can quickly plan and test optical designs using various visual elements, optomechanical assemblies, and light sources from leading vendors or their own customized 3D optics.
Overall, 3DOptix sets a new standard for optical design software, offering a powerful, intuitive, and efficient solution for optomechanical layout benches, feasibility validation, and optical analysis.
Pricing:
Basic

– free

Standard (best value)

– $1,000 per user/year, provides 500 GPU hours

Advanced

– $1,750 per user/year, provides 1K GPU hours

Academic Research

– $1,000 per lab/year, provides 500 GPU hours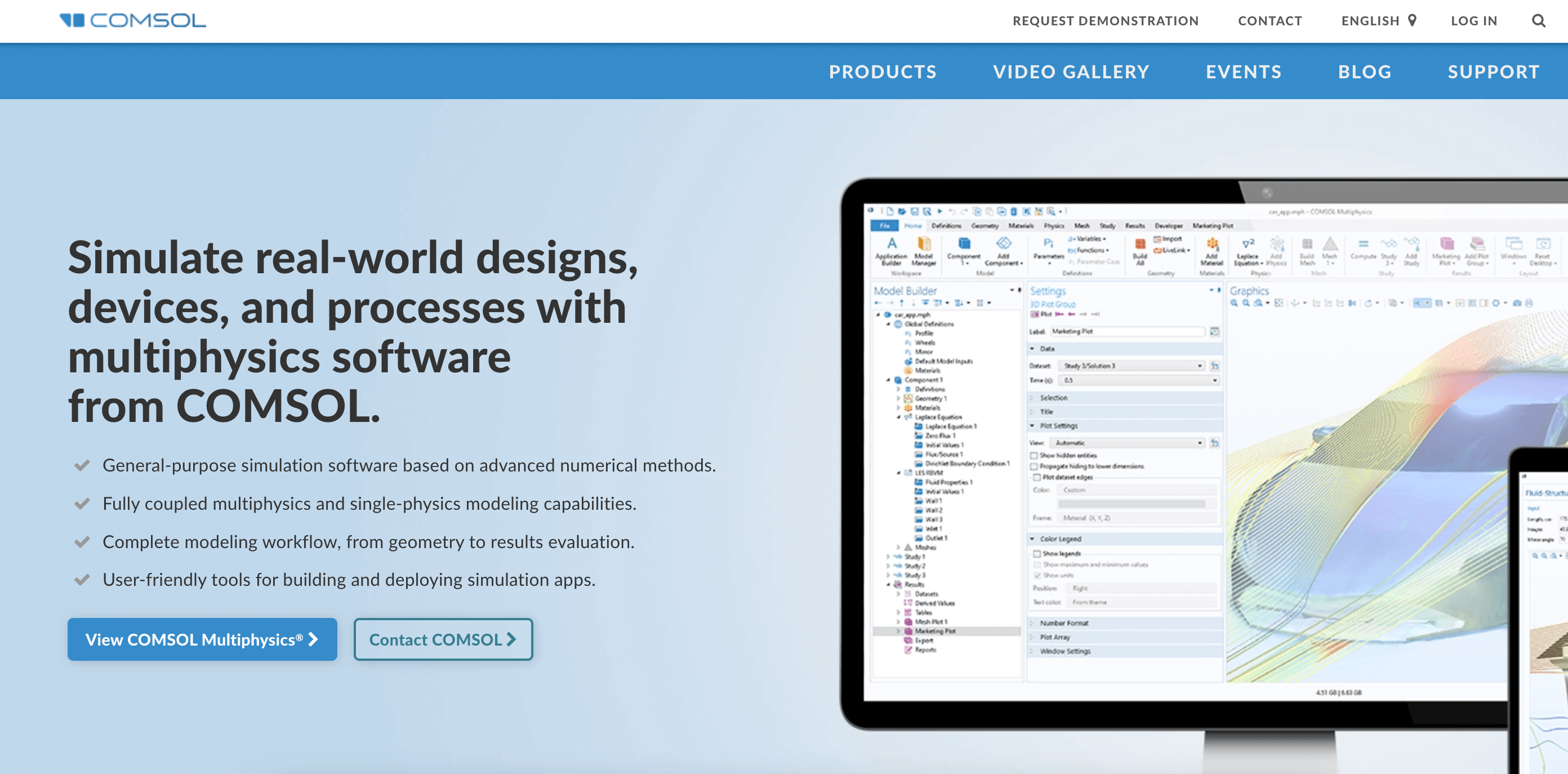 Founded in 1986 in Sweden, COMSOL is the pioneering provider of optical modeling software, offering powerful simulation capabilities for real-world designs, devices, and processes. Their flagship product, COMSOL Multiphysics, is a general-purpose simulation program used extensively in engineering, manufacturing, and scientific research.
Driven by the mission to provide the most easy-to-use software solutions, COMSOL aims to empower users and maximize their productivity. With fully coupled multiphysics and single-physics modeling capabilities, COMSOL enables users to simulate and analyze a wide range of physical phenomena. 
The software boasts a complete modeling workflow, from geometry creation to result evaluation, ensuring a seamless and efficient simulation process. COMSOL also offers user-friendly tools for building and deploying simulation apps, allowing users to spread the value of simulation to design teams, manufacturing departments, test labs, customers, and collaborators. The company emphasizes seamless integration, intuitive user interfaces, and consistent modeling workflows.
With a global presence, COMSOL operates through 17 offices worldwide and employs over 450 professionals. Their customers comprise leading technical enterprises, research labs, and universities, utilizing COMSOL Multiphysics® to drive innovation, optimize product designs, and address complex engineering challenges in various industries.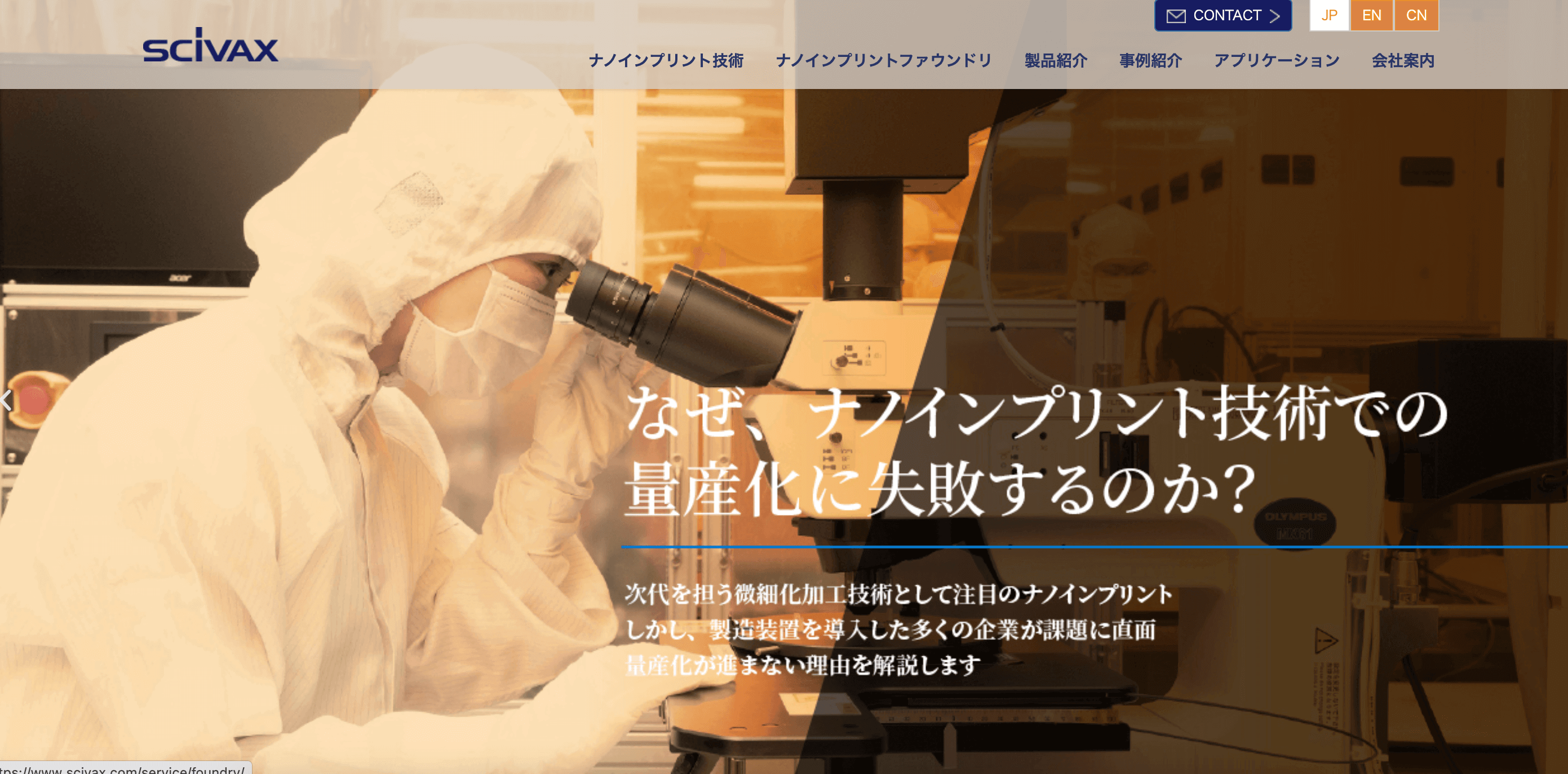 SCIVAX is another leading provider of optics simulation software, offering unparalleled services in its field. With a team of experienced professionals involved in developing electromagnetic field simulators, SCIVAX delivers custom solutions to adapt to each project's specific structures and factors, ensuring a tailored approach to address customer requirements. 
This simulation tool can be optimized based on specific objectives, eliminating the need for costly software purchases and high-end computer workstations. Additionally, the streamlined design and product development cycles ensure faster time-to-market, while the services are designed to require no advanced expertise from the user.
SCIVAX's expertise extends beyond software solutions, as the company also provides nanoimprint lithography-based foundry services, offering a comprehensive solution for nano-patterning, optical simulation, and volume production. Additionally, SCIVAX facilitates the sales of nanoimprint equipment, providing a one-stop shop for all nanoimprint needs.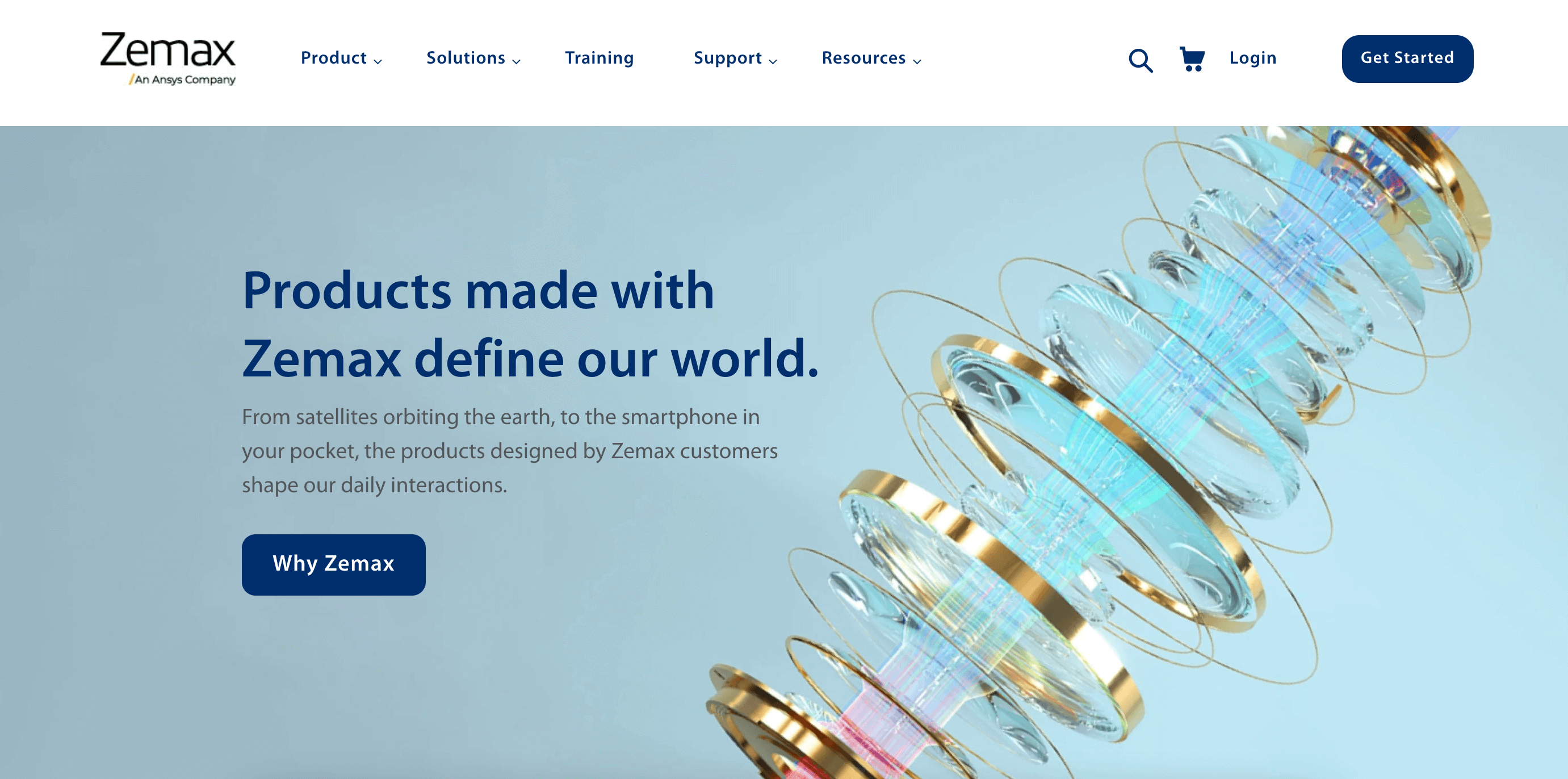 Zemax, the leading optical design software, empowers the creation of optical products that shape our world, from satellites to smartphones. Renowned companies like Asia Optics, Edmund Optics, Dyna Optics, and Baraja trust Zemax for their design needs. 
The company enables efficient engineering workflows, facilitating quick and cost-effective market entry for optical systems. It caters to a wide range of applications, including imaging optics, lighting and illumination, lasers and fibers, and more.
Product teams face immense pressure to develop exceptional products within tight timelines. Zemax simplifies the design process by streamlining communication between optical, mechanical, and manufacturing engineers, enabling faster qualification of designs. The software comes with extensive technical support and training options.
Zemax's OpticsBuilder allows CAD users to convert optical designs into CAD formats seamlessly, analyze the impact of packaging on optical performance, and export drawings for manufacturing. This integration saves costs and eliminates months of trial and error.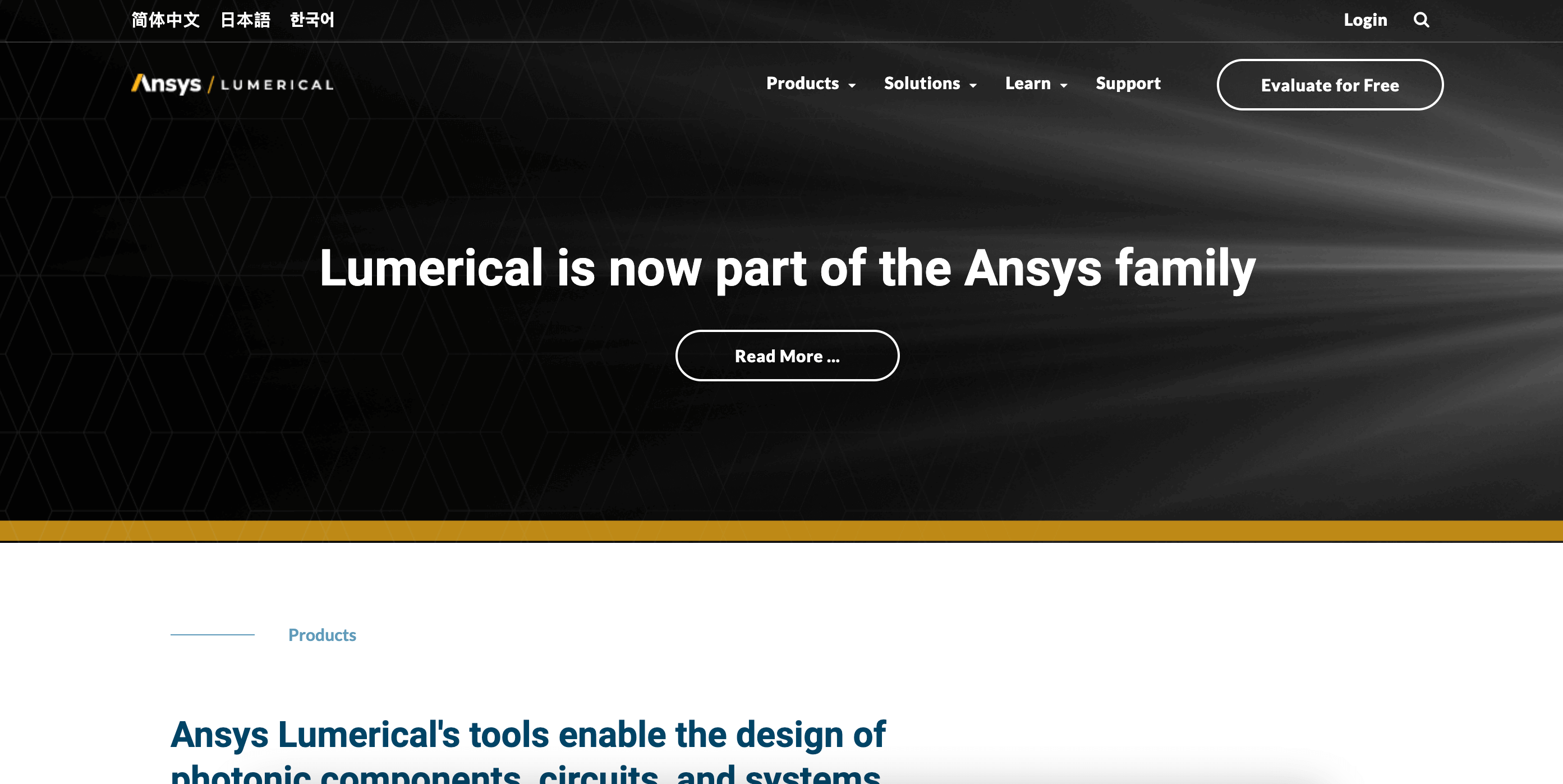 Lumerical, a division of Ansys, is recognized as the trusted provider of optics design software, empowering designers to explore and harness the potential of light within complex structures, circuits, and systems. With its Photonic Multiphysics Simulation tools, Lumerical enables seamless workflows, allowing users to model optical, electrical, thermal, and quantum effects at the physical level. These means are essential in tackling the most challenging photonic design problems across various fields, such as integrated optics, metamaterials, and CMOS imaging.
Lumerical's Photonic Integrated Circuit Simulation tools offer a comprehensive suite of analysis capabilities, enabling photonic integrated circuits' optimization and performance enhancement. The software integrates seamlessly with popular EDA and optical design tools, Python, and other open-source projects, providing customers with a wide range of capabilities to meet their specific design requirements.
Lumerical's success is reflected in its extensive customer base, including 10 of the top 15 companies in the S&P 1200 Global IT index and 47 of the top 50 research universities. The software has garnered recognition and trust within the photonic community, with over 14,000 references in scientific publications and patents.
In addition to its cutting-edge software, Lumerical offers a range of resources to support its customers. Online courses are available to help new users get started, and simulations can be run through the evaluation program.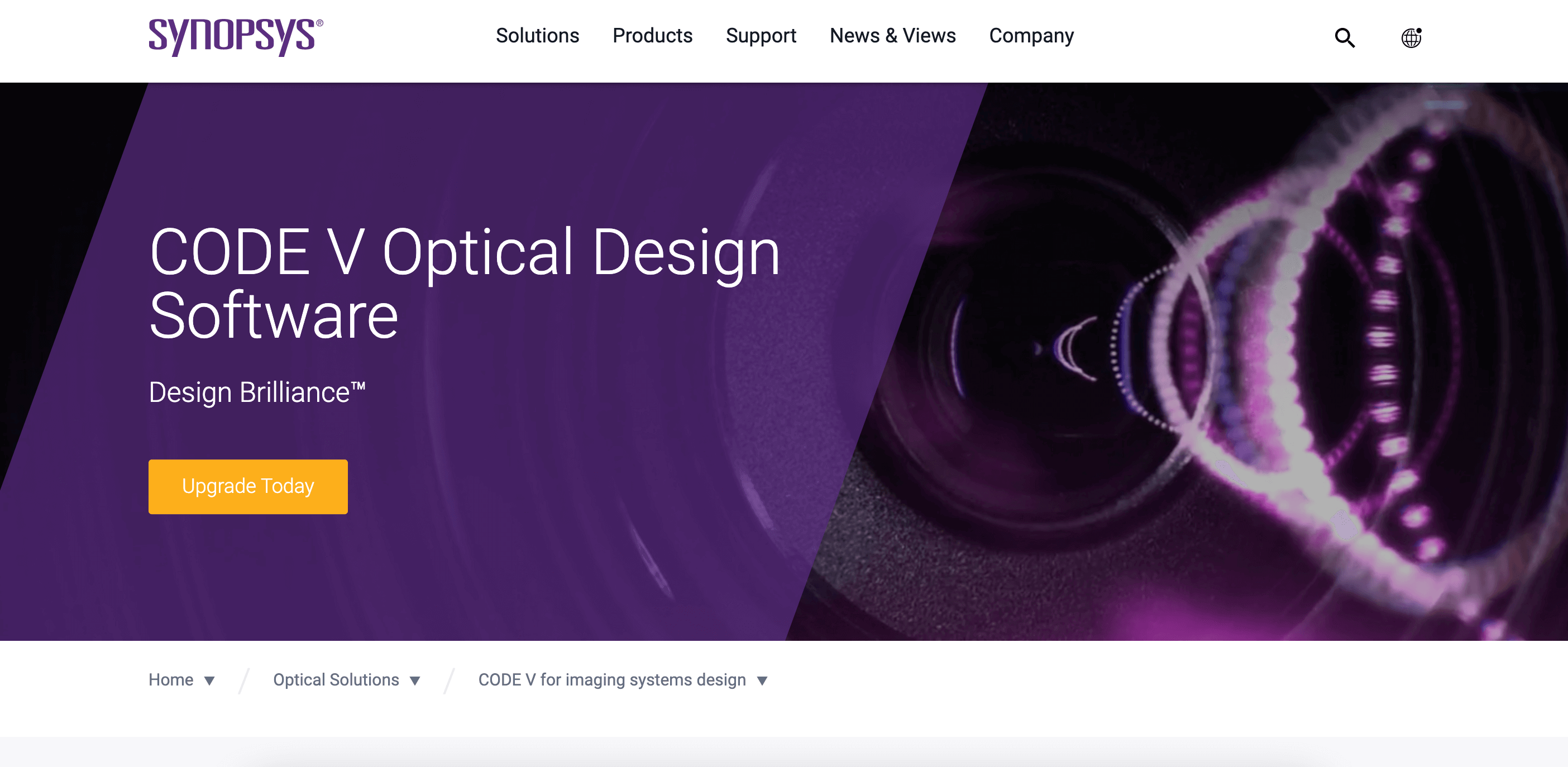 CODE V is the unrivaled leader in optical system design software, offering engineers an unparalleled toolkit to swiftly and efficiently create superior optical solutions. This cutting-edge program encompasses intuitive and intelligent tools that empower users to tackle optical design tasks of any complexity level with ease.
Key features of CODE V include a robust design optimization framework, including Global Synthesis, which accelerates time to market. Its precise and rapid tolerancing capabilities enable exceptional fabrication support. CODE V's ground-breaking beam propagation analysis ensures accurate simulations, pushing the boundaries of optical design.
Synopsys has been at the forefront of optical design innovation for over 40 years, and CODE V continues to exemplify its dedication to excellence. Customers benefit from a success team comprising seasoned optical engineers who are experts in CODE V. Extensive support resources such as videos, documentation, tutorials, and example models are readily available to assist users along the way.
From photographic and cinema zoom lenses to free-space photonic devices, CODE V is the tool of choice. It has played a pivotal role in the design of renowned systems like the Hubble Space Telescope first servicing optics, machine vision optics, spectrometers, scanners, and diffractive optics systems.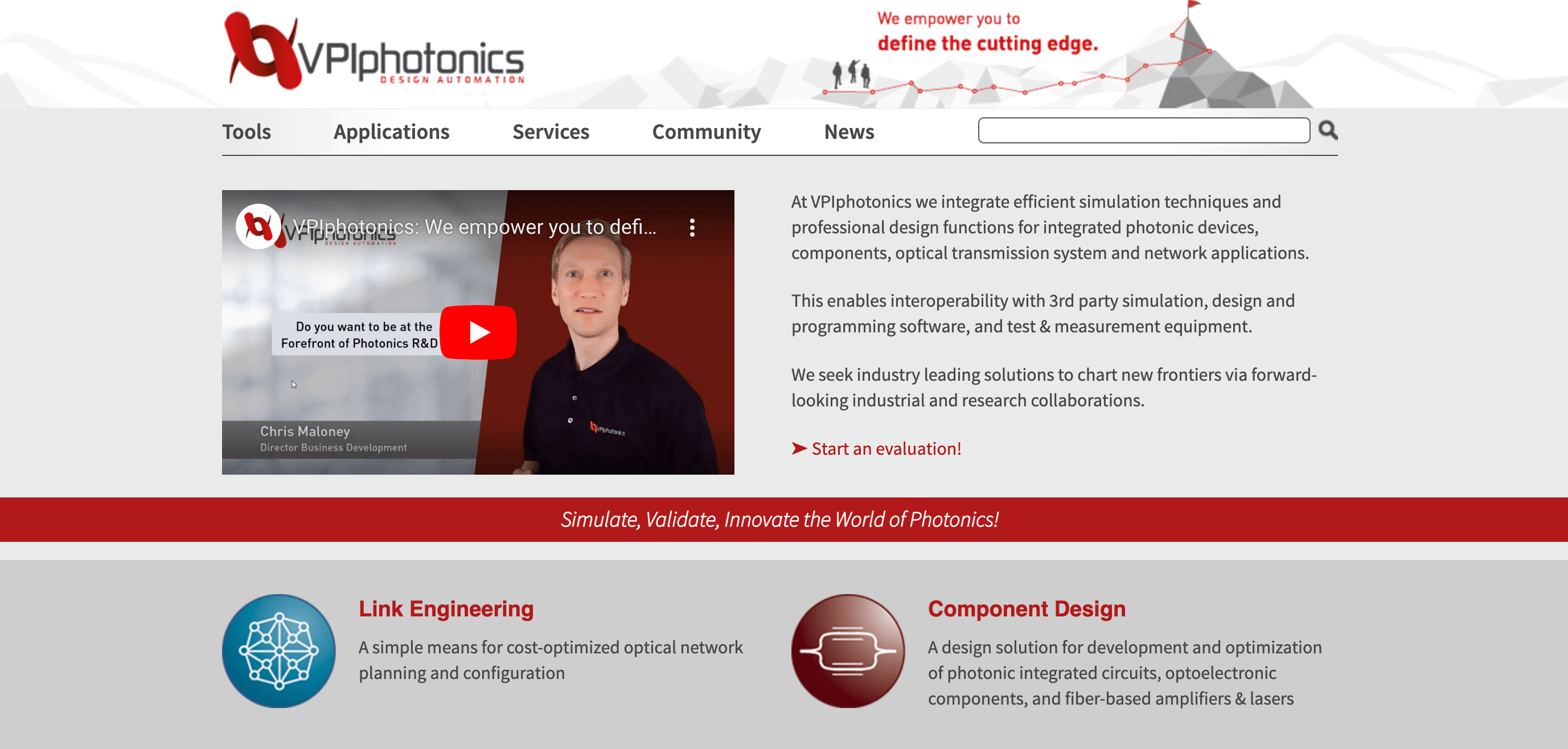 VPIphotonics is another provider of top optics design software, offering simulation tools and design services to meet the diverse requirements of the photonics industry. With a focus on photonic integrated circuits, semiconductor lasers, fiber-based components, optical systems, and network applications, VPIphotonics integrates advanced simulation techniques and professional design functions.
The software provides seamless interoperability with third-party simulation, design, and programming software, as well as test and measurement equipment. VPIphotonics actively seeks industrial and research collaborations to drive innovation and explore new frontiers in the field of photonics.
With global support and design services from their technical centers in the United States and Germany, VPIphotonics ensures that customers receive expert assistance. Their team of experienced engineers offers guidance on modeling techniques, advanced software capabilities, and consulting services for photonics design, analysis, and optimization tasks.
VPIphotonics also invests in knowledge-sharing initiatives. Their comprehensive training program has attracted over 900 engineers, combining expert lectures, software tours, and hands-on exercises.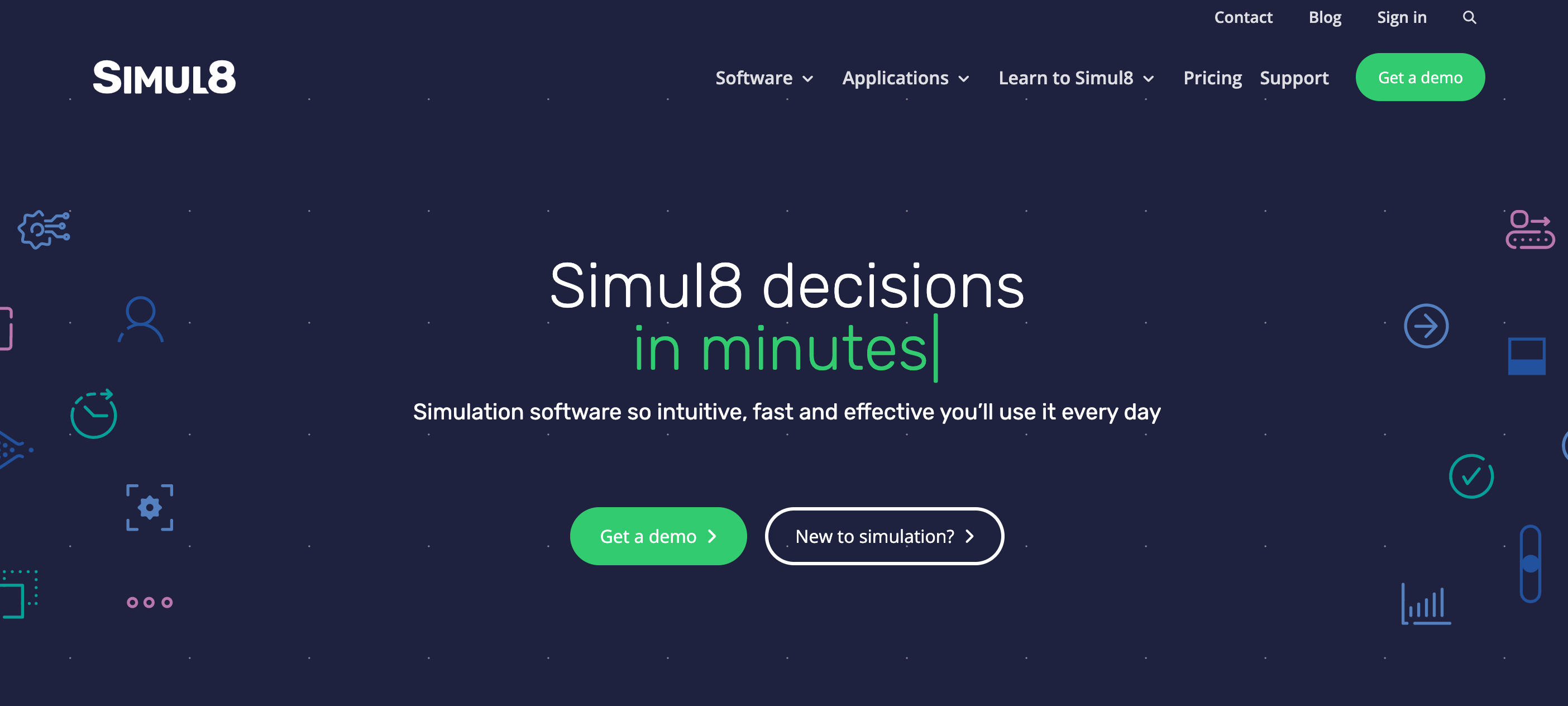 Simul8 is the leading custom optical design software, offering an intuitive simulation experience packed with powerful features. The program boasts a lightning-fast simulation platform that enables users to build and run simulations at remarkable speed. With Simul8, users can make confident and impactful decisions quickly and effectively.
Backed by over 25 years of experience, Simul8 is more than just software. The company prides itself on providing industry-leading support, ensuring users receive unparalleled assistance and expertise. With Simul8, users can harness the power of simulation and make more informed decisions with ease.
From Simul8's drag-and-drop interface for easy modeling of any business process to data integration and extensive insights, the software empowers users to streamline decision-making, extend accessibility, customize, and achieve specific goals.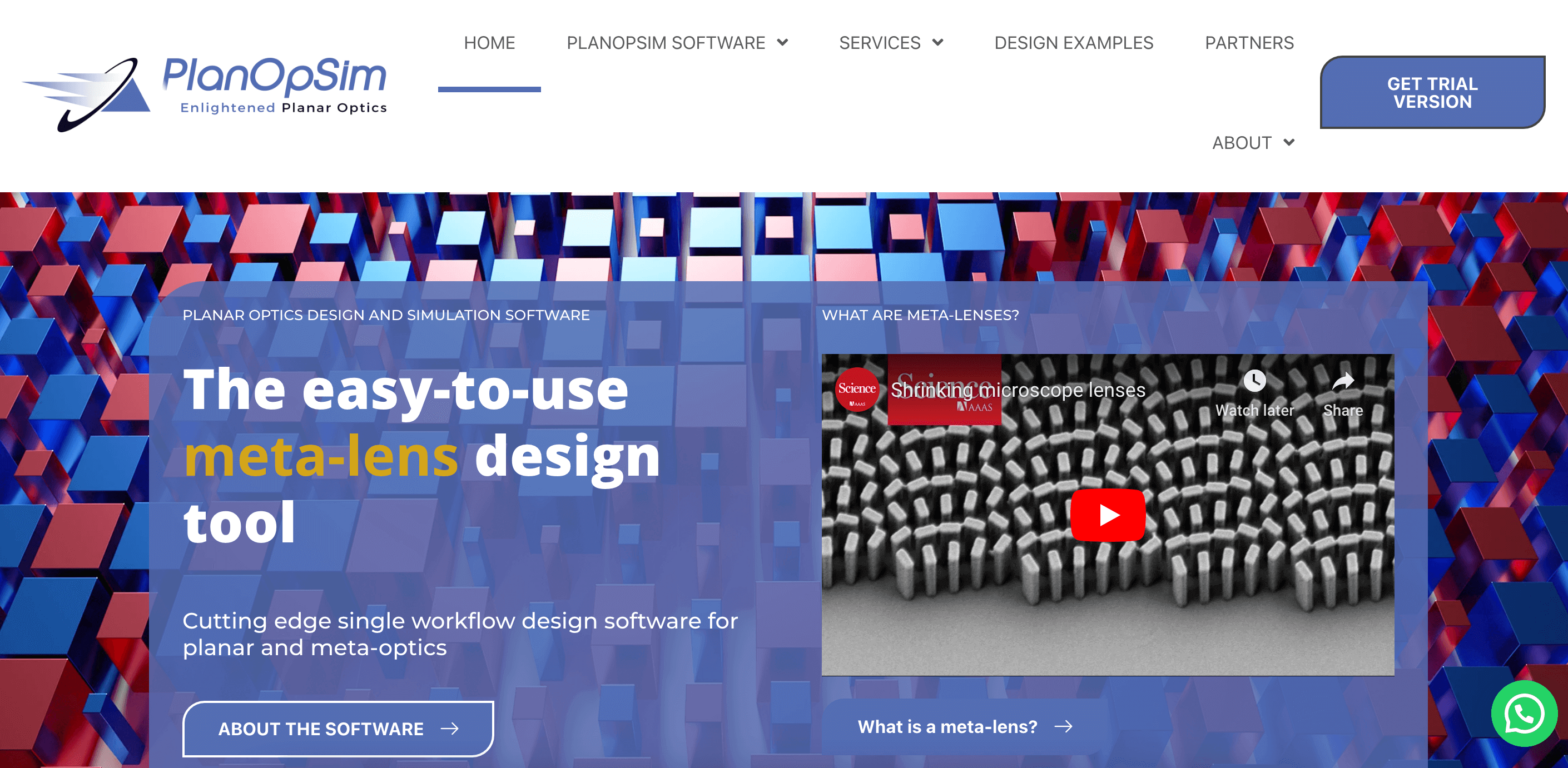 PlanOpsim is the leading optical design software that offers a comprehensive workflow solution for the design of meta-lenses and other meta-surfaces. By simulating both the intricate nano-structures and larger components comprised of millions of nano-structures, PlanOpsim enables efficient and accurate design processes.
With an impressive track record, PlanOpsim has facilitated the design of over 7,246 lenses and conducted 1,243,568 simulations across a vast array of industries. Its versatility is evidenced by collaborations with prestigious institutions such as the National Institute of Standards and Technology, Metronome Health, IPG Photonics, and UNSW Sydney.
The PlanOpsim team boasts a decade-long experience in optical modeling, specializing in various aspects of photonics. Their expertise encompasses meta-surfaces, planar optical components, OLED and liquid crystal displays, thin film coatings, LED lighting, solar cells, and optical measurement systems. 
When faced with complex photonics challenges, PlanOpsim is the lens design software to help overcome design and integration obstacles with ease and precision.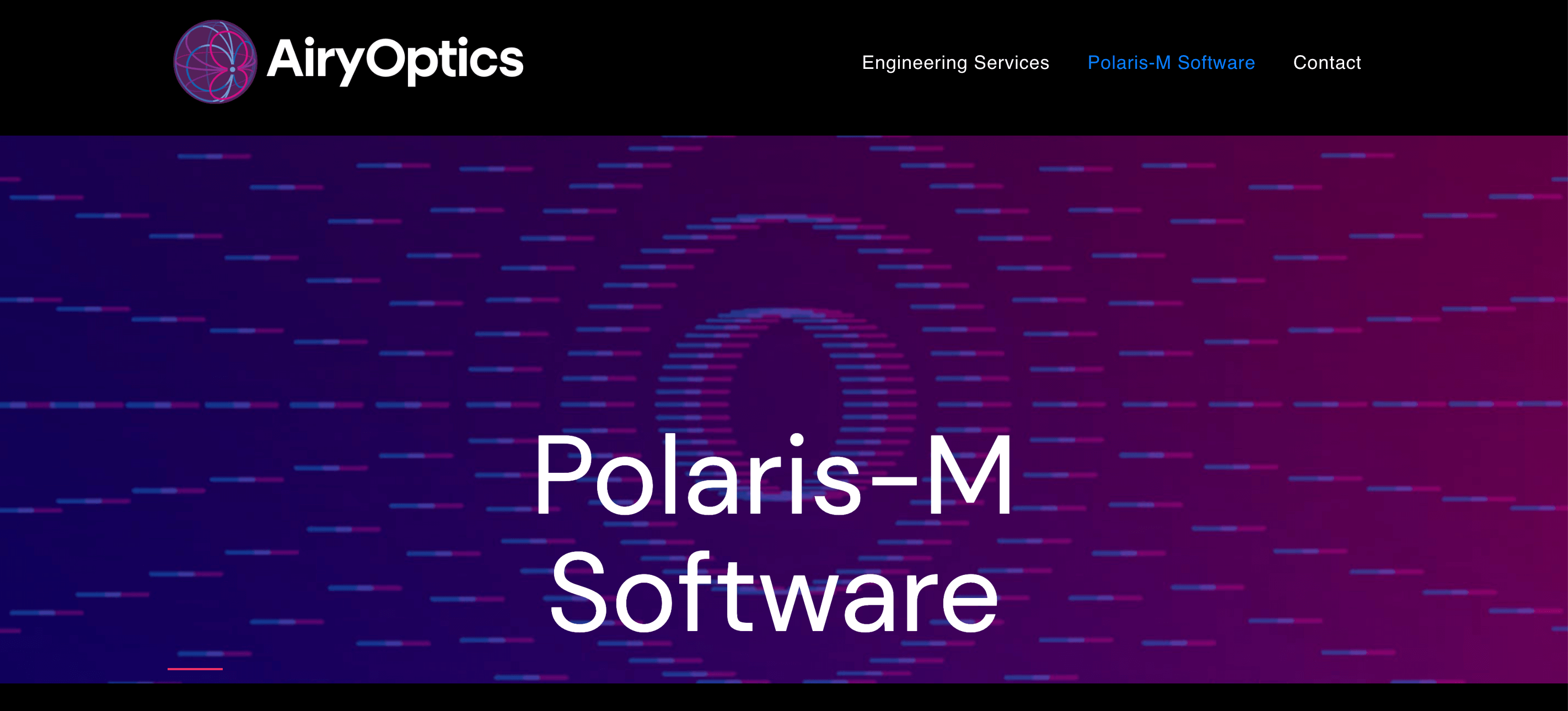 Polaris-M, offered by Airy Optics Inc., is a cutting-edge optical system design and polarization analysis program. This software combines ray tracing-based optical design techniques with polarization calculus, 3D simulation, anisotropic materials, diffractive optic simulation, stress birefringence, and diffraction theory. 
Developed over a decade at the esteemed Polarization Laboratory of the University of Arizona, Polaris-M was licensed to Airy Optics in 2016. Boasting a comprehensive range of functionalities, Polaris-M includes over 500 features such as ray tracing, aberration calculation, polarization elements, stress birefringence, diffractive optical elements, polarization ray tracing calculus, and liquid crystal cells and optical elements. 
To enhance customer experience, Polaris-M offers dedicated technical support and expert advice on polarization design via phone and email. With its unparalleled capabilities, Polaris-M is the most comprehensive polarization design platform available today.
Conclusion
From industry giants to niche players, the selected solutions have proven themselves as the best optical simulation software with their effectiveness in facilitating the development of cutting-edge optical systems. Hopefully, you can find the best-fit product for your specific business objectives and tasks.
If you want to add your optical design software to this list, email us with the details. After a quick review, we'll decide whether it's a valuable addition.