Any video is only great when there's an appealing story behind it. Speaking numbers, storytelling is 22 times more memorable than simple facts.
Be it an animated explainer video for your product or services, a business presentation, or an onboarding clip for your team, a story that paints your vision is a must for success. Combining excellent video production skills with creativity is what a professional animation company can help you with. 
Let's take a look at top animation studios that can amplify your message, bringing your vision to life. These agencies boast proven expertise, impressive portfolios, numerous awards and recognitions, and positive client reviews on multiple reputable platforms.
Whether you require demo videos, educational content, or cartoon animation, the companies listed below can help you create memorable storytelling via a video. 
Best Animation Studios
For Engaging Story-Driven Messages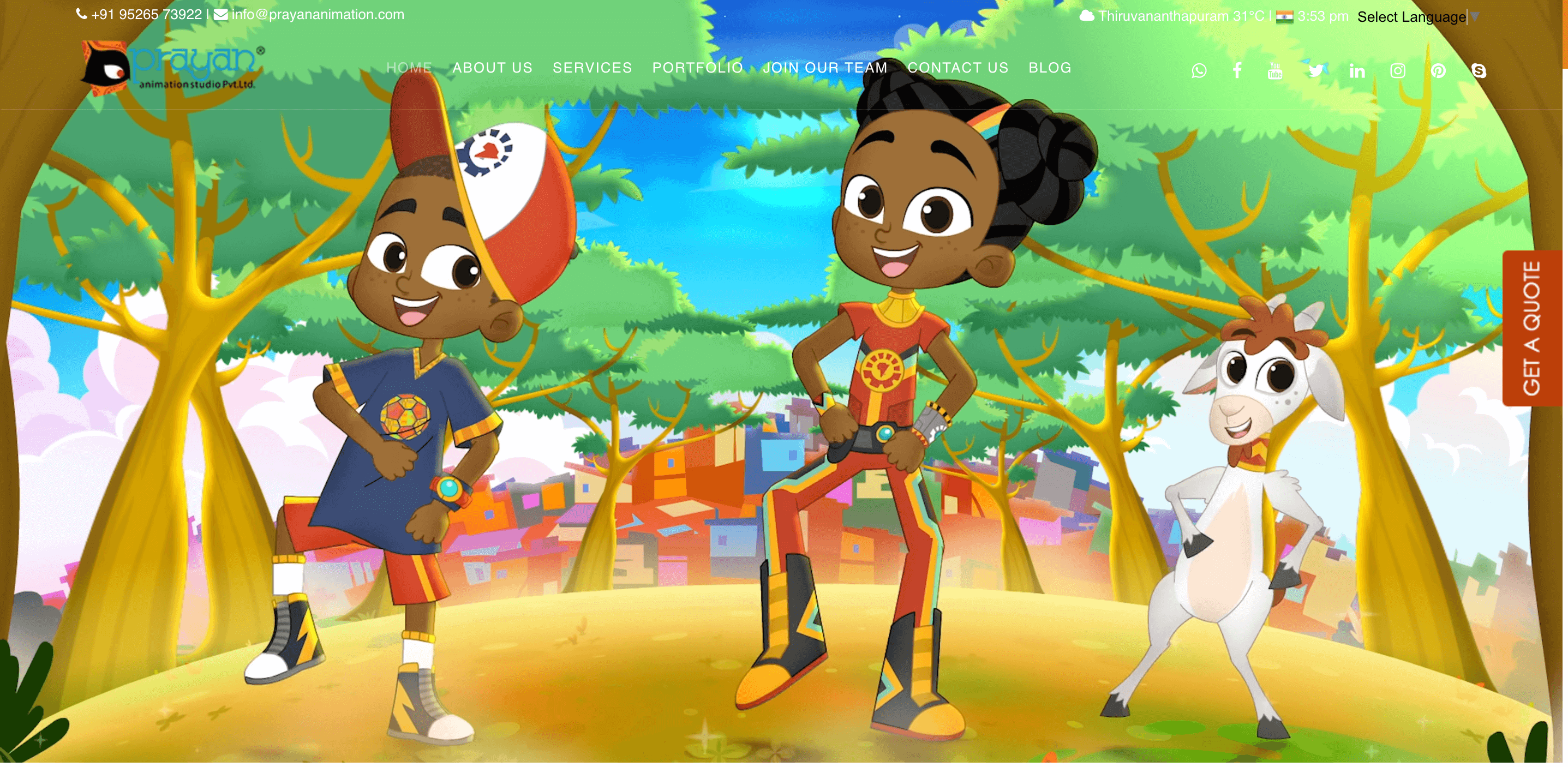 Founded in 2012, Prayan Animation Studio has combined a dedicated team of visionaries, artists, and innovators specializing in powerful 2D and 3D animation services.  As India's premier animation company, it covers an extensive range of services, from creating children's comic book illustrations, NFT digital art, and architectural visualizations to TV commercials, gaming content, and corporate presentations. 
With over 30 years of collective experience in the industry, Prayan Animation Studio caters to clients in the US, Canada, Australia, and various parts of Europe. Delivering on time and at affordable rates, the company goes above and beyond to surpass clients' expectations. By utilizing the latest design software and tools, they help businesses create impressive storyboards and charming characters, all to capture their target audience's attention from the first seconds and deliver the right message. 
Being one of the most remarkable animation companies in India and worldwide, Prayan Animation Studio is synonymous with excellence and dedication.
Shoot You is one of the most renowned animation studios in the USA, recognized worldwide for its exceptional creativity and production excellence. With offices in New York, Los Angeles, London, Amsterdam, and Zurich, their creative professionals specialize in bringing clients' visions to life through videos and animations.
Since its inception in 2000, Shoot You's animation expertise encompasses high-end 3D, stop-motion, 2D, and hand-drawn animation styles. The studio has an impressive client base of 11 Fortune 500 companies, such as J.P. Morgan, Honeywell, HPE, CISCO, and GSK. 
From initial concept to final project delivery, Shoot You utilizes all the necessary tools and services, including storyboarding, scripting, and asset creation, to provide outstanding results. With 20 years of experience, this team takes pride in delivering highly creative and unique end products tailored to each client's needs. 
The studio has received prestigious industry recognition, winning the Telly Award, Muse Creative Awards, Vega Digital Awards, Hermes Creative Awards, LA Shorts International Film Festival, and AVA Digital Awards. Shoot You's global presence and commitment to excellence make it a leading creative agency trusted by clients worldwide.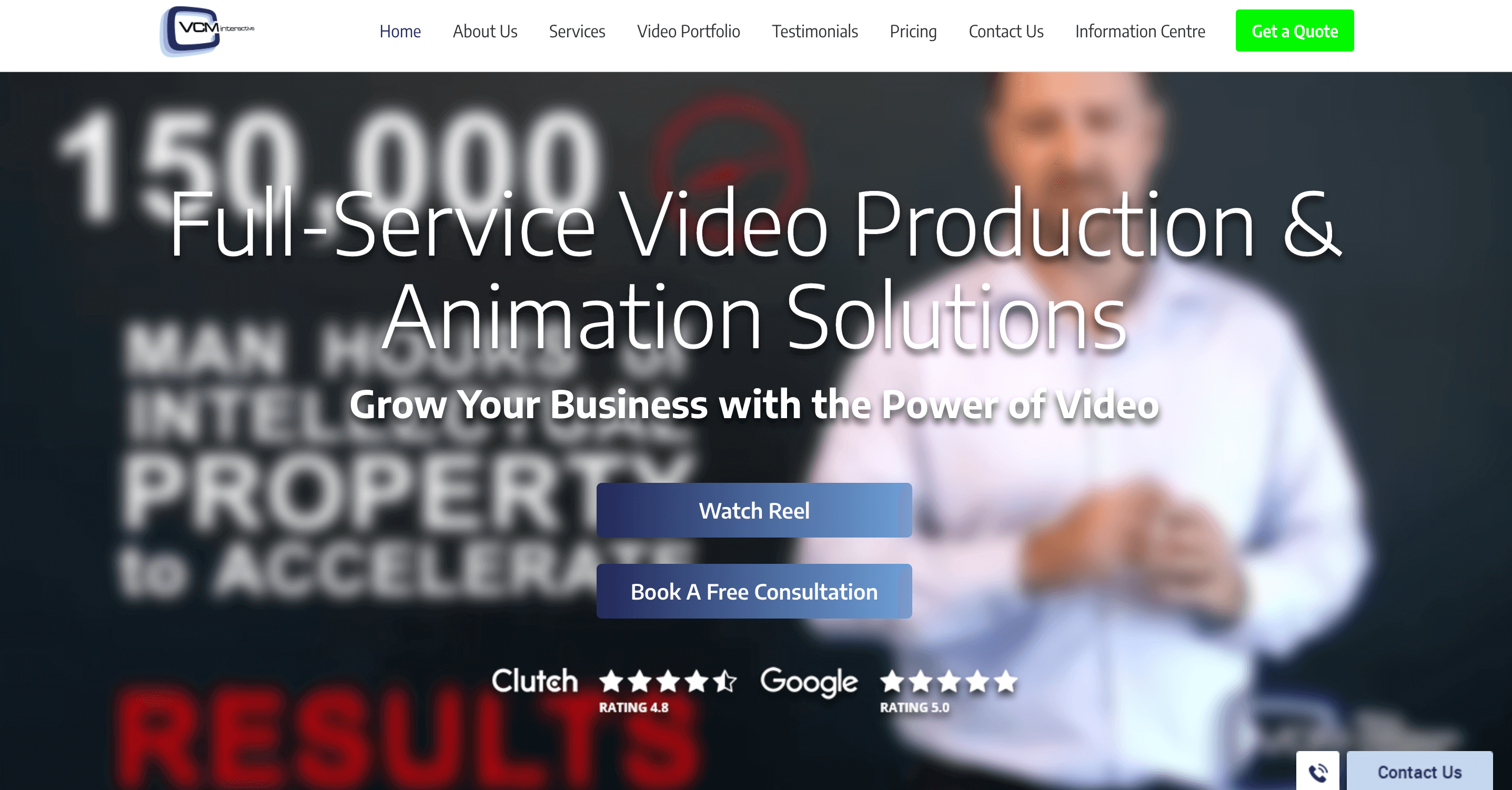 Having been on the market for over 30 years, VCM Interactive has become a trusted partner for medium-sized businesses and Fortune 1000 corporations seeking innovative animation solutions that align with their budgets, timelines, and project scope.
The company is an expert in video production, 3D and 2D animation, motion graphics, and video editing, serving clients in Toronto as well as across the entire Canada, the USA, and other countries all around the world. With state-of-the-art video production equipment, their top-notch videographers and animators ensure that every project meets the highest quality standards. A prestigious clientele of VCM Interactive includes TJX Canada, Choice Hotels, and Fujitsu.
So, if you're looking for best-in-class broadcast design, corporate video production, motion graphics, post-production, or web application development services, VCM Interactive is your go-to team! Their commitment to producing animation videos that perfectly meet clients' goals ensures each project is a resounding success.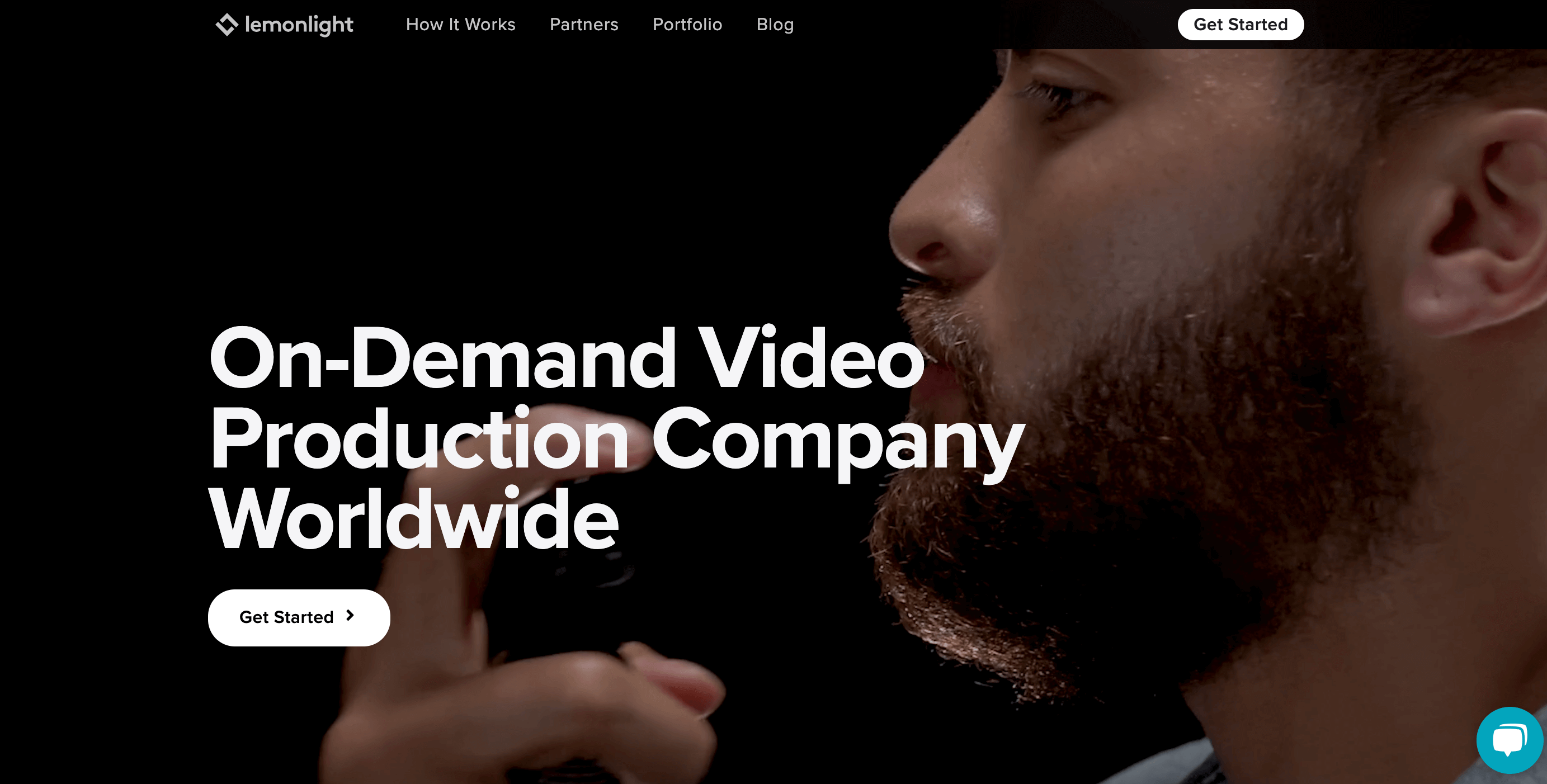 Lemonlight stands among other famous animation studios, renowned for its exceptional expertise in providing high-quality and affordable videos. 
Located in Los Angeles, the agency boasts an impressive roster of more than 600 skilled cinematographers spanning over 80 countries, located domestically and internationally. With a portfolio of 16,000+ videos created for esteemed brands such as Amazon, Google, Deloitte, Tesla, GE, and Airbnb, Lemonlight has become a go-to choice globally.
From inception to final delivery, the studio's industry-leading video intelligence empowers clients throughout production, ensuring each project is optimized to enhance brand presence and drive results.
Committed to delivering messages to the market on the client's timeline with unparalleled speed and efficiency, the agency also offers transparent pricing to justify the value of clients' investments. Thus, Lemonlight is well-equipped to meet the diverse needs of businesses, ensuring their video production requirements are met with the utmost professionalism and quality.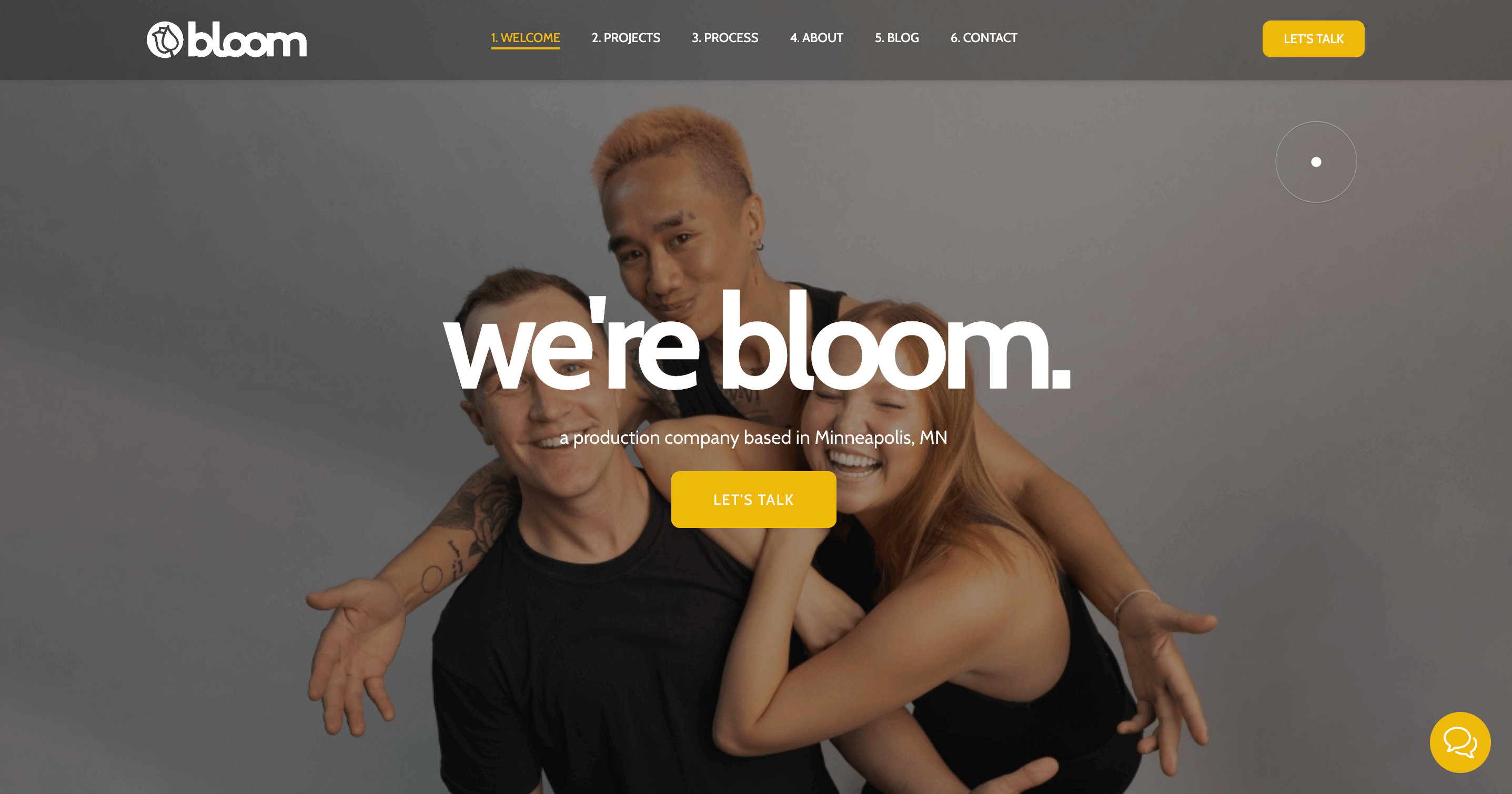 Bloom Creativ is an award-winning Minneapolis-based animated agency renowned for its creativity and innovation in all things related to video and animation production. Having received Top Video Production Company, Top Explainer Video Company, and Top Video Production Company by Clutch in one year, the agency has been helping global companies push boundaries and crafting unique digital experiences since 2019. Bloom Creativ has been proudly chosen by Yardbird, Lululemon, Herself Health, National Kidney Foundation, Powerblock, Maxim, and other companies as their animation partner.
Leveraging the power of storytelling, this ingenious team helps both startups and enterprises develop connections with their target audiences through meticulously curated animation videos. Starting by defining the narrative, they then create the blueprint that aligns seamlessly with the brand's purpose. Finally, the experts combine all the elements of creativity and strategy in order to create a digital experience that leaves a mark in viewers' minds.
For brands that seek to stand out and make a lasting impact, Bloom Creativ is the ideal partner in the journey of animated storytelling.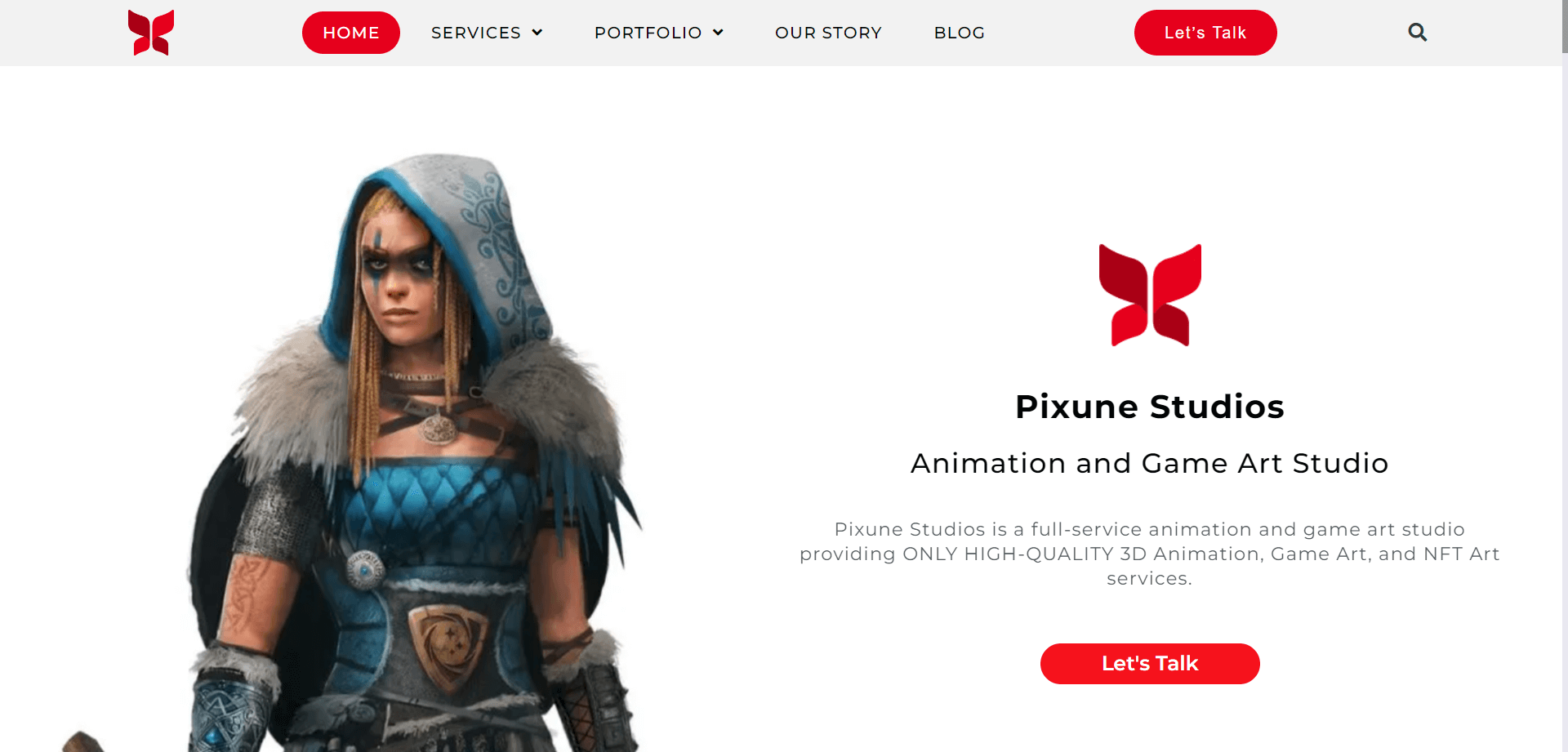 Meet Pixune Studios, an award-winning animation studio renowned for its unparalleled quality 3D animation, game art, and NFT art services. Founded in 2018, the agency boasts a 5 feature-length series, 2 cinematic masterpieces, 50 groundbreaking game art projects, and 11 captivating short animations, becoming a go-to destination for all things animated.
From the ideation and discovery to the completion of your project, Pixune Studios' team will become your reliable guide, meticulously covering each step. Whether you require storyboarding, concept creation, 3D modeling, rigging, or any other help with your animation project, the agency will deliver quality, reliability, and excellence.
With a rich history of producing 300+ minutes of awe-inspiring 3D animation for more than 40 esteemed clients, the agency's reputation remains indisputable, bringing it 8 international awards. Providing constant communication, frequent updates, after-sales service, and upholding the highest principles of art and animation, Pixune Studios is dedicated to your business success.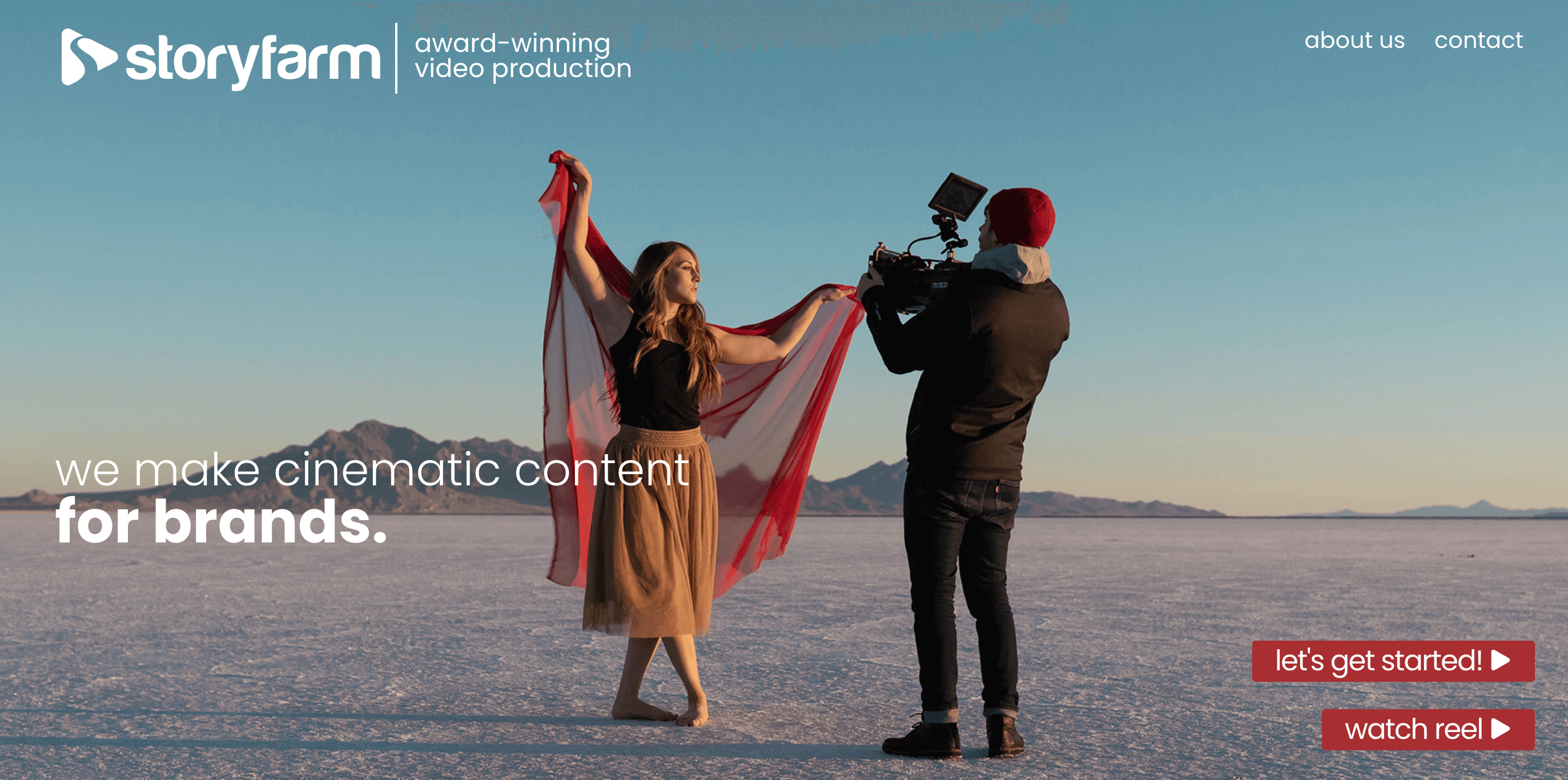 Storyfarm is a prominent name on our top animation studios list. This agency is renowned for its exceptional creativity and award-winning video production services. 
They have earned the trust of brands and advertising agencies worldwide by offering a comprehensive range of services, including conceptualization, scripting, storyboarding, casting, filming, animation, editing, and finishing for both digital and broadcast videos. One of the reasons clients love working with Storyfarm is because of their friendly and accommodating approach.
With an impressive portfolio of clients, Storyfarm has created captivating broadcast commercials for global brands such as Blue-Emu, New Look, World's Best Cat Litter, Sambucol, George Washington University Hospital, Electrolux Frigidaire, Andis Company, Under Armour, No Kid Hungry, and University of Maryland Global Campus. Their commercials engage viewers with powerful storytelling and visually stunning animations.
With an impressive track record, Storyfarm has been honored with numerous awards, including 12 Addys, 22 Tellys, 1 Peabody Award, 1 Dupont Columbia Award, 1 National Emmy, and 16 Regional Emmys. These accolades highlight their commitment to excellence and innovation in the field of animation and video production, solidifying their position as a leading studio in the industry.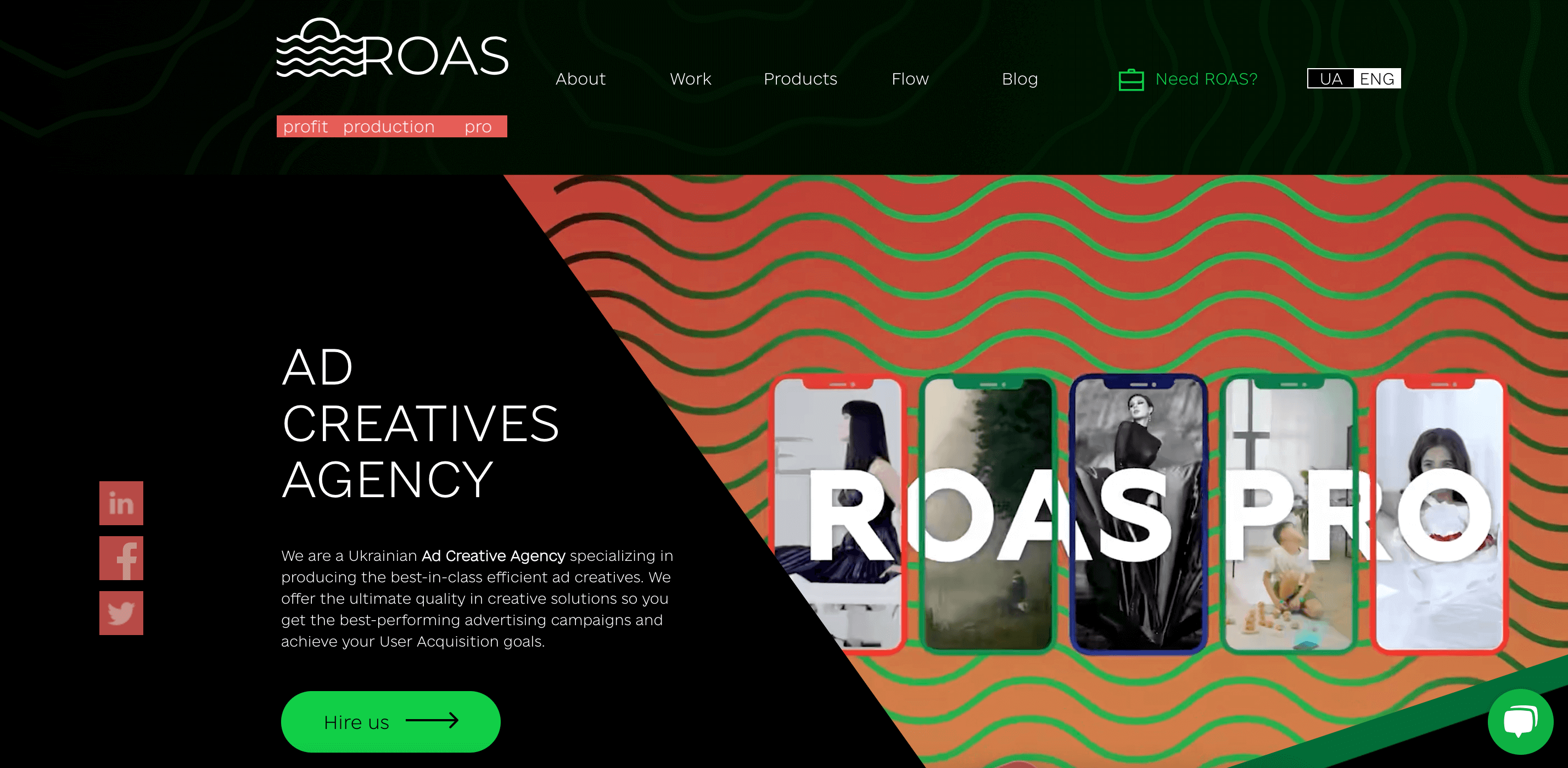 ROAS is a famous Ukrainian powerhouse, leading the industry with its exclusive creative approach to animation. The studio offers comprehensive services tailored to meet diverse business needs, guarantee optimal performance, and help clients achieve user acquisition goals.
From video ad creatives production in 2D, 3D, and engine-based formats to static ad creatives production, playable ads production, UGC, ASO production, and more, ROAS covers every aspect of visual content production. Whether it's crafting captivating explainers, immersive AR/VR experiences, or product videos, its expert team delivers unrivaled quality.
ROAS Animation Studio's partnership with leading platforms further enhances its ability to create cost-effective ads. Through the extensive expertise of their experienced designers, they convert images and videos into mobile-optimized video ads, delivering maximum impact and efficiency.
With its unwavering commitment to excellence, ROAS stands as a driving force among global animation production companies. Clients can trust in their expertise, knowing that their ad creatives will captivate audiences and deliver outstanding returns on investment.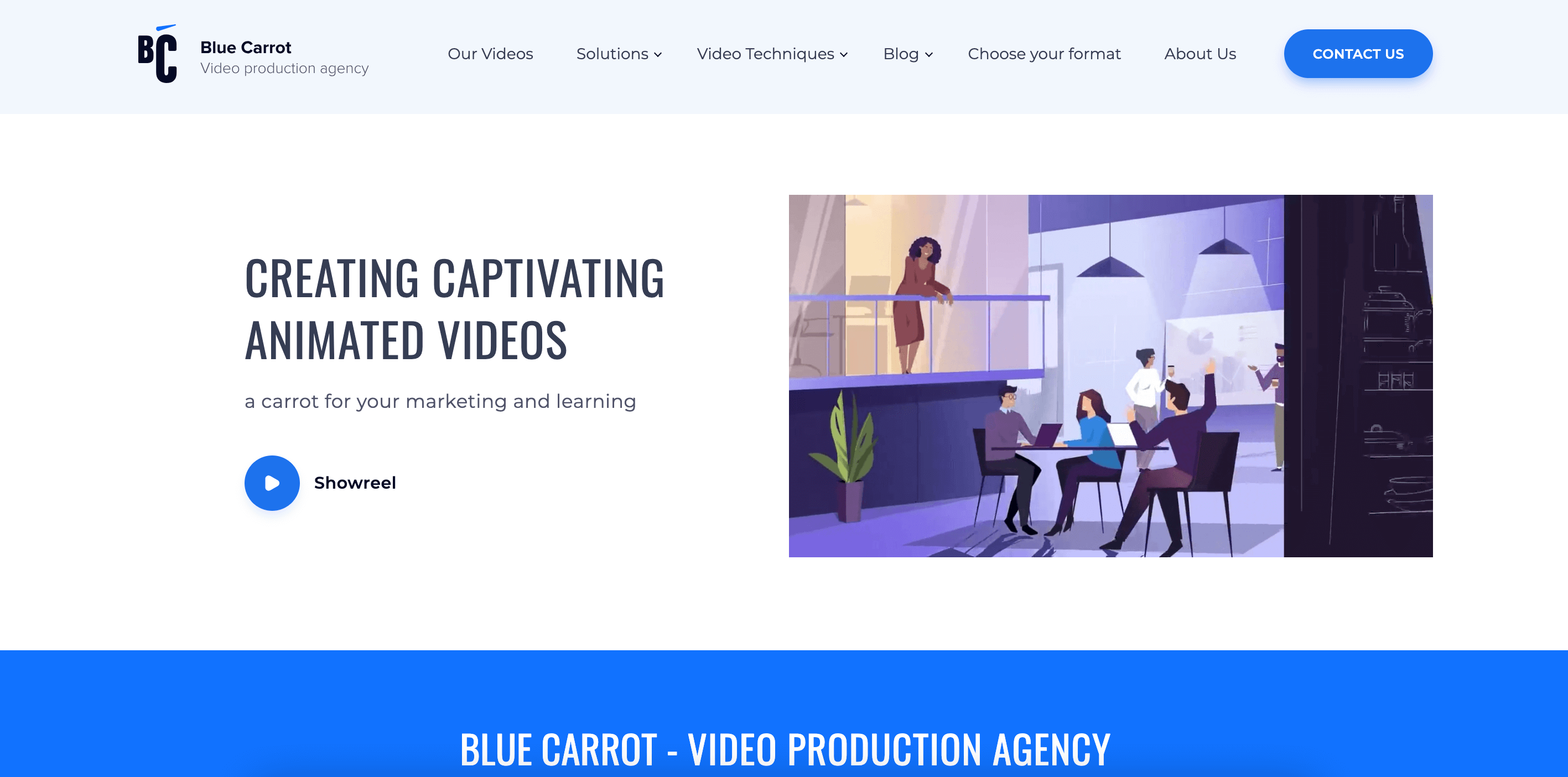 Blue Carrot is a leading animation studio renowned for its expertise in full-cycle video production for marketing and eLearning. With a focus on client satisfaction, the agency has helped over 200 companies in more than 30 countries to select the ideal type and style of video. 
From ideation to the final product, Blue Carrot's expertise extends to various video categories, including promotional, eLearning, corporate, explainer, tutorial, testimonial, onboarding, and branded videos. By actively involving clients in the creative process, the agency will work together with you to craft videos that inspire audiences— whether it's eliciting laughter, emphasizing essential messages, or facilitating rapid comprehension of ideas.
Having worked with renowned NGOs and Fortune 500 companies, Blue Carrot's talented team has produced an impressive repertoire of over 300 videos, totaling more than 10,000 minutes, spanning numerous styles.
With Blue Carrot as your animation studio, you can be confident in their ability to bring your vision to life, creating visually stunning and engaging videos that leave a lasting impression.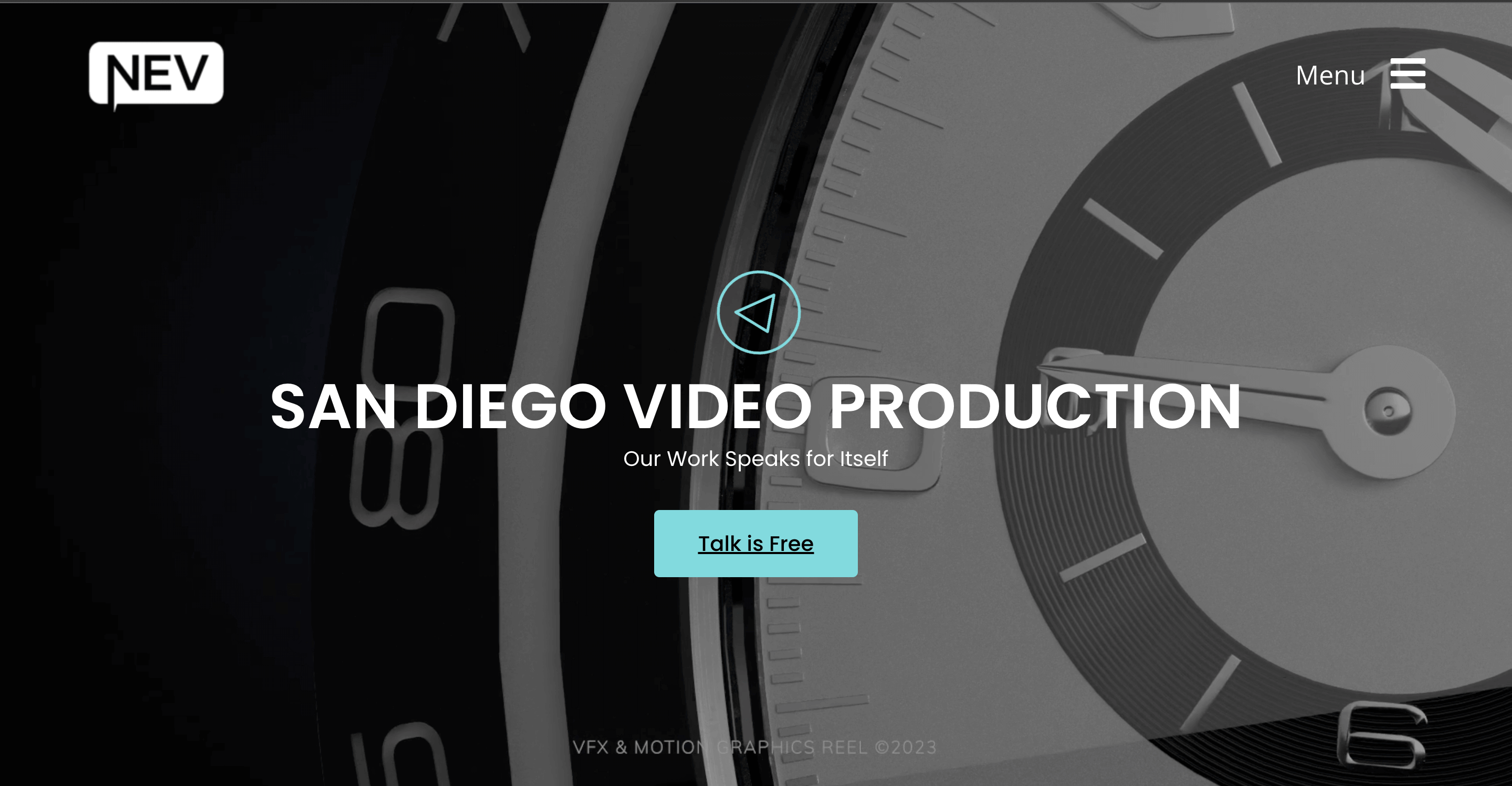 With over 16 years of experience in video production, New Evolution Video is a renowned animation studio in San Diego, committed to helping brands create engaging storytelling with the help of catchy visuals.
Whether you require commercial, corporate, promotional, conference, drone, in-house sales videos, web shows, or even VR production video, the agency can deliver any masterpiece to bring your vision to life.
Dedicated to successful, long-lasting client relationships, New Evolution Video has received great recognition on UpCity, Yelp, Forbes, Clutch, and Google. Their trophy shelf gleams with accolades from The Telly Awards, AVA Digital Awards, and MarCom Awards. From Fortune 500 to small startups, New Evolution Video has helped numerous companies worldwide and will gladly become your go-to animation studio.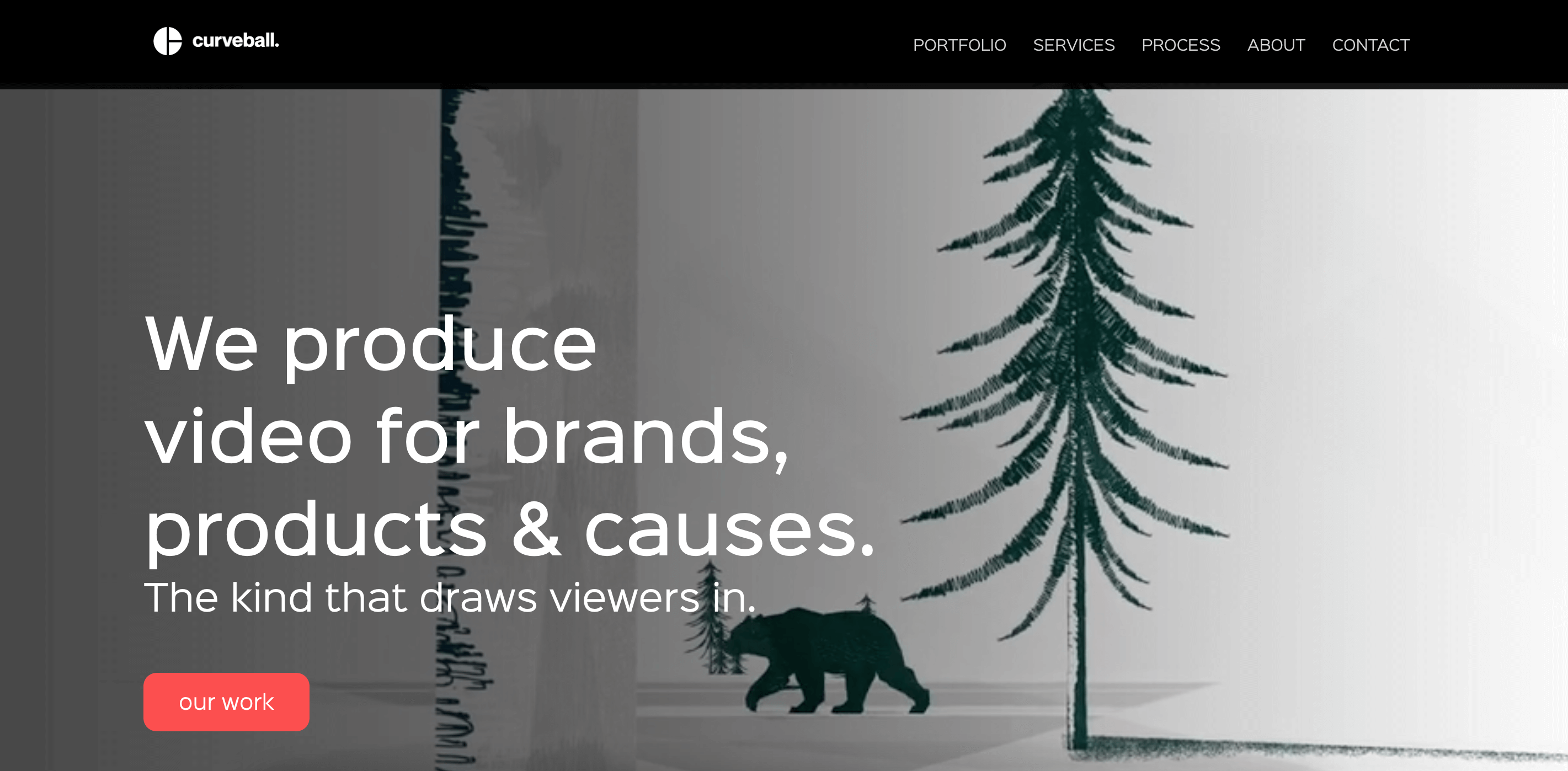 Curveball Animation Studio is another recognized leader among animation companies, specializing in making brand messages even more captivating and engaging. With a decade-long track record, they have gained the trust of some of the biggest names in the industry, including Volvo, Harrods, Adobe, Heathrow, and many others. 
Whether it's animated explainer videos that bring clarity to complex ideas or thought leadership content that expands brand reach, Curveball's expertise shines through in every project. Leveraging extensive experience across various sectors, including charity and nonprofit, SaaS, tech, fintech, human resources, and health, the agency can successfully tackle challenges, help clients make complex products easily understandable, inspire minds, raise funds, and establish trust and credibility.
With a focus on narrative storytelling, Curveball Animation Studio has garnered numerous awards for its exceptional work. Their animation expertise extends across the web, social, events, and TV, making them the strategic partner of choice for brands seeking to leverage video across their marketing campaigns.
If you're looking for an animation studio that combines creativity, expertise, and a passion for storytelling, Curveball Animation Studio is the ideal partner to bring your brand's vision to life.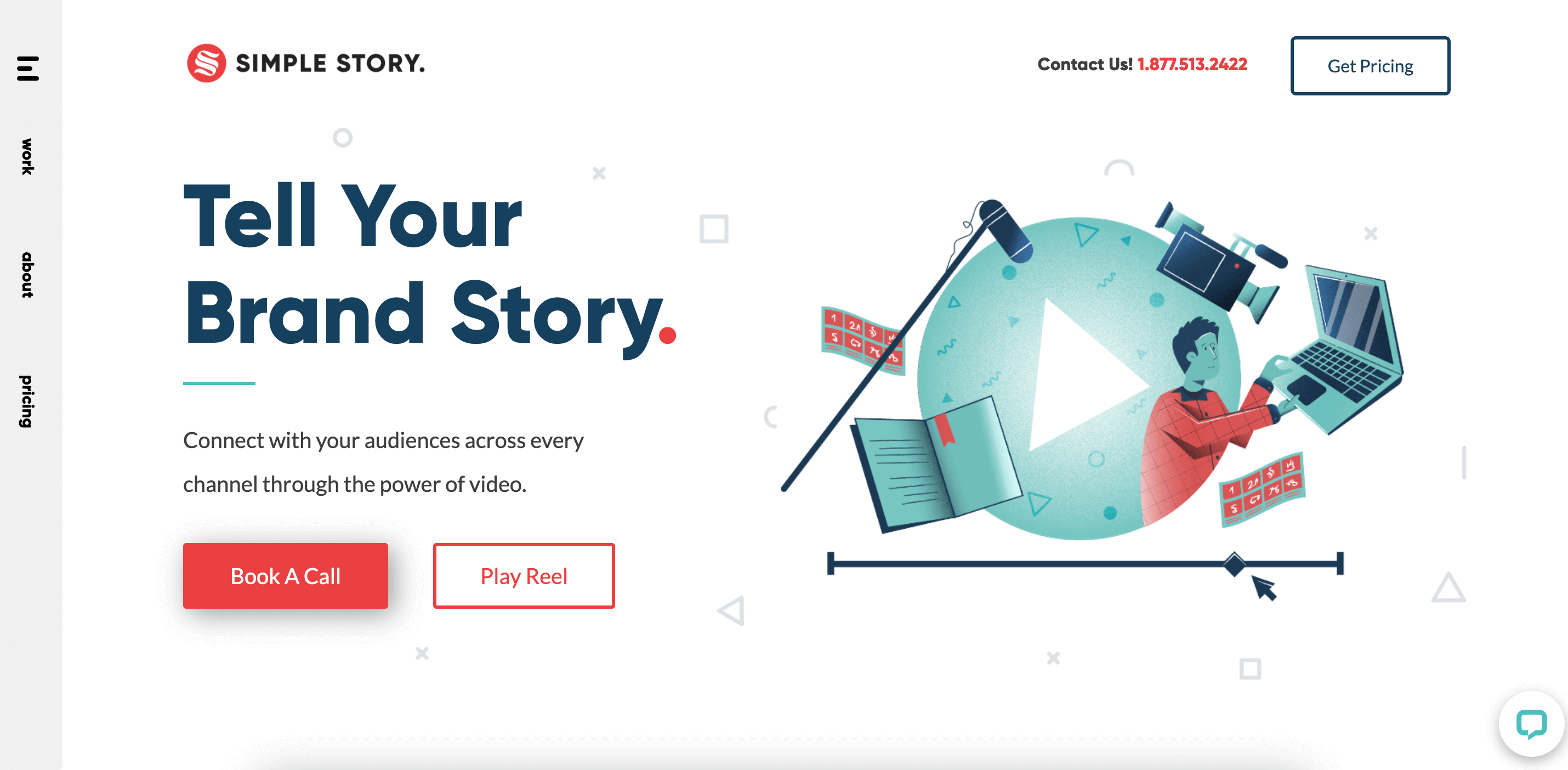 Simple Story is an award-winning video marketing agency with a team of talented artists, marketers, advertisers, and storytellers who help clients connect with their audiences and inspire action across various channels. 
From developing a strategy that showcases a clear success path to production and distribution, the agency manages the entire process of video creation, ensuring the end result is aligned with your goals and vision.
Since its foundation in 2011, the agency has established trusted relationships with renowned brands like Shopify, Shutterstock, Pfizer, Walmart, Coca-Cola, P&G, L'Oréal, British Council, and others, increasing conversions by 86% on average. By captivating your audience and revealing the unique personality of your brand, Simple Story can help attract your audience, create deeper impressions, and bring your brand's idea to life.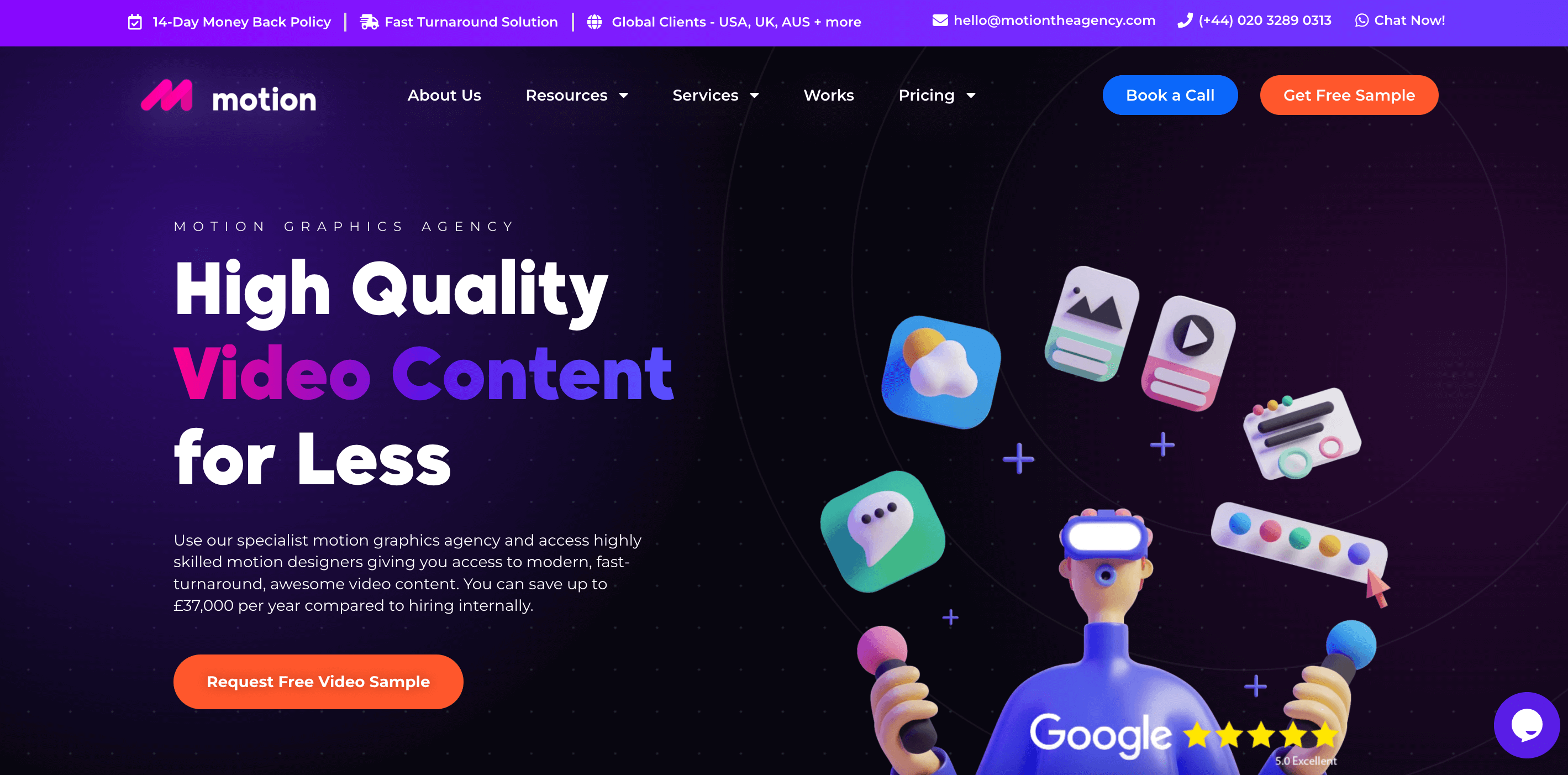 Motion The Agency is a famous animation studio specializing in 2D, 3D, and UI animation for Tech, SaaS, and other forward-thinking companies. Founded in 2019, their team comprises experts in Figma, After Effects, and Cinema 4D, allowing them to produce high-quality explainer videos, sizzle reels, promo videos, social media content, and product demos.
What sets Motion The Agency apart is its commitment to offering businesses a chance to experience its service for free. By requesting a video sample through their website, you can get a high-quality video sample within only 3 working days. 
With Motion The Agency, you gain access to an entire video creative team for less than the cost of hiring a single employee, including award-winning graphic designers, 3D animators, sound designers, 2D designers, and project managers. The company claims that with the help of their highly skilled motion designers, businesses can save up to £37,000 per year compared to hiring internal resources.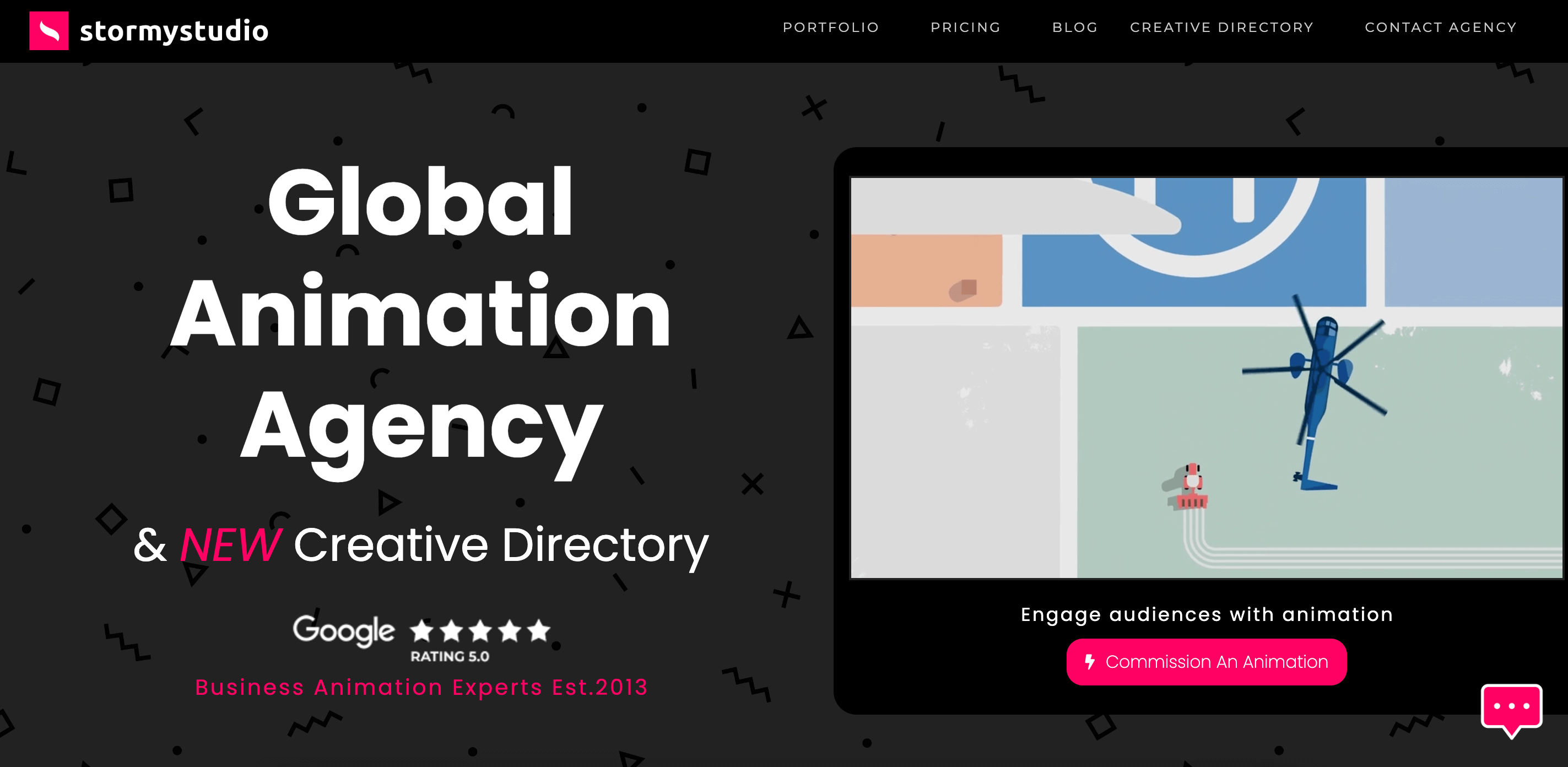 A UK-based company, Stormy Studio has garnered a reputation as one of the best animation studios skilled in creating exceptional 2D and 3D animations since its establishment in 2013. With numerous accolades to their name, they have consistently delivered bespoke, high-quality animations tailored to the unique needs of businesses.
Stormy Studio's friendly and talented team is dedicated to helping companies achieve their business objectives through captivating scripts, top-notch designs, and professional animated visuals. 
Renowned for its expertise in business animation, the studio has served esteemed clients such as HP, Moody's, UK Power Networks, Marriott, Pfizer, and numerous others. With their profound commitment to engaging audiences through animation, Stormy Studio remains a trusted global animation agency.
Whether you require traditional, digital, or AI animation, you can totally rely on Stormy Studio's unparalleled expertise and creativity.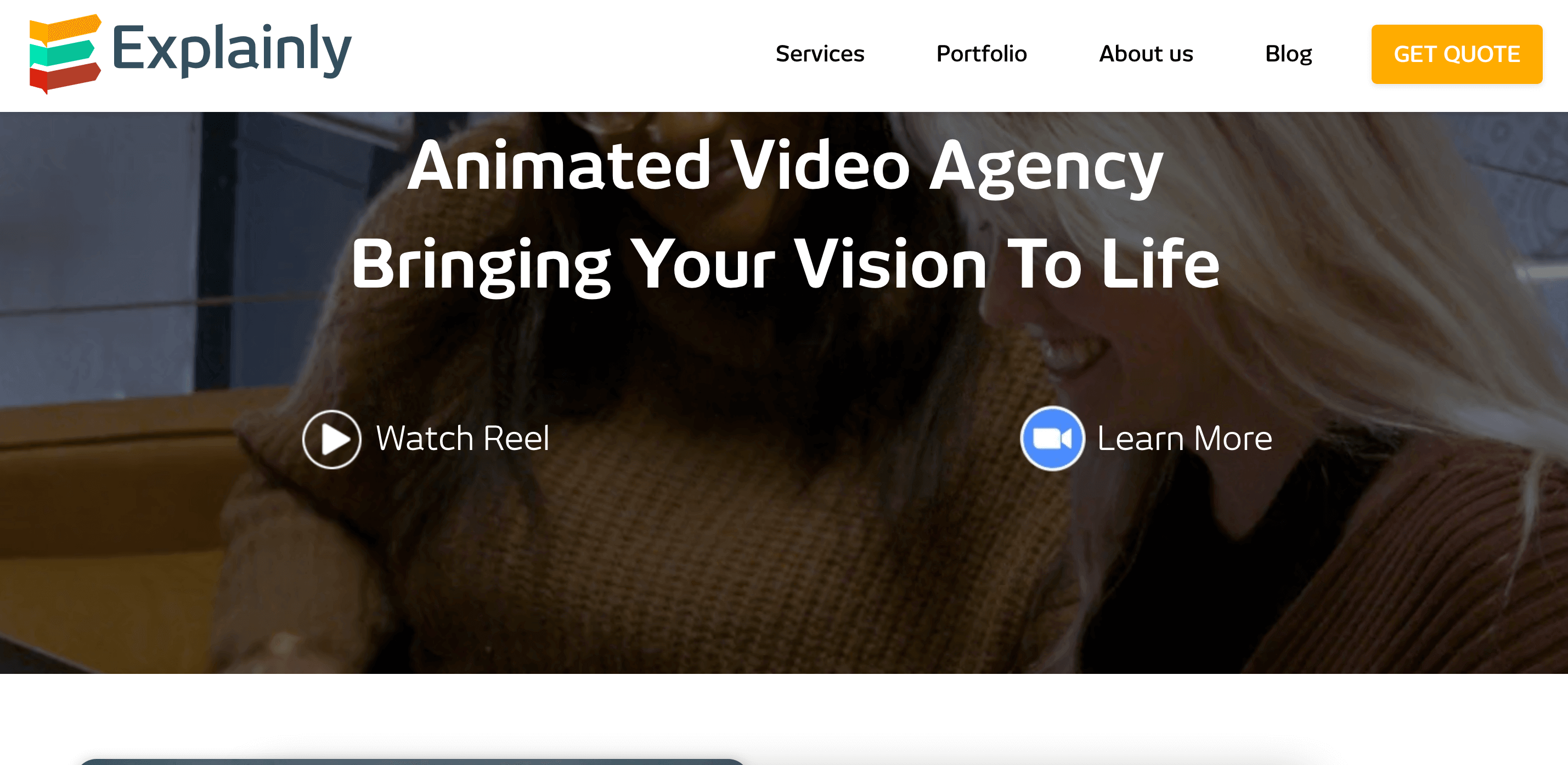 Explainly is the top animation studio based in San Francisco, dedicated to creating exceptional 2D and 3D animated explainer videos. With a seasoned team boasting extensive experience, Explainly has brought clients' visions to life through captivating visuals since 2018.
Whether you're a startup shaping your brand guidelines, a corporate entity that wants to scale content creation, or operating in sectors such as education, fintech, healthcare, retail, cybersecurity, nonprofit, B2B, or B2C, the agency can help you produce videos that resonate with your target audience.
Having worked with world-known clients like Hubspot, Visa, Avast, and Universal, Explainly has demonstrated excellence in perfecting and scaling sales pitches, optimizing web content for any platform, and unlocking the boundless possibilities of video. The agency ensures that every animated video created is customized especially for you, providing a distinctive and unforgettable way to convey your message effectively.
You can schedule a free consultation with the Explainly team to explore the transformative possibilities of video for your business.
Conclusion
Here you go with the best animation studios list.
The video has evolved beyond entertainment, and animation caters to diverse industries and demographics. If your company is aiming to achieve success and recognition through visual representation of your brand, animation businesses can help light your spark and transform it into a captivating story that resonates with your audience, inspires action, and propels your brand forward.
If you want to add your animation company to this list, drop us a line. After a thorough review, we'll decide whether it's an appropriate addition.