Home to about 300,000 IT specialists, Ukraine has long been at the forefront of top software development services, encompassing Flutter app development.
Offering remarkable technical prowess and creative ingenuity yet cost-efficient solutions tailored to unique business needs, Ukrainian tech companies are trusted by clients all over the world. In 2022, the Ukrainian IT industry reached $7.34 Billion in value.
As businesses across the globe increasingly embrace the power of Flutter, with 46% of software developers using it, Ukrainian firms stand as no exception. This innovative UI app development toolkit redefines mobile software creation dynamics, helping brands develop stunningly beautiful cross-platform applications with seamless performance.
If you find yourself in need of a supreme tech partner that can accelerate your time-to-market while delivering unparalleled cross-platform services, this list of top Flutter development companies in Ukraine is especially for you.
The Best Flutter Development Companies In Ukraine
For Exceptional App Solutions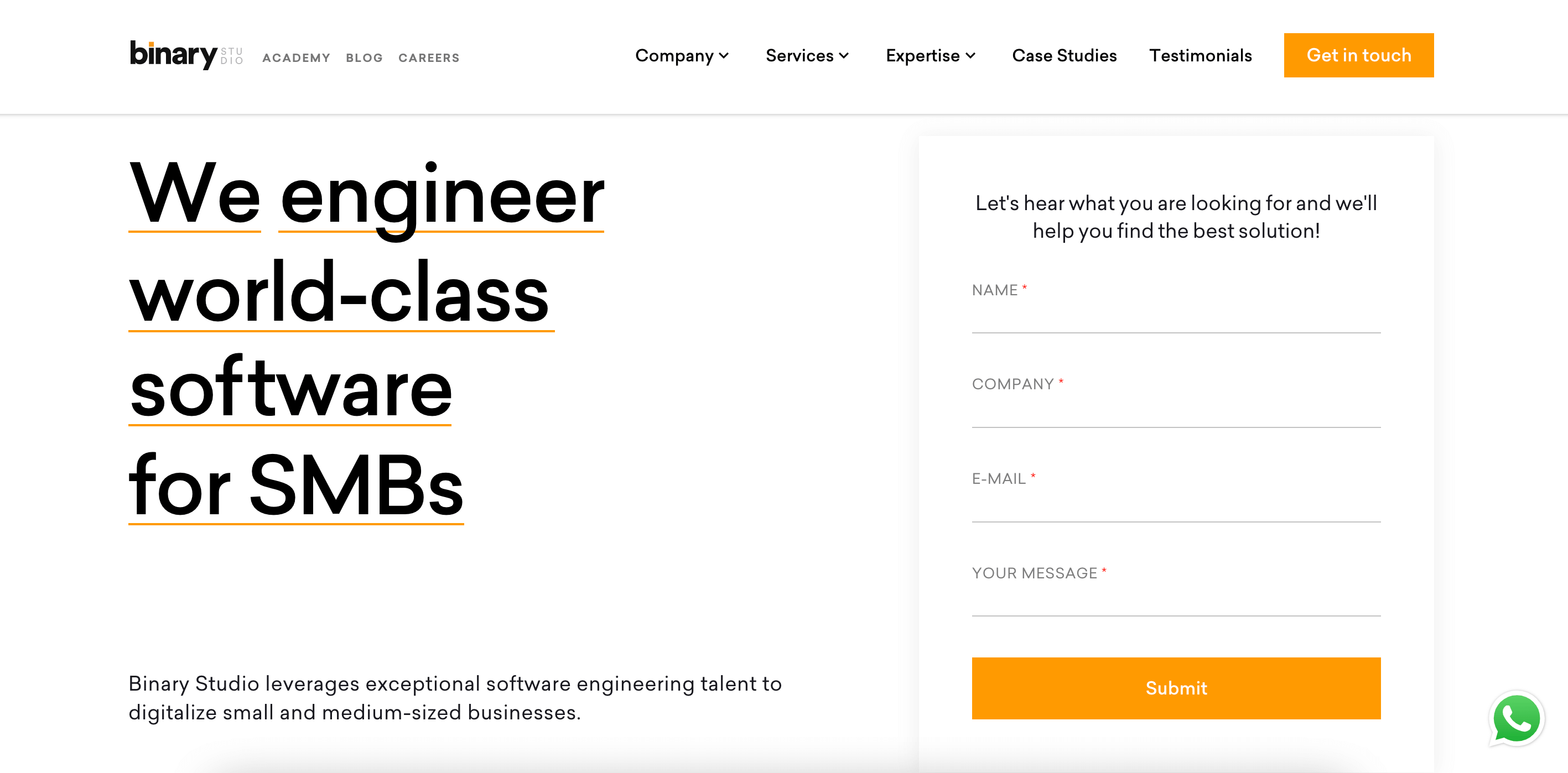 Boasting the best Flutter developers in Ukraine since 2005, Binary Studio stands as the paramount app development company, recognized as the home of the Top Mobile Developers by Clutch many times in a row, a testament to their unmatched commitment to engineering excellence. Average project durations of 3+ years speak to their enduring partnerships.
The firm is headquartered in Lviv and has offices in San Francisco, serving small and medium-sized enterprises and delivering 100+ projects, including Fortune 500 companies. Bolstered by its exclusive Academy development program, Binary Studio meticulously curates its tech talent pool, allowing only the most elite 0.5% to join its ranks, thereby guaranteeing unparalleled service delivery.
Their adept Flutter engineers craft adaptable, cross-platform mobile app solutions. From full-fledged app development and seamless migration to QA and performance optimization, their holistic approach ensures that delivered applications function flawlessly while responding swiftly to user interactions. Binary Studio is more than just a developer; they're a digital transformation partner.
Services and expertise: custom software development, frontend development, backend development, mobile development, QA, project management, dedicated development teams
Tech stack: Flutter, Javascript, .NET, Node.js, Java, PHP, Angular, React, React Native, C++/C, etc.
Industries: Healthcare, Real Estate, FinTech, eCommerce, Public Sector, Software/ISV
Clients: Evan-Moor, Intela Solutions, Demand Agency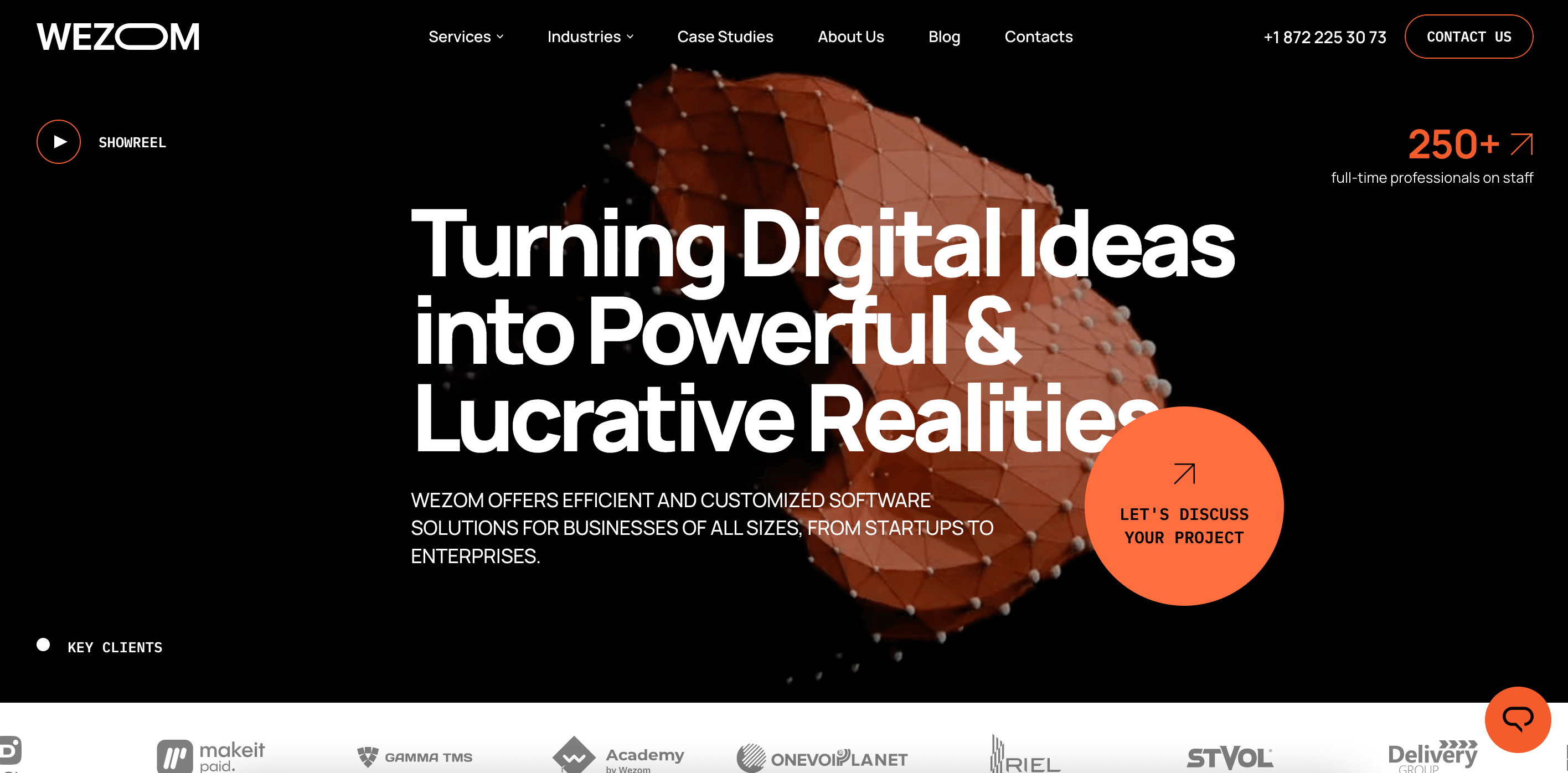 Founded in 1999, WEZOM secured a position as a respected software development partner, delivering robust digital solutions for businesses of various types. Specializing primarily in the Logistics, Oil & Gas, Supply Chain, Real Estate, and eCommerce sectors, their expertise is a guiding light for companies seeking innovation and profitability in app development.
Customers entrust WEZOM for several reasons that highlight their distinction: great performance of the delivered software regardless of project complexity, flexibility to clients' requirements, speedy time-to-market, and comprehensive quality control that guarantees flawless app operation. With a smooth workflow, intrinsic grasp of internal complexities, captivating designs, adaptable project planning, and a dependable team, WEZOM establishes itself as a synonym for reliability.
Over 23 years, they have earned numerous recognitions and certificates, proof of their remarkable journey. Operating across 10 offices in 4 countries—United States of America, Poland, Germany, and, surely, Ukraine—WEZOM boasts a roster of 250+ certified professionals who have successfully executed over 3,500 projects.
Services and expertise: product evaluation & design, custom software, web development, mobile development, maintenance & support
Tech stack: Flutter, React Native, PHP, Java, Node.js, .NET, etc.
Industries: Logistics, Healthcare, Real Estate, Fintech, eCommerce, Education, Manufacturing
Clients: ROSHEN, Toyota, Aptiv, Cooper & Hunter, DarkStore, Easyload, Delivery Group, Stvol, Riel, Onevoi Planet
Based in Kyiv, the capital of Ukraine, CloudFex is a distinguished player in the Flutter community, creating fruitful partnerships with ambitious startups and established enterprises.  
Cloudflex's impact on its clients is profound, revolutionizing the way research is conducted, local markets are navigated, live videos are streamed for diverse audiences, manufacturing processes are monitored, education is delivered, and sports are pursued. Their deep Flutter expertise ensures the ultimate flexibility in meeting diverse project requirements.
With a proactive team of top Flutter developers in Ukraine, the agency employs cutting-edge tools and adheres to rigorous standards, ensuring optimal performance. Beyond initial development, Cloudflex offers robust support services, with its seasoned experts ready to assist in extending and optimizing your product. 
Services and expertise: MVP & PoC development, end-to-end development, custom software, web development, mobile app development, AI & ML & Data Science, backend development, QA, UI/UX
Tech stack: Flutter, Kotlin, Swift, JS, React Native, Python, etc.
Industries: Retail, Sports, Entertainment, Education, Health, Social Networking, Business
Clients: Yaza, Cyanoguard AG, Ewhenter, Rivalz, Bean, Trust Member, Bit-Rx, EventFarm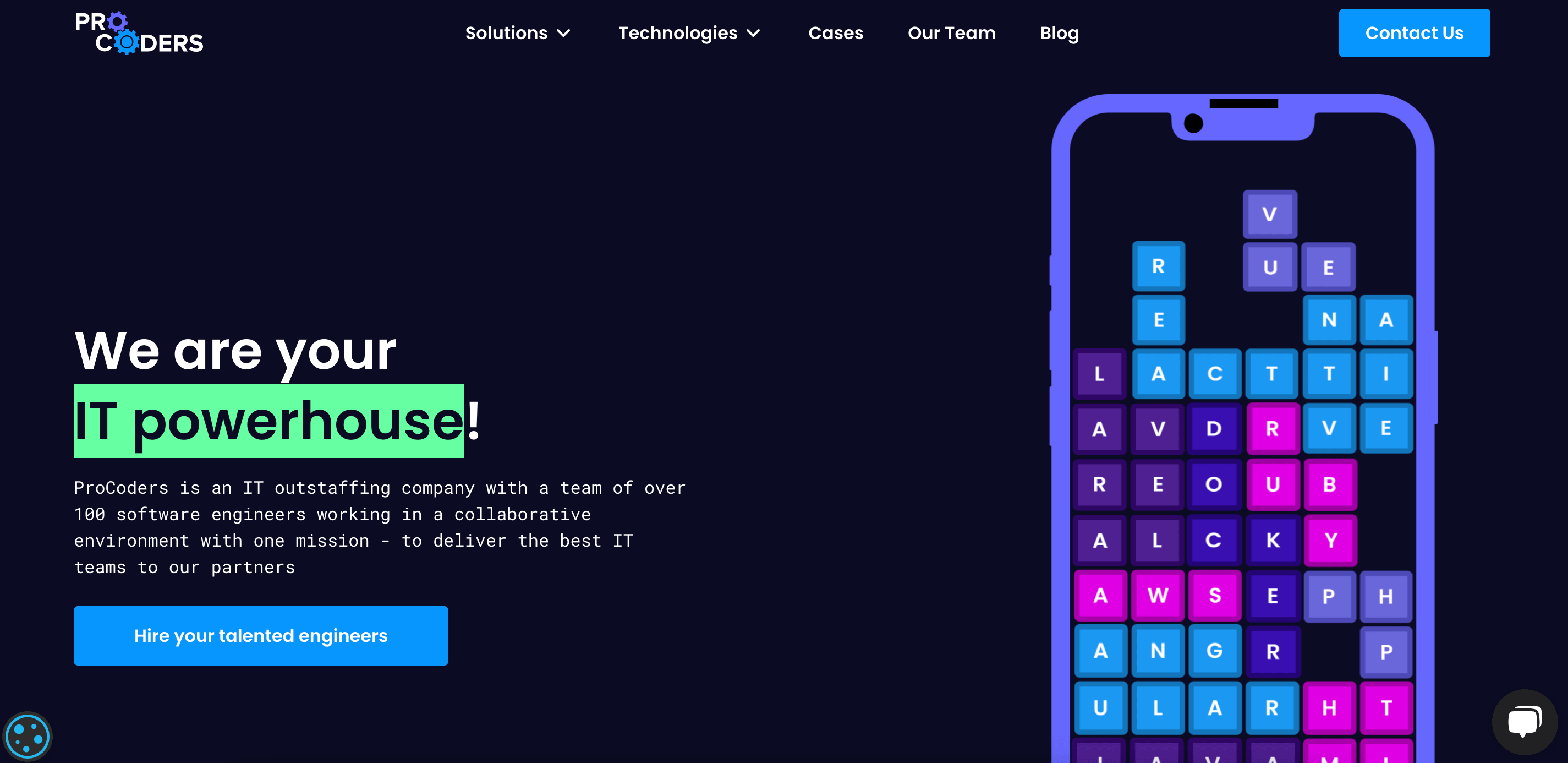 Renowned for its cutting-edge approach to Flutter development, ProCoders has over 150 skilled software engineers united by a singular mission: to supply its partners with exceptional talent.
Since its inception in 2015, ProCoders has established a collaboration with over 150 engineering units globally, igniting innovation from North America to remote corners of the planet. Based in Central Europe, ProCoders' creations embody quality. Their developers infuse expertise into every line of code, leaving an indelible mark on notable Flutter projects. They'll expedite your journey to success by harmonizing your project with top-tier development talent through a streamlined onboarding process.
A diverse range of clients vouches for their exceptional capabilities, spanning various sizes and business domains. ProCoders leverage their team's collective expertise to craft experiences that epitomize excellence, a commitment evident in every interaction. When you engage ProCoders' Flutter app developers in Ukraine, you enlist a group of coding pros ready to bring your project to realization swiftly and at the highest level.
Services and expertise: staff augmentation, custom web and mobile app development, self-managed dedicated teams, software discovery phase, ChatGPT software development
Tech stack: Flutter, Node.js, Vue.js, React.js, JavaScript, PHP, Laravel, NestJS, React Native, .NET, C#, Ionic, TypeScript, etc.
Industries: Healthcare, Marketing, Entertainment, SaaS, Logistics, IoT
Clients: Frontegg, SameDay, Expandigo, SIRL, Roth River, Open LMS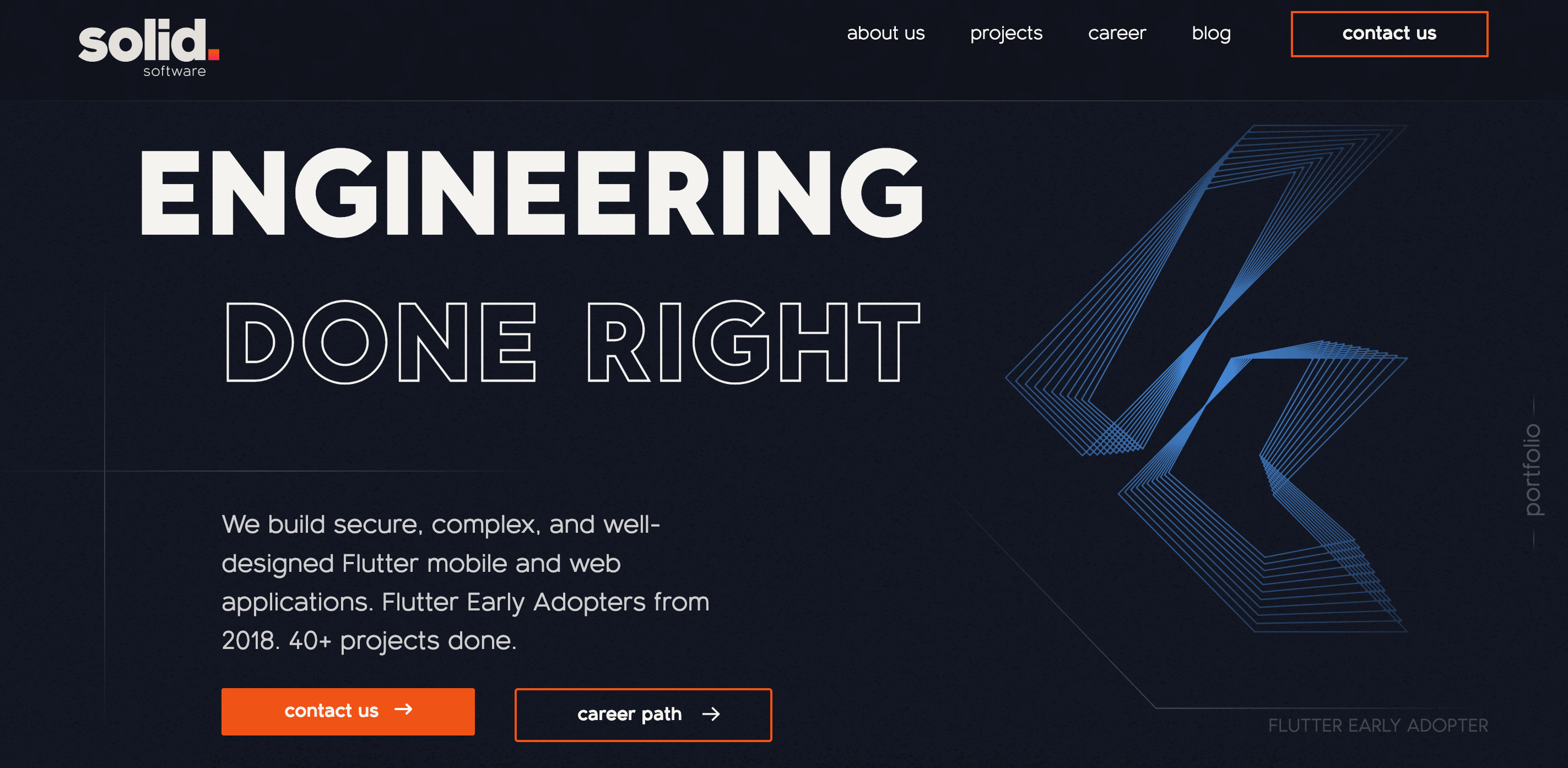 With a legacy rooted in meticulous engineering, Solid Software has been at the forefront of Flutter's evolution since 2018, boasting a rich portfolio of 40+ projects. Their comprehensive approach encompasses the analysis, architecture, design, and implementation of complex Flutter applications, whether cloud-based or serverless.
As an exclusive member of the Flutter for Web early adopters program, a distinction earned among thousands of applicants, the agency leverages industry best practices and standards to transform client objectives into reality. Furthermore, as a founding member of the Mobile Native Foundation, Solid Software pioneers collaborative endeavors to enhance processes and technologies for large-scale mobile applications.
In the world of Flutter app development, Solid Software is raising the bar for innovation, security, and design.
Services and expertise: Flutter and Dart app development, ongoing maintenance and support, tech consulting
Tech stack: Flutter, Dart, JS
Industries: Robotics, Healthcare, Productivity
Clients: startups and SMBs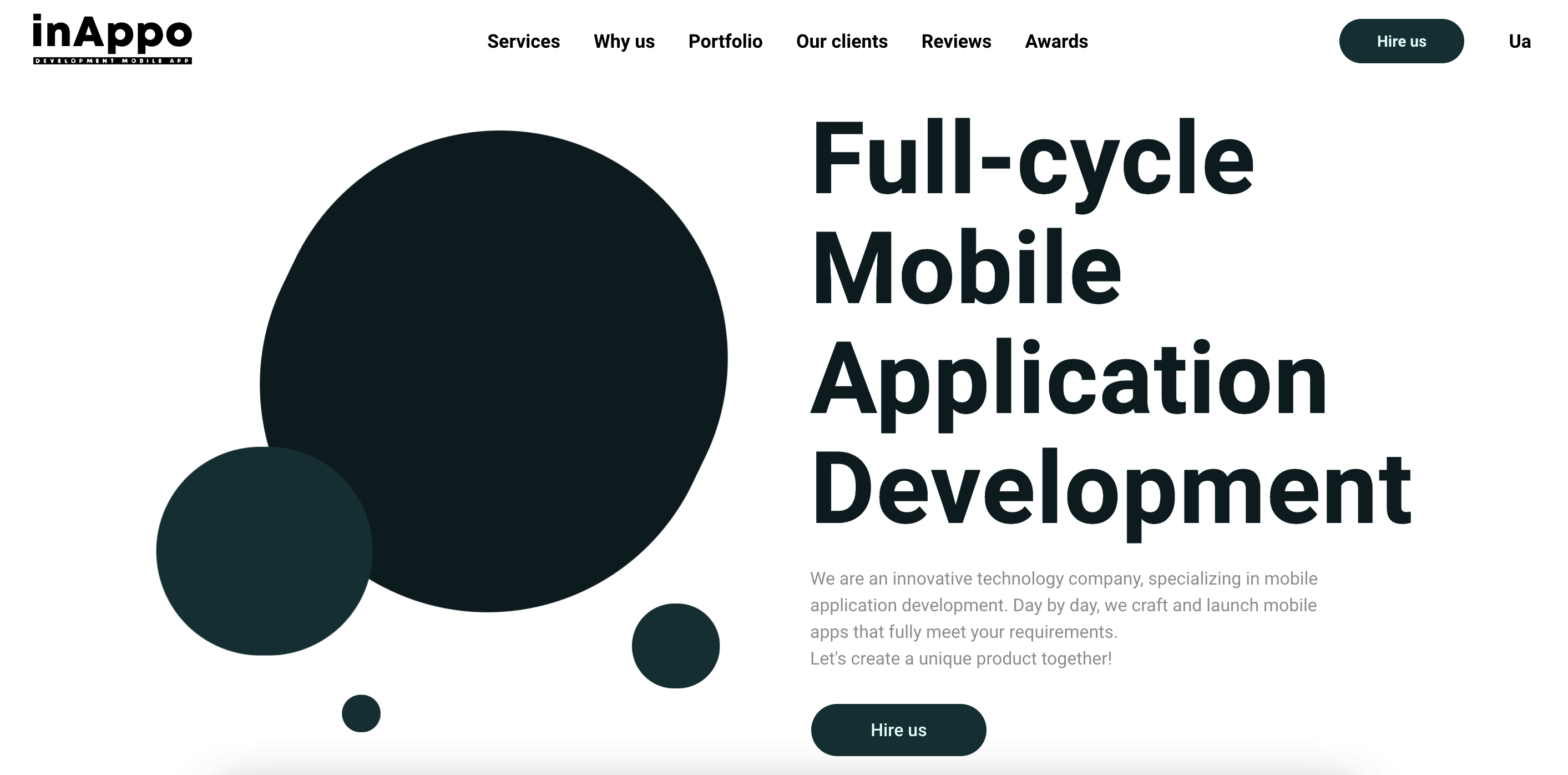 Founded in 2019, InAppo mobile application development firm offers proficiency, excellence, and commitment to Flutter outstaffing, ensuring a comprehensive suite of services to cater to various requirements.
As a true testament to its prowess, InAppo has garnered recognition from industry stalwarts such as GoodFirms, Clutch, and Upwork, consistently securing 5-star ratings. Their hallmark lies in the unique blend of expertise, swiftness, and unwavering responsibility.
Holding a distinguished position among Kyiv's finest tech talents as a top Flutter app development company in Ukraine, InAppo has left an indelible global imprint on the mobile app development landscape.
Services and expertise: outstaffing mobile development, native mobile app development, cross-platform app development, consulting, admin panel development, prototyping and designing
Tech stack: Flutter, Swift, React Native, Java, Objective-C, etc.
Industries: Healthcare, Transportation, Banking, eCommerce, Media and Entertainment
Clients: ATБ, Platon, DNTL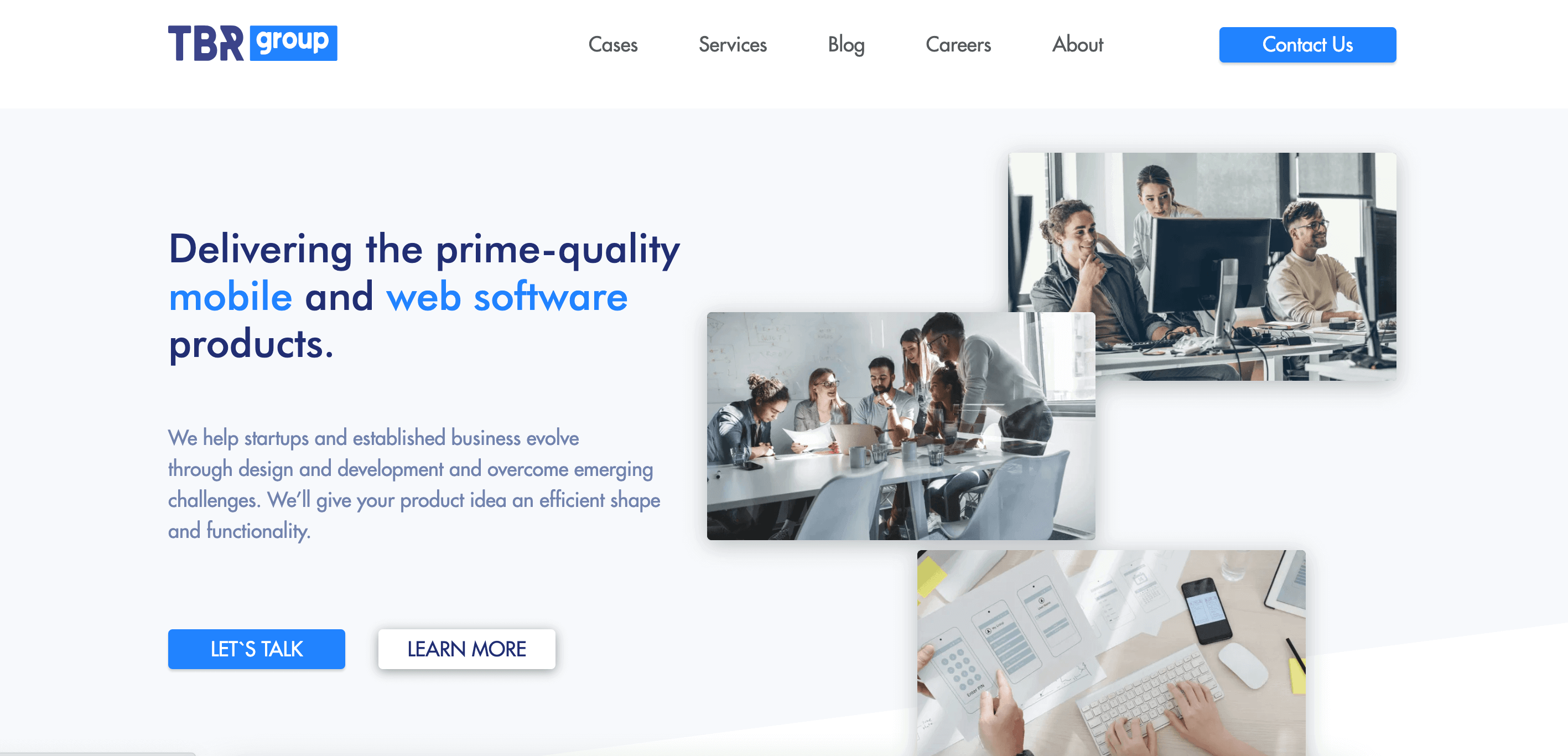 TBR Group has remained unwavering in its commitment to Flutter development services in Ukraine since its inception. Collaborating effectively with startups and established enterprises, the agency reshapes diverse industries with innovative solutions that go beyond regular. TBR Group's services have helped clients revolutionize banking, music streaming, healthcare interactions, and more, crafting native-like apps for different OSs that have earned recognition in prestigious publications like TechCrunch, Business Insider, and Product Hunt. 
Delivering paramount quality in mobile and web software products, TBR Group prioritizes precision over haste to ensure an astute and forward-looking approach to development.
Fuelled by a professional passion, TBR Group approaches each project with deep dedication. Embracing challenges, championing quality, and evolving with technological shifts, TBR Group does its best in Flutter app development. 
Services and expertise: mobile development, web development, product design, support and management 
Tech stack: Flutter, Xamarin, C#, Python, C, C++, Swift, Kotlin
Industries: Banking, Media and Entertainment, Healthcare
Clients: startups, medium businesses, and enterprises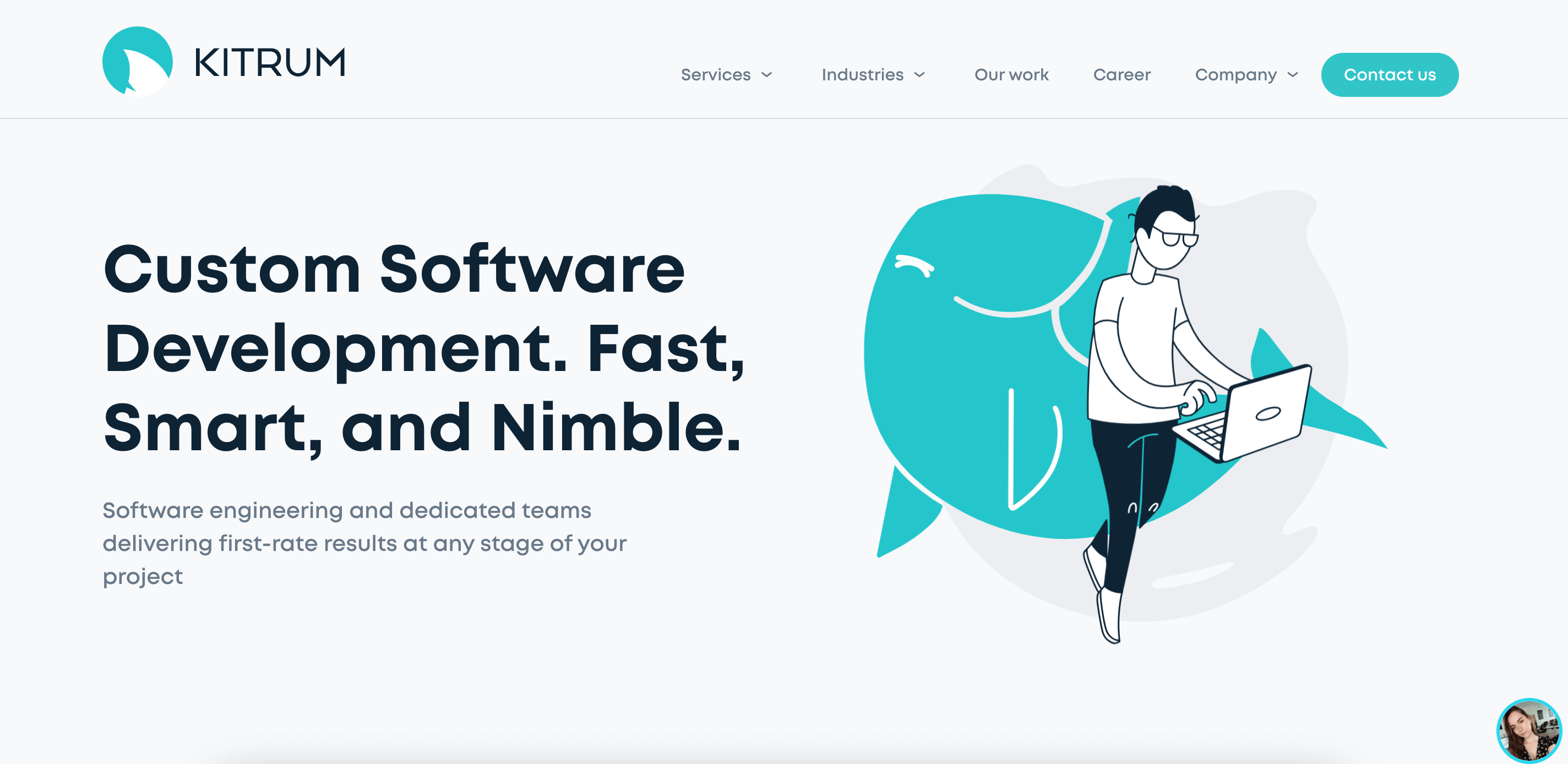 Inspired by a mission to transform business journeys with digital excellence, KITRUM aligns with your goals and empowers innovations using the Flutter tech stack. From the initial stages of prototyping and strategic planning to the final implementation, their holistic approach ensures success. 
KITRUM excels in seamlessly integrating various data sources, enhancing the value of your products, and delivering an unparalleled user experience. For those businesses focused on optimizing internal processes, the agency's expertise in mobile app development is a strategic answer. This approach not only enhances operational efficiency but also contributes to heightened customer satisfaction, all in a single, strategic move.
Bringing a wealth of industry-specific proficiency to the table, spanning diverse sectors from healthcare to fintech, KITRUM's top Flutter developers in Ukraine will eagerly take on your project.
Services and expertise: software development outsourcing, web app development, mobile app development, software testing & QA, Big Data & Analytics, AI & ML, cloud software, UI/UX
Tech stack: Flutter, C#, AWS, Go +, React Native
Industries: Fintech, Healthcare, Biotech, eCommerce, Ad tech, Media & Entertainment, Education, Automotive
Clients: Airbnb, Fiverr, Pick Watch, Citrix, Online Rewards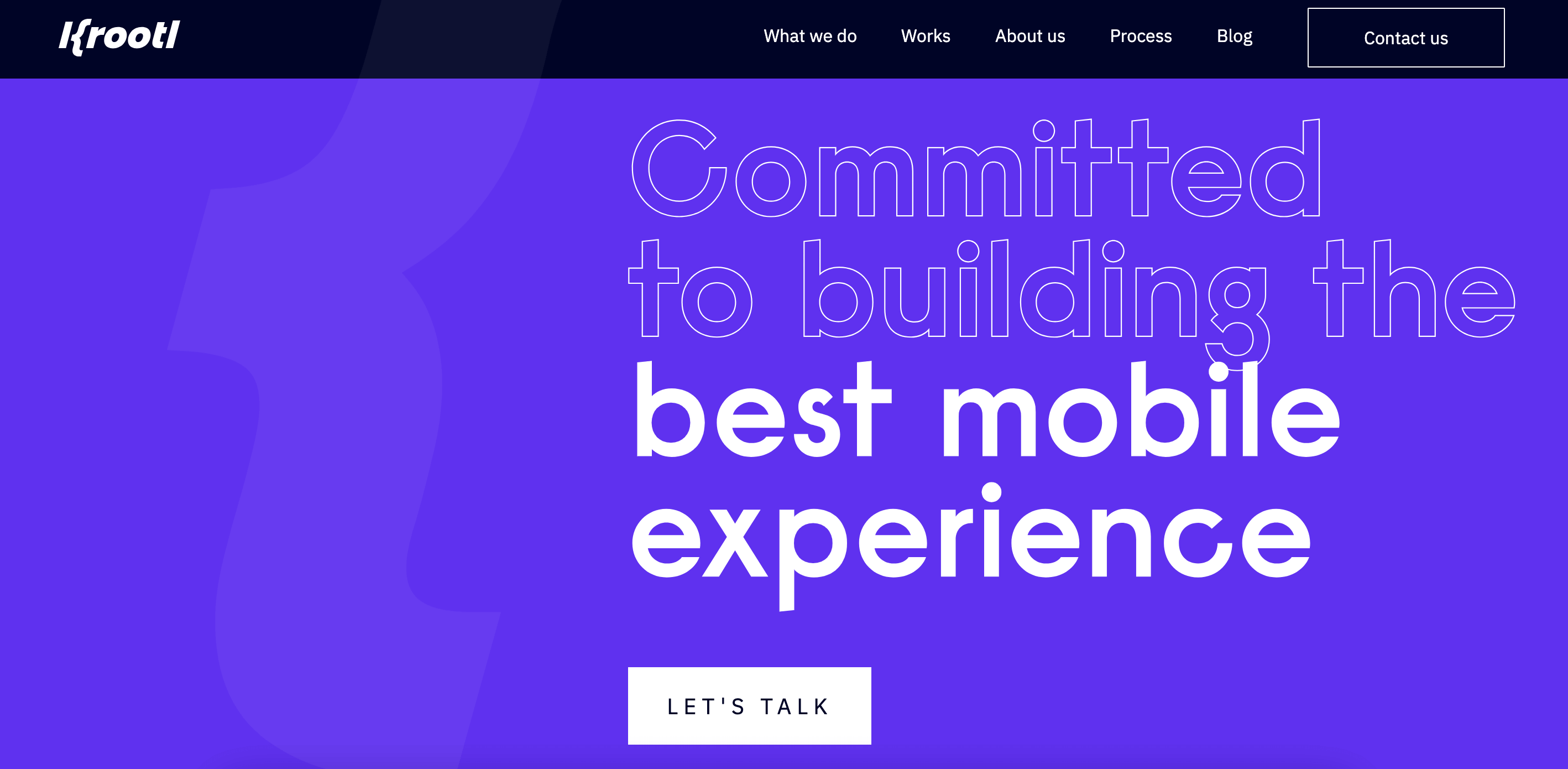 Founded in 2018 in Kyiv, Krootl is another company that provides premier Flutter development services in Ukraine. From conceptualization to launch, the agency delivers applications that not only cater to business requisites but also drive substantial revenue streams.
Offering unmatched expertise in cross-platform applications, supplemented by adept backend and API, the agency ensures comprehensive support throughout the entire app development journey and even further. 
Distinguishing itself, Krootl serves as a strategic partner, not merely an outsourcing vendor, as each project is imbued with the agency's essence – Plan, Design, Develop, Scale. Nurturing startups and global giants alike, Krootl's journey from its inception has been nothing short of remarkable, solidifying its position as a top Flutter app development company in Ukraine.
Services and expertise: strategic business consulting, product design, web and mobile app development, support and growth, team augmentation
Tech stack: Flutter, React Native, React, PHP, Objective-C, etc.
Industries: Healthcare, Finance, Entertainment, E-Commerce, Retail
Clients: small businesses, enterprises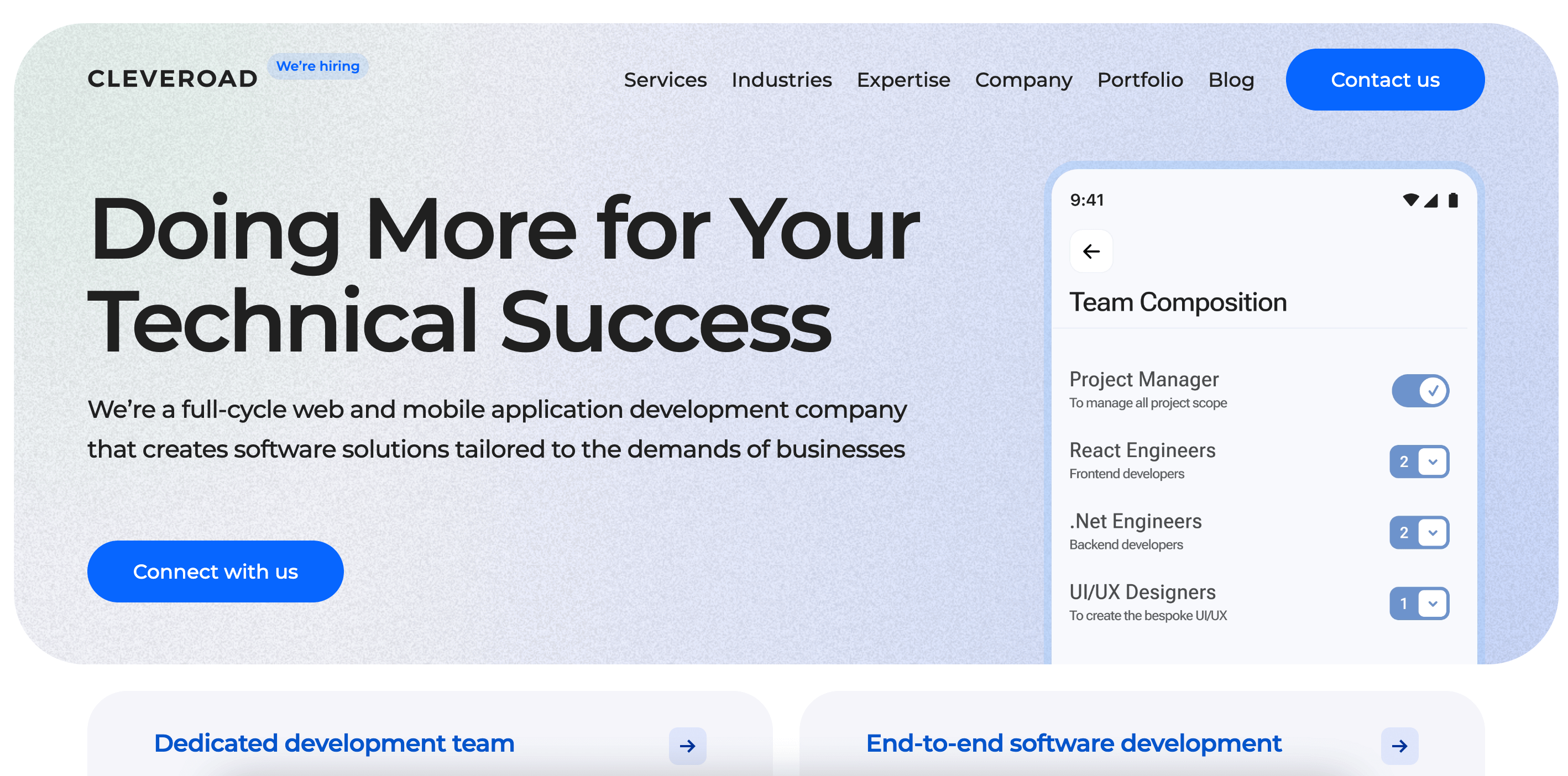 Another company known for its top-tier Flutter app development specialists – Cleveroad. With a passion for crafting intricate, innovation-driven solutions and a steadfast dedication to transparency and guaranteed product delivery, Cleveroad has become a reliable partner for businesses of all sizes.
Founded in 2014, the company has rapidly expanded its presence globally, with offices in Ukraine, the US, and Norway and a team of over 100 specialists. Their proficiency in cross-platform solutions can help businesses accelerate product launches, reduce development time, and provide a native-like app experience for end-users, all while adhering to Apple and Google design guidelines.
From the very first contact, they immerse themselves in understanding the client's unique challenges, defining project scopes, outlining timelines, and estimating costs, ensuring that their customers are confident in the quality of service they'll receive.
Services and expertise: mobile development, web development, cross-platform development, dedicated team, UI/UX design, DevOps
Tech stack: iOS, Android, Flutter, React Native, etc.
Industries: Telecom, FinTech, Healthcare, Agriculture, Logistics, eCommerce, Real Estate, and Media
Clients: Virgin Atlantic, TDC Denmark, HSBC, DPD Group
Conclusion
This list is destined to be expanded as an increasing number of Flutter development companies emerge, showcasing their unwavering reliability and profound expertise in this feature-rich tech stack.
If your business is in search of a multi-platform presence, consider hiring the best Flutter developers in Ukraine to obtain the perfect product-market fit, including not only cost-efficiency but also steadfast support through the course of development.
If you want to add your Flutter development company to this list, contact us via email, and after a thorough review, we'll decide whether it's a valuable addition.