Ukraine is one of the most promising IT outsourcing destinations in the world. 
This country has a great pool of talented and experienced professionals delivering top-notch software solutions at competitive rates. We have compiled this list to help you find the best Ukrainian IT staff augmentation company to extend your team and close existing skills gaps.
The listed companies offer their rich experience, expertise, and resources to reinforce your team, covering software development, web design, mobile app development, quality assurance, and other parts of the IT production process. Their clients recognize their knowledgeable staff, high-quality services, competitive rates, and reliable customer support. 
So, let's take a closer look at the top IT staff augmentation service companies in Ukraine.
Best IT Staff Augmentation Companies In Ukraine

Varyence is a multinational company specializing in full-cycle software development, web & mobile development, data science, AI, ML, IoT, cybersecurity, cloud infrastructure services, and compliance automation services. Founded in 2012, the company has opened numerous offices in Ukraine, Croatia, and the US. 
Varyence will extend your team, focusing on delivering high-quality services, and giving you access to the broad talent pool of senior developers, QA engineers, and other IT experts you may need to complete the most intricate and urgent projects. 
With over 10 years of experience, the company has helped hundreds of clients optimize their business processes through high-end software solutions, speeding the time to market and adding the missing piece of the puzzle to the success of startups and enterprises.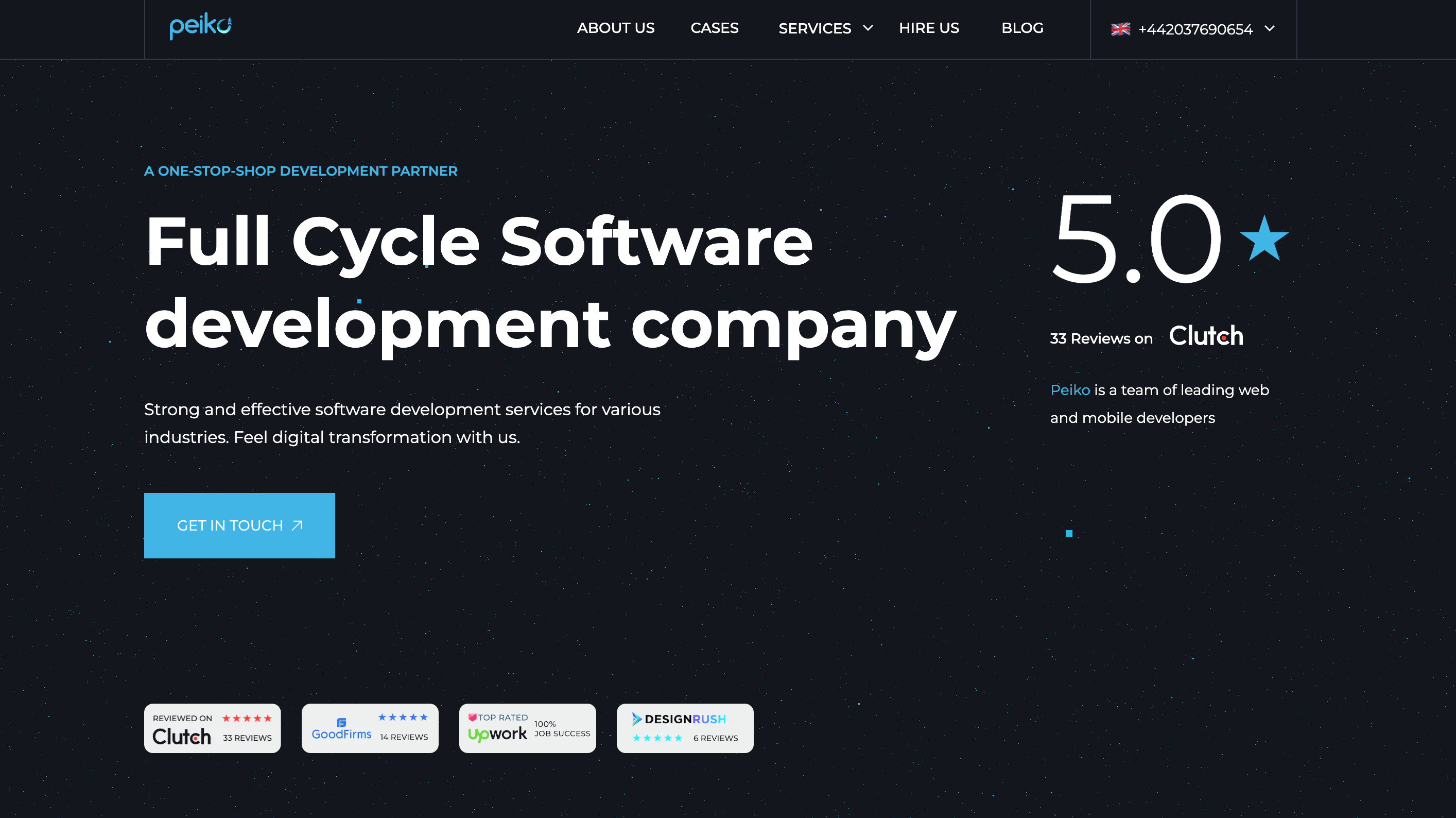 Peiko is a Ukrainian staff augmentation company that provides skilled staff to solve the most challenging and technically complex digital projects, raising the product quality for the leading global IT markets. 
The company's mission is to empower its customers to improve the world with the use of the software. They offer leading brands and start-ups the chance to develop, succeed, and make more money using custom tools and commercial solutions that their fantastic team creates.
Peiko offers a great spectrum of IT services, including outstaffing, dedicated development teams, web development, software development, cryptocurrency development, app development, blockchain development, web design, software outsourcing, and DevOps.
Their proficient staff implements projects using Angular JS, CSS, Django, HTML, Laravel, MongoDB, MySQL, PHP, PostgreSQL, React JS, Redis, Yii2, Node JS, Symfony, Vue JS, Swift, Java, and Objective-c technologies.
BroCoders is an award-winning IT staff augmentation company in Ukraine that will assist you throughout the entire software development cycle, from ideation and building MVP to complete workflow optimization and further assistance. 
With over 97 professional in-house engineers possessing extensive technical skills and 10,000+ IT candidates in their database, the company will provide you with the necessary talents to extend your team to complete projects on time and at the highest level. They'll allocate the experts needed within 5-7 days, saving you time and money on recruitment tasks. In addition, you can contact them to get a free consultation and project estimation.
If you're building complex B2B/B2C SaaS solutions, advanced web or mobile applications, or require IT strategy consulting, BroCoders will become your reliable partner to scale up and handle your project of any complexity. 
Being on the market for over 9 years now, they've helped numerous businesses in Marketing and Advertising, Fintech, Fitness and Sport-tech, and E-learning industries to grow their on-site team and close critical skill gaps. 
BroCoders was rated as a Top B2B Company in 2022 according to Clutch, a Top Software Development Company according to GoodFirms, a Trusted Partner in 2022 according to YouTeam, and a Top Outsourcing Software Development Company according to DesignRush.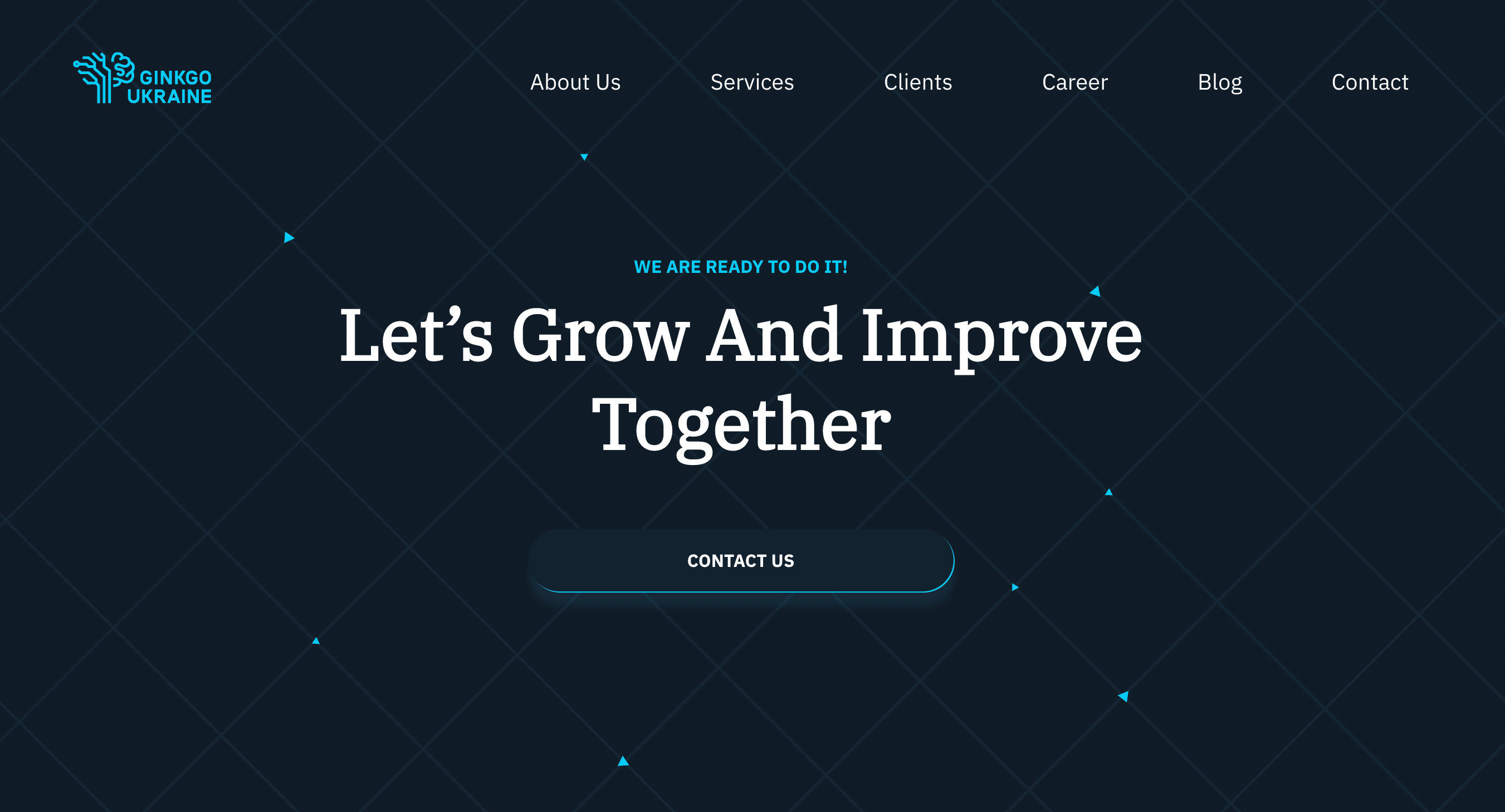 Ginkgo Ukraine is an IT company devoted to making businesses operate more smoothly and efficiently by consulting, forming augmented and dedicated teams, developing backend systems, and automating robotic procedures. They help organizations improve the process flow and cost efficiency while bringing their products to market much faster through custom software development from scratch and IT staff augmentation.
Since 2018, Ginkgo Ukraine has delivered numerous successful projects independently and as a part of the augmented teams, gaining a reputation as one of the most trustworthy staff augmentation companies. The company provides top-level specialists, cutting-edge integration technology expertise, and the best industry practices to deliver outstanding solutions. Reinforce your team with backend developers, QA engineers, or other professionals from GinkGo Ukraine at your request.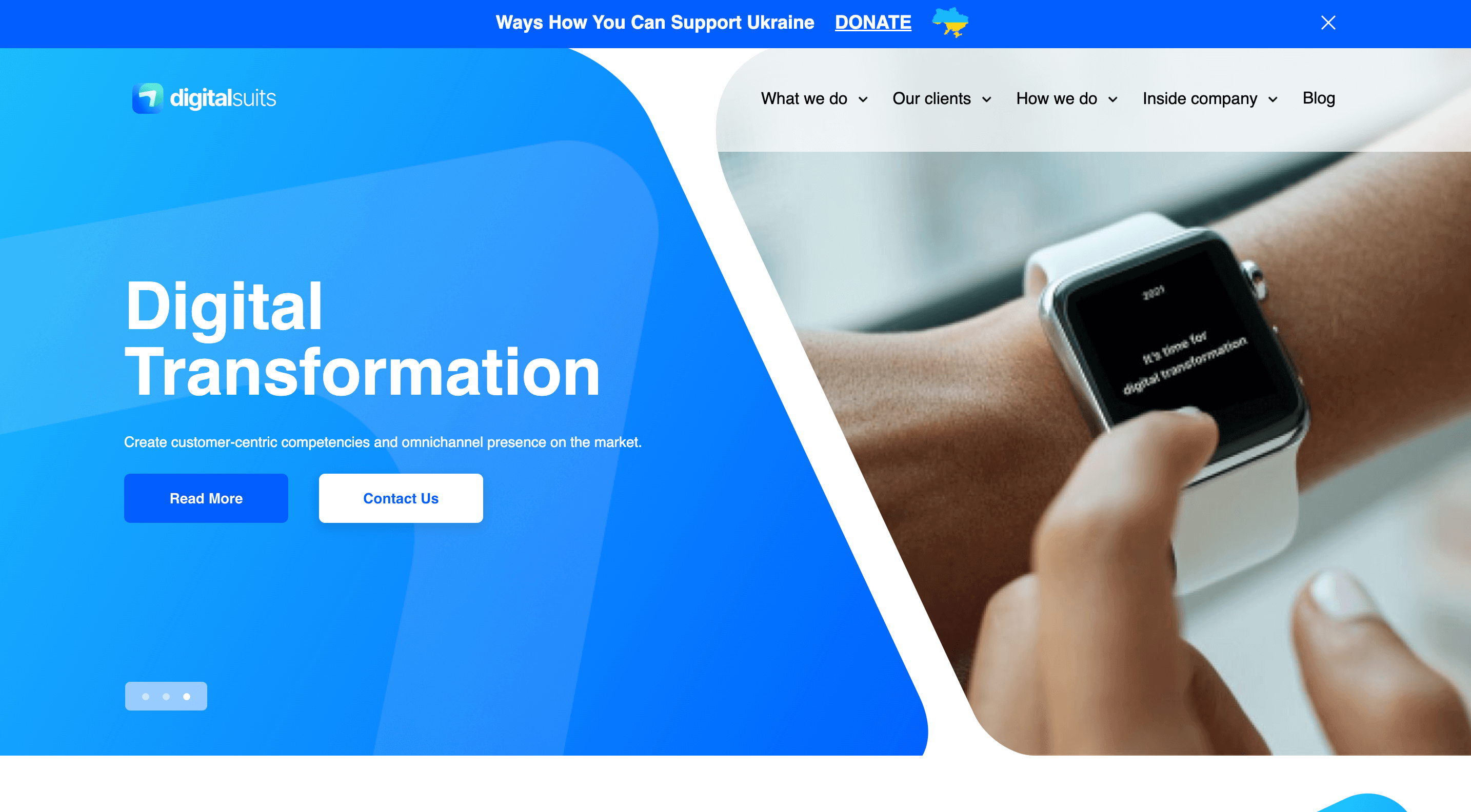 DigitalSuits lets clients procure a skilled workforce to help them tackle their software difficulties and create high-quality solutions. Their services are tailored to their client's unique requirements and assignments so that the end product may be swiftly completed while staying within budget and schedules.
DigitalSuits provides experienced developers skilled in technologies such as JavaScript, NodeJS, ReactJS, and Shopify. Their expertise includes eCommerce solutions, digital transformation, custom product development, web development, SaaS solutions, dedicated teams, testing, UI/UX design, maintenance and support, and IT consulting.
The company extends teams working in the Real Estate, Retail, and Insurance industries.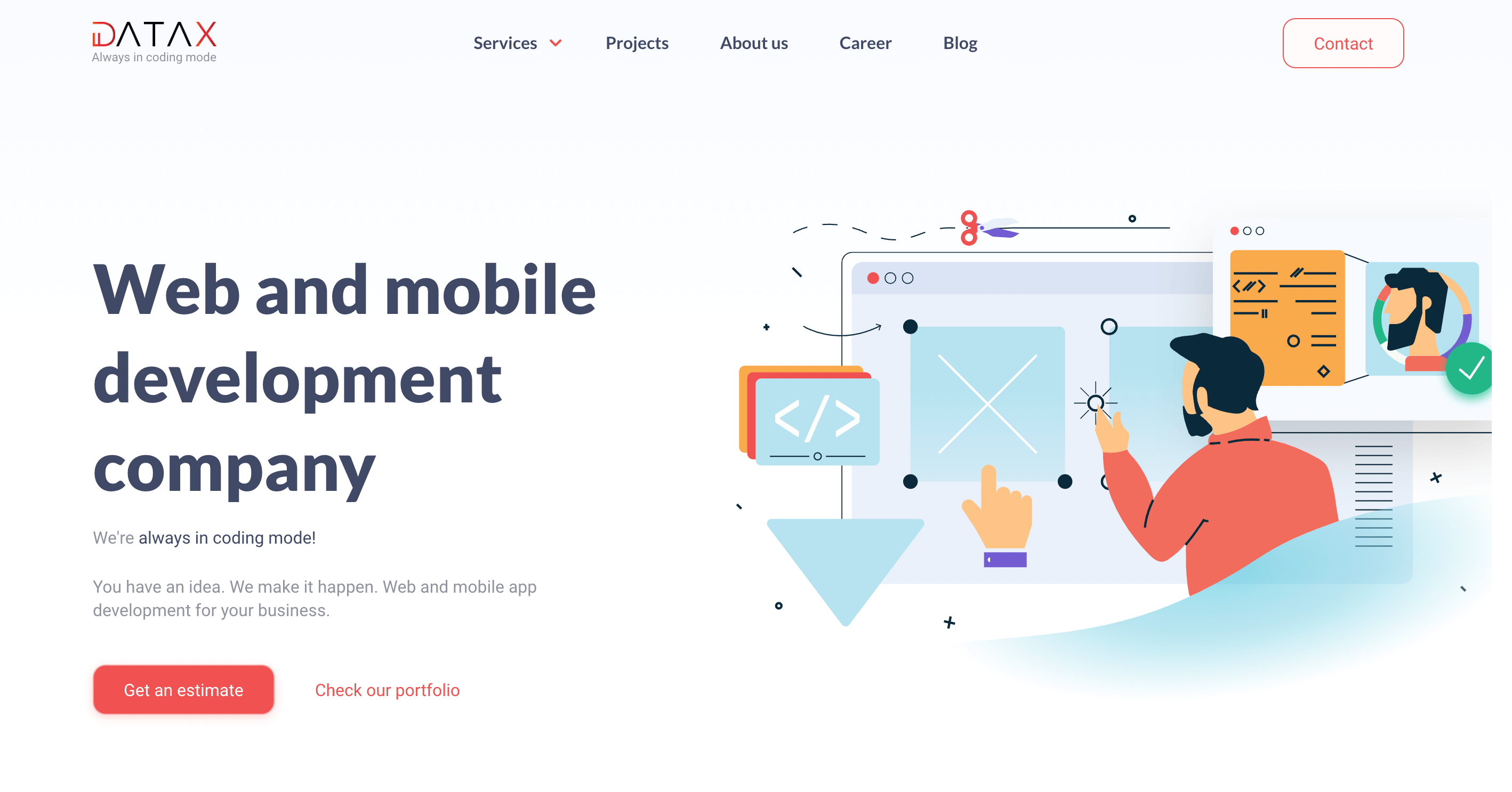 The leading B2B service provider in Ukraine, DataX, offers a wide range of IT services like professional team building, custom software development, product quality evaluation, etc. Their talented staff has successfully completed over 115 projects using the latest programming languages and libraries, achieving an 87% returning customer rate. 
DataX enables small and medium businesses to take advantage of global talent through their in-depth technical knowledge. Their primary areas of expertise are backend development, software integration, and SaaS development. Thanks to the DataX team's strong scientific background, they're able to implement projects of any complexity, ensuring product safety on the market. 
They serve clients within various industries, covering Java development, .NET development, iOS development, Android development, and Travel software development.
Being rated as one of the top web developers by Clutch for several years in a row, DataXDev confirms its ranking by delivering quality, trust, and outstanding communication.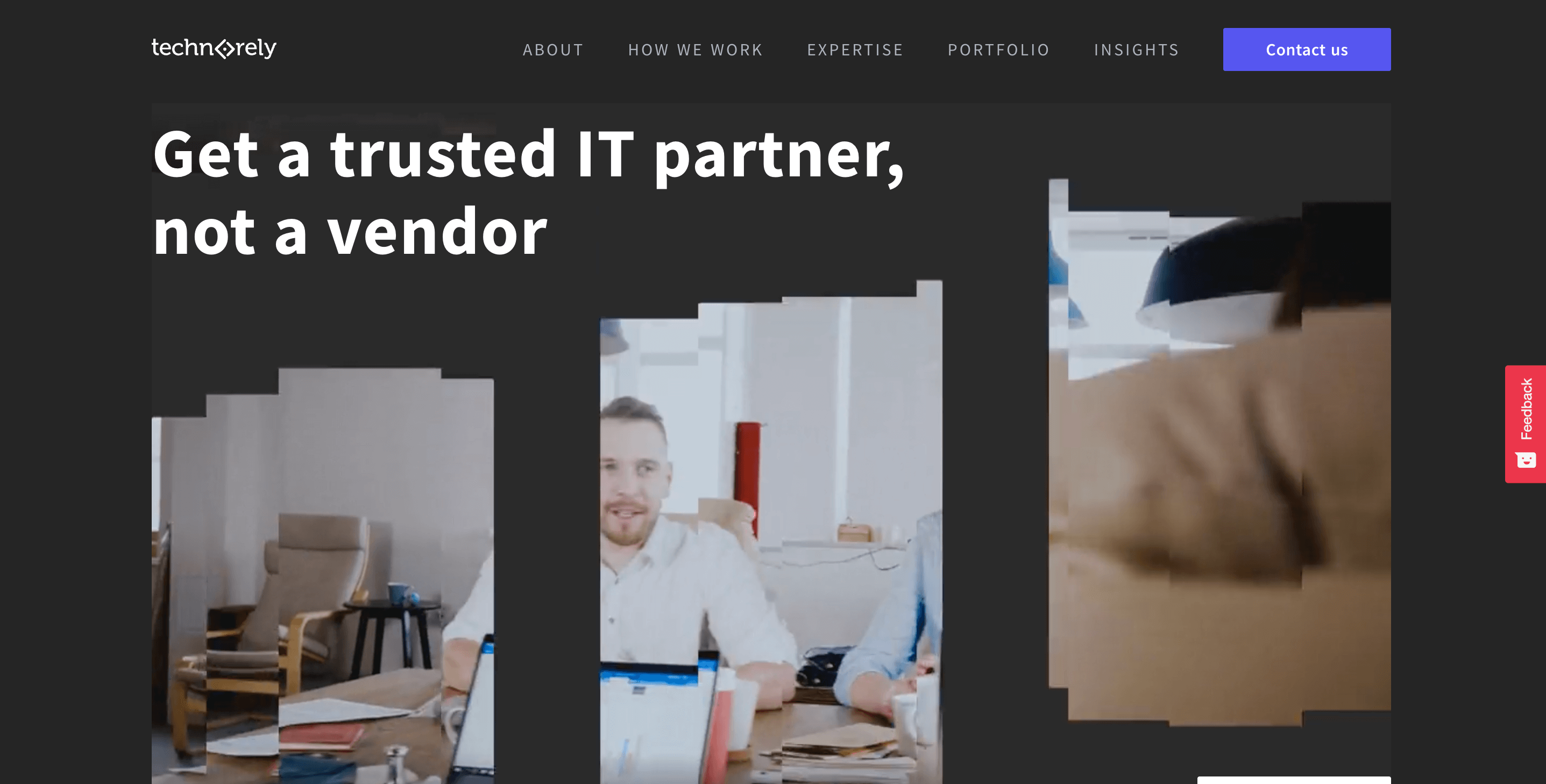 Technorely is one of the best IT companies in Ukraine, offering a wide range of services, including staff augmentation and custom software development. Extend your superior team with their talented developers, designers, QA specialists, and other experts by your request to deliver high-quality digital solutions for customers in Healthcare, Fintech, Industrial Software, Logistics, Travel and Hospitality, and Blockchain industries. Their team is highly motivated and proactively approaches each project, which is why European and American companies chose them as go-to staff augmentation partners.
Whether you need to close a skills gap or complete an urgent project, Technorely will help you implement all sorts of projects, meeting deadlines and ensuring brilliant quality. Be it the development of business analytics, online app, mobile app for iOS and Android, desktop app for macOS, Windows, or Linux, or a blockchain system, as well as IT support and quality assurance — they've got you covered. In addition, Technorely's experts can help you create brilliant UX/UI designs for a website or a mobile app.
So if you're searching for a reliable staff augmentation partner for goal-oriented, effective IT cooperation, Technorely is your one-stop company to work with!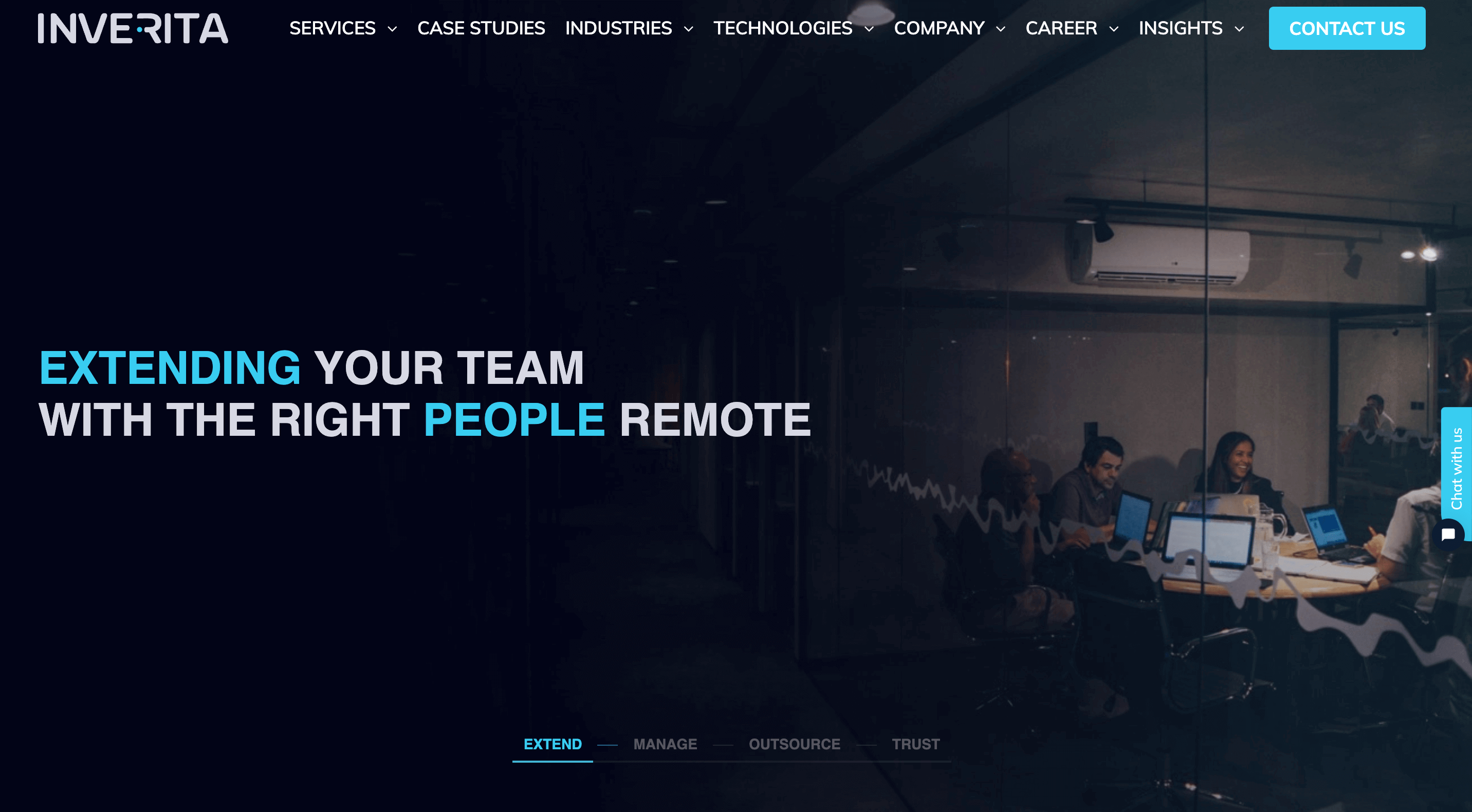 InVerita is among the best IT outstaffing companies in Ukraine, with five years of industry experience. They provide first-grade experts with solid principles and a compelling vision in their approach to service provision to support various tech initiatives. 
The devoted teams at inVerita are heavily invested in providing services such as web development, mobile app development, QA, and UI/UX design. They deliver top-notch software solutions to clients in the following industries: Logistics, Fintech, Retail, Real Estate, Trading, E-learning, and Insurance. 
InVerita's rich talent pool is represented by developers skilled in technologies such as Node.js, .NET, JavaScript, Native, Flutter, and React-native.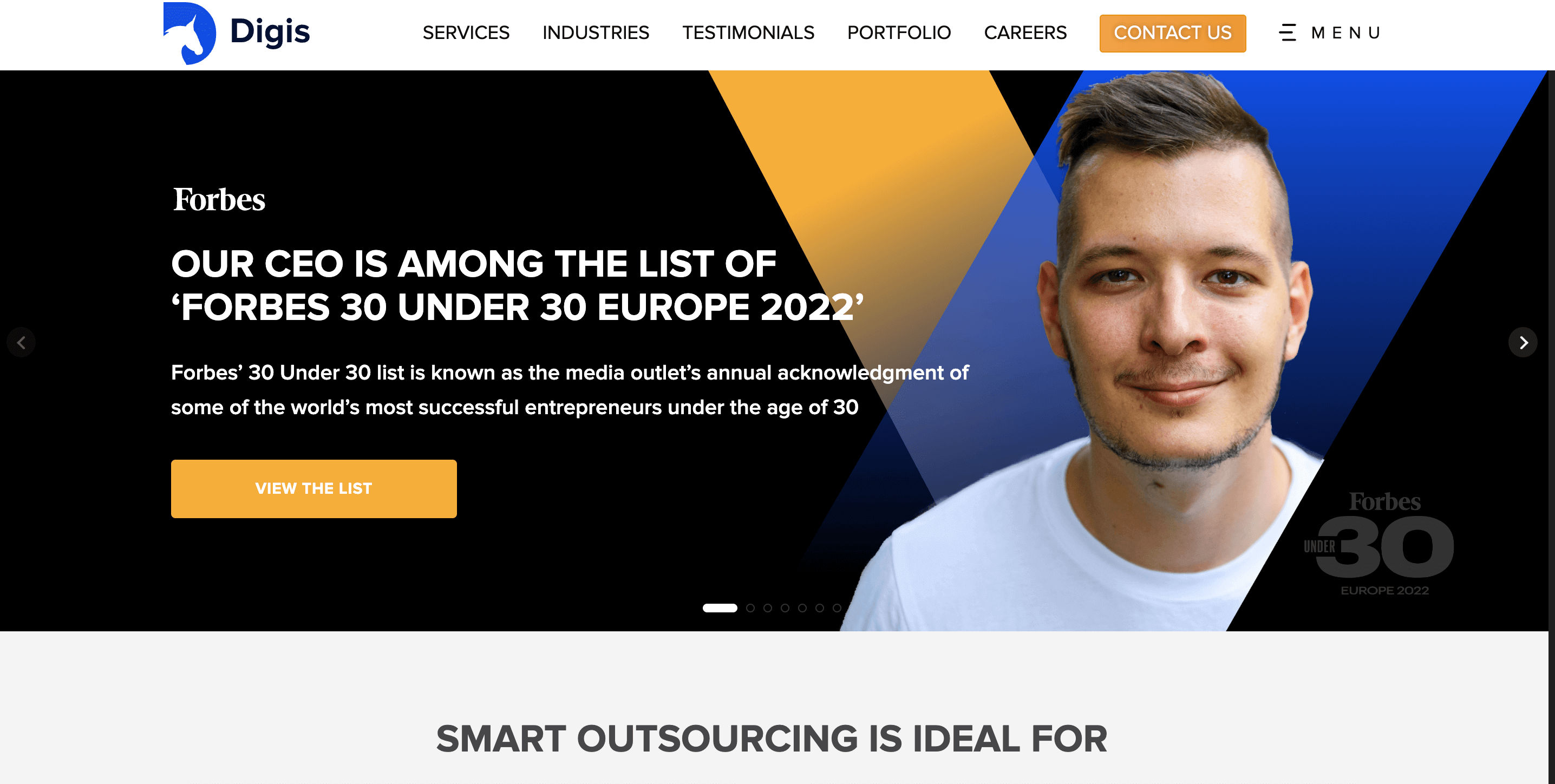 Digis provides scalable IT services, including staff augmentation, dedicated teams, and smart outsourcing. They have more than 150 expert engineers and other specialists on board who cover mobile development, web development, intelligent software engineering, and web & mobile design services at a high level. 
Clients from Fintech, Healthcare, and Mobility & Transportation industries can benefit from Digis' professionalism and advanced technological know-how.
KnubiSoft is a well-known Ukrainian company providing scalable staff augmentation services. They focus on creating first-rate software and producing distinctive solutions.
Their team possesses every area of knowledge required to launch the client's project and has the advanced technical expertise to enhance organizations of all sizes. KnubiSoft's services include team augmentation, software development, UI/UX design, QA testing, web development, banking digitalization, mobile development, business automation, cloud solutions, and AR/VR.
They work with businesses operating in the following industries: Fintech, Automotive, Education & E-Learning, Leisure & Travel, and Retail & Commerce.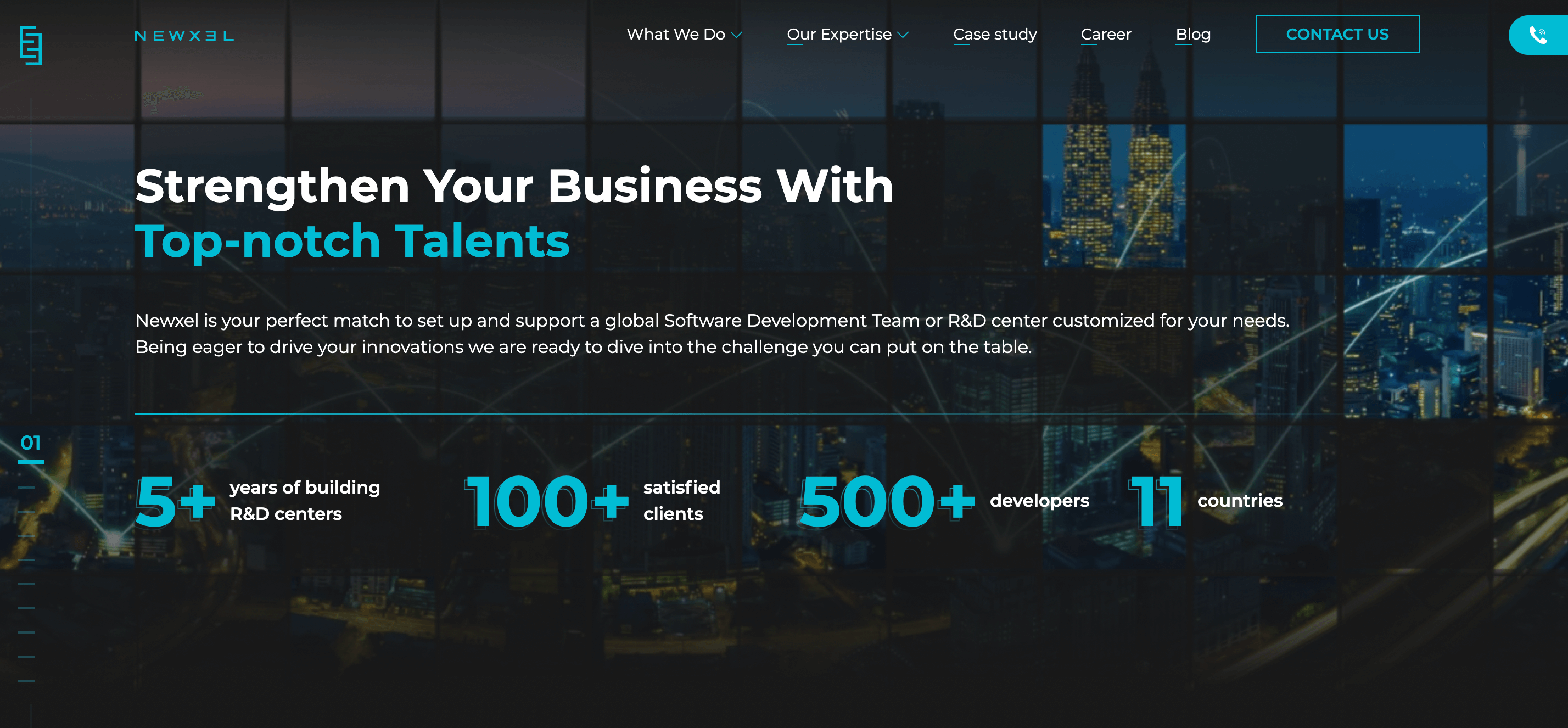 Newxel is a reliable and committed software augmentation partner headquartered in Ukraine with a global R&D Center. Offering the best software engineering team from Ukraine and other European countries, the company assists both startups and enterprises in scaling up and accelerating their business. 
Founded in 2016, Newxel has acquired vast expertise and over 500 experienced developers on board to deliver tailor-made solutions for the company's specific needs and work as an extension to their in-house development teams. 
The range of services they offer impresses: web and mobile development, embedded software, NFT, Big Data, and game development, as well as product design, QA, and IT support.
Having dedicated tech experts with comprehensive skill sets, Newxel will provide you with a top-level IT staff augmentation team that will deliver impactful digital products according to your requirements, business goals, and vision.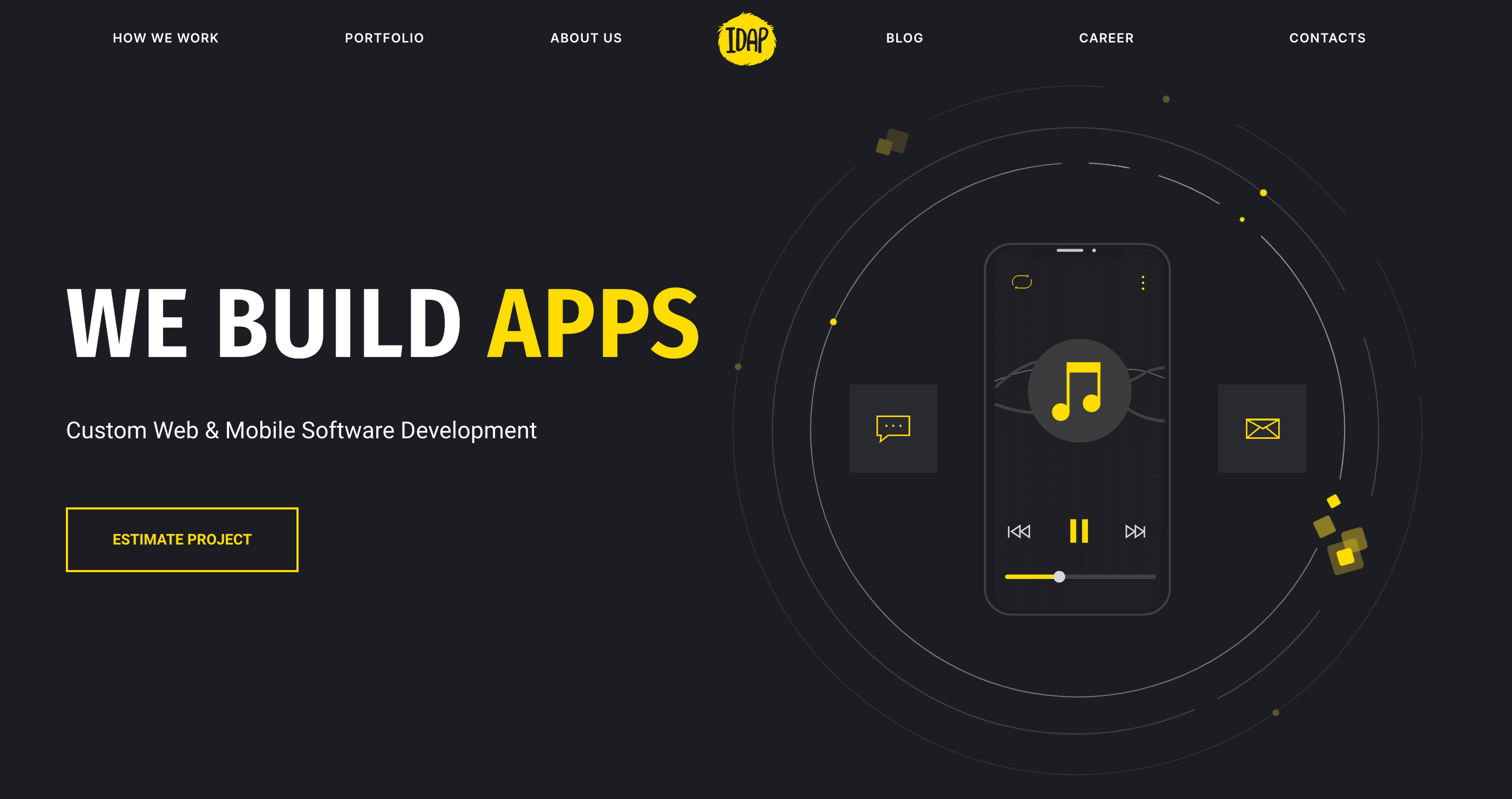 IDAP is an IT Staff Augmentation company based in Ukraine that can assist you at any stage of software development, from ideation to implementation. They offer a wide variety of services, including software development, web design and development, cloud computing solutions, and mobile app development. Their experienced professionals can take on any size project and make sure it's done right. 
The team at IDAP strives to help businesses reach their goals with custom-tailored IT solutions that are reliable and cost-effective. They can guarantee excellent results with their expertise and years of versatile experience in the industry. They are dedicated to providing reliable, secure, cost-effective, and scalable solutions for their customers' needs, from small web applications to complex enterprise systems. 
With IDAP, clients can be sure that their projects will be delivered on time with the highest level of quality. The company also provides full maintenance support, including bug fixing, performance optimization, and security updates. IDAP's primary goal is to make sure that each customer gets the most out of their investment on time and within budget.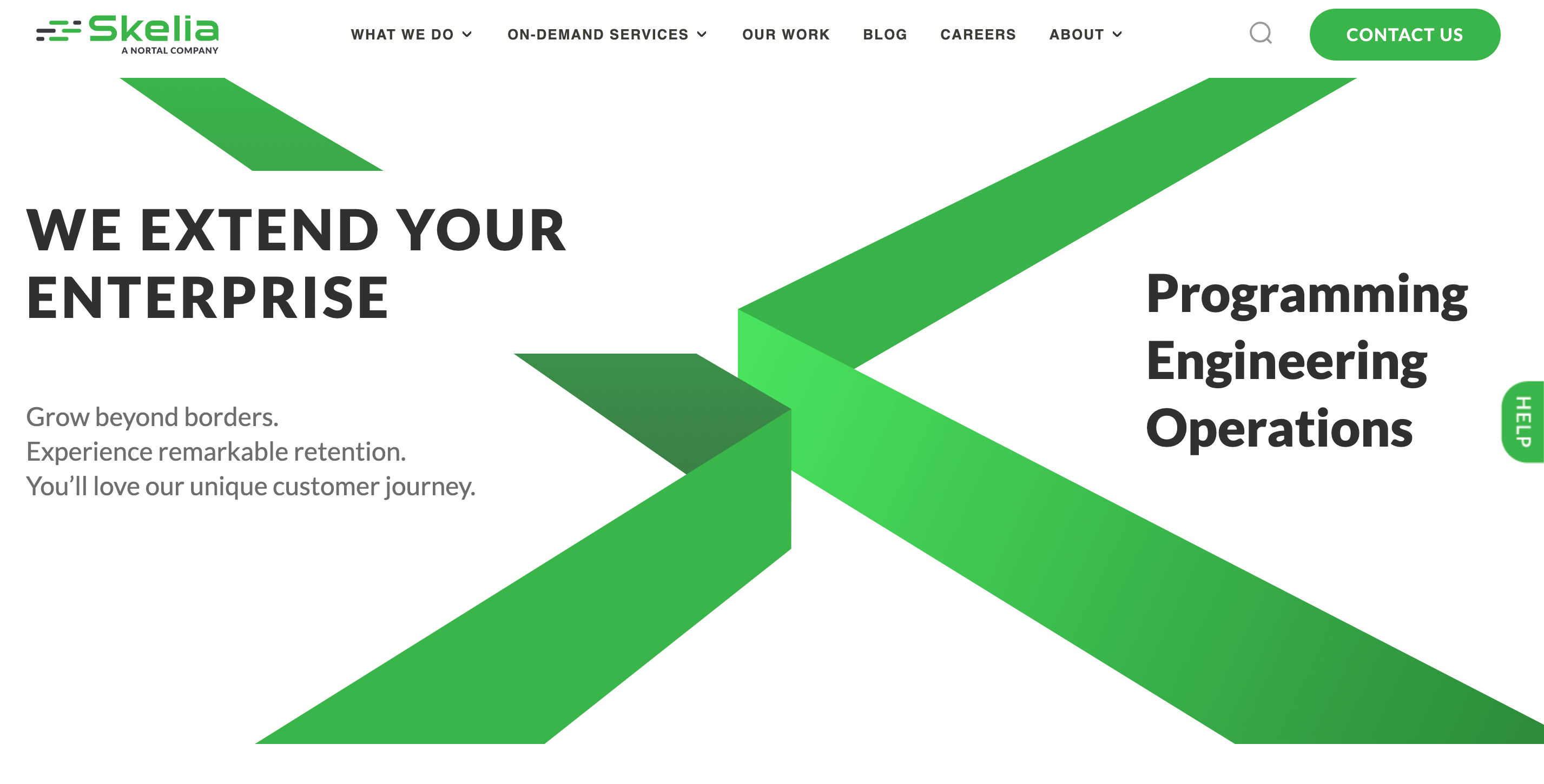 Skelia is a leading IT outstaffing company in Ukraine, providing first-grade services locally and worldwide. They have over 12 years of industry experience and offer various types of IT support, including consultancy, staff augmentation, and custom software development. Their talented developers are skilled in C#, .NET, Azure,  ASP.NET MVC, Java, Xamarin, iOS, C/C++, JavaScript, Android, Backbone.js, Angular.js, and React technologies.
Skelia creates international organizations as extensions of local teams and allows clients to acquire their IT specialists as a stand-alone business with no volume constraints. The company uses an open-book pricing strategy so that the client's team and budget remain under its management.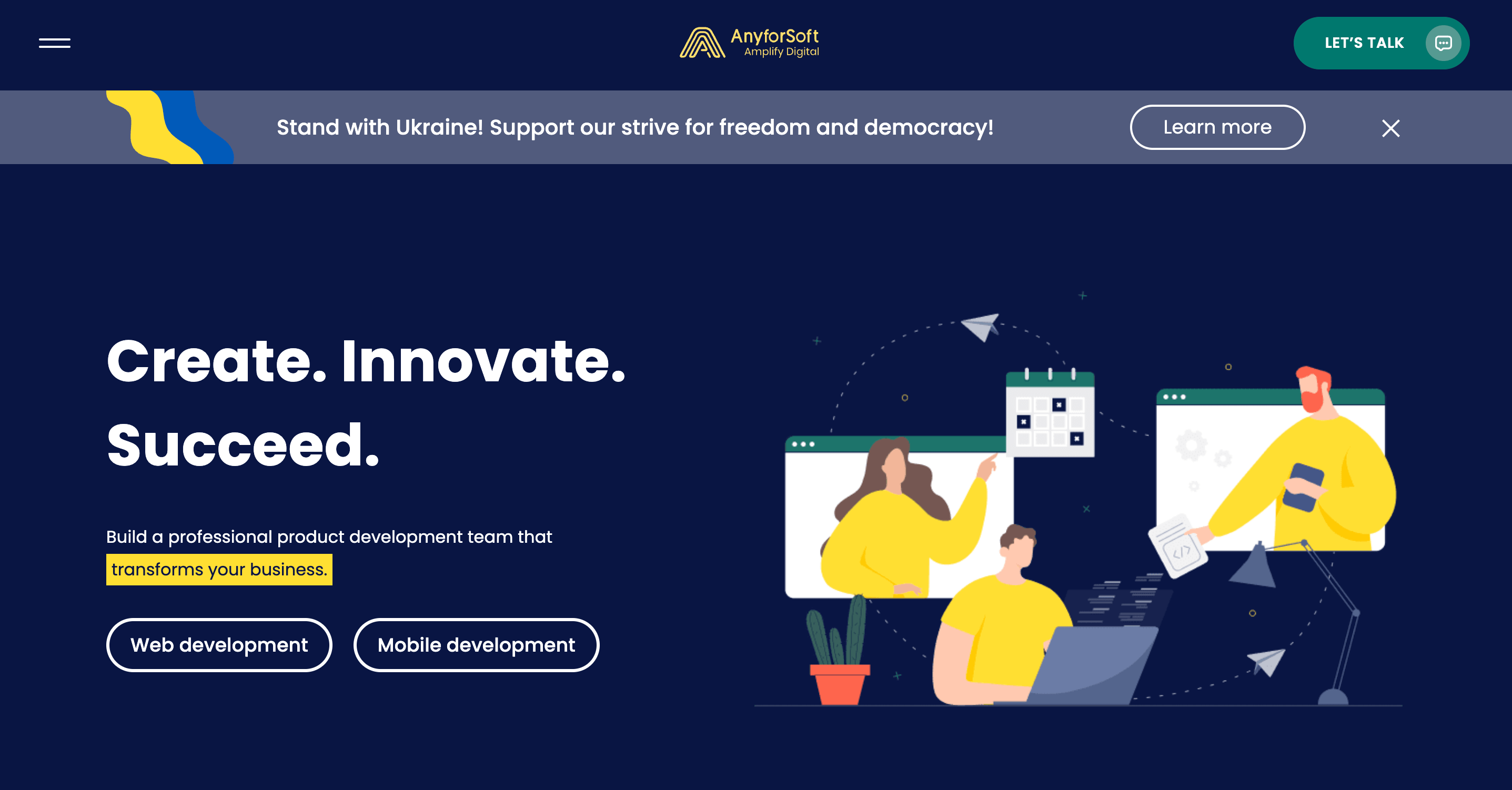 AnyforSoft has assured its clients' digital success by augmenting its workforce with top-rated specialists who helped them develop powerful custom software. They create various mobile and desktop applications to generate, change, and manage data through digital equipment. This helps their clients dramatically expand their audience reach and brand exposure. 
AnyforSoft provides services like design, custom web development, mobile development, support, and maintenance. They serve the following industries: Media & Entertainment, Custom E-Commerce, and FoodTech, and they use Drupal and JS technologies as core technologies.
AnyforSoft's tech wizards will develop high-quality software precisely suited to your objectives using their extensive and reliable experience.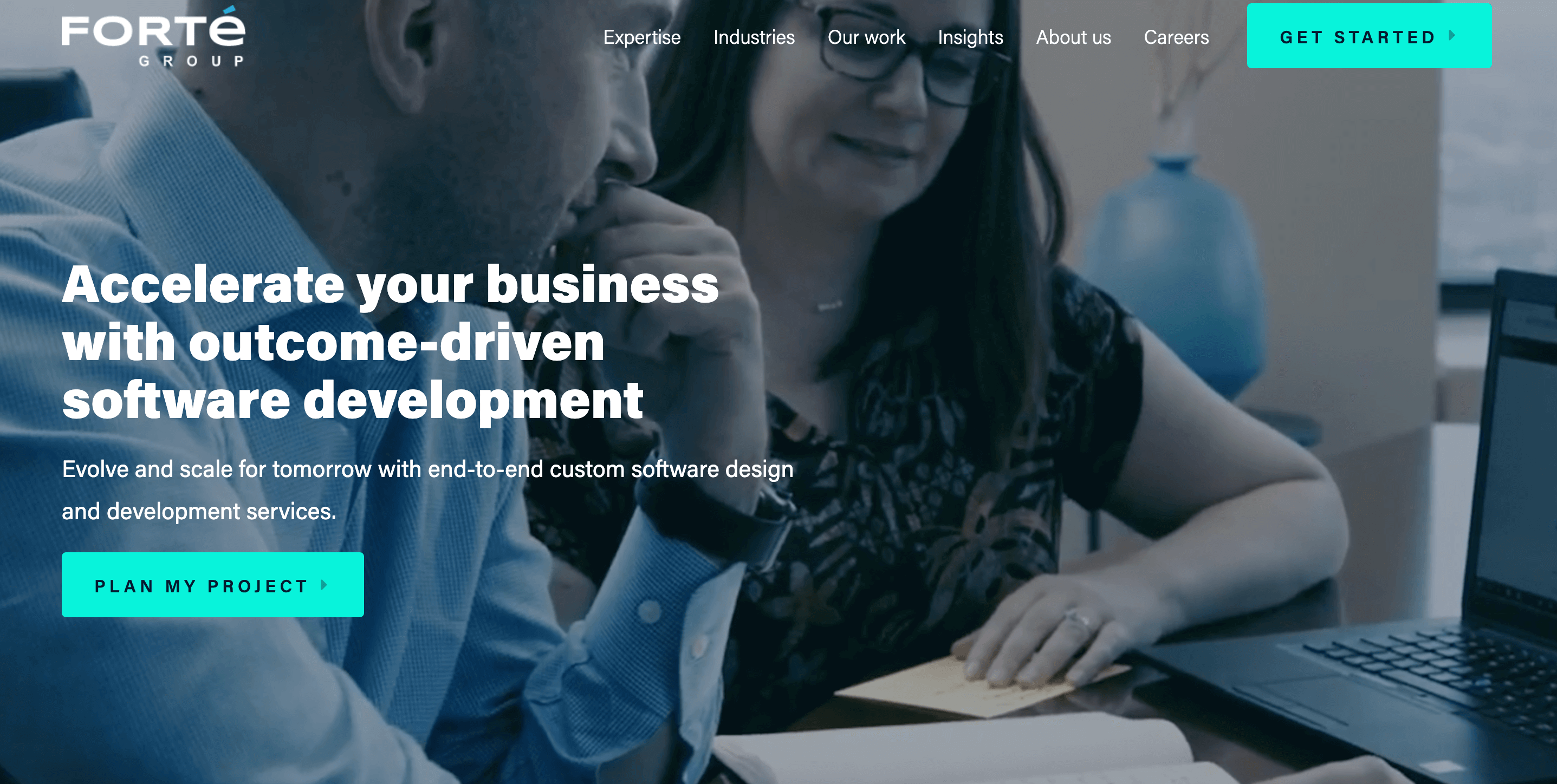 Forte Group is a comprehensive software delivery partner that expands its client's workforce with top-tier tech specialists. They manage delivery operations in Ukraine and other countries, collaborating with businesses in the Finance, Banking, eCommerce, Insurance, Education, Retail, and Transportation domains. 
Forte Group's services include enterprise software engineering, product management, quality assurance & testing, and generating profitable eCommerce strategies. They provide skilled staff who use technologies like Java, NET, Oracle, JavaScript, React.js, Node.js, Salesforce, Hybris, QA/QC, PHP, and SDET.
Conclusion
Team extension and synchronization are easy and seamless if you work with top-tier staff augmentation service providers. With the right IT outstaffing company, you can meet a project budget and timeframes, enjoying collaboration perks like maintenance and testing. 
After going through our list, we hope you'll find the ideal staff augmentation company in Ukraine to meet your project goals.
Is there a Ukrainian staff augmentation service provider who impressed you but isn't included? 
Feel free to reach out via email with the details. We'll thoroughly review the company's expertise and feature them in our next update if they match our expectations.