The software development industry in Africa is booming, with Kenya being one of the leading IT hubs on the continent, gathering hundreds of talented engineers in Nairobi and beyond.
In recent years, African entrepreneurs have taken leading positions in the global tech market with numerous ambitious startups and projects across diverse industries, resulting in a 22% increase in the use of the internet by small and medium-sized businesses in Africa. 
What's more, active development of the education sector, the emergence of prominent tech hubs, and greater internet access have significantly impacted the software development industry on the entire continent.
As the overall digitalization trend is positive and the number of businesses in Africa are getting larger and more profitable, the demand for IT professionals is increasing as well. If you are looking to hire the best software developers in Africa, outsourcing to Kenya is an excellent choice. 
We have compiled a list of the top software development companies in Kenya to help you find the most suitable partner to fulfill your technical requirements, whether you're located in Africa or outside.
The Best Software Development Companies In Kenya For Cost-Effective Digital Solutions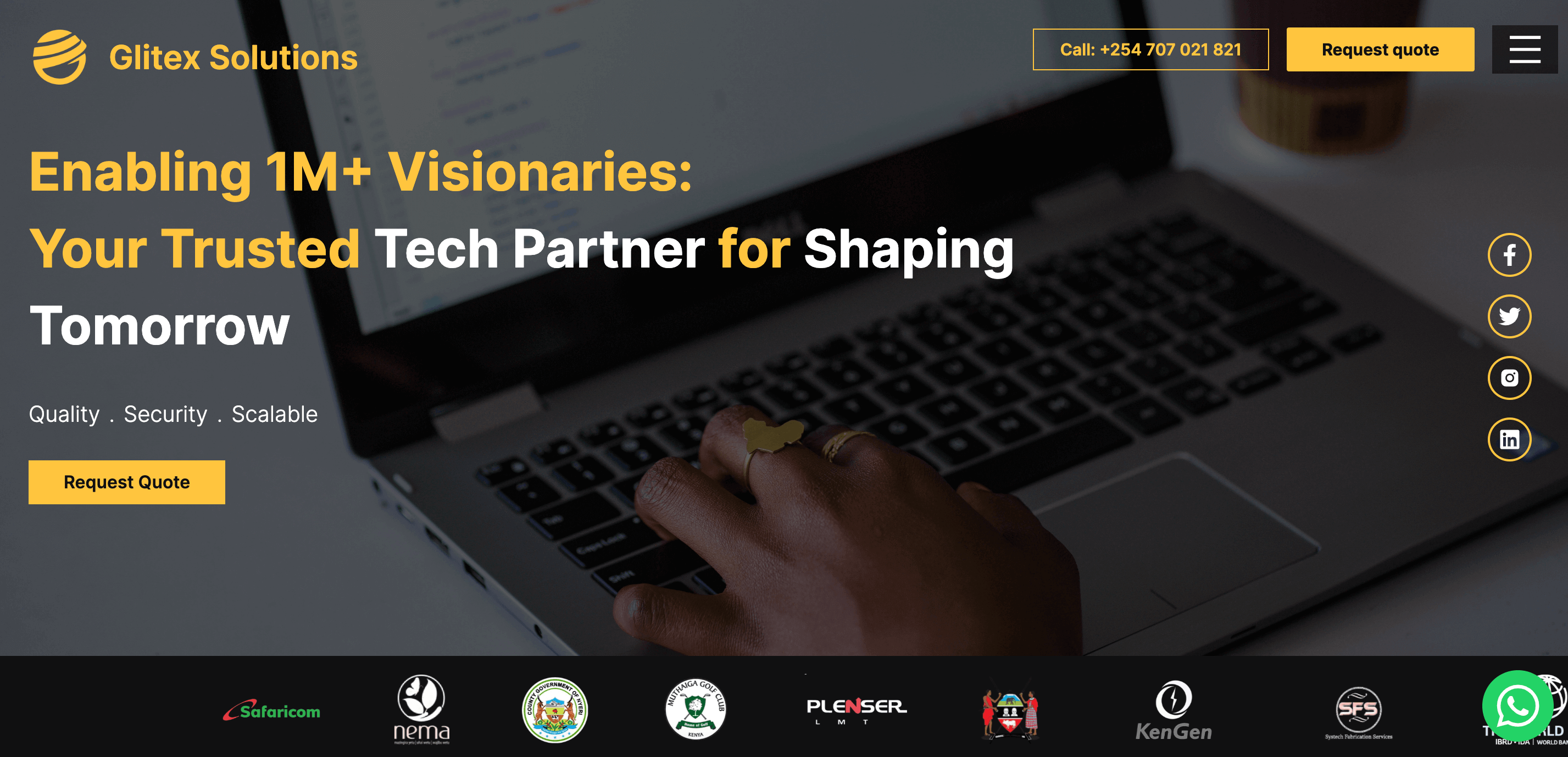 Glitex Solutions is one of the best software development companies in Kenya that helps turn clients' ideas into tangible results. Focusing on collaborating with startups, Glitex Solutions has successfully finished over 80 promising projects.
It's one of the few companies in Kenya that specialize in blockchain development, delivering the following solutions: hyper ledgers, cryptocurrency wallets, NFT marketplaces, DeFi, chain analysis, smart contracts, and other crypto products. In addition, Glitex Solutions excels in game development, SEO services, artificial intelligence, machine learning, and predictive analytics. 
Services and expertise:

custom software development, mobile app development, AI and ML development, predictive analytics, blockchain development, management information systems, game development

Tech stack:

Swift, Objective-C, React, Java, Kotlin, Python, React Native, Flutter, Ionic Framework, Native Script, Quasar, GO

Industries:

Logistics and Transportation, Food and Beverages, Education and E-learning, Entertainment, Travel and Leisure, Government and Public Services, Healthcare, Security and Insurance

Team size:

20+ experts

Portfolio:

Safaricom, Nema, KenGen, Plenser, The World Bank, Ocapy Secure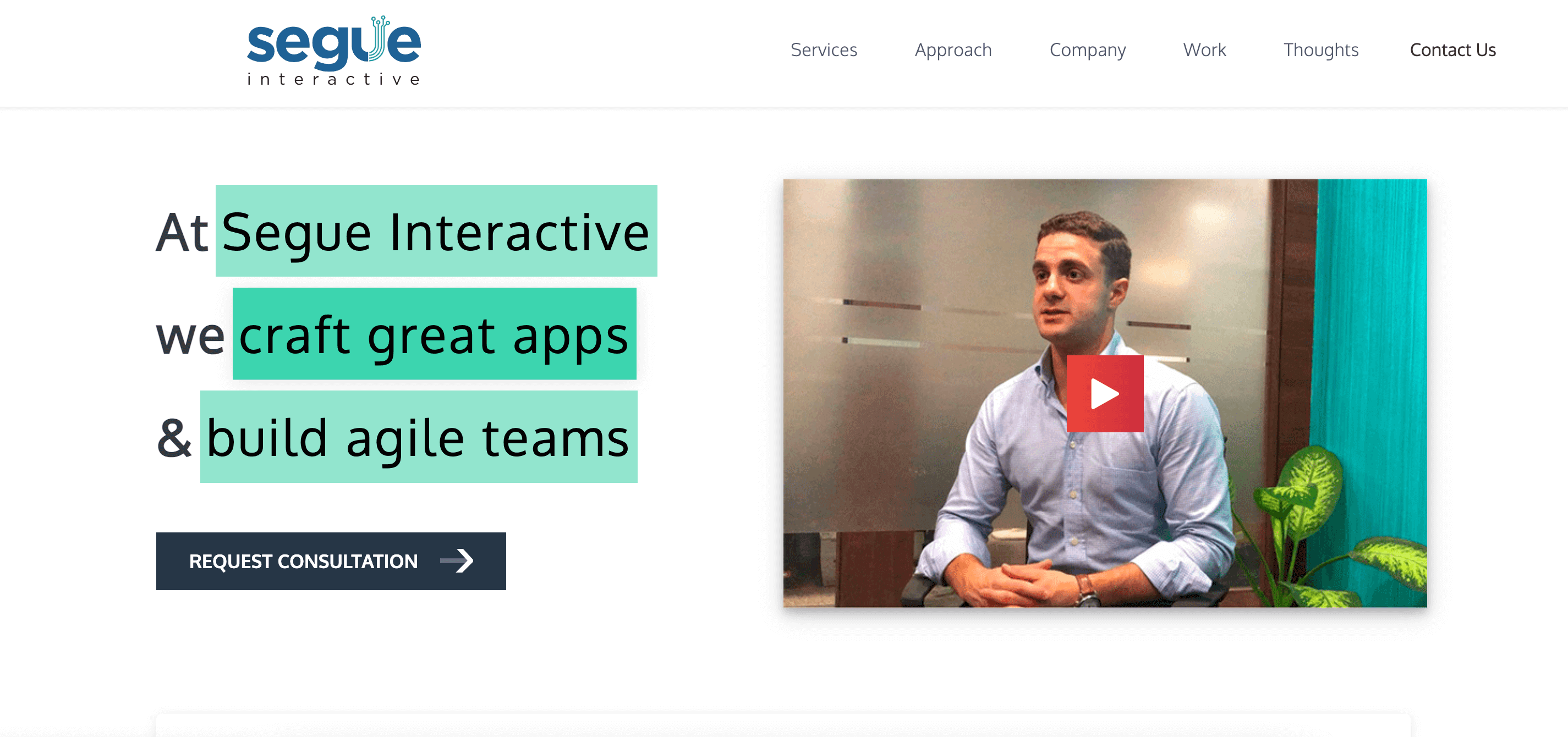 Featured among the top mobile app development companies in the world by GoodFirms, Segue Interactive is a leading software agency in Kenya offering exceptional digital solutions for businesses of all sizes. Its team has built top-rated mobile applications for Nairobi Hospital, World Food Program, and Checkups Medical Hubs and other global corporations. 
Apart from mobile app development, Segue Iterative's experts develop IoT systems, wearables, websites, and desktop apps. They'll provide you with an on-demand consultancy as well as full-cycle software development reinforced with agile teams to solve business problems leveraging on modern technologies. 
Services and expertise: custom software development, web and mobile development, IoT development, UI/UX design, DevOps, quality control and testing, growth and optimization, AR/VR, e

xecutive-level consultancy

 
Tech stack:

Java, Kotlin, Swift, Objective-C, JavaScript, React, Vue.JS, AWS, Google Cloud, Alibaba Cloud, Microsoft Azure, PHP, Laravel, Python, Django, Docker, Kubernetes, Redis, MySQL, MongoDB, Neo4j

Industries: Fintech, Healthcare, Education, Advertising and Marketing, Consumer Products
Team size:

25+ experts

Portfolio:

Tawaad, Vimbo Health, Patika, Dukaan, Graph Technologies, Intersolve, The Nairobi Hospital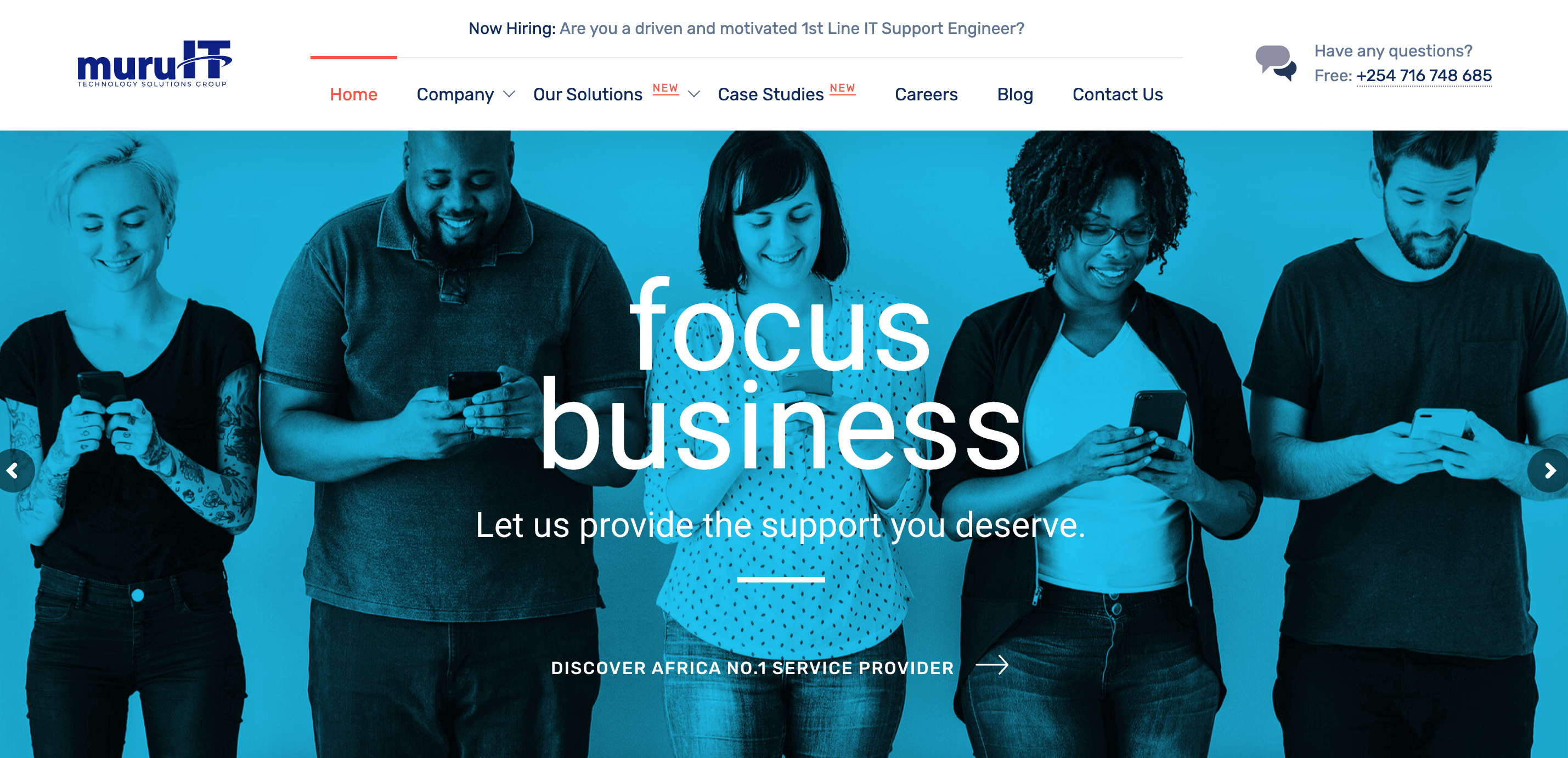 Muru IT has proven to be one of the top outsourcing companies in Kenya, established back in 2017. Headquartered in Nairobi, the firm has expanded to 7 offices across multiple countries, offering 200+ developers in Kenya for hire. 
Muru IT's team has expertise in creating digital solutions for large enterprises, SMBs, and startups operating in a wide range of industries, from Banking to Healthcare. Partnering with them ensures you benefit from 24/7 customer support, exceptional product quality, and business value that goes beyond your expectations.
Services and expertise:

IT outsourcing, IT consulting, custom software development, cloud computing, cyber security, bulk SMS

Tech stack:

Java, React, Kotlin, Ionic, Python, Swift, Objective-C, AWS, Google Cloud, etc.

Industries: Banking, Capital Markets, Enterprise Technology, Manufacturing, Healthcare, Higher Education, Logistics, Retail, Food and Grocery, Travel and Tourism
Team size:

250+ experts

Portfolio:

Vodafone, Unilogo, Ticketbox, Fushion, Nanocare, Voi Adventures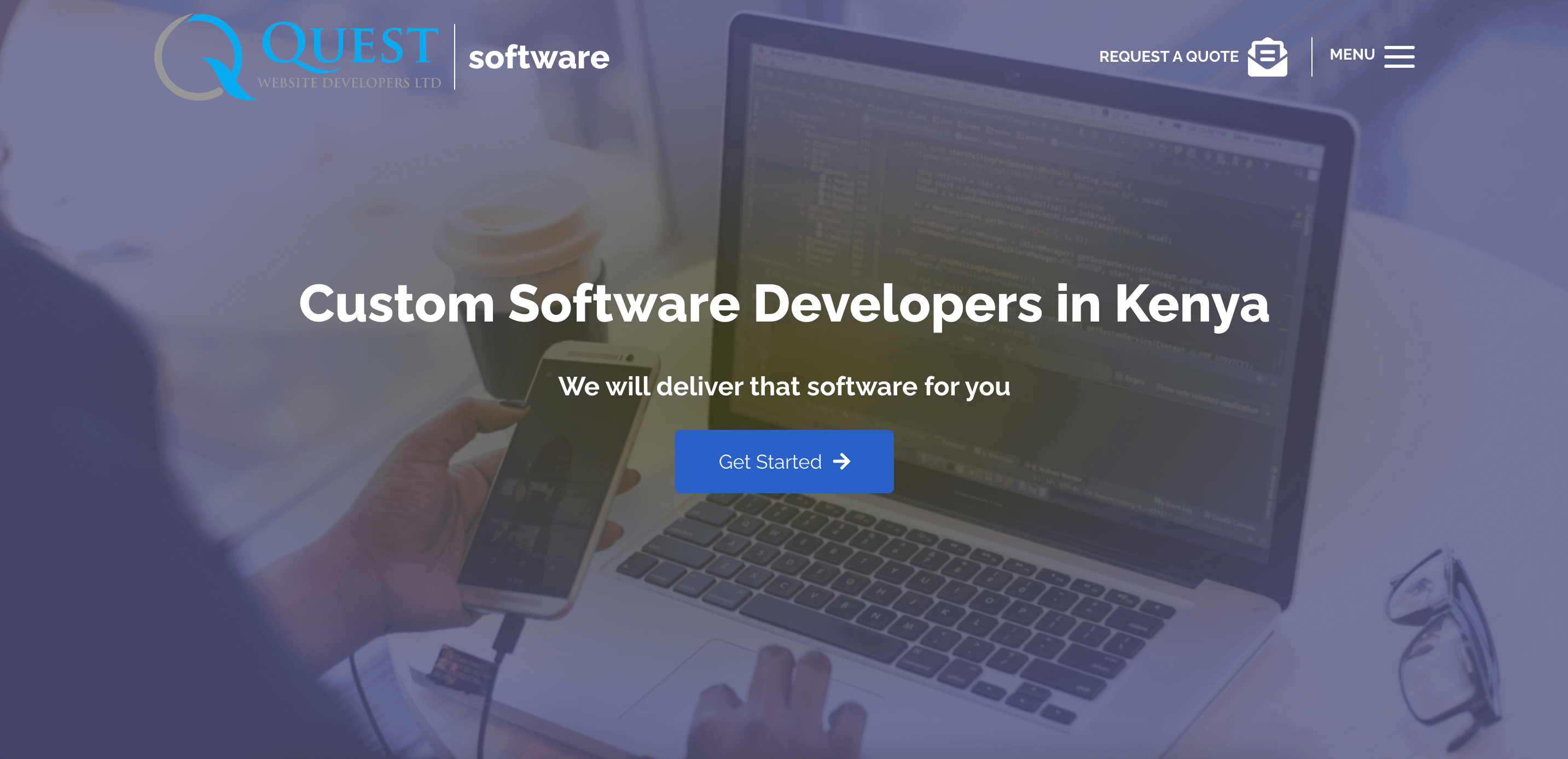 Quest Website Developers is one of the best software development companies in Kenya, specializing in web design, software development, and visual graphics. Since 2014, this prominent team has built 100+ digital products for clients in Kenya, Uganda, Tanzania, Zambia, and several other African countries. 
What makes Quest Website Developers stand out and keep a track record with a 97% retention rate? Apart from following high-quality standards, the company has rich expertise in various business sectors, implements the most advanced security measures, and possesses the latest technologies.
Services and expertise:

eCommerce development, web and mobile app development, support and maintenance, staff augmentation, UI/UX design, QA and testing, cybersecurity

Tech stack:

PHP, Laravel, JavaScript, Python, Vue.JS, Node.JS, etc.

Industries:Banking, Travel, eCommerce, Logistics, Real Estate, Hospitality and Leisure, Education, Healthcare, Transportation and Logistics
Team size:

15+ experts

Portfolio:

Treasure Consulting Limited, Kamel Park, Pro Property, CPF, Primatech, IOM.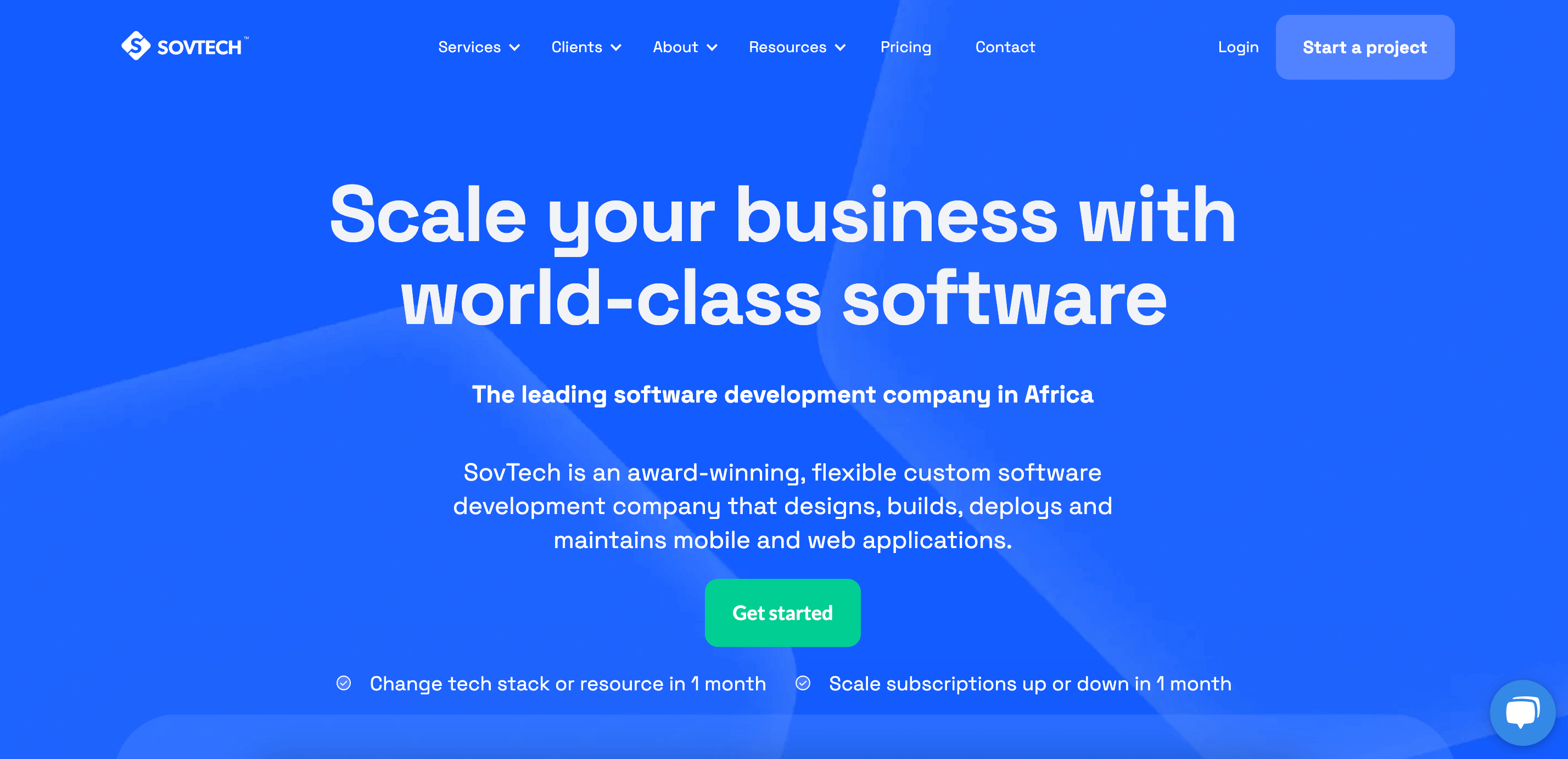 SovTech is an award-winning software development company based in Nairobi. It boasts an impressive track record of collaborating with over 500 companies worldwide, including such giants as Huawei, Supersonic, Deloitte, Sun International, and many more. 
Since 2012, SovTech has gained unparalleled expertise in building custom software products that solve complex business problems and drive steady growth. The company has an exclusive talent pool of 300+ software developers in Kenya ready to assist you with a brand-new project or improve an existing solution. 
Services and expertise:

software development, web and mobile development, software maintenance, staff augmentation, dedicated teams

Tech stack:

Python, Java, React, Node.JS, Vue.JS, iOS, Android, AWS, Azure, MySQL, PostgreSQL, JavaScript

Industries:Chemicals and Biotechnology, Finance, IT Services, Telecommunications, Consumer Products, Logistics and Transportation, Media and Entertainment, Travel and Hospitality
Team size:

300+ experts

Portfolio:

Deloitte, Huawei, Nedbank, Sun International, Adumo, Bankserv Africa, Standard Bank, Naspers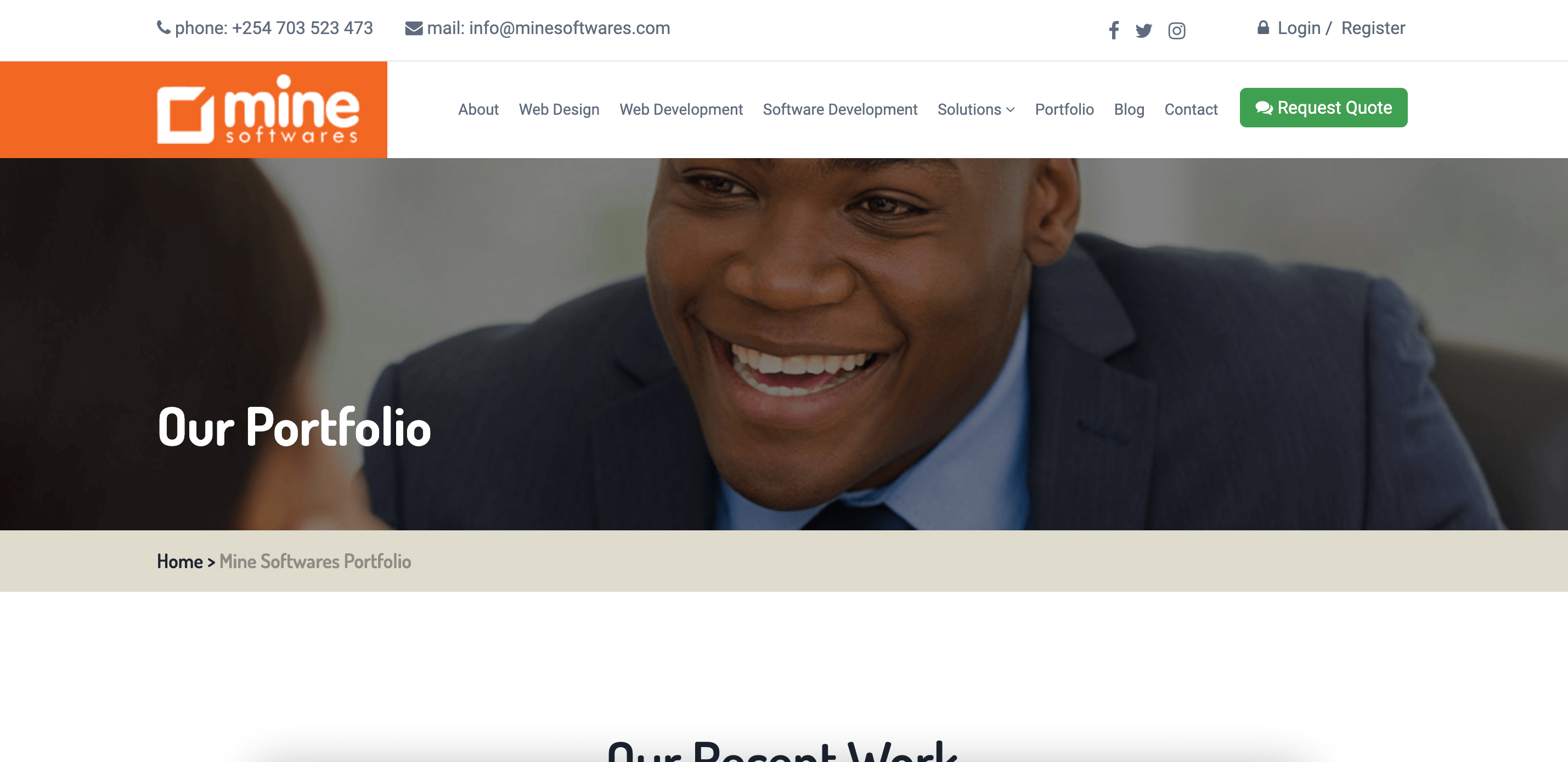 Mine Software provides cost-effective and high-quality services covering web design, website development, and software development for organizations of all sizes and types worldwide. A standout feature of Mine agency is its deep knowledge of diversified industry sectors, which empowers them to deliver maximum business value to clients.
Opting for outsourcing to Kenya through Mine Software gives you access to a top-notch team that perfectly knows how to leverage cutting-edge technologies to solve complex business challenges. Whether you are a local startup or a global corporation, Mine Software is a dedicated partner to drive your company's growth.
Services and expertise:

website and mobile app development, UI/UX design, support and maintenance, SEO  

Tech stack:

PHP, .NET, Java, Python, Angular, Swift, Objective-C, Kotlin, etc.

Industries:Real Estate, Media and Entertainment, Education and E-learning, Consumer Products, Insurance, Sports, Healthcare, Travel and Hospitality
Team size:

15+ experts

Portfolio:

Gift World Kenya, Mulo, Remax Baraka, The Ark Saiga, True-Blue Investments, Andrew Consulting Limited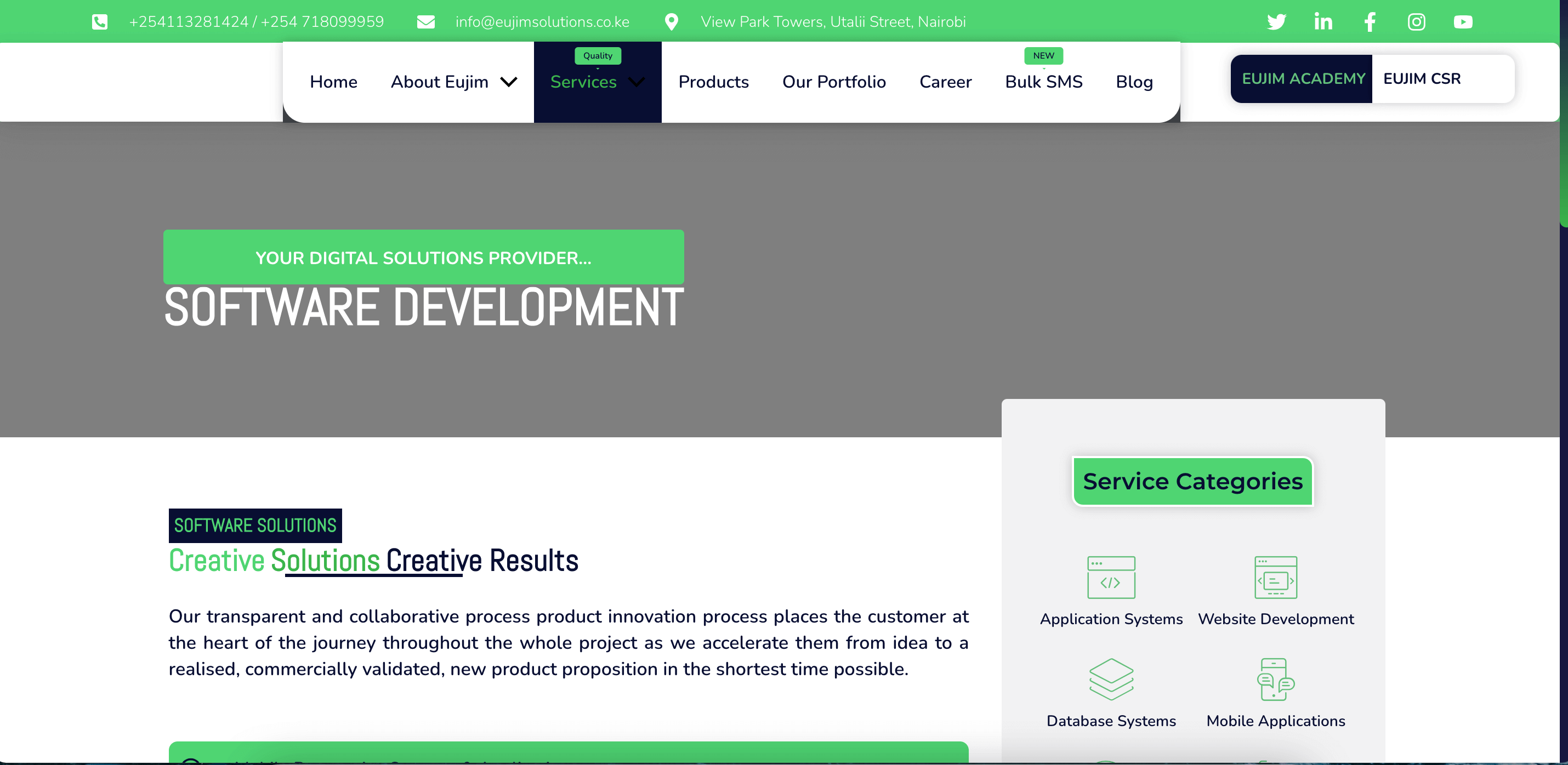 Established in 2018, Eujim Solutions has gained a reputation as the best web design company in Kenya. The company focuses not only on developing and maintaining software products but also strives to build long-term relationships with clients. 
In addition to comprehensive software development and UI/UX design expertise, Eujim Solutions offers ongoing IT consultancy, digital marketing, and IT staff augmentation services, with the option to hire the best developers in Kenya on demand. Its skilled team is dedicated to delivering scalable and cost-effective solutions tailored to your business needs, all while providing 24/7 support and maintenance.
Services and expertise:

software development, mobile app development, digital marketing, cybersecurity, IT consultancy, research and innovation, UI/UX design, industry training.

Tech stack:

Swift, Objective-C, Kotlin, HTML, JavaScript, Angular, Java, Python, MySQL, MonoDB

Industries:Government and Public Services, E-learning and Education, Fintech, Healthcare, Travel and Hospitality
Team size:

30+ experts

Portfolio:

KNQA, Bandari, GTM Africa Limited, Forestry Society of Kenya, ICT Authority, Kenya National Innovation Agency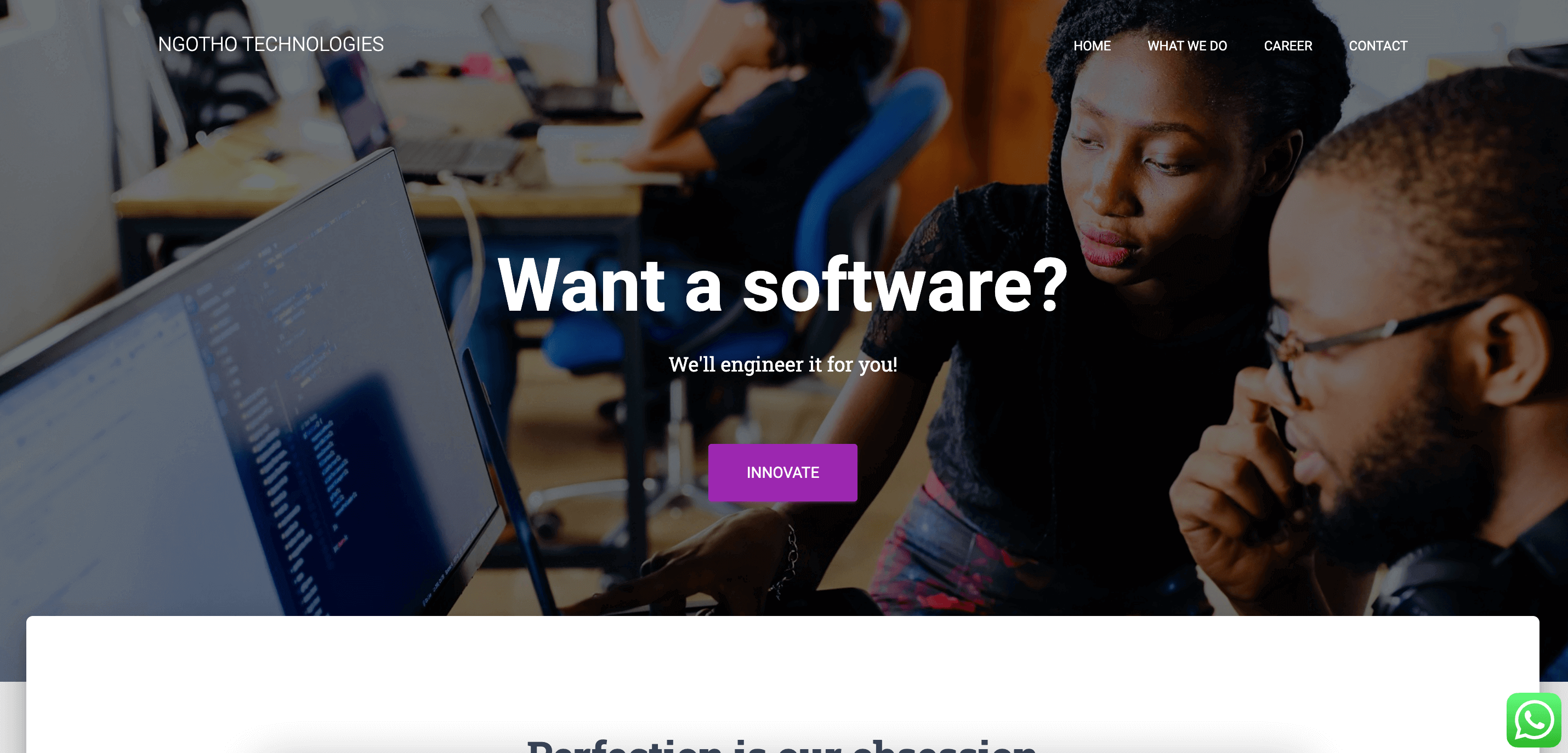 Ngotho Technologies is featured as a top software development company by GoodFirms. This Kenyan-based team is keen on creating tailor-made digital solutions, including cross-platform mobile applications (for both Android and iOS), websites and web apps, eCommerce platforms, database systems, and desktop applications.
The company is committed to making clients happy with the end results and always keeps a close eye on the product development process to prevent any failures. 
Services and expertise:

web and mobile app development, CMS development, UI/UX design, maintenance and support

Tech stack:

WordPress, Drupal, Joomla, Python, Java, Swift, Objective-C, Ionic, Kotlin, Flutter, React Native 

Industries: Telecommunication, Travel and Hospitality, Government and Public Services, Healthcare, Finance
Team size:

15+ experts

Portfolio:

Business Incubation Africa, KATA, Tax Justice Network Africa, Smile Africa Destination, Hob, Biashara Aide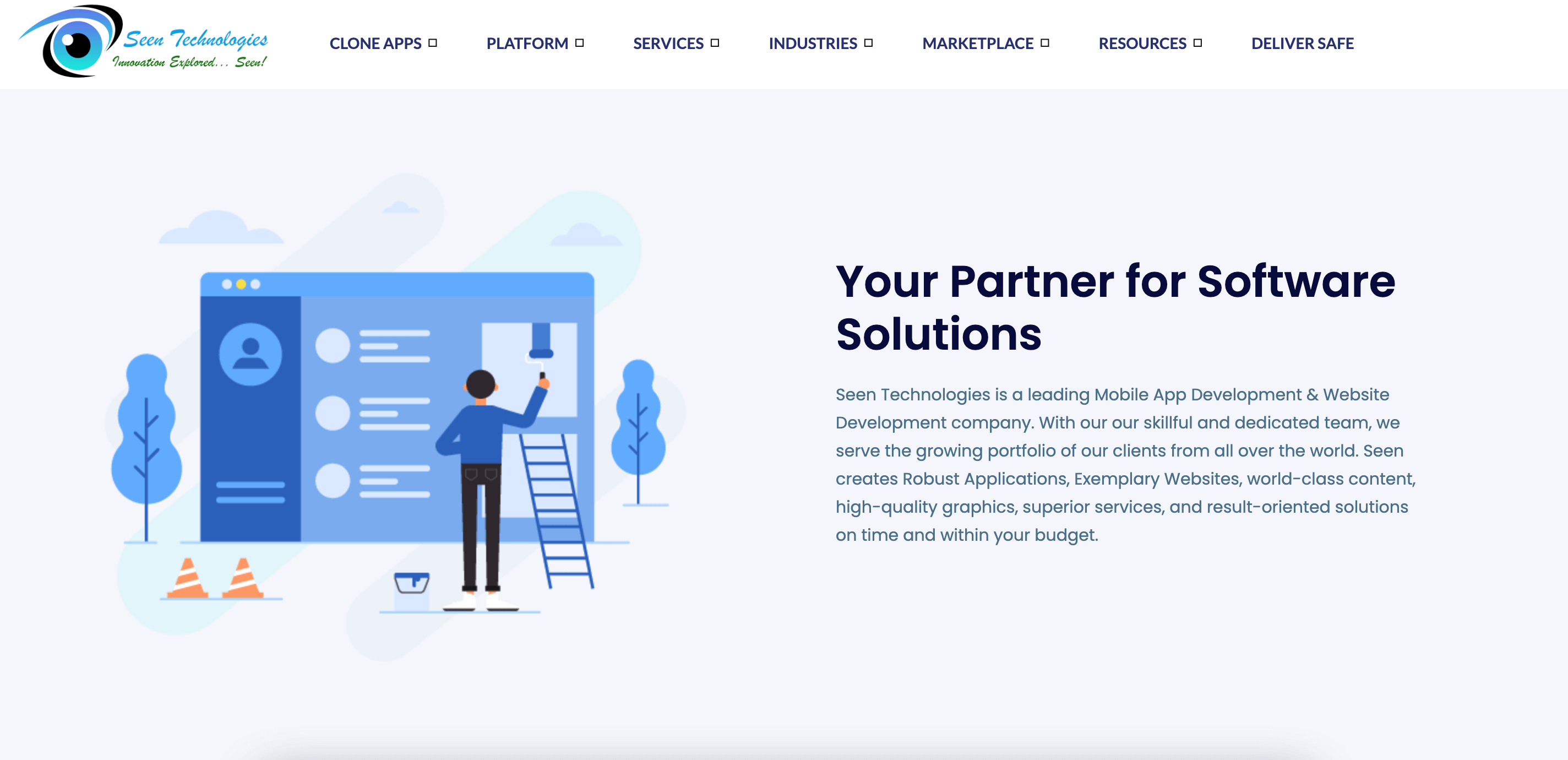 Being one of the best software development companies in Kenya, Seen Technologies offers a wide range of IT outsourcing services, including mobile and website development, eCommerce development, and digital marketing. Its professional team has expertise in serving clients in industries like Food Delivery, Grocery, Taxi, Laundry, Healthcare, and many more. 
Collaborating with Seen Technologies guarantees you become the owner of top-notch software solutions, benefiting from complete transparency throughout the entire development process. Whether you need a robust application, a brand-new website, compelling content, or eye-catching graphics, Seen Technologies is dedicated to providing result-oriented services within a set time and budget.
Services and expertise:

mobile and website development, cloud computing, data engineering, artificial intelligence, UI/UX design, digital marketing, graphic design

Tech stack:

WooCommerce, Shopify, Prestashop, AWS, Google Cloud, WordPress, Codelgniter, Laravel, React, Angular, Django

Industries: Real Estate, Manufacturing, Transport, eCommerce, Healthcare, Education, Media, Travel
Team size:

15+ experts

Portfolio:

QuerysoftKe, ET, Shuriye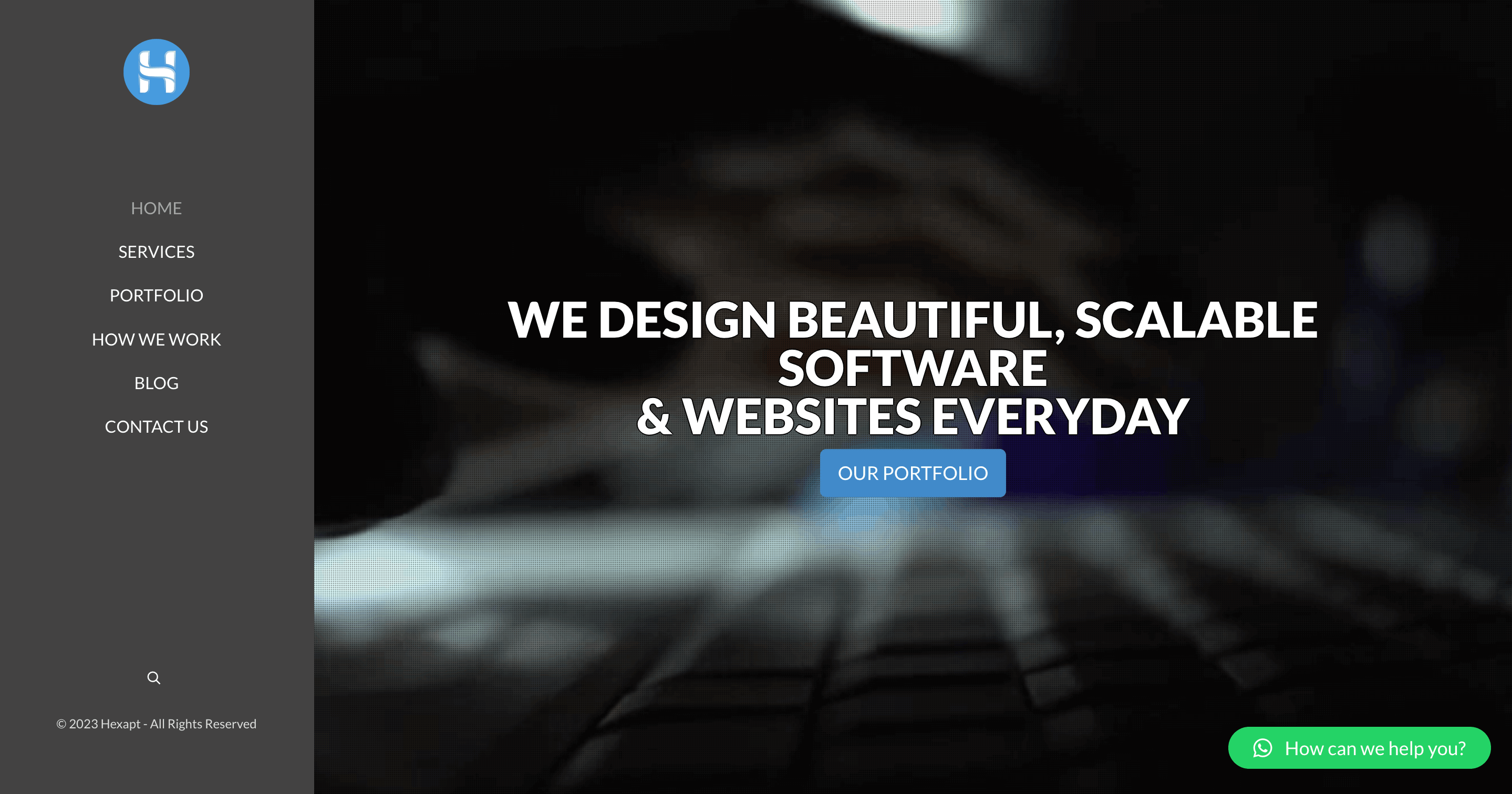 Hexapt provides comprehensive digital transformation services to innovate marketing, finance, strategy, and other key areas of your business. Placing digital solutions into the core of all operations helps Hexapt's clients get the value exchange in their company-customer relations and easily adapt to a rapidly evolving world.
Hexapt's top software developers in Kenya have expertise in delivering unique website designs, SEO services, and tailor-made mobile applications, as well as providing web hosting and 24/7 support.
Services and expertise:

UI/UX design, web and mobile app development, web hosting, continuous support, SEO

Tech stack:

.NET, Java, Python, PHP, Node.JS, JavaScript, Angular, React, etc.

Industries: H

ealthcare, Insurance, Transportation and Logistics, Travel and Hospitality, Human Resources 

Team size:

10+ experts

Portfolio:

Bucketlist Adventures, Hatari Security, J-Ride, Esphere Career, Enashipai Resort and SPA, Mayfair Insurance, Alpha Logistics
Conclusion
Kenya showcases remarkable IT progress driven by a talented pool of highly skilled engineers working in the top software development companies mentioned on this list.
Hopefully, this article can assist you in finding the top-tier development partner best suited to meet your specific business needs. 
If you want to add your company to this list, drop us a line. After a thorough review, we'll decide whether it's an appropriate addition.