According to a report, the global subscription billing management market is expected to reach $7.8 billion by 2025, at an expected CAGR of 14%.
You know how troublesome billing and invoicing can get at times. And worrying about billing cycles must be the last thing for a SaaS (Software-as-a-Service) company concerned about many other business aspects. Therefore, introducing a proven online SaaS billing platform to handle payments will significantly ease your life.
SaaS billing software is a specialized tool for modernizing the billing and invoicing processes for businesses that mainly provide services on a subscription model. Such platforms help companies carry out payments automatically, thus, saving both time and money for all parties. They also assist in managing and tracking individual customer/account billing data – making it easier for organizations to provide personalized offers to clients. What's more, payment reminders can be sent automatically through the features like dunning tools and integrations. 
With hundreds of new programs entering the online billing market, choosing the best-fit SaaS billing software that aligns with your company's requirements might become difficult.
To help you with your search, we have compiled a list of some of the top SaaS billing software present in the market, highlighting their key features, use cases, and pricing. 
The Best Subscription Management & Recurring Billing Software For SaaS Businesses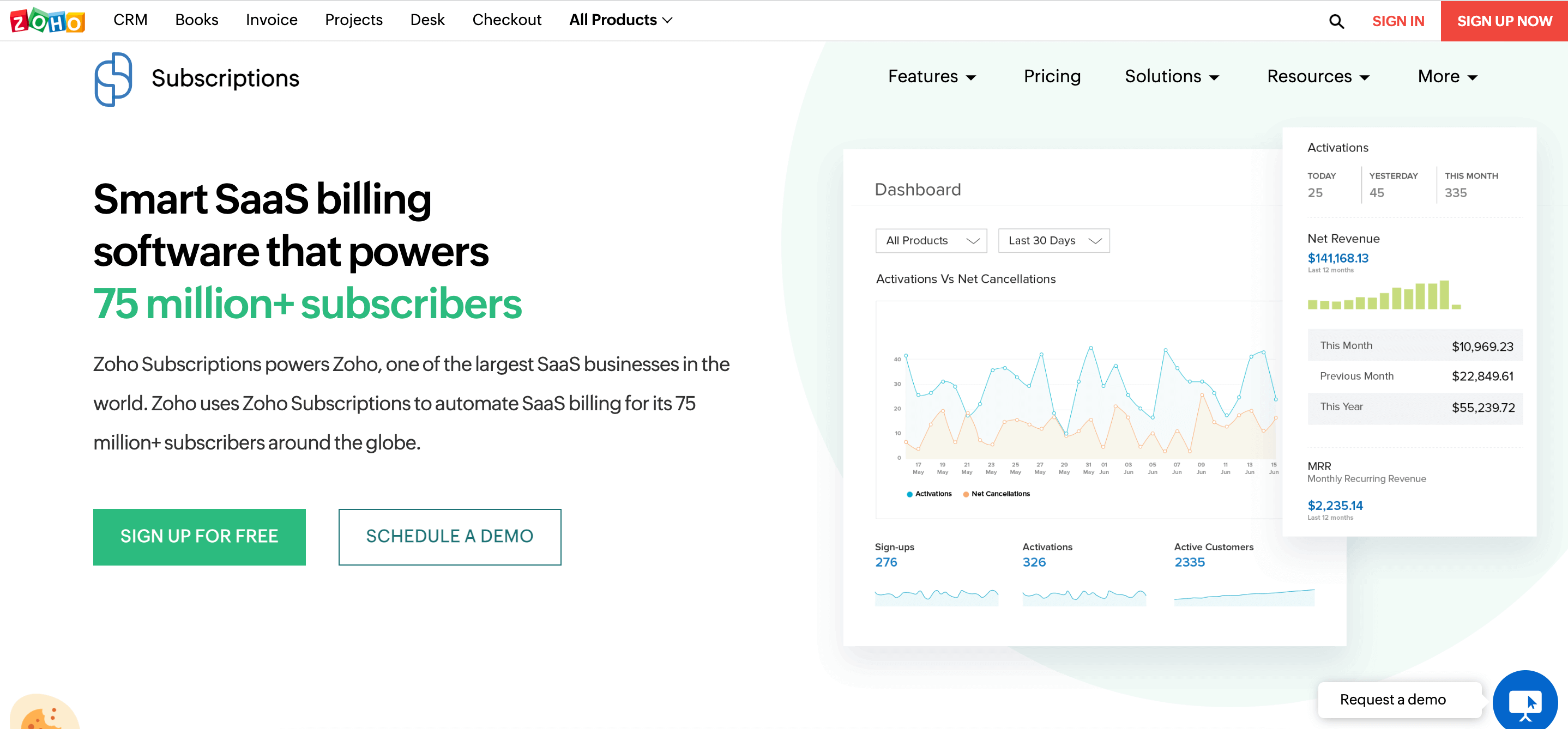 Top on our list, Zoho Subscriptions is one of the best SaaS billing software available in the market. The platform offers seamless recurring billing and subscription management system based on the automated mechanism.
Key features:
Customizable pricing plans with add-ons and coupons

Automated proration

Customizable billing plans

Automatic payment reminders

40+ SaaS metrics for business health

Multi-currency payment support

400+ integrations
Pricing:
Zoho Subscription offers 5 plans: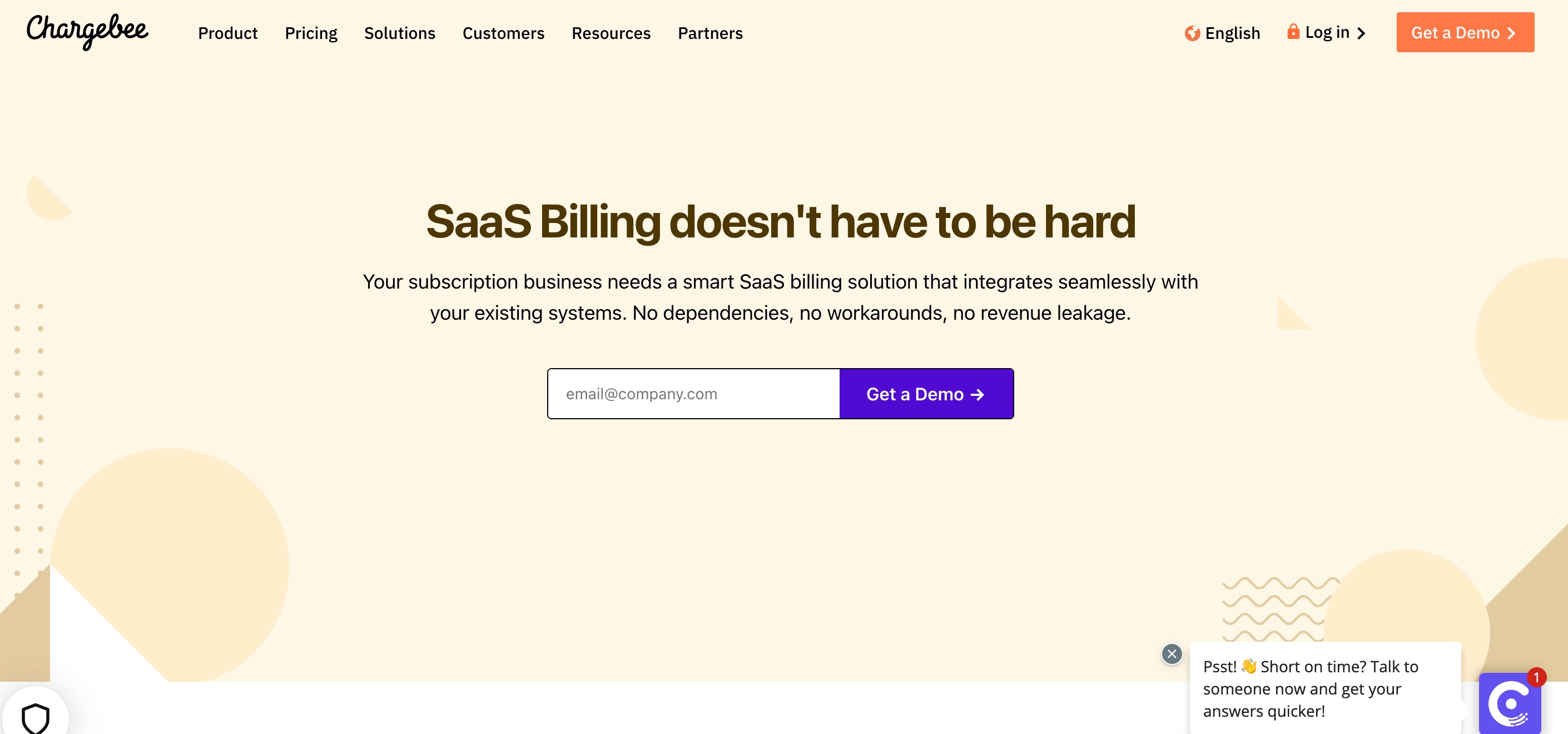 Chargebee is a leading subscription management software for SaaS companies covering their customer lifecycle. Apart from billing and invoicing, it's a popular choice for accounting and tax management tasks.
Key features:
SOC1 & SOC2 compliant

30+ payment gateways

Multiple payment methods

Invoice automation

Quote-to-cash

SaaS reporting & analytics

Dunning support

Pricing management

Supports developer libraries: .NET, Ruby, Python, PHP, Java, etc.
Pricing:
Stripe Billing is a top enterprise billing software used by all types of businesses, including SaaS. The platform offers hassle-free recurring billing and subscription management services with a wide variety of payment options. An exclusive Stripe Billing API allows developers to integrate CRMs, mobile apps, and much more to carry out billings effectively. 
Key features:
Customizable billing models

Pre-built multi-language invoices

Automatic proration

Subscription scheduler and payment reminder

135+ currencies support

Revenue recovery tools to reduce churn
Pricing: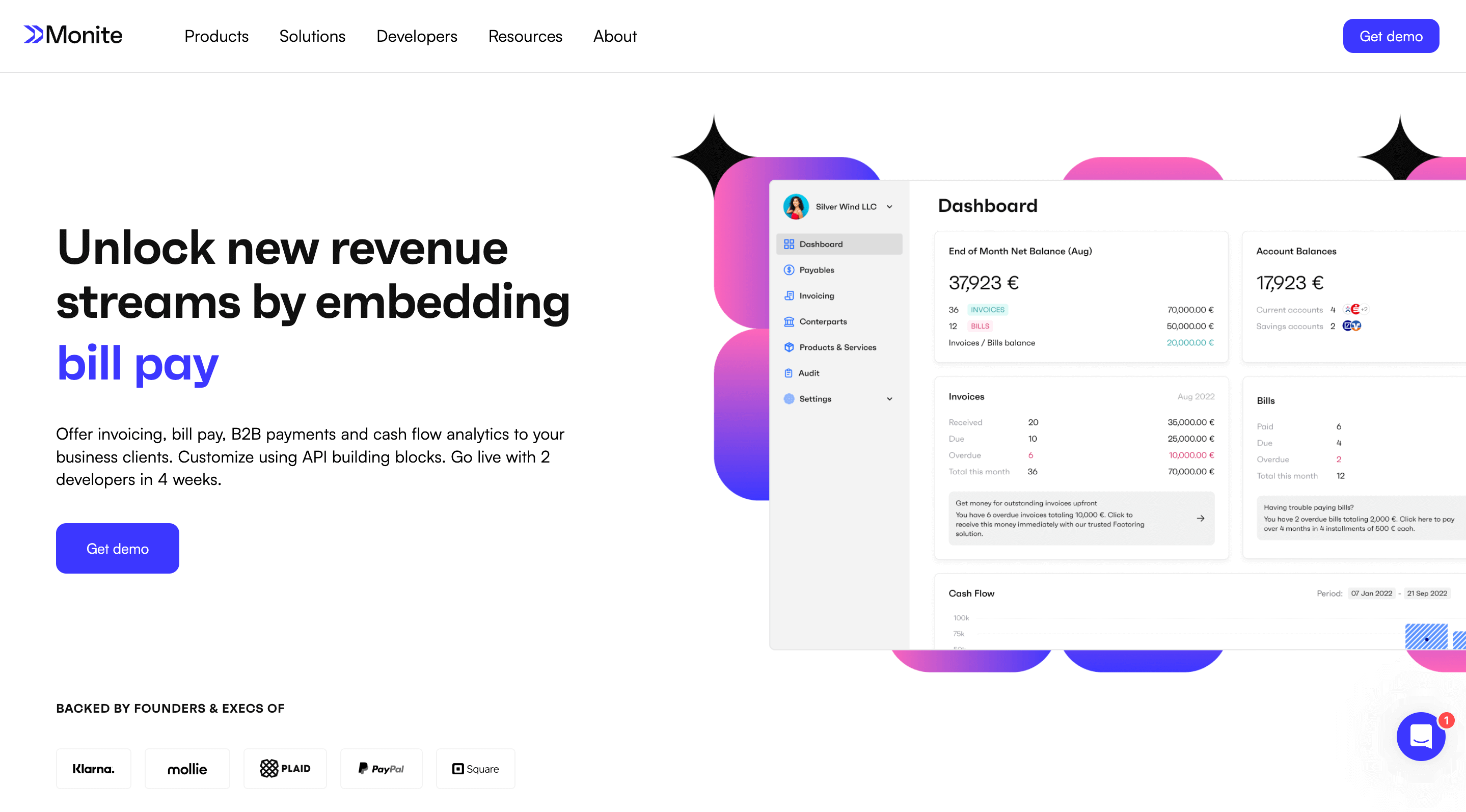 Monite is a top ap automation software that lets neobanks, vertical & fintech SaaS platforms embed finance workflows like invoicing, billing, expense management, and accounting for their clients in just 4 weeks.
With its API-first approach, Monite revolutionizes the way of handling invoices, quotes and credit notes, purchase orders, and payment processing, empowering businesses to streamline their financial operations effortlessly.
Key features:
Cutting-edge Accounts Payable solution allowing business clients to




— Create and issue purchase orders




— Submit invoices to the system either via mail forwarding or with the direct upload


— Extract relevant information using invoice OCR algorithms


— Create Approval Workflows to automate the approval process




— Optimize payments by getting insights about when an invoice needs to be paid




— Pay invoices with the preferred method of payment using Payment Rails




— Integrate the existing accounting system

Fully automated Accounts Receivable solution enabling business clients to




— Create and issue quotes




— Enable customers to accept/reject a quote




— Create and issue invoices and credit notes




— Leave the burden of regulatory compliance




— Use the preferred payment methods with Payment Rails




— Automate payment reminders, overdue reminders, and dunning notes




— Seamlessly integrate the existing accounting solution



Pricing model:

Monite operates on an on-demand pricing model, allowing neobanks and SaaS platforms to pay based on their usage. Monite's approach to pricing ensures cost-effectiveness, enabling businesses to align expenses with their needs and optimize their budgets.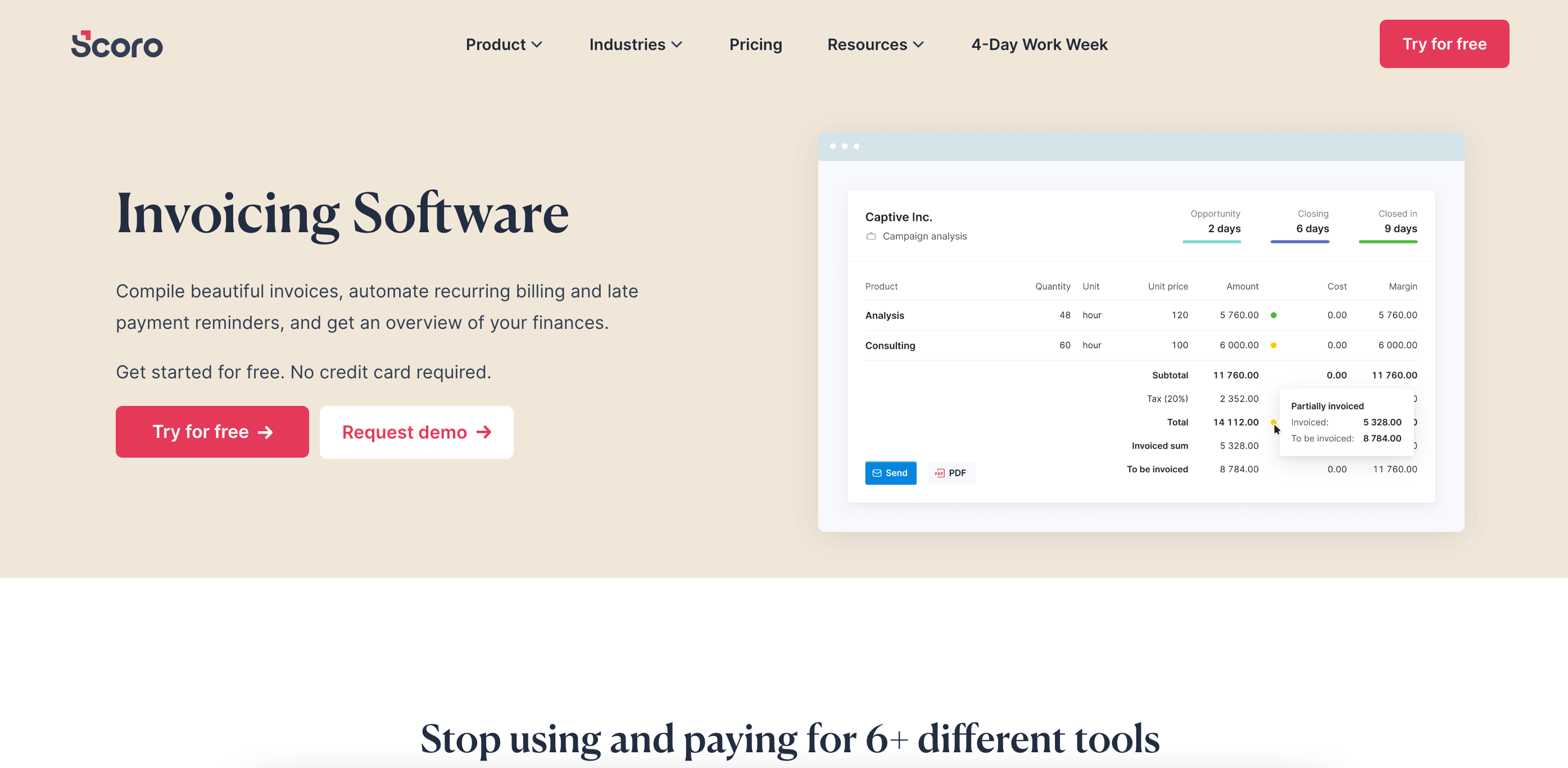 Scoro is a widely used SaaS invoicing and subscription management platform that helps businesses automate billings and compile attractive invoices. The tool helps companies reduce time and cost by eliminating routine tasks and setting prepayment invoices as well as late payment reminders.
Key features:
Automatic reminders

Detailed financial overview

Partial invoicing facility

Revenue forecasting

1000+ integrations

Project's profitability tracking with WIP (Work In Progress) reports
Pricing:
Scoro offers a 14-day free trial plan for its services. However, after that you need to go with one of these paid plans: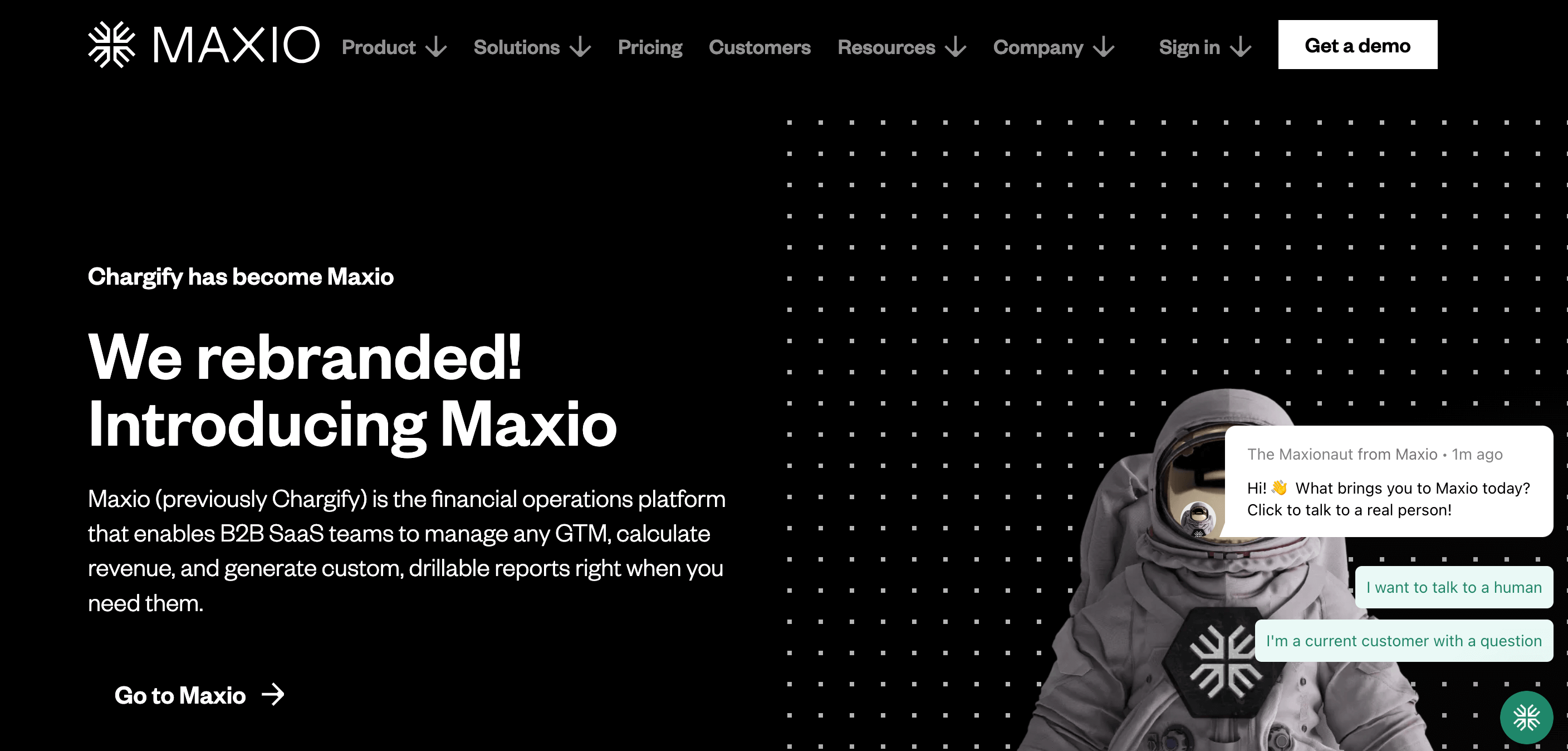 Maxio (previously Chargify and SaaSOptics) is one of the top invoicing software that empowers B2B SaaS companies to manage billing and invoicing operations. The platform bridges the gap between clients' sales and marketing processes with cutting-edge billing solutions. It also helps companies operationalize their strategies and understand their customer base better.
Key features:
Billing & subscription management

Customer lifecycle automation

CRM integrations

Customizable pricing model

Dunning tools

GAAP and IFRS-compliant expense amortization

Personalized invoicing

Analytics & reports
Pricing: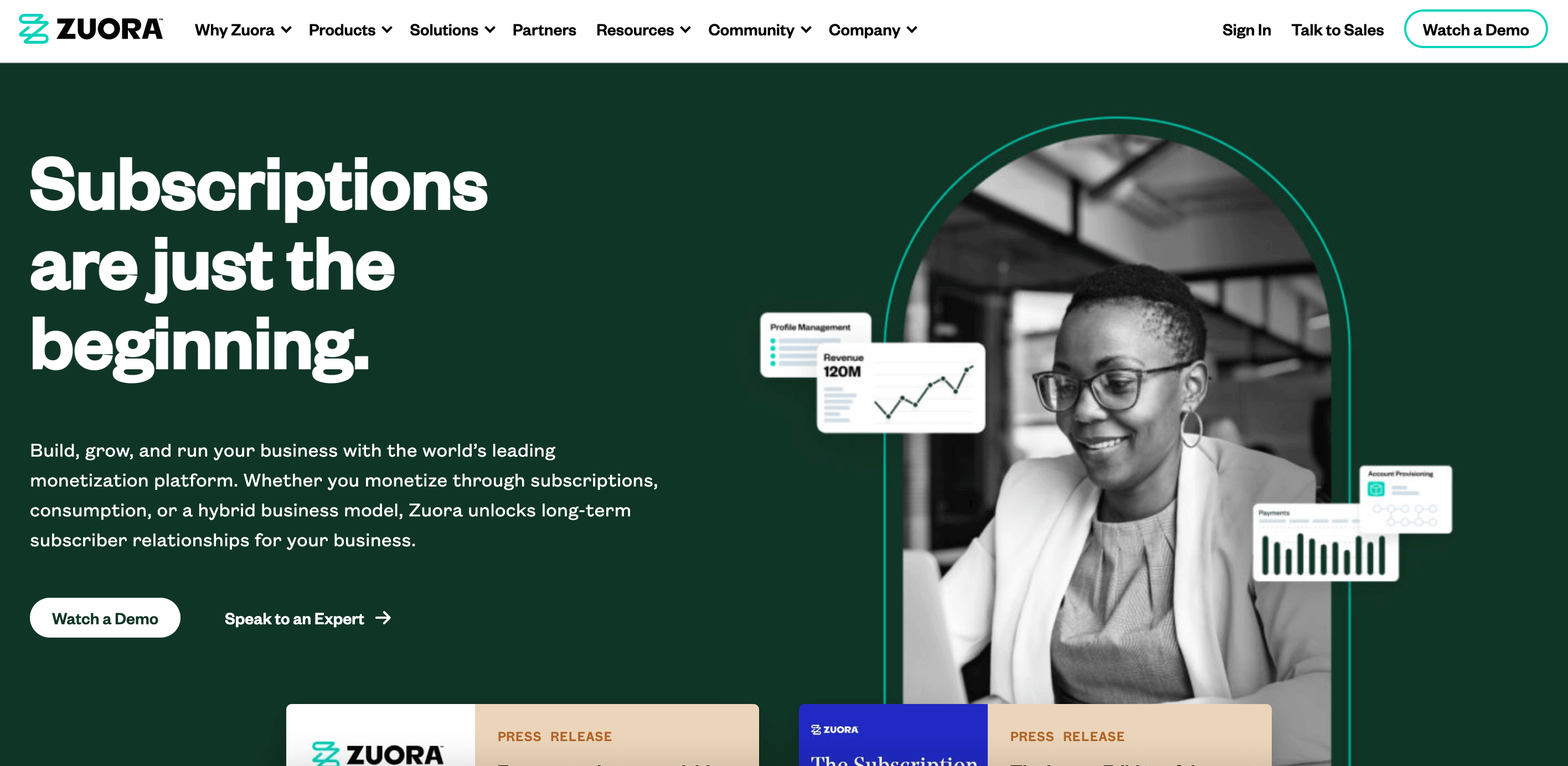 Take your SaaS startup to new heights with one of the best subscription billing software, Zuora. It's the top choice for over 1000 companies, including big names like Zoom, Honeywell, Siemens Healthineers, and much more. The tool helps to retain customers and reduce churn with its fantastic set of features.
Key features:
Subscription management

Recurring billing and payments

Revenue management

50+ pricing models with discount and coupons facilities

SDKs and API integration facility

Automated revenue recognition

Revenue forecasting
Pricing:
Zuora offers an on-demand pricing model. Contact their sales team for a tailored plan that suits your needs and budget.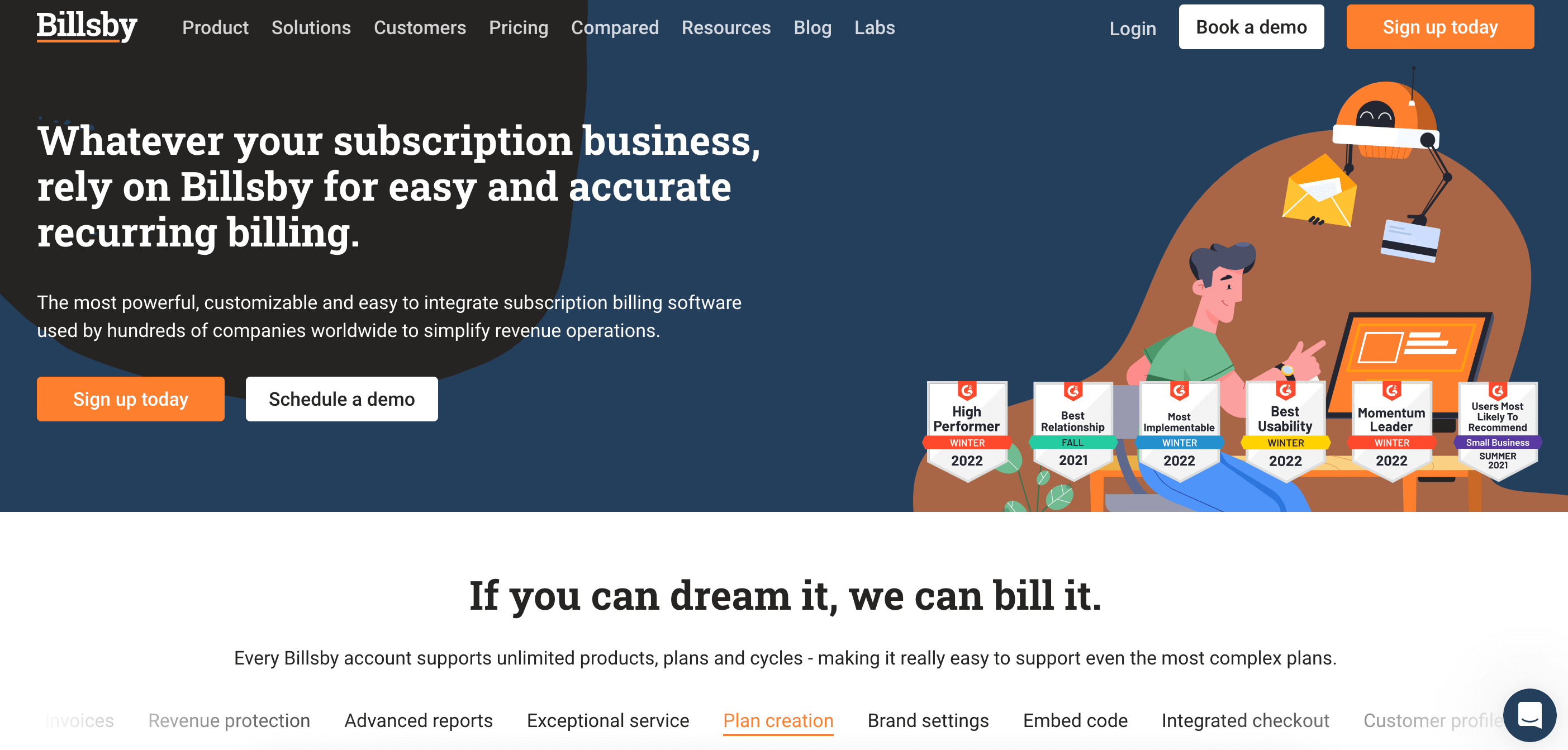 Billsby is globally recognized as the best invoicing software for small and mid-range SaaS businesses. It's one of the most powerful and easy-to-integrate subscription billing software available out there. From powerful invoices to advanced reports, the platform provides all sorts of services that a growing business may need. 
Key features:
Advanced billing options

Integrated checkout

Integration with top apps like Zapier, Mailchimp, Pipedrive, etc.

Retention and promotion tools

Add-ons and allowances 

Coupon codes and discounts

Sales tax and compliance facility

Reports and dashboards

Invoicing and emails
Pricing:
Billsby offers two plans on board:
DealHub is a popular sales management and billing platform designed to help businesses maximize revenue with efficient subscription management techniques. It also empowers teams to set up invoicing and billing schedules and manage customer lifecycle.
Key features:
Seamless customer amendments

Overdue reminders

Consolidated reports & analytics

Integrations with CRMs and ERPs

Automated quote-to-revenue flow

CPQ (Configure Price Quote) and CLM (Contract Lifecycle Management) facility
Pricing:
DealHub offers on-demand pricing depending on your business's size and requirements. Contact their sales to get a custom quote.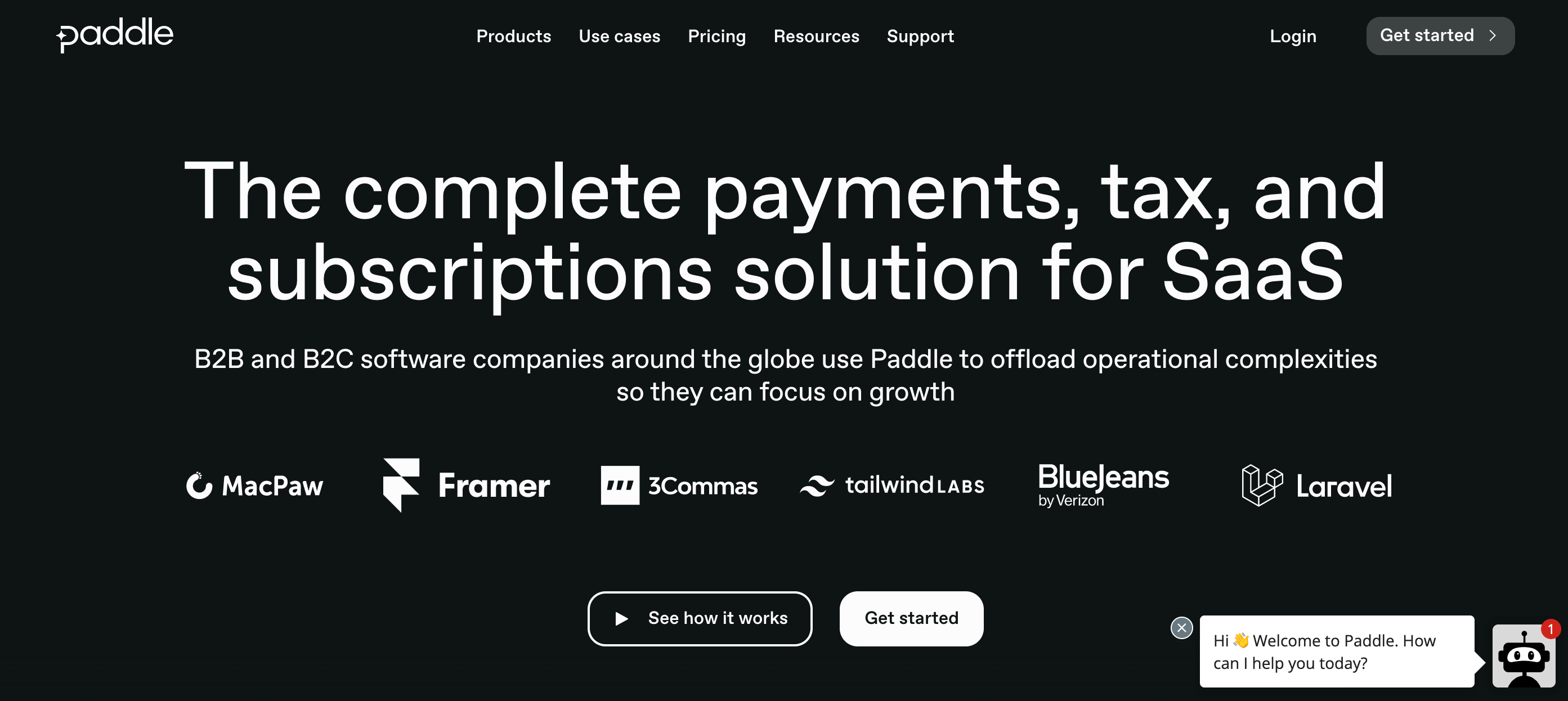 Paddle is the best invoicing software used by B2B and B2C SaaS companies across the globe for complex billing and invoicing operations. With its top-of-the-line revenue and tax management system, it has helped over 3000+ businesses save and remit over 111+ million in taxes. 
Key features:
Subscription billing & custom checkout

B2B invoicing

Global tax & compliance

Fraud protection

Churn reduction and dunning tools

Integrations with CRMs & ERPs

Reporting & analytics tools

Multiple payment options
Pricing:
Paddle offers two pricing models: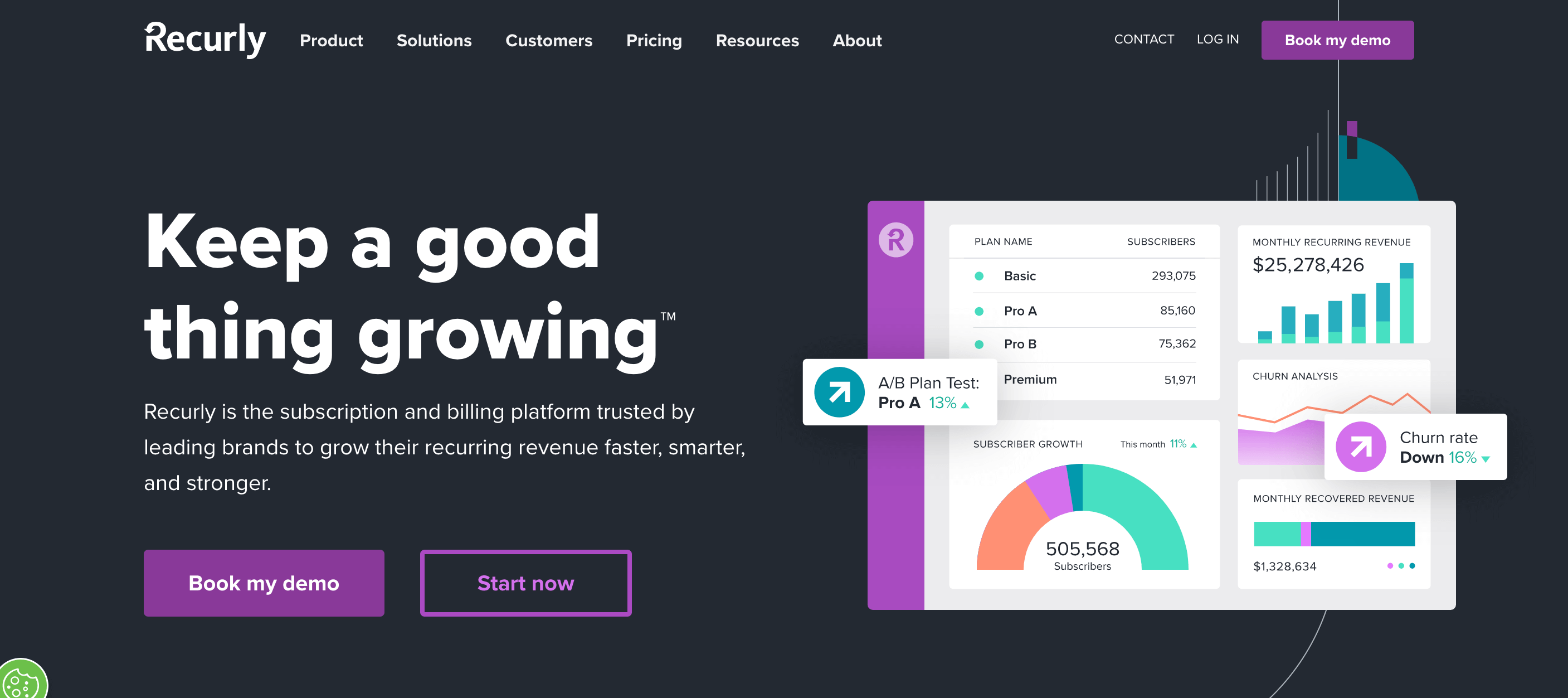 Recurly, as the name says, is one of the best software for recurring billing. In addition, this automatic billing software provides subscription management and churn management services. Top brands like Sprout Social, TIME, LiveChat, and numerous other prominent names trust Recurly.
Key features:
Multi-subscription support & lifecycle communication

Multiple payment gateways

Fraud management

Invoice & receipt customization

Dunning campaigns

Revenue forecasting

Reports & dashboards
Pricing:
Conclusion
The right billing and invoice processing system can define the altitude of your SaaS business's success, deciding whether you will burn or make money. While every billing platform has its USP (Unique Selling Proposition), choose the most suitable software based on your company's requirements, considering the necessary scope of scalability. 
We hope this list comprising some of the top SaaS billing solutions helps you make the right choice.
If you want to feature your SaaS billing software in this list, email us with the product details. After a quick assessment, we'll decide whether it's a valuable addition.