Are you a budding entrepreneur or a seasoned business owner looking for a reliable tech partner located in the UK? Read on.
With over 450,000 software developers employed locally and a market size of a whopping £41 bn, the United Kingdom is the leading IT hub in Europe. UK engineers are globally recognized for their comprehensive programming expertise, exceptional productivity, advanced solutions and best practices, and the delivered products of the highest quality.
Choosing the best-fit service provider among the top software development companies in the United Kingdom could be a test of your research abilities. To make things much simpler for you, we've compiled a list of the best IT outsourcing companies in the UK that boast a great tech stack and scope of services and are trusted by the market leaders.
So, contact these top-rated firms to accelerate your business with the most impactful software solutions. 
The Best Software Development Companies In The UK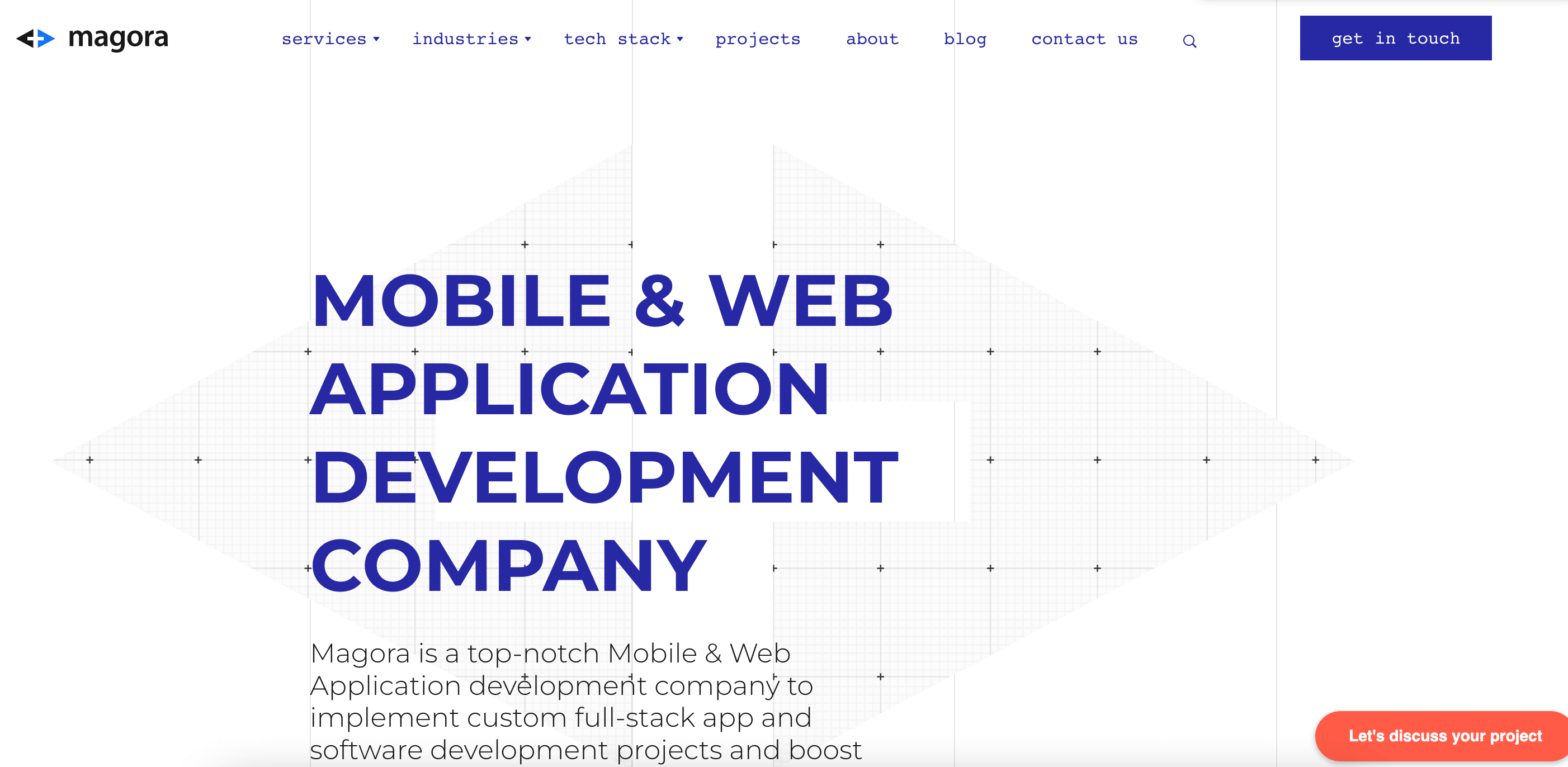 Do you wish to entrust the responsibility of maintaining your software systems to one of the most appreciated UK software companies? Then, Magora is your go-to tech partner. 
Magora creates fully customizable and innovative apps following a 6-step approach – Discovery, Feature Map, Release, Coding, Testing, and Design. Introducing mobility, sustainability, and flexibility into businesses, the company implements complex digital solutions quickly and at the highest level, creating a life-long bond with its customers. 
Services and expertise:

mobile app development, custom software development, NFT marketplace development, AI & ML solutions, CRM development, business application development, etc. 

Tech stack:

Swift, AngularJS, Kotlin, ReactJS, NodeJS, CakePHP, VueJS, NFT technologies, etc. 

Industries:

Transport and Logistics, Healthcare, Real Estate and Property Management, Hospitality, IT and Telecom, Entertainment, Automotive, Education, Marketing

Team size:

120+ experts

Portfolio:

Danone, Toyota, AstraZeneca, Unilever, CISCO, Vileda, and others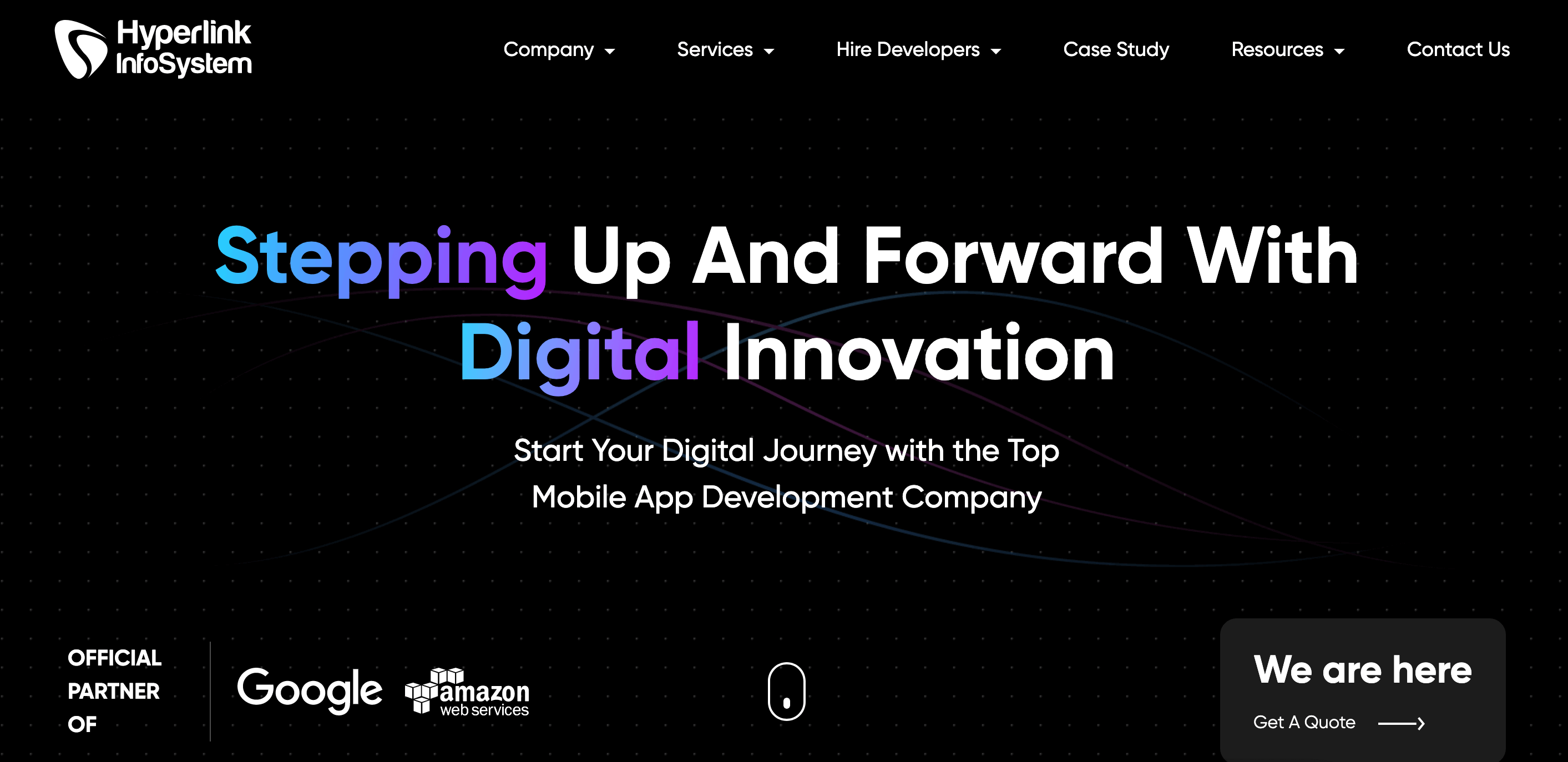 A leading custom software development company in the UK, Hyperlink Infosystem combines innovative thinking with in-depth technical expertise to help customers jumpstart their digital journey smoothly and effectively.
Since its inception, the firm has successfully launched over 4500 apps and 2200 websites, receiving top ratings from clients. The team at Hyperlink is greatly skilled and defines the best way to turn a client's 'just an idea' into an impressive online presence. 
Services and expertise:

web and mobile app development, software development, CMS development, AI and ML systems, blockchain solutions, game development, etc. 

Tech stack:

PHP, WordPress, Laravel, React, Python, Flutter, Kotlin, React Native, Swift, Ionic, and many more

Industries:

Real Estate, Travel and Hospitality, Food and Restaurant, Logistics and Distribution, Energy and Utilities, Sports 

Team size:

1000+ experts

Portfolio: Click4Services, Neighbor Shopper, OhMyHelp, Papa John's, and others


DataArt was established in 1997 with the aim of creating a better world for tomorrow. Since then, the company has been exploring untapped technological areas, enabling its clients to thrive in a highly competitive business world. 
Being one of the best software development companies in the United Kingdom, DataArt covers all possible areas of software development services. The firm excels as a strategic partner and helps clients transform their vision into reality, enabling business agility and rapid innovation. 
Services and expertise:

bespoke software development, system modernization, digital solution design, on-demand IT, technology consulting, managed support, risk management, cloud computing, DevOps, etc. 

Tech stack:

React, HTML5, jQuery, Python, PHP, NodeJS, Java, C++, .NET, Salesforce, AWS, etc. 

Industries:

Finance, Retail and Distribution, Travel, Transportation and Hospitality, Healthcare and Life Sciences, Media and Entertainment

Team size:

3500+ experts

Portfolio:

Monex Europe, Ocado Technology, Betfair, Doddle, Zesty, Apax Partners, Unilever, and others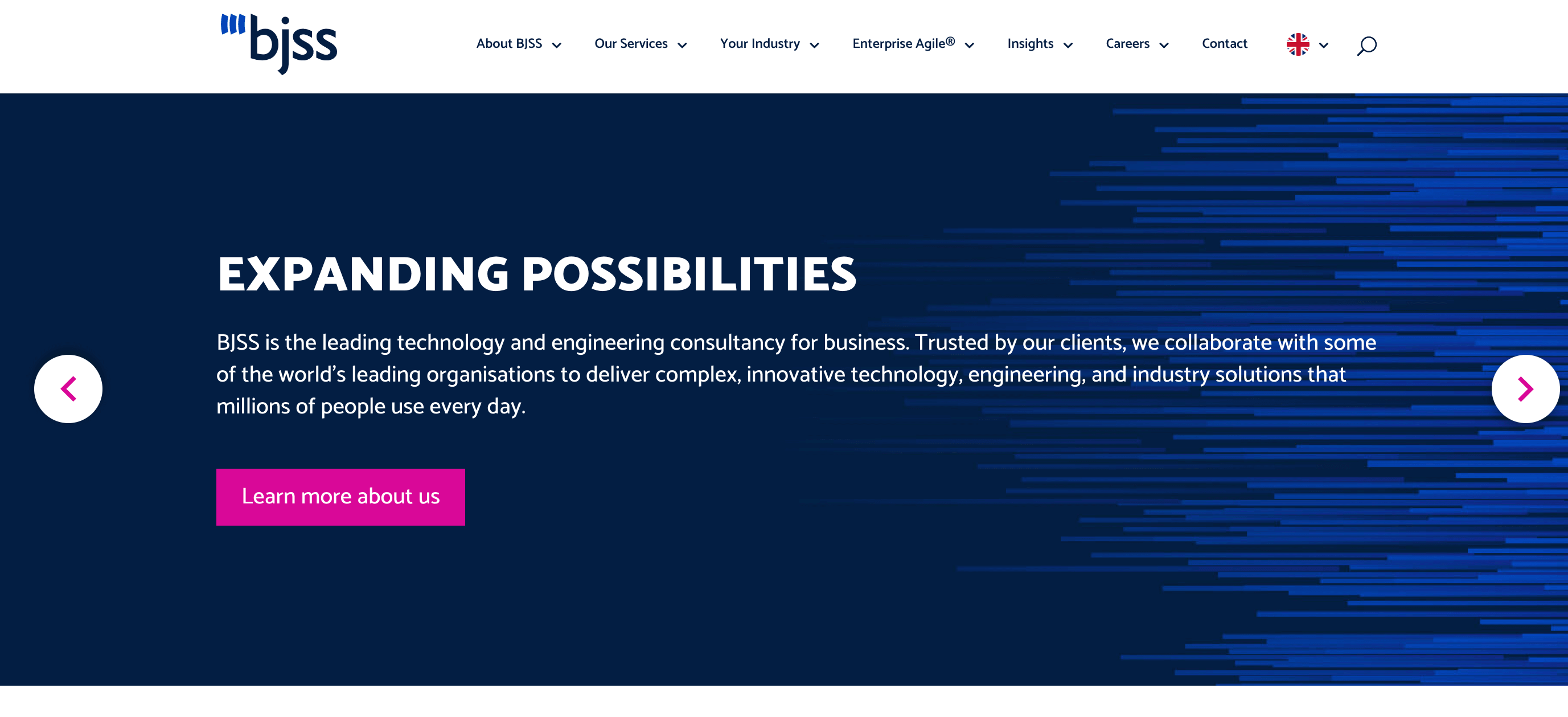 Striving to expand possibilities and make digital transformation possible, Bjss has reinforced thousands of notable organizations with engineering superior technology solutions. The company provides the best software developers in the UK and offers end-to-end digital transforming services, accelerating growth and ensuring high efficiency for its clients. 
Bjss takes up the most critical business challenges and uses its team's expertise and knowledge to develop customer-centric solutions that millions of people use daily. 
Services and expertise: s

trategy and transformation, technology and engineering, low-code and automation, cloud platforms, sustainability, design and innovation, managed delivery, Big Data and AI solutions, cybersecurity

Tech stack:

C#, Java, Python, Go, TypeScript

Industries:

Energy, Commodities and Utilities, Health and Social Care, Retail and Consumer Markets, Financial Services, Public Sector

Team size:

2000+ experts

Portfolio:

Unity Trust Bank, Specsavers, Gunvor, NHS, Care Fertility, Department of Health & Social Care, and others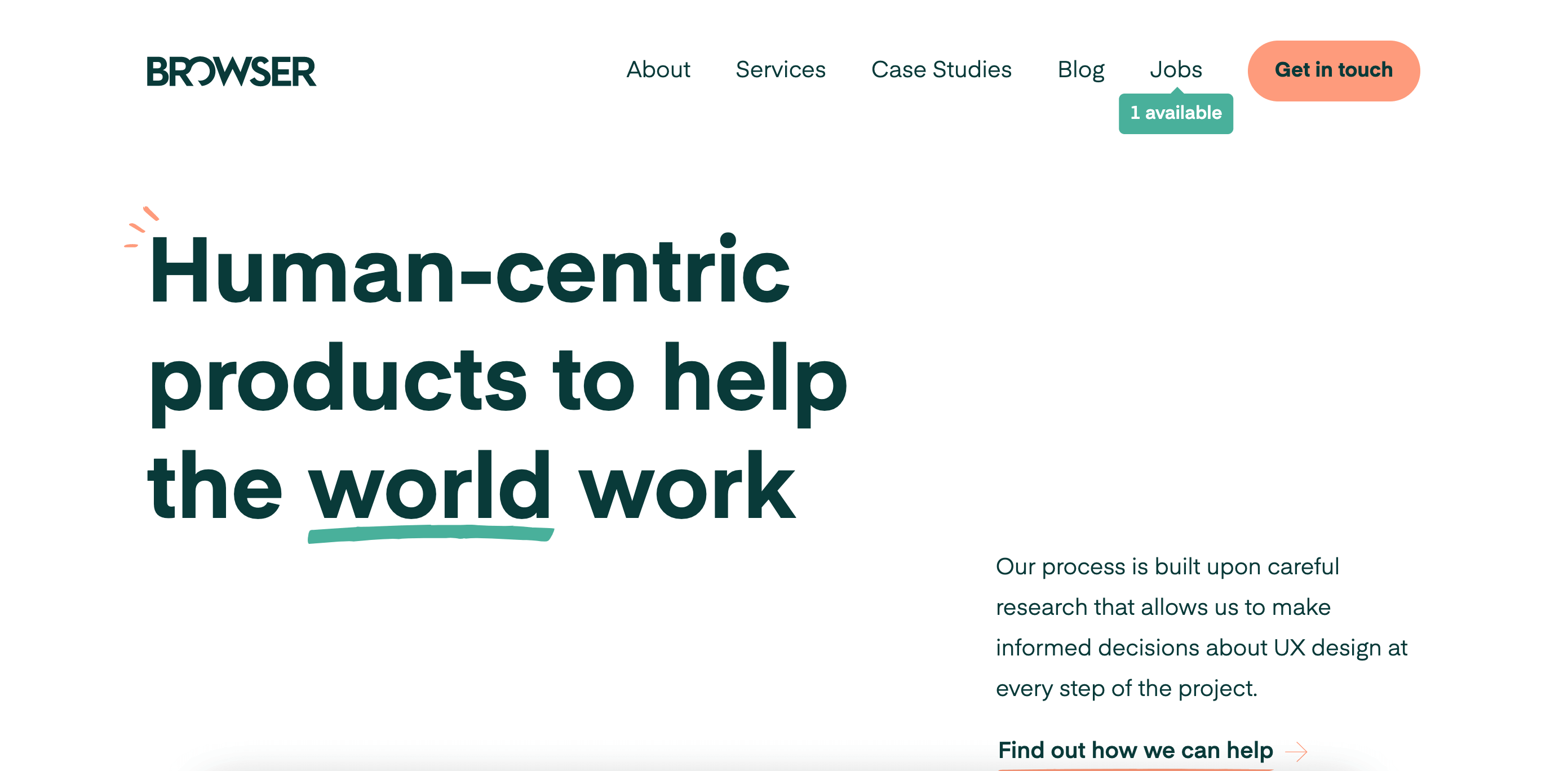 Browser London offers unparalleled consulting and software development services following a user-centric approach. Equipped with more than 14 years of experience, their top-notch developers and designers with in-depth UX understanding make it one of the best IT outsourcing companies in the United Kingdom. 
From researching new product concepts to crafting a winning digital strategy, Browser London offers a vast pool of services, helping clients grow their businesses and earn more revenue. 
Services and expertise:

research and analysis, product development, power platform development, UX and UI design, product strategy, continuous improvement, and support

Tech stack:

JavaScript, NodeJS, Compass, Faye, PHP, AngularJS, Bootstrap, etc. 

Industries:

Telecommunications, Internet service providers, Internet-related services, Website hosting, Healthcare, Travel and Tourism, Education, Government 

Team size:

50+ experts

Portfolio:

NHS, British Airways, UCL, Team Detroit, TransportFocus, Santander, Foreign and Commonwealth Office, and others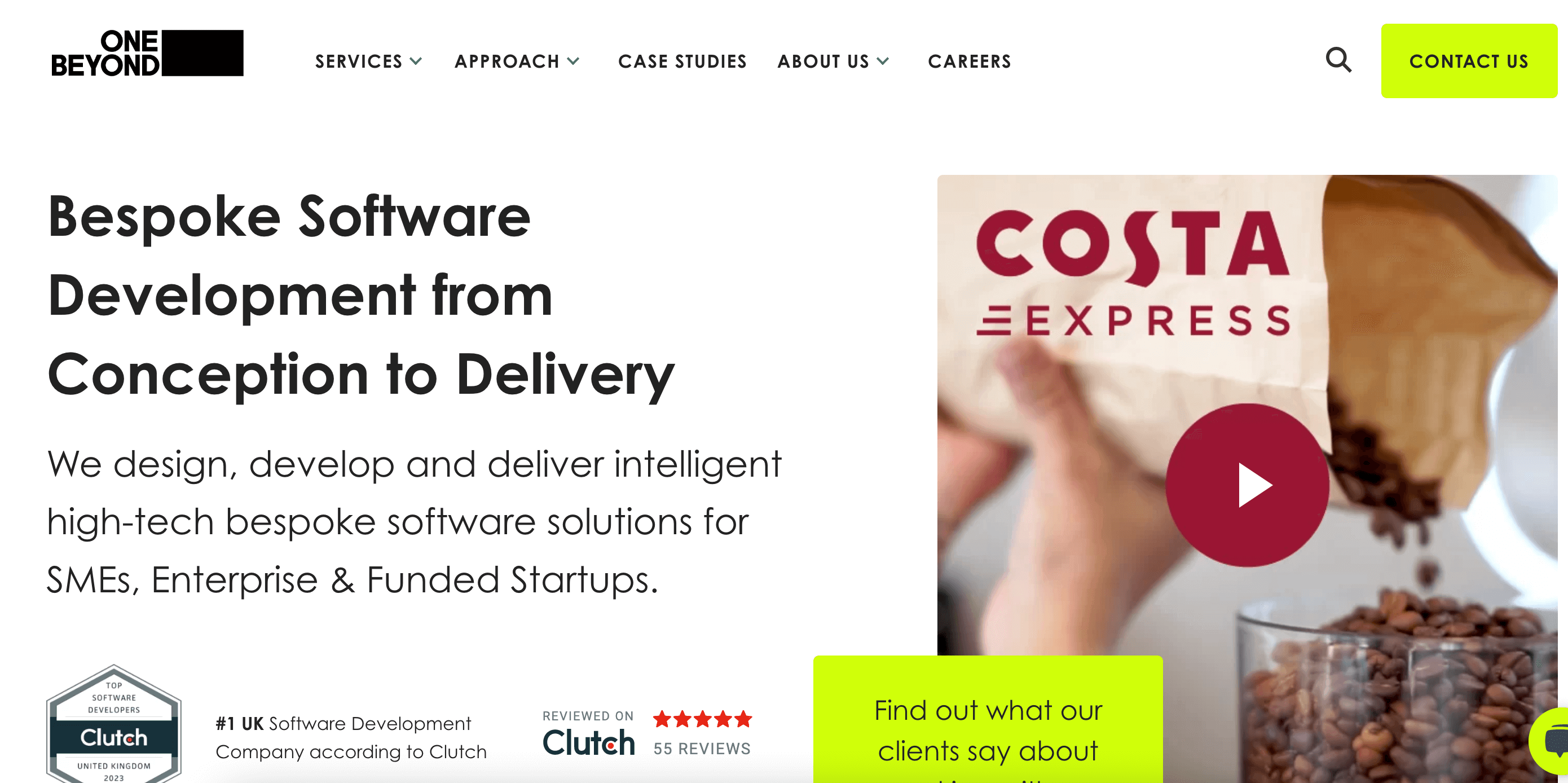 One Beyond is a trusted software development agency in the UK with more than 25 years of experience.  Their team has worked on various ambitious development projects, delivering the most suitable and profitable solutions that helped unleash the fullest potential of clients' businesses. 
Built on the pillars of authenticity, compassion, and extraordinariness – the company takes full responsibility for projects from initial planning to the luanch stage. 
Services and expertise:

web application development, bespoke CRM and ERP systems, customer portals, operational systems, software and hardware integration, mobile app development, etc. 

Tech stack:

React Native, NodeJS, C#, TypeScript, SSRS, Power BI, Google Big Data, Kafka, HTML5, etc. 

Industries:

Media and Entertainment, Logistics, Food and Consumer Products, Healthcare, Government

Team size:

300+ experts

Portfolio:

Pearson, Hive, LiDL, NHS, The Good Exchange, SmithNephew, ActiveNewham, and others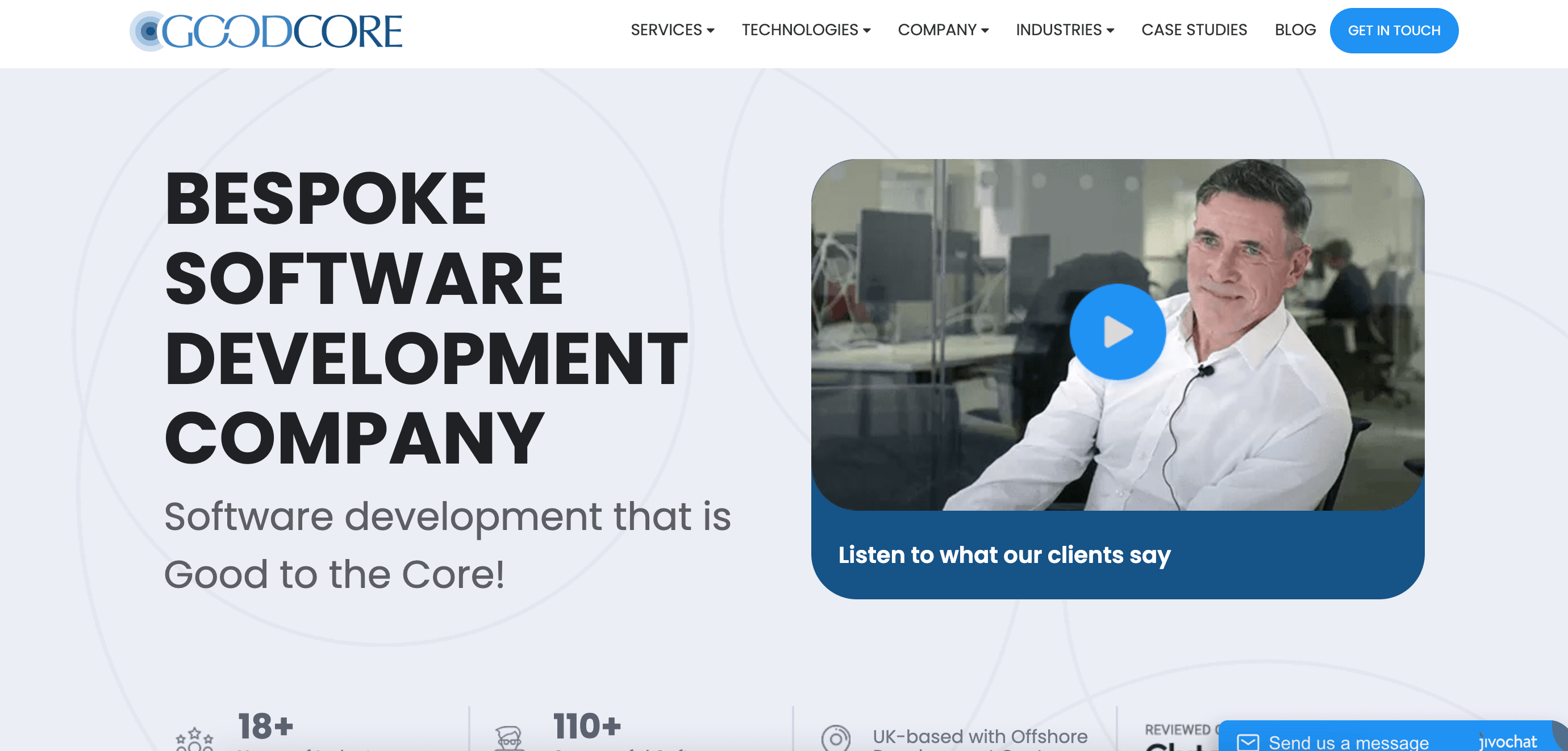 Goodcore is a well-known name in the UK software development market. Since 2005, the company has been collaborating with numerous prominent startups and established businesses to deliver successful projects in a brilliantly efficient manner. 
Goodcore offers dedicated support and 24×7 consultancy services, making it the home of the most reliable software developers in the United Kingdom. 
Services and expertise:

web app development, software development outsourcing, web portal development, product development, mobile app development, bespoke business applications, desktop app development, etc. 

Tech stack:

Java, NodeJS, React, Angular, iOS, Android, Microsoft Azure, Google Cloud Platform, etc. 

Industries:

Technology, Utilities, Finance and Fintech, Education, Sports, Healthcare

Team size:

200+ experts

Portfolio:

Cardinal Management, Harding Display, London Women's Clinic, University of Winchester, BriefingSource, Business Finance, GoPlayGolf, and others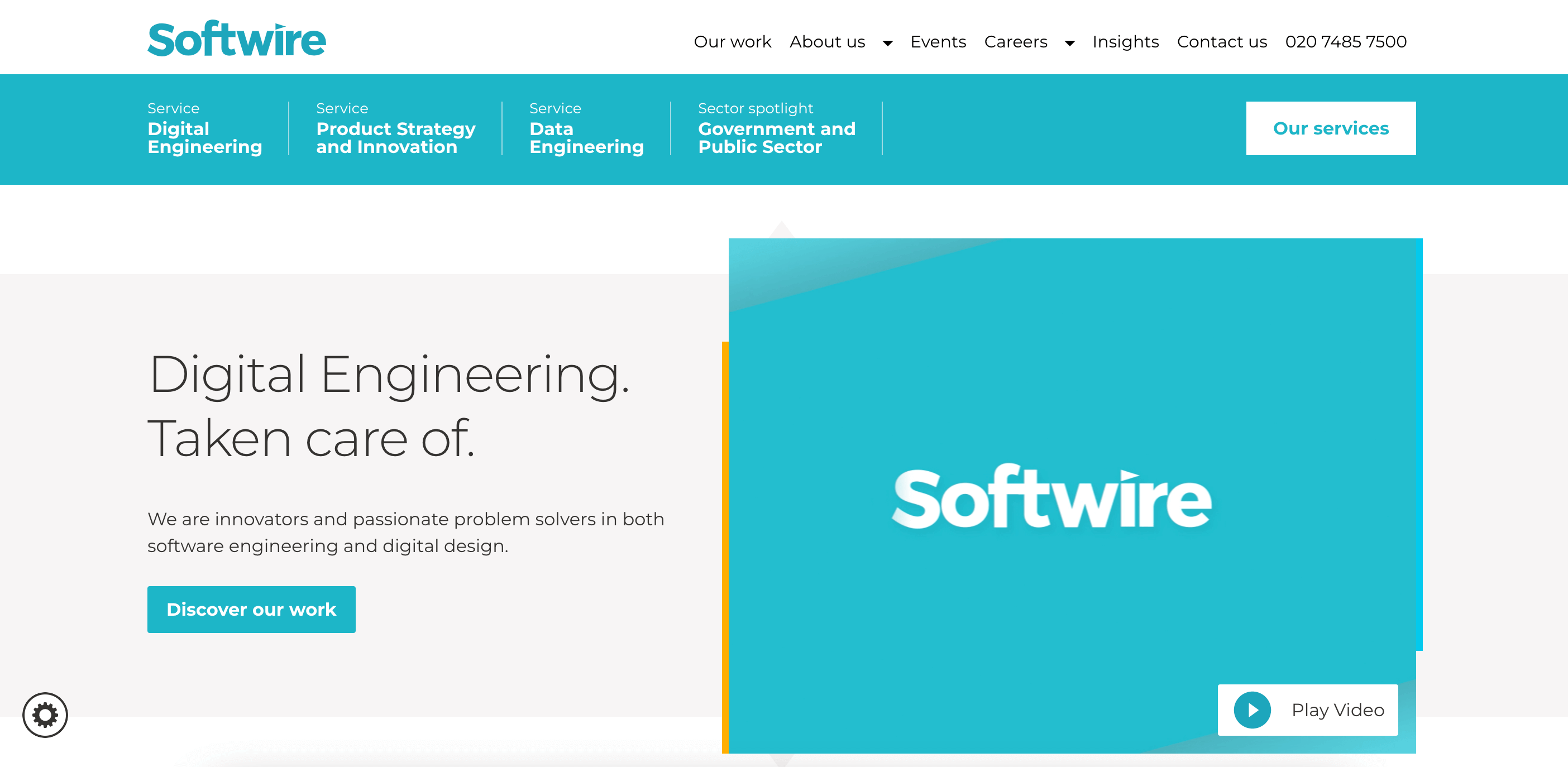 Hosting an expert team of problem solvers and innovators of change, Softwire believes in bringing about not only commercial growth but also organizational change. 
Softwire is one of the best custom software development companies, delivering unbeatable project results within budget and deadlines. It blends technical expertise with in-depth knowledge of the dynamic technological world, enjoying high appreciation from public and private companies. 
Services and expertise: d

igital engineering, product strategy and innovation, data engineering, software consultancy, mobile app development, custom software development, DevOps, etc.  

Tech stack:

Python, JavaScript, Angular, React Native, Flutter, Firebase, etc. 

Industries:

Government and Public Sector, Media and Entertainment, Technology, Financial Services 

Team size:

200+ experts

Portfolio:

BBC, Metaswitch, Royal Opera House, Profile Pensions, and others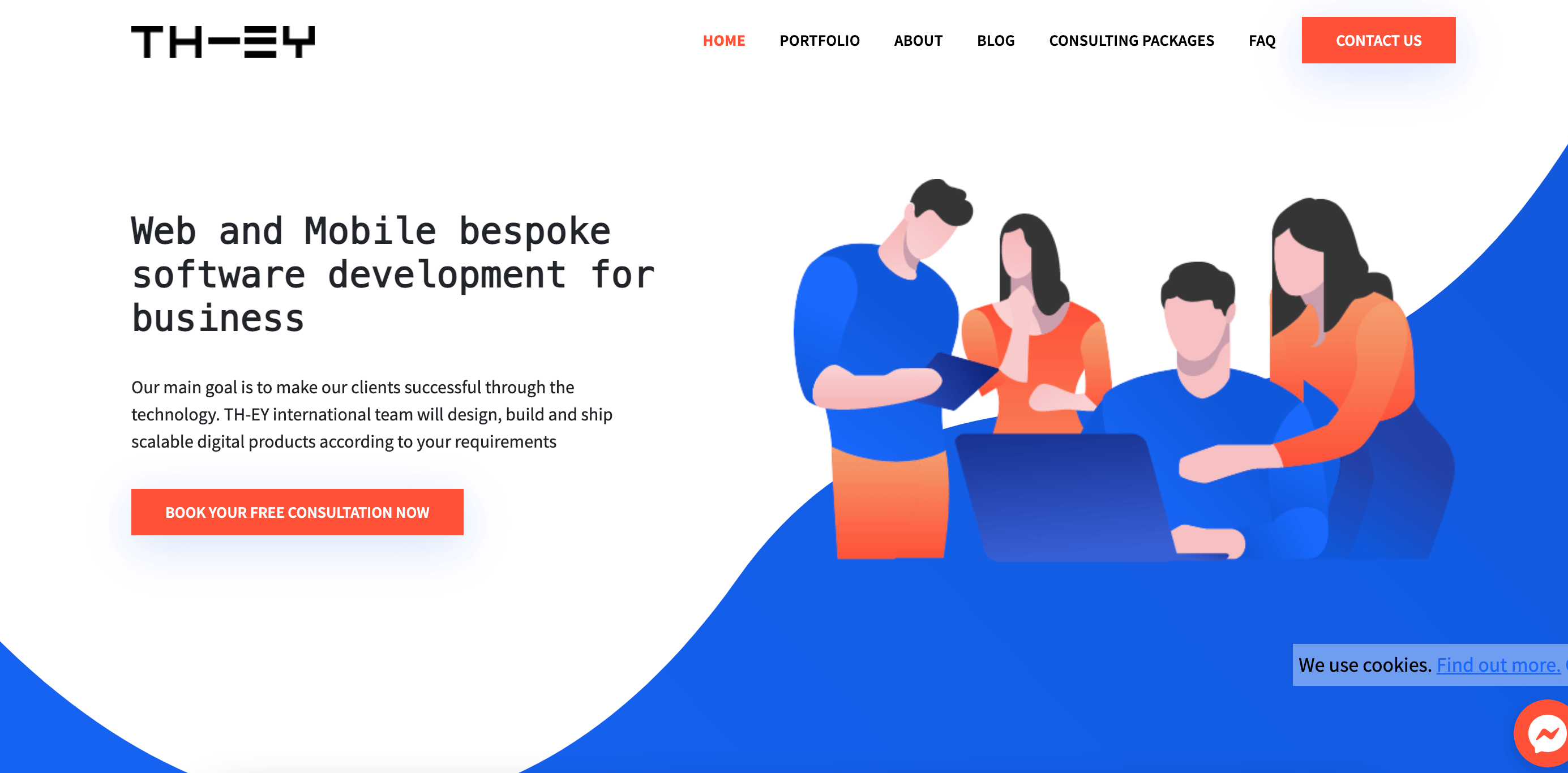 Established in 2017, TH-EY specializes in a handful of technologies that enables them to offer streamlined services in a well-designed manner. It's a top custom software development company in the UK that follows an agile methodology and builds scalable products according to the client's requirements.
Going a long way to ideate the best solutions, TH-EY is a trusted brand with expertise in shipping customizable and affordable software solutions. 
Services and expertise:

web and mobile app development, UX/UI design, cloud-based solutions, etc.  

Tech stack:

PHP, Amazon Web Services, JavaScript, MySQL, NodeJS, etc. 

Industries:

Food and Restaurant, Retail and eCommerce, Clothing and Accessories, Human Resources, Education and eLearning, Beauty and Wellness, Travel and Hospitality

Team size:

20+ experts

Portfolio:

FirstAscent, Common Surface, Special Stuff, Susterra, Onboard, Stone Door Group, Hatchpad, and others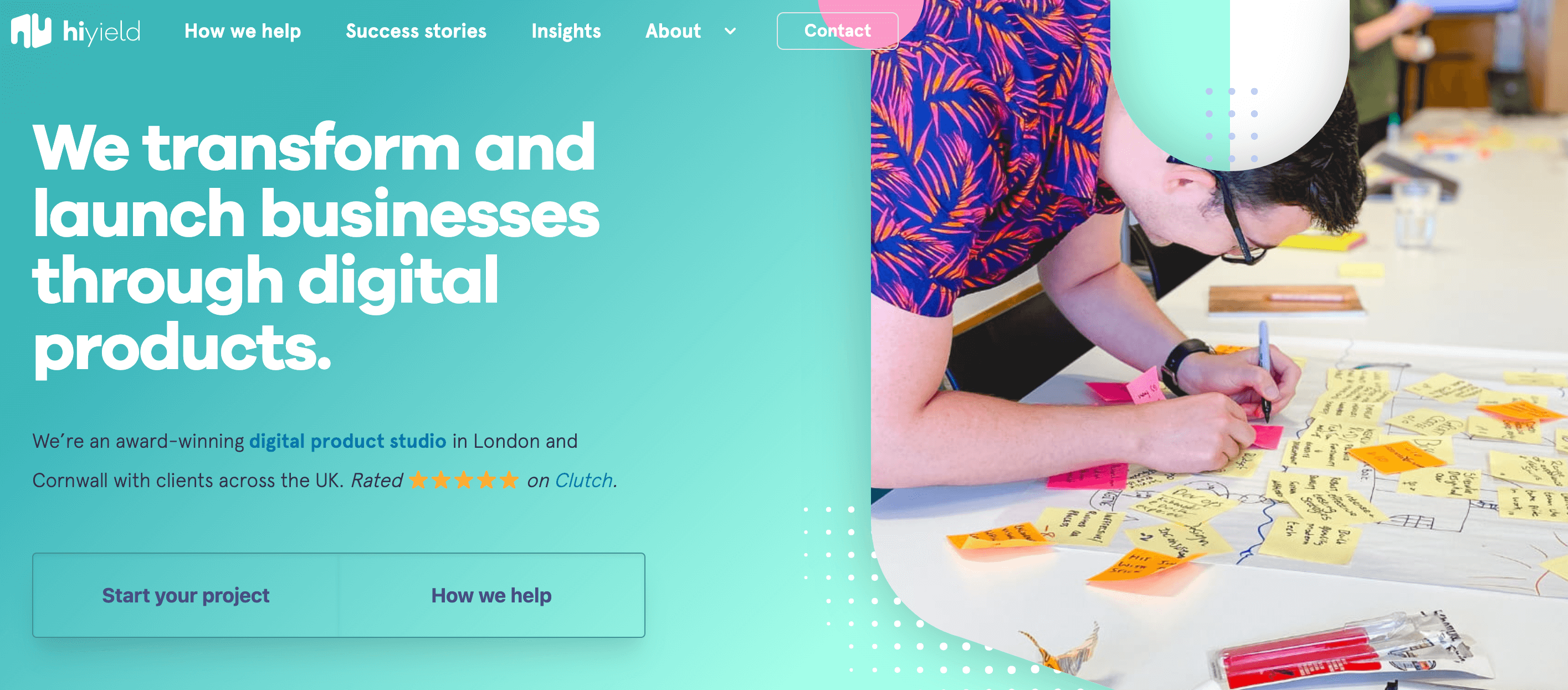 If you wish to pair up with one of the best software development companies in the United Kingdom, Hiyield can become your reliable partner. Transforming the business world through its award-winning and innovative digital products, Hiyield performs comprehensive research and analysis to understand its client's needs and goals. 
The company will dive into your project to create scalable, secured, and easy-to-use software applications. 
Services and expertise: d

igital products, UX and UI design, digital transformation, software development, graphic design, software consultancy, mobile app development, web app development, etc. 

Tech stack:

JavaScript, Python, TypeScript, C#, PHP, React, WordPress, Firebase, Amazon Web Services, etc. 

Industries:

PR and Communications, Human Resources and Talent Acquisition, Pet care, Audiobooks and Publishing

Team size:

50+ experts

Portfolio:

Greenhouse PR, DG Solutions, StandoutCV, PetGP, Xigxag, and others
Conclusion
When hiring the best software developers in the UK, your company will scale new heights, saving up a lot of time, effort, and unnecessary costs. Making the right choice of your tech partner is fundamental to your ultimate project success. We hope this list helps you identify the most suitable service provider.

If you want to feature your top software development company in the United Kingdom in this list, send your request by email. After a quick review, we'll decide whether it's a valuable addition.