Functional and creative websites are the top priority for  SaaS and tech businesses; however, even technological companies might lack the time, capacity, or expertise to build and maintain a good website.
In an era where user experience takes center stage, every click matters, and each pixel serves to tell a brand story, the Webflow development platform is gaining extensive popularity.
Embracing the "MORE design, LESS development," this prominent no-code website builder with comprehensive drag-and-drop features reshapes the SaaS & tech industry, providing a secure, lightning-fast, cost-efficient, SEO-friendly, and simplified website development approach.
Even a nontechie can implement a basic website using Webflow, but to create a truly professional, high-converting website, you might need expert help. Discover the top Webflow development companies for SaaS and tech businesses that have long been at the forefront of quality craftsmanship and gained dozens of excellent reviews from past clients.
Top Webflow Development Companies F
or Fast-Growing Tech Businesses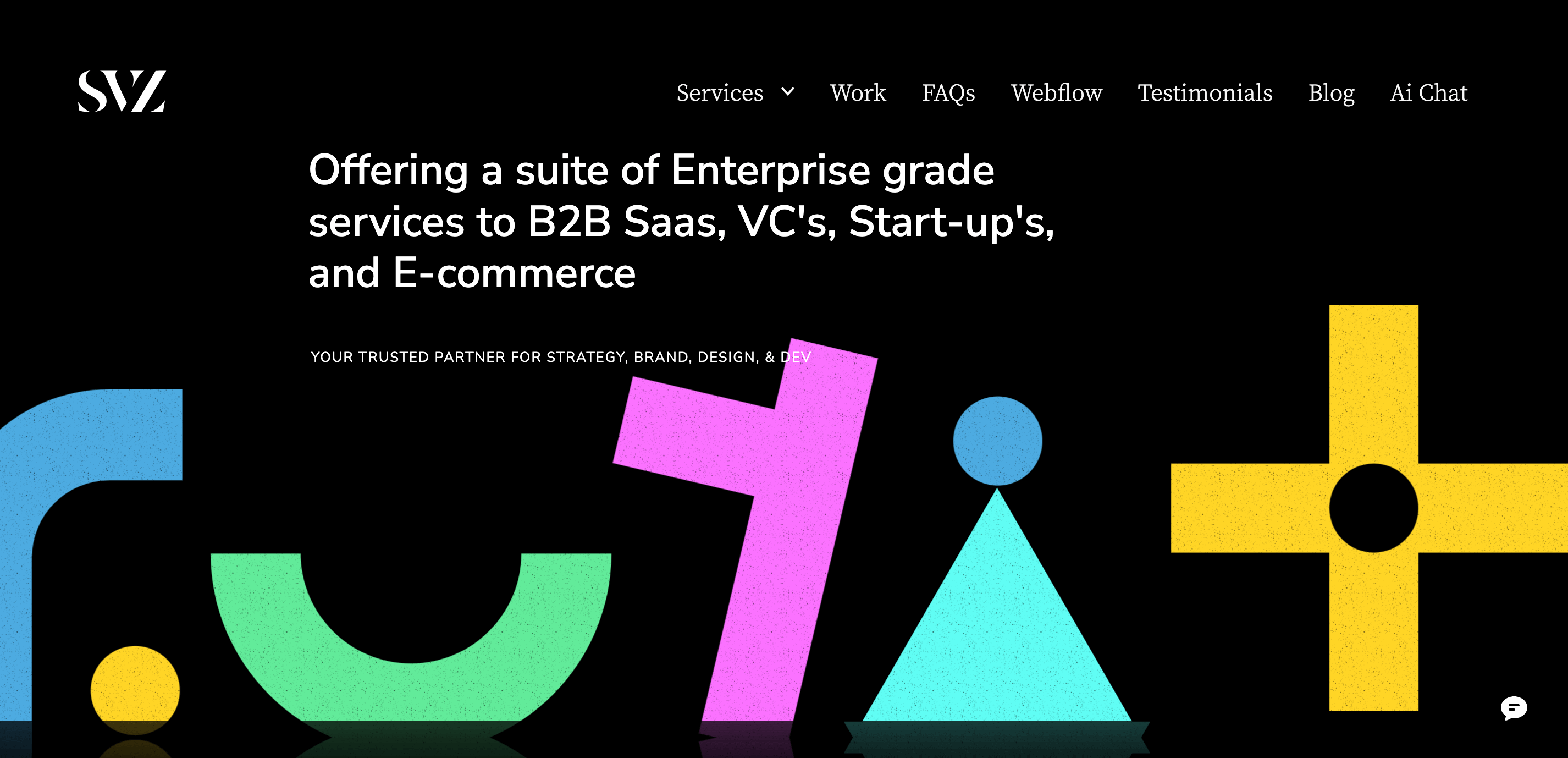 Ranked as the premier Webflow development agency for SaaS and tech companies, SVZ Design delivers enterprise-grade digital services tailored to B2B SaaS, startups, eCommerce, and venture capitalists. Founded in San Francisco, California, the company has been crafting stunning web designs, sophisticated development, and CMS-powered solutions for visionary brands since 2013.
Their end-to-end suite of services caters to diverse enterprise requirements, embracing strategy, branding, design, Webflow development, and CMS training. Going above and beyond, SVZ drives clients' growth by revealing hidden potential, understanding competition, and planning actionable digital strategies. They excel in executing software projects and optimizing promotional campaigns for exceptional results. Committed to quality, their team prioritizes genuine work over shortcuts, setting a high industry standard.
From shifting designs between Figma and Webflow to implementing promising projects from start to finish, SVZ Design embodies a partnership of innovation. Start your acquaintance with this ingenious team with a free 15-minute consultation and get ready to embrace the power of the best Webflow development company.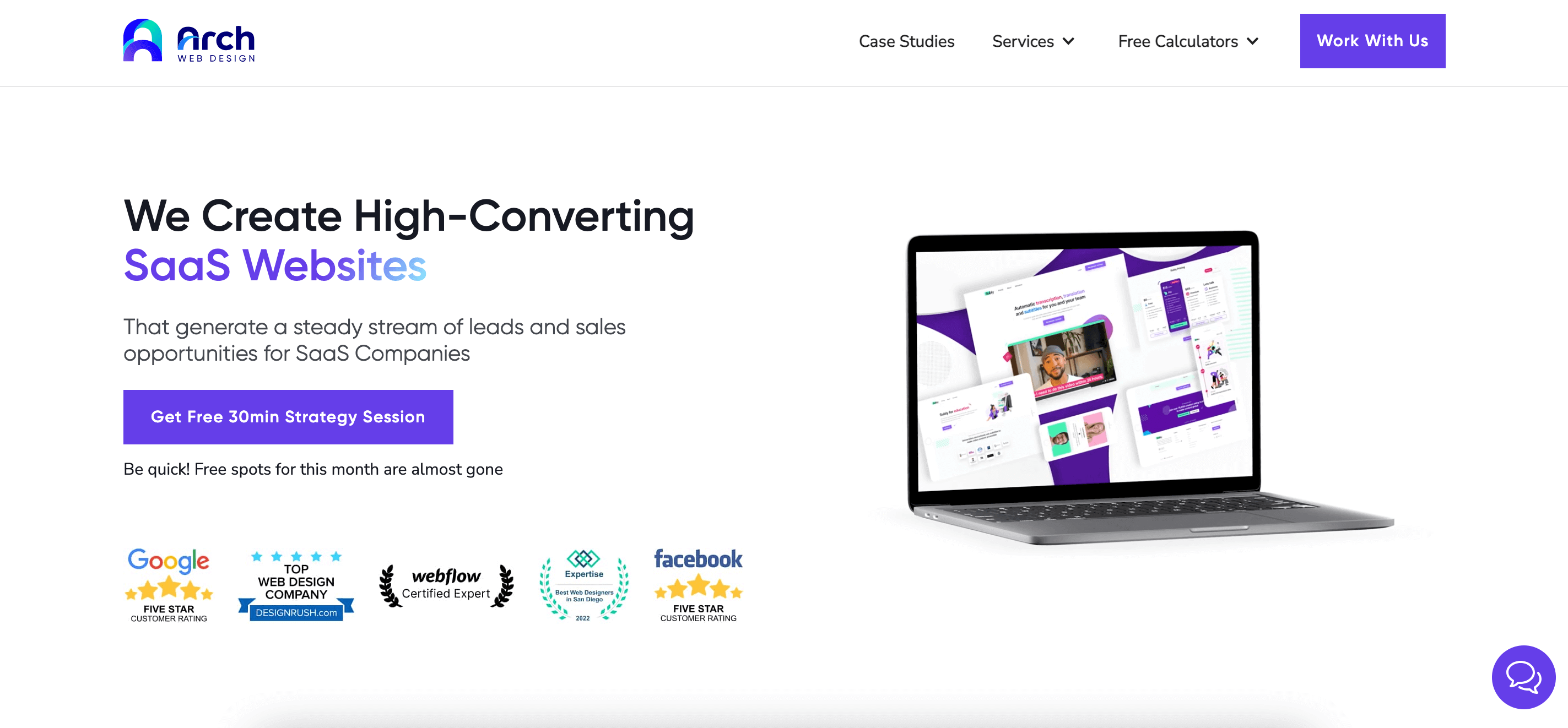 Arch Web Design, established in 2016, is among the top Webflow development companies that catch attention and leave no one indifferent. With a global clientele ranging from renowned brands to startups, Arch Web Design is a dedicated team of Webflow experts committed to driving digital success for SaaS and tech companies.
Holding numerous recognitions and awards, including a Top Web Design Company, the Best Web Designers in San Diego, and maintaining a pristine 5-star customer rating on Google and Facebook, Arch Web Design exemplifies excellence.
A hallmark of their commitment lies in the 2x Conversion Increase guarantee. Should the website they develop fail to double lead generation, they pledge a full refund. The statistics speak volumes – on average, clients witness a remarkable 219% conversion increase within 90 days.
Arch Web Design's impact extends beyond conversions, with their clients securing an impressive $200M and counting in funding. This translates to an astounding up to 17x ROI, underscoring their prowess in driving tangible and substantial growth for SaaS and tech businesses. For those seeking an unparalleled partner to propel their digital journey forward, Arch Web Design stands as an unwavering ally in achieving and exceeding business objectives.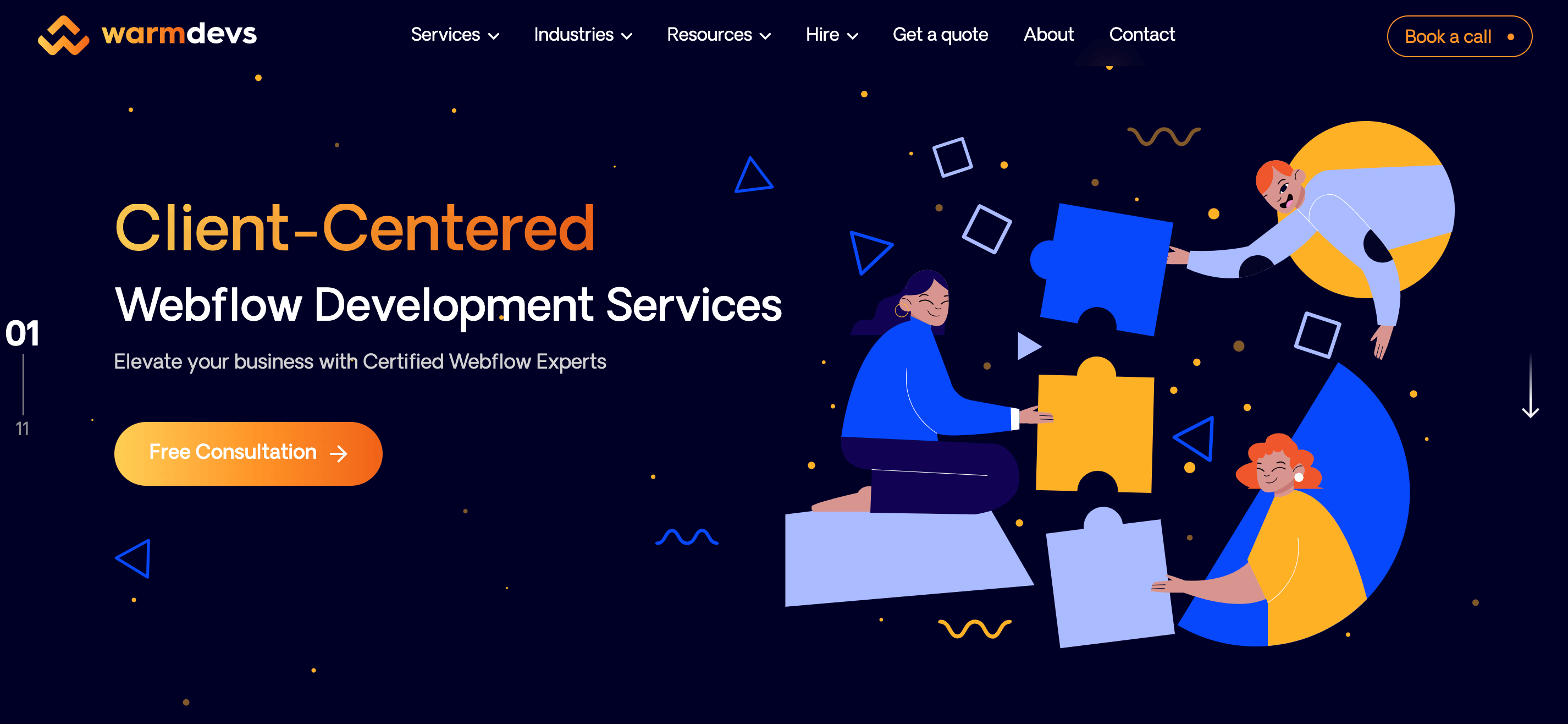 Crafting digital experiences that resonate, Warmdevs is a true master of Webflow design and development. They follow a meticulous approach to lay a solid foundation to build a SaaS website with Webflow, empowering your developers to focus on their product forte.
With an unwavering commitment, they ensure your offering stands out amidst the fierce competition. What's more, the agency's expertise extends beyond aesthetics. Seamlessly integrating relevant APIs—ranging from payment systems and databases to CRM and live chat— their Webflow experts will help you overcome any technical challenges.
During an impressive 6-year history, Warmdevs has delivered over 400 successful projects for companies in 26+ countries, securing numerous recognitions, including Webflow Certified Expert status. The benefits of partnering with Warmdevs are multi-faceted: competitive pricing, expedited R&D, consistent communication, transparent updates, post-launch support, and a foundation for a mutually rewarding long-term collaboration.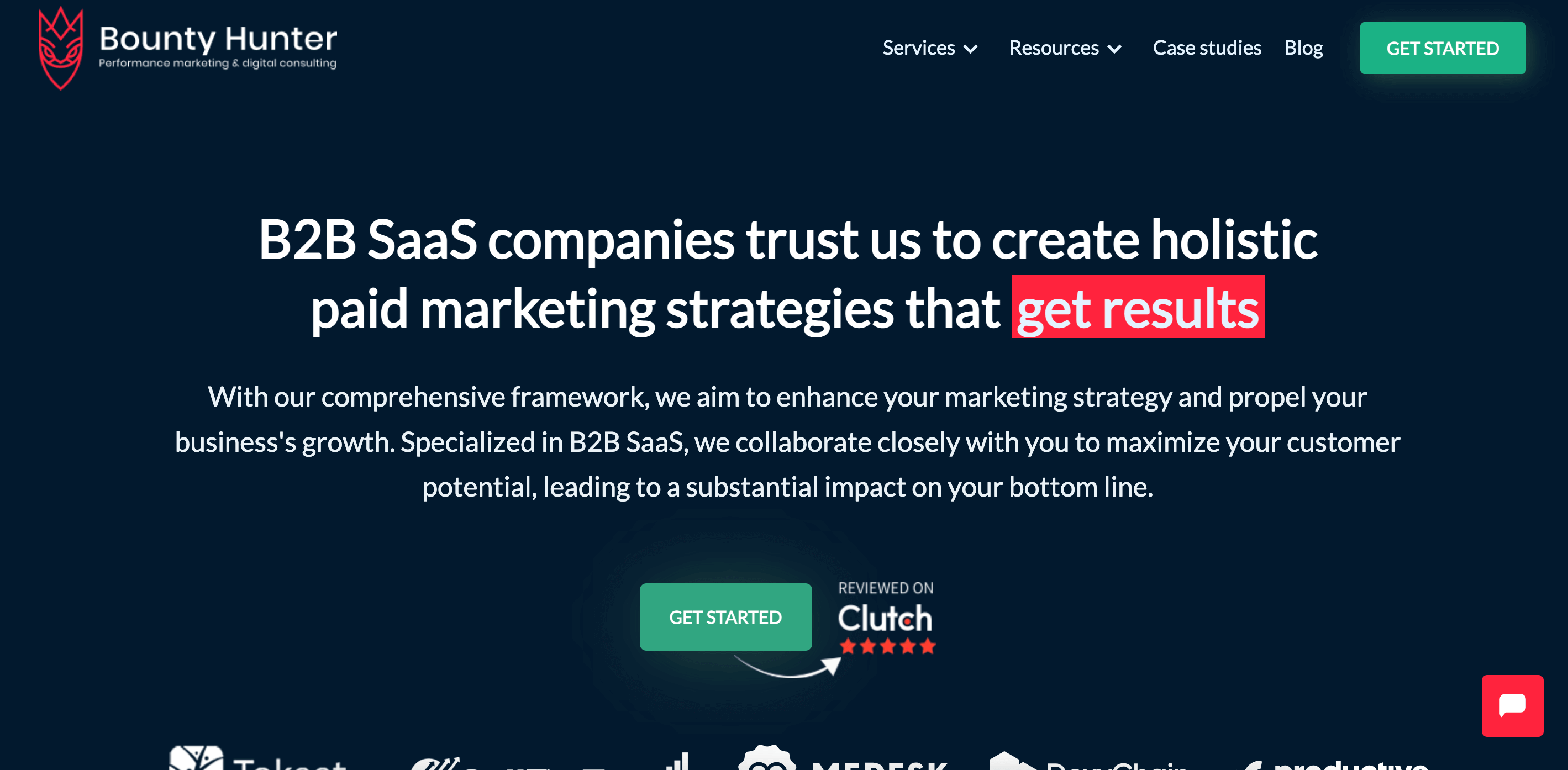 Without Bounty Hunter, no compilation of the best Webflow development companies can be complete. Harnessing the power of Webflow, this agency empowers SaaS companies and tech enterprises to wield their software's prowess with absolute clarity. Their web solutions are not just user-friendly and lightning-fast but meticulously tailored to align with your business objectives.
Amidst their expertise, Bounty Hunter specializes in optimizing conversions and boosting lead generation, sparing your team the burden of tedious design and content management. With a firm grip on the complexities of SaaS marketing strategies, they seamlessly weave together the elements needed to maintain customer acquisition cost profitability.
Bounty Hunter stands out as a vibrant, forward-thinking digital marketing agency that caters to fast-growing SaaS & B2B tech subscription-based businesses in the US and Europe, boasting an ARR of 1M and beyond. By applying their innovative marketing strategies, you'll always be at the helm of the right actions at the right time.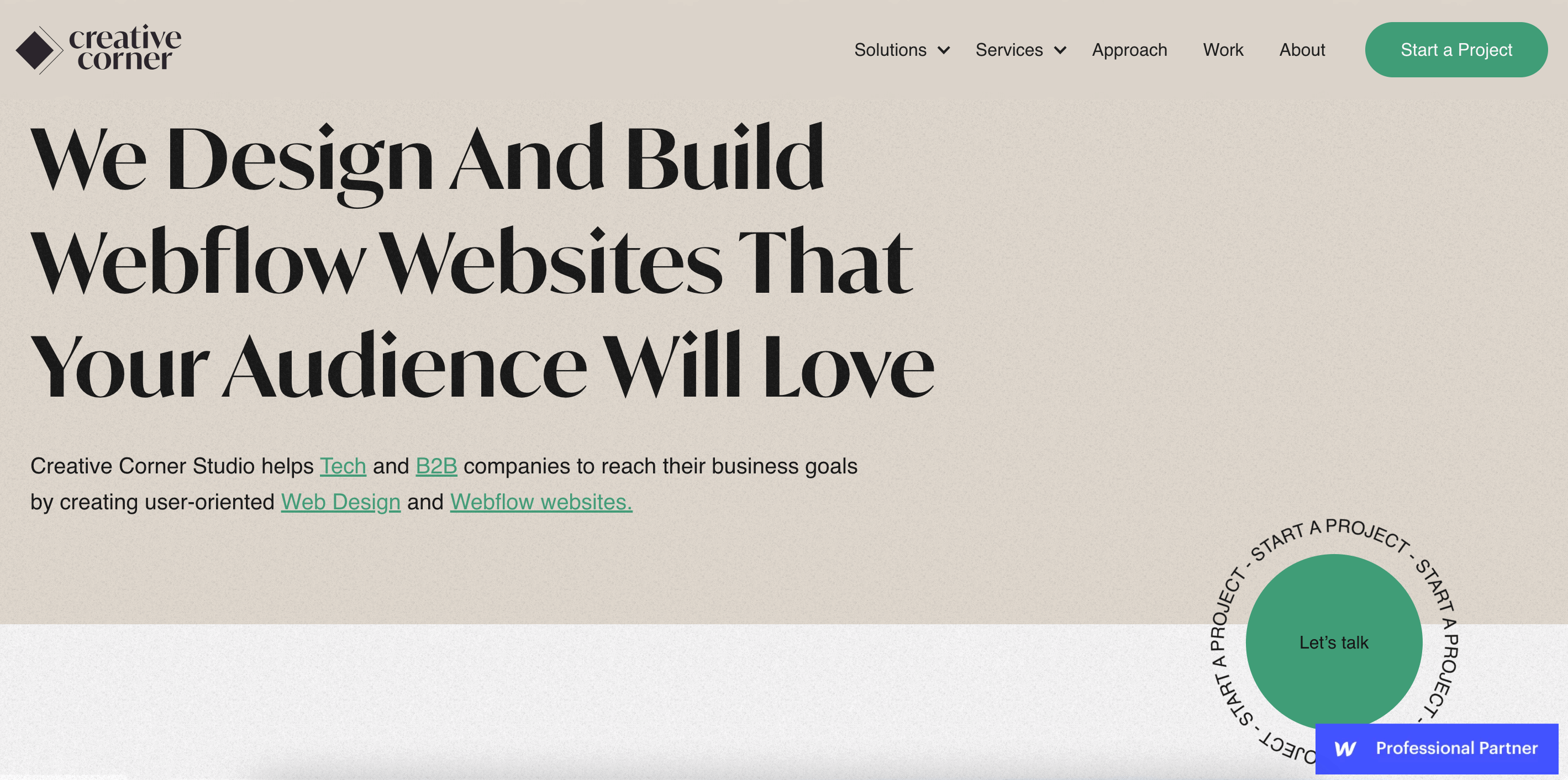 Creative Corner is synonymous with excellence. Regardless of the developmental stage – be it the early days of a startup or the zenith of an established brand – Creative Corner can build an impactful SaaS website with Webflow while achieving your business aspirations.
Their comprehensive service suite covers tailored web design solutions, each precisely calibrated to mirror the essence of your tech enterprise. From capturing your professional ethos and origins to delivering a unique customer experience, their holistic approach translates into tangible benefits: enhanced ROI, streamlined workflow automation, robust SEO, seamless performance, easy content updates, and instantaneous credibility. Counted among their esteemed clientele are industry giants such as Philips, Anker, Home2U, PulsarVision, Henkel, B-eye, and Innspire.
For those seeking to harness the power of the digital domain and captivate the audience, Creative Corner Studio stands as a steadfast partner, where innovation and excellence converge to define the web development landscape.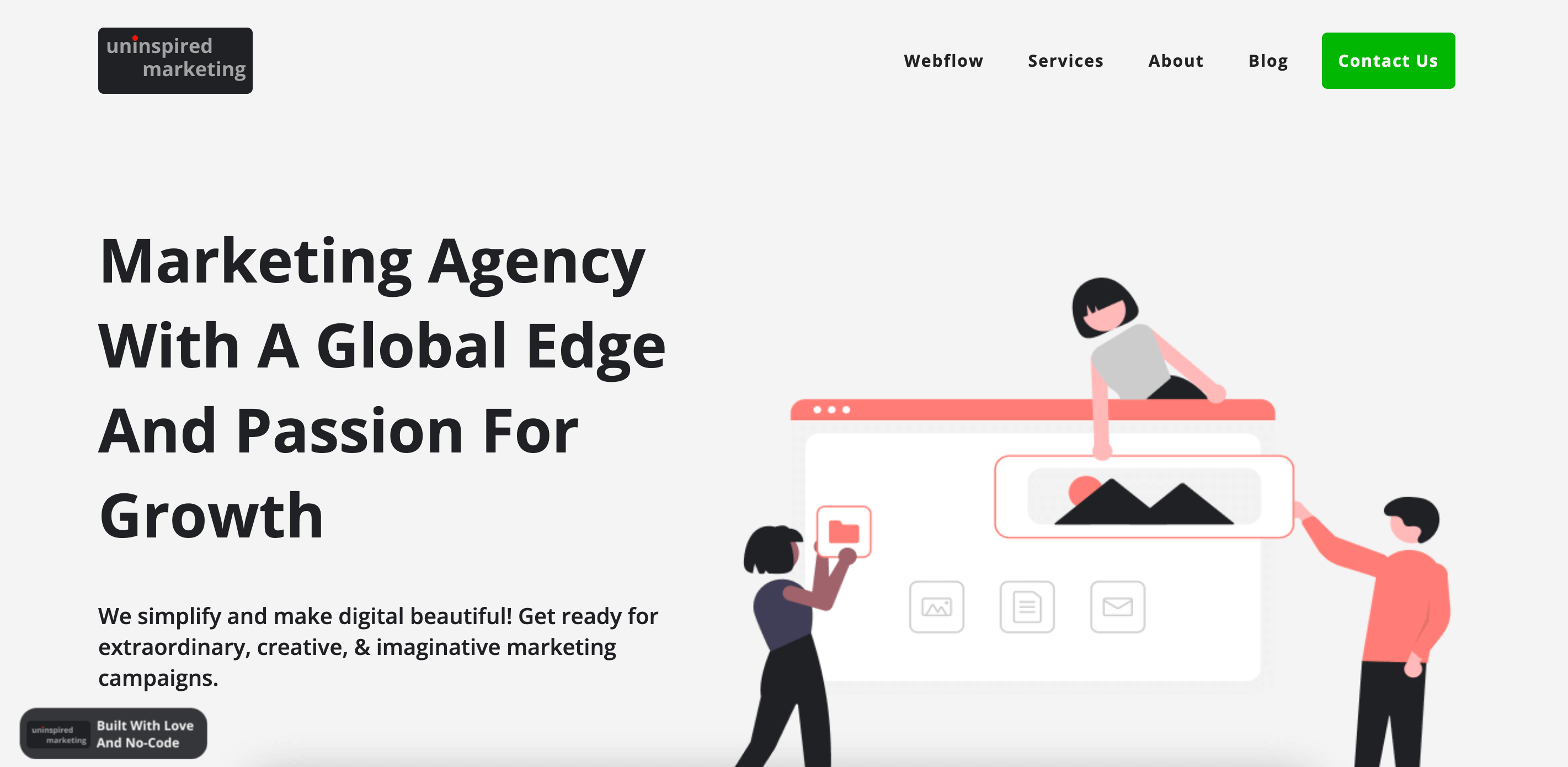 Another top Webflow development agency, Uninspired, is dedicated to sculpting digital landscapes that resonate with innovation and efficiency. Exclusively using Webflow for SaaS marketing teams, Uninspired is a sanctuary of Webflow expertise. Achieving swift loading times, responsive designs, and an adept Content Management System, they transform your vision into a user-friendly reality. Creative animations and interactive designs are the hallmarks of their work, crafting digital narratives that captivate.
With a profound understanding of SaaS and its marketing specifics, Uninspired's project managers foresee your needs, from content to account-based marketing. Pioneers of on-time delivery, they under-promise and over-deliver, adhering to fixed timelines and budgets for every project.
Uninspired's prowess isn't confined to development alone; their mastery extends to seamless Webflow integrations with potent tools such as Pardot, Airtable, Salesforce, Intercom, and Zapier.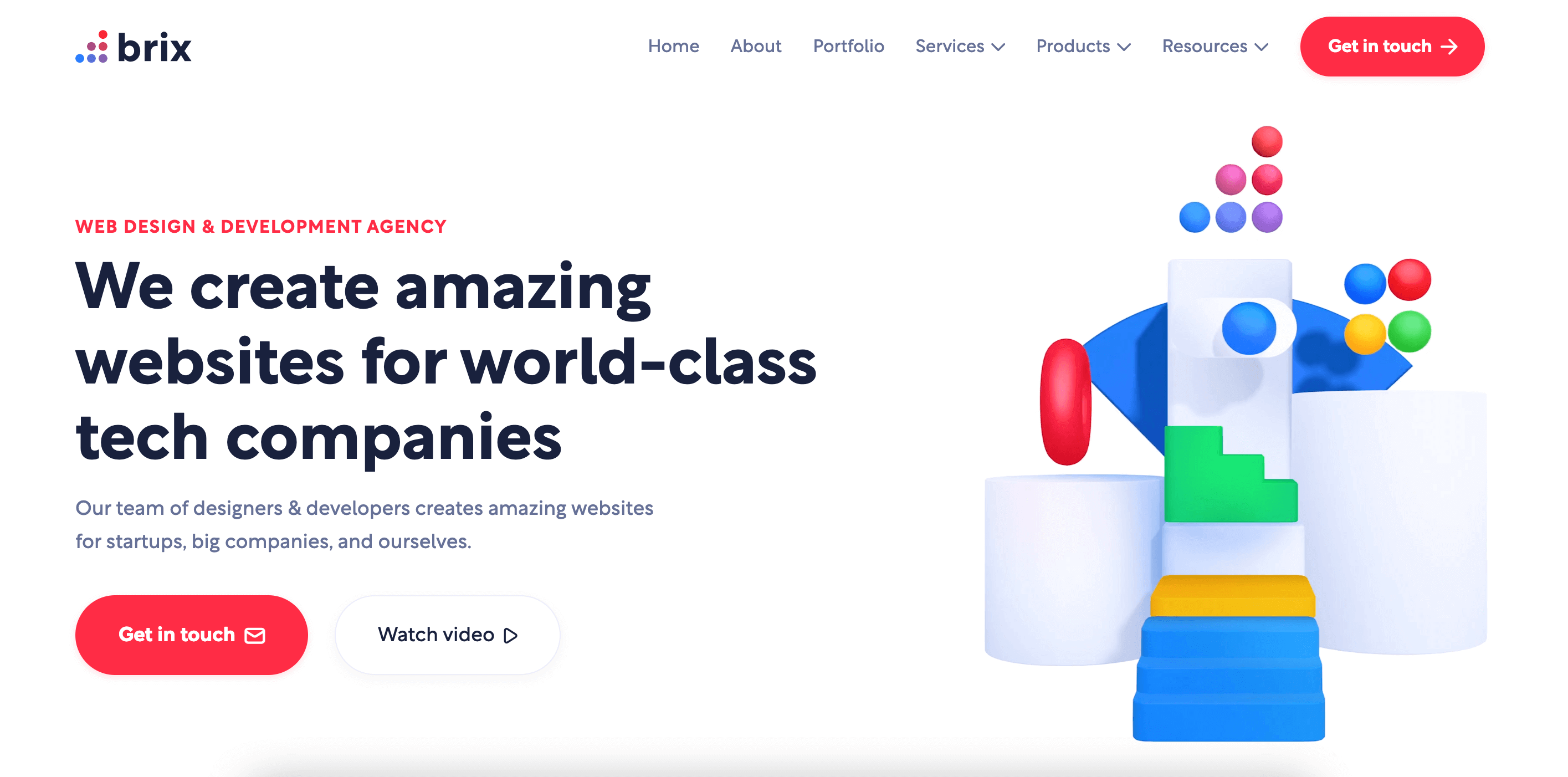 BRIX Agency is one of the best Webflow development companies for SaaS businesses, boasting an impressive seven-year legacy. With a solid portfolio of 200+ websites built, a roster of 100+ satisfied clients, and an impressive 97% client satisfaction rate, BRIX Agency stands poised to redefine your digital presence and drive your tech venture to uncharted heights.
Dedicated to precision, lightning-fast load times, impeccable responsive designs, and a paramount focus on SEO, the company helps create websites driving conversions to unprecedented heights. Their prowess extends beyond design – BRIX Agency is adept at fine-tuning on-page SEO strategies, propelling clients up Google's search ranks, and ushering in a stream of organic traffic.
Amidst the digital ecosystem, BRIX Agency doesn't merely stop at Webflow mastery. In addition to crafting captivating sites, the agency seamlessly integrates Webflow projects with an array of beloved tools, including HubSpot, Salesforce, Greenhouse, and more. This strategic orchestration streamlines workflow, enhances efficiency, and slashes manual labor through the power of automation.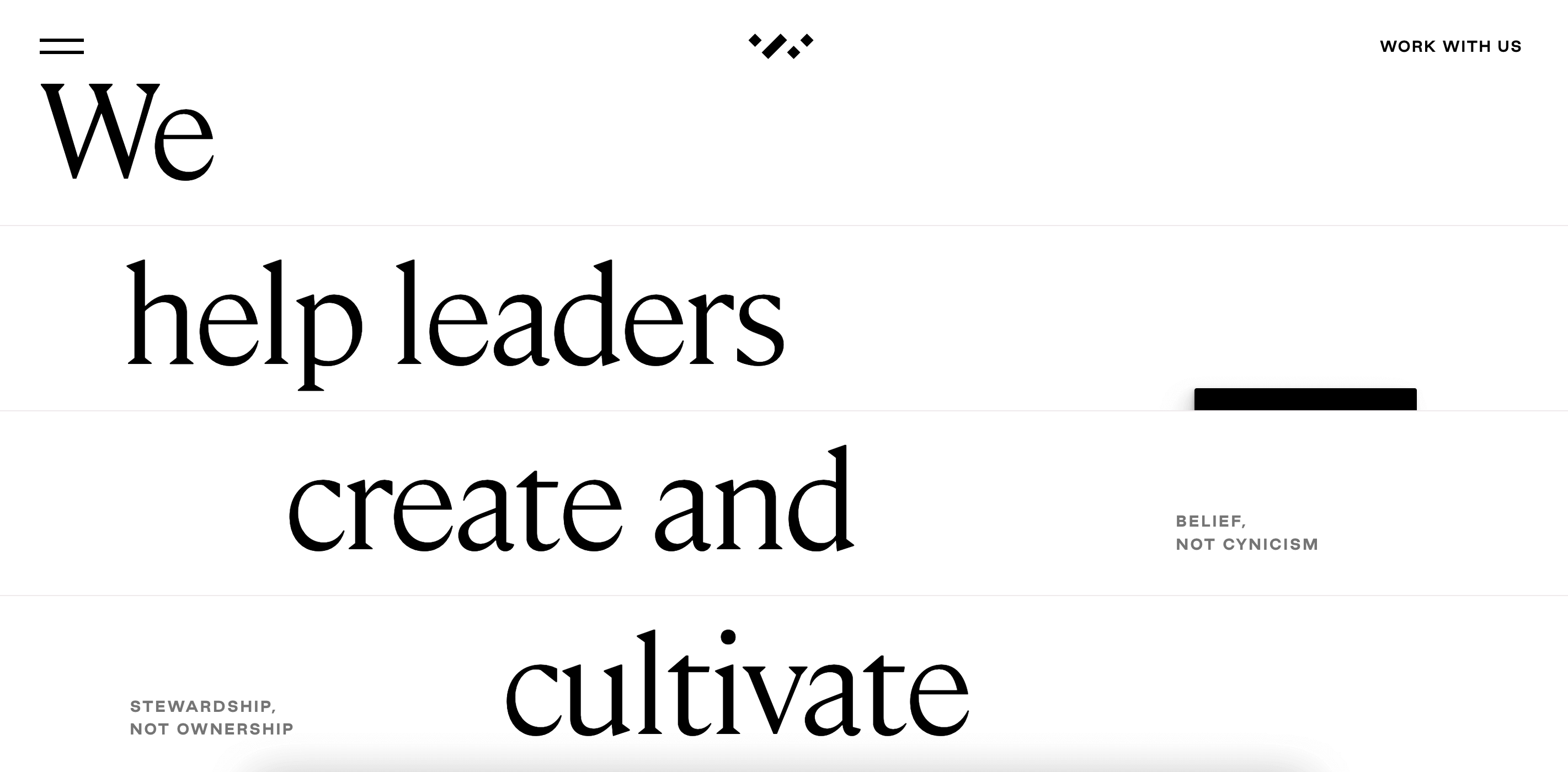 With a rich legacy spanning over a decade, Whiteboard redefines the norms of digital craftsmanship. While many Webflow agencies focus on web design, Whiteboard sets itself apart by exclusively dedicating its expertise to Webflow development, allowing businesses to build a SaaS website with precision and innovation.
Over the course of a decade, the company has collaborated with over 300 clients from diverse industries, earning an impressive portfolio that goes beyond tech and software startups. This extensive experience empowers them to craft tailored solutions using Webflow for SaaS and tech businesses alike. Their ability to harness Webflow's potential transforms concepts into interactive, visually striking, and functional realities that drive business growth.
Whiteboard creates strategies and designs, builds websites, develops apps, launches campaigns, weaves stories, imparts knowledge, and much more. At its core, the team is dedicated to helping visionaries create digital experiences that shape their future aspirations.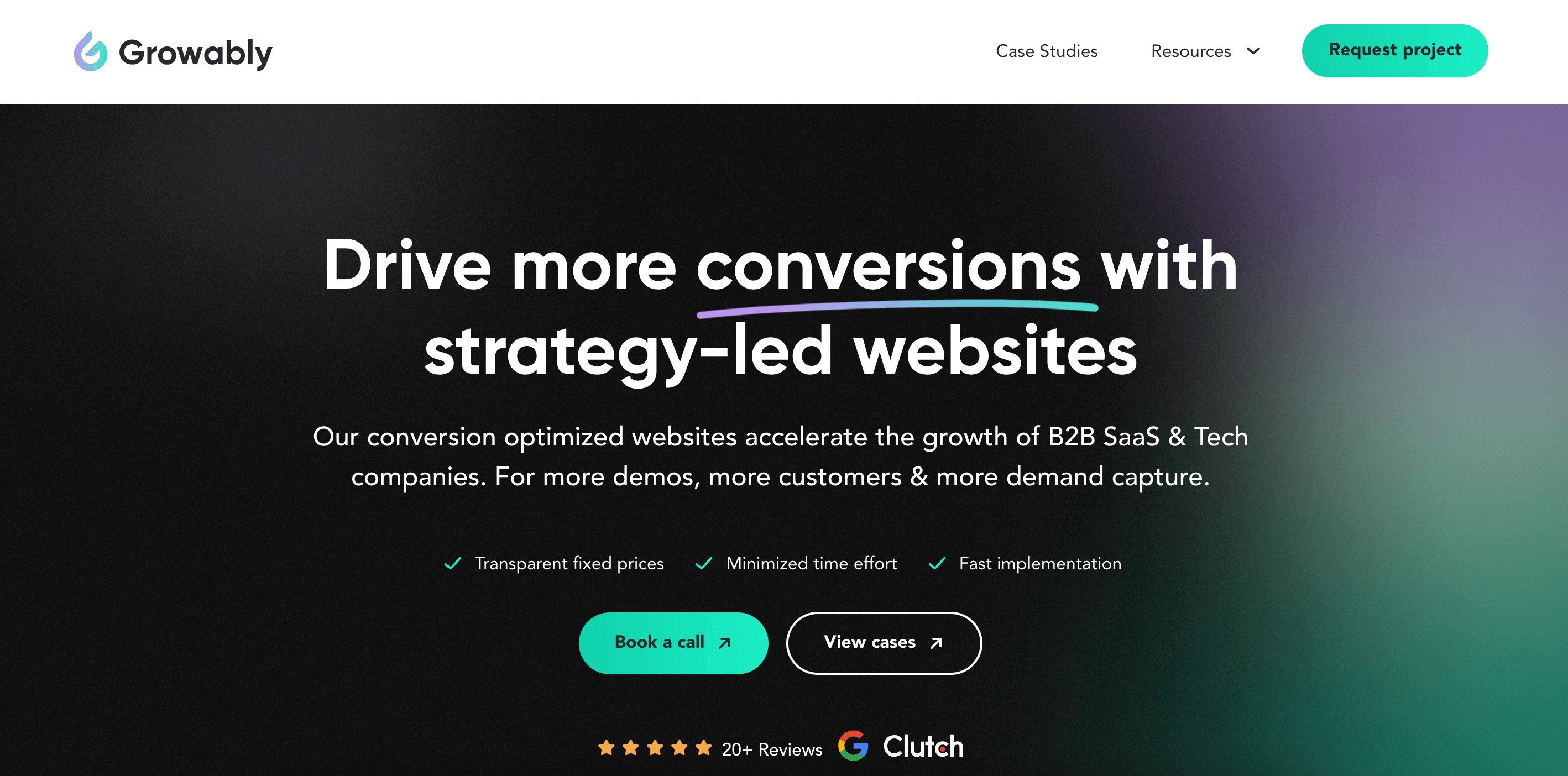 Growably is another valuable addition to this list. Backed by a proficient design and development team, the company specializes in crafting Webflow websites tailored exclusively for the evolving demands of B2B companies. Certified as a Webflow Agency, Growably has an extensive portfolio of 40+ successful specifications projects. 
The agency's strategy-first approach begins with an audit of your needs, allowing them to tailor Webflow development precisely to your requirements. With Growably, you can obtain a top-level full-service approach with support at every step of the process. From copywriting to web design, product mockups, and thorough analysis, the team's strategy approach sets new industry standards. And if you're considering a shift from WordPress to Webflow, Growably offers a seamless migration process.
Regardless of your Webflow-related challenges, Growably combines both innovation and excellence to ensure your brand flourishes.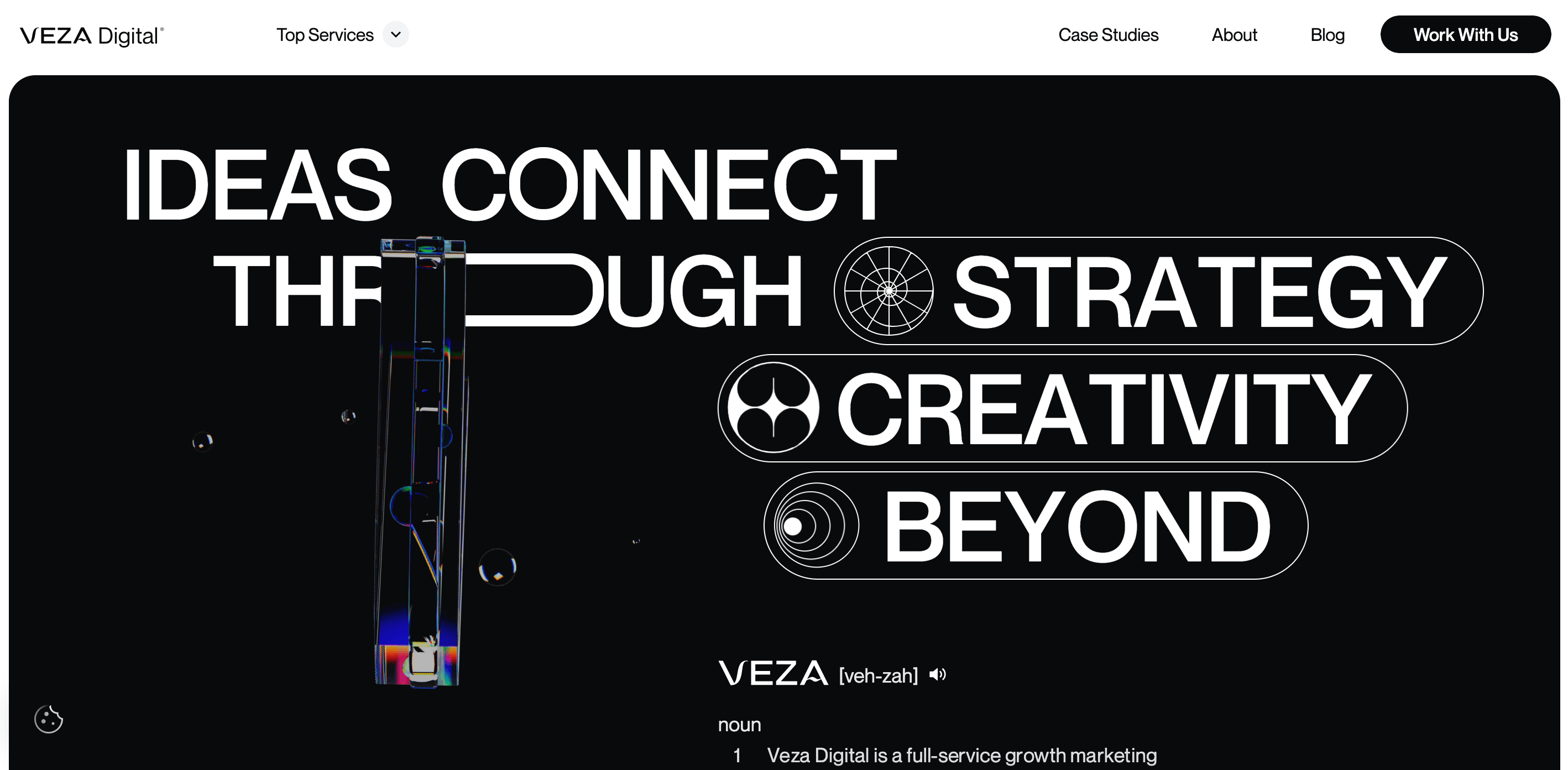 Veza Digital is a top Webflow development company for SaaS businesses with a steadfast commitment to helping SaaS and B2B brands achieve their marketing objectives, cooperating exclusively with enterprises that aspire to transcend limits.
Distinguished by its collaboration with illustrious clients like Chili Piper, Real Blocks, Instabug, Stronach, and TicketSpice, Veza Digital reigns supreme in creating world-class websites. Their specialized focus on Webflow development, bolstered by a palpable ROI-centric ethos, distinguishes Veza Digital from the pack. This isn't merely about building aesthetically pleasing websites; it's about engineering marketing platforms that yield profits.
Moreover, Veza Digital is not an ordinary Webflow agency—it is an all-encompassing digital marketing powerhouse. From SEO mastery to adeptness in paid ads, email campaigns, and social media, their expertise knows no bounds. The quintessence of Veza Digital lies in delivering faster, righteously built solutions, paving the way for prosperity.
Conclusion
With the synergy of Webflow's intuitive platform and the expertise of the companies mentioned in this article, tech and SaaS businesses can not only meet their web development needs but obtain an undeniable competitive advantage. 
If you want to add your Webflow development company to this list, contact us via email with your request. After a thorough review, we'll decide whether it's a valuable addition.