ReactJS has become a favorite tool for developing high-performance web apps thanks to its adaptability, simplicity, and speed.
Many companies now turn to it when they need to create dynamic, interactive web apps because of how well it handles complicated user interfaces.
As the demand for ReactJS web app development services continues to grow, literally every existing IT firm has this library in its tech stack. With such a vast number of ReactJS service providers on the market, choosing the best partner for your project might be difficult. 
To save you time and effort, we've compiled a list of the top ReactJS development companies making waves in the industry with their innovative approaches to creating high-quality web apps. The listed firms have a proven history of completing projects on schedule and within budget and are highly recognized by their clients.
The Best ReactJS Developers For Hire To Build Superior Web Products And Apps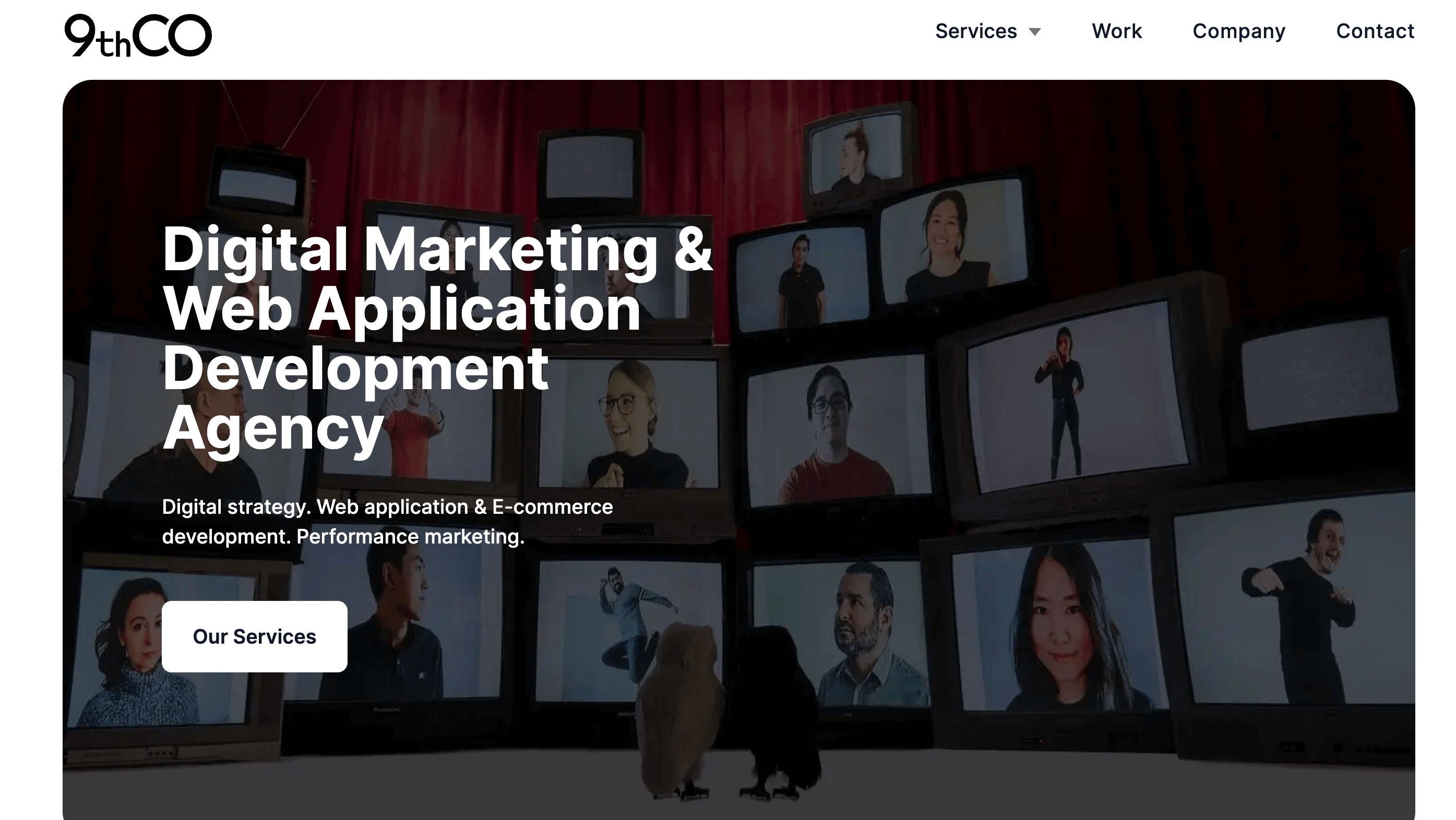 9thCO is a leading ReactJS software development company based in Toronto, Canada. Specializing in creating powerful and modern web apps, 9thCO provides custom solutions for both small businesses and multinational corporations.
The company values building long-term relationships with clients, proving it with numerous successful cooperations. With 20+ years of experience and 19 industry awards, 9thCO will ensure your web app is UI/UX friendly, up-to-date, and scalable and generates expected profits.
As a full-stack web development company,  9thCO has operated on the market since 2013 and has been developing high-performance React applications since 2017. During this time, they've obtained extensive expertise and experience strengthening online businesses across North America and Europe.
Their top-level ReactJS developers utilize agile methodologies to deliver results on time and within budget, providing not only development but also consulting and complete post-project support. In addition, their in-house SEO team works to ensure that applications are fully optimized for search engines upon launch. 
Focusing on creating measurable results and fantastic user experiences, 9thCO is dedicated to helping clients achieve their business goals through cutting-edge React solutions. Whether you're looking to launch a new robust web application or integrate it with your existing platform, the company will deliver the results you need!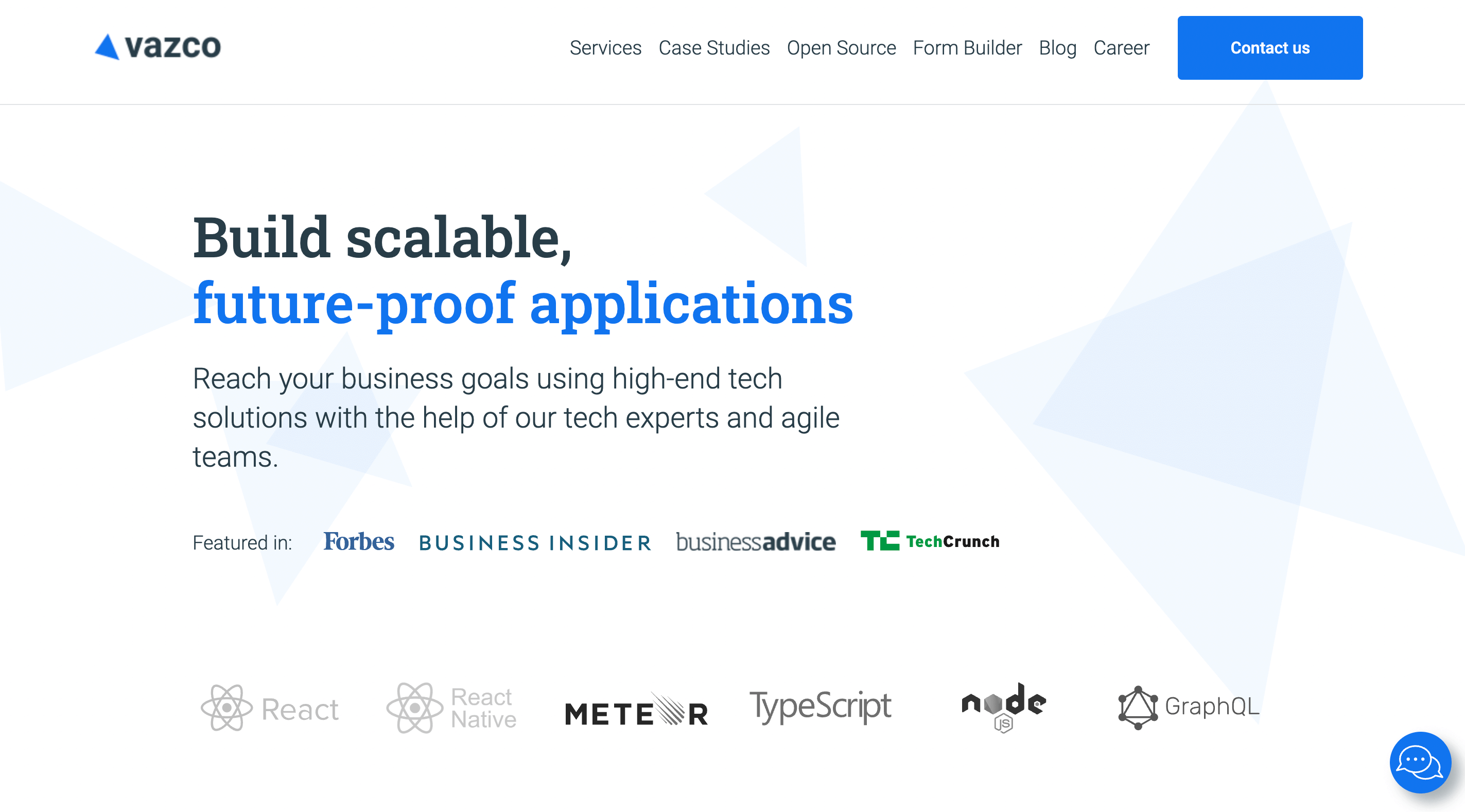 Vazco is a superior software development company that specializes in building innovative solutions utilizing ReactJS technologies.
Located in Poland, a technological hub, the company has access to a huge pool of top-notch talents with expertise in ReactJS. Having a team of 70+ ReactJS professionals who are experts in their field and 14 years in the software development business, Vazco has successfully delivered over 120 products to clients worldwide.
They offer a full range of digital services — from MVPs and product design to application scaling, cloud development, QA, and consulting — making them a perfect partner to resolve any of your tech challenges.
Providing data-driven solutions in just a matter of weeks, Vazco is committed to constantly improving its clients' businesses. The company uses its knowledge to optimize long-term costs and deliver outstanding solutions, and its track record proves it with impressive reviews.
So if you want a reliable tech partner to help you achieve your business goals through the power of ReactJS, Vazco is the one to consider.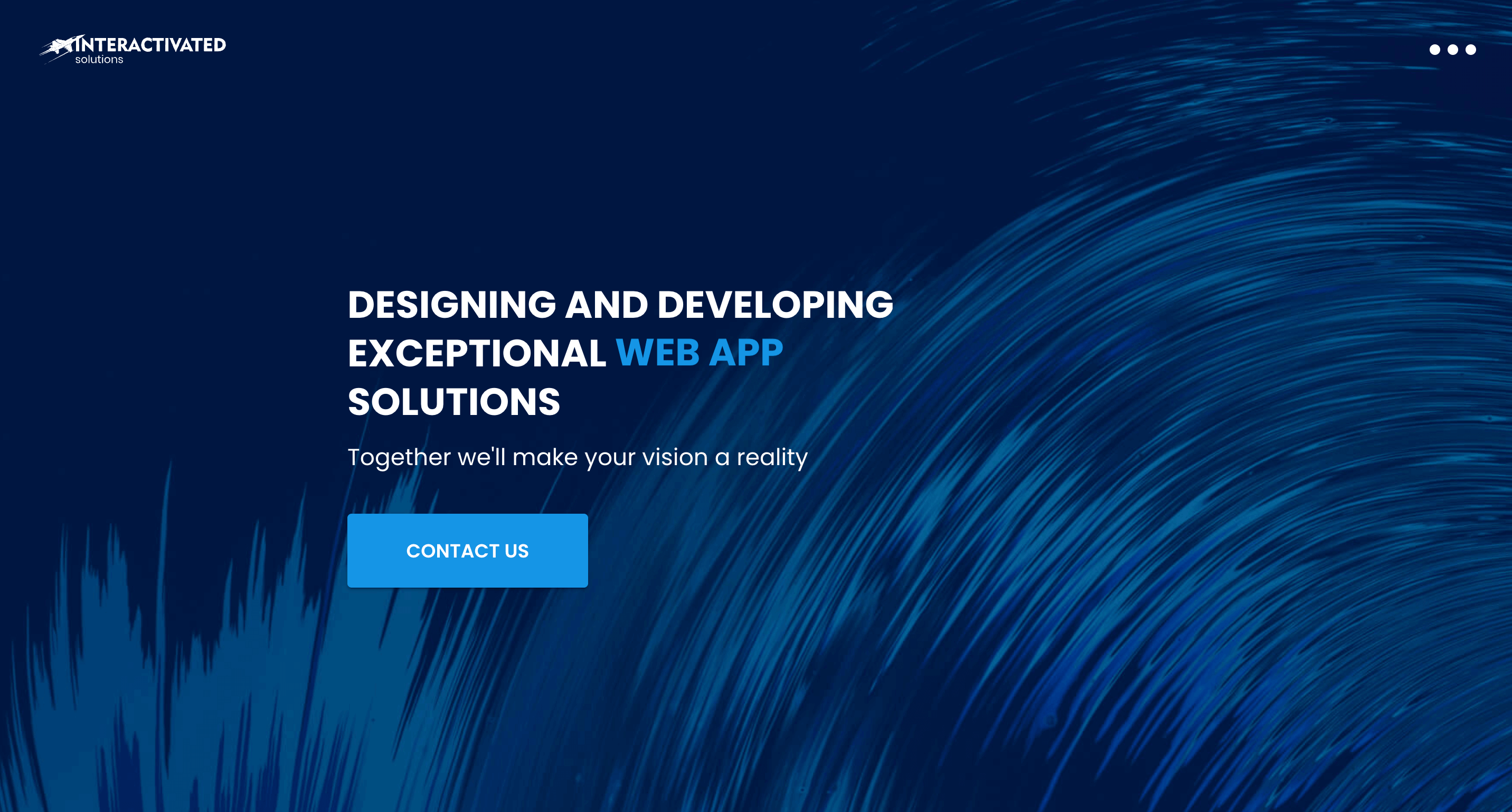 Founded in 2013, Interactivated is a prominent design and development agency focusing on ReactJS development. Their top-notch European specialists in advanced web technologies will help you build, grow, and maintain cutting-edge digital solutions without the hassle.
Interactivated covers a full cycle of web app development services, including business analysis, design, development, marketing, and maintenance, making it a go-to partner for businesses of any size.
Providing dedicated teams and outstaffing services, the company promises a business mindset, agile approach, and crystal-clear transparency throughout the entire collaboration. With 2000+ successfully completed projects, Interactivated helped over 150 global clients in various industries to analyze their businesses and develop and optimize their web applications.
No surprise that with such a rich experience, Interactivated has obtained the award as the fastest-growing development team worldwide by Clutch.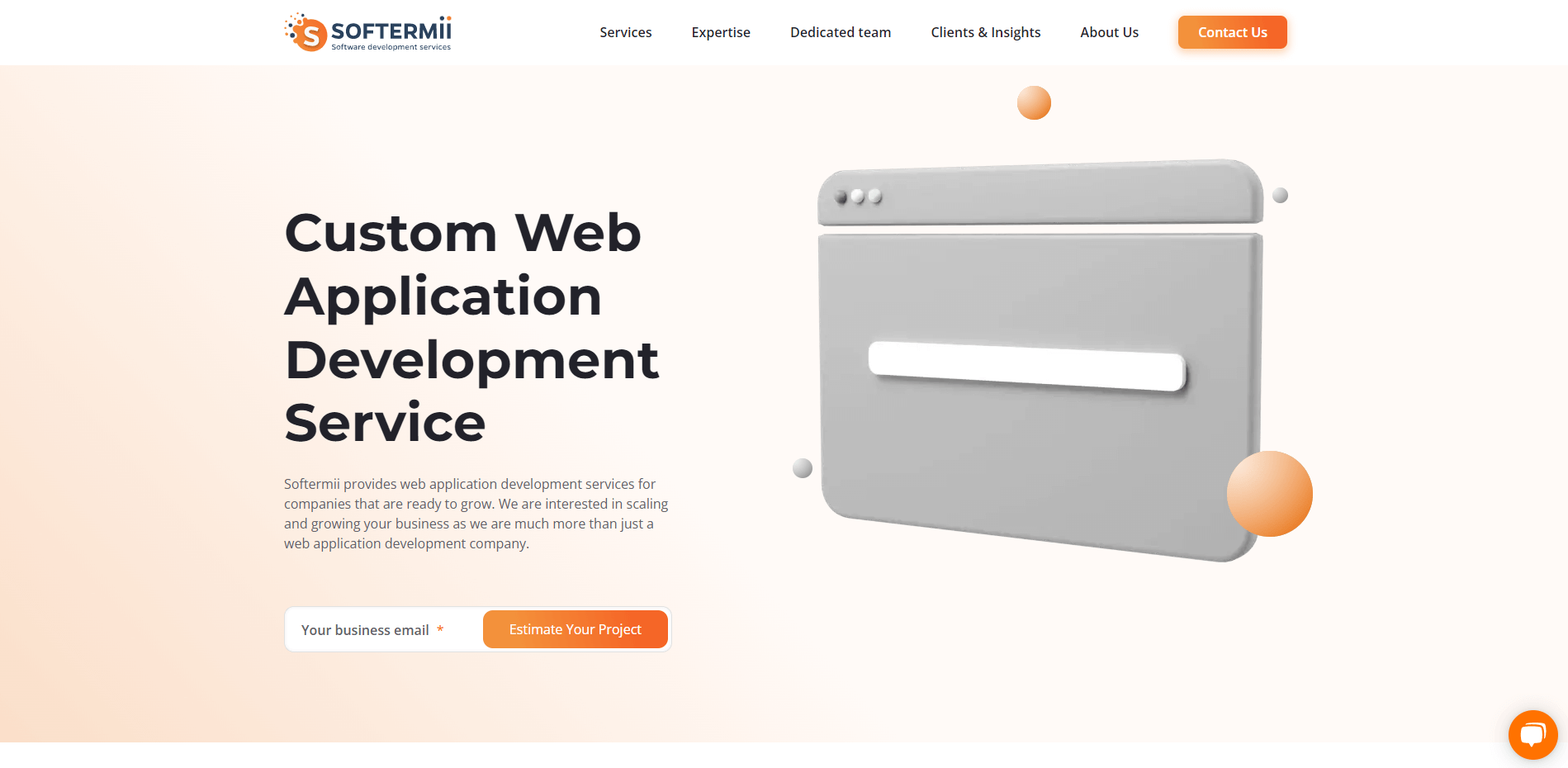 Softermii is a full-cycle product development company specializing in developing innovative software. They can assist you with everything from MVP strategy consulting to web and app development, UI/UX design, QA, DevOps, and NFT development.
Prioritizing quality instead quantity, Softermii converts brilliant ideas into outstanding products. Their professional designers, developers, and engineers deploy their extensive knowledge and technology while keeping the clients' goals in mind to deliver the best possible ReactJS solutions. 
Softermii's primary purpose is to assist organizations in accelerating their development processes through flexible collaboration models while keeping costs lower than onshore and assuring 100% availability in your time zone. Promising on-time delivery, the company guarantees to pay the clients for any deviations from the original budget.
Whether you need to create a new product, add additional features to existing software, or hire any-size remote talent team, Softermii is here to help.
Softermii works with early-stage businesses as an extension of their in-house teams and provides managed software development services for clients within various industries, including Healthcare, Real Estate, FinTexh, Video and Audio Conferencing, eCommerce, and Cybersecurity.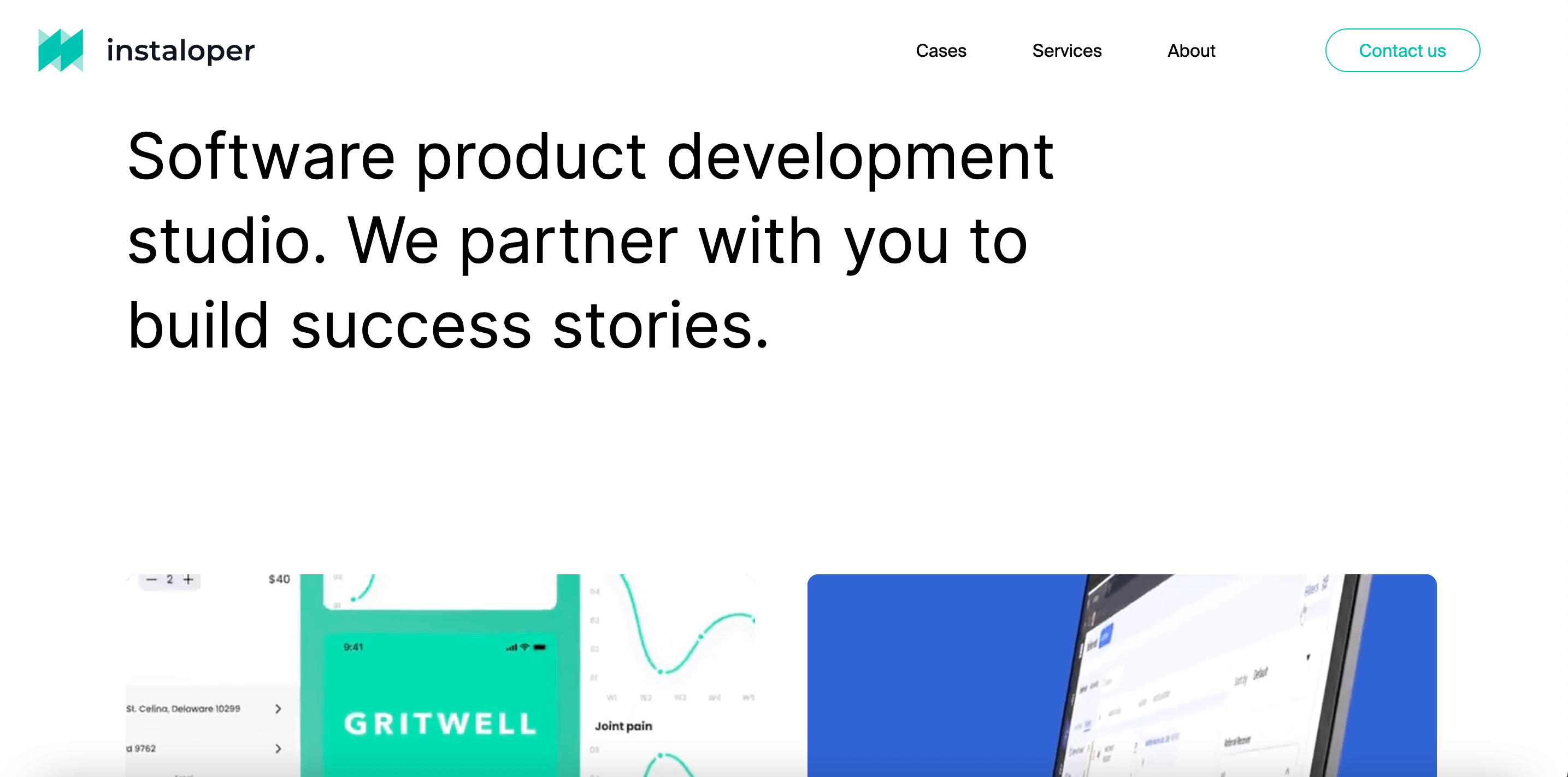 From idea to development and post-launch growth, Instaloper assists businesses with supreme web development services using React tech stack. With over 15 years of experience behind their back, their team helps small and medium-sized companies jumpstart their development journey and drive further tech progress. 
During this time, they've implemented 20+ products for 60 international businesses and entrepreneurs that are ready to handle millions of users daily. They're a team of passionate enthusiasts who loves new exciting challenges; their ingenious ReactJS developers will gladly take on simple as well as the most intricate web app development ideas and do their best to implement them into reality.
Starting to work on the project as fast as 2 weeks, Instaloper promises to achieve impactful results within the set timeframe. The company combines cutting-edge technologies, extensive knowledge, and the best in the industry developers to deliver superior solutions to satisfy clients and their end users.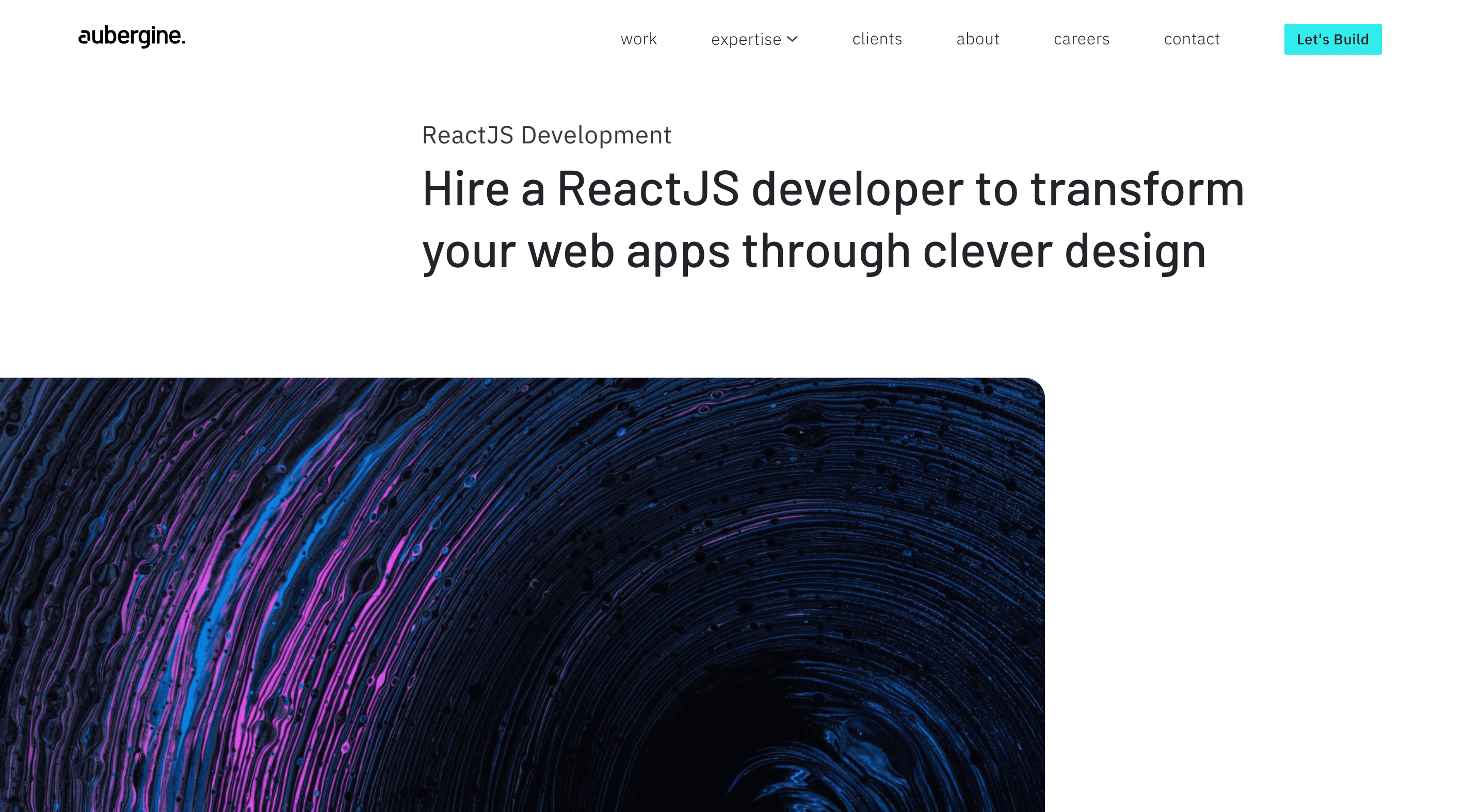 Aubergine Solutions is a supreme end-to-end web, mobile, and enterprise app development company that has operated on the market since 2013. Recognized as one of the Top 100 Fastest-Growing Companies by Clutch, Aubergine Solutions has built over 150+ impactful products since its launch. Focusing on React, Aubergine offers a broad range of scalable web solutions that cater to businesses of all sizes in Fintech, Education, Blockchain, BI, Healthcare, Marketing, Legal, and other industries. The company provides a well-established development service, following an Agile process-driven approach to ensure timely delivery and quality results.
Using their top-level React development services, you'll get a modern, high-performance cross-platform app or website with a clever UX and fantastic UI, ensuring your users have a fresh and enjoyable experience. With Aubergine Solutions' expertise, businesses can take their products to new heights with modern, well-established services that help them stand out in a highly competitive market.
Aubergine Solutions boasts of hiring top talent and has been named in India's 100 Best Workplaces in IT and IT-BPM Sector as well as Top 25 in India's Best Workplaces for cultivating a culture of Innovation by All By the Great Place To Work Institute. The company also won accolades in the field of UX Design with a Red Dot Award in Interface Design in 2022 and a UX Design Award for Product in 2023.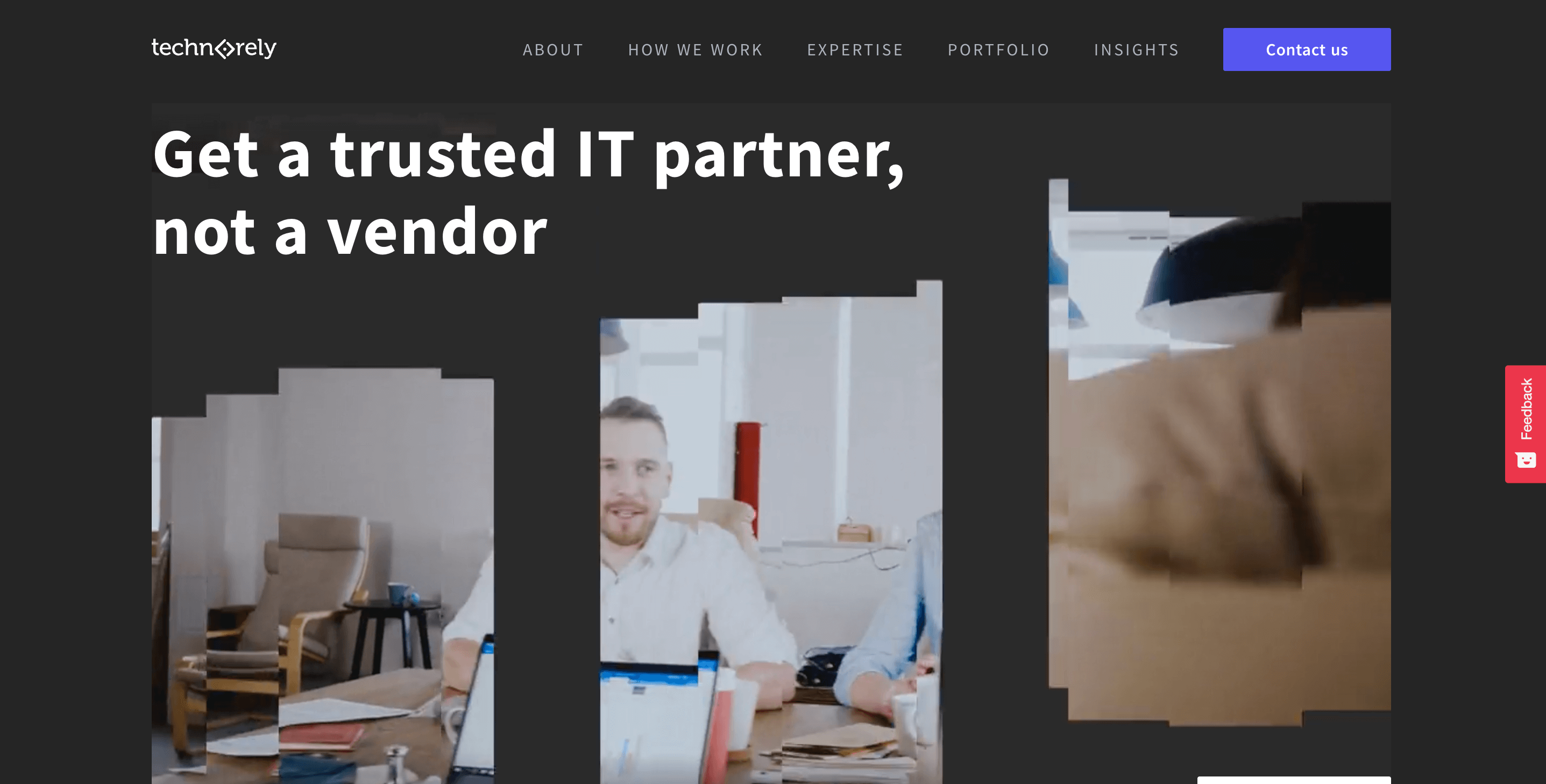 Headquartered in Canada, Technorely is a leading IT company offering a wide range of services, including staff augmentation and custom software development. Their talented ReactJS developers deliver high-quality digital solutions for businesses in Healthcare, Fintech, Industrial Software, Logistics, Travel and Hospitality, and Blockchain industries. Their team proactively approaches each project, which is why European and American companies chose them as go-to partners.
Whether you are a startup or a well-established enterprise, Technorely will help you implement all sorts of projects. Be it the development of business analytics, online app, mobile app for iOS and Android, desktop app for macOS, Windows, or Linux, or a blockchain system, as well as IT support and quality assurance — they've got you covered. In addition, Technorely's experts can help you create brilliant UX/UI designs for a website or a mobile app.
So if you're searching for a reliable outsourcing partner for goal-oriented, effective web app development services using ReactJS, Technorely is your one-stop company to work with!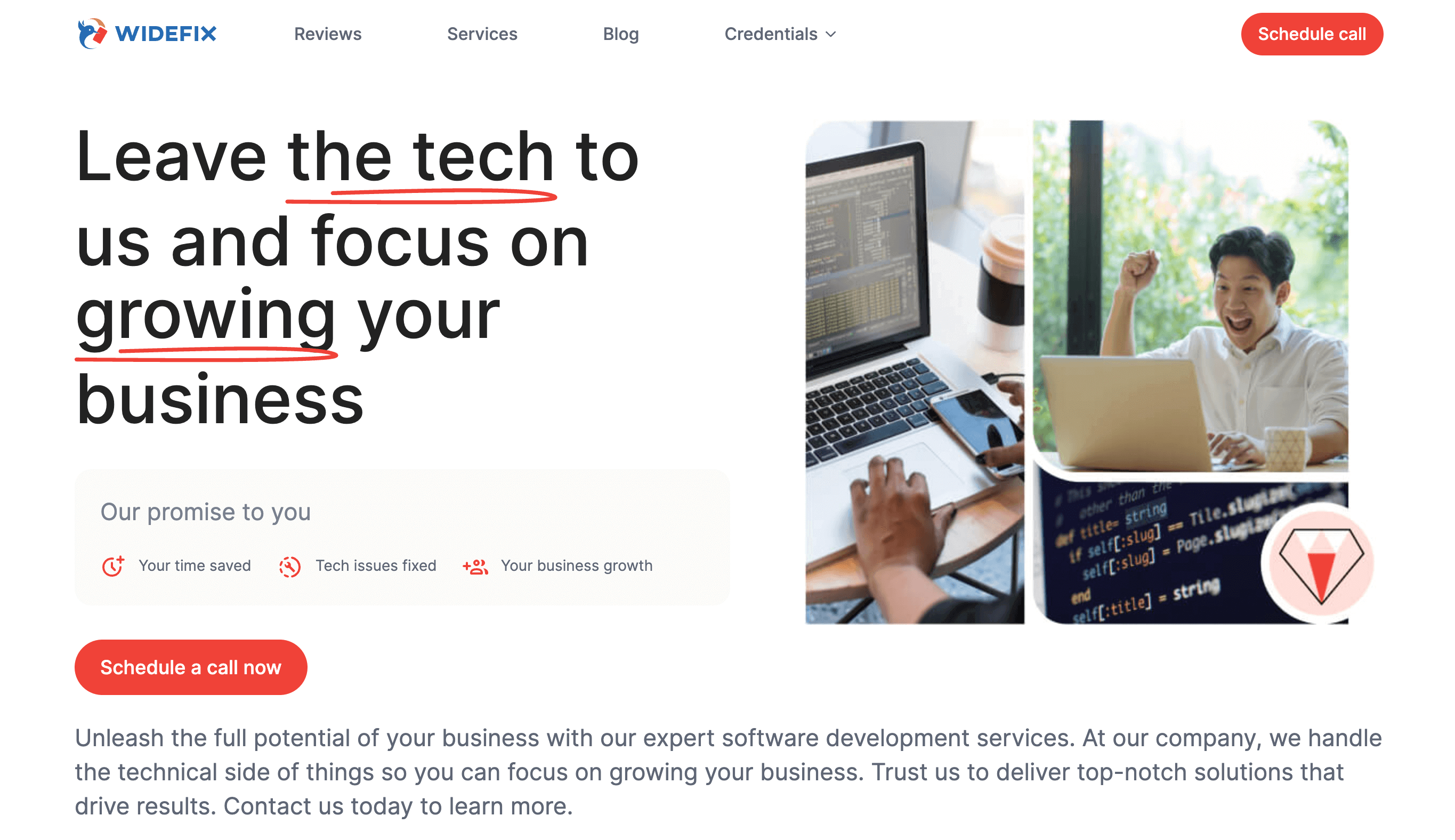 Focusing on React technologies, WideFix is a Poland-based company that, for the last 9 years has been delivering top-notch software solutions to clients to grow their business.
From website optimization and system integration to development, design, QA, and maintenance — the agency provides all-in-one tech expertise to cover your specific business needs while you're focused on the growth strategy.
WideFix has become a reliable ReactJS development partner for global companies, promising to save time, fix issues, and take businesses to the next level. From Real Estate to Telecommunications, the firm has extensive knowledge and skills in various industries to provide impactful design and development solutions.
So whether you're a startup, a mid-size business, or an enterprise looking to close your tech gaps with innovative ReactJS solutions, WideFix is an excellent team to hire.


Being on the market since 2015, KeenEthics has been successfully delivering full-cycle web development solutions to customers in Europe, North America, and Asia. 
The company provides consulting, UI/UX design, migration and maintenance, MVP development, and optimization of existing apps, as well as covers the entire custom software development process from A to Z using one of the most effective tech stacks – React. They turn clients' ideas into reliable, high-performance digital products through comprehensive ReactJS development services.
Starting with thorough business analysis and finishing with post-launch software maintenance, the company guarantees the quality, impeccable UX, and security of the delivered solution. 
KeenEthics has assisted over 50 companies in various industries, including Education, Nonprofits, Healthcare, Finance, Logistics, Real Estate, and Agriculture, to mention a few. So, whether you require a complex web app or a simple static page with plain text – KeenEthics' React engineers are here to help and are determined to skyrocket your business.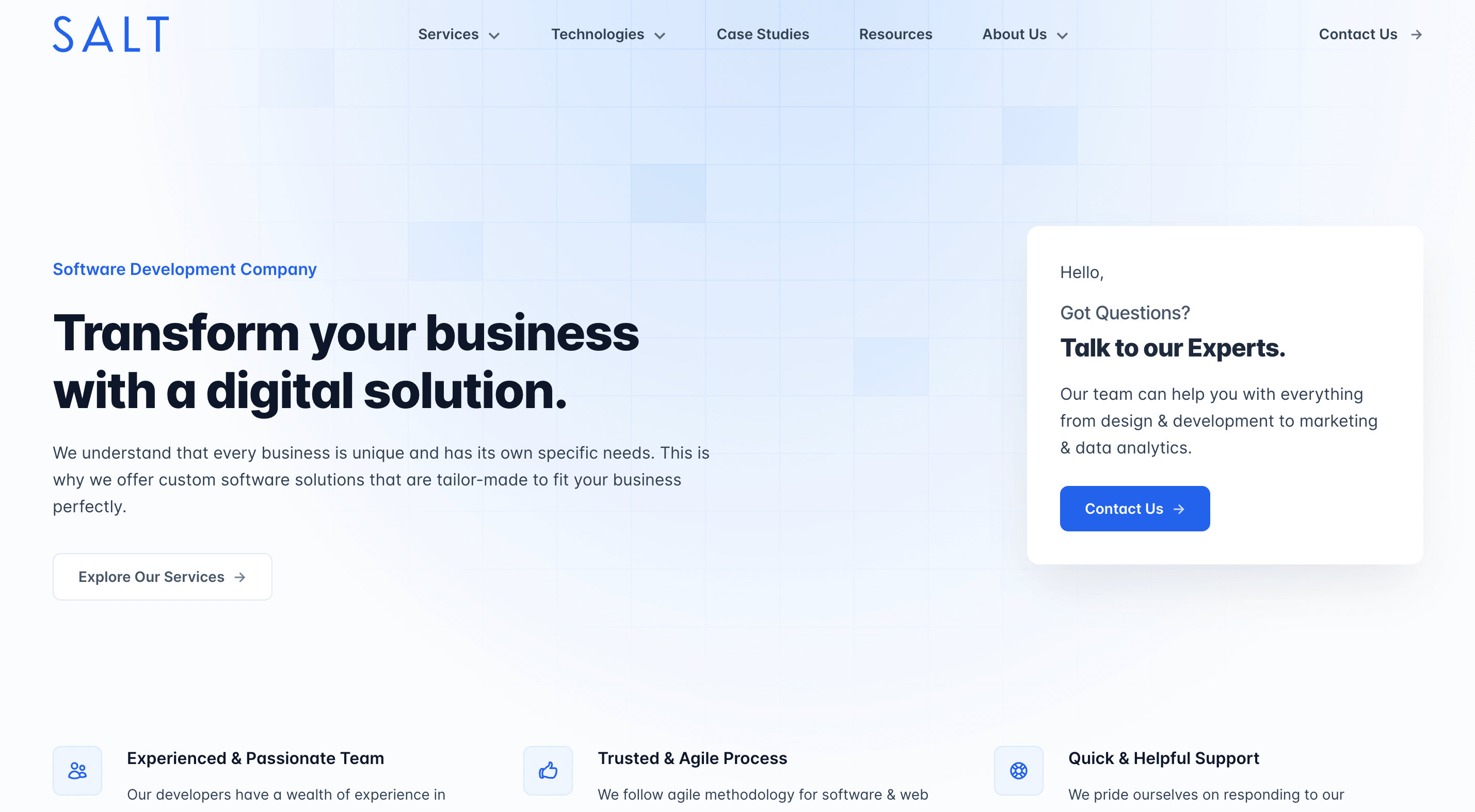 Meet one of India's best software development companies specializing in ReactJS web development services that has provided customers with high-quality digital solutions since 2013. We're talking about Salt Technologies, a prominent IT firm that delivers tailor-made websites and apps for businesses of all sizes and within various industries.
Approaching every project with efficient communication and a customer-centric perspective, Salt Technologies' experts have helped 300+ worldwide customers improve their web presence and delivered 500+ impactful projects. By leveraging the power of ReactJS technologies, the company ensures a high level of security, fast speed, and scalability of their products, as well as puts effort into SEO, responsive and engaging design, and regular backup.
In addition to providing end-to-end ReactJS web development, Salt Technologies also offers consulting services, mobile app development, UI/UX design, growth marketing, DevOps, digital transformation, and software testing. They've received notable honors for their services, making the agency one of the most recognized and trusted partners for international companies.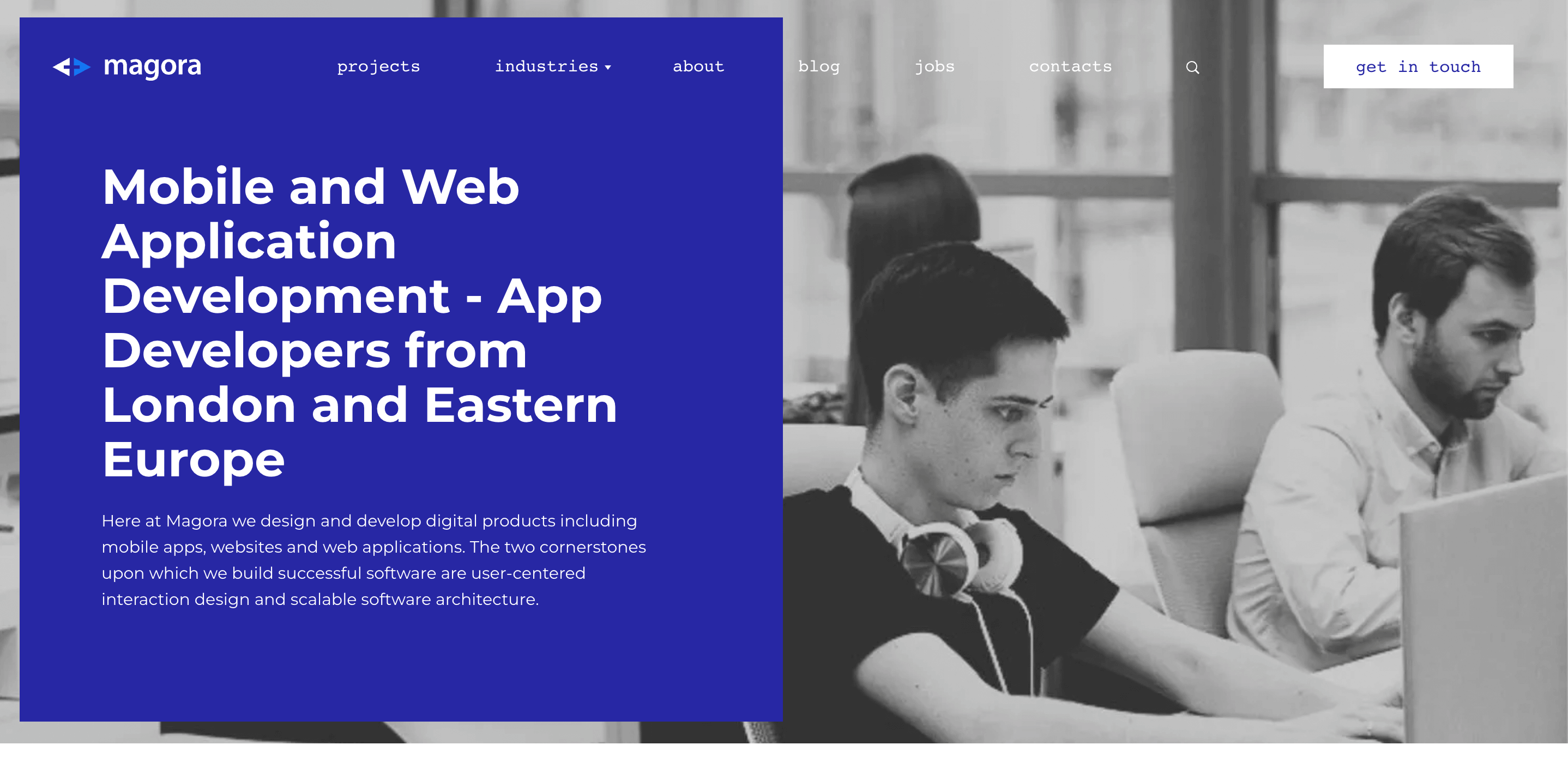 Magora has been at the forefront of providing top-notch digital solutions to businesses across various industries, such as Pharma & MedTech, EdTech, E-learning, and eCommerce, for over a decade. As a leading web and mobile development company, they specialize in ReactJS development and offer a comprehensive range of services, including IT consulting, custom software development, UI/UX design, native and cross-platform app development, QA, and team augmentation.
What sets Magora apart is its team of 150 qualified employees, who follow a meticulous approach to understanding your business goals, products, and end-users' needs to create tailored software solutions that drive business growth. With over 500 transformative solutions delivered to clients, Magora has a proven track record of adding real value to their clients' success.
Magora has the expertise and capabilities to handle both small and long-term complex projects, providing transparent, honest, and high-standard services every step of the way. They operate internationally with headquarters in London and have an impressive portfolio of clients, including Danone, Uber for Wine, Anova, and EasyGuide.
Whether you're looking to build a new app, improve an existing one, or implement a digital transformation, Magora is the trusted partner you need for all your ReactJS development needs. Their team has years of experience and keeps up-to-date with the latest technologies, ensuring they provide cutting-edge solutions that meet your unique business requirements.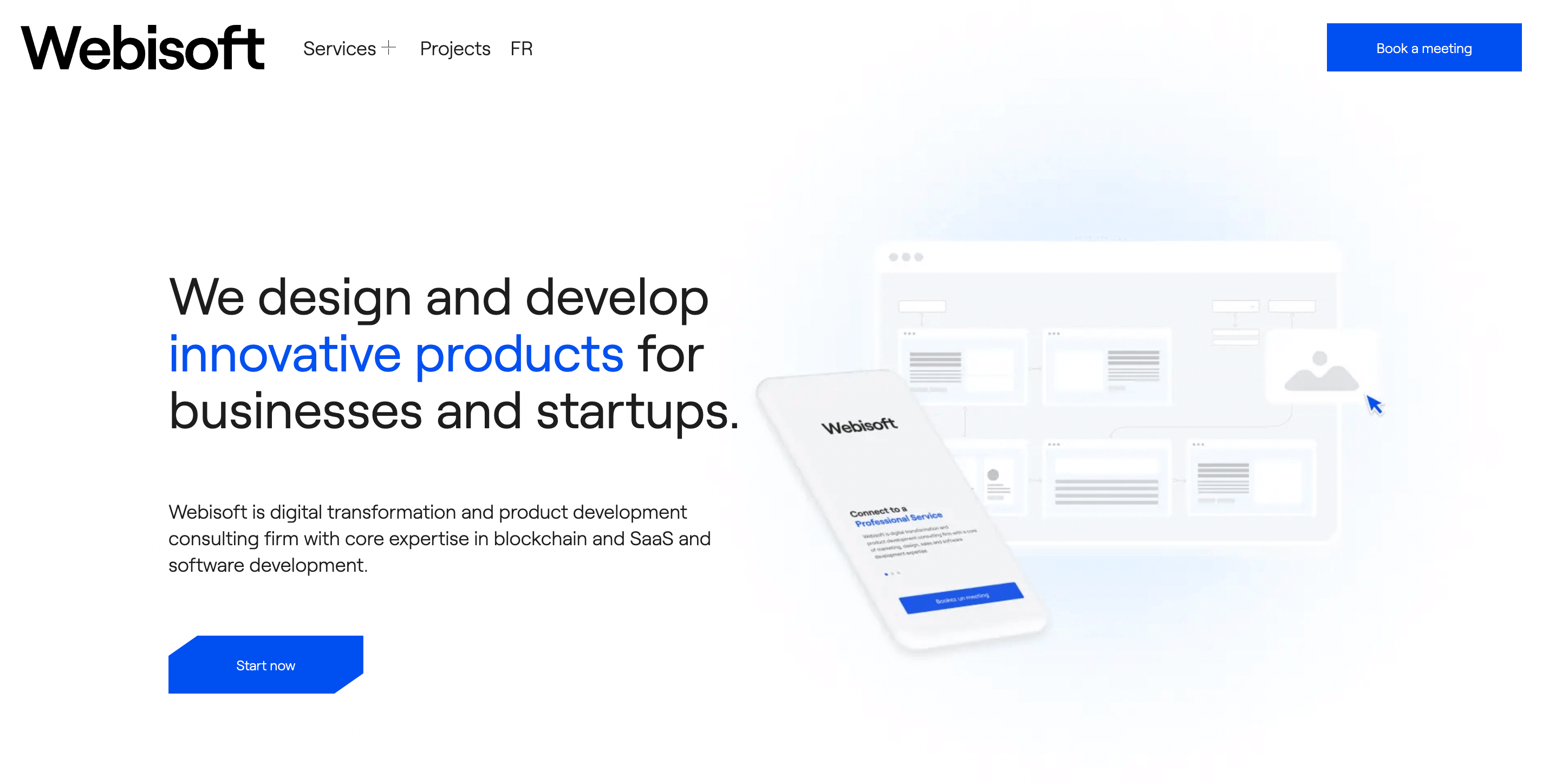 Webisoft is Canada's #1 crypto consulting firm specializing in full-service blockchain, web, and software development solutions for startups and established enterprises. 
They provide services such as blockchain development and consulting, Dapp development, NFT development, and development of Liquidity pools, staking platforms, and exchanges.
Webisoft team mainly works with Solana, Ethereum, and Cosmos-based blockchains. Their tech stack also includes ReactJS, Rust, Solidity, Python, JavaScript, Django, Node.js, and React Native.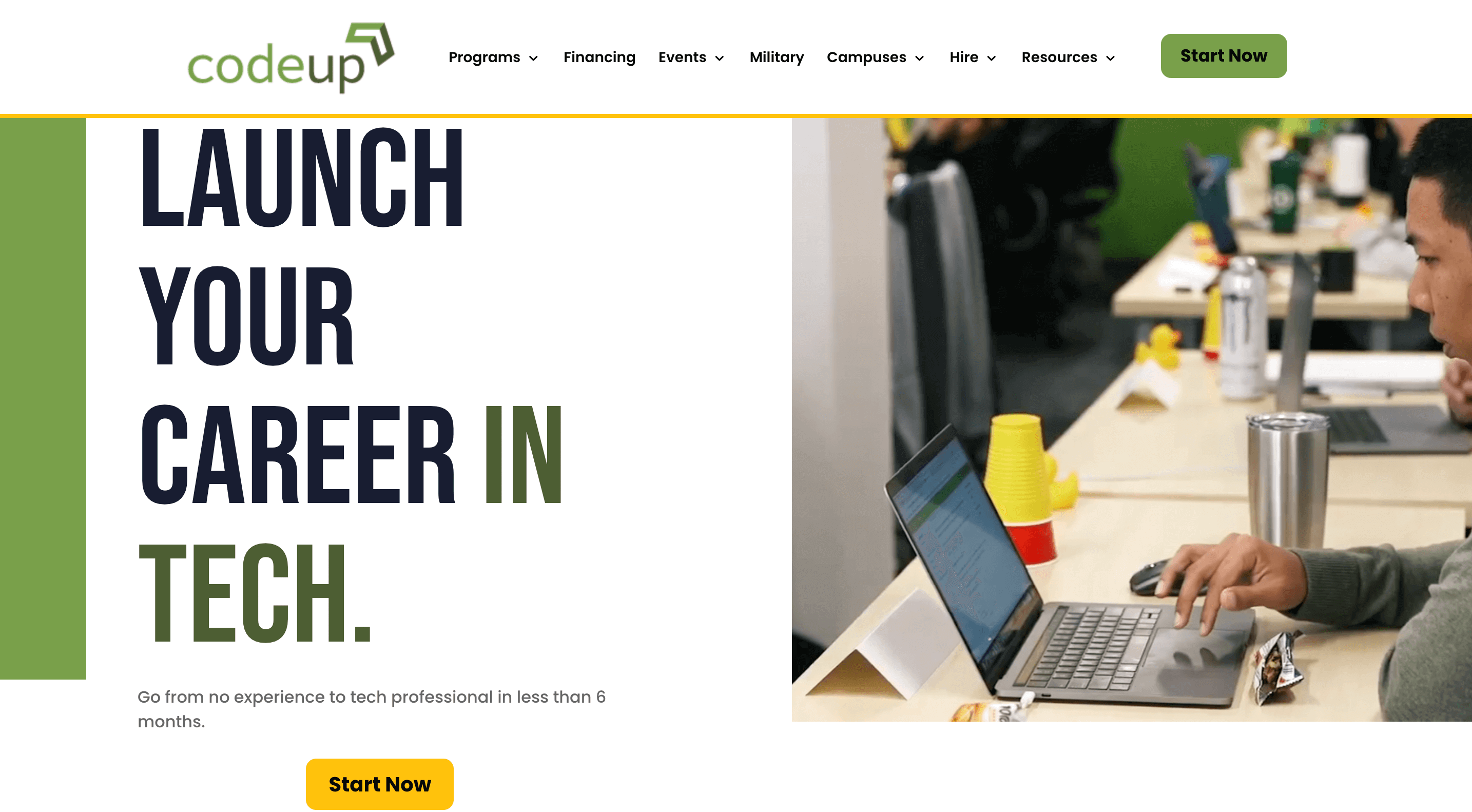 Being on the market since 2013, Codeup is a reliable company that was created by employers for employers. They offer a vast talent pool of top-notch web developers, data scientists, and cloud administrators with tech experience and proven know-how. Startups, medium-sized businesses, and enterprises can select and hire diverse candidates according to their technical requirements and exclusive project needs.
When all project preps are done, all you need is to contact Codeup, and they will handpick best-fit candidates just for your business specifications. Offering zero placement fees and a salary refund guarantee, Codeup is the ultimate platform, listing the best engineers, including ReactJS experts. Regardless of your business domain, the company will match you with ideal talents as fast as two weeks.
If your business is currently in search of cost-effective yet quality software development, Codeup is a perfect choice for you to jumpstart.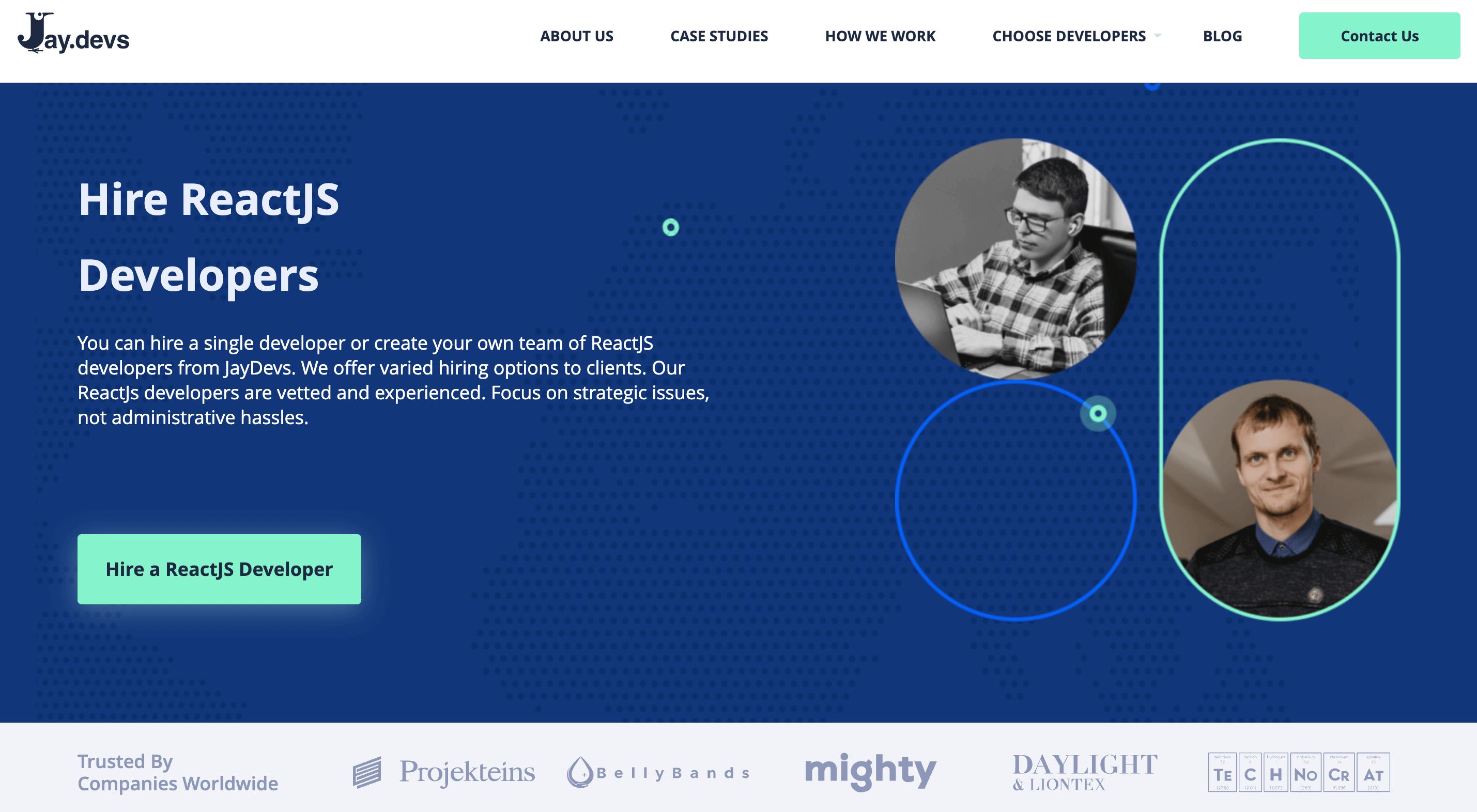 JayDevs is one of the best React development companies with top-industry specialists on board: senior and lead software developers, QA specialists,  DevOps engineers, and project managers. With JayDevs, you have access to over 100 specialists and will be able to assemble a multi-functional team for your project.
Hire Reactjs developers at JayDevs to develop innovative software solutions by scaling your team with vetted senior and lead software developers, ML engineers, QA, and DevOps specialists. Integrating their specialists into your project in 7 days, the company covers all your current needs with maximum efficiency.
Quick facts and figures about JayDevs:
93% Senior Developers & Engineers
150+ projects delivered, including ML solutions for eCommerce, Construction, and Security
AWS Tier Consulting Partner
Top B2B Provider for 2022 highlighted by Clutch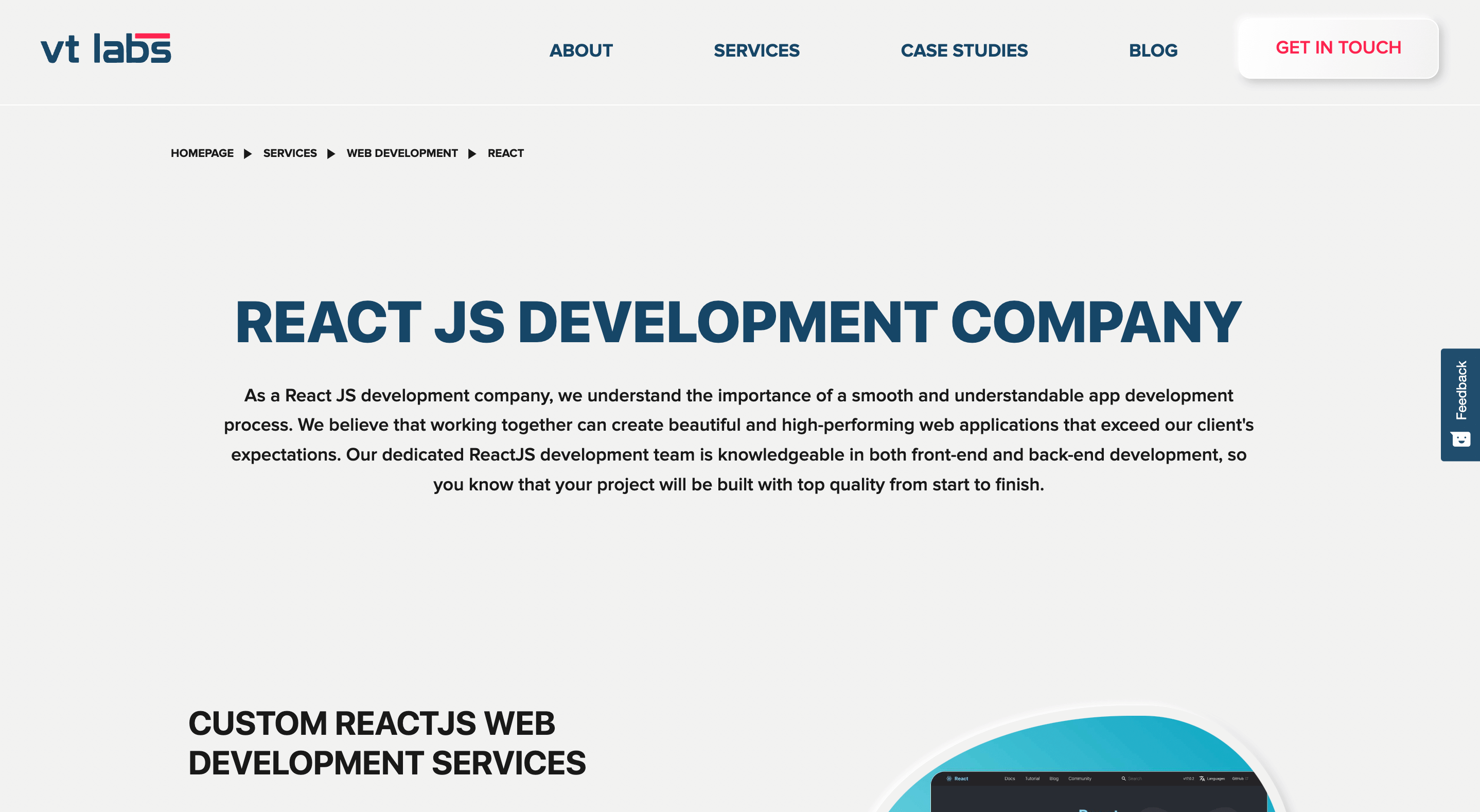 VT Labs is a rewarded full-cycle software development company that provides bespoke, complex web development services that go beyond basic website building.
Their team specializes in creating powerful custom web applications, MVPs, eCommerce sites, headless eCommerce solutions, PWAs, CMSs, and scalable ERPs. They are experts at server integration and 3rd-party API connections to ensure seamless integration for our customers.
You can rely on them for multiple technologies, including ReactJS, Ruby on Rails, NodeJS, TypeScript, Shopify, and more. They are ranked among the top three Shopify experts worldwide and have established a leading status as Ruby on Rails and ReactJS developers by Clutch.
VT Labs provides a complete product development journey. They will guide you through the kick-off process, deployment, and testing & QA phases, delivering your product efficiently with ongoing support for success.
The VT Labs' goal is to make it simpler for their customers to get the job done by offering high-grade, scalable, and user-friendly solutions. With scalability as a priority, they strive to produce clean code even in large system developments. They collaborate with customers through product co-creation and harness Agile practices that help their clients jumpstart a digital transformation.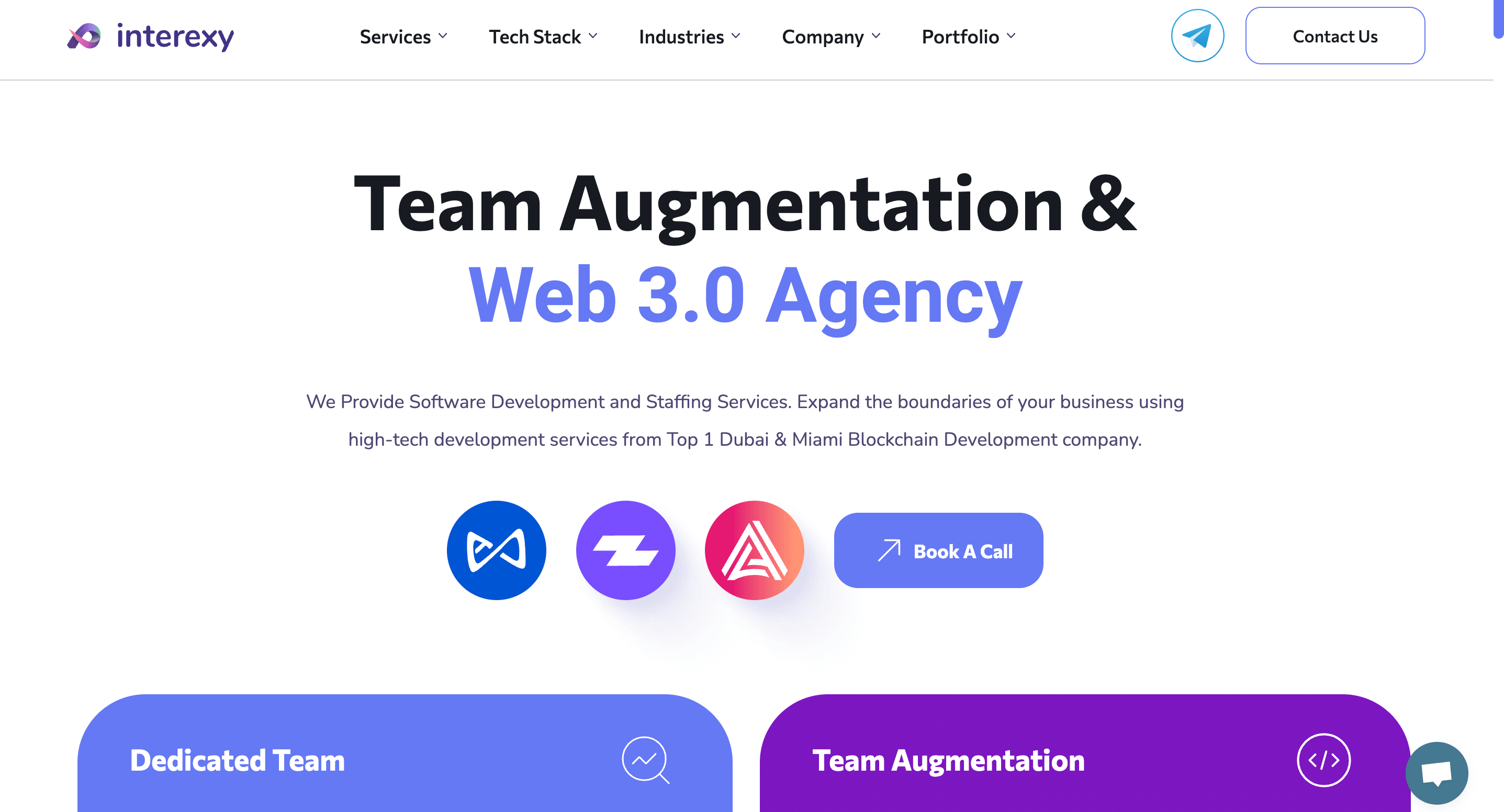 Working with an innovative React.js app development company like Interexy can help your organization keep up to date, carrying out a Web 3.0 transformation. 
Interexy takes its bespoke knowledge to a global scale, assisting businesses in adjusting to and capitalizing on changing market conditions. Their engineers perform in-depth research on your company and provide custom React.js development services to build feature-rich, high-performance apps to serve your company and its consumers.
Interexy provides well-organized, expert communication that guarantees the project's timeliness and responsibility. Following an in-depth analysis of your business, they'll propose app solutions to meet all of your company's digitalization requirements.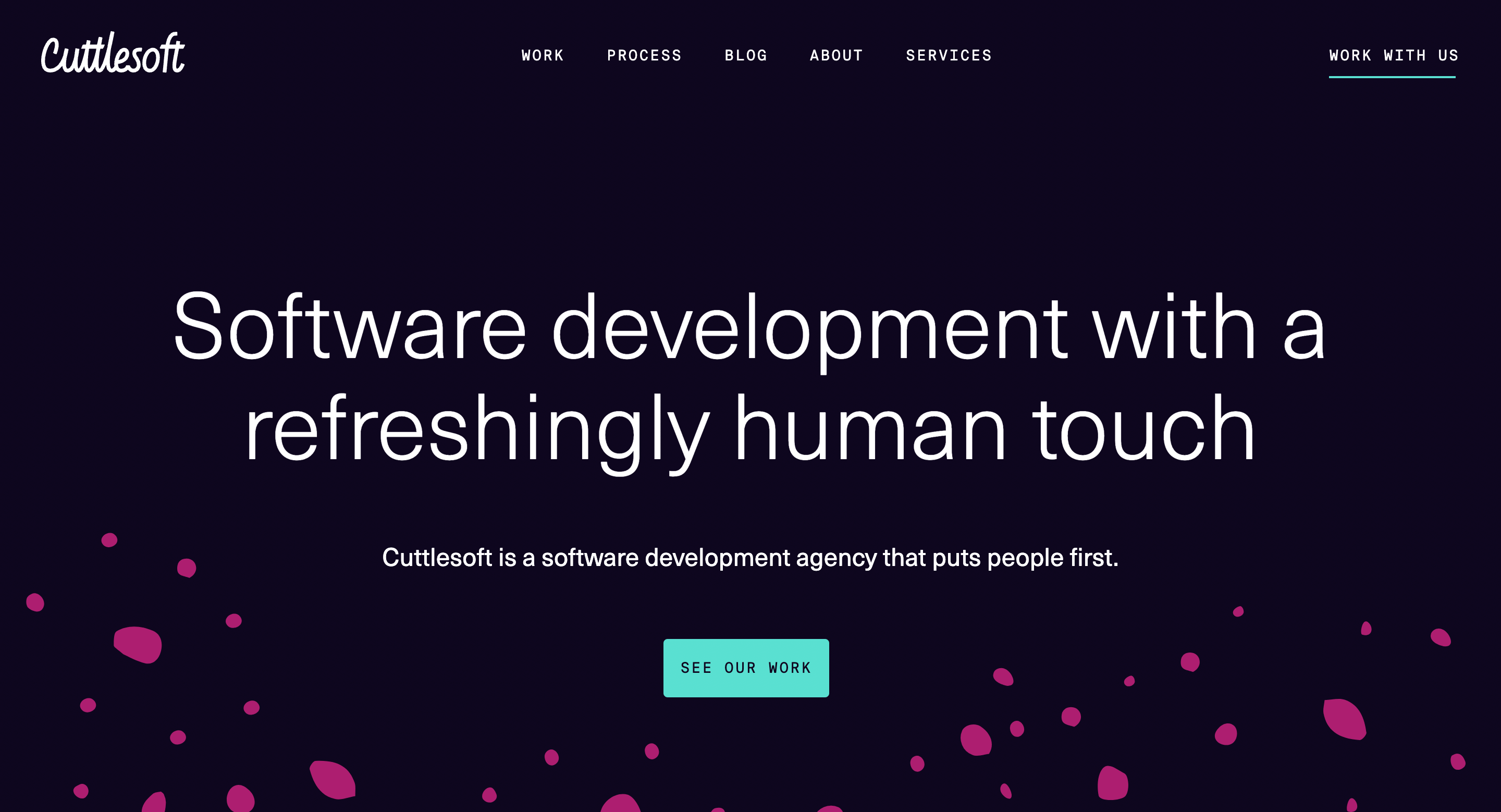 Cuttlesoft is a creative product development company that strives to implement beautiful and high-performance applications. Their top-tier ReactJS developers are experts in building incredibly adaptable and aesthetically pleasing web, cloud, and IoT solutions. What's more, they'll help you scale existing apps and bring new app ideas to the market.  
Cuttlesoft team works with clients to define and refine success using user feedback, market research, and analytics. They strike a balance between innovative problem-solving and precise, practical construction. Your cooperation will help you achieve lower product launch risks.
Finally, Cuttlesoft brings a welcome human element to the software development process, providing businesses with the individual support and technical expertise they need to increase their engineering capacity, enhance their operations, and expand their brand and business.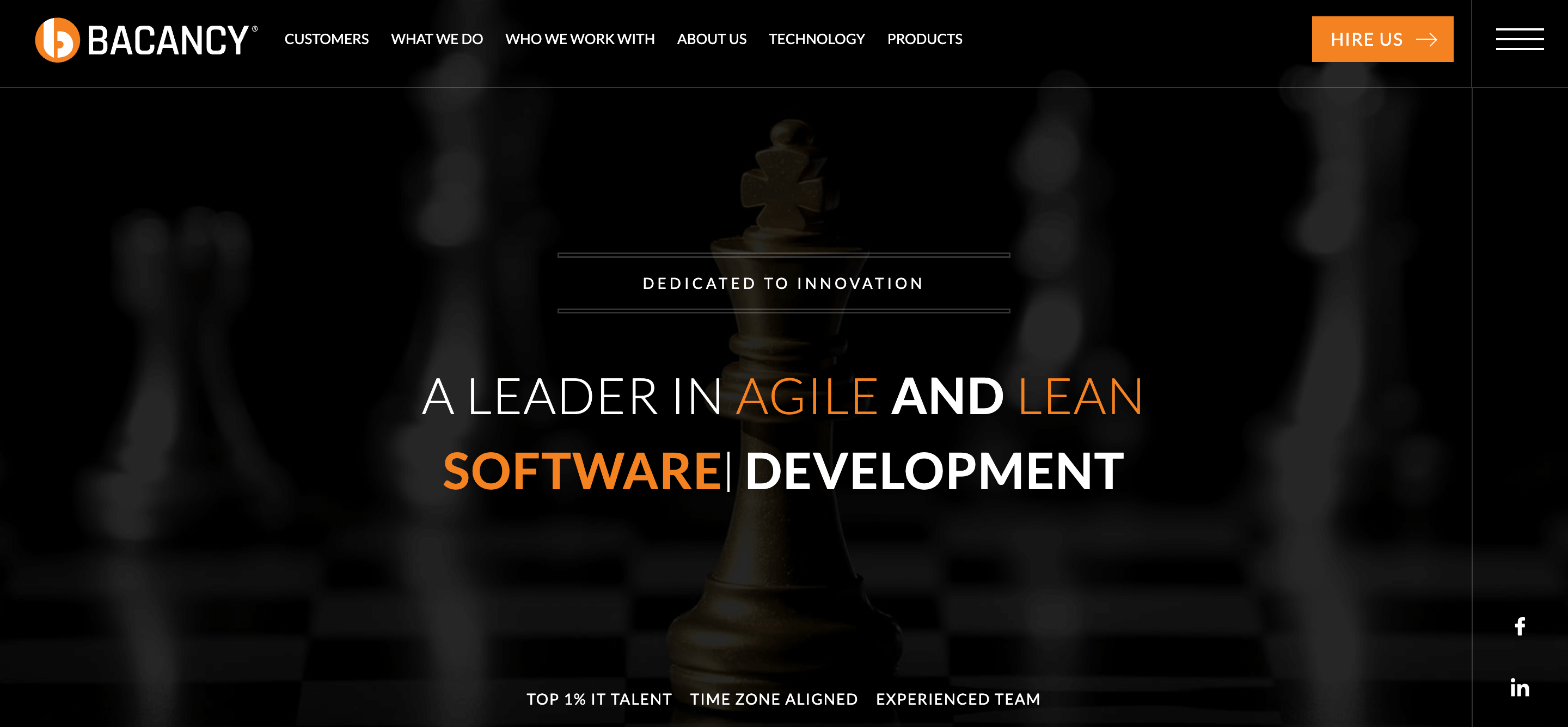 Bacancy Technology is an exclusive tech hub that offers comprehensive ReactJS web development services to SMBs and well-established corporations. 
They provide various services, including mobile and web app development, eCommerce solutions, and custom software development. Along with the best-in-class ReactJS developers, Bacancy Technology provides top-level engineers proficient in Ruby on Rails, Node.js, and React Native. 
Bacancy's expertise is invaluable in assisting companies in developing custom apps that are functional, fast, responsive, and easy to use. They use an agile development approach that relies on constant input from the customer to guarantee the final product lives up to their high standards. 
In addition to their history of on-time and within-the-budget project completion, they provide continuing support and maintenance services to keep your applications operating at peak performance.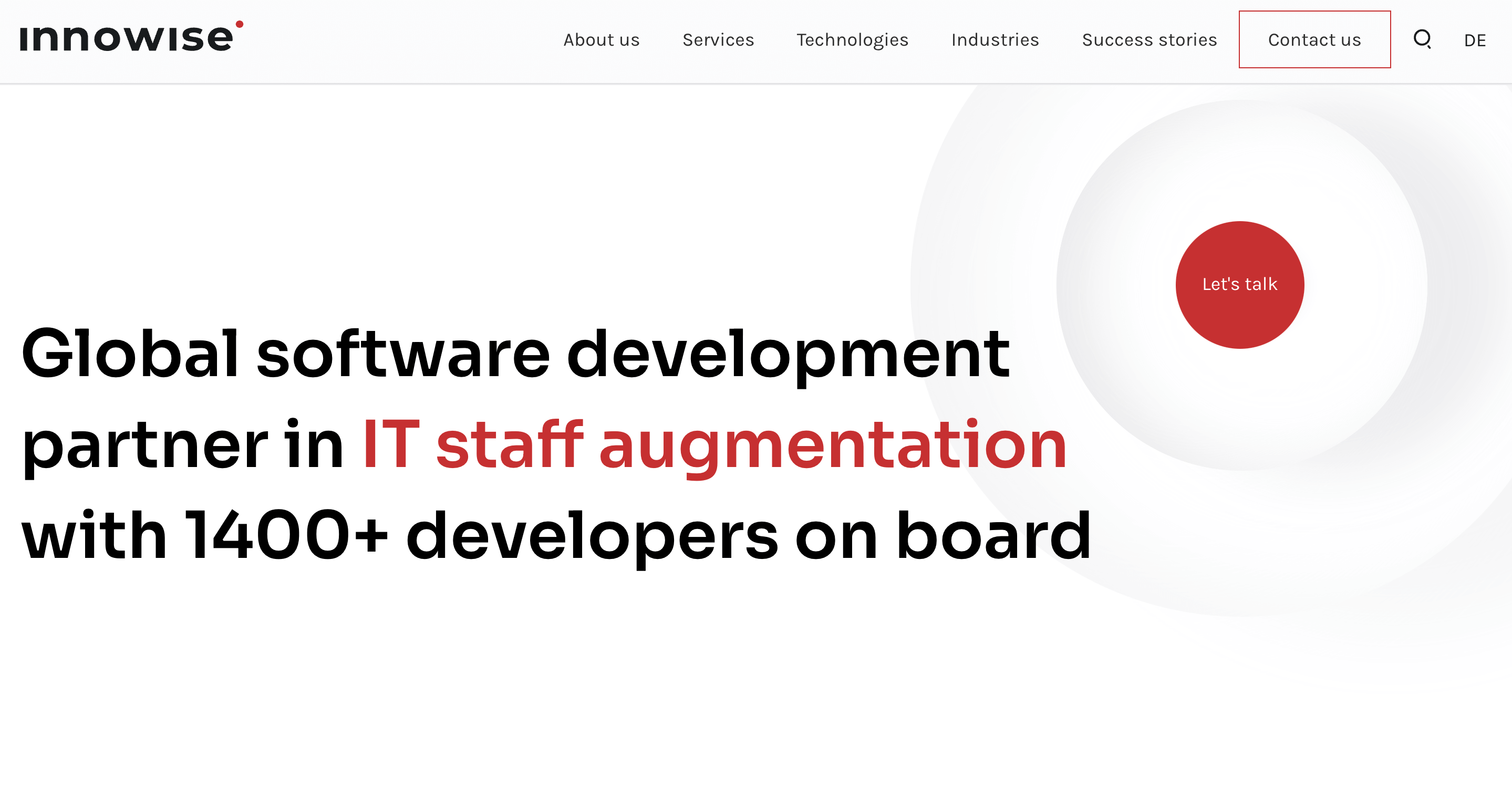 Innowise Group is a global IT service provider that focuses on meeting the needs of a diverse set of customers by delivering affordable, high-quality, and fast development services. Their talented developers are well-versed in many languages and frameworks, including ReactJS. 
Innowise Group is proud of its ability to keep clients updated during development thanks to its excellent communication abilities. They place a premium on client happiness and work closely with customers to ensure projects are completed to their standards.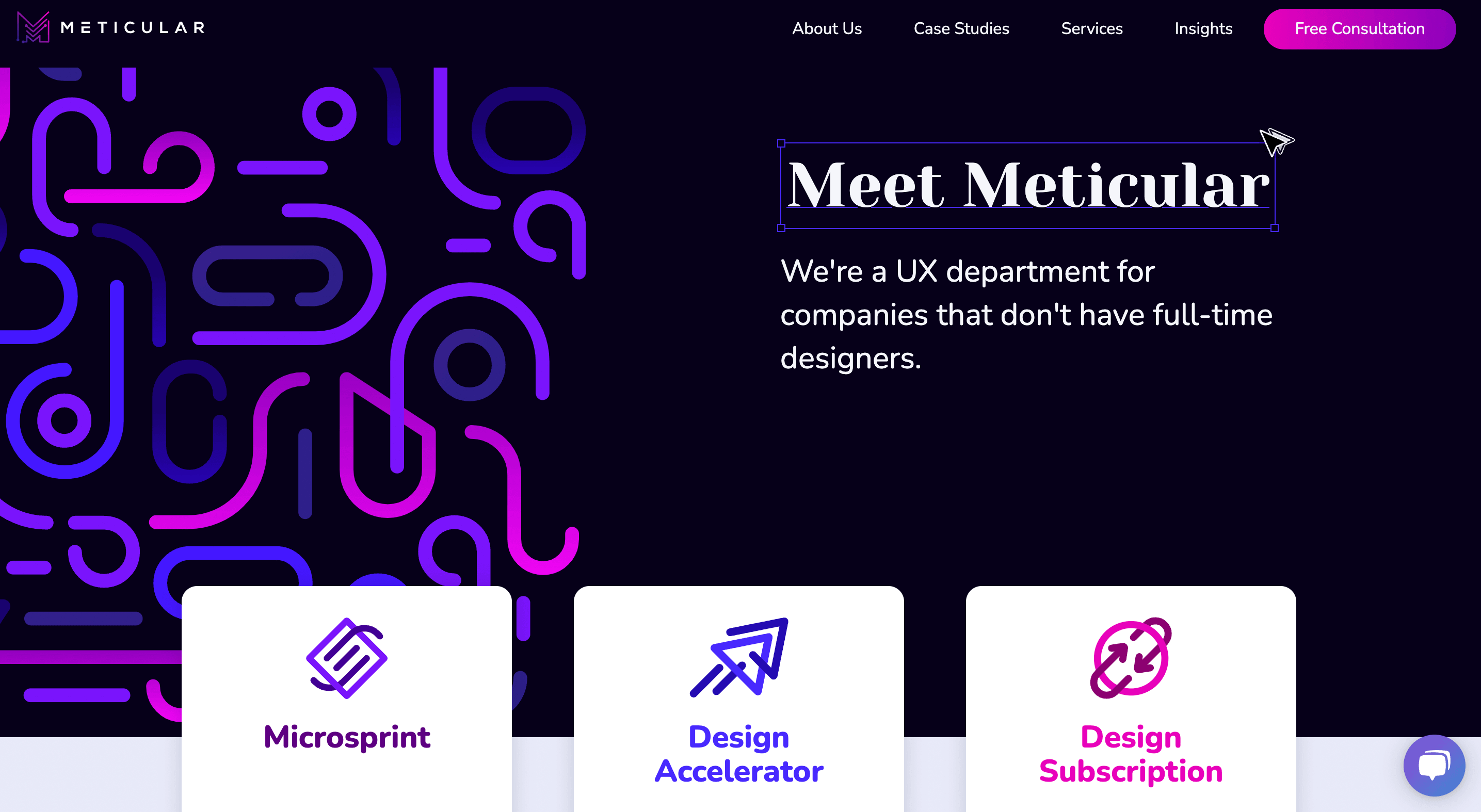 Meticular is your one-stop shop for every task related to creating superior UX solutions. They are a small team committed to providing your business with a solid product base. Their services include Microsprint (creating a plan for your minimum viable product (MVP) in just one day), Design Accelerator (for beautiful user-validated designs), and Design Subscription (embedding their team as your UX department).
Meticular lays the groundwork for enterprise-level product design up front, regardless of whether you're a startup or an established company, so you can focus on scaling and growing your UX team. 
You can maximize the effectiveness of your software with the aid of their top-level ReactJS developers, who follows a tried-and-true process and best practices to provide user-validated, aesthetically pleasing designs.
Pagepro is a top-rated software company that develops ReactJS- and React Native-based apps for the web and mobile platforms. 
They have a staff of experienced programmers who are well-versed in cutting-edge frameworks and industry standards. They assist organizations of all sizes and across all sectors in developing applications that are both powerful and easy to use. 
Pagepro's ReactJS developers are competent with the following technologies: React, React Native, Node.js, Typescript, Next.js, Gatsby.js, Jamstack, and Headless CMS. In addition, they provide maintenance and support services to keep the applications functioning optimally.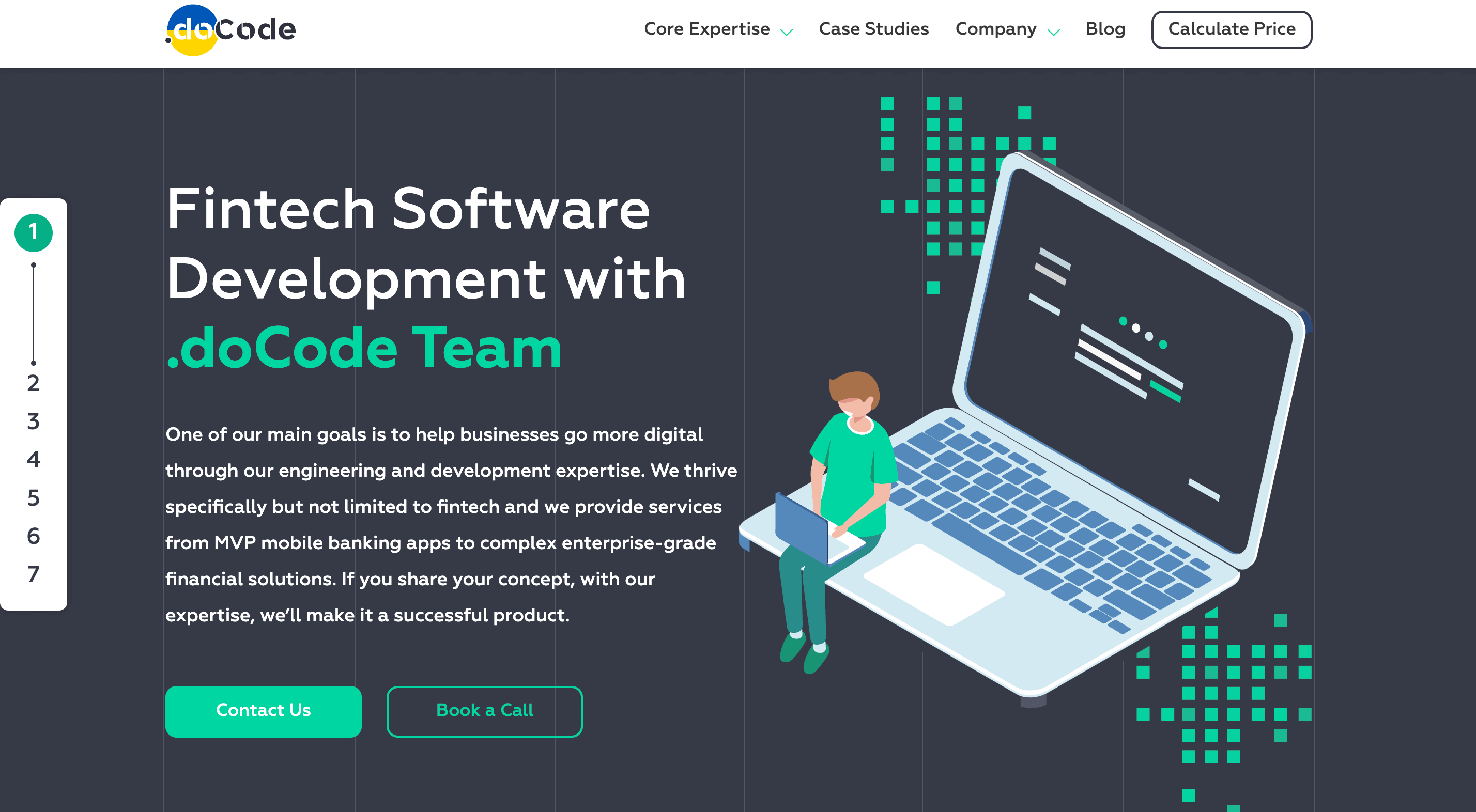 doCode is headquartered in Eastern Europe and is a global partner for Fintech software development. They've assisted hundreds of startups, IT firms, and multiindustrial enterprises with their extensive ReactJS expertise and rich experience. 
doCode's services include project development, IT staff augmentation, and dedicated teams. Their software development services include web and mobile app development, API implementation, UX & UI design, custom CRM, migration to the cloud, and technical consulting. 
So far, they have released two digital banking systems in the UK, healthcare solutions in Europe and Israel, and several mobile entertainment apps in the US. Contact them today to experience unrivalled technical skills and efficiency!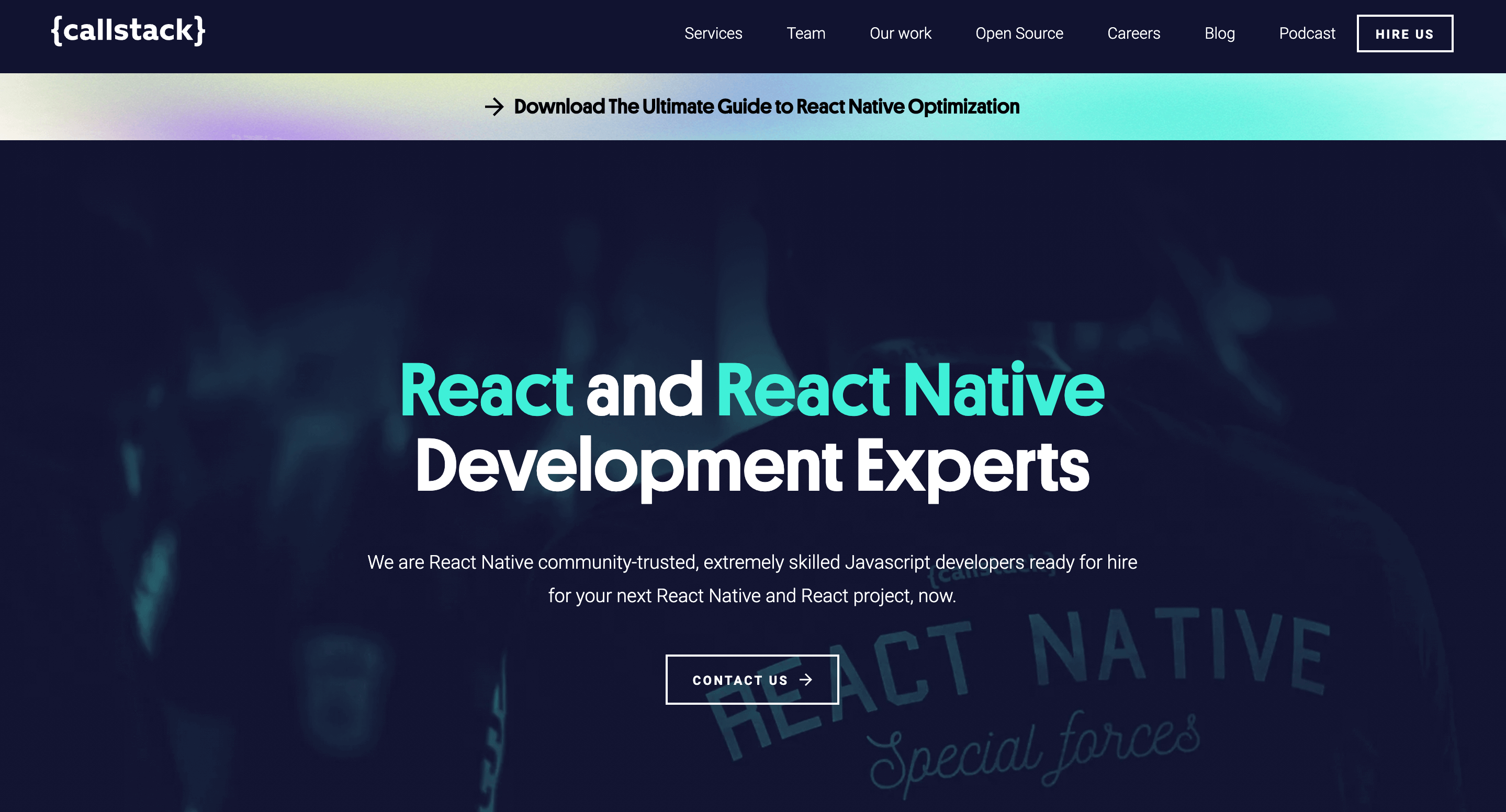 Callstack is a full-cycle software development company specializing in creating cross-platform mobile and web applications using cutting-edge technologies such as React Native, React, and GraphQL. 
Their top ReactJS developers are well-versed in the technicalities of creating cross-platform apps that are fast, scalable, and easy to use. 
Callstack provides a comprehensive suite of services, including consultancy, ReactJS web development, testing, and maintenance, to aid entrepreneurs within various sectors in accomplishing their objectives and maintaining a competitive edge in the market. 
They have a solid reputation for delivering high-quality, dependable, and secure software solutions fast and on a budget for eCommerce, Healthcare, and Finance companies.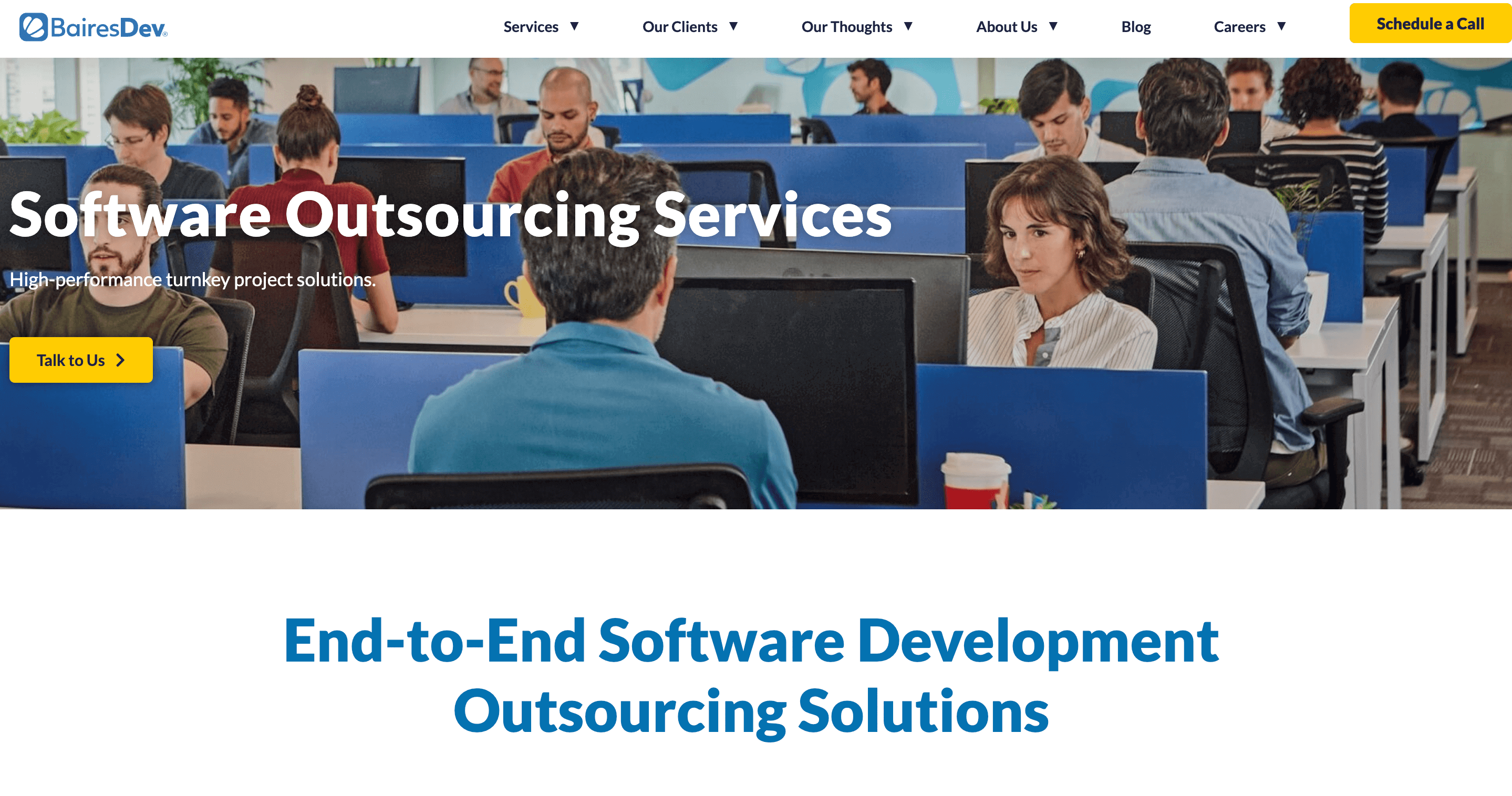 BairesDev is an industry-leading nearshore software development firm that helps clients jumpstart their projects and scale fast by implementing custom software that meets their unique needs. 
Their top-notch programmers master numerous frameworks and languages, such as ReactJS, Ruby on Rails, Node.js, etc. 
BairesDev covers a wide range of digital solutions, including website design and maintenance, mobile app creation, and eCommerce implementation. Their delivered products are high-quality, scalable, and user-friendly. By applying Agile best practices, they help their clients accelerate their projects and give momentum to their digital transformation. 
Their ultimate goal is to design, architect, and implement high-quality technology solutions that provide long-term value for their clients throughout their digital acceleration journey by harnessing the expertise of the top one percent of the global IT talent.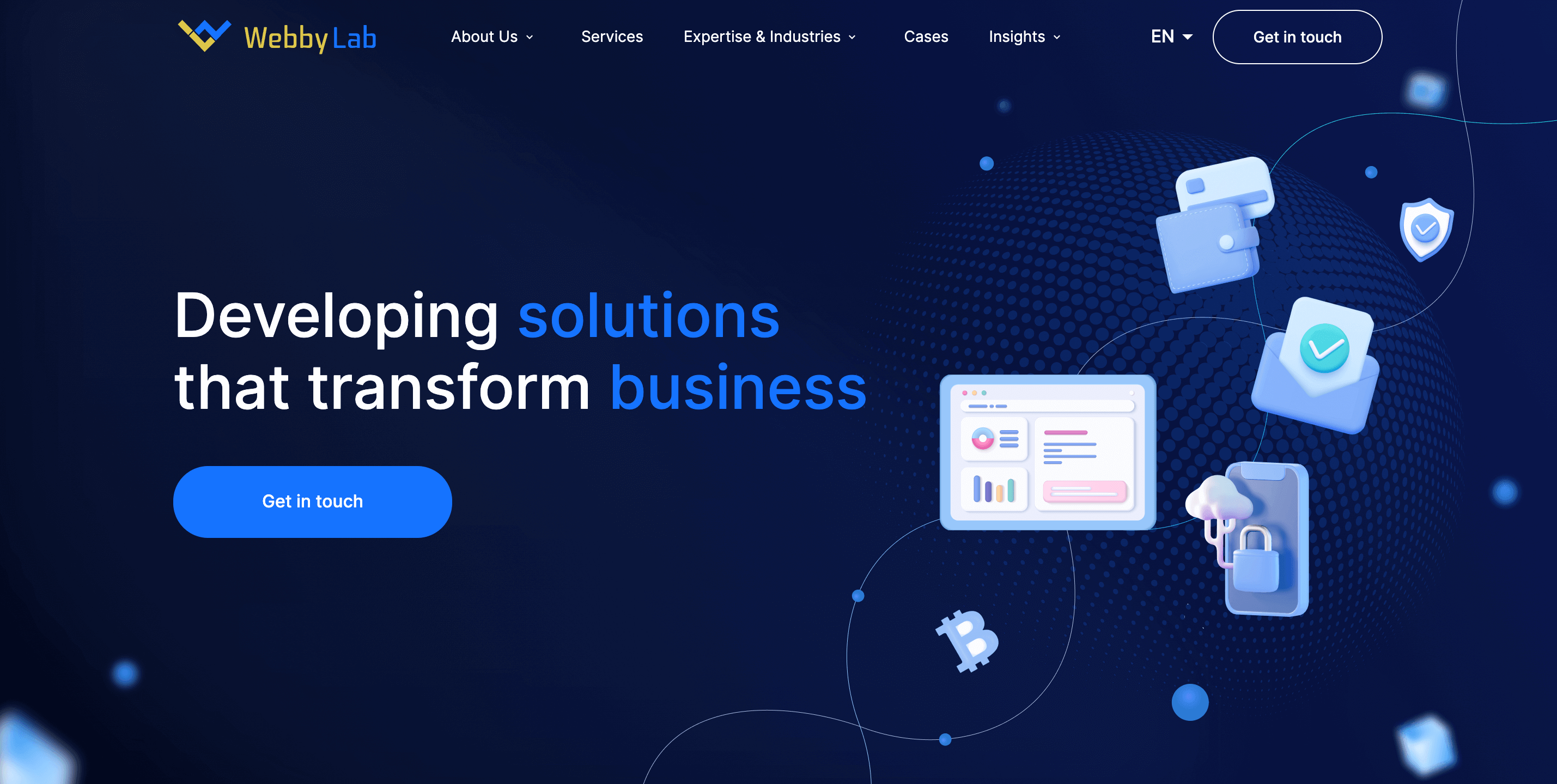 Since 2011, WebbyLab has provided its clients with innovative, client-focused digital solutions by integrating state-of-the-art IT innovations with streamlined business procedures. 
With experience spanning Blockchain, eCommerce, IoT, and other tech sectors, and strategic alliances with Fortune 500 firms, WebbyLab is well-positioned to meet your unique business needs.
WebbyLab helps established companies and new ventures overcome technological obstacles with their products. Their technical expertise and ability to think creatively are two of the company's most valued qualities. 
WebbyLab's team has been able to amass a wealth of information and steadily raise the bar on the excellence of their output by specializing in a comprehensive technology stack where ReactJS plays a crucial role. They use ReactJS, NodeJs, PHP, and React Native stacks to create robust and scalable web and mobile applications. 
Conclusion
Choosing the right ReactJS development company that can provide the services, skills, and solutions you need can make a world of difference for your project. Thus, before settling on a single provider, it's essential to do thorough research and consider various candidates.
The listed firms are among the best ReactJS development companies in the globe. With their professional assistance, you can begin building cutting-edge ReactJS apps with confidence in the quality of the code, the efficiency of the project management, and the fairness of the cost, no matter the size or scope of your endeavour.
We hope this list helps you find the best-fit company for your next ReactJS project.
If your company specializes in ReactJS development and you want to feature it in this list, please feel free to contact us by email. After a thorough review, we'll decide whether it's a valuable addition.