The Fourth Industrial Revolution, often referred to as Industry 4.0, has initiated a new era of innovation and technology, with the Internet of Things (IoT) at the heart of this tech revolution. 
The demand for IoT service providers has been continuously increasing worldwide in recent years due to various factors, including the mass adoption of smart devices and the growing trend toward hyperautomation and digitization in diversified industries.
According to the report by MarketsandMarkets, the global IoT market size is expected to reach $1.4 trillion by 2027, with a compound annual growth rate (CAGR) of 11.5% from 2020 to 2027. Businesses of all types and sizes are actively investing in IoT development to stay ahead of the curve and remain competitive. In addition, IoT solutions improve efficiency, reduce costs, and enhance the customer experience.
Looking for a reliable IoT development services provider to bring innovation to your business processes? Read on. In this article, we present top IoT development companies with rich expertise and proven experience, which are transforming companies with innovative IoT solutions. 
The Best IoT App Development Companies To Bring Innovation Into Your Organization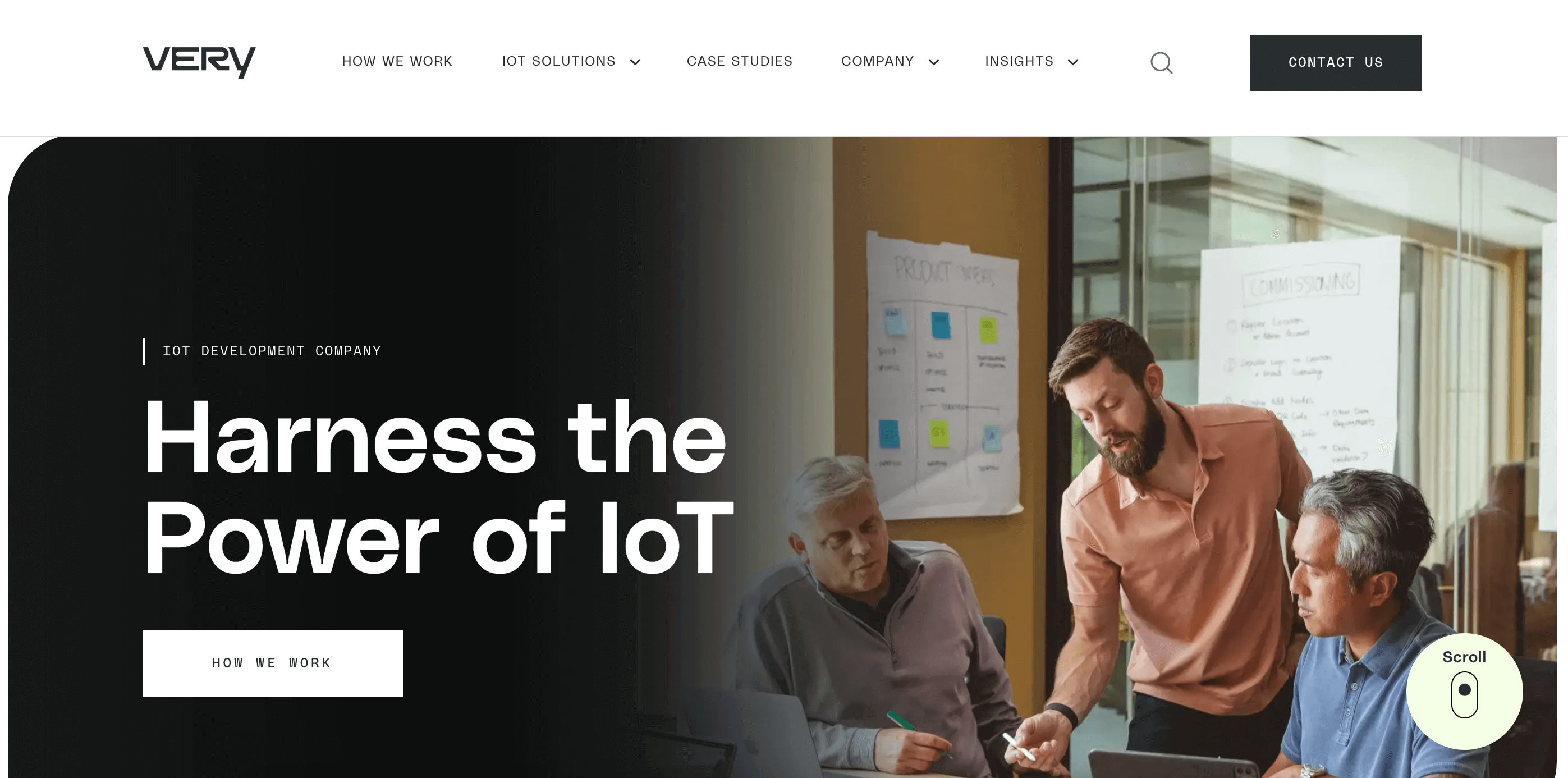 Powered by a team of talented, passionate experts and problem-solvers, Very is a 100% focused IoT software development company. The firm was founded in 2011 and now boasts over 425 successfully delivered projects and 4.9 stars on Clutch. 
Aimed to help clients overcome the most complex and difficult technical challenges, Very provides end-to-end IoT development services, creating high-value smart products and connected, scalable ecosystems. One of Very's key features is the agile approach, according to which the team produces the minimum valuable product and upgrades it throughout each iteration, bringing in the real-world impact and desired outcome. 
Scope of services:

IoT design and development, IoT data solutions, IoT hardware and devices, IoT software and firmware, MVP development

Tech stack:

AWS, Microsoft Azure,

MQTT, CoAP, AMQP, Apache Kafka, Apache Spark, Apache Cassandra

Team size:

250+ experts

Location:

United States, Bozeman

Portfolio:

Clear, Tattle Box, SUN Automotive Group, Bustle, Complex, HP, Loreal, P&G, PowerX, United Nations and more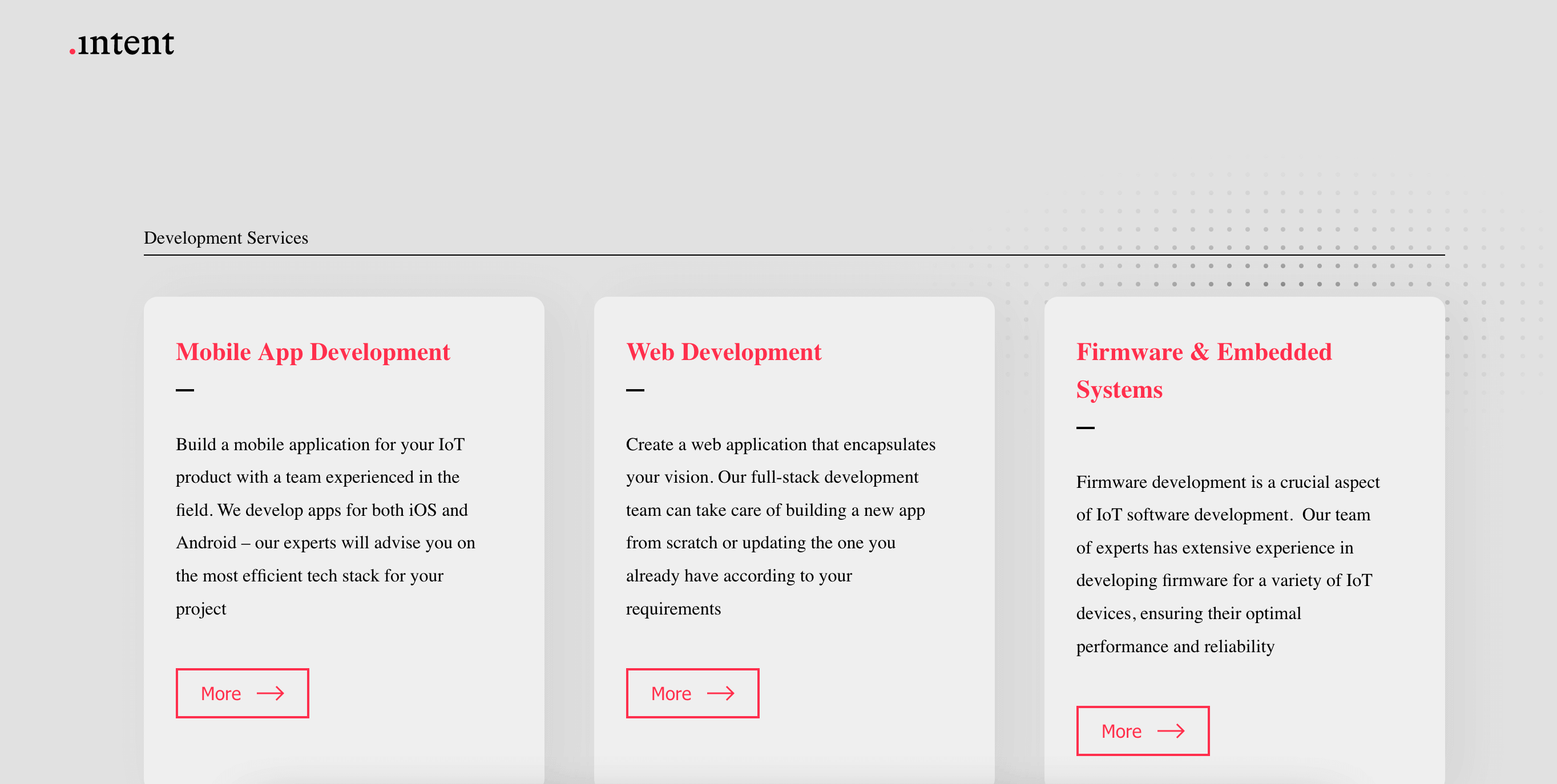 Start your tech journey with Intent, a world-class software design and engineering company whose expertise lies in the intersection of physical and digital. Intent has designed and developed next-gen mobile apps for connected devices for over 10 years, and their tried and tested processes guarantee you'll get the highest-standard IoT solutions. 
Headquartered in Warsaw, Intent is known as one of the best IoT app development companies worldwide and can help your business grow with comprehensive design, development, maintenance, due diligence, and consulting services. 
Their team is continuously evolving and developing its professional skills by passing a number of different courses. No wonder Intent was featured in TechCrunch, Rorber, Variety, and VentureBeat and has achieved a 94% customer satisfaction rate. 
Scope of services:

IoT development, mobile and web development,

firmware

&

embedded

systems, product validation, UX/UI design, AI/ML systems

Tech stack:

AWS IoT Core, BLE, Wi-Fi, ISM, C/C++, FreeRTOS, Zephyr, BareMetal OS

Team size:

250+ experts

Location:

Poland, Warsaw; New York, USA

Portfolio:

OURA, HQ, iHeartRadio, Lover, Roku, McIntosh, Jeep, Maserati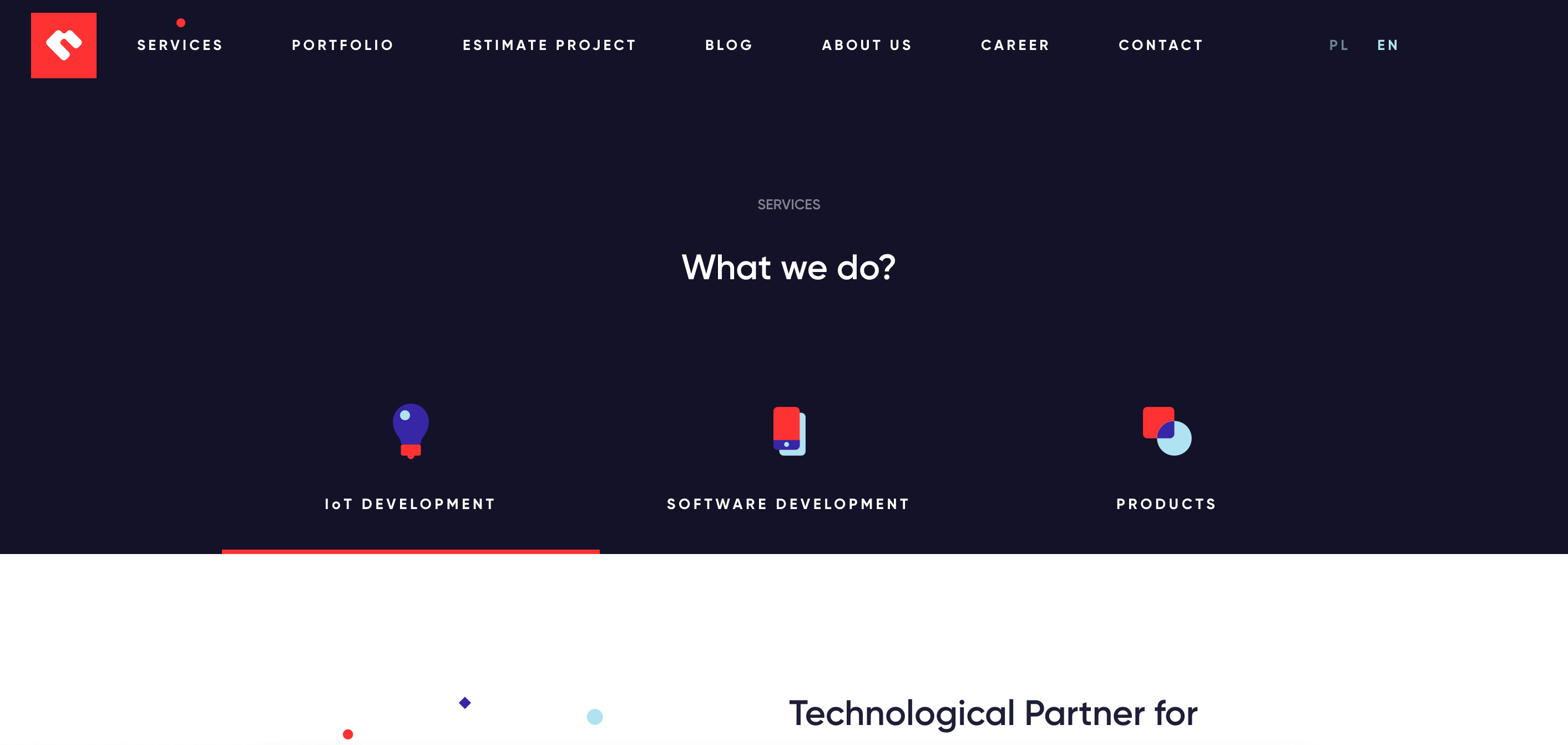 Being one of the most experienced IoT software development companies, Netizens has been operating in the IT market since 1999 and have completed over 1500 projects. Their team of scheme-breakers assists startups, corporate clients, investors, and digital agencies in implementing supreme IoT products combining software, firmware, and hardware elements. 
Netizens gives extra value to its customers through the robust R&D services, interactive prototypes, and technological know-how. Your cooperation will be based on in-depth business analysis, UX design, software development and testing, and post-launch support.
Scope of services: IoT development, software development, product design, R&D services, AI systems, prototyping
Tech stack:

C++, Python, ARM, Keil, KiCAD, LoRa, Zephyr, Bluetooth Low Energy, NodeJS, PHP, Laravel, WordPress, MySQL, Redis, SQLite, Firebird, React.js, JavaScript, HTML5, VueJS, Java

Team size:

50+ experts

Location:

Katowice, Poland

Portfolio:

Nivea, Lexus, Katowice Airport, Burda Media, Twitter, Paco Rabanne, ING, Novartis, McDonald's, WSIP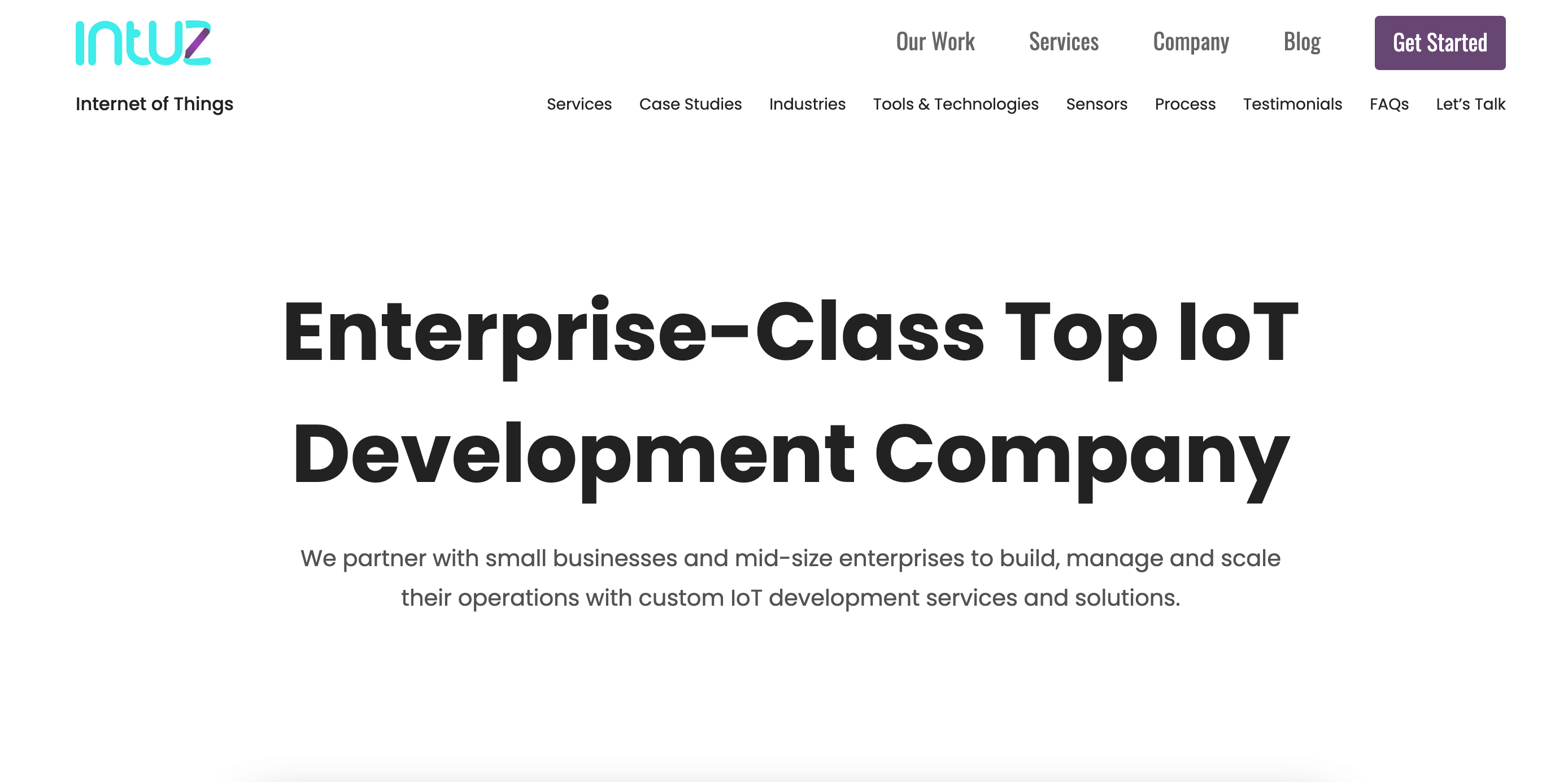 Intuz is a superior IoT solutions company offering a wide range of IoT services, including tech consulting, firmware development & integration, IP product development & integration, data analytics & data visualization, IoT wearable apps, PoC & prototype development. Their specialists have extensive expertise in working with businesses in Healthcare, eCommerce, Transportation & Logistics, eLearning, and Education sectors. 
With a decade of experience in consulting and development and being certified as a Microsoft Partner and an AWS Cloud Consulting Partner, Intuz caters to startups, SMBs, and Fortune 500 companies. The firm has also earned ISO 9001 certification and is known for its speed, responsiveness, and flexibility and follows a serious consultative approach to realize clients' digital projects.
Scope of services:

IoT development, mobile and app development, emerging technologies, cloud services, product marketing

Tech stack:

NodeJS, Python, ReactJS, C/C++, Node-RED, Modbus, MQTT, Z-Wave, iBeacon, Ble, UDS, NodeMCU, Arduino, Raspberry PI, REST, SOAP, Wi-Fi, Bluetooth, GSM

Team size:

50+ experts

Location:

San Francisco, San Ramon,

USA; Ahmedabad, India 

Portfolio:

Holiday Inn, JLL, BOSCH, Badu Connect, AMG, Bubba Booking, Kubi, Meela, RFI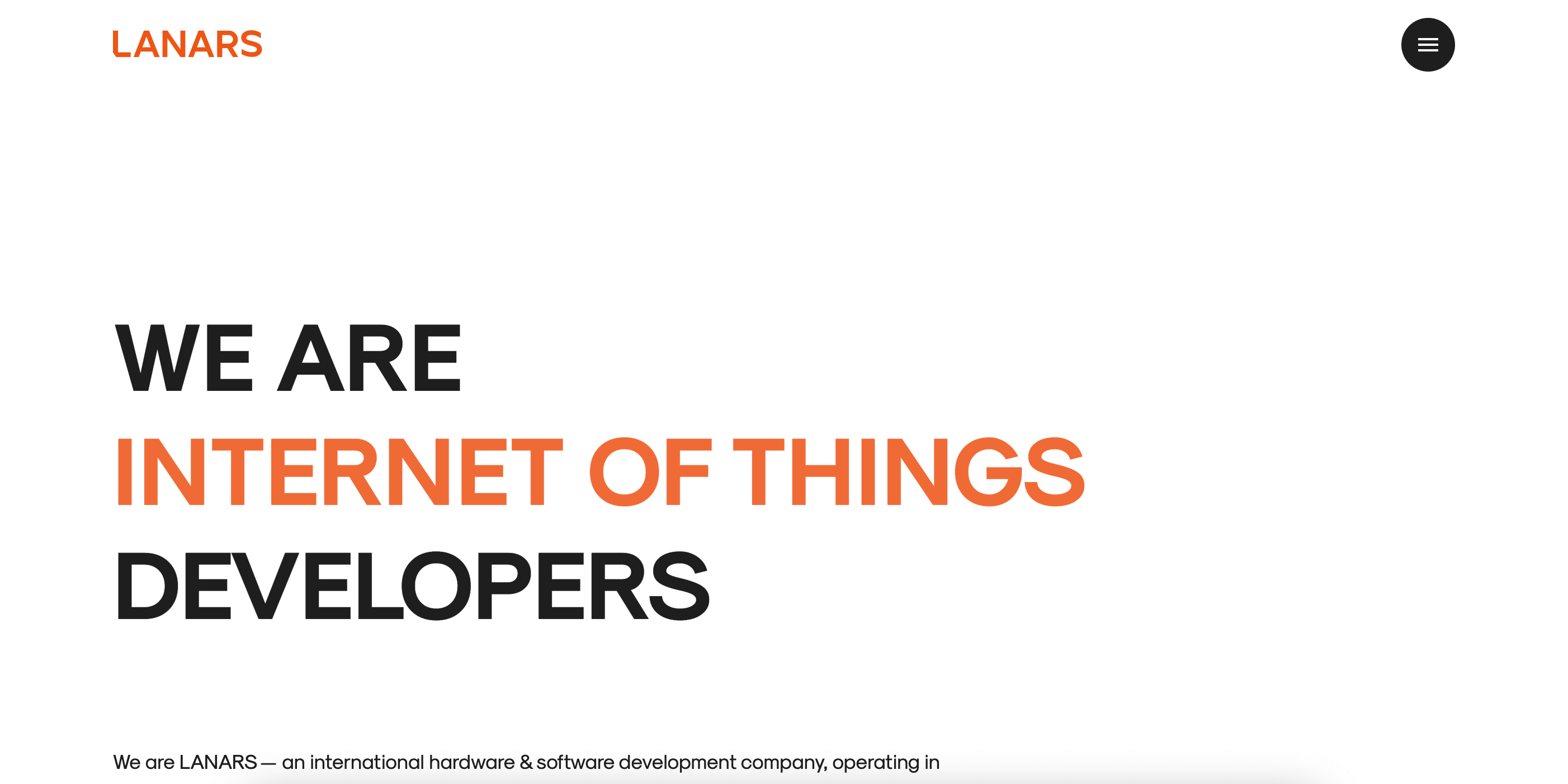 Offering the ultimate combination of a modern laboratory with cutting-edge equipment and a team of IoT experts makes Lanars one of Europe's most remarkable IoT app development companies. The firm mostly operates in the Northern European market, with head offices in Norway and Georgia. 
Top-notch professionals from Lanars have a solid background in IoT app development for Space & Aircraft, Healthcare, and Manufacturing industries, enabling them to create breakthrough products that are used all over the world. They specialize in high-performing devices and digital products for smart homes, including lighting, heating and air conditioning, security and video surveillance systems.
What's more, Lanars is recognized as the Top IoT Development Company on Goodfirms and Clutch. So take your chance to work with one of the best IoT service providers in the world!
Scope of services:

IoT, IIoT, embedded systems, mobile app and web development 

Tech stack:

Assembler, VHDL, VERILOG, C, C++, Python, Flutter, NextJS, NodeJS

Team size:

300+ experts

Location:

Olso,

Norway; Tbilisi, Georgia; Warsaw, Poland; Dnipro, Ukraine

Portfolio:

Byzans, ShopLabs, Tweego, Charj, Mjosa State, Manna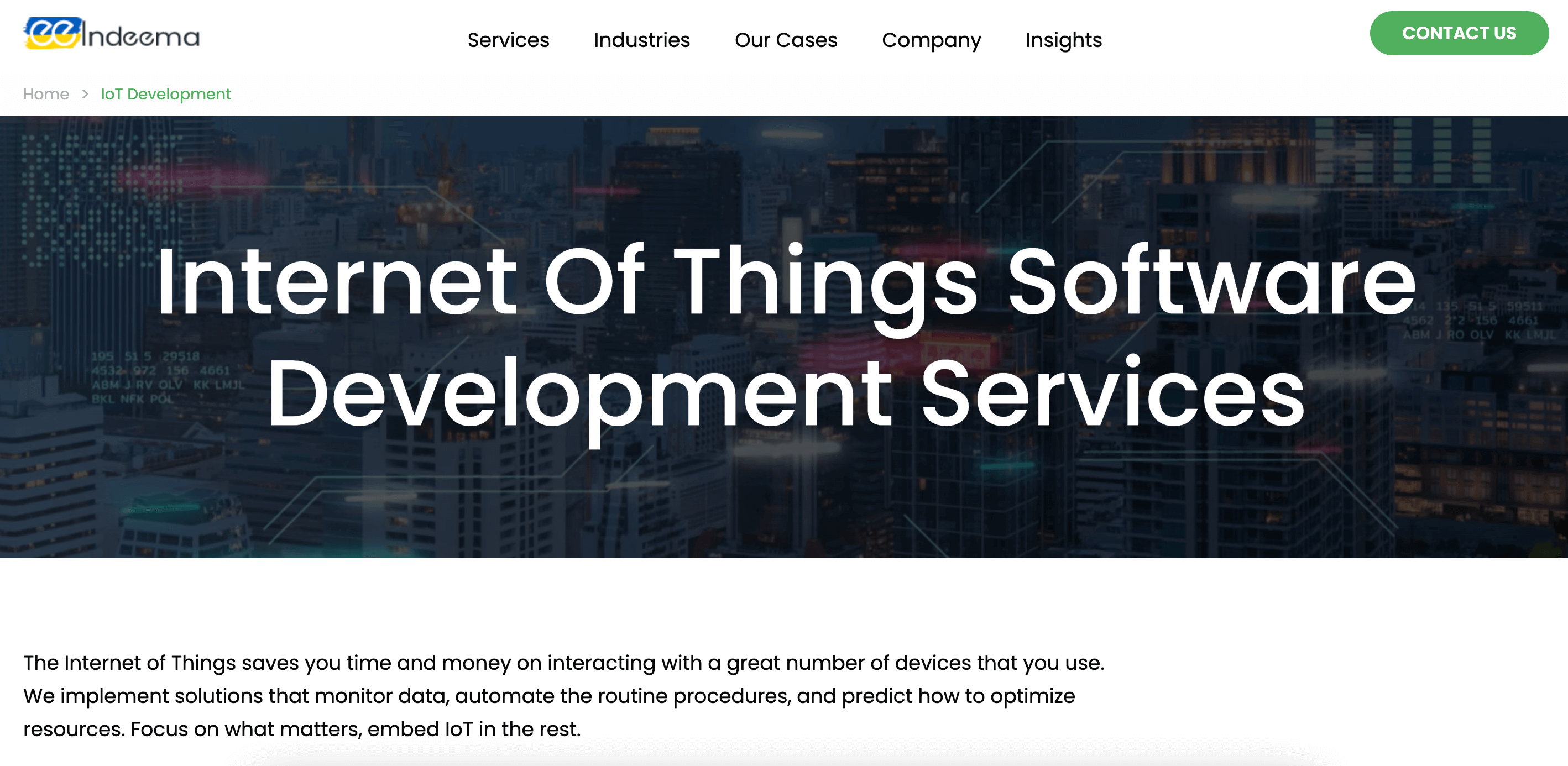 Indeema is a Ukrainian IoT-oriented company with offices in Kyiv and Seattle, which has over 8 years of commercial experience in delivering IoT products for companies of all sizes like Fortune 200, mid-size businesses, and startups. 
Their core services include IoT web and mobile development, cloud infrastructure design and development, and embedded software and firmware development. Also, the company offers consulting, team augmentation, and dedicated team services, so you can hire expert IoT developers on demand. 
Aimed at making a long-time impact in the tech sector and providing industry-leading engineering services, Indeema is the top IoT consulting and development firm that will give you lots of benefits such as strong security, custom IoT development, a team of 200+ experts, and fruitful partnership. 
Scope of services:

IoT development, R&D services, MVP development, UX/UI design, DevOps services, cloud software development, post-production support, dedicated teams 

Tech stack:

C/C++, Python, Cloud IoT Core, AWS IoT, Predix, Swift, Kotlin, Java, Flutter

Team size:

200+ experts

Location:

Kyiv, Ukraine; Seattle, USA

Portfolio:

Viking Scada, Solar Manager, IReDS Pro, UBreez, UDB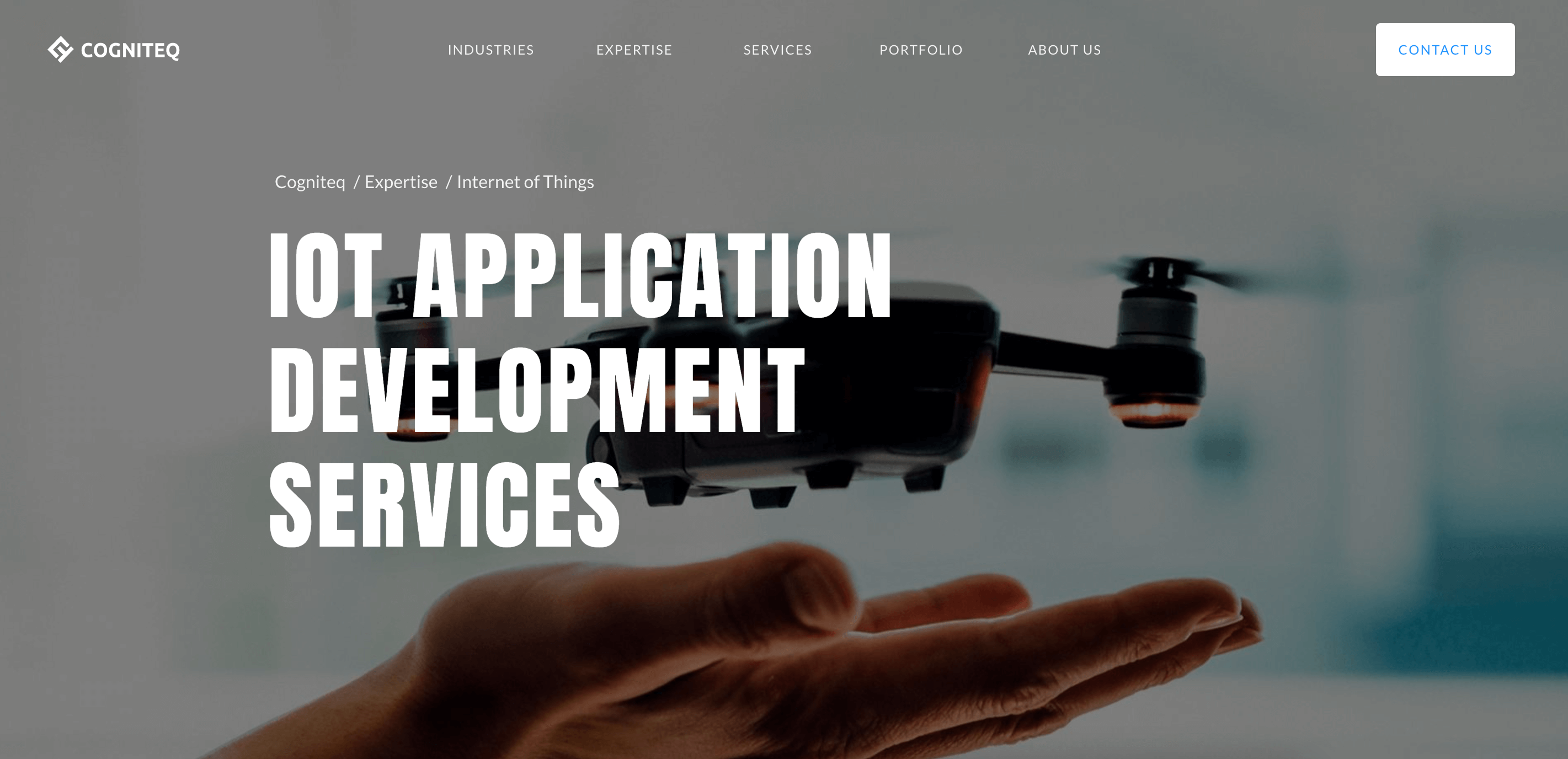 Congiteq has solid experience in creating external devices and complex digital ecosystems; thus, they're able to deliver powerful IoT applications with flawless functionality for your business. Being one of the best IoT consulting firms, Congiteq shares its exclusive knowledge and expertise to help you identify the best-fit digital solution.
The company has been delivering IoT app development services since 2005. Its ingenious team of 120+ experts has a deep understanding and expertise in various business domains, including but not limited to Finance, Healthcare, and eLearning.
Scope of services:

IoT app development, mobile and web app development, enterprise app development, AI/ML solutions, UX/UI design, dedicated teams and augmentation services, quality assurance

Tech stack:

C, C++, Python, React Native, Angular, VueJS, Swift, AWS, Google Cloud Platform, Apache Spark, Hadoop

Team size:

120+

experts
Location:

Warsaw,

Poland; Lewes, USA; Vilnius, Lithuania

Portfolio:

Ikawa, Loreal, Teleseminar, Chelsea FC Hospitality, Altyn-i, Step-Up Horse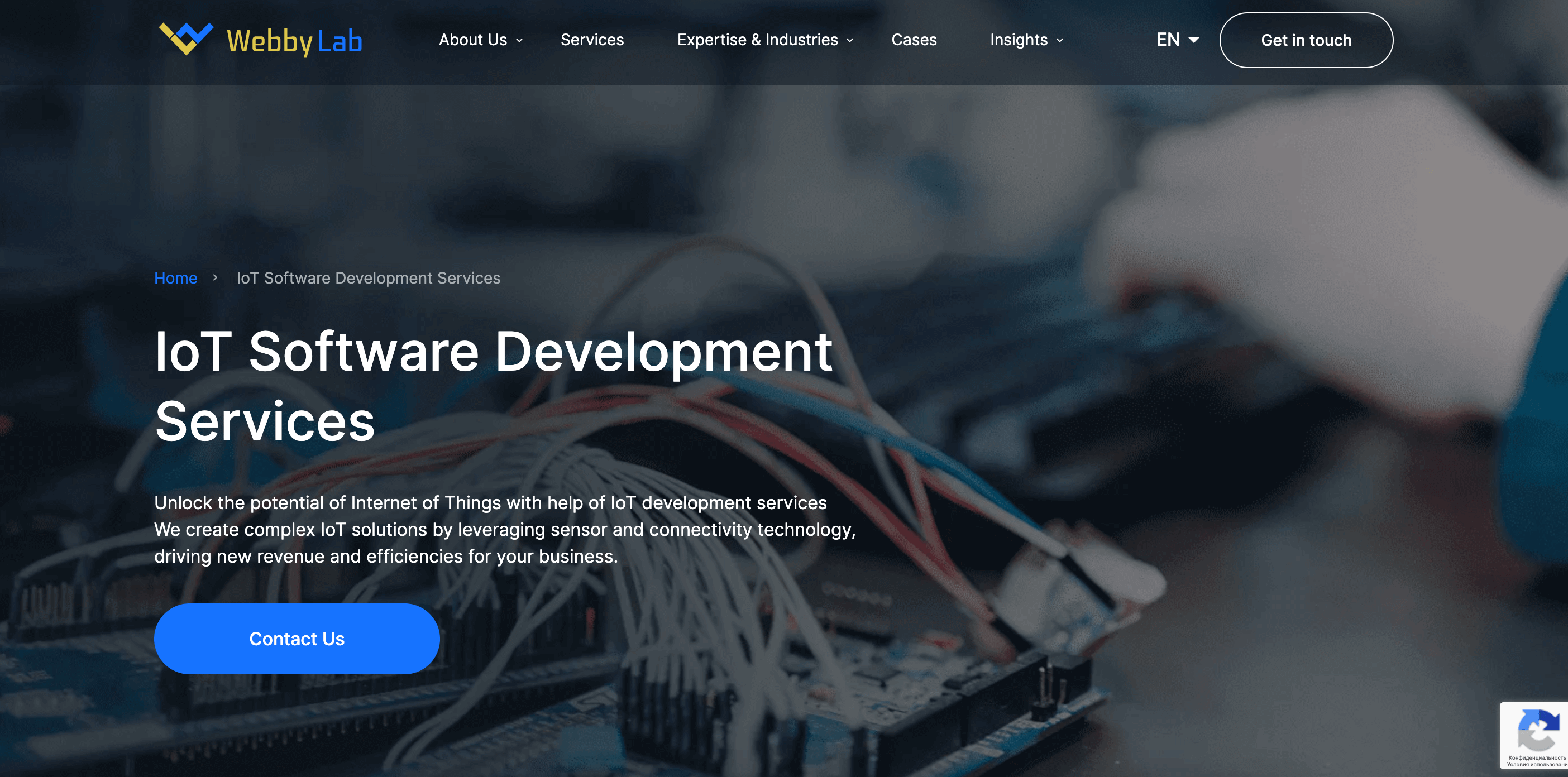 WebbyLab is a Ukrainian IoT application development company with 10+ years of experience, led by founders with a strong technical background. The firm has successfully delivered over 300 top-rated products, with 15 of them for Fortune 500 companies, including Mercedes and Uber. 
Their best-in-class IoT developers, designers, and QA engineers manage the whole development process, from the idea to a finished product, covering end-to-end IoT development and circuit diagram with PCB design. Also, WebbyLab's team requests client feedback at every stage of the project development to define actionable ways to get the best possible result and meet customers' needs perfectly. 
Whatever size of business you have, WebbyLab will open new revenue streams for you by leveraging the potential of smart technologies. 
Scope of services:

IoT development, blockchain and cryptocurrency development, DevOps solutions, architecture design, POC, Prototype, MVP, QA and testing, UX/UI design

Tech stack:

MSD4, Raspberry PI, Arduino, STM, AWS, Google Cloud, Microsoft Azure, React, React Native, NodeJS, JavaScript, C++, Bluetooth, MQTT, Modbus, Zigbee

Team size:

140+ experts

Portfolio:

Alligator Wallet, Smart Heat, ArenaStore, Brain, Intersport, ITbox, iBASEt, Ezlo, Mercedez

Location:

Kyiv, Ukraine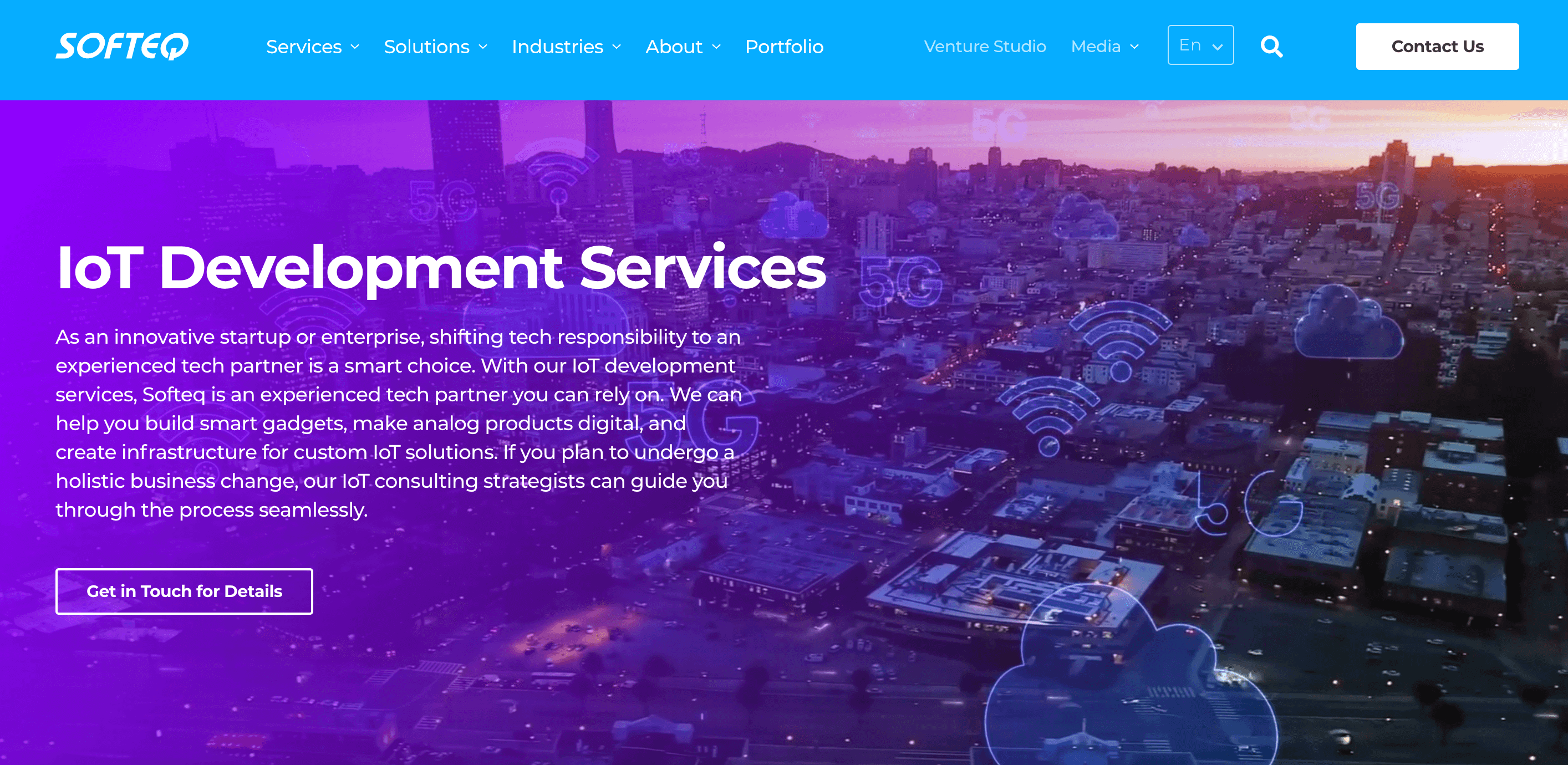 Choosing Softeque as a tech partner to build custom IoT solutions is a winning decision. Based in Texas, Softeque offers full-stack development services for global businesses, revealing its rich expertise in industrial IoT, consumer IoT, healthcare IoT, smart homes, and wearables. 
What makes Softeque stand out among other companies? It's the most experienced IoT solution services provider with 25+ years on the market and 1000 experts on board. The company provides high-level IoT consulting, hardware prototyping and design, embedded software, IoT dashboards, and native and cross-platform apps for connected devices to enhance your business capabilities. 
Scope of services:

IoT development, embedded system development, hardware design, DevOps, custom software development, digital transformation, early-stage innovation, business analysis, UX/UI design, cybersecurity, quality assurance

Tech stack:

C/C++, AWS IOT, Azure IOT, Z-Wave, Swift, Kotlin, Java, Sigfox, Zigbee, Xamarin, Python, Flutter, Wi-Fi, Bluetooth

Team size:

1000+ experts

Location:

Los Angeles, Houston, USA; Munich, Germany; London, UK; Vilnius, Lithuania; Monterrey, Mexico

Portfolio:

Epson, Lenovo, AMD, Stewart, Verizon, Marvell, Intel, Nvidia, Daikin, Purple, Delos, SJ Gardner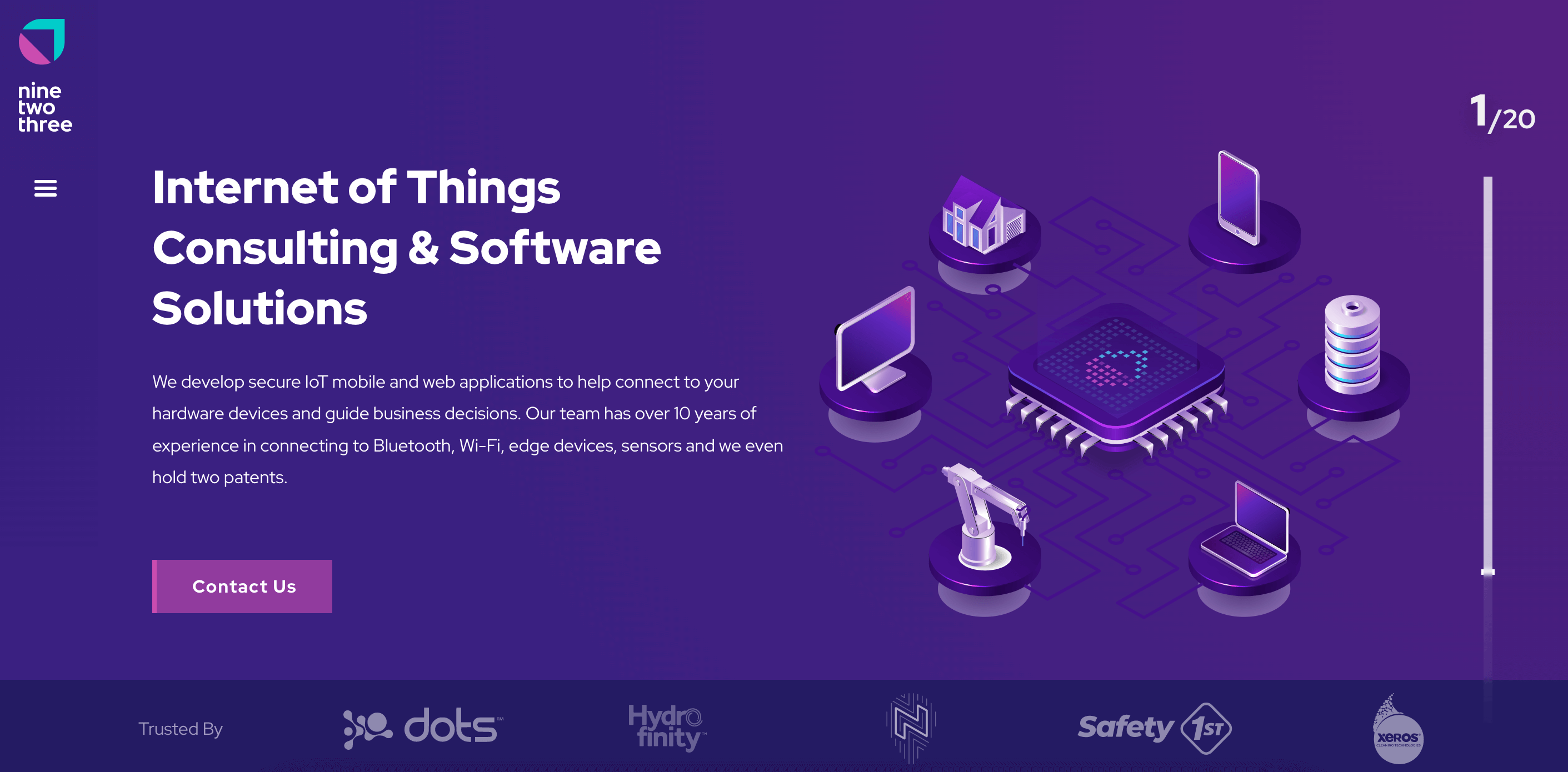 NineTwoThree is an American best IoT application development company headquartered in Danvers. The firm boasts over 10 years of experience in combining top-notch mobile and web apps with embedded technologies for startups and established brands.  
Their team has delivered over 60 products that support cameras, washing machines, allergen devices, and beacons; all these apps come with 5 stars. Also, NineTwoThree has recently been honored by Inc. 5000 for the second year in a row!
Scope of services:

IoT development, mobile and web app development, machine learning, staff augmentation, corporate innovation, custom software development

Tech stack:

Java, Python, JavaScript, Ruby, Swift, AWS, Microsoft Azure, React Native, Angular, Docker, Kubernetes, Spark, Hadoop

Team size:

65+ experts

Portfolio:

Data Flick, Safety First, Hydro Finity, Xerostech, Marken

Location:

Danvers, USA
Conclusion
As the IoT sector continues to evolve, we can expect to see even more innovative solutions delivered by these top Internet of Things development companies that push the boundaries of the digital world. 
We believe this list can help you to find a reliable tech partner for your business, and you'll hire the best IoT app developers with deep expertise, experience, and commitment to excellence.
If you want to add your company to this list, contact us by email with details. After a thorough review, we'll decide whether it's a valuable addition.