ChatGPT seems to have taken the world by storm, attracting an estimated 96 million monthly users. Still, it isn't the only one of its kind — there are numerous other worthwhile AI-powered tools to drive your business growth.
Modern companies are increasingly adopting artificial intelligence tools as they help streamline operations, automate routine tasks, and improve customer engagement, just to mention a few benefits.
From automation and personalization to predictive analytics and fraud detection, AI has plenty of applications that enable businesses of all sizes and industries to work more efficiently.
If you are considering introducing artificial intelligence tools in your business processes but don't know where to start, this article is what you need. We've compiled a list of the top AI tools to help you stay ahead of the game.
What Are AI Tools?
Artificial intelligence, or AI, is defined as the ability of machines to carry out tasks that would typically require human intelligence, including perception, reasoning, learning from experience, problem-solving, and decision-making.
Thus, an AI tool is a software application that uses artificial intelligence and machine learning algorithms to simulate human intelligence and behavior when performing certain tasks.
Artificial intelligence has a fantastic potential to transform many aspects of business operations, helping companies become more efficient, competitive, and customer-focused.
Some of the most common use cases of AI tools for business include:
Automation.

AI-powered tools can save time and money by automating repetitive manual tasks such as invoicing, data entry, mailing, customer support, etc.

Personalization.

Thanks to its next-gen analyzing capabilities, AI software helps business owners and marketers understand their customers better. By analyzing purchase history, online behavior, social media activity, etc., they provide data-driven insights on how to personalize marketing messages to boost customer engagement and loyalty and increase conversions.

Predictive analytics.

Artificial intelligence allows companies to identify patterns in large datasets and forecast future trends, helping them make more informed business decisions.

Fraud detection.

AI can be used to spot fraud and prevent financial and reputational losses by analyzing transactions and identifying patterns associated with fraudulent activity.

Virtual assistance.

AI-driven chatbots allow businesses to provide 24/7 customer support, saving costs and improving customer experience.
The Best AI Tools
To Take Your Business To The Next Level
It goes without saying that artificial intelligence can be extremely valuable for optimizing your business processes.
However, it might be hard to choose the tools that can drive real value to your organization. Here's the list of the best AI tools, apart from the sensational ChatGPT, to help you stay ahead of the curve.
1. Best AI tool for sales engagement: Reply.io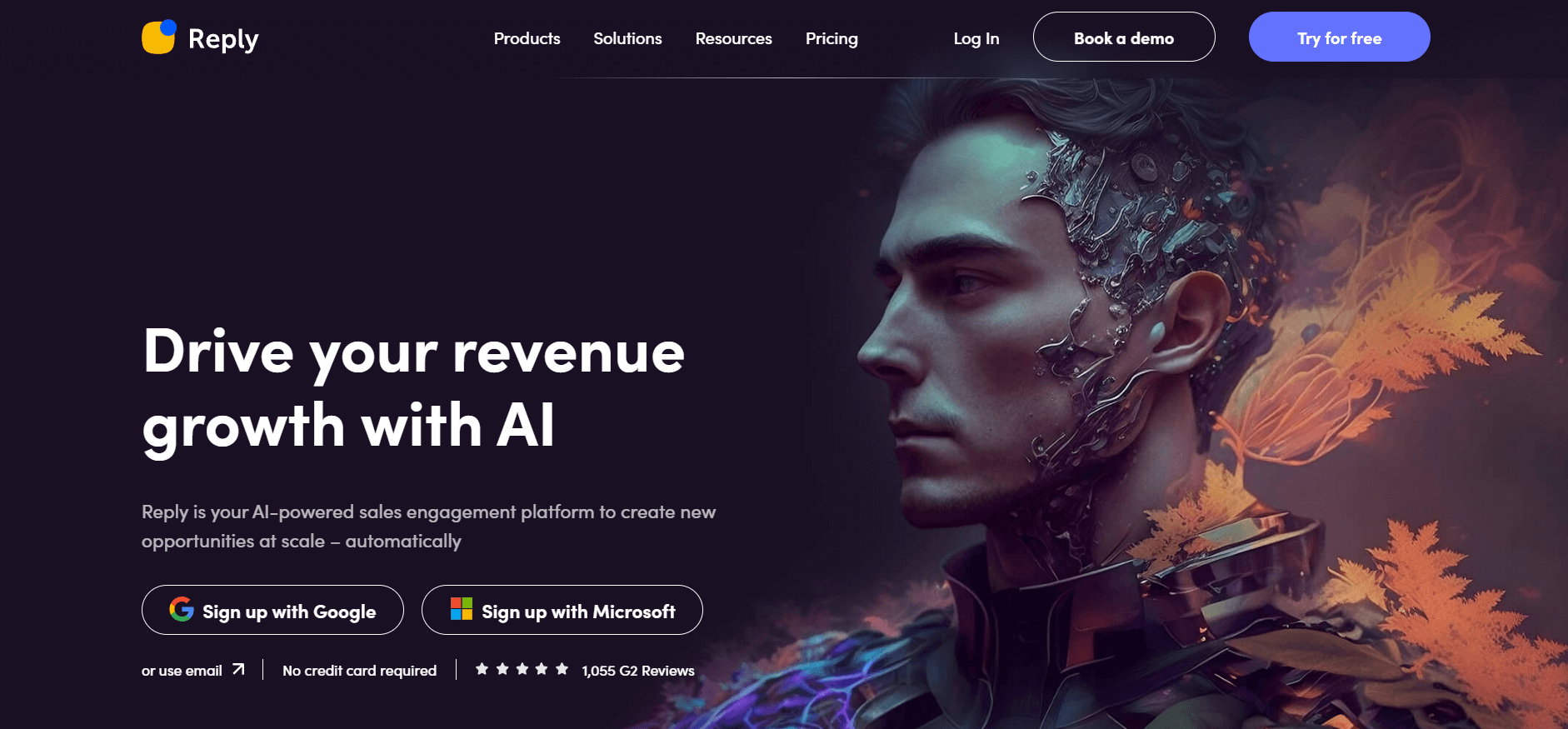 Reply is the ultimate sales engagement platform that leverages cutting-edge AI technology to help sales teams find new leads, engage them via multiple channels, and create endless opportunities at scale.
One of the greatest features of Reply is its very own conversational AI sales assistant powered by ChatGPT that generates personalized sales emails in 50+ languages, designs tailored outreach sequences, and then handles responses by answering queries and booking meetings on your behalf.
From building targeted prospect lists with its free 140 million+ contact database to booking calls right through the platform, Reply allows you to automate the entire sales process, from finding clients to closing deals. 
Reply also offers in-depth analytics dashboards, calendar appointment booking, and seamless integrations with your existing tool stack to keep everything under one roof.
2. Best AI tool for customer service management: Zendesk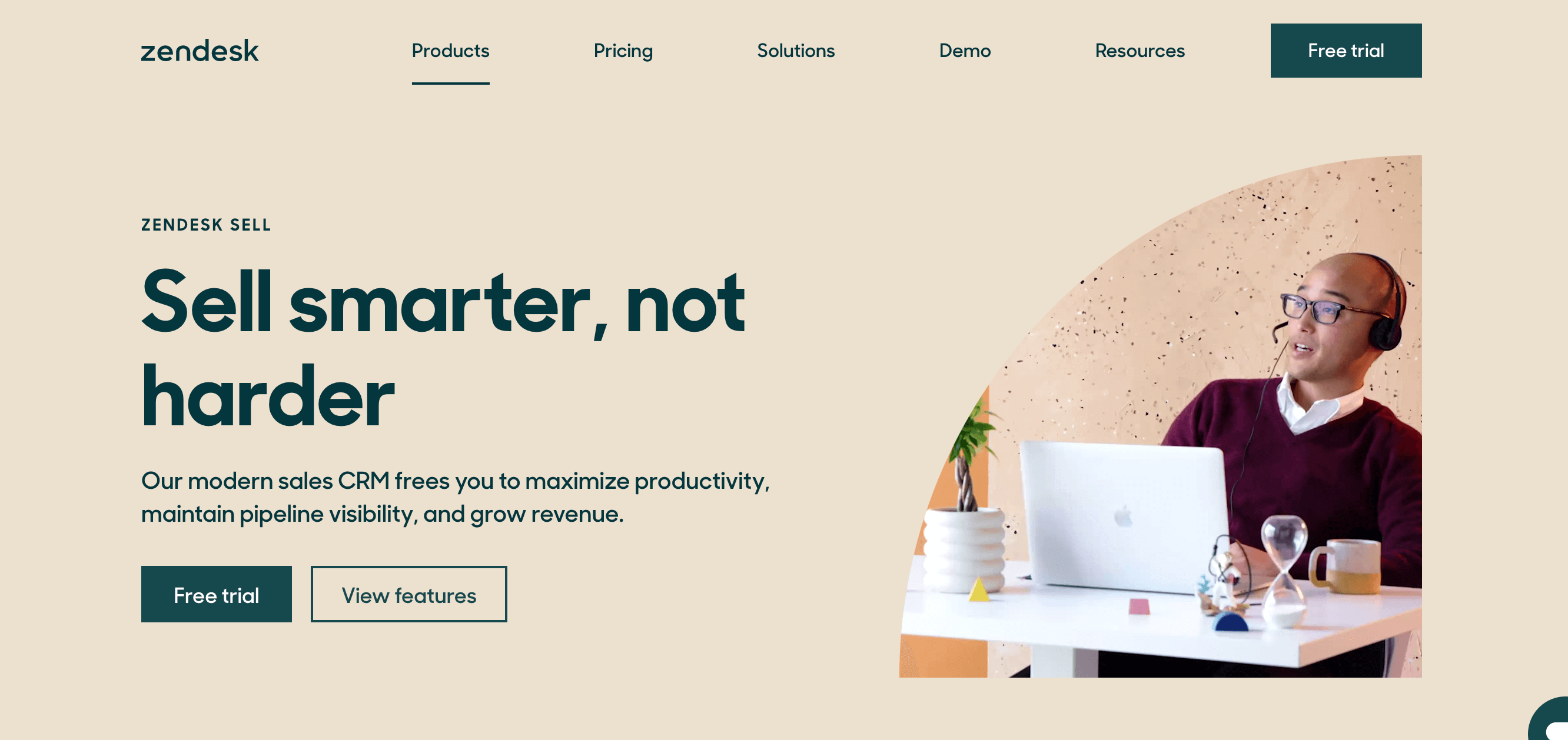 The AI-powered Zendesk could be your savior if you're fed up with juggling multiple tools and systems to manage your customer service operations. It is an all-in-one customer service software that allows sales teams to easily gather, organize, and analyze customer data to personalize their experiences and provide top-notch service.
Moreover, Zendesk enables effortlessly managing customer support across different platforms as it seamlessly integrates with other business applications.
It offers four pricing plans, from just $19 to $150 monthly, making it one of the most affordable and favored AI tools for small businesses.
3. Best AI tool for recruitment: Outmatch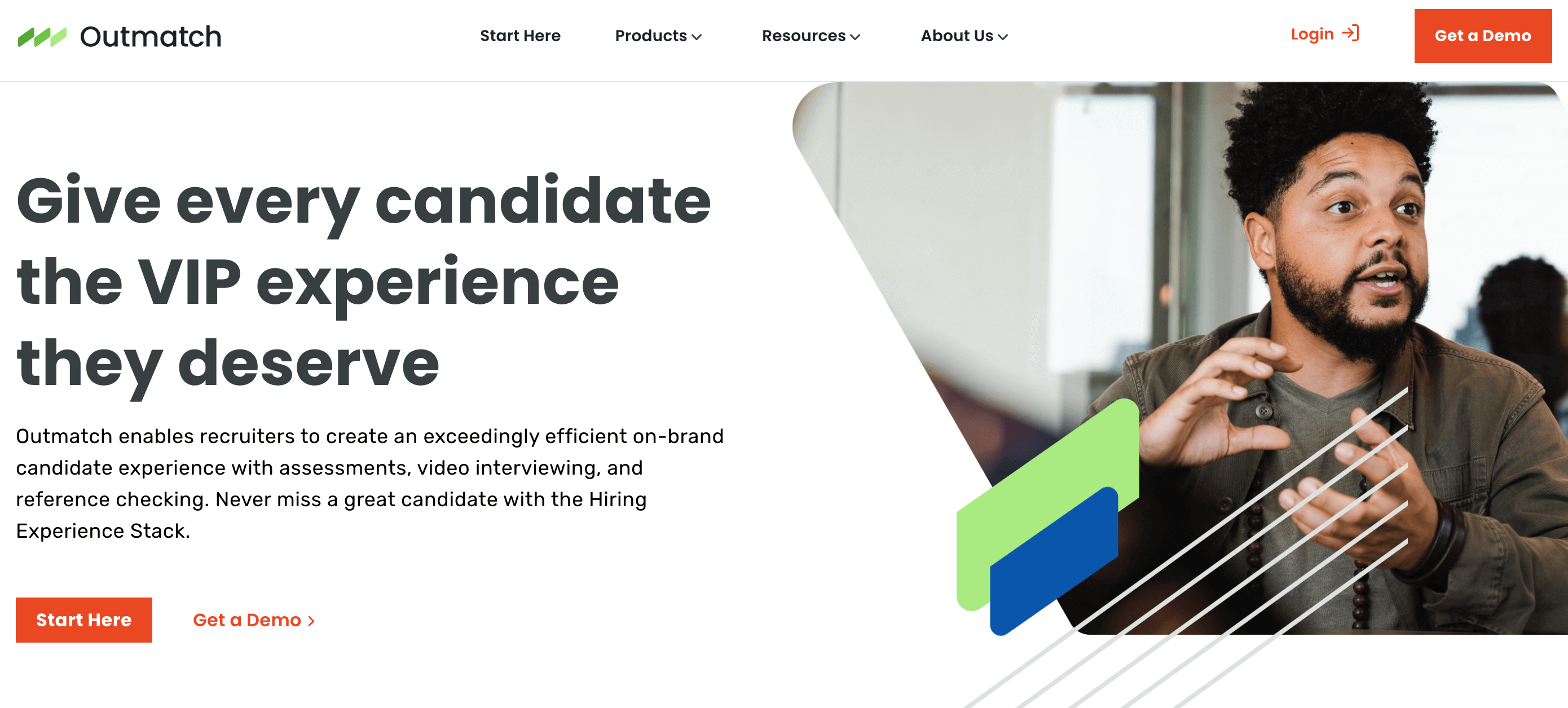 If you seek to leverage AI to streamline your recruiting process and reduce costs, Outmatch might have you covered. AI technology, coupled with a user-friendly interface, allows teams to effectively manage all recruiting processes in one place, helping you save up to 40% on your recruiting costs. 
Outmatch's AI-powered hiring workflow enables recruiting teams to efficiently conduct pre-hire assessments, schedule automated video interviews, and check references — everything within a single platform.
According to Outmatch's creators, the tool will help you do right by your candidates by providing efficient, fair, and amazing experiences for everyone.
4. Best AI Writer for SEO blogs: Content at Scale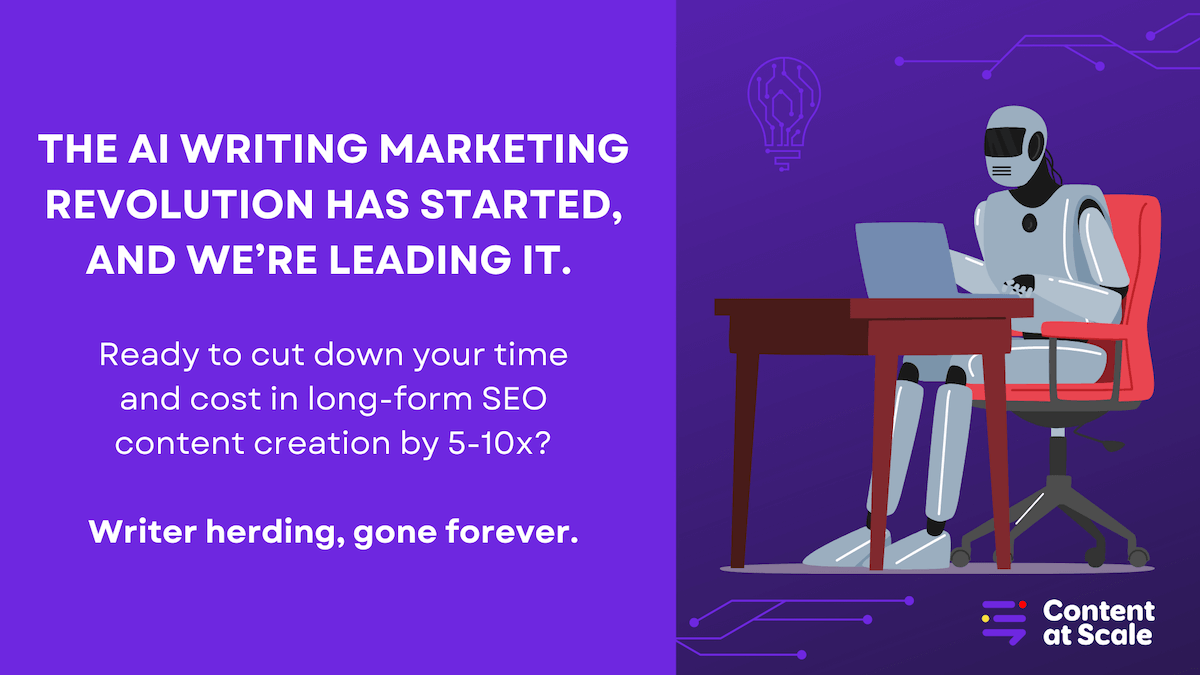 Content at Scale is the world's best long-form AI writer. In just five minutes, you can generate high-quality, engaging, and fully original research-backed 2,500-word-plus blogs.
Built with a mix of three different AI engines, NLP, and semantic analysis algorithms, our AI writer crawls Google on the spot the minute you run the engine and parses all the top-ranking content to put entire long-form SEO blog posts together in a few minutes. This isn't an AI writing assistant; this is a human-level, long-form machine. Works for any industry and for general informational search terms. 
By adapting to its AIO model and putting the writer in the driver's seat of our technology, the tool helps agencies and marketers save a dramatic but real 10-25x on their typical time and cost of human-only content creation. In one day, using Content at Scale's AI writer, an experienced writer can generate and edit up to ten long-form pieces of content. That's insane ROI for any business.
5. Best AI Voice Generator: Murf AI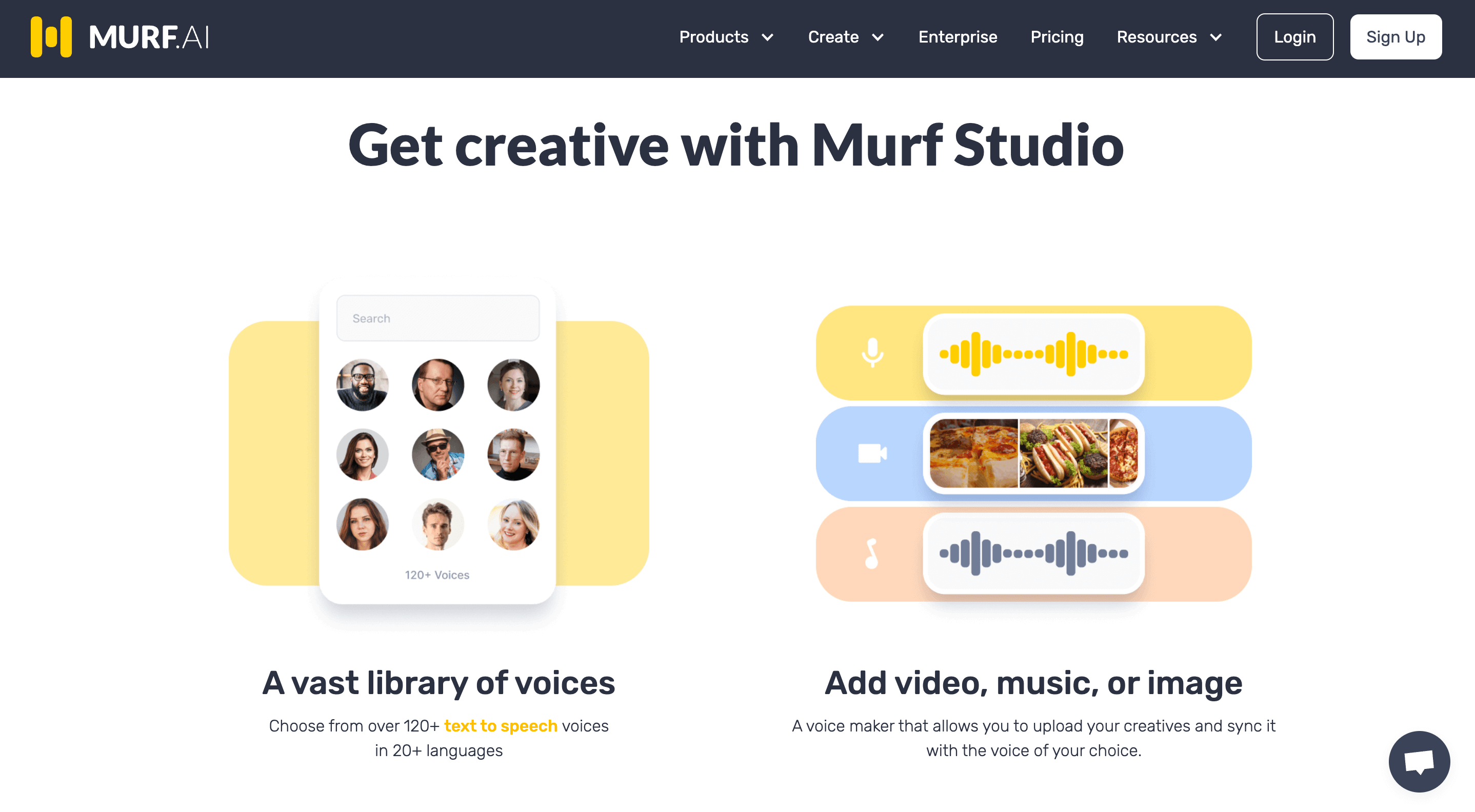 Murf.AI is an award-winning AI voice generator offering a vast library of over 120 text-to-speech voices in 20+ languages. With the ability to play with pitch, punctuation, and emphasis, users can customize the AI voices to capture the right tone and carry their message effectively.
Murf.AI is the perfect tool for those who want to create high-quality voiceovers quickly and easily. This cost-effective solution is ideal for startups, medium businesses, enterprises, as well as individual content creators, whether you're a product developer, educator, author, podcaster, marketer, or customer support agent. With its sleek design, user-friendly interface, and innovative features, anyone can produce exciting voice narration.
Offering a range of services, including text-to-speech, voice cloning, VoiceOver, voice changer, API, and more, Murf.AI allows you to create engaging presentations, audiobooks, YouTube videos, advertisements, video games, e-learning materials, and other types of audio content. The program is fully customizable, so you can create a perfect solution that fits your brand. In addition, their dedicated support team works diligently, assisting users throughout their projects, from onboarding to troubleshooting.
6. Best AI tool for writing and editing: Grammarly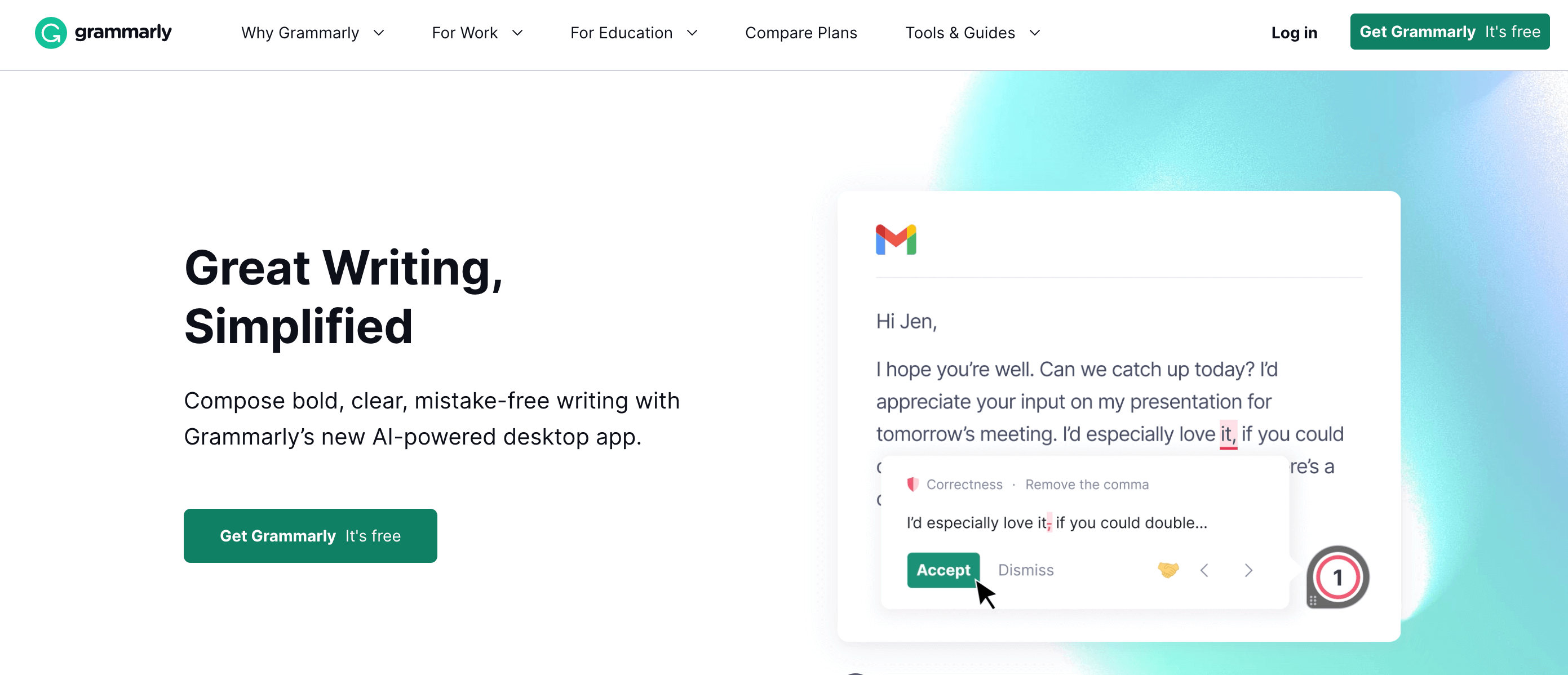 Efficient communication is everything in our fast-paced world, and no one wants their business content to contain mistakes. This is where Grammarly, an AI-powered writing assistant, saves the day. 
It can analyze texts, providing real-time feedback on grammar, spelling, and punctuation. Moreover, the tool gives recommendations on how to make your writing more concise and clear and allows users to set goals and get tailored AI-driven writing suggestions based on them. 
Besides taking your business communication to the next level, Grammarly is also one of the most popular AI tools for copywriters. It not only helps to make your spelling and grammar flawless, improving the quality of content, but it also can check your piece for plagiarism.
One of the most exciting things about Grammarly is that most of its features are available in a free plan, making it one of the most widely used free artificial intelligence tools.
7. Best AI tool for NLP services: MindTitan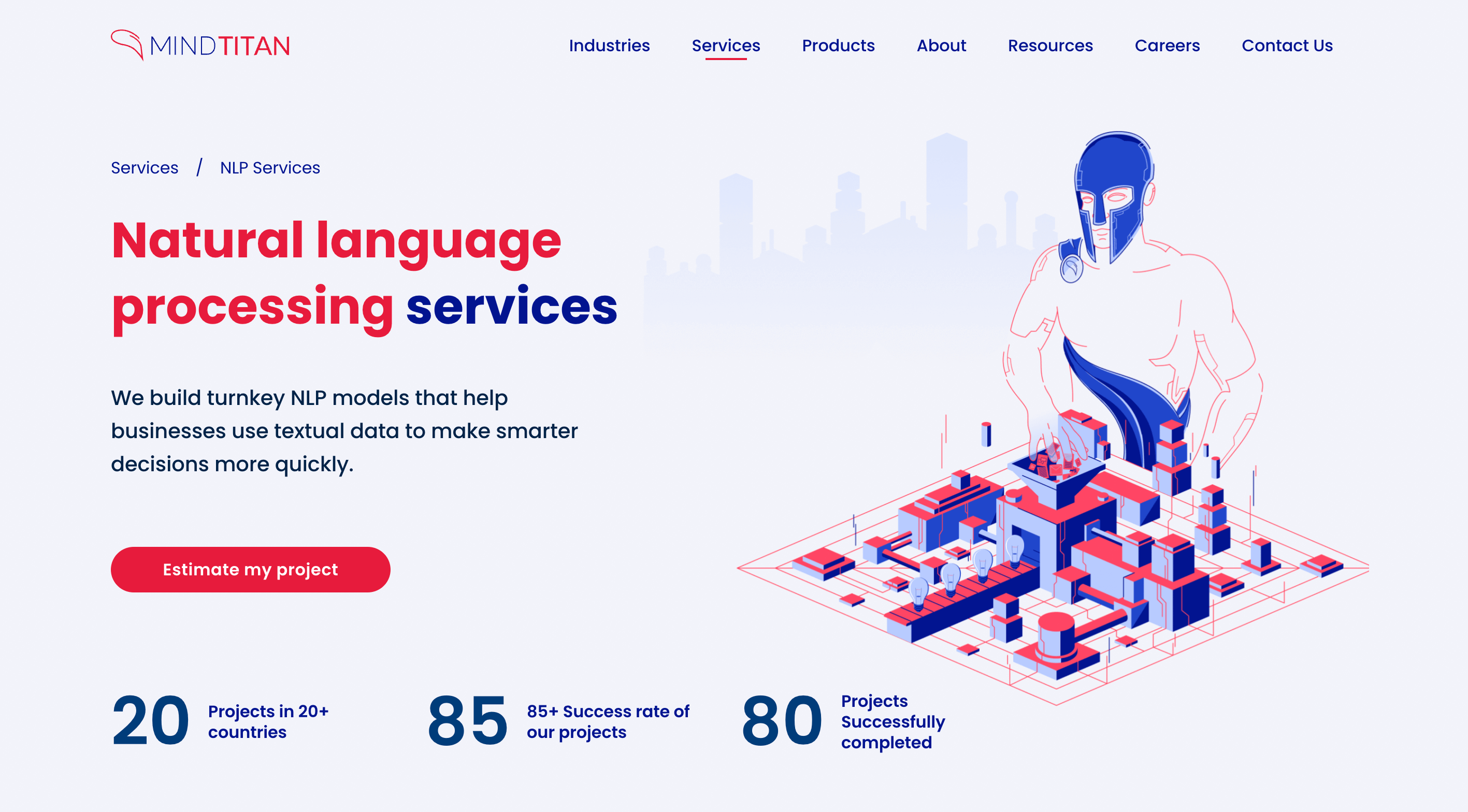 MindTitan is a leading technology company that provides AI solutions, including machine learning development, NLP, and data engineering services. Their NLP services help businesses extract insights from unstructured data, and their data engineering services enable businesses to process and analyze large volumes of data efficiently. They also offer a range of AI solutions for businesses, including predictive analytics and chatbots.
MindTitan's team of experts in data science and engineering helps businesses leverage the power of AI to solve complex problems and drive innovation. With a comprehensive suite of AI services and solutions, companies can rely on MindTitan to help them achieve their goals.
8. Best AI tool for email marketing: Seventh Sense

If email is one of the most fruitful marketing channels for your business, you might find Seventh Sense, an AI software designed to work with Hubspot and Marketo, particularly useful.
The intelligent technology underlying Seventh Sense ensures that your emails are delivered at the right time for each customer. The tool allows marketers to engage with their audience more effectively, knowing they will get emails at the best time. 
What is more, Seventh Sense is one of the top AI platforms that can go a long way toward increasing email deliverability and improving your sender score. Needless to say that this feature is vital for companies sending multiple emails.
9. Best AI tool for minimizing litigation risks: Intraspexion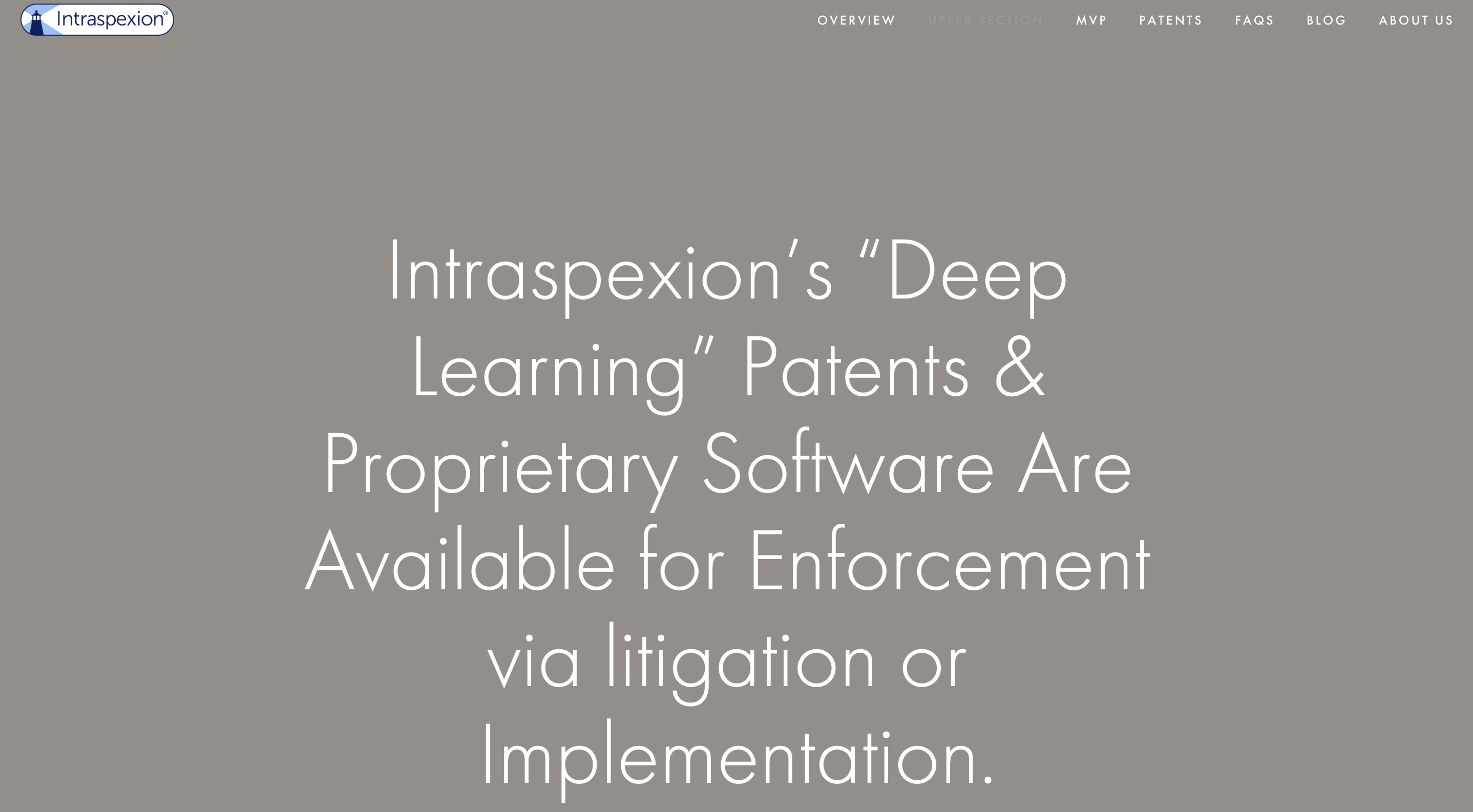 Data privacy is one of the key aspects of today's business environment, by neglecting which businesses risk reputational and financial losses. Both your business and customer data can be vulnerable to cyber security threats, which is where the top AI platforms like Intraspexion come to save the day.
Intraspexion is a litigation-warning system that lets companies scan written content for litigation issues with the help of Deep Learning. This AI-powered tool runs non-stop in the background and generates notifications once it detects anomalies.
10. Best AI tool for SMM & advertising: AdCreative.ai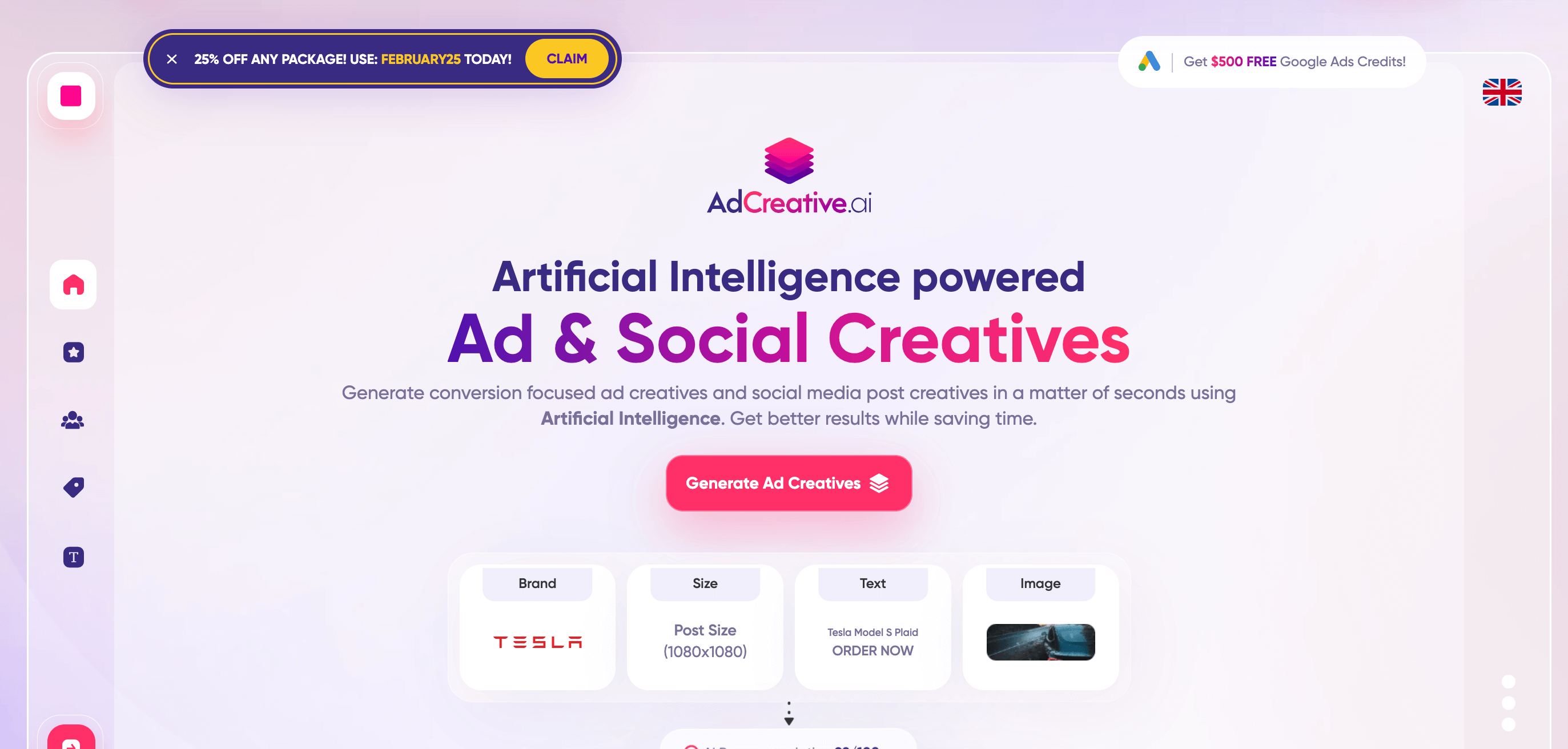 If you seek to entrust your promotional creatives to artificial intelligence, look no further than AdCreative.ai. This AI-powered marketing tool can generate high-quality, conversion-focused social media content.
Besides social media posts, AdCreative.ai can help you create engaging headlines and ad copies in a matter of minutes. What is more, you can connect your advertising accounts to AdCreative.ai to get insightful analytics — the tool will show you the best-performing ad creatives to help you drive whopping sales.
This software is available in four tiers, from $29 to $149 per month. 
11. Best AI tool for programming: Tabnine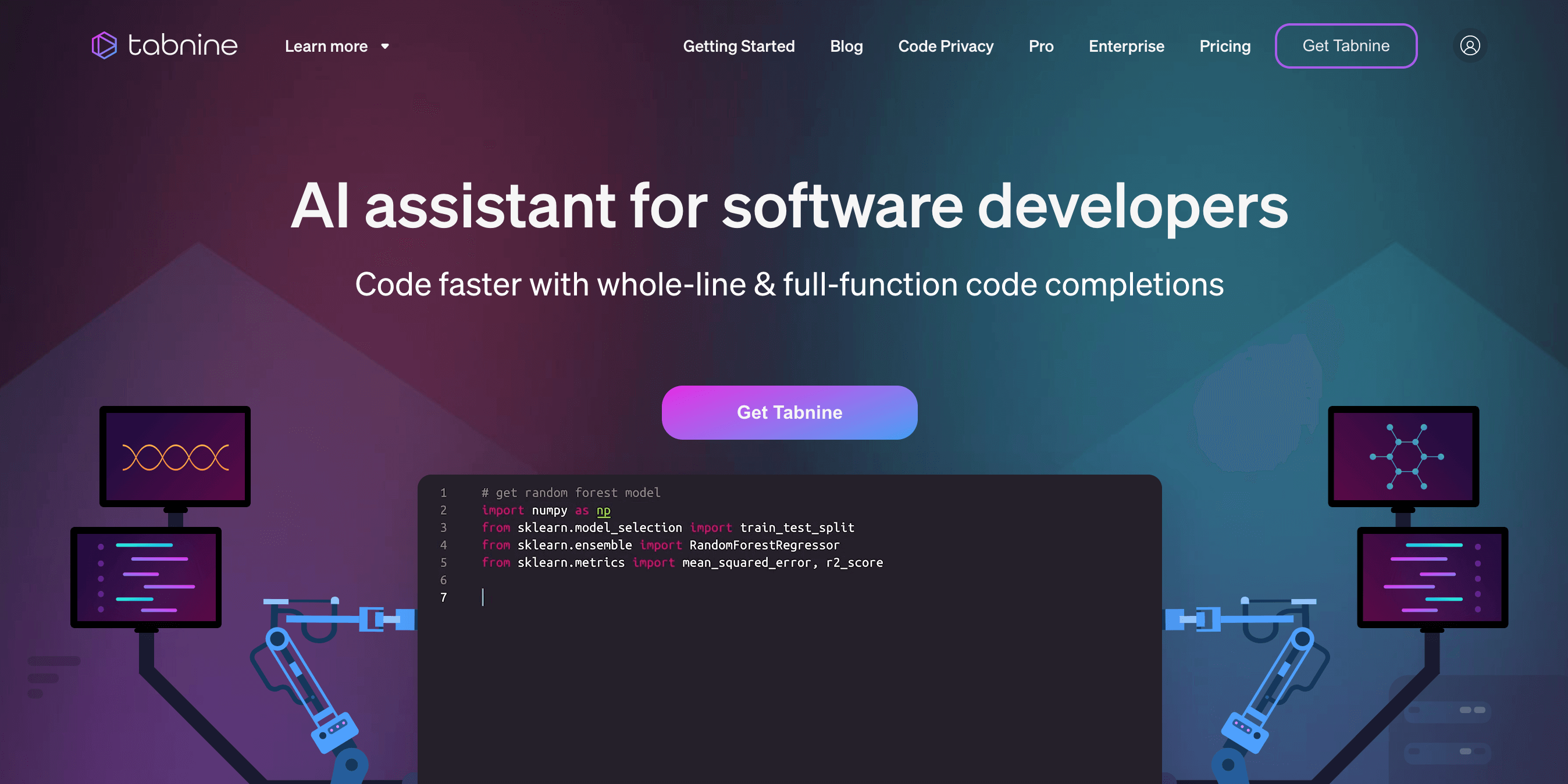 Last but not least on our list, Tabnine belongs to the most popular AI development tools. It could be your way to go if you are looking to make your developers more productive and efficient.
Tabnine utilizes generative AI technology to predict and suggest code based on context and syntax, including whole-line code completions, full-function code completions, and natural language to code transformation.
Tabnine offers three plans, with the free starter plan featuring short code completions to give it a try. Other plans allow you to leverage next-generation generative AI models optimized for all programming languages, specialized in matching your tech stack and private code models trained on your own repositories.
12. Best AI tool for deciphering legalese: Legal Robot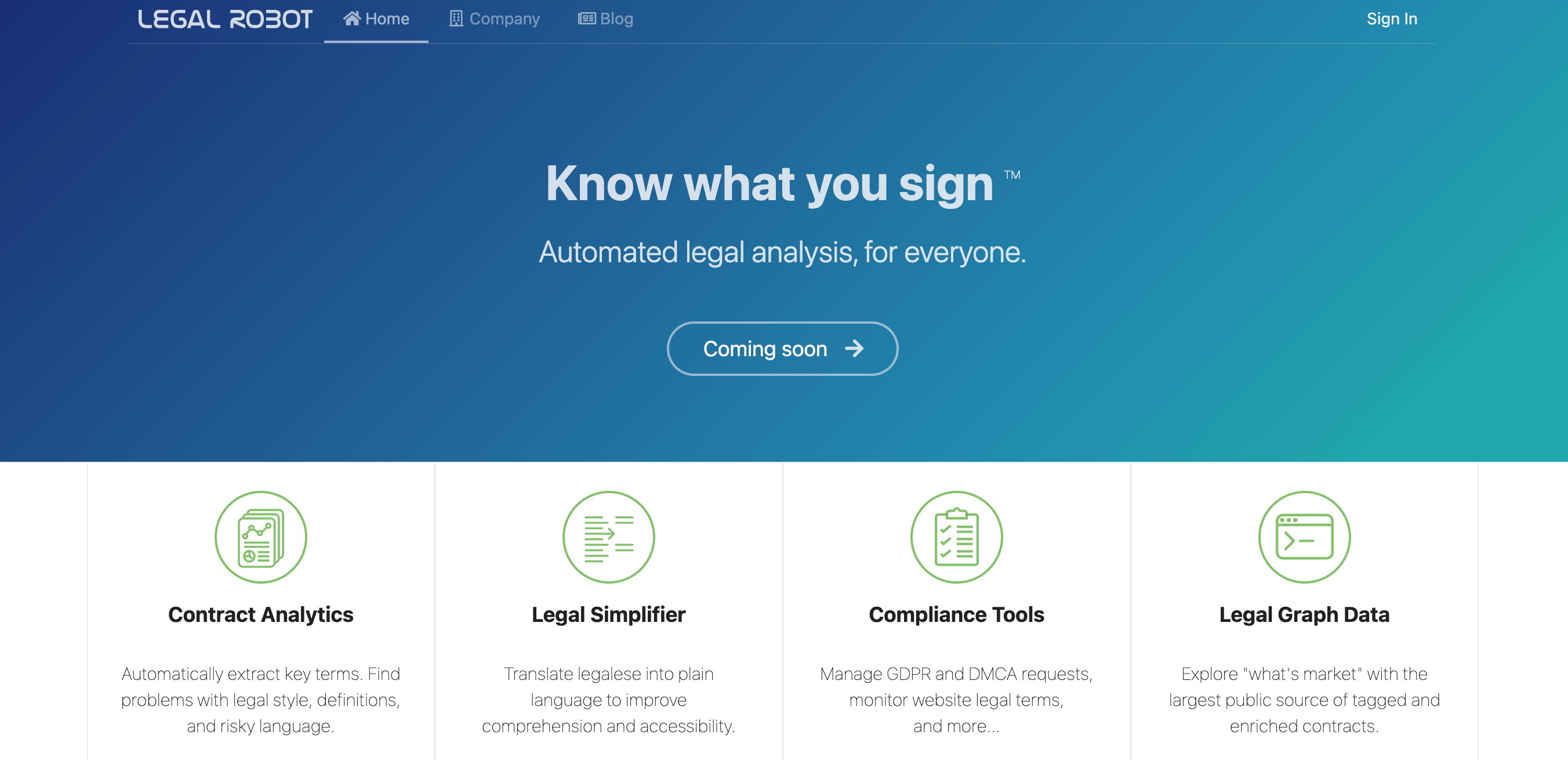 One of the top AI software for businesses, Legal Robot makes legal support more accessible for businesses of all sizes across the US, Canada, the UK, and Australia. "Know what you sign" is their slogan, and it couldn't be more precise — Legal Robot helps significantly streamline legal contract experiences.
The program uses several types of machine learning, including Deep Learning, to identify potential issues in documents. In addition, the tool can translate legalese into plain language to make legal documents easier to understand. This allows for quicker interpretation of the contract, quantifying specific risks, and spotting and resolving issues so that you can be more confident in what you sign.
13. Best AI tool for B2B targeting: Recotap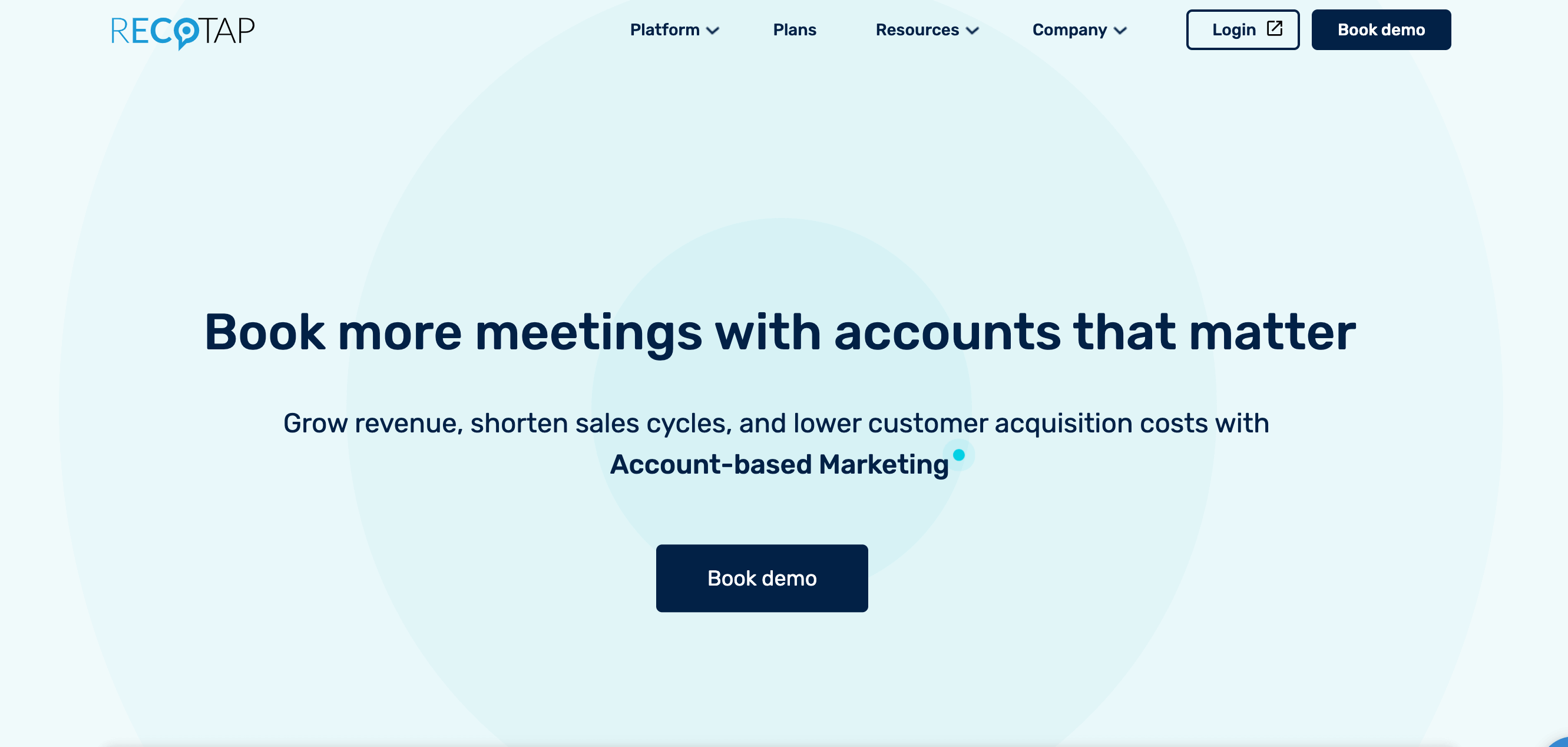 If you're looking for an AI tool to boost your B2B game, consider Recotap. It's a robust AI-powered platform intended to help B2B marketers run targeted and personalized account-based engagement campaigns. With Recotap, you can multiply your chances to reach more decision-makers and keep them engaged until they convert. So how does it work?
By uncovering anonymous website visitors and categorizing them into buying groups based on their behavior, Recotap helps businesses identify upselling and cross-selling opportunities in the existing accounts and discover new ones.
The tool combines conventional demand generation tactics such as ads, emails, and other digital channels to reach target accounts and deliver the right messages to the right recipients at the right moment.
14. Best AI tool for business meetings: Fireflies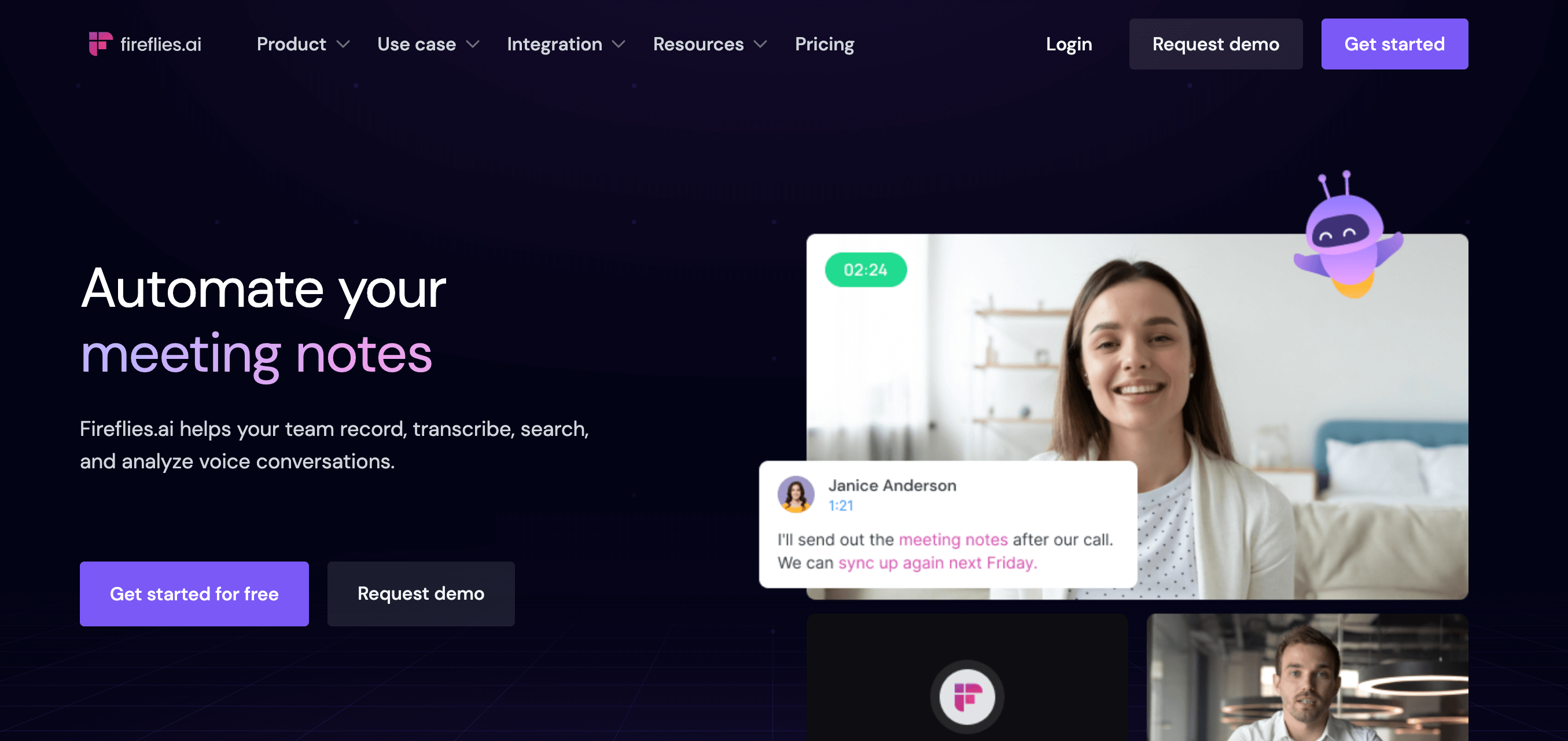 Artificial intelligence is also revolutionizing the way we can take notes at a meeting. Fireflies is one of the best artificial intelligence tools that streamline daily business routines. It uses NLP technology to help you record, transcribe, and search across your voice conversations. Moreover, this tool can transcribe both live meetings and uploaded audio files.
Besides that, it allows you to add comments or mark specific parts of the meetings to quickly access key moments from your conversations, saving plenty of time — you can review an hour-long call in a couple of minutes by searching across important highlights.
Fireflies is incredibly simple to use. You can invite the bot to your meetings or set it to autojoin calls right in your calendar.
And that's not all: there's even a Chrome extension allowing you to capture meetings directly from your browser.
Conclusion
Undoubtedly, AI is revolutionizing the way businesses operate today, and it's definitely here to stay. AI tools allow businesses to streamline their processes, develop personalized customer experiences, make more data-driven decisions, and, as a result, stay ahead of the competition.
We hope this artificial intelligence tools list will help you find the program or a few to strengthen your bottom line and take your business to the absolute next level.
If you know some other fantastic artificial intelligence tools that deserve to be featured on this list, submit your idea via email. After a thorough review, we'll decide whether it's a valuable addition.