Are you struggling to protect your IT infrastructure from all types of cyber threats?
Strengthening your cyber defense and keeping all your data and information safe is simple when you use the top cybersecurity platforms. With 2,200 cyber-attacks happening daily, protecting your valuable database with the best information security software is a critical task.
In this article, we explore the best cybersecurity products available in the market today.
The Key Categories Of The Cybersecurity Tools
With the use of appropriate cybersecurity software, companies can easily detect any attacks, interruptions, and viruses to keep their networks and systems safe and error-free.
Here are some of the main categories of data security tools you should consider introducing in your workflow:
Firewall tools

Antivirus tools

Endpoint detection and response tools

Identity and access management tools

Intrusion detection and protection tools

VPNs and proxies

Access control tools

Email security tools

Penetration testing tools

Vulnerability assessment tools

Data loss prevention tools, etc.
Choose the most relevant programs based on your business needs, actual issues, and available budget.
The Best Cybersecurity Tools For The Ultimate IT Security
1. Best network protocol analyzer: Wireshark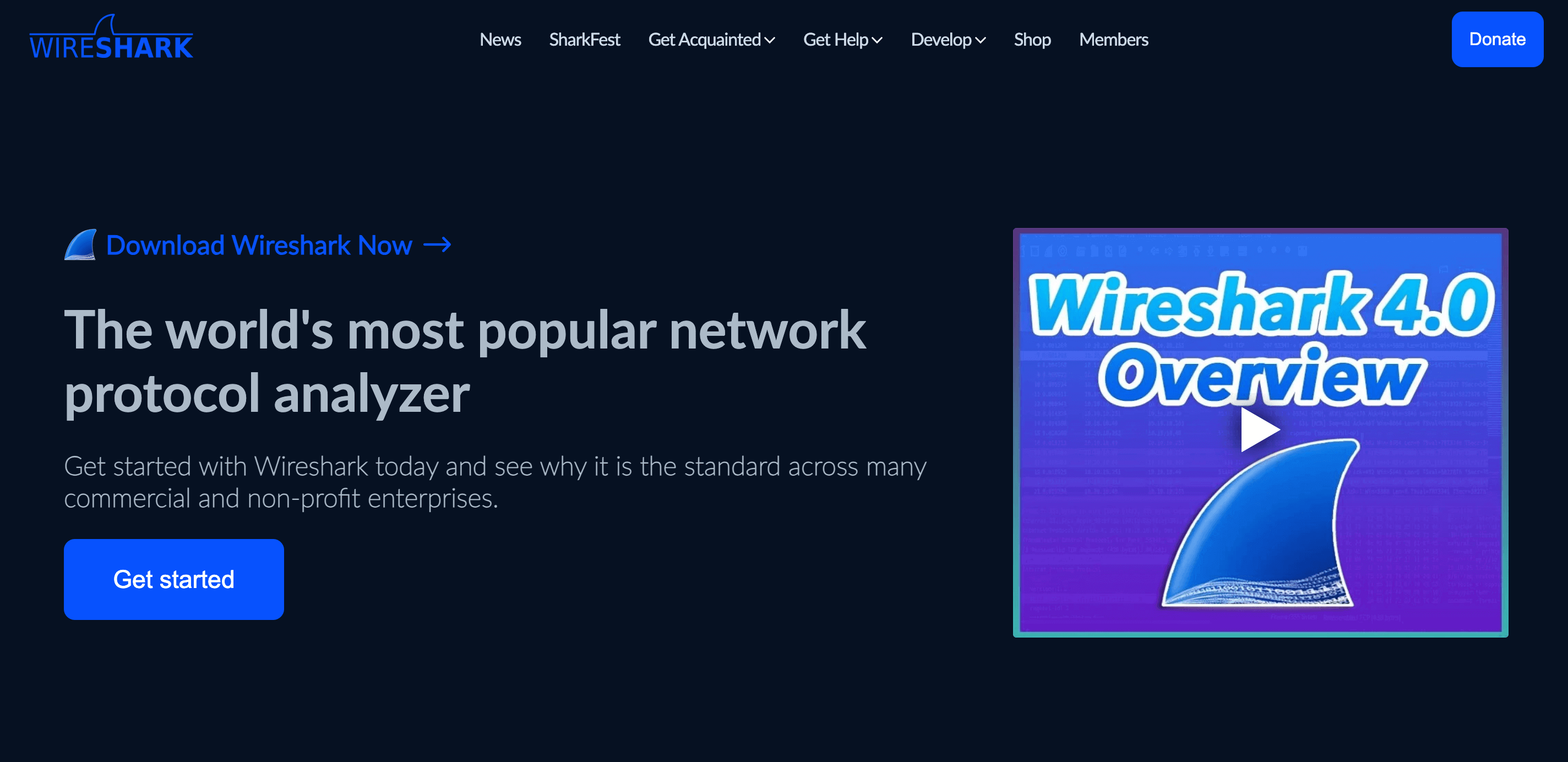 Wireshark is a top cybersecurity platform that partners with commercial and non-profit enterprises to help businesses analyze their network protocol. The program captures and scrolls through the traffic running across computer networks. 
People use Wireshark both for personal and commercial purposes. 
Basic features:
Easy access to expert information with a complete overview of the network traffic. 

Display of resolved addresses offering a wealth of information to analyze a PCAP file. 

Protocol hierarchy that offers a complete breakdown with a detailed overview of the PCAP. 

The input-output graph to find traffic spikes with additional data displays.

Export object enabling object extraction, which can be used for further investigation. 
Pricing:
Wireshark is entirely free to use. So, users are not required to pay any license fee to download it. The program is issued under the GNU General Public License version 2. 
2. Best automated app security testing tool: Acunetix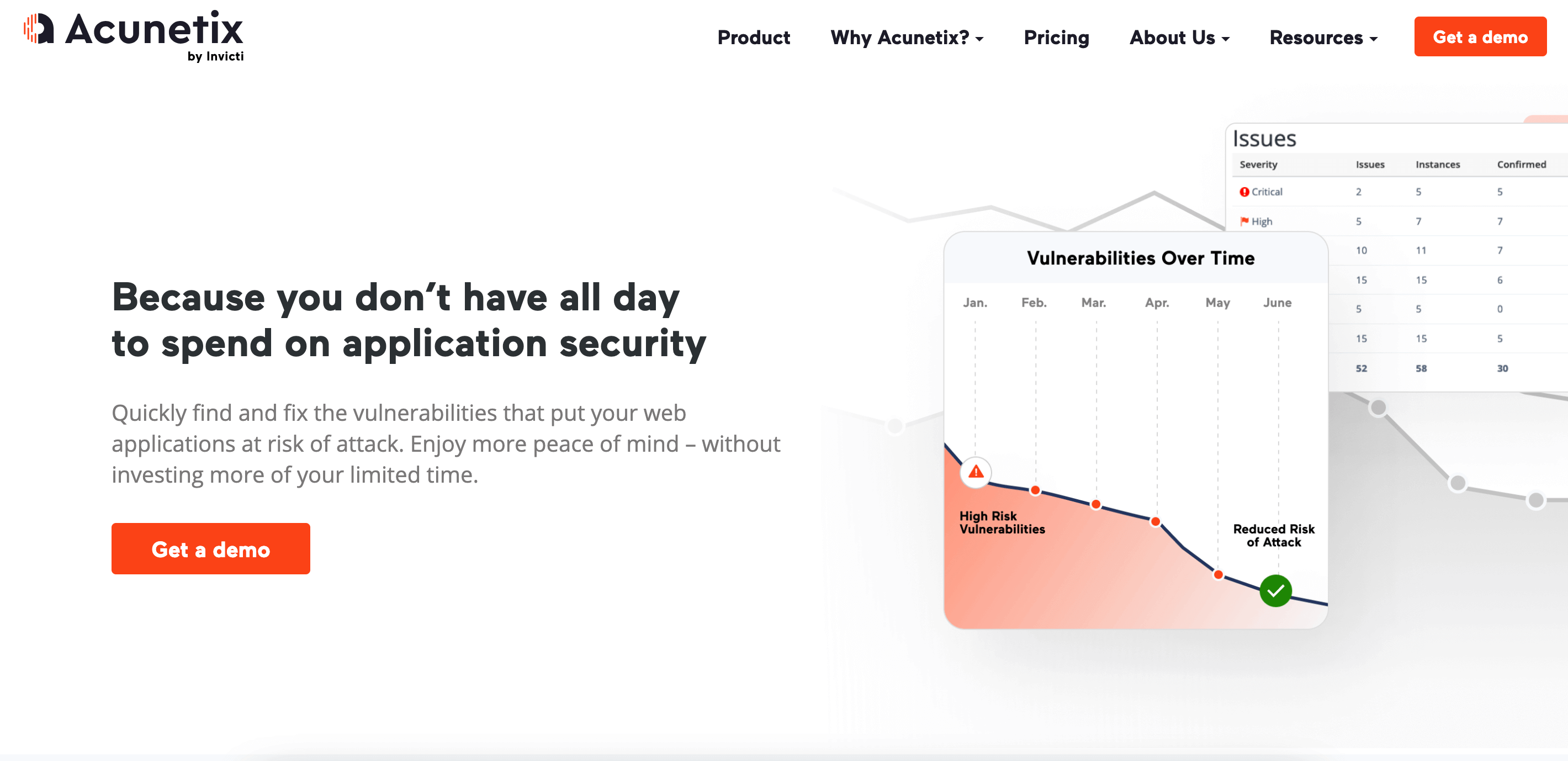 Find and quickly fix all your vulnerability issues with Acunetix – the best cybersecurity platform notable for efficiency and precision. Trusted by over 2,300 companies worldwide, Acunetix performs in-depth scans in a few minutes and shares actionable results at lightning speed. 
From resolving vulnerabilities to recommending remediation measures, Acunetix is a one-stop platform to solve all your security issues. The company also lets its users automate web application security through a 5-stage process – discovering and crawling, detection, resolution, integration, and continuous security.                                                                                                         
Basic features:
Vulnerabilities scanning in a few minutes. 

Standard and premium support for all users.

Robust security with easy integrations with all existing apps. 

Narrow down vulnerability locations to fix exact lines of codes. 

Elimination of false positives through manual confirmation. 
Pricing:
Standard plan – $4495 per website

Premium plan – $6995 per website

Custom plan – based on the individual's needs                                                                                                                               
3. Best Wi-Fi security tool: Aircrack-ng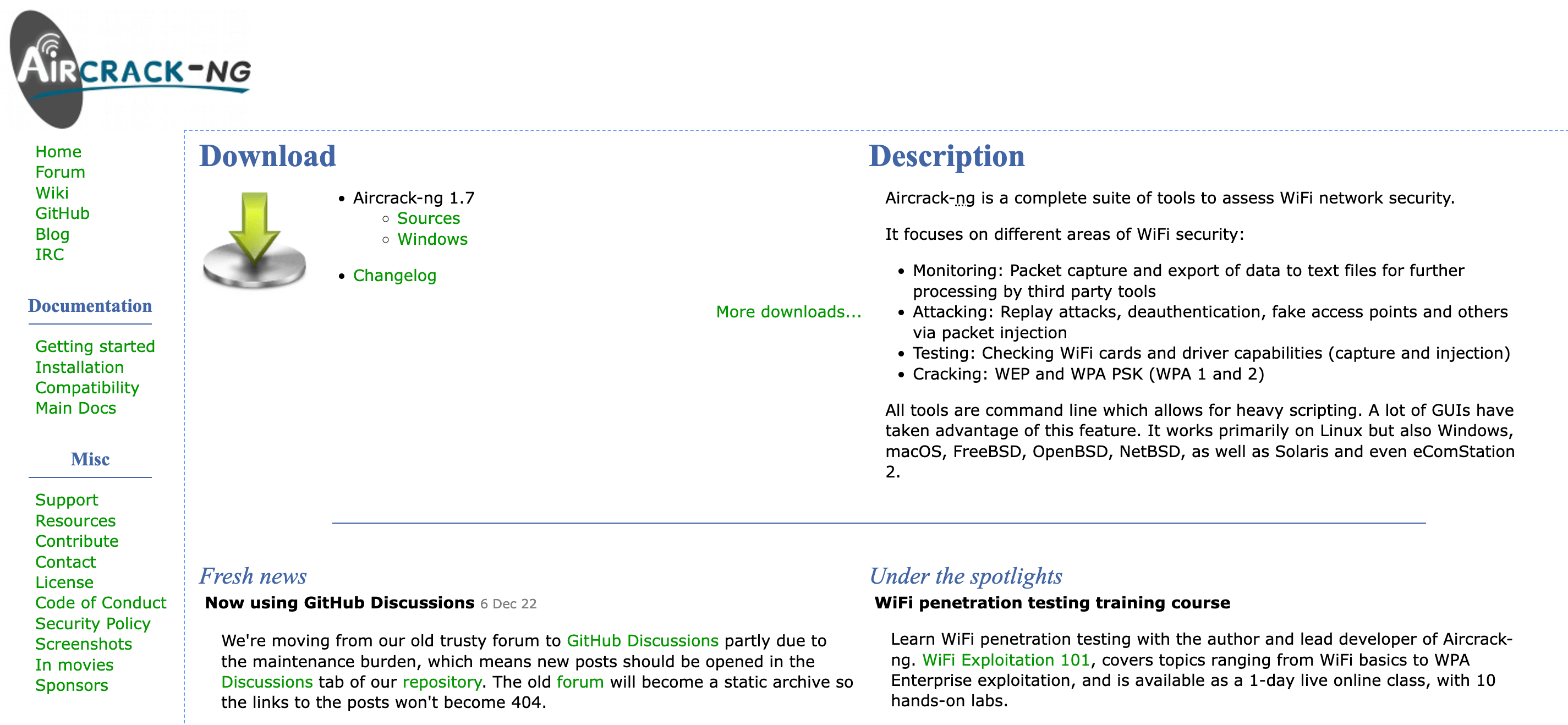 Aircrack-ng is a complete software suite to assess Wi-Fi network security, released in 2006. It's among the best cybersecurity platforms that analyze and hack Wi-Fi networks in different areas: monitoring, attacking, testing, and cracking.
From being a decryption tool to a tunneling system, Aircrack-ng is a comprehensive platform that has already collaborated with leading brands in sectors such as Healthcare, Automotive, Government, Retail, IT, etc.
Also known as a leading penetration testing tool, Aircrack-ng is available on all platforms, including macOS, Unix, Linux, and Aircrack-ng. 
Basic features:
Analysis and hacking of WiFi networks. 

Packet capture monitoring and data exportation to text files.

Preventing attacks through fake access points and de-authentication. 

Checking driver capabilities and evaluating Wi-Fi cards.

Cracking a series of security codes such as WPA PSK (WPA 1 and 2) and WEP. 
Pricing:
Aircrack-ng is entirely free to use. The full version of the app is available under the GNU General Public License version 2.                                                                                                                                   
4. Best security and observability platform: Splunk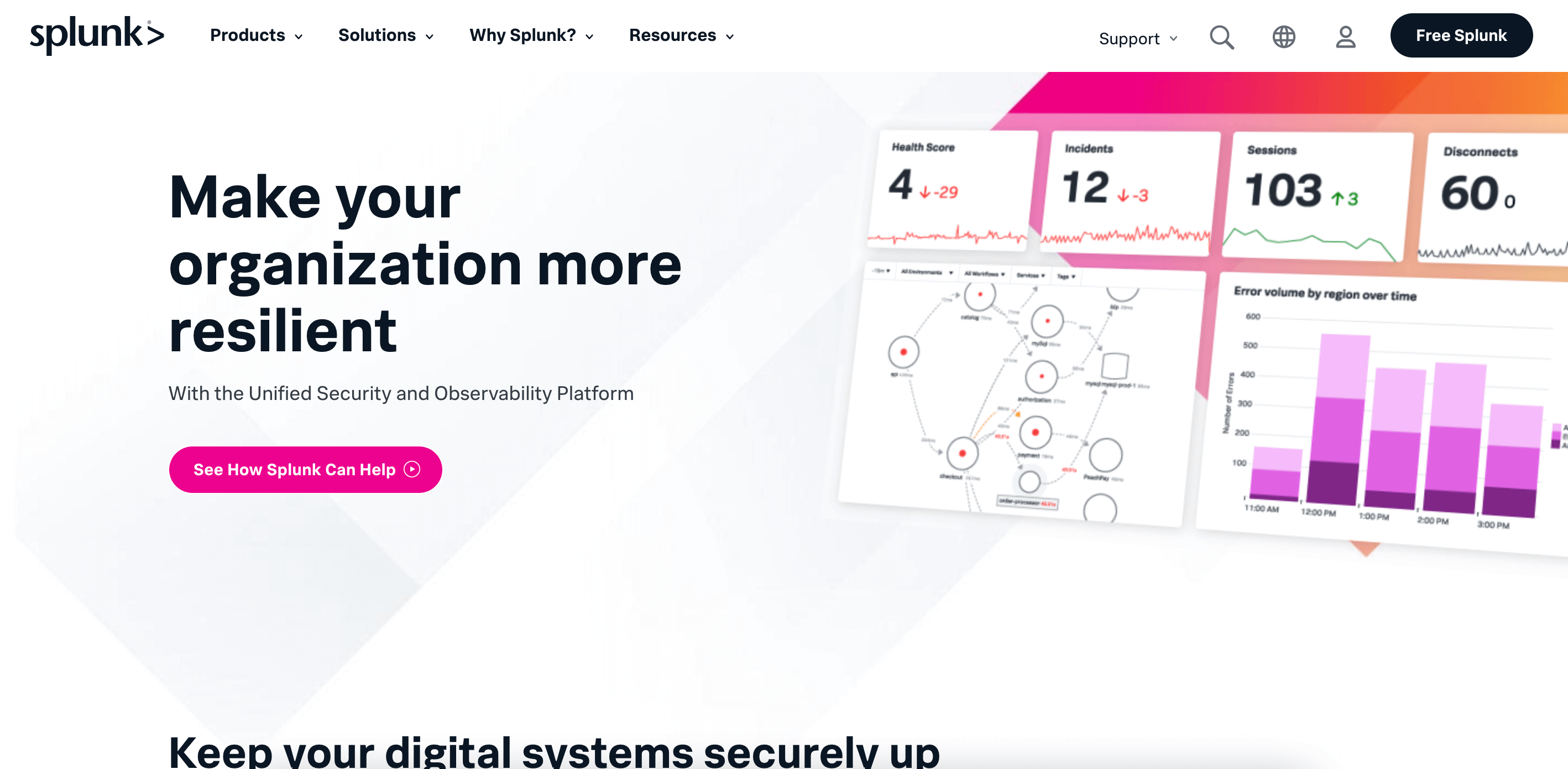 Combining the best of both worlds – security and observability – Splunk comes with 18,000 experts committed to building a safer and more resilient digital world. 
Founded in 2003, this is one of the superior internet security tools that maintain the smooth operation of digital systems, accelerating global security and sharing critical data for better business management. 
Basic features:
Identify risks and resolve them before they threaten the entire system. 

Reduce outage impact, absorb shocks, and restore critical services to keep systems and processes operational. 

Drive transformation by creating a fully secure, reliable, and compliant platform. 

Build digital resilience with SecOps, ITOps, and Engineering.
Pricing:
Four models of Splunk's pricing are available: Workload Pricing, Ingest Pricing, Entity Pricing, and Activity-based Pricing. To learn more about associated costs, businesses need to consult the company directly.
5. Bets password manager: Bitwarden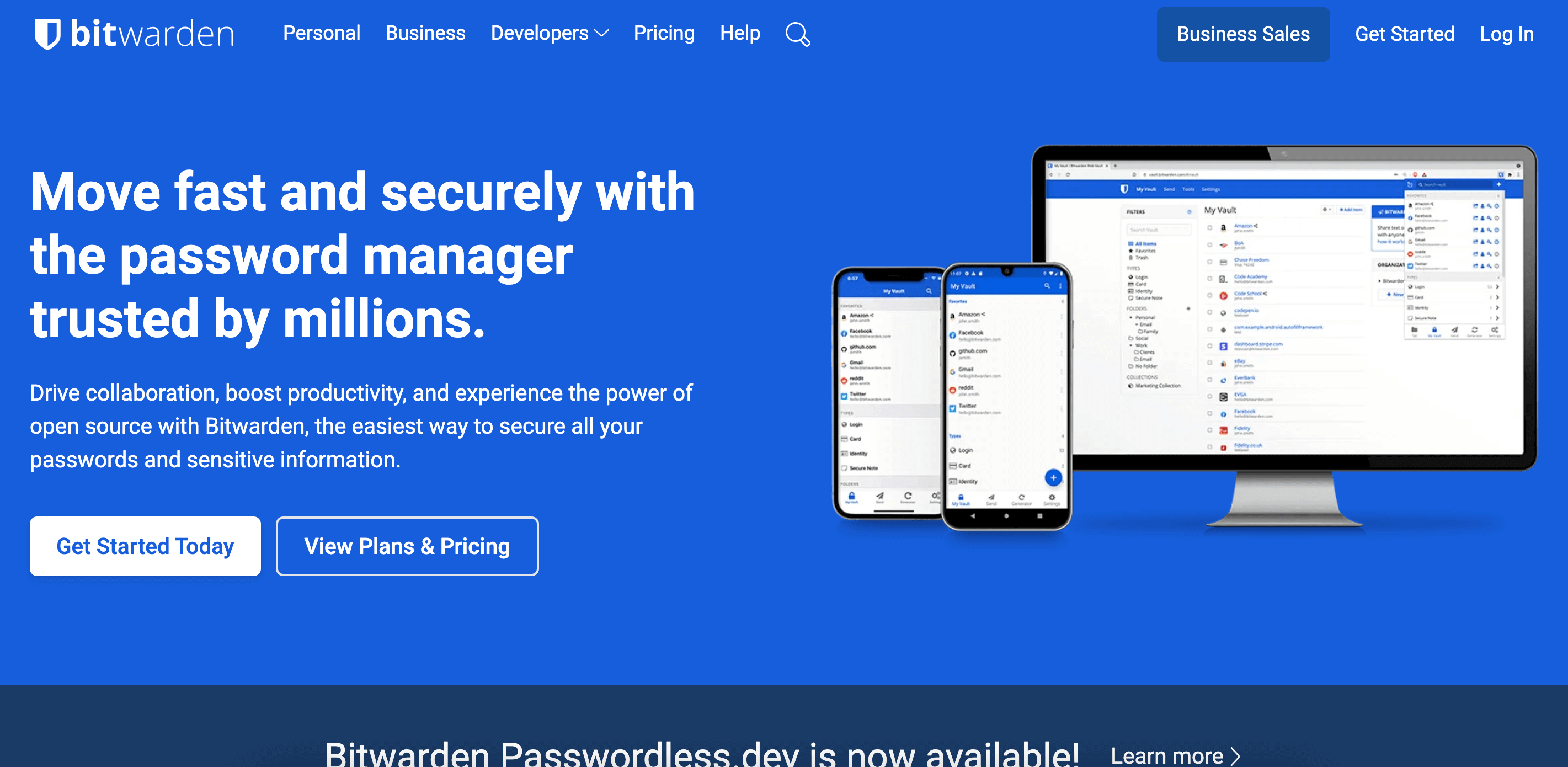 Get started with Bitwarden and experience improved internet security. One of the best cybersecurity software in the market, Bitwarden provides holistic protection for all your sensitive data and information and offers excellent performance as a password manager. 
Easy, convenient, and highly secure, the program creates unique passwords, transmits data in an encrypted format, and stores all critical data in a safe mode. 
Basic features:
Easy to set up, fast, and a robust security platform. 

Cross-platform access with support in over 50 languages. 

Open-source application with a specific approach to accountability, trust, and security. 

Bitwarden Send allows users to share data with end-to-end encrypted security. 

Bitwarden's password manager protects online data and keeps it secure. 
Pricing:
Business Plan – $3 per month per user with core features.

Enterprise Organisation – $5 per month per user with core features and a complimentary family plan for all users. 
6. Best Zero Trust security tool: Zscaler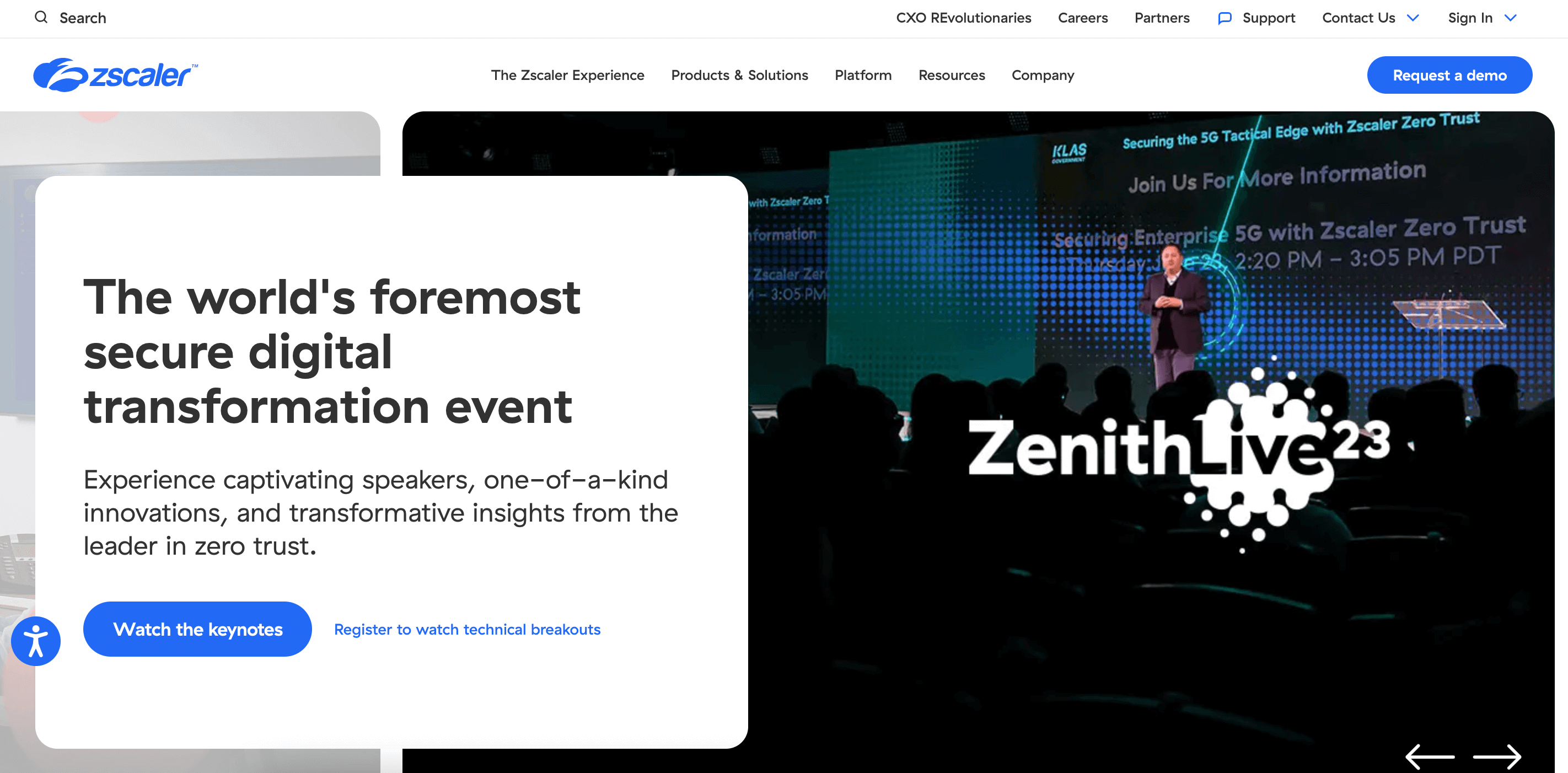 Zscaler is a well-known name in the row of best data security tools and the world's leading digital transformation platform. Channelizing growth and strengthening security from all aspects, Zscaler prevents data stealing and cyber threats, secures workloads with seamless integration with a cloud-native application, and offers optimal security to OT and IoT devices. 
Zcaler has the industry-leading experience and partners with world-class companies to provide more agile systems and configure more flexible operations. 
Basic features:
Zero trust security leader.

Cyber threat protection to secure devices, users, and workloads. 

Digital experience management to discover and resolve performance issues.

Complete TLS/SSL inspection for complete data protection. 

Connection to various applications seamlessly. 
Pricing:
Business Plan – Secure SaaS and web access, secure private access, data protection, and optimized digital experiences. 

Transformation Plan – Advanced cyber threat protection, clientless access, and cloud data control. 

Unlimited Plan – Improved investigation and workflows, device troubleshooting, and premium support.                                     
7. Best penetration testing tool: Kali Linux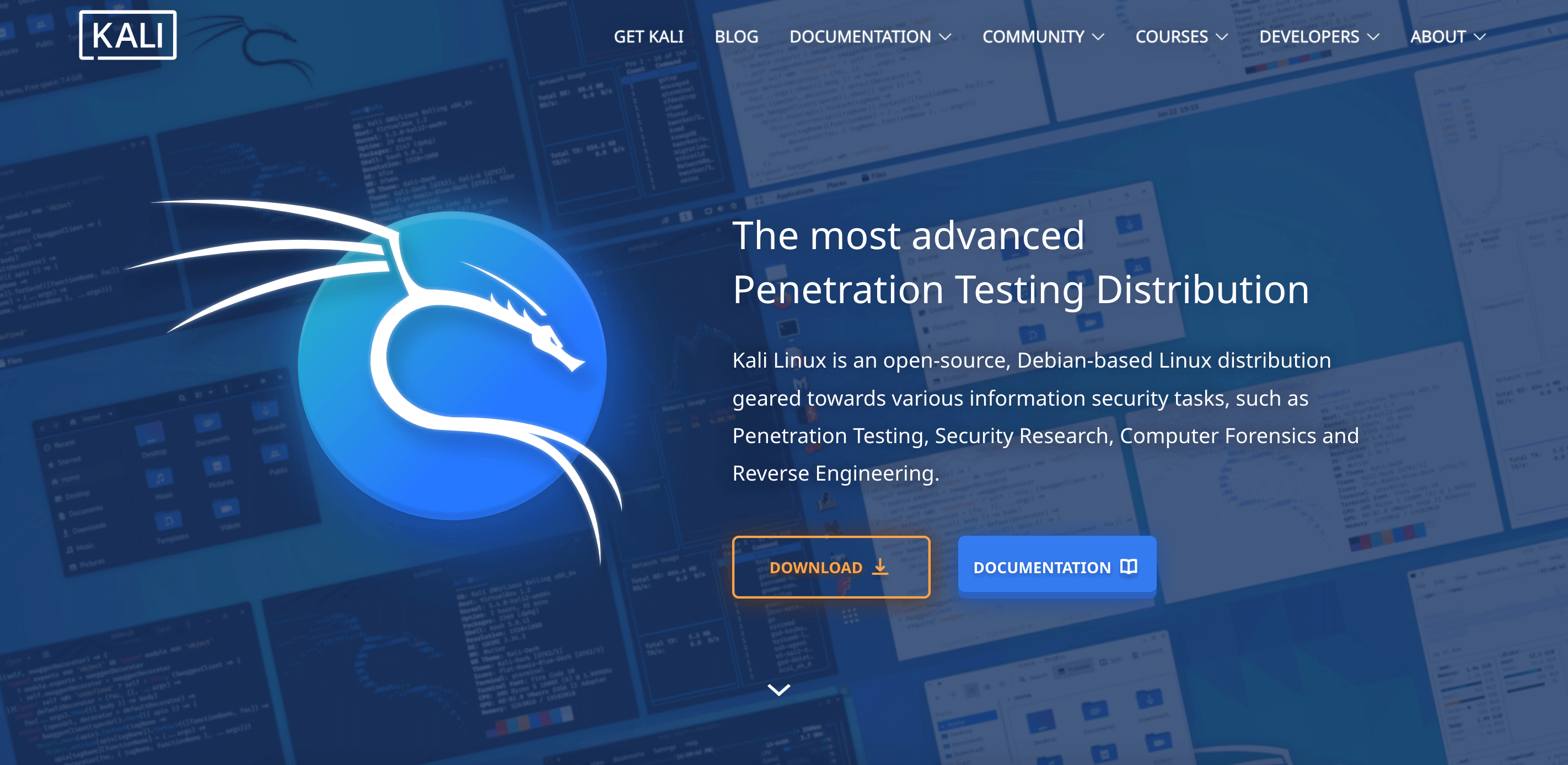 A Debian-based Linux distribution system, Kali Linux is one of the most comprehensive computer security tools, which is open-source and allows users to perform security auditing with advanced penetration testing. 
From computer forensics to vulnerability management and security research to red team testing, Kali Linux is a complete platform providing automation, configurations, and necessary tools to make your job safer and easier. 
Basic features: 
An open-source git tree is available for all to see. So, anyone can tweak or rebuild it to suit their specific requirements. 

Follows the Filesystem Hierarchy Standard so users can locate libraries, binaries, etc. 

Robust ARMEL and ARMHF support with full working installations.

Fully custom kernel having minimal injection patches. 

Full-fledged multilingual support.
Pricing:
This is perhaps the most significant USP of Kali Linux apart from its incredible features. The software is completely free of charge. So, users will not have to pay for Kali Linux at all.
8. Best network intrusion prevention tool: Snort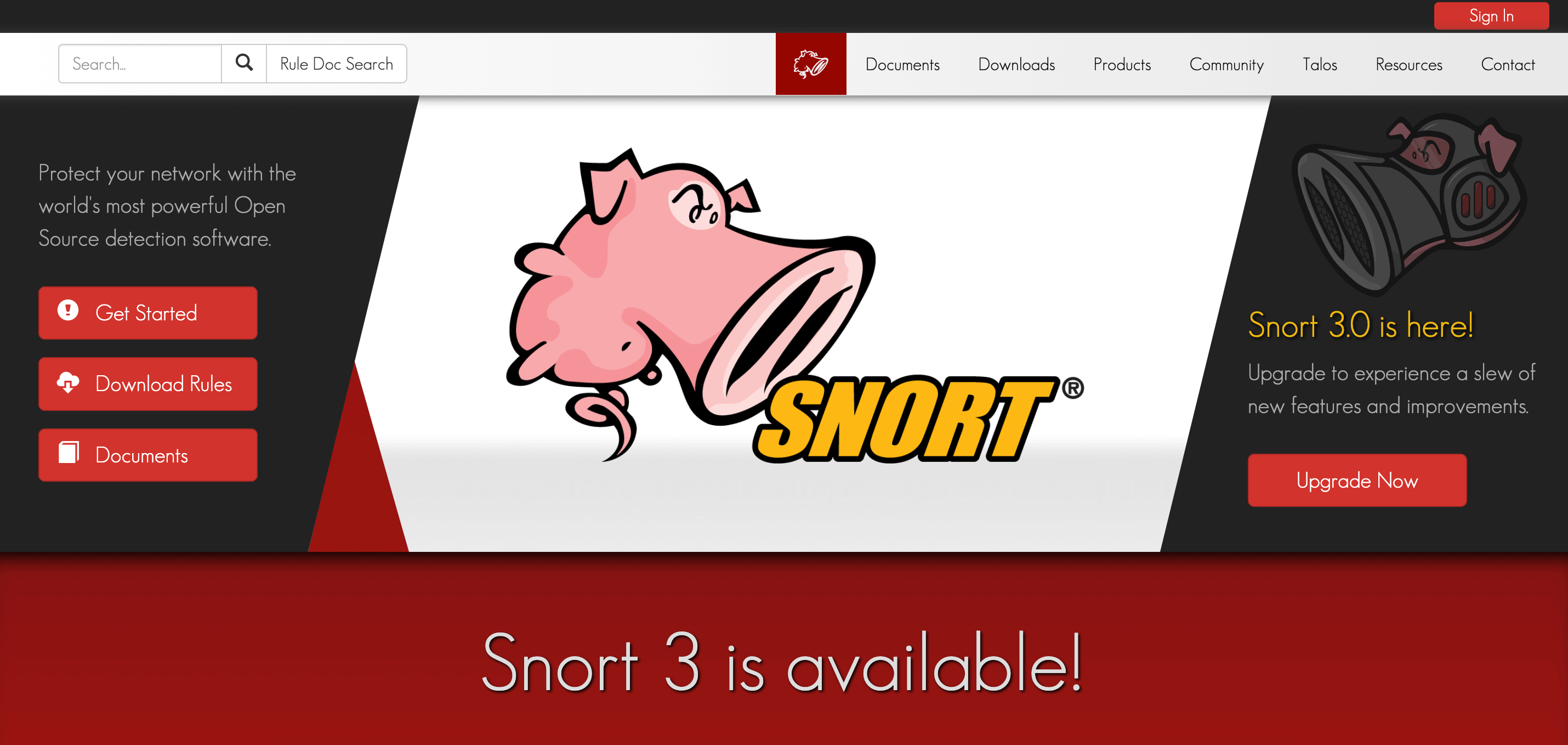 Snort is one of the most reliable cybersecurity monitoring tools that use a set of rules to define unlawful activities. It applies those rules to recognize packets matching against them and sharing alerts with users. 
Snort is a packet sniffer, packet logger, and full-fledged network intrusion prevention system. Its primary usage is to implement packet logging and perform real-time traffic analysis. 
Basic features:
Operating system fingerprinting determines the OS platforms a system uses to access a network. 

Protocol analysis captures data to examine malicious data packets.

Enables packet logging, collects every packet, and records information in a hierarchy directory based on the IP address of the host's network. 

Real-time traffic monitor tracks traffic and issues alerts.

Free, open source, and usable for all who want to use an IPS or IDS to protect their network. 
Pricing:
Personal subscription – $29.99 each.

Business subscription – $399 per sensor.
9. Best vulnerability management tool: Intruder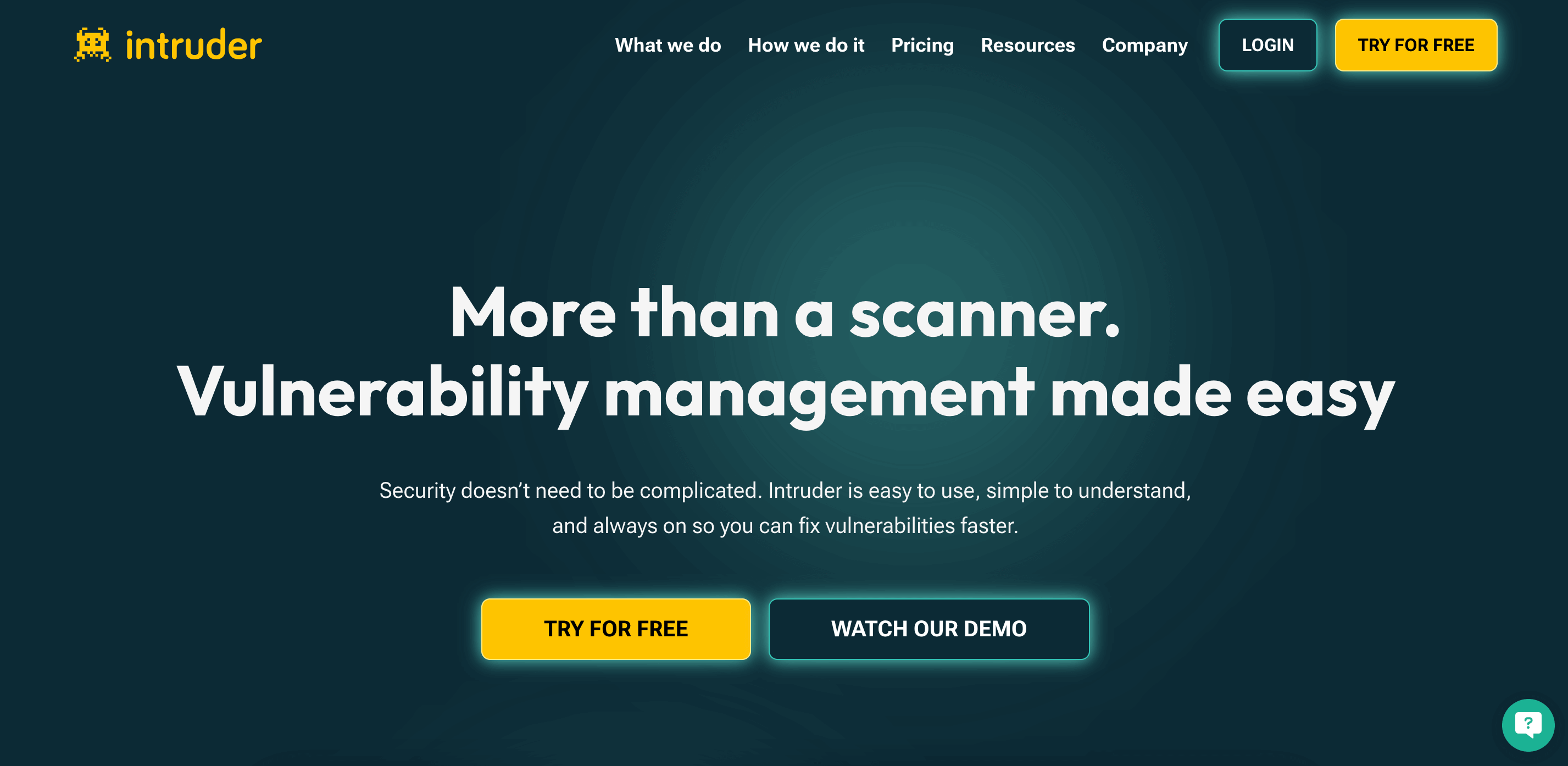 A leading cybersecurity app that is more than a scanner and a complete vulnerability management system, Intruder works with thousands of companies worldwide, ensuring real-time scanning, reduced attack surface, and the best customer support. 
Intruder seamlessly integrates with all your favorite tools and software with continuous network scanning.  
Basic features:
Performs external vulnerability scans to find security holes. 

Internal vulnerability scans protect devices from advanced cyber attacks. 

Automatic IP and DNS Tracking monitor new systems and ensure safety. 

Web application vulnerability scanner identifies risk across stacks and implements authenticated checks. 

API vulnerability scanner recognizes and fixes vulnerabilities for improved mobile, SaaS, and web application performance. 
Pricing:
Essential – $196 with external and application scanning, unlimited ad hoc scans. 

Pro – $277 with unlimited scheduled and ad hoc scans, threat scans, tools for teams, and network scanning.

Premium – $3633 with daily network scans, customer support, rapid response, etc.
10. Best antivirus protection tool: Norton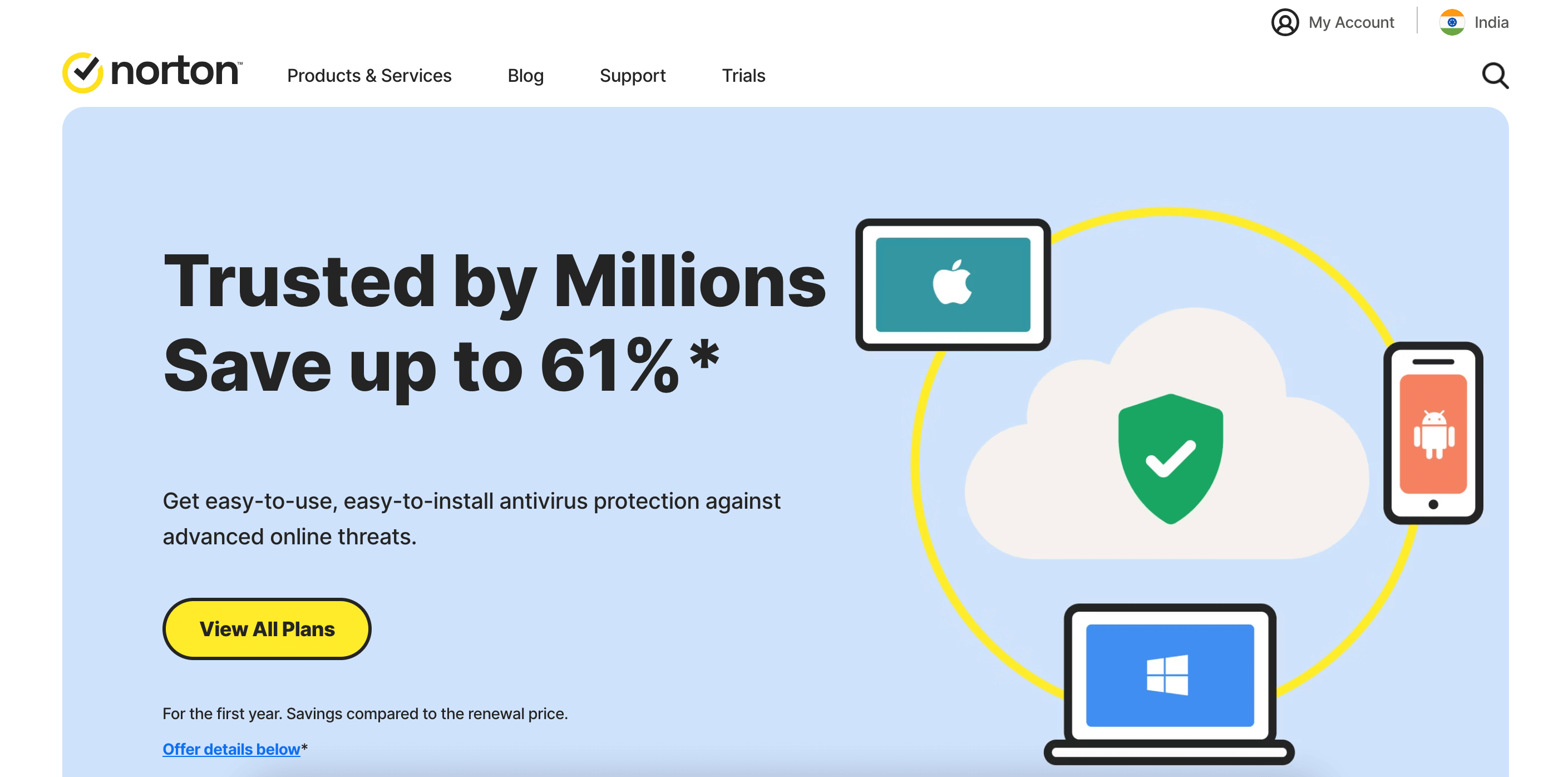 The 48-time winner of The Most Awarded Consumer Security Brand Ever by PCMag, Norton provides comprehensive antivirus protection against cyber-attacks and online security threats. 
One of the most reliable network security tools, it blocks hackers and offers complete privacy protection with additional protection for PC gaming. 
Basic features:
Provides multiple layered viruses and malware protection.

Cleans virus with Norton Power Eraser and protects all devices. 

Prevents data loss and uploads all information to Norton PC Cloud Backup.

Helps users search and surf online safely by detecting malware, spyware, etc. 

Shares information about the website's safety status and helps avoid risky sites.
Pricing:
AntiVirus Plus –

$19.99 annually with 100% Virus Protection Promise, complete antivirus protection, and 2GB cloud backup.

Standard –

$39.99 annually with VPN private internet connection and 10 GB cloud backup.

Deluxe 5 Devices –

$49.99 annually with parental control and 50 GB cloud backup.

Select + LifeLock 10 Devices – $99.99

annually with additional devices and 75 GB cloud backup. 
Conclusion
With the advanced developments in the technology field, there has also been an increase in the demand for top cybersecurity tools. From protecting the network, applications, and systems to keeping company data secured, the best cybersecurity tools prevent identity theft and unauthorized data access.
Today's cybersecurity software works with budding brands and established organizations to maintain confidential data and store financial records. By using top-rated cybersecurity applications, brands can maintain their data privacy and avoid losing valuable information. 
If you want to add your online security tool to this list, email us with your request. After a thorough review, we'll decide whether it's a valuable addition.