Do you wish to revamp your marketing efforts and excel in brand visibility and awareness?
You have landed in the right place. With the rise of various modern promotional channels and techniques, you might lack expert knowledge and skills to launch successful marketing campaigns. Thus, partnering with the top B2B marketing agencies is a winning solution. 
If you are looking for a trustworthy company offering the best B2B marketing services, Reverb is here to help you out. As one of the leading digital agencies serving B2B clients, we offer professional and result-driven assistance related to content marketing, SEO and link building, social media marketing, PPC management, email marketing, and many other areas.
With a constantly increasing demand for marketing services, the need for reliable B2B marketing companies is also growing. 
Why Hire A B2B Advertising Agency?
Here is how a business-to-business marketing agency can take your brand to the next level:
Build a remarkable and consistent brand identity.

Generate traffic and explore high-quality leads.

Nurture leads and convert them into paying clients, ultimately building long-term relationships.

Discover new audiences and reach them with engaging messages.

Apply the latest digital marketing trends and techniques. 

Develop a growth strategy even with a tight budget.

Plan a comprehensive marketing strategy aligning with company goals and values.

Implement profitable marketing campaigns across various channels.

Create impressive brand messages and visuals to tell your story.
We understand how challenging it might be to choose the best-fit partner to promote your brand effectively. Thus, our top-notch experts researched the market and crafted an unbiased list of the best marketing agencies for B2Bs. 
The Best B2B Marketing Agencies Creating Significant Buzz On The Market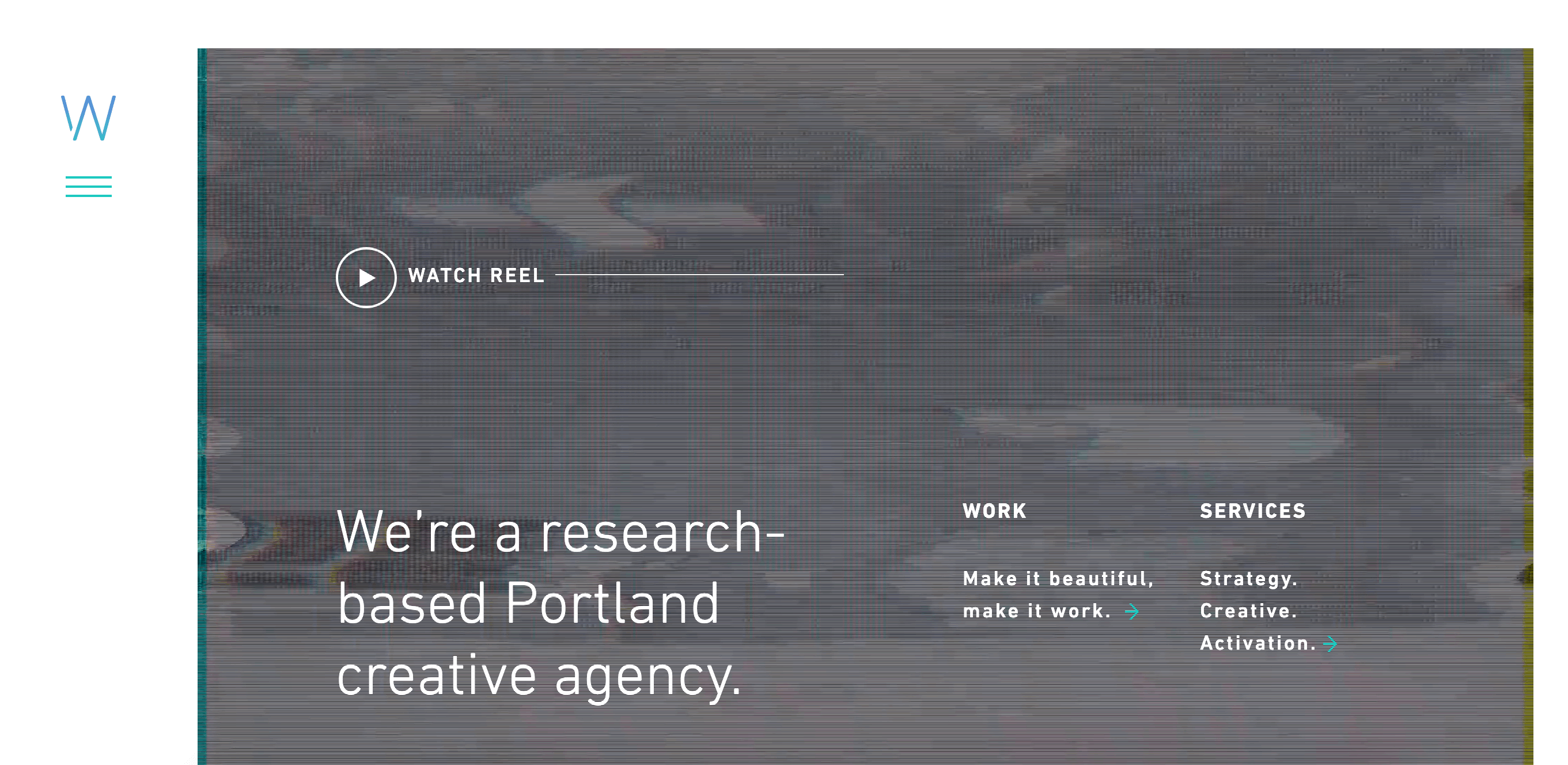 Creating breakthroughs in the marketing world, Watson Creative is undoubtedly the best B2B marketing agency focusing on building impactful digital strategies, design solutions, and storytelling. They launch next-gen marketing campaigns that drive sales and accelerate growth. The company services clients within all possible business domains, from Sports to Healthcare and Finance.
Watson Creative carefully studies brand requirements and plans an exclusive strategy based on in-depth data collection and analysis. From creating activation maps to building mind-blowing campaigns, they're the best-in-class B2B marketing experts knowing how to make beautiful and workable solutions.  
Founding year:

2013

Headquarters:

Portland, Oregon, USA

Services and expertise:

B2B marketing services, digital marketing, branding, digital campaigns, market and consumer research

Industries:

Public Service, Arts and Entertainment, Banking and Finance, Consumer Goods, Sports, Celebrities, etc. 

Team size:

50+ experts

Portfolio: Nike, Fidelity Title, Oregon Wine, Umpqua Bank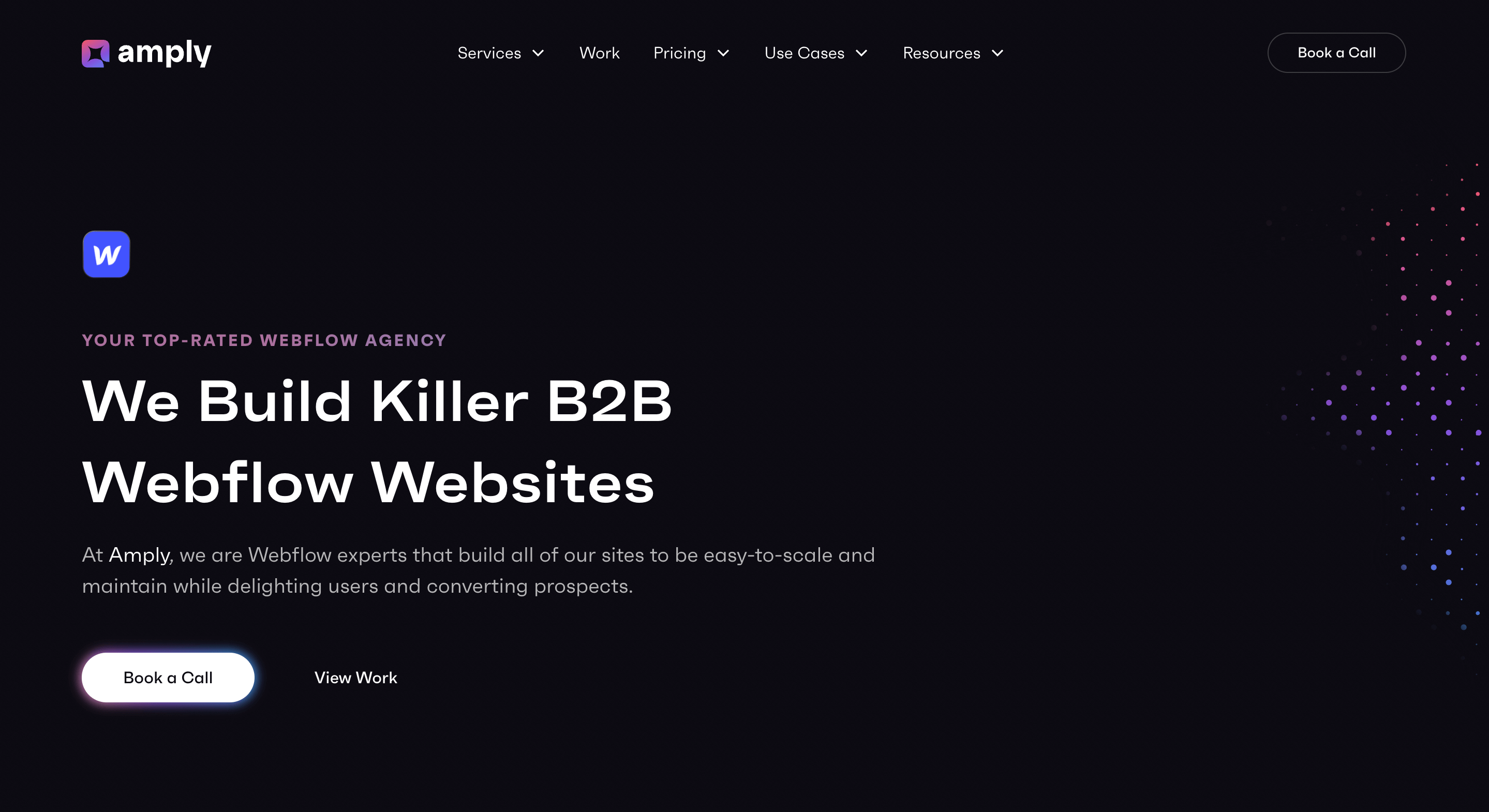 Amply, a leading B2B marketing agency based in Utah, is a powerhouse of top-notch Webflow, branding, and B2B design professionals. Helping companies that seek a seamless extension of their own dev teams, Amply is committed to crafting websites that resonate with clients' brand identity and drive conversion rates from A to Z.
Their comprehensive suite of B2B marketing services includes storytelling, information architecture, meticulous wireframing, high-fidelity design & animation, and the creation of custom website imagery. Amply is more than a killer B2B web design agency; they are a multifaceted creative force offering everything from B2B website design and Webflow development to captivating illustrations, graphics, signage, landing pages, pitch decks, and much more.
Amply is a client-first, deeply user-centric, and result-driven team of experts doing their best to make the most out of clients' marketing investments and provide tangible returns.
Founding year: 2020
Headquarters: Utah, USA
Services and expertise: Webflow development, B2B web design, branding
Industries: SaaS, AI, Blockchain, Healthcare, Finance
Team size: up to 10 experts
Portfolio: Endor Labs, Chattermill, Mosaic, Pathlight, Kenect, Lovage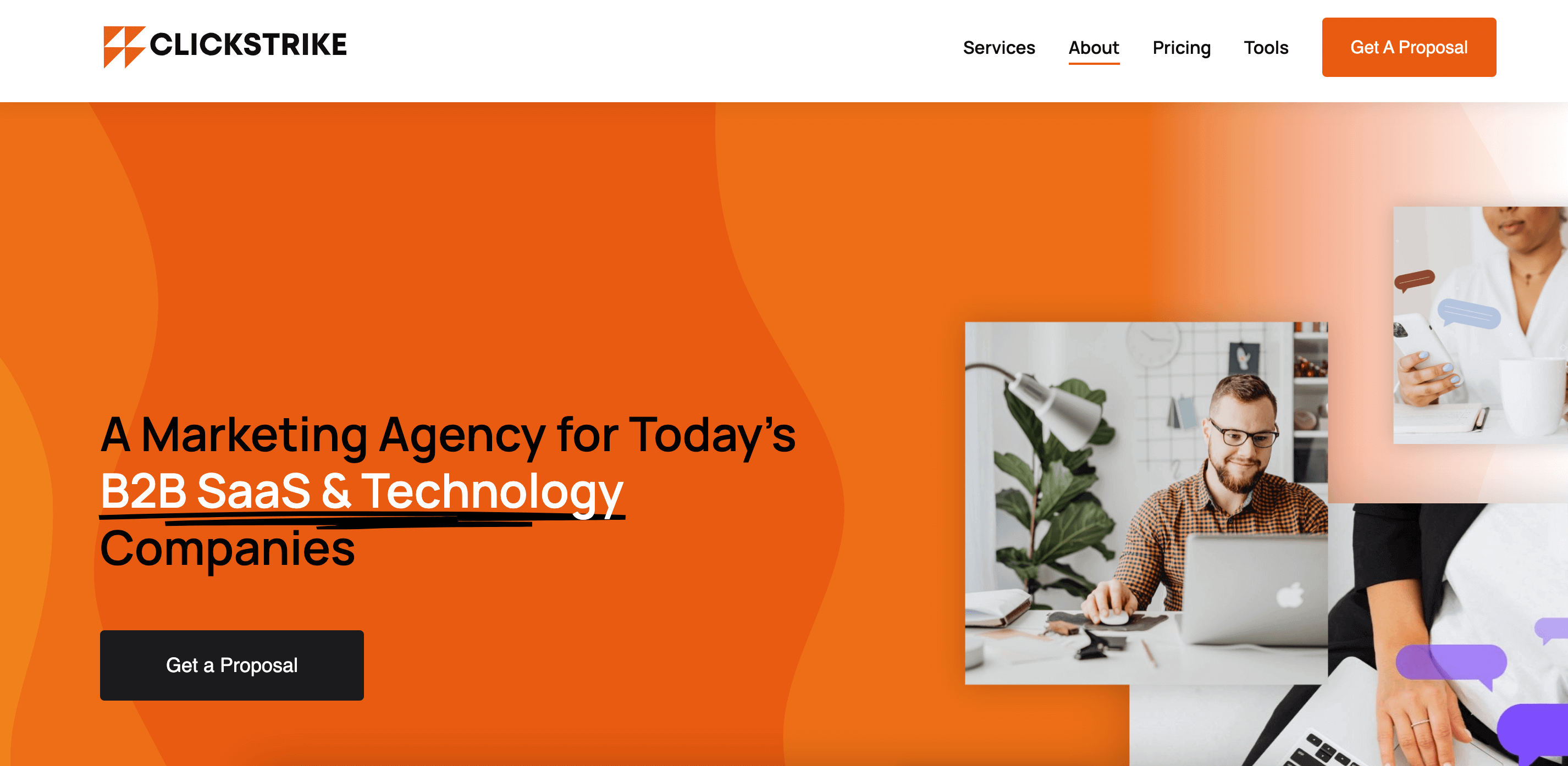 ClickStrike is the premier B2B SaaS marketing agency that empowers innovative tech businesses to achieve rapid, effective, and sustainable growth. With a team of award-winning marketers focusing on pivotal metrics such as leads, revenue, and profitability, the company becomes a trusted partner for influencer marketing, earned media, link building, SEO, PPC, and B2B lead generation.
Renowned across esteemed platforms like Forbes, TechCrunch, Entrepreneur, Business Insider, SaaSHub, and Influencer MarketingHub, ClickStrike's track record speaks volumes. With 750+ happy clients, the agency can accomplish 25+ meetings booked per month, helping tech companies grow and prosper. 
Constructing powerful outbound sales funnels that consistently fill their calendars with valuable sales calls week after week, the agency ensures the pricing plans are suitable for every business. With half a decade of expertise, ClickStrike maintains an impressive client retention rate of 96% after just three months. 
Partner with ClickStrike to unlock steady growth for your tech business.
Founding year: 2018
Headquarters: NYC, the US
Services and expertise: influencer marketing, earned media, link building, SEO, PPC, and B2B lead generation
Industries: Technology and SaaS
Team size: a small team of award-winning marketers
Portfolio: small, medium, and large SaaS and tech companies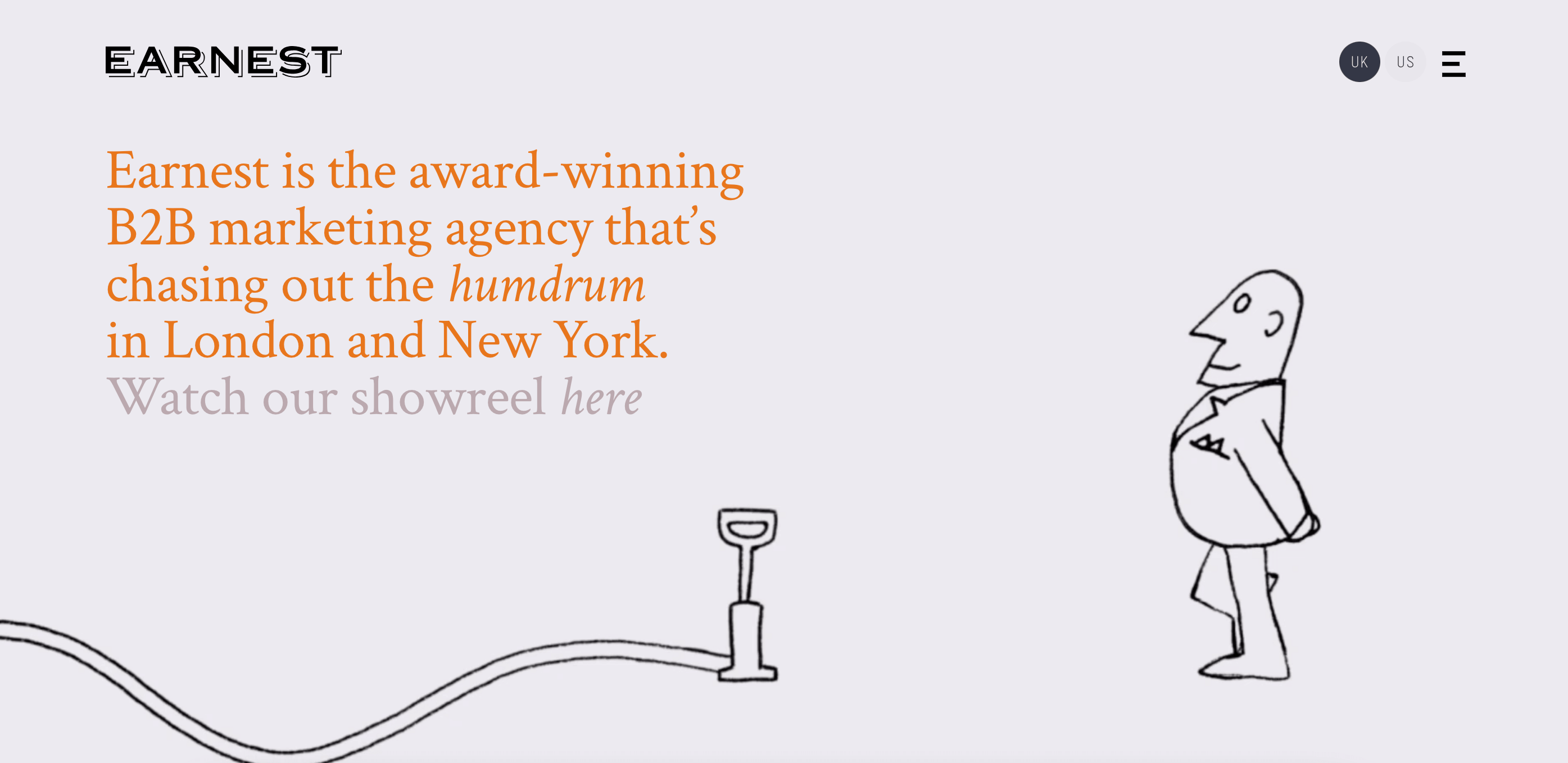 Headquartered in London and having an office in New York, Ernest is an award-winning B2B digital agency that engages business audiences and creates awareness-building campaigns and content for global companies. From campaign planning to content strategy, branding to influencer marketing – Ernest offers impeccable digital solutions that transform the way businesses operate. 
Being the winner of the Best Use of Creative and the Best Use of Live Event and Experiential at the B2B Elevation Awards 2020, Ernest takes up unusual challenges and devises B2B marketing solutions with a unique approach. 
Founding year:

2009

Headquarters:

London, United Kingdom

Services and expertise:

B2B marketing services, digital campaigns, branding, content creation, influencer marketing, market research

Industries:

Technology, Electronics, Software Systems, etc. 

Team size:

50+ experts

Portfolio:

Canon, Vodafone, Google, Samsung, Kaspersky Lab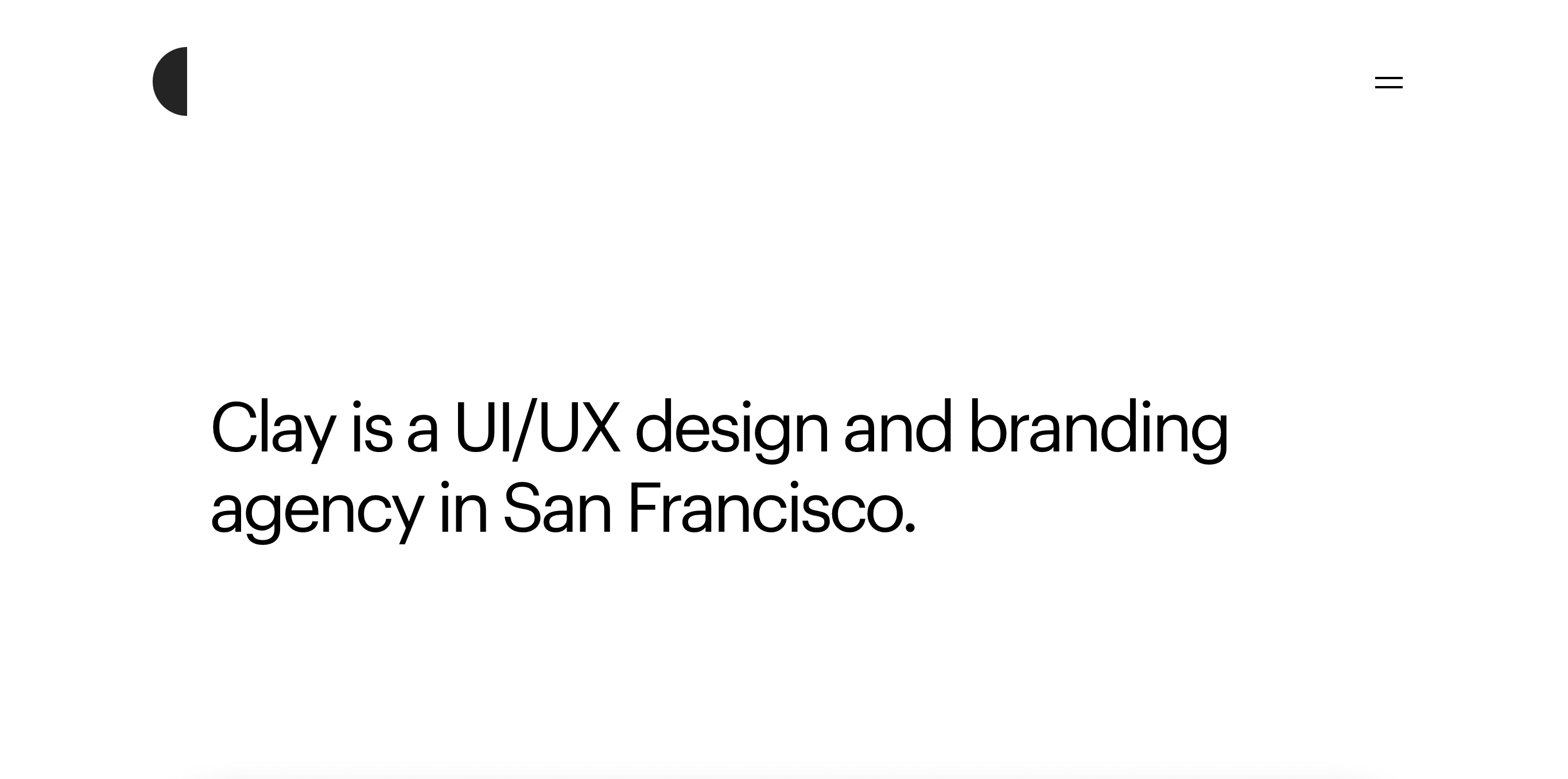 Whether your brand needs innovative design concepts, jaw-dropping campaigns, or world-class digital products, Clay is your perfect destination. A leading B2B advertising agency, Clay specializes in branding and UX design, collaborating with well-reputed companies worldwide. 
Having over 12 years of experience in the industry, the company defines, designs, and develops cutting-edge solutions that function across multiple platforms. Their supreme team of designers and developers can cover projects of any complexity, from basic corporate websites to sophisticated AR/VR systems and wearables. 
Founding year:

2016

Headquarters:

San Francisco, California, USA

Services and expertise:

B2B marketing services, software development, enterprise UX, UI design, branding

Industries:

eCommerce, Technology, Media and Entertainment, etc. 

Team size:

60+ experts

Portfolio:

Facebook, Google, Joe & the Juice, Slack, Coca-Cola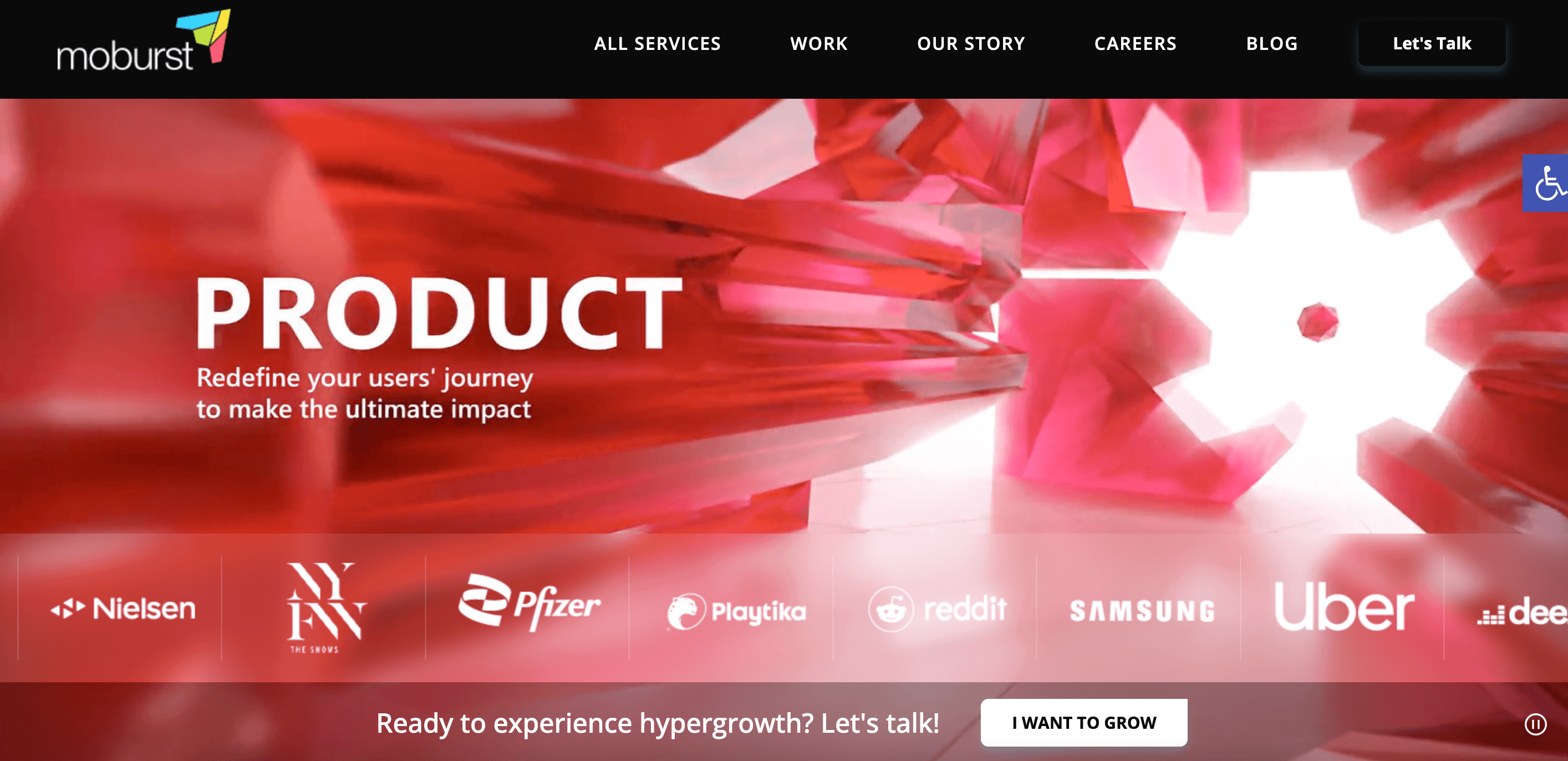 As a prominent B2B marketing firm, Moburst knows all ins and outs of the marketing industry and provides exceptional mobile-first digital marketing services. The company stands on the three pillars of growth, results, and experience, allowing it to create innovative marketing solutions. 
Moburst helps brands achieve their coveted goals by preparing an impactful strategy and perfectly implementing it. The company currently offers the following services – mobile strategy and design, digital strategy, social strategy, product strategy and analytics, and BI. 
Founding year:

2013

Headquarters:

New York, USA

Services and Expertise:

B2B marketing services, product consulting, social media management, SEO, mobile app design, digital strategy, analytics

Industries:

Technology, Social Media, Food and Beverage, Media and Entertainment

Team size:

200+ experts

Portfolio:

Google, Nielsen, Reddit, Samsung, Uber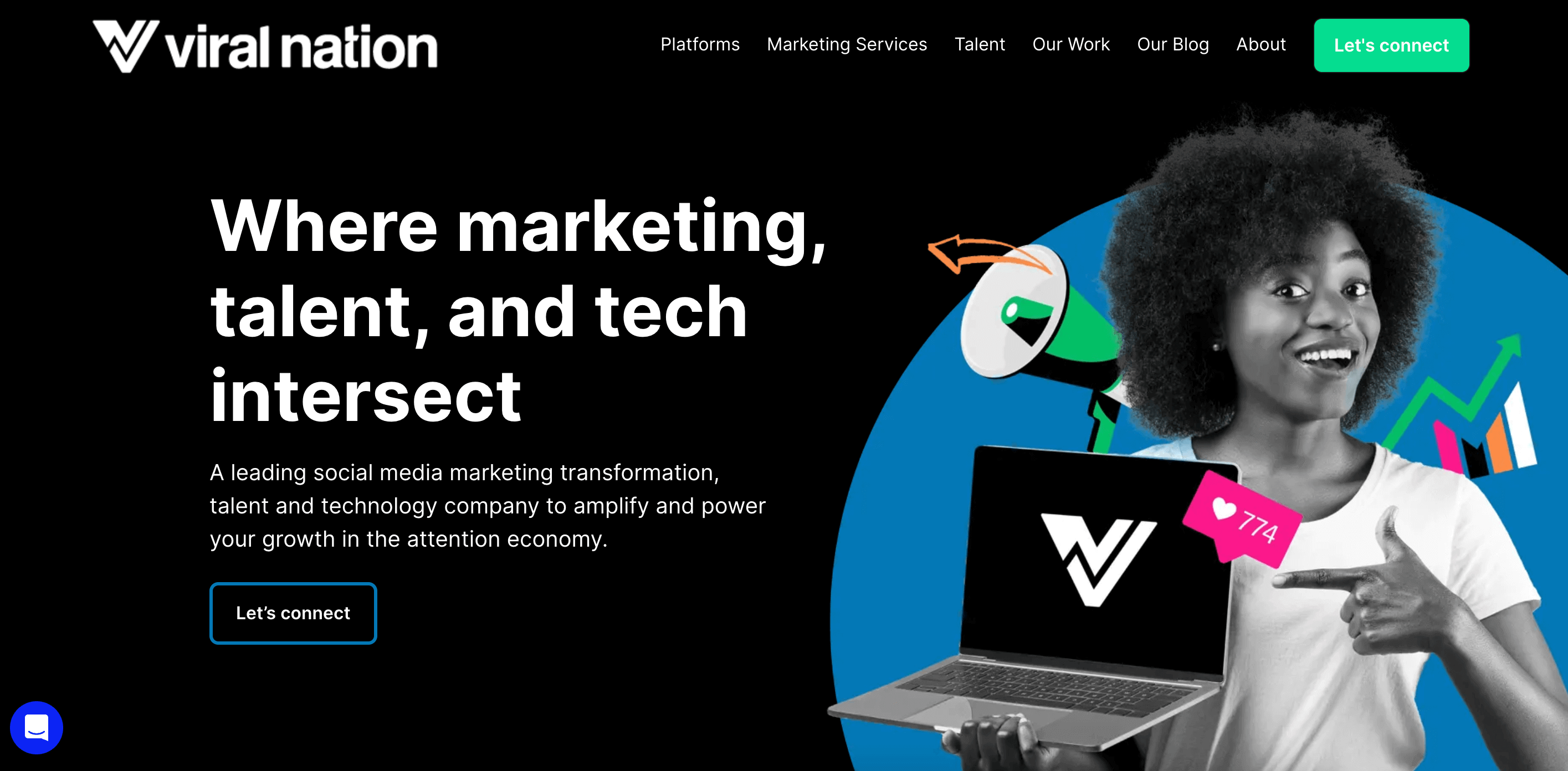 One of the top-rated B2B marketing firms, Viral Nation blends marketing with creativity leading to award-winning digital campaigns. Deloitte has also certified this notable agency as one of the winners of Canada's top 50 technology brands. 
Viral Nation has been featured in eminent newspapers such as Forbes, Bloomberg, etc. Their team follows a unique 3-step procedure – learning the brand requirements, scanning social media efforts through AI-powered technology, and round-the-clock monitoring with detailed analysis. 
Founding year:

2014

Headquarters:

Toronto, Ontario, USA

Services and expertise:

B2B marketing services, paid ads, performance media, influencer marketing, creative content

Industries:

Media and Entertainment, Automobiles, Social Media, Technology

Team size:

500+ experts

Portfolio:

Canon, Tencent, Chegg, Disney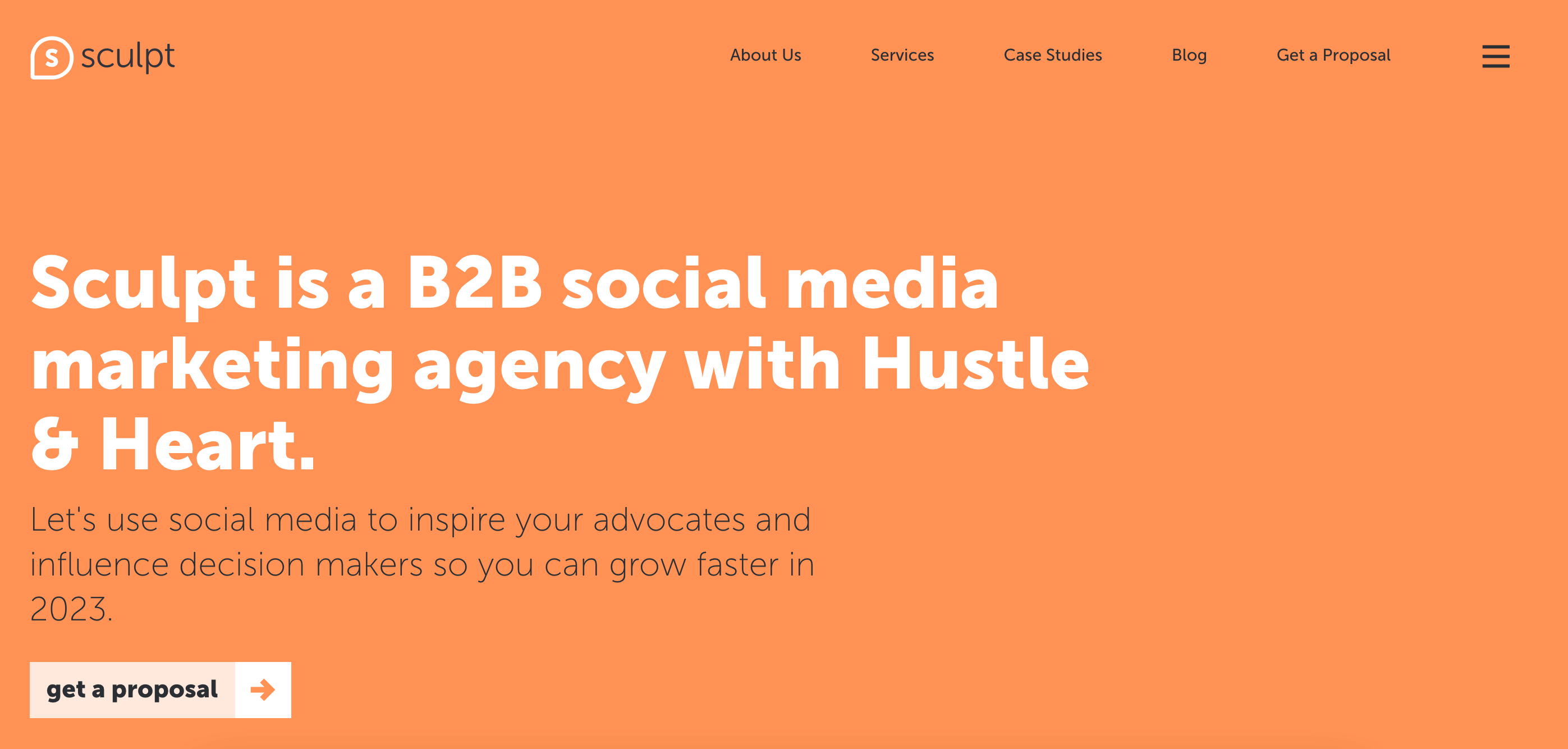 Sculpt is an excellent B2B internet marketing agency that leverages the power of social media to grow brands and influence their target audience. Their experienced team helps clients in the following ways – providing training, managing campaigns, and implementing successful social media strategies. 
With collaboration at the heart of the company, Sculpt amplifies brands, refines business goals, and strengthens the infrastructure to succeed. Sculpt's procedure involves creating a detailed plan based on what needs to be tested, executed, and achieved; followed by planning and implementing a program that aligns with the key business targets.
Founding year:

2012

Headquarters:

Iowa City, USA

Services and expertise:

B2B marketing services, community management, social media strategy, analytics, digital campaigns

Industries:

Professional Services, Manufacturing, SaaS, Fintech

Team size:

50+ experts

Portfolio:

Adobe, Radix, Allsteel, Blend
Ironpaper is a full-fledged B2B digital marketing agency with robust experience in driving sales and generating leads. The company aims to grow businesses effectively by focusing on marketing results that matter. 
A Hubspot Diamond Certified Agency Partner, Ironpaper is also certified by giant organizations like Google and Databox. The company offers a plethora of services that include creating B2B content, generating qualified leads, improving marketing efforts, etc. 
Founding year:

2002

Headquarters:

New York, USA

Services and expertise:

B2B marketing services, social media marketing, content strategy and creation, lead generation, campaign audit and improvement

Industries:

Telecom, Oil and Gas, SaaS, Technology, Healthcare

Team size:

200+ experts

Portfolio:

Solartis, Goddard, Inc., Spectrum Labs, Gray Scalable
Offering a great batch of valuable services, Elevation Marketing creates digital-first solutions that connect brands to people. The company stands on the three pillars of media, creativity, and technology and uses cutting-edge technology systems to provide comprehensive, end-to-end B2B marketing programs. 
The main USP of the firm is that it follows a proprietary process and covers multiple significant business aspects such as strategy, PR, branding, consulting, advertising, etc. From refreshing websites to attracting organic traffic – Elevation Marketing is your go-to B2B marketing services provider. 
Founding year:

1999

Headquarters:

Gilbert, Arizona, USA

Services and expertise:

B2B marketing services, branding, public relations, digital strategy, website design, organic growth

Industries:

Fintech, Computer Hardware, Education, Technology, Food and Beverage

Team size:

50+ experts

Portfolio:

Amazon, Microsoft, Coca-Cola, Duracell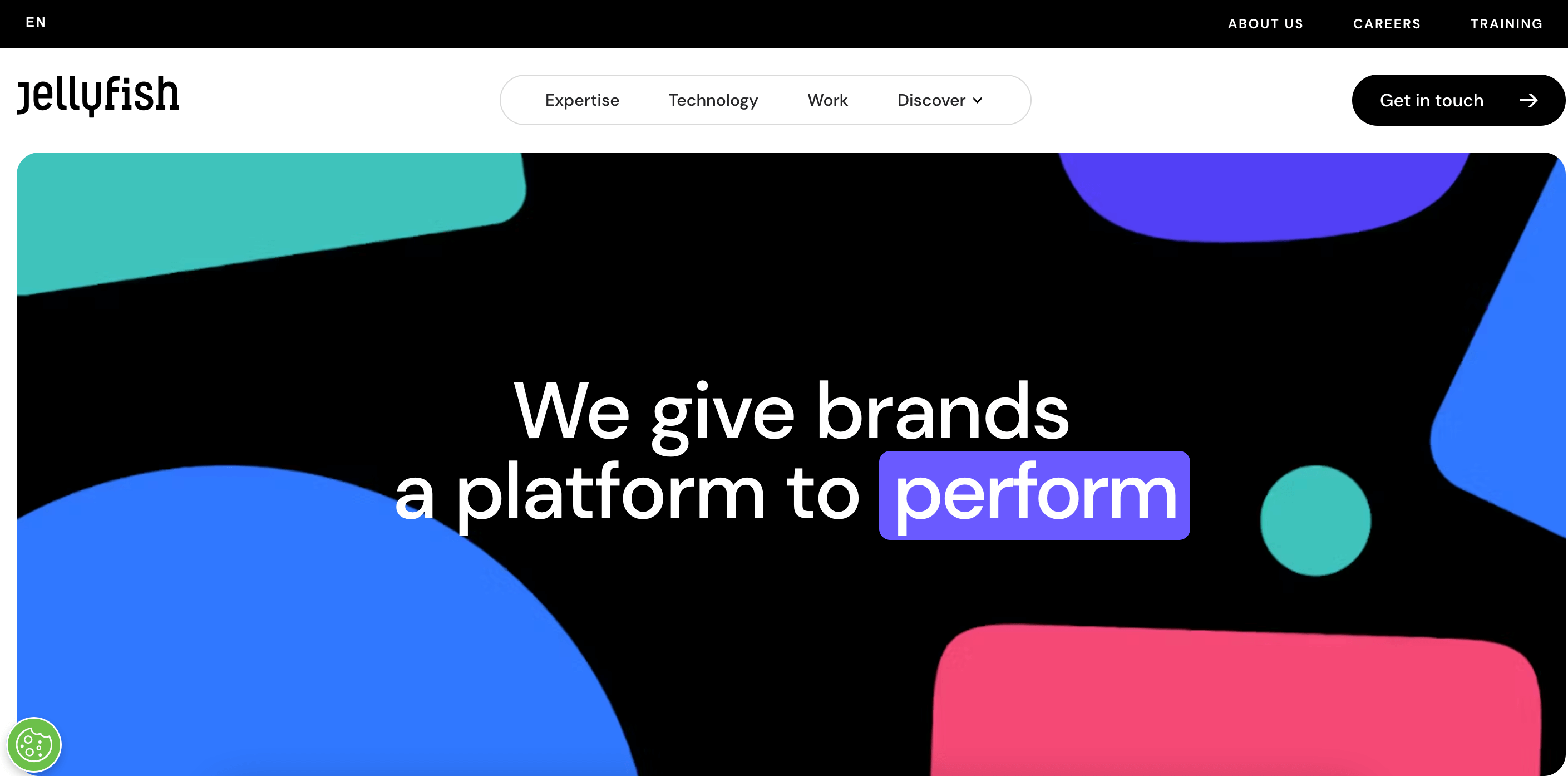 Transforming brand creatives and communication for more than 15 years of its operation, Jellyfish is one of the top B2B marketing agencies that help clients extend their reach and grow their audience base. 
The company boasts rich expertise in the following fields – creative, media, partner technology, data, strategy, and training. Their comprehensive solutions work across literally all existing and emerging platforms and enable brands to boost their performance. 
Founding year:

2005

Headquarters:

London, United Kingdom

Services and expertise:

B2B marketing services, creative, SEO, paid search, advanced analytics and modeling

Industries:

Food and Beverage, Media and Entertainment, Technology, Real Estate, etc. 

Team size:

5,000+ experts

Portfolio:

Greenpeace, Netflix, Deckers Brands, Willowton Group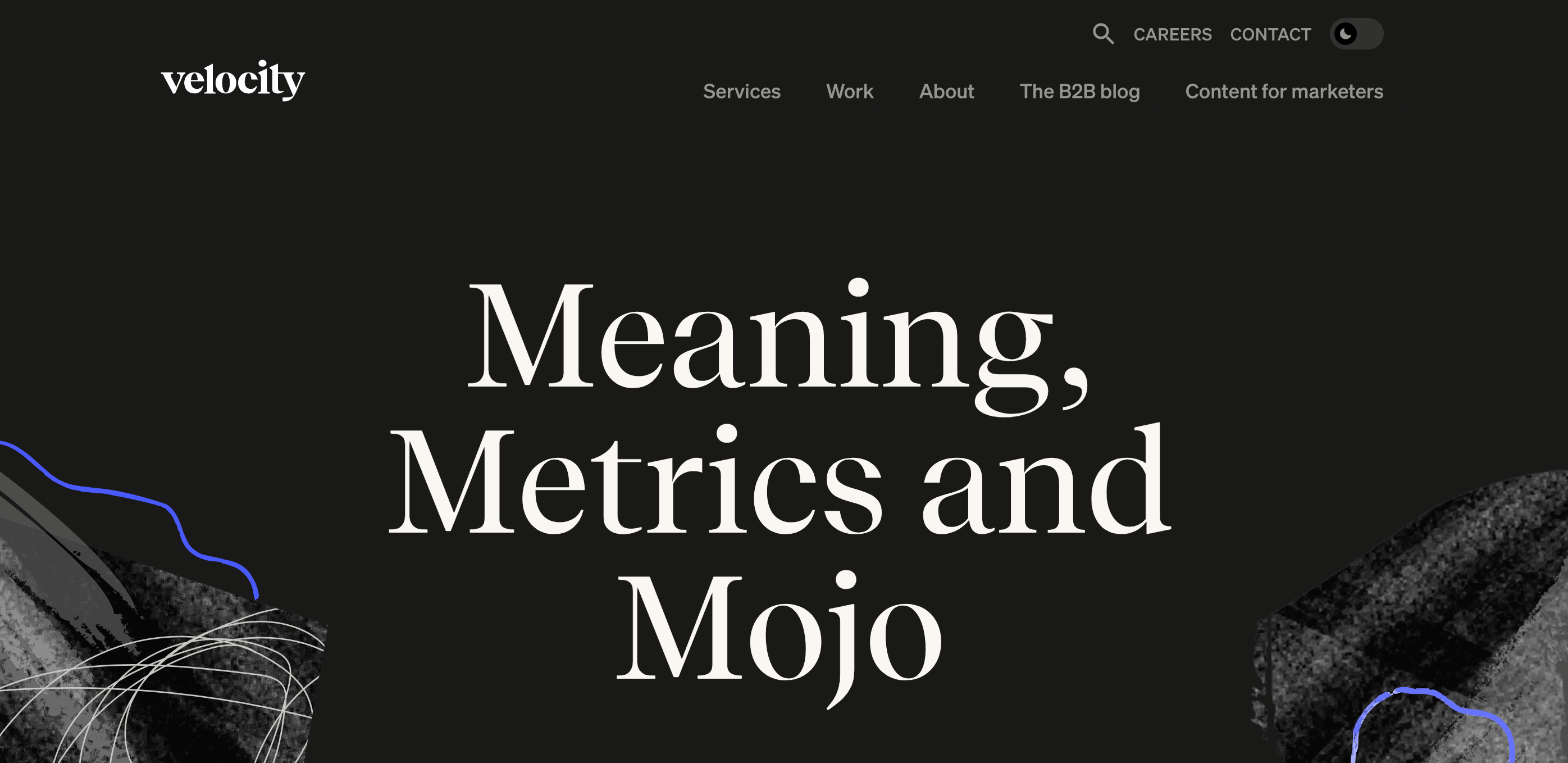 Meet Velocity is among the best B2B marketing companies focusing on revenue-generating performances, creativity, and data-driven strategy. The company helps brands raise the standards of their marketing campaigns by building performance marketing programs that accelerate pipelines and pump the metrics that matter.
The core company's offerings include – Strategy, Creative, and Performance services. After collaborating with hundreds of clients across 15+ verticals, Velocity Partners has enriched B2B brand communication and redefined the marketing sector, making it as effective as exciting. 
Founding year:

2000

Headquarters:

Richmond, Surrey, United Kingdom

Services and expertise:

B2B marketing services, content marketing, marketing automation, performance marketing, brand audit

Industries:

Technology, Software Systems, eCommerce, Consumer Business, etc. 

Team size:

200+ experts

Portfolio:

Amazon Web Service, Salesforce, Trustpilot, LiveRamp
Conclusion
An efficient B2B creative agency helps brands promote their products and services by delivering strategies that pull more audience and fulfill clients' goals. Contact ReVerb today to take your digital strategy to the next level, or feel free to find the right partner for your business from this comprehensive list. 
Do you own a marketing agency as well? Share your company details with us and grab a chance to get a spot on this list. After a quick review, we'll decide whether it's a valuable addition.