Every digital marketer or business owner faces the need to extract extensive data from the web to empower a sales machine sooner or later. 
When done manually, it's not just a time-consuming task but can also generate numerous critical errors. Thus, to ease and streamline the data extraction process, companies consider using web scraping tools.
Web scraping tools have entirely revolutionized the way of collecting content from websites and organizing it in a convenient format. You can use them as a desktop app or as a browser extension.
If you are looking for a reliable and robust data scraping tool to boost your business growth, you've come to the right place. This article covers the basics of web scraping and its uses, along with a comprehensive list featuring the top web scraping tools in the market.
What Is A Web Scraping Tool, And Why Do You Need It?
Web scraping tools, also known as web scrapers, data extraction tools, or screen scraping tools, are used to extract some data from external websites in a structured manner. 
The mechanism of data extraction involves the following steps:
The URL of the website is provided to the web scraper. The web scraper then loads the entire HTML code and databases.

The web scraper extracts all the data, or the user can manually select the necessary part of the content.

Finally, the web scraper exports the selected data in the desired format (typically in a spreadsheet).
Marketers, sales managers, and business leaders can use the extracted data for various purposes:
Data collection for research,

Stock market analysis,

Lead generation,

Business decision-making, etc.
Many web scraping tools are available today, leading to confusion and choice uncertainty. Thus, we've compiled a list of the best web scrapers based on parameters such as features, pricing, scalability, and customer support to help you select software that perfectly meets all your scraping needs.
The Best Web Scraping Tools For Businesses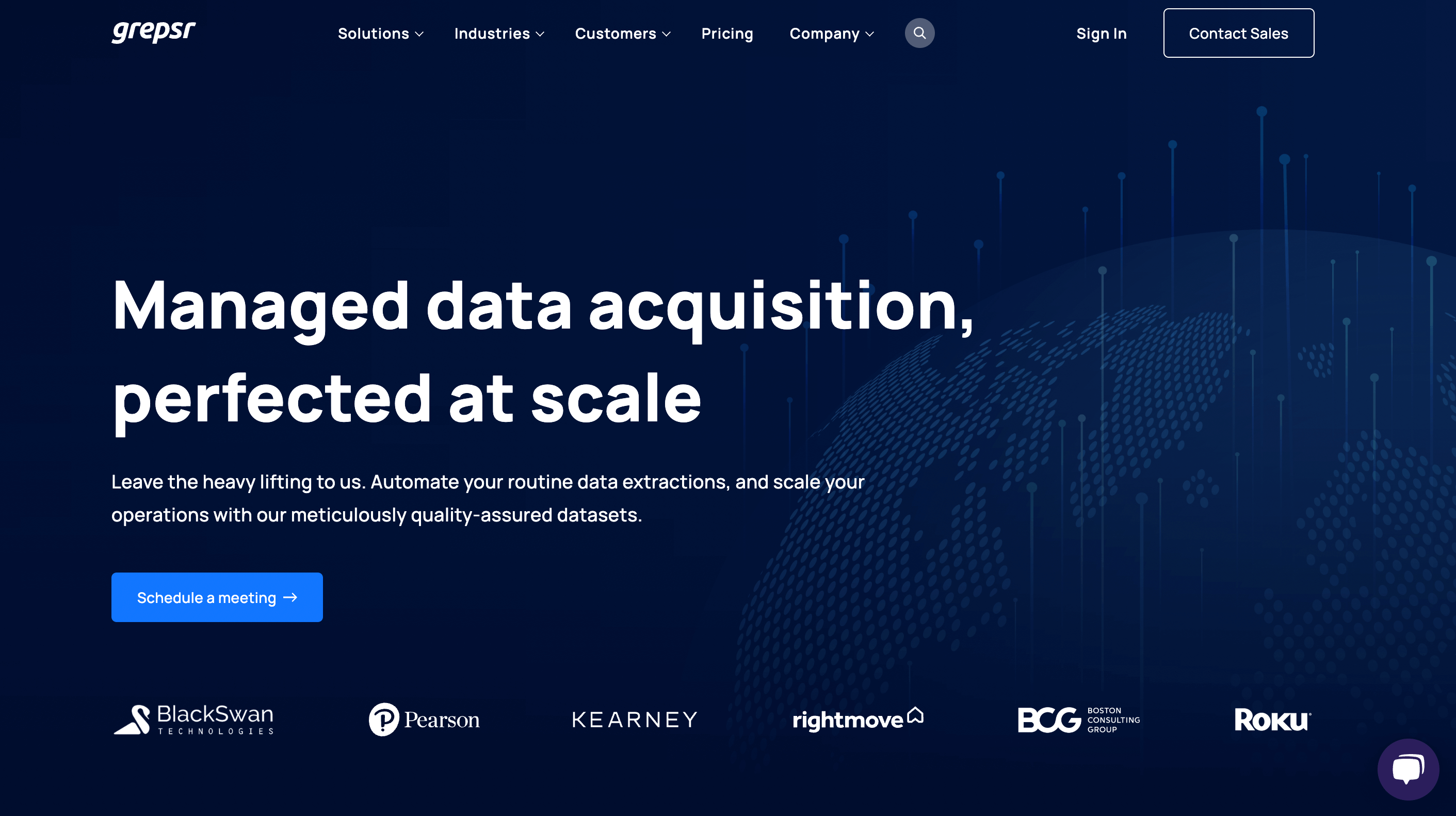 Grepsr is an advanced web scraping tool for accessing web data at scale. The program does the heavy lifting as you utilize its quality-assured datasets to automate your data extractions. It equips you with reliable, precise, and valuable data, processing millions of pages hourly to help you plan your data needs and gain insights. 
Grepsr can be applied for challenging use cases across numerous industries. It considers the effective laws, data categories, terms and regulations of the data source, and the ethical application of the extracted data.
Even non-techies can easily utilize this tool and make the most out of their data acquisition processes by referring to Grepsr for technical consulting and workflow automation.
Pricing:
All data use cases are priced flexibly. Grepsr provides custom solutions based on the business's unique data needs and scale.
ScrapingAnt is a web scraping API aimed to solve 99% of users' problems. This general-purpose data extraction tool is adaptable to a broad spectrum of business needs of any complexity: ML, data analysis and storage, price monitoring, data collection, extracting reviews, odd scrapping, and much more. Their service provides one of the most reliable and convenient scraping experiences using millions of proxies and a headless browser cluster.
Founded in 2020, ScrapingArt has already delivered 3+ million proxy servers worldwide and saved up to 40% of the customers' budget. Without rate limits or blocks, this web scrapping tool allows you to build a data extraction pipeline much easier and faster. 
In addition, the company offers a scalable team of data collection experts that can fulfill any business requirements and create custom scraping software, especially for you. ScrapingAnt also provides data team augmentation service.
Pricing:
Users can start with a Free plan and switch to a paid tariff as their requirements and needs evolve.
Enthusiast:

$19/month, ideal for freelancers and students. Offers 100,000 API credits, email support, and documentation-only integration.

Startup:

$49/month, ideal for small-medium teams looking to grow. Offers 500,000 API credits, priority email support, expert assistance, and integration with custom code snippets.

Business:

$249/month, ideal for large teams and full-blown companies. Offers 3,000,000 API credits as well as priority email support, live integration calls, expert guidance, custom proxy pools, custom avoidances, and dedicated managers.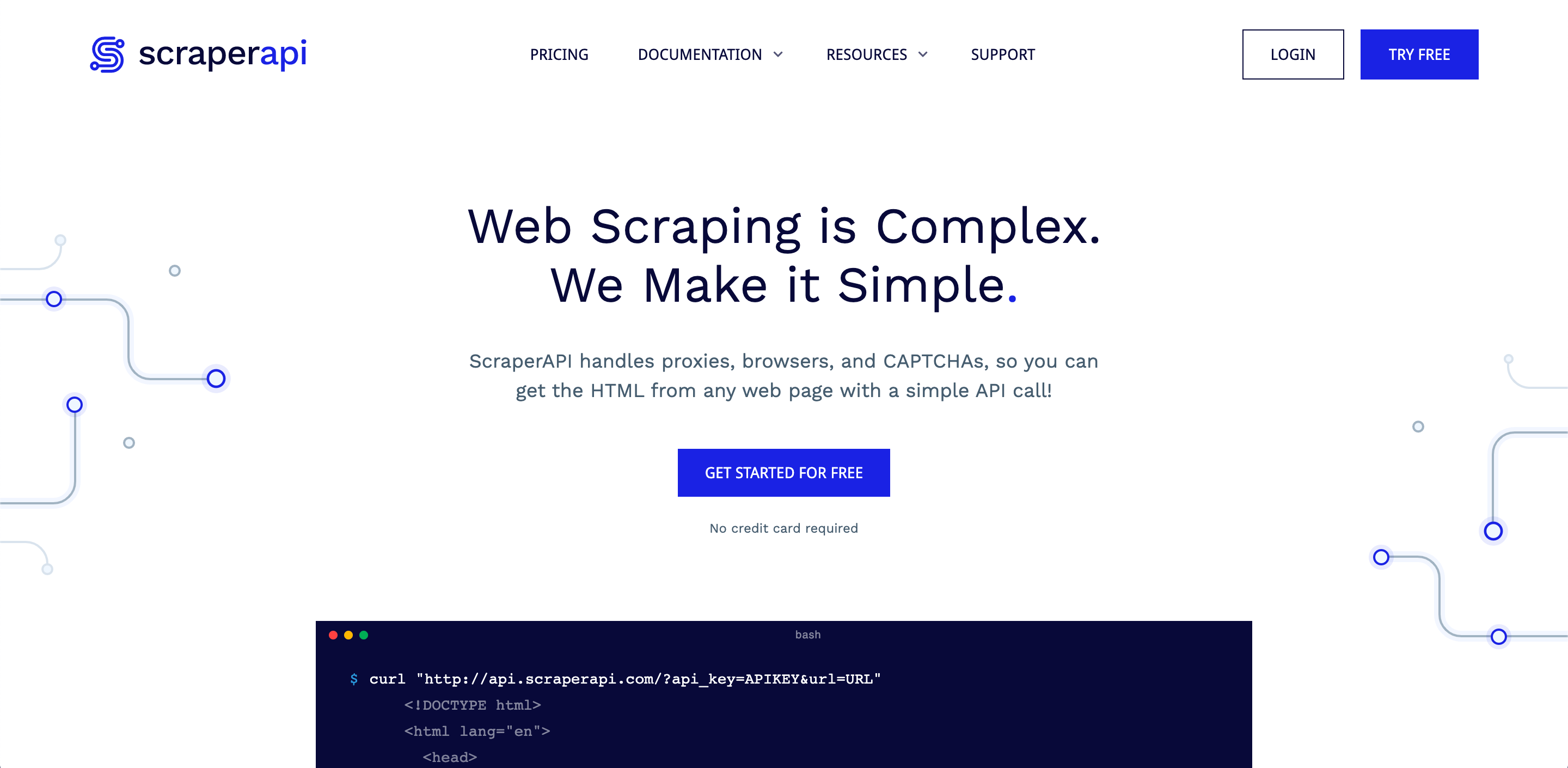 Scraper API is one of the best web scrapers, which handles proxies, browsers, and CAPTCHAs and loads the HTML from any web page with a single API call. 
Some of its salient features are IP Rotating, 40M IP addresses around the globe, 50+ geolocations, Unlimited Bandwidth, JS Rendering, JSON Parsing, and many more. 
Pricing:
Scraper API offers a 7-day free trial with 5000 free API credits for small projects. Besides the free plan, it offers an array of paid packages:
Hobby:

This plan costs $49/per month. It provides 100,000 API credits and 20 concurrent threads with US and EU geotargeting.

Startup:

This plan costs $149/month. It provides 1,000,000 API credits and 50 concurrent threads with US and EU geotargeting.

Business:

With over 3,000,000 API credits and 100 concurrent threads with all geotargeting, this plan costs $299/month.

Professional:

The professional plan offers 14,000,000 API credits and 400 concurrent threads, costing $999/month.

Custom:

Contact their sales if you need more than 14,000,000 API credits and other premium features.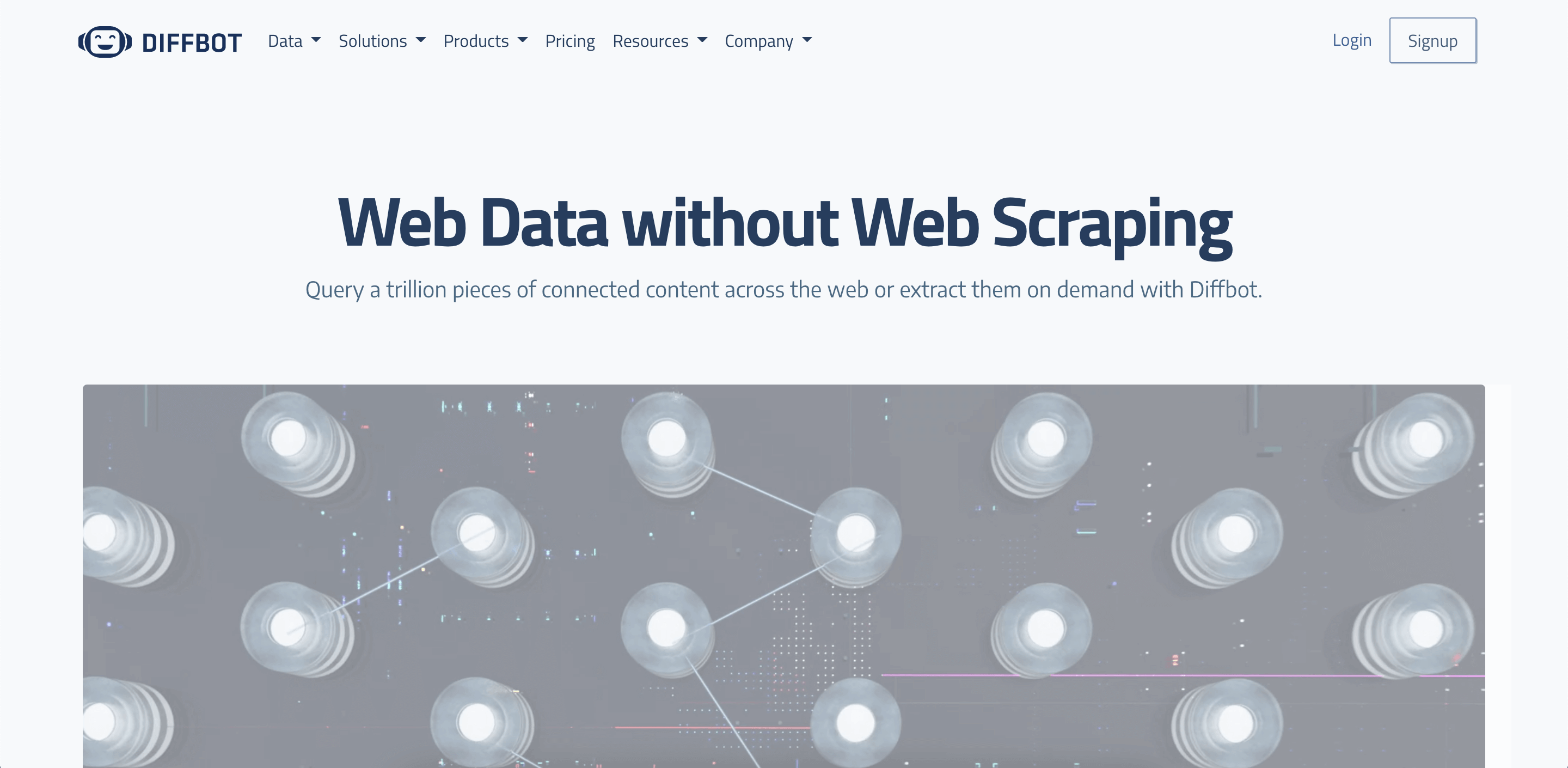 Diffbot is an excellent web scraping and crawling tool to extract data from different platforms. With the help of Diffbot, you can extract data from websites, articles, news, discussions, and more. 
In addition, they provide ready database solutions in the fields of Market Intelligence, News Monitoring, Machine Learning, and E-commerce.
Pricing:
Diffbot offers 14 days free trial and 1000 free API calls. The more comprehensive plans are the following:
Startup:

The plan costs $299/month and offers services such as extraction, 250,000 credits, dashboard access, and email support.

Plus:

The plus plan costs $899/month and offers crawl, user licenses, and all other services included in the Startup plan.

Enterprise:

This plan is for big companies, and thus the price is customizable. You need to contact them for the custom quote.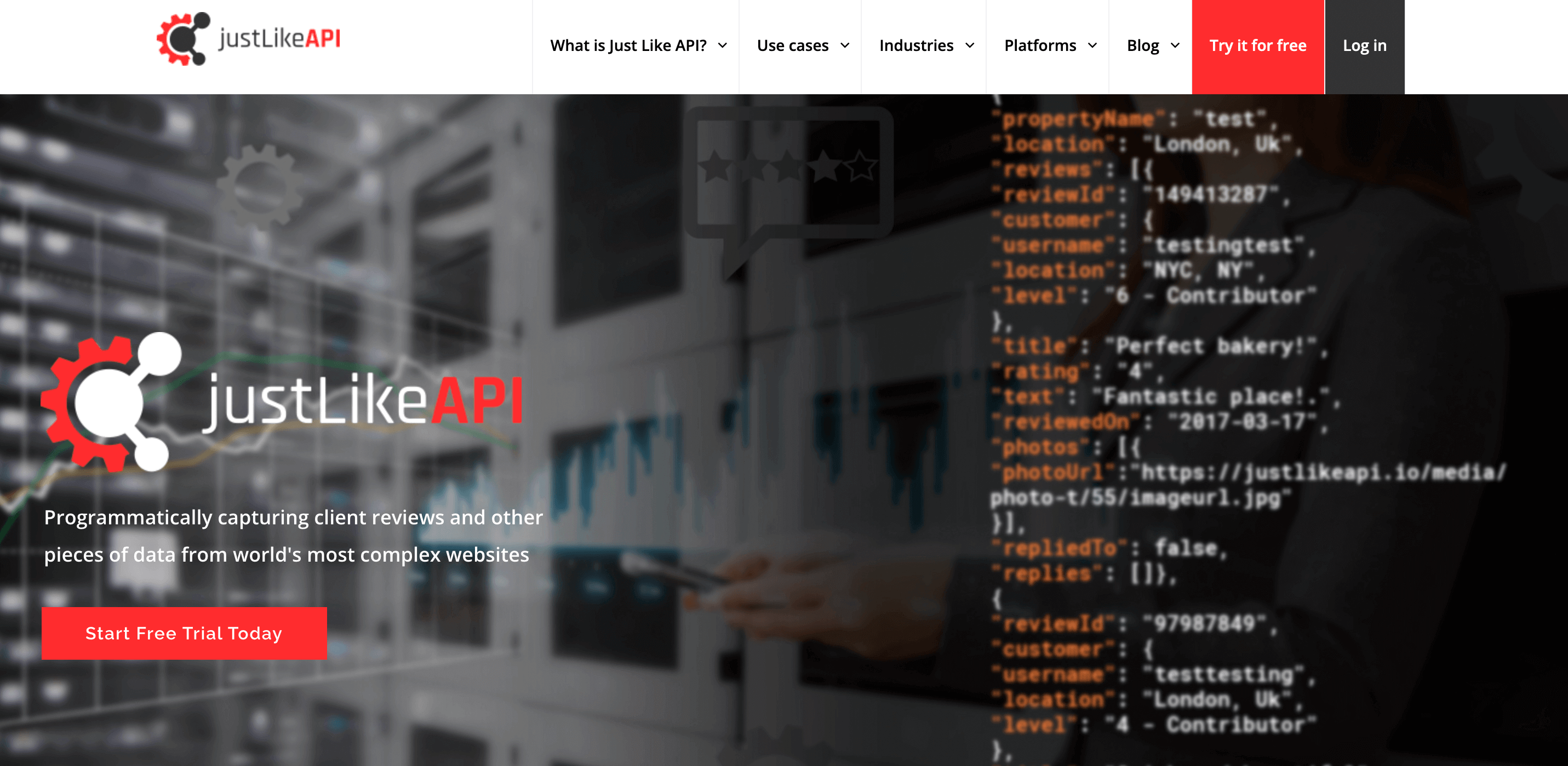 JustLikeAPI is an advanced web scraping solution for extracting client reviews from the most technically complicated websites. Their fast and effective API services allow access, monitoring, analysis, as well as response to reviews and other data-related accounts across dozens of platforms from a single place. 
Supported in English, French, Dutch, Italian, Spanish, Serbian, Turkish, and Russian languages, JustLikeAPI provides instant access to the website content, avoiding CAPTCHAs, IP bans, or other blocking methods.
JustLikeAPI saves customers a significant amount of time and money as they don't have to deal with hundreds of different review websites. Their greatest advantage compared to competitors is a simple and lightweight application that can be used to aggregate vast and complex volumes of review-related data for individuals and businesses.
Working with more than 45 platforms, the company provides web scraping solutions for Art & Culture, Business directories, Consumer Electronics, Food, Home Improvement, Hospitality, Legal Services, Medical, and Review Aggregators industries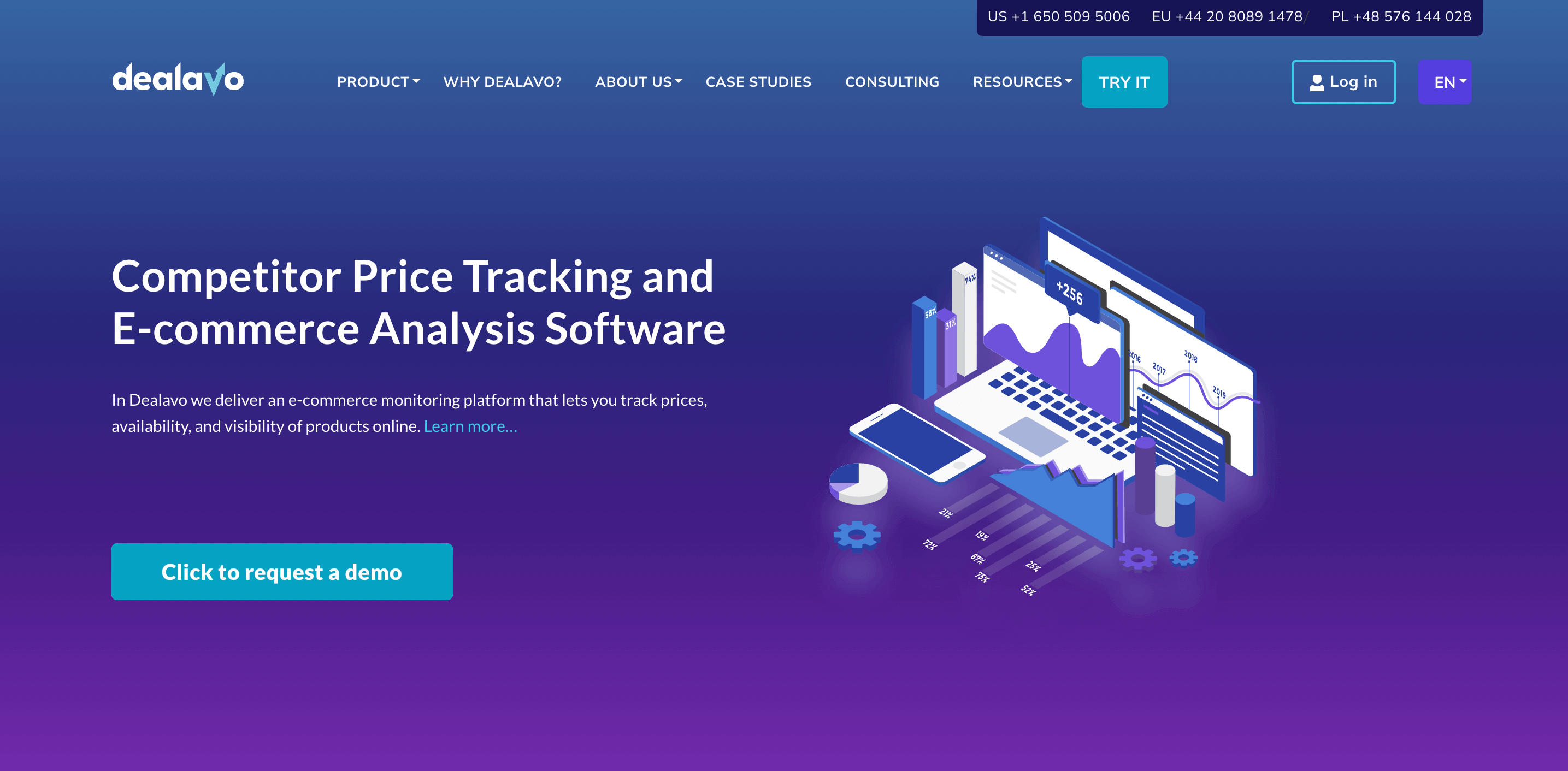 Dealavo is a dedicated software solution for eCommerce businesses providing competitor price monitoring, promotion tracking tools, as well as advanced price automation (Dynamic Pricing), and web scraping. By using Machine Learning algorithms, the Dealavo app ensures high-quality data. Users can also keep track of market changes thanks to customized e-mail alerts.
The Dealavo app allows retailers to monitor numerous marketplaces and websites and adjust their prices to the current market situation according to the prior pricing rules. Having customer success representatives and consultants on board, Dealavo offers professional consulting services for new and ongoing customers and provides custom integrations by request.
Monitoring almost 3,000 e-shops with over half a billion product offers in 32 markets, this software provides the ultimate insights to help you make winning eCommerce decisions. World leaders such as Canon, Henkel, Feedo, DeLonghi, X-kom, and Schafer strongly rely on the robust Dealavo's analytics system.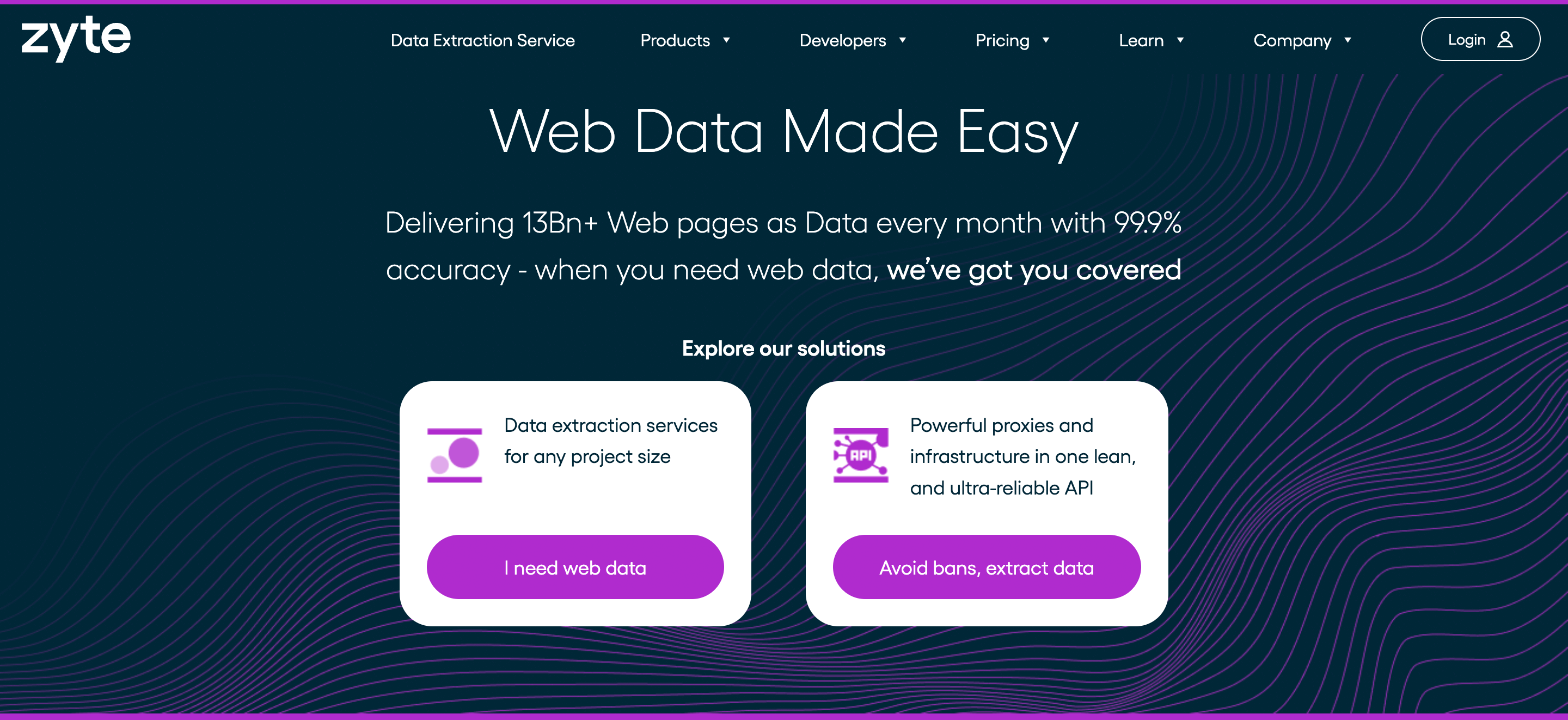 Zyte is a game-changing web scrapping company tool, for the last 12 years, has helped businesses remove barriers and access valuable data quickly and easily. Being an open-minded, customer-centric, team-player company, Zyte has more than 260 employees on board to help clients in over 30 countries. 
From data extraction services for any project size to smart proxy management — the agency can help you make complex solutions simple and 99.9% reliable. Working with GDPR and CCPA compliance, Zyte ensures the full accuracy of its services. Throughout its experience, the company has helped unlock 13BBn web pages monthly for clients like P&G, Mercado Libre, Warner Music, Group, and Allegis Global Solutions.
Pricing:
Standard

: from $450/month. Includes standardized data schema, predefined crawl frequency, data delivered to Amazon S3 bucket in JSON format, post-processing available as an upgrade, and standard service levels.

Custom:

from $1,000/month. Includes bespoke data schema, a range of output formats & cloud delivery options, enterprise-level SLA, flexible and scalable solutions, and control of your own crawls.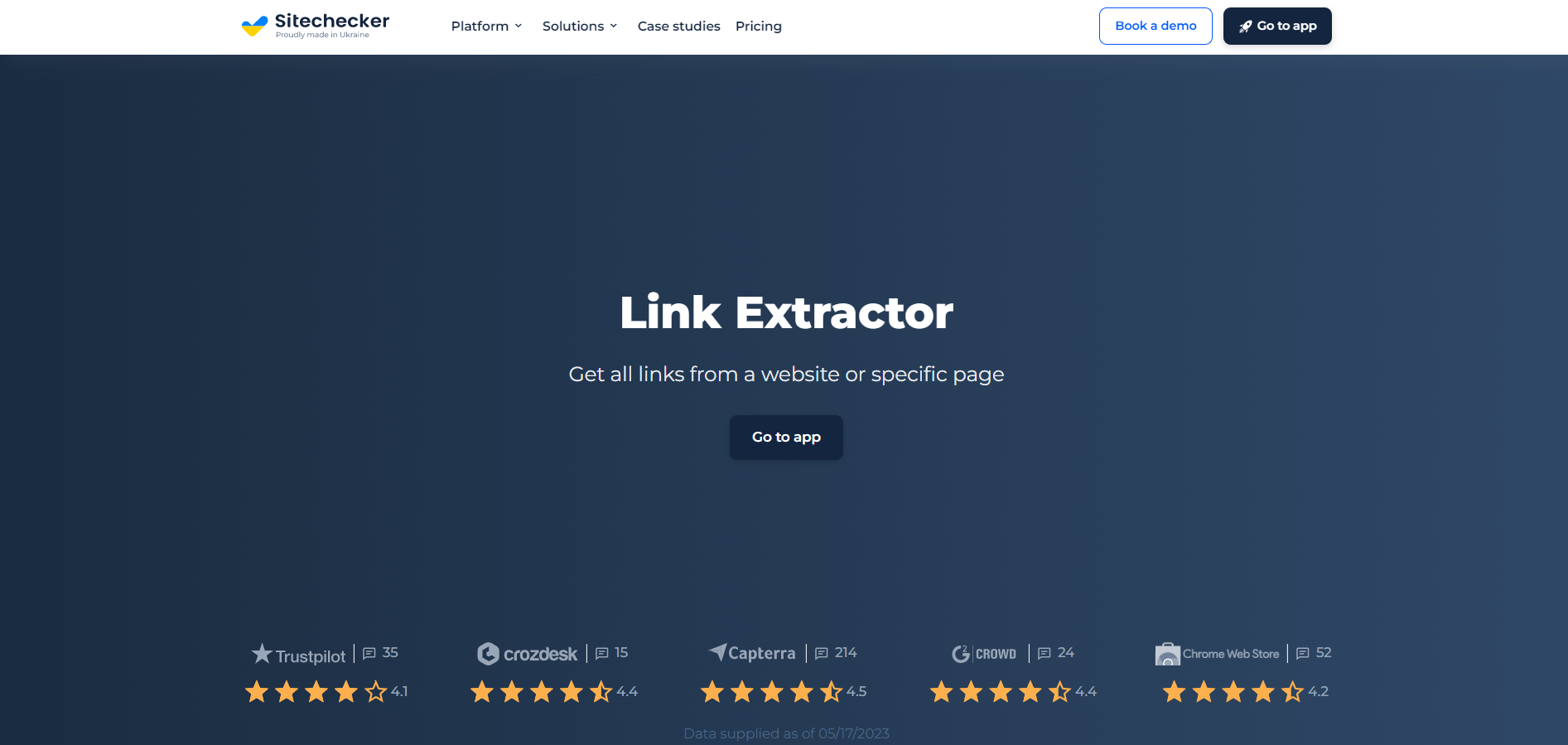 Link Extractor tool by Sitechecker is designed for efficient web scraping. It provides users with the ability to extract and analyze links from web pages. By inputting a website's URL, users can generate a comprehensive list of links, including internal and external ones, and obtain additional information such as anchor text and rel attributes. This allows for in-depth analysis and data extraction to support various web scraping tasks.
This tool can be used for a variety of web scraping purposes. With its ability to extract links from web pages, users can gather data on external websites, perform competitive research, or analyze internal linking structures. By specifying the target URL and setting any necessary filters or options, users can tailor the extraction process to their specific needs. The extracted links can then be exported for further processing or integration into other tools or workflows.
Link Extractor tool is designed with user-friendliness in mind, making it easy to use for web scraping tasks. The intuitive interface allows users to input the desired website URL and initiate the link extraction process with just a few clicks. The extracted links are presented in a structured format, facilitating analysis and further manipulation. With its simplicity and efficiency, the Link Extractor tool enables users, regardless of their technical expertise, to perform web scraping tasks effectively and efficiently.
Pricing:
Sitechecker offers you 4 levels of paid subscriptions from $39 to $249. The price for the Enterprise subscription level is formed individually for the user's needs.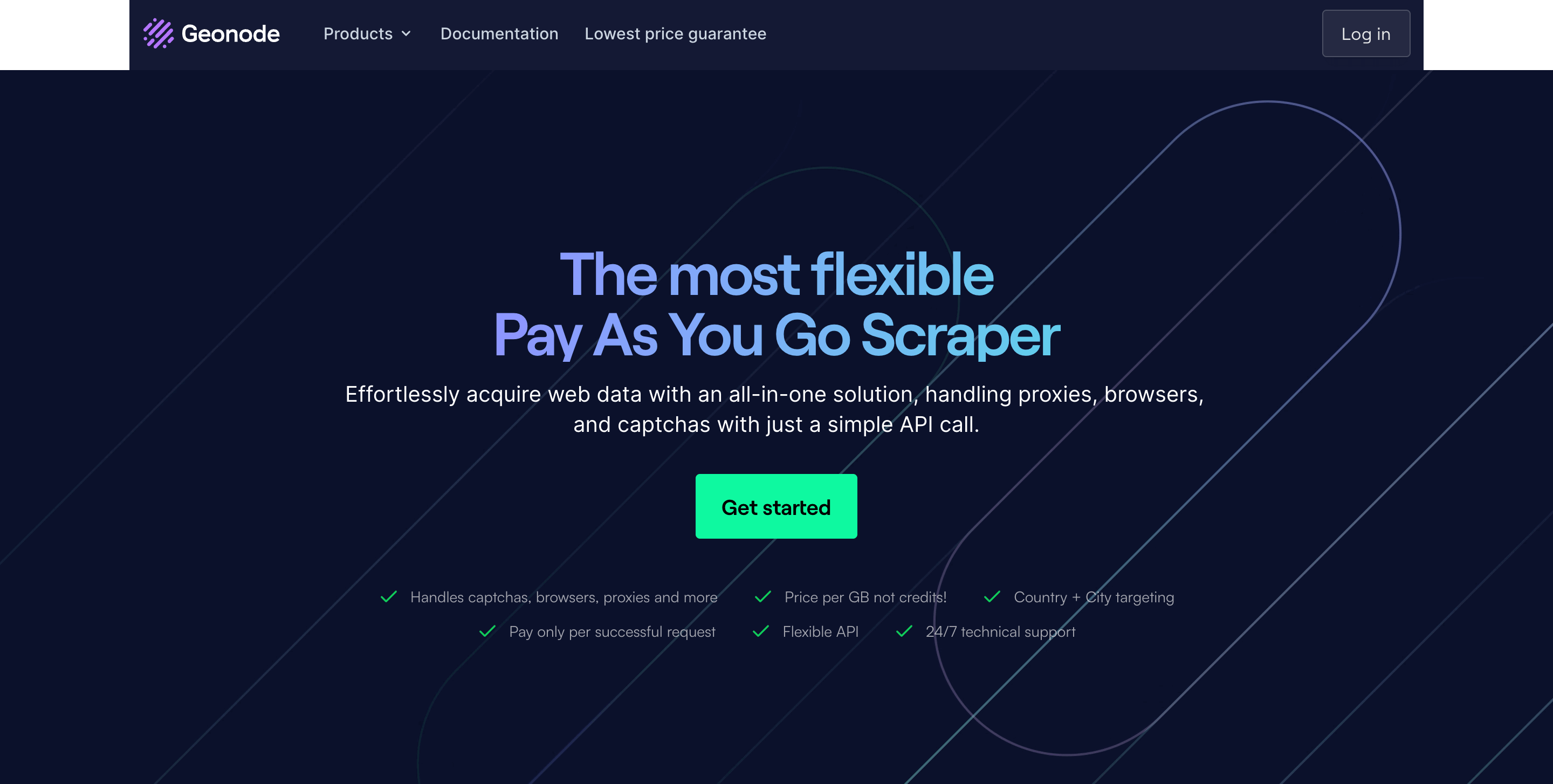 Geonode's Scraper API is one of the best and most flexible web scrapers in the market. It's the ultimate all-in-one solution for handling proxies, browsers, and CAPTCHAS since it does all the work for you. Geonode's Scraper is also designed with simplicity in mind, making it easy for anyone to use. 
The Geonode Scraper has many features, including rotating proxies, geotargeting, javascript rendering, debug mode, a custom JS snippet execution, and many more. The Geonode Scraper is also built with the latest technology, which means you'll get lightning-fast scraping speeds and accurate data every time.

What sets the Geonode Scraper apart is its unique pricing model. With it, you only pay for what you scrape, which means you can easily manage your budget and avoid overspending. Plus, the Geonode Scraper allows you to preview the data before you scrape it, so you can ensure you're only getting the data you need.

Pricing:

Geonode Scraper offers a variety of pricing models that fit individuals to enterprises. Additionally, you're not priced per credit, but per the amount of bandwidth you use. Here are the different pricing models of Geonode Scraper: 
Pay-As-You-Go

. 7$ per 1 GB with 50 concurrent requests. 

Starter

. 50$ per month with 10 GB and 100 concurrent requests. You pay 5$ per additional GB you use.

Medium

.  200$ per month with 50 GB and 250 concurrent requests. You pay 4$ per additional GB you use.

Enterprise

.  1500$ per month with 500 GB and 500 concurrent requests. You pay 3$ per additional GB you use.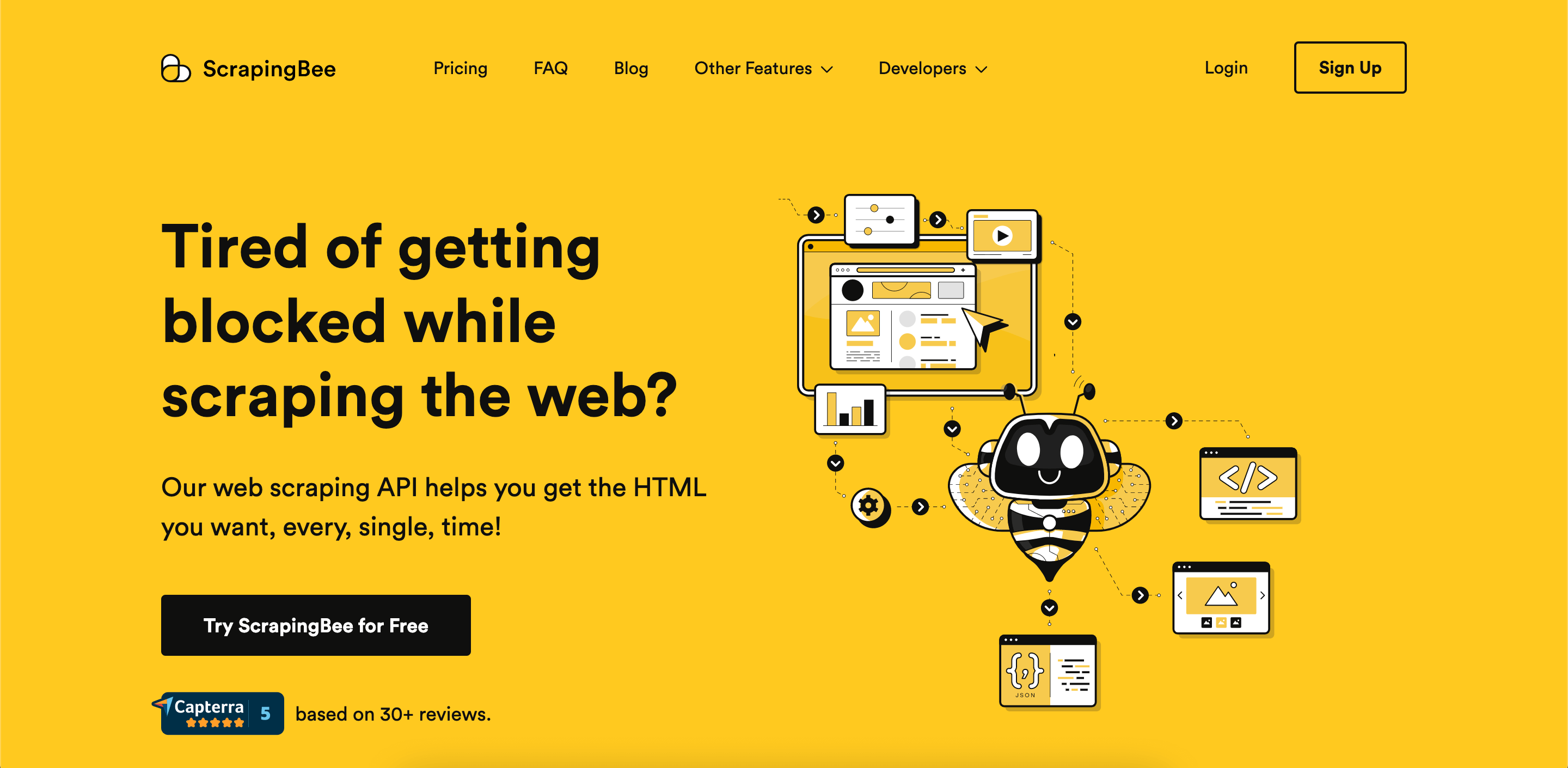 ScrapingBee is one of the best tools for web scraping that handles headless browsers, rotates proxies, and helps you get raw HTML code without getting blocked. In addition, it's a one-of-kind solution for scraping Amazon and supports Google search API.
ScrapingBee supports various platforms like Google Sheets, Google Docs, Gmail, Dropbox, Airtable, and many more. You can import results in JSON, XML, or CSV format. 
Pricing:
ScrapingBee offers 1000 free API credits to get started. Afterward, the following plans are available:
Freelance:

This plan costs $49/month and provides 100,000 API credits and one concurrent request along with JS Rendering, Geotargeting, and Google search API.

Startup:

It costs $99/month and offers 1,000,000 API credits and 10 concurrent requests, and priority email support. 

Business:

The plan offers 2,500,000 API credits and 40 concurrent requests along with a dedicated account manager and costs $249/month.

Enterprise:

If your needs are even higher, contact their sales department to get a custom quote.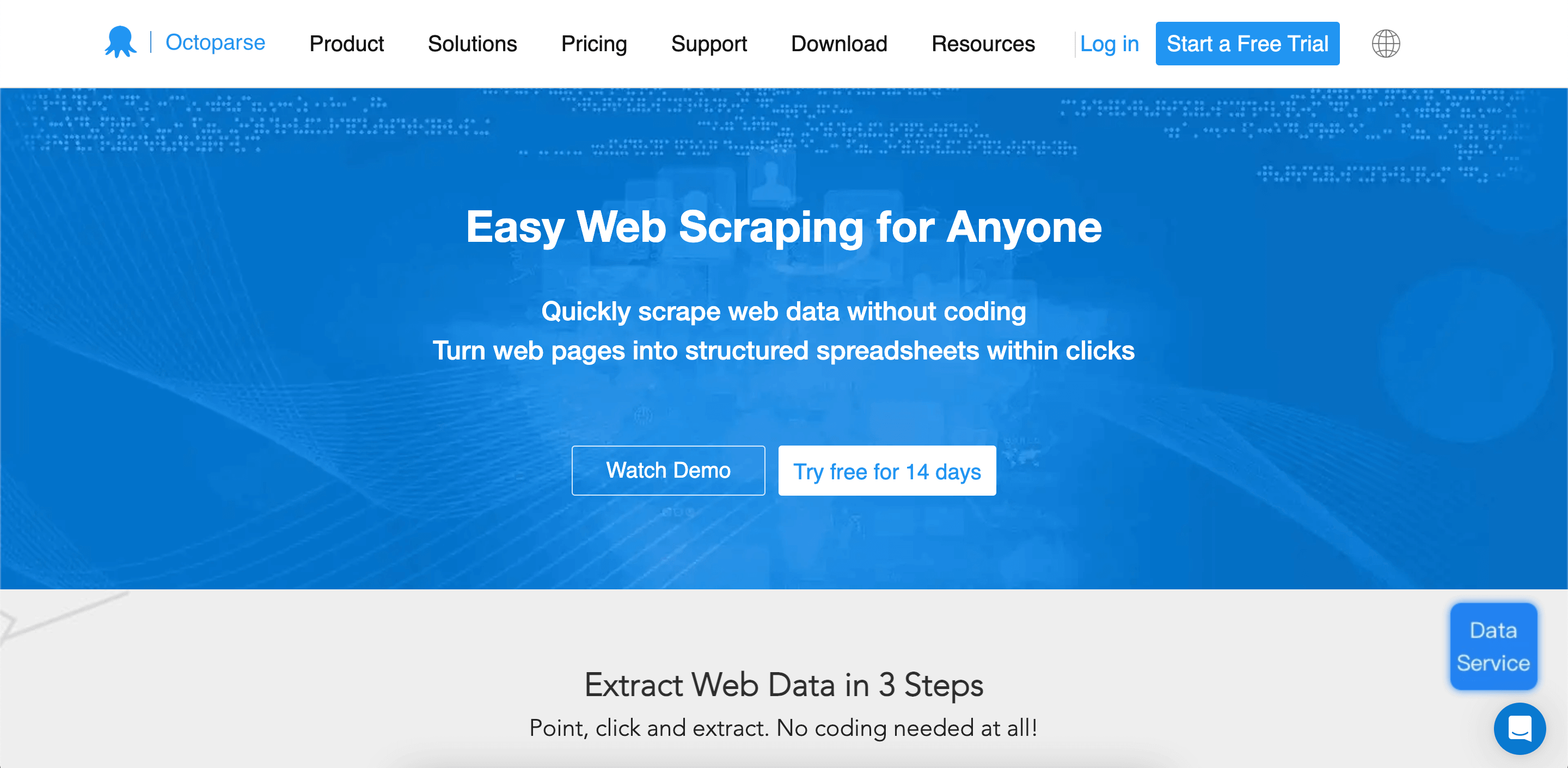 OctoParse is a well-known no-code data scraping website. It allows you to select data of your choice by loading the entire HTML code. OctoParse lets you extract data from any website, whether built using JavaScript, AJAX, or dynamic. Moreover, you can extract the data at a fixed time with its scheduled extraction. 
Other features like Automatic IP Rotation, Cloud extraction, and Database extraction can help you in lead generation, price monitoring, marketing, and research.
Pricing:
OctoParse offers a 14-day free trial which provides 10 tasks capacity. The other plans are the following:
Standard:

It costs $89/month and provides 100 tasks with up to 6 concurrent cloud processes.

Professional:

It costs $249/month and provides 250 tasks with up to 20 concurrent cloud processes.

Enterprise:

It provides all the professional features and is mainly designed for big businesses. Contact their sales team to know more.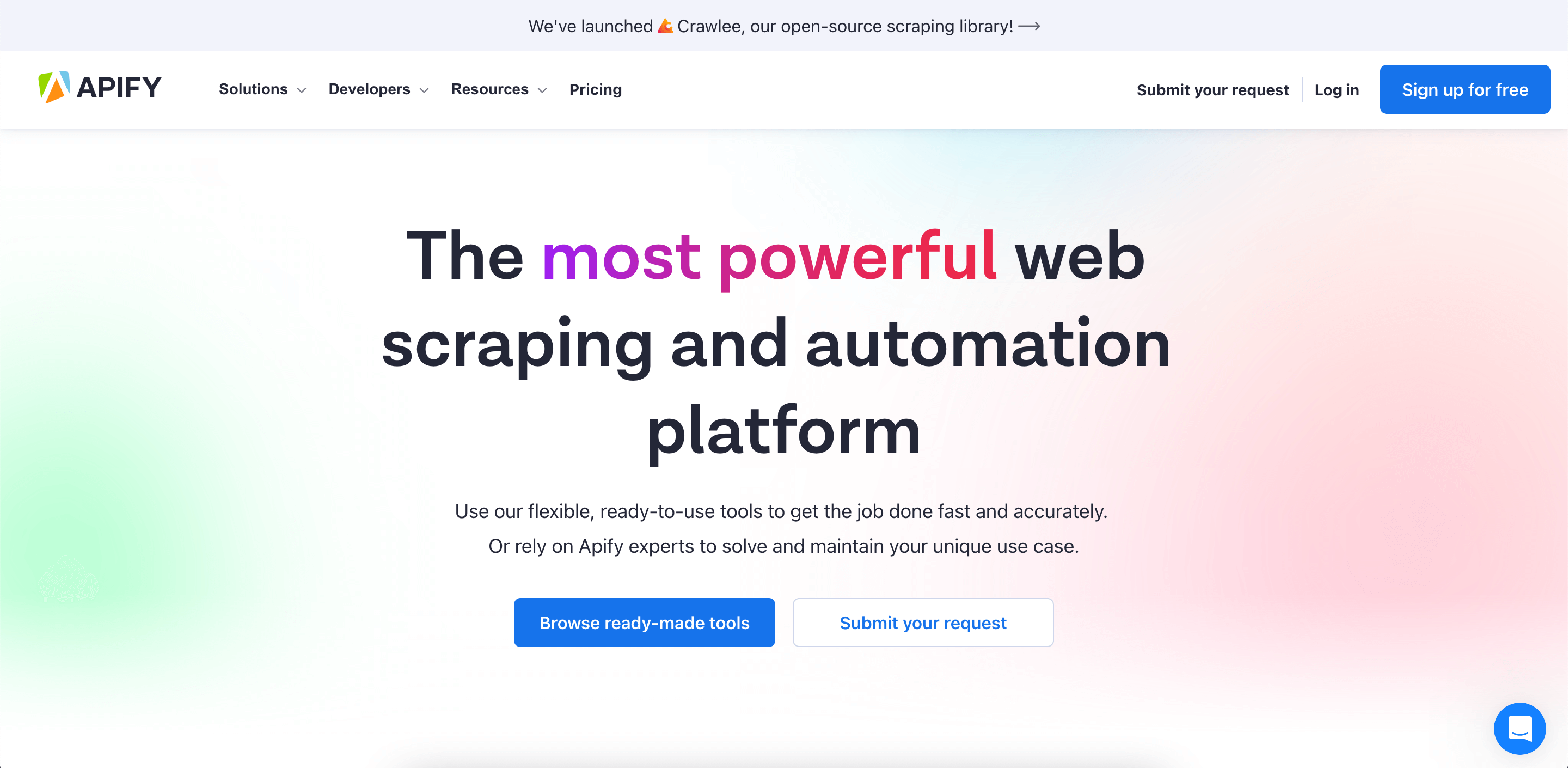 Apify is one of the most powerful web scraping and automation platforms for data extraction. It offers ready-made scraping tools for websites like Instagram, Facebook, Amazon, schema.org, and Twitter. formats. The platform supports JS Rendering, CAPTCHA Solving, and IP Rotation to prevent you from getting blocked.
In addition, Apify provides a workspace for developers who want to create APIs for data extraction. The extracted data can be imported in CSV, JSON, Excel, or XML 
Pricing:
Free:

This plan provides free access with a $5 platform credit and 20 shared data center proxies.

Personal: 

This plan costs $49/month and comes with $49 platform credits, 30 shared data center proxies, 32GB max RAM, and much more.

Team:

This plan costs $499/month and provides 100 shared data center proxies, 128GB max actor RAM, 21-day retention, and other features.

Enterprise:

This plan offers unlimited platform credits, unlimited data center proxies, and numerous other benefits.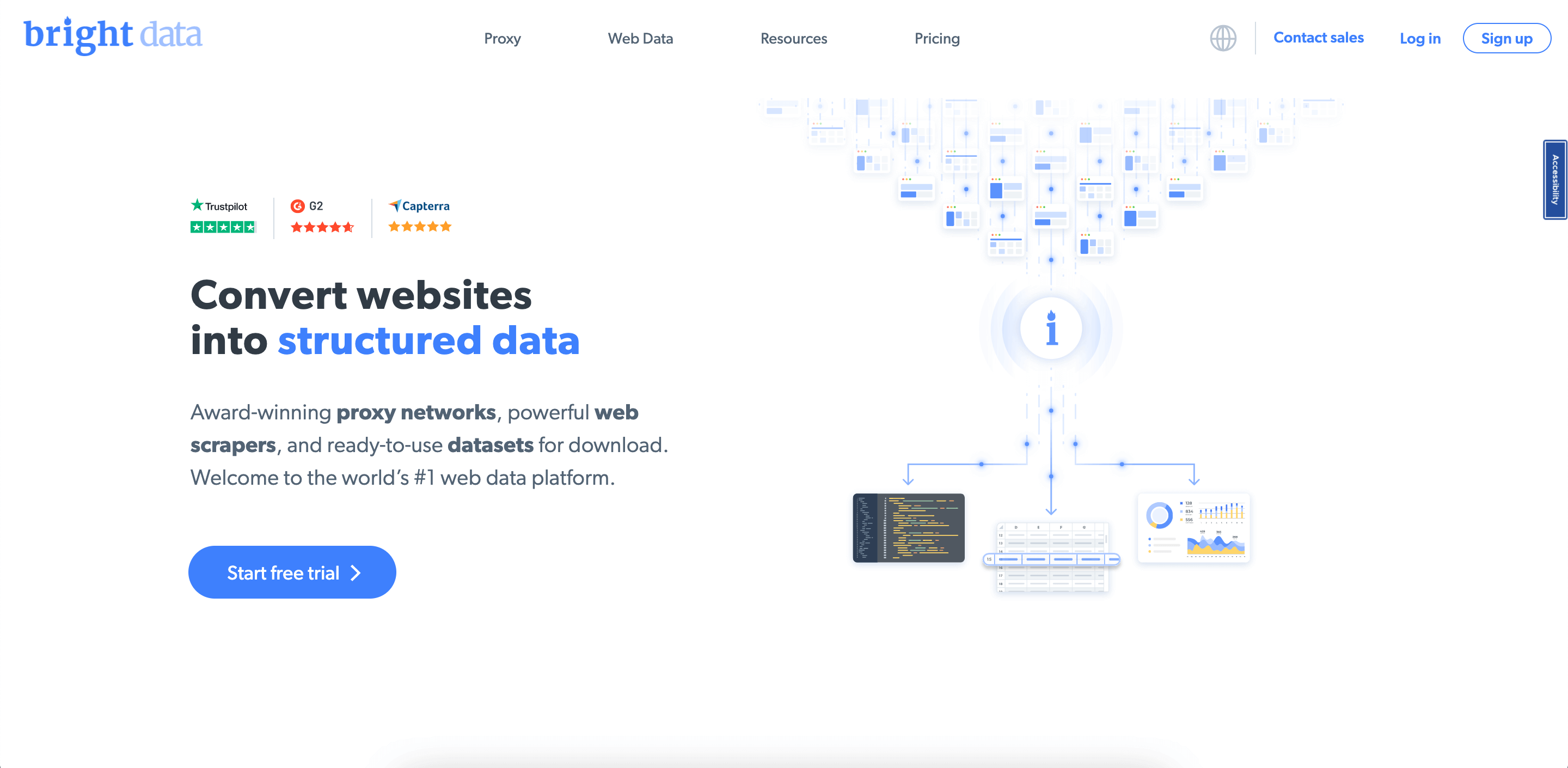 Bright Data is one of the best tools for data extraction available in the market, as it provides no-code solutions and integrated methods to extract data efficiently. 
The tool supports IP Rotation, JS Rendering, CAPTCHA solving, and Geolocating. You can download the exported files in CSV, HTML, JSON, or API formats.
Pricing:
They offer a flexible pricing model starting from $500/month.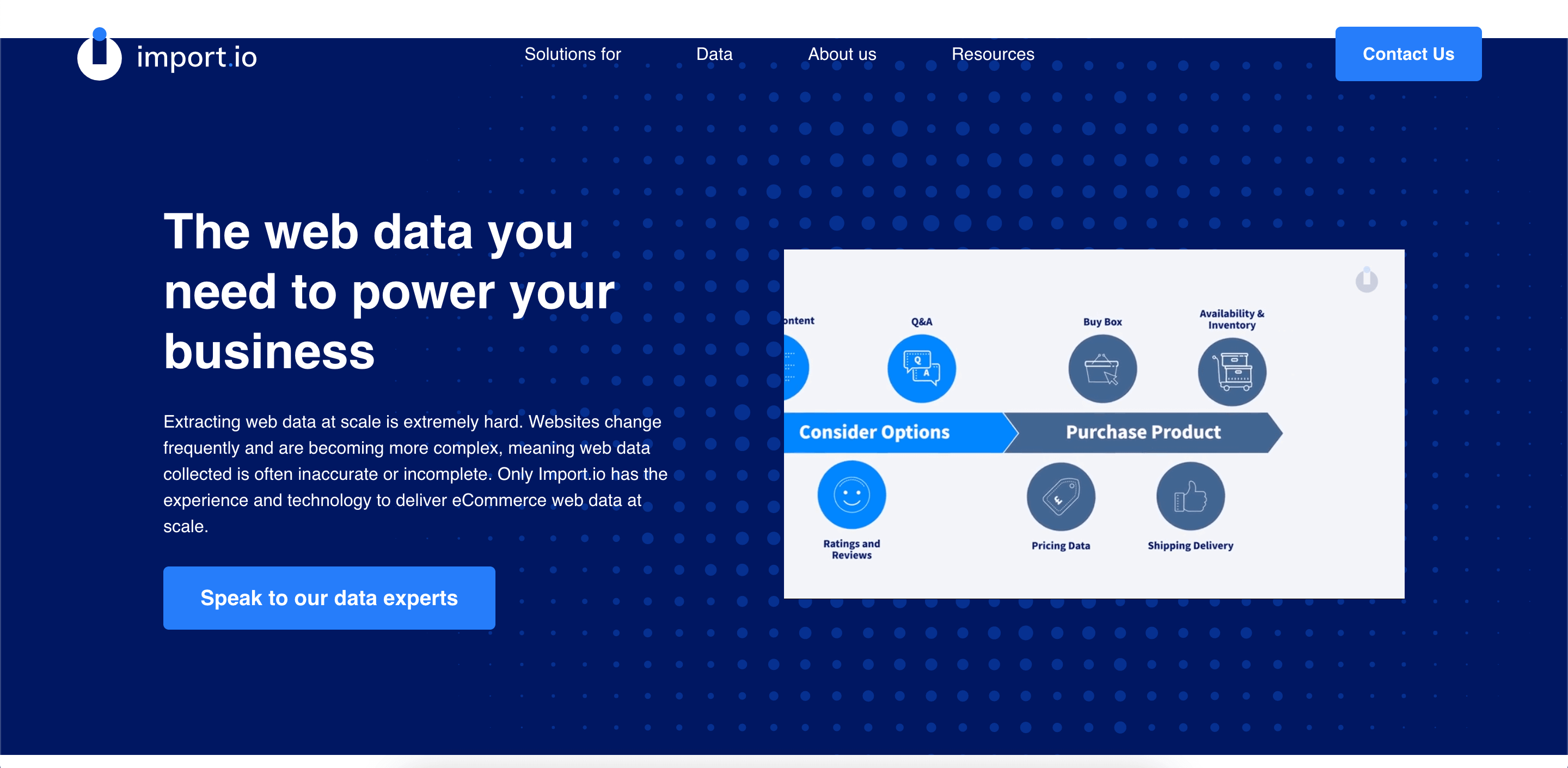 Import.io helps you create your database by extracting the data from different websites and exporting them into a CSV file. Also, it allows users to make over 1000s of APIs based on their needs. You can import your file in JSON, CSV, and TSV formats.
What's more, Import.io offers the feature to schedule the data extraction process and helps automate Webflow. 
Some of their notable clients are Volvo, Unilever, Dow Jones, and Salsify.
Pricing:
You need to book a free consultation with their representatives to learn more about their pricing structure.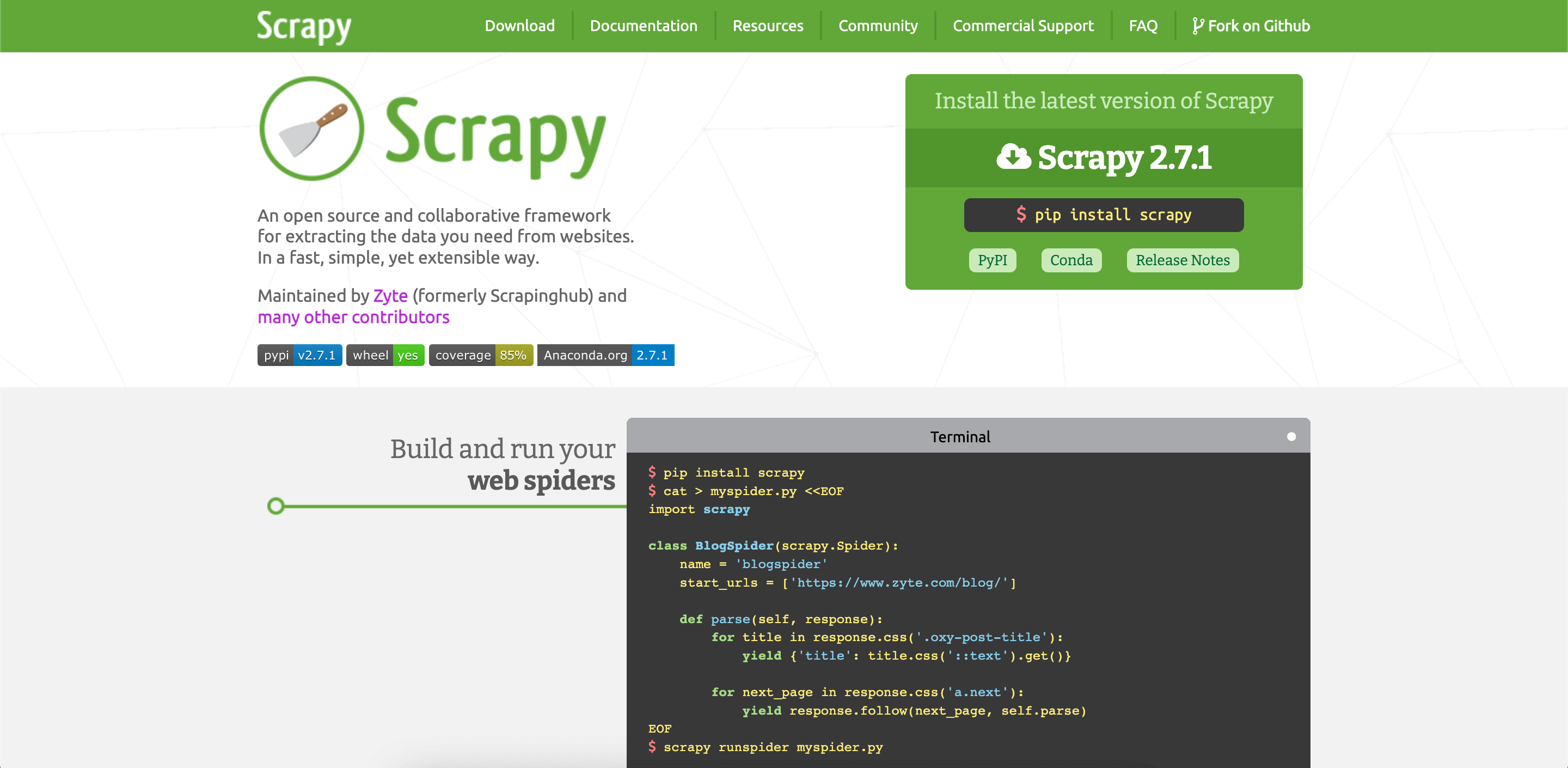 Scrapy is an open-source collaborative framework for extracting the desired data from the web. It is managed by Zyte (formerly Scrapinghub) and used by Python developers to build Web Crawlers. These web crawlers are easily extensible, fast, and powerful.
So, if you have been looking for accessible data scraping tools, Scrapy is one among them.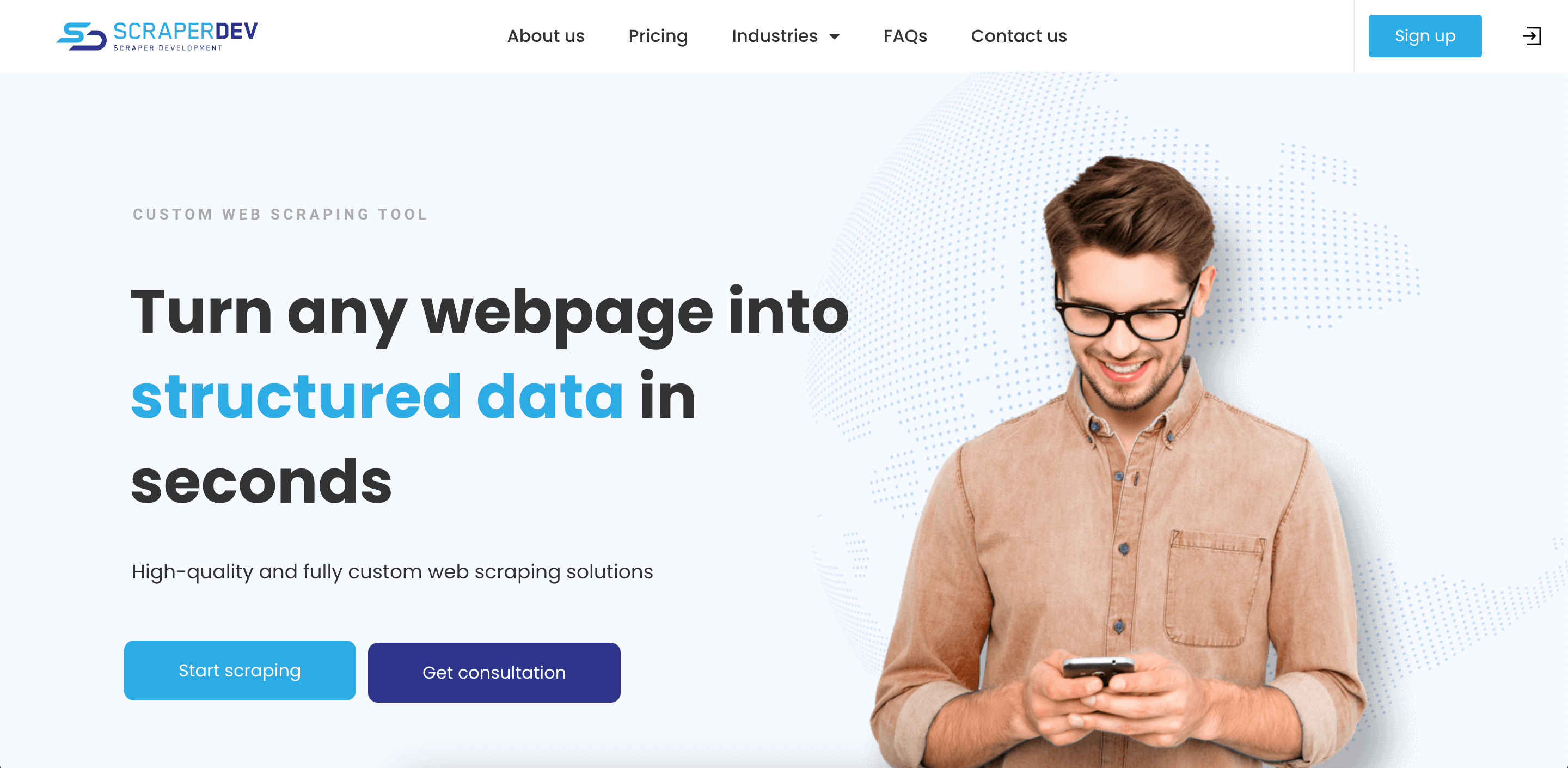 ScraperDevelopment is the leading data scraping solutions provider. Their robust mechanism lets you scrape through websites related to various industries – Real Estate, Healthcare, Finance & Insurance, IT & SaaS, and many more. 
ScraperDevelopment supports various platforms, including FTP, SFTP, AWS S3, Google Cloud Storage, and email. In addition, you can import the extracted data in formats such as CSV, JSON, JSONLines, and XML.
They also provide full customer support and hourly-daily-weekly-monthly support for the selected scraper. 
Pricing:
Monthly Subscription:

This plan costs $450/month and provides a subscription for regular updates, platform access, 24/7 support, and dedicated servers & proxies. You can get an additional 12% off if you pay it upfront for a year.

One-time Payment:

The plan costs $750/website, which provides single scraping with 1-time data extraction, 12 months of access to the program, and dedicated servers and proxies.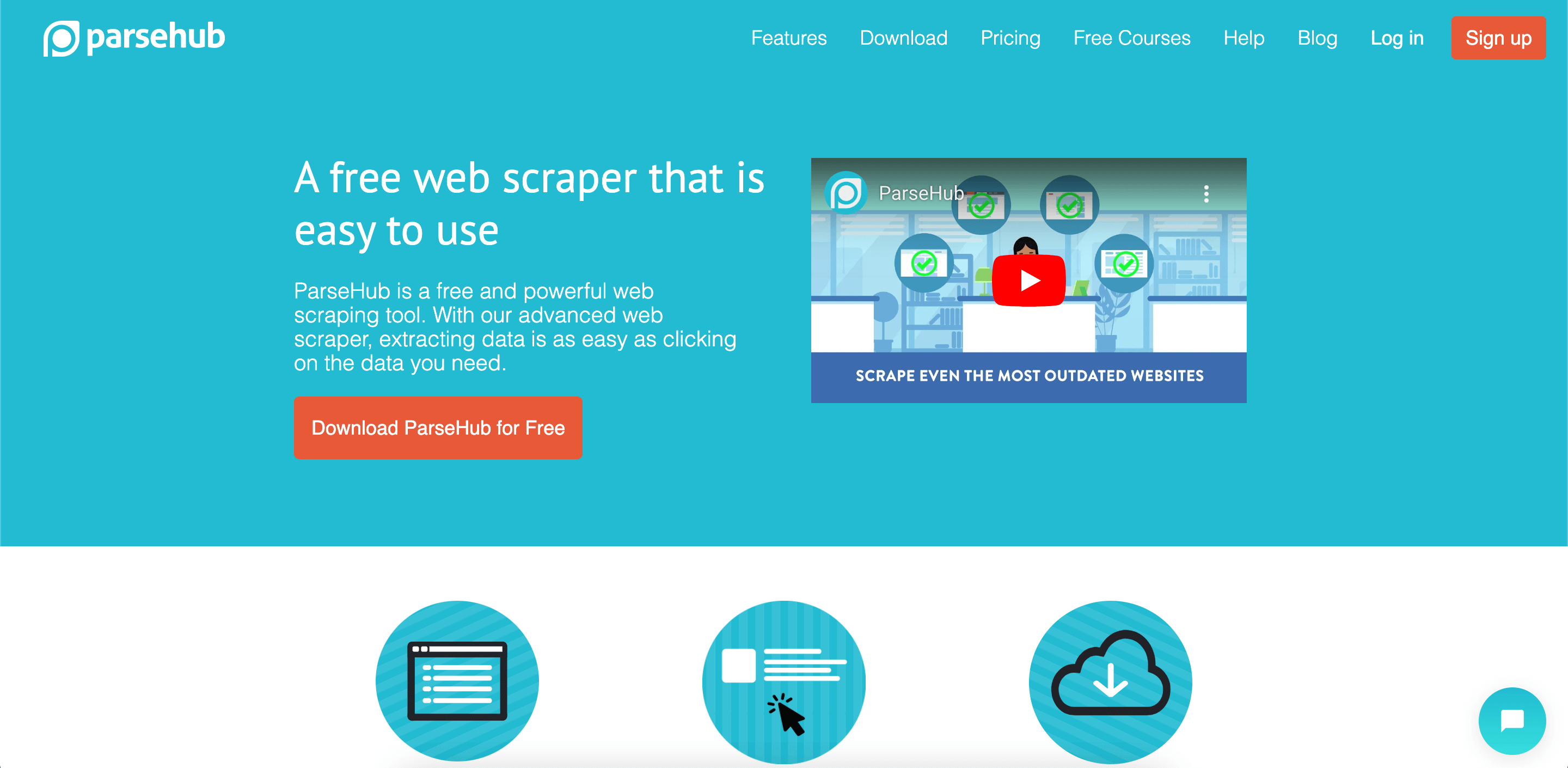 Consider using ParseHub if you're looking for an easy-to-use yet powerful scraping tool. It's a no-code data scraper that lets you extract different types of data by simply selecting it. After selection, you can import the result into Google Sheets, Excel, and Tableau in CSV or JSON format.
Pricing:
ParseHub is free, but you can benefit from its advanced functionalities by going with one of the paid plans:
Standard:

It costs $189/month and allows you to get 200 pages of data in only 10 minutes, 10,000 pages per run, 20 private projects, standard support, data retention for 14 days, the possibility to save images & files to DropBox or S3, IP Rotation, and scheduling.

Professional:

It costs $599/month, and compared to the Standard plan, it extends the limits to 200 pages of data in under 2 minutes, unlimited pages per run, 120 private projects, data retention for 30 days, and provides priority support.

ParseHub Plus:

This custom package can be requested by directly contacting their team and offers premium service with priority support.
Conclusion
Web scraping tools offer many beneficial data extraction solutions, such as extraction or scraping, crawling, sorting and cleaning, and storing data. These tools have made the data extraction process lightning-fast and easy, helping small businesses and enterprises make data-driven decisions more efficiently. 
A good data scraper is easy-to-use and able to extract the required data coping with all the anti-scraping mechanisms of the websites. Therefore, choosing a proven and user-friendly web scraping tool is vital to make data extraction smooth and efficient. We hope this list helps you find the most suitable web scraper for your business.
If you want us to feature your data extraction solution in this list, drop us an email, and after a review, we'll decide whether it's an appropriate addition.