Gartner has estimated that by 2024, around 65% of application development activity will be based on a low-code approach.
Low-code and no-code tools have entirely altered our perception of application development. They have not just made the process expeditious but have also widened the scope for developers to innovate. 
Low-code platforms allow users to develop high-performance applications or websites with the help of a graphical user interface and a combination of manual coding. Low-code technologies are advantageous over the no-code ones as they are more scalable, customizable, and reliable because they let us look into the scripting and modify the required part. Therefore, having a basic understanding of programming is necessary. 
When the application requires more than basic scripting knowledge and complex features such as database integration, a payments system, API integrations, or other advanced features, you might need the help of low-code experts.
These professionals possess deep knowledge of low-code application development specifics. When working with them, you can expect to get your product launched in weeks, not months. Therefore, many startups have started looking for low-code development companies to rapidly turn their ideas into full-fledged products to stay ahead of the competition.
To help you find the most suitable partner, we have created a list of the top low-code agencies providing best-in-class low-code app development services catering to all sorts of your needs without disturbing your budget.  
The Best Low-Code Agencies To Work With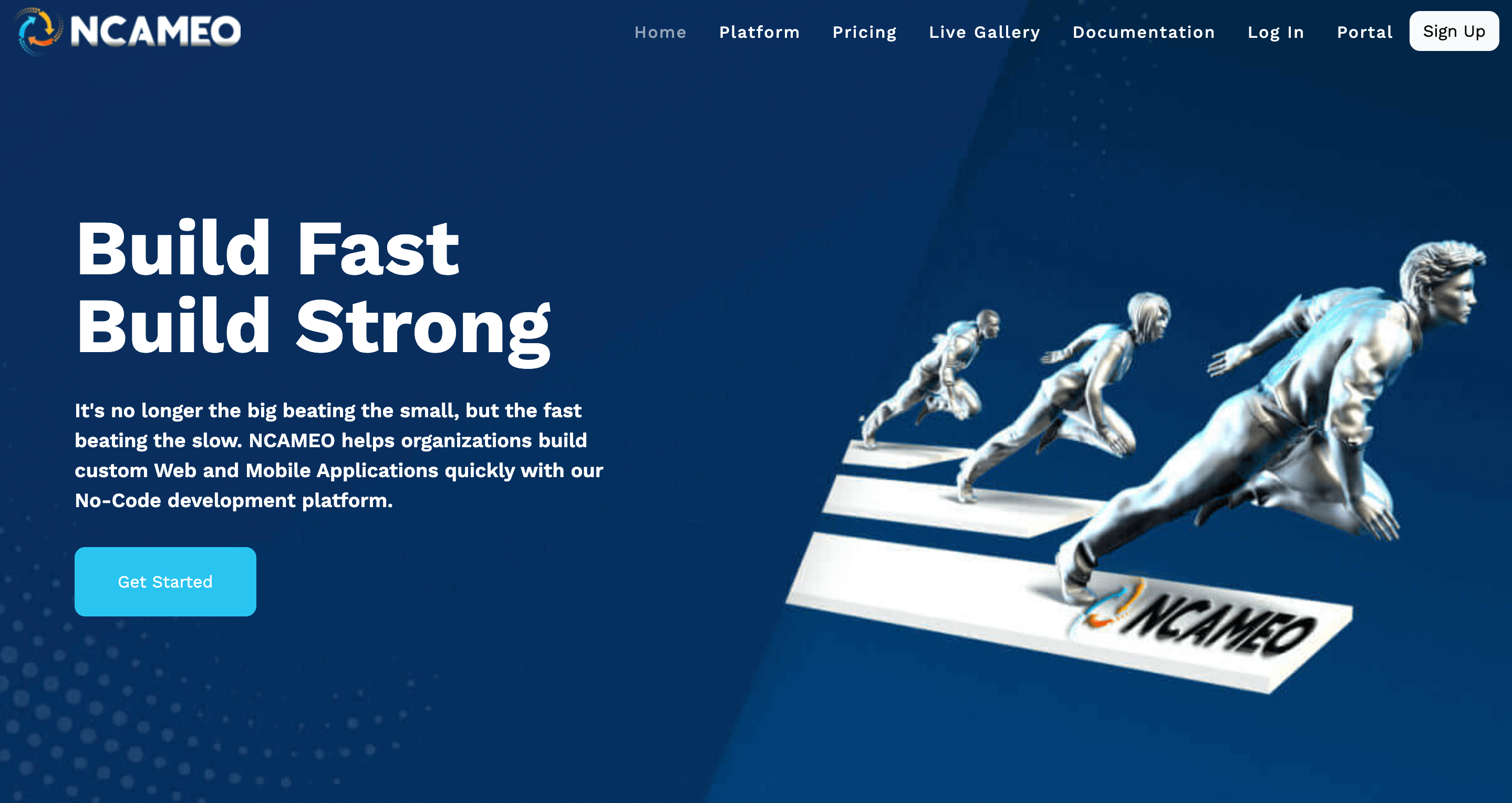 NCAMEO is a next-gen digital company assisting with no-code and low-code development to accelerate the business's digital transformation. Their top-notch developers help you create enterprise-grade and fully customized web and mobile applications faster, at a more budget-friendly alternative, and with fewer technical resources. All this through the power of a cutting-edge no-code platform.
The agency mainly serves the enterprise applications and infrastructure markets. They also compete in the broad market categories of technology, business, software, and SaaS.
NCAMEO significantly simplify mobile and web development with their low-code approach, offering hundreds of ready-made templates and forms on a single platform.
Pricing includes a free plan and a pro-version at $49 per month, as well as custom expert solutions and a dedicated plan allowing users to host the NCAMEO platform in their own cloud.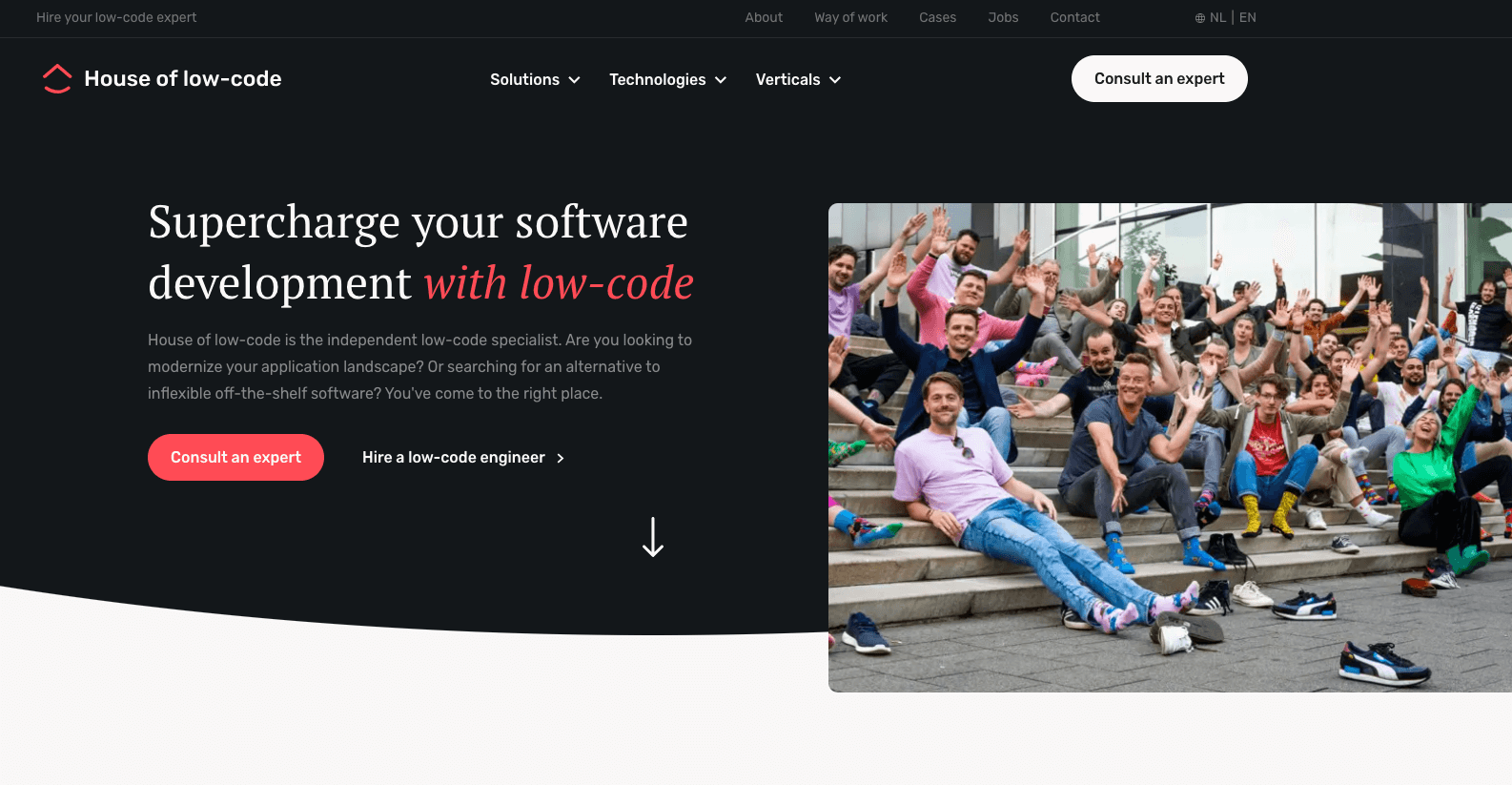 House of low-code is a young and dynamic international software company with offices in the Netherlands and Serbia. They're a close-knit team of over 80 IT professionals, ranging from low-code developers to business analysts, all united by one common mission: solving complex IT challenges.
Are you looking to modernize your application landscape? Or searching for an alternative to inflexible off-the-shelf software? House of low-code is the right place to come. They develop user-friendly applications that truly propel the organization forward using future-proof technology: low-code.
They don't believe in a one-size-fits-all approach. Every organization has unique processes that don't fit the mold of standard software. That's why they build custom business software that perfectly aligns with specific business needs. Low-code technologies make this process much faster, helping organizations work smarter and more effectively.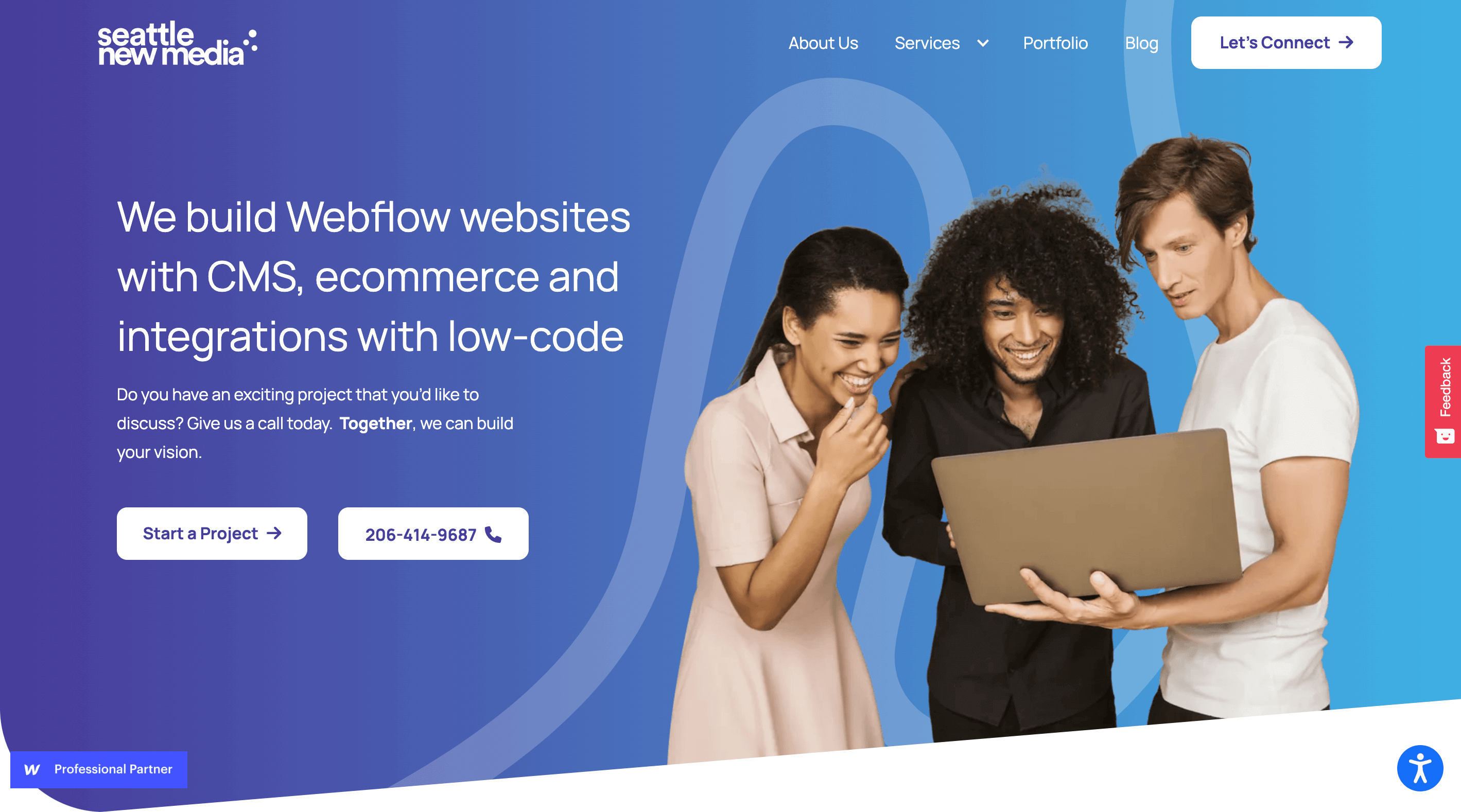 Seattle New Media is a top low-code development company specializing in building Webflow websites with CMS, Ecommerce, and Integration using low-code technology. It's among the most-reputed low-code agencies in Seattle and provides world-class web development and design services that empower global brands.
They mainly use no-code platforms such as Webflow, Airtable, Xano, Bubble, and Make. In addition, JavaScript, PHP, and AJAX are crucial elements of their low-code technology stack, which they use for scripting and programming purposes. 
During their 7 years of establishment, they have served more than 250 clients and delivered more than 500 projects.
The industries that Seattle New Media primarily serves are Ecommerce, Real estate, IT, Medical, and other microservice sectors. They have helped many growing startups, B2B SaaS businesses, and enterprises achieve new heights by building apps 10x faster and cutting development costs.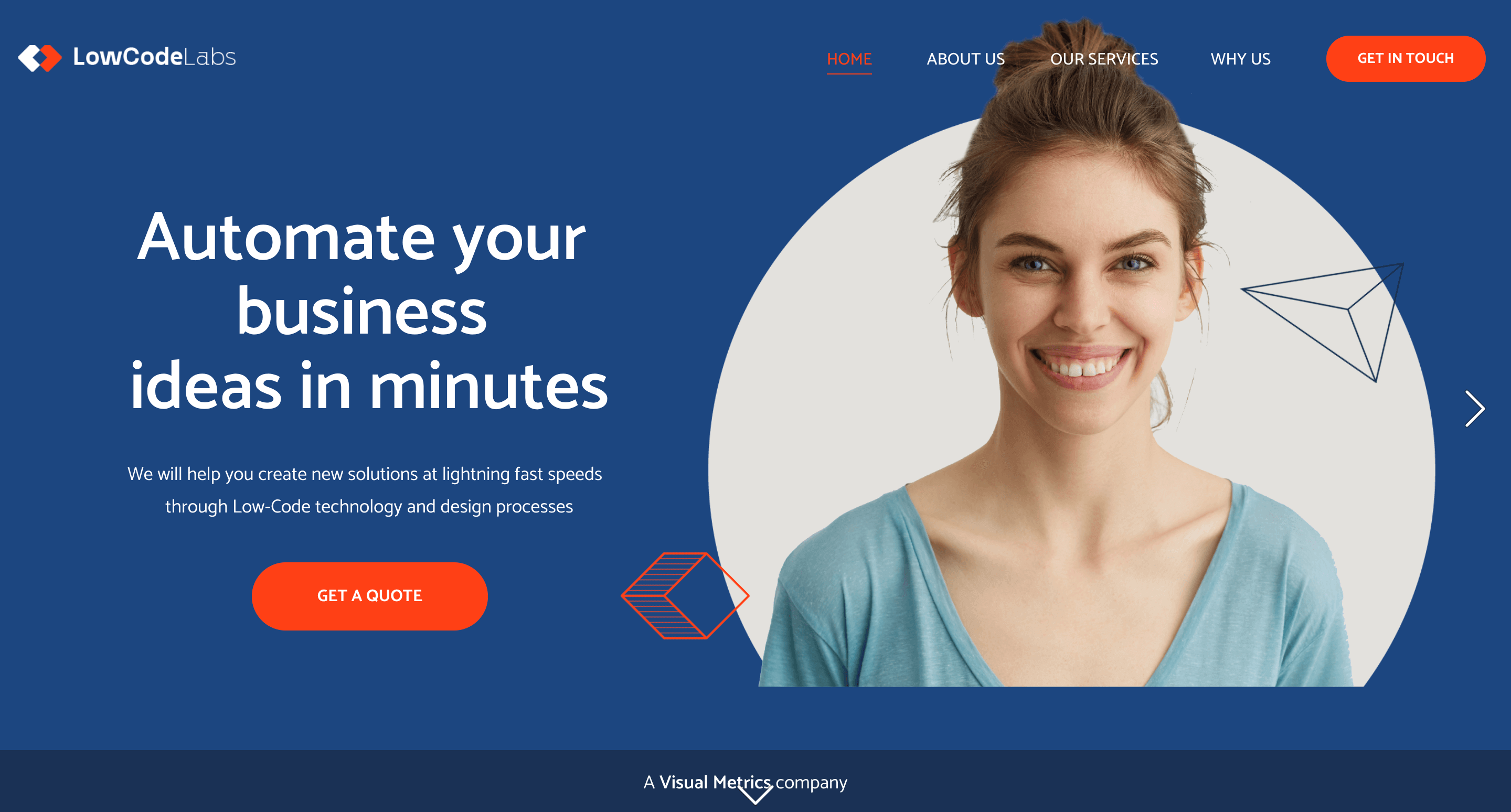 If you are looking for a low-code agency that can help you turn your idea into reality within days and not months, LowCode Labs is the answer for you. This agency is based in Australia and has been delivering top-grade low-code services using the Creatio platform, leveraging its digital sales and marketing transformation expertise. 
The experts at LowCode Labs have a combined experience of more than 50 years and can serve you in the fields of process automation/optimization, management consulting, and digital transformation. They also provide Creatio platform training to users, i.e., making your IT team low-code experts in themselves. 
Last but not least, with the help of Creatio, they provide REST API, OData Protocol, SOAP services, OAuth Authentication and LDAP Protocols to integrate with your applications.
Hexaware is a leading IT service provider offering no-code/low-code development services. They have partnered with some of the top low-code development platforms, such as Pega, OutSystems, Mendix, Appian, and Zoho Creator, to develop low-code applications and workflows quickly and efficiently. 
Their in-built Hexaware Automation Platform for Process Innovations (HAPPI) helps clients build a POC (Proof of Concept) for their use case at zero expense within 8 hours, helping businesses and startups build apps with low-code technologies. 
In addition, Hexaware provides an array of low-code/no-code services such as low-code consulting, low-code app development & rollouts, upgrades, integrations, functional validations, and value ASM (Application Support & Management).

Netguru is one of the fastest-growing digital consultancies in the EU, recognized by the Financial Times, Deloitte, and Forbes. Low-code development is a significant part of their vast list of services. At Netguru, they mainly work on Webflow and Bubble for no-code development and Mendix for low-code development services.
Their low-code development service and interactive UI designs provide you with applications that help your business soar high. With 14+ years of experience and over 900 experts on board, Netguru can serve all sorts of low-code needs. 
Netguru has gained expertise in Fintech, Healthcare, Retail, and Education industries.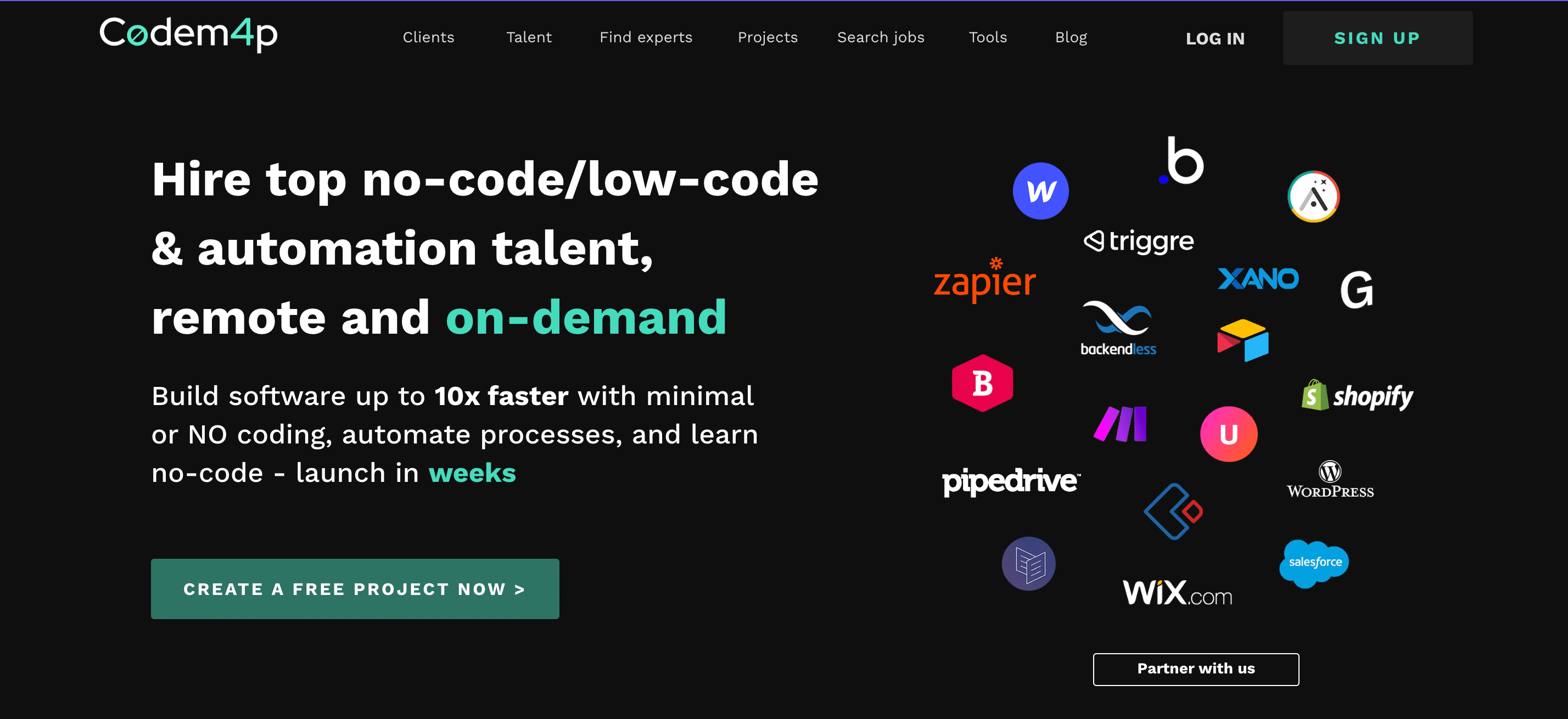 Codemap is a vetting platform that matches you with top-tier no-/low-code developers, entire teams, and product managers who can meet your varying needs and requirements. There are over 1000+ no-code/low-code experts available on their platform who can serve companies of all sizes, from startups to enterprises. 
The experts presented on Codemap possess expertise in various fields – frontend development, backend development, UI/UX design, API integrations, plugins, and many more. They have also partnered with famous no-code/low-code platforms such as Bubble, Backendless, Glide, Stacker, Adalo, FlutterFlow, Webcat, Bildr, Softr, Landbot, and Xano. 
So, if you have been looking for a reliable low-code development agency to build your application, website, or workflow automation, Codemap is the right place to start your journey.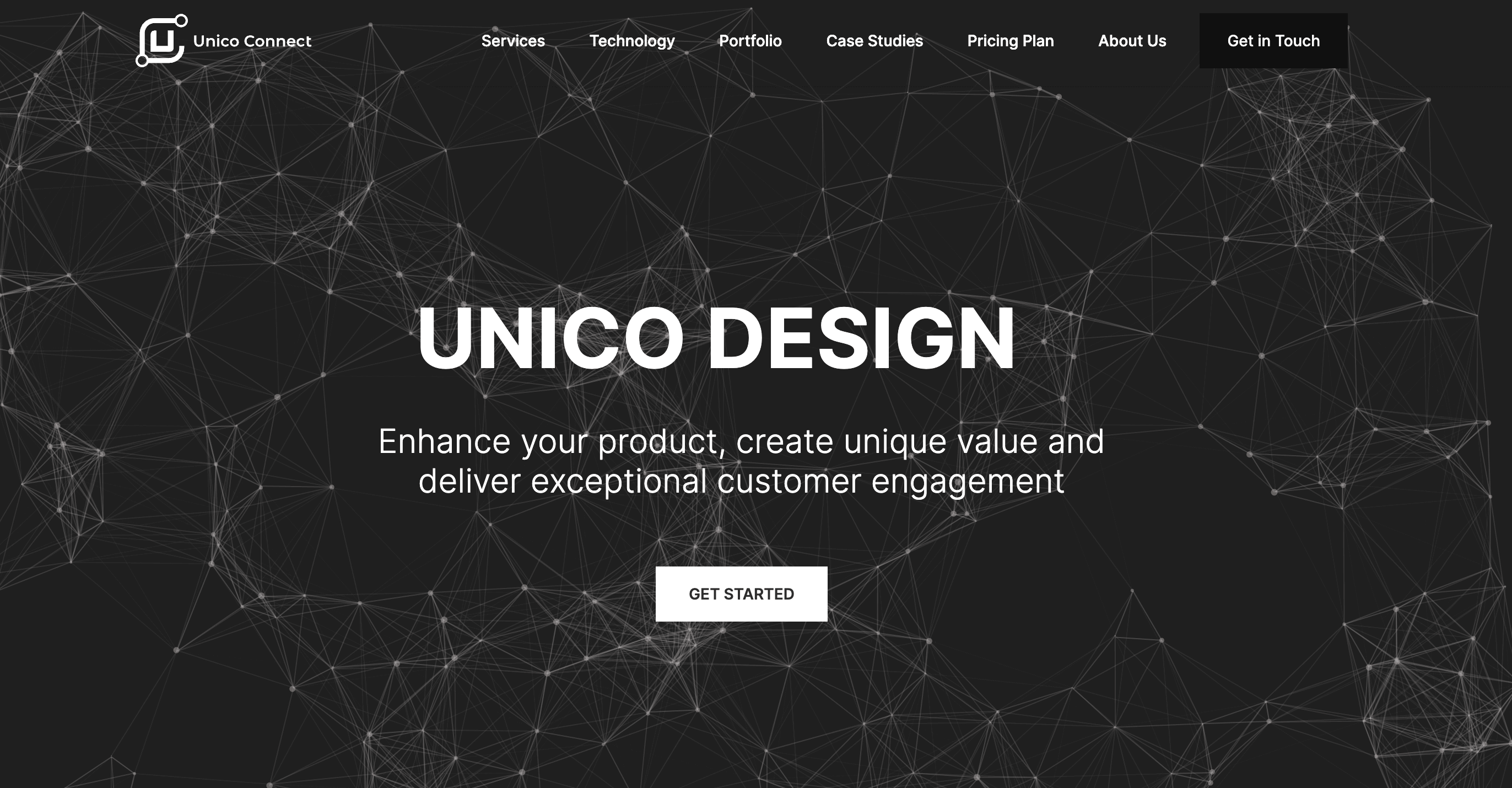 Unico Connect is one of the best low-code development agencies that provides businesses with cutting-edge software solutions lightning-fast.
Using endless no-code development capabilities of Xano and other low-code technologies, the company can quickly build and deploy custom web and mobile applications for your business much faster and cost-efficiently than when using traditional development. Utilizing an impressive tech stack, Unico Connect helps enterprises automate their processes and workflows, improving their overall efficiency and productivity.
Being on the market since 2014, the company has gained valuable knowledge in various industries and technologies, including no-code tools and code-based programming languages. Their proficient team works closely with international clients to understand their unique needs and provide tailored app solutions to help them achieve their key business objectives.
Unico Connect's team of tech experts selects the best technology stack to build and deploy custom scalable apps faster while also providing ongoing support to ensure your business achieves the desired results.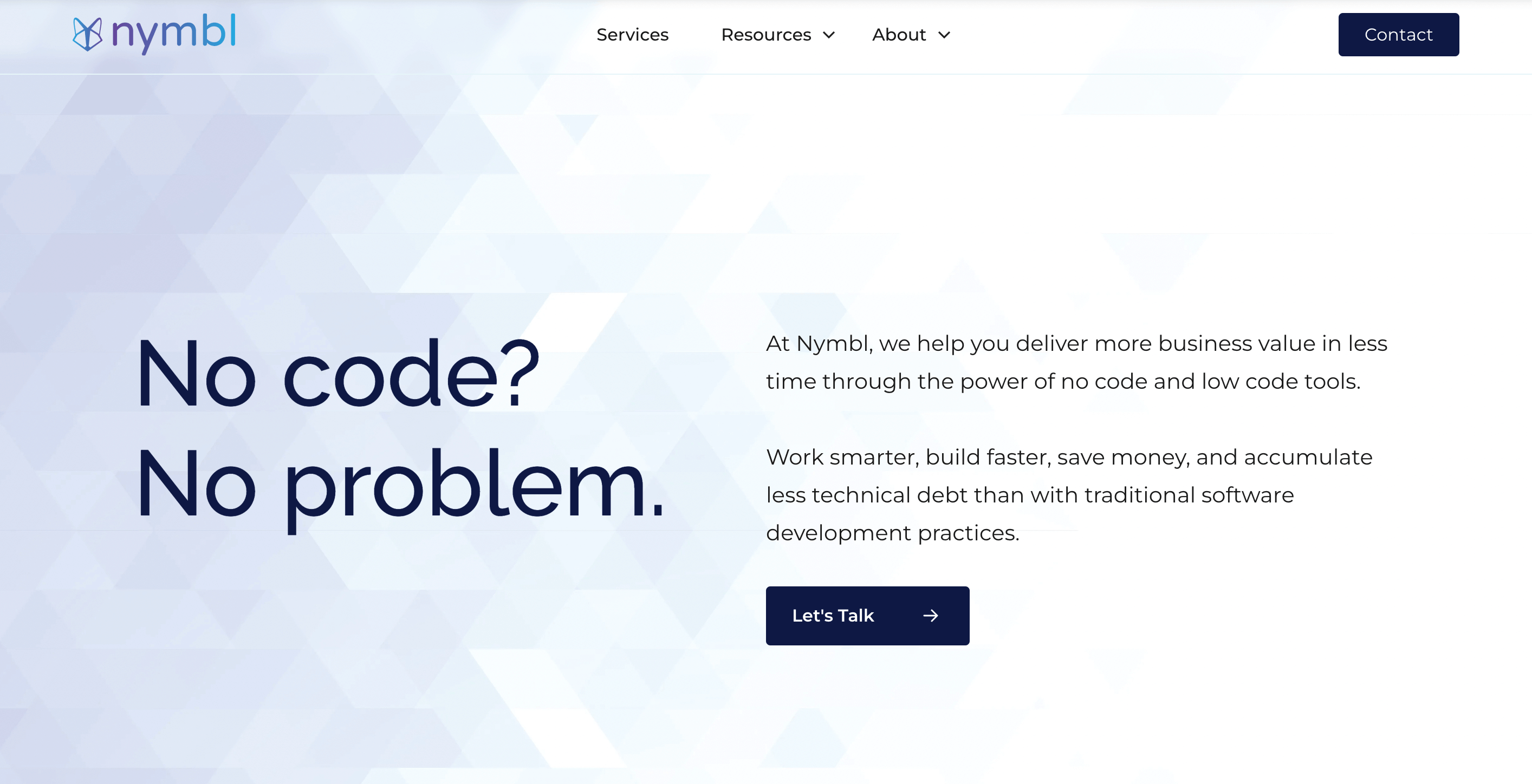 Nymbl is among the best low-code companies that help companies build more intelligent tech solutions through the power of no-code and low-code tools. They specialize in B2B Web/Mobile applications, ERPs, and SaaS products.
Nymbl experts use various low-code tools: Retool, which allows you to drag-and-drop along with visual programming; Webflow, which lets you build interactive and functional websites, blogs, portfolios, and e-commerce stores; XANO, which combines the power of a relational database with the Big Data requirements of a NoSQL solution. With the help of these tools, they provide you with scalable low-code development services for building comprehensive apps of any type.
Simply put, Nymbl empowers business leaders, technology visionaries, and founders to scale their companies by removing technology barriers.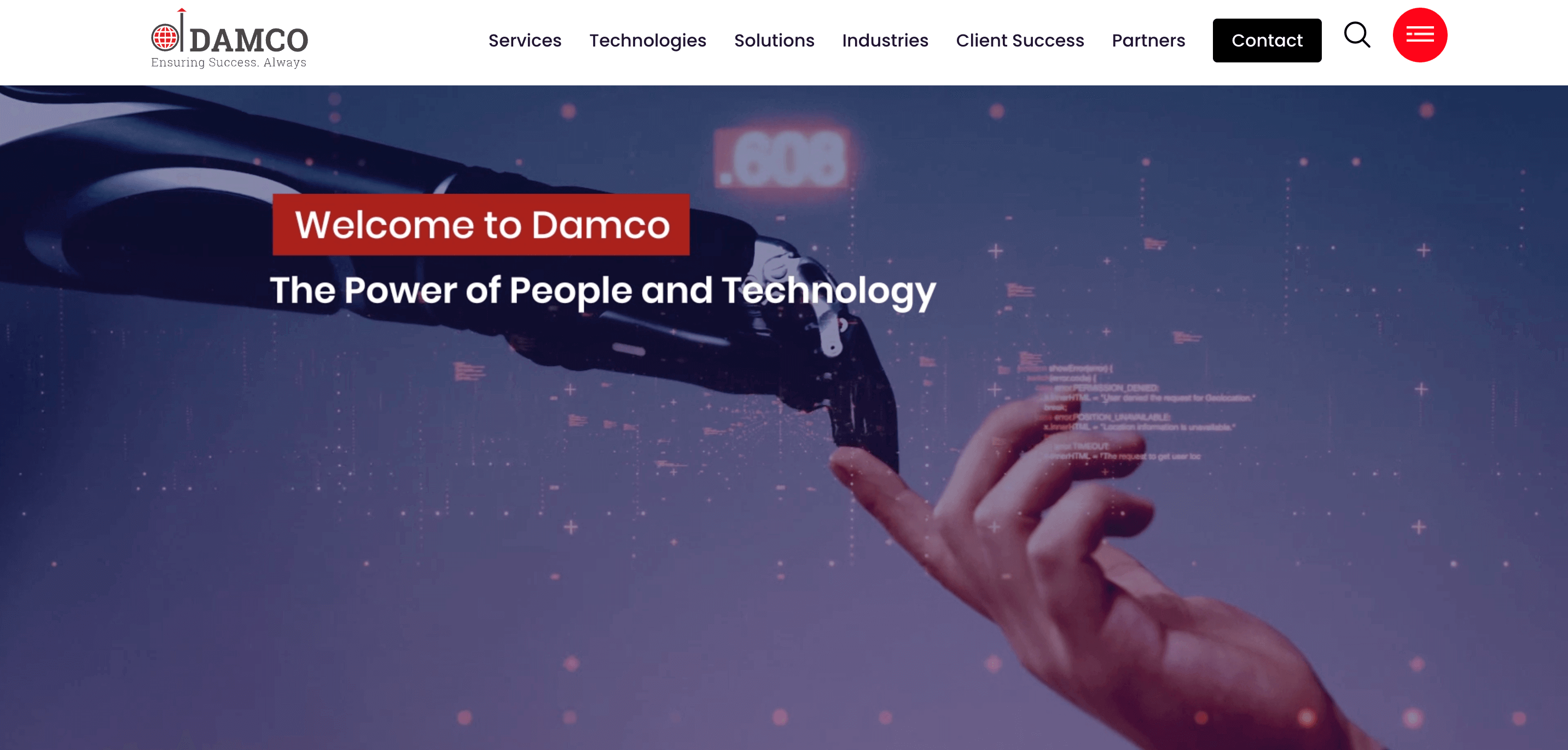 Damco is a leading IT services and low-code application development company based in Princeton, New Jersey. The experts at Damco use powerful low-code development platforms such as PowerApps, OutSystems, Salesforce, and Monday.com to craft solutions that will help you achieve significant returns on investments from day one. 
They also train clients' employees to become self-sufficient in developing and maintaining the developed applications.
Damco Solutions can cater to all types of low-code requirements, improving B2E (Business to Employee) processes, workflow processes, and customer experience.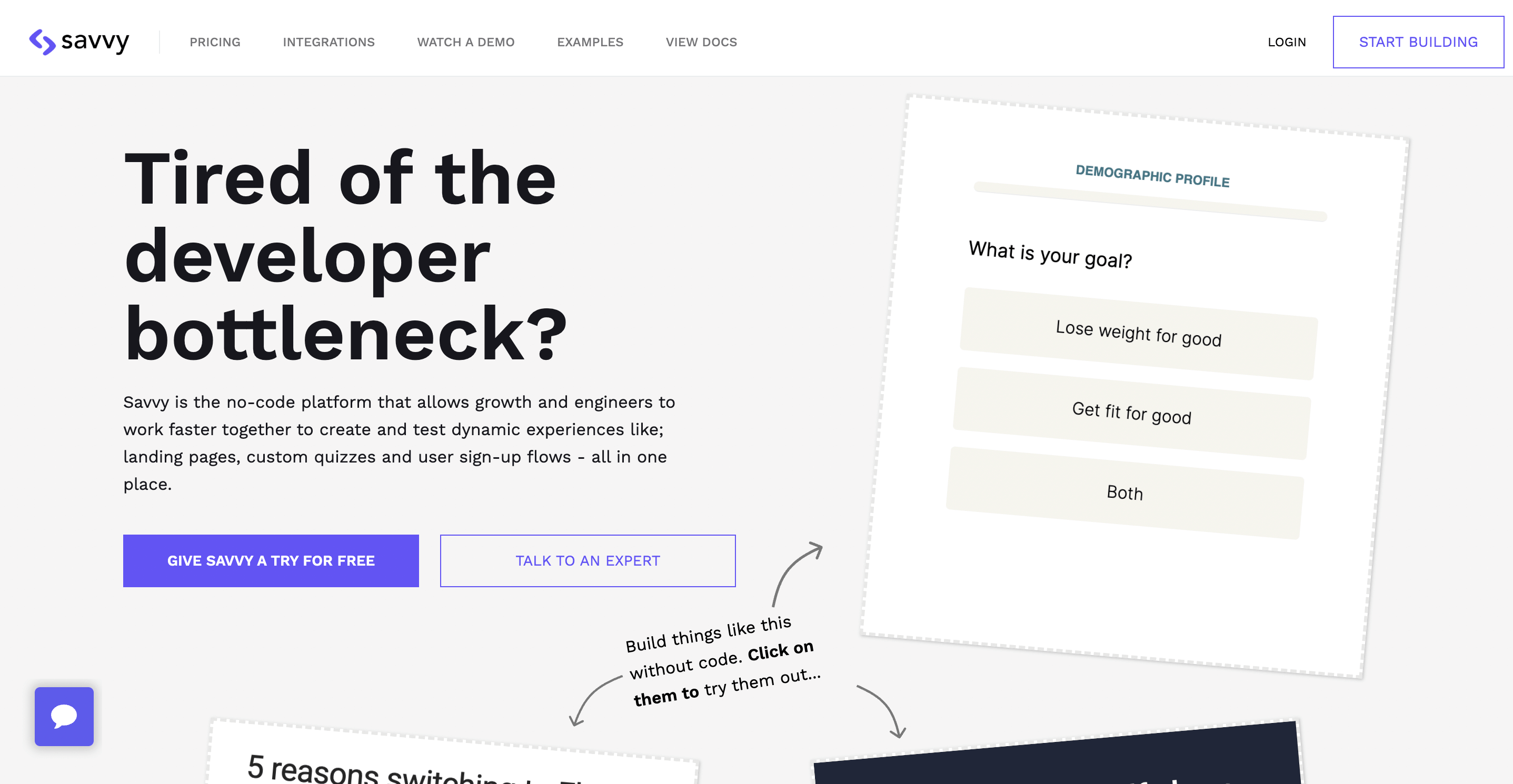 Savvy is a top no-code platform that allows engineers to work faster and unitedly to create and test dynamic experiences like landing pages, custom quizzes, and user sign-up flows – all in one place. Workflows like KYC and API integration are other unique features available on Savvy. 
Savvy has integrations with many no-code/low-code platforms like Webflow, Zapier, Airtable, and Shopify. Their main motive is to help consumer-centric organizations such as B2C, D2C, e-commerce, mobile apps, and many more to grow their sales.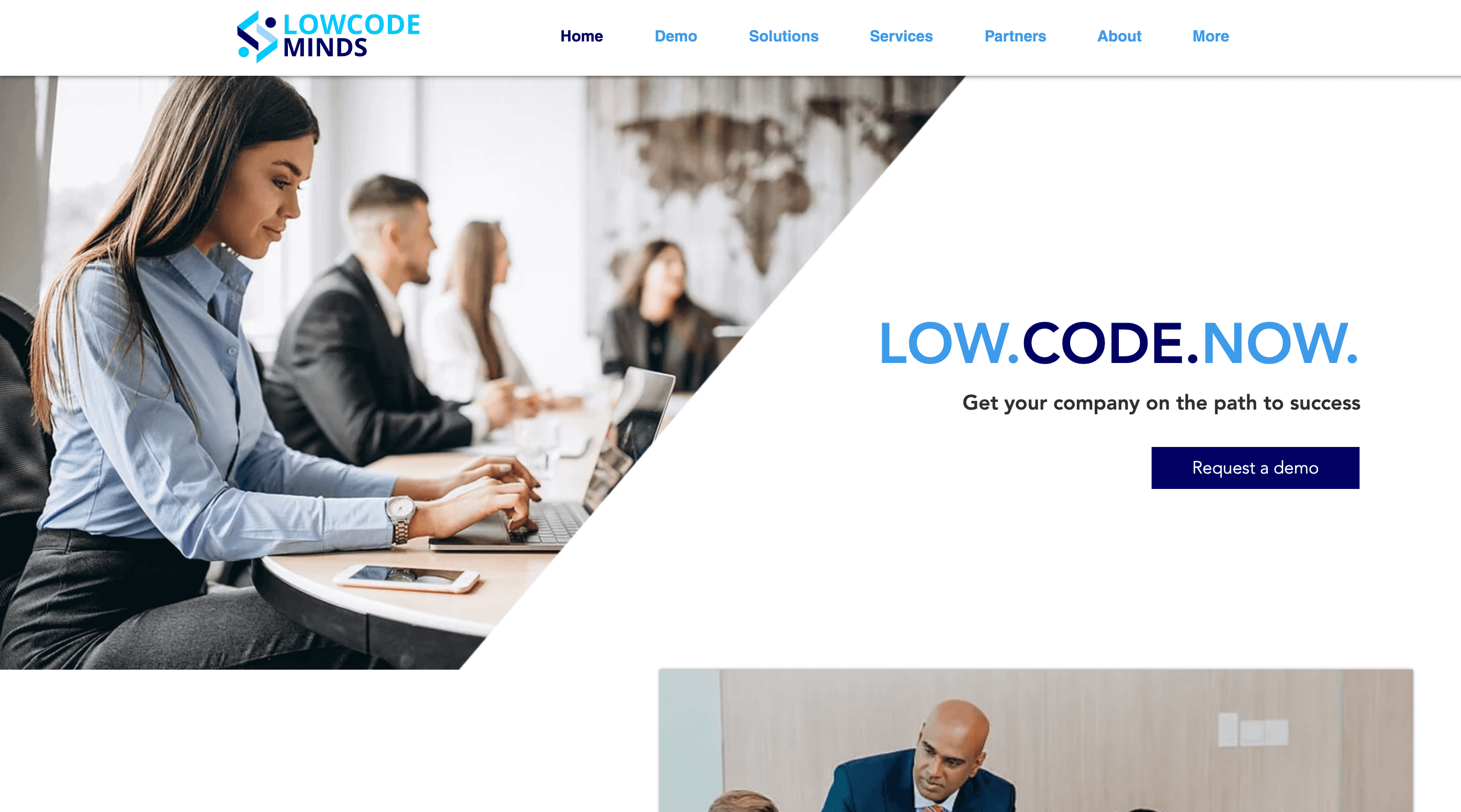 Lowcode Minds is among the best low-code companies providing speedy and agile low-code app development services. They mainly use the Appian platform to build highly-efficient websites and applications that boost clients' businesses. 
Lowcode Minds provide sophisticated low-code services mainly for Legal, Insurance, and Manufacturing industries. Their highly experienced low-code experts cover solutions such as KYC workflows, Debt Management Frameworks, and Conveyance applications, not to mention numerous others.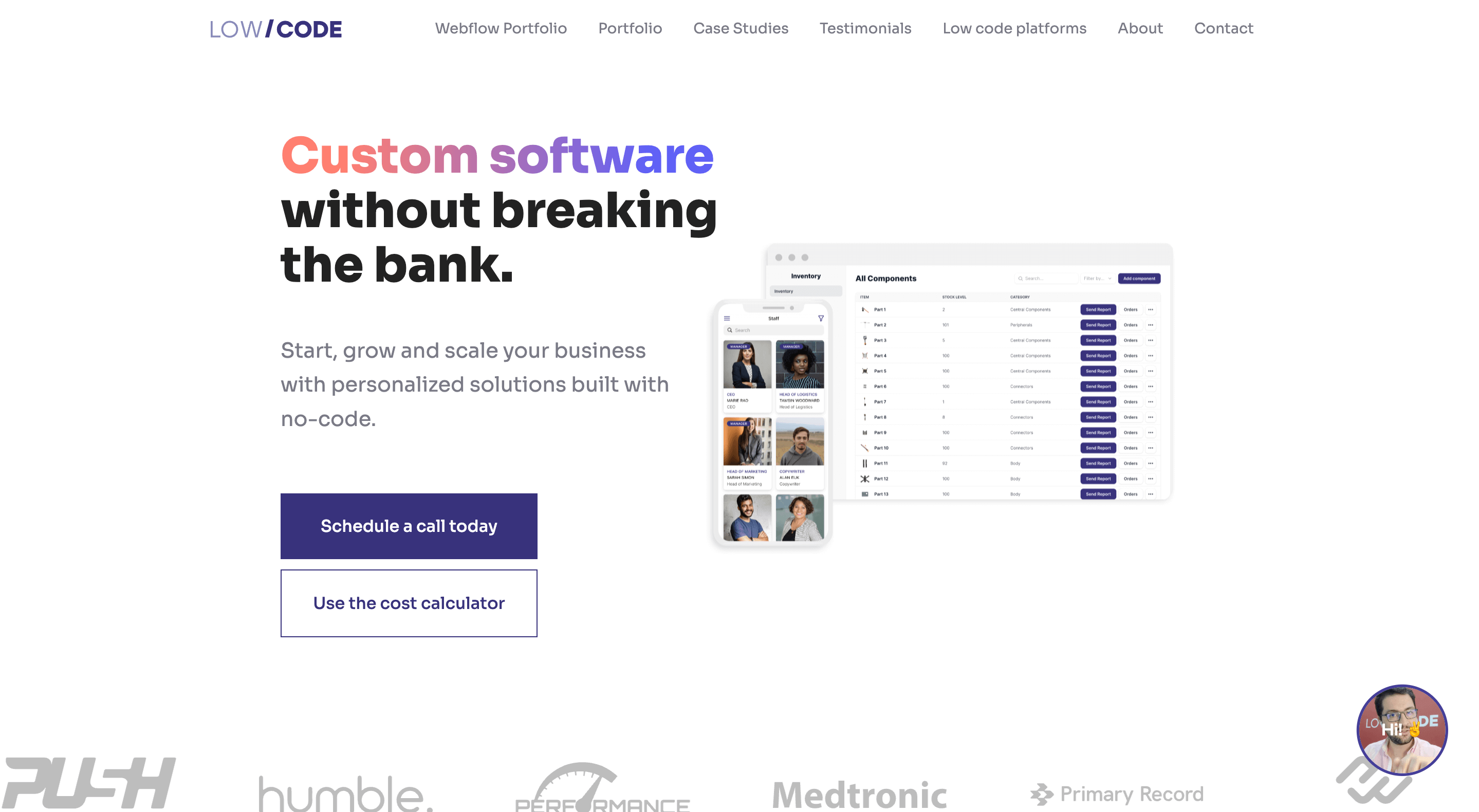 LowCode Agency is a leading low-code company that delivers scalable and custom-made applications within 4 weeks, starting at 7k USD. The time of the final delivery of the application varies depending on the app's complexity. To develop robust and high-performance software quickly, they've partnered with leading no-code platforms such as Glide, Make (formerly Integromat), and Formstack. 
Time and money are the two significant constraints that every growing business faces. But, with the help of LowCode Agency, you can get your dream application within a minimum time and a fraction of the cost of a traditional developer. 
The primary industries that LowCode Agency serves include Healthcare, Finance, Tech startups, Legal, and Marketplaces. 
Conclusion
Low-code application development is faster, more reliable, scalable, customizable, and cost-effective than traditional application development. And when done with the help of the right team of experts, it can do wonders for your business. 
Therefore, it's essential to find a trusted and reliable low-code development partner that can build a robust and high-performance application quickly and make you stay on par with the evolving market. Hopefully, this list helps you choose the best low-code agencies to implement your ambitious project idea.
If you know or own a low-code development agency and want us to feature it in this list, contact us by email, and we'll consider getting it listed after a careful assessment.