Flutter tops the list of the many tech stacks for mobile app development. 42% of developers used it in 2022.
Invented by Google in 2017, Flutter provides a robust set of APIs and tools to streamline the creation of mobile applications. The powerful framework is based on Dart, the in-house programming language at Google. It leverages the company's Material Design language for interactive UIs.
Flutter offers solutions to the many limitations of native development. It saves you from the costs of having to build multiple versions of your app for different platforms by providing the "code-once" approach, where you can share 100% of your codebase.
Using Flutter, you can make apps 30% more cost-effectively. The hot reload feature empowers you to make changes in the development cycle immediately. You can also experiment with features and visualize the front-end impact of all back-end processes without recompiling code.
All in all, Flutter app development can amplify your brand's unique value proposition. To realize its full potential, hiring Flutter developers in the United States is a wise decision. These must be teams with an in-depth understanding of the framework and the best strategies for efficient outcomes.
Here is a list of the top Flutter app development companies in the US to kickstart your project successfully. 
Best Flutter App Development Companies In The United States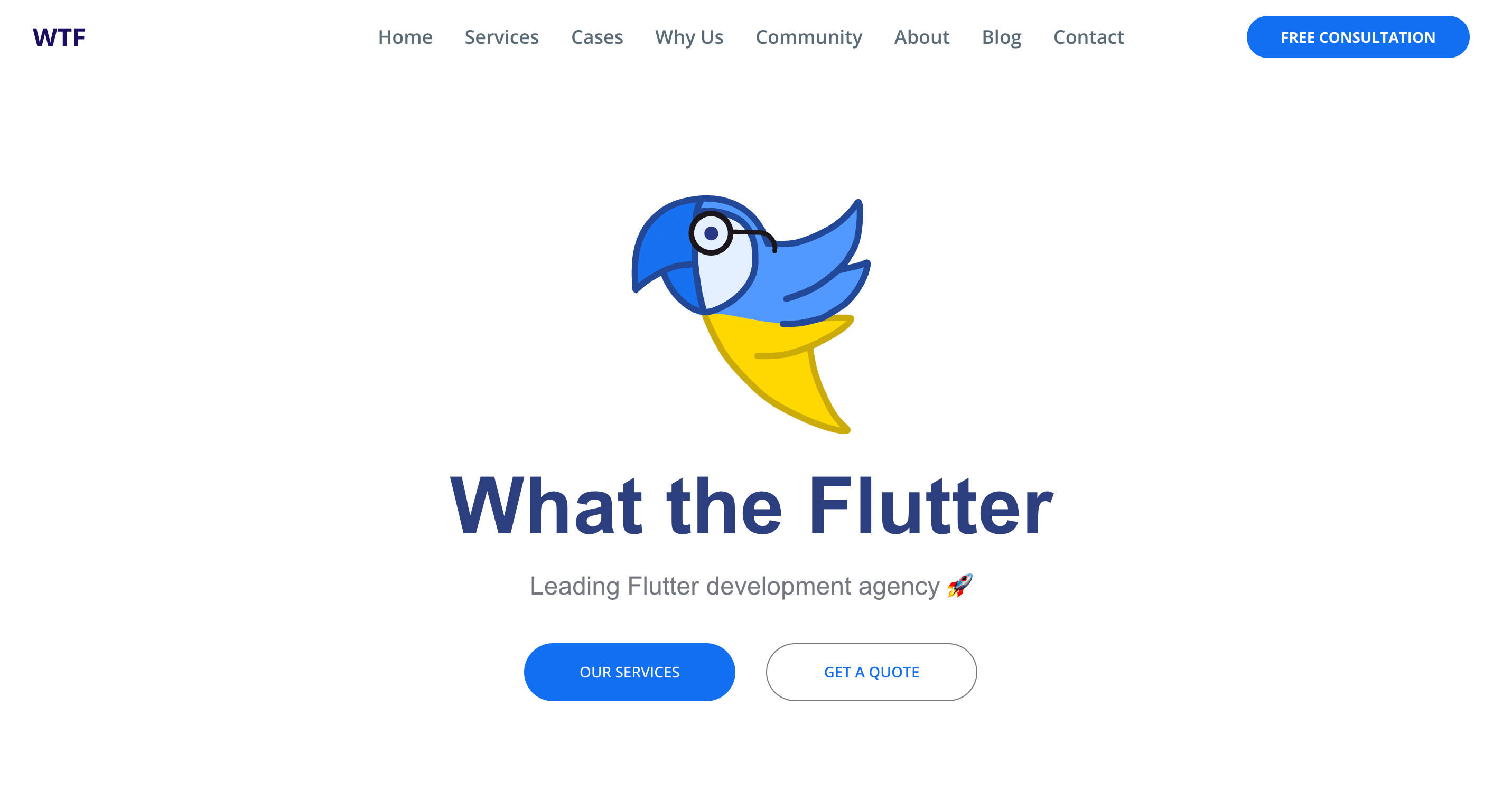 What the Flutter, the top Flutter app development company in the US, helps clients leverage the inherent capabilities of the open-source framework to build faster, secure, and highly scalable mobile app solutions. 
Their talented developers have broad experience in building dependable applications with Flutter as well as in-depth expertise in mobile app development for different platforms, including iOS, Android, and the web. 
The company was founded in 2018 and has since grown into a top IT agency with global clients. They retain a top-notch team of over 20 developers and invest massive resources in R&D through their Flutter Laboratory. What's more, they've partnered with leading IT universities to train students in software development theory and practice.
What the Flutter has completed 40+ Flutter applications with excellence. They've become a reliable partner for clients within various industries, helping them navigate their tech journeys through MVPs, code reviews, strategy, and development. 
Services and expertise:

technology audits, product strategy, Flutter app development, MVP development, staff augmentation, UX/UI design

Tech stack:

Flutter, iOS, Android

Industries:

Banking, Health and Fitness, Logistics, Social Media, Hospitality 

Location:

Delaware, USA

Clients:

Vivafit, Yasha, Lifely, IConcierge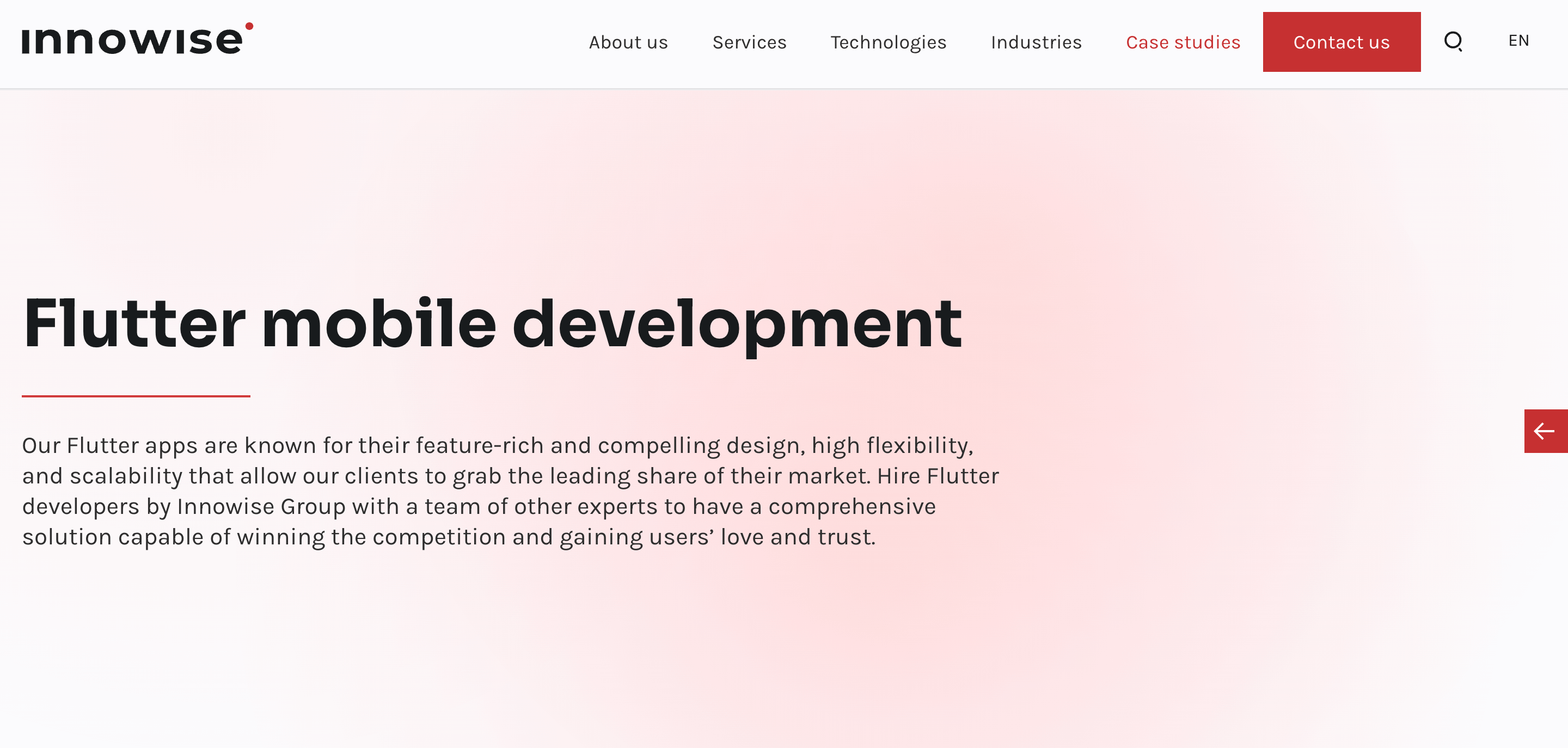 Innowise Group stands out as a renowned Flutter app development in the United States, extending its reach across Poland, Germany, Lithuania, Switzerland, Italy, Georgia, and beyond. Boasting a team of 1500+ skilled experts and a rich 16-year legacy, Innowise Group is a pioneer in providing exceptional Flutter app development solutions on a global scale. Their track record of 800+ successful projects speaks to their ability to elevate business processes and achieve transformative outcomes.
From inception to deployment and ongoing support, Innowise Group takes full charge of your Flutter development journey. Their meticulous approach ensures that each digital product is of utmost quality and aligns seamlessly with client expectations. Beyond development, their proficiency extends to UX/UI design, IT strategy consulting, and staff augmentation, making them adept at addressing diverse business challenges.
Innowise Group's technological prowess, client-centric philosophy, and worldwide presence position them as the perfect partner for enterprises aiming to harness the potential of Flutter and other modern tech stacks. Their proficiency in crafting robust, scalable software solutions promises unparalleled user experiences that leave a lasting impact.
Services and expertise: Flutter app development, native and cross-platform mobile app development, UX/UI design, QA & testing, app marketing
Tech stack: Flutter, Kotlin, ReactJS, Ionic, React Native, Laravel, NodeJS, etc.
Industries: Real Estate, Education, Entertainment, Finance, Travel
Location: Florida, USA; headquarters in Warsaw, Poland; presence in Germany, Lithuania, Switzerland, Italy, Georgia
Portfolio: Thrive Me, Shaking Card, Mapting, Hey Cool Pool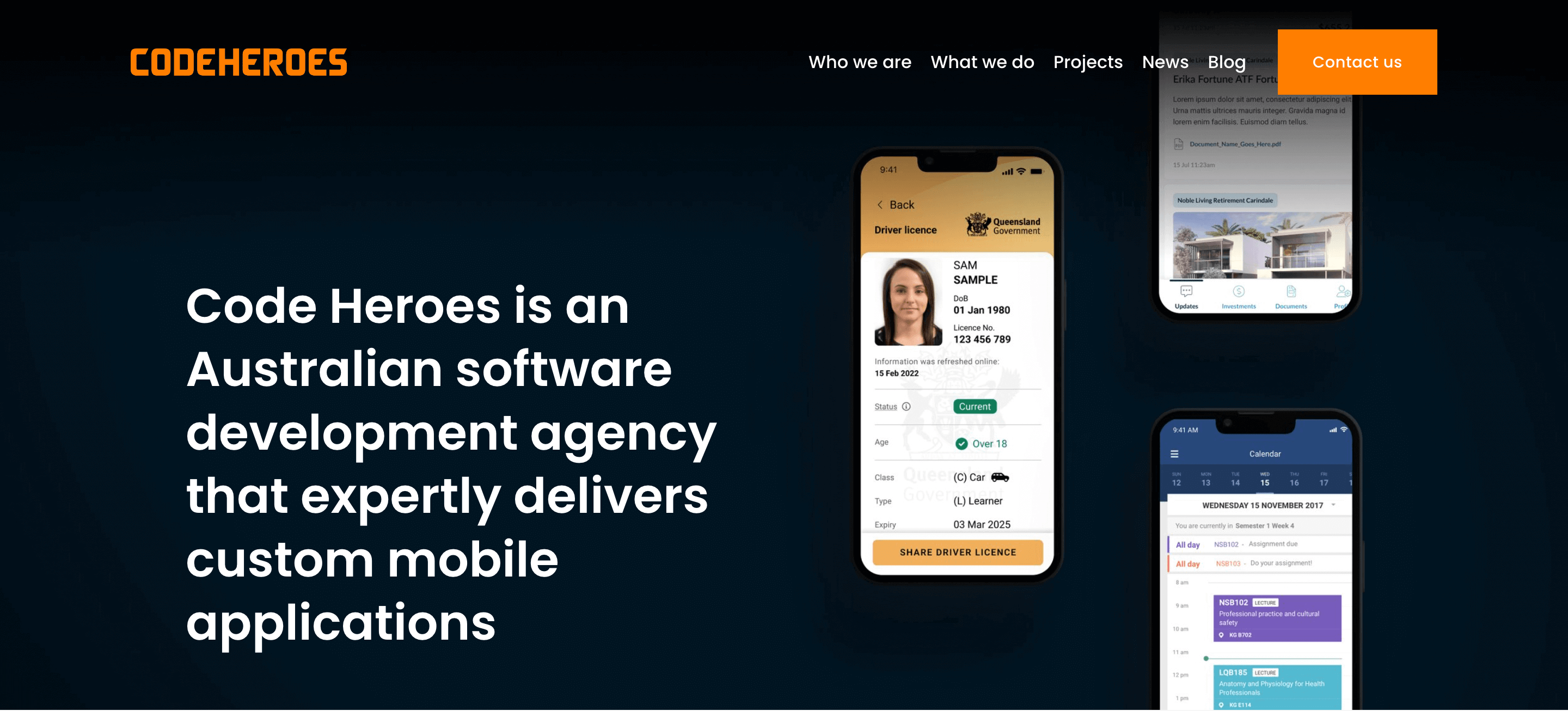 Code Heroes, a top Flutter development company, offers premier services in the US, Australia, and the rest of the world. Established in 2011, this prominent team crafts groundbreaking mobile and desktop applications for leading corporations and institutions.
The firm specializes in tailoring custom, user-centric solutions that drive digital transformation and enhance customer value. Their comprehensive service range encompasses every software development phase, from meticulous product planning and well-thought-out UX/UI design to robust front-end and back-end development and unwavering application support and maintenance.
Code Heroes harnesses Flutter and other modern mobile technologies to create dynamic, beautiful, and high-performing apps that resonate with the end users, elevate customer value, and take business processes to the next level.
Services and expertise: product planning, product UX and UI design, software development, mobile and web app development, production support
Tech stack: Flutter, Dart, Kotlin, Java, Swift, Objective-C, JavaScript, TypeScript, Python, GraphQL, Velocity Template Language (VTL)
Location: United States; Spring Hill, Australia
Clients: startups, medium, and big companies and organizations, such as the Queensland Government, Queensland University of Technology, and others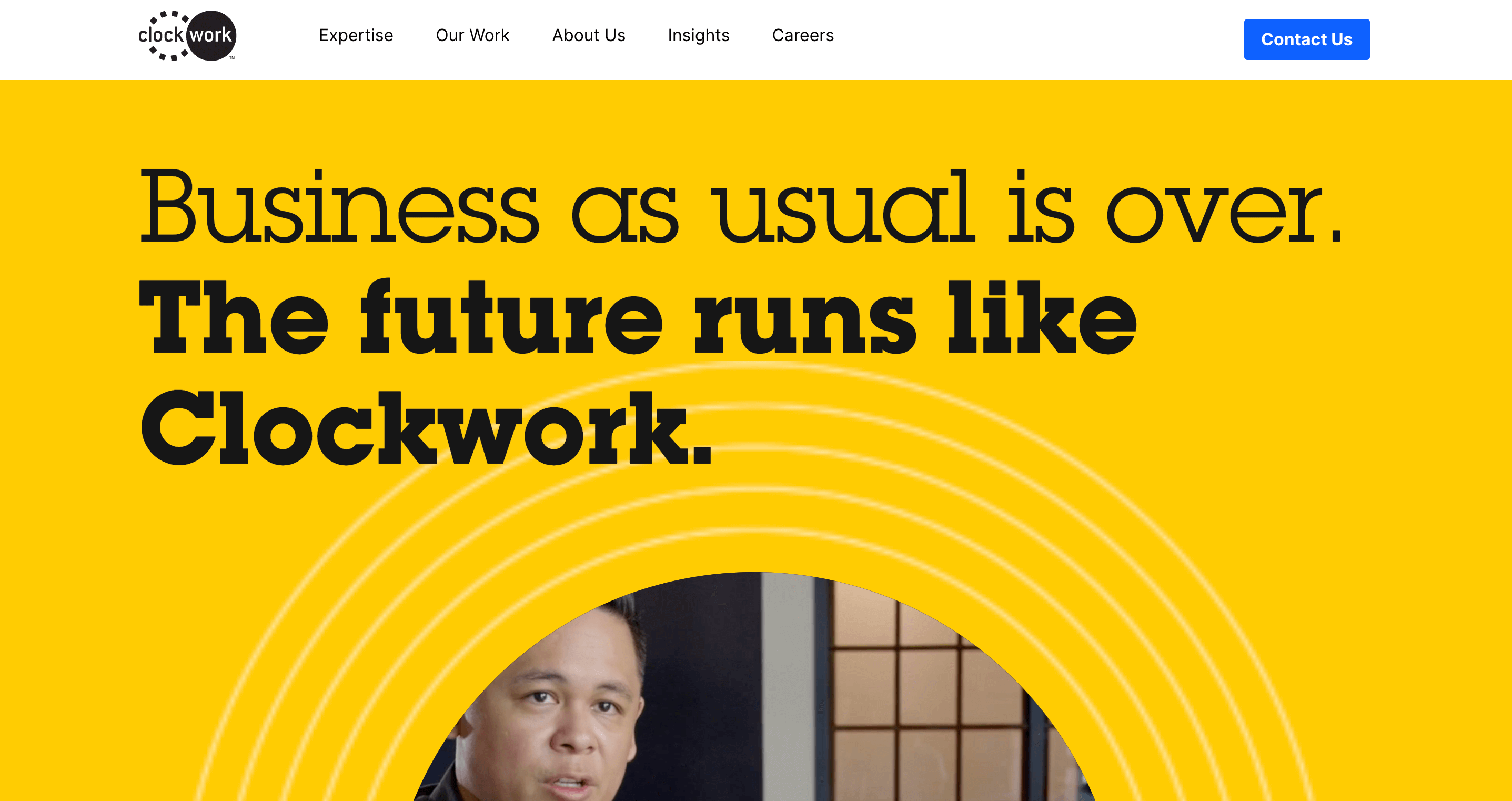 Helping clients market, sell, and develop their digital experiences, Clockwork has provided comprehensive product design and development services since 2002. With over two decades of pioneering digital solutions, the agency has become a trusted partner for hundreds of global startups and enterprises seeking the ultimate transformation.
Providing best-in-class Flutter development services, Clockwork delivers end-to-end applications, guiding clients from initial concept to successful launch. They cover strategy, design, and software engineering services, helping businesses find the most effective approach for their particular needs.  
Clockwork's process-driven methodology ensures that technology is applied judiciously. They meticulously scrutinize existing processes, discerning what works and what can be enhanced. Through self-organized, cross-functional teams, the company's best talents create high-performing Flutter applications for customers not only in the US but all around the globe.
Services and expertise: experience design, digital strategy & consulting, custom software development, mobile app development, website development, infrastructure design, engineering, & DevOps, integrations, maintenance & support
Tech stack: Flutter, iOS, Android, etc.
Industries: Healthcare, Finance, Energy & Construction, Government, Insurance, Manufacturing, Nonprofit, Retail
Location: Minneapolis, MN, United States
Clients: Minnesota Lottery, Mercury, Smiths Medical, YWCA, FMC, Deluxe, American Cancer Society, Banner, and others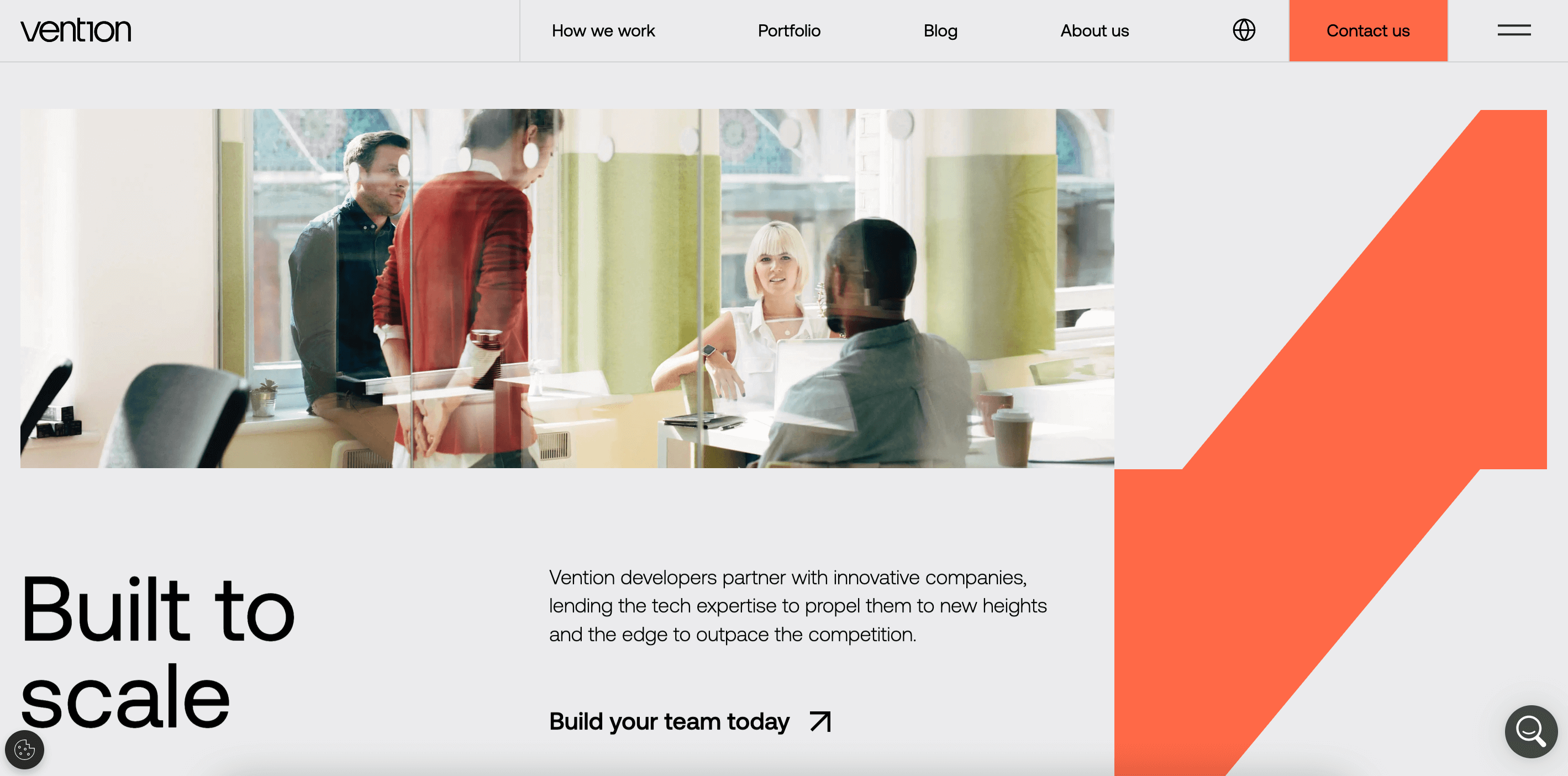 Vention is a top Flutter app development company in the US with a team of 3000+ software engineers who provide extensive development services, from Flutter apps to IoT, blockchain, and AI solutions.
You can work with Vention for custom Flutter app projects or use their experts to augment your team. They can help with code reviews, strategy and product road mapping, development, and deployment. 
The developers from Vention work alongside your in-house team, adapting to your routines to deliver client-centric results.
Services and expertise:

Flutter development, tech consulting, web development, staff augmentation

Tech stack:

Flutter, TypeScript, .NET, Java, ReactJS

Industries:

Fintech, Healthtech, Edtech, eCommerce, Real Estate, Marketing, Adtech

Location:

New York, USA

Clients:

Classpass, Thirty Madison, CocaCola, Seat Geek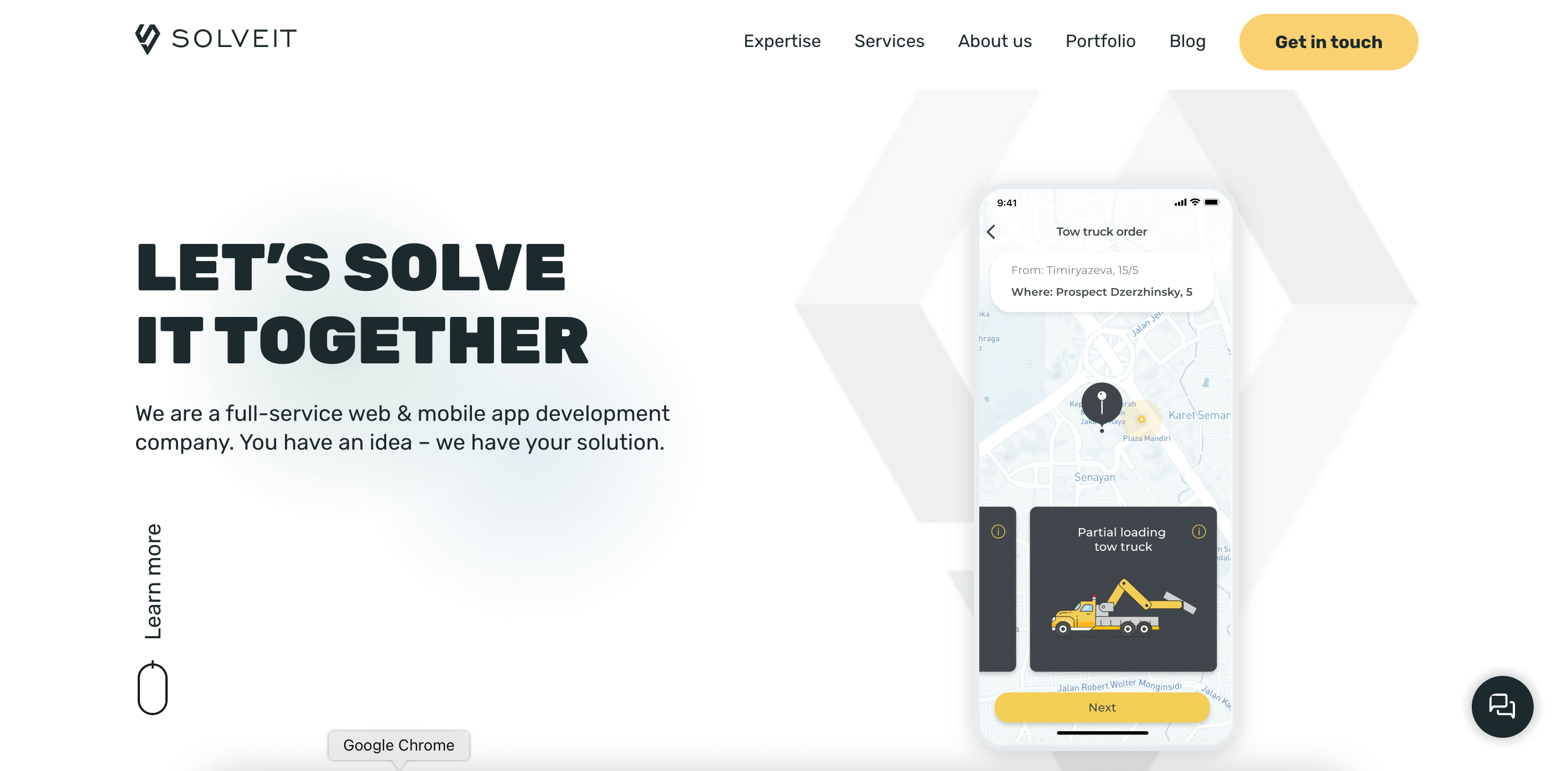 SolveIt provides a team of the best Flutter developers in the United States for startups and SMBs. The company keeps its experts updated with the latest developments and best practices in Flutter app development. 
When you work with SolveIt's team, you can expect to get high-performing apps with attractive visual interfaces delivered on time and within a budget. Their solutions are easy to upgrade and are compatible with a broad range of software and hardware systems. 
Benefit from SolveIt's cost-effective app development solutions and services that will take your business to the next level! 
Services and expertise:

m

obile app development, custom software development, web development, MVP development

Tech stack:

Flutter, Ruby on Rails, Elixir, ReactJS, VueJS, Java, Swift, Kotlin, etc.

Industries:

Digital Marketing, FoodTech, Delivery SaaS, Banking, Investments, Mortgages SaaS, Lifestyle

Location:

California, US

Clients:

Dynamaze, BFreeTV, SIDAJ, OpenFIN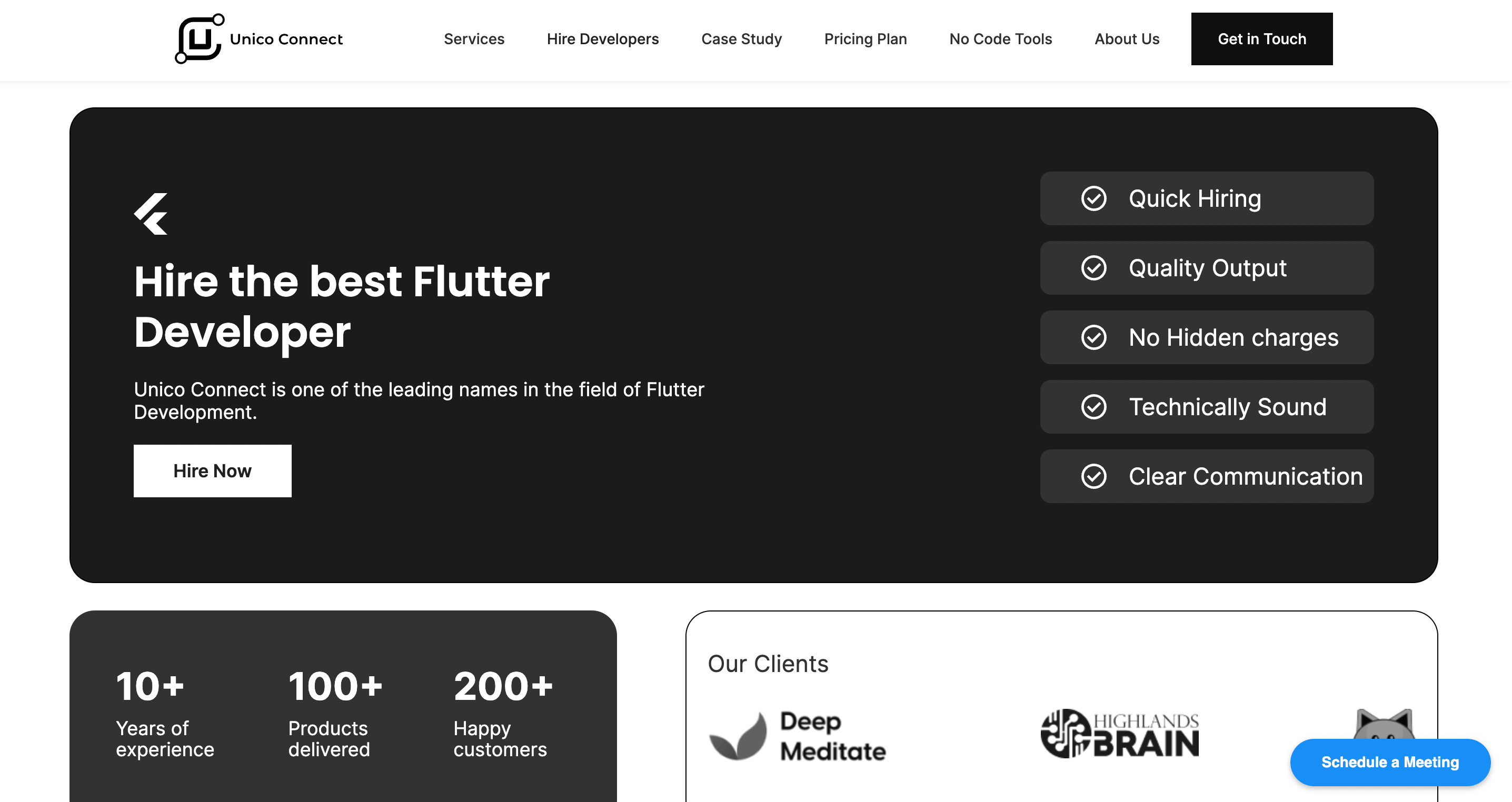 Unico Connect is recognized as a top-notch Flutter development firm, providing cutting-edge software solutions to clients from the USA and other countries all around the world.
Using Flutter, Dart, and other advanced tech stacks, they excel in creating cross-platform apps quickly and efficiently. Unico Connect also boosts business efficiency through automation, leveraging the latest no-code and low-code tools and approaches.
Since 2014, they've gained expertise across industries and tech, working closely with global clients to deliver tailored app solutions. Unico Connect's tech experts will choose the best stack for your app development project, providing ongoing support to achieve your business goals.
Services and expertise: web and mobile app development, AI development, UI/UX design, tech consulting, no-code development
Tech stack: Flutter, C++, NodeJS, React, Java, AngularJS, ChatGPT, Xano, Webflow, Bubble, WordPress, etc.
Industries:  Healthcare, Food and Beverage, Entertainment, Education, Home and Living, IT, Marketing
Location:

Chicago, Illinois, USA; Mumbai, India

Clients: Sergo, Barko, Heirloom Tales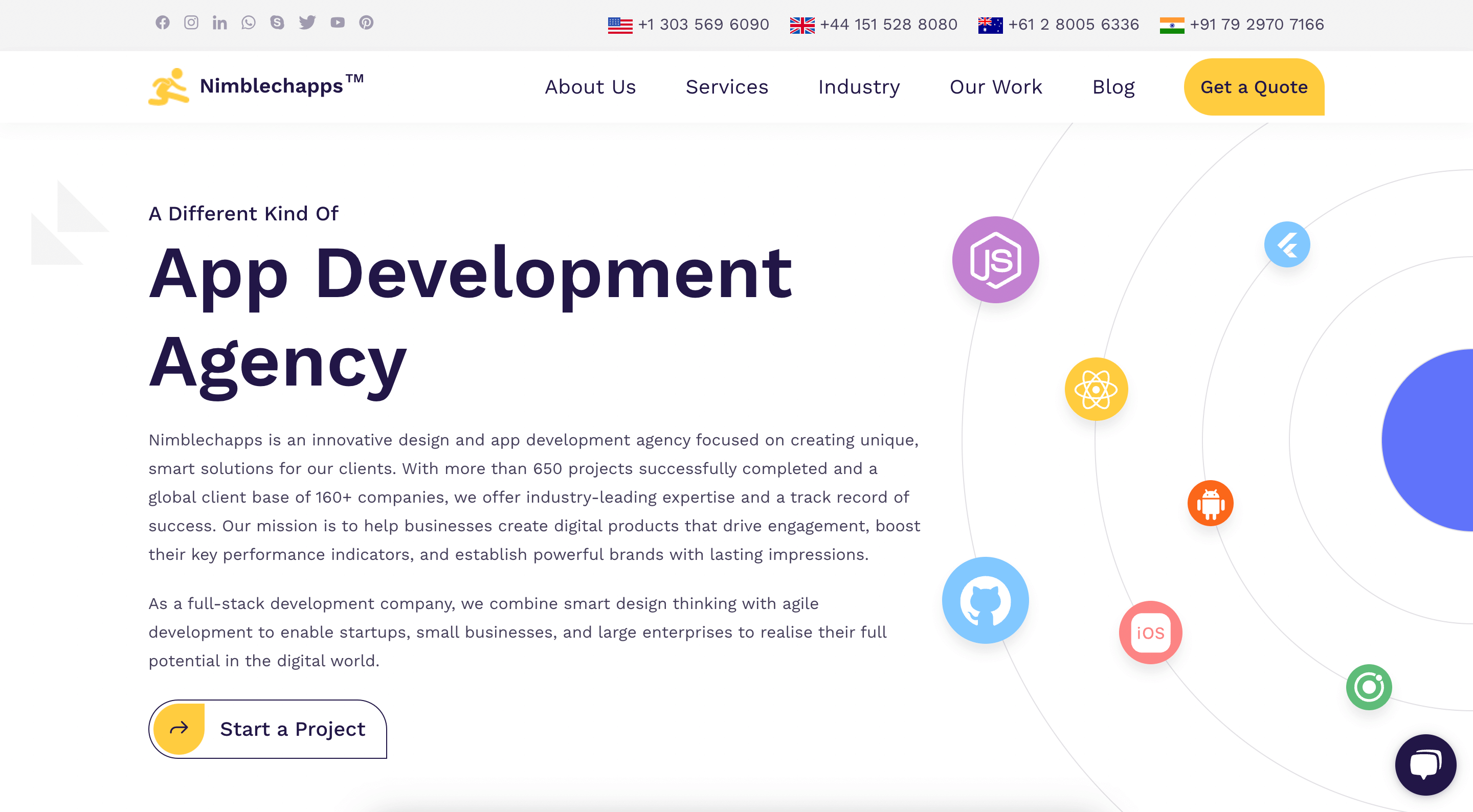 Nimblechapps Pvt. Ltd. is a distinguished name holding ISO 9001:2015 and 27001:2013 certifications. Nimblechapps provides top-class Flutter App development services.
With more than 10 years of experience in software development, it has been the first choice of many firms, with a staggering repeat hire rate of 55%.
Their motto has always been to provide robust solutions, and they are driven by a consulting approach rather than mere development.
They are considered as one of the top Flutter app development agencies and top web development agencies in their region by Clutch.co.
Service and expertise: web app development, mobile app development, Flutter app development
TechStack: MERN, MEAN, Flutter, NodeJS, VueJS
Industries: Construction, Real Estate, Job Hire Portal, HealthTech, FinTech
Location: Texas, USA; Ahmedabad, India
Clients: Spades Labour Hire, HelperPlace, NHS, Cushman & Wakefield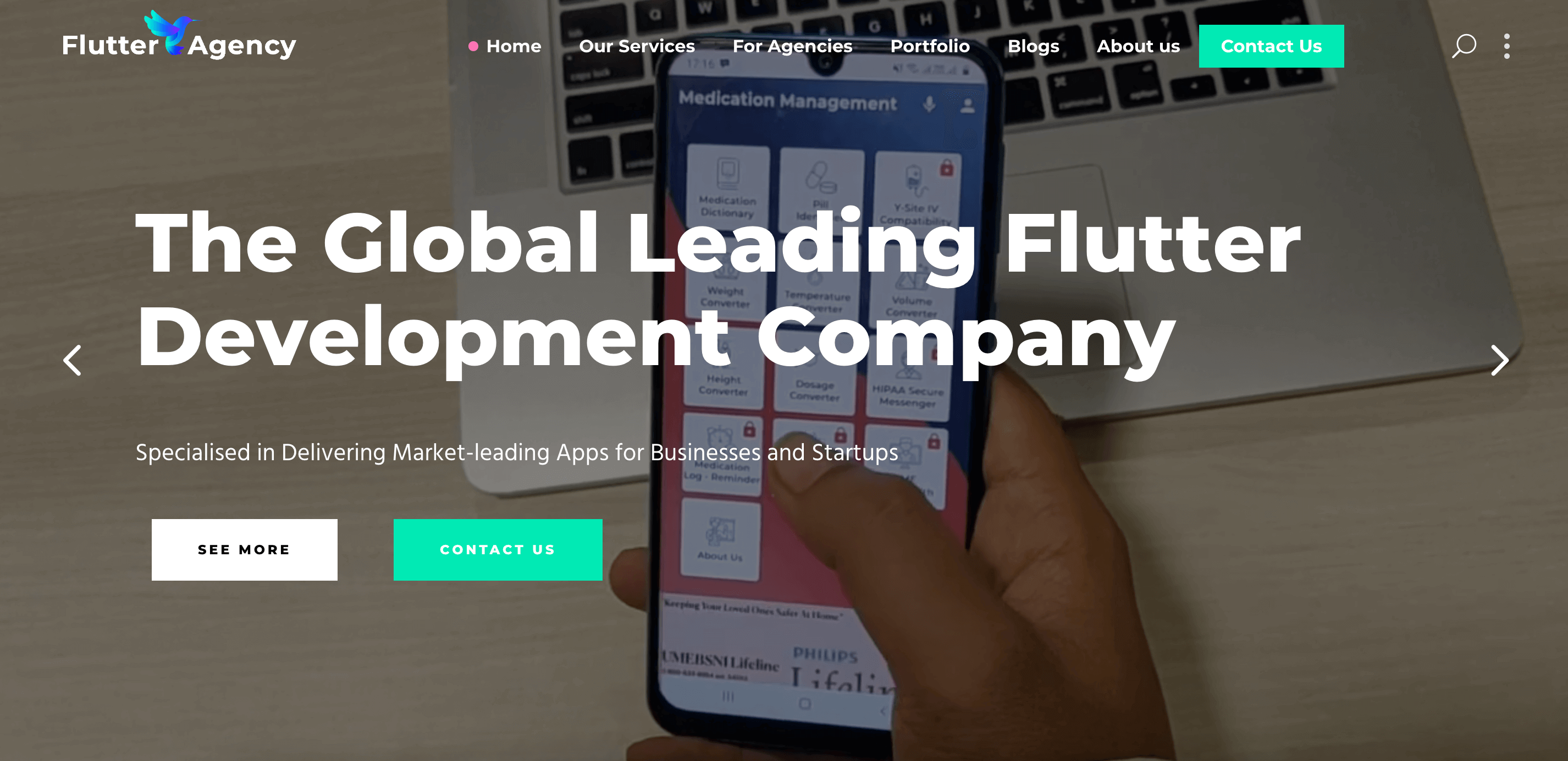 Flutter Agency is a customer-oriented IT company providing a wide range of Flutter development services in the US. They closely collaborate with clients to understand their unique needs and create applications that boast exceptional functionality. 
The company has a broad portfolio of completed Flutter app projects optimized for real-life users. They build Flutter apps that are faster and easier to use at work and at home. 
Working with Flutter Agency means you can expect novel development approaches personalized to your business needs.
Services and expertise:

Flutter mobile app development, web development, UX/UI design, product design and development 

Tech stack:

Flutter, PHP, JavaScript, Python, Java, etc.

Industries:

eCommerce, Finance,

Real Estate, FinTech,

Healthcare EdTech, HealthTech

Location:

Florida, USA

Clients:

HipSmile, UME, GritWell, Fetchadate, Harward Innovation Lab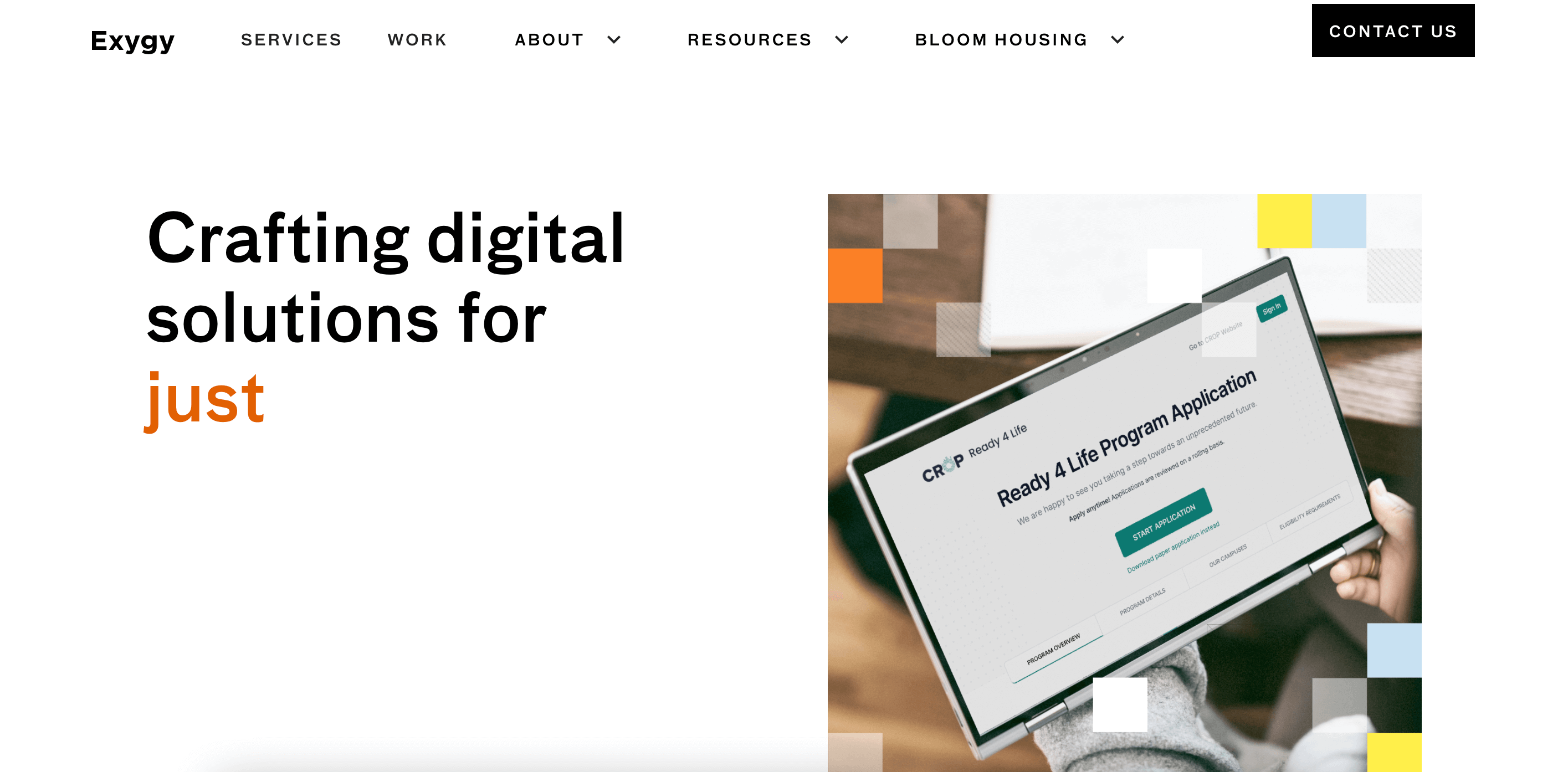 Exygy is a top USA-based software development company specializing in Flutter development services. They deliver high-quality mobile apps with modular architecture for easier deployment. 
Ease of deployment is critical for the success of any mobile app invention. Exygy builds apps with simplified core supporting infrastructure so teams can work with agility and flexibility to support deployments and future improvements.
From MVPs to feature-rich software customizations and support, this company can help your business meet its critical objectives in the digital world.
Services and expertise:

mobile app development, UX and UI design, MVP development

Tech stack:

Flutter, React, Python, Angular, Java, .NET, etc.

Industries:

Healthcare

,

Finance and Banking, eCommerce and Retail

Location:

San Francisco, CA, USA

Clients:

Oakland City, CROP, Trails, Bloom Housing,  Stanford Earth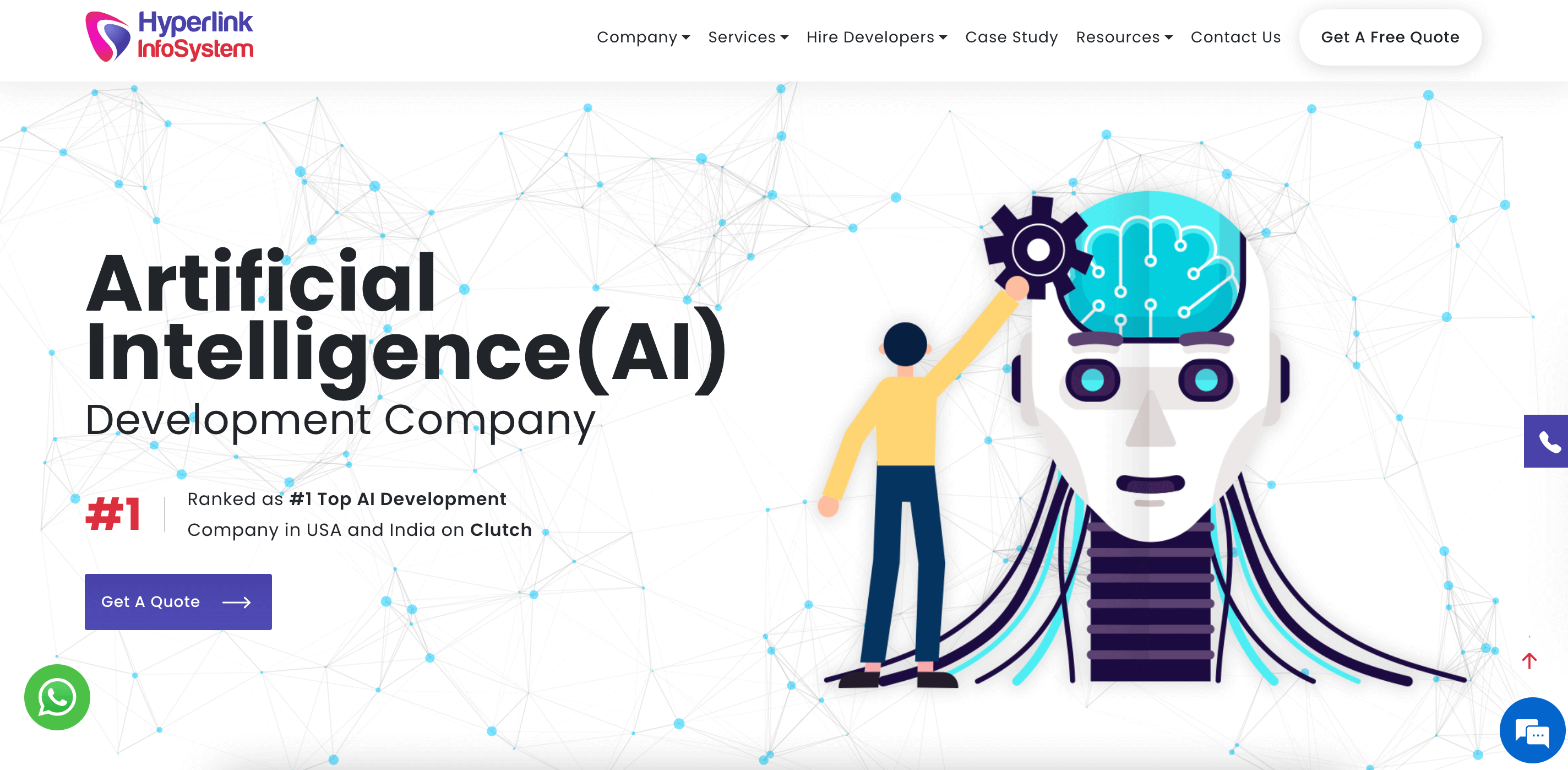 Hyperlink InfoSystem provides top-class Flutter development services in the US and India.  The company has more than 10 years of experience in software development and has built a robust reputation for creating innovative and reliable solutions.
They believe in creating high-quality solutions that meet clients' expectations and always implement measures to guarantee client data protection during the development process. 
Services and expertise:

mobile app consulting and development, web development, product design, data analytics 

Tech stack:

Flutter, Java, JavaScript, Python, NET/C#, PHP, etc.

Industries:

IT and Software, Healthcare, FinTech, Insurance, Education

Location:

New York, USA

Clients:

Art of Living, TATA, Zydus Verify, Q-SYS, StudentlinkX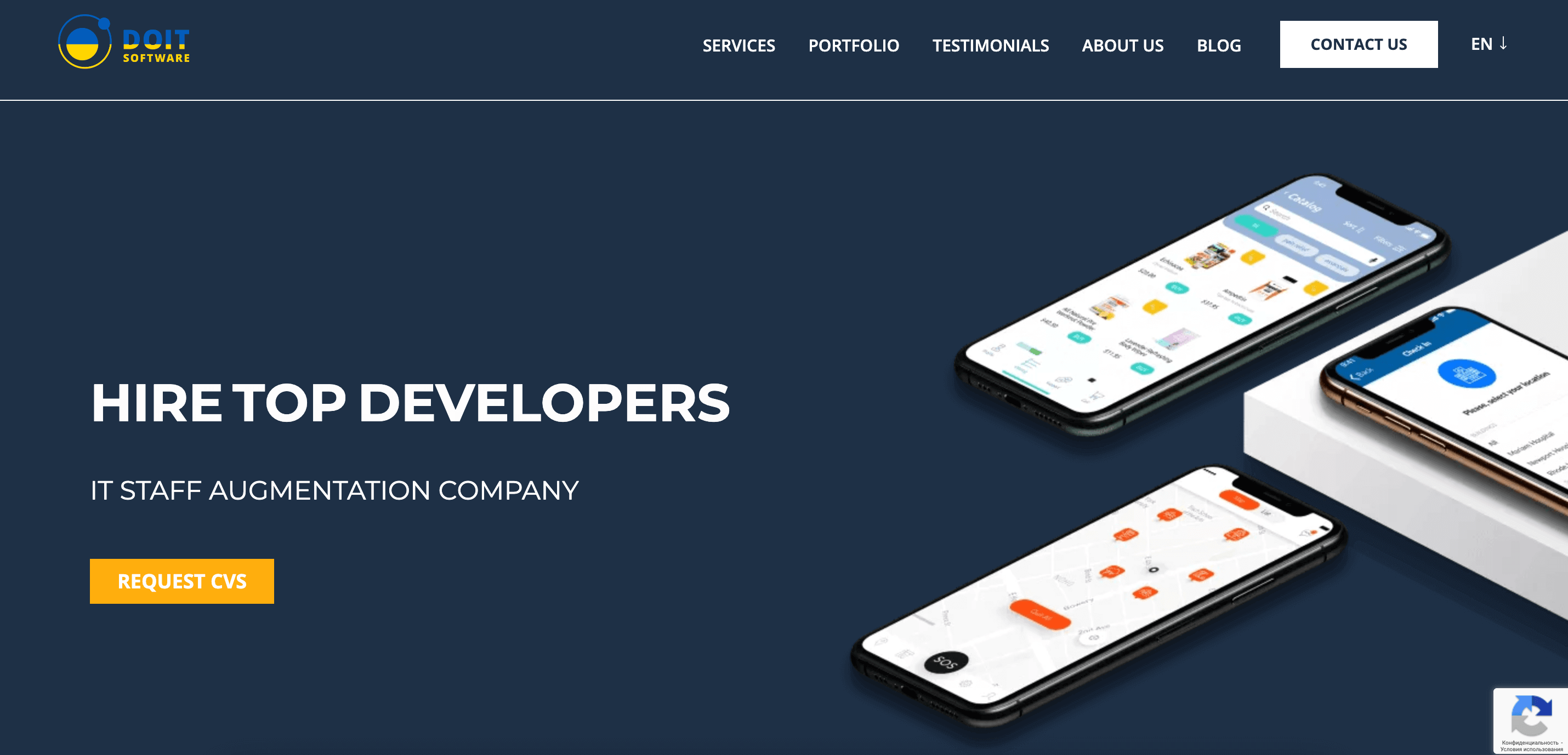 DOIT Software is a popular Flutter development agency that invests time in understanding end users' needs and habits to create apps that excel in functionality and user-friendliness.
The company started in 2014 and has evolved into a full-house team of business automation experts that help clients generate maximum value from technology. 
Their expertise spans mobile app development, big data, AI, BI, and IoT. They build ecosystems that empower seamless collaborations between humans and machines. 
Services and expertise:

strategy consulting, Flutter app development, web app development, AI app development

Tech stack:

Flutter, React, NodeJS, Java, VueJS, Objective-C, etc.

Industries:

Fintech, Consumer Products & Services, Healthcare, Business Services

Location:

Boston, MA, USA

Clients:

Balance Wheel, VIGO, VONN, Projectric, Yrgent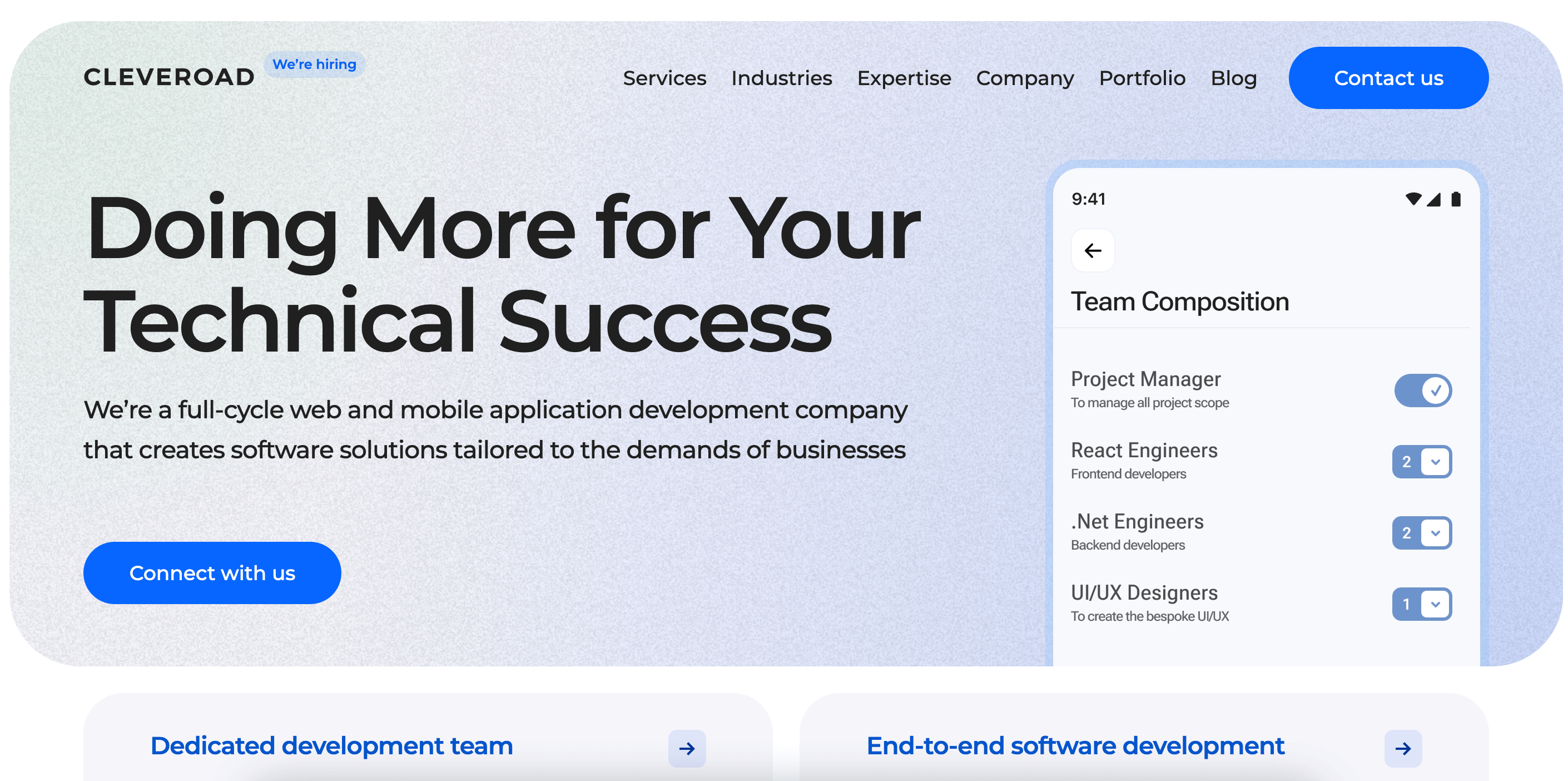 Cleveroad is a prominent software development house based in the US. The company's key offer is cross-platform Flutter app development at affordable rates. They also boast extensive expertise in mobile app development using Swift (for iOS) and Kotlin (for Android).
Cleveroad builds solutions for diverse industries, retaining a team of top Flutter developers in the US, serving clients across Healthcare, Finance, and Sports, ready to take on challenges of other sectors.
They provide end-to-end software development services focused on highly customizable app features in line with client expectations.
Services and expertise:

software development, mobile app development (cross-platform and native), legacy software modernization, MVP development

Tech stack

:

Flutter, React Native, Swift, Kotlin, NodeJS, TypeScript, .NET, React, Angular, VueJS, etc.

Industries:

Media, eCommerce, Retail, Social Media, Education, Healthcare, Finance, Sports

Location:

Claymont, DE, USA

Clients:

Blockbuster, TDC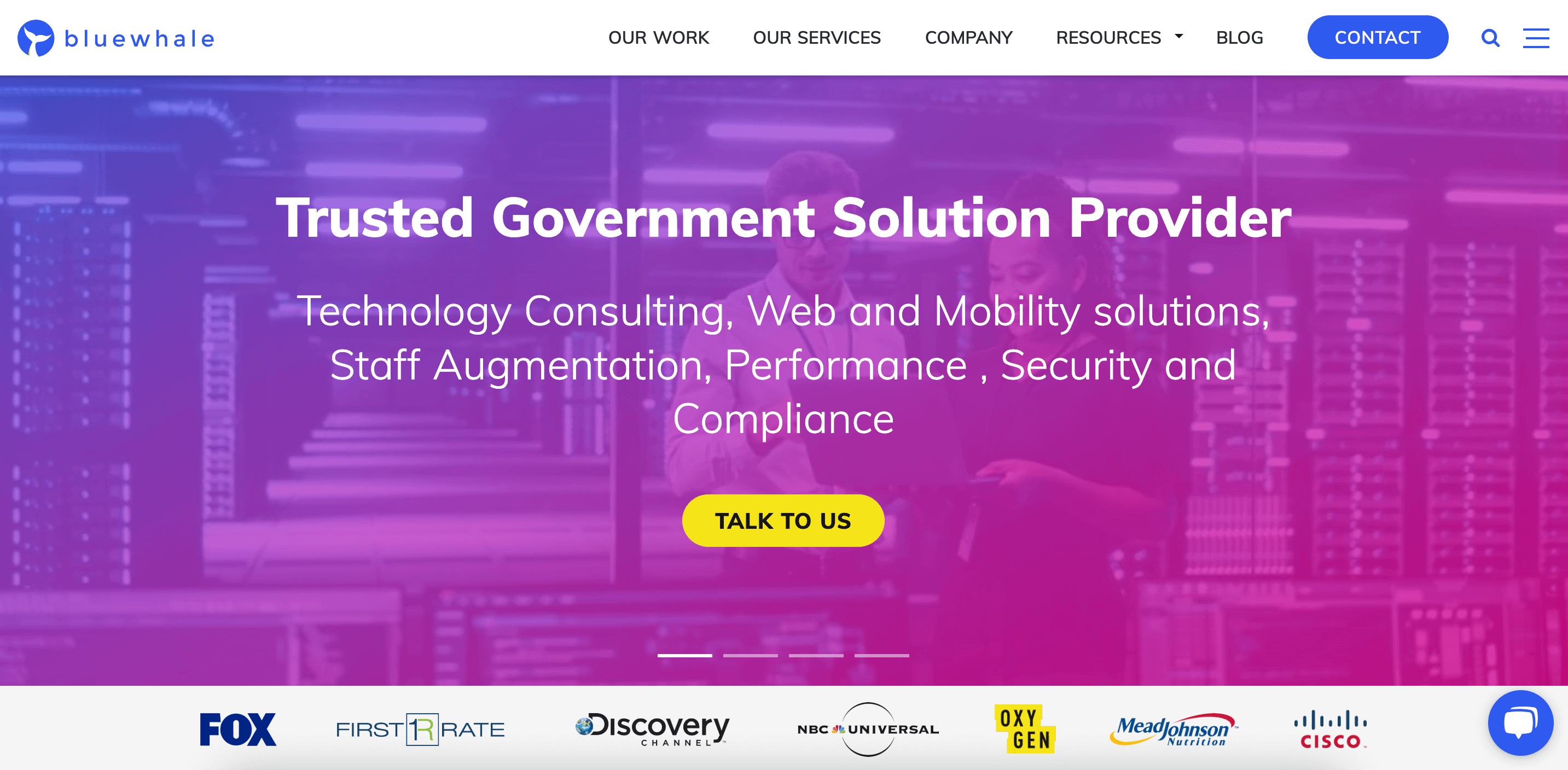 Blue Whale Apps has over 14 years of experience in mobile app development with a deep focus on Flutter. They offer clients out-of-the-box solutions for better business performance and streamlined user experiences.
Their team is represented by the best Flutter developers in the United States and other tech experts who excel at product strategy and prototyping. They align ideas and processes to your business objectives, timelines, and budgets. 
Partner with Blue Whale Apps to become the owner of high-performing Flutter apps with personalized features to help you stand out in the super-connected business world.
Services and expertise:

mobile development, web development, cloud computing, product strategy, design and prototyping

Tech stack:

Flutter, React, Angular, Java, .NET, ReactJS, etc.

Industries:

Healthcare, Marketing, Patient Monitoring, Event Management, Social Media

Location:

Herndon, VA, USA

Clients:

Checkup, SOBIO, Redban, Avnet, Spiderdoor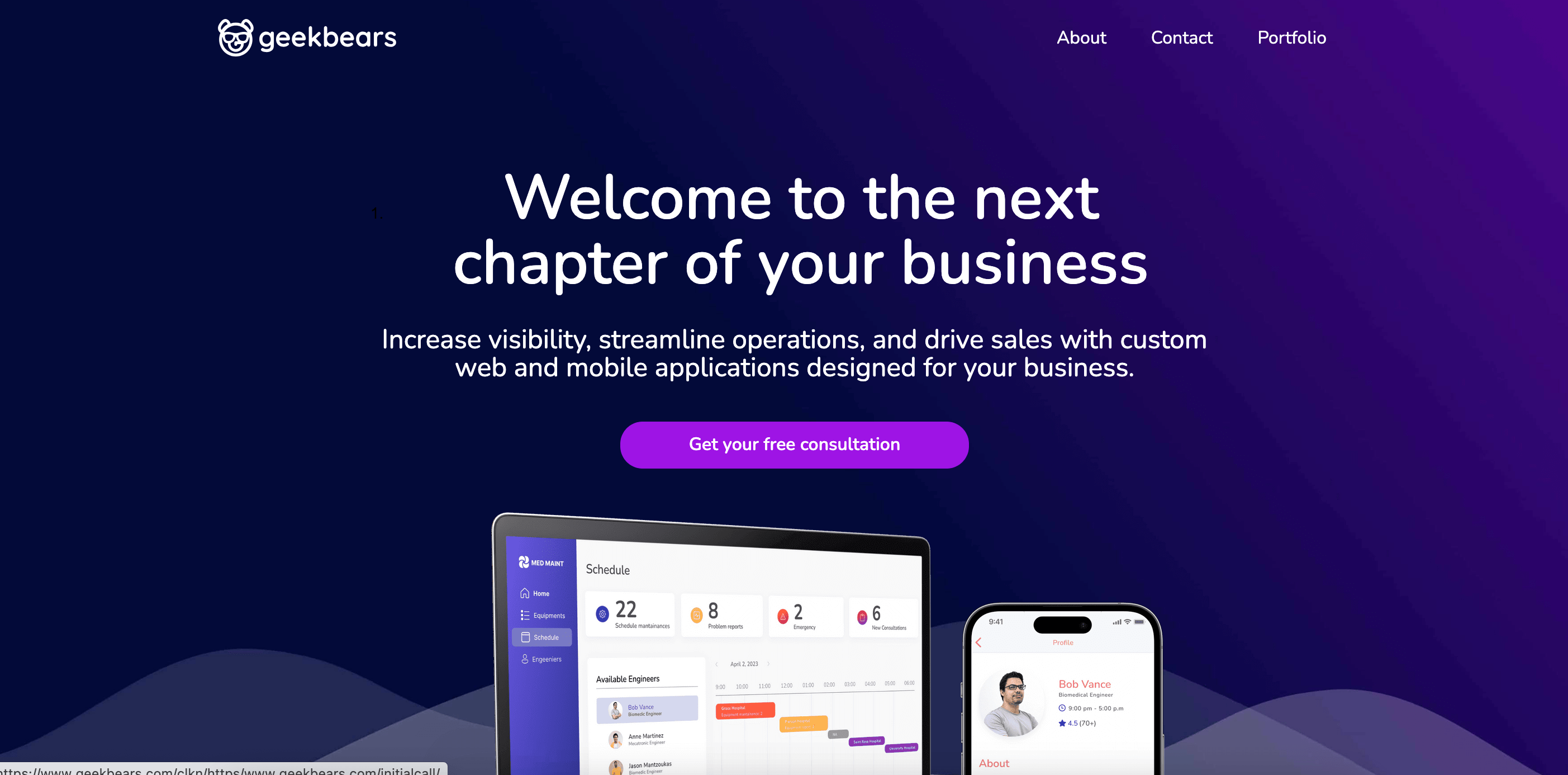 As the business world pivots into the hyper-connectivity era, IT specialists face the challenge of integrating mobile apps into their overall security strategy. Geekbears, one of the best Futter app development agencies in the USA, takes a security-by-design approach to app development. 
Geekbears' professionals build secure solutions for seamless integration into day-to-day business operations without sacrificing functionality and ease of use.
Their technical teams are ready to help you through the discovery, design, and development phases. They adopt the agile methodology in app development, incorporating client suggestions and making improvisations that enhance the overall output quality.
Services and expertise:

Flutter app development, UI/UX design, web app design and development, app security

Tech stack:

Flutter, HTML5, React,  C++, Java, Python, etc.

Industries:

Banking, Healthcare, eCommerce, Education

Location:

San Francisco, CA, USA

Clients:

Treads, Dander, SBA
Conclusion
Flutter has become a popular technology for businesses seeking to create cross-platform apps with seamless digital experiences for users and workers. At its core, Flutter combines a confounding mix of Google's app development technologies, resulting in an exceptionally powerful building framework for mobile apps.
The above-listed Flutter app development companies can help you build the best cross-platform apps, leveraging the limitless possibilities of this open-source technology to meet your unique objectives.
If you want to add your company to the list, email us with your request. After a thorough review, we'll decide whether it's a valuable addition.