The Asian tech market is booming, and the demand for the best software developers in the Philippines has been actively increasing.
Over the course of the next five years, it is forecasted that the revenue of the ICT market in the Philippines will experience significant growth with a compound annual growth rate (CAGR) of 8.0%. In this thriving landscape, several multinational corporations such as Accenture, Cisco Systems, Globe Telecom, IBM, and Dell Technologies have emerged as frontrunners, leading the Philippine ICT market. More and more prominent IT outsourcing companies are launching daily in this region to offer the best-in-class hardware and software development services to clients worldwide.
If you plan to revamp your company's software, fix an issue or build an entirely new IT system to grow your business, consider working with one of the top software development companies in the Philippines. You'll benefit from the best price-quality ratio, extensive tech expertise, and exceptional customer service. 
Other advantages that you should not ignore include:
The Philippines software companies have developers who can communicate in English, making collaboration with your company smooth and easy.

The costs are affordable since the Philippines has a lower cost of living than most European countries and the United States.

The Philippines has a large pool of talent you can choose from.
This list will help you find the best software developers in the Philippines, highlighting their unique experiences, technical skills, prominent achievements, and other essential details. Work with the best ones!
The Best Software Development Companies in the Philippines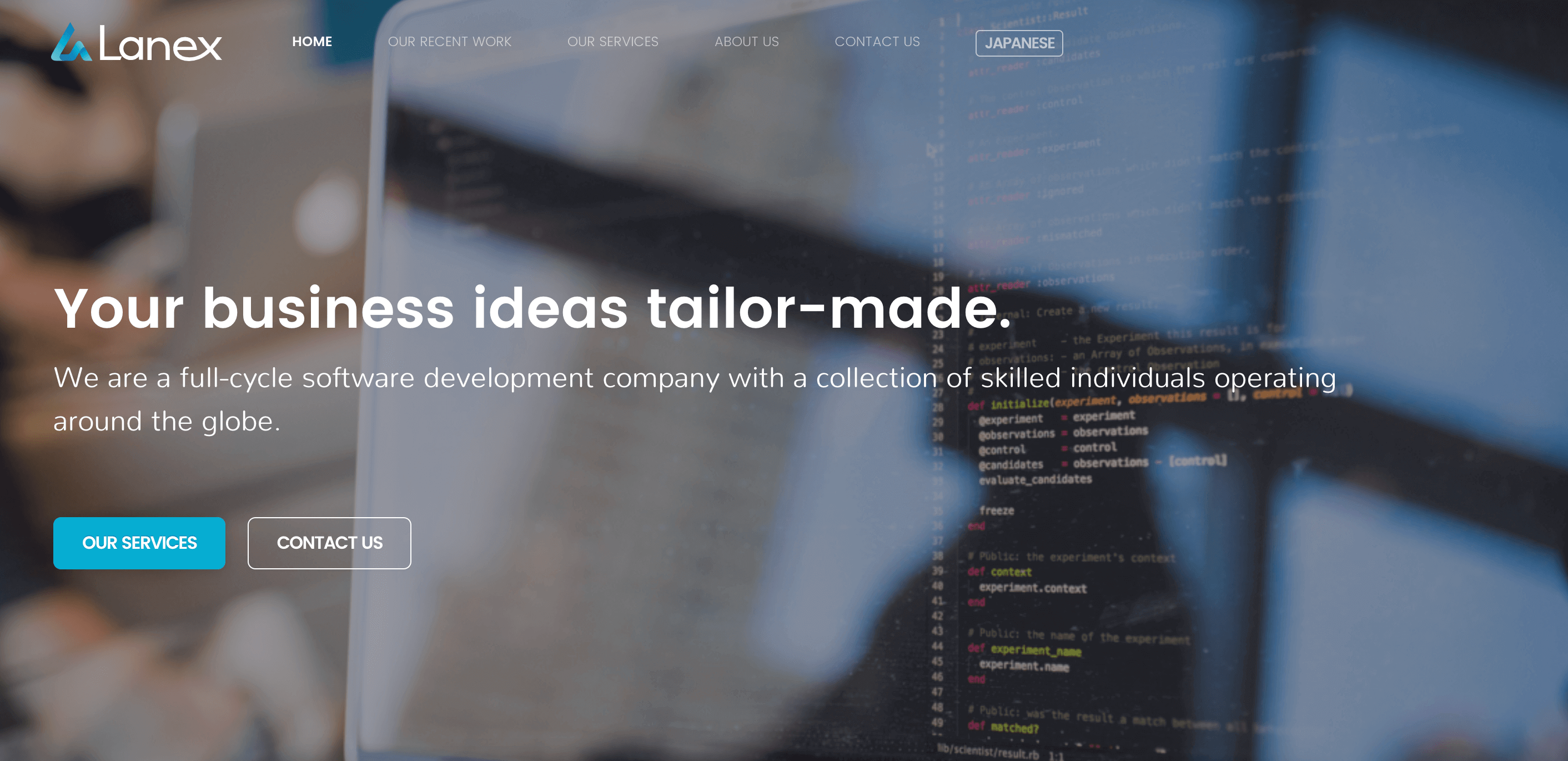 Lanex Corporation has established itself as a result-driven company, ensuring all its solutions are effective, reliable, and can be scaled at any time after the launch. The firm can quickly assemble an agile team from its pool of top-notch developers based on your needs and specific project requirements.
Moreover, Lanex has 30+ years of experience providing software solutions within various industries. Their rich experience partnering with companies of all sizes, from novice startups to global corporations, has made them the leading experts in providing industry-specific tailored solutions.
Services and expertise

: bespoke software development, web & mobile applications, UI/UX design, DevOps, VR/game development, AI/ML development

Tech stack

: C++, C#, Java, Python, Lua, JavaScript, HTML, CSS, PHP, Ruby, Swift, Objective-C, Kotlin, TypeScript, Go, Dart

Industries

: Medical & Healthcare, Booking, Business Process Automation, Media. Human Resources, Real Estate, Cryptocurrency, eCommerce, Transportation, Finance & Trading

Team size

: 100+ experts

Portfolio

: ECCA Enterprise's Virtual Mall System, RoommatesWithKids, HeyBaby, GE Reports, HRIS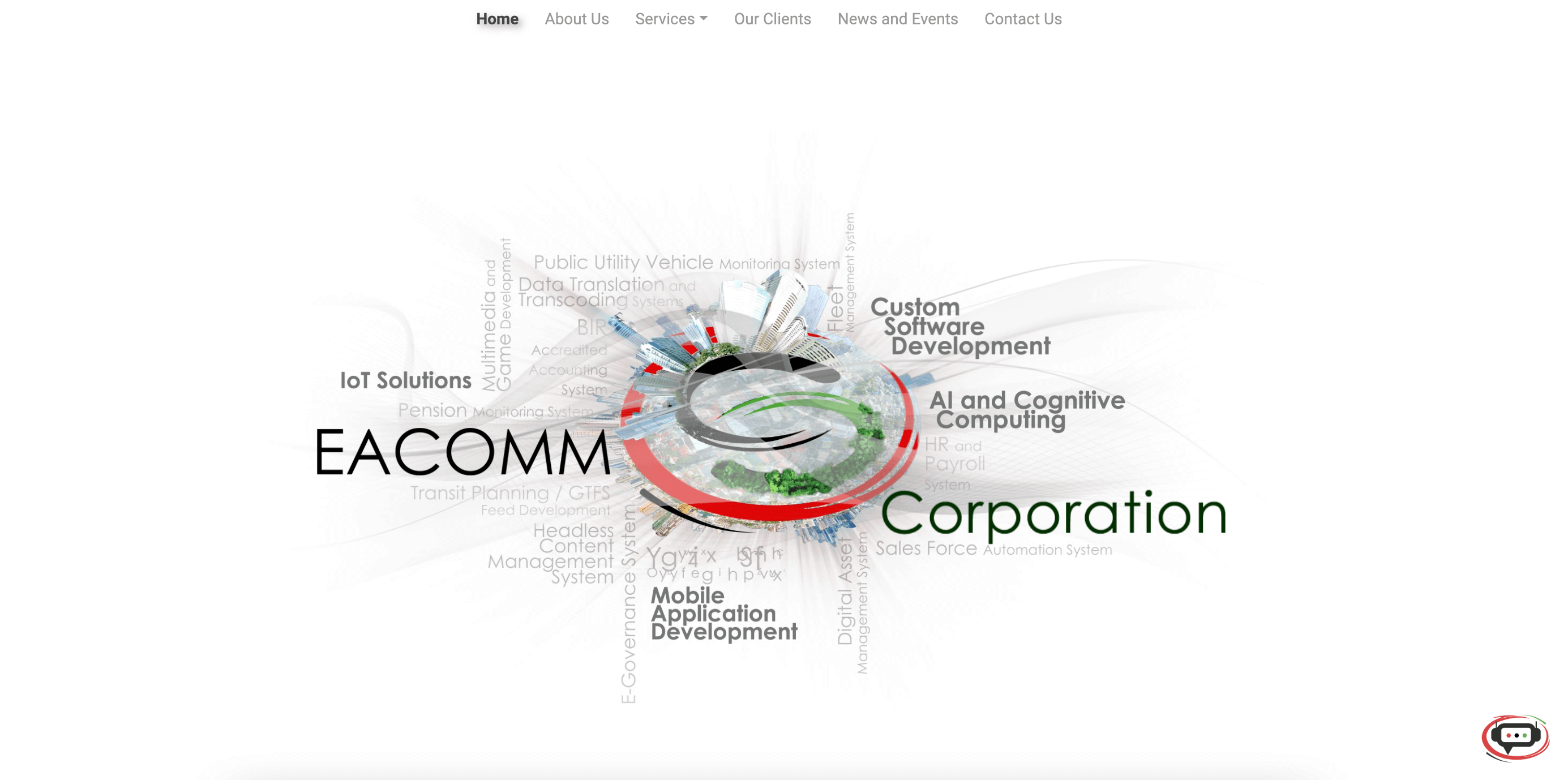 Are you looking for more than simply custom software solutions? EACOMM is just the right tech company to work with. Apart from outstanding tech expertise, the corporation also supports clients' innovation and knowledge growth, which can help you develop unique ideas for your unique business processes and goals.
The company's vision is to be the leading hub for ideas, innovation, knowledge, and creativity. And with such aspiration, they've been privileged to partner with a wide range of clients from different industries, including government agencies, educational institutions, Fortune 500 companies, and a host of medium to small businesses.
Services and expertise:

custom software development, Artificial Intelligence systems, IoT development, mobile app development

Tech stack:

JavaScript, Java, PHP, MySQL, HTML5, etc.

Industries:

Education, Government, GPS, Navigation & GIS, Telecommunications, Supply Chain, Logistics, Transport

Team size:

200+ experts

Portfolio:

Google, Ericsson, Emerson, Nippon Express
Hireplicity is a dedicated midsized software development company located in Mandaue City, Philippines. 
Since its inception in 2008, Hireplicity has helped several businesses transform their ideas from scratch into products that have done exceptionally well in the local and global markets.
When working with the team, you can be sure of help in every step of the journey, from ideation and implementation to launching and iteration. The best software developers in the Philippines on board make Hireplicity an IT outsourcing powerhouse in the region.
Services and expertise:

web app development, mobile app development, eCommerce development, big data analytics, web design, education technology, DevOps

Tech stack:

NodeJS, ReactJS, HTML5, WordPress, Java, Python, JavaScript

Industries:

Business Services, eCommerce, Education, Financial Services, Informational Technology, Real Estate

Team size:

100+ experts

Portfolio:

ACT(Altitude Control Technology), GoSignMeUp, Sackett Financial Group
Founded in 2018, JLabs is a dedicated tech team that assists entrepreneurs, startups, and scale-ups in cost-effectively building and managing their end-to-end tech operations. Based in the Philippines, the firm enables businesses to focus on growth and success.
With a mission to discover, design, develop, and deliver world-class, practical technology solutions that have a global impact on people's lives, JLabs offer full-cycle web development, mobile development, as well as custom software development services.
To achieve the highest quality and quick turnaround time, JLabs focuses on mastering a specific set of technologies. If you need to create a stunning online presence, develop an engaging mobile app, launch a successful startup, or implement AI or blockchain technologies into business, JLabs is the right company for you.
By choosing them as a reliable tech partner, businesses can embrace disruptive technological innovations, forge long-term global relationships, and revolutionize the way they operate in the global digital landscape.
Services and expertise: web development, mobile development, custom software development, AI systems, blockchain integrations
Tech stack: ReactJS, React Native, NodeJS, Laravel, Firebase, Stripe, Amazon Web Services (AWS)
Industries: Logistics and Transportation, Real Estate, E-commerce, Finance, Automotive, and others
Team size: up to 10 experts
Portfolio: Finova, NFTing, ReFuel, Dran, Maharlikart, AppZaloot, US Housing Exchange, BackRyde, FaceX, NZDianLi, Mystery Code, and others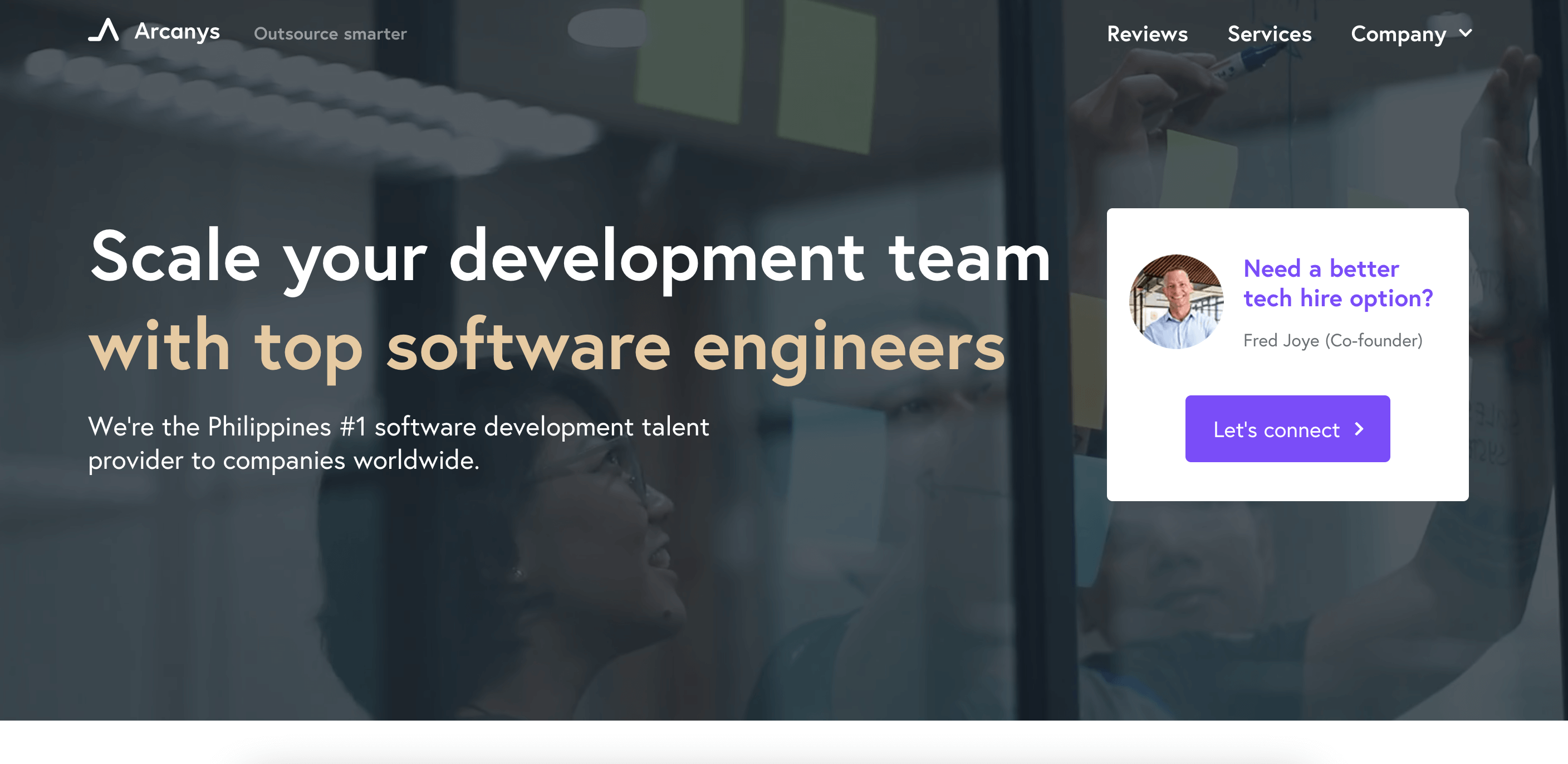 Every business strives to gather a software development team that not only "fits" but is ready to perform their best in every task. If you're looking for such a team, look no further than Arcanys.
Software development teams provided by Arcanys ensure that they adapt to your company's culture, provide solutions with the latest appropriate technology, are transparent, and are easy to communicate with.
Services and expertise: d

edicated teams, product design, software development, delivery & support, SaaS, mobile apps, UI/UX design

Tech stack:

JavaScript, Angular, NodeJS, ReactJS, .NET, PHP, Python, Mobile cross-platform, C++

Industries:

Fintech, Media, Information Technology, Health, Infrastructure, Management Consulting

Team size:

1000+ experts

Portfolio:

General Electric Korea, Enfo, RateMyAgent, Payment Logic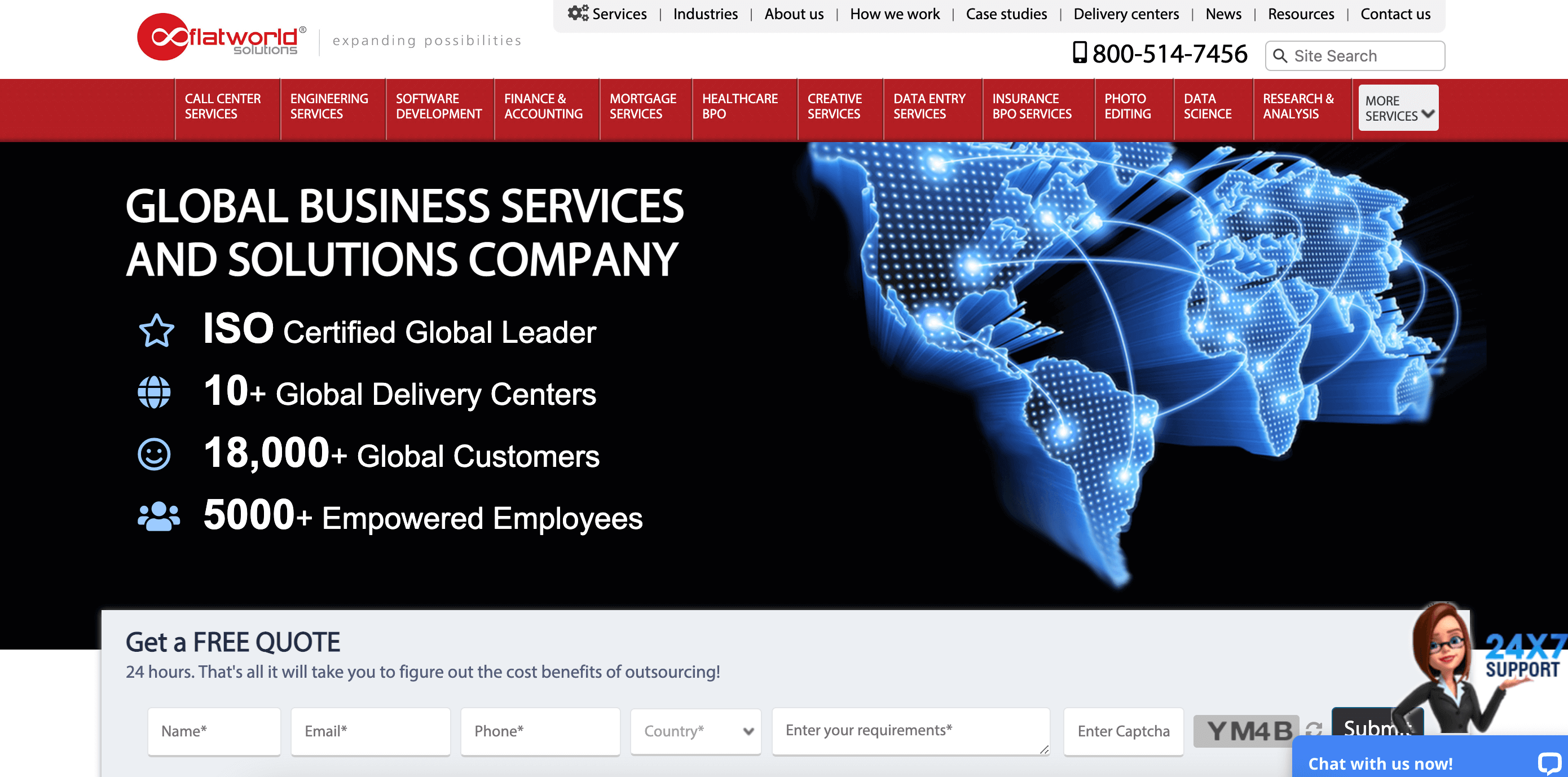 Flatworld Solutions was started in 2006 and has its headquarters in Princeton, N.J. The firm has 10+ delivery centers, with one being in the Philippines, and served 18,000+ clients worldwide.
Their team deeply understands clients' goals and works solely to meet them. Following an efficient working process, which includes an empowered and collaborative environment, they're able to deliver incredibly good results in dozens of IT service directions. 
Services and expertise: c

ustom software development, IT consulting services, web development, open-source services, mobile app development, photo editing, data analytics, etc. 

Tech stack:

ASP.Net, .Net, NodeJS, etc.

Industries:

Banking and Finance, Insurance, eCommerce, Healthcare, Customs Brokerage, Logistics, Manufacturing, Telecommunications, Real Estate, and more

Team size:

5000+ experts

Portfolio:

MSN, Korchina, Fujitsu, Yale School of Management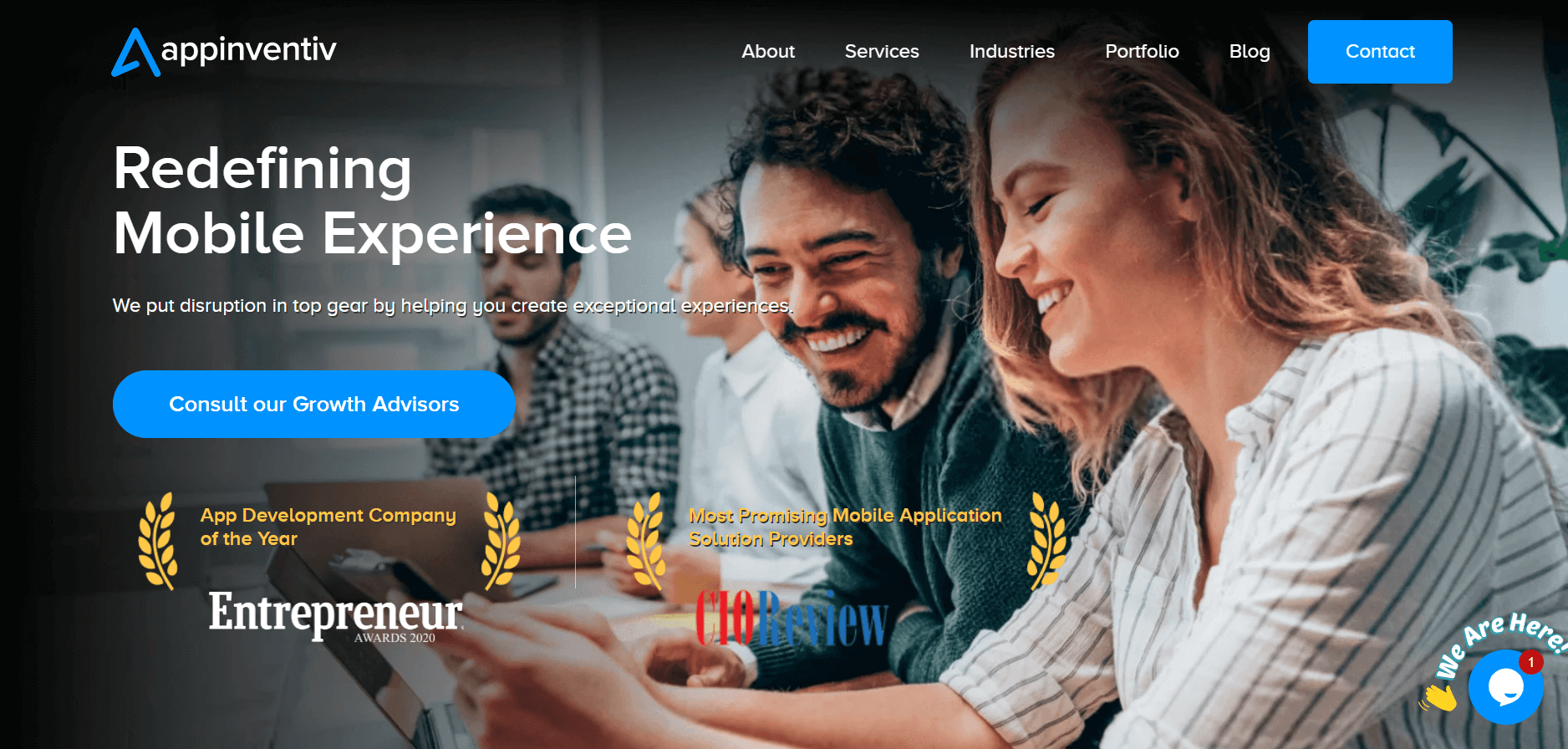 As an established software development company in the Philippines for 7+ years, Appinventiv has garnered an elite long-term clientele for projects specializing in AI, managed cloud, AR/VR, and other integrated technologies. Their expertise lies in their approach of ROI-focused digital transformation solutions.
They offer dedicated services in developing, designing, and deploying state-of-the-art technologies to a diverse industry demand ranging from startups to legacy enterprises. The firm comprises 1200+ digital product engineers who handle multiple projects for the government of Qatar and India.
Appinventiv is well known for its successful project completion rate of 99.6% globally with over 3000 products delivered on-time.
Services and expertise: b

lockchain application Development, metaverse development services, IT consulting services, AL/ML development services

Tech stack: NodeJS, ReactJS, HTML5, WordPress, Java, Python, JavaScript
Industries: Healthcare, eCommerce, Education, Financial Services, Game App, Real Estate
Team size: 1200+ experts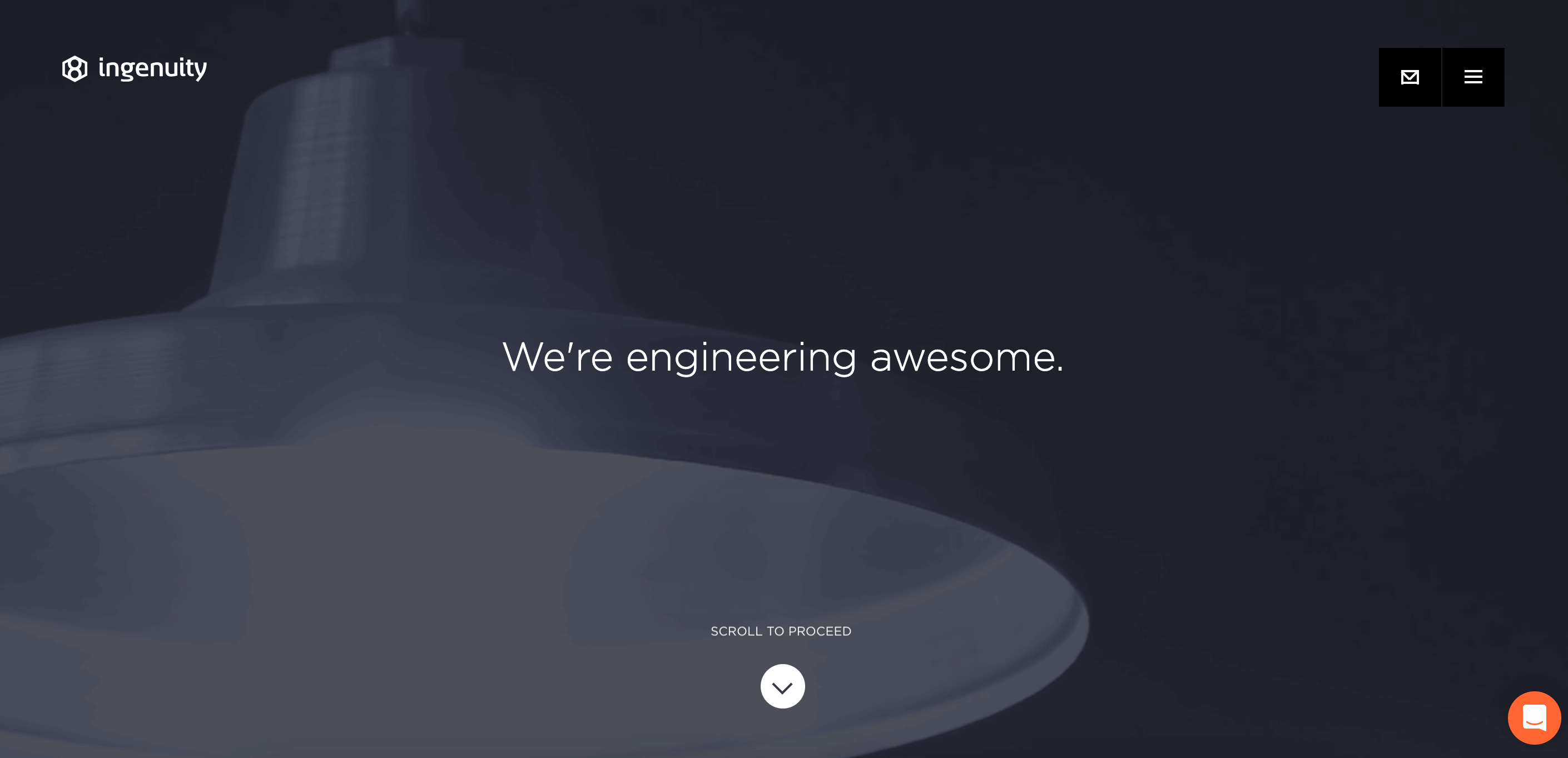 Ingenuity Global Consulting, Inc is another top-tier software development company in the Philippines that takes pride in taking a raw software product idea from businesses and turning it into a well-functioning application bringing tremendous business value.
The company ensures they only implement best software practices so that you can be sure of software developed with the highest coding standards in mind. Also, their process is agile, meaning it's iterative and adaptive with a transparent feedback loop.
Services and expertise: w

eb development, mobile app development, IT staff augmentation, UX/UI design

Tech stack:

WordPress, PHP, VueJS, Java, Python, C#, JavaScript

Industries:

  Arts, Entertainment and Music, Business Services, Consumer Products and Services, eCommerce, Gaming, Information Technology, Real Estate

Team size:

200+ experts

Portfolio:

Rayoga, Dyln, Grin, The Inspiration Company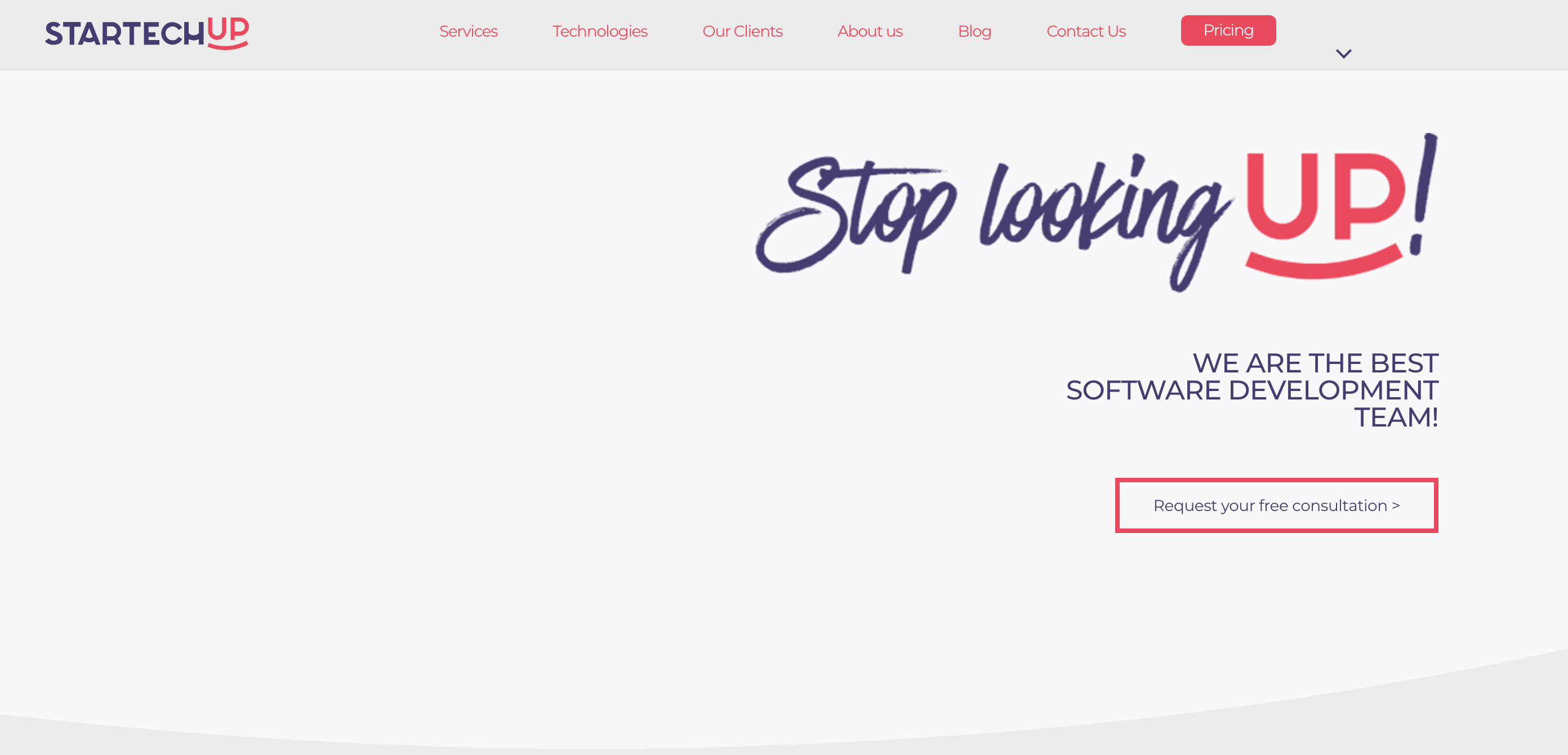 Startechup is one of the top software companies in the Philippines that utilizes the latest technologies to create business solutions that enable businesses to stay relevant and competitive in the market.
Startups and small businesses will find this company the best to work with because of the reduced costs and flexibility when dealing with new tasks. They strive to understand their unique challenges deeply and provide the best-fit solutions on a budget.
Services and expertise:

web development, mobile app development, UX/UI design, custom applications

Tech stack:

WordPress, PHP, VueJS, AngularJS, Javascript, React Native, Swift, iOS, Objective-C, etc.

Industries:

Agriculture, Real estate, Events, Finance, IOT, Fabrication, Health care, SAAS, NGO, Food Industry, Education, eCommerce

Team size:

50+ experts

Portfolio:

Humani-Terra Surgery Tracker Mobile Application, MIRI E-Concierge, Key4events, Viva City
The quality-driven Offshorly is the best custom software development company in the Philippines, offering reliable offshoring and staff augmentation services. The firm was started in 2014 and has its headquarters in Quezon City.
One of its notable projects is a website developed on Hubspot CMS. This web resource aims to enable the client's non-technical staff to create and manage marketing funnels.
Services and expertise:

custom applications, web development, mobile app development, and UX/UI design

Tech stack:

Java, Python, C#, JavaScript, SQL, PHP, JavaScript, HTML/CSS, Ruby, C/C++, .NET, PowerShell

Industries:

Business Services, eCommerce, Information technology

Team size:

50+ experts

Portfolio:

Hambleton Hall, Regenerate, World Vision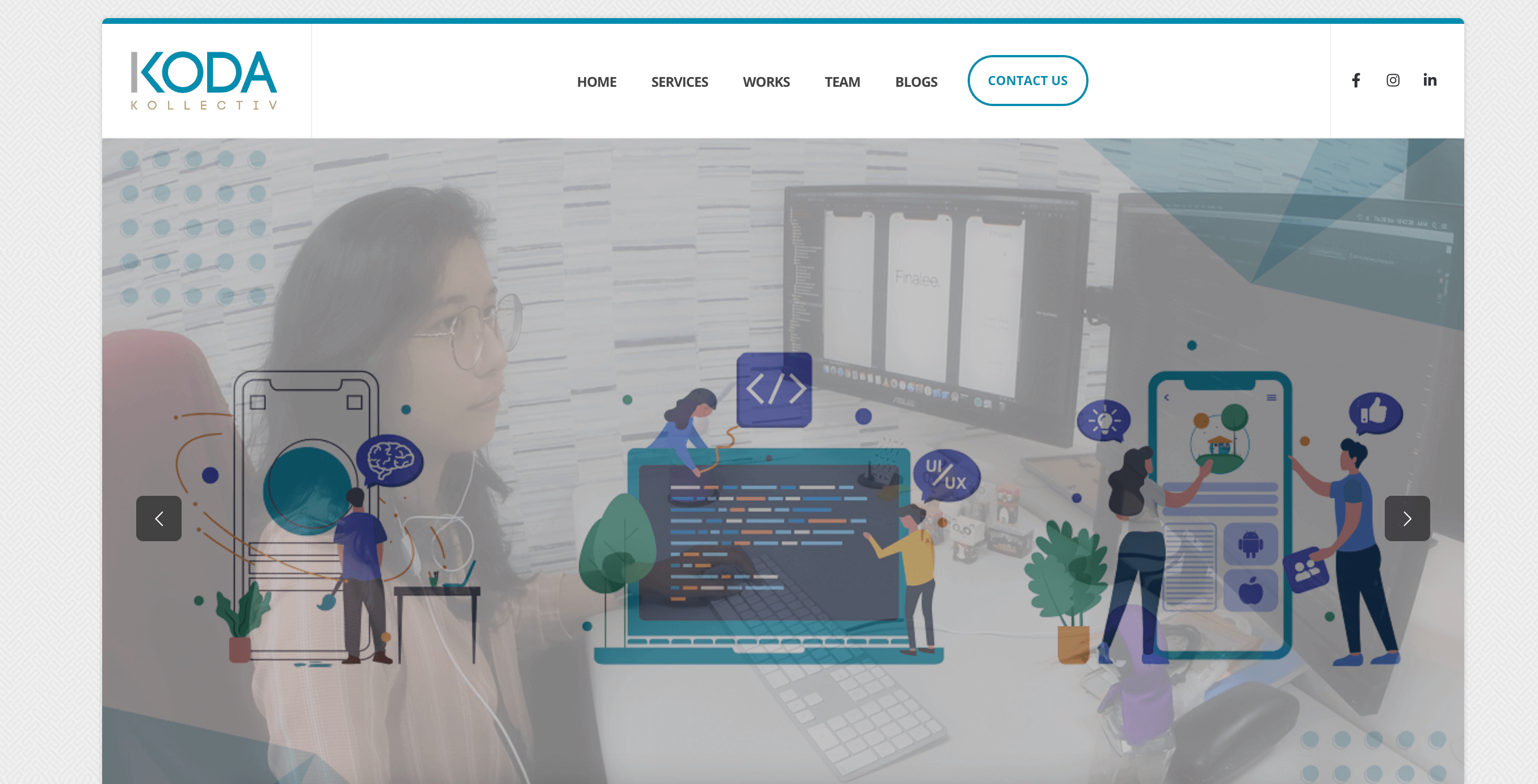 KODA Kollectiv provides top-level web and mobile app development services focusing on tailored solutions for businesses' unique operations and requirements. Because of their dedication and timely deliveries, KODA Kollectiv has established itself as a trusted software development partner.
The company also firmly believes in going the extra mile to satisfy clients when implementing a broad range of software solutions. So, whether you're a small business or an established organization, be sure of getting results that go over and beyond when outsourcing to KODA Kollectiv.
Services and expertise:

staff augmentation, mobile application development, web development, graphic design and animation, prototyping, eCommerce solutions, online payment integration, Bluetooth & hardware integration, backend systems

Tech stack:

Java, Python, C#, JavaScript, Angular, NodeJS, ReactJS, HTML5, JQuery, WordPress

Industries:

eCommerce, Education, Information Technology, Retail, Supply Chain, Logistics, Transport

Team size:

50+ experts

Portfolio:

Poker Fantasy League, Graffwriter, Go Paddling, Flair People, Ugenie, and many more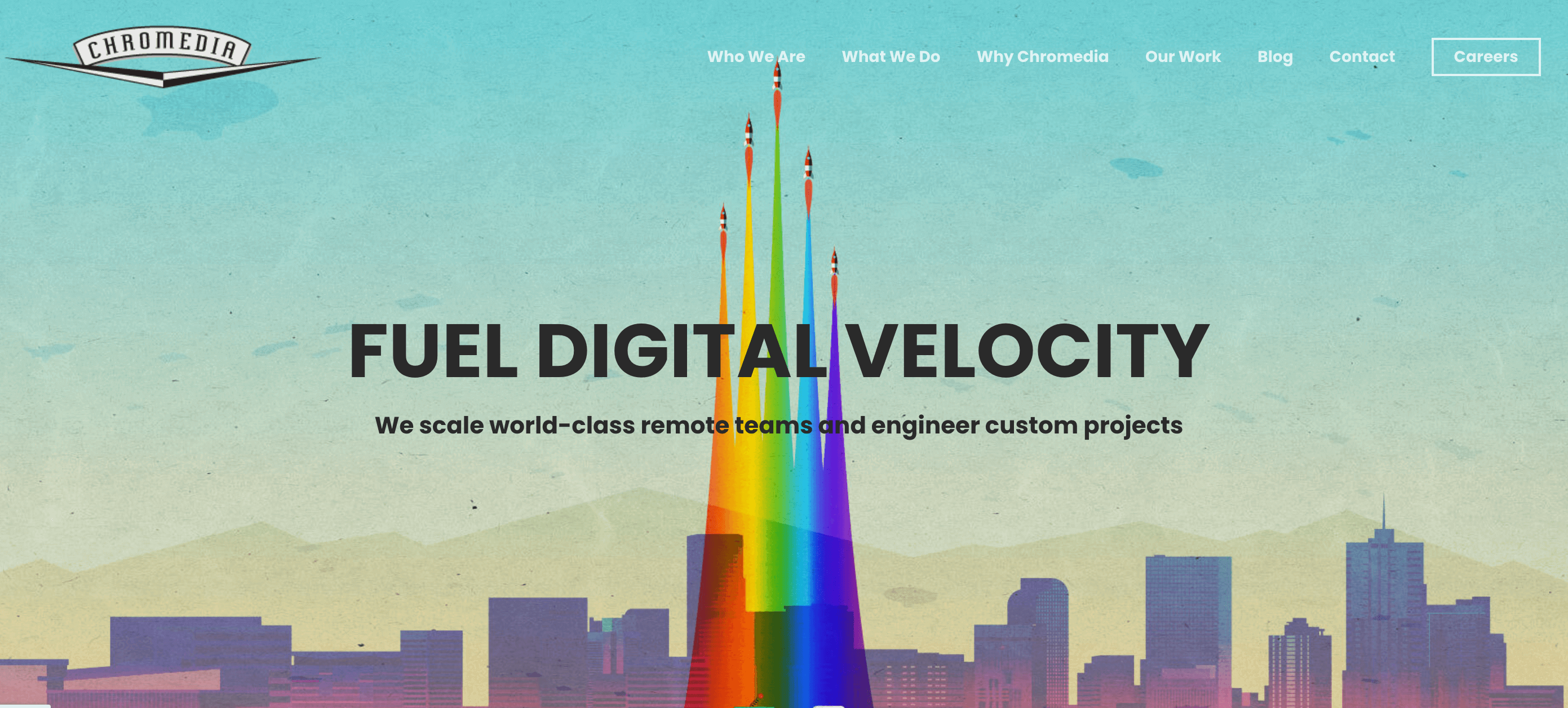 Like the rest best software development companies in the Philippines on our list, Chromedia has proven to keep up with the ever-changing IT industry, providing its clients with solutions that utilize the latest appropriate technology.
The team at Chromedia consists of skilled and experienced engineers and gifted UI/UX designers, ensuring a perfect blend of expertise and flawless final products. What's more, you can enhance your in-house team with their world-scale remote employees on demand. 
Services and expertise

: AWS system administration, UI/UX design, web development, iOS development, Android development, staff augmentation, project management, Quality Assurance 

Tech stack

: HTML5, JQuery, Backbone.js, Ionic, AngularJS, Shopify, Swift, Objective-C, Android, Kotlin, React Native, etc.

Industries

: Finance, Travel, Healthcare

Team size

: 100+ experts

Portfolio

: Spoke Health, Onward, MEDtrip, dBocl
Conclusion
Hiring from the best IT outsourcing companies in the Philippines is worth it. You'll get exclusive access to versatile professionals with the right skills and experience, not for all the money in the world.

If you're the owner of a top software development company in the Philippines and want to add it to this list, email us with your request. After a quick review, we'll decide whether it's a valuable addition.