The financial industry has been experiencing several changes for the last few years, and that is just because of the power of the internet.
A wide range of financial institutions, including different categories of banks, are stepping into digital/virtual banking platforms. These platforms are recognized as neobanks. Neobanking platforms are well-versed and wholly stuffed with outstanding features for a seamless & sustainable banking experience in almost every fintech industry.
Neobanks are spreading rapidly everywhere and have become the future of financial institutions or the banking sector. According to Statista, in 2022, neobanking solutions had an entrance of users of nearly 2.5%, which is projected to cross 5.8% by 2027. In 2021, the neobanking market across the globe was valued at USD 47.39 billion and is anticipated to increase at a compound annual growth rate of 53.4% during 2023-2030. 
Are you willing to develop a neobank app backed by the latest technologies? Or are you planning to select a reliable neobanking platform for your business's growth? If so, you are at the right place. 
Benefits Of Neobanks Over The Conventional Banking System
Neobanks have countless advantages over traditional systems; let's have an eye on a few of their core benefits:
They are built used on advanced technologies and offer enhanced banking services and a better customer experience. 

They are cost-friendly.

They can stream banking platforms.

They use biometric devices to offer enhanced security.

They offer complete paperless banking regardless of the location of the customers. 

They provide digital banking solutions.

They allow you to customize the banking infrastructure.
Core Features Of The Neobanking App Platform
Unlike conventional banking platforms, neobanks provide several exclusive features:
Incorporated interactive & customized UI/UX designs for banking apps

User independencies

Multiple payment options for transactions

An easy approach to account opening

Plenty of cashback rewards for users' financial activities

A single dashboard for all payment solutions

Eliminated risks and a secure system

Control over the system and the possibility of detecting all suspicious or fraudulent activities with the help of internal or external sources
To build a neobank app that perfectly meets all your requirements and business goals, consider partnering with the most noteworthy neo-bank app development companies that can offer you far better satisfaction by delivering a good platform. With their top-notch solutions, you'll be handling business challenges quickly and effortlessly.
The Best Neobank App Development Companies For Innovative Financial Solutions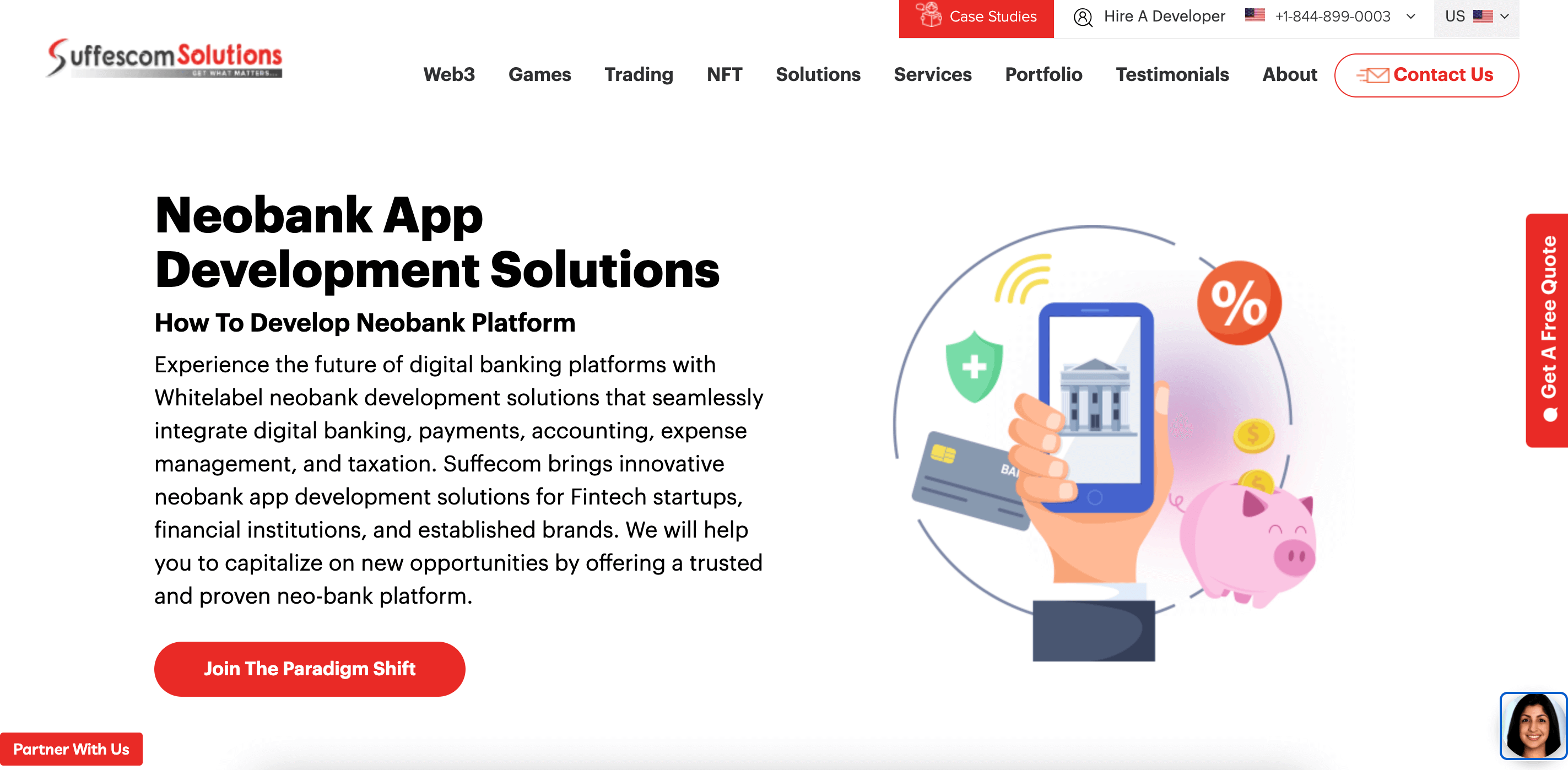 Suffescom Solutions Inc. is a top-ranked Web3-based banking app development company with 4.8/5 rating stars on Clutch and 4.9/5 GoodFirms. The company has around 10 years of experience in developing effective, interactive & innovative software programs for businesses of every scale and type. 
Driven by the tagline of – " Get What Matters," Suffescom Solutions Inc. serves numerous clients globally, including giants such as Battle Infinity, Mealed, King Cubs, etc.
The company is headquartered in the USA but serves businesses from all around the world, from the United Arab Emirates and India to Singapore and Australia.
Founding date:

2013

Team size:

250-999 experts

Location:

California, USA

Price range:

$25-$49/hr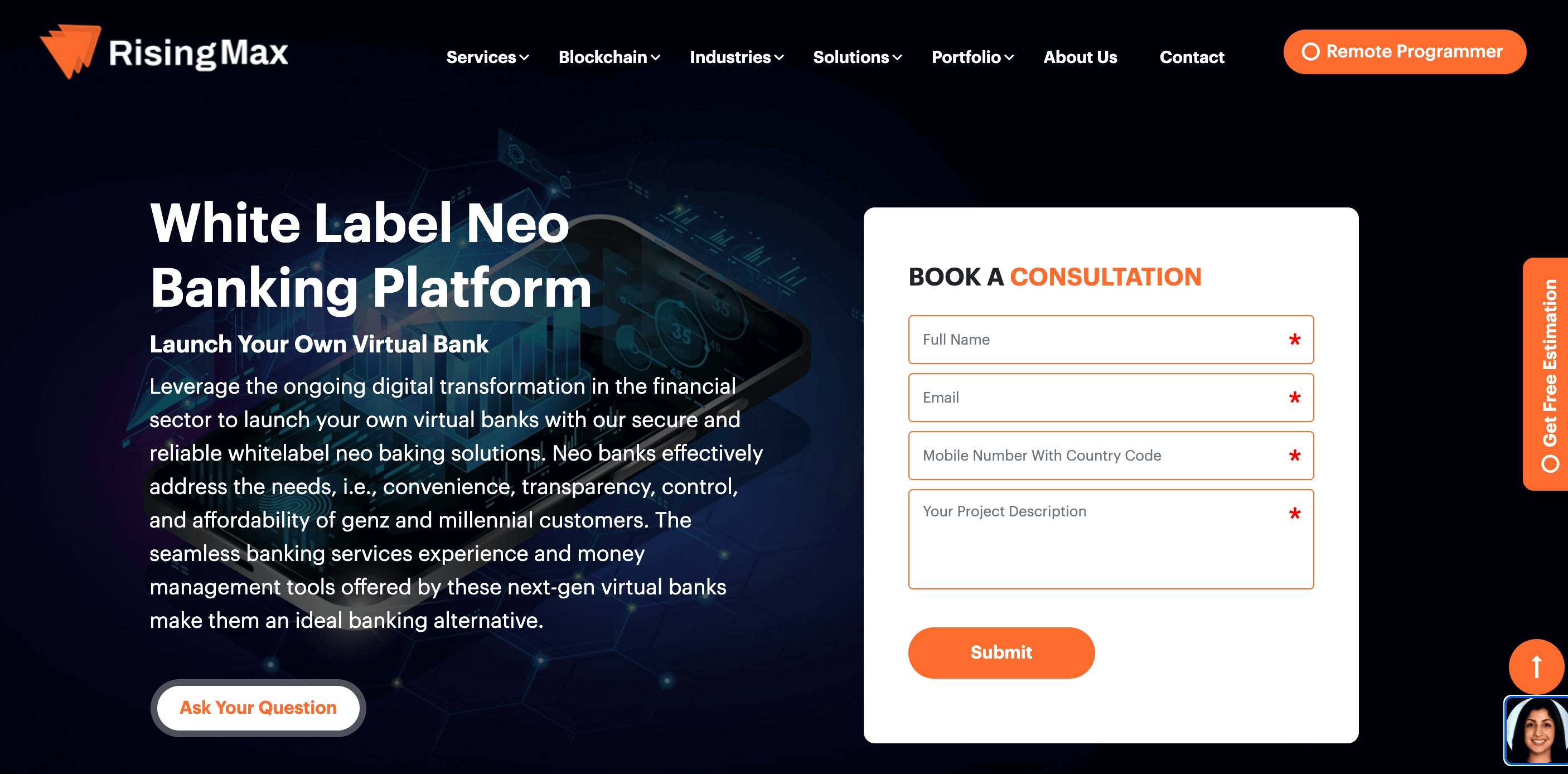 RisingMax Inc. is one of the best banking & financial software development companies that offer high-end services to clients across the globe to assist them in strengthening their digital footprint. Their team of over 100 experienced developers has won the trust of 500+ global clients, including Volkswagen, Wayfair, and more.
The company is a second drawer of financial inclusion that serves various industry verticals, including Travel & Tourism, Real Estate, Automotive, Healthcare, Banking & Finance, Logistics & Transportation, and more.
Apart from this, Risingmax Inc. delivers a multitude of business-oriented services such as enterprise software development, mobile app development, web development, and other solutions.
Founding date:

2011

Team size:

100+ experts

Location:

New York, USA

Price range:

$50-$99/hr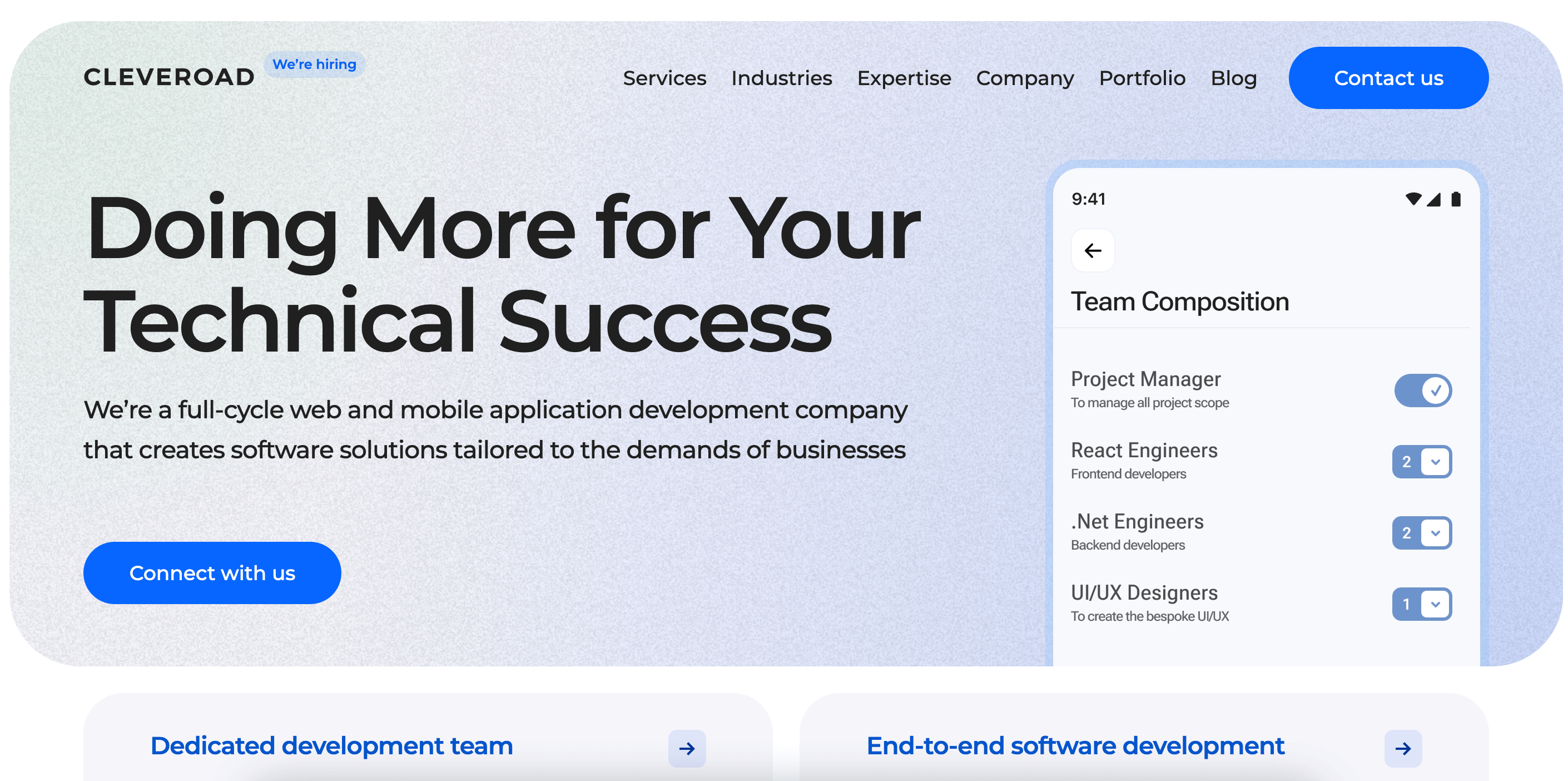 Cleveroad is third on the list of credible neobank app development companies headquartered in Estonia, with offices in other countries: Poland, California, Ukraine, and the USA. The firm has more than 280 skilled and knowledgeable in-house engineers. They have hands-on experience in developing B2B as well as B2C apps, having delivered 170+ successful projects to clients across the globe.
One of the fascinating things about Cleveroad is that it has a 4.9/5 rating on Clutch, indicating its efficiency in designing and developing excellent software solutions. The company serves various business domains, including Startups, Telecom, FinTech, Healthcare, Agriculture, Logistics, E-Commerce, Real Estate, and Media. Their portfolio comprises clients such as Virgin Atlantic, HSBC, TDC Denmark, DPD Group, Fuji HI, MoneyWiz, and more. 
Founding date:

2011

Team size:

50-249 experts

Location:

Tallinn, Estonia

Price range:

$25-$49/hr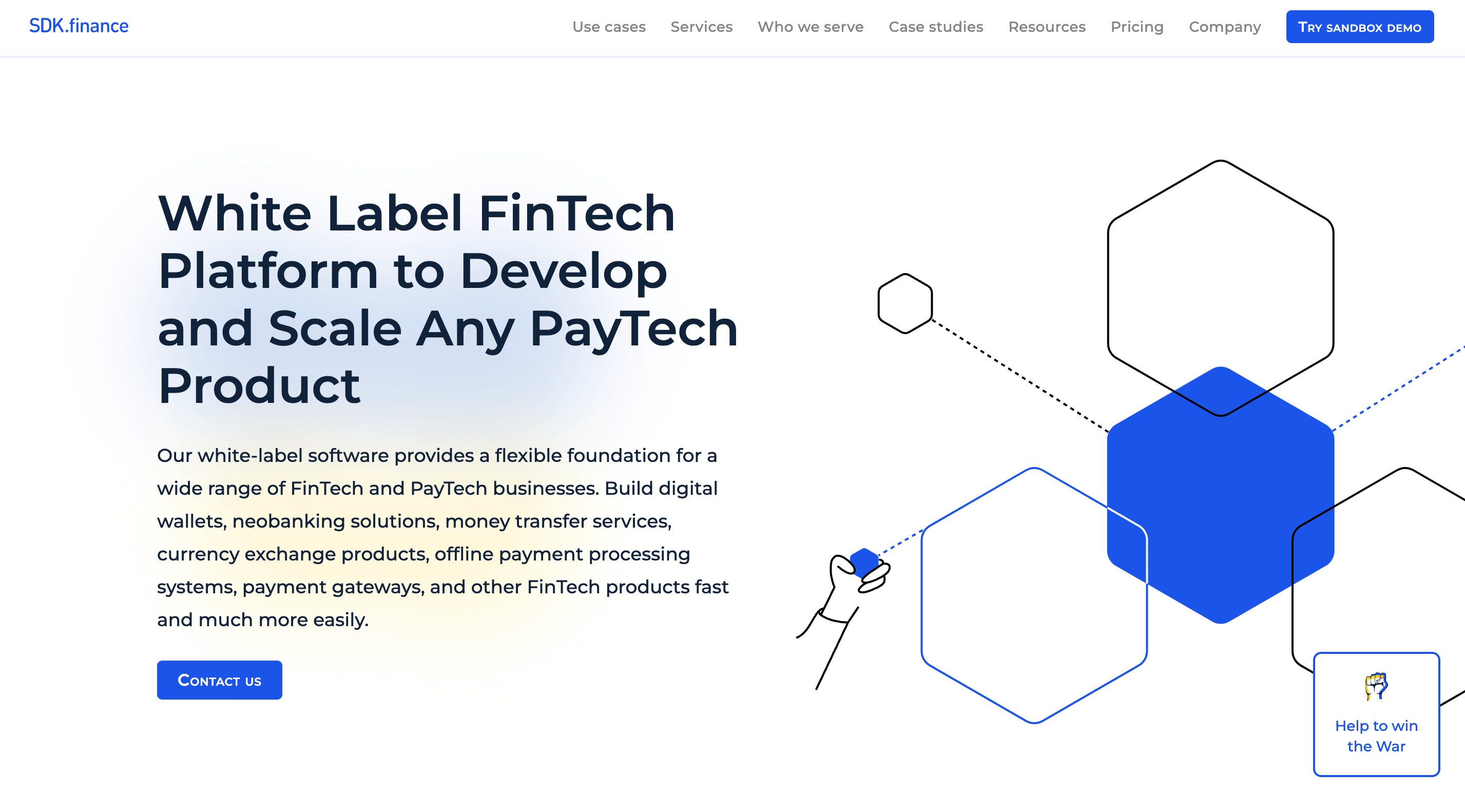 SDK.finance has revolutionized the FinTech and PayTech landscape with its cutting-edge API-driven engine, serving as the ultimate development cycle shortcut. Since 2014, the company has been enabling businesses to save up to a year of active development time, making it the definitive solution for entrepreneurs looking to build a neobank that disrupts the traditional banking experience.
Unleashing the potential of neobank technologies, SDK.finance provides customers with a seamless digital banking experience. From effortless account openings to card issuance, payments, and financial management, every aspect of their FinTech software development services is tailored to suit diverse needs.
Whether you're a startup seeking affordability or SMB and enterprise yearning for scalability and independence, this platform has got you covered. The advantages they offer are endless—cost savings, accelerated time-to-market, and top-notch security. Over 400 APIs and counting empower developers to create a fully customized neobank that resonates with their vision.
Regardless of size or location, SDK.finance serves customers worldwide, including Saudi Arabia, Egypt, Azerbaijan, Ghana, Spain, the UK, the USA, Luxembourg, Canada, and Ukraine.
Founding date: 2014
Team size: up to 50 experts
Location: Vilnius, Lithuania
Price range: $50-$99/hr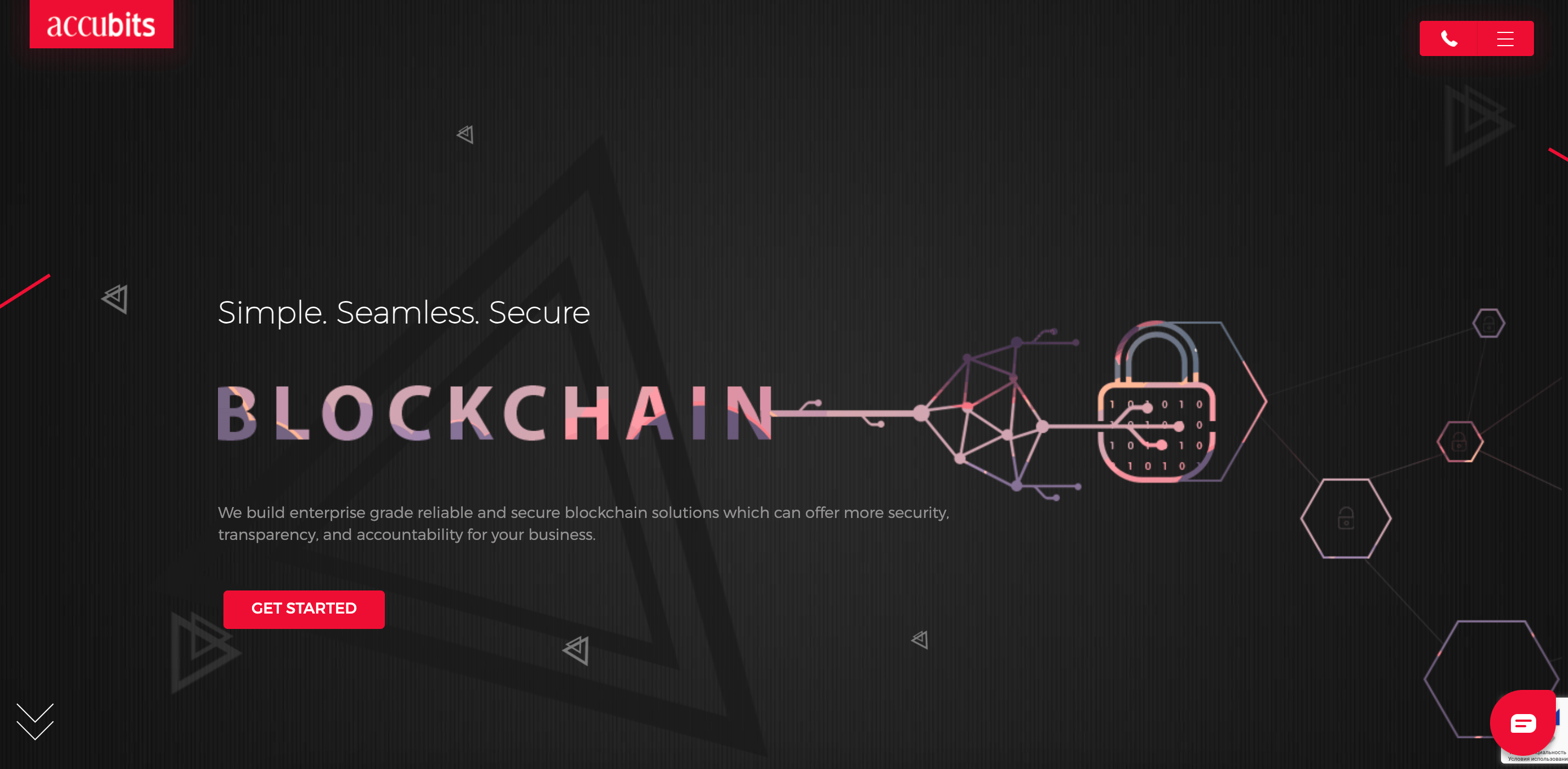 Accubits Technologies Inc. is one of the recognized software development companies with headquarters in the USA. It also has representative offices in India, UAE, Canada, Norway, Australia, Switzerland, the UK, Indonesia, and Hong Kong. Many world's renowned brands, such as USGS, NASA, Homeland Security, UNITED STATES POSTAL SERVICE, and others, have deep faith in the services that it offers. 
Accubits Technologies Inc. uses cutting-edge technologies to develop highly interactive and innovative neobank apps. The company has expertise in blockchain, metaverse, NFT, DeFi, IDO, FINTECH APP, AI, and more. It offers neobank app development solutions for tech startups and Fortune 1000 companies, including Dubai Land Department, Eduvalue, Etisalat, Ausfinex Monger, and Gira Financial Group AG. 
Furthermore, their global team serves various industry verticals, namely eCommerce, Education, Financial Institutions, Government, Hospitality, and more. 
Founding date:

2012

Team size:

250-999 experts

Location:

Vienna, VA, USA

Price range:

$25-$49/hr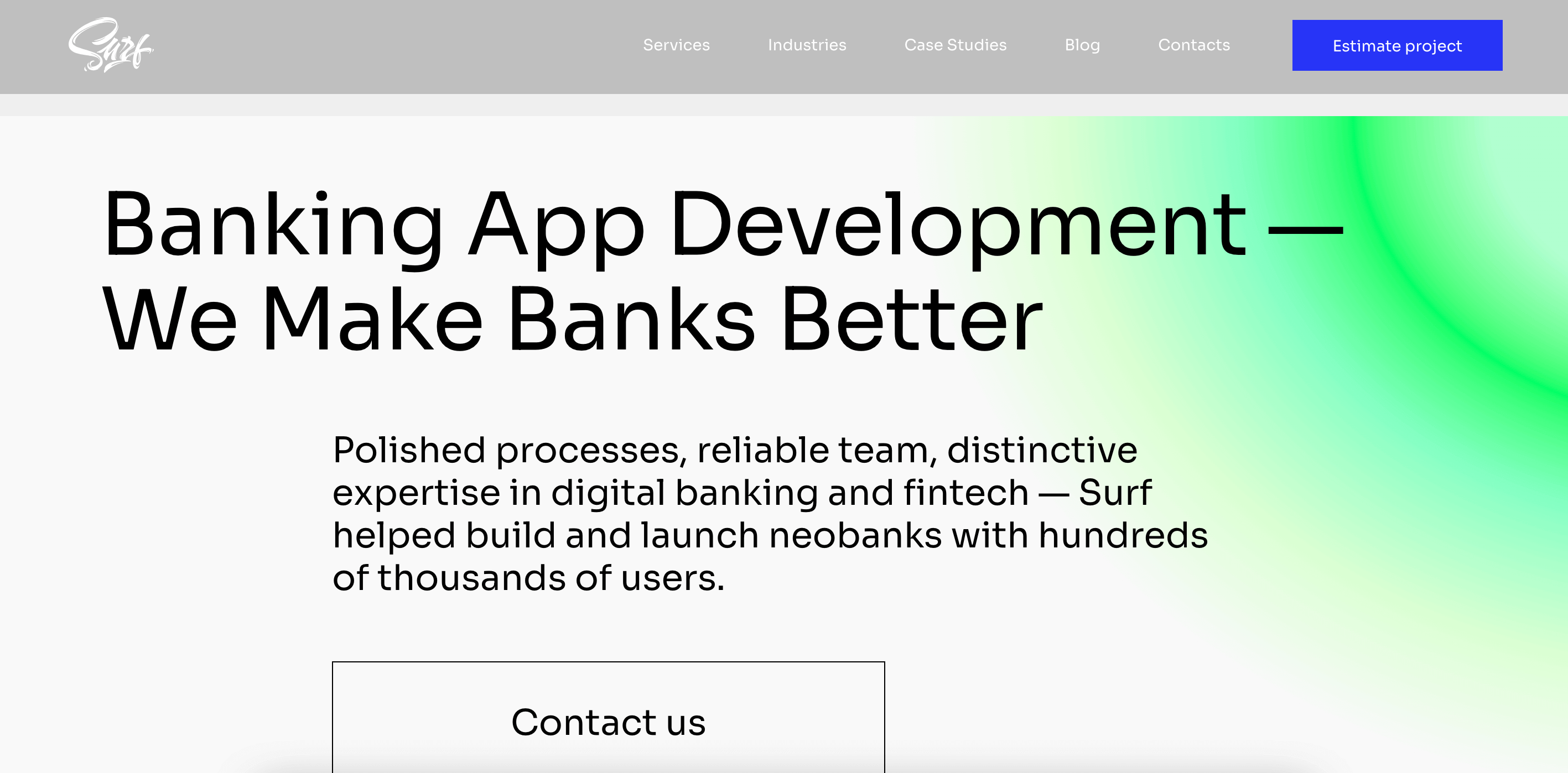 Proud to be a Google Certified company, Surf has more than 12 years of experience serving businesses of various types and sizes. The company has a vast team of talented developers and over 250 tech enthusiasts. Innumerable domains that this company serves are eCommerce, Foodtech, Healthcare, Fintech, Enterprise, HR solutions, and many more.
One of the most prominent achievements of Surf is its 5/5 rating on Clutch. It indicates the company's expertise in delivering comprehensive services, including UX/UI design, native app development, Flutter app development, web development, and other solutions. 
Their notable clients are KFC, MARS, Forbes, SBI bank, Yandex, Delivery Club, and other famous names.
Founding date:

2011

Team size:

50-249 experts

Location:

Wilmington, DE, USA

Price range:

$50-$99/hr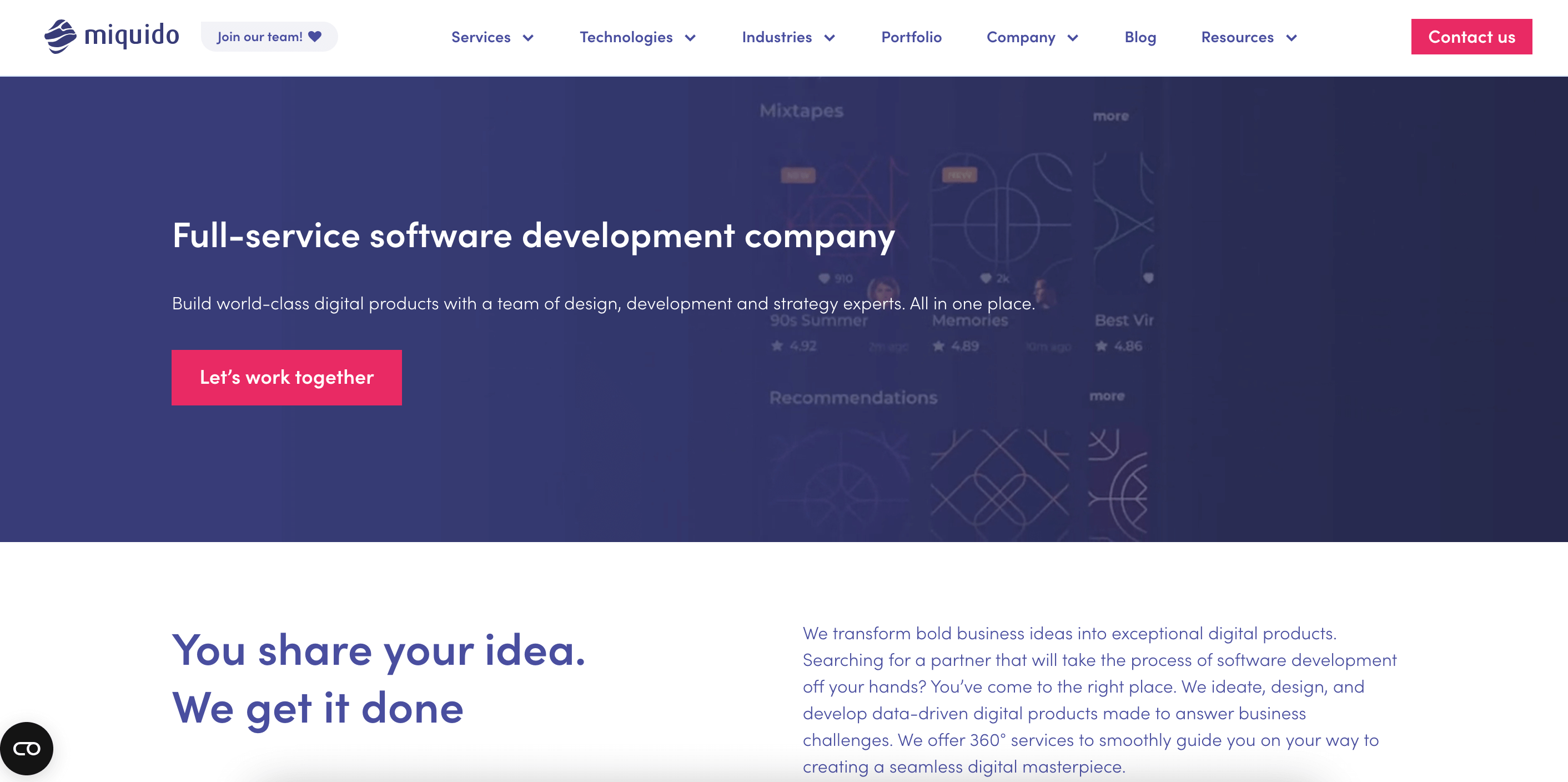 Headquartered in Poland, Miquido has offices worldwide: in the UK, Germany, Switzerland, Austria, Netherlands, and Sweden. It's one of the reputable custom software development companies that has successfully delivered more than 150 software projects within various industry verticals, from Healthcare, eCommerce, and Banking & Insurance to Music, Travel, Education, and Food Delivery.
The company has a 4.9/5 rating on Clutch, demonstrating its rich experience in serving global clients, including SMBs, mid-sized companies, and big tech corporations. Miquido works with businesses regardless of their locations and assists them in their further development. Skyscanner, TUI, Empik, SBAB, Qubit, Imagination Technologies, Lepaya, Shepper, PZU, Brainly, VhedaHealth, and Concirrus are just some of the clients benefited from Miquido's exceptional neobank software services. 
Founding date:

2011

Team size:

50 – 249 experts

Location:

Kraków, Poland

Price range:

$50-$99/hr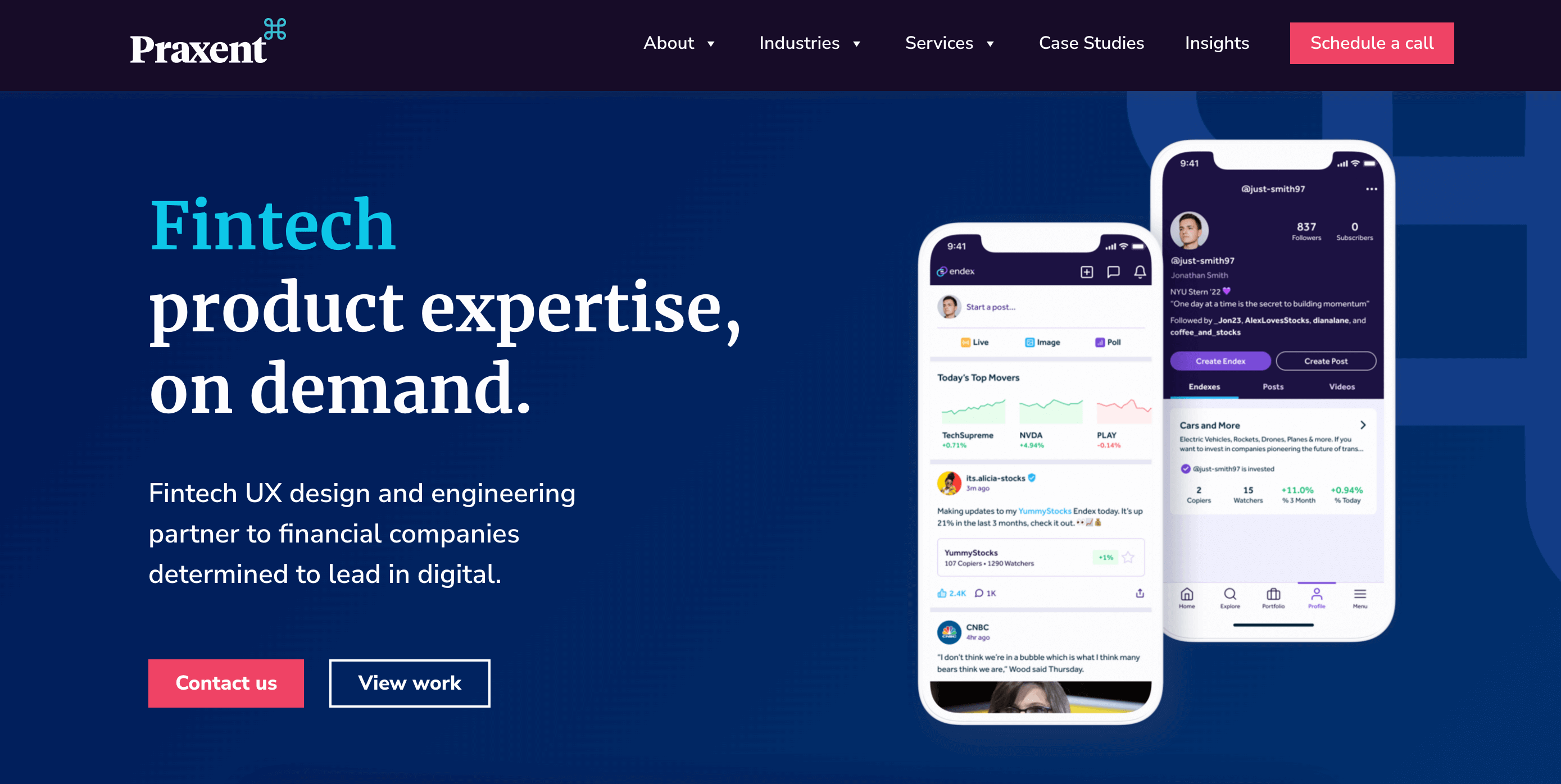 Praxent is one of the best neobank software development services providers, with a team of more than 100 designers and developers proficient in React, Azure, MySQL, Drupal, MSSQL, and other tech stacks. They have delivered nearly 300 projects for businesses of various domains. The company has a 4.8/5 Clutch rating that demonstrates its high proficiency and excellent communication skills.
One of the exciting things about Praxent is its in-depth specialization in financial services, including Fintech, Insurance, Lending, Wealth Management, and Real Estate. Its notable clients are NEWITY, Sage Equity Partners, Open Lending, Endex, Texas Mutual, Resolved Risk, Axiom Investors, Spycloud, Neocova, and Point Health.
Founding date:

2000

Team size:

50 – 249 experts

Location:

Austin, TX, USA

Price range:

$50 – $99 / hr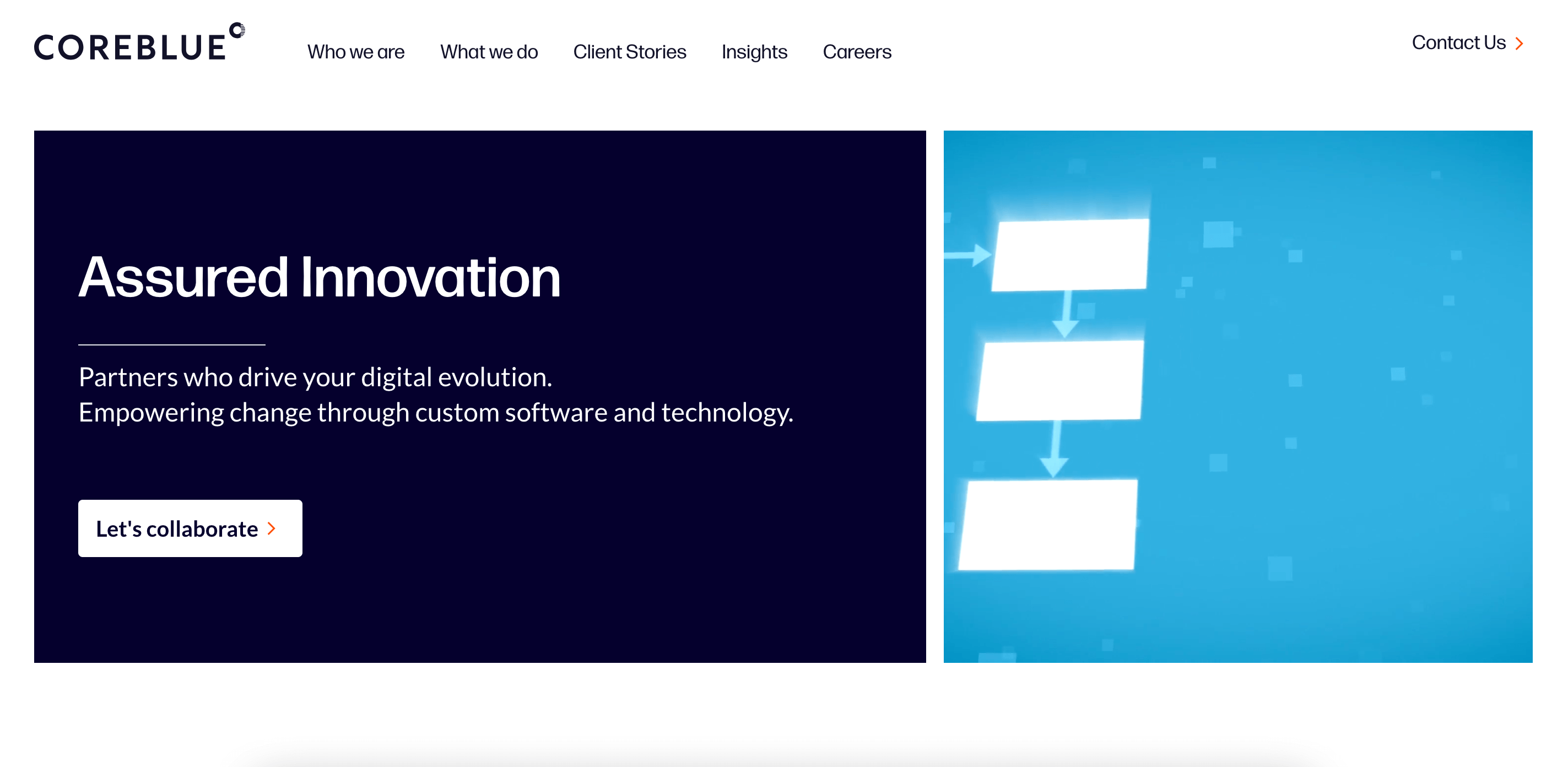 CoreBlue is an ISO 9001 & ISO 27001-certified company with a 5/5 rating on Clutch. It has made remarkable achievements in various areas, particularly in the neobanking app development, AI systems, and more. In addition to the neobank programs, the company also develops Android apps, web-based apps, and a few more solutions.
CoreBlue has experienced team members who offer an impeccable range of digital solutions to clients, such as Bank of Kigali, Kuoni, SAP, PayPoint, and Haulfryn. Lewis Boyles-White is the CEO of this notable company.
The firm is headquartered in London but has representatives in Plymouth, Edinburgh, Manchester, Etterbeek, and Bristol. CordBlue uses the latest software development tools & methodologies to create high-end applications that can deliver pragmatic business solutions.
Founding date:

2015

Team size:

10-49 experts

Location:

London, UK

Price range:

$100-$149/hr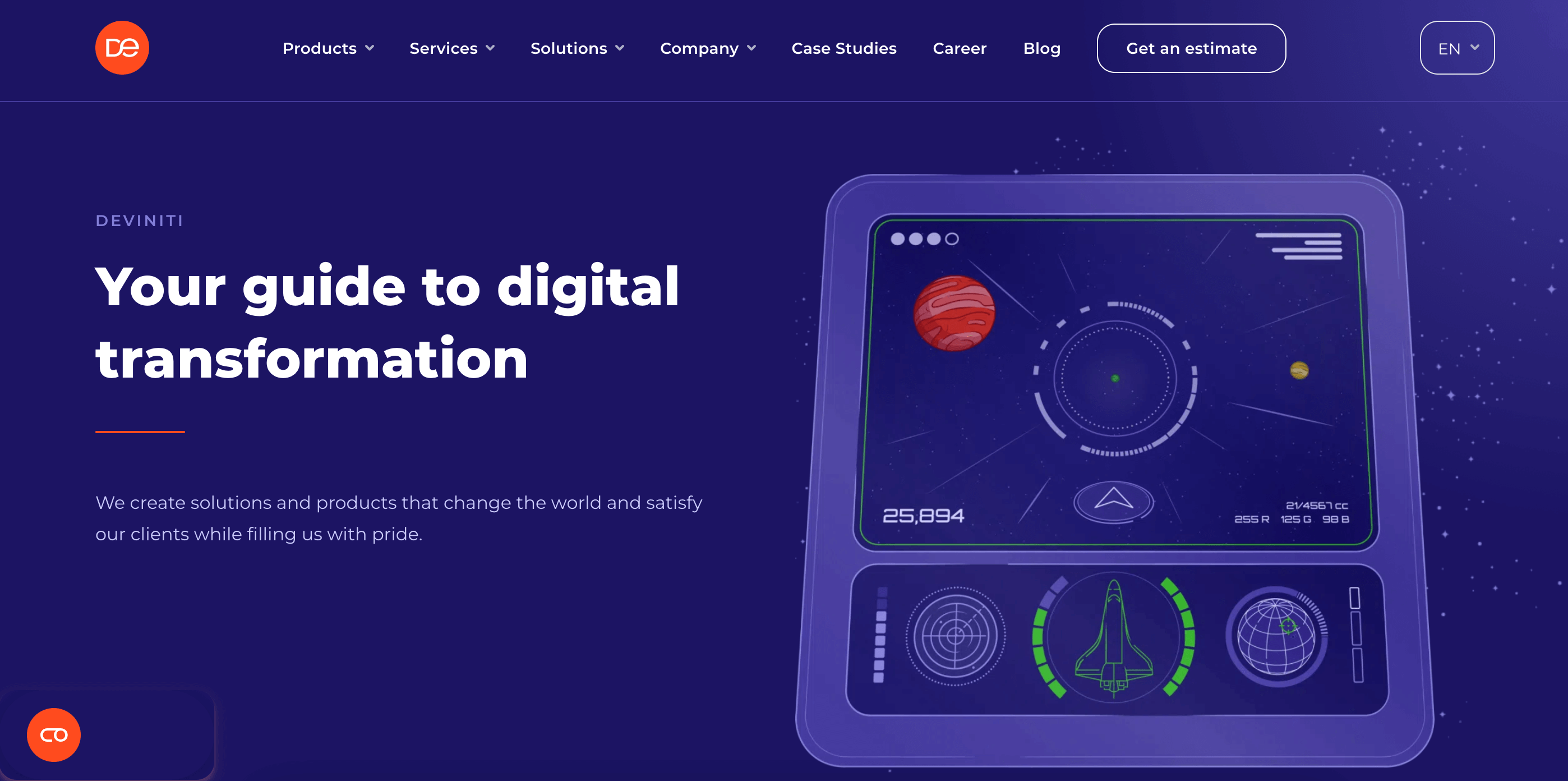 Deviniti is one of the most credible and reputable neobank app development companies that has served 5000+ customers worldwide, delivering end-to-end software solutions. It has a 5/5 rating on Clutch, which is proof of the services that it provides without compromising time and quality.
Located in Wroclaw, Poland, Deviniti also has offices in Germany, USA, and Lithuania. The company has more than 300 experts on board and operates in nearly 50 nations. Their famous clients are Comarch, Credit Agricole Bank Polska S.A., DEKRA, Carefleet, Santander Bank Polska SA, Allegro Group, and many more.
Apart from offering neobank software solutions, Deviniti's experts offer digital transformation strategy, mobile app and web development services, Atlassian marketplace apps, and more.
Founding date:

2004

Team size:

250-999 experts

Location:

Wrocław, Poland

Price range:

$50-$99/hr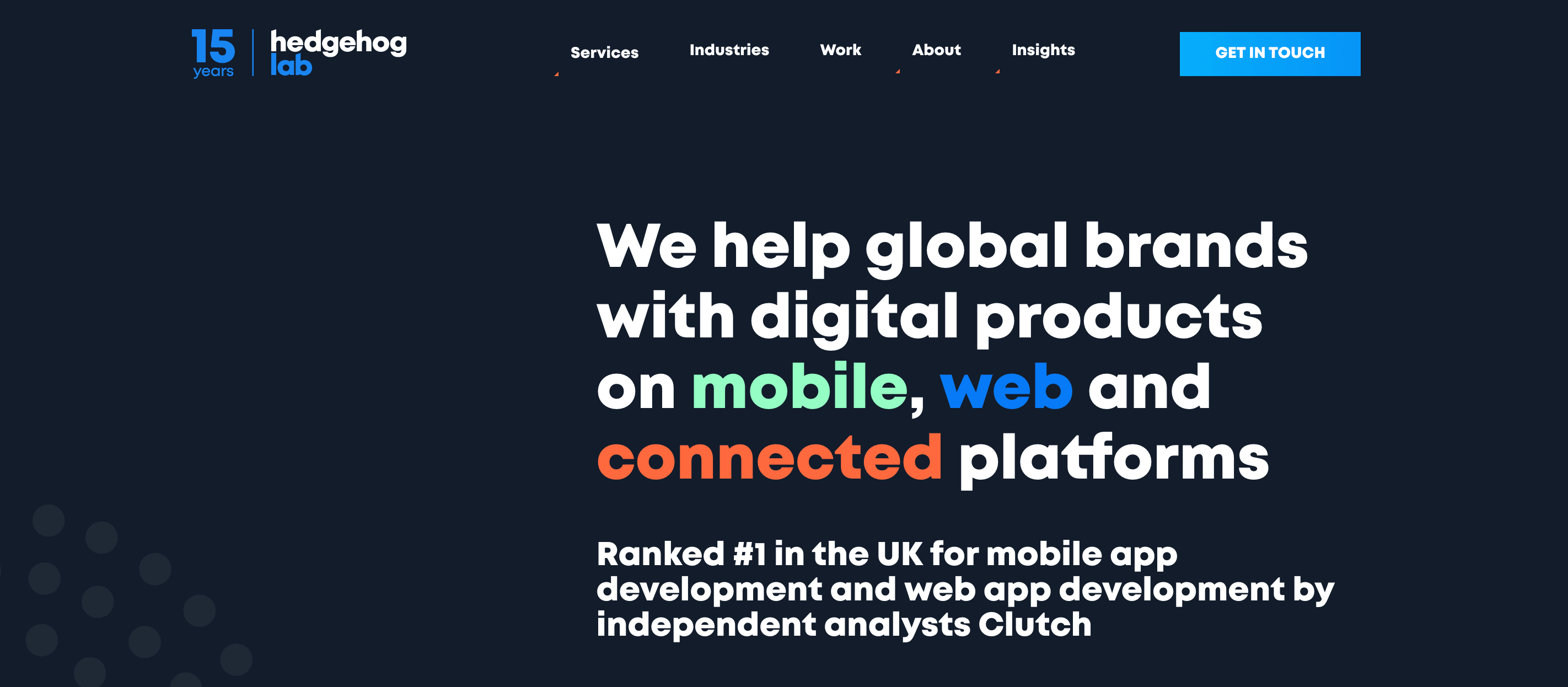 Last but not least, Hedgehog Labs is a significant name on the list of neobank app development companies. It is an ISO 9009 and ISO 27001-certified company with a Clutch rating of 4.8/5.
Hedgehog Labs has more than a decade of experience in offering customized generative AI solutions, mobile apps, web-based apps, and more. The company serves various business verticals, including Automotive, Retail & Consumer, Health & Wellness, Supply Chain & Logistics, Travel & Leisure, Energy & Utilities, etc. It offers innovative and sustainable software solutions to clients worldwide; some of its customers are AJ Bell, LaserShip, Aviva, CMC Markets, Santander, Royal Pharmaceutical Society, and Visa.
Founding date:

2007

Team size:

50-249 experts

Location:

Generator Studios, Trafalgar Street, Newcastle upon Tyne, United Kingdom, NE1 2LA

Price range:

$150-$199/hr
Conclusion
It is anticipated that banking services will require a lot of changes. Conventional banking systems face many difficulties in delivering efficient banking solutions within time and budget. That's why a plethora of technological innovations, such as neobanking have come into existence. Neobanks are packed with advanced features to offer precise banking solutions to fintech industries.
Consider hiring the best neobank software development company from this list to keep your organization ahead of time.
If you want to add your firm to this list, drop us a line with your request by email. After a quick review, we'll decide whether it's a valuable addition.