With more than 90% of the people in the world having smartphones, the mobile development and consulting sector is expected to produce a revenue of more than $935 in 2023. 
From emerging startups to established enterprises, today, all types of companies hire mobile app development services providers to cater to their audiences and be digitally accessible. 
Are you in search of the best mobile app developers with in-depth tech knowledge and expertise? You're in the right place.
Why Hire A Professional App Development Agency?
Through mobile app development consulting, you can accelerate your projects, be consistent in your efforts and monitor your app's performance. 
A trustworthy business mobile app development company can help you in the following ways:
Enhance your business growth strategies while reducing expenses through process automation

Open new revenue streams for your business via in-demand mobile app development

Get access to broad audiences via a robust digital presence and new communication channels

Deliver quick, expert mobile app solutions to handle complex technical issues

Introduce modernization in your workflows, keeping up with the latest trends

Provide comprehensive support and consulting to guide you effectively in the app creation journey

Update and maintain your apps consistently
Read along to discover top mobile app development companies that will help you achieve all these goals by implementing your project at the highest level, on time, and within budget.
Best Mobile App Development Companies For Your Next Project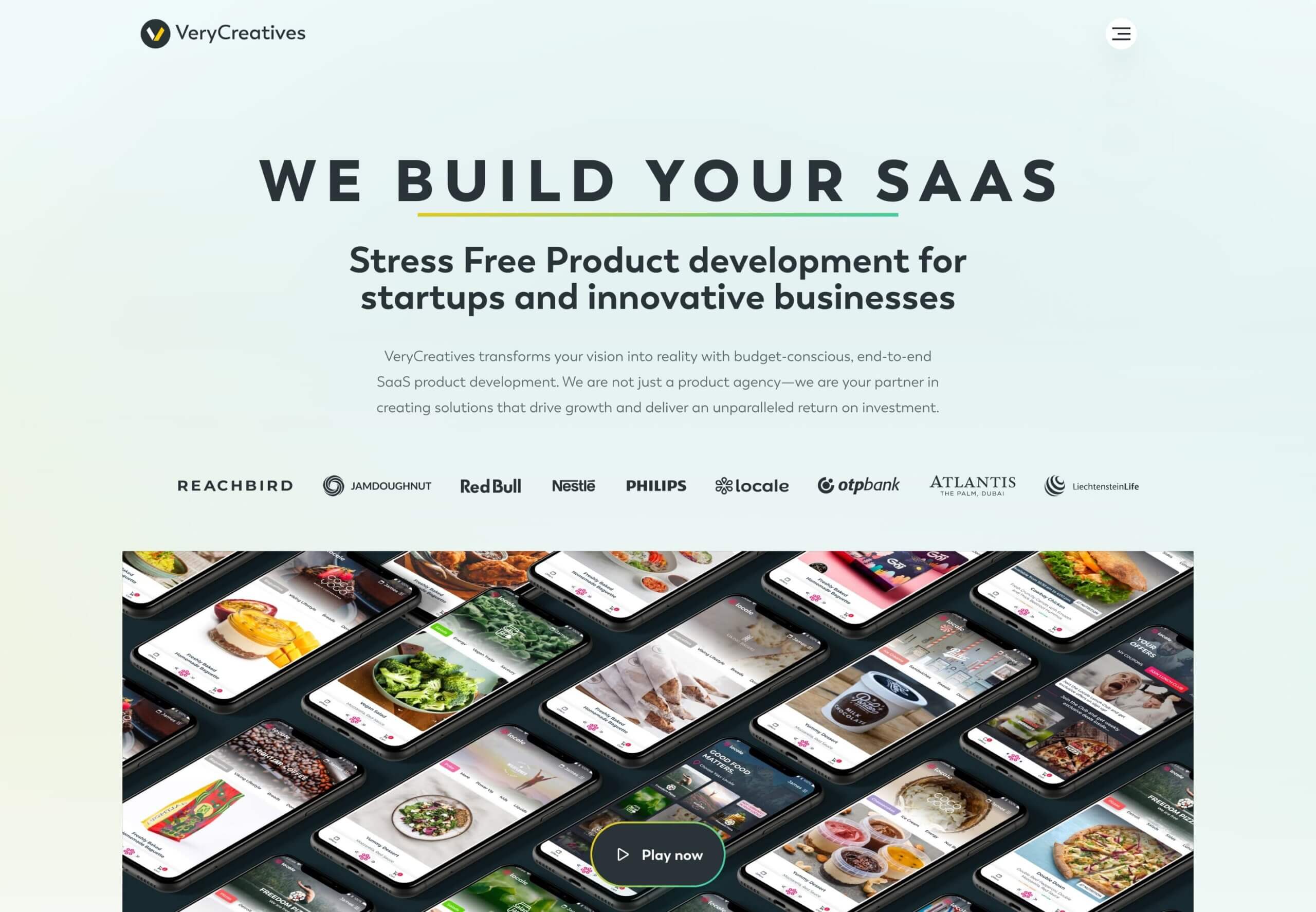 Founded in 2010, VeryCreatives is renowned as a premier software development house that empowers startups and enterprises with cutting-edge mobile app development services. Their core mission is to breathe life into clients' ideas, helping founders, CEOs, CMOs, and product teams craft seamless digital experiences – from strategic product planning to full-fledged app development and seamless scaling up – aiming to deliver an impressive return on investment.
The scope of their expertise spans diverse industries, helping clients shape mobile apps that resonate with their target audiences and redefine user experiences. Operating across the EU, UK, UAE, and US global markets, VeryCreatives serves global clients leveraging a comprehensive arsenal of advanced technologies. They've cooperated with notable corporations such as Reachbird, RedBull, Nestle, Philips, LiechtensteinLife, Atlantis, and OTP Bank.
Committed to building high-quality mobile app solutions that go beyond your expectations, VeryCreatives fosters transparent and reliable partnerships where every milestone is celebrated and every challenge is overcome together.
Services and expertise: mobile app development, product design, software development, product strategy & scoping, MVP development, SaaS development
Tech stack: Java, Swift, Objective-C, Kotlin, Flutter, Ruby on Rails, Elixir, Phoenix, ReactJS, VueJS, etc.
Industries: Digital Marketing, Technology SaaS, FoodTech, Delivery SaaS, Fintech, Banking, Investments, Mortgages SaaS, Lifestyle, Digital Health SaaS
Team size: up to 50 experts
Location:

Budapest, Hungary

Portfolio: Reachbird, RedBull, Nestle, Philips, LiechtensteinLife, Atlantis, OTP Bank, and others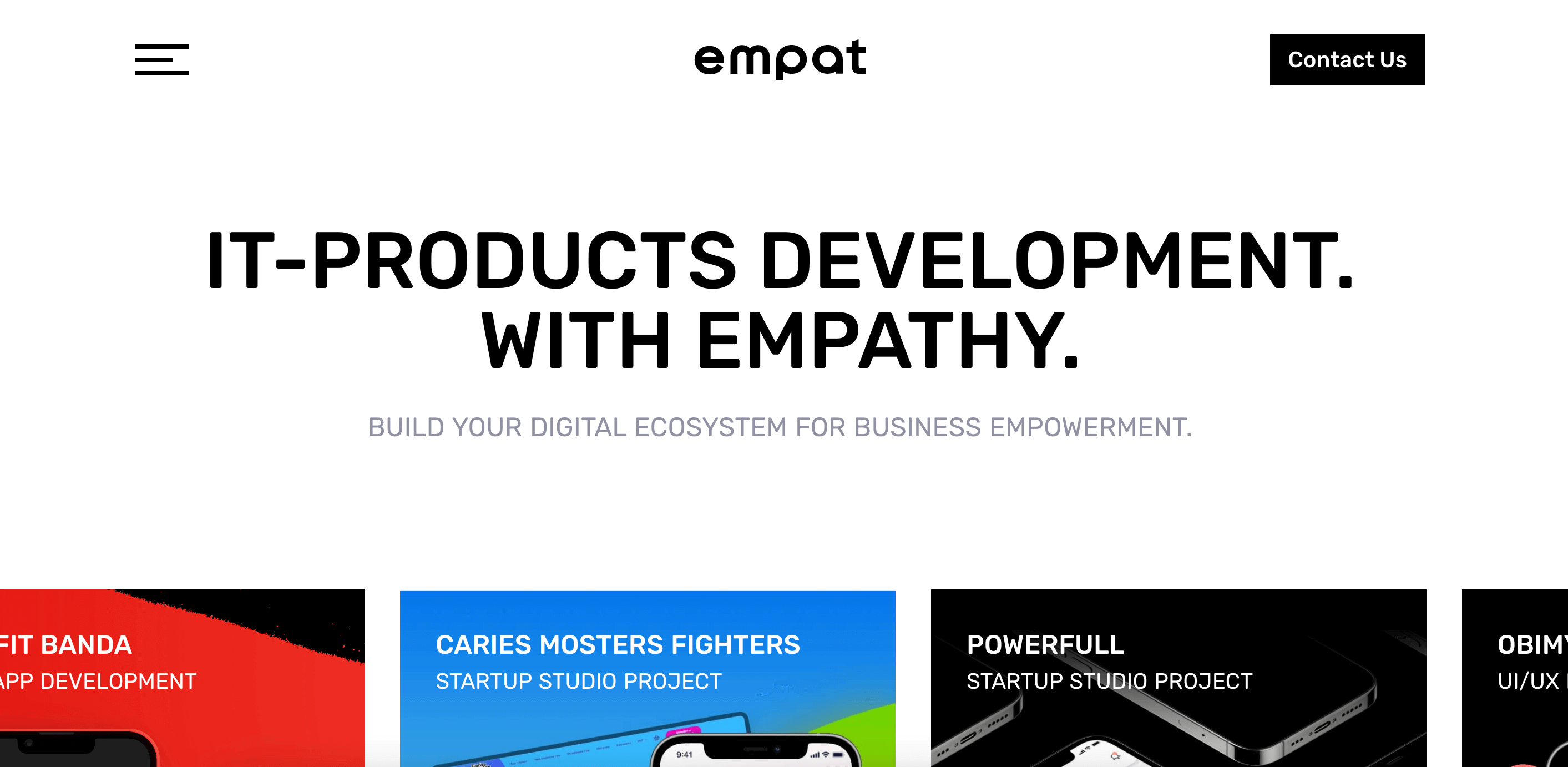 Empat is a leading mobile application development company that builds IT products with empathy and empowers businesses of all sizes with innovative digital ecosystems. The firm has been in the industry for the last 8 years, completing over 300 prominent projects from the ground up and garnering positive client reviews. 
Its top-tier app development team follows a well-established process to understand your business requirements, bring unique perspectives to solve complex organizational issues, and create innovative solutions that accelerate your business value and make a long-lasting impact in the ever-evolving digital world. 
Empat promises to deliver a high-quality custom mobile app for you within 2 months, spending 3 weeks on design and 1 month on development, helping you enter the market lightning fast. Whether you need to build an application to enhance your corporate branding, stay competitive, meet changing market needs, or expand your business, Empat has got you covered with multiindustrial app development services.
Services and expertise:

web development, mobile app development (cross-platform and native app development), Q&A and testing, product design, application configuration, custom software development, startup studio, SEO, DevOps, 3D modeling

Tech stack:

PHP, iOS, Android, Java, Kotlin

Industries:

Healthcare, EdTech, Real Estate, eCommerce, Fintech, NGO

Team size:

40+ experts

Location:

Kyiv, Ukraine; Edinburg, UK; Abu Dhabi, UAE 

Portfolio:

Porsche, Panasonic, Get Atty, Transparency International, Heinemann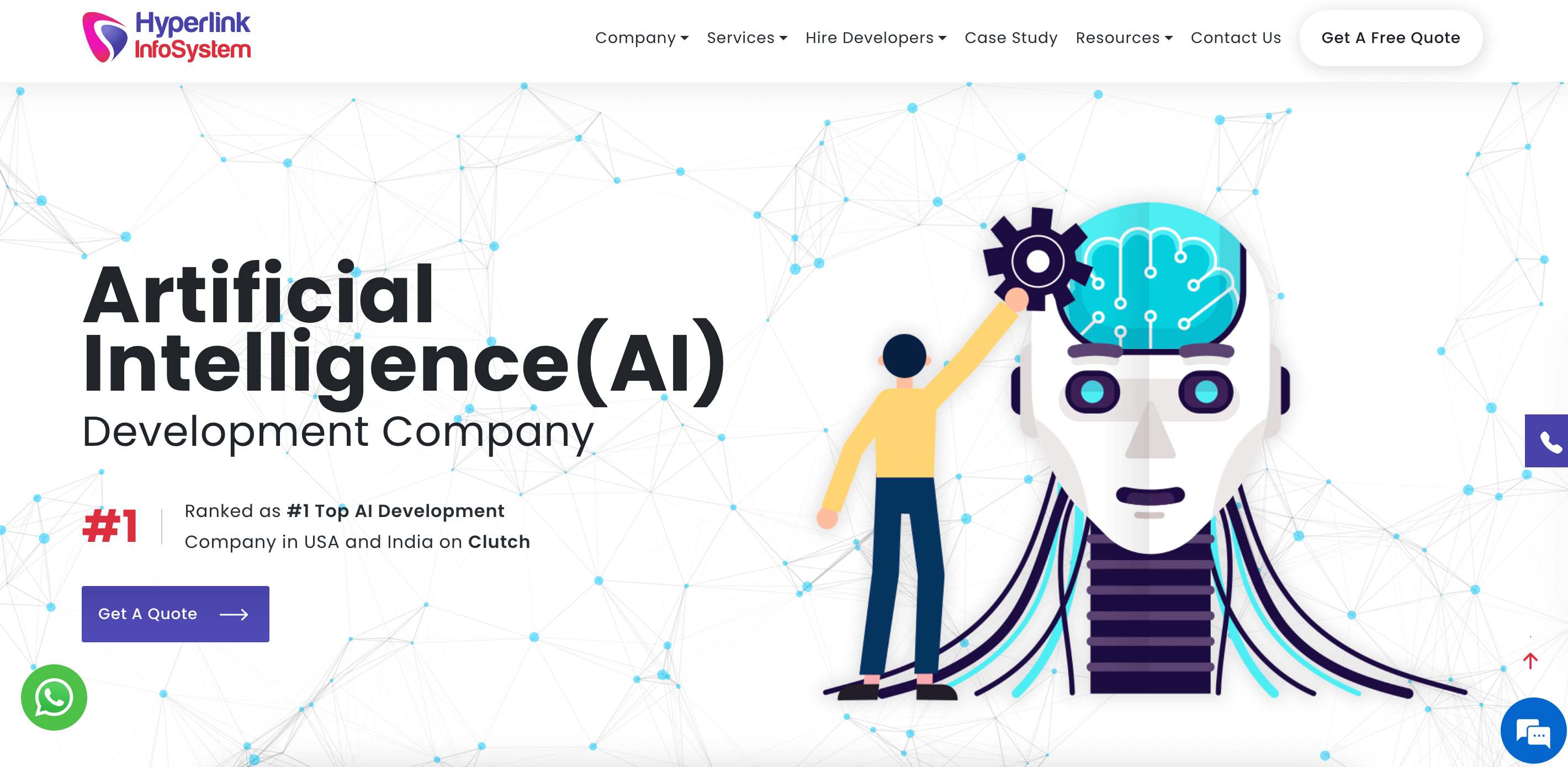 A top-rated mobile application development firm, Hyperlink Infosystem, has been the industry leader for over a decade. Boasting an impressive 4.9 rating on Clutch and being an ISO 27001:2013 certified company, Hyperlink Infosystem has churned over 110 million app downloads on iOS and Android platforms. 
The company follows a 7-step app development process that includes requirement gathering, UI/UX design, prototype, development, quality assurance, deployment, and support and maintenance. They're experts in all possible tech stacks, ready to implement a project of any size, complexity, and industry. 
From web and mobile app development to blockchain and eCommerce solutions, Hyperlink Infosystem is a talent with no limits that has created tech magic for notable corporations like Disney and Google and is globally recognized by Forbes, Yahoo, and MarketWatch.
Locations:

Gujarat India; New York, US; London, UK

Services and expertise:

Android app development, iPhone app development, mobile app development, ML/AI systems, blockchain development, game development, eCommerce solutions, etc.

Tech stack:

Flutter, Kotlin, Swift, React Native, Ionic, Xamarin, etc.

Industries:

Media and Entertainment, Automobiles, Construction Business, Software, Health and Wellness

Team size:

1000+ experts

Portfolio:

Disney, BBC, Tata, Kantar Media, The Art of Living, CEAT, SBS Discovery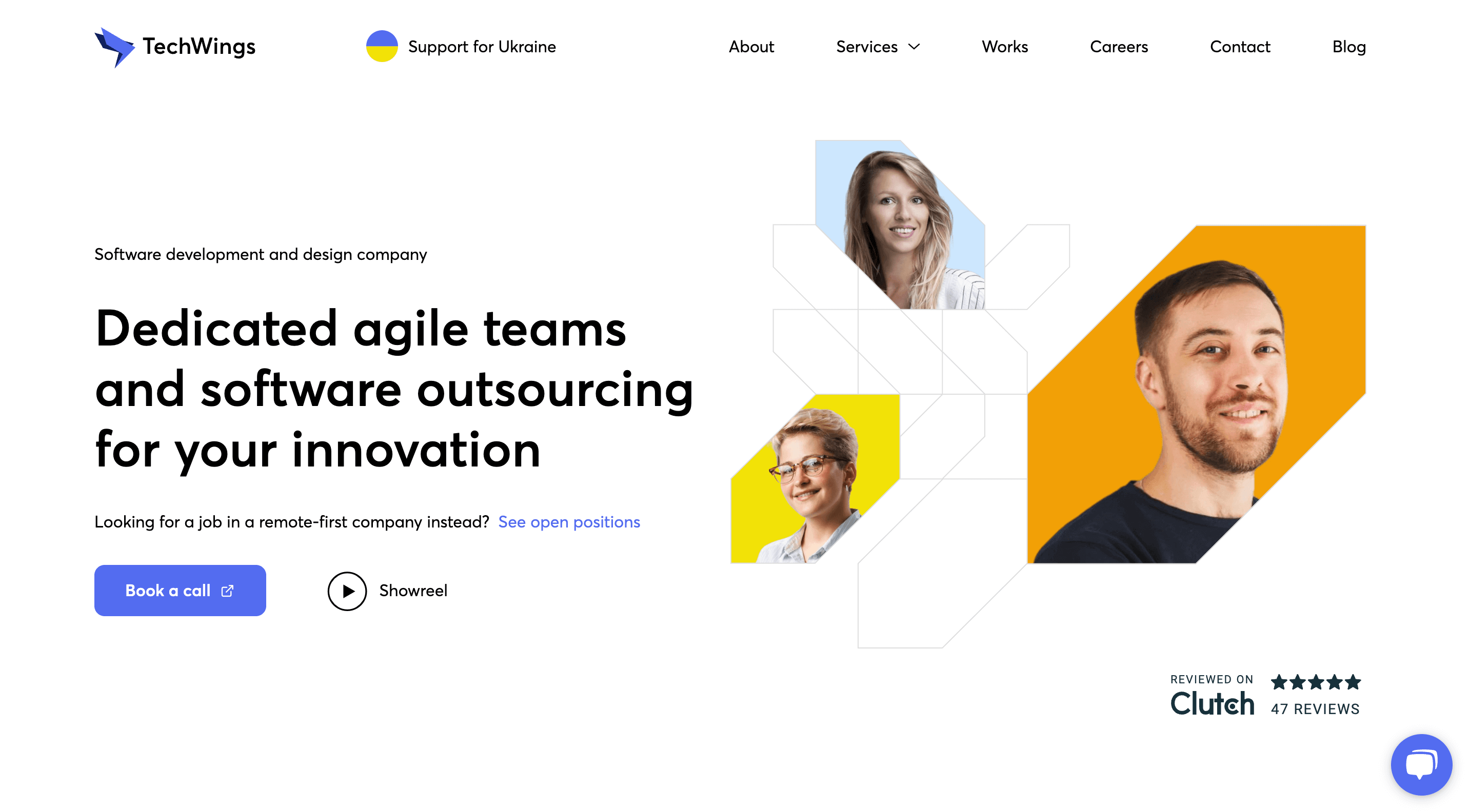 If you're looking to hire the best app developers proficient in a comprehensive tech stack, including cross-platform app development with React Native or Flutter, native app as well as hybrid app development, choose TechWings as your go-to tech partner to get best-in-class software solutions. 
Recognized by Clutch, AWS, C2A, and numerous other reputable market players, TechWings provides superior-quality development and consulting services, crafting modern-looking and flawlessly operating mobile applications that run seamlessly on all platforms. Their team is well-versed in various languages' components, APIs, and libraries, allowing them to create feature-rich apps with excellent performance.
The collaboration with TechWings starts with understanding customer projects and forming a custom team within 1-3 weeks based on specific business requirements. Such a thorough approach and preparation are aimed at delivering mobile applications that align with your business goals and resonate with your target audience perfectly.
Services and expertise:

mobile app development (native & cross-platform & hybrid app development), web development, research development, consulting, product design, DevOps & automation, team extension, QA & testing

Tech stack:

Flutter, React Native, Swift, Java, PHP, Kotlin, .Net, ReactJS, VueJS, NodeJS, Python, etc.

Industries:

Travel and Hospitality, Software, Healthcare, Banking, Business, Education

Team size:

60+ experts

Locations: Krakow,

Poland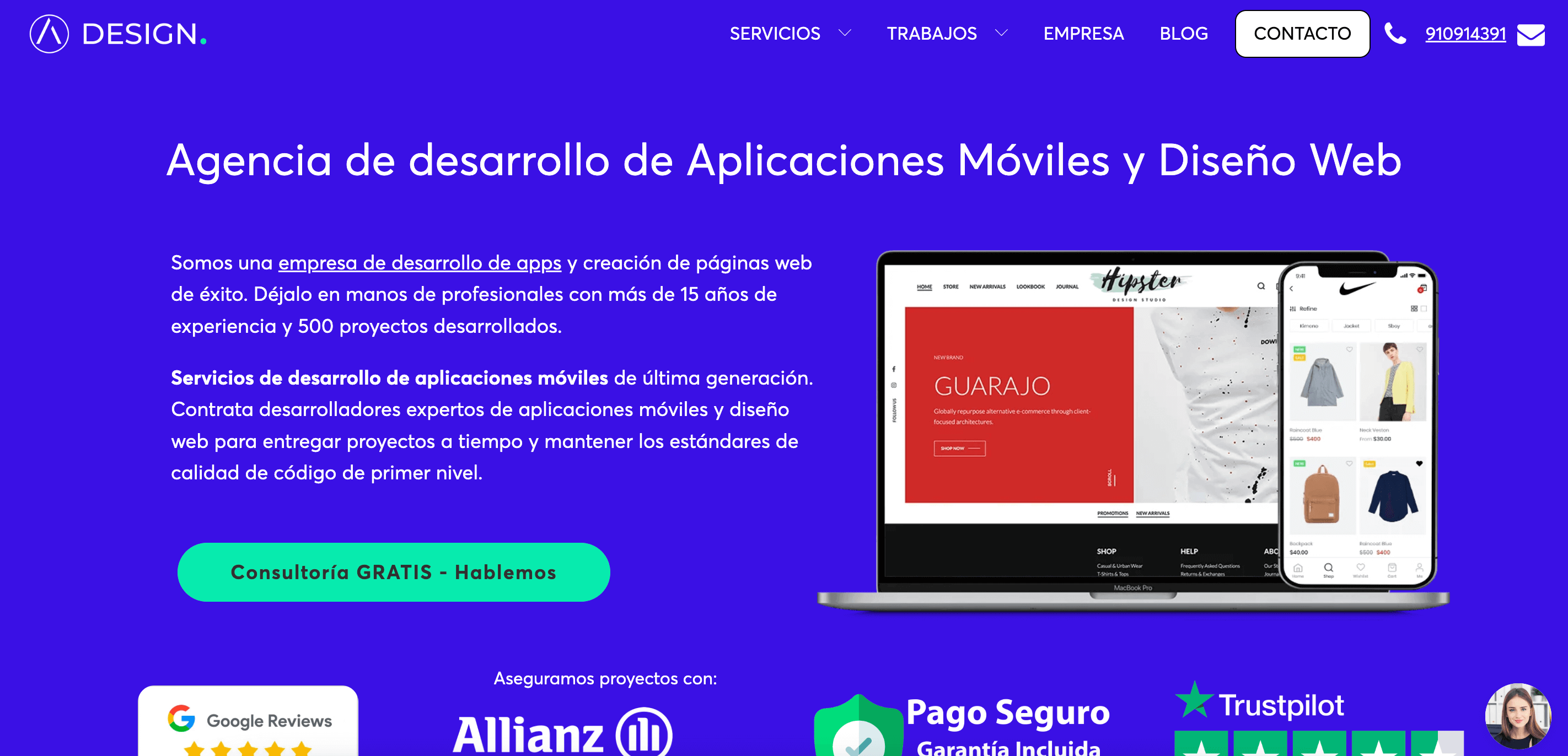 Providing rich-quality mobile app development services, App Design comes with 15 years of industry experience after successful collaborations with thousands of clients worldwide. 
Being among the best app development companies, App Design follows a three-phased structure to create applications timely and maintain excellent code quality standards. This process is common for both native and cross-platform app development and involves prototype designing, feature specification, and the final app development. 
App Design builds robust and reliable solutions at lightning speed and encourages its clients to solve real problems their customers face. They're experts in delivering all types of applications, including fintech apps,  geolocation apps, app stores, app delivery apps, event apps, eLearning apps, and various other solutions.
Services and expertise:

mobile app development (Android & iOS & cross-platform app development), software development, web design, AI systems

Tech stack:

Kotlin, Flutter, PHP, React Natvie, Magento, HTML, ReactJS

Industries

: Fintech, eCommerce, Events and Media, Social Media, Travel and Tourism

Team size:

90+ experts

Location:

Madrid, Spain

Portfolio:

Netflix, Instagram, Air Bnb, Spotify
Providing the best app development teams, STRV is all about creating next-level mobile solutions with on-point engineering. Fusing creativity and technical excellence, the company has opened new avenues, developing applications that ease clients' problems, drive revenues and keep end users happy. 
STRV's team works with one mission in mind: do their TOP job while constantly striving for more. Thus, their team of 190+ experts is eager to go the extra mile in your app development project to exceed your expectations. They are ready to take on a project of any type and complexity, be it a native app, cross-platform app, or progressive web app, leveraging the power of cutting-edge technology.
So, if you are looking to hire the best mobile app developers who are constantly learning and sharing knowledge to grow together, STRV can be your ideal match. 
Services and expertise:

mobile app development (native & cross-platform & progressive web app development), product management, product design, web development, QA & testing

Tech stack:

.NET, .NET Core, C#, Python, Golang

Industries:

Health and Wellness, Software, Gaming, Fashion, Media and Entertainment

Team size:

190+ experts

Location:

Prague, Czech Republic; Los Angeles, USA

Portfolio:

Microsoft, Through the Lens, Cinnamon, Medmen, Barnes and Noble, Minted, Rebel Girls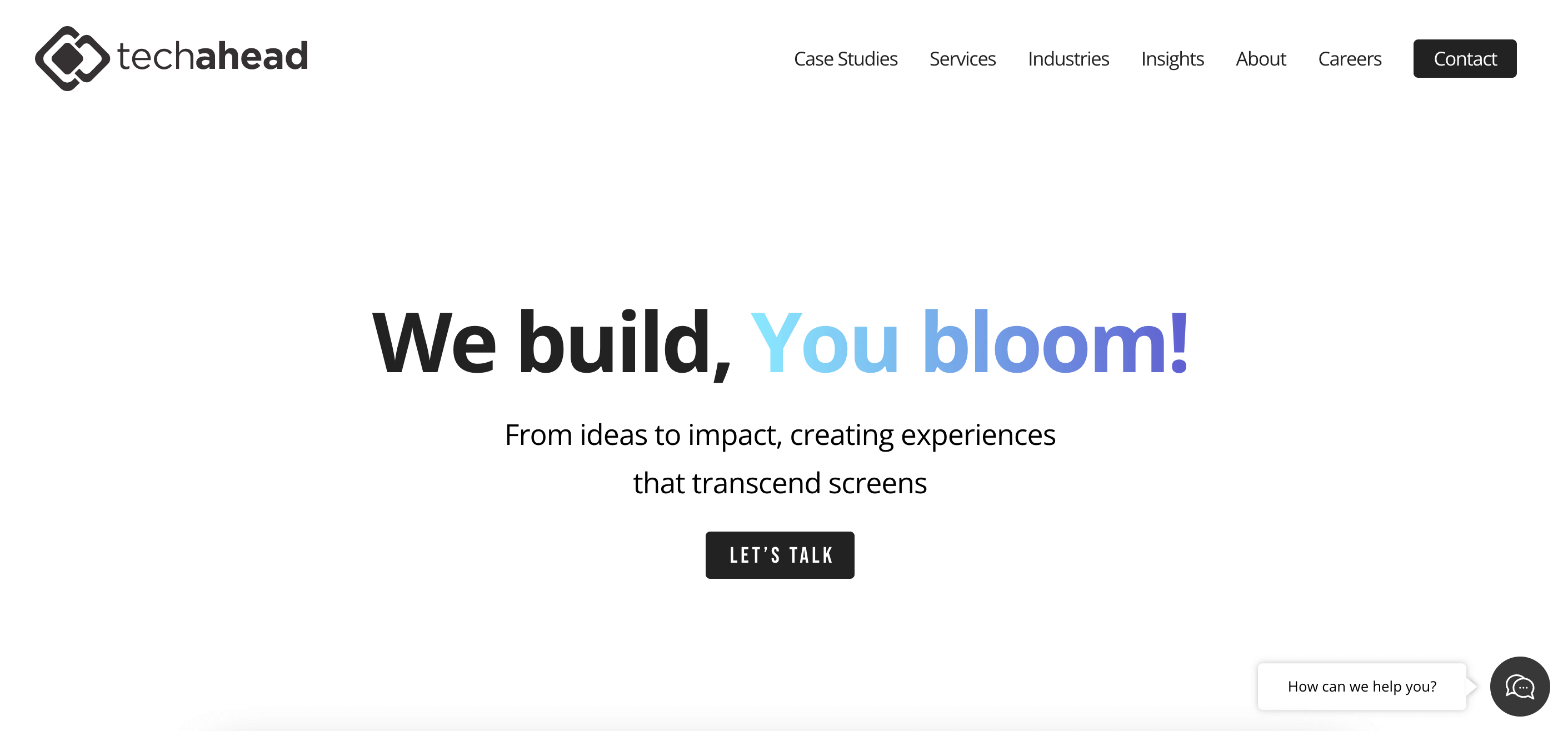 A superior mobile application development company, TechAhead creates impactful mobile software solutions that transcend the boundaries of screens and serves customers, easing their pain points. Their clients are growing startups as well as Fortune 500 companies and global brands, including Audi, American Express, and Argo.
As a provider of world-class mobile app development services, the company has created over 2000 mobile, web, IoT, and digital products across various niches, from Health & Fitness to IoT and smart homes, with excellent tech assistance and crafting numerous success stories. 
Services and expertise:

mobile app development ( iOS & Android app development), discovery and consulting, user analytics, quality assurance and testing, staff augmentation, legacy modernization, IoT systems

Tech stack:

Flutter, React Native, Swift, Objective C, Java, Kotlin, Firebase, Java, .NET, Python, etc.

Industries:

Real Estate, Education, Health and Wellness, eCommerce, Sports, Insurance

Team size:

500+ experts

Locations:

Los Angeles, USA; Noida, India

Portfolio:

ESPN, American Express, Disney, International Cricket Council, University of Toronto, LazyDays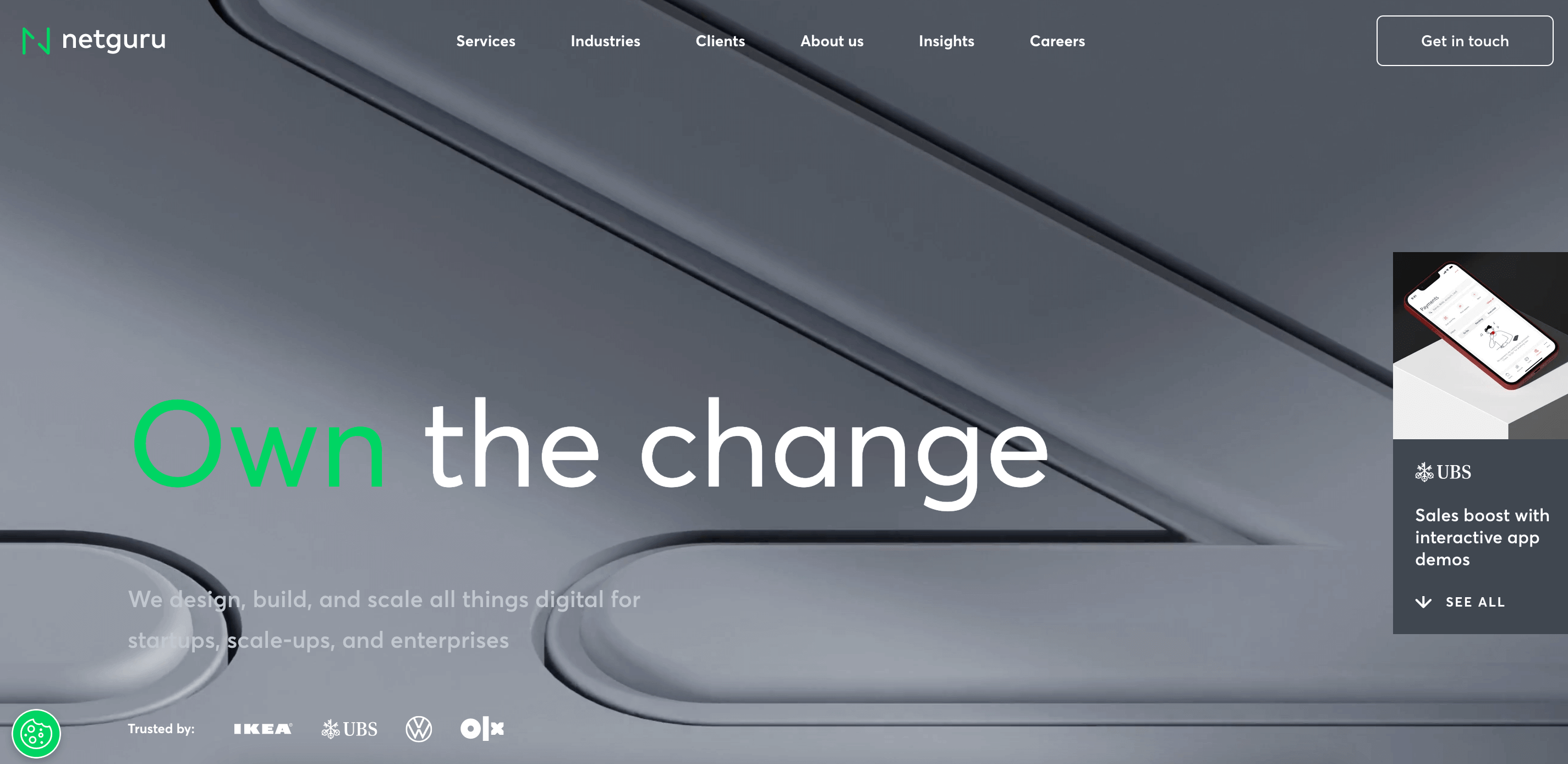 Netguru is one of the most prominent IT companies that build apps that transform the future. Taking ownership of its work and creating the change that it wants to see in the world, Netguru believes in using technology to solve user problems and cater to more audiences. 
The company follows a 5-step structure – ideate, design, develop, maintain, and scale. Driving excellence and making innovation possible, Netguru enters into successful collaboration with its clients, tackling the world's most significant technical challenges. 
With AI-driven digital acceleration expertise, Netguru helped its clients achieve impressive results and ROIs. For example, they've managed to get a 21% conversion increase with product design services for a Real Estate brand. Sounds fantastic and tempting? Contact Netguru to experience it on your own!
Services and expertise:

mobile development, web development, quality assurance, data engineering, product strategy, product design

Tech stack:

Java, Kotlin, iOS, Android, PHP, C#, etc.

Industries:

Fintech, Education, Retail, Healthcare, Consumer Goods, Automobile

Team size:

600+ experts

Location:

Poznan, Poland

Portfolio:

UBS, Volkswagen, Solaris, Hive, Babbel, OLX Group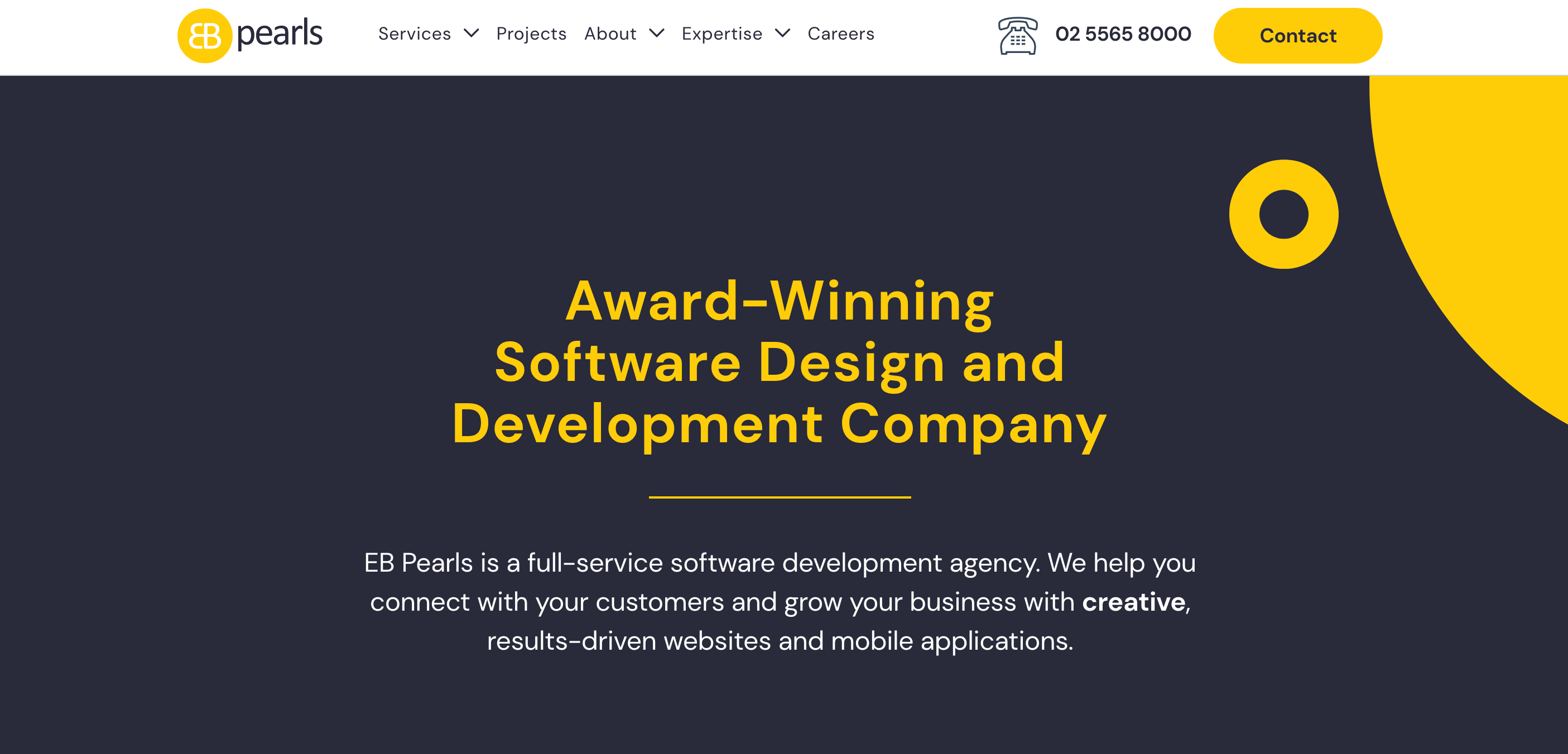 A forward-thinking custom mobile app development company, EB Pearls, creates software solutions that help businesses connect with their customers and drive more sales. Its ingenious team has won 72 international awards, including 2022-23's Australia's #1 Mobile App Developer in Sydney & Australia, and dominated the industry for over 17 years. 
EB Pearls not only provides a wide range of software development services but also promotes clients' business sustainability through its endeavors. Working with startups and world-class brands, the agency has delivered 50+ apps that made the app store's top 10 and realized the sophisticated ideas of 500+ app designers.
Services and expertise:

mobile app development, app design, website design, enterprise software development, staff augmentation, DevOps

Tech stack:

Swift, Objective C, Kotlin, Coredata, Flutter, Firebase, etc.

Industries:

Real Estate, Finance, Healthcare, Technology, Software

Team size:

320+ experts

Location:

Sydney, Melbourne, Australia; Kathmandu, Nepal

Portfolio:

NSW Government, WWF, The University of Sydney, News Corp, FlipPay, Bingo Industries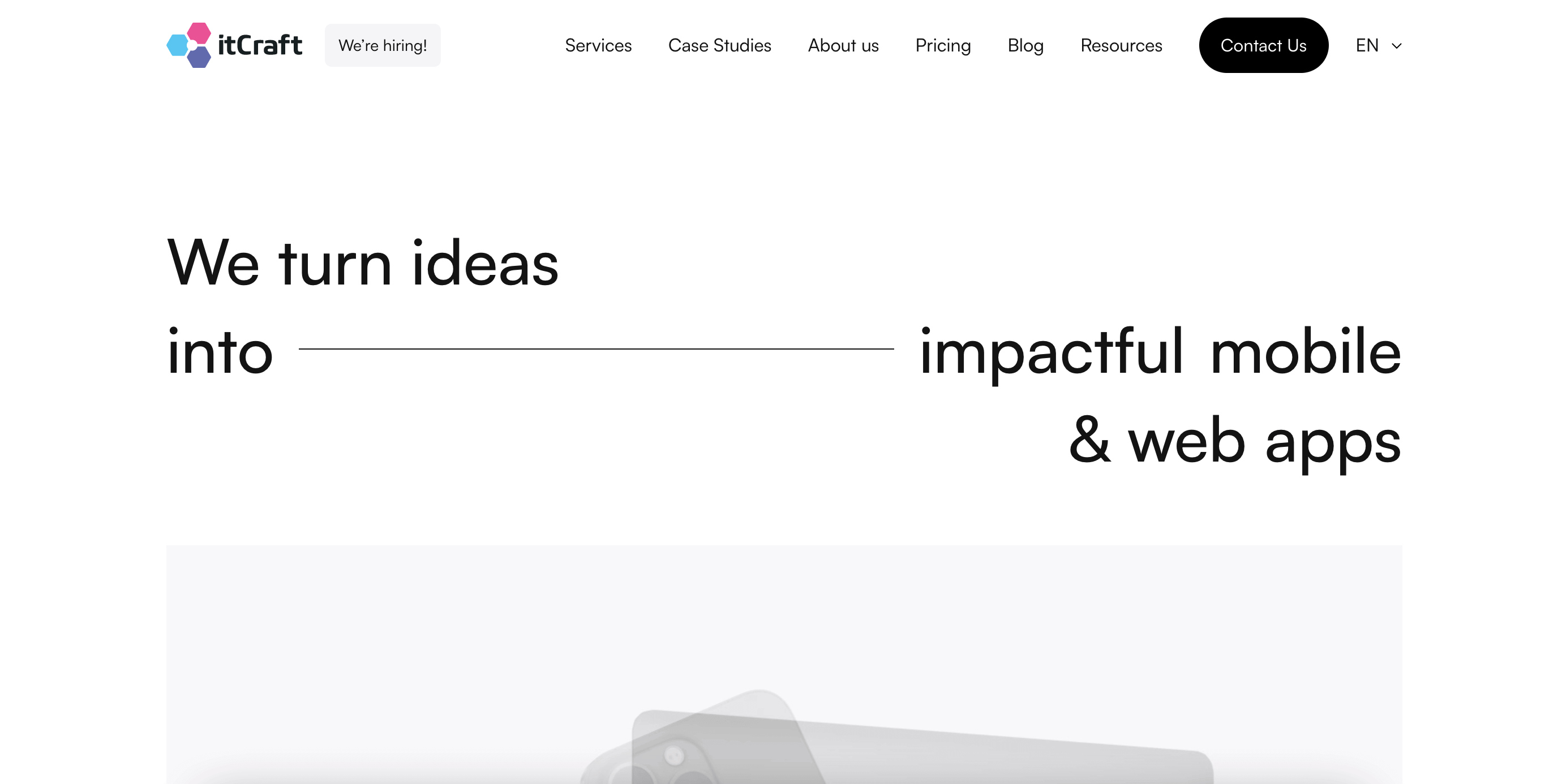 Transforming ambitious ideas into impactful mobile app solutions, itCraft is represented by an experienced and agile team that prioritizes clients' business goals to deliver the highest value outcomes.  
The company tailors its services to cover all sorts of needs and builds applications covering a 4-phase process: product discovery, product design, development, and support. Their mobile developers are top-level experts in implementing Android & iOS native applications, cross-platform applications, and custom apps that will perfectly fit your target market. You're guaranteed to receive a flawless app with a seamless user experience, remarkable performance, and possible scalability.
The IT cooperation models they offer are managed teams (their experts take care of the entire development process on their side, requiring your minimum involvement) and staff augmentation (you can extend your in-house team with their skillful engineers on demand).
Grounded on the core values of flexibility, trust, security, and experience, itCraft is one of the best mobile app developers houses that pledges to offer high-quality work forming long-lasting professional relationships. 
Services and expertise:

Product strategy, UX audit, branding, mobile app development, quality assurance, DevOps

Tech stack:

Flutter, Kotlin, Azure, Google Cloud, Swift, Java, etc.

Industries:

Healthcare, Retail and Marketplace, Transport and Logistics, Telecoms

Team size:

200+ experts

Location:

Warszawa, Poland

Portfolio: Sodexo, Inter Cars, DHL, Grupa Luxmed, Makro, MobilaDoktorn, Roche
Conclusion
From the initial design to developing the full-fledged application with consequent maintenance – the best mobile app development companies will guide you in a structured way and offer continuous support throughout the entire project lifecycle. Hopefully, this list helps you define the company that perfectly fits your business goals and requirements. 
Do you own a company that offers a team of the best iOS app developers and want to feature it in this list? Email us with your request, and after a thorough review, we'll decide whether it's a valuable addition.