If you are really into developing a 3D-simulated environment to create a mesmerizing space for the users, then virtual reality is something you can't miss out on.
Virtual reality (VR) has the potential to lift the aesthetics of virtually generated graphics, allowing us to perform activities that are not possible in the real world. VR has applications in various sectors like entertainment, shopping, education, healthcare, the military, the automotive industry, and more.
There is a sudden spike of users adopting this technology to achieve fruitful results and boost the fictional reality. In the future, VR will have a dynamic processor and be integrated with artificial intelligence. Thanks to such impressive potential, businesses are looking forward to building innovative platforms based on this phenomenal technology.
With such humongous growth and demand, the role of VR experts specialized in developing, designing, and testing high-performance virtual reality systems has risen to fame.
Are you eager to join this fantastic tech race?
To help you find a reliable and experienced partner, we've arrayed a list of the top VR development companies to implement your mind-blowing project. The candidates were selected based on the following criteria:
Hire the best ones!
The Best VR Development Companies Working With Innovative Technologies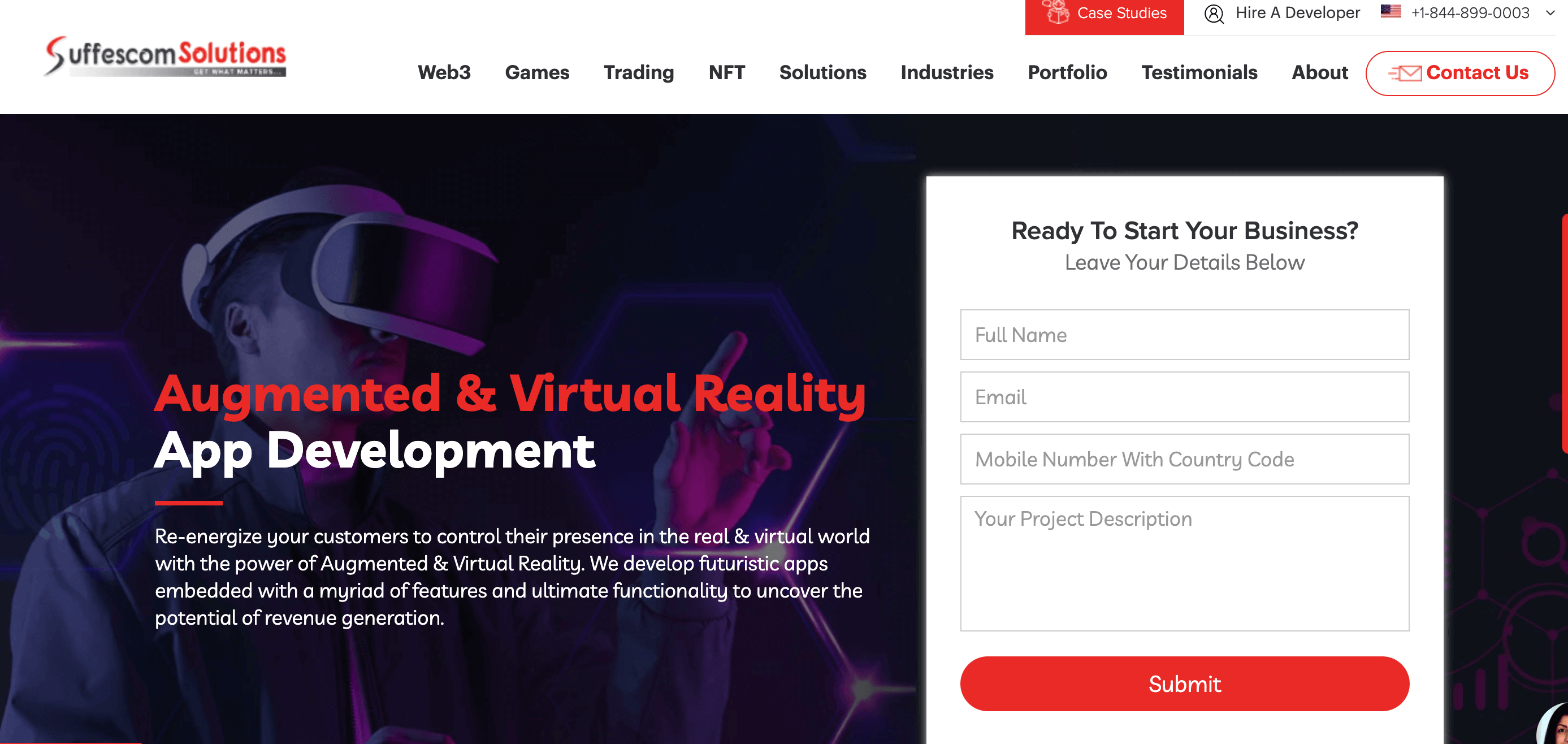 Suffecom Solutions is one of the top VR development companies based in California, USA. This firm was founded in 2013 and till now has gained a great experience of 10 + years in the IT industry, with over 5 years in blockchain and metaverses. 
During this time, their team of top VR developers managed to create ripples in the tech industry and take clients' businesses to the absolute next level.
Suffescom's ultimate goal is to provide phenomenal VR development services to companies of all sizes and industries. The apps developed by their experts have well-designed user interfaces and are ultra-secure. Their famous tech partners are Shopify, Squarespace, Kentico, and more.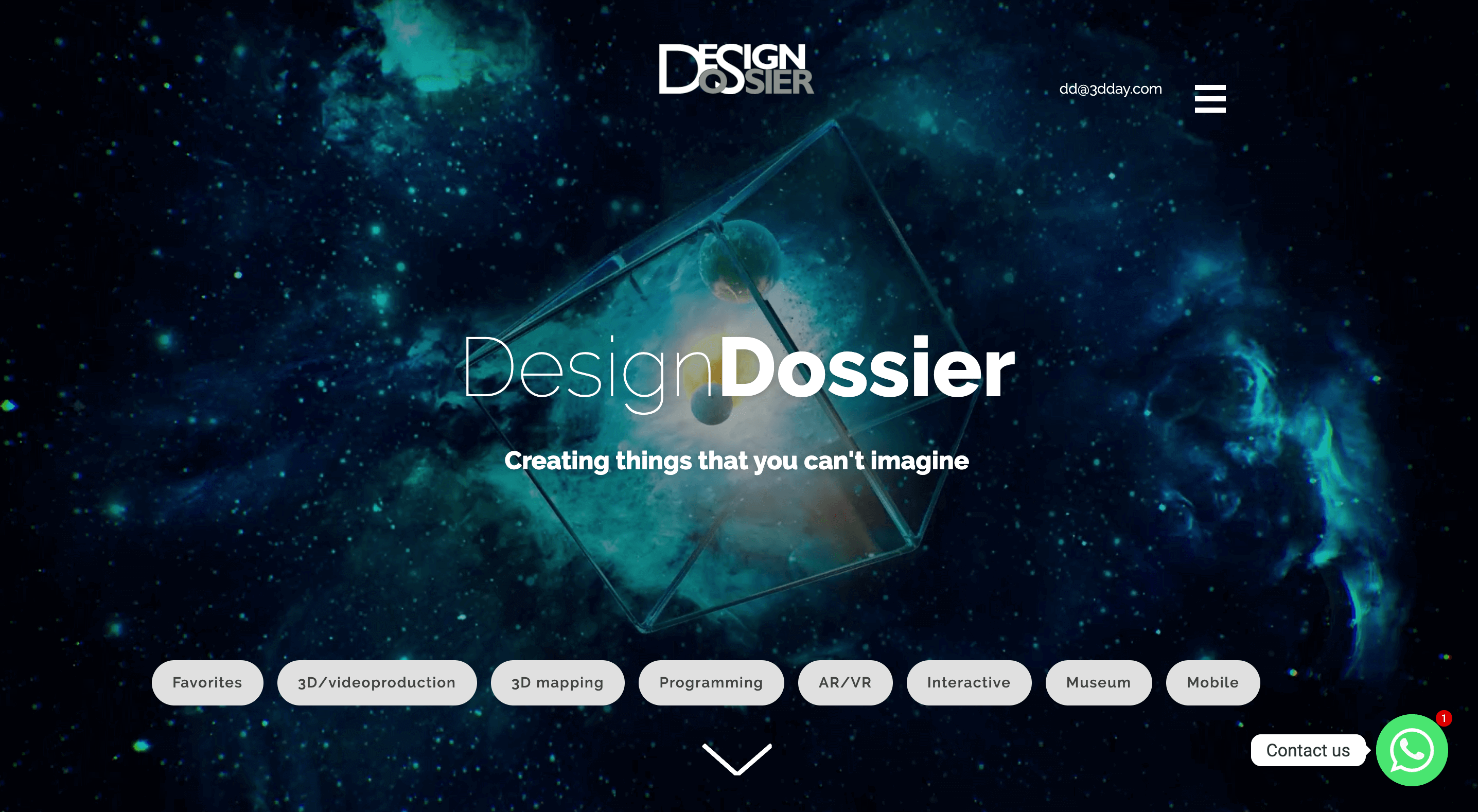 Founded in 2004, Design Dossier is a leading Portugal-based VR development company that delivers seemingly impossible, sophisticated multimedia projects at any scale. With offices in London, Lisbon, and Singapore, the agency has all the necessary technologies, skills, and talents to transform your idea into an engaging, inspiring, and communicative virtual experience that will impress your end users.
Design Dossier provides a wide range of services, including 3D visualization, video production, interactive technologies, 3D mapping, programming, augmented and virtual reality, corporate museums, and mobile app development. With its cutting-edge tech stack and 20-year experience, the company helps clients convey their brand messages to consumers in the most exciting way, whether in G2B, B2B, or B2C format at local and international markets.
Having successfully worked with such giants as Landrover, WWF, Yandex, Hennessy, Kent, Mazda, Citroen, Kempinski, Harmann, Takeda, and other enterprises, Design Dossier has become a top-rated VR partner creating world-class solutions that exceed client expectations.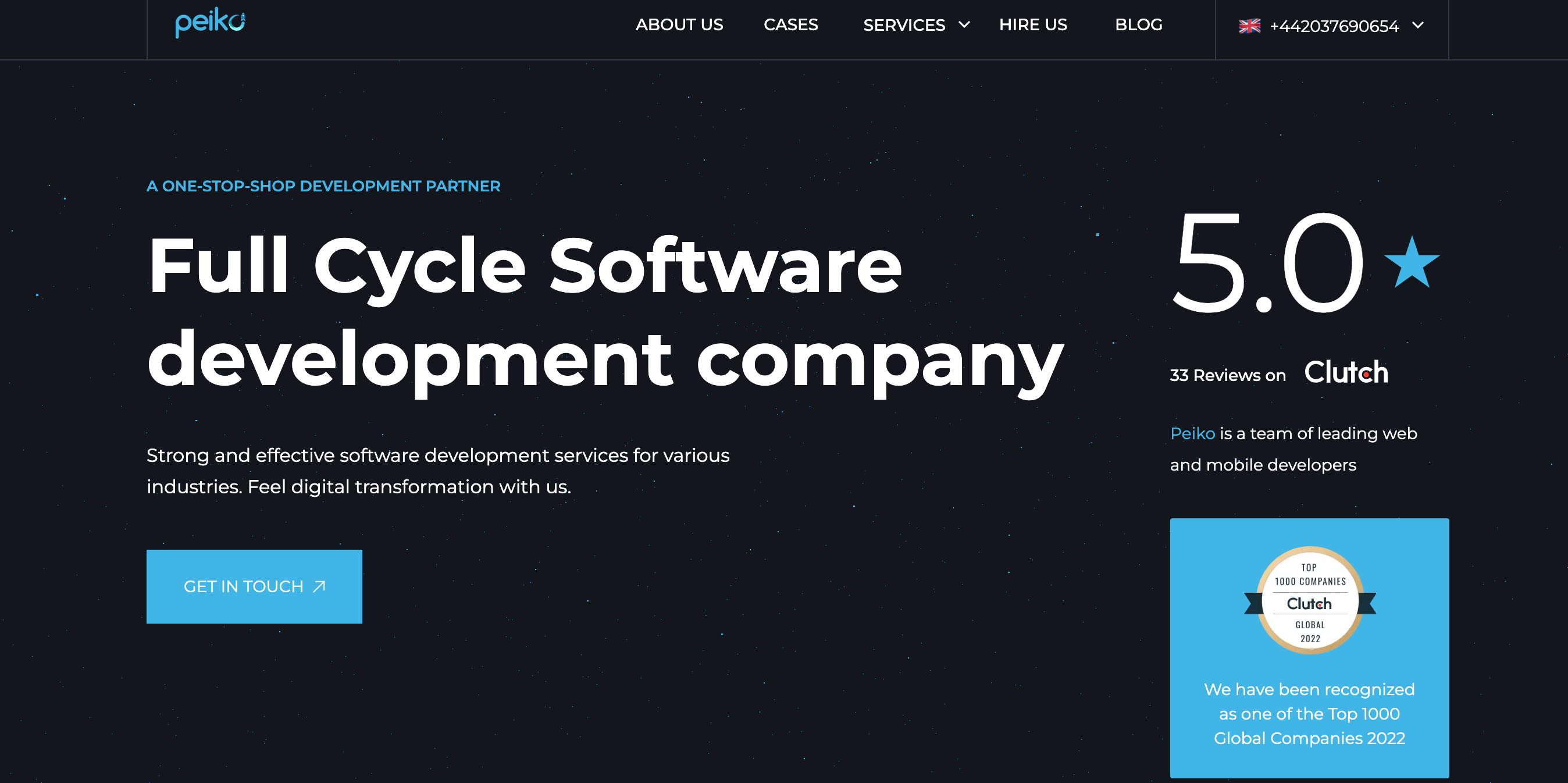 Peiko was founded back in 2016 and is headquartered in Kyiv, Ukraine. The company was acknowledged as one of the Top Global Companies in 2022 by Clutch, the leading review & rating portal. In addition, they have also been awarded as the Best Graphic Design Company by DesignRush, a popular B2B marketplace. 
The company aims to make budding companies profitable by implying top-tier IT solutions. They have a dedicated software development team that provides software outsourcing, blockchain, DevOps, web design, software &cryptocurrency development services, etc. 
Peiko's VR experts have worked with some notable clients globally, such as Insurance Broker, Orion, Dream On, My Finance, and more.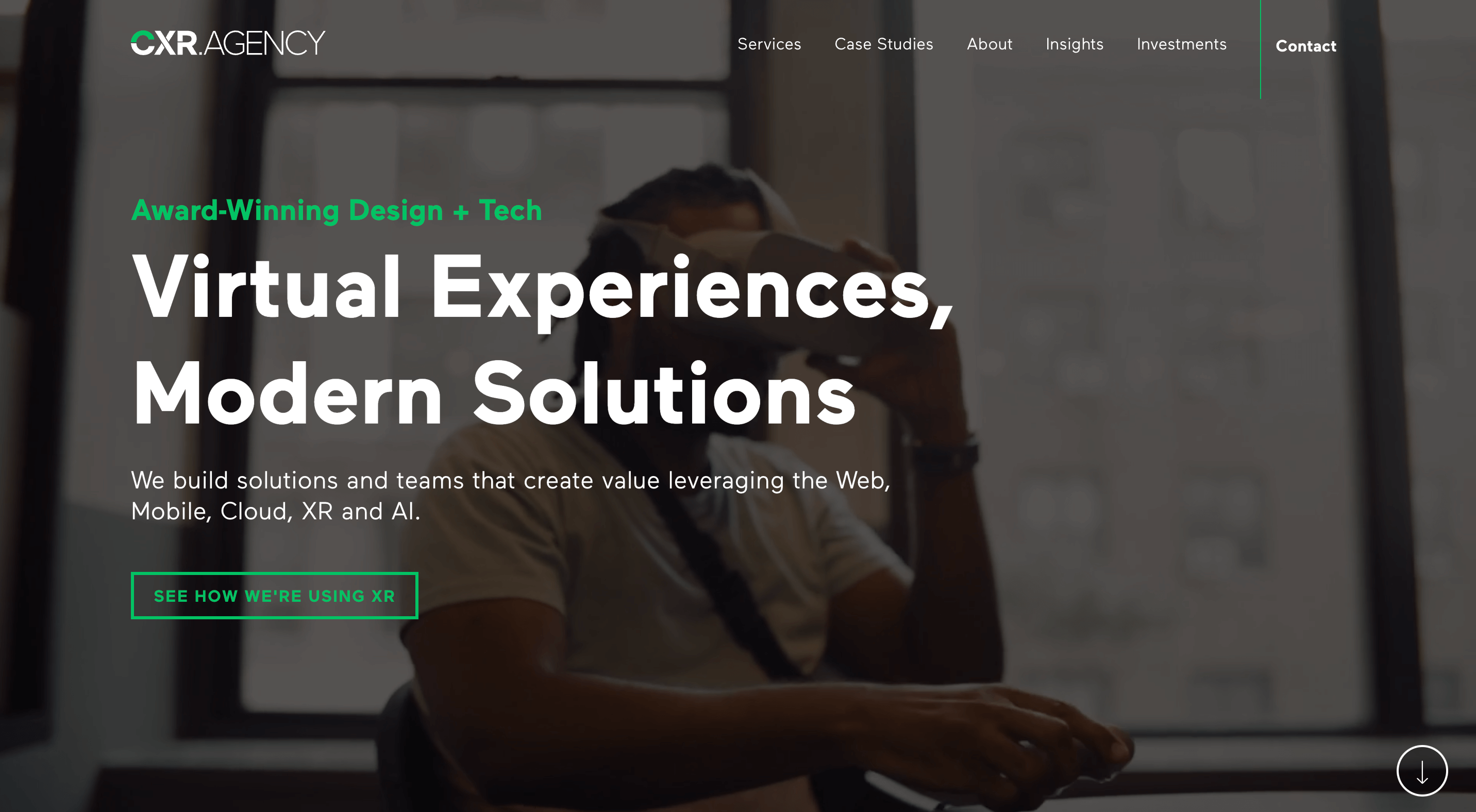 CXR Agency is a leading full-cycle software development and IT consulting company founded in 2009 in New York. The firm specializes in building world-class digital experiences through web, mobile, blockchain, virtual, augmented, and mixed reality applications, as well as providing staff augmentation and dedicated teams. Being an award-winning agency trusted by well-known brands such as Richemond, Harvard Medtech, Piaget, HBOMax, and Mont Blanc, they help clients solve IT expertise gaps, cost reduction, and digital transformation challenges.
CXR Agency is known for its next-gen design and tech solutions that bring value by leveraging the power of the web, mobile, cloud, XR, and AI. Their virtual reality development services include immersive training, retail store virtualization, live-action 360º video production, virtual reality real estate tour, and CGI and VFX.
The team at CXR Agency boasts the expertise to modernize any business through innovative implementations, from creating location-based entertainment to engineering enterprise applications to designing unique animated characters. This is the best VR agency for brands looking to build interactive, engaging, and informative experiences that resonate with their audience and provide impactful results.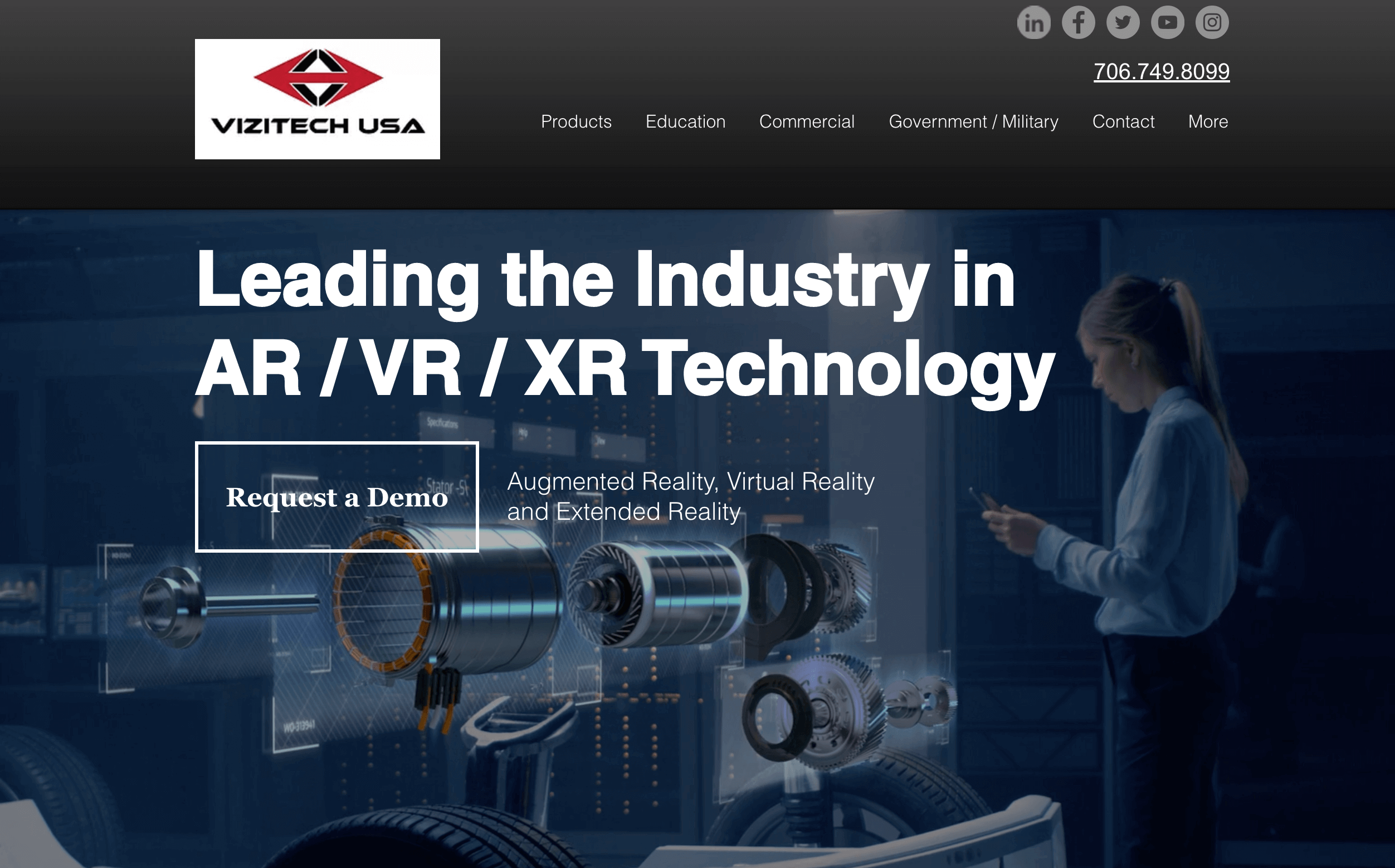 With comprehensive expertise in AR/VR/XR, Visitech USA has become a leading company that helps educational institutions, corporate clients, and government and military organizations get the most out of technology. Offering a wide range of innovative solutions, including VR/AR apps, 3D visualization, XR academy, and interactive simulations, the company also provides technical consulting and training services to take clients' businesses to the absolute next level.
They've worked with U.S.Army, Gulfstream, Mercedes-Benz, Verizon, Naval Aviation, United States Air Force, The Home Depot, Alabama Community College, and other world-known clients, implementing outstanding digital solutions for various purposes. So whether your business requires a training simulation, a VR or AR-based system, or any other tech assistance, Visitech USA will deliver the impactful result meeting your exact requirements.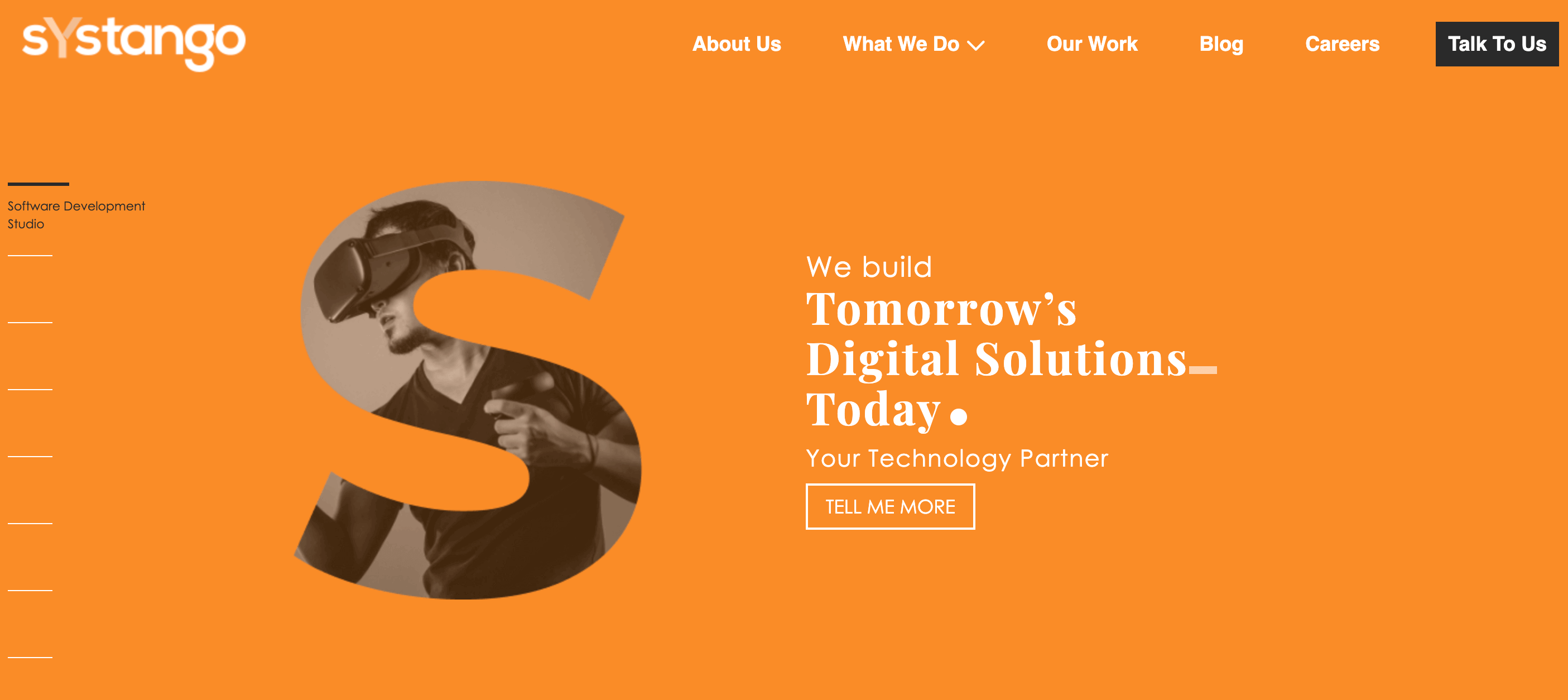 Systango is a superior IT firm founded in 2007 in London, United Kingdom, with offices in India, America, and Australia. 
They offer a constrained pool of top VR developers with a grasp of modern technologies. Along with next-gen VR development, Systango has proven competencies in data science, blockchain solutions, CRM, and CMS integrations, mobile app development, UI/UX design, and prototyping & execution. 
​They have more than 100 active clients and have delivered over 500 ambitious projects. Some of their top clients are Deloitte, MGM Grand, Grindr, and Porsche. The company serves B2B clients in eCommerce, Fintech, Shopping, Real Estate, Social Networking, Traveling, and Hospitality sectors.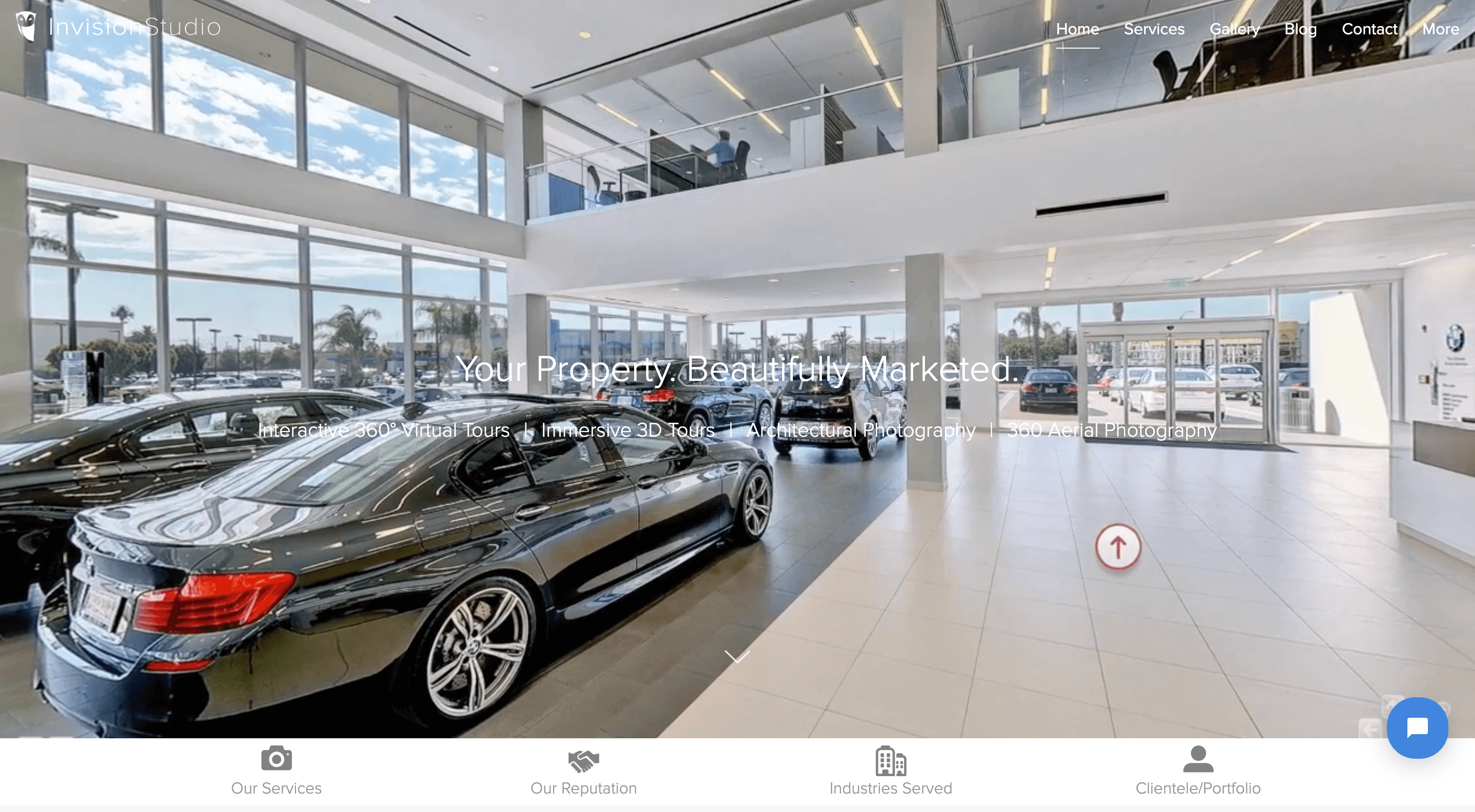 Founded in 2009, Invision Studio has made a name as one of the top VR development firms in the market. With its headquarter in California, the company delivers revolutionary solutions for marketing properties and businesses worldwide. The agency was created with an ambitious mission – to deliver a more immersive online viewing experience for Real Estate agencies, as well as Venues, Restaurants, Hotels, Clubs, Lounges, and more.
Over the years, Invision Studio has implemented several top-rated, cutting-edge VR solutions that exceed clients' expectations. The company's team of experienced VR developers and designers work tirelessly to create visually stunning digital experiences that put users into another world. Offering seamless integration, simplistic yet vibrant design, compatibility with any device, and other features, this top-level Virtual Tour company takes businesses to the next level with exceptional virtual reality services.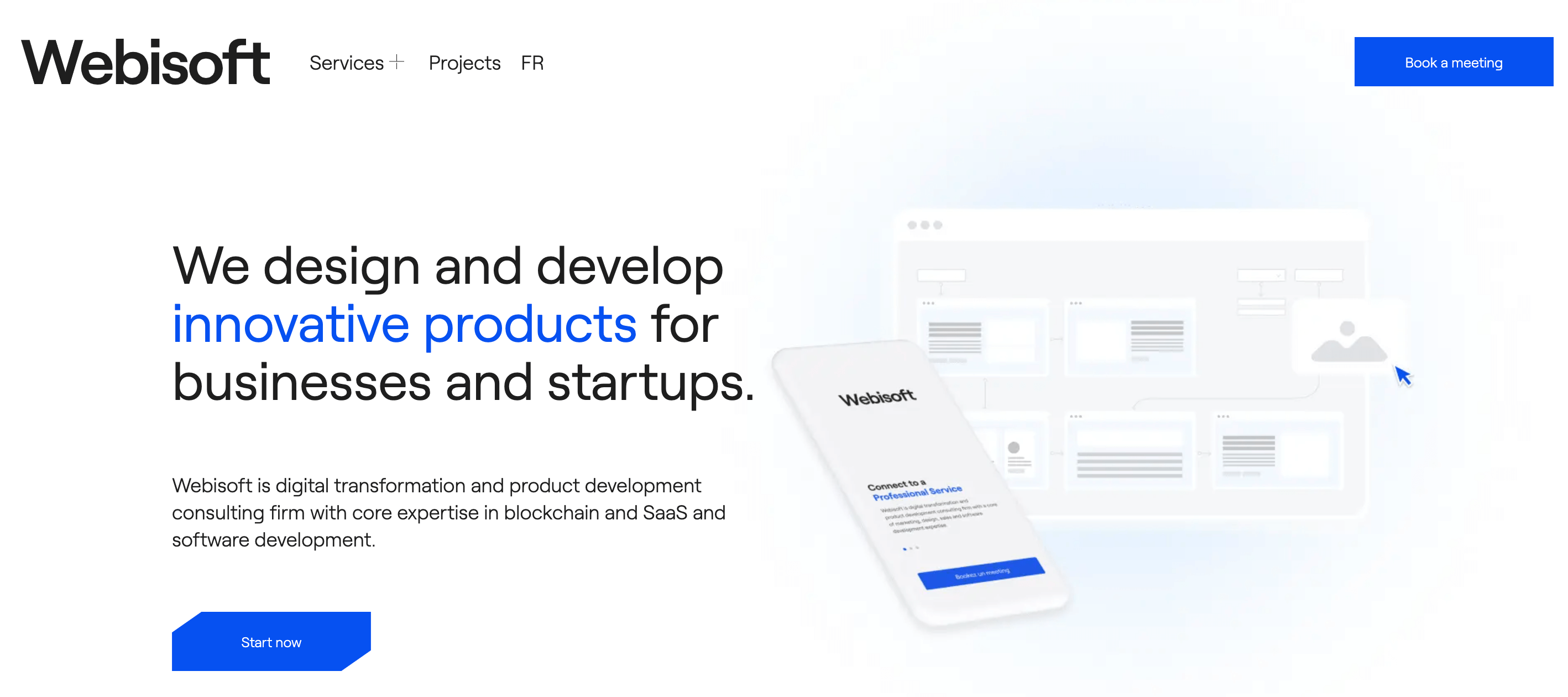 One of the leading VR development companies on this list is Webisoft. They entered the IT market in 2016, helping ambitious startups elevate their businesses through the design of innovative digital products. 
The company has a core specialization in SaaS and software development consulting. Their top-tier developers build extremely secure and fast blockchain solutions using Solana, Ethereum, and Cosmos-based chains. In addition, they use robust tech stacks that include Solidity, Python, Node.js, Javascript, Django, and React.
Webisoft has served many organizations comprising full-grown enterprises or those in their initial stages. With time, they have expanded their horizon and stepped toward the marketing area, offering SEO, content marketing, social media marketing, and PPC management services.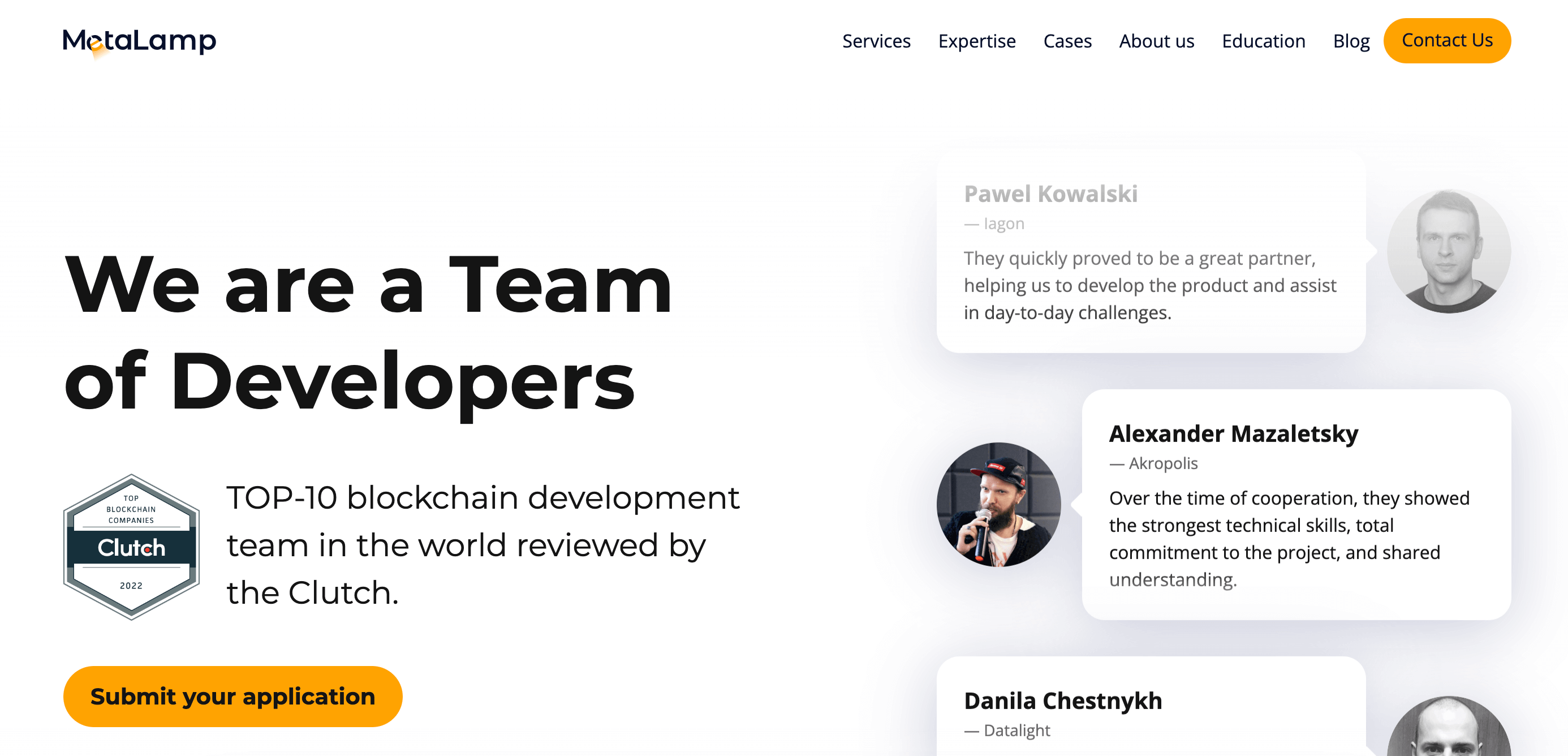 Founded in 2014, this leading VR app development company provides outstanding VR development services to its clientele. 
With a total experience of 9 years in software development, for the past 3 years, they have started offering Web3 development services, including solutions for NFT, DeFi, data analytics, cloud storage, blockchain, and game development. Thus, they take a well-deserved place in the list of top 10 Blockchain Development Teams in the World by Clutch. 
MetaLamp has the best VR developers that know how to implement popular virtual reality systems using high-level programming languages like Solidity and Plutus. Along with that, they use technologies like Web3.js, Python, React Native, Flutter, Typescript, and more.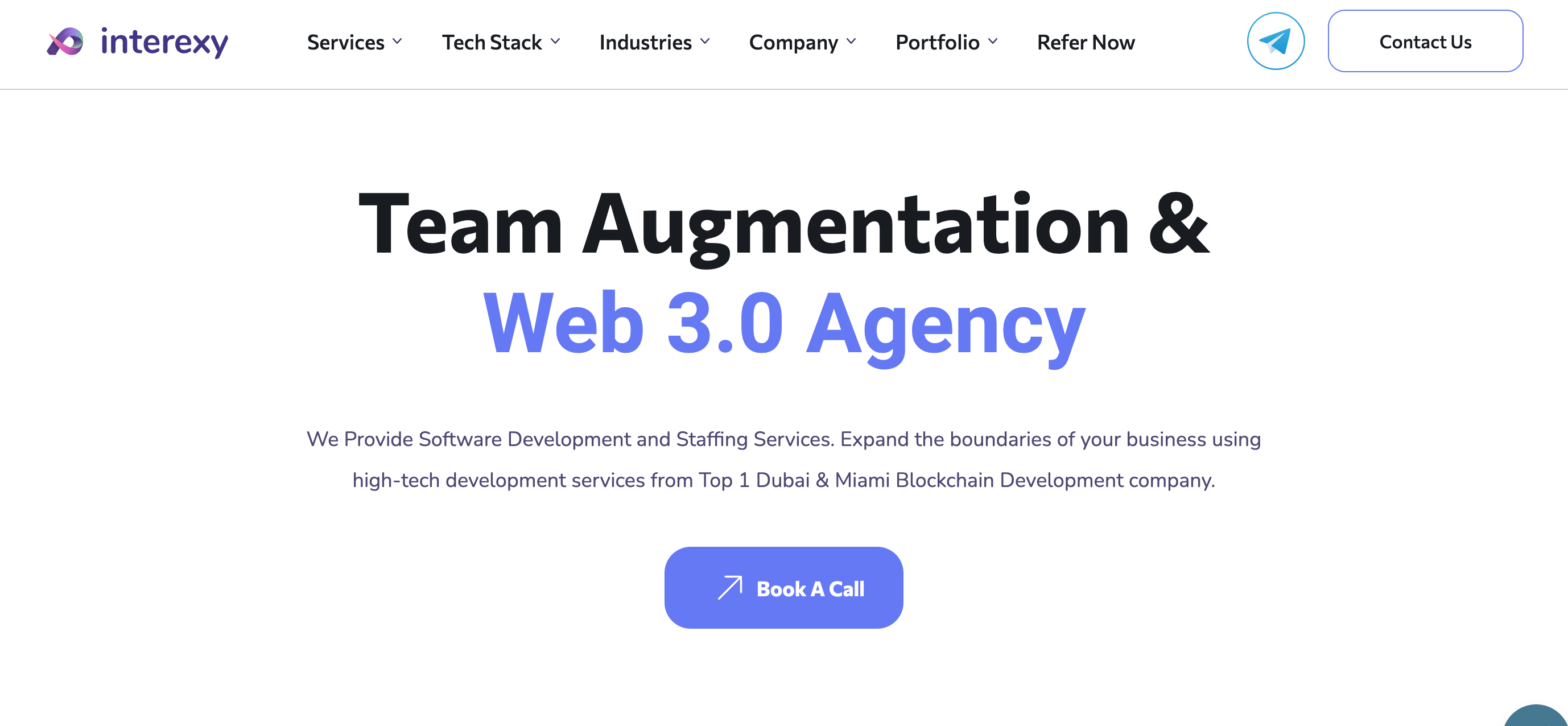 Intrexy is a Miami-based web consulting and development company established in 2017. They have worked with well-known clients such as General Electric, SAP, Pampers, and others. 
Their main areas of expertise are web & app development for Android and iOS, metaverse development & deployment, and blockchain development using Rust and Solidity. The company provides superior VR development services for clients from Real Estate, Healthcare, Finance, eCommerce, and other industries.
Intrexy works to facilitate cutting-edge technologies with top-notch security components. They follow a reliable model and infrastructure so that the customer data is not at stake. They have the best VR developers that smoothly handle product development and start the project within 5-10 business days.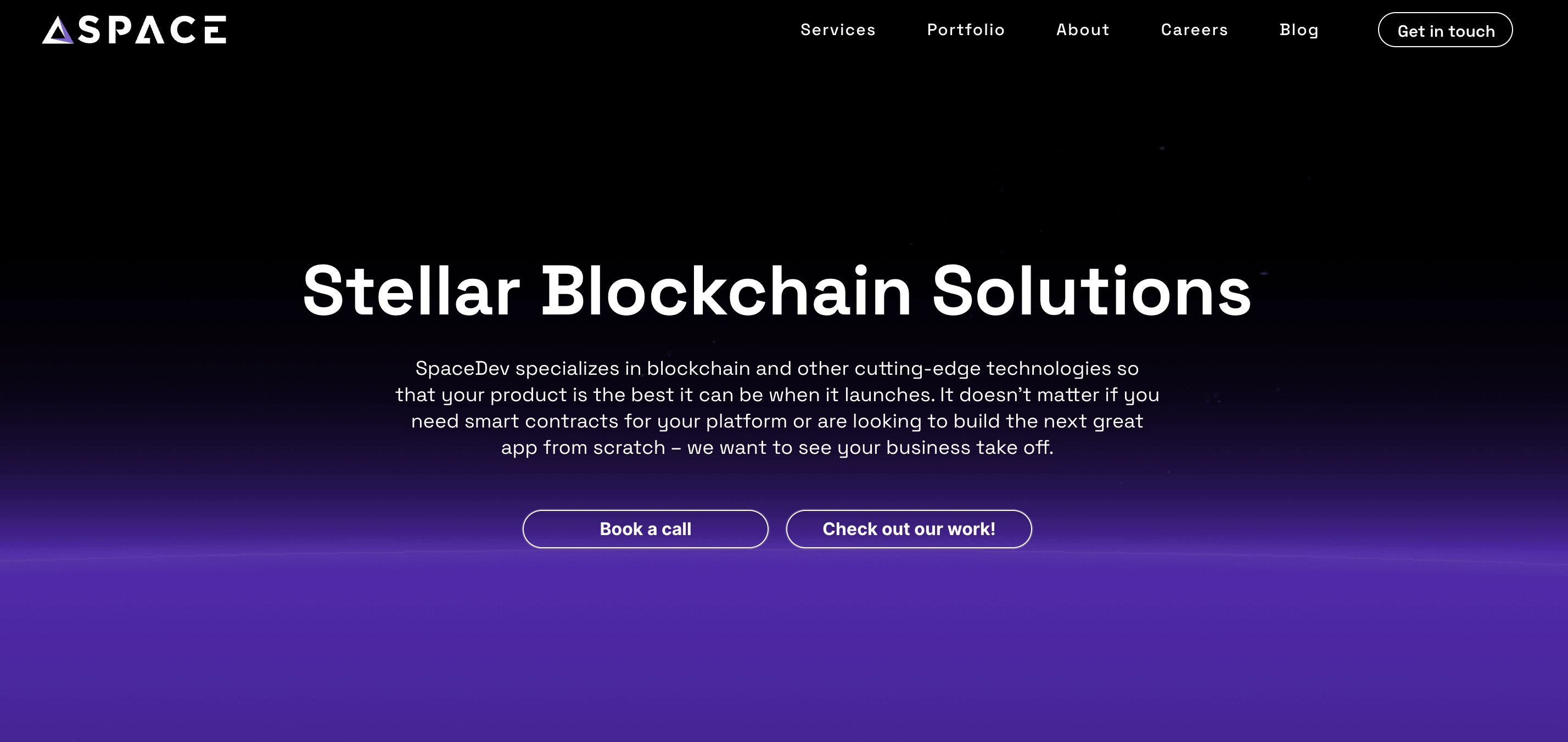 SpaceDev is an impeccable software development company that specializes in developing blockchain and full-stack software solutions. They help clients turn their ideas into phenomenal digital products adored by their end users. 
The firm was founded in 2017 and is based in Montevideo, Uruguay. Clutch cites them as one of the country's Top 3 Custom Software Development companies. With their sheer hard work, they have completed 100+ projects and have a diverse team that hails from South America.
SpaceDev focuses on building long-lasting relationships with clients for a better future. They have the best pool of VR experts, consisting of top-level developers, designers, analysts, and project managers. The company follows a flexible routine to maintain a work-life balance for the employees and the clients. Their professionalism is gauged through dedication, honesty, respect and transparency with tech-savvy skills.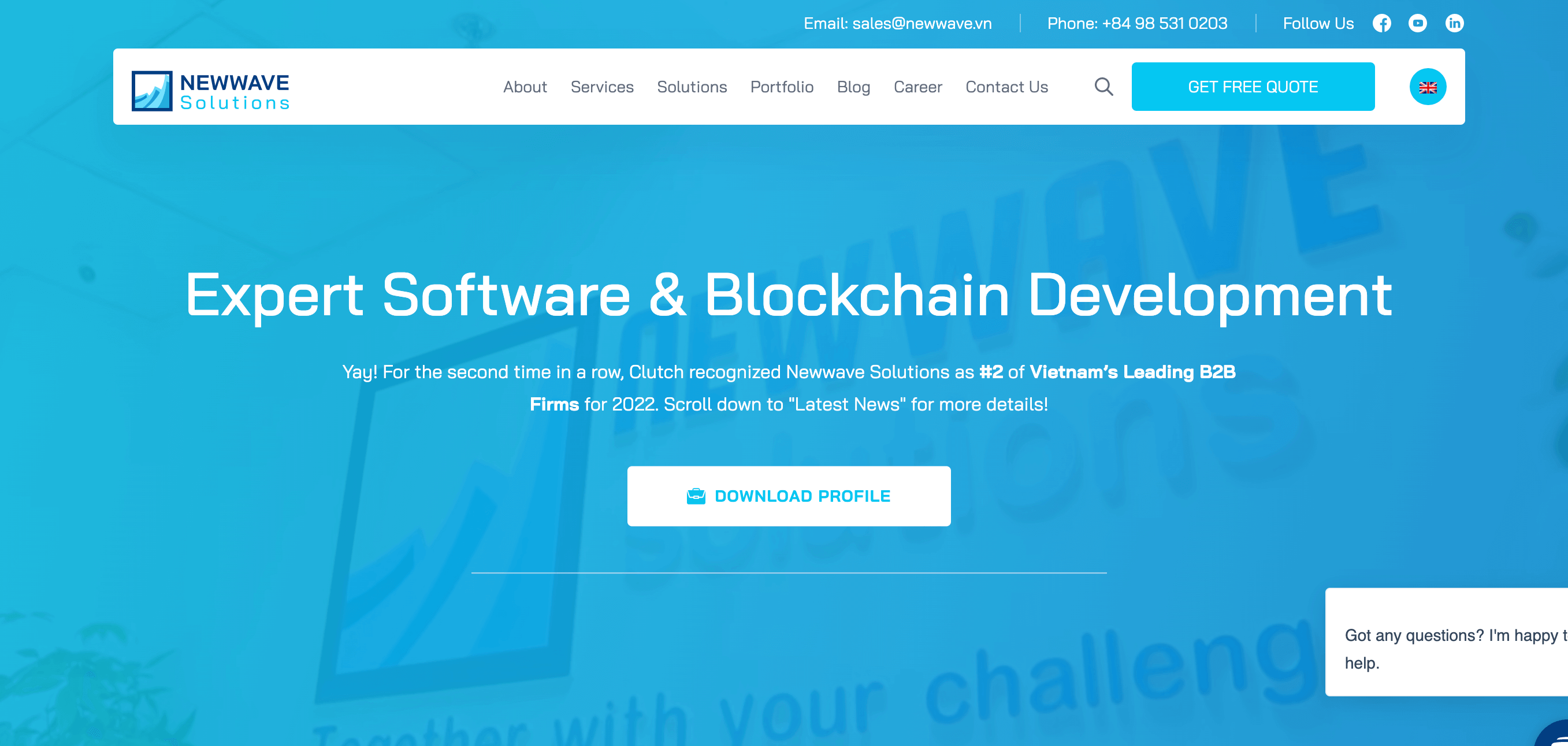 Newwave is one of the best VR development companies founded in 2011 in Hanoi, Vietnam, with a branch office in Tokyo, Japan. 
Starting as a traditional software development house offering mobile app development, game design, and QA testing services, today, they work with emerging technologies like blockchain, AI, ML, NFT, dApp, IoT, and, surely, virtual reality. Newwave Solutions aims to build personalized tech ecosystems for businesses with highly scalable and profitable solutions according to their unique needs and challenges. 
Having a total experience of 11 + years, their progress and ratings on Clutch and Goodfirms speak for themselves. In addition, they've received certification from the ISO and ISTQB, making them trustworthy.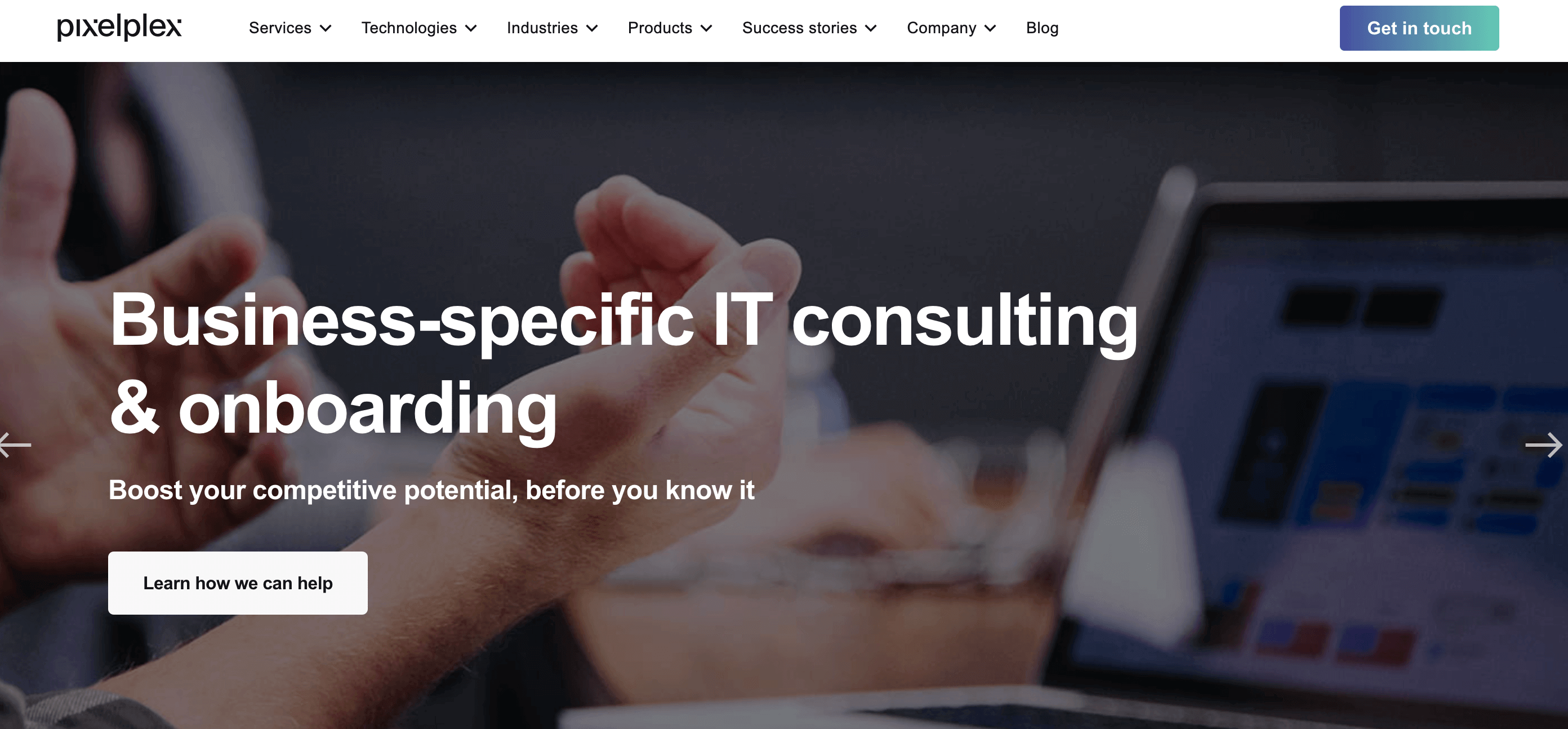 Established in 2007, PixelPlex is a devoted tech partner for high-profile businesses. The company has its main office in the United States and operates in the United Kingdom, UAE, Poland, and Switzerland.  With 100+  certified experts in every domain on board, they specialize in developing digital products customized according to clients' demands. 
PixelPlex's development services encompass IT consulting, web development, and custom software development using blockchain, metaverse, AR/VR, cognitive computing, big data, and chatbot technologies.
The team has delivered around 450+ projects and has over 15 years of experience in managing clients' success. Their way of working is seamless as they meticulously analyze the project, check for inefficiencies and help clients jumpstart their development journey.
14. SOTATEK JSC
SOTATEK is among the best VR development companies and was established a few years ago, in 2015. The firm is a subsidiary of the global software giant Sota Holdings and has offices in 12 countries. They are a team of 1000+ professionals that offers best-in-class VR development services as well as offer AI & ML creation, blockchain consulting, game development, IoT development, and more.
SOTATEK is facilitated with 5-star Software Development Services in Sao Khue 2022, one of Vietnam's most significant software awards. They've also received numerous prominent awards as the #1 Blockchain Development Services Provider in 2021-2022. 
With a head office in Hanoi, Vietnam, they offer full-cycle IT services to clients in more than 25 countries in sectors like Real Estate, Entertainment, Retail, and Healthcare.
Conclusion 
VR app development is the talk of the town, and hiring the top VR developers to implement immersive apps has the power to transform your business and bring it to the next level.
Hopefully, our list of the best VR development companies will help you find a perfect tech partner as per your requirements who'll lead you to the ladders of success. 
If you want to add your VR company to this list, contact us by email, and after a thorough review, we'll decide whether it's a valuable addition.