Software development empowers businesses to leverage modern technology to their advantage by enhancing company efficiency, improving customer experience, and achieving sustainable growth. 
From startups to enterprises, Australian software development companies have earned a proven reputation for their extensive technical competence, client-centric approach, and ability to take complex challenges head-on.
In addition, these firms cover end-to-end product development, offering ongoing consulting and on-demand team augmentation services. Thus, outsourcing your IT project to Australian developers secures high-quality results and top-level cooperation.
To save you time and effort, we have listed the top software development companies in Australia, highlighting their skills and expertise, work experience, services, and notable achievements. Work with the best ones!
The Best Software Development Companies In Australia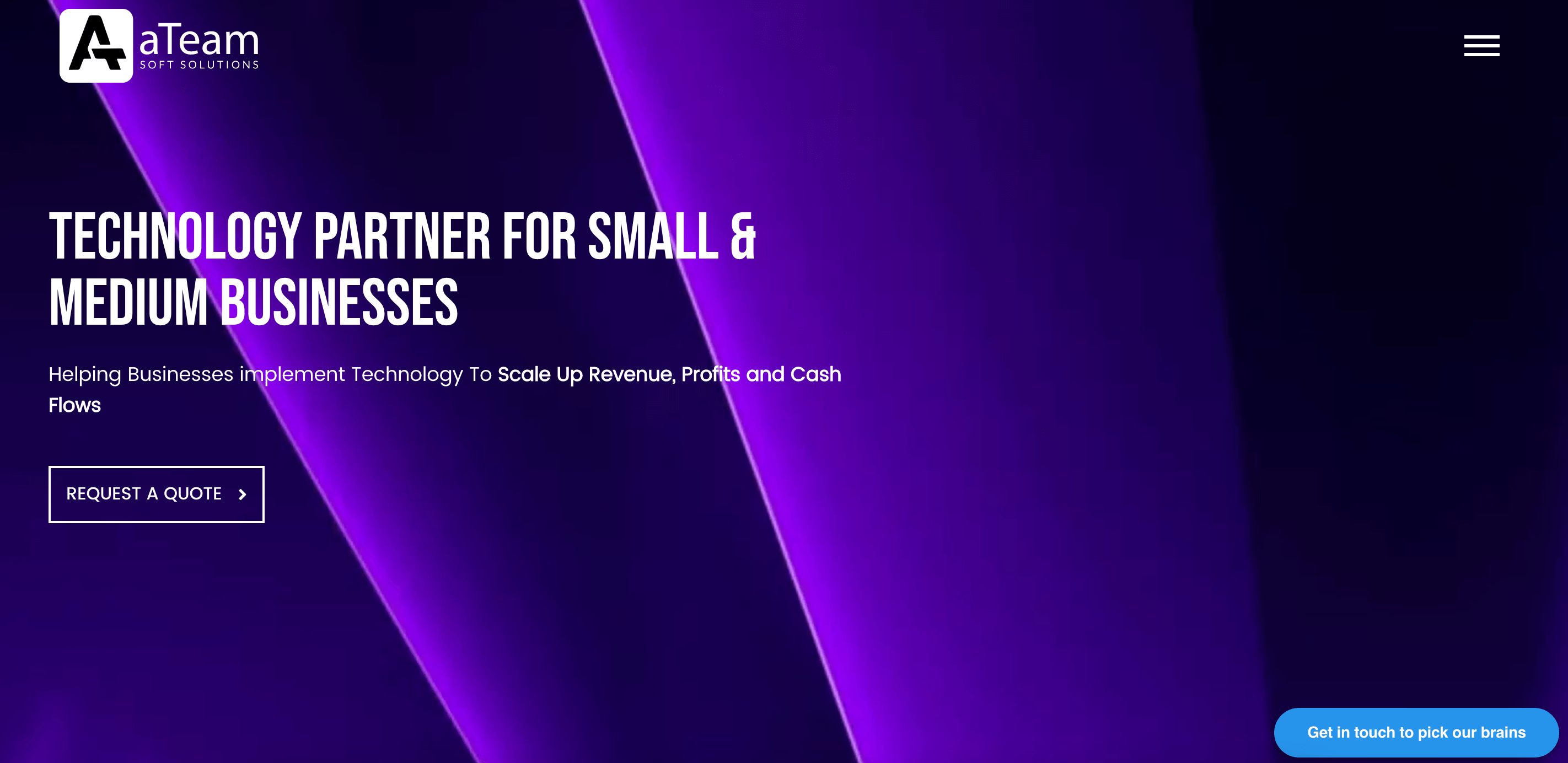 Being an ISO 9001:2015 and ISO/IEC 27001:2022 certified company, aTeam helps small and medium businesses, as well as global brands, scale up their revenues, profits, and cash flows with smart software development. One of the best Australian IT companies, it has been developing successful digital products and providing consulting services since 2013. 
aTeam has the top 5% of Australian software developers and advisors on board who will help you identify your business's strengths and weaknesses, review and enhance your existing digital strategy, and implement new technologies to drive transformative changes within your organization.
As a bonus, the company provides post-live support for 6 months at no additional cost. 
Services and expertise:

web and mobile app development, eCommerce development, AWS services, MVP development, SEO services, technical consulting, digital strategy audit

Tech stack:

Magento, Python, VueJS, PHP, WordPress, Laravel, NodeJS, PostgreSQL, CSS, Java, Angular, Firebase, MongoDB, Ruby, Drupal, React, MySQL, HTML, AWS 

Industries: M

edia and Entertainment, Education, Games, Healthcare,

F

ood and Beverage, Automotive 

Team size:

65+ experts

Portfolio:

Coca-cola, IMB, General Electric, Ford, Verizone, Siemens, DEF Fitness Studio, ABC Restaurant Chain, JKL Healthcare Clinic, Acme Widgets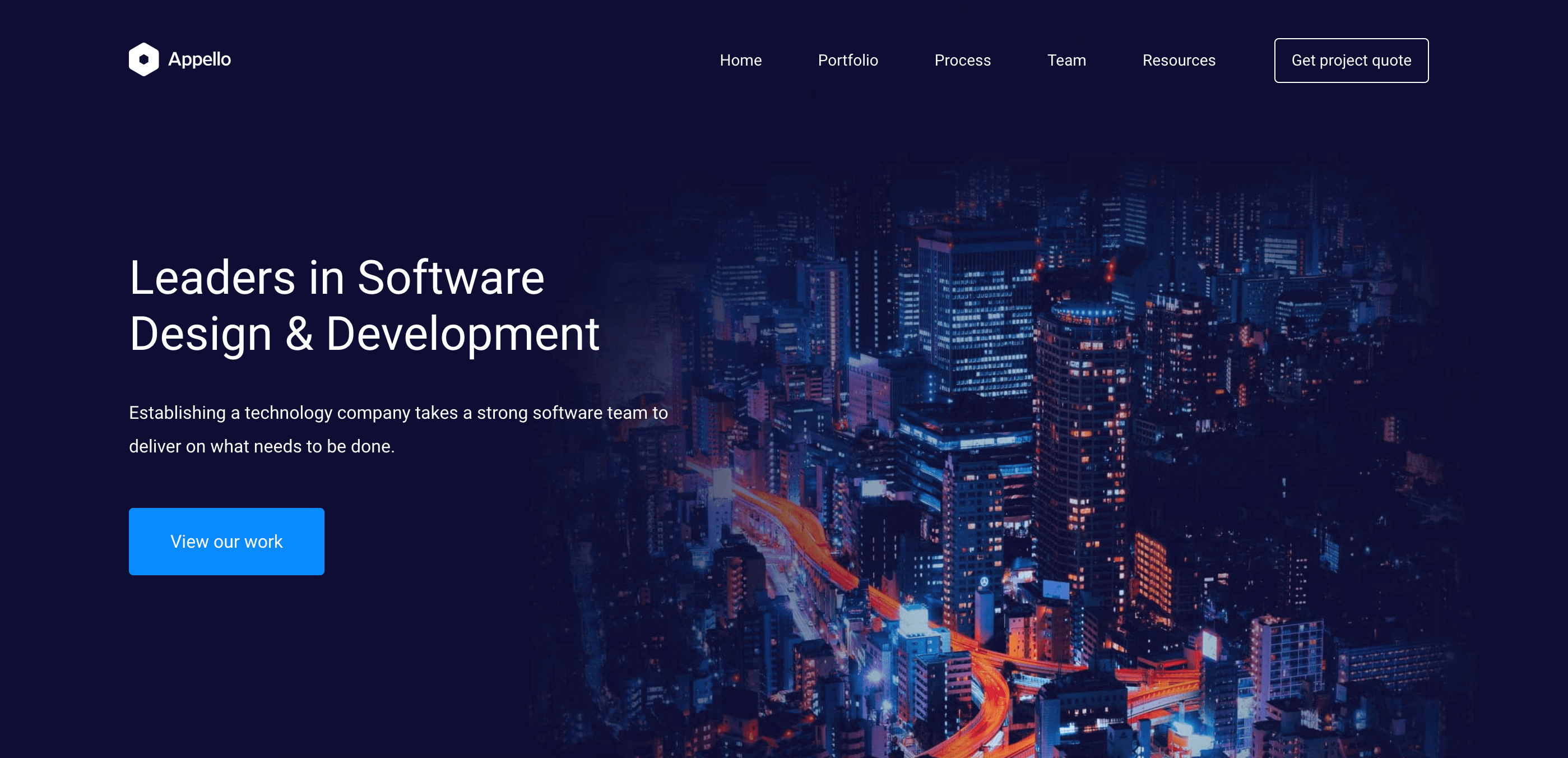 Appello Software is one of the top software development companies in Australia and established itself as a leader in the IT market worldwide. They are proud of their 140+ successfully completed projects for startups and enterprises and over 10 years of combined experience within various industries, from Healthcare to Dating.
The company will support you at each stage of your technical journey – discovery, design, development, testing, launch, and maintenance. Also, you'll benefit from completely tailored software solutions, transparent costs, daily project manager support, and professional marketing expertise to make the most of your final product. 
Services and expertise:

iOS and Android app development, UX/UI app design, custom software development, digital marketing

Tech stack:

Swift, Angular, PHP, CSS, HTML, C++, Python, etc.

Industries: Healthcare, FinTech,

Logistics, Mobile Games, Dating, Real Estate, Lifestyle, Social, eCommerce, etc.

Team size:

80+ experts

Portfolio:

Walker, Vidya, Foxo, Eyetelligence, OXY33, F4S, High Skill Training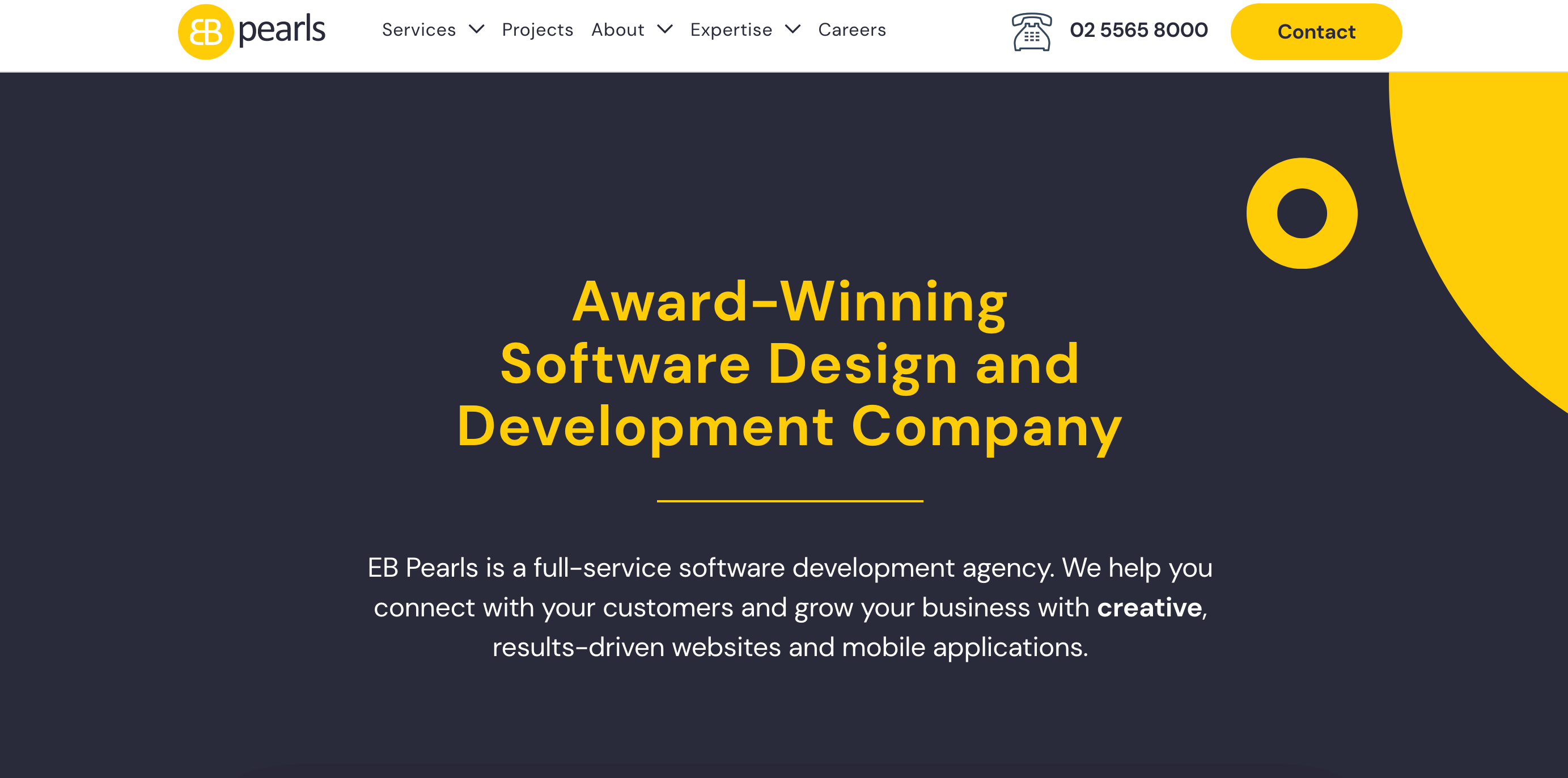 Outsourcing to Australia will be truly fruitful if you decide to work with EB Pearls. This award-winning firm boasts 440+ delivered mobile apps and 4200+ exceptional websites, 72 national awards, and is ranked as the number one software development company in Australia with 4.9 stars on Clutch. 
EB Pearls was established in 2004 and has acquired the most prominent experience compared to local competitors. Their expert team knows how to handle different sorts of business needs and provides customized solutions to meet unique clients' goals and requirements. 
Services and expertise:

mobile development, website design and development, eCommerce development, DevOps, staff augmentation, QA and testing, digital marketing. 

Tech stack:

iOS, Android, Flutter, NodeJS, MongoDB, ReactJS, WordPress, Shopify, ASP.NET, Laravel

Industries: H

ealthcare, Finance, Property Technology, Education, etc.

Team size: 320+ experts
Portfolio:

NSW Government, WWF, UNSW Sydney, The University of Sydney, Optus Yes, Flip Pay, News Corp, Plenty, Bingo Industries, Sol Distribution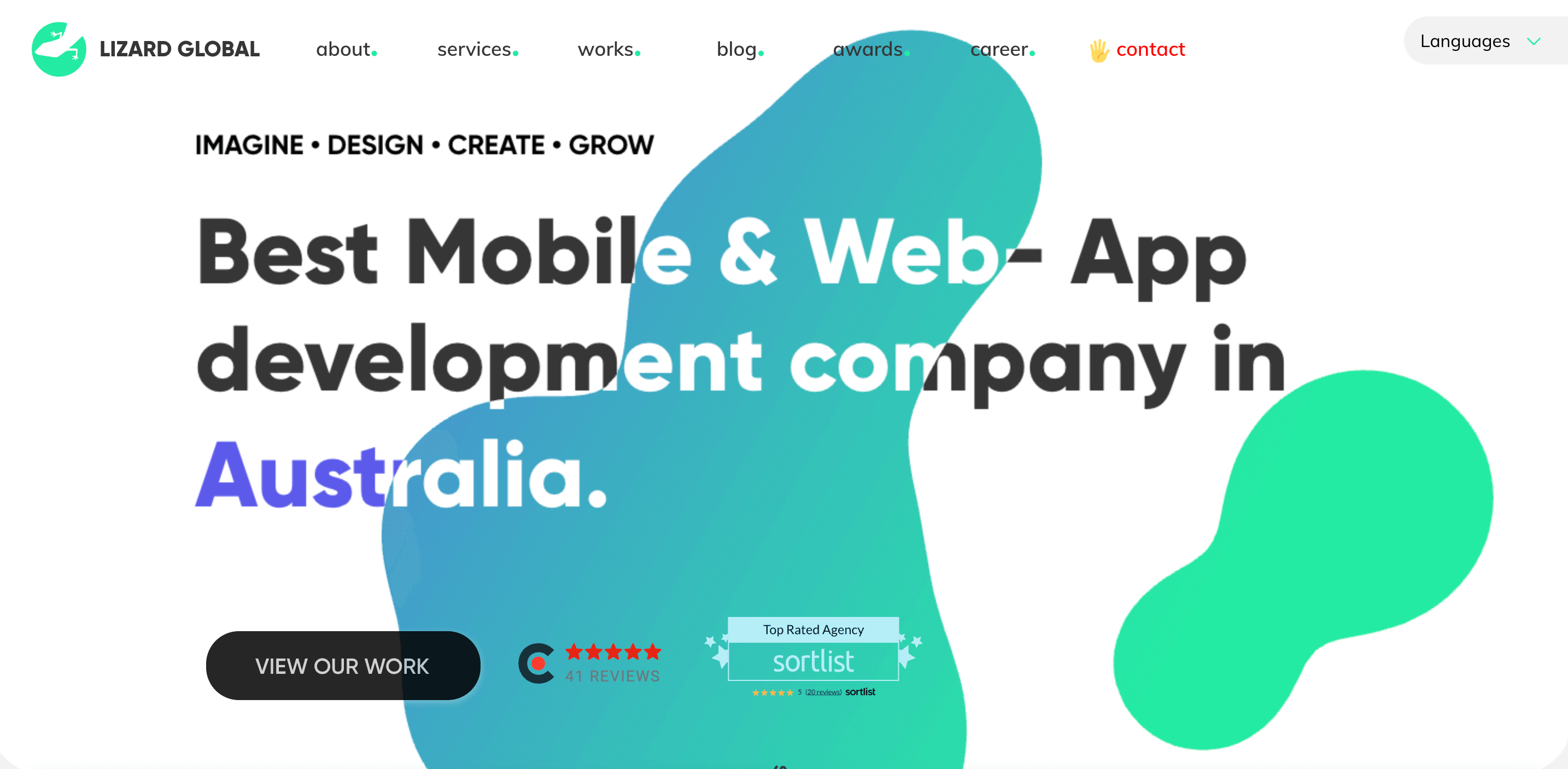 Lizard Global stands proudly as an award-winning custom software development company in Australia renowned for its global operations and unparalleled expertise. Since 2012, this notable mobile app and web development agency has been helping global businesses build highly scalable and revolutionary products.
Recognized and awarded by reputable companies such as Clutch, DesignRush, topDevelopers, TechBehemoths, and TechReviewer, Lizard Global has established itself as the go-to full-stack digital partner for businesses searching to expand their market reach, enhance customer experiences, and gain a competitive advantage with flexible and scalable cross-platform solutions. Their goal-oriented culture fosters close collaboration between teams to ensure optimal client outcomes.
With a commitment to creating a supportive and dynamic working environment, the Lizard Family, comprising 55+ employees, has successfully completed 100+ projects across 25 diverse industries (FinTech, eCommerce, Education, HR, Mobility as a Service, Community, and more).
As Lizard Global celebrates its 10th anniversary, they offer an exclusive one-hour free consultancy, a testament to their dedication to continued excellence in software development and unwavering commitment to their clients' success.
Services and expertise: custom software development, mobile app and web app development, cross-platform development, digital consultancy, UX/UI design, CRM integration, marketing strategy, data analytics, workshops
Tech stack: Javascript (MERN), NodeJS, ExpressJS, React, NodeJS, Python, iOS, Android, Flutter, Salesforce, etc.
Industries: eCommerce, FinTech, Human Resources, Automotive, Community, Construction, and 20 others
Team size: up to 55 full-stack experts and an in-house UI/UX design team
Portfolio: www.lizard.global/portfolio: Heineken, Tiger Beer, Tranvision, Baiduri Bank, Nationale Nederlanden, VanBreda, McDonalds, CNCRD, DEXTR, SHFT!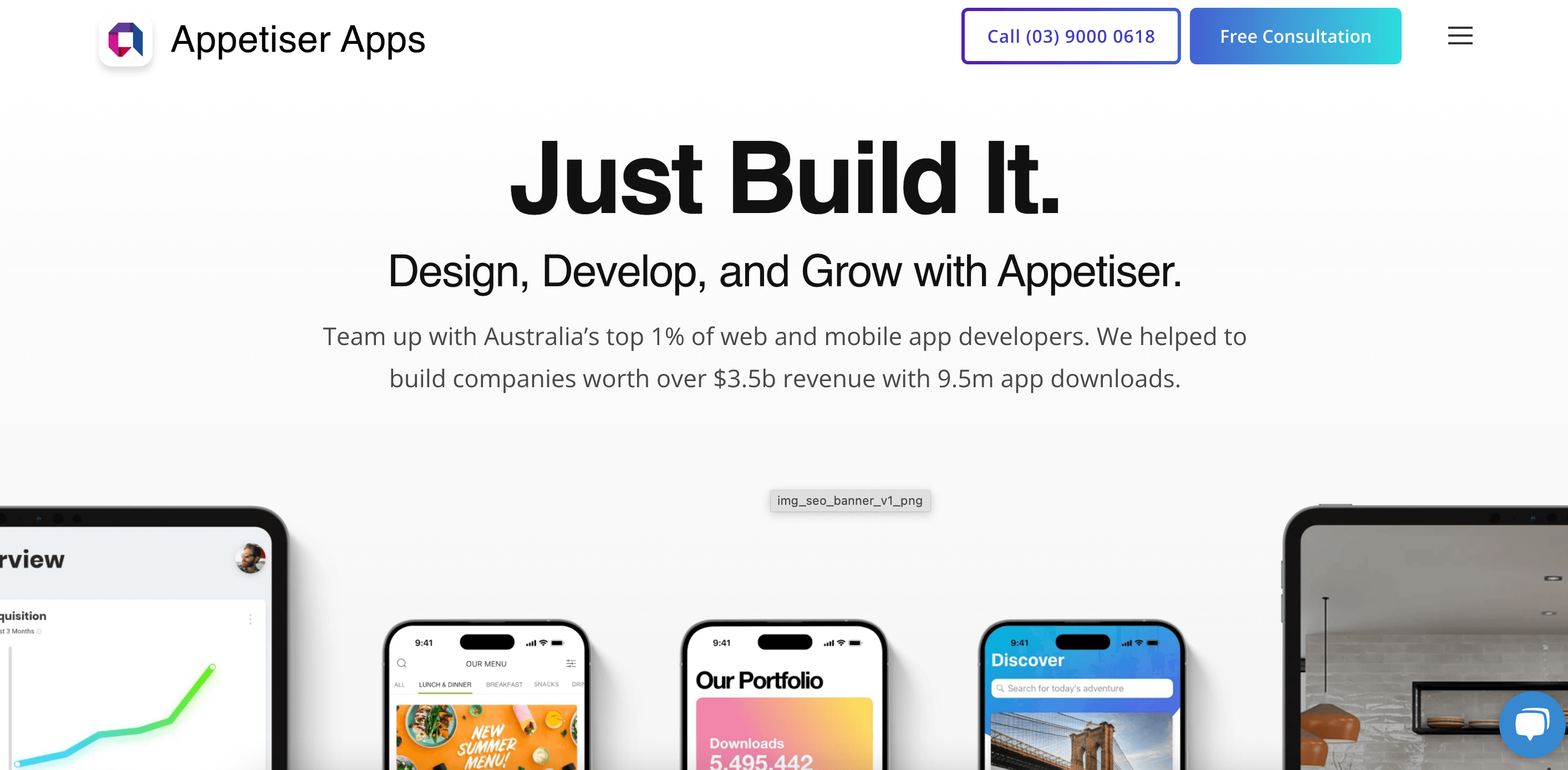 Enhance your team with Appetiser's top 1% of web and mobile app developers in Australia – they've helped build successful brands which are worth over $3.5 billion in revenue and generated an impressive 9.5 million app downloads. Clutch also recognizes Appetiser as the number one IT outsourcing company in Australia for the second year in a row.
The firm focuses on building all types of applications: iOS apps, Android apps, custom apps, mobile apps, and web apps. So if you want to become the owner of an app with a world-class design that captures the user's attention and generates sales – Appetiser is your go-to partner. They'll cover every aspect of the development process with the greatest level of attention and professionalism to kickstart your fantastic project. 
Services and expertise:

app design and development, web development, custom software development, tech consultancy

Tech stack:

React Native, ReactJS, Swift, Kotlin, Flutter, Sketch

Industries: S

ports, Food and Beverage, Construction, Trades, Dating, Property, Social Media

Team size:

250+ experts

Portfolio:

Europcar, LEGO, RMIT University, Defence Jobs, Schweppes, Samsung, The Salvation Army, ANZ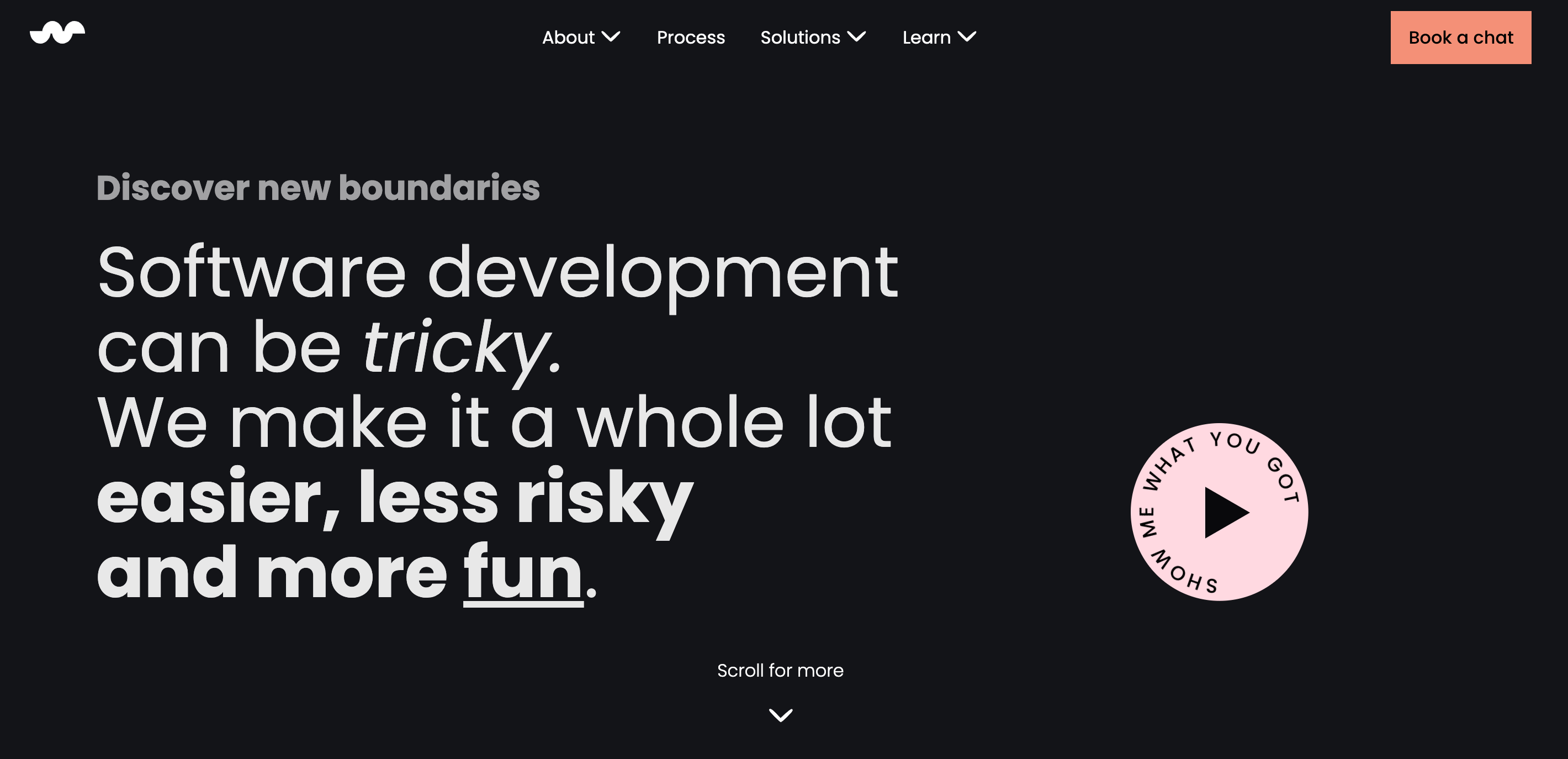 Working Mouse is one of the best software development companies in Australia, based in Brisbane. This award-winning agency offers a unique mix of people, processes, and tools that enables them to deliver high-quality software solutions. 
For the last 10 years, Working Mouse has completed and supported over 100 software development projects locally and abroad. So whether you're starting a brand-new project or need to improve an existing product – it will be much more efficient and less risky with the best Australian developers from Working Mouse! 
Services and expertise:

software development, product design, software modeling, software audit, maintenance and support, artificial intelligence, SaaS

Tech stack:

C#, React, React Native, Postgres, Redis, Java, Spring, Angular, PHP, Vue, Typescript, SQLServer, Eclipse, EMF, Codebots, Epsilon, AWS, Azure, etc.

Industries: A

utomotive & Transportation, Industrial Manufacturing, Software, Internet & Communication, Financial Services, Real Estate, Government

Team size:

50+ experts

Portfolio:

Master Electricians Australia, Access Intel, Aptus Design System, Daltrey Biometric Security, Gevity, Hitachi, Hypha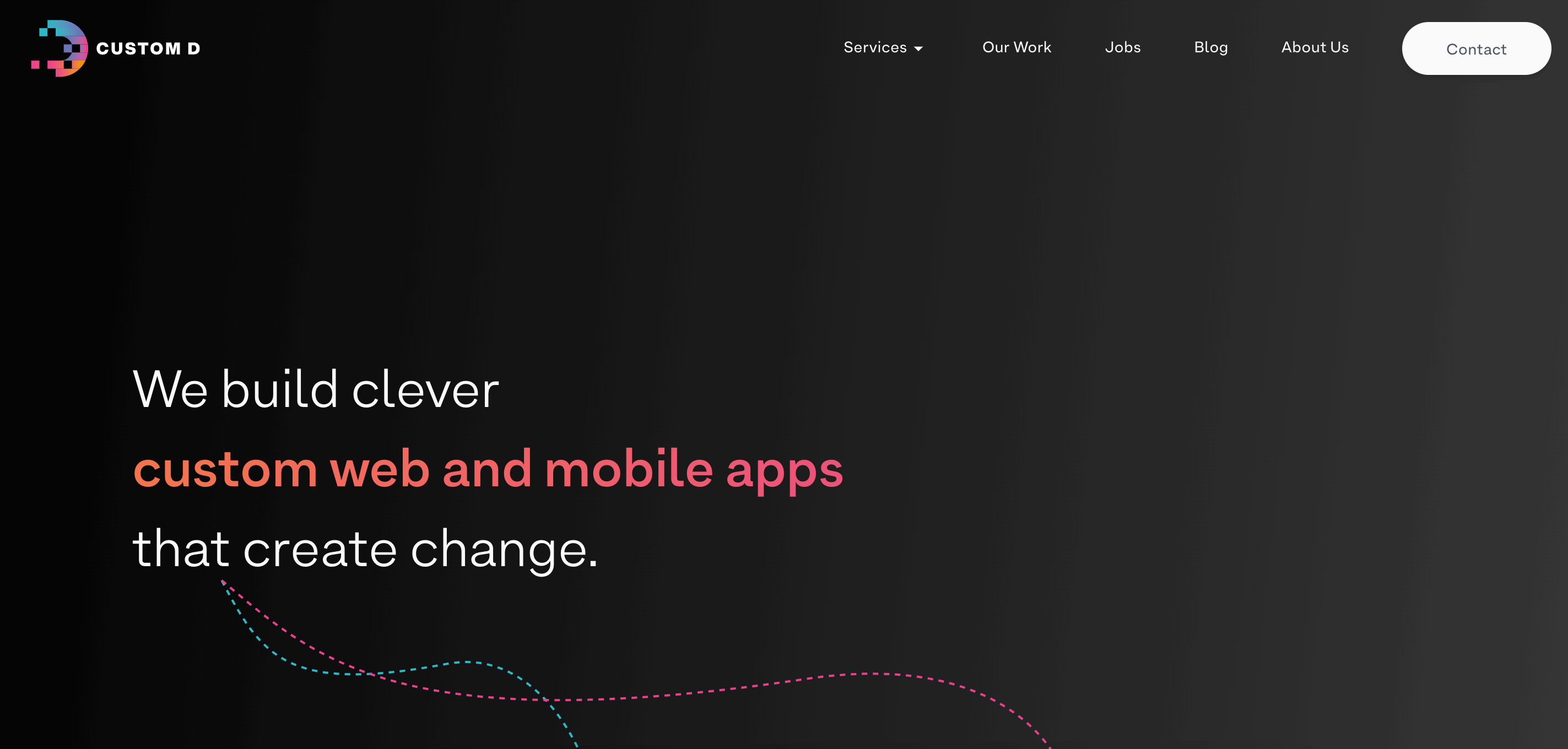 Custom D is a winner of the NZ High-Tech Awards 2021, specializing in web and mobile development, managed hosting services, and Web3 development. No matter if you own a startup or an established corporation, the team at Custom D will help you drive business growth and increase profitability.
The company is experienced in working with diverse industries, from Travel and Hospitality to Cryptocurrency. By combining technical proficiency with industry best practices, they deliver robust, scalable, and future-proof software solutions that drive create change.
Services and expertise:

custom software development, startup app development, Web3 development, AWS cloud services, system integration

Tech stack:

HTML, CSS, Python, C#, React, Angular, Java, MySQL, AWS, Microsoft Azure

Industries: F

intech, Food and Beverage, Aviation, Gaming, Technology, Real Estate and Property, Software, Cryptocurrency

Team size:

50+ experts

Portfolio:

Art Money, Student Volunteer Army, Public Interest Advocacy Center, Podium, Tenancy, Nelson Australia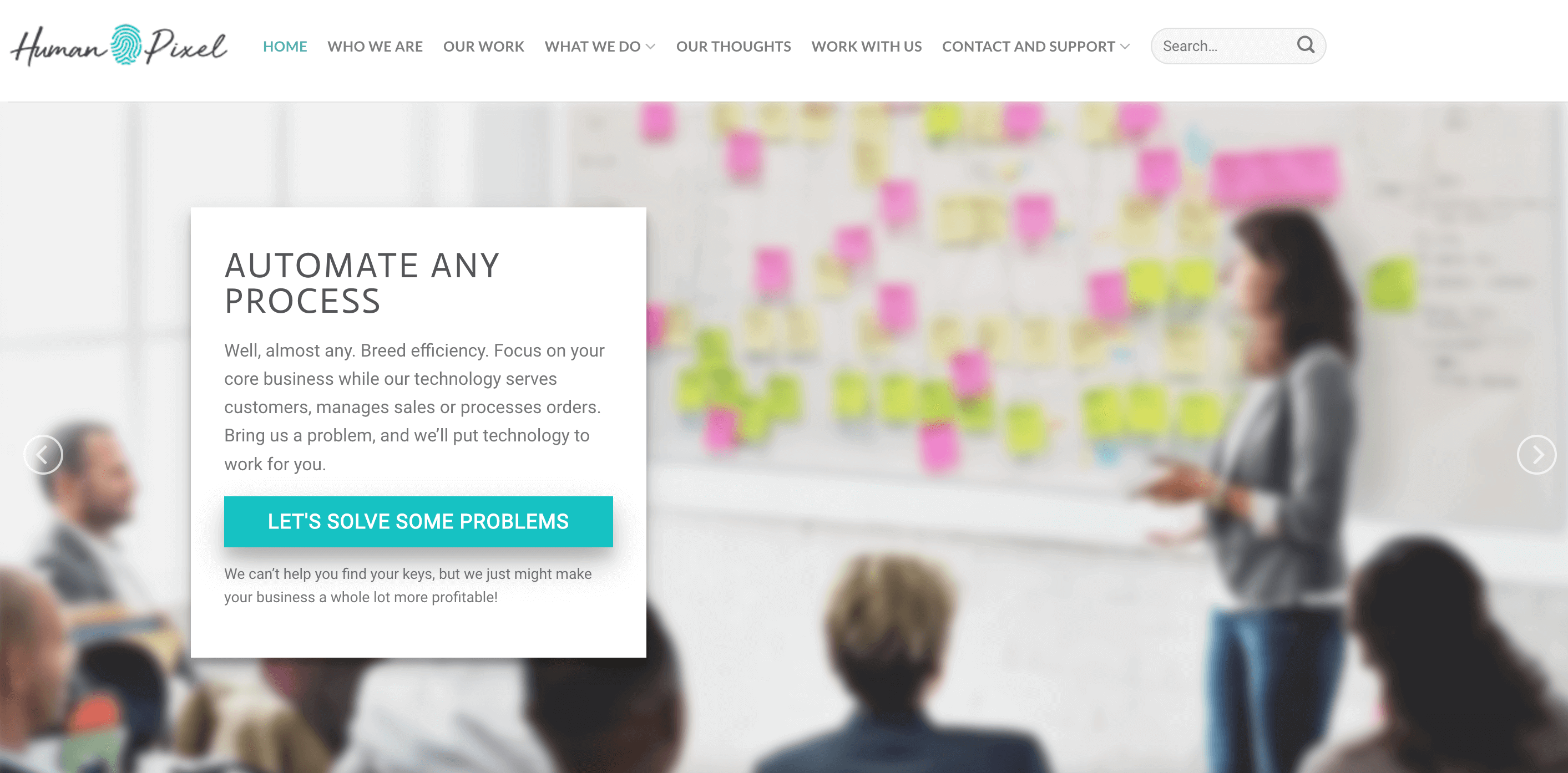 Human Pixel takes a notable place in the Clutch Leader Awards in 2022. It's one of the top software development companies in Australia, with three offices in Southbank, Barangaroo, and Brisbane. The company's main principle lies in being human and collaborative and acting as a single team to achieve the best possible outcomes for its clients. 
If you are looking for software developers in Australia to hire – Human Pixel is an excellent choice. Their client-centric approach combined with technical proficiency has gathered positive reviews across different industries and allowed them to build numerous long-term partnerships.
Services and expertise:

business automation and improvement, artificial intelligence, website and software development, CRM consulting and development

Tech stack:

NodeJS, ReactJS, WooCommerce, WordPress, PHP, Zoho One, Salesforce, HubSpot, Suite CRM

Industries: F

inance, Healthcare, Education, eCommerce, Technology, Government, etc.

Team size:

100+ exprts

Portfolio:

Lowensteins Arts,

Equifax, The Alcohol and Drug Foundation, Panasonic Australia, Integra, Geosurv, Elabs AG
WEBO Digital is driven by a united passion for creating incredible digital products and a desire to make their clients proud to work with them. Since 2015 the company has grown from one person to over 50 full-time ingenious software developers who consult, design and develop custom web and mobile solutions for clients located in any part of the world.
Working with WEBO means you get a trusted and proactive partner and achieve proven results using an innovative approach. The company always strives to take on new challenges and looks for new talents to deliver remarkable software solutions and best-in-class customer experience. 
Services and expertise:

digital transformation consulting, software blueprint, website blueprint, branding, website design and development, mobile app development, custom software development, managed support and maintenance

Tech stack:

WordPress, NextJS, Gatsby, Laravel, BigCommerce, Magento, Shopify, CloudFlare, HubSpot, Auth0, Vercel, Hotjar

Industries: T

echnology, Education, Healthcare, Sports, Finance, Government, Automotive, Manufacturing 

Team size:

50+ experts

Portfolio:

Russel Mineral Equipment, Alfasi Group, Australian Diamond Company, Archies, Chamber of Commerce and Industry WA
Creating and capturing value are the two greatest benefits you get while working with Atlasopen. Based in Melbourne, the company offers a wide range of tech services, including web and mobile development, AI, ML, data science, cloud computing, and consulting.  
Atlasopen is trusted by large enterprises and government organizations. Their team strives to build long-term relationships with all customers and ensures that the software solutions they develop align perfectly with the client's business strategies and add tangible value to their target markets. 
Services and expertise:

custom software, web development, mobile app development, API development, AI, ML, data science, DevOps, ongoing support

Tech stack:

React, ReactJS, VueJS, Python, AWS, Google Cloud, PHP, iOs, Android, Linux, Microsoft Services

Industries:

Government, Healthcare, Transportation, Finance, Renewable Energy, Education, Business Automation

Team size:

50+ experts

Portfolio:

Metro Tunnel, Rail Projects Victoria, CPB Contractors, City of Yarra, OnCourse, Japer, My Tribe, Allied Fitness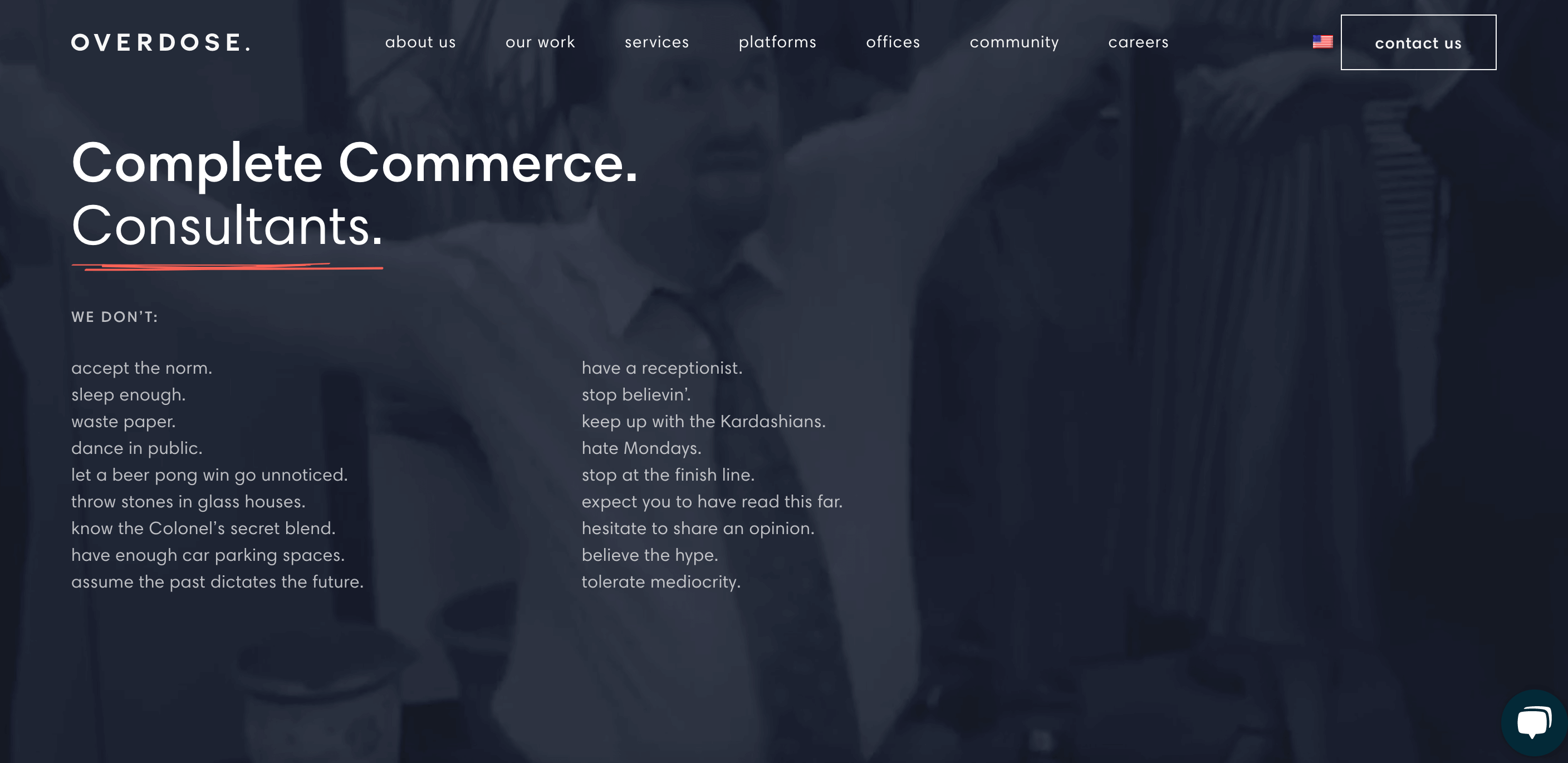 Since the company's establishment in 2016, Overdose has achieved remarkable growth, expanding into a team of over 450+ commerce professionals. They've earned solid expertise across various areas, including strategy, design, technology, marketing, discovery, and insights.
Overdose Digital called itself anti-agency because they do not believe in a 'traditional view' of digital success when the products are delivered 'on time' and 'on budget.' In their opinion, remarkable results are expensive; thus, they try to build immersive relationships with deep customer empathy, motivated by one common goal and shared success. Contact Overdose Digital if you support this approach and want to work with top software developers in Australia to implement your eCommerce project. 
Services and expertise:

UX/UI design and creative services, digital marketing, SEO, data and analytics, eCommerce development

Tech stack: Magento, BigCommerce, Shopify, Suit Commerce, Adobe, Vtex
Industries: F

ood and Restaurants, Beauty and Cosmetics, Manufacturing, Transportation, Entertainment

Team size:

450+ experts

Portfolio:

Aldo, Sportscraft, Healthy Options, Cycology, 3 Wise Men, Saba, Hunting and Fishing New Zealand, Kitchen Things
Conclusion 
Outsourcing to Australia gives businesses a valuable opportunity to collaborate with some of the top software development companies in the country. The industry leaders mentioned in this list will utilize cutting-edge technologies to create tailored solutions that meet your expectations and drive your businesses toward success and growth. 
If you want to add your company to this list, drop us a line. After a thorough review, we'll decide whether it's an appropriate addition.