With the increasing buzz around AI platforms like ChatGPT, AI-powered chatbots have become the talking point for many.
According to Juniper Research, by the end of 2023, chatbots are predicted to save almost 2.5 billion hours of human labor. Small and medium-sized businesses, as well as large enterprises, are employing the top conversational AI chatbot software to handle inquiries, initiate conversations and share solutions to the frequently asked questions on their websites.
If you are a budding or seasoned business owner searching for the best chatbots available in the market today, you've landed at the right place. Here's a comprehensive list of the top AI chatbot providers with an in-depth overview of their features, services, and plans. Review them all and pick the best-fit virtual assistant for your business.
Why Use An AI Chatbot Software For Your Business Management?
In the present-day context, both B2B and B2C businesses are using chatbot platforms to simplify manual tasks and handle routine queries from users.
Chatbots build structured and unstructured conversations with website visitors, saving time and increasing productivity. From customer service to online shopping, chatbots for enterprises play the role of virtual assistants and cater to the changing demands of customer expectations. 
Here are some of the main reasons for incorporating an AI chatbot into your business:
Chatbots can have simultaneous conversations with buyers, reducing the wait time to a great extent. 

Being time and cost-effective, the

best chatbots

can perform automated tasks reducing the burden on the employees engaged with user experience. 

Having a proactive approach, chatbots can initiate conversations and track the customers' journey on the website. 

Apart from increasing customer engagement and providing insightful data, a

chatbot for websites

helps in lead generation. 

Chatbots work with the sales team to find out valuable leads among a pool of unqualified prospects.
The Best AI Chatbot Software To Take Your Business To The Next Level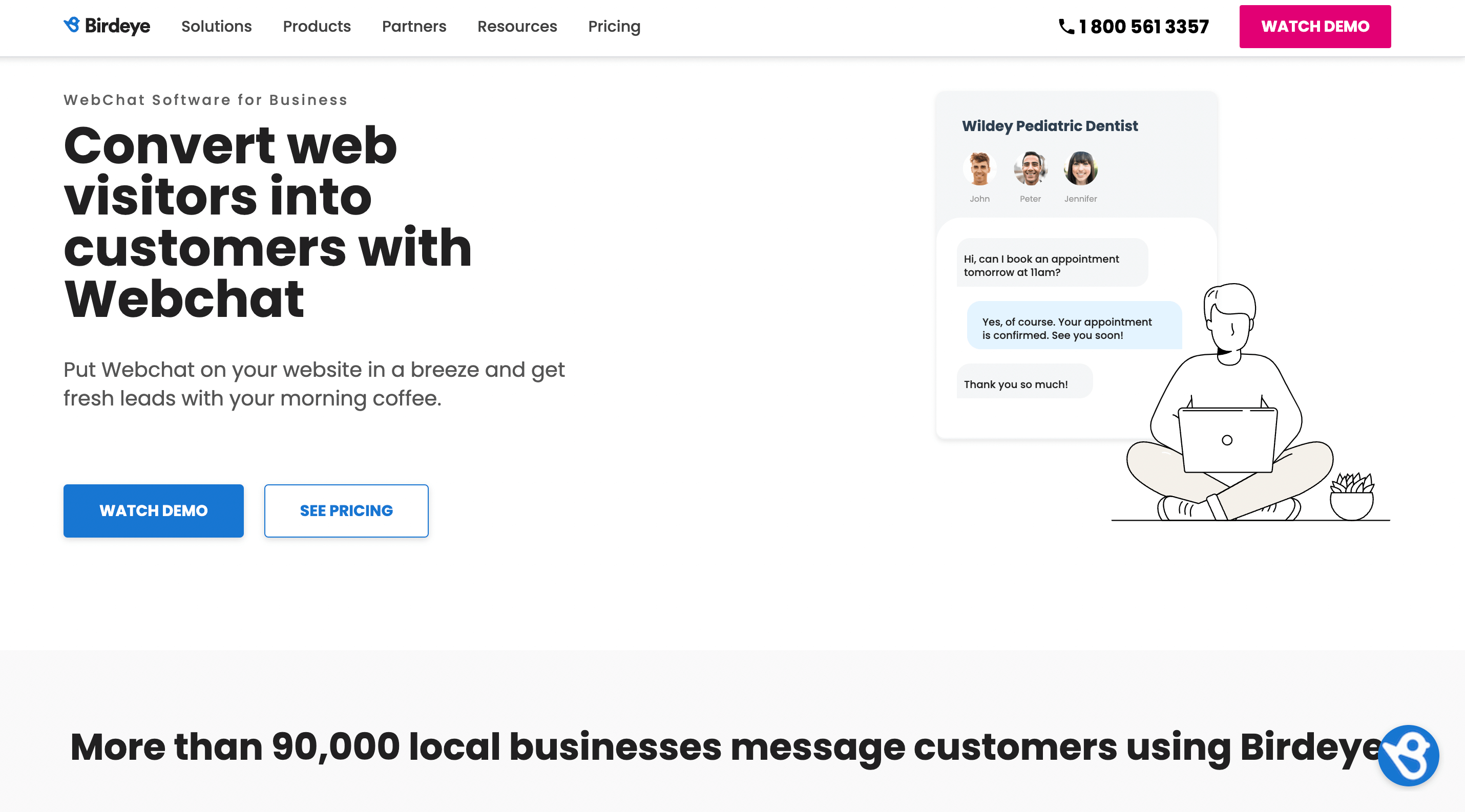 A truly unique company driven by a growth mindset, Birdeye is known for its practical solutions to increase user engagement and enhance sales. Birdeye is a reliable AI partner with over 90,000 clients and offers two kinds of solutions catered towards small businesses and enterprises.
The company provides a wide range of tools and features to attract, convert and delight your target audience so that you can get increased website traffic, more leads, and more reviews per month. From business listing to review management and enabling faster payments to gaining actionable insights on customer feedback—Birdeye accelerates the growth graph of your firm. With its multifunctional WebChat Software serving as a chatbot, you can handle unlimited user queries on autopilot 24/7, letting your customer support team focus on more important issues.
Though not a free chatbot, the program provides simple and affordable pricing plans based on your business and automation requirements.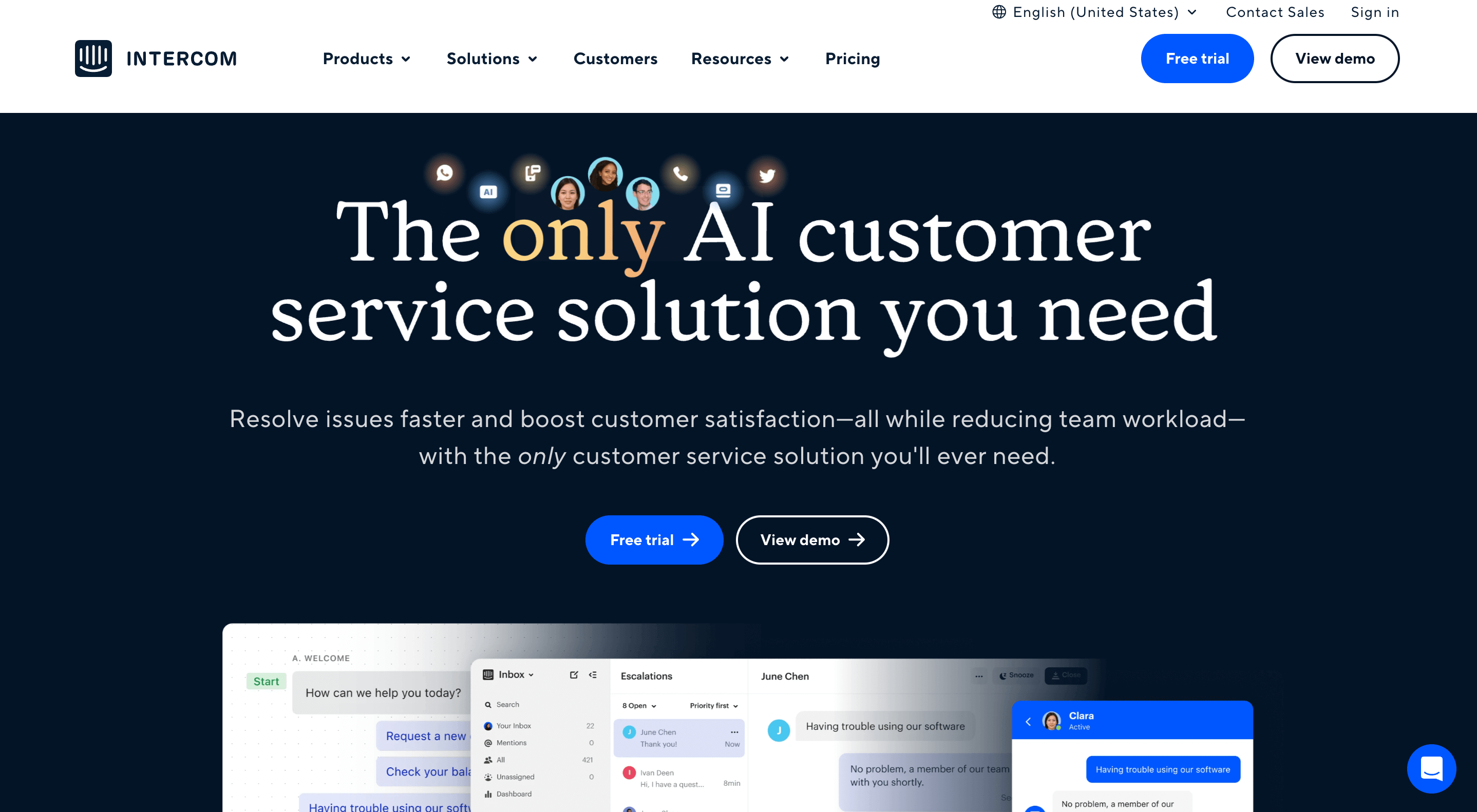 Are you using free chatbots but don't see any impactful results? It's time to try something new and non-trivial. Here comes Intercom! It's the ultimate AI customer service solution provider trusted by over 25,000 businesses. Collaborating with big names in the tech industry like Microsoft, Udemy, Spendesk, Amazon, etc., Intercom does its best to maximize clients' effectiveness and productivity. 
The company's product range includes AI-enhanced automation platforms and inbox, conversational support through Messenger, and omnichannel and Intercom platforms where you can have user data, custom actions, apps and integrations, and APIs and webhooks.
Regarding pricing, Intercom offers services under three packages – Support, Engage, and Convert – and the price is calculated based on what kind of service you opt for.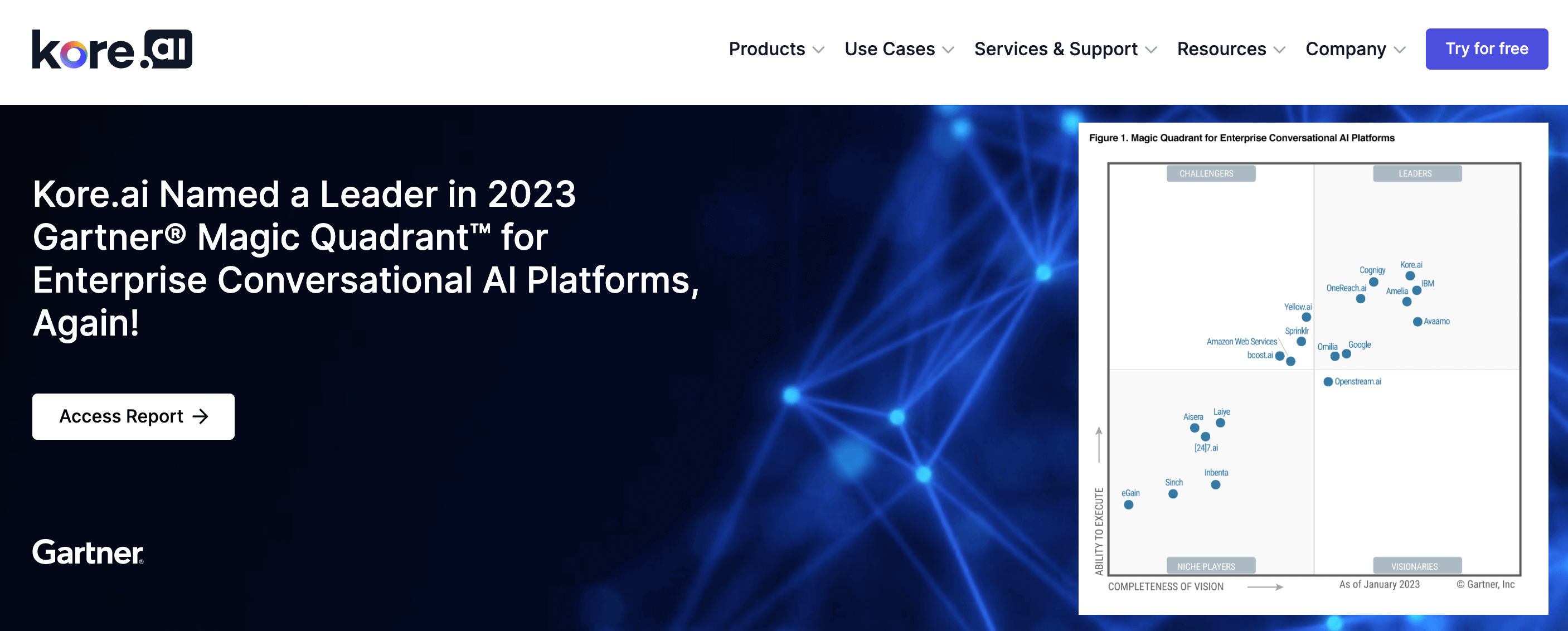 One of the leaders in conversational AI technology, Kore.AI assists its clients and helps them deliver impeccable customer experiences via voice and digital channels. With hundreds of happy clients worldwide,
Kore.AI has collaborated with GoDaddy, Airbus, Yahoo, Vanguard, etc. Their team has created exclusive chatbot platforms for companies in various sectors like Banking, Healthcare, Telecom, Insurance, Retail, Travel, Utilities, Media, and Entertainment. The product focuses on two key areas – customer experience optimization and employee experience optimization. The XO Product Suite includes XO Platform, Smart Assist, and WorkAssist.
While bot development remains free, the company offers usage-based pricing, calculated at a unit conversion level.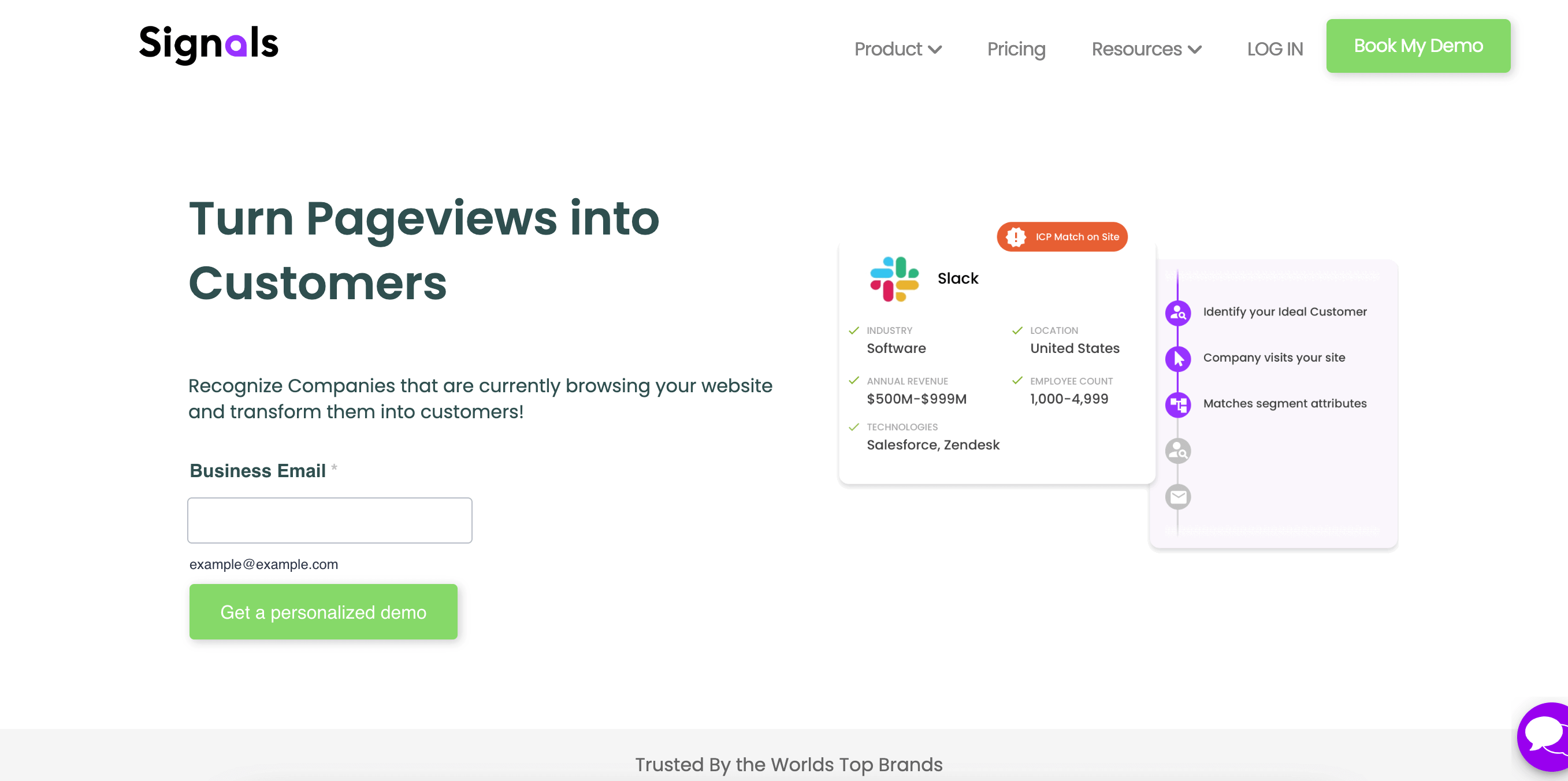 Chosen by the top brands, including Pantheon, OpenTable, Flip, and ObservePoint, Signals is a well-known AI chatbot platform appreciated for its excellent automation tools and award-winning data analytics.
As one of the top chatbot providers in the world, Signals partners with businesses to assist in their marketing endeavors and drive sales. The company helps small and large businesses segment visitor behaviors, identify the buying intent, engage with the accounts, and integrate with tech stacks to receive real-time data insights. 
Signals currently charges annual and monthly subscriptions for Team Plan, Company Plan, and a fully-customizable Premium Plan. Its solutions include lead generation, business-to-business website visitor tracking, sales prospecting, account-based marketing, and conversational marketing.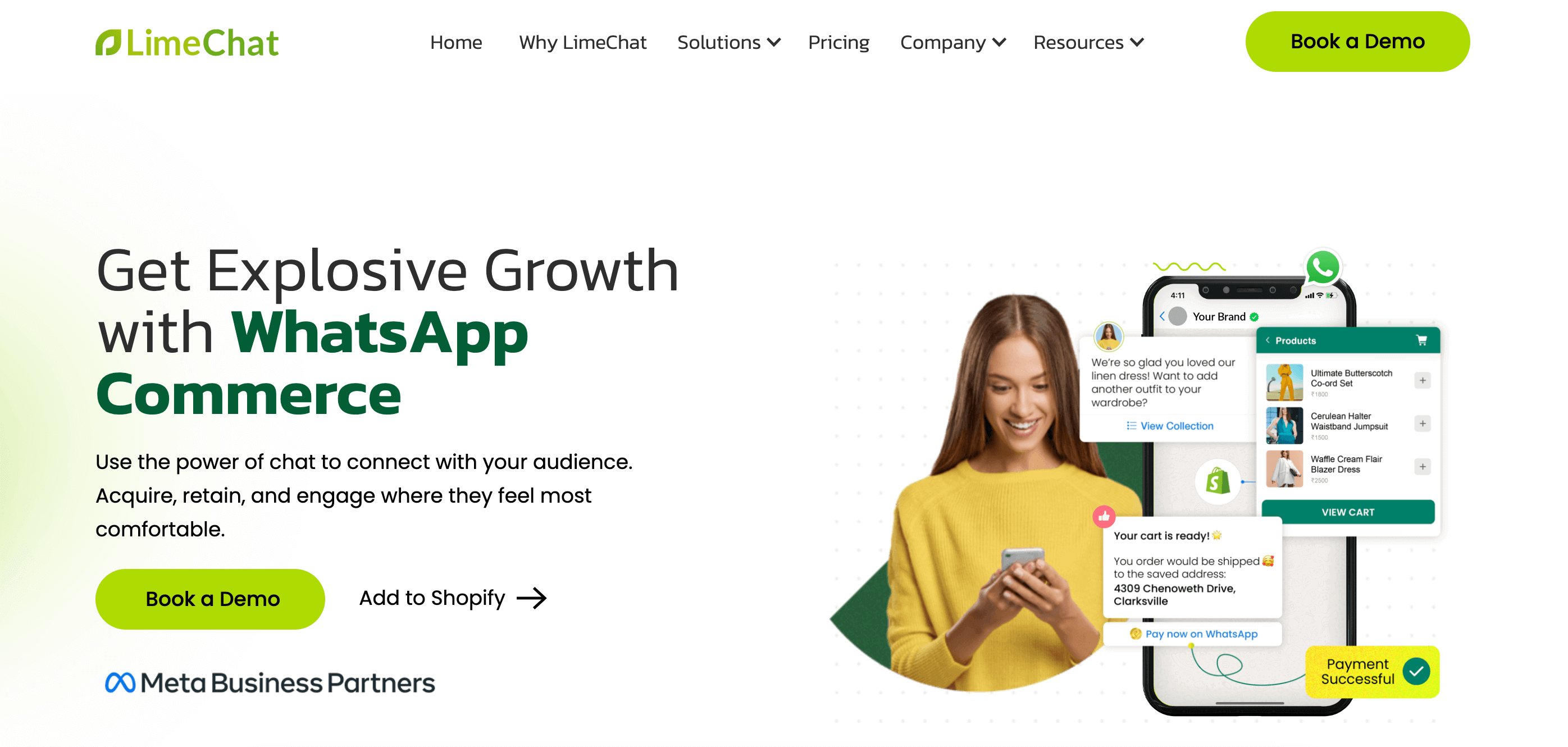 Are you looking for a reliable chatbot platform to handle WhatsApp interactions with your customers and spearhead your business? Look no further! With LimeChat's WhatsApp Commerce Suite, you can be a top performer in WhatsApp marketing.
The company provides automated chatbot solutions related to WhatsApp marketing, WhatsApp Commerce, WhatsApp Support, Instagram Automation, and Helpdesk. Automate responses to frequently asked questions, receive data insights from all user-conversation, generate more leads from website visits and convert prospective buyers into loyal customers – get all this covered by utilizing LimeChat.
Billed monthly and quarterly, LimeChat offers Starter Plan ($19/month), Growth Plan ($199/month), Pro Plan ($499/month), and Enterprise Plan that includes customized solutions.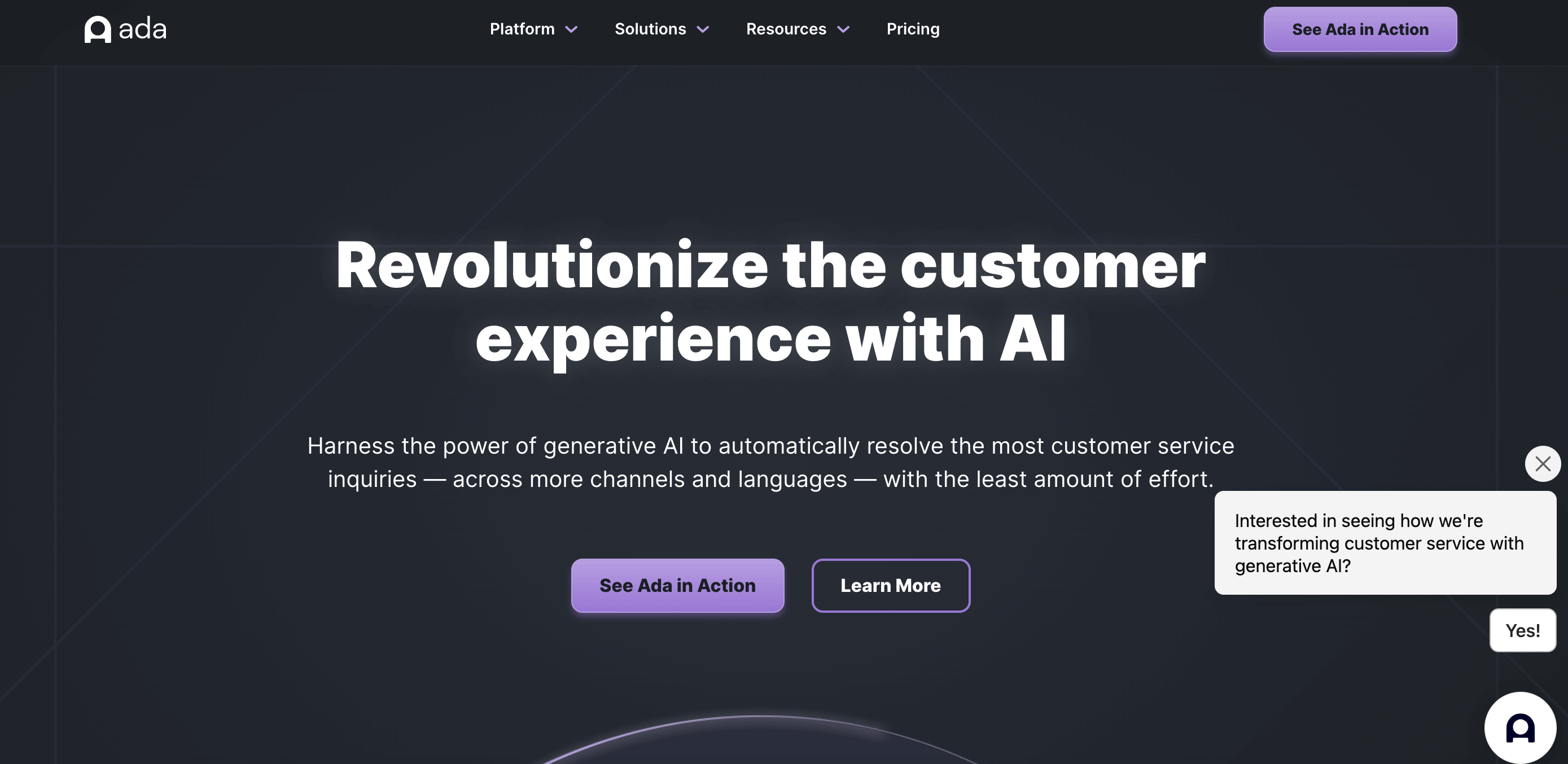 Unleashing the fullest potential of generative AI, Ada is known for offering game-changing automation solutions tailored for customer service. A giant leap from free chatbot apps, Ada is an easy-to-use, integrated platform.
Having partnered with multiple companies in different sectors like eCommerce, SaaS, Travel, Gaming, FinTech, Telecom, and Media, Ada has made 4,204,624,649 (and counting!) automation possible. The company focuses on Platform Overview, Resolution Engine, Continuous Improvement, No-Code Automation Builder, Enterprise Grade, and Integrations and Handoffs. Under channels, it's currently serving companies using digital messaging and voice and telephony.
Ada provides Core, Advanced, and Pro plans with add-ons like Additional Bots, Additional Languages, Data Export API, Social Channels, and HTTP Request Block for Integration.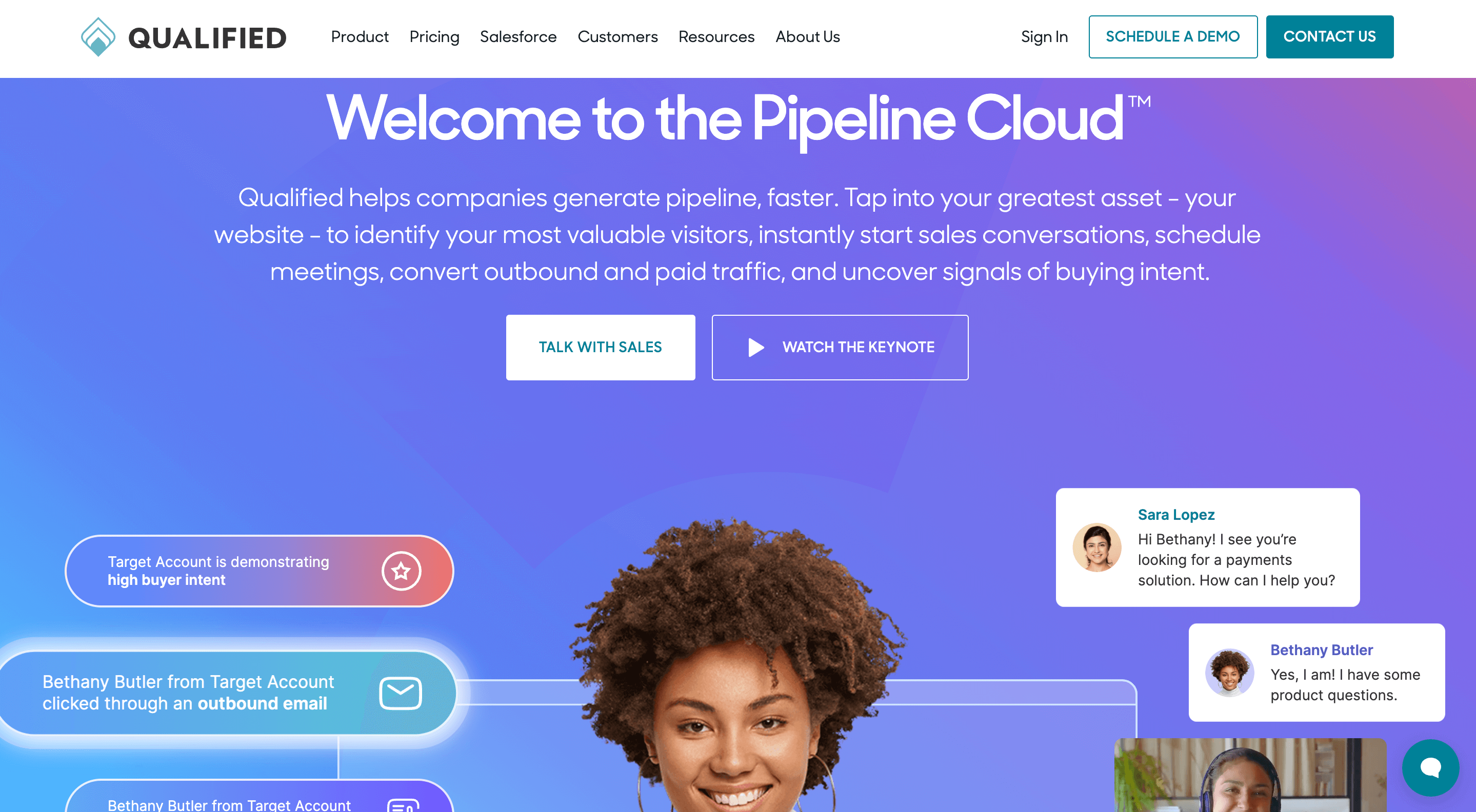 Accelerating the growth of the biggest brands in the world, Qualified helps you turn website visits into instant sales conversions. 
Among the solutions, the platform promotes pipeline cloud for marketing, inbound sales, outbound sales, and account-based marketing. As one of the best AI chatbot software, Qualified has worked with top companies, including Cobalt, Metadata.io, Wiz, Fujitsu, etc. Ranked #1 on the Pipeline Generation Platform on Salesforce AppExchange, the company has two offerings – The Qualified Pipeline Cloud and The Qualified Platform.
There are three types of the pricing available – Growth, Premier, and Enterprise. To generate more pipelines from your business website, contact Qualified today and customize a plan according to your business requirements.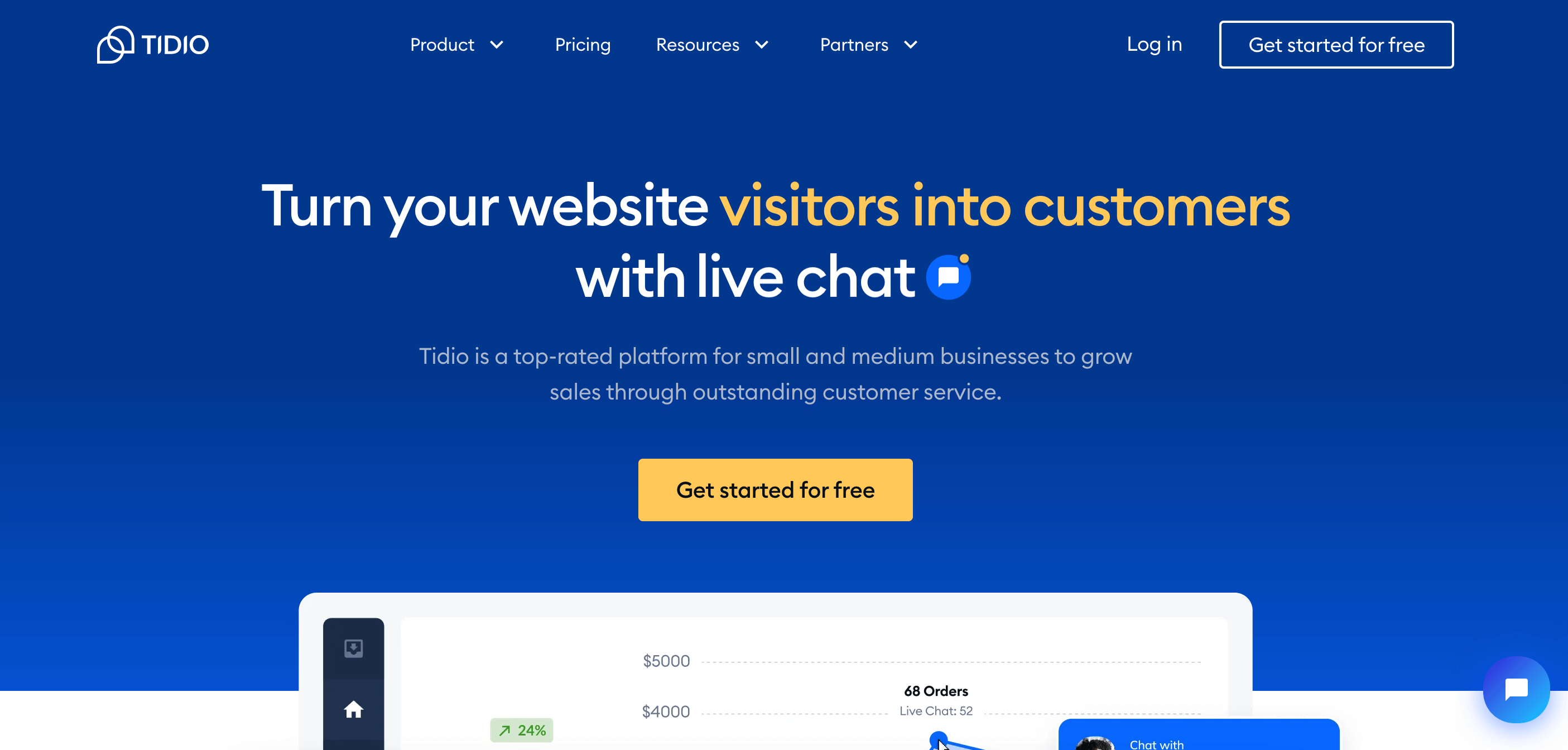 A top-notch platform boosting sales for its clients, Tidio is your perfect partner that can assist you in converting your website visitors into actual customers. Easily connectable to different tools such as WordPress, Shopify, Google Analytics, HubSpot, etc., the Tidio platform boosts conversion rates and helps you gain more effective leads. 
The Tidio platform offers excellent chatbot tools that lead to an increase in sales and automation support. Apart from that, with the help of Tidio AI, businesses can improve customer service, reduce time and effort and improve the quality of customer interactions.
Tidio offers three pricing plans – Communicator, Chatbots, and Tidio+; the best part is that you can also use Tidio for free, enjoying and testing its basic features.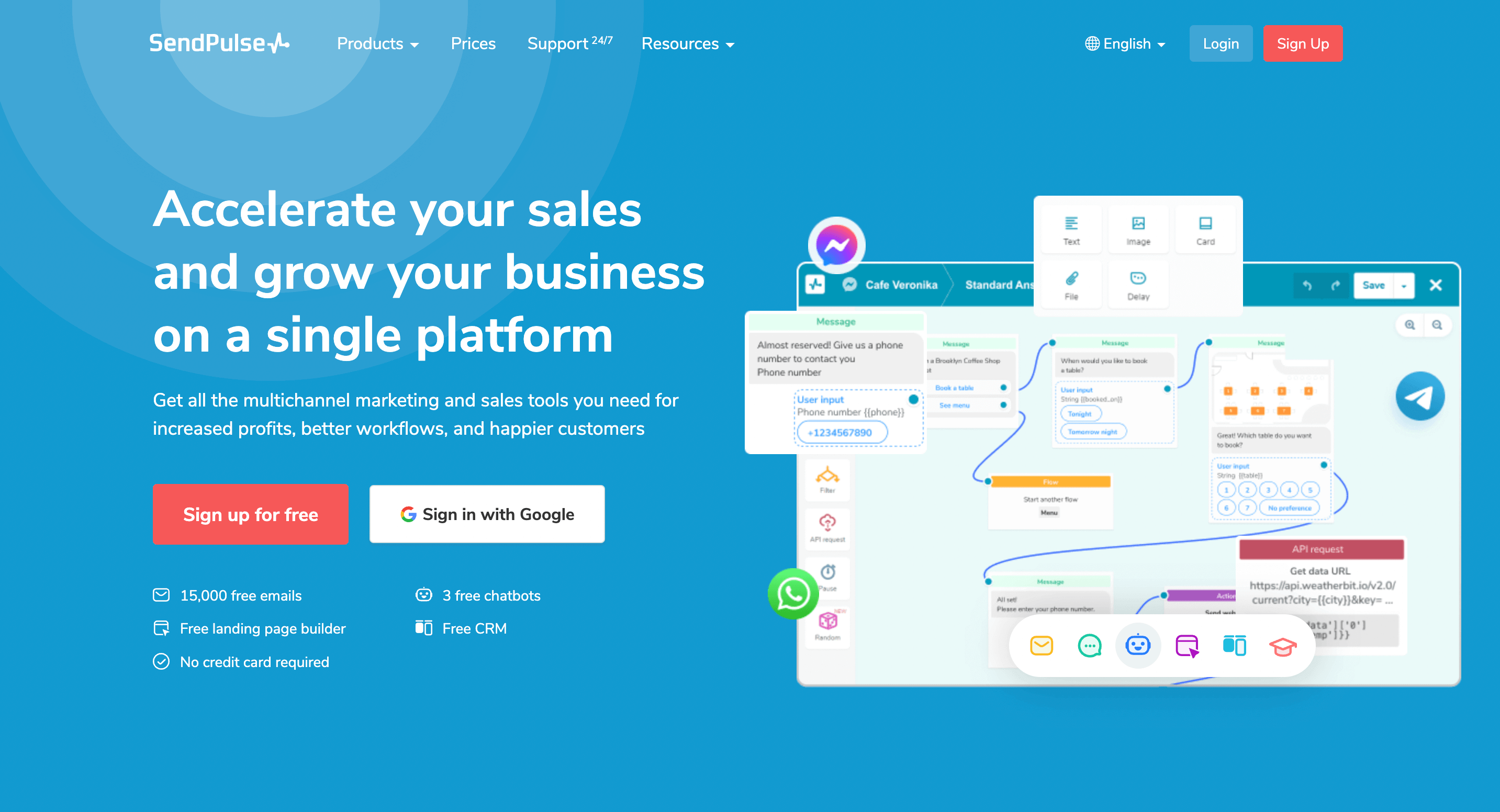 Do you wish to automate communications with users, drive and manage sales, and launch email campaigns on a single platform? Join hands with SendPulse, an all-in-one marketing platform, and create better workflows for your business.
Creating the best chatbots for its clients, SendPulse also offers assistance with email campaigns, CRMs, landing pages, online course creation, and automation 360. The company has separate services as a part of its portfolio that include AI chatbots, SMS, Viber campaigns, web push, and pop-ups.
With monthly, half-yearly, and yearly billing periods, SendPulse provides a variety of payment options to choose from. Businesses with 5 million subscribers or more can contact the sales team to discuss the VIP plan in detail.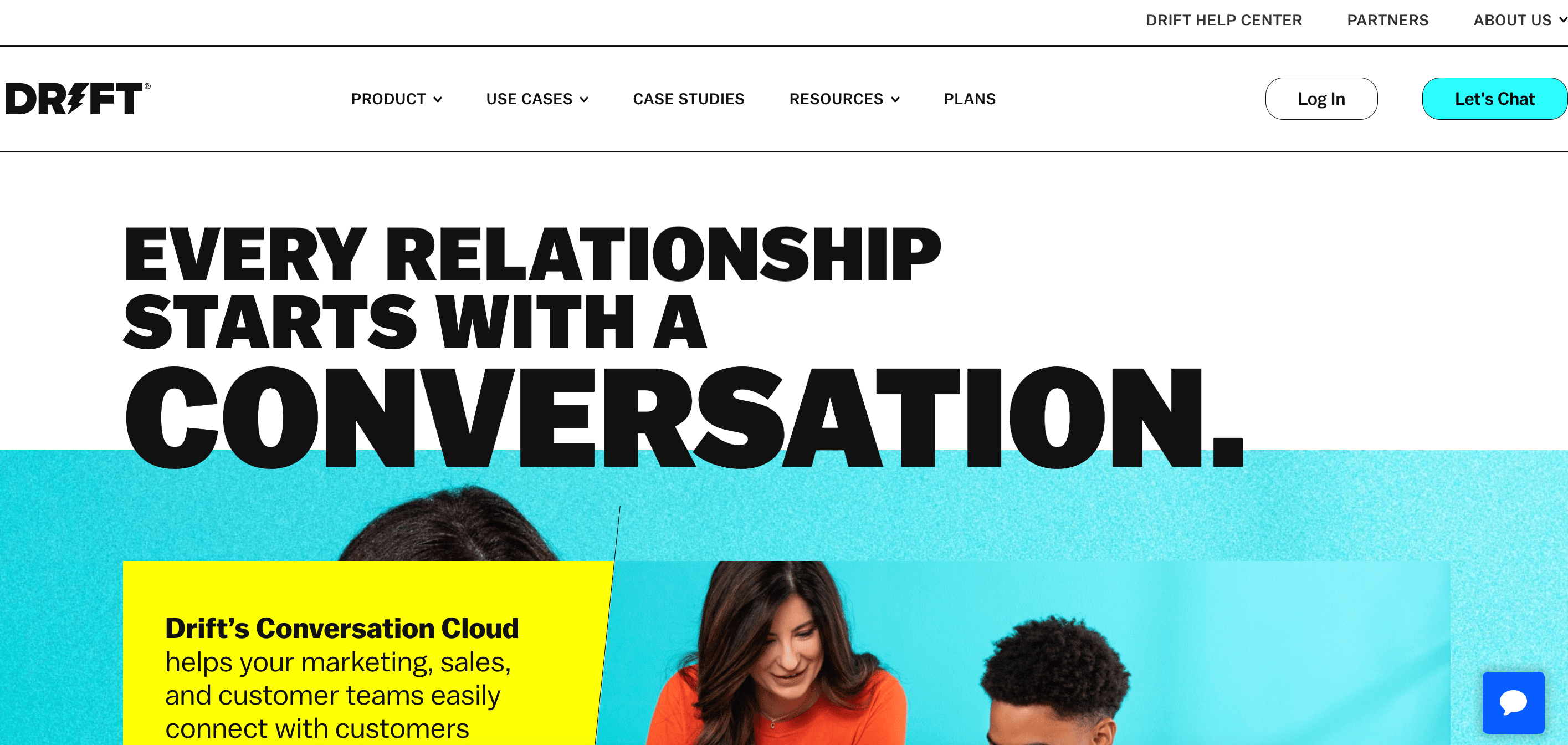 Drifting away from manual labor and creating the best AI chatbots, Drift's Conversation Cloud helps businesses in marketing and sales and, most importantly, to connect with customers, building trust and gaining profits.
From conversational marketing to conversational sales, Drift has successfully worked with over 5,000 businesses, including the most prominent ones such as Canva, Grammarly, GitLab, Skillsoft, etc. The platform also provides you with access to the conversation cloud, conversational AI, and integrations.
Drift's pricing plans are Premium, Advanced, and Enterprise. Compare the included features to choose the one that suits your business perfectly.
Conclusion
Immensely popular and convenient to use, AI chatbots look truly promising. They're changing the way businesses communicate with their customers and driving some path-breaking innovations in the future. With new trends emerging every other day, multiple chatbot vendors are entering the business world, building life-changing products and offering extraordinary services. 
If you are a customer-focused business, this list will help you discover the best chatbot solutions for your customer services. 
If you want to feature your AI chatbot platform in this list, drop us an email today sharing your product details. After a quick review, we'll define whether it's a valuable addition.