Are you searching for a professional studio to build a gaming solution but don't know where to start? 
You're in the right place.
The global gaming market is anticipated to grow to USD 665.77 billion by 2030. Gaming is no longer created for entertainment alone; it's a strategic path for engagement, branding, and even revenue generation. And the journey from concept to reality demands a partnership with the right game development company. 
Your idea holds immense potential. So, finding a reliable tech partner to make it a reality is crucial. To help you in this daunting task, we've compiled a list of top game development companies. With a combination of technical expertise and a creative approach, these experts will help you bring your gaming concept to life, aligning with your corporate goals.
So, without further ado, let's dive straight in.
The Best Game Development Companies For Outstanding Gaming Experiences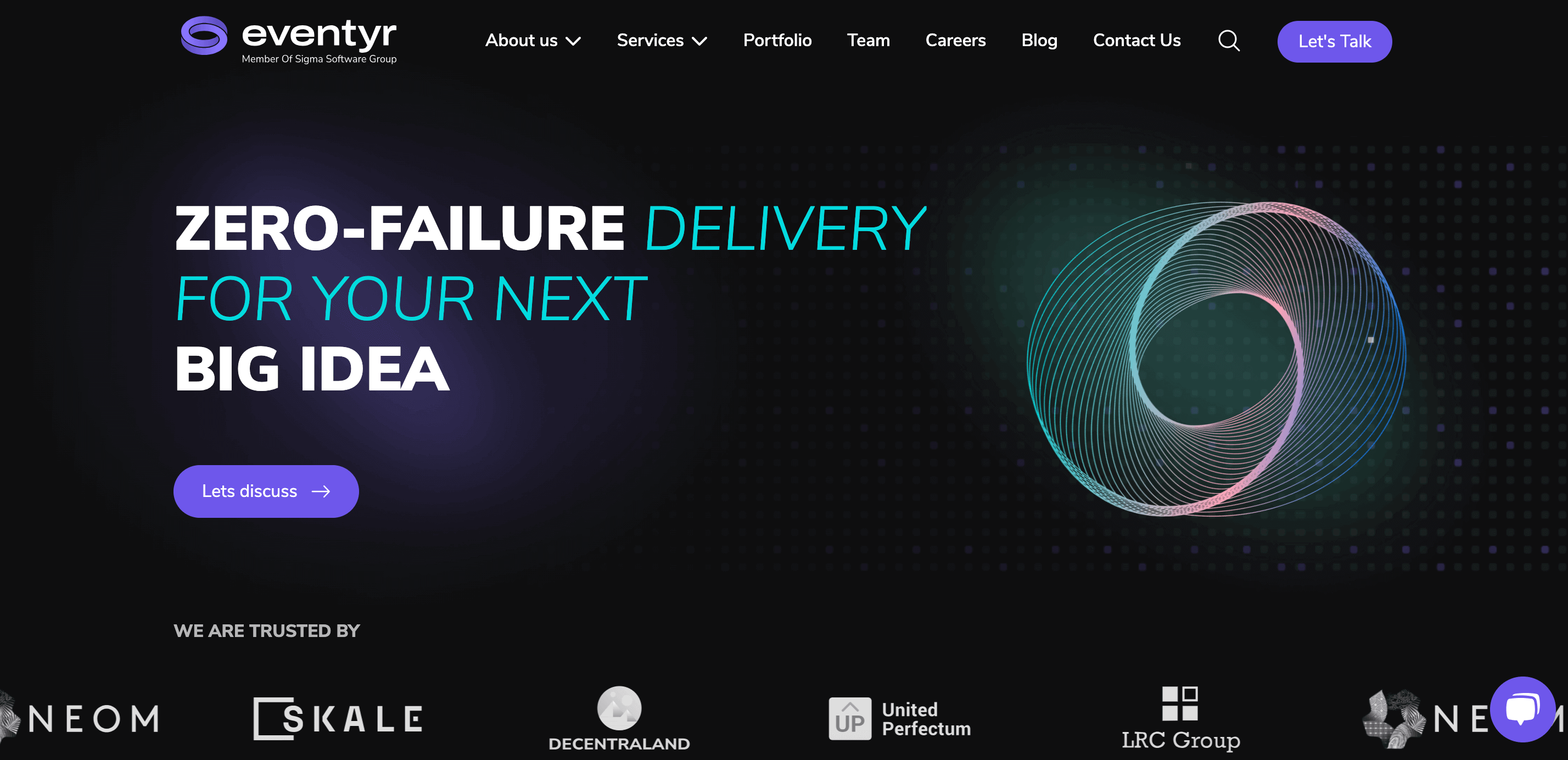 Headquartered in Lisbon, Eventyr is a global leader in the field of gaming development and technological solutions. Being on lists like Top 10 Blockchain Companies 2022 by HYPRA, Top 2 Gaming Company Worldwide by Clutch, and Top Mobile Development Company by Selected Firms, Eventyr brings unparalleled excellence to every project.
Specializing in game, metaverse, mobile, and web solutions, they help businesses transform their visions into scalable and fully customized gaming solutions. With over 150 successfully completed projects, 150,000+ working hours, and an average client revenue growth of 320%, Eventyr has solidified its position as a top-tier IT employer and a leading player among modern gaming tech companies. 
With the best game developers and designers on board, the agency covers casual games, mid-core games, metaverse, and blockchain game development services. From ideation to release, including 2D/3D models, animations, and experience in a plethora of game genres, Eventyr has the expertise to meet your every technological need. 
Services and expertise:

mobile development, software development, game development, web development, AR/VR development, metaverse development, Web3 development, QA, project management, business analysis, UI/UX design

Location:

Tel Aviv-Yafo, Israel; Lviv, Ukraine

Team size: 200+ experts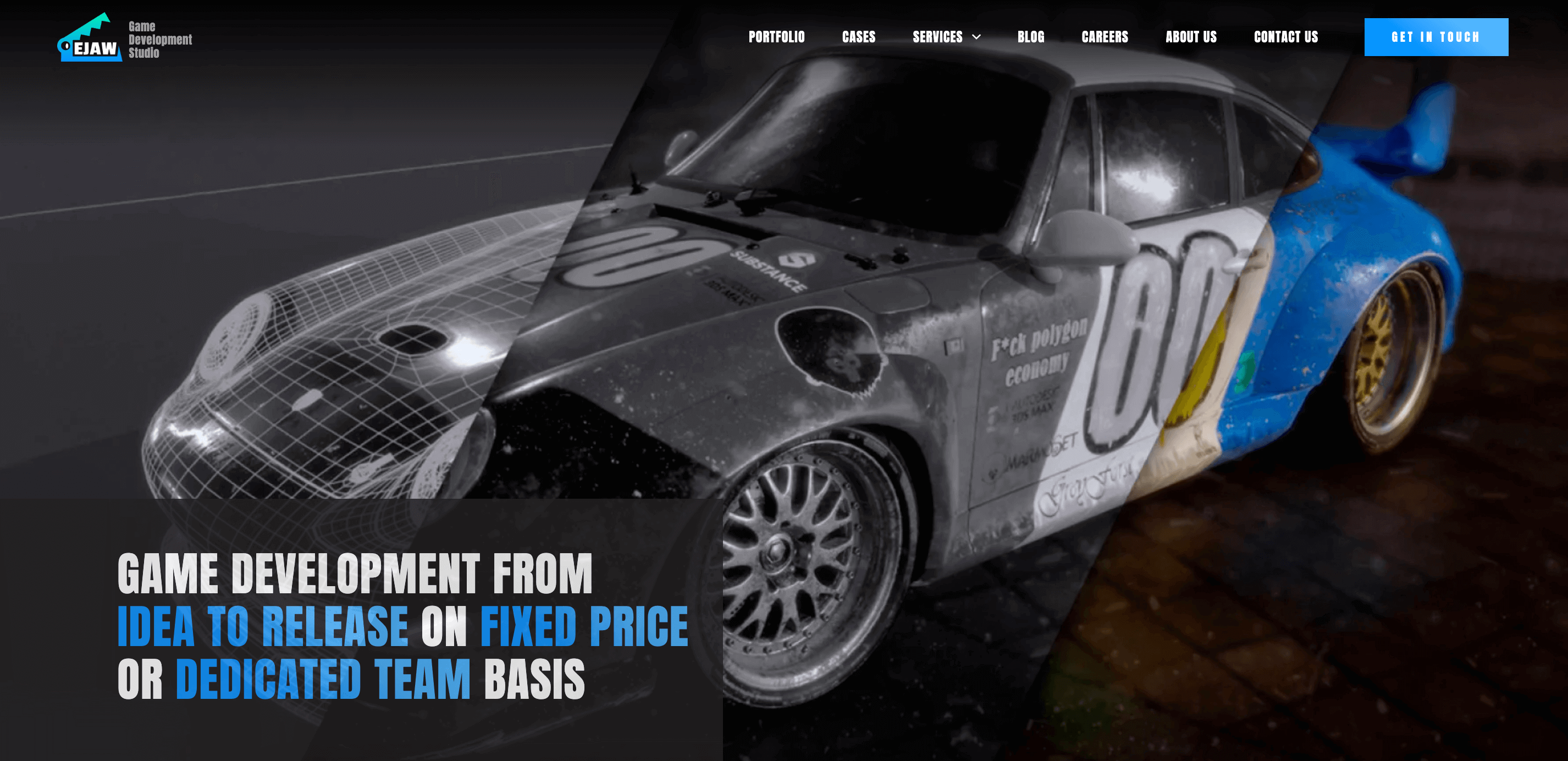 EJaw, an innovative game development and art creation studio, is deservedly on our list of the best gaming software companies worldwide. Crafting captivating 2D and 3D visuals that breathe excitement into mobile, web, iGaming, VR/AR, and standalone gaming experiences, the company has 300+ seasoned professionals spread across international hubs.
Since 2011, EJaw has delivered over 100 projects under its belt, firmly establishing itself as a go-to choice for game and app development. With a user-centric approach, a robust tech stack, and vast expertise, the agency can help entrepreneurs and innovators with any of their game ideas. 
From the pre-production discovery stage to post-release maintenance and support, EJaw will guide you throughout the entire game development process, ensuring you're really happy with the end result.
Services and expertise:

game development, game art, game performance

Location:

Tallinn, Estonia; Dover, USA

Team size:

100+ experts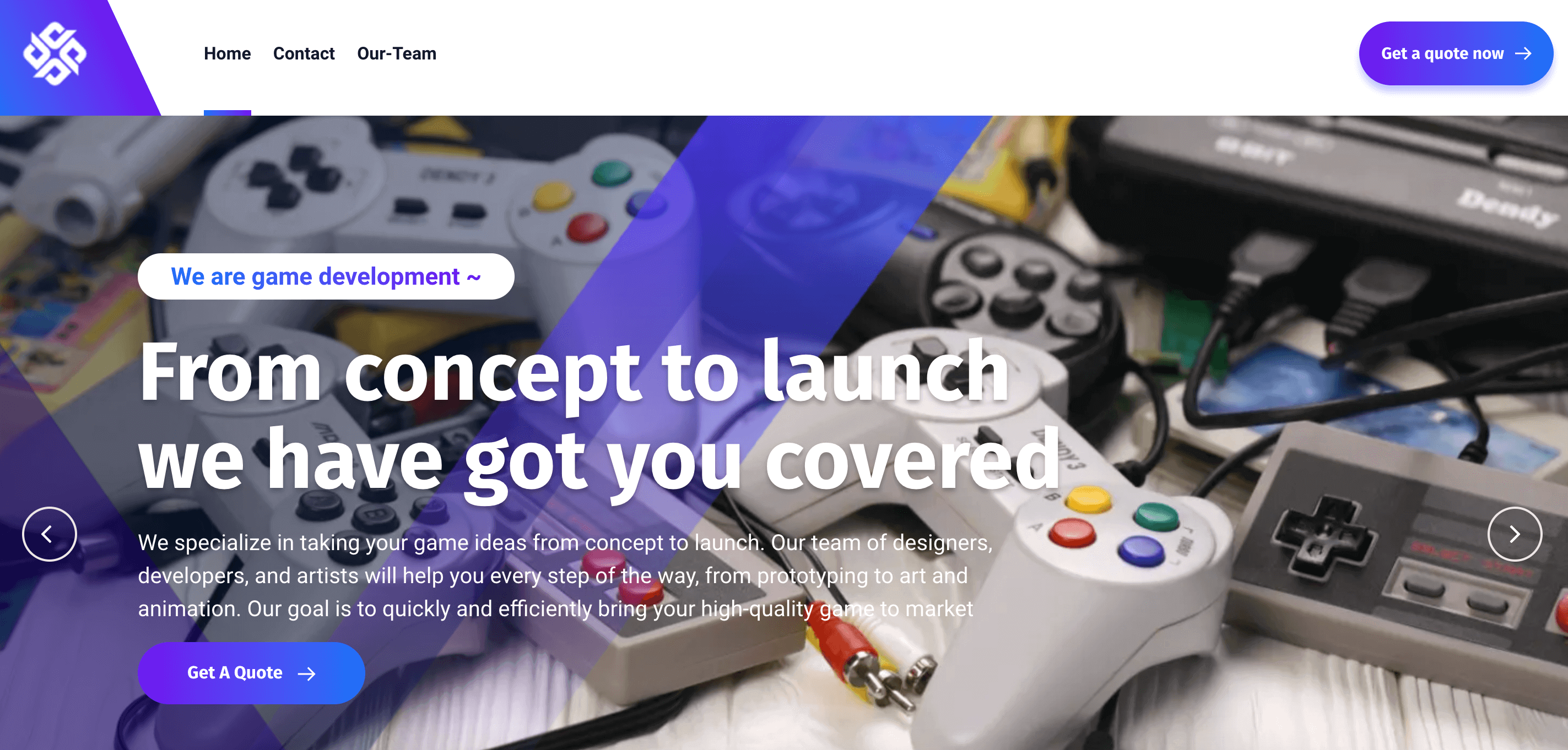 Next on our list is On The Block Gaming, a visionary game design company dedicated to transforming your gaming dreams into thrilling digital realities. With over two decades of experience and a passionate team of designers, developers, and artists, On The Block Gaming can become your trusted partner in the journey from game concept to launch.
On The Block Gaming caters to diverse platforms, ensuring your game reaches the widest audience possible. Whether it's Android, iOS, PC, Web, AR/VR/XR, NFT/Crypto, cross-platform, Twitch, Discord, or Console, their team is well-equipped with state-of-the-art technologies to meet all your needs. Whether prototyping, art, or scripting, the agency offers comprehensive support at every stage of its game development services. 
Guaranteeing brilliant results and providing unwavering after-sales support, On The Block Gaming is recognized as a top game development company by Clutch and other reviewers.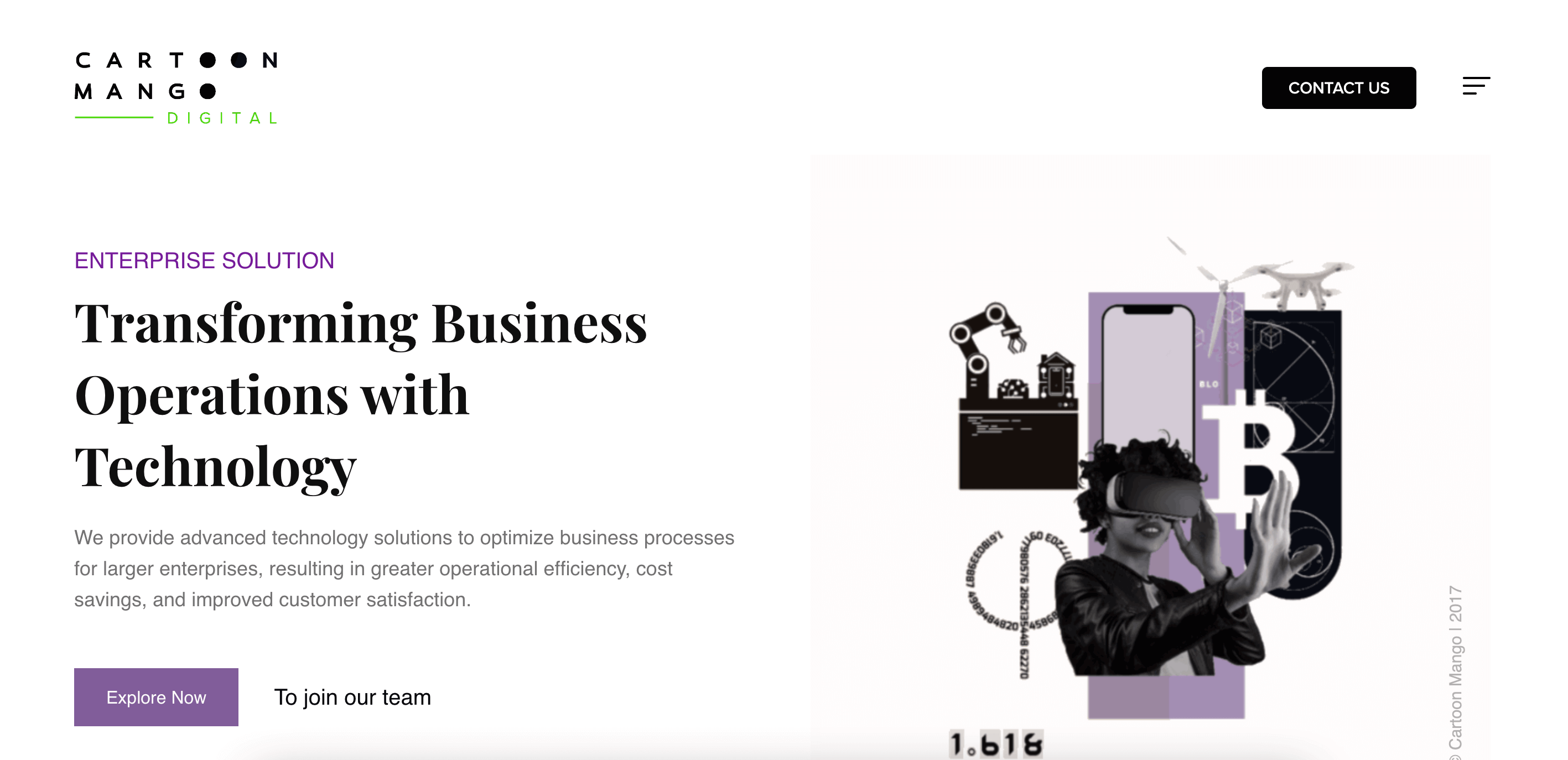 UI/UX design, custom application development, enterprise AI and ML, blockchain, AR and VR application development, and digital transformation – there's nothing the Cartoon Mango game dev company can't help you with. 
With a reputation as India's premier Fantasy Gaming Application Development company, Cartoon Mango has collaborated with prestigious organizations like BCCI (Indian Cricket Board). Delivering outstanding fantasy gaming experiences, they help clients elevate user engagement, ensure secure payment, and drive innovation in the industry.
Basting 150+ successful partnerships and a track record of exceeding clients' expectations, Cartoon Mango is the name you can confidently trust to transform your ideas into an outstanding digital product. 
Services and expertise:

game development,

UI/UX design, app development, big data and analytics, blockchain development, AI and ML, AR and VR

Location:

India

Team size: up to 200 experts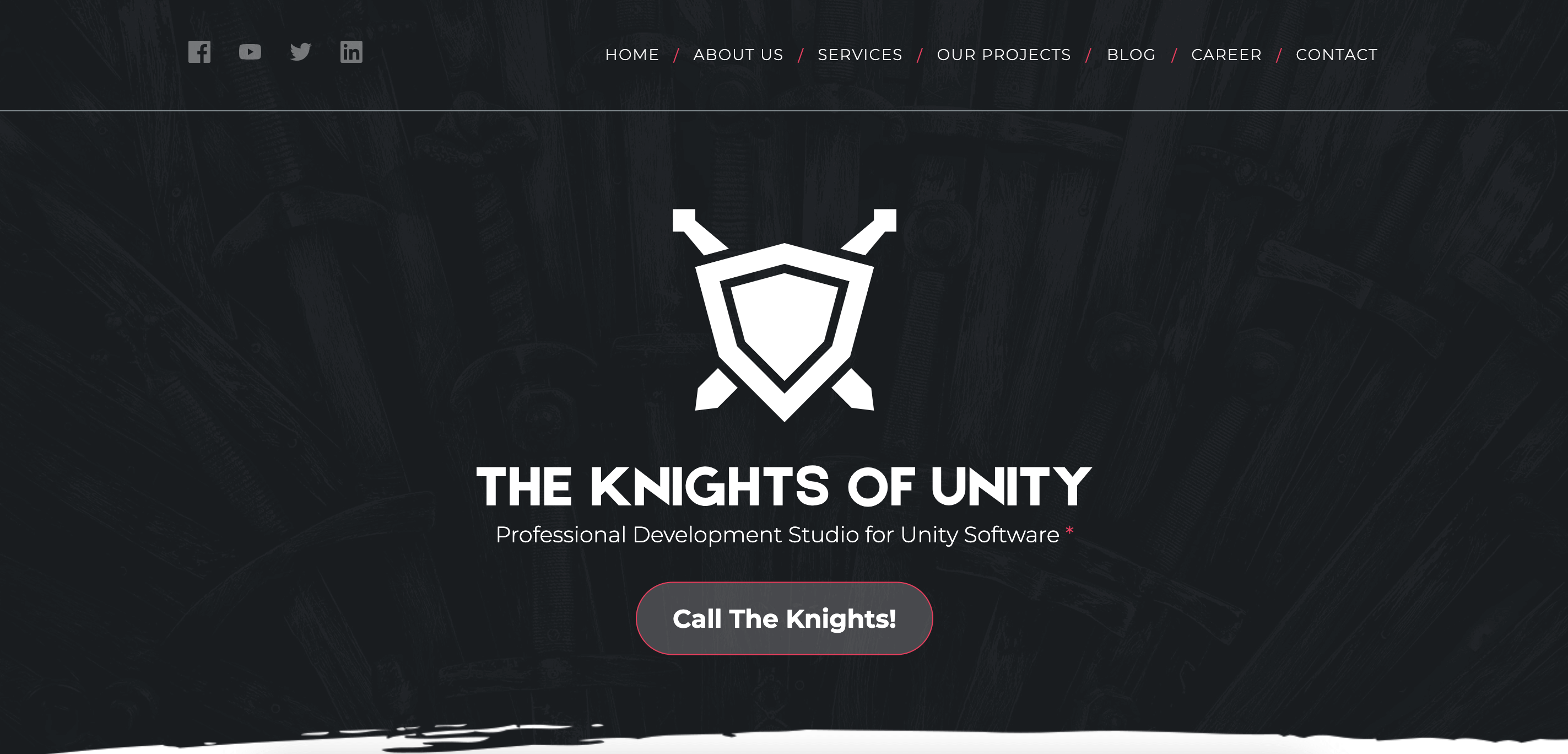 The Knights of Unity is another cutting-edge game design company headquartered in Wroclaw, Poland. With a team of over 40 talented Unity developers, each wielding an impressive 3 to 7 years of development experience, this studio is a synonym for innovation and proficiency.
Guided by the principles of stability, quality, and transparency, The Knights of Unity is an official Google Partner, offering businesses impeccable quality through the whole development process and ensuring ongoing support. What's more, on their blog, you can find a wealth of knowledge that is even acknowledged by renowned game development sites like Gamasutra.
Having helped over 50 global clients, including Daedalic Entertainment, Interplay Entertainment Corp., and others, The Knights of Unity continues to take on new challenges and expand its horizons since 2015. The company has completed 90+ prominent projects, proving its reputation as a top game development studio in the world.
Services and expertise:

multi-platform game development, porting, Google Play games & playable ads, custom plugins, AR/VR, prototyping, code reviews and optimization, multiplayer development, game design, support

Location:

Wroclaw, Poland

Team size:

40+ experts
With a remarkable track record of crafting cross-platform gaming solutions, Wonder Makers has been creating extraordinary games since 2014. Delivering websites, applications, 3D, and motion design, as well as product and brand design (UX/UI) services to clients in every corner of the world, the agency's versatility knows no limits.
For the past nine years, Wonder Makers has been the go-to choice for global startups like iMMUTABLE and Grip Digital and market leaders like PlayStation, making it a valuable addition to our list of the best game development companies. 
So, if you're searching for a professional game dev agency to implement your game from A to Z,  Wonder Makers can become your long-lasting partner. 
Services and expertise:

game development, product

analysis & strategy, UI/UX design, mobile and web app development

Location: Prague, Czech Republic
Team size: up to 50 experts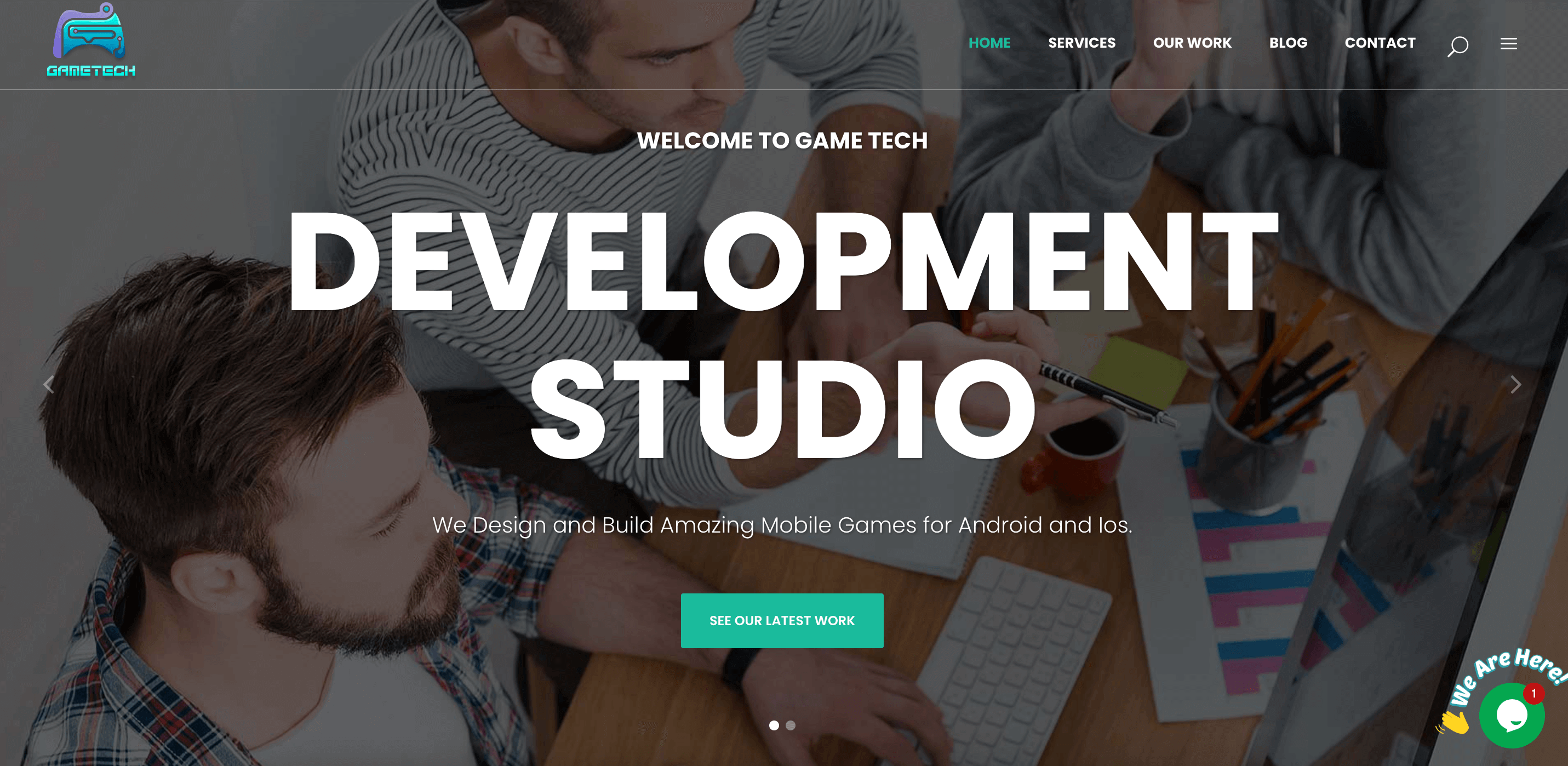 A UK-based game dev company, GameTech Studio has been offering dedicated remote teams that collaborate closely with clients to craft mobile games for Android and iOS platforms since 2014.
With a fantastic talent pool comprising game engineers, artists, and producers who have perfected the art of creating captivating and addictive gameplay, the agency's masterpieces for both startups and Fortune 500 companies have soared to the #1 spot on AppStore and PlayStore. From drawing landscapes to creating intricate character designs, GameTech Studio's expertise covers every game dev challenge.
Committed to enhancing brand image through the power of engaging technology, the agency has collaborated with a number of influencers and celebrities. With 60+ successfully completed projects and an impressive 12 years of experience, GameTech Studio continues to impress businesses and their end users in the game development industry with its unparalleled professionalism.
Services and expertise:

mobile

game development services

, 2D & 3D, AR/VR, gamification, metagaming

Location:

United Kingdom

Team size:

40 experts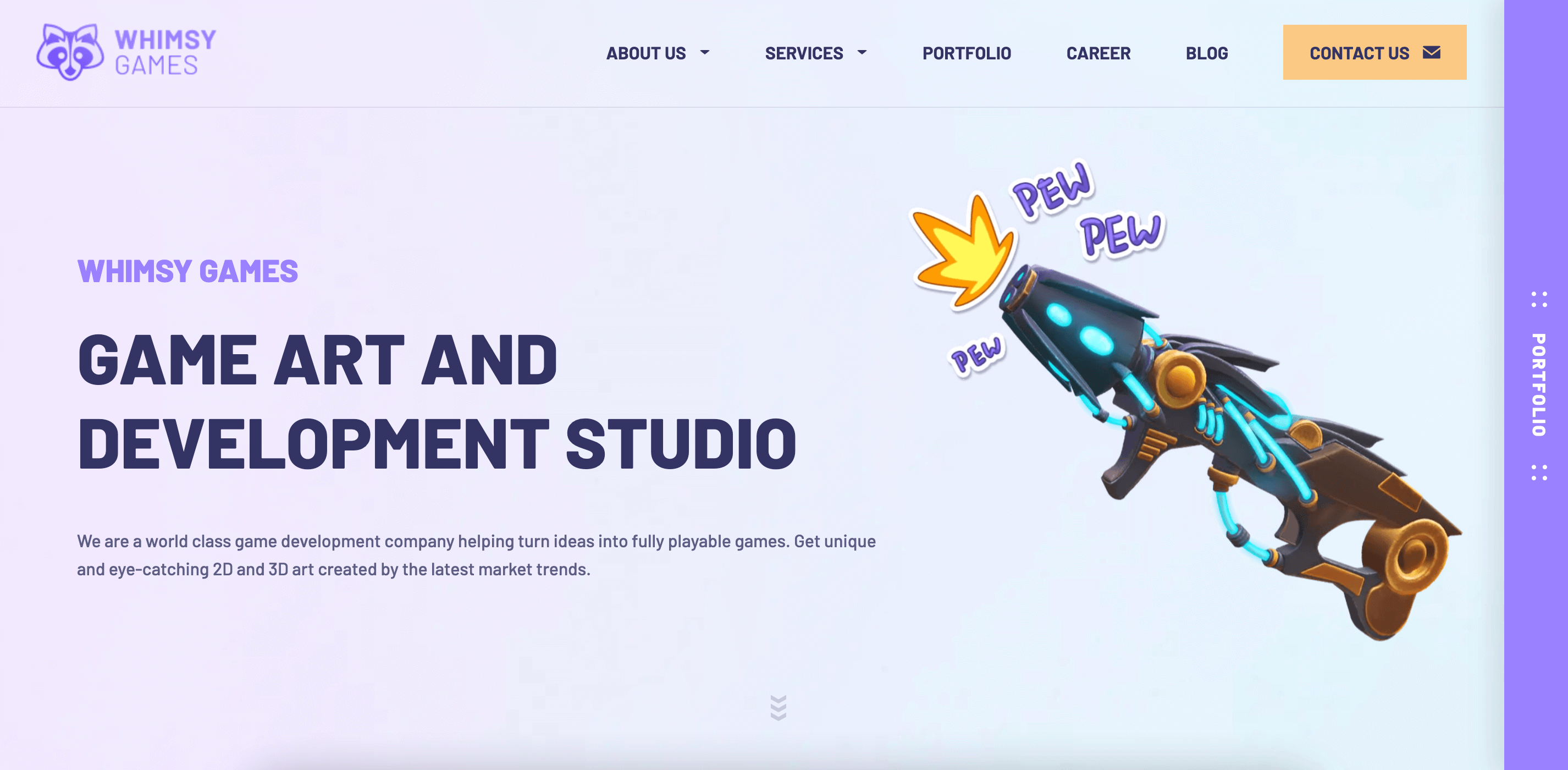 Meet the next game development provider worthy of your attention – Whimsy Games, an art production studio founded in 2016. Their expertise encompasses full-cycle game development, be it mobile, web, or standalone game development, metaverse, Web3, casual, play-to-earn, VR/AR, blockchain, AI, Unity, and beyond. All are aimed at transforming creative concepts into fully immersive gaming experiences.
Distinguished by its unique avant-garde approach, Whimsy Games boasts a portfolio brimming with dozens of captivating games. Its team is driven by a passion for game creation, demonstrated through their mastery of 2D and 3D art.
With over 80 products in its notable portfolio, this best-in-class game service provider consistently captivates users' attention. Boasting an 82% team composed of seasoned game development seniors, Whimsy Games has garnered a 5-star rating on Clutch, Upwork, and Goodfirms. Their famous clientele includes Squid Games, Undeads, Art Nation, and other corporations. 
Services and expertise:

game art, game development, NFT development

Location:

London, UK; offices in Ukraine, the US, and Spain

Team size:

75 experts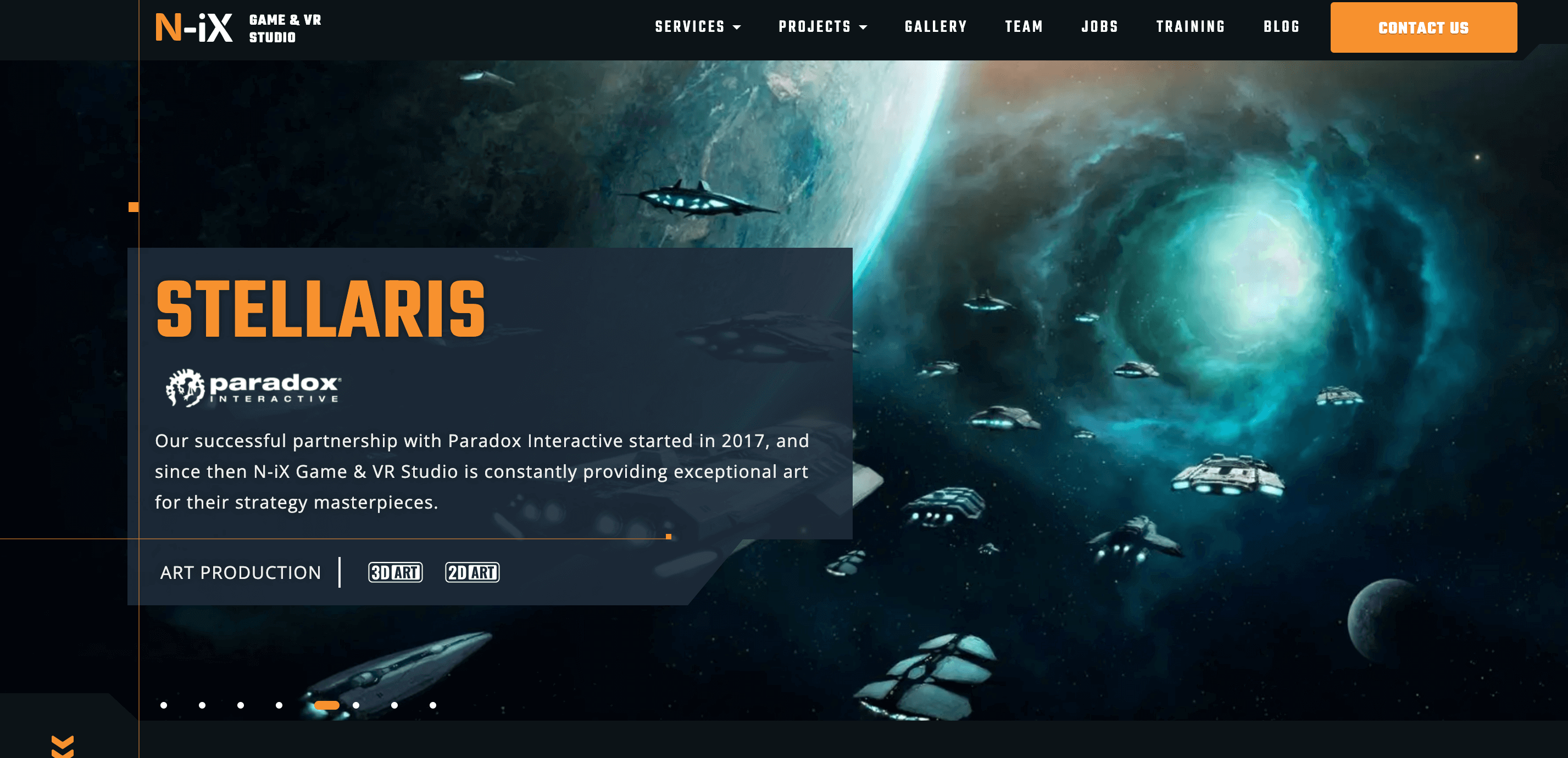 We are proud to extend this list of the top game development companies with N-iX Game & VR Studio, which has been pushing the boundaries in the industry since 2012. With a team of 240+ passionate professionals, the company has delivered over 80 successful gaming projects, partnering with industry giants like Microsoft Xbox, Sony PlayStation, Nintendo Switch, and AWS.
N-iX Game & VR Studio's portfolio gleams with contributions to AAA titles such as World of Tanks, Sniper: Ghost Warrior Contracts 2, Remothered: Broken Porcelain, Stellaris, and Crusader Kings III. Their gaming software services range from full-cycle development and co-development to 2D/3D art production, animation, motion capture, VFX, and NFT art production.
With proven expertise in the latest tech stack, N-iX Game & VR Studio is committed to enhancing brands like Paradox Interactive, Wargaming, and Supermassive Games. Do you want to be the next client on this list? 
Services and expertise:

full-cycle game development, art outsourcing, co-development, art direction, Unreal/C++ development, game design, UI/UX design, cloud solutions, technical direction, VR & metaverse, game porting, blockchain/NFT, QA, console development

Location:

Lviv, Ukraine

Team size:

240+ experts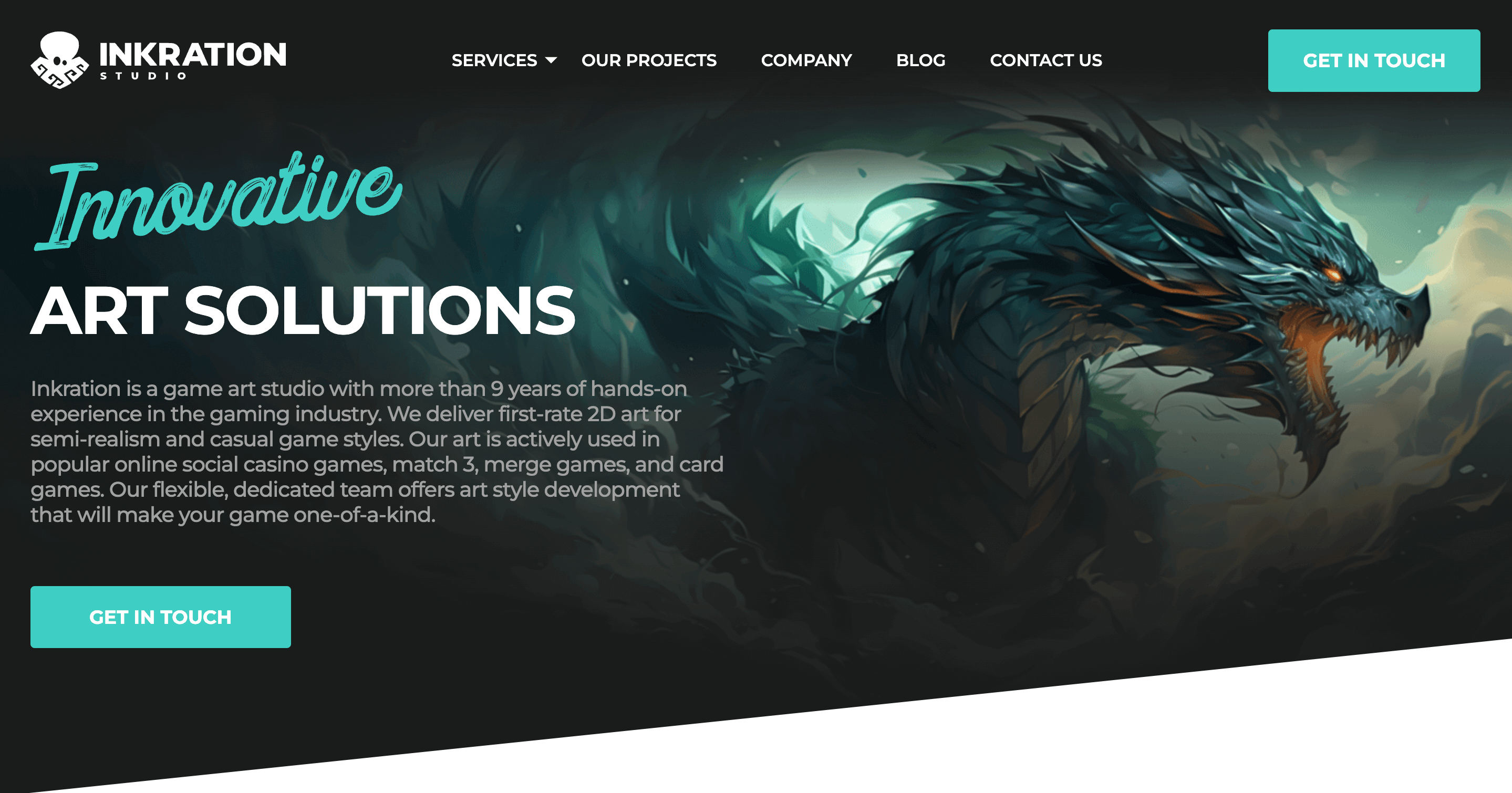 When it comes to 2D game art outsourcing, Inkration.com is a reliable choice worth considering. In the competitive world of game development, where visual aesthetics play a crucial role, Inkration.com has made a name for itself as a trusted provider of top-quality 2D game art.
Inkration.com specializes in creating captivating 2D game assets, character designs, backgrounds, and animations that can elevate your game's visual appeal. Their team of skilled artists is passionate about bringing your game world to life with meticulous attention to detail. Whether you're working on a mobile game, PC game, or another platform, their expertise in 2D art can help make your game stand out.
One of the key strengths of Inkration.com is its commitment to meeting deadlines and working within your budget. In the fast-paced world of game development, staying on schedule is crucial, and Inkration.com understands the importance of timely delivery. They have a streamlined workflow that ensures your art assets are ready when you need them.

Services and expertise: game development, web development, application design, 3D modeling, motion graphics, branding

Location: Lviv, Ukraine

Team size: 40+ experts
Conclusion
So here ends our exclusive list of the best game development companies all over the world. 
The game development market is expanding actively, with new creative games being released daily. If you want your future game to stand out from the competition, be engaging, and bring the deserved profit, choose the partner with a proven track record and expertise in various game development services.
And, of course, always conduct thorough research to ensure that the selected company aligns with all your business objectives.
If you want to add your game development agency to this list, email us with your request. After a thorough review, we'll decide whether it's a valuable addition.