As per Forbes, there are around 1.13 billion websites on the internet that exist today. However, only a tiny percentage follow the WCAG guidelines and are security and accessibility compliant.
Is your website catering to the needs of diverse customers who are differently abled? If you aren't sure, then it's time to consult with the top web accessibility testing companies to review and optimize your online resource, bringing a positive change to your business and society on the whole. 
Here's a list of the best web accessibility consulting agencies offering comprehensive website testing & optimization services to clients worldwide. Read along for more details about their scope of services, expertise, technology, and unique offers.
Importance Of Working With Web Accessibility Consultants
The best web accessibility companies can help businesses in the following way:
Make the products and services available to differently-abled users;

Ensure that the website is ADA-compliant;

Discover loopholes and fix accessibility issues in websites and mobile apps;

Enhance customer experience and drive sales;

Identify and implement the most prominent software testing trends;

Improve web accessibility and contribute towards digital inclusion.
The Best Web Accessibility Testing Companies For Inclusive Experience
A prominent and well-known company offering supreme web accessibility testing services, Quality Logic, is a trusted name in the industry. Since its inception in 1986, the firm has successfully completed over 6,000 projects.
Quality Logic's offering includes diversified testing services such as software testing, usability testing, digital accessibility, test automation, load, and performance testing, and many more. The technologies used by the company are API testing, the Internet of Things, mobile apps, print systems, software platforms and solutions, etc. 
As an industry-leading software testing company, the company has partnered with a diverse pool of clients belonging to the sectors of Retail and eCommerce, Fintech, Media and Entertainment, Marketing and Design, Telecommunications, Education and Non-profits, Fitness, Social and Dating, Smart Energy, Imaging and 3D printing.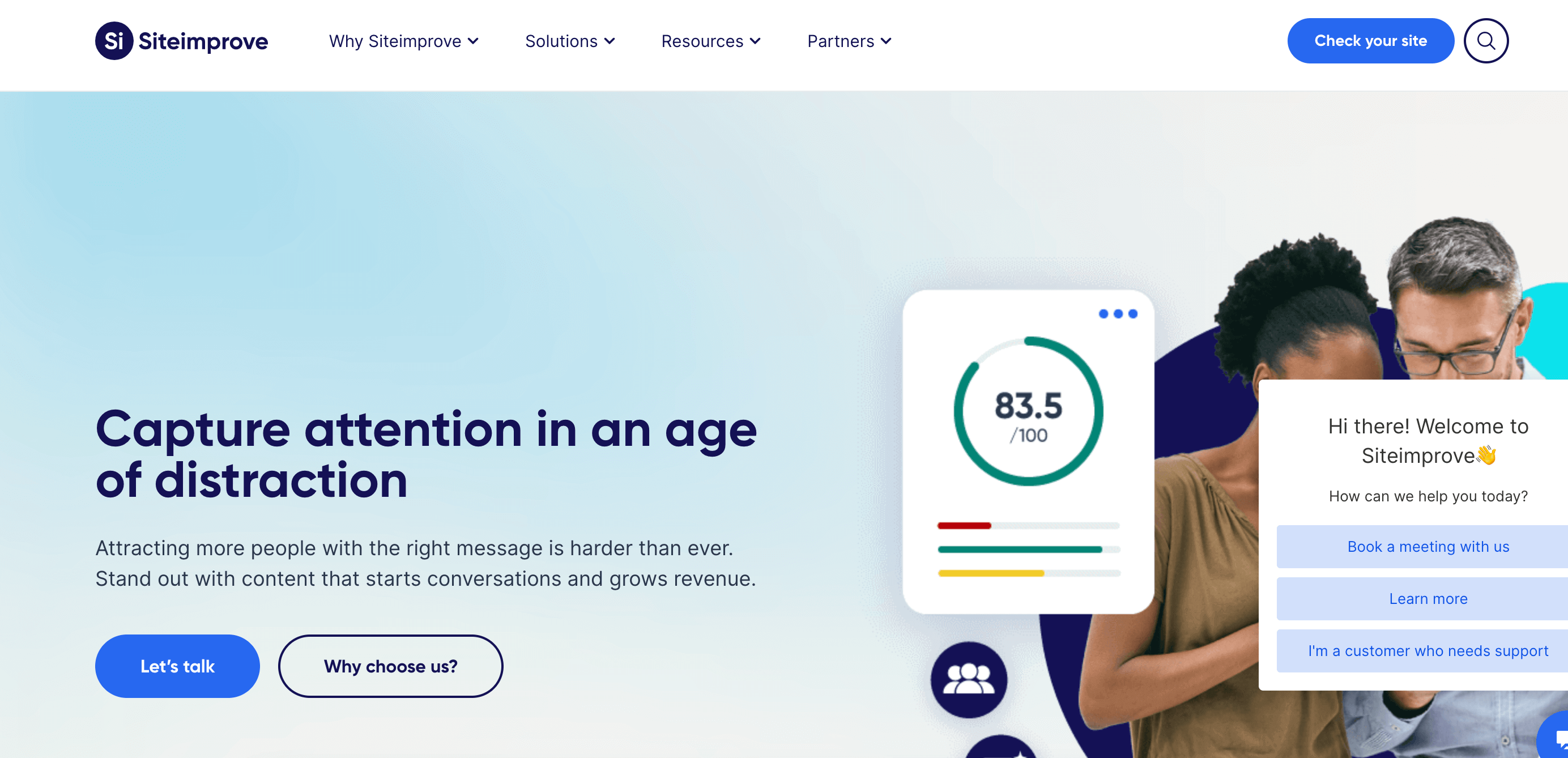 In this content-heavy world, reaching out to the right audience with the right message has become all the more difficult. But with Siteimprove, businesses can build content that makes them stand out in the crowd and also convert buyers into paying customers.
With a special focus on inclusivity, engaging content experience, and marketing performance, the company has been delivering accessibility testing services and has changed the business game for hundreds of its clients worldwide. The core products of Siteimprove revolve around accessibility, policy, SEO, ads, quality assurance, performance, and analytics.
Their pricing is fixed depending on your needs and the services that they avail.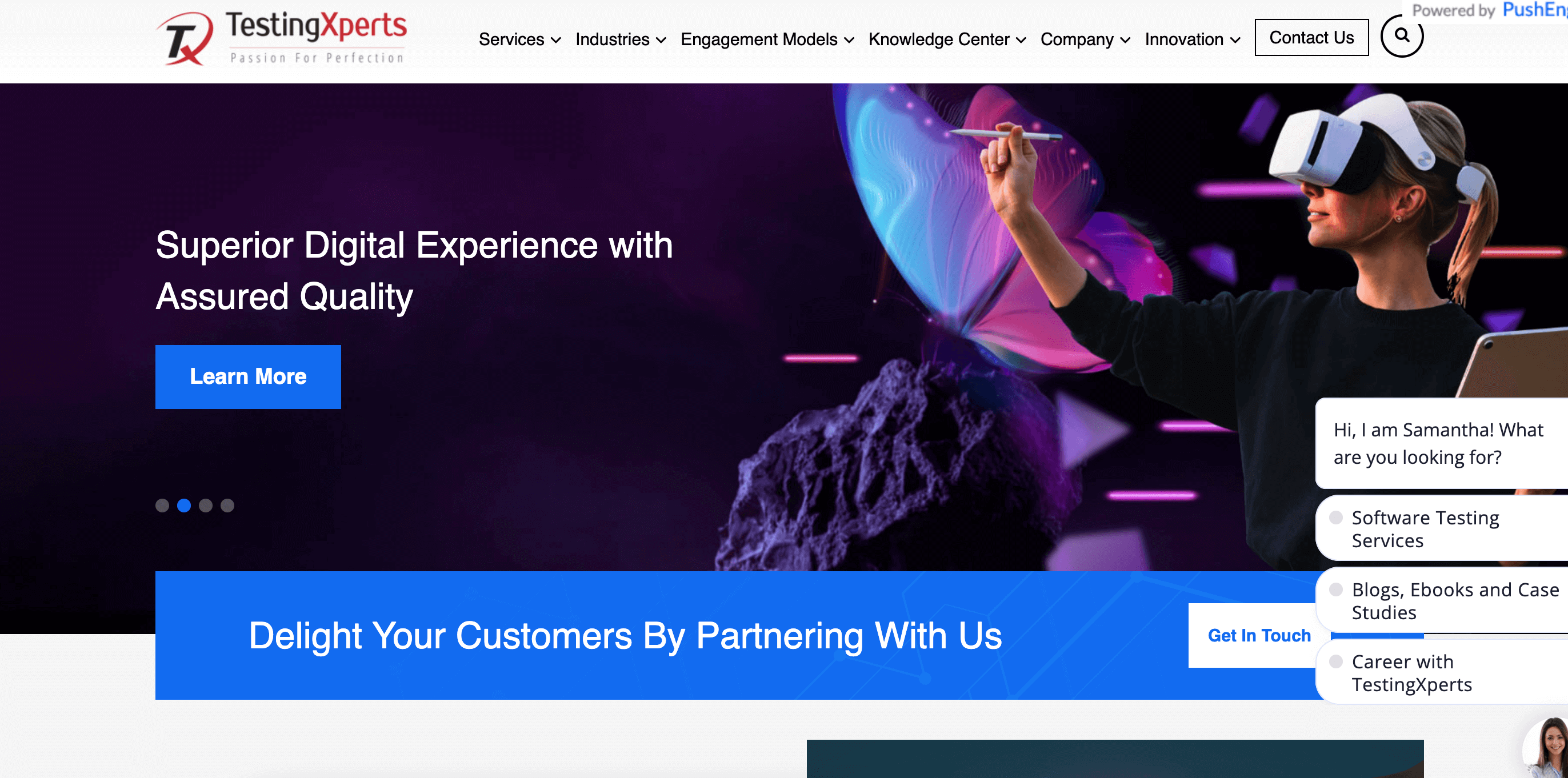 Offering superior service with a 96% client delight rate, Testing Xperts has now become the fifth-largest website accessibility testing company in the world. With 12 global offices and more than 1,200 experts on board, the firm brings up quality solutions so businesses can reap better ROIs.
The primary industries served by Testing Xperts are Banking and Financial Services, Insurance, Retail and eCommerce, and Travel and Logistics. The big names that they've entered into successful collaborations with include Dominos, PVH, Frontier, 8X8, etc. The company offers a host of services such as test advisory, AI testing, mobile app testing, data testing, accessibility testing, etc.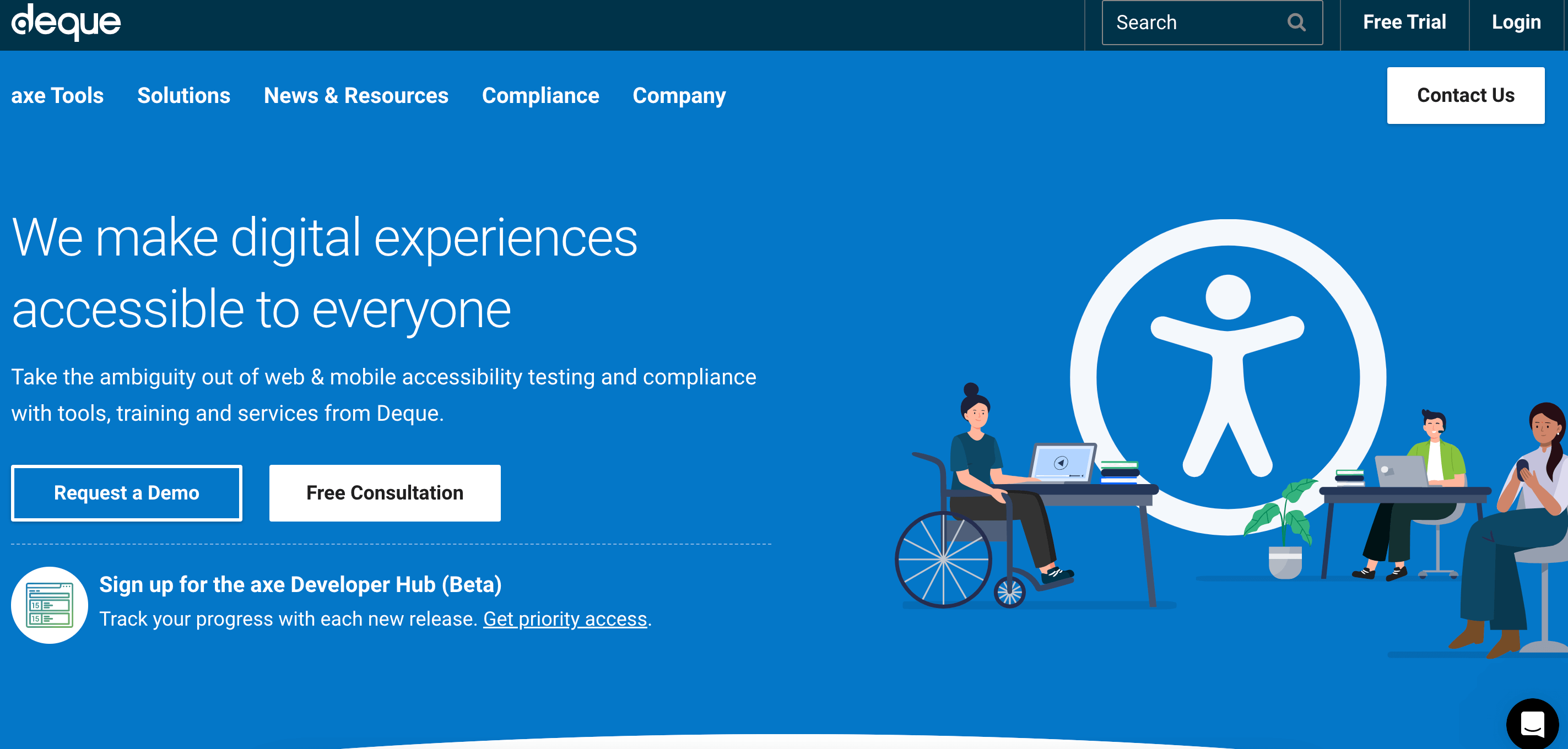 Are you looking to pair up with one of the top-rated web accessibility consultants? Look no further than Deque, which is here to make it possible for everyone to access digital services successfully and with ease. What makes Deque stand out is its focus on sustainability and professionalism; they're a trusted partner equipped with all necessary website and mobile testing tools. 
The company has expertise in diverse industries such as Retail, Government, Education, Finance and Banking, Healthcare, Telecommunications, and Web Agencies. Having served customers like Freshworks, User testing, articulate, Clever, etc., Deque is now a global name noted for its excellent solutions in terms of audits and compliance testing, end-to-end testing, awareness lab, VPAT, program strategy, consulting, and training.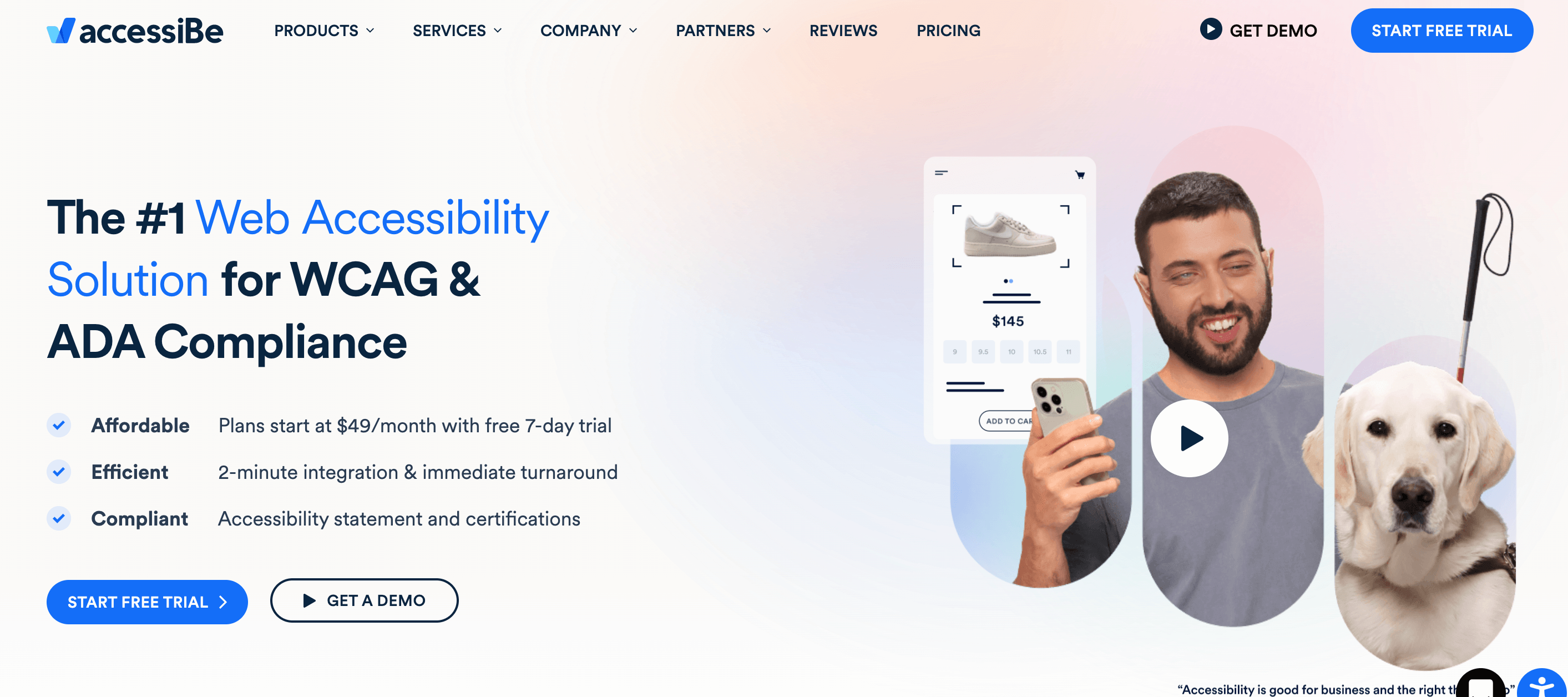 Securing the title of the best web accessibility consulting company for WCAG and ADA compliance, accessiBe delivers solutions notable for their scalability, reliability, efficiency, and affordability.
accessiBe has become the go-to company that offers commendable service and contributes heavily towards building a more inclusive culture promoting social harmony. Driven to make the internet equitable, inclusive, and accessible, the firm currently provides services that include file accessibility, media accessibility, expert audit, user testing, VPAT, and inspection.
accessibBe's solutions come in four packages – Standard ($490/year), Advanced ($1490/year), Advanced Plus ($3490/year), and Enterprise. With the Enterprise package, businesses can receive customized solutions while being able to avail of all premium services.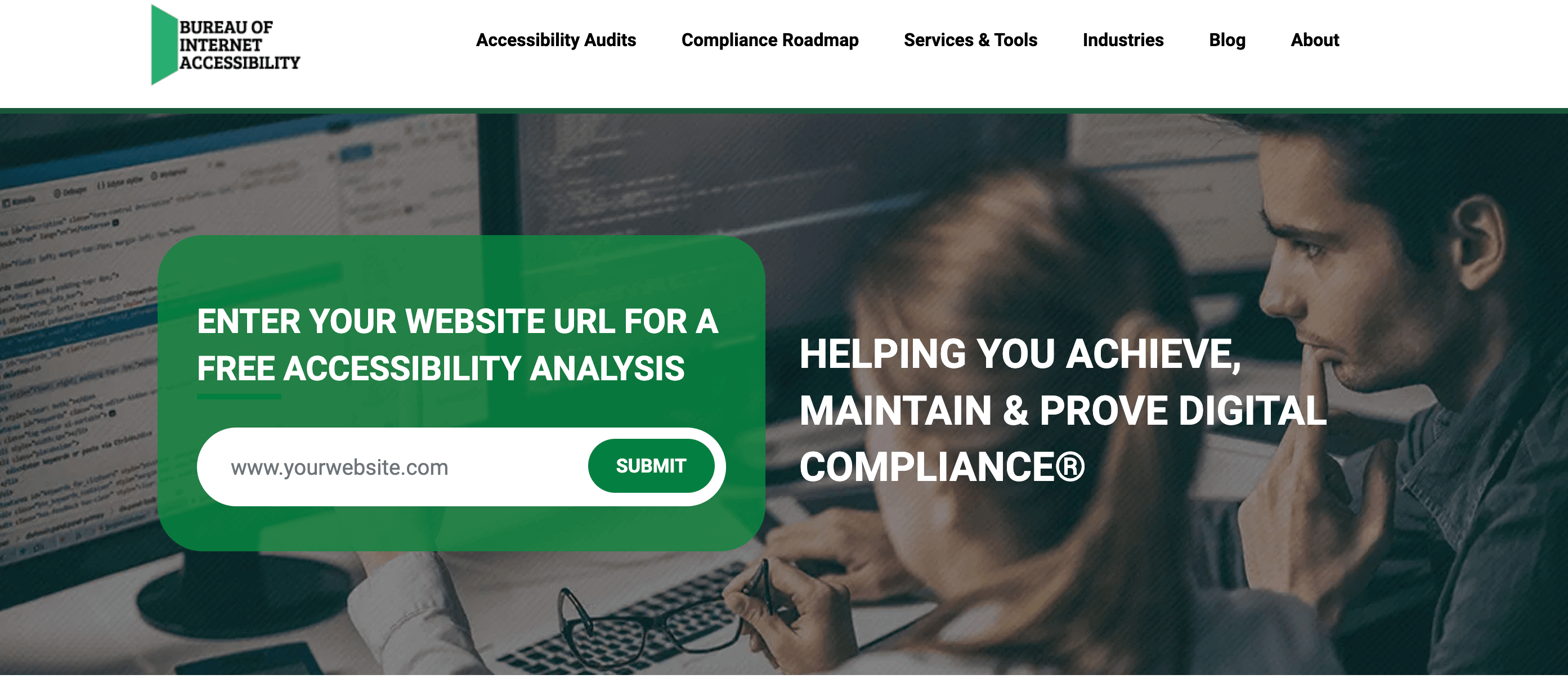 Keeping digital accessibility at the core of its services, the Bureau of Internet Accessibility encompasses 150 professionals delivering top web accessibility solutions to narrow the digital divide since its inception in 2001. Thriving in the industry for almost two decades, the company has worked across various domains such as Education, Healthcare, Hospitality and Travel,  Government, Finance and Insurance, Retail, Software, and SaaS. 
Serving clients from more than 72 countries and after having analyzed 65,013 websites, the Bureau of Internet Accessibility is now one of the most reliable digital compliance partners trusted by companies such as Chipotle, Spirit Airlines, Dillard's, Godiva, etc.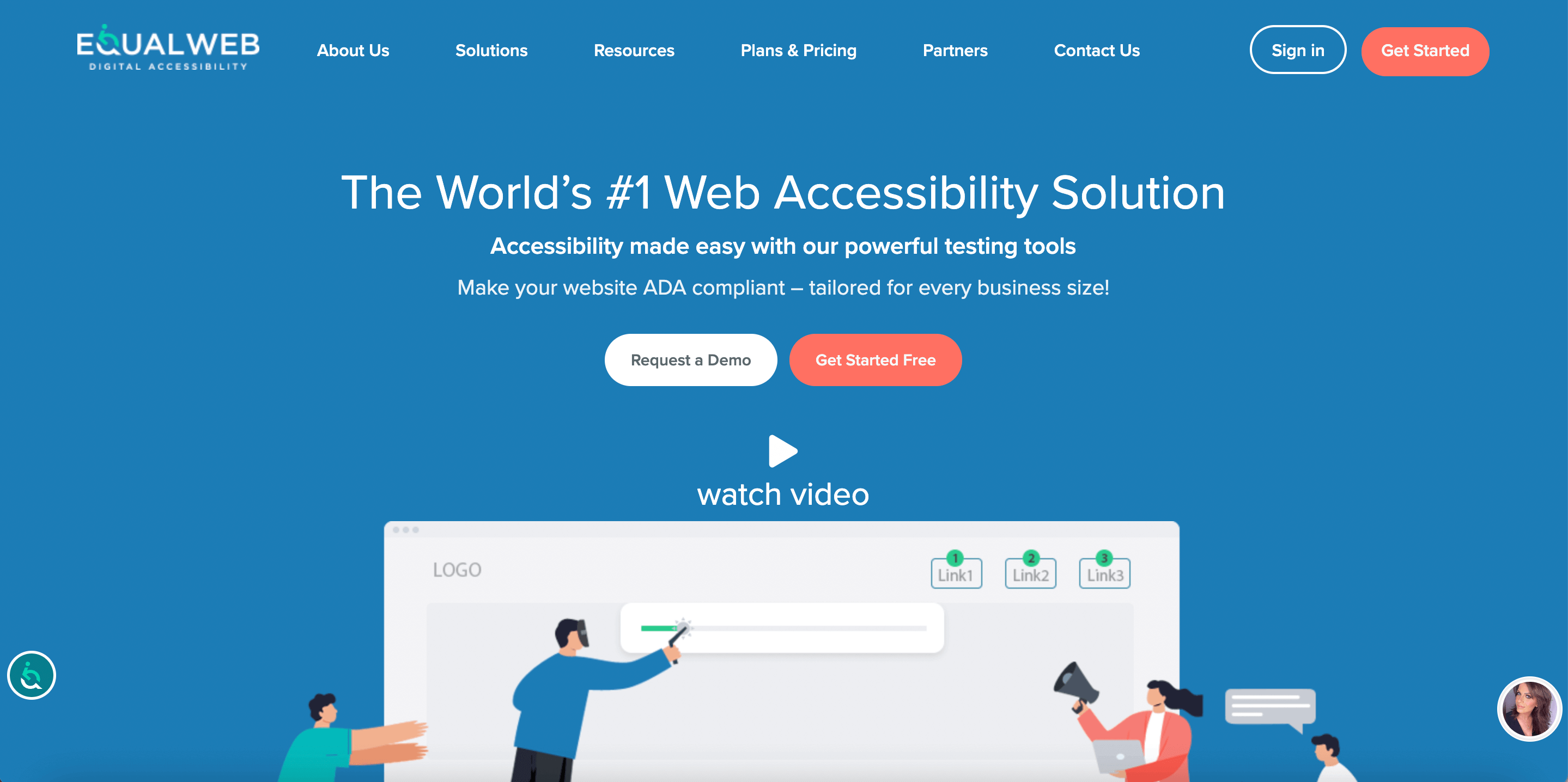 Are you looking for an expert web accessibility agency that can guide you efficiently toward digital inclusion? Here comes Equal Web with its powerful testing tools chosen by big-budget companies such as Zara, Huggies, Manpower Group, Lenovo, Adidas, etc.
The company offers a wide range of services like accessibility remediation, accessibility checker, web accessibility crawler, VPAT, accessibility audits, and accessibility training, among many others. From non-profit organizations to Fortune 500 companies, Equal Web has delivered exceptional solutions to all types of clients with zero hassle and high security and professionalism.
Regarding the pricing, there are three advanced plans – Accessibility plans, Auto Accessibility plans, and Accessibility Services. The company also offers exclusive free tools and resources available for download and designed to analyze and optimize websites.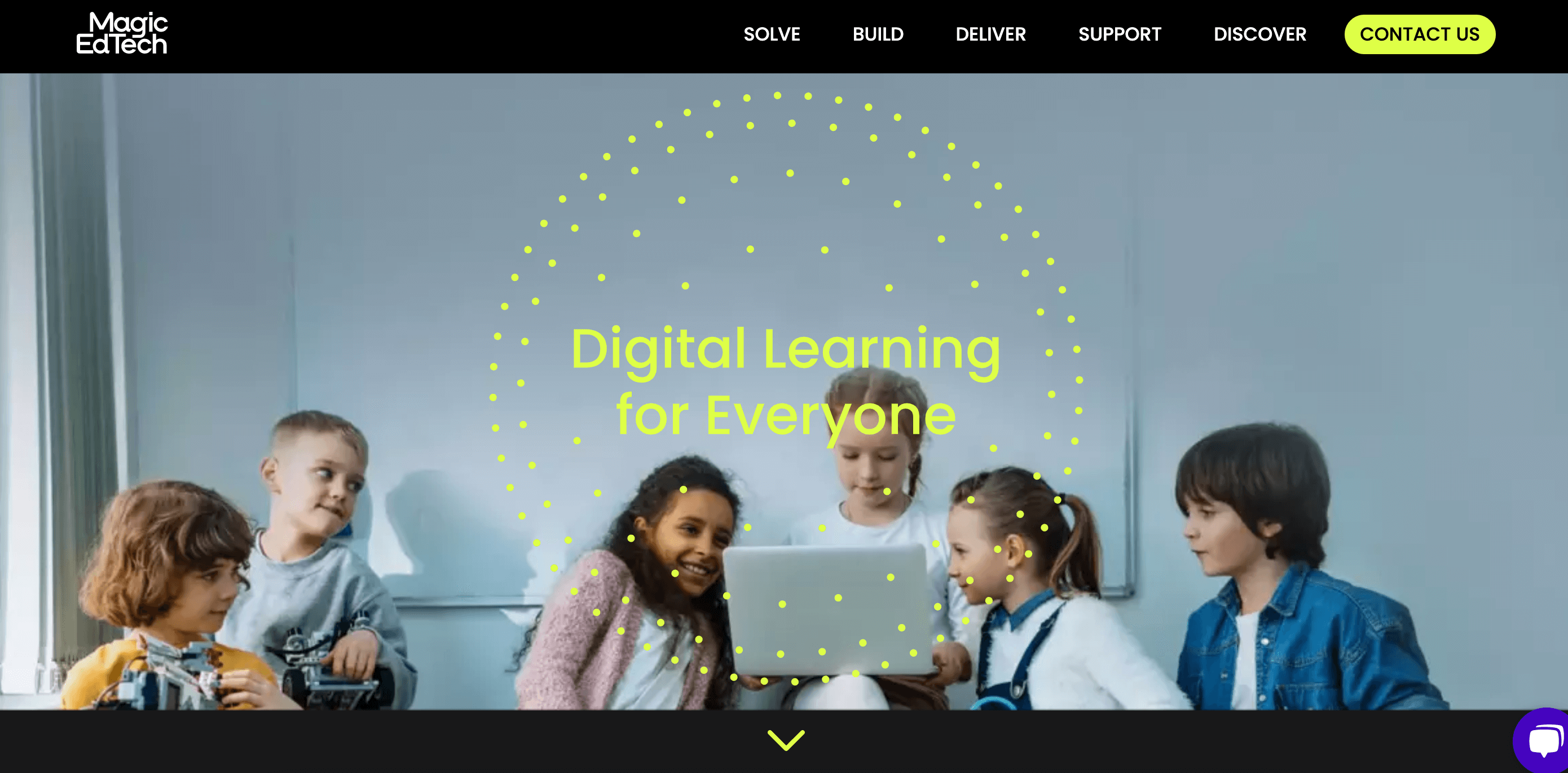 Are you an educational organization willing to offer a pleasant website experience for people with accessibility issues? Then Magic Ed Tech can be your ideal partner. Whether your goal is product adoption or complying with the set security standards, Magic Ed Tech is the company that actually drives results and supports your project development bringing in the desired outcome. 
As an exclusive digital accessibility agency, Magic Ed Tech serves diverse segments, including K12, higher education, and educational professionals. It has delivered high-quality services for educational publishers, EdTech companies as well as academic institutions.
With 5 million global users, the company has built long-lasting partnerships with its clients and enabled them to excel in the domains of STEM, Healthcare, Business, CTE and ELT, and world languages.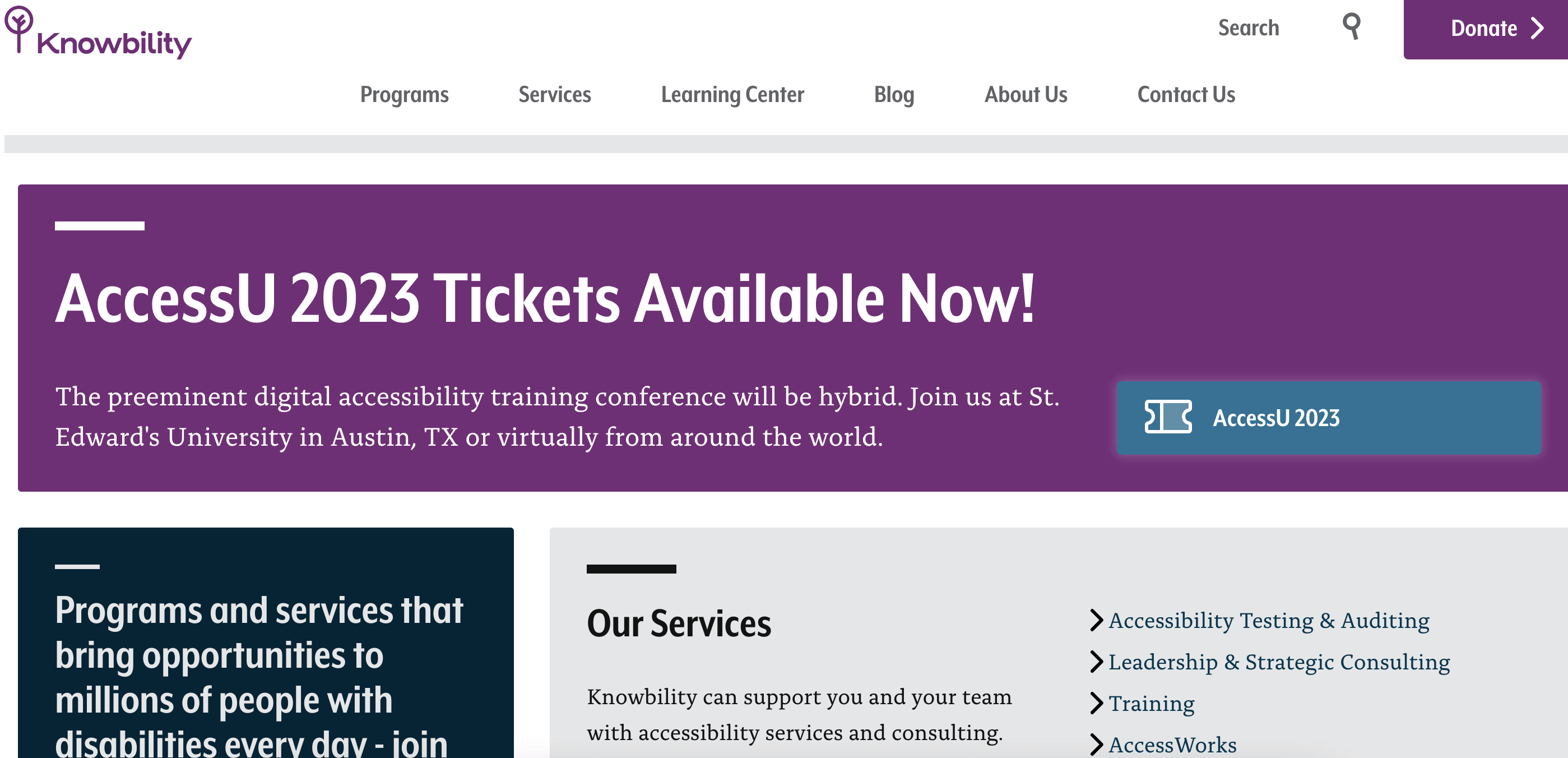 Promoting and supporting the cause of equal access to technology for people with disabilities, Knowbility aims to make technology accessible through practical solutions and long-term positive relationships with its clients. As a digital accessibility consulting company that started its journey twenty years ago, it currently provides top-level services in the areas of accessibility testing and auditing, leadership and strategic consultation, accessibility helpdesk, project inquiry, and training. 
Known for communicating the needs of disabled people, Knowbility also conducts social programs and awareness campaigns to build a more digitally inclusive world. What makes the company different from the rest is its strong commitment to society and the excellence it brings to the table.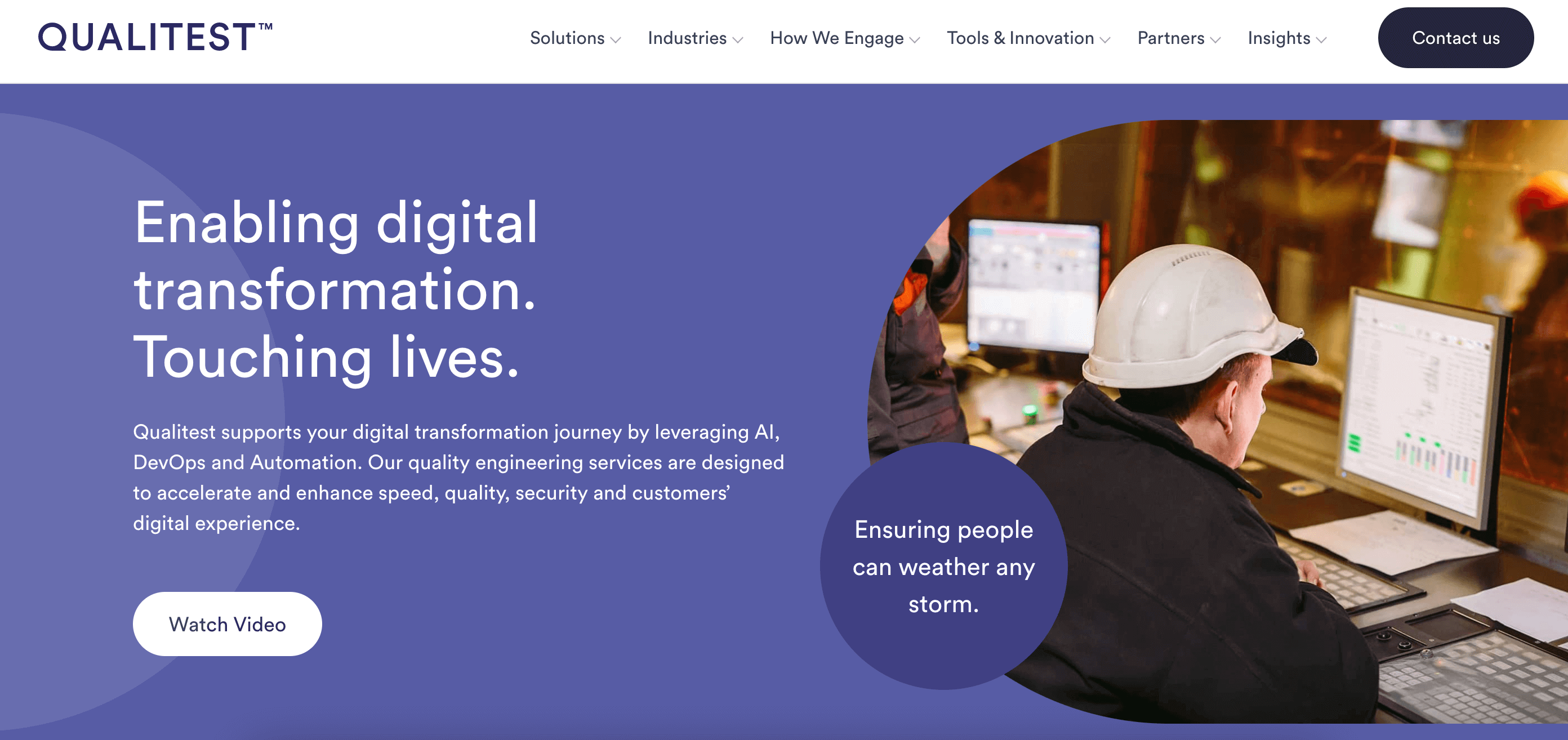 As one of the top digital accessibility consultants, QA Infotech is geared toward making digital transformation possible. Through its customizable, research-backed solutions, the company not only helps businesses to improve their customers' digital experiences but also does its best to make technology available to all. 
Combining the best resources with scientific methodologies, QA Infotech provides a wide range of solutions that include quality assurance, digital engineering, quality engineering, and innovation. From Healthcare to Insurance, Telecommunications to Entertainment – this best-in-class web accessibility testing company has worked successfully with diverse businesses, including notable clients like Philips, Vodafone, BT, Fuji, and Adidas.

TestMatick is a leading provider of quality assurance and software testing services, including functional testing, performance testing, usability testing, automation testing, mobile testing, etc. The team uses various tools and methodologies to ensure that clients' software products are of the highest quality and meet their business requirements. They also offer customized software testing solutions to meet clients' goals perfectly.
Their top-notch software testers and QA engineers have expertise in a wide range of systems and platforms, including web applications, mobile applications, cloud-based applications, and enterprise applications. They stay up-to-date with the latest software testing trends and technologies to ensure their clients receive the best possible services.
At TestMatick, customer satisfaction is a top priority. They work closely with clients to understand their unique needs and requirements and strive to exceed their expectations at every step of the engagement. The clients trust them to deliver high-quality services, and they have a great track record of successful project delivery.
With TestMatick's rich expertise in software testing, commitment to quality, and focus on customer satisfaction, they can help you ensure your software programs have an exemplary interface and accessibility.
Conclusion
While there are certainly observable changes in the social and corporate systems focusing on being more inclusive, what remains to be done is to make website content more accessible for all kinds of users.
Therefore, all websites should be created following the WCAG guidelines so that no one is left behind and every person can get a superior website experience when surfing the internet.
Introducing the ultimate web accessibility to your site is easier than you could ever imagine; by partnering with the best digital accessibility companies, you can ensure all your public software is clear and easy-to-use.
If you want to add your web accessibility company to this list, drop us a line with your request. After a quick review, we'll decide whether it's a valuable addition.