There's little wonder that NodeJS is the number one runtime environment — it ensures faster delivery, robust server-side performance, and easy scalability, just to name a few benefits.
NodeJS is the best choice for building streaming applications, dashboards, collaborative tools, and microservices. Big market players like PayPal, Netflix, LinkedIn, NASA, Trello, Uber, Twitter, and eBay are among the companies using NodeJS.
If you seek to hire NodeJS developers for your next project, you're in the right place. We've compiled the list of top NodeJS development companies to help you make a more informed decision and work with the best ones.
The Best NodeJS Development Companies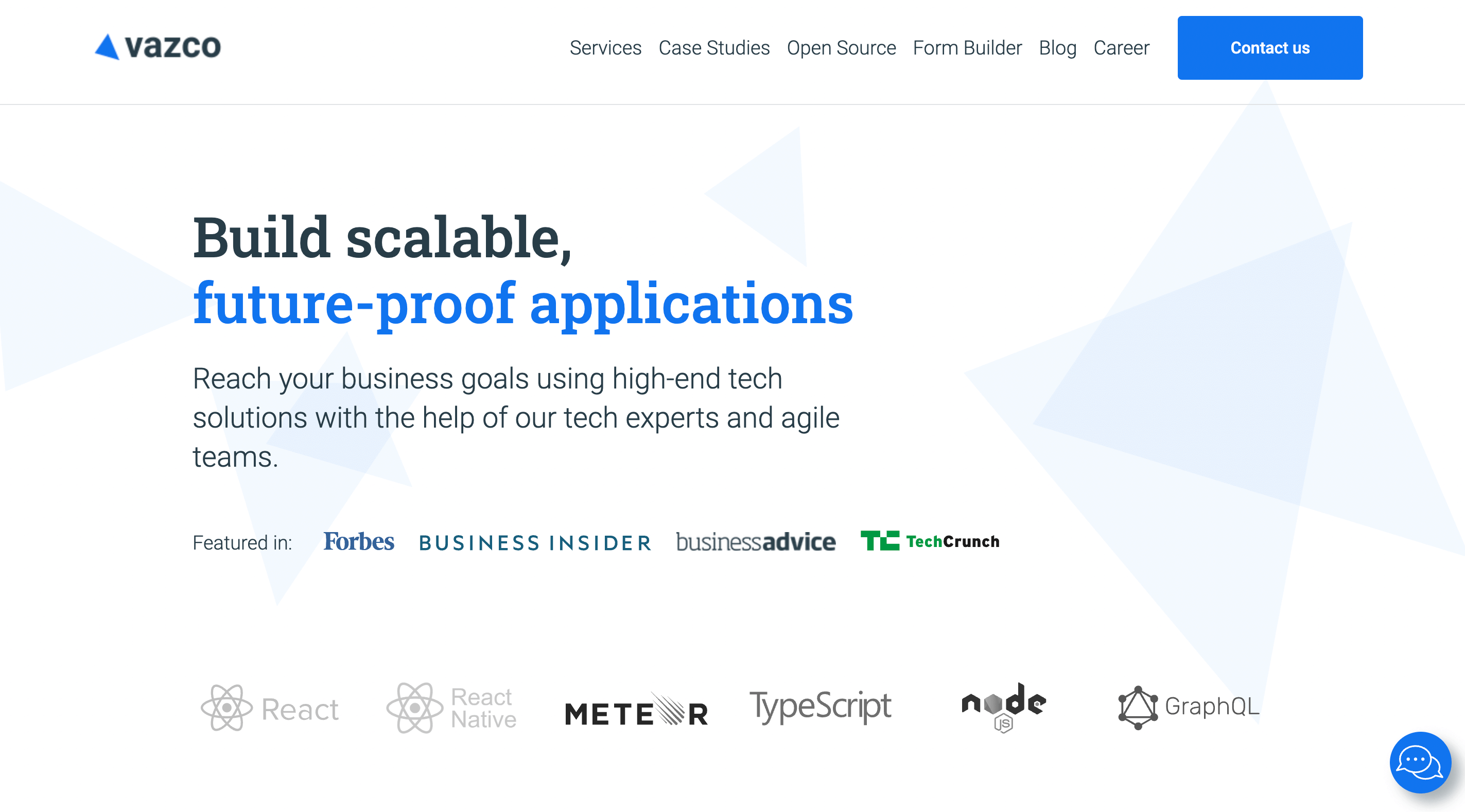 Vazco is a superior software development company that specializes in building innovative web and mobile apps utilizing NodeJS technologies.
Located in Poland, a technological hub, the company has access to a huge pool of top-notch talents with expertise in JS. Having a team of 45+ NodeJS developers who are experts in their field and 14 years in the software development business, Vazco has successfully delivered over 120 products to clients worldwide.
Along with NodeJS web app development, they offer a full range of digital services — from MVPs and product design to application scaling, cloud development, QA, and consulting — making them a perfect partner to resolve any of your tech challenges.
Providing data-driven solutions in just a matter of weeks, Vazco is committed to constantly improving its clients' businesses. The company uses its knowledge to optimize long-term costs and deliver outstanding solutions, and its track record proves it with impressive reviews.
So if you want a reliable tech partner to help you achieve your business goals through the power of NodeJS, Vazco is the one-stop company to refer.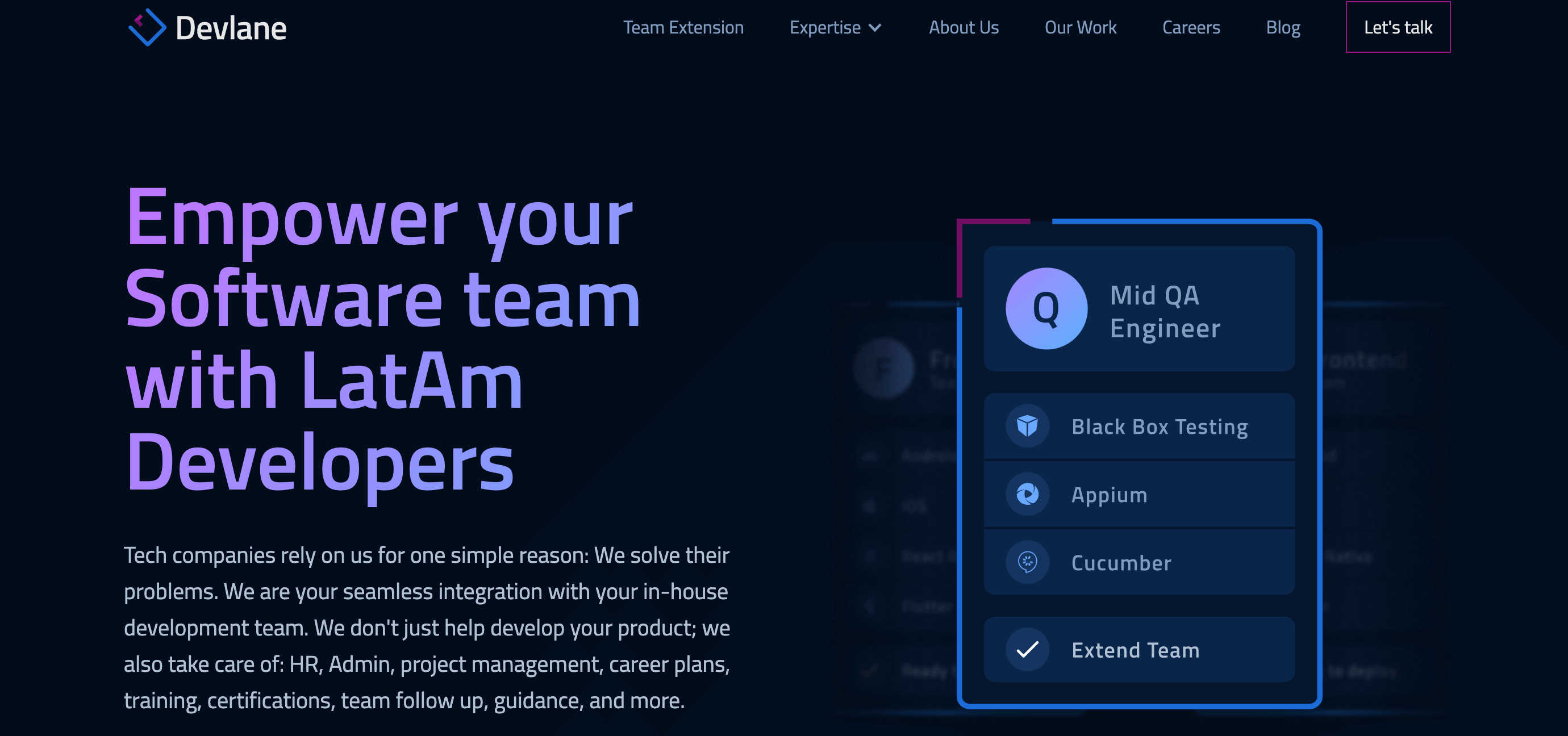 Devlane is an Uruguay-based software development company that exclusively serves North American and European clients. 
Although Devlane was founded in 2020, its founders had over 10 years of experience in nearshore software development, knowing all the ins and outs of IT outsourcing. 
The company focuses on providing staff augmentation services and recruiting the best tech talent in entire Latin America. 
The team at Devlane has extensive expertise in building solid back-ends using NodeJS, with most of their past projects being for Retail, eCommerce, and Business Services industries.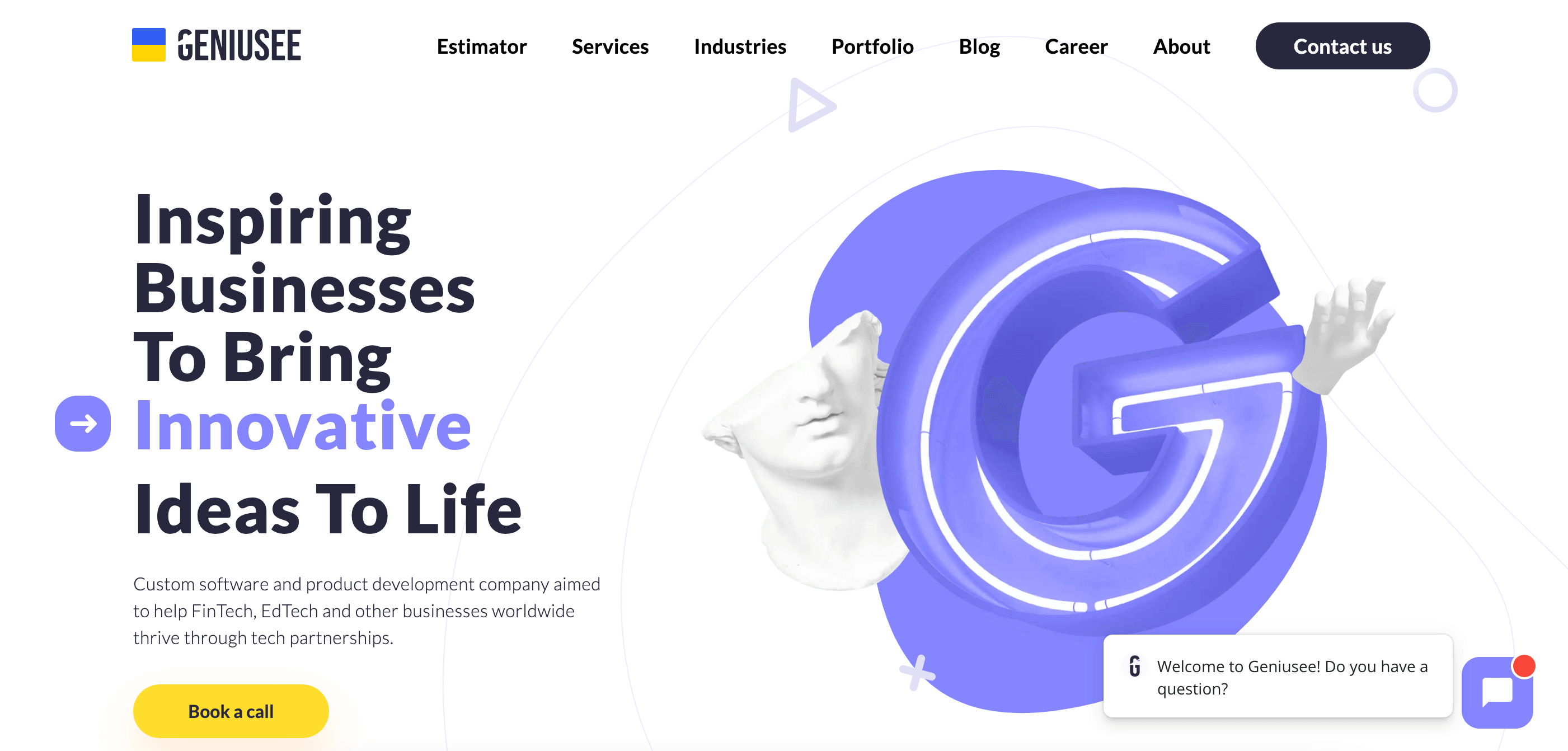 If you're looking for NodeJS developers specializing in the Education or Financial Services industry, Geniusee has you covered. Geniusee is one of the best NodeJS development companies with offices in the US, Poland, and Ukraine. 
Since 2017, they have successfully completed over a hundred projects. Besides other frameworks and environments for back-end development, the Geniusee experts have broad expertise working with NodeJS. 
The firm offers two collaboration options — Dedicated Teams and Time & Material.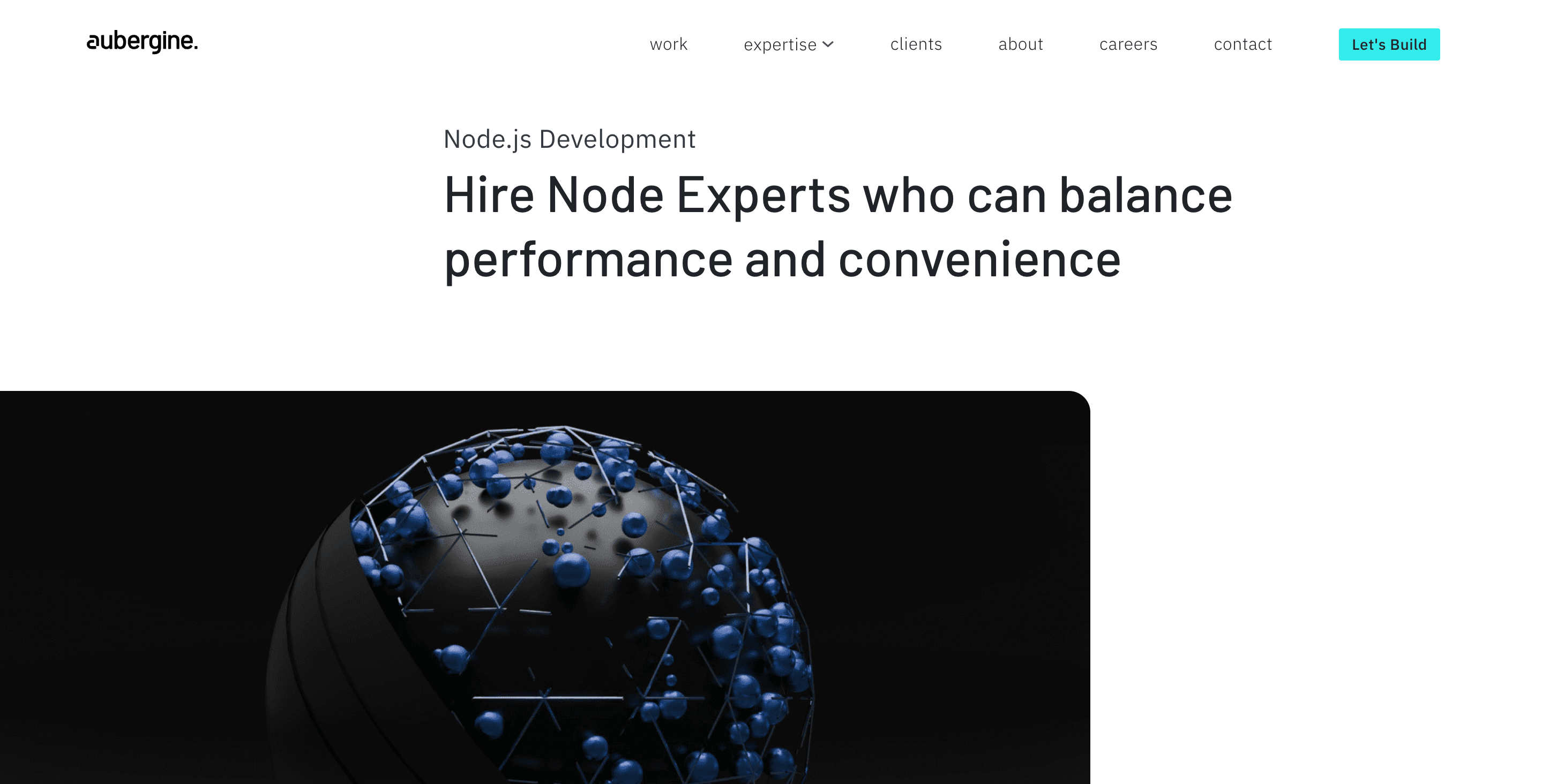 Aubergine Solutions is a supreme end-to-end web, mobile, and enterprise app development company that has operated on the market since 2013. Recognized as one of the Top 100 Fastest-Growing Companies by Clutch, Aubergine Solutions has built over 150+ impactful products since its launch. Focusing on Node.js development, they deliver high-performing web applications for businesses of all sizes in Fintech, Education, Blockchain, BI, Healthcare, Marketing, Legal, and other industries.
The agency is recognized for its professional, timely, and Agile-driven approach. Their team of top-notch Node.js experts can build fast, robust, and scalable web apps using the latest tech trends and standards. Reducing the overall development time and costs, they know how to create user-friendly software that stands out and delivers the desired results. With Aubergine Solutions' expertise, businesses can take their products to new heights with modern, well-established services that help them stand out in a highly competitive market.
Aubergine Solutions also boasts of hiring top talent and has been named in India's 100 Best Workplaces in IT and IT-BPM Sector as well as Top 25 in India's Best Workplaces for cultivating a culture of Innovation by All By the Great Place To Work Institute. They also won accolades in the field of UX Design with a Red Dot Award in Interface Design in 2022 and a UX Design Award for Product in 2023.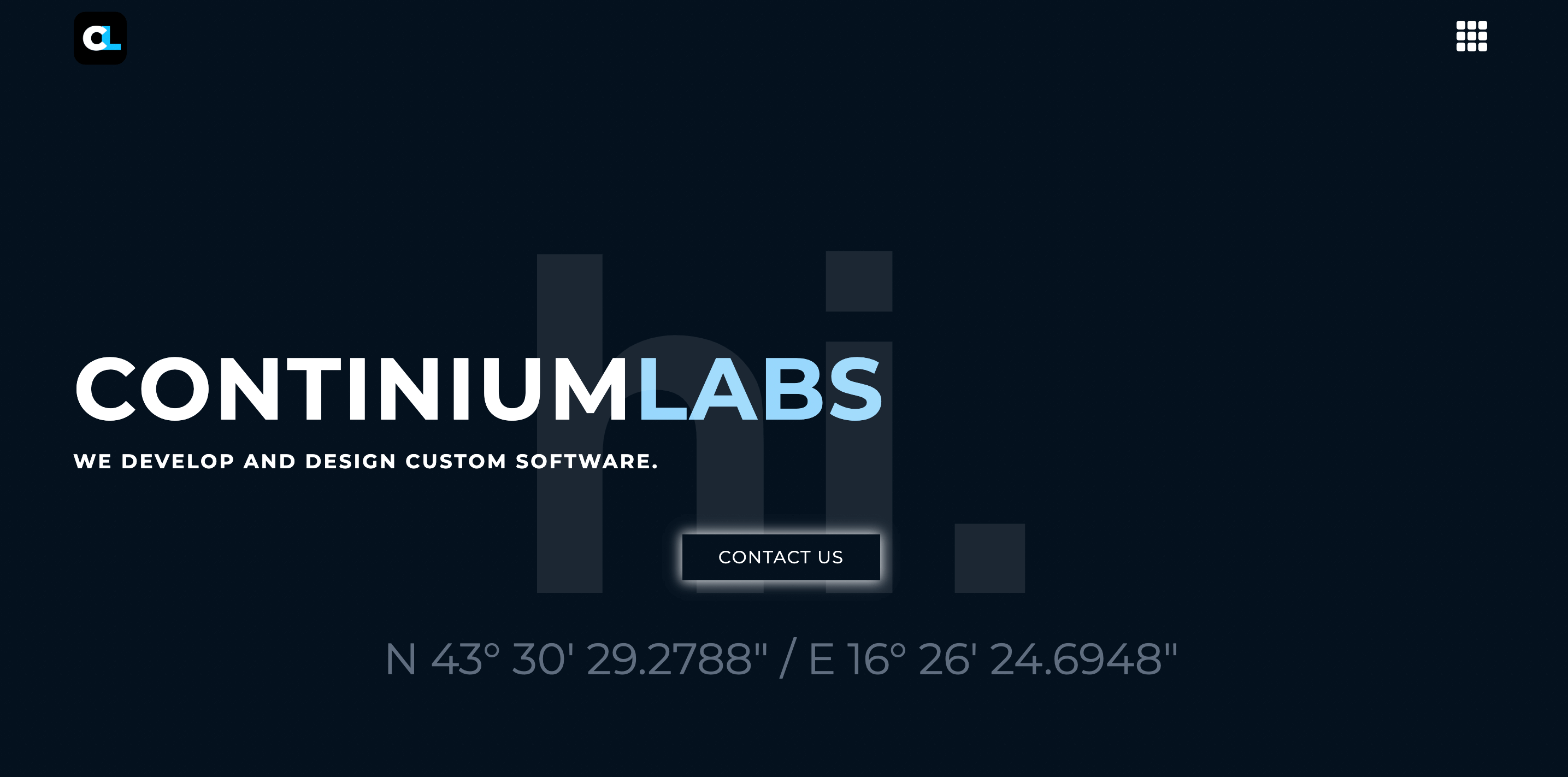 Continium Labs is a fast-growing cloud-oriented company based in Croatia, specializing in NodeJS development. They offer full support for software development, deployment, and DevOps.
Their team of passionate web developers strives to create innovative and high-quality digital products tailored to meet their clients' specific needs. By focusing on product development, quality assurance, and scalability, Continium Labs can optimize any web project to ensure it meets the unique requirements of its clients.
Whether you want to launch a new website or optimize an existing one, Continium Labs can help you take your business to the next level with impactful NodeJS development services. They collaborate with both startups and enterprises in various industries, providing them with extensive tech skills and knowledge to ensure each project is completed to the highest standard. Some of the additional technologies they work with include JavaScript / TypeScript – React, Angular, Express.js, Nest.js, and C# – ASP.NET Core.
With a comprehensive range of capabilities, skills, and expertise, Continium Labs can help you implement any tech project, big or small.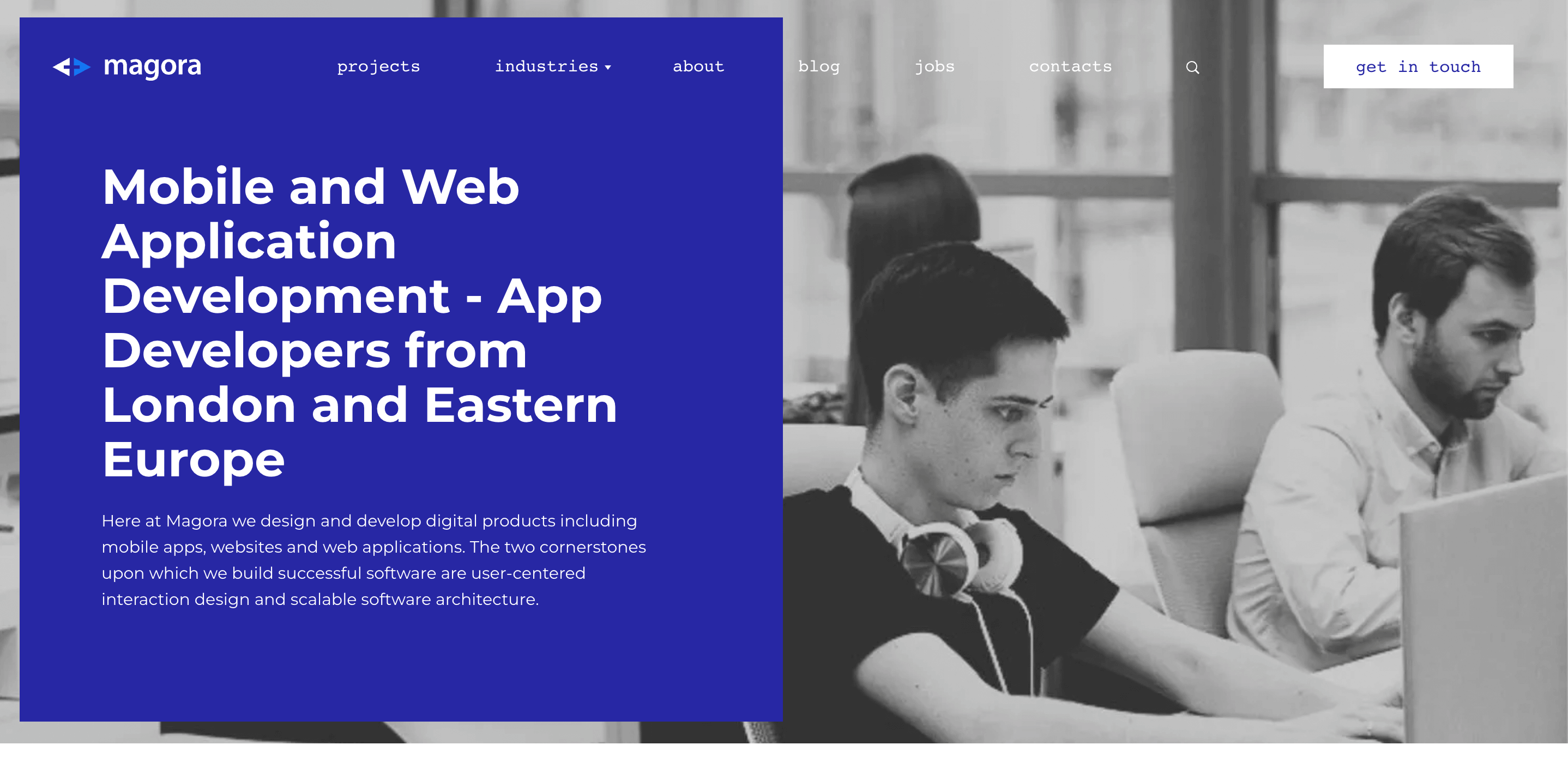 Providing top-notch digital solutions to businesses across various industries since 2010, Magora has become a leading web and mobile development company. Renowned for its expertise in NodeJS development, its specialist team of 150 qualified employees offers a wide range of services, including IT consulting, custom software development, UI/UX design, native and cross-platform app development, QA, and team augmentation. Their portfolio includes working with clients in Pharma & MedTech, EdTech, E-learning, and eCommerce sectors.
Magora's team takes its time to understand your goals, product and offers, and end-users' needs to create the best-fit software to drive your business's growth. With 500+ exceptional solutions provided, the agency can take on both small and long-term complex projects, adding real value to the client's success.
Headquartered in London, Magora operates internationally, delivering honest, transparent, and high-standard services. Among their notable clients are Danone, Uber for Wine, Anova, and EasyGuide. Holding years of experience and keeping up-to-date with the latest technologies, this company will become your trusted partner for implementing digital transformation!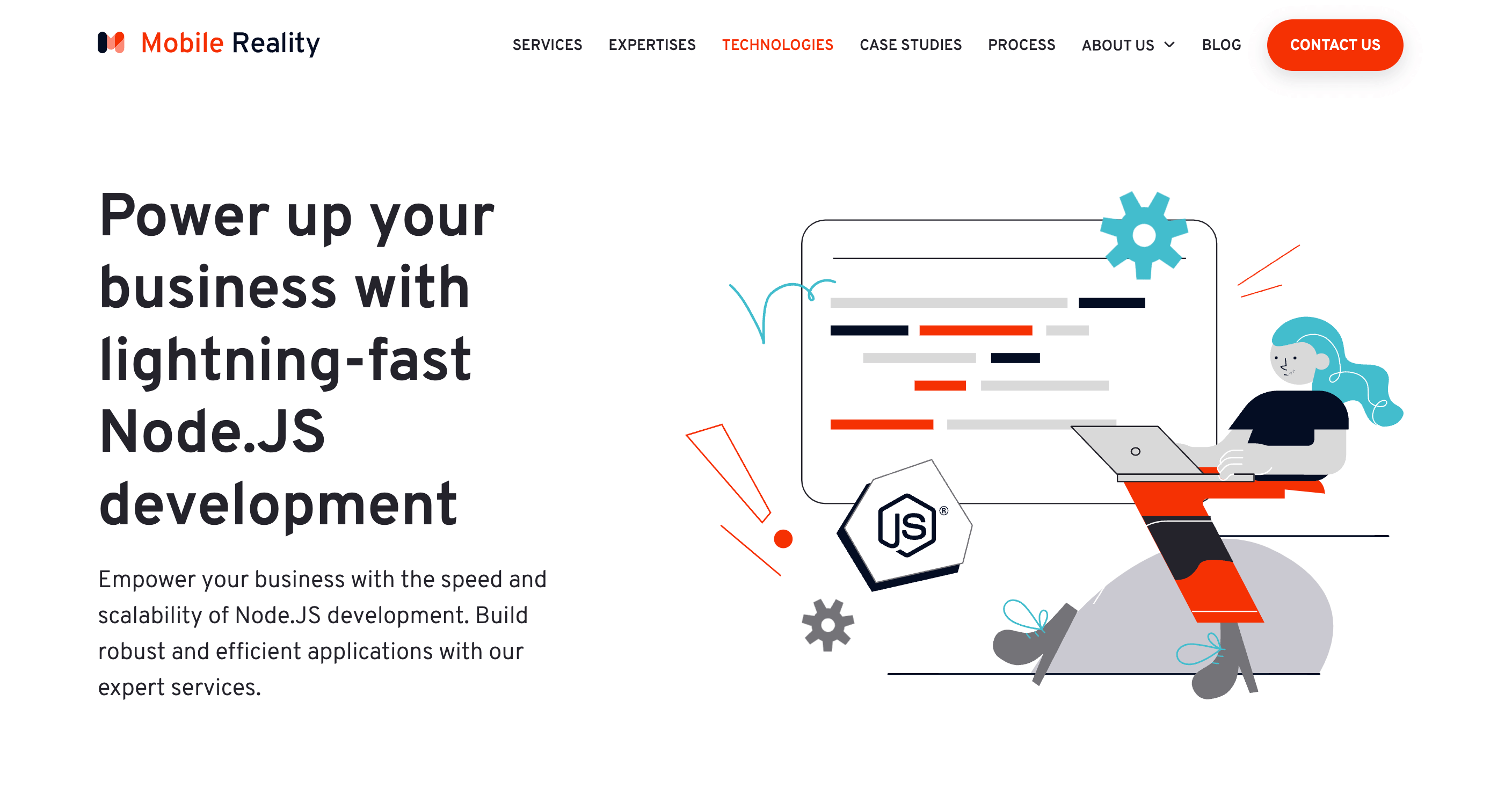 Mobile Reality is a reputable NodeJS development company specializing in creating profitable digital products, such as mobile and web solutions, and deploying them in the most efficient way. With a team of top-level developers proficient in a wide tech stack, the agency has won numerous Clutch awards for its exceptional services and impactful results.
Being on the market since 2016 and working with diversified clients, from startups to enterprises, Mobile Reality has promoted the success of Deloitte Technology Fast 500 Award winners and global leaders through result-driven software solutions. The company boasts an impressive portfolio of 50+ projects with revenues of over $1 million and products used by more than 100k global users.
With rich expertise in NodeJS development, Mobile Reality delivers high-performing, scalable, and secure applications that meet their client's business needs. They offer services such as creating a robust, efficient NodeJS backend app, conducting a NodeJS code review, and building a bug-free platform. They're also certified developers, owners, and maintainers of Open Source projects. 
So if you are looking to power up your business with lightning-fast NodeJS development services, Mobile Reality is the right company to partner with.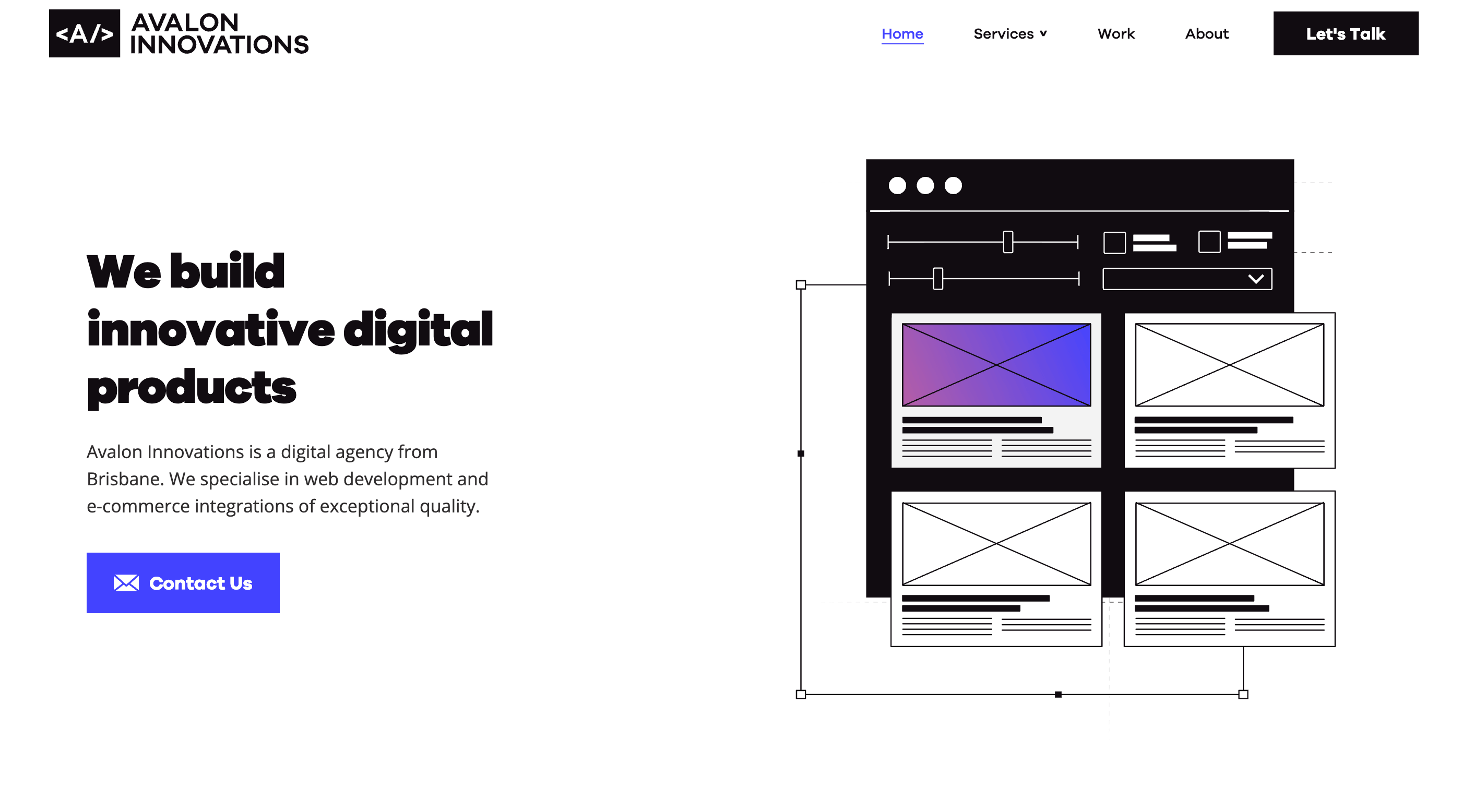 Avalon Innovations is a Brisbane-based web development and eCommerce integration agency with a long-standing reputation, boasting over 20 years of expertise. The company specializes in NodeJS and has a track record of delivering high-quality, scalable, and authentic projects using this technology.
The Avalon Innovations professional development team works closely with clients to understand their demands and create tailor-made solutions. Their proficiency in NodeJS makes them a proven partner for developing cutting-edge web apps and APIs, ensuring the scalability and reliability of the delivered products. 
Thanks to the company's dedication to programming, Avalon Innovations boasts of over 100 successful projects in its portfolio. They work with customers from various industries, including Travel, Automotive, Retail, Insurance, and eCommerce, to mention a few. Their extensive web development skills and knowledge have enabled them to create solutions that meet and surpass clients' expectations.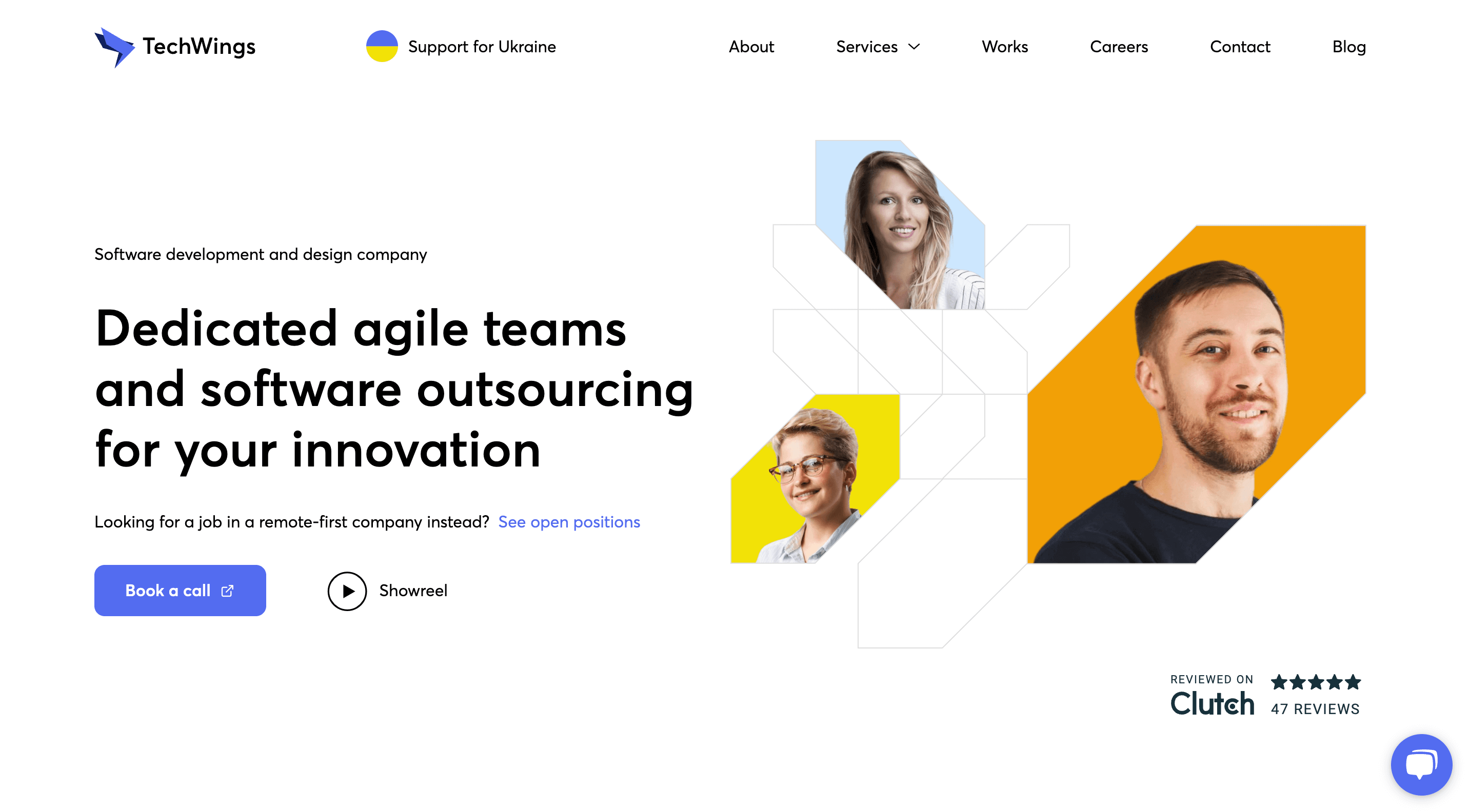 As the world's leading Node.js web development agency, TechWings is a trusted technical partner for global clients looking for cutting-edge digital solutions. Established in 2016, the company boasts unparalleled expertise and top-notch engineering talent in the JavaScript ecosystem.
TechWings caters to startups, SMBs, and enterprises, offering direct access to a great pool of skilled web and mobile developers, DevOps and QA engineers, UI/UX designers, and project Managers. With an impressive portfolio of 150+ successful projects across industries like AdTech, EdTech, InsurTech, and Retail, TechWings excels at tackling even the most intricate ventures.
Their multidisciplinary team of over 60 professionals offers end-to-end solutions, whether you need to build a NodeJS application from scratch, update existing software, or automate business processes. With a focus on agile-driven collaboration and fast, predictable delivery, TechWings ensures your project development is maximum efficient and seamless.
Choose TechWings as your NodeJS development partner and benefit from their unmatched technical expertise, direct collaboration with the team, rapid project kickstart, and commitment to delivering exceptional digital solutions tailored specifically to your requirements.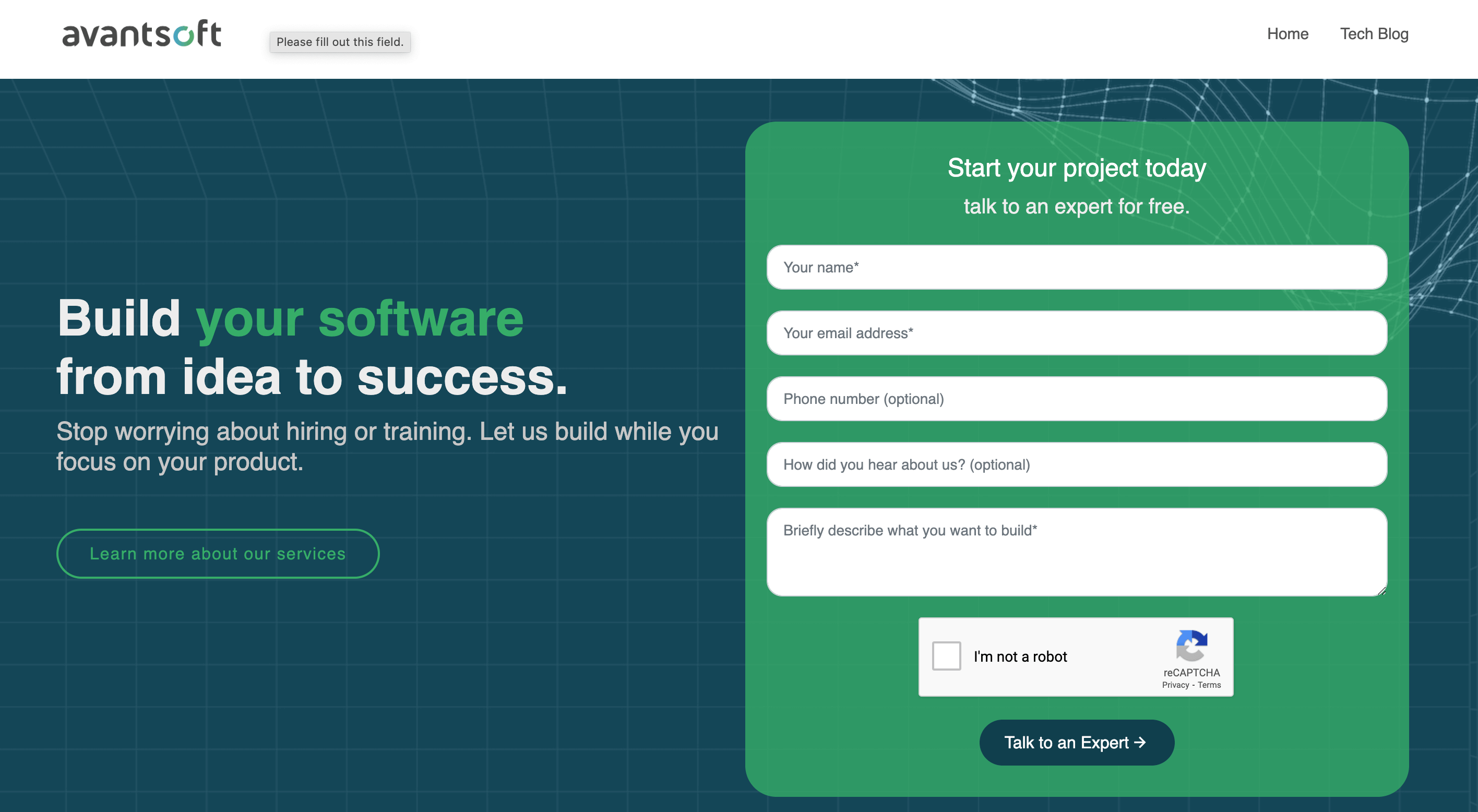 Avantsoft is a reputable Brazilian web and mobile app development company that helps clients worldwide bring their tech ideas to life. Focusing on NodeJS development, their team can deliver anything from MVP to a full-fledged website or app or simply add new features to your existing product. In addition to software development, the company also offers UI/UX design, agile dev team on demand, and QA services.
Having worked for 7 years, Avantsoft obtained a thorough understanding of how different markets operate, making it easy for them to meet various business needs. The company's top-level engineers utilize industry best practices, experience, and skills to identify problems and deliver a game-changing NodeJS app.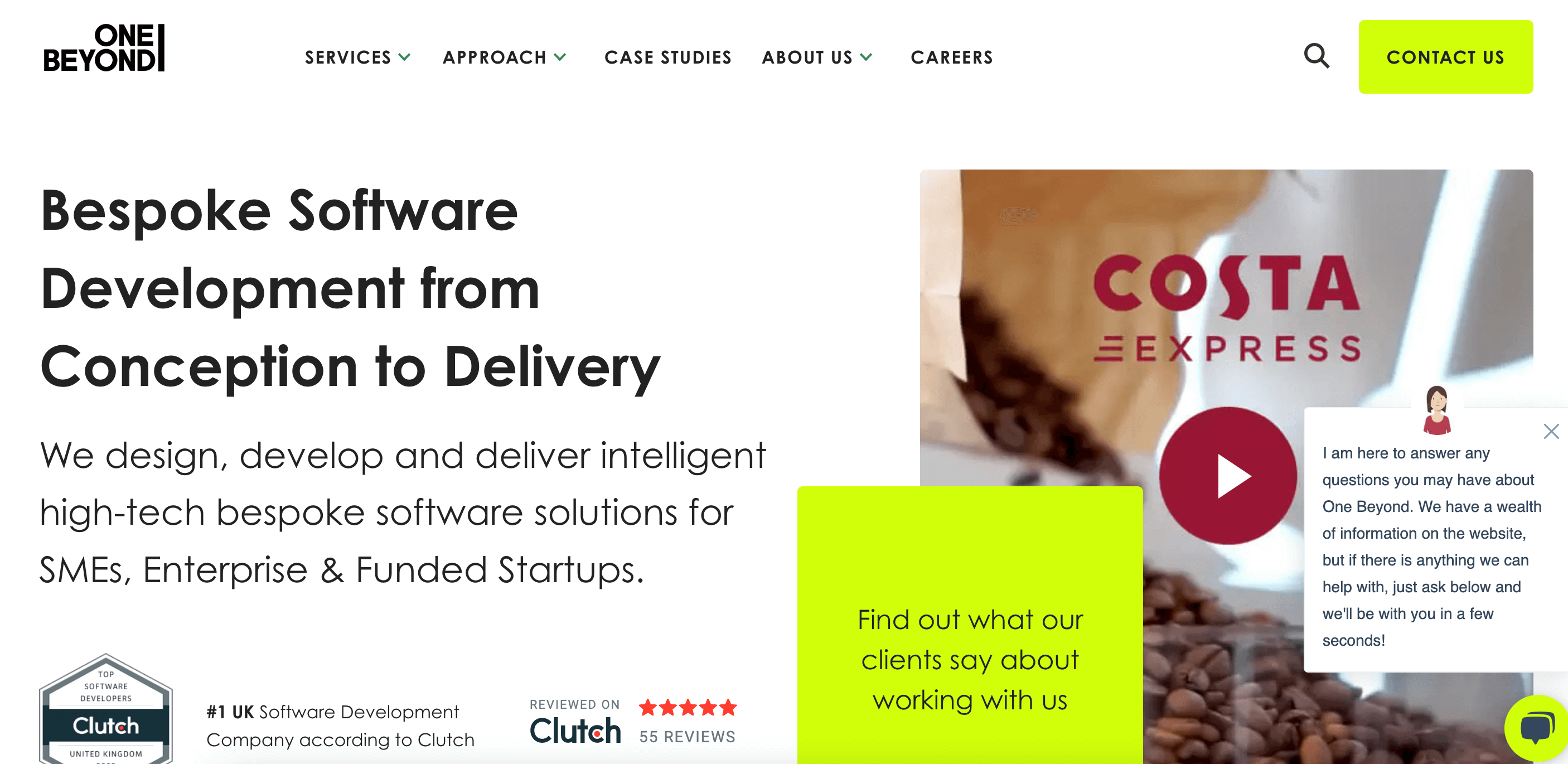 One Beyond is the most trusted custom software development company in Europe, backed by numerous industry awards. 
The firm is headquartered in Farnborough, the UK, and has satellite offices in Hungary, Spain, and Romania. A 300-strong development team allows One Beyond to offer both onshore and nearshore delivery. 
The company has over 25 years of experience across a wide range of industries, including Education, Healthcare, Financial Services, Nonprofits, Hospitality & Leisure, Government, eCommerce, and others.
The top NodeJS developers at One Beyond will help you design and build robust web solutions to drive your business growth.​ ​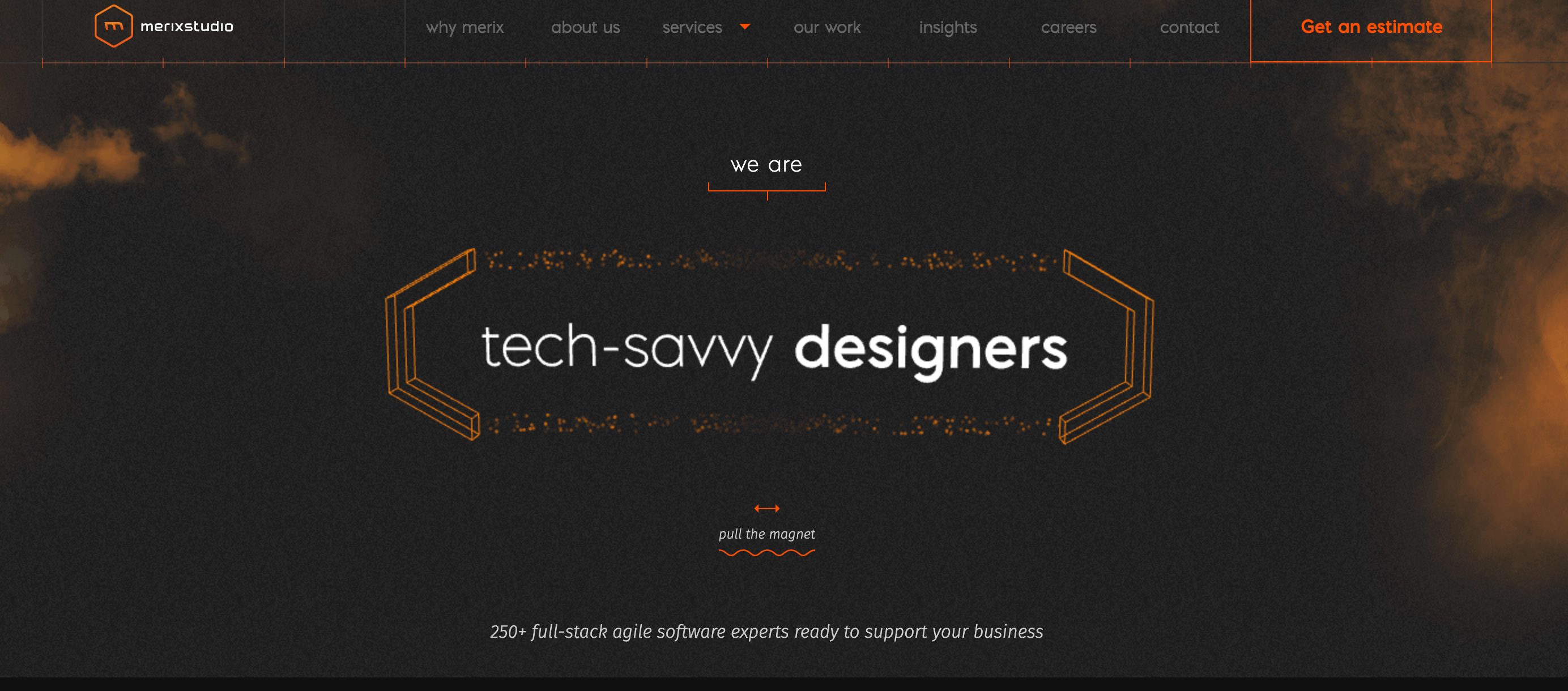 Merixstudio is a top-rated NodeJS development agency headquartered in Poland, with offices in the US, UK, and Germany. Merixstudio has a 22-year-long history and a great team of over 250 specialists, including business analysts, DevOps engineers, product designers, and software architects, meaning you can entrust them with the end-to-end development of your solution. 
Merixstudio has established expertise in delivering high-quality, top-performance web applications, with 40% of their past projects built on NodeJS. 
Industry-wise, their team has unrivalled experience in Financial Services, Gambling, Education, and Healthcare.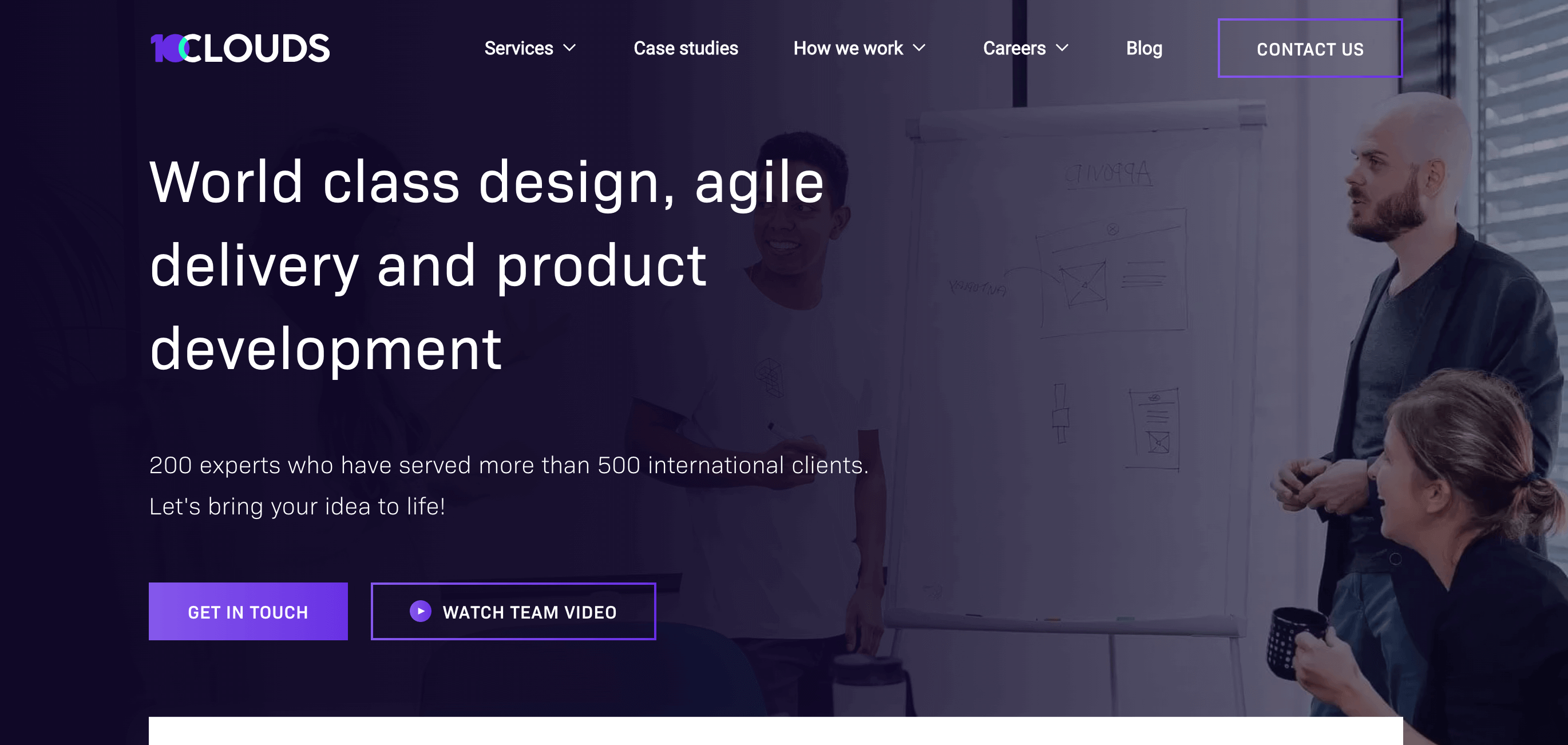 10Clouds is a Warsaw-based software development company that's been in business since 2009. They have provided digital services for over 100 clients in the US, Canada, Western Europe, and Australia. 
NodeJS projects account for around half of their past web application development work. They have 16 NodeJS developers on board who can boast extensive expertise in creating web solutions for the Financial Services, Business Services, Education, and Medical industries. 
Last but not least, the team at 10Clouds has mostly worked with enterprises and middle-market businesses, so if you're one of these, they might be your way to go.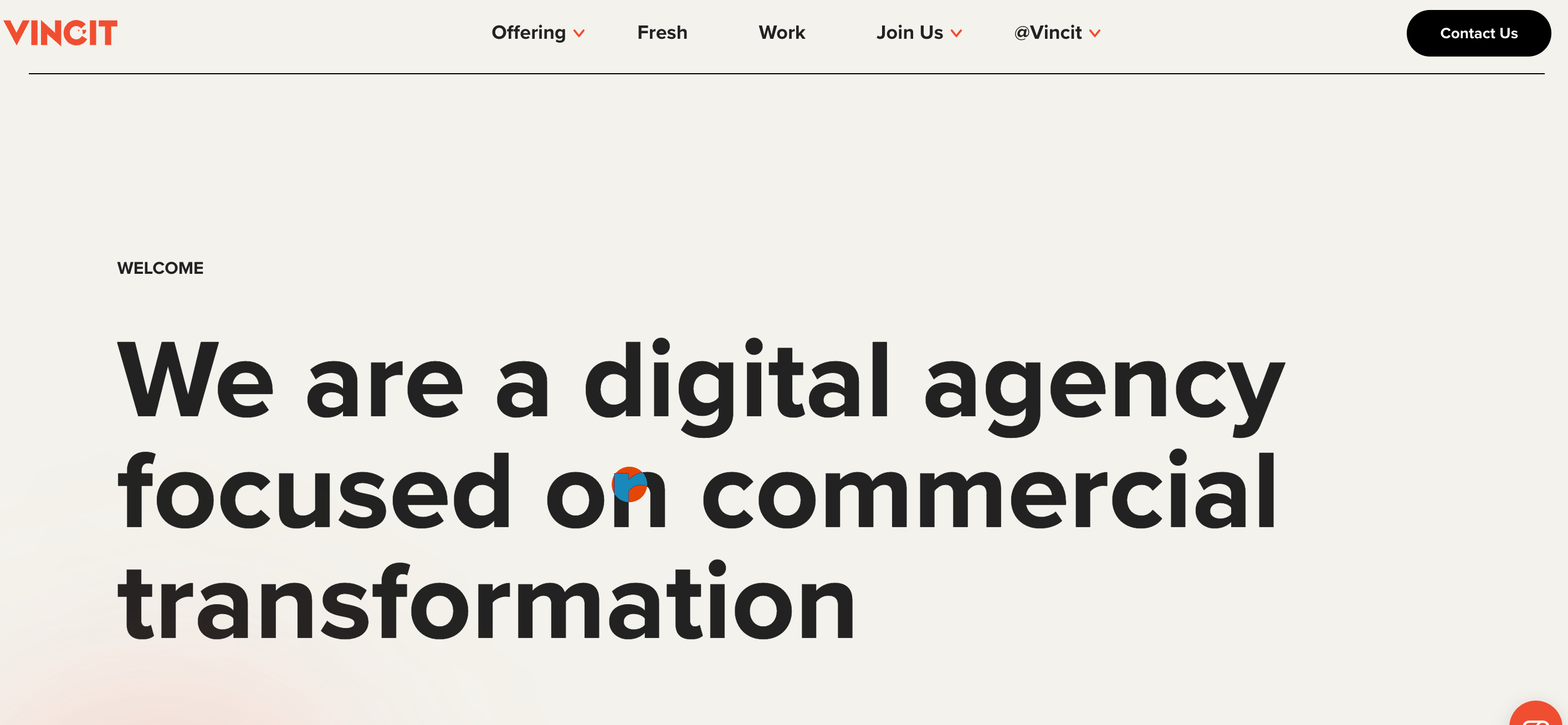 If experience matters to you, you might want to choose Vincit as your NodeJS website development partner. 
Founded back in 2007 and headquartered in Finland and the US, Vincit has sixteen offices around the globe to date. Their notable clients include Logitech, Nokia, and The New York Times. 
The team at Vincit has already completed over 700 projects, with eCommerce and Business Services projects dominating their portfolio.
What we really adore about Vincit is that besides delivering high-grade NodeJS web development services, they strongly focus on sustainability, creating user-centric digital solutions that address global challenges and have a long lifespan.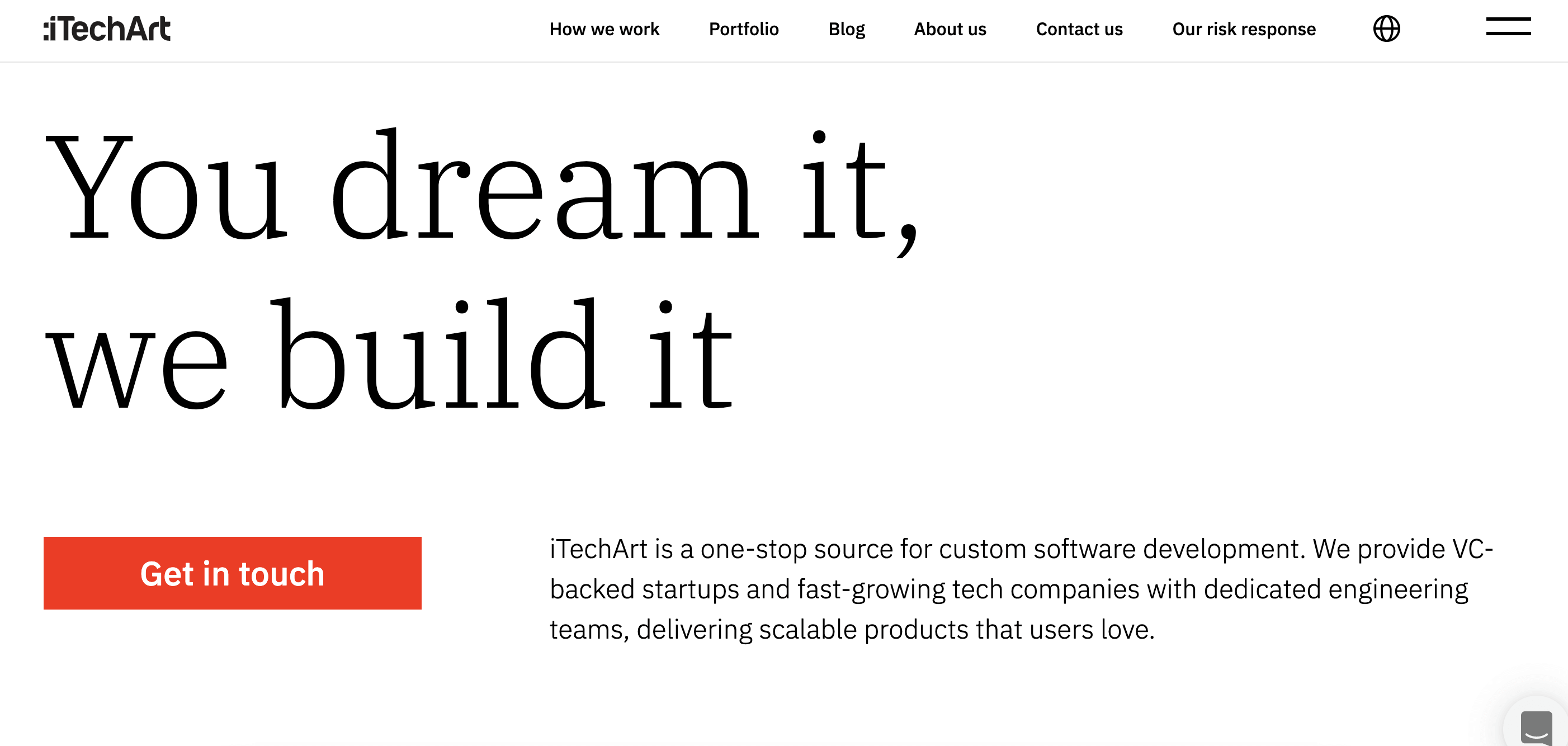 Founded in 2002 and headquartered in New York, iTechArt Group has a whopping 3,500 developers on board (with 70% seniors!), including the top NodeJS developers. 
Their main business domains include Nonprofits, Retail, Education, Healthcare, Financial Services, and Gaming. Most of their clients are enterprises and midmarket businesses. 
 iTechArt Group has a robust culture with inclusion, volunteering, and charity as its core values.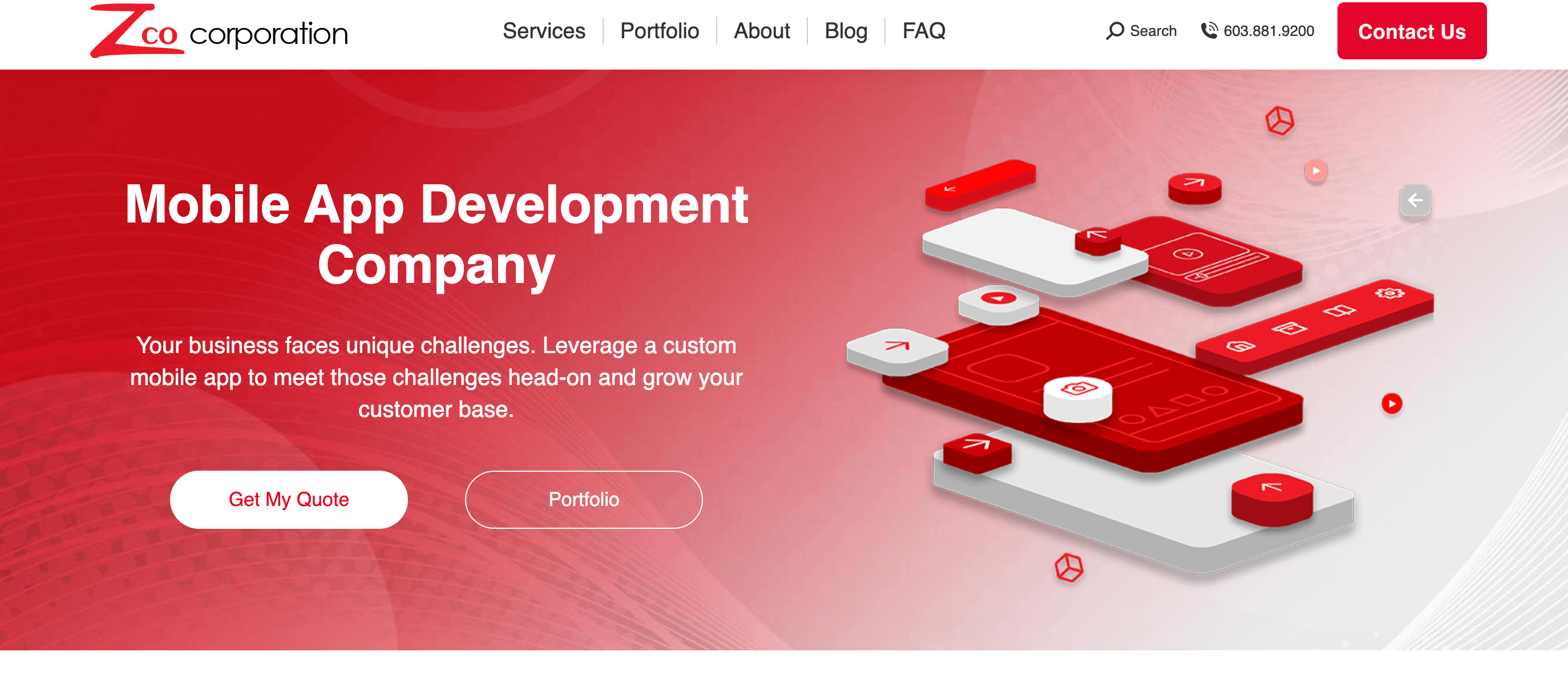 Meet genuine software development veterans — the US-based Zco Corporation. With offices in New York, Boston, and Nashua and over 250 in-house experts, Zco Corporation is an industry leader in custom software development that has been in the market for over 30 years. 
According to Zco, one of their most important values is the relationship with their clients, so they will work closely with you to bring your vision to life. 
They serve both enterprises and SMBs. Big names such as Volkswagen, Microsoft, Harvard University, BBC America, Keystone Automotive, and Samsung are among their clients. 
A quarter of web-based apps they've created are based on NodeJS, so if you're looking for top-notch NodeJS developers with a solid background and history, Zco might be your perfect partner.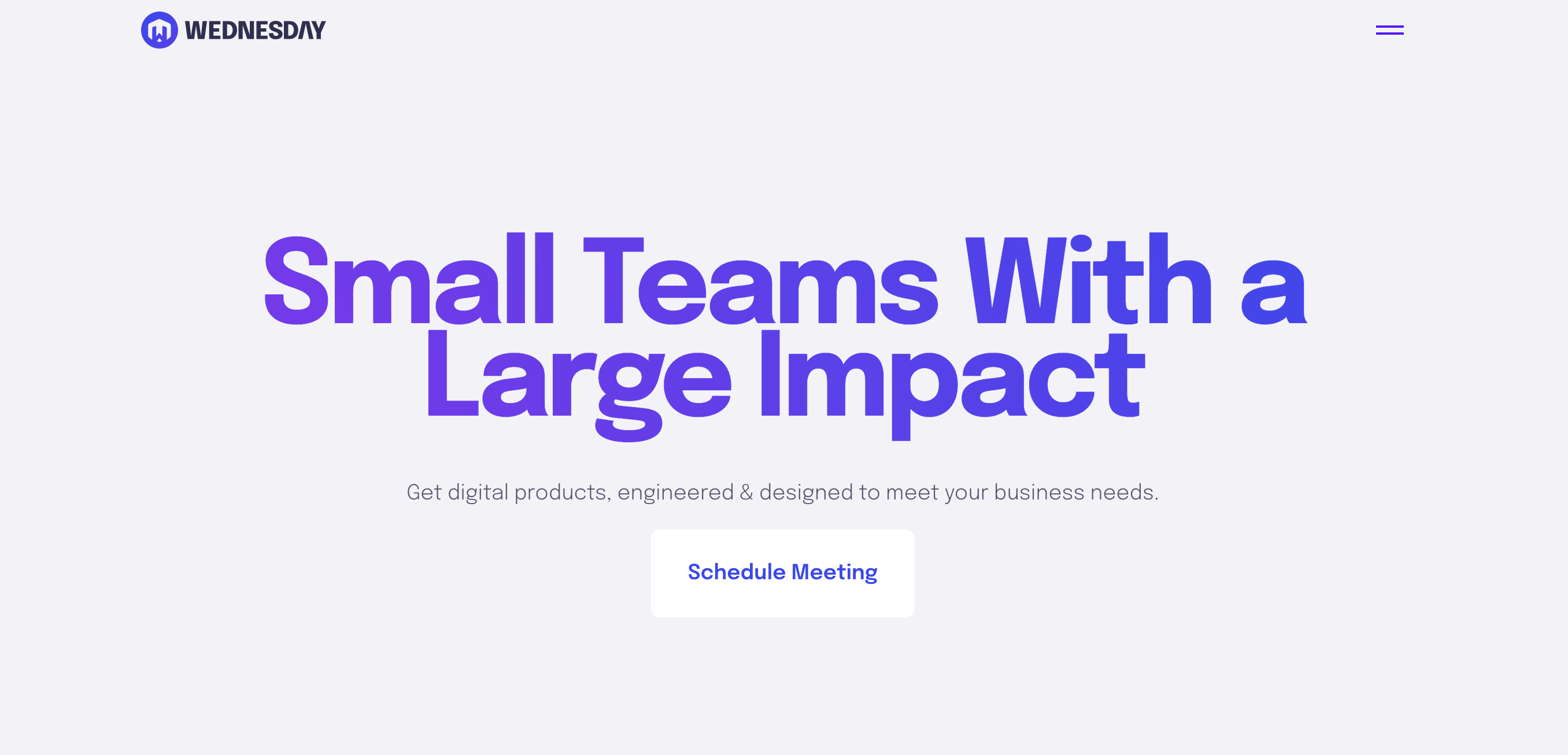 If you want to hire NodeJS developers in Asia, consider partnering with Wednesday Solutions. 
Founded in 2019 in Pune, India, the company focuses on cloud migrations and data engineering as well as mobile app and web development. NodeJS is dominating Wednesday Solutions' past web development projects. 
Most of their past clients are midmarket and small businesses, however, they have worked with enterprises as well. 
From the industry perspective, the team at Wednesday Solutions has extensive experience working with Information Technology, Financial Services, and Medical projects.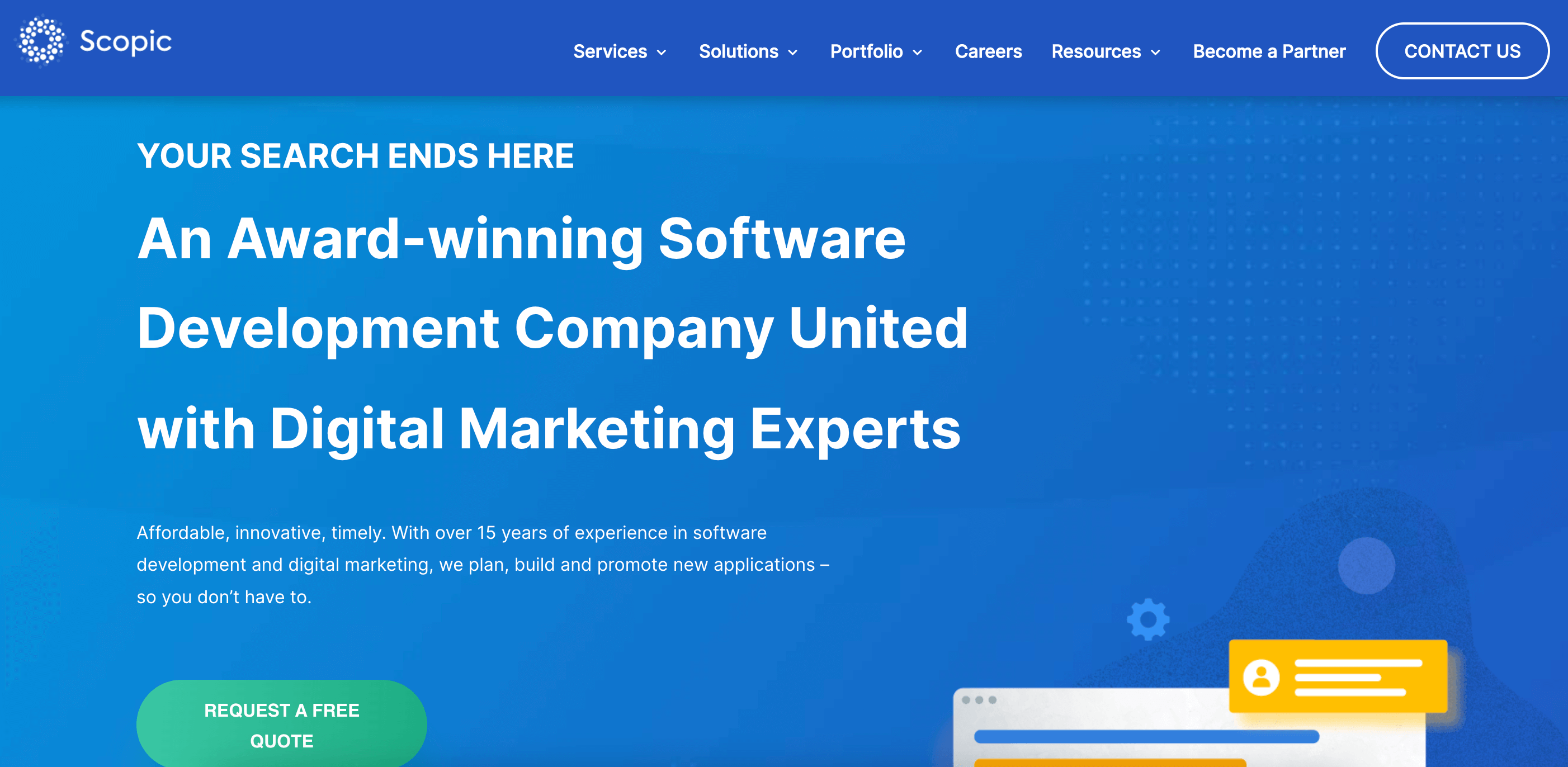 Looking for an experienced NodeJS partner to help you with a medical or fitness solution? Consider Scopic. 
Founded in 2006 and based in Rutland, Massachusetts, Scopic is an experienced NodeJS development company that works with Trading, Finance, Education, Music & Entertainment, Manufacturing, and other industries. However, their primary focus is Healthcare and Fitness, which account for 45% of their past projects. 
According to Scopic, their work ethics is defined by collaboration, communication, and integrity. Their team has already completed over a thousand projects from clients from all over the world.
Conclusion
NodeJS website development ensures quicker time-to-market, impressive scalability, and solid back-end, making it a popular choice for building high-performing web solutions.
Still, the ultimate success of any project depends on the vendor you choose. Hopefully, our list of the best NodeJS development companies will help you make the right choice.
If you want to add your company to this list, contact us by email, and after a thorough review, we'll decide whether it's a valuable addition.