Are you looking for the best way to create a winning resume to help you land your dream job? 
Look no further! We've compiled a list of the top 10 resume builder websites to help you create a polished, professional resume that will stand out from the competition and make you candidate #1. 
The listed websites offer exclusive templates, design tools, and resume examples. 
But first, why use resume builder websites over making a resume from scratch?
Why Use Resume Builder Websites?
Having a well-crafted resume is essential to getting your dream job. A resume gives potential employers a quick overview of your skills, experiences, and qualifications. An impressive resume can be the difference between landing your dream job or settling for something less.
A resume builder website is an easy and efficient way to craft the perfect resume for your job search. These websites have templates that allow you to fill in your own information and customize it to meet your needs. This makes it easier to create a resume quickly and easily without worrying about formatting or design.
Additionally, most resume builder websites provide advice on writing an effective resume that stands out from the rest. This can be incredibly helpful if you are not sure where to start or how to make the most of your skills and experiences.
Here are more reasons to use resume builder websites:
Time savings:

Using a resume builder website is much faster than creating a resume from scratch. You must input your personal information and skills, and the website automatically generates a professional-looking resume. This can save you time searching for jobs, eliminating the need to create a resume manually. 

Easy to use:

Resume builder websites are designed with the user in mind, making them very easy to use. The user interface is simple, and you must fill out basic information about yourself, such as your work history, educational background, and skills. 

Professional layout:

Resume builder websites ensure that your resume looks professional and clean. You don't have to worry about formatting or design because they already have templates you can choose from. Thus, employers are more likely to take notice of your resume. 

Customization options:

With resume builder websites, you can customize the look and feel of your resume to make it unique. You can change fonts, colors, and add sections to highlight certain skills or experiences. You can also add images or links to showcase your work. 

Cost-effectiveness:

Using a resume builder website is cost-effective compared to hiring a professional resume writer or designer. Most websites offer free basic plans and additional features at a premium price. 

Free advice

: Many resume builder websites also share advice on how to create a great resume. They provide tips on things like formatting, keywords, and content that can make your resume stand out from the competition.
Overall, a resume builder website can save you time and help you create a professional-looking resume highlighting your skills and qualifications. This can increase your chances of getting the job you want and help you take control of your career.
The Best Resume Builder Websites To Boost Your Career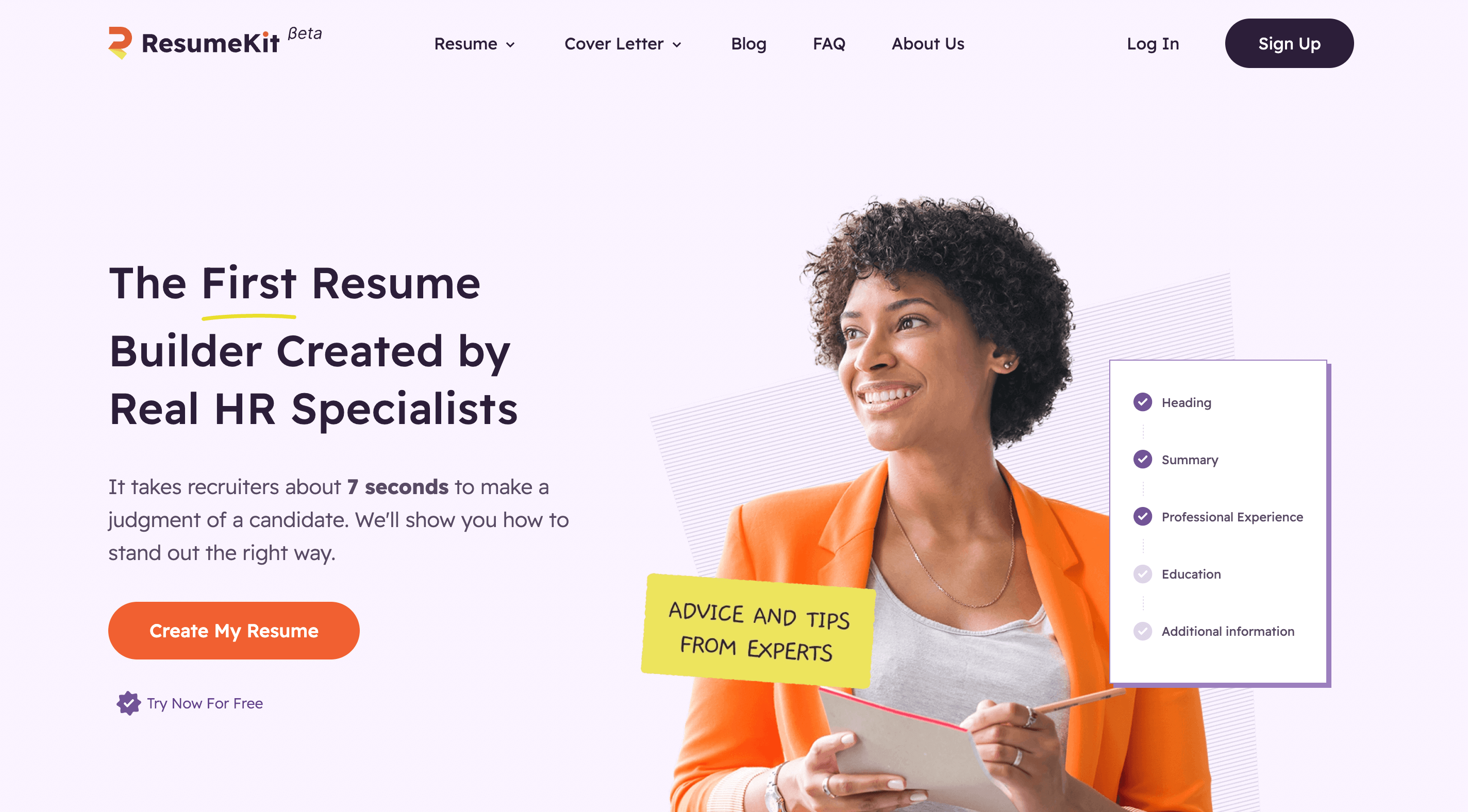 ResumeKit is a great choice for those looking for an easy-to-use professional resume builder. With ResumeKit, you can quickly create a modern resume that looks great with just a few clicks. It allows you to customize your resume to fit your specific job needs, and you can import existing resumes into Resumekit. 
Once you have created the perfect resume, you can easily share it online or export it in various formats. The platform offers helpful tips and tutorials on resume best practices and how to make your resume stand out from the competition. 
Overall, Resumekit is an excellent option for those who want an easy and efficient way to create a great resume. Its sleek design and intuitive interface make generating a resume fast and painless.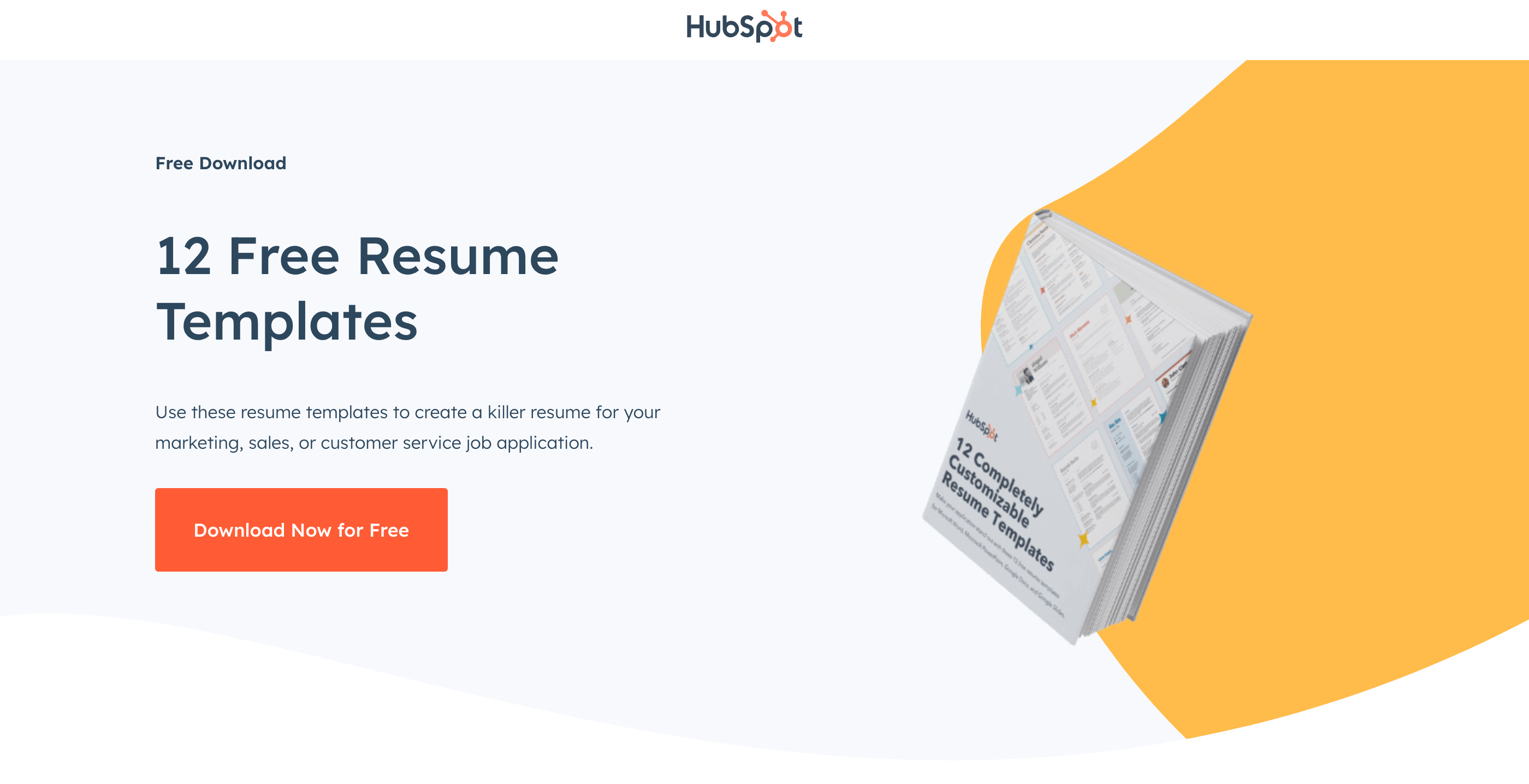 HubSpot is one of the top resume-builder websites for job seekers. The website allows you to create and customize a professional-looking resume with pre-filled content easily. All you need to do is fill in your personal details and experience; the templates will do the rest. HubSpot also offers helpful tips to ensure your resume stands out from the competition. 
The platform provides over 40 professionally designed templates optimized for ATS (applicant tracking systems) and human recruiters. With HubSpot's comprehensive editing tools, you can quickly customize fonts, colors, and layouts with just a few clicks. 
Once you've completed your resume, you can export it in PDF, HTML, or Word. You can also add your resume to a personalized portfolio, making it easy to share with potential employers. 
HubSpot makes resume building easier than ever before. With its intuitive design and robust features, you can create a polished resume in no time. Plus, with its wide selection of templates, you can be sure that your resume is as unique as you are. 
If you want more control over how your resume looks, you can use the advanced design tools on the website to adjust things like background color, font size, and border radius.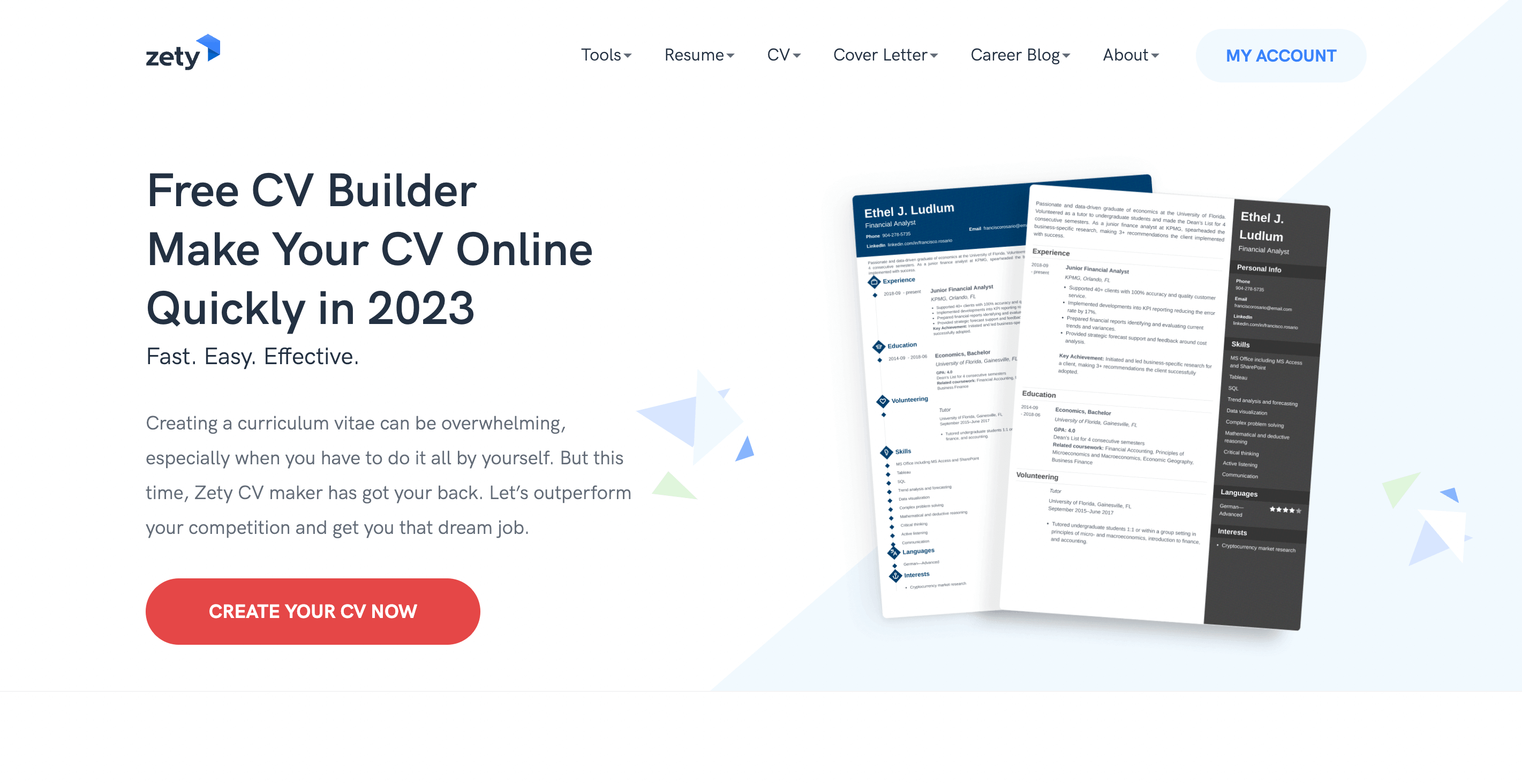 Zety is an online resume builder that allows you to create an effective and professional resume quickly and easily. 
The platform offers a range of pre-made templates, from basic to more modern layouts. The drag-and-drop interface makes it easy to customize your resume and add information, such as your work experience, education, skills, and achievements. It also has an impressive selection of fonts to choose from and an array of colors for a more eye-catching design. 
This resume builder offers additional features, such as live feedback, which provides immediate tips and advice on how to make your resume even better. It also includes analytics, giving you a detailed look at how your resume performs in job applications, so you can make the necessary improvements and increase your chances of success. 
With its intuitive design, range of features, and attractive designs, Zety is a great choice for job seekers who quickly need an effective and professional resume. Additionally, Zety's customer support team are always on hand to answer any questions or concerns you may have about creating a winning resume.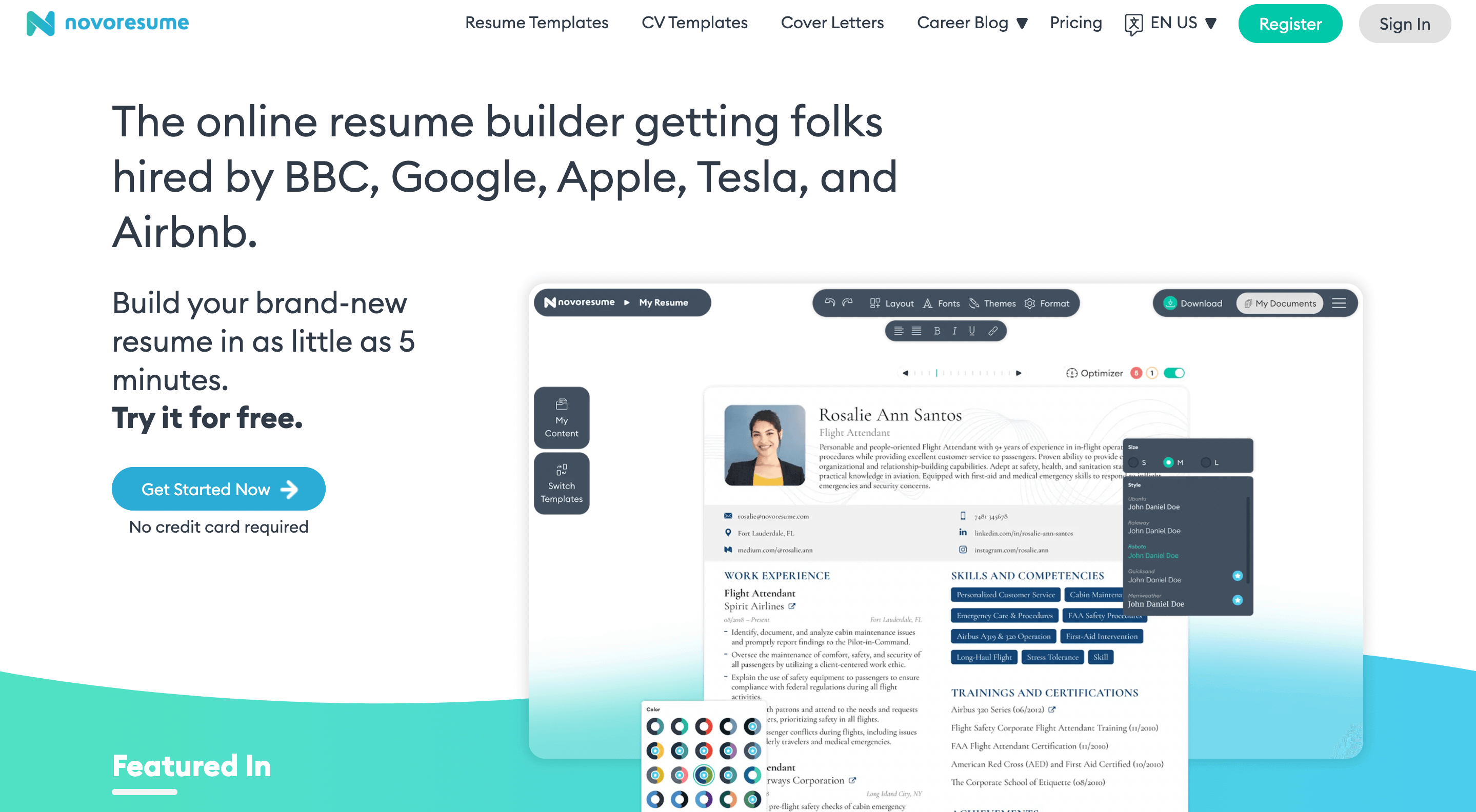 Novoresume is a top resume builder website that helps you create an impactful resume quickly and easily. With its intuitive interface and modern design, Novoresume is an excellent choice for those who want to stand out from the crowd. 
Novoresume offers a wide range of templates to choose from, so you can pick the one that best fits your style and personality. You can customize the font, colors, and other design elements to create a unique resume. Furthermore, it allows you to upload your document or use its Resume Builder to create a customized resume in minutes. 
The website offers numerous features such as portfolio creation, expert tips, personalized advice, and more. Also, it allows you to use your resume to practice your job interviews in real-time and prepare the best answer for that "sell me this pen" question. This will help you to feel more confident and prepared for any job interview. 
Novoresume's AI-driven algorithms will analyze your resume and provide personalized feedback on how to improve it. With all these features combined, it's no wonder why Novoresume is one of the top resume-builder websites today.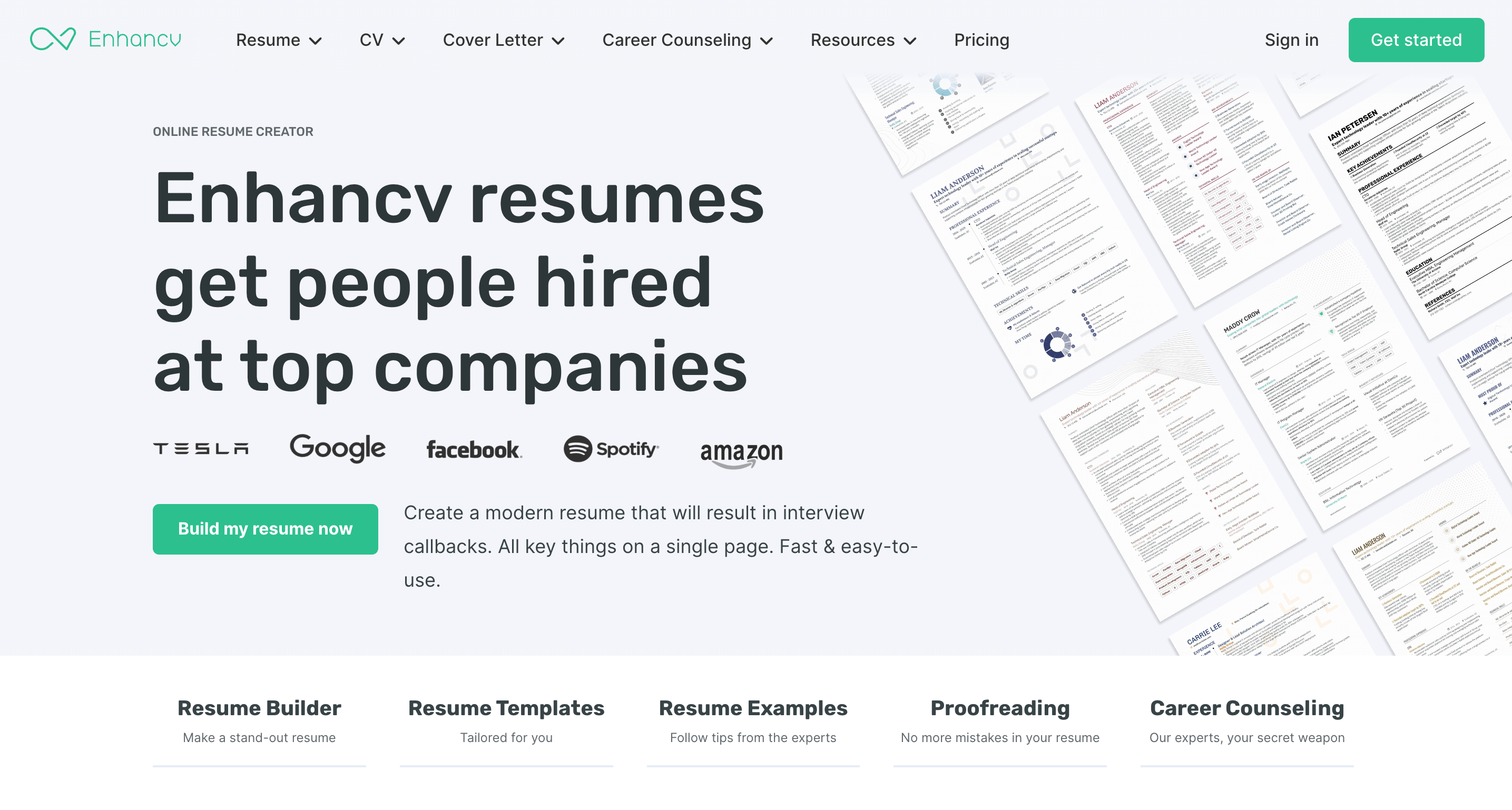 Enhancv is an online resume builder that helps you create professional resumes in minutes. Their easy-to-use drag-and-drop editor makes it simple to create stunning resumes quickly. 
With Enhancv, you can choose from different templates and customize the look and feel of your resume with colors and fonts to create a unique style that will stand out to employers. 
This resume builder website offers free cover letter templates so you can get noticed by hiring managers even faster. It has plenty of options to personalize your resume and tailor it to each job application you make. Plus, their resumes are optimized for ATS systems, so you can be sure your resume will pass through the automated screening process. 
Enhancv provides an impressive analytics feature that tracks how your resume performs when you apply for jobs. This valuable data can help you see which sections of your resume work for you and which need improvement.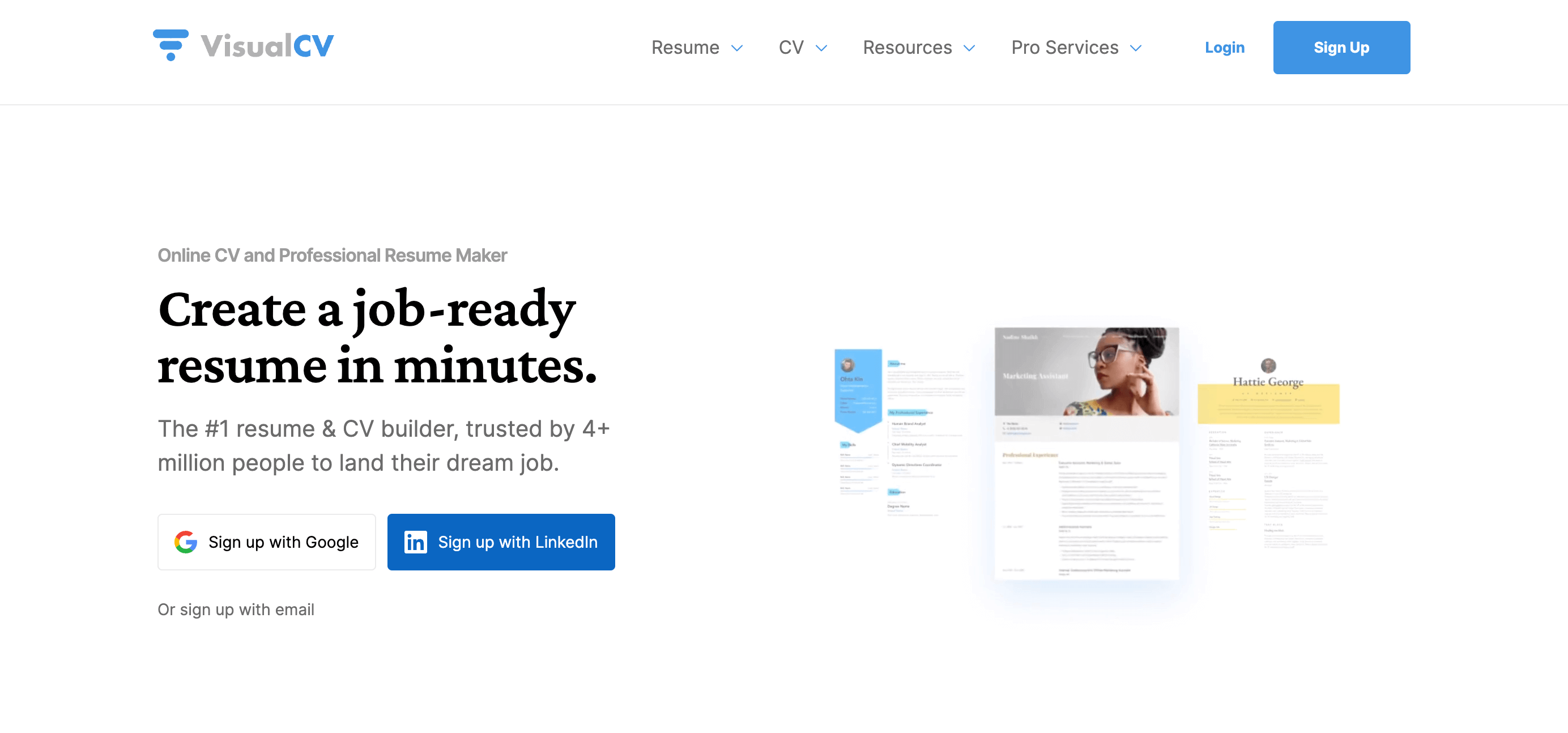 VisualCV is one of the best resume builder websites that helps job seekers create beautiful, interactive resumes and portfolios with ease. 
The platform features an array of professional templates that can be customized to your needs. You can easily edit your profile information and add multimedia content such as images, videos, and audio files. 
With the Premium Plan, users can access extra features such as one-on-one resume advice from professional coaches and priority customer support. 
If you're looking for a user-friendly resume builder with a modern edge, VisualCV may be the perfect choice for you. It offers stylish designs and helpful tools and is also compatible with LinkedIn, so you can quickly sync your profile info and even import previous jobs directly into your CV. 
Additionally, it's great for social media enthusiasts because it allows you to integrate links to your Twitter, Facebook, or Instagram accounts. And there's no limit on the number of documents or graphics you can include in your CV.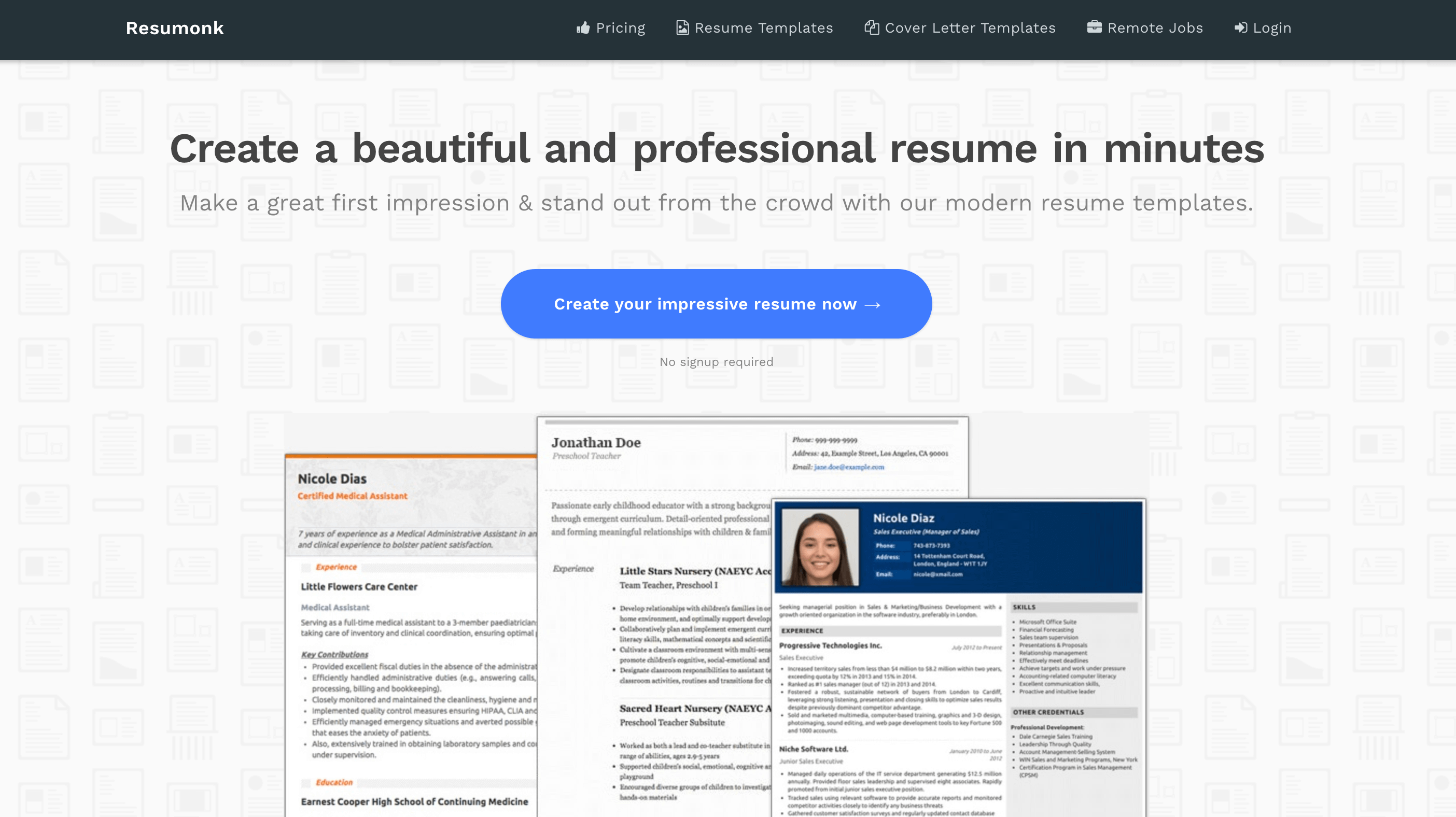 Resumonk is an online resume builder that helps you create a professional, well-formatted resume in minutes. It offers a wide range of templates that can be used to customize your resume and make it look unique. 
The platform also allows users to customize the font, color, and text size per their preference. You can also choose from pre-made styles or start from scratch and build your own custom style. 
Resumonk also ensures you can showcase your best skills, strengths, and accomplishments in the most effective way. With its drag-and-drop editor, creating a visually appealing resume has never been easier. 
The best part is that you don't have to be tech-savvy to use the platform, as it offers an intuitive and user-friendly interface. This makes it ideal for everyone, regardless of skill level or experience with technology. Moreover, after completion, the resume can be easily saved in PDF format for easy sharing. 
Another great feature offered by Resumonk is automated language support, which ensures flawless translations when creating multilingual resumes. And if that wasn't enough, they offer a comprehensive library of expertly written articles, giving tips and advice on improving your CV. This feature makes it perfect for beginners who might not be confident writing a great CV.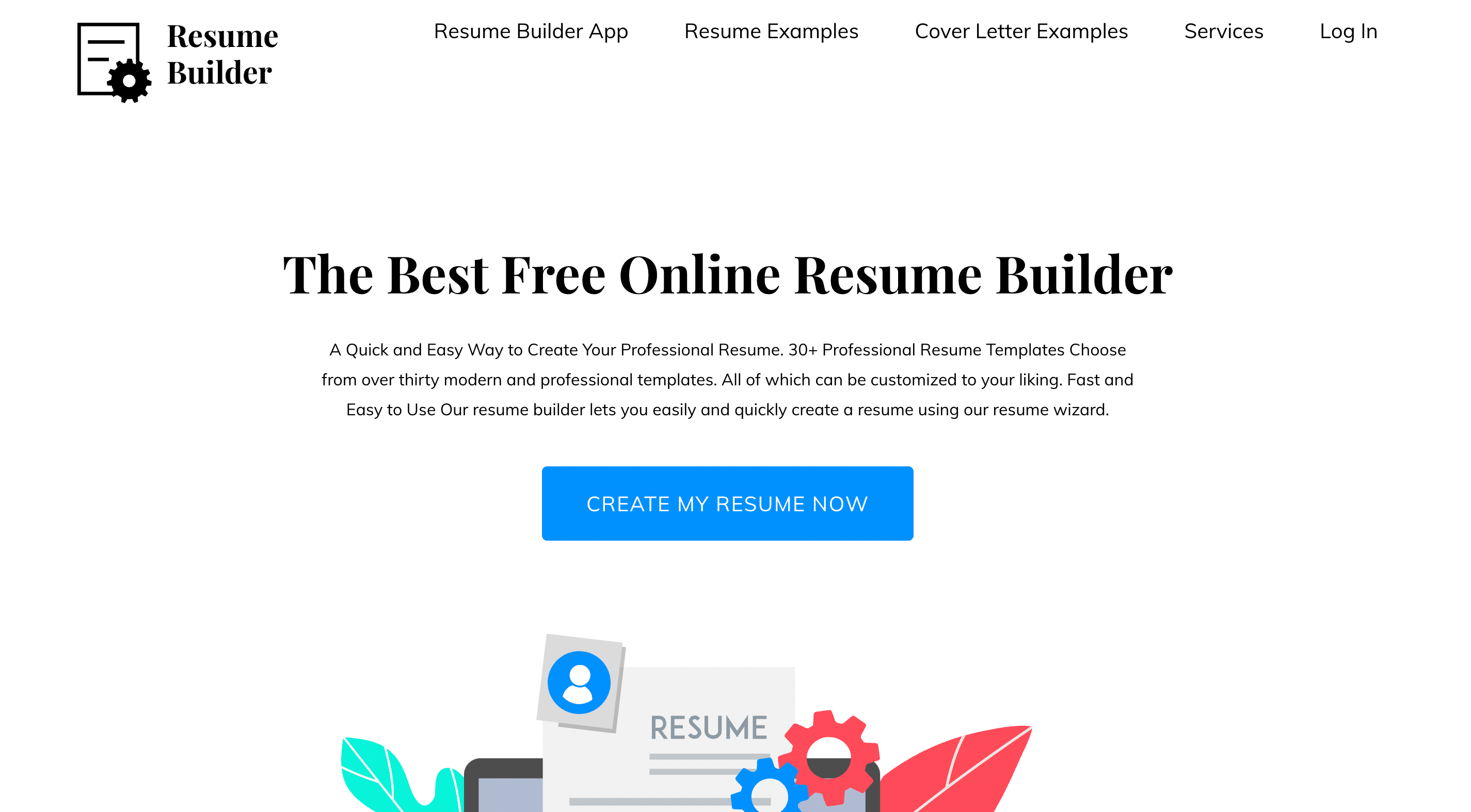 ResumeBuilder is one of the best tools for job seekers looking to create an outstanding resume that will make them stand out from the competition. This online platform offers free and premium templates to choose from and can help you craft an effective resume that captures the attention of employers. 
The platform also provides tips for tailoring your resume for specific positions, helping you highlight the skills and experiences most relevant to the role. Users can access features such as real-time resume checks and a database of job descriptions to help them craft a unique and engaging document that accurately reflects their experience and qualifications. 
ResumeBuilder also provides the ability to easily update your resume, making it easy to stay current and competitive. With various tools and features, ResumeBuilder is an excellent choice for those looking to build an effective resume quickly and efficiently.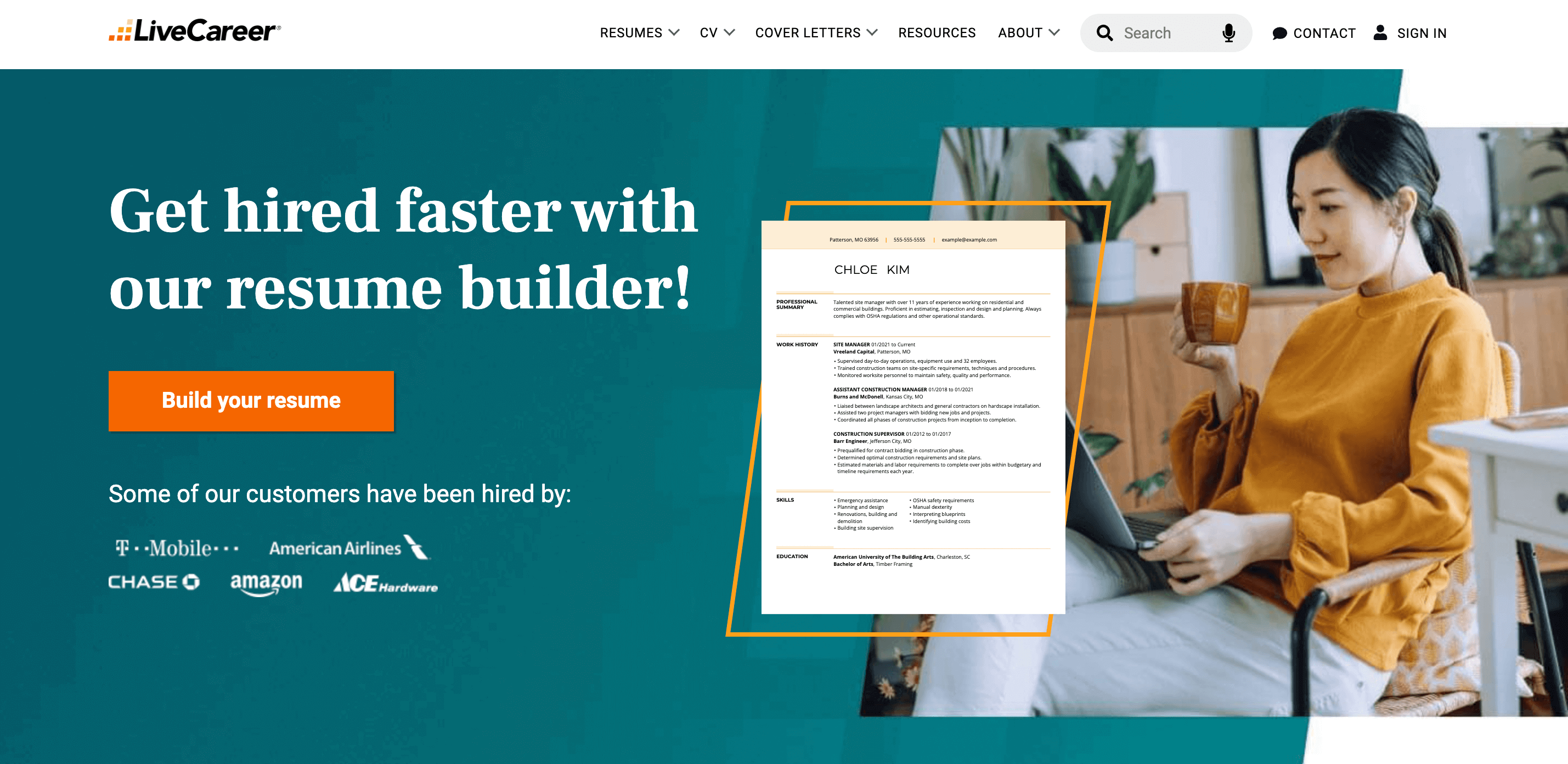 LiveCareer is a resume builder website that offers a variety of tools and resources to help you create a stunning resume. It provides thousands of industry-specific templates and helpful tips to make your resume stand out from the competition. You can select from a range of pre-written text or use the online editor to customize your resume. 
The website also includes job search and career advice so you can stay informed and up-to-date with the latest trends in the industry. With LiveCareer, you can also quickly apply for jobs directly from their website. Their services also include an ATS Optimization Checker that helps optimize your resume for applicant tracking systems (ATS) used by most employers today. Once you're done creating your professional resume, you can download it as a PDF file for free.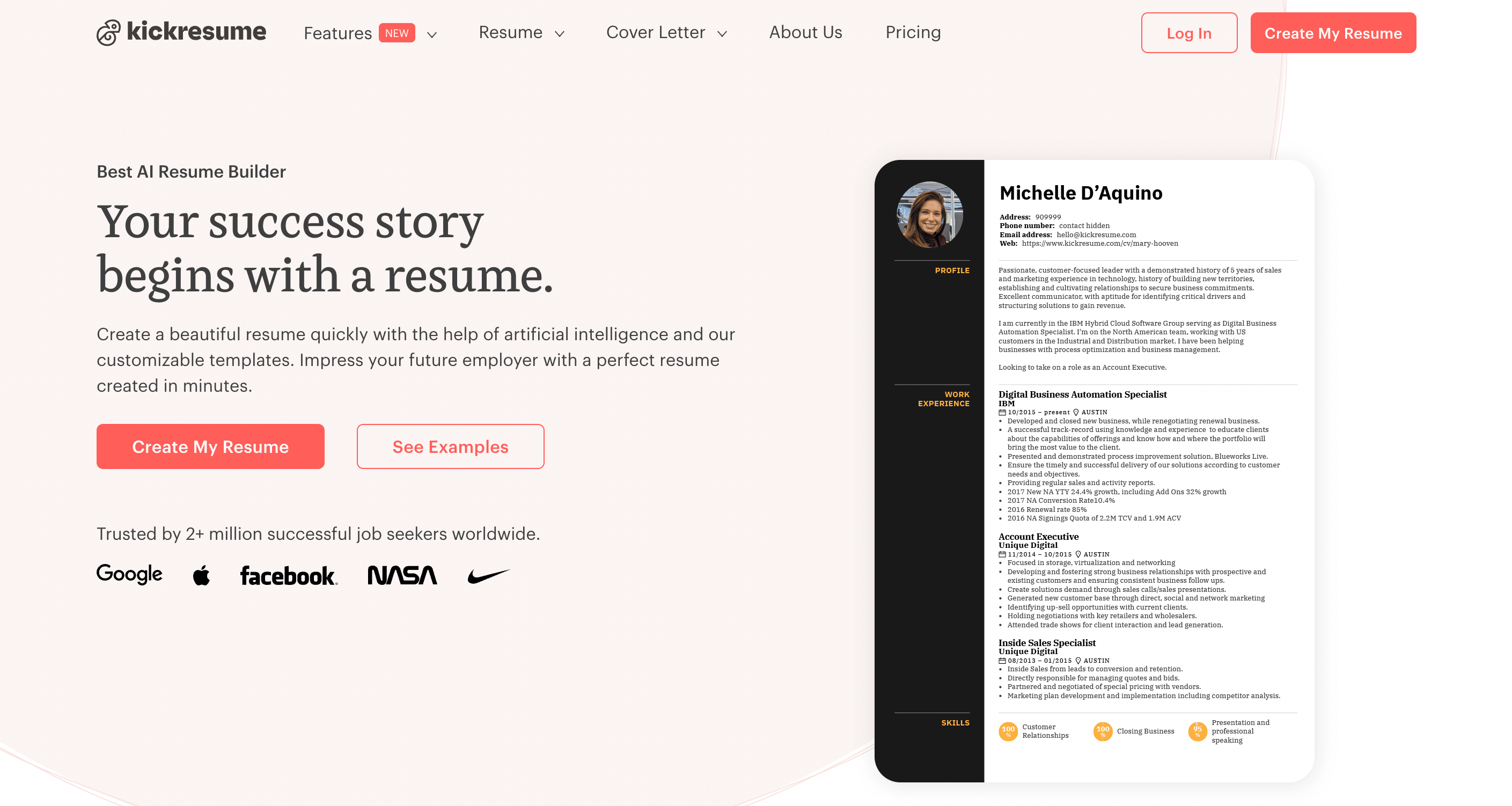 Kickresume is a great resume builder website that offers users various features and options. This easy-to-use platform helps you create a professional resume in just a few minutes. You have the choice to customize the look of your resume and add sections for additional information about yourself. You can also add an online portfolio, track applications and even print your resumes.
The standout feature of Kickresume is its "Smart Sections", which allows you to customize your resume in one click by automatically filling in the most relevant information for each job you are applying for. It also has a feature that allows you to create multiple versions of your resume for different jobs. 
You can also get help from a professional resume writer to help you craft the perfect resume. All you need to do is select the "Let's Get Started" option, and you can be on your way to getting the help you need to land your dream job.
Helpful Tips For Using Resume Builder Sites
Building the perfect resume is essential if you want to land your dream job. And with the plethora of resume builder websites out there, it's easy to create an impressive resume that will make you stand out from the competition.
However, as with anything else, there are a few tips and tricks to help you get the most out of these resume builders. 
Here are some tips for using resume builder sites:
Choose the right resume builder:

Not all resume builders are created equal, so make sure you choose one suitable for the job you're applying for. Each one offers different features, so do your research and select the right one.

Make your resume stand out:

Use fonts and design elements to make your resume stand out from the competition. Play around with different fonts, colors, and layouts to create an eye-catching resume that will make employers take notice.

Stay organized:

Keep your resume organized by using sections and bullet points. This makes it easier for employers to find the information they're looking for and will increase the chances of them taking an interest in your profile.

Check for mistakes

: Once you've finished creating your resume, double-check for any spelling or grammar mistakes before submitting it. These little errors can be easily overlooked but can cost you the job if they go unnoticed.

Update regularly:

As you gain more experience, update your resume regularly. This shows potential employers that you're committed to learning and developing your skills and abilities, which can set you apart from other candidates. 

Follow the employer's guidelines

: Before submitting your resume, always read the employer's instructions to ensure your resume meets their requirements. If an employer asks for a certain format or font size, follow those instructions and don't deviate.

Tailor your resume:

Whenever possible, tailor your resume to match the position you're applying for. Highlight experiences and qualifications that are applicable to the position and emphasize skills related to the industry.

Save several copies

: Save several versions of your resume in both Word and PDF formats. This allows you to send different versions to prospective employers, depending on their specific requirements.

Get feedback

: Ask someone you trust to review your resume and provide feedback. A second opinion can provide valuable insight into your resume's effectiveness and areas that need improvement.
Following these simple tips will help ensure that you create an impressive resume that catches employers' attention. With the right approach, you'll be on your way to landing that dream job!
Conclusion
Finding the right resume builder website for you is essential to creating a standout resume and landing your dream job. With so many options available, it can be overwhelming to choose the best one. 
However, the listed resume builder websites are the top options that will give you the most bang for your buck. Whether you're looking for a basic or an advanced resume, these websites have you covered. 
Take some time to compare and contrast the features of each resume builder website to see which one works best for your needs. With the right tool, you'll be able to create a powerful and effective resume that will help you get noticed by employers and ultimately land that job you've always wanted. 
If you want to add your resume builder website to this list, send us an email with your product's details. After a thorough review, we'll decide whether it's a valuable addition.