The demand for Amazon Web Services (AWS) has drastically increased lately as more and more businesses strive to leverage the benefits of cloud computing. 
According to the industry report, AWS is the market leader and holds about 32% of the cloud infrastructure services market. 
Adopting Amazon Web Services can be challenging when you don't possess the necessary expertise and tools. Therefore finding reliable AWS cloud partners who'll provide your business with professional guidance and support to transform your IT infrastructure is a winning solution.
Thousands of IT companies worldwide have extensive experience working with AWS and offer comprehensive consulting services tailored to the needs of their clients. They assist organizations of all types and sizes with tasks ranging from cloud migration to cost optimization and security. 
In this post, we explore the top AWS consulting companies, overviewing their scope of services and what sets them apart from the competition. Whether you are a small business looking to leverage the power of Amazon Web Services or a large enterprise seeking to enhance your cloud infrastructure, these firms will help you to achieve your goals with the power of cloud technologies.
The Best AWS Consulting Companies For Efficient Cloud Transformation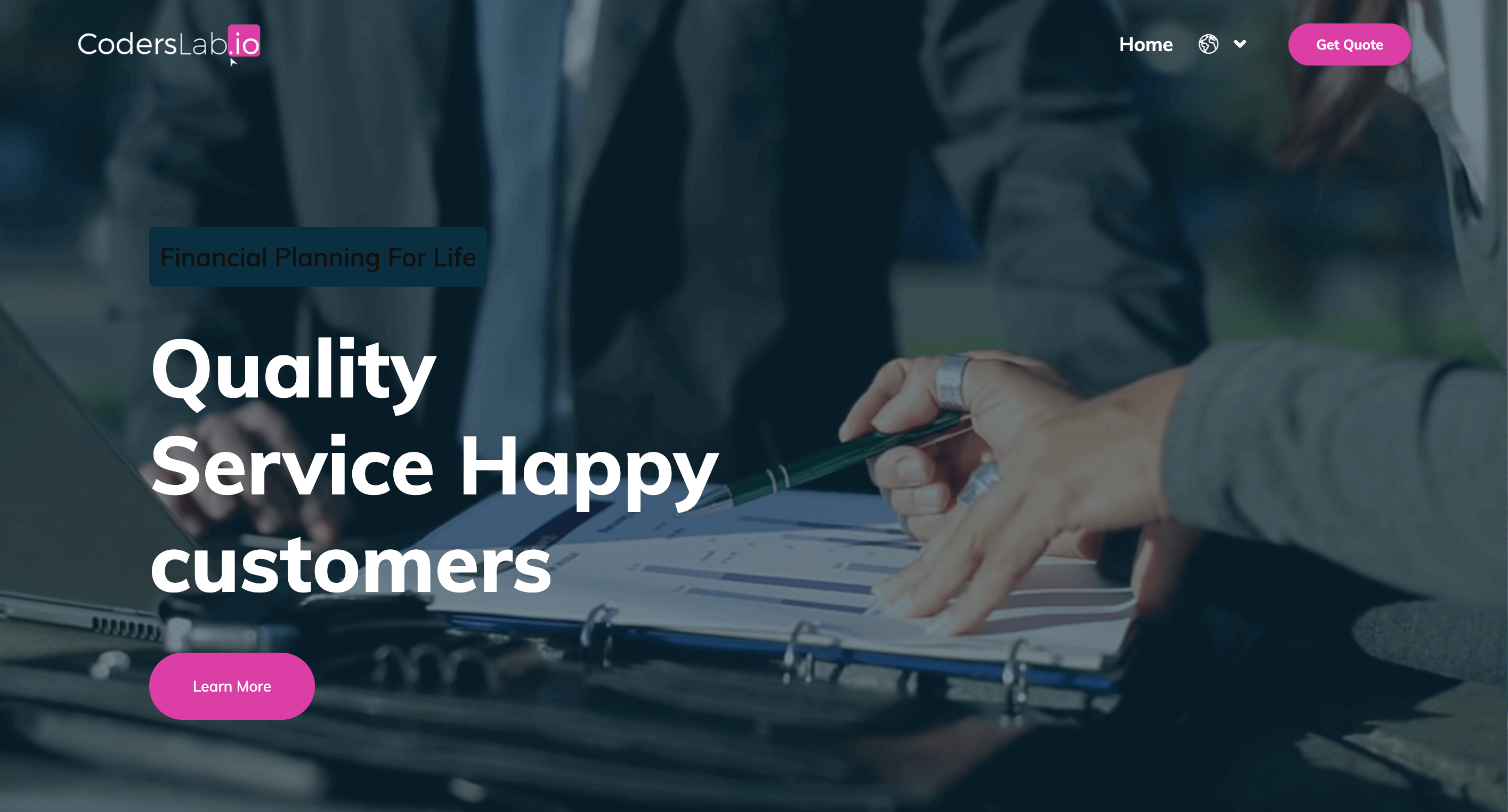 Founded in 2017, CodersLab is a leading AWS consulting company proficient in modernizing customers' applications, products, and technological development processes. Based in Las Condes, Chile, the company works with global businesses in emerging industries with a high need for digitalization, such as Banking, Retail, Logistics, and Automotive, helping them to prepare for the future by providing top-notch digital services designed for their specific requirements.
CodersLab provides full-service IT support for companies of all types and sizes, including Amazon Web Services consulting and implementation, MVP development, custom software development, IT staff augmentation, and UX/UI design. Their ultimate goal is to build engaging, easy-to-use, attractive, and functional end products aligning the team vision with your business goals.
CodersLab's commitment to excellence has earned them recognition from numerous industry leaders. Entrepreneurs and startup founders have voted the company a top IT firm on platforms such as Clutch, GoodFirms, UpFirms, Techreviwer, and others. With a team of highly skilled professionals, CodersLab has established a prominent reputation as a reliable AWS consulting and tech partner.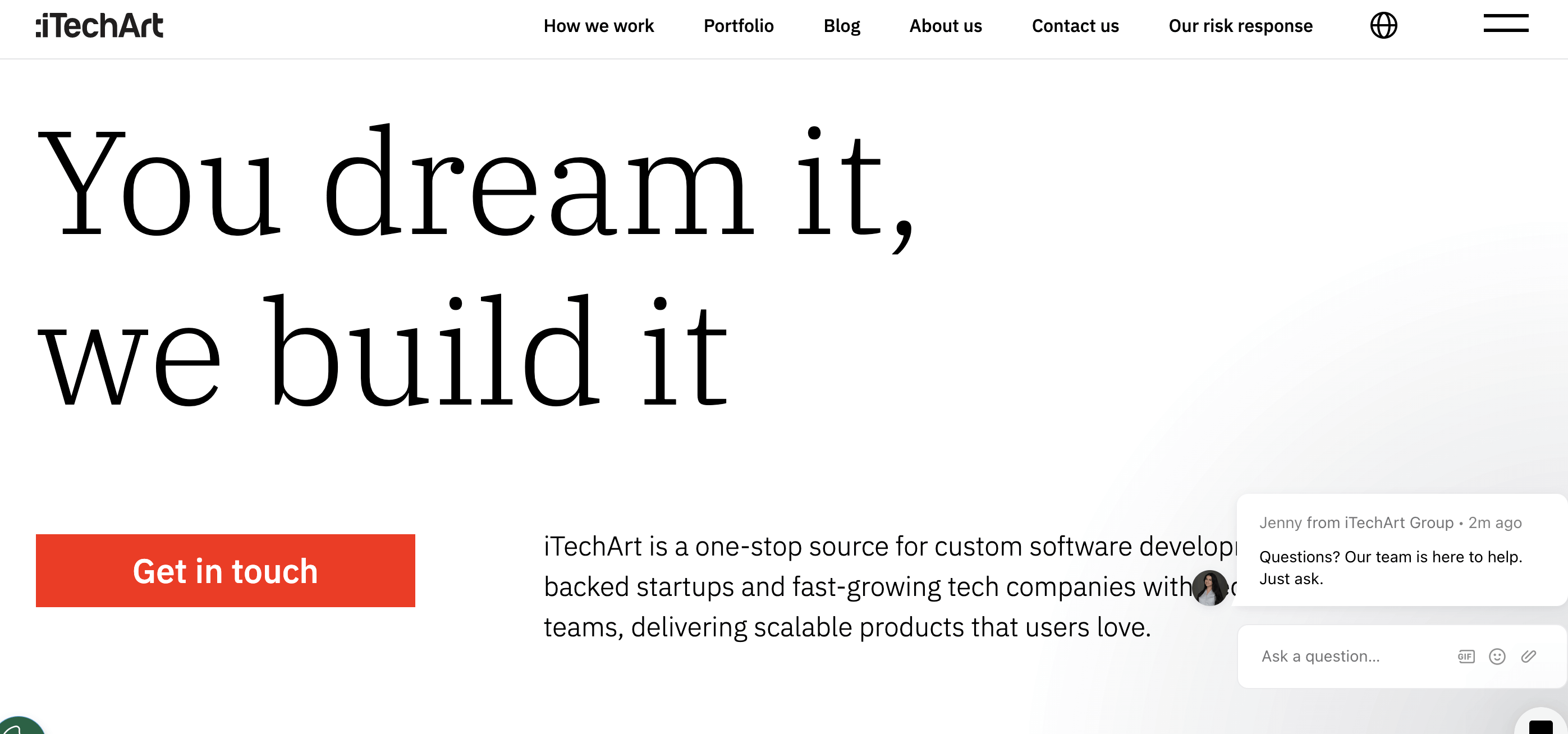 iTechArt is one of the fastest-growing tech companies based in the USA, which provides full-cycle web, mobile, and cloud development as well as UI/UX design, QA, and testing services. 3500 world-class engineers represent its expert team. The company has gained substantive expertise from working on diversified projects since 2002. 
iTechArt's certified AWS consultants take on all the challenges of your cloud transformation and help seamlessly migrate digital assets, resources, apps, and databases to the cloud. They determine which cloud strategies work perfectly for your business and solve complex issues with private, hybrid, public, or multicloud technologies. 
Whatever AWS consulting service is needed – iTechArt's extensive toolkit covers every area. They offer AWS cloud consulting services to optimize your cloud platform, Azure cloud consulting, and Google cloud platform consulting to maximize your business's efficiency.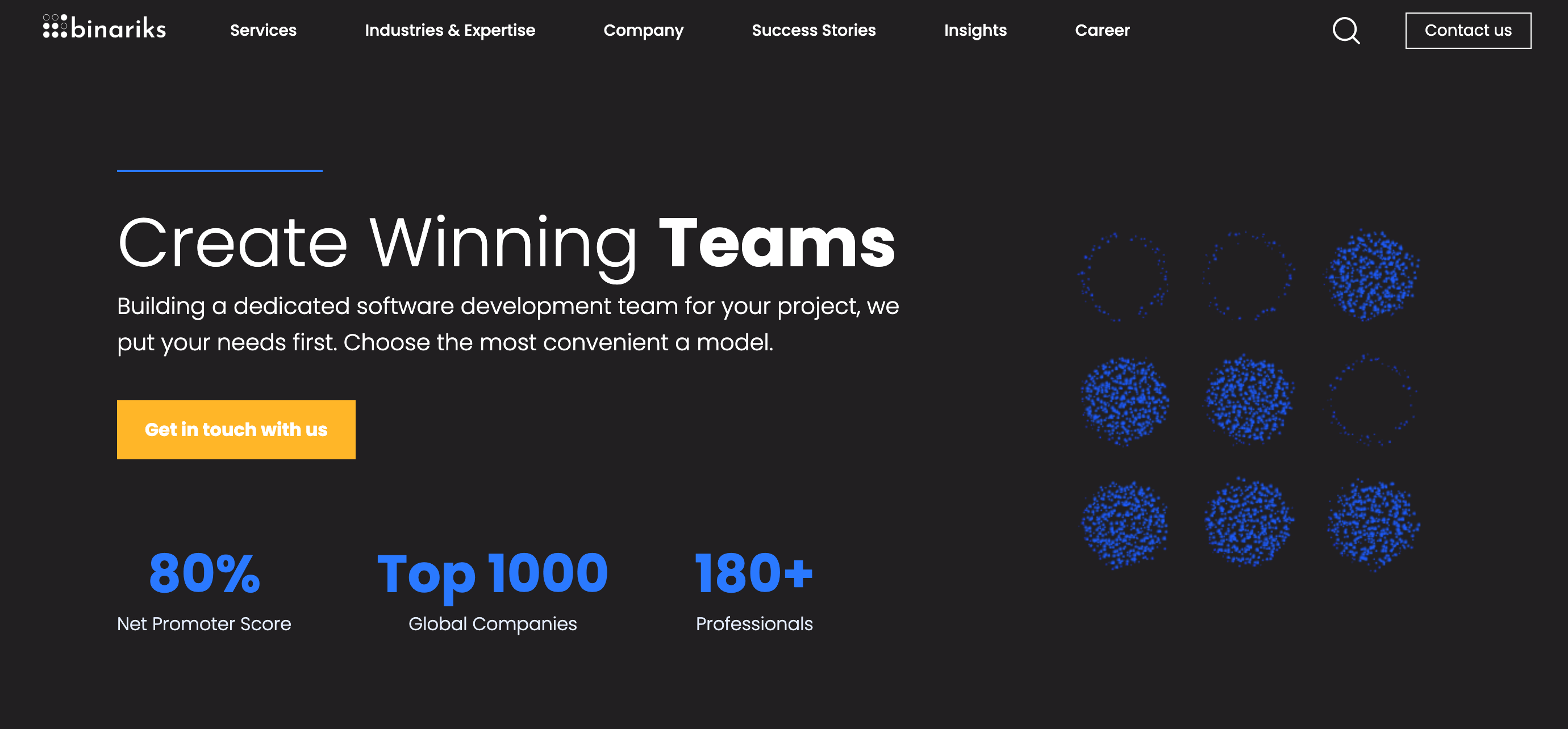 Partnering with AWS makes Binariks one of the best AWS cloud consulting services providers delivering outstanding tech solutions. Their top-level AWS consultants will assist you with effective migration to Amazon Web Services, configure serverless architecture, streamline the existing SDLC with best DevOps practices, and more. 
Binariks's AWS services include CI/CD pipelines, AWS frontend mobile app development, migration and transfer, consulting, architecture setup, and enterprise cloud solutions implemented using a huge AWS technology stack. 
The company focuses on working with Healthcare and Fintech clients and holds numerous prominent awards, such as AWS Select Consulting Partner, Google Cloud Partner, Gold Microsoft Partner, ISO 9001:2015, and ISO 27001:2013 security quality certificates.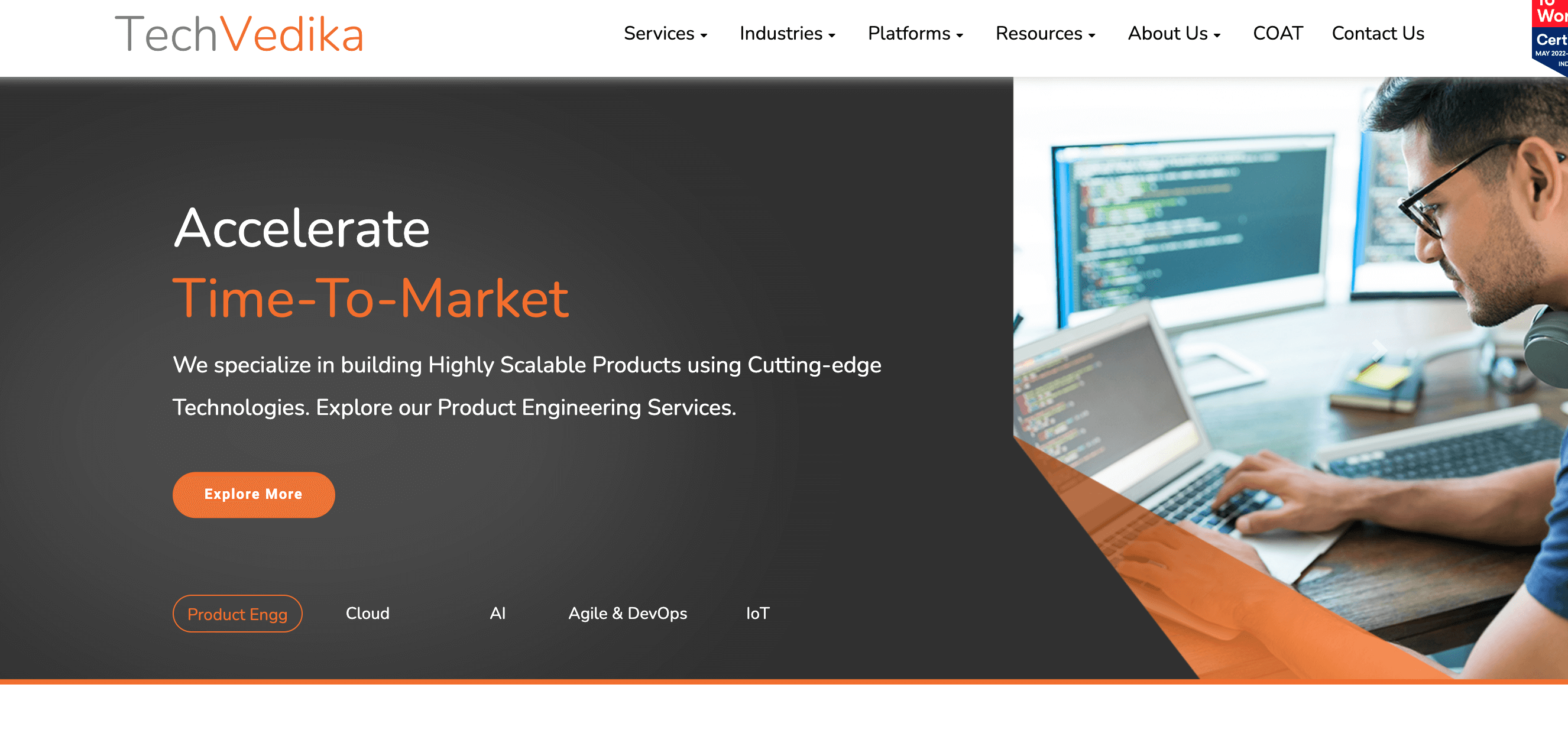 Headquartered in California, US Tech Vedika is among the best AWS consulting companies. It was founded in 2010 and has worked with some notable American clients, such as Accushield, Arevea, ProsperCare, and SageNet.
The firm focuses on AI and cloud solutions and has in-depth expertise in Healthcare, Supply Chain & Logistics, Retail, Manufacturing, Media, Entertainment, and IT sectors. 
Choosing Tech Vedika as an AWS cloud consultant means you get infrastructure cost savings, fewer security incidents per year, efficient IT infrastructure management, and a reduction in unplanned downtime. 
Hire their best-in-class AWS consultants to boost your business growth, innovate and expand by implementing modernization, automation, data optimization, security, and management services.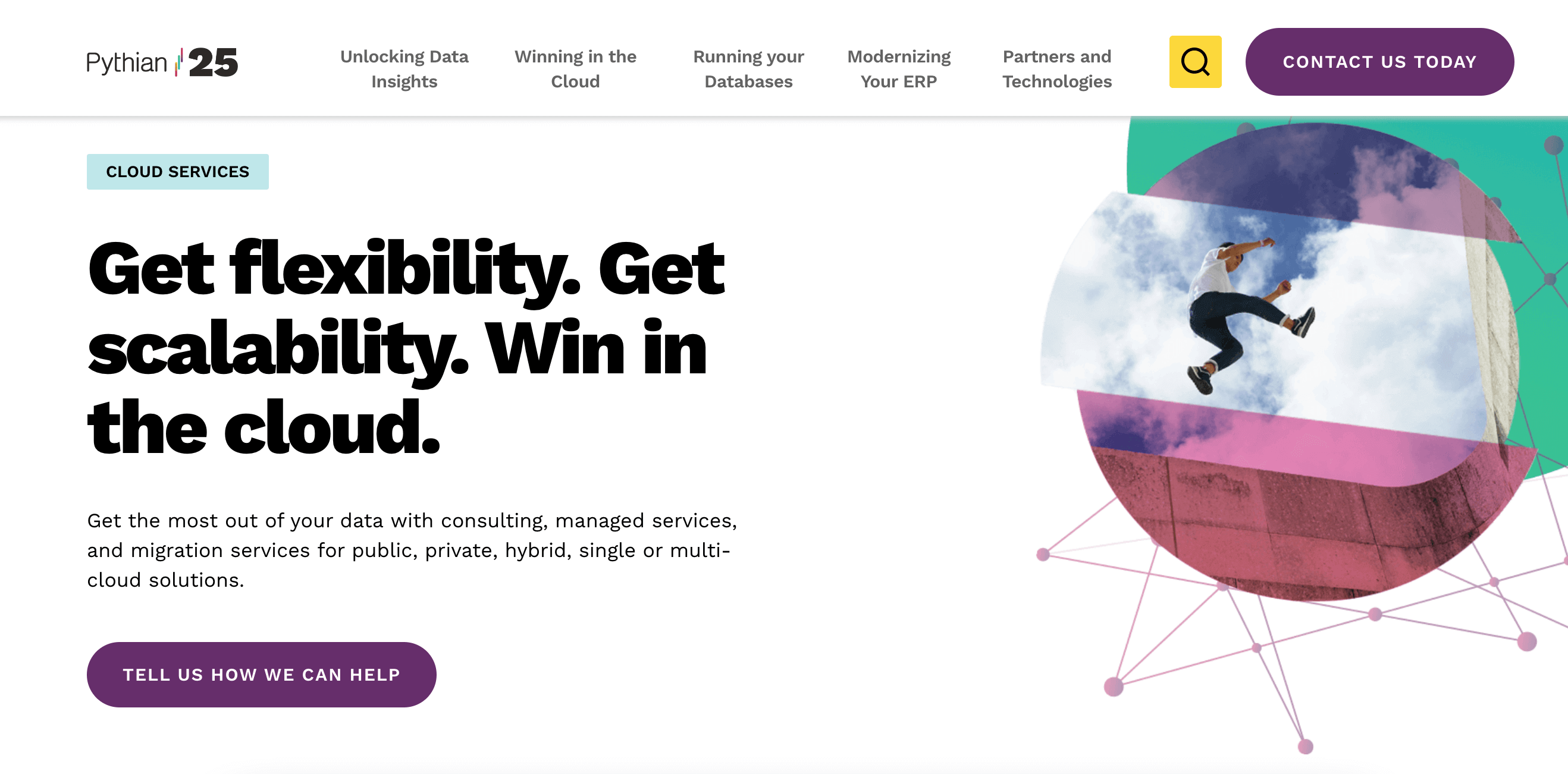 Being over 20 years on the market, this Canadian IT firm helps clients generate winning decisions for cloud transformation.
If you want to get the most out of your data with consulting, managed, and migration services for public, private, and hybrid or multi-cloud solutions – Pythian is your go-to AWS partner. 
According to Pythian, the company is committed to hiring the best data experts who possess deep expertise in working with data and know how to meet clients' expectations, delivering the best outcomes. Their key clients are Fox Sports, Sonos, Shutterfly, Blackberry Messenger, and Rakuten.
Pythian is partnering with the leading cloud providers, including Amazon Web Services. Work with the best AWS consultants from Pythian to low the risks, reduce costs, and improve the performance of your business.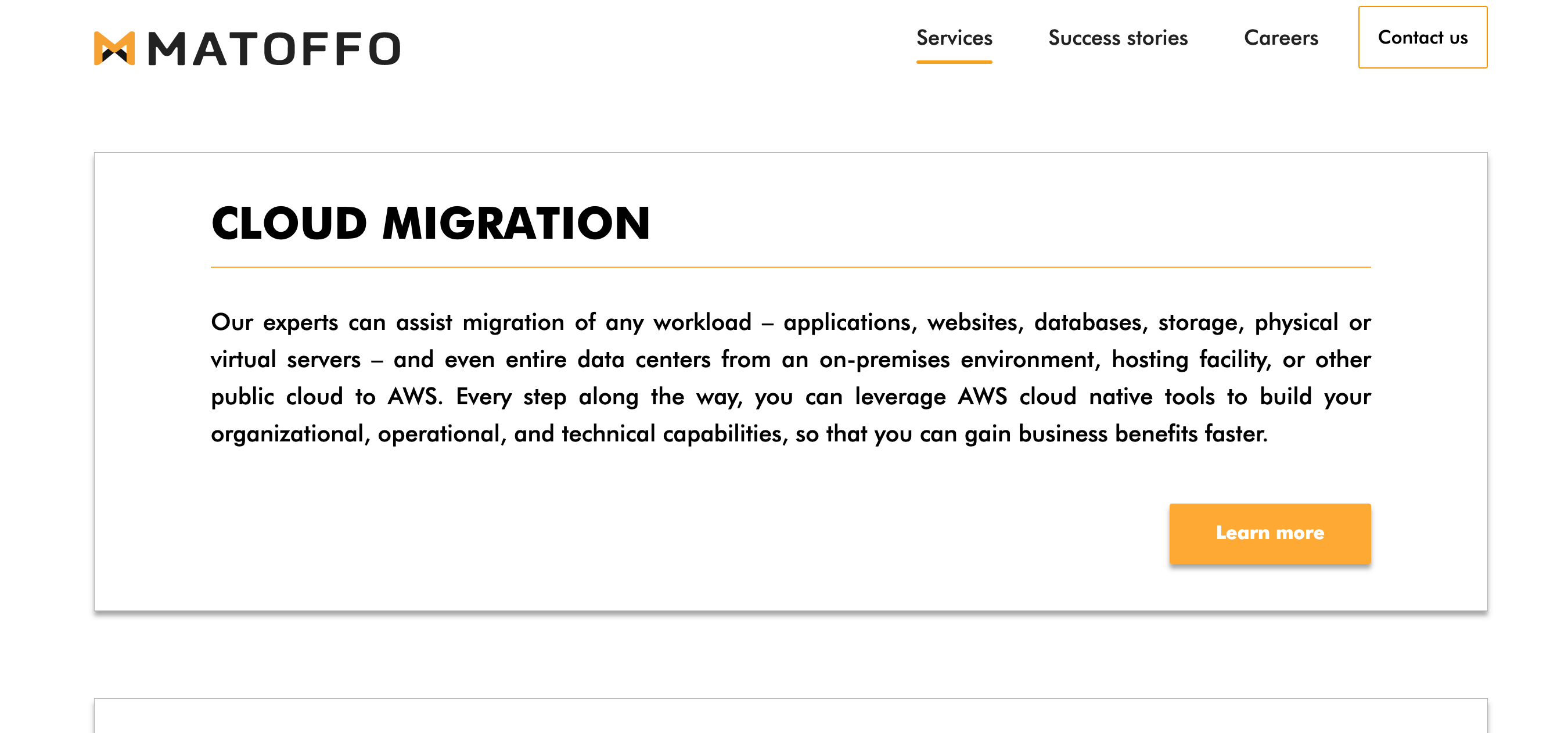 Based in Tallinn, Estonia, Matoffo is a recognizable tech company with 5-star rates on Clutch.
They're an exceptional AWS consulting and managed service provider focusing on Amazon cloud solutions. Being an official AWS Select Tier Services Partner, the company onboards skilled and certified specialists who know how to create a remarkable customer experience. 
Their Amazon Web Services consultants possess rich expertise in cloud migration, containers, data and analytics, DevOps, and serverless solutions. Also, Matoffo offers clients to go through an assessment based on the AWS well-architected framework. Trust their professionals to assist you throughout the entire cloud journey and scale up your cloud resources to gain a competitive advantage.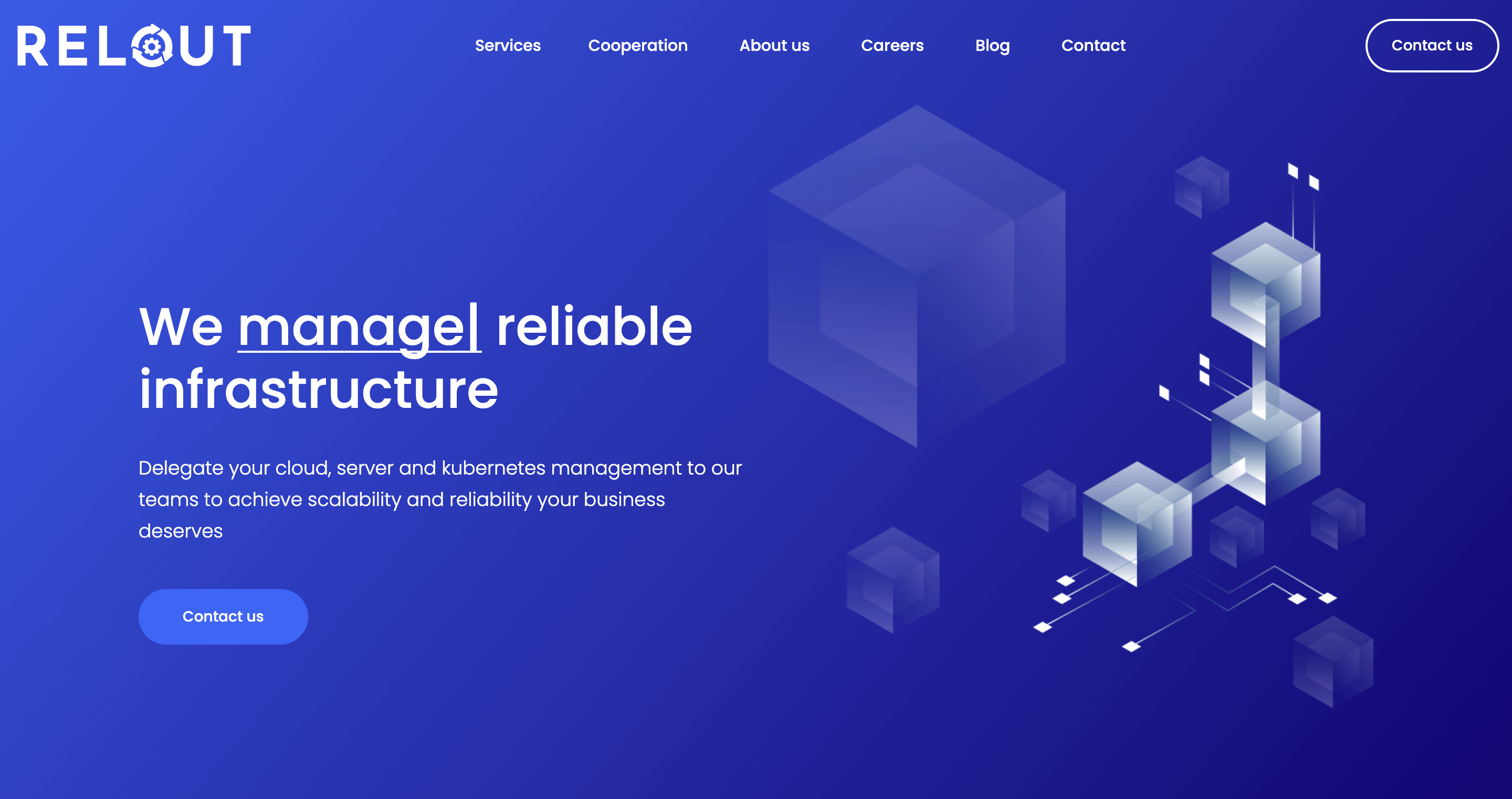 Relout stands out as a premier AWS consulting company based in Poland, renowned for its exceptional services in the areas of site reliability, cloud management, and DevOps. Relout's mission is to revolutionize IT infrastructure reliability by implementing SRE principles and DevOps best practices with the help of dedicated and passionate teams offering top-level managed services.
The company collaborates with startups, software houses, and enterprises to scale their internal platforms and provide expert consulting on business growth and efficient digital transformation. They cover a broad range of services, including SRE/DevOps staff augmentation, managed infrastructure services, consulting and advisory, cloud transformation, DevOps methodology, and cost analysis and optimization, catering to the unique tech needs of their customers.
Relout goes beyond standard software development by providing extensive consultancy, audit, and training services to help companies transform into a solid DevOps culture. The firm advises on the team and organizational structure, refactors existing processes and tools, and enhances clients' business delivery and efficiency, defining the best approach for cost optimization.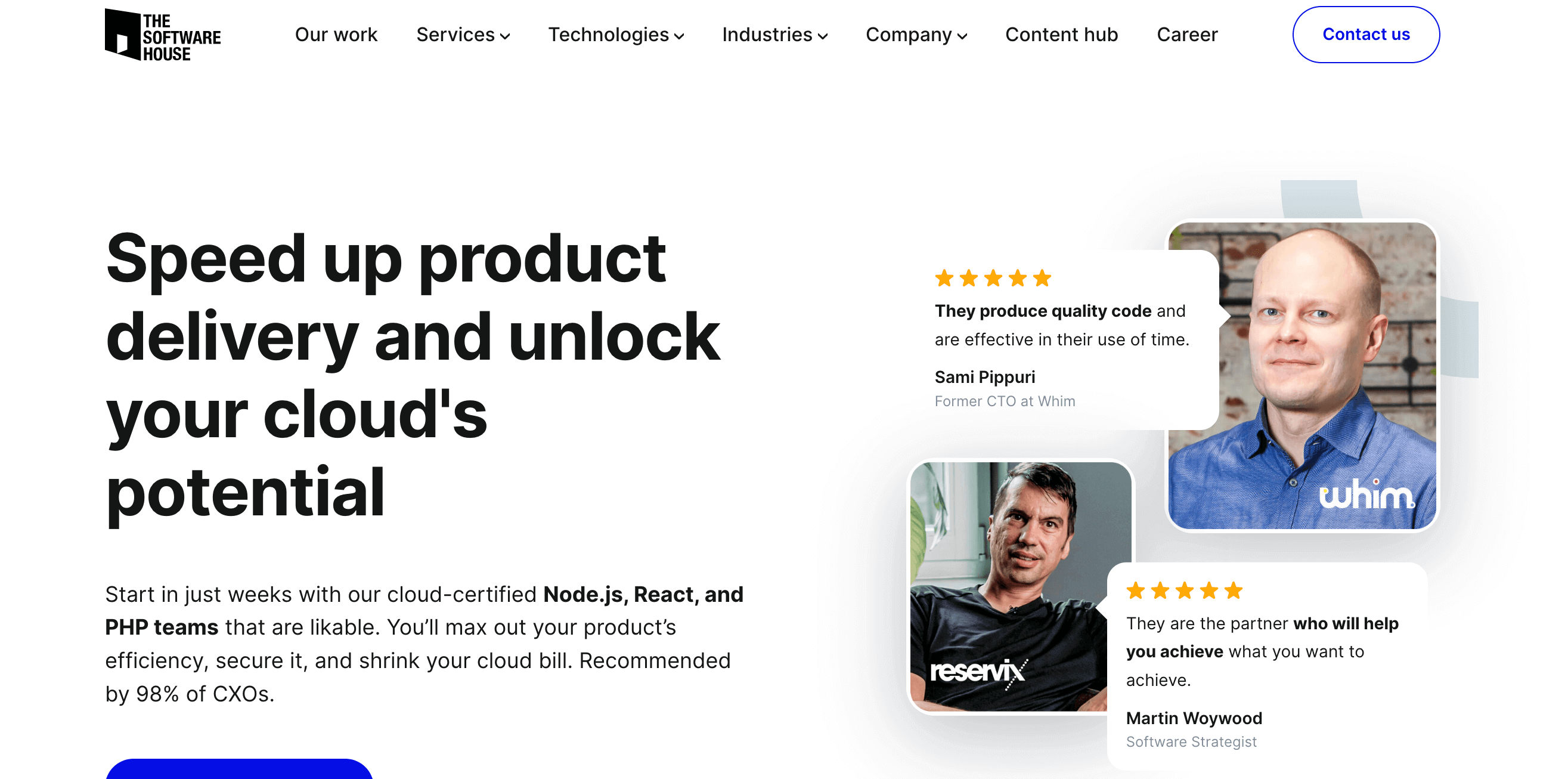 Headquartered in Gliwice, Poland, The Software House has over 110 AWS professionals on board, specializing in cloud development with 2-3 years of average partnership time with customers. 
The firm will assign highly-trained cloud engineers to your project to help you reveal the full potential of AWS services, setting up scalable cloud infrastructure and cutting down cloud costs. 
Over 160 companies managed to overcome their tech challenges with professional assistance from The Software House, making them one of the best AWS technology partners worldwide.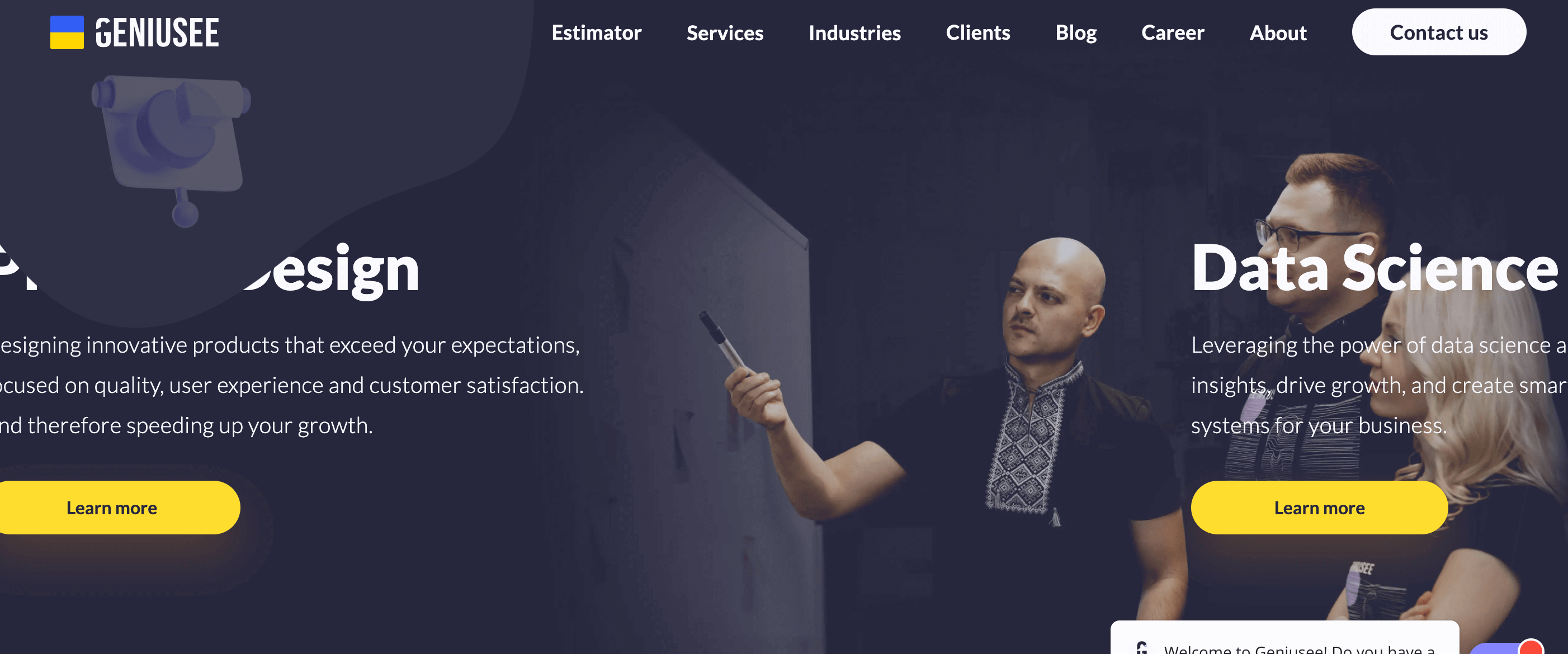 Geniusee is a Ukrainian software development company founded in 2017 that caters to Fintech, Retail, edTech, and Real Estate industries and has already delivered over 100 ambitious projects. 
Also, Geniusee is a certified AWS consulting and development company with a high level of competence in developing powerful cloud solutions using Amazon Web Services.
The team provides 24/7 English support, qualified technical specialists, flexible communication, and comprehensive support throughout the full cycle of AWS consulting services. 
Their experts will help you choose the right services from the AWS stack to achieve your business goals, set up the most efficient execution of tasks, optimize the time and create a cloud infrastructure based on your needs.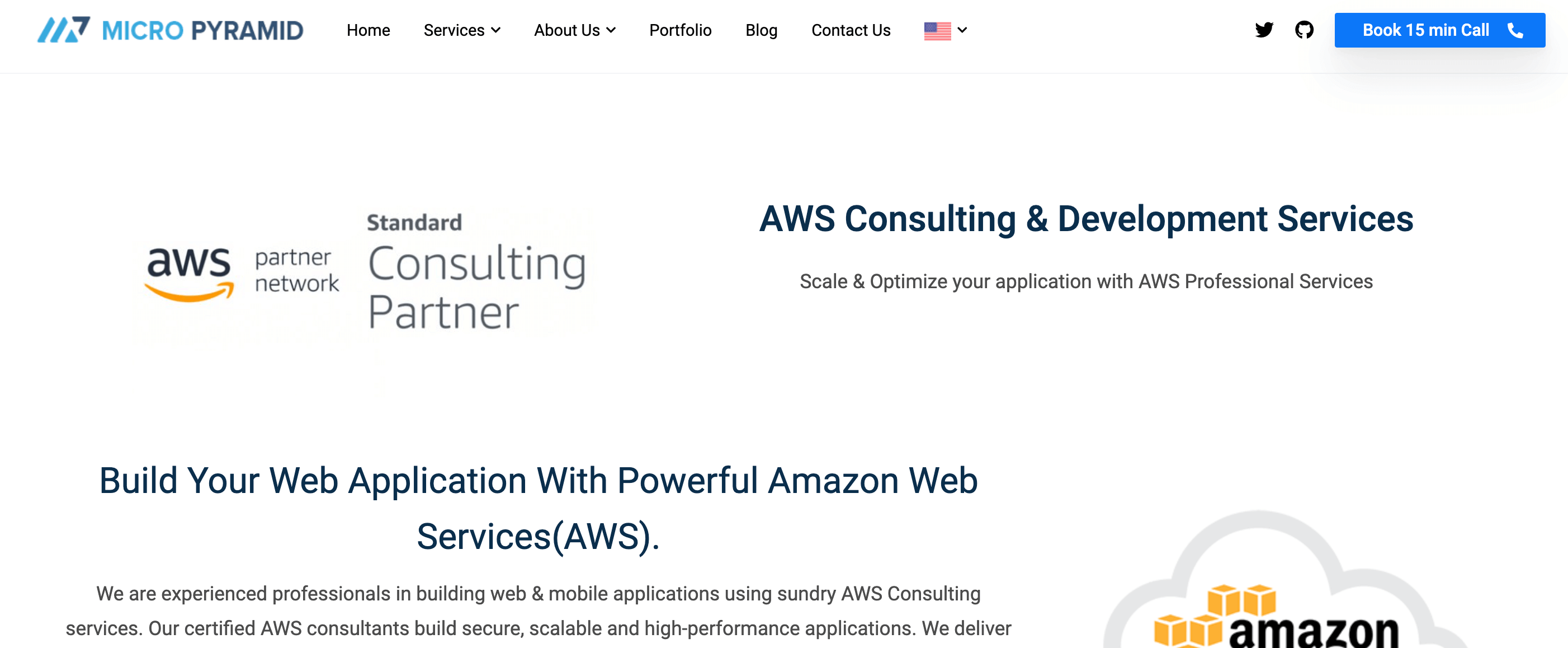 Micro Pyramid is known as one of the best and most experienced AWS network consulting partners based in India. Its core expertise is a custom web and mobile application development, Amazon Web Services consulting, Salesforce consulting, DevOps consulting, and e-Commerce development.
Whether you are searching to build secure, scalable, and high-performance applications or bringing innovative solutions to the table – get everything done with Micro Pyramid's assistance. Their team is proficient in transforming clients' ideas into products that customers love. 
Micro Pyramid has created remarkable solutions for RefactorEd, PRO Music Tutor, Bough Digital, and Creditable. Be the next organization to maximize your revenues and give exceptional user experience to your customers with Micro Pyramid's solutions.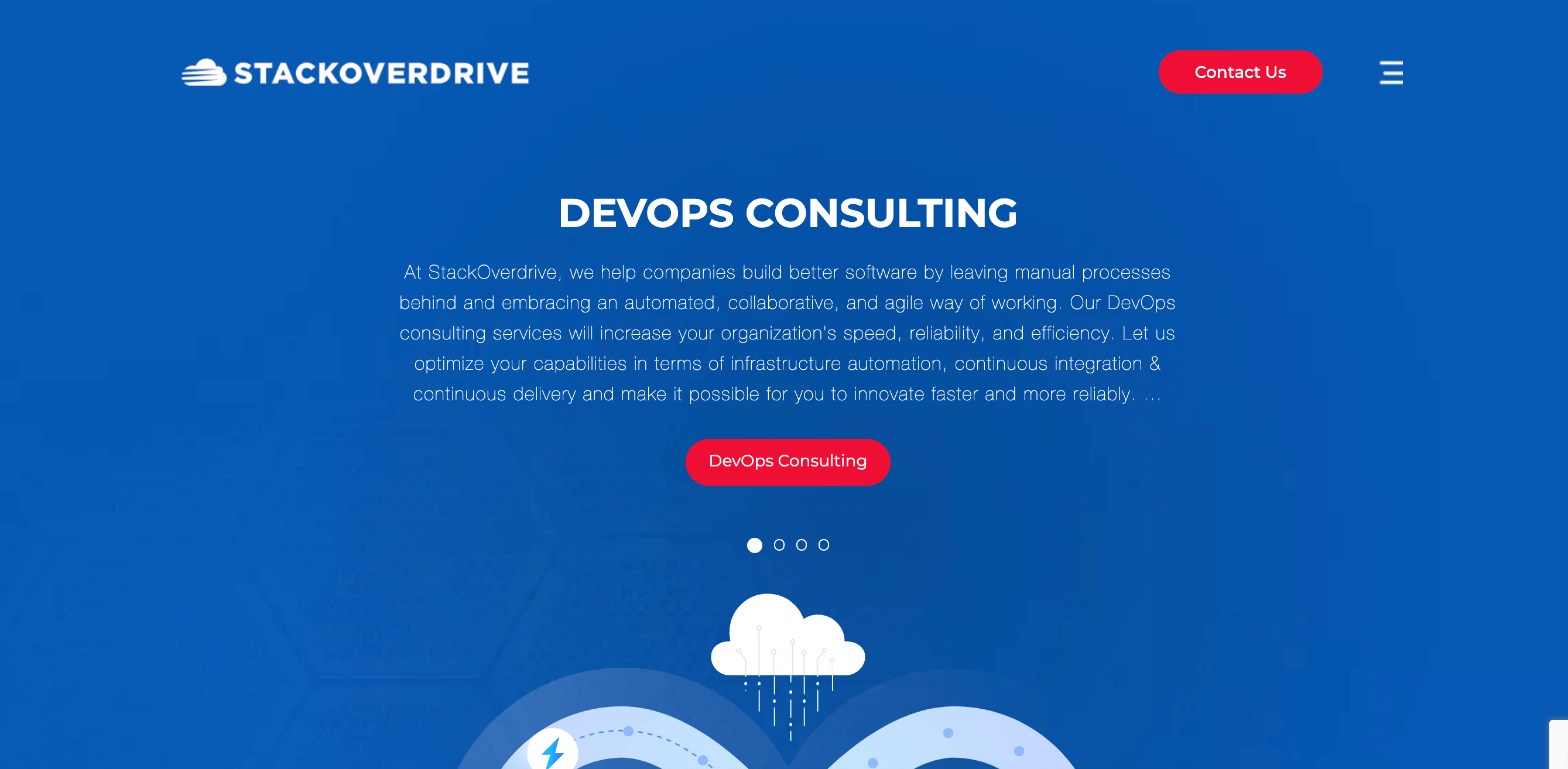 At StackOverdrive, AWS consultants educate clients on how to implement business automation and cloud elements, leaving manual workflows behind and selecting the best toolkit. Then, they determine the actionable strategy based on your organization's thorough assessment and evaluation. 
Stack Overdrive is a premium AWS partner. Its SRE engaging model covers all necessary stages to help your company get the most value. These stages include building, testing, deploying, monitoring, and getting managed support on AWS. 
The company is proud to have worked with Petco, ARM, Meltwater, Spoon University, Rally, Zebra, and other well-known corporations. With StackOverdrive's AWS implementation, your business can scale on-demand globally.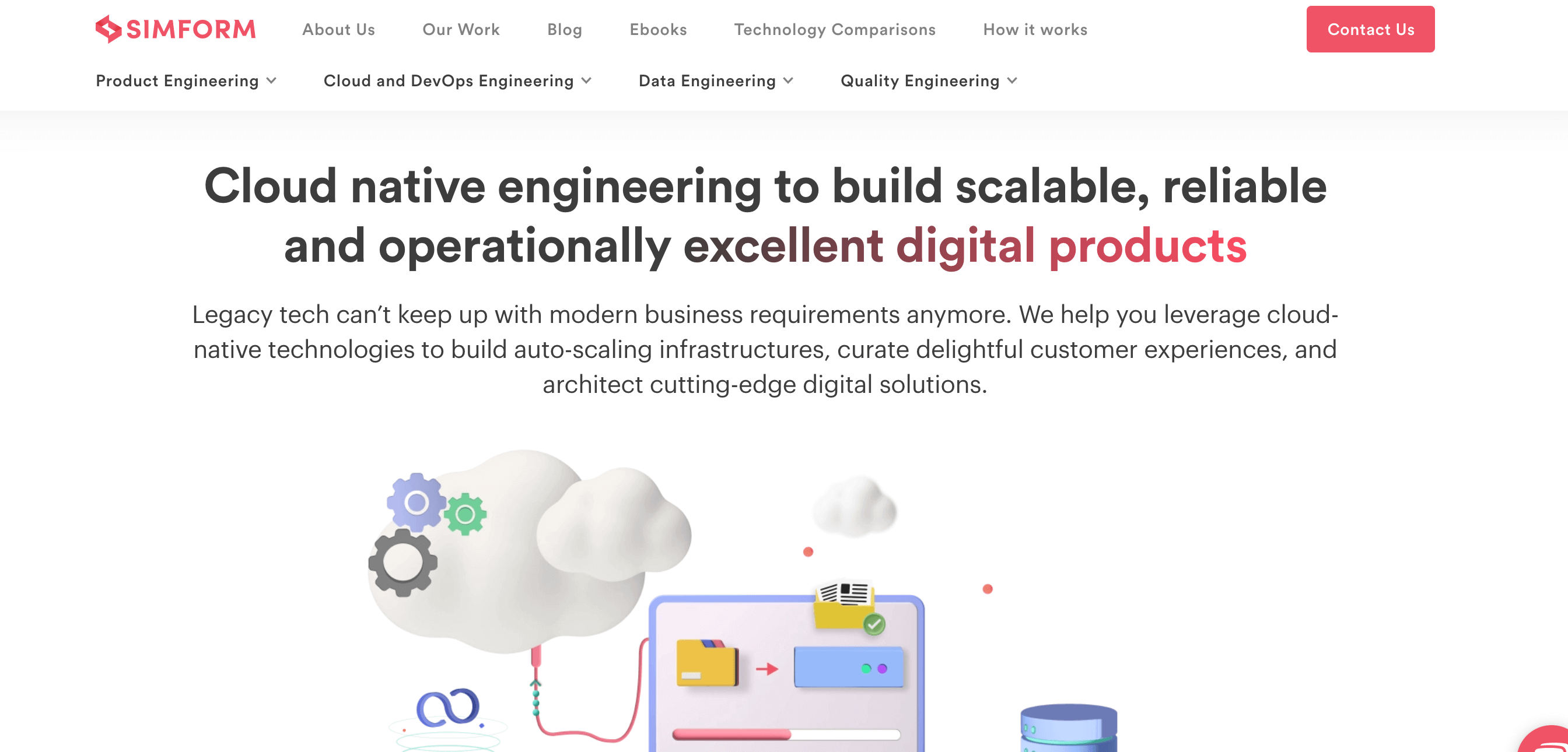 Simform is one of the top AWS consulting partners and digital product engineering companies. Since 2010, its team has expanded to 1000 top-tier IT experts who help businesses create transformative digital solutions. Simform's world-class product teams are experienced in software engineering, cloud engineering, DevOps engineering, digital design, and CTO as a service. 
Trusted by over 900 happy clients, including Fortune enterprises like Sony Music, Pepsico, ZepInc, Georgia-Pacific, and more, Simform transforms cloud infrastructures with exclusive cloud consulting services. 
Hire Simform's team to benefit from the clear communication and transparent and agile approach. Get a free AWS consultation to discover a strategy that can help improve your business's productivity and maximize your cloud ROIs. 
Conclusion 
AWS consulting companies play a critical role in helping organizations move to the next level by leveraging the power of cloud technologies.
Providing a full range of cloud services, including computing, storage, database, analytics, and machine learning, the featured AWS partners will help you manage your cloud infrastructure more effectively. 
Hopefully, with this list, you'll choose the best-fit AWS network consulting partners to meet your requirements and unlock your cloud's potential. 
If you want to add your AWS consulting and development company to this list, contact us by email with details. After a thorough review, we'll decide whether it's a valuable addition.