With over 900,000 professional software developers and an €80 billion market size, Germany is one of the top IT hubs in Europe and globally.
"Made in Germany" has meant top-quality for decades, be it a car or a box of cornflakes. And today, with the advent of the digital era, the impeccable image of a top-level producer has successfully integrated with software development services.
Ranking number 17 in the world by GDP per capita, the country boasts intense research activity and robust infrastructure, which translates into direct access to the latest technological advancements. Given that, hiring software developers in Germany sounds wise. 
Still, with such an overwhelming selection of IT firms, choosing the perfect match for your business might be challenging. To make this task easier for you, we've compiled a list of the top software development companies in Germany that you can trust your project with. 
Best Software Development Companies In Germany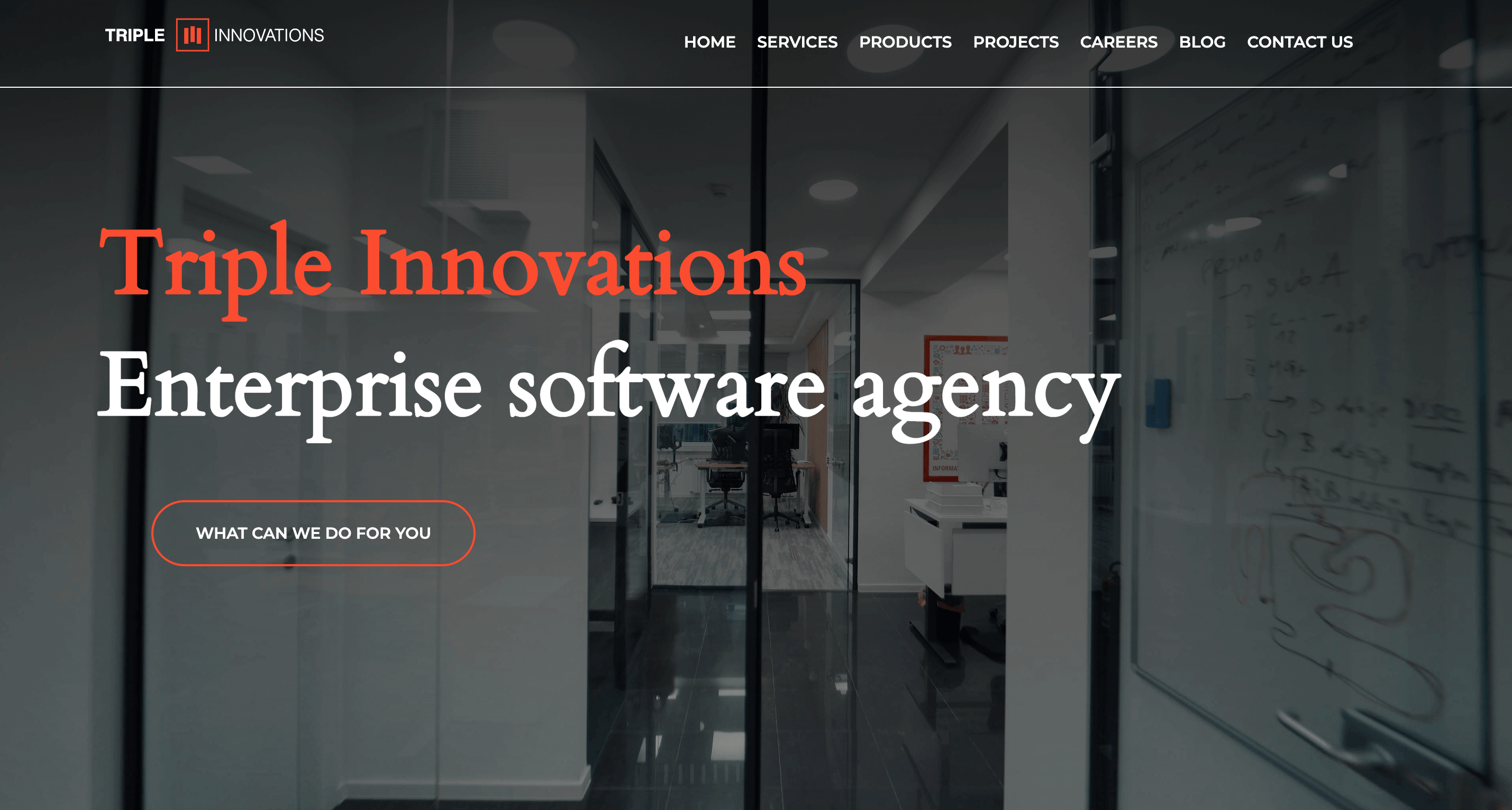 Triple Innovations is one of the top IT companies in Germany, specializing in business process automation and custom software development. Established experts in Salesforce and Microsoft Azure, their team is focused on partnering with enterprises, which amount to 70% of their clients (the other 30% being middle-market businesses).
The company offers full-cycle tailored software development services, from Azure infrastructure through front-end and back-end development to integrations. They cover product management, specification, design, implementation, and ongoing support. 
Triple Innovations could be your best fit if you're in search of developers in Germany for hire who have extensive expertise in Salesforce, cloud solutions, SaaS development, and BSS architecture and can help you overcome any other business challenge.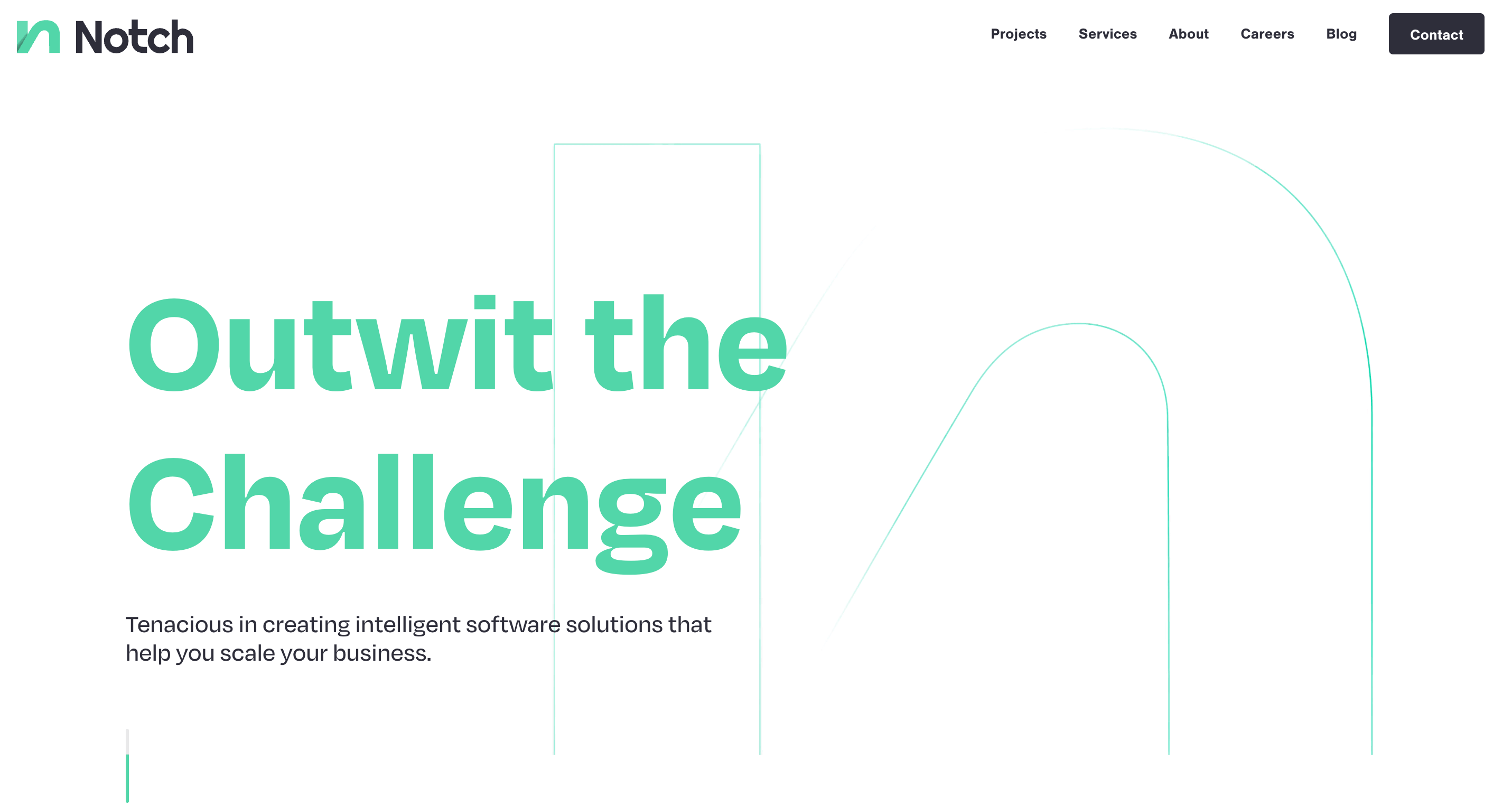 Notch is an award-winning, full-service software development agency in Germany that offers tailor-made software solutions for enterprises and startups. Founded in 2014, the company has built a team of leading regional experts in Java-based platforms and Agile practices.
From discovery and UX/UI design to full-stack development and delivery — Notch can allocate a dynamic, headstrong, and hardworking team ready to provide high-performance solutions to scale your business.
Headquartered in Zagreb, Notch also has offices in Frankfurt and Split. They're recognized by Deloitte and Clutch and trusted by global businesses and tech disruptors who choose Notch for their ongoing projects of over 6 years. Their team specializes in software development for Banking, Insurance, FinTech, Government, IT, Healthcare, Event, E-Commerce, Construction, Oil & Energy, Pharmaceuticals, and Telco industries.
Whether you require tech consulting or a team extension, they'll provide you with a workable solution that delivers impactful results for any project idea you have in mind.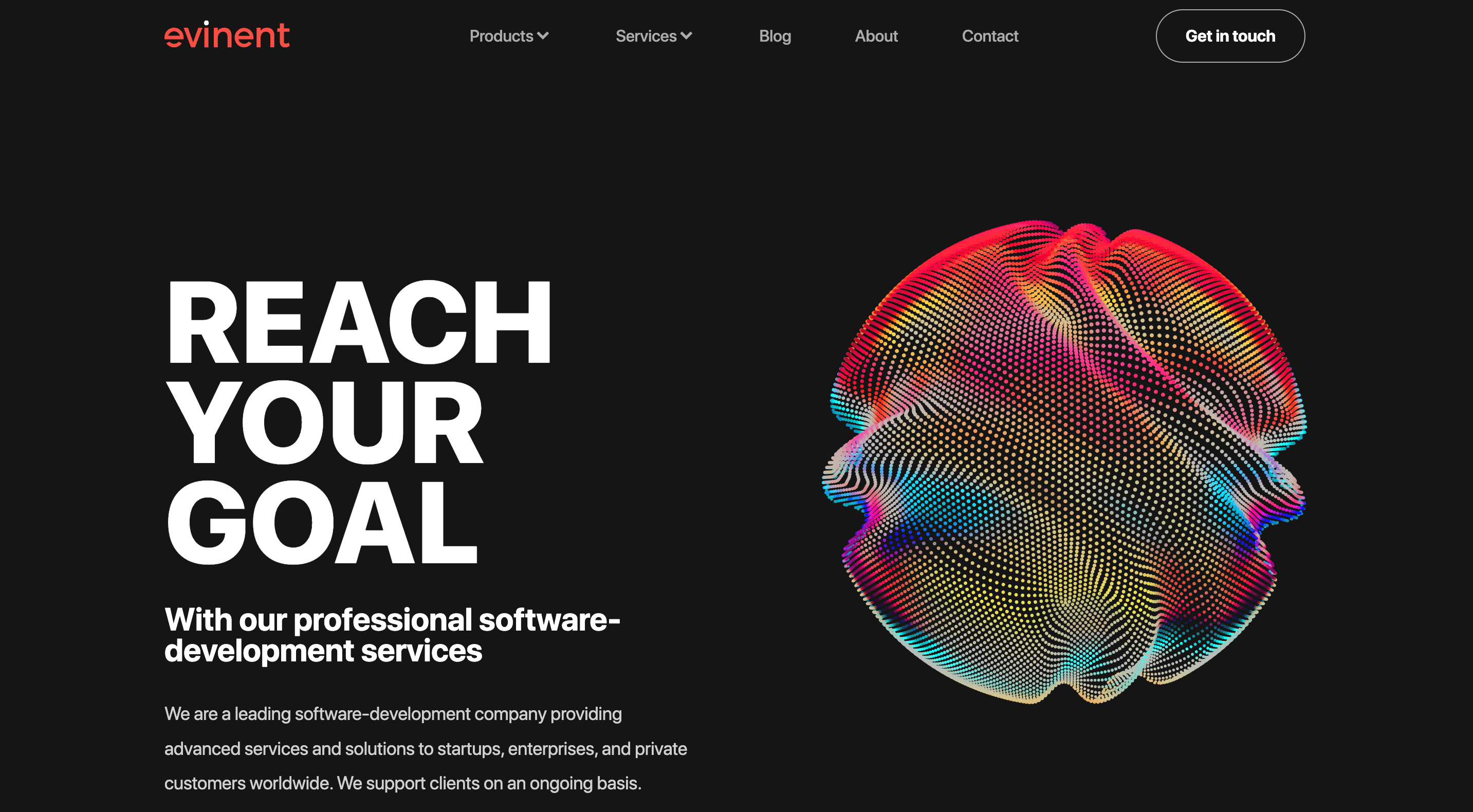 Evinent is one of the best software development companies in Germany, specializing in developing mobile-based platforms and delivering top-notch B2B and B2C solutions. What's more, they can assist you with UI/UX design, branding, IT consulting, and quality assurance. 
Evident's team pays significant attention to detailed planning throughout the development process and aims to fulfill their customers' needs completely. For this, they start each project by thoroughly analyzing their customer's needs and constantly keep in touch with them. 
Industry-wise, the talents of Evinent have rich experience working with eCommerce, Information Technology, Healthcare, Retail, and other industries.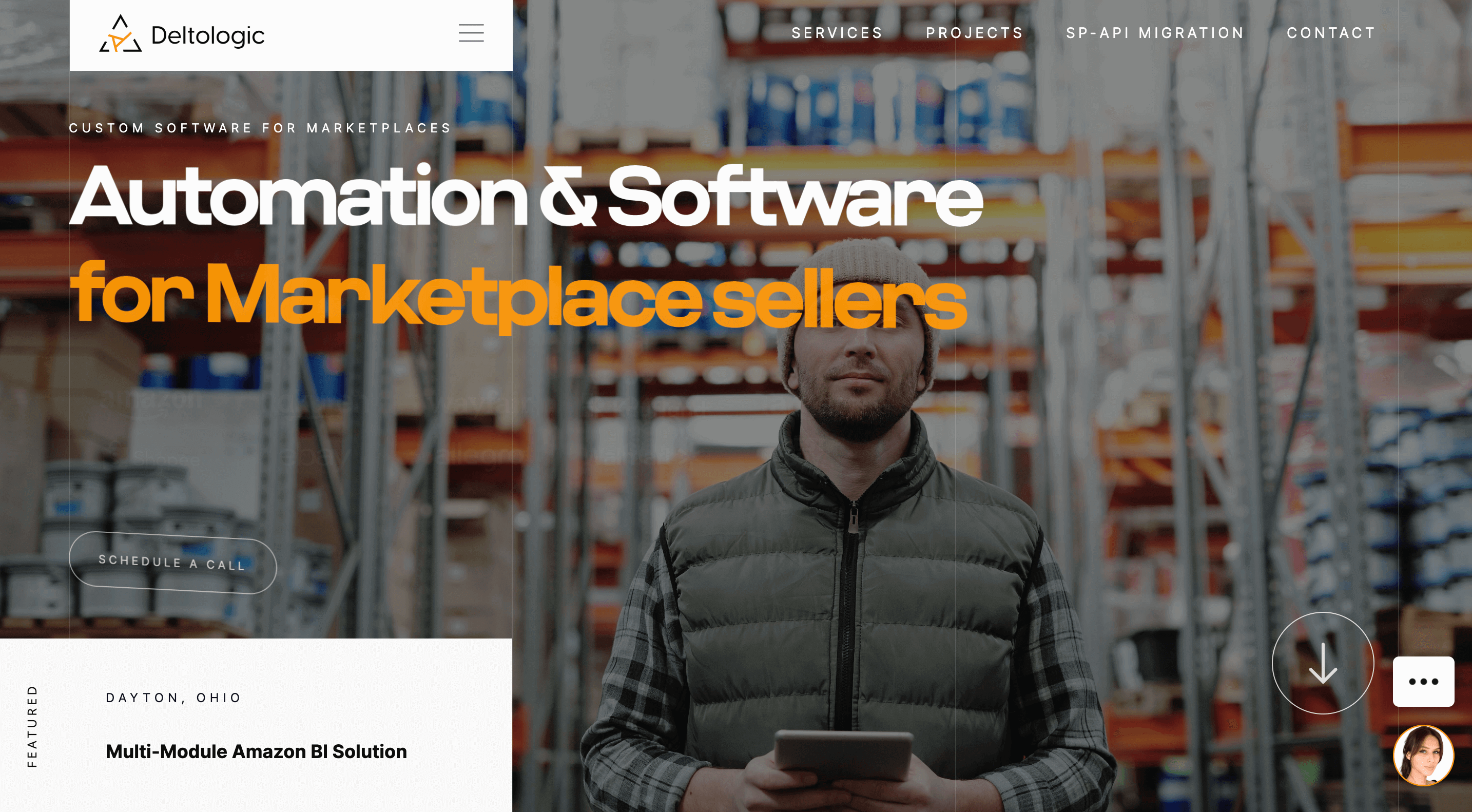 Deltologic is one of the top IT companies in Germany that specialize in automation solutions and software for marketplace sellers. Needless to say that companies with such a narrow focus do their job exceptionally well, so consider Deltologic if you're looking for an experienced technical partner to help you automate your business operations and sell more efficiently. 
The scope of their services includes web development, eCommerce, data mining, and product design. And that's not all — your final product will be delivered with a training session and ongoing support. According to Deltologic, an individual approach is their greatest strength, and it couldn't sound more promising!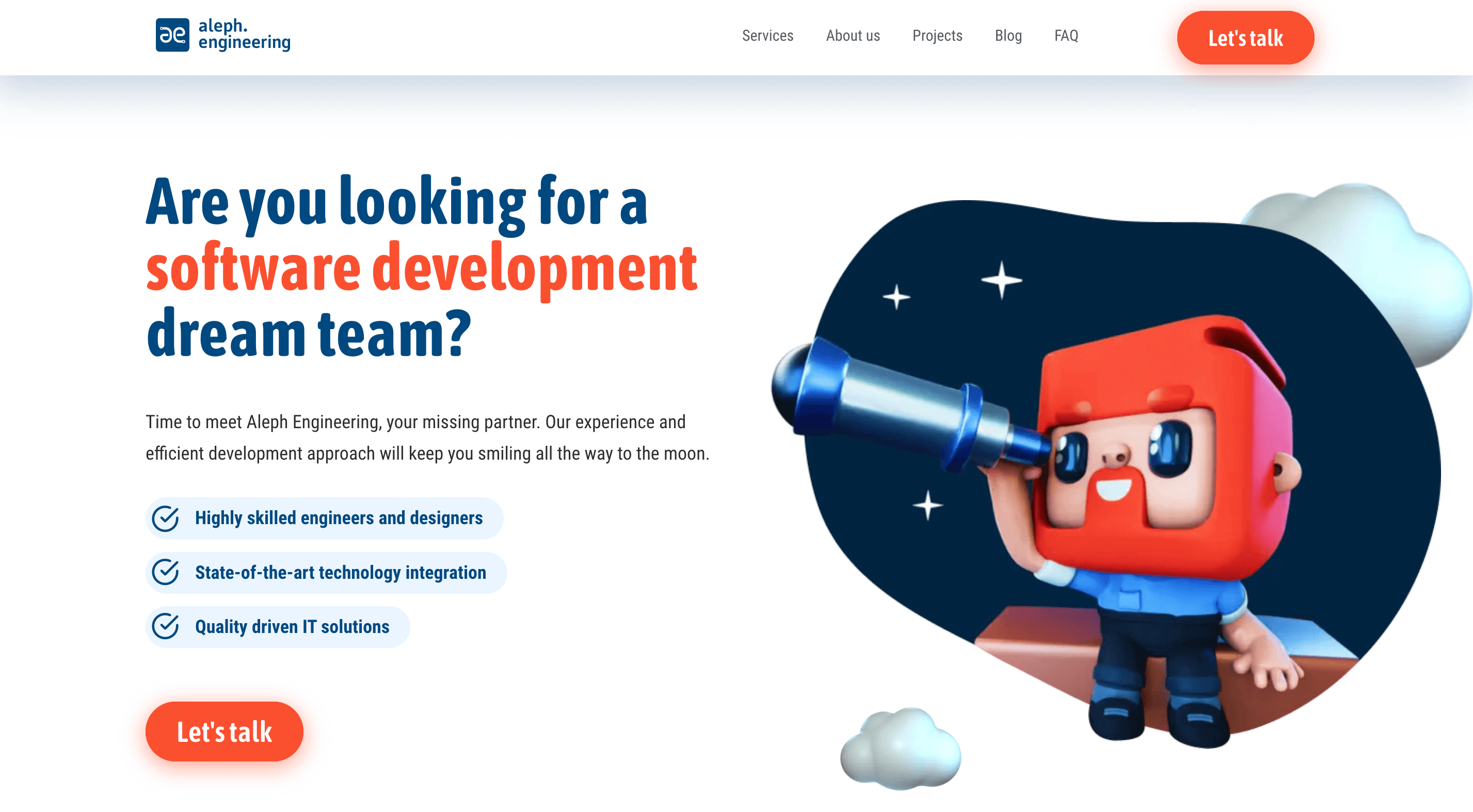 Focused, honest, curious, positive, and ambitious — this is how the whopping 1,190 team members at Aleph Engineering describe themselves. This fantastic team of front-end developers, back-end developers, full-stack engineers, UX designers, software architects, DevOps engineers, project managers, and the backend office provides the widest-ever range of software solutions. 
They can give you a helping hand in covering web or mobile app development, product design, QA, API development, and legacy software modernization. Regarding their industry focus, the team at Aleph Engineering has unsurpassed expertise in building impactful solutions for Information Technology, Utilities, and Automotive sectors, just to name a few.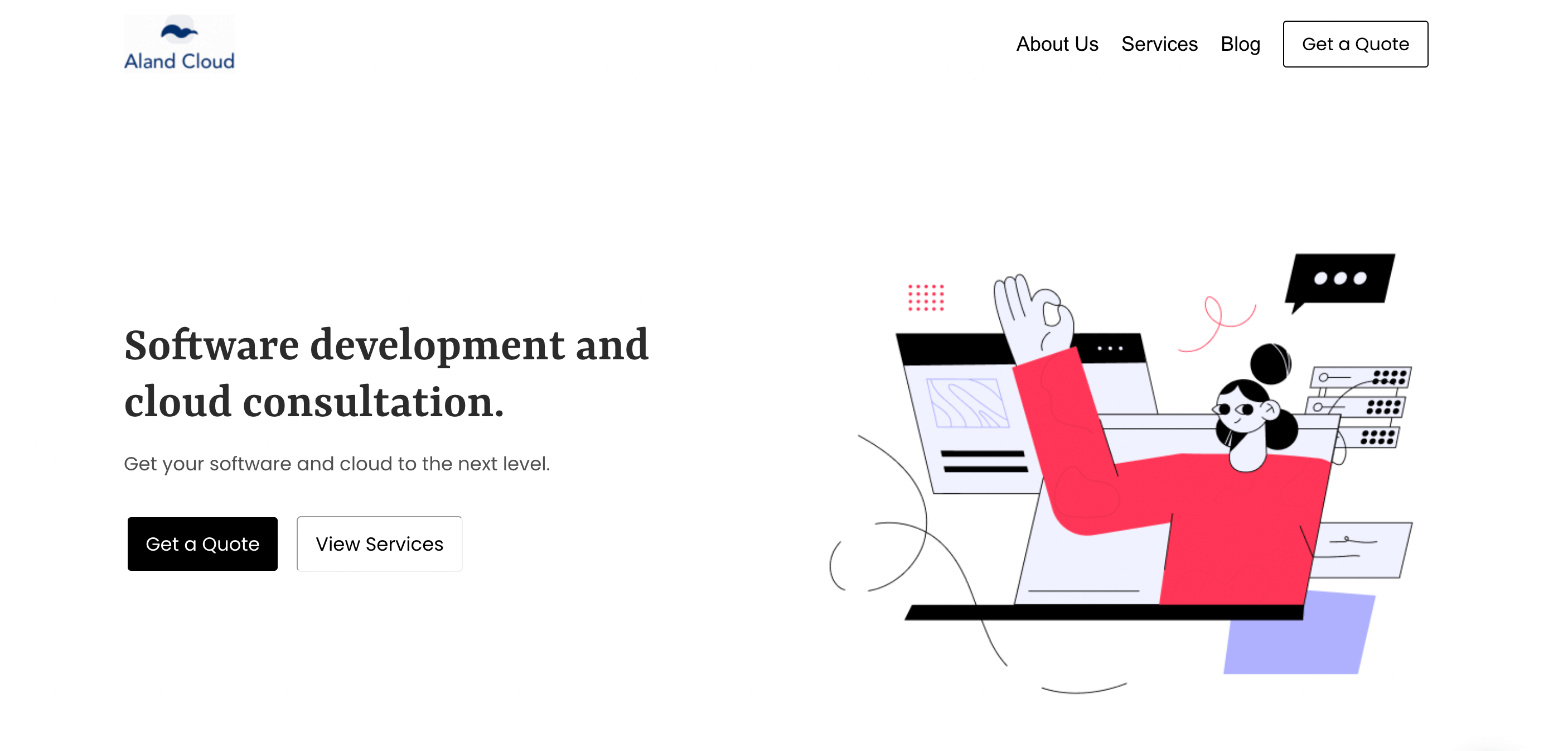 Aland Cloud is a top-rated web development and hosting company located in Berlin. Their team can help you build a high-performing, fast-loading, and SEO-friendly website with a modern and memorable design.
Their mission is to help small and medium-sized businesses grow online by establishing a strong web presence. They also pay special attention to post-launch support and maintenance, ensuring the ultimate security and flawless performance of each website they build.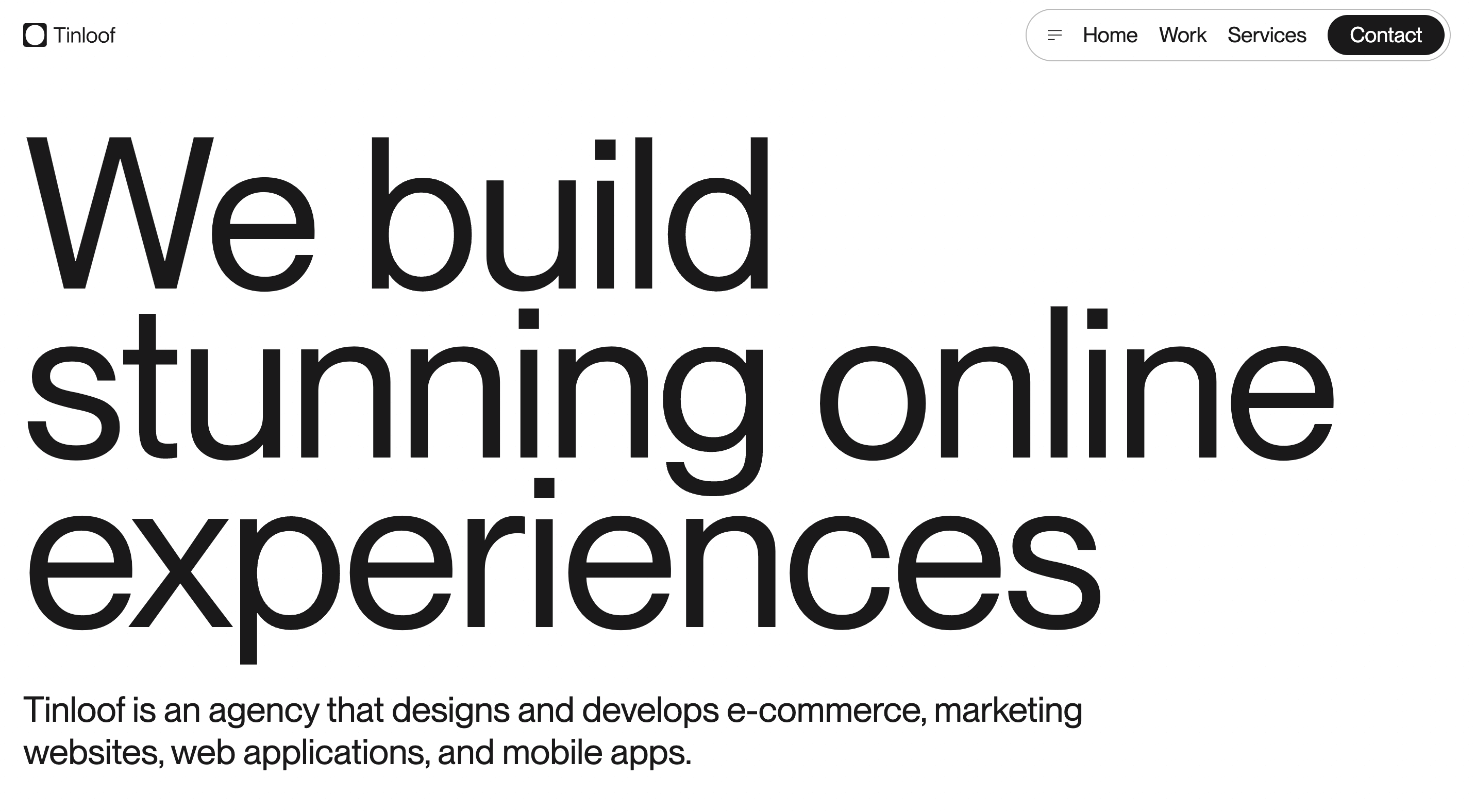 If you're seeking a trusted IT company with extensive expertise in web development, meet Tinloof. According to Tinloof, they build stunning online experiences, and they couldn't be more right — their websites and web apps are truly elegant and high-performing. 
Besides building user-friendly, fast, and reliable websites and web apps, they can create mobile apps and conduct a technical SEO audit to help you rank higher on SERPs. Tinloof's clients include SMBs and enterprises belonging to various industries — Advertising, Arts, Business Services, Government, Retail, Media, Telecommunications, and others.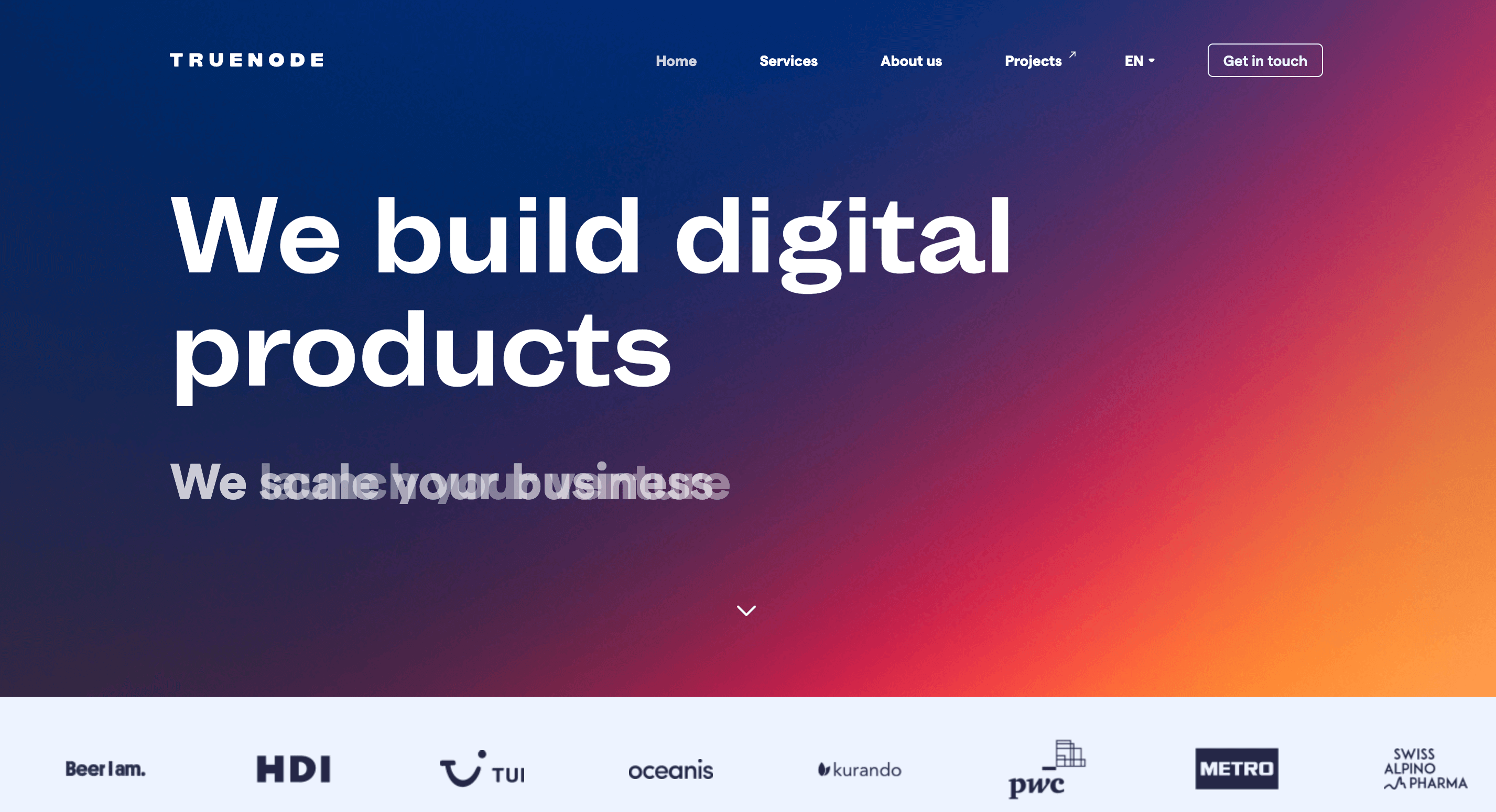 With 15 years of experience in software engineering, the TrueNode experts have successfully launched hundreds of superior products for eCommerce, Retail, Healthcare, Information Technology, and Financial Services industries.
In addition to their expertise in mobile and web development using conventional languages and frameworks, the TrueNode specialists work with Machine Learning, blockchain and Web 3.0, data analytics, and IoT technologies. 
According to TrueNode, they only work on things they really believe in and do it the way they would for themselves. What is more, they promise to build a product that will succeed in the market in less than four months. Sounds really inspiring, doesn't it?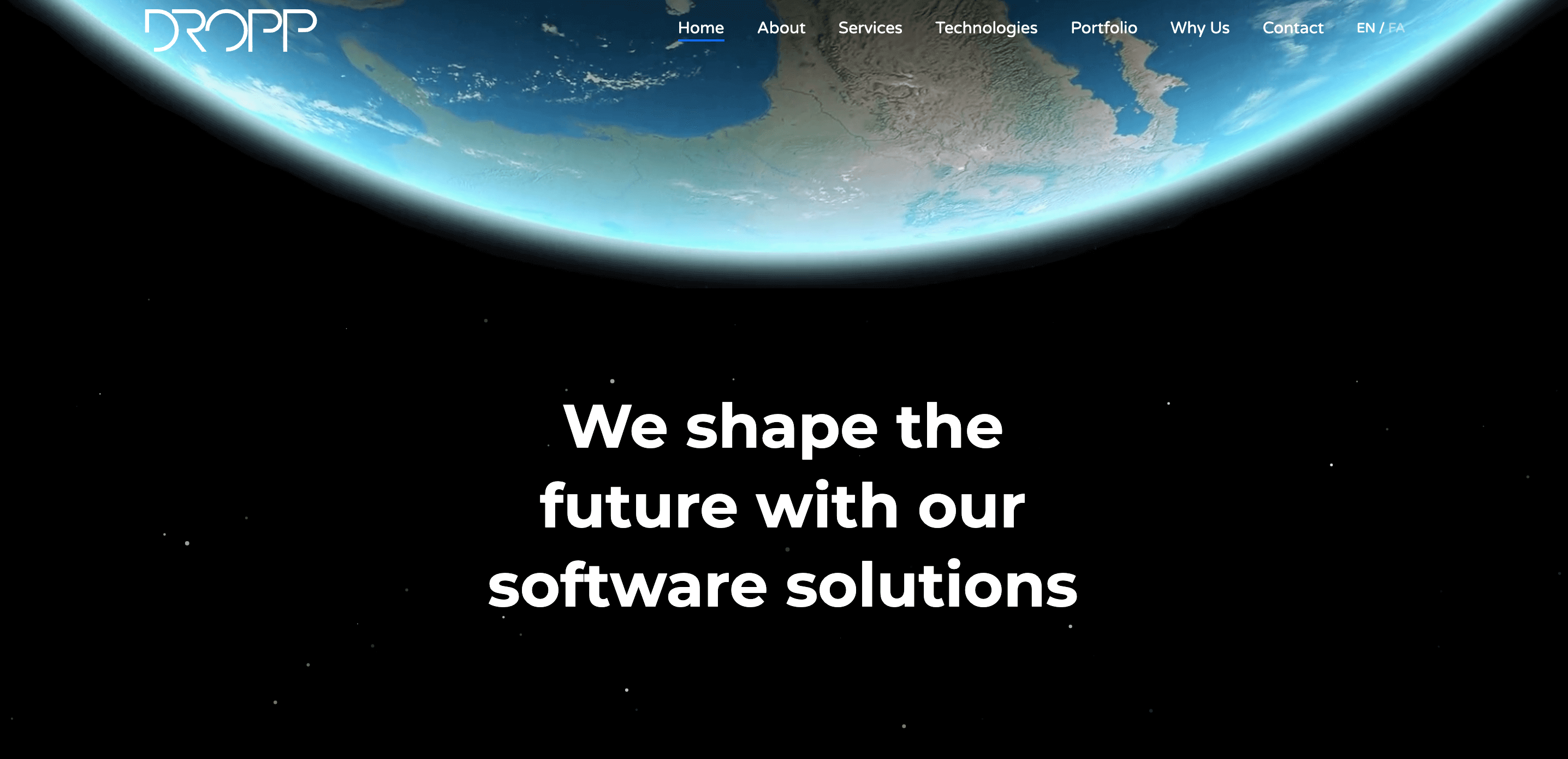 DroppTech is a software development company based in the city of Kaiserslautern in the south of Germany. In addition to software, mobile, and web development, they provide cloud and IT strategy consulting services to help clients choose the most efficient digital transformation route. Most of their past and current customers are middle-market businesses entrusted DroppTech with eCommerce, supply chain, logistics, transport, and retail projects. 
Their core values — innovation, quality, and teamwork — go a long way toward ensuring the top level of security, performance, and quality of delivered products.
Berlin-based Futuro Team is the way to go if you want your tech partner to cooperate with you closely. According to Futuro Team, they strive to build up business value in the first place and view effective communication with the client as a driver of the project's success. 
Also, they'll be your best match if you struggle with determining your project requirements. These guys are Discovery gurus who will work with you to transform your idea into a viable solution, ensuring you're not wasting time and money. 
They offer a full cycle of IT services, turning your idea into a full-fledged product.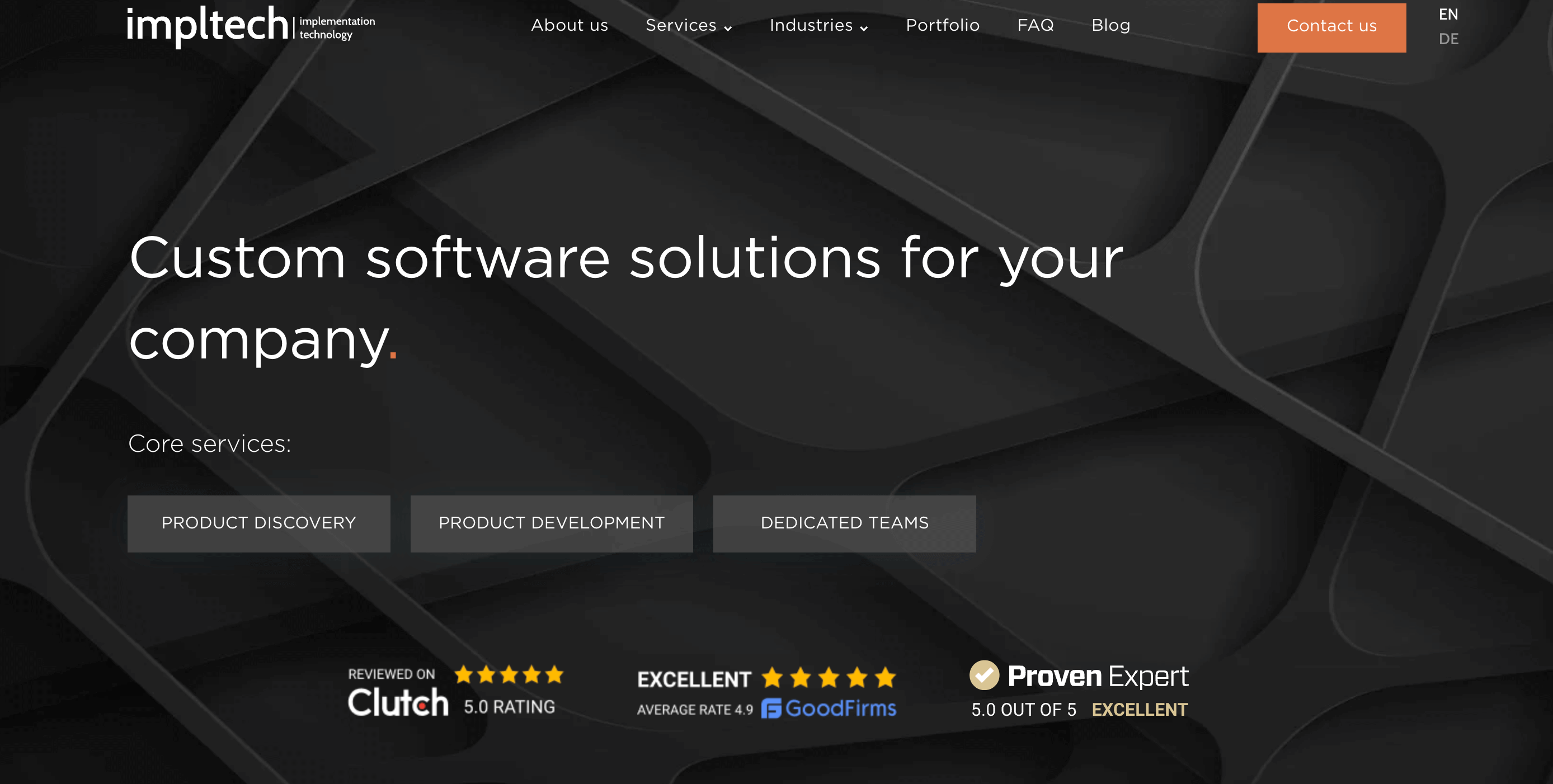 If you're looking for a long-term technology partner and trusted advisor for cloud computing, software development, or product design, impltech has you covered. One of the best IT services companies in Germany, impltech is renowned for reliability, extensive industry expertise, speed of delivery, and a customer-centric approach.
Their team possesses expert programming skills and knowledge and fluent English to ensure the best customer experience. They've successfully completed over 60 projects, including product discovery, UX/UI design, MVP development, custom software solutions, and web and mobile app development. 
From the industry's perspective, their engineers are well-versed in Telecommunications, Healthcare, FinTech, Real Estate, Education, Human Resources, and Blockchain.
Conclusion
Thriving IT outsourcing companies in Germany have a lot to offer — no matter your industry and needs, you're likely to find your perfect technical partner from this fantastic country. 
While hiring a reliable and trusted vendor is crucial for your project's success, selecting the best software development company in Germany might take time and effort, so we hope this list helps you narrow down your potential partners and choose the best fit. 
If you want to add your company to this list, contact us by email, and after a thorough review, we'll decide whether it's a valuable addition.