Flutter is one of the most widely used cross-platform mobile frameworks, with 42% of software developers using it globally.
Gone are the days when native mobile app development requiring engineers to write different codes to build separate apps for Android and iOS devices was the only solution.
Flutter is an open-source framework launched by Google, allowing you to build cross-platform applications seamlessly. Flutter uses Dart programming language to create high-quality and performant cross-platform applications, making the development process faster and easier. 
Officially released in 2018, Flutter gives cut-throat competition to its rival cross-platform framework, React Native, launched in 2015. It's forecasted that Flutter will surpass React Native soon in terms of popularity.
Why Use Flutter For Your Next Mobile App Development?
The fact that Google backs Flutter is one of the main reasons for its increasing popularity and demand. However, it offers various other advantages as well:
Hot reload:

As Flutter is built with Dart language, it provides a fast development workflow and a hot reload feature, which allows for quicker iterations, saving time and money.

Native features:

Flutter makes it possible to take advantage of the native features of a mobile device, like a camera, location, and fingerprint sensor. 

Cross-platform applications:

A single codebase can be used to create an app compatible both with Android and iOS.

Time & cost saving:

Cross-platform application development is a time- and money-saving process as the developer need not worry about writing different code sets for different devices. 

No need to modify the UI:

Flutter offers a rendering engine that allows you to launch a Flutter application on just about any platform without the need to modify the UI.
These features of Flutter have made it one of the first choices for business owners. 
So, if you are planning to hire Flutter developers who possess extensive technology expertise and will help you build high-quality apps with Flutter that drive growth and revenue, you are in the right place. 
This article features some of the top Flutter app development companies in the market, sharing details about their experiences, scope of services and expertise, reviews, and notable work in their portfolio.
The Best Flutter App Development Companies And Developers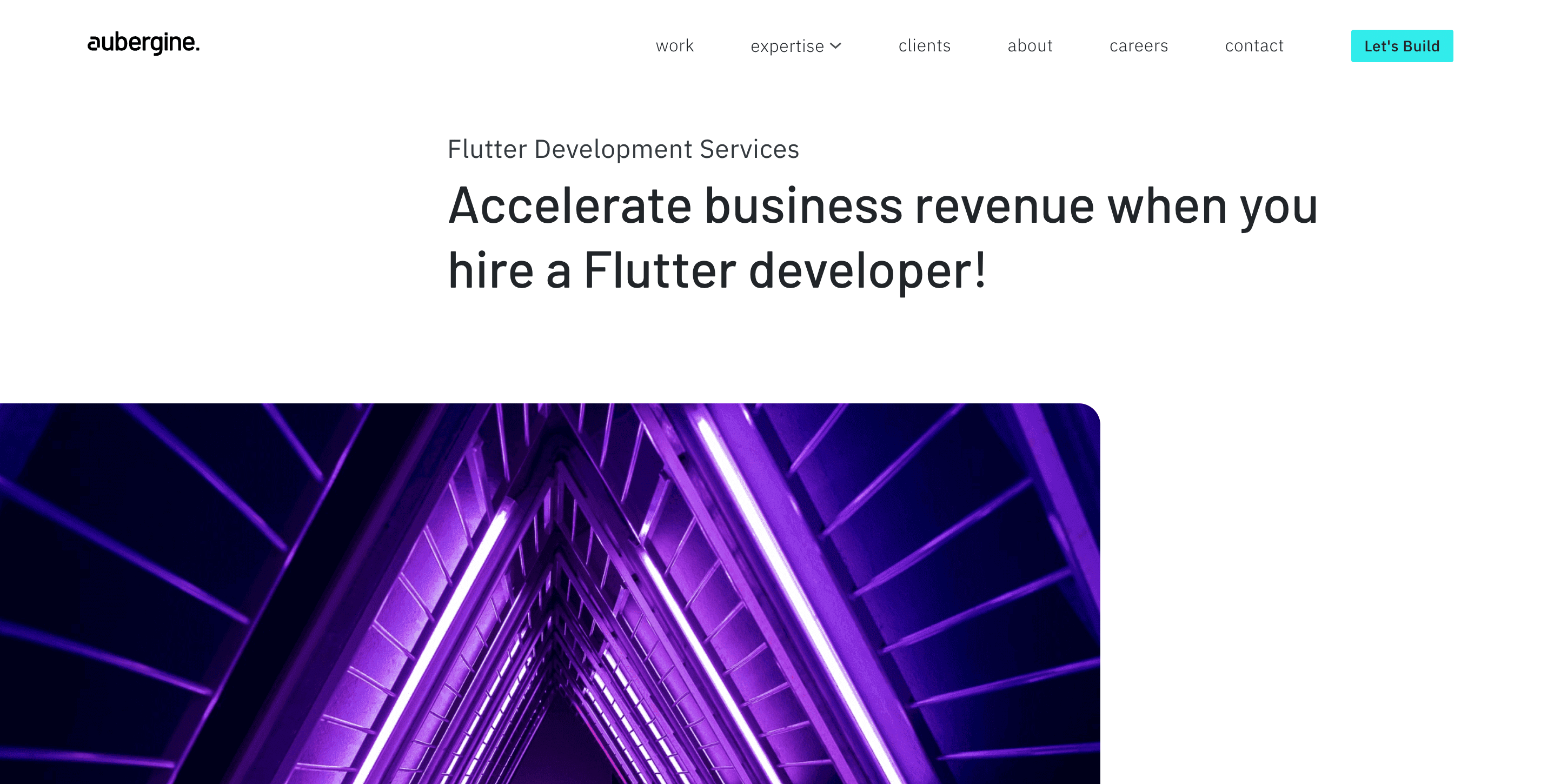 Aubergine Solutions is a supreme end-to-end web, mobile, and enterprise app development company that has operated on the market since 2013. Recognized as one of the Top 100 Fastest-Growing Companies by Clutch, Aubergine Solutions has built over 150+ impactful products since its launch. Focusing on Flutter development, the company delivers functional and high-performing apps with cross-platform compatibility, rich functionality, and impressive UIs for clients in Fintech, Education, Blockchain, BI, Healthcare, Marketing, Legal, and other industries.
Their Flutter app development services are tailored to meet your specific business requirements and target audience. They use customized Flutter plugins to create flawless app functionality for desktop devices and can create multi-platform apps with zero platform differences, ensuring that the app works smoothly on both Android and iOS. With the team's extensive expertise and tech stack, businesses can take their products to new heights with modern, mobile-first approaches that help them stand out in a highly competitive market.
Aubergine Solutions also boasts of hiring top talent and has been named in India's 100 Best Workplaces in IT and IT-BPM Sector as well as Top 25 in India's Best Workplaces for cultivating a culture of Innovation by All By the Great Place To Work Institute. The team also won accolades in the field of UX Design with a Red Dot Award in Interface Design in 2022 and a UX Design Award for Product in 2023.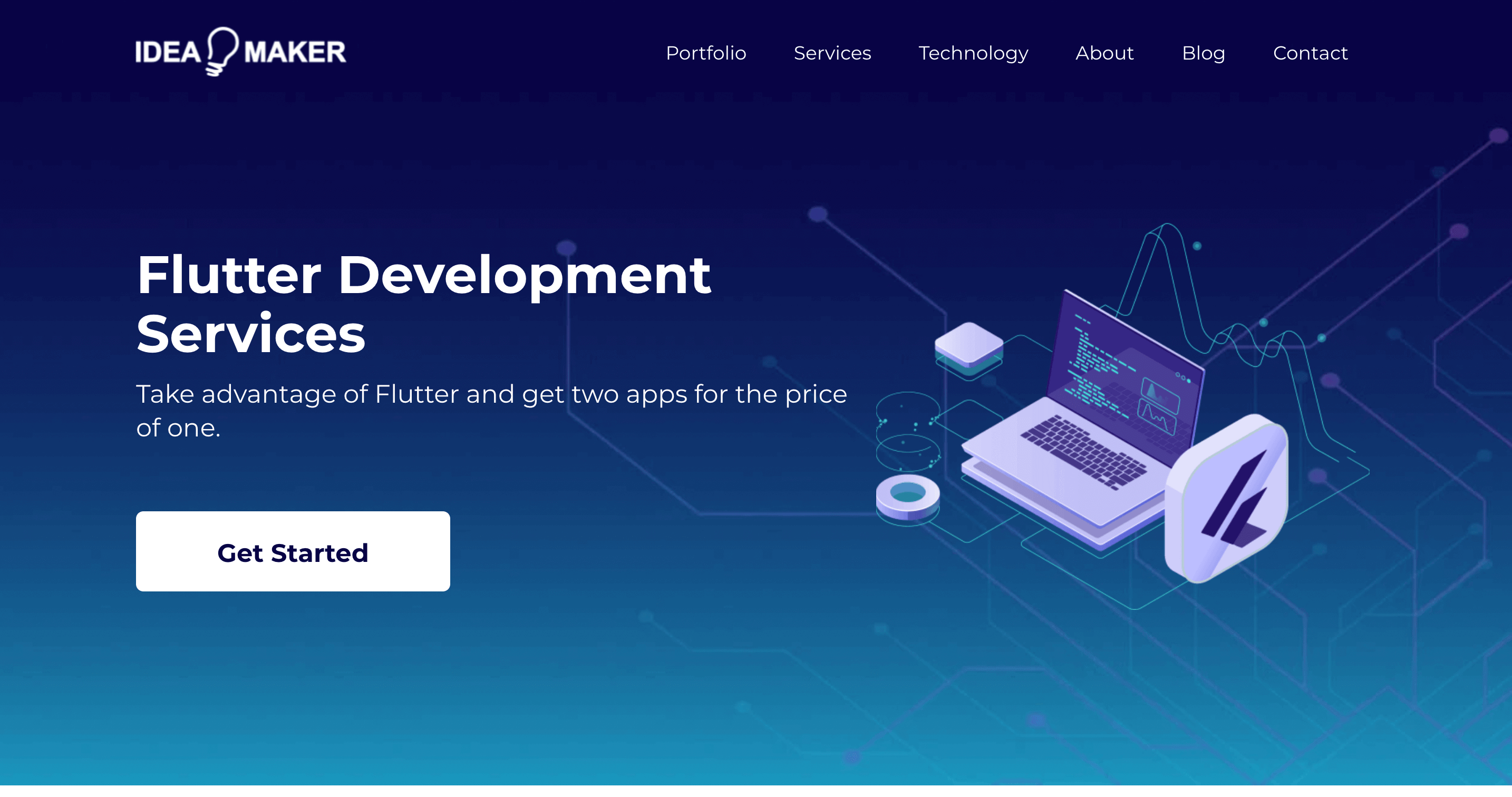 Established in 2016, Idea Maker stands out as a prominent software development company based in the USA. Specializing in Flutter development services, they offer clients to get two high-quality mobile applications for the price of one. Their top-tier Flutter developers leverage the power of cross-platform technology to build cost-effective mobile apps with a single codebase to run across various platforms.
With a remarkable track record of over 40 successful projects, Idea Maker has earned a reputation as a premier provider of mobile apps, websites, and intricate SAAS projects. Dedicated to creating exceptional user experiences, stunning UIs, enhanced scalability, and security, Idea Maker prioritizes the future success of your software. Their team of seasoned developers tirelessly collaborates to craft bespoke applications that are not only user-friendly and efficient but also uphold the highest industry standards.
Recognizing that each business possesses unique software requirements, Idea Maker ensures to construct applications that precisely align with their clients' specific needs. From minimum viable products (MVPs) and feature-rich software to ongoing maintenance and support, Idea Maker equips businesses with all tools necessary for triumph.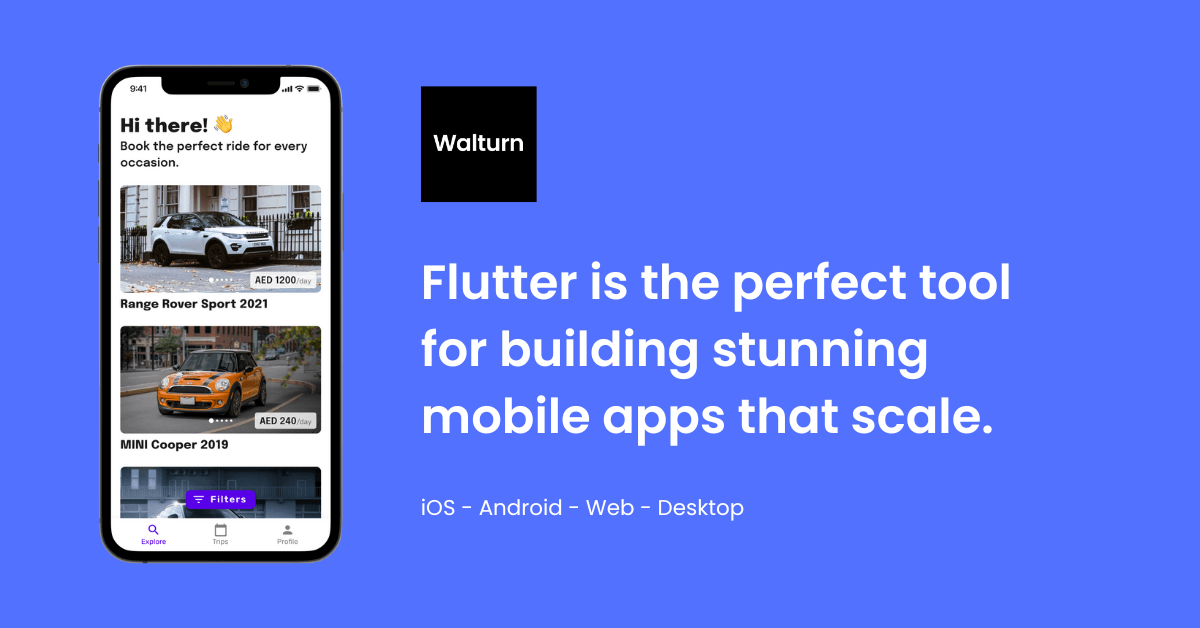 Walturn is an award-winning Flutter application development agency headquartered in New York. Founded in 2017, they specialize in building enterprise-grade mobile apps and offer a range of services, including mobile and web development, UI/UX design, product management, cyber security, and tech strategy consultancy.
The company strongly focuses on developing cutting-edge solutions by prioritizing best engineering practices such as scalable architecture, 100% testing, and system security to ensure your product can scale to millions. With their reliable and innovative solutions and flexible approach, getting started with Walturn is easier than you can even imagine. Trust them with all your mobile app development needs to help your business stand out in a competitive marketplace.
Walturn was recognized as the best boutique consulting firm in the Asian Business Review and many other media platforms. Products created by Walturn have been used at Harvard, MIT, Mubadala, Guggenheim, etc.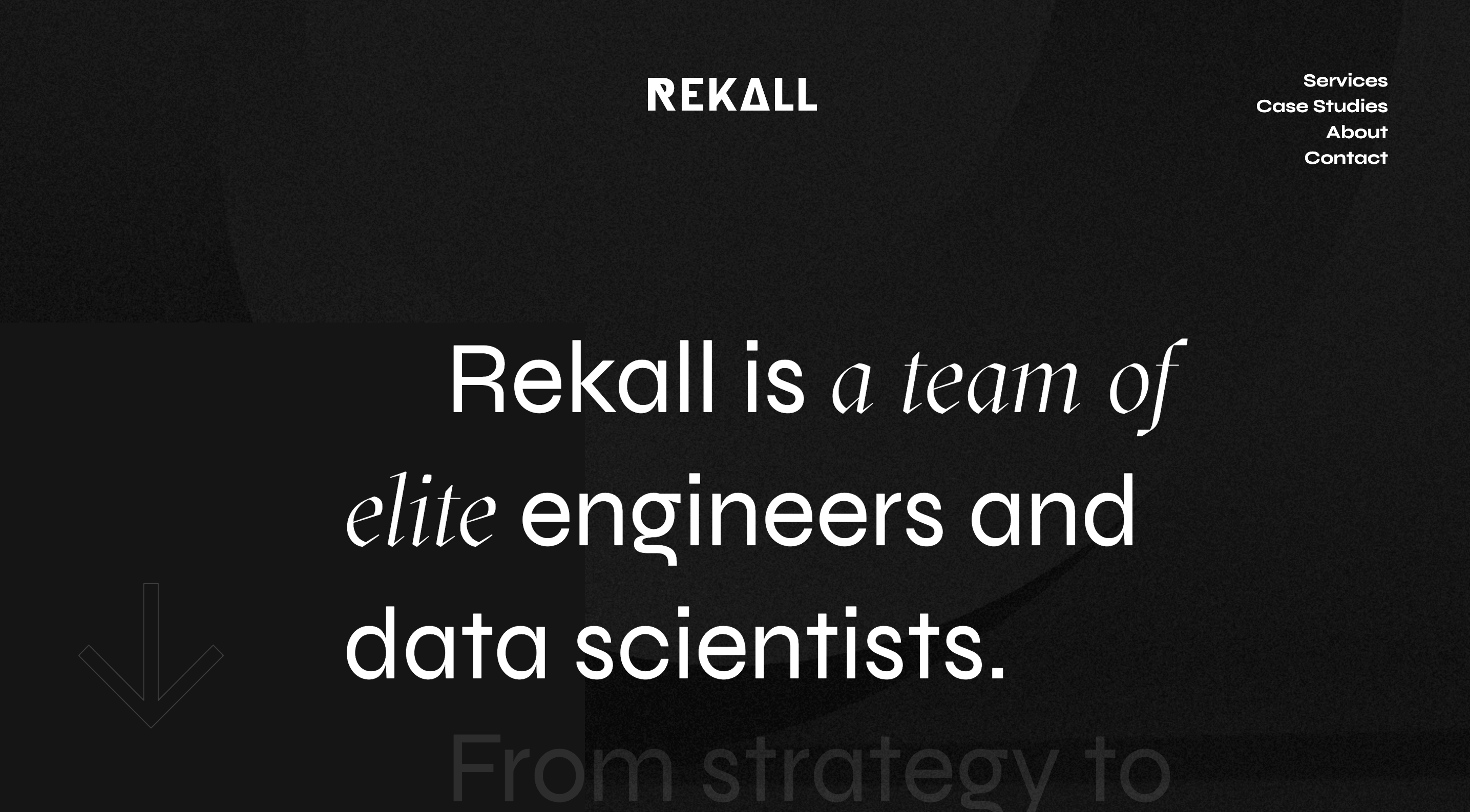 REKALL is a renowned Flutter development agency that provides engineering data solutions and assists forward-looking companies in building next-generation mobile and web apps. Their team skillfully combines IoT, AI, and blockchain technologies with top-notch UX and UI design to ensure the end product perfectly meets your unique goals and helps solve your most pressing business problems. 
Founded in 2017 by passionate technologists with a strong background in building big data and AI products, REKALL believes in embracing automation and decentralization, creating ecosystems where humans and machines can collaborate effectively, generating maximum value and thriving in the new economy.
Headquartered in the vibrant city of New York, REKALL has gathered global knowledge and experience in various industries to cater to clients worldwide. Notably, the agency has partnered with the world's leading brands, such as Nike, Gucci, Orangetheory Fitness, and Triple Five Group (American Dream).
From strategic planning and business goals to seamless implementation, REKALL is committed to delivering efficient Flutter solutions without wasting time on prolonged development cycles. See how they can help your company swiftly deliver products that leverage the potential of new technologies.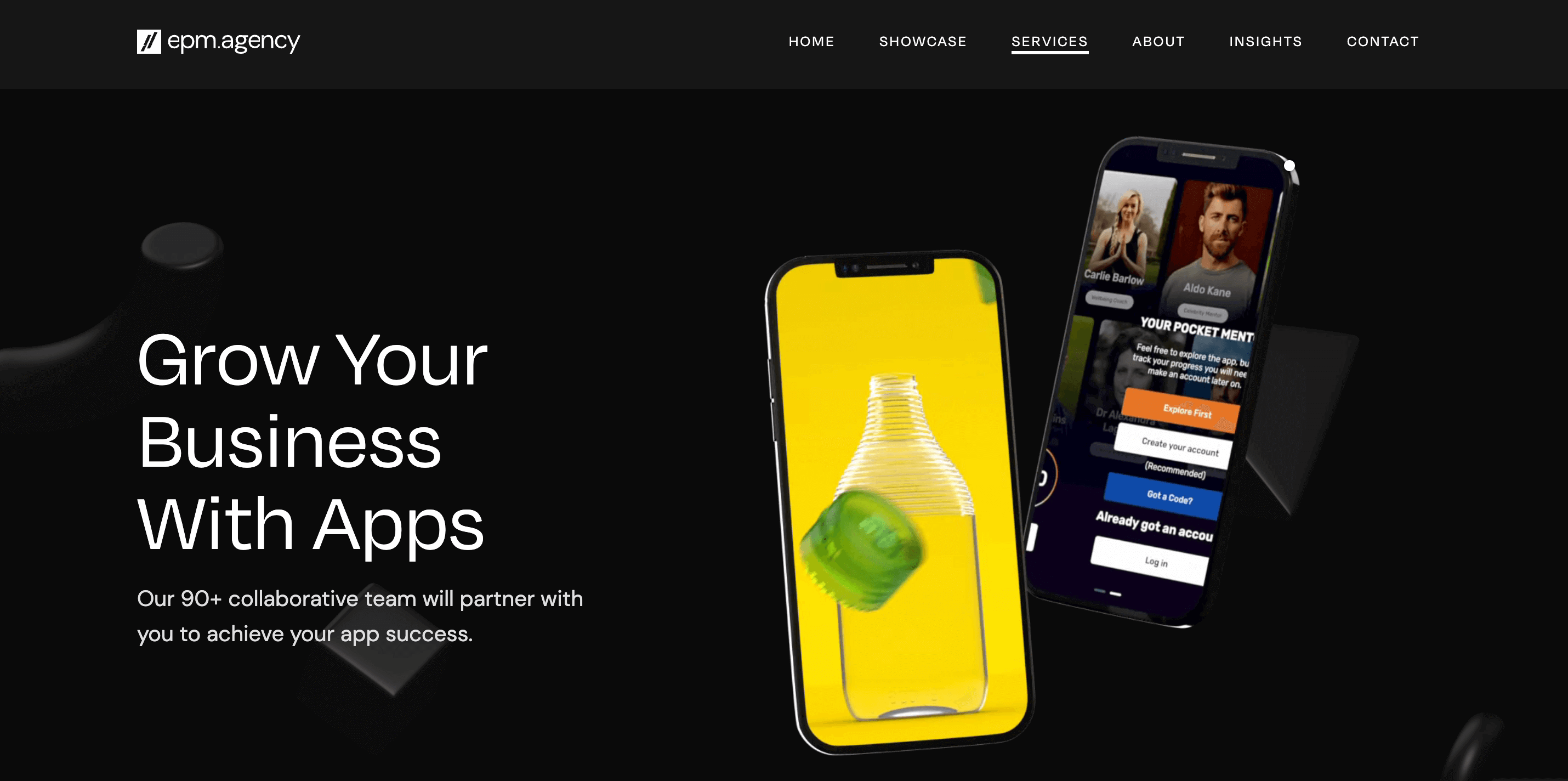 Founded in 1999, EPM Agency has established itself as the leading full-service Flutter app development company creating not only beautiful but powerful applications. With a remarkable team of 90 in-house specialists, EPM is a powerhouse that excels at every project stage, delivering game-changing results for its clients using the finest technologies.
Embracing innovation and excitement, their team can operate as an extension of yours, fostering long-lasting relationships based on mutual respect and collaboration. EPM Agency's impressive portfolio includes renowned brands like Garmin, Sony, Ecover, ROHM, Cobham, Vodafone, TDK, Casio, and many others. These industry leaders have entrusted their projects to EPM Agency, recognizing their comprehensive skill set and ability to grow businesses with tailor-made mobile app solutions.
EPM Agency's talented team is here to help you overcome significant business challenges by crafting captivating app designs, developing robust iOS and Android applications, and creating unforgettable digital experiences. See how their ultimate approach to Flutter development brings your vision to life with precision and creativity.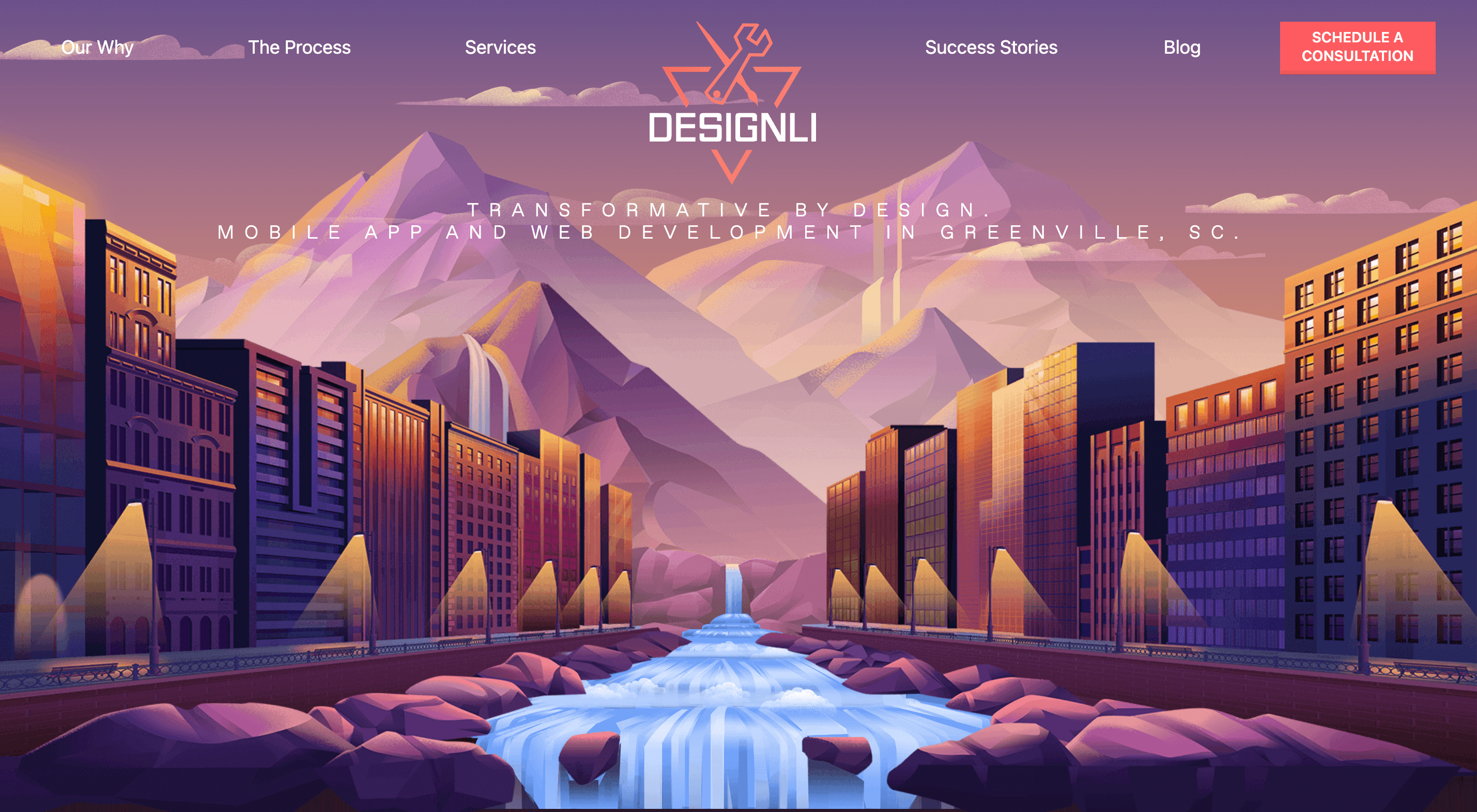 Designli stands out as the leading provider of cross-platform Flutter app development services in the Southeastern region of the United States. Since its inception in 2013, this esteemed company has been dedicated to crafting innovative software solutions and guiding clients through the entire process, from the initial concept to the coveted Version 1 release, with remarkable speed and efficiency. Their commitment extends beyond aesthetics, as they prioritize the creation of robust, scalable, and high-performing mobile apps with an exceptional user experience.
Renowned for their exceptional work, Designli has earned an impressive reputation among startups, individual entrepreneurs, and enterprises alike, bringing them over 100 glowing five-star reviews across Google and Clutch. Their success is rooted in a meticulous development process that includes comprehensive validation of software ideas through proofs-of-concept and visual prototyping, ensuring clients have a clear vision of their product before embarking on full-scale development.
With a team of top-tier engineers proficient in Flutter and other cutting-edge technologies, Designli adheres to industry best practices, consistently delivering code of the highest quality and readability. Their human-centric approach, combined with a vast array of technical expertise, allows them to provide tailor-made solutions that perfectly align with each client's unique business requirements and models.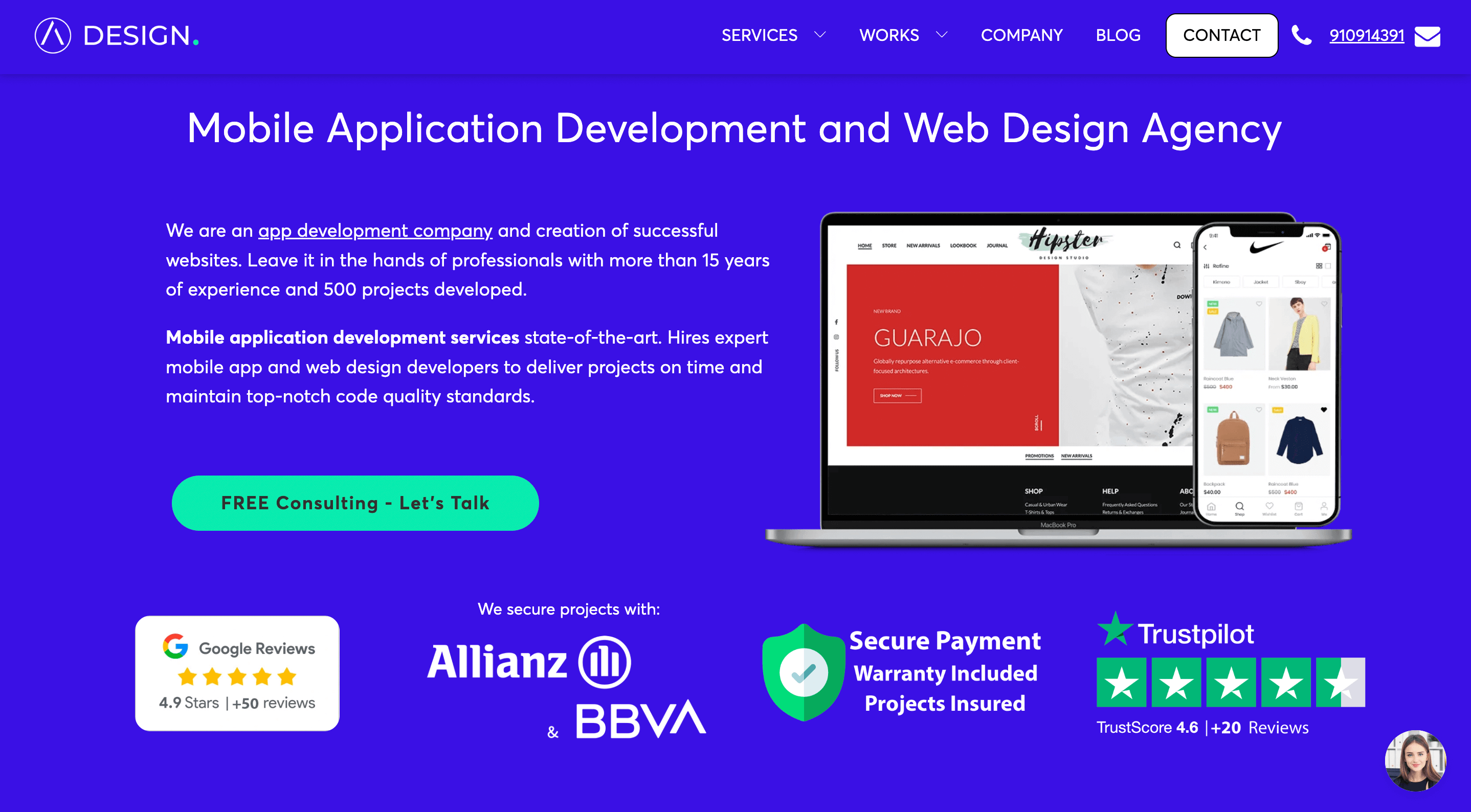 App Design is a reputable and innovative Flutter design and development company specializing in creating outstanding applications for Android and iOS platforms. With a strong focus on excellence, the company also offers web development and design services and cutting-edge eCommerce solutions.
Having over 15 years of experience and an impressive portfolio of 500 successfully completed projects, App Design has established itself as a trusted name in the industry. The firm emphasizes client satisfaction and provides free consulting services to ensure they thoroughly understand each client's specific requirements and objectives.
App Design is recognized for its ultimate expertise in cross-platform and native app development using state-of-the-art technologies to deliver top-of-the-line mobile applications. Their team comprises seasoned professionals with a deep knowledge of Flutter and other technologies, ready to deliver projects on time while adhering to the highest code quality standards.
For businesses seeking to expand their reach and effectively promote their services, a Flutter application developed by App Design will offer the best value for the investment.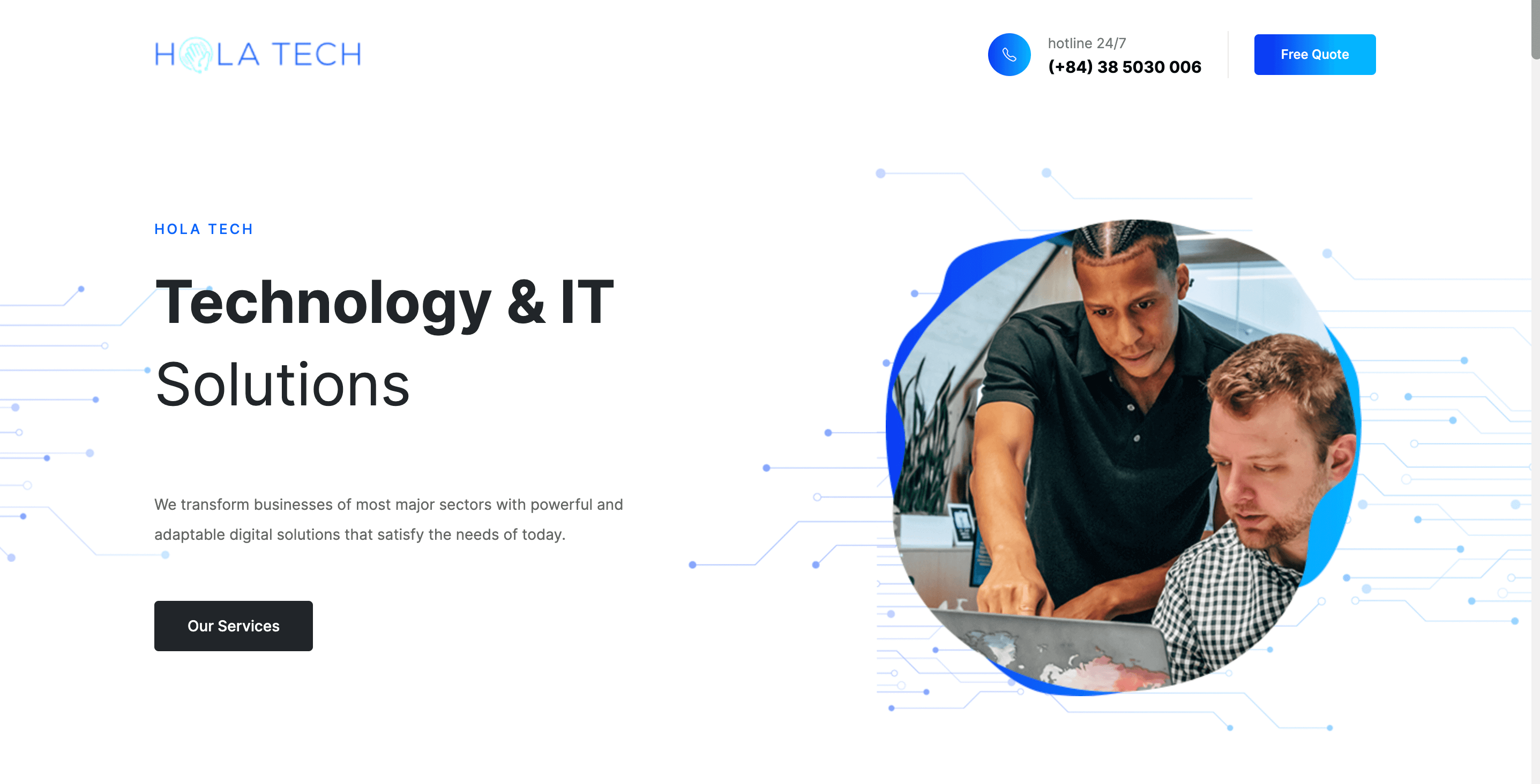 Hola Tech is a premier software development company that provides groundbreaking and cost-efficient web and mobile app solutions that satisfy the needs of today. Based in Vietnam, the firm serves clients worldwide, helping modernize their IT infrastructures and bringing their ideas to life.
Focusing on budget-friendly Flutter app development, Hola Tech can deliver robust, secure, and highly scalable applications that attract users and let your business stand out. Their highly skilled developers have successfully created over 40 high-performing and profitable apps within various industries, including Finance, Healthcare, Retail, Real Estate, Logistics, and Education.
Established in 2022, Hola Tech is actively transforming businesses across major sectors with adaptable and powerful digital solutions. With a team of 40+ dedicated employees operating in two offices in Vietnam, Hola Tech prides itself on exceptional customer service and 100% client satisfaction. Stay ahead of the curve with Hola Tech, a trusted partner in digital transformation!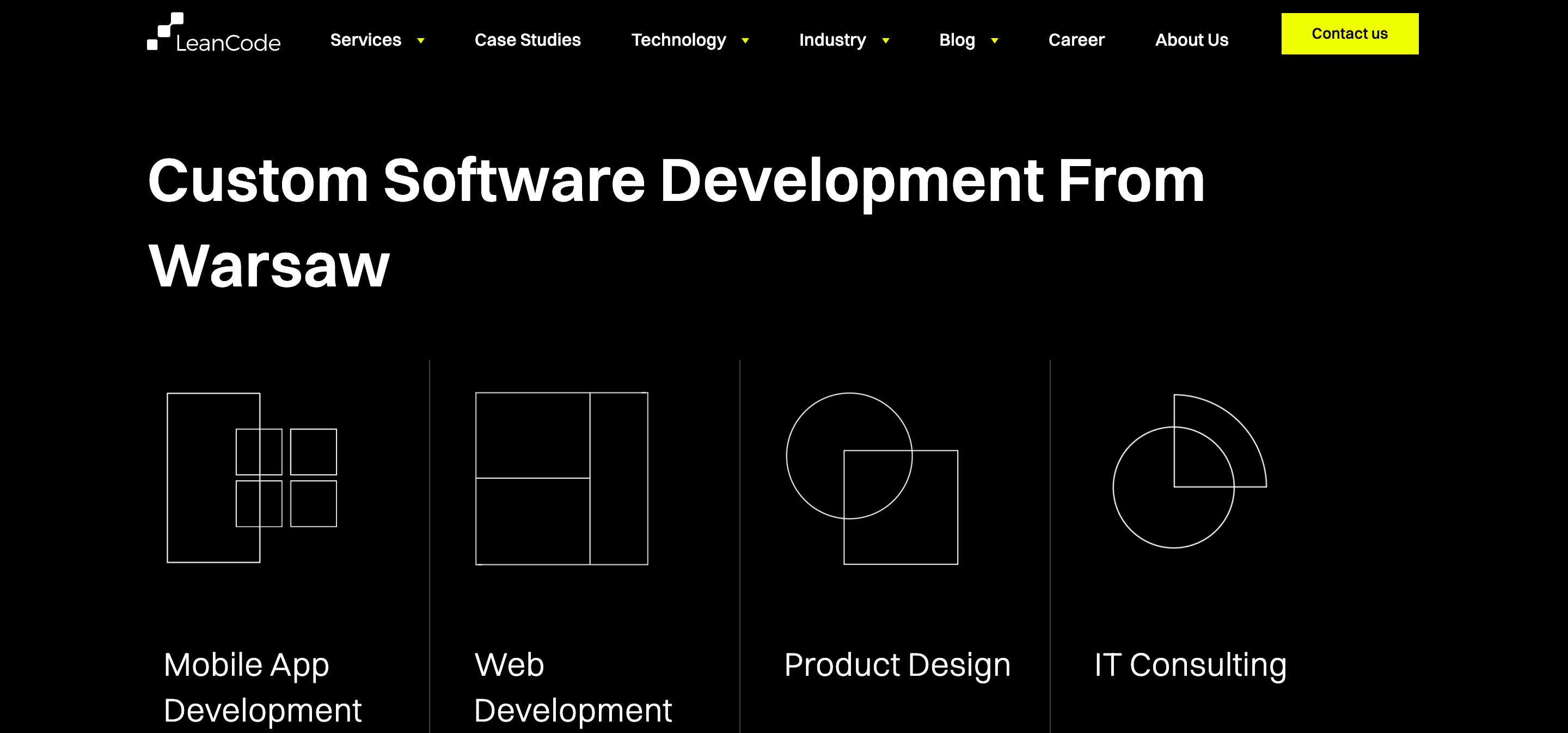 LeanCode stands as the foremost Flutter development services provider in Poland and beyond, specializing in building cutting-edge mobile applications for Fortune 500 Enterprises, encompassing Banks with intricate SLA programs, as well as emerging startups with prominent ideas. 
Devoted to the Flutter community, LeanCode proudly hosts the world's largest Flutter conference, Flutter Europe, and one of the most substantial meetups, Flutter Warsaw. With 7 years of hands-on experience, LeanCode has managed 17 Flutter Warsaw meetups and successfully delivered over 50 projects.
Their achievements have been highlighted in esteemed publications on Forbes, Fintek, Yahoo!, and inhire.io. Boasting a stellar reputation, the agency has earned 5 stars Clutch and secured recognition as Top Technology Fast 50 and Top Software Developers by TopDevelopers.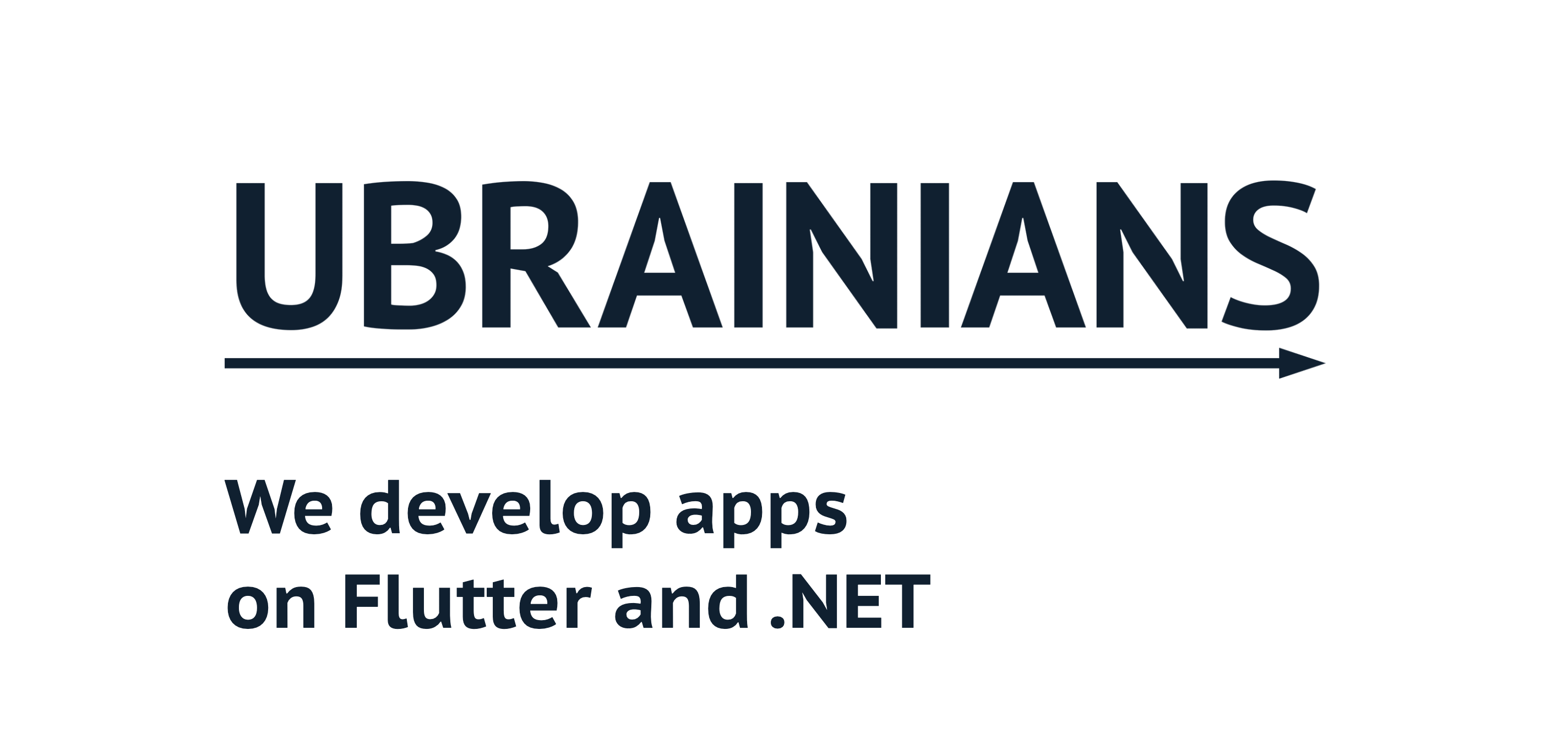 UBRAINIANS is a prominent IT house from Kyiv, Ukraine, focused on developing impactful apps for startups using Flutter and .NET. They were among the first to use the Flutter framework, so they now have rich experience in mobile, desktop, and web app development.
Besides technical expertise, the main value this team provides to the clients is preliminary and ongoing consulting. They help you understand all the ins and outs of the product that you want to develop, generate ideas, write clear requirements, create logically structured prototypes, prepare estimates, etc. After the application is launched, UBRAINIANS' experts continue supporting it.
Another strength of this team is the efficiency and transparency of their processes. Their clients always know when and what they should get and are asked to prepare necessary materials or information according to the schedule and checklists.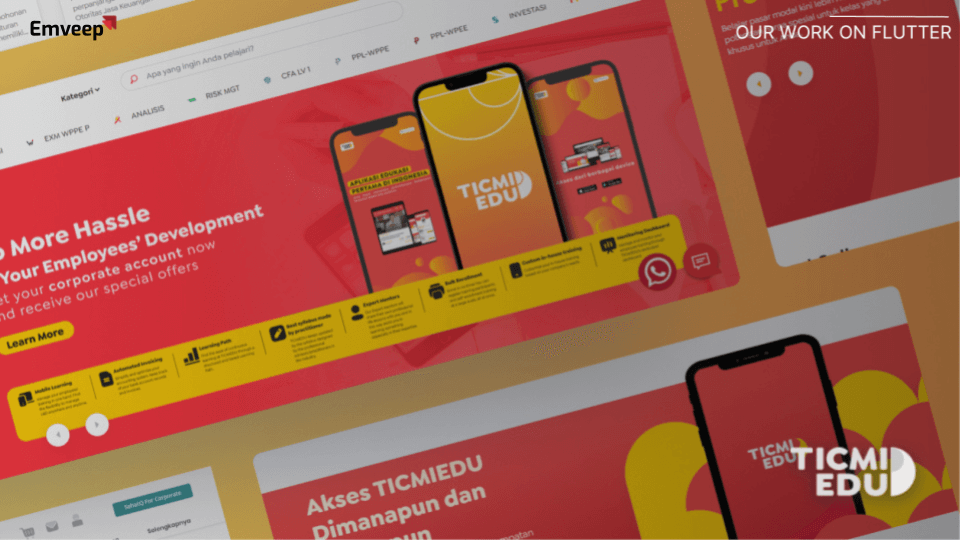 Emveep is a subsidiary of WGSH that have one of specializes in Flutter app development. Based in Indonesia, the company has been in this business since 2006 and built hundreds of mobile apps that are scalable, secure, and digitally innovative.
They work with companies around the world to offer customized solutions that address their specific needs and challenges. Their team has the expertise and experience to handle any project, from application development and integration to maintenance and support.
One of their clients is TICMIEDU; Emveep has developed a seamless and user-friendly Flutter mobile app for them. They helped the client identify their business issues and created a solution that improved their company and fit their budget.
If you are looking for a trusted outsourcing partner for Flutter app development, Emveep is the right choice for you. Contact them today, and let them help you achieve your goals.
Founded in 2011, Code Heroes is an Australian software development agency comprised of reliable and highly motivated developers. Dedicated to helping clients create user-centric mobile products, the collaboration with this partner can help enhance customer value and drive digital transformation within organizations. 
Focusing on Flutter development, these top-notch specialists work with clients worldwide to understand their requirements, align with their environment, and best meet the project's needs.
Using the latest mobile technologies, Code Heroes becomes an extension of your team to deliver custom, enterprise-grade software solutions. Their expertise encompasses mobile, desktop, and web applications, backend services, and integration with other business or third-party systems.
With extensive knowledge, the agency can help you create cutting-edge, industry-leading solutions that drive success in the digital landscape. If you need a reliable agency that can develop apps on iOS and Android simultaneously without compromising on performance and quality, Code Heroes Flutter development services are what you need.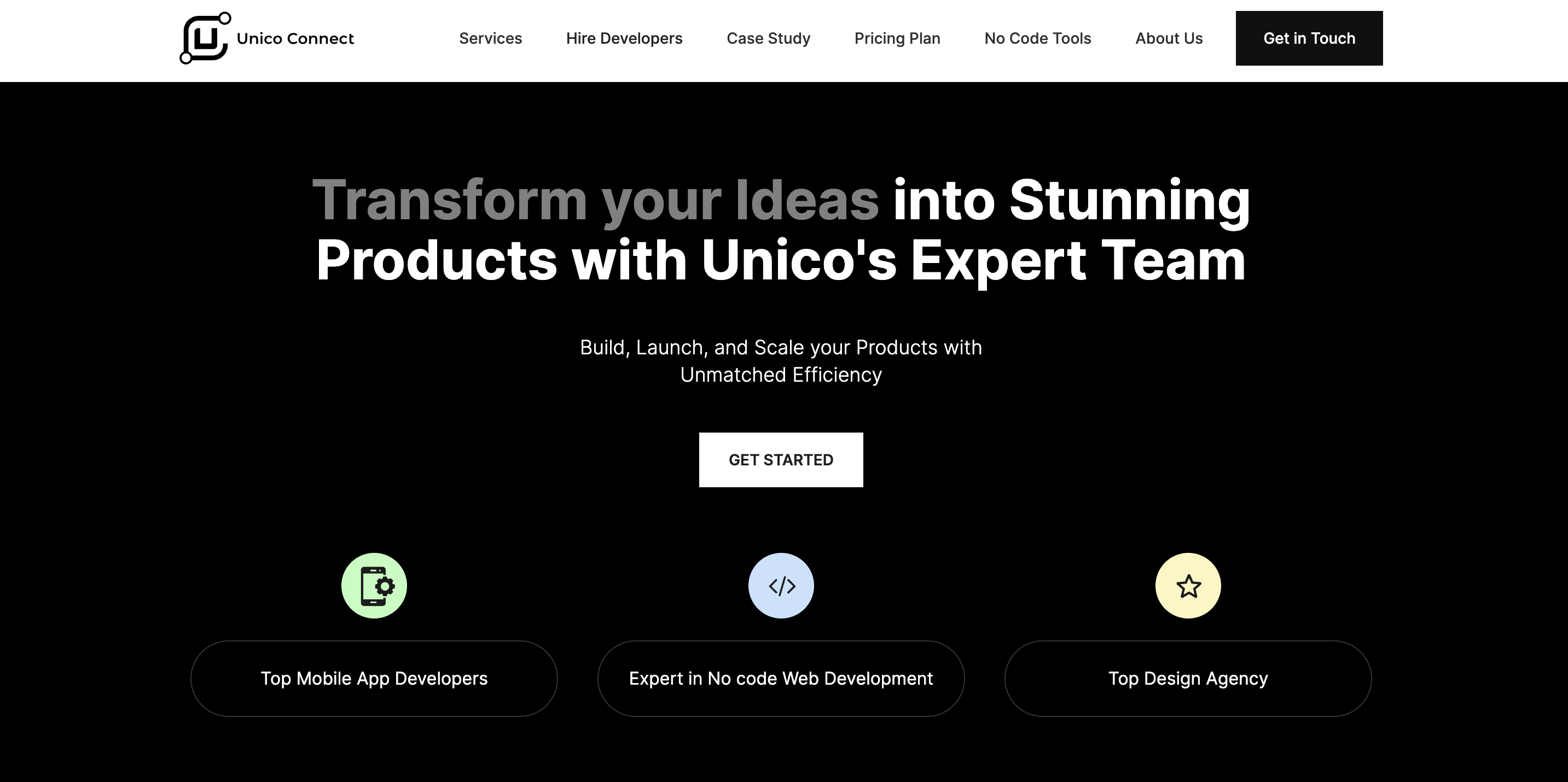 Unico Connect stands out as one of the premier Flutter development companies, offering businesses state-of-the-art software solutions at unparalleled speed.
Harnessing the boundless development capabilities of Flutter, Dart, and other cutting-edge technologies, this company excels in crafting and launching custom cross-platform applications for your business with remarkable efficiency and cost-effectiveness. Leveraging an impressive tech stack, Unico Connect empowers enterprises to automate their processes and workflows, elevating their overall efficiency and productivity.
With a presence in the market since 2014, this company has amassed invaluable expertise across diverse industries and technologies, including no-code tools and code-based programming languages. Their proficient team collaborates closely with international clients, comprehending their distinctive requirements and delivering tailored app solutions that drive their primary business objectives forward.
Unico Connect's team of technology experts carefully selects the optimal tech stack to expedite the development and deployment of bespoke scalable apps, all while providing continuous support to ensure your business attains the desired outcomes.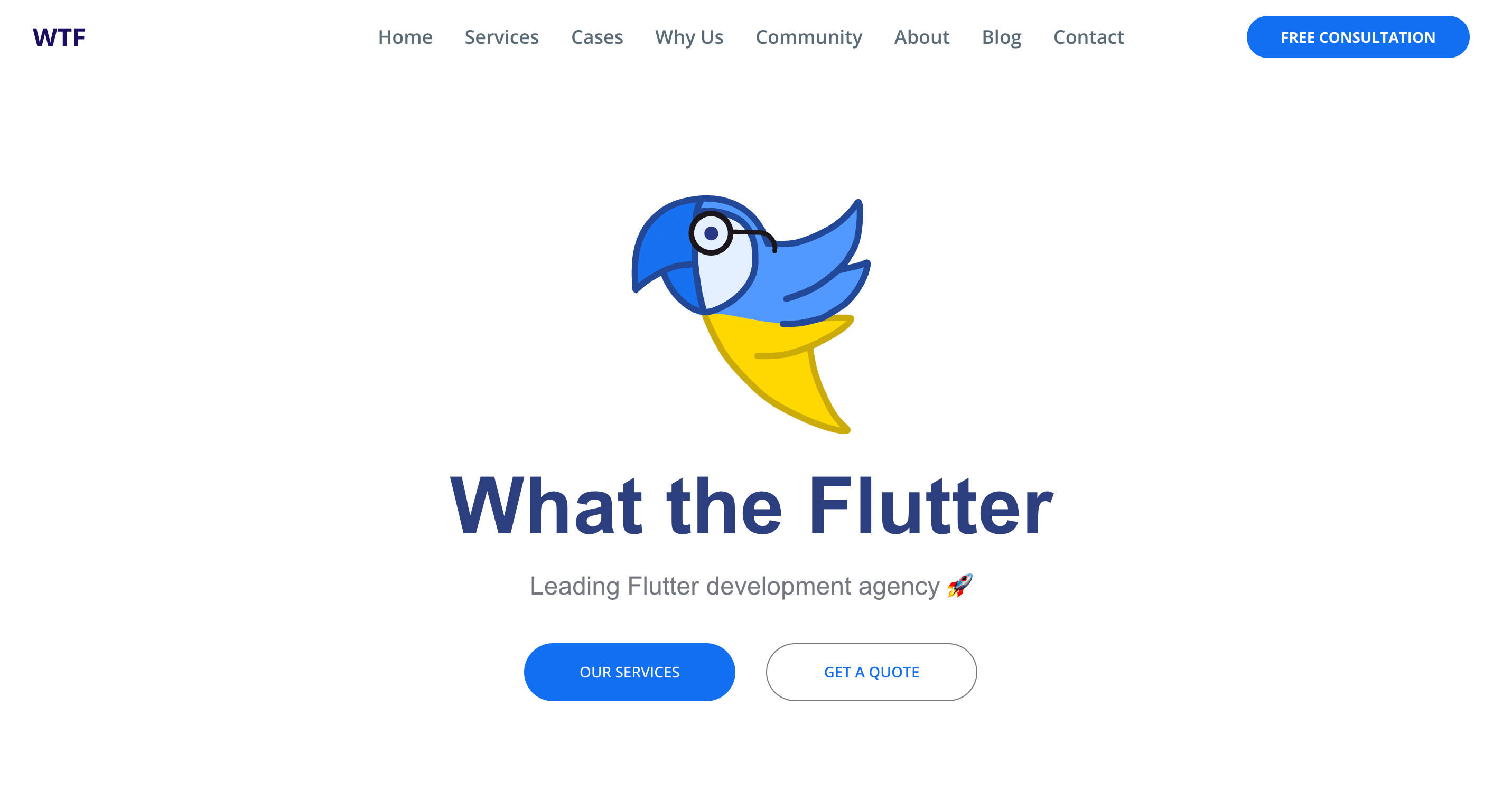 Founded in 2018, What the Flutter is a leading Flutter development agency renowned for its unparalleled expertise in Flutter and other mobile technologies.
Being one of the first IT firms in Europe to use Flutter in mobile app development, they actively share knowledge and insights, fostering growth within the Flutter ecosystem. With a dedicated team of 20+ top-notch developers, the company provides Flutter laboratory, wherein students are systematically trained from theory to practice. Noteworthy partnerships with 5 prominent information technology universities across Europe further enhance their status as industry leaders. 
The company boasts an impressive track record of 40+ successfully completed Flutter projects, which is a testament to their proficiency and reliability. Their service focus primarily centers on industries such as FinTech, HealthTech, EdTech, and others, empowering modern businesses to thrive and grow.
Having started its history with Flutter's 1.0 version, What the Flutter consistently pushes the boundaries of this technology. By delivering a wide range of software development and maintenance services, including staff augmentation to help clients build flexible Flutter teams, guiding startups through MVP development, and providing in-depth technical audits to optimize existing projects, What the Flutter is a go-to partner for businesses seeking to achieve enduring success.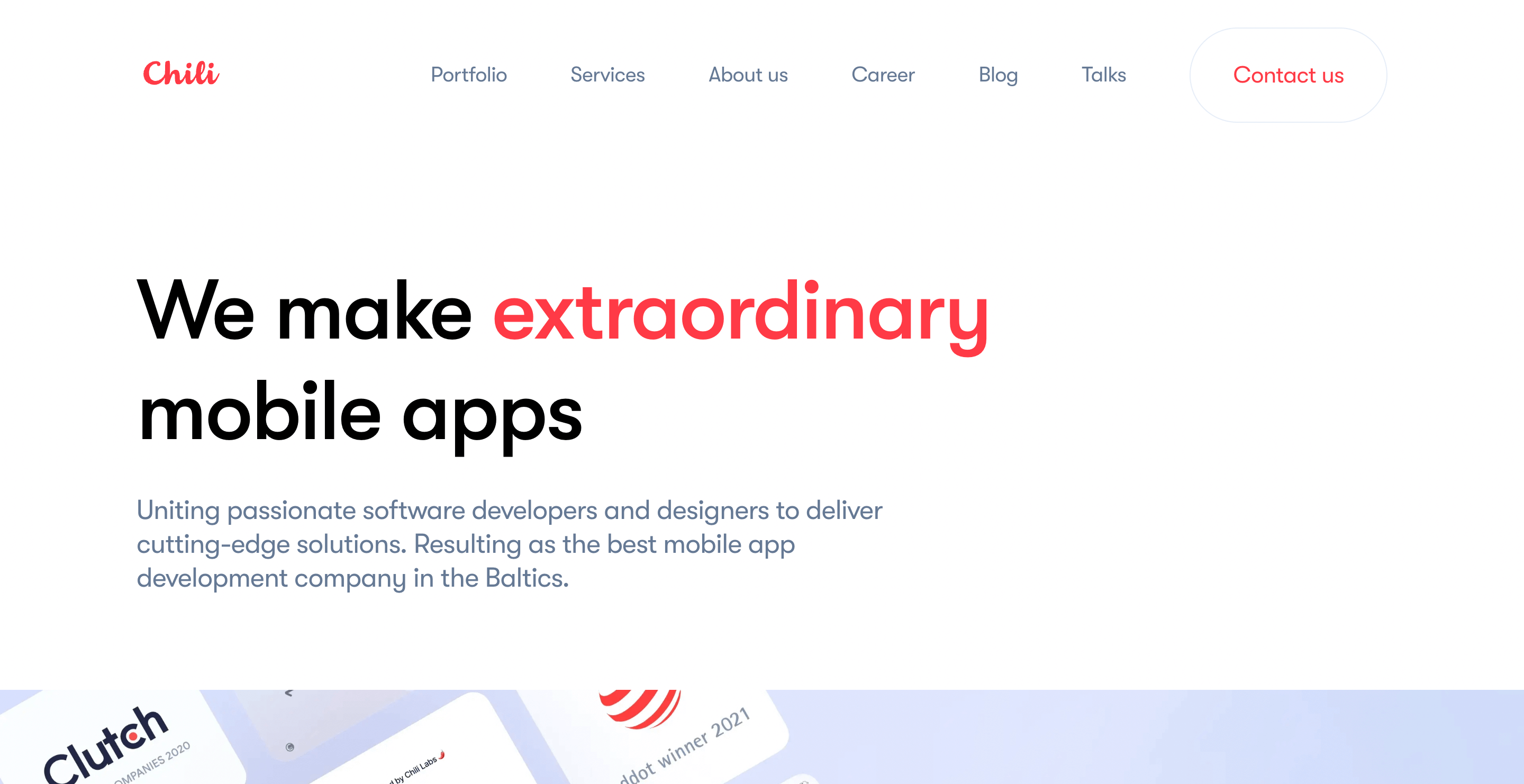 Chili Labs is the unparalleled leader in Flutter app development in the Baltics. Renowned for its commitment to excellence and passion for top-quality mobile apps, wearable gadgets, AR, and other innovative systems, the agency has crafted over 30 modern mobile apps exclusively on Flutter and won over 10 esteemed awards, including RedDot, W3, and Clutch recognitions.
In addition to their rich expertise in Flutter, Chili Labs extends their proficiency to Android and iOS native app development, code audit, QA, and UI/UX design services. With a team of 35+ talented engineers, developers, and designers, the company has consistently delivered flawless mobile apps and captivating designs in the Fintech, eCommerce, Messengers, and Insurance industries since its inception in 2016.
Embracing the spirit of collaboration, Chili Labs actively shares its vast experience and knowledge with dev communities by organizing monthly meetups for developers and designers absolutely free of charge and participating as speakers in Flutter conferences all over the world. What's more, they have a Flutter academy; their expert team provides a comprehensive Flutter Framework essentials course.
With an impressive track record of success and an unwavering dedication to innovation, the company firmly establishes itself as a leading mobile development services provider not only in the Baltics region but in the whole world.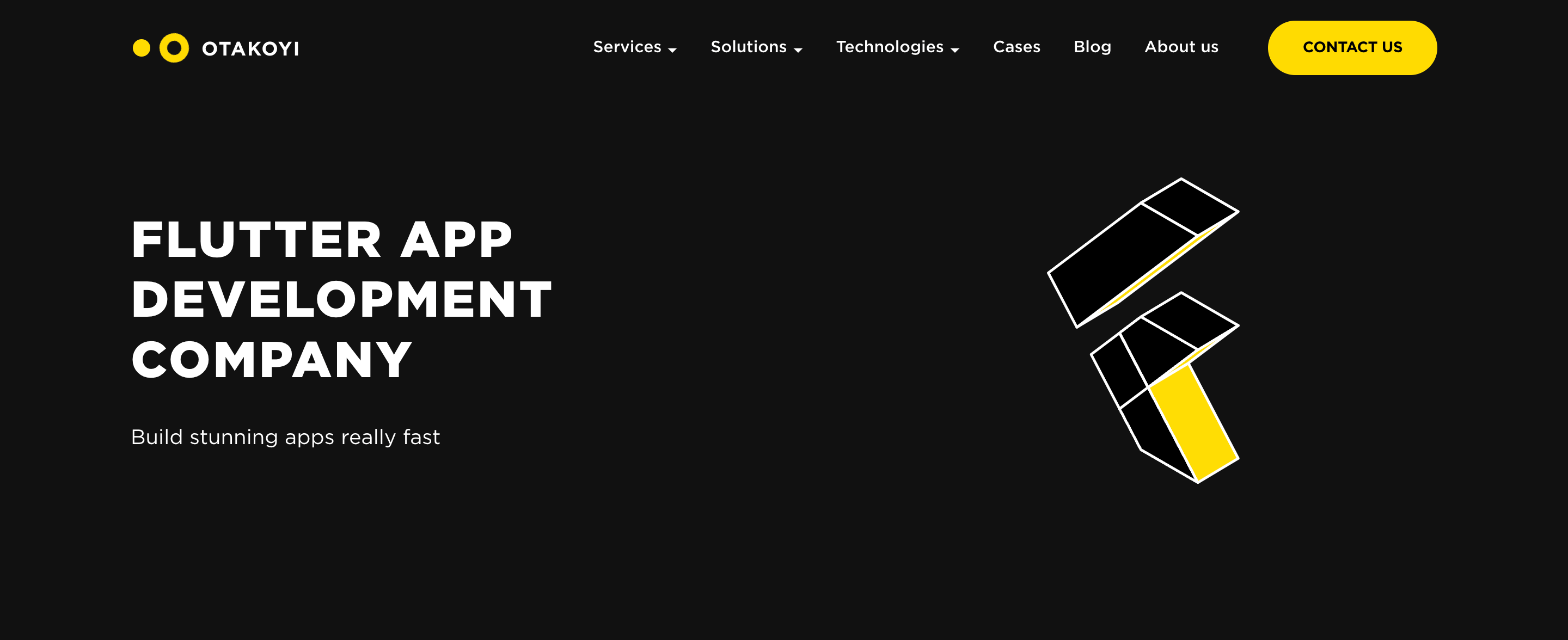 Founded in 2011, OTAKOYI has been dedicated to empowering startups, scaleups, and global industry leaders with premier software design and Flutter development services. With an unwavering commitment to delivering world-class digital products, their accomplished engineering teams from Ukraine have consistently propelled businesses to success.
Basting in partnerships with over 150 international companies, including esteemed names like KIA, Stripe, Philip Morris, and Kraft Heinz, the company's expertise spans diverse sectors such as Real Estate, Healthcare, EdTech, and Green & Renewable Energy.
Setting itself apart from mere outsourcing firms, OTAKOYI emerges as a reliable technical partner. From initial business analysis to prototyping, web and app development, and ongoing support, they cover the entire project lifecycle. Specializing in Flutter app development, the team leverages this technology to its fullest potential, ensuring effective contribution at every stage of business partnership. Opting for OTAKOYI's Flutter developers guarantees top-tier service from a team dedicated to delivering excellence within stipulated timelines and budgets.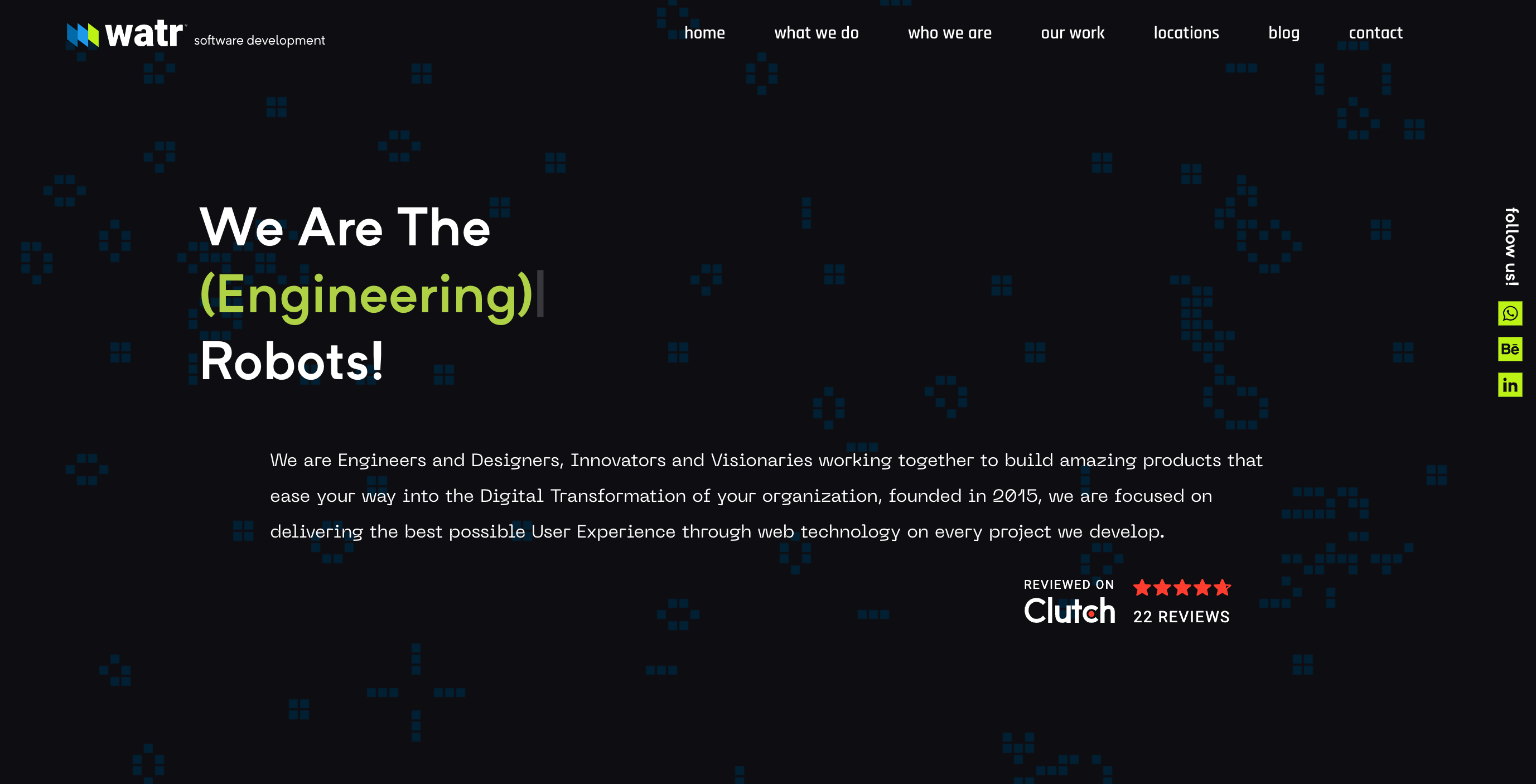 We Are The Robots (WATR) is a top Flutter development company founded in 2015. They're a team of ingenious engineers, designers, innovators, and visionaries who work together to create unique digital products that ease clients' way into the digital transformation, delivering the best possible UX.
With the mindset of a trusted advisor and tech partner that leverages cross-platform technology to help organizations add value, reach their strategic goals, and gain a competitive advantage with enterprise-grade digital solutions, the company has received numerous awards, recognitions, and certificates.
Their 360-degree approach involves gathering requirements with further analysis, design, development, testing, deployment, implementation, and support for the final software. They apply best-in-class Agile methods, targeting the intersection between customer needs and business goals while balancing aesthetics and functionality. WATR prioritizes customer satisfaction and believes in building long-term partnerships with clients.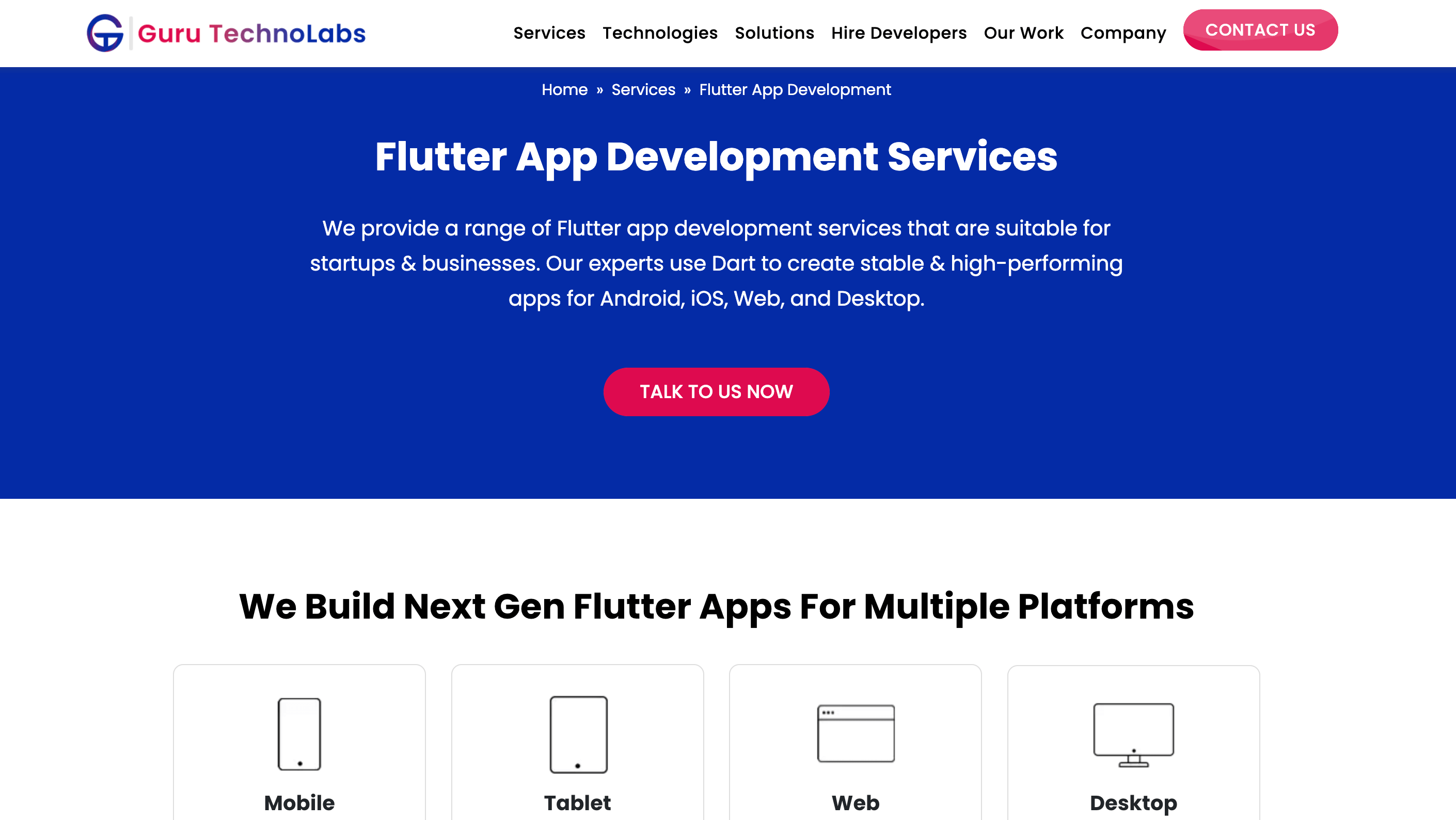 Guru TechnoLabs is a web and mobile app development company that specializes in Flutter app development. With a team of skilled developers and designers, they help businesses create innovative and high-quality mobile apps that are both functional and user-friendly. They follow a customer-centric approach and work closely with their clients to understand their unique requirements and deliver solutions that meet their specific needs.
Using the latest tools and technologies, Guru TechnoLabs offers a comprehensive range of Flutter app development services for a wide range of industries, including Healthcare, eCommerce, Social Networking, and more. Their services cover the entire app development lifecycle, from ideation and design to development and deployment.
They have delivered successful apps that are bug-free, scalable, and secure. Whether it's a simple app or a complex one, Guru TechnoLabs has the expertise and experience to handle any project from start to finish.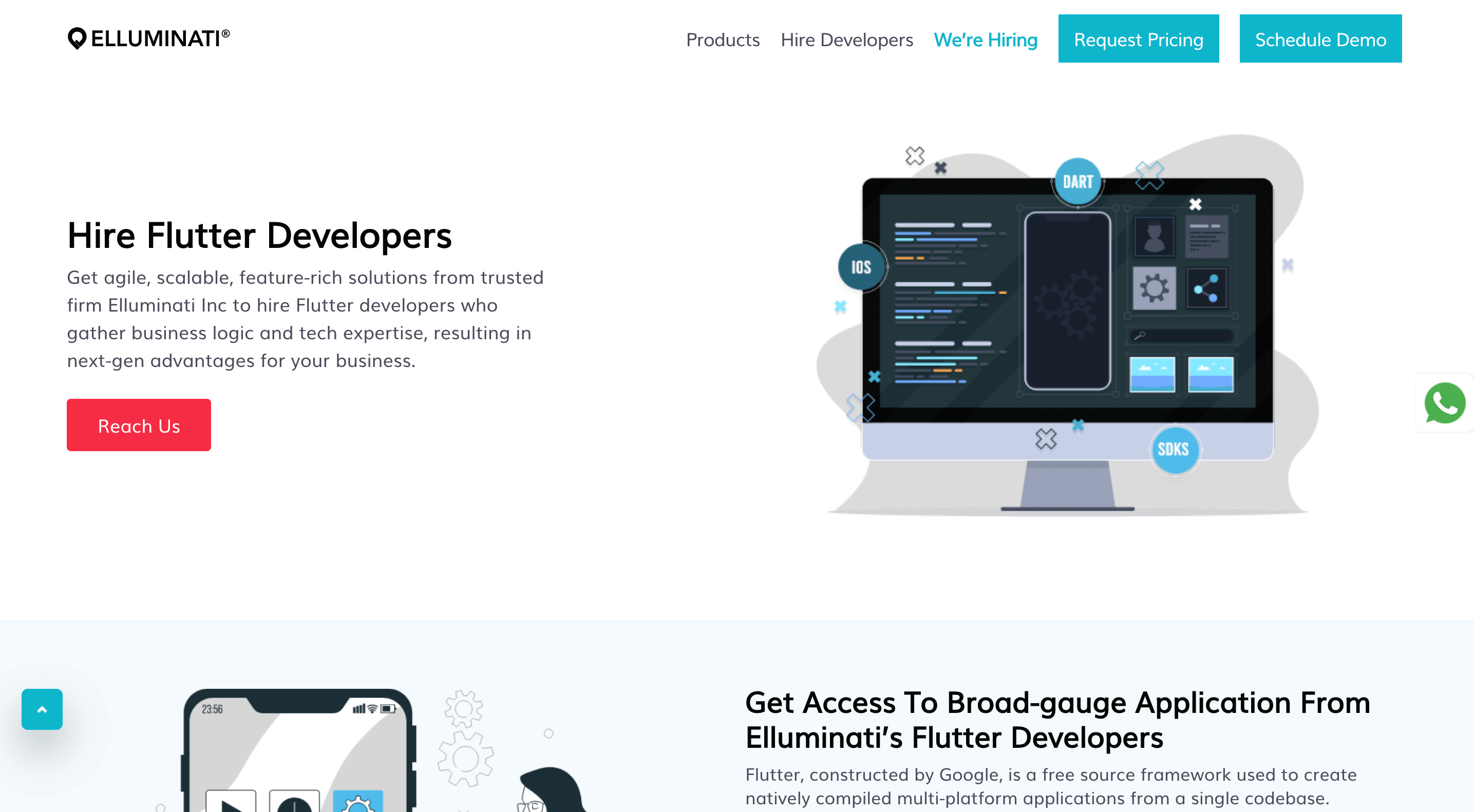 Elluminati is an IT company offering mobility solutions and web and mobile app development, leveraging various business categories with industry-ready and technologically-efficient solutions. Flutter is one of the technologies where their developers are proficient in executing complex business ideas into error-free, smooth-functioning applications. 
They serve various industries across the world to assist the diverse requirements of the business for IT solutions. With more than a decade of experience in the field, the firm has managed to build a strong team that has expertise in both solving problems and interacting with clients worldwide. 
They ensure the integrate of all the necessary features, making an interactive and seamless workflow of the Flutter application. Get in touch with Elluminati to hire Flutter developers to convert your idea into a beneficial solution. 
DhiWise is a programming platform where developers can convert their designs (Figma, XD, or Sketch) into developer-friendly code. DhiWise automates the application development lifecycle and instantly generates readable, modular, and reusable code.
Turn your ideas into Flutter apps faster by automating the development process with DhiWise, the all-in-one mobile app development platform that will generate Flutter code in clean code architecture with the support of GetX and Bloc state management.

You can also start with pre-built templates. Choose from a library of over 100+ templates or 1000+ screens, which you can customize with DhiWise's Smart Editor.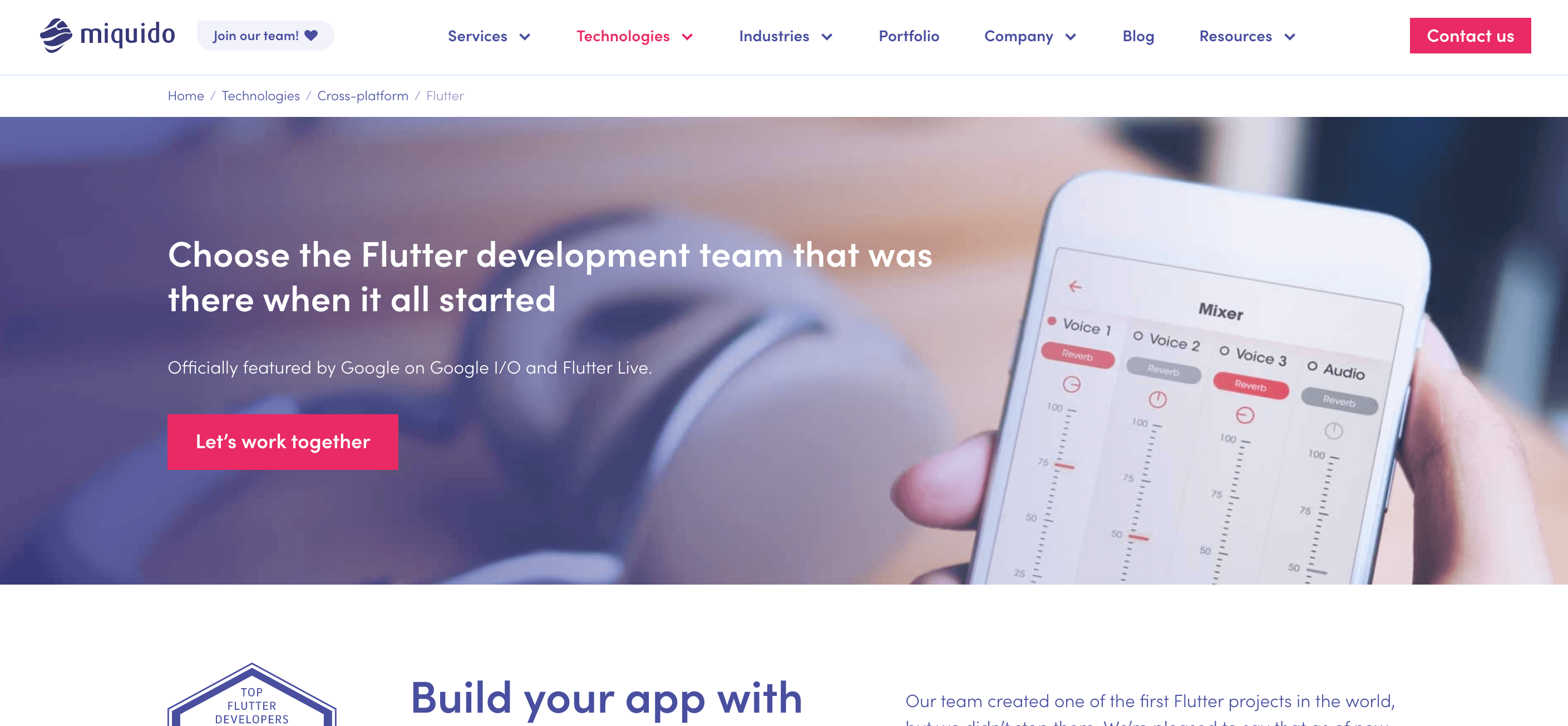 Miquido is a leading full-service software development company that aims to provide cutting-edge cross-platform mobile solutions using Flutter. Established in 2011, the firm has delivered more than 250 digital products, including numerous Flutter apps.
They present themselves as one of the first Flutter app makers in Europe and are recognized as the number one Flutter development company on Clutch. Miquido's top Flutter developers have developed top-rated apps for the world's leading giants, such as Skyscanner, Aviva, and Travelport.
The company provides full-cycle Flutter development services such as Flutter app development and migration, UI/UX audit, and much more. Their core areas of expertise include eCommerce, Banking, Music, Travel, Healthcare, and Fintech. Miquido's development approach is customer-oriented; hence, transparency in work and communication comes unasked.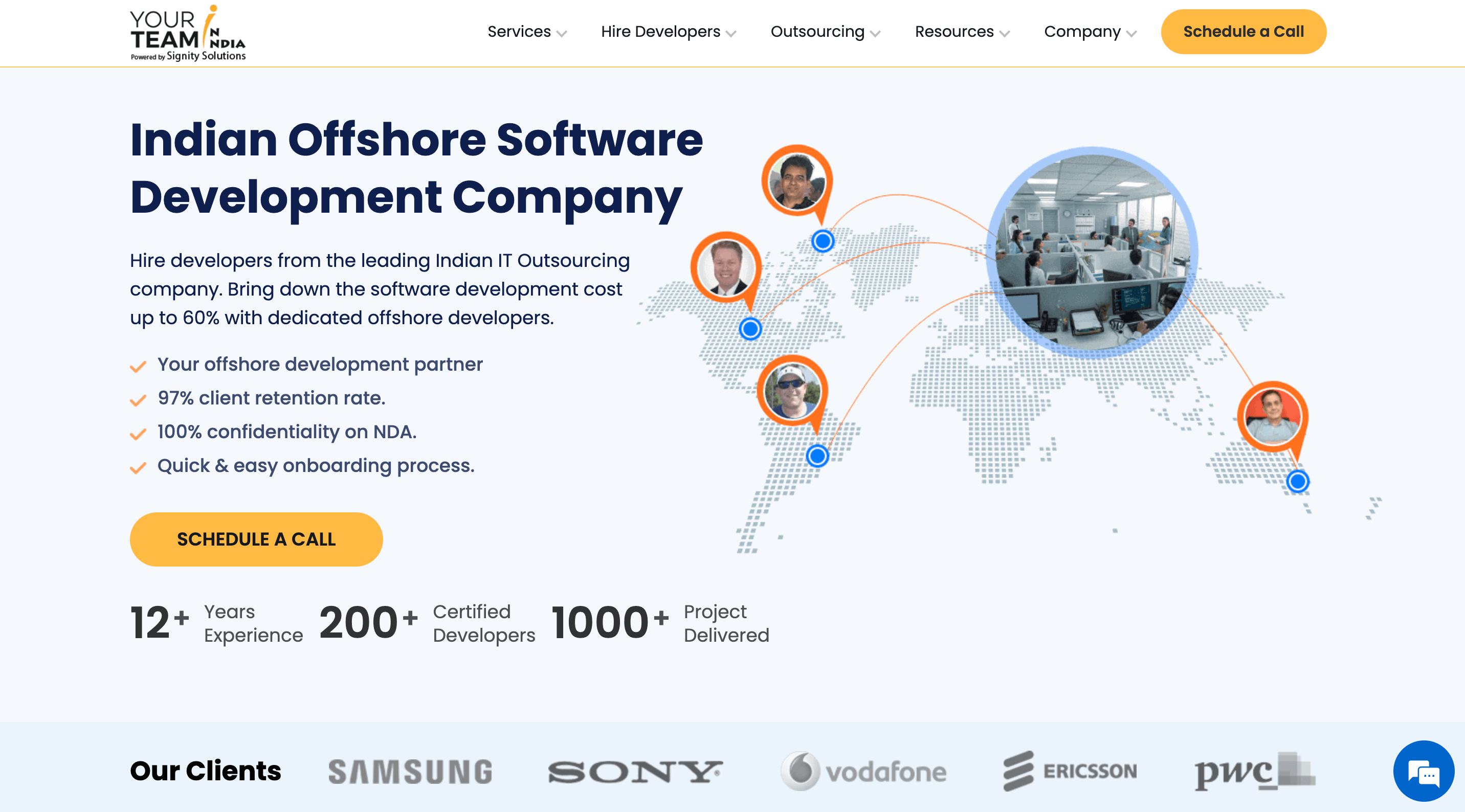 Your Team in India has established itself as a top Flutter app development company, renowned for its exceptional expertise in crafting cutting-edge, high-quality applications.
With a dedicated team of proficient developers, they possess the technical know-how and experience to bring innovative solutions to life using the versatile Flutter framework.
Your Team in India consistently delivers seamless, feature-rich, and visually stunning applications for businesses worldwide, ensuring a captivating user experience across diverse platforms.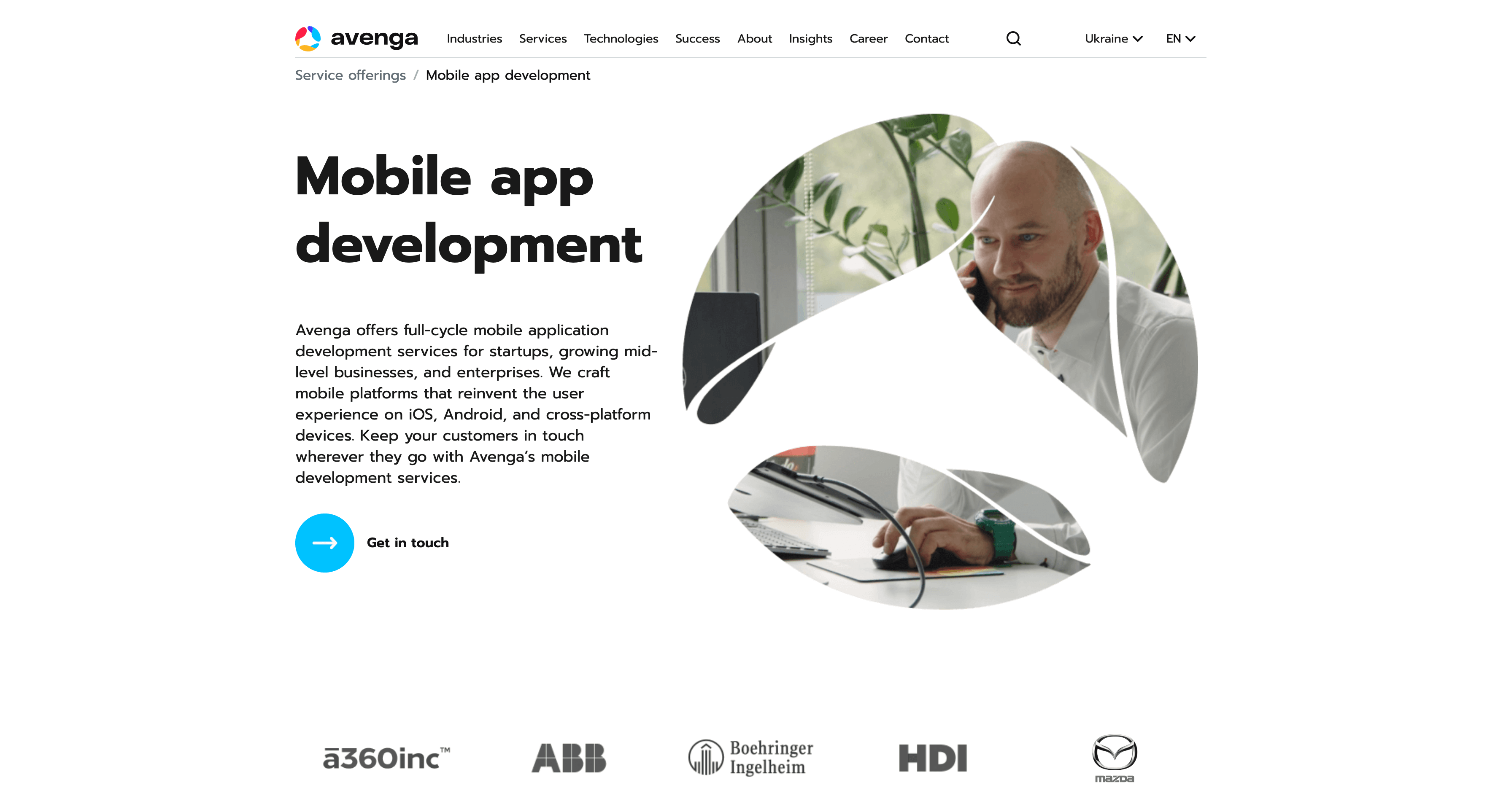 Avenga is a global IT engineering and consulting platform specializing in Flutter development. Over the last 20+ years, the company has successfully delivered software products for 410+ clients, including IQVIA, Intel, SwissLife, GSK, Mazda, and others.
Avenga is a top-notch partner for projects in the Pharmaceutical, Healthcare, Automotive, Finance, or Insurance industries. Operating from 7 centers in Europe, the Americas, and Asia, they deliver a comprehensive suite of Flutter services, from native and cross-platform app development to UX/UI design and continuous app maintenance. 
This technology company employs 4300+ digital transformation specialists with profound technical expertise recognized by partners and customers worldwide.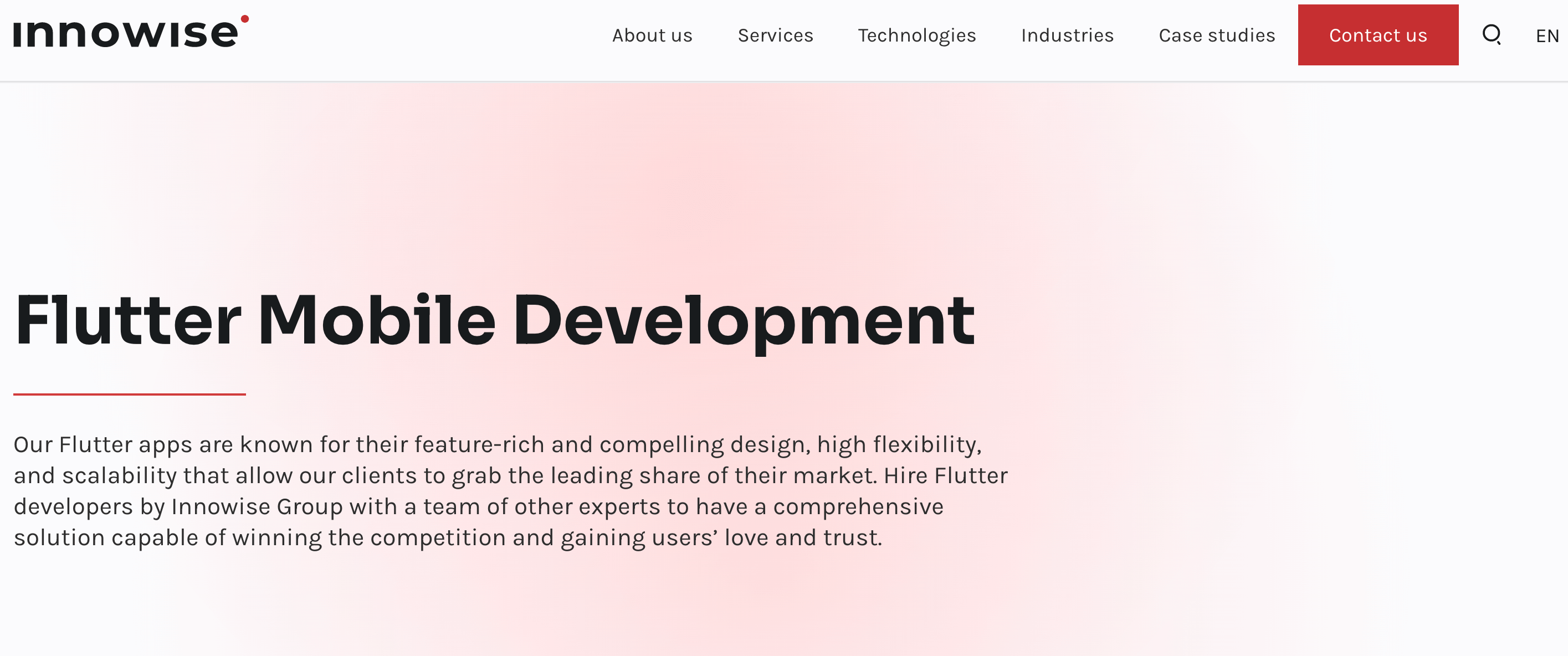 Innowise Group is an international full-cycle software development company headquartered in the USA with offices worldwide. It's one of the Inc. 5000 companies and is recognized as one of the top software development companies by Clutch. They have a large team of 1400+ IT professionals who have implemented 600+ projects for over 200 customers from 30+ countries.
Excellent and user-appealing Flutter development is the key offer in their list of services. Mainly they cover custom Flutter app development, consulting, and maintenance. Their Flutter apps are known for their feature-rich and compelling design and scalability that allow their clients to grab the leading share of their market.
Innowise Group's services are well suited for over 40+ industries. Some of the major sectors they work with are Fintech, Medtech, eCommerce, Enterprise, Logistics, Real Estate, and Media & Entertainment.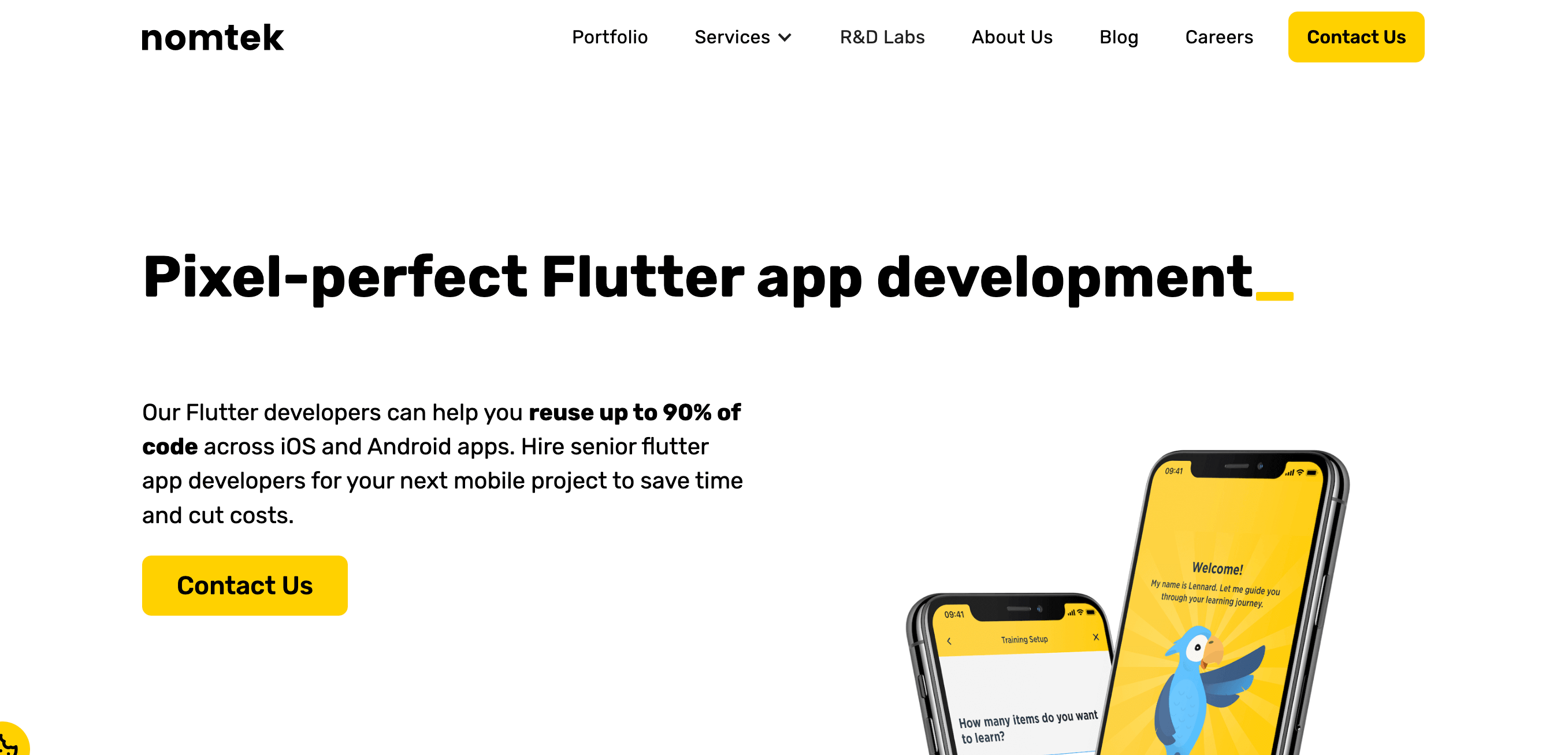 Nomtek is one of the best software development companies, providing Pixel-perfect Flutter development services. Their top Flutter developers can help you reuse up to 90% of code across iOS and Android apps, making it easier and quicker to build cross-platform mobile solutions.
Their team has a sound experience in Flutter development and has built some great and intuitive Flutter-powered applications. Hiring Nomtek for your tech needs ensures business-focused development, platform-specific deployment, close-to-native app performance, and decreased development time and budget. 
So, don't wait! Hire senior Flutter developers from Nomtek today for your next mobile project to save cost and time.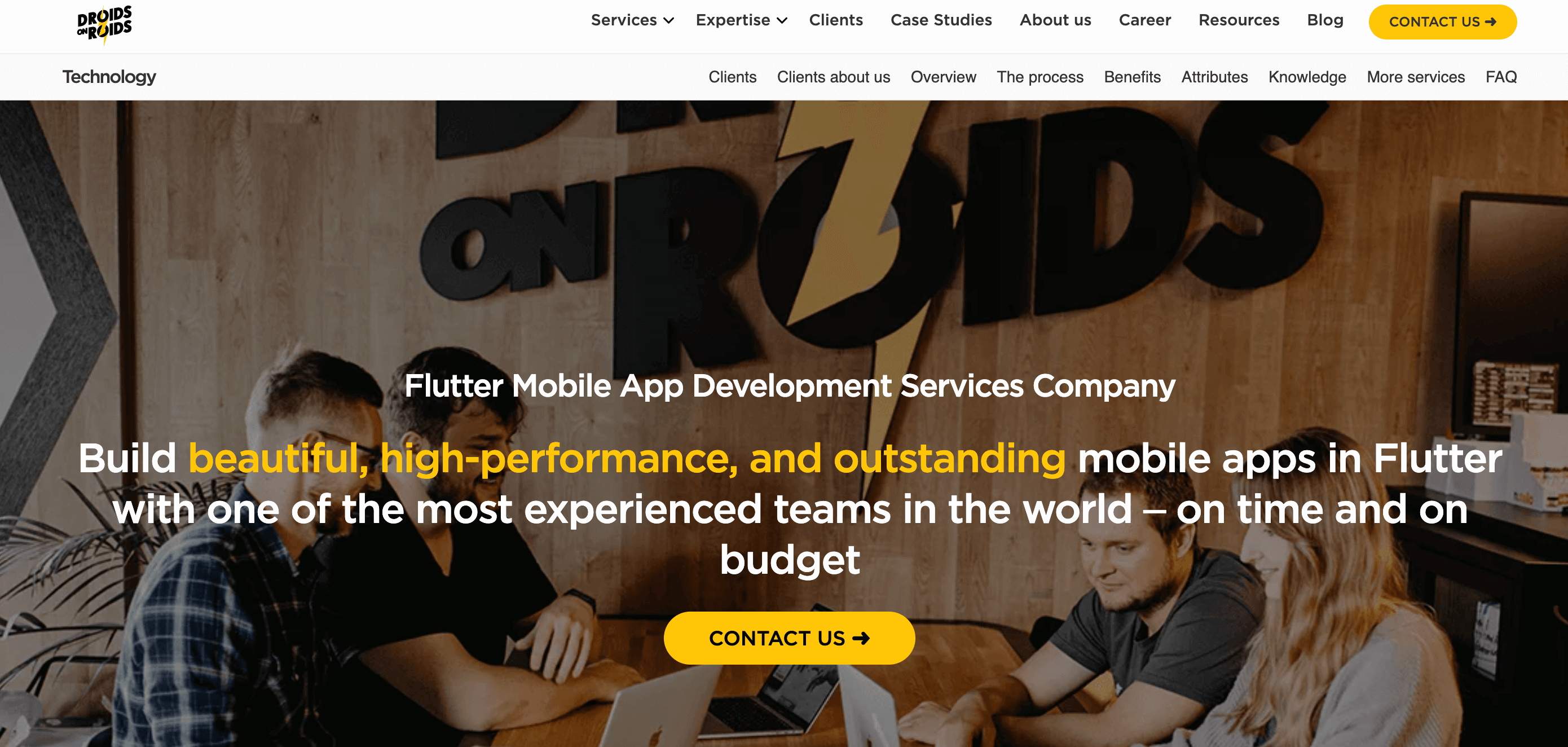 Droids on Roids is an experienced Flutter development agency that has been providing custom, high-performance, and beautiful Flutter apps since 2017. Founded in 2011, they have grown to a team of 80+ professionals and have delivered over 130 projects to clients worldwide, mainly in the EU, US, and UK. The best part is they offer a 2-week free trial as well as provide the 1st demo in just 7 days.
Their team of 20 skilled, best Flutter developers can build native apps with Flutter, following a goal-oriented and fast process. The company's services include Flutter native and cross-platform app development, UX & UI design, and app maintenance.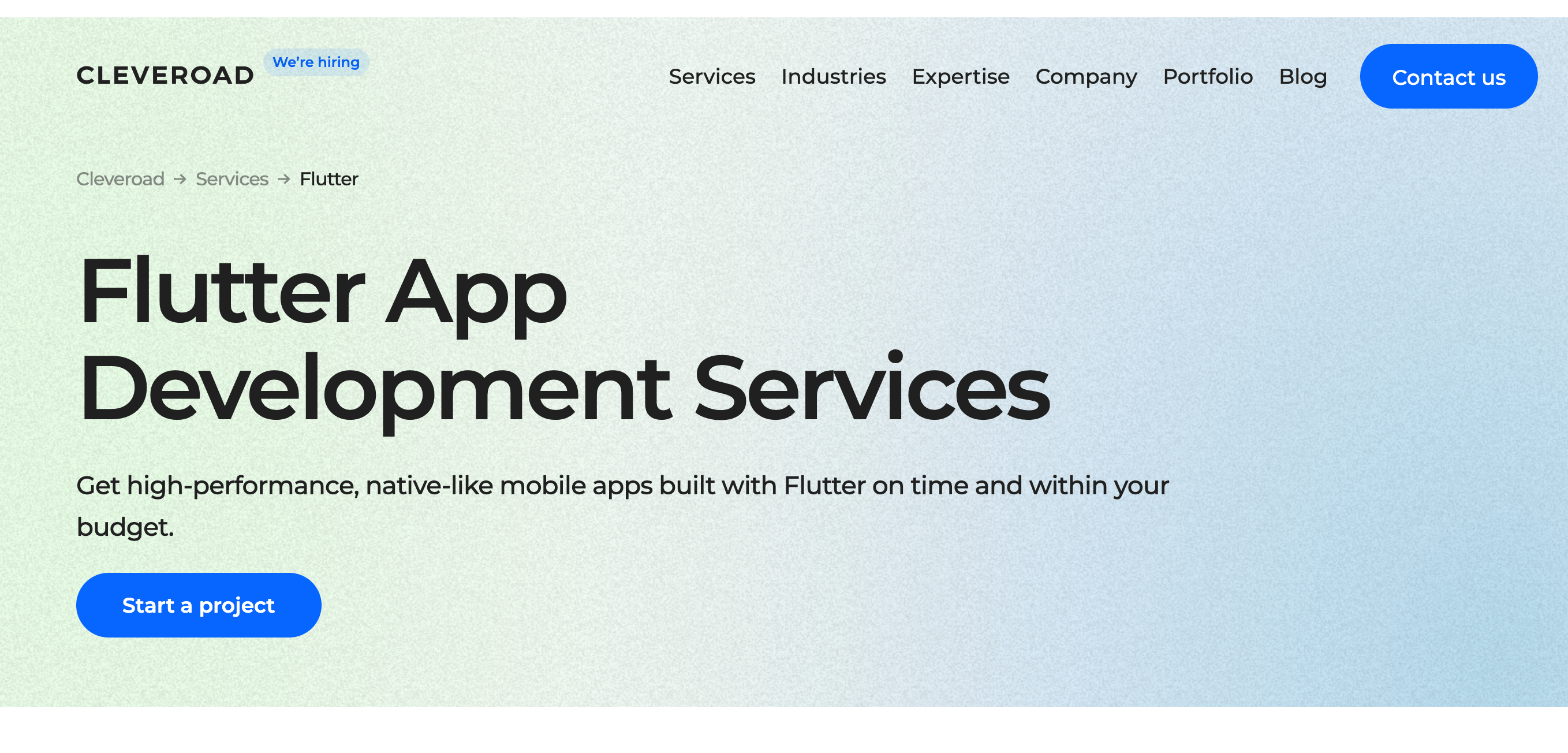 Cleveroad is a famous software development company from Tallinn, Estonia, that aims to build custom B2B and B2C apps for a variety of industries and startups by leveraging the power and benefits of the Flutter framework. 
Cleveroad boasts an excellent reputation in the European Flutter development market and has partnered with big names such as Rakuten, HSBC, Lego, Octopus, BMW Group, Lamborghini, and Virgin Atlantic. 
The company provides Flutter app development, native mobile app development, app migration, and support and maintenance services. Some of their core industries are HealthTech, Supply Chain & Logistics, FinTech & Blockchain, Retail, Travel, and Entertainment.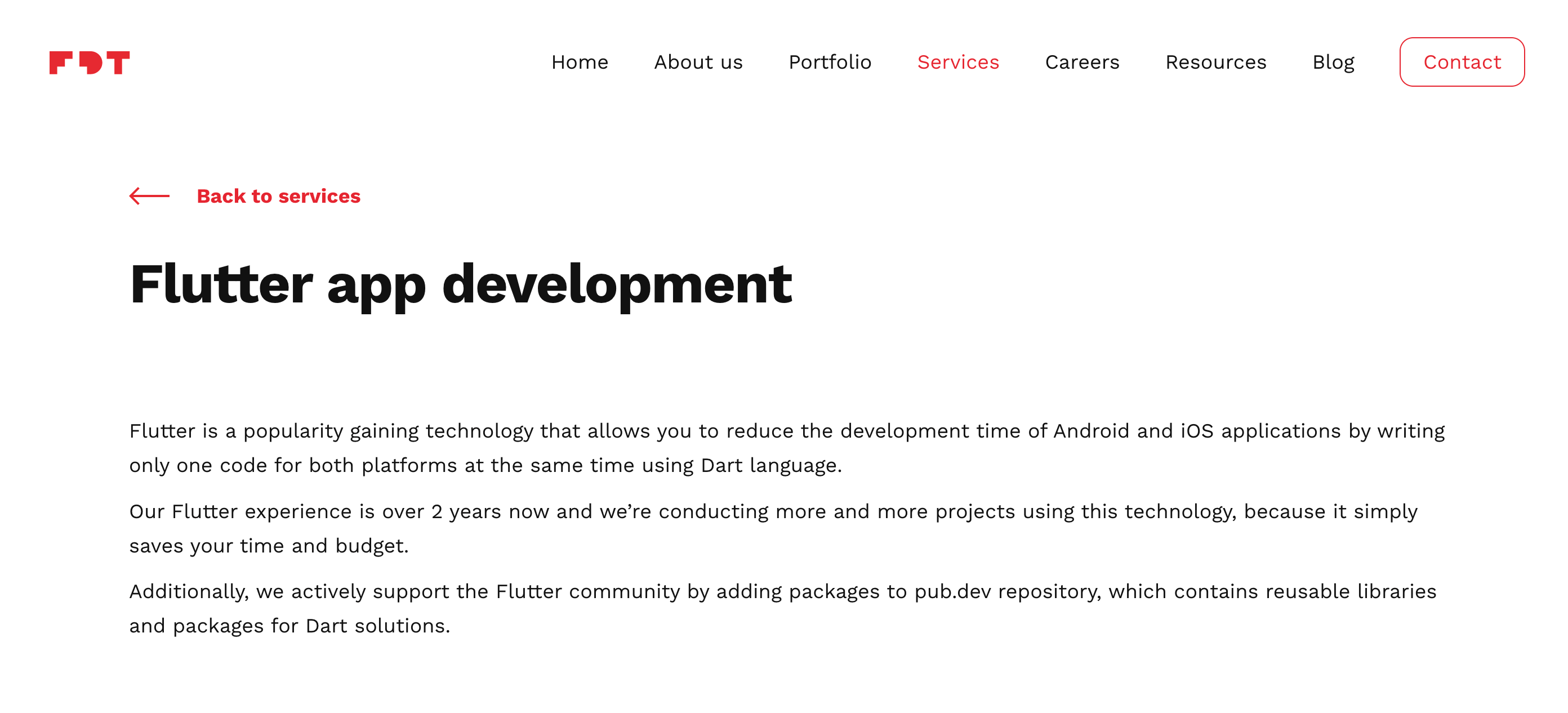 FiveDotTwelve is a prominent software development house from Poland focusing on providing supreme digital solutions to clients using high-end technologies like Flutter. They have been delivering Flutter development services for over 3 years now, helping clients save time and money.
FiveDotTwelve's core services include custom Flutter development, quality assurance, and support & maintenance. They provide solutions specifically tailored for industries like Education, eCommerce, Social Networking, Internet of Things (BLE), FMCG, Fintech, and more.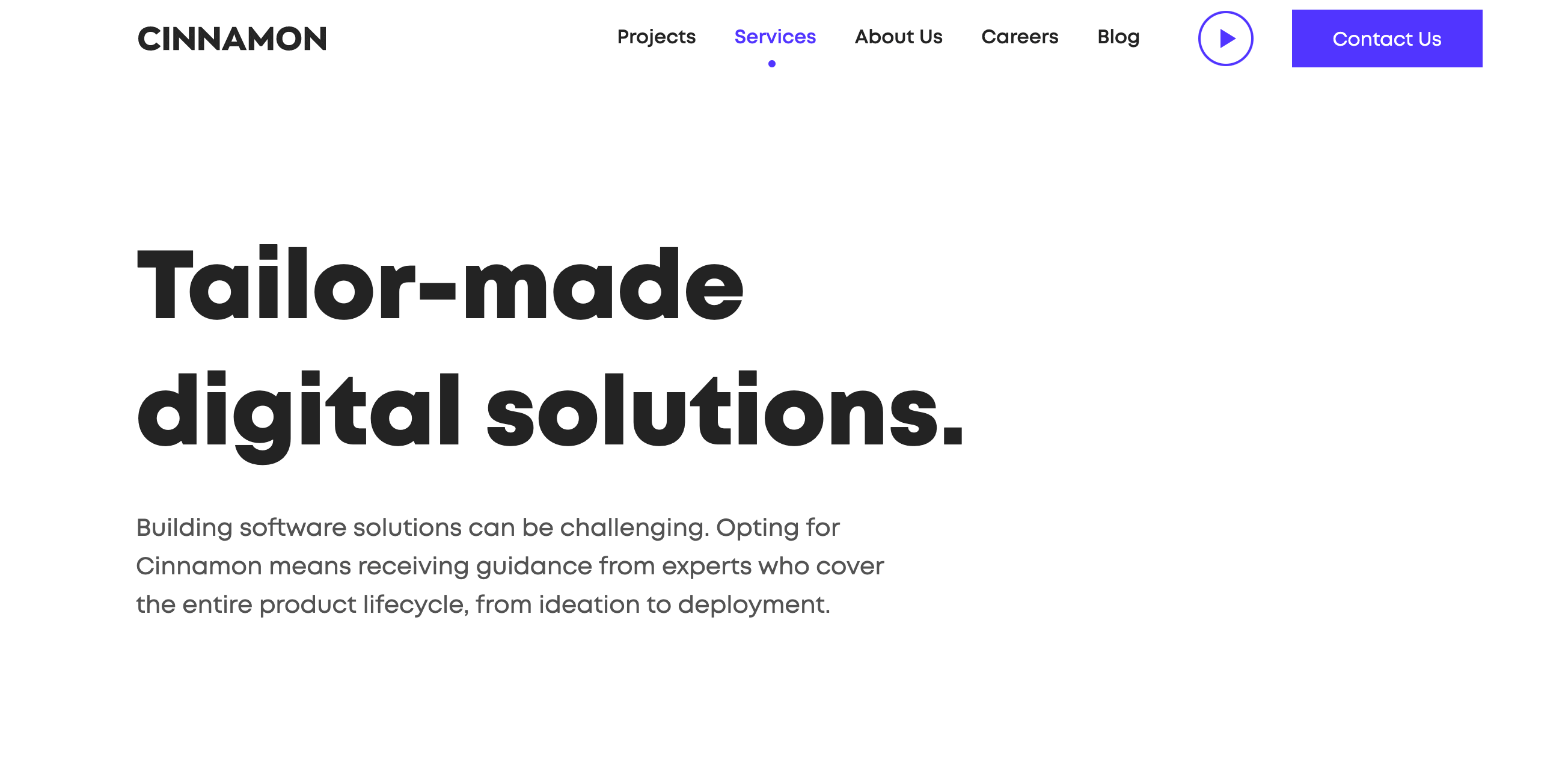 Cinnamon is one of the best Flutter app development companies from Croatia, delivering Flutter-based mobile apps to multinational companies, agencies, and startups across the globe. They have a team of 120+ experts comprising over 60 developers and 26 UI/UX designers who have successfully delivered more than 300 projects. 
Cinnamon's talented Flutter developers create bug-free and clean mobile apps that work smoothly and flawlessly. Their Flutter development services mainly include app development, web development, app migration, upgrade, and maintenance. In addition, they take care of your product's design and marketing.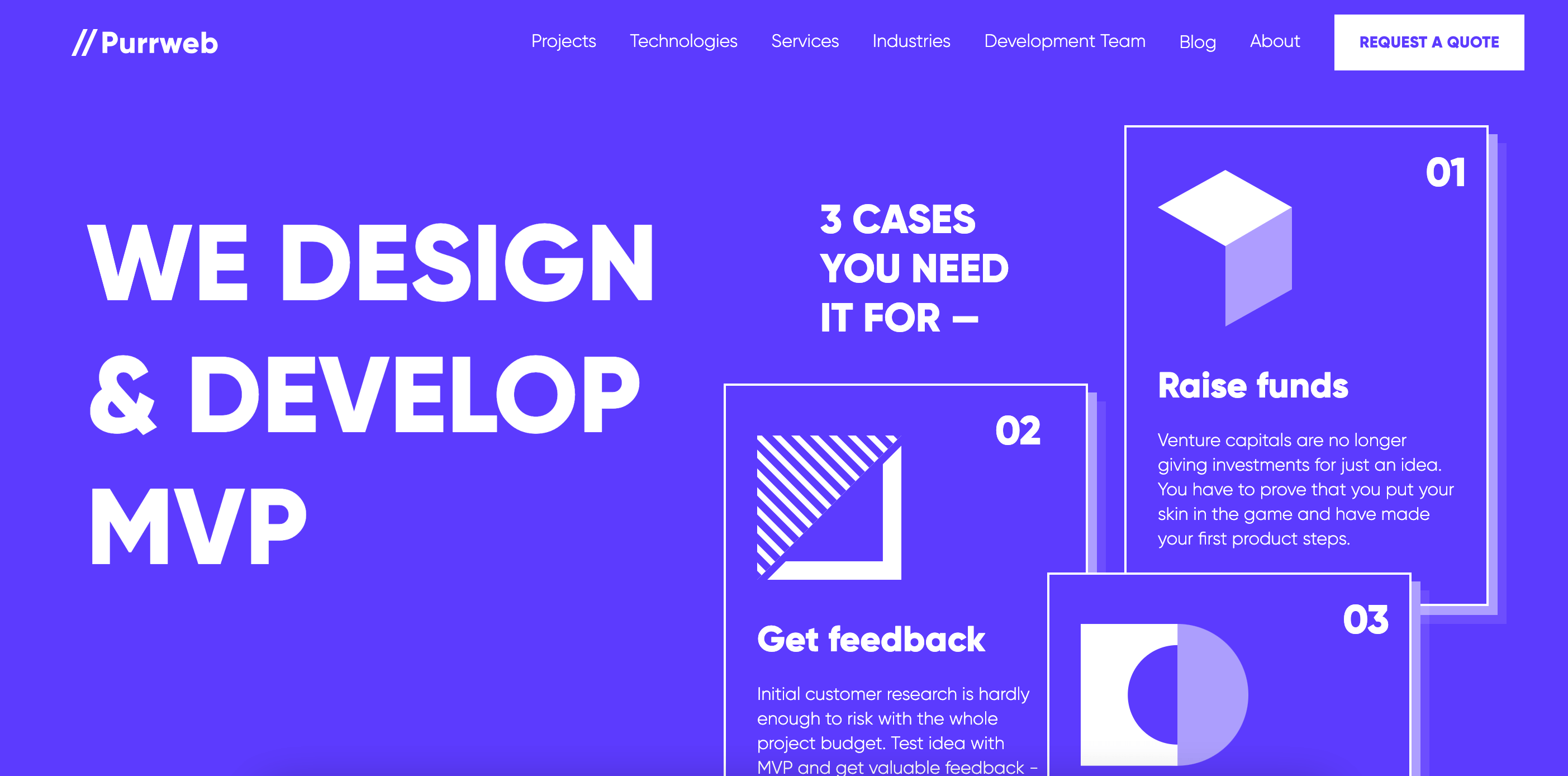 Purrweb is a web & mobile development company that provides full-stack Web, Desktop, and Mobile development services.
The team develops mobile applications using cross-platform technologies, such as React Native and Flutter app development. They have holistic expertise in rapid MVP launching with a focus on user experience.
Over the last 8 years, this agency has designed and developed more than 300 MVPs for clients from all over the world.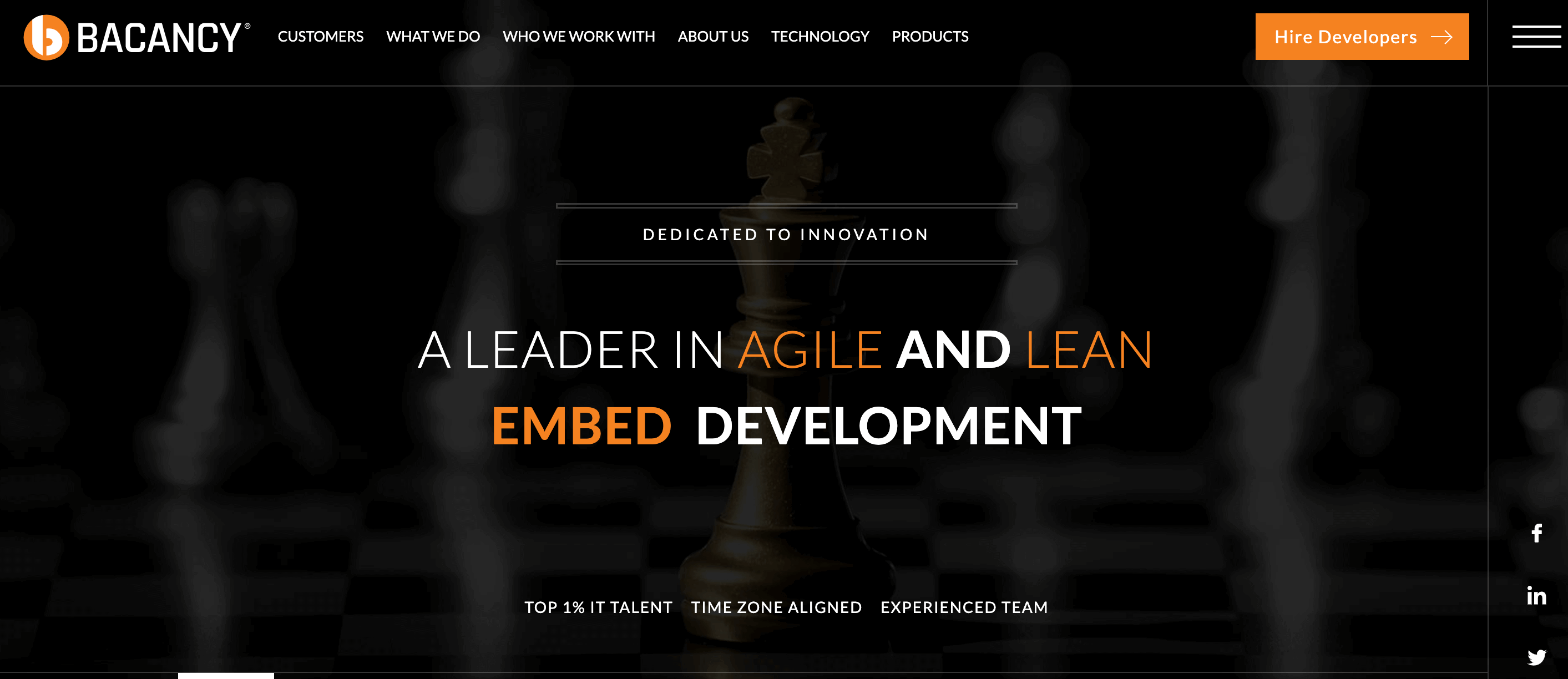 Bacancy Technology is the top Flutter app development company headquartered in India, providing superior mobile development services since 2011. The company's global presence in over 6 international locales and 1050+ Agile-enabled employees have helped it to become a market leader. For over a decade, their team of 80+ dedicated engineers successfully delivered more than 1000 projects within various business domains, from Fintech and Healthcare to Oil & Gas and Logistics. 
The company offers an impressive range of services, including native & cross-platform mobile app development using Flutter, UI/UX design strategy, web development, app migration, IT consulting, and support & maintenance. In addition, they provide staff augmentation services to reinforce clients' in-house teams, with top Flutter developers having 2-8 years of experience. 
Some of the big names in their portfolio include KPMG, Verizon, 3M, Renault, Disney, Swiggy, Infosys, and Bangkok Bank.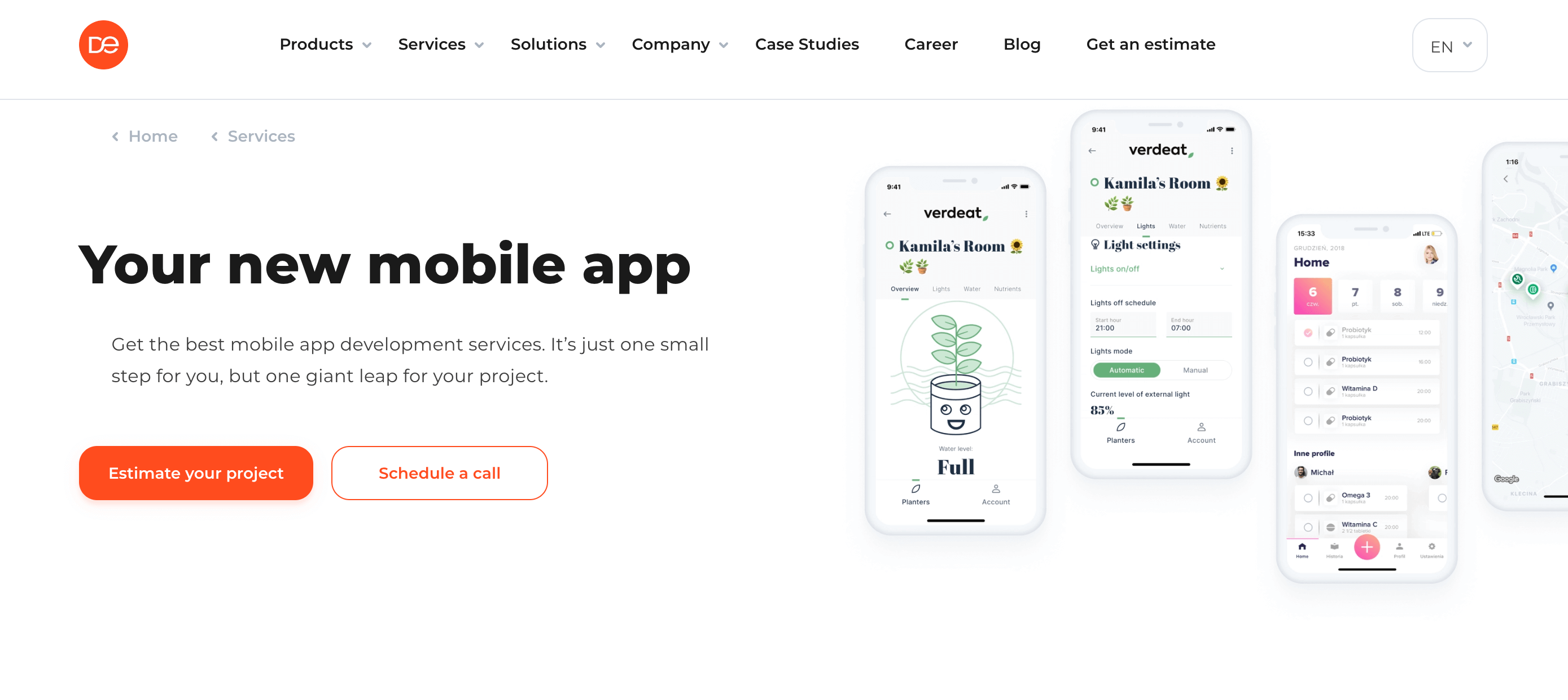 Devniti is a top software development firm from Poland founded back in 2004. They have a team of 300+ IT experts comprising some of the best Flutter developers who have successfully delivered over 500 ambitious projects. 
Devniti's talented Flutter development team provides services such as app development, UI/UX design, testing, as well as app support and maintenance. Apart from outstanding mobile app development services, they offer IT consulting, Atlassian services, web development, and more.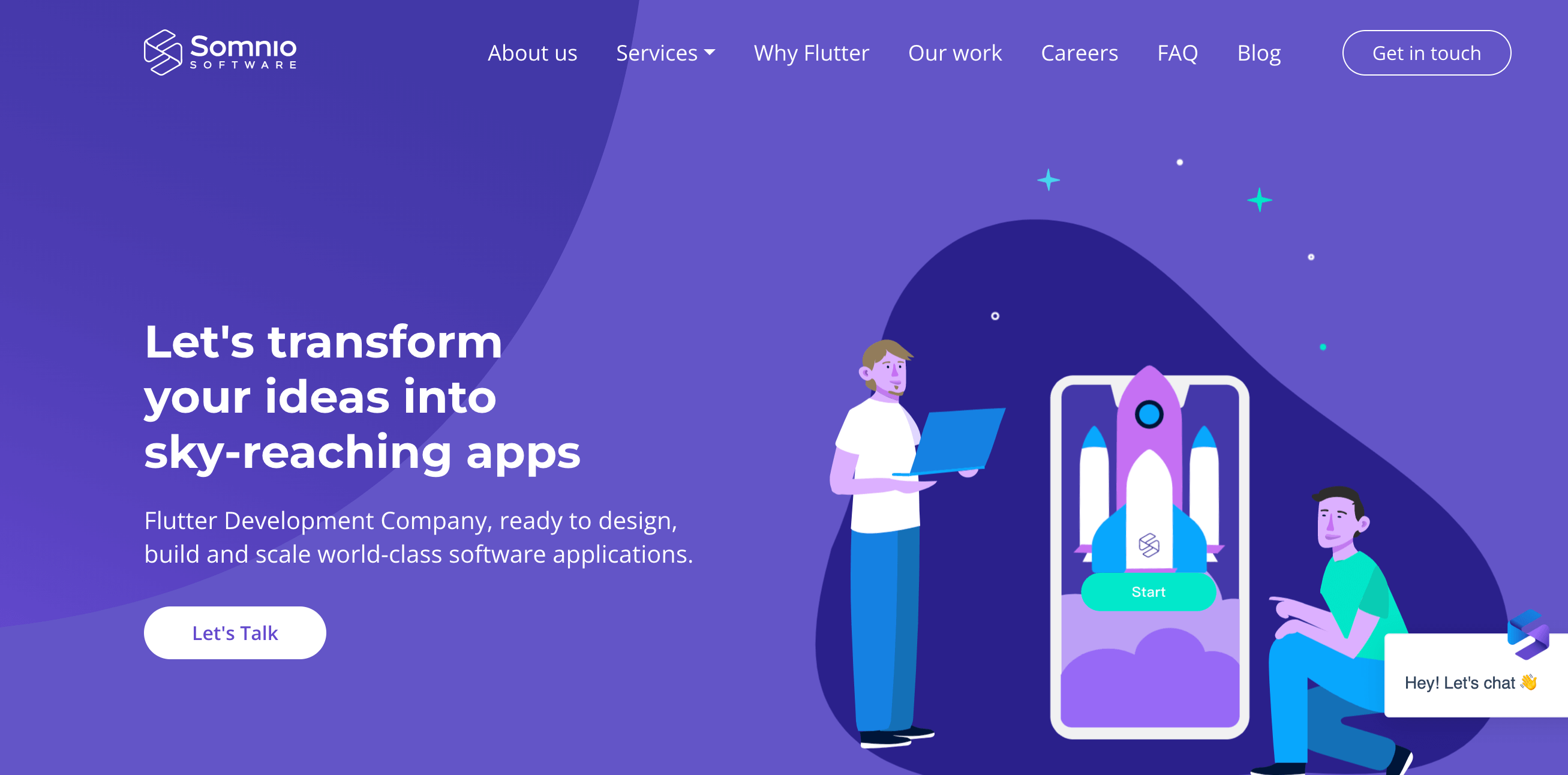 Somnio Software is the first and 100% Flutter-focused mobile development agency in Latin America. It has a team of over 50 highly talented and experienced professionals who have served various industries such as Healthcare, Fintech, Entertainment, Hospitality & Gastronomy, Education, and many more. 
They cover a full scope of Flutter mobile app development services, including UX/UI design, app implementation, testing, and maintenance. Thus, their scalable dev solutions to build Flutter apps will give your business a boost at the same time reducing the cost.
Conclusion
Flutter has become an increasingly popular technology in such a short span thanks to its advanced features, such as cross-platform availability and cost-effectiveness. This has also led to the emergence of numerous Flutter service providers in the market.
Therefore, finding a reliable and trusted Flutter app development company to build a high-performance and scalable application is vital. We hope this list helps you make the right decision.
If you want to add your Flutter development company to this list, contact us with details. After a thorough evaluation, we'll decide whether it's an appropriate addition.