In today's data-driven world, data is the lifeblood of successful businesses. 
For this reason, organizations of all sizes and industries must constantly collect, manage, and analyze vast amounts of data to derive important insights and make winning decisions, ensuring business success. That's where big data consulting companies come into the game, delivering professional advice and development services and simplifying the process for you.
Usually, their scope involves data analysis, data warehousing, data governance, and data science. Partnering with the right big data consulting firm can greatly assist your company in these tasks and beyond.
However, the level of expertise and experience varies in each agency, making a choice quite challenging. This is why we've compiled a list of top big data consulting companies to help you navigate the tremendous pool of options and hire the best-fit partner. 
Whether you're a small business or an enterprise, go through our list to choose the best big data consultants who will help drive your business forward.
The Best Big Data Consulting Companies And Services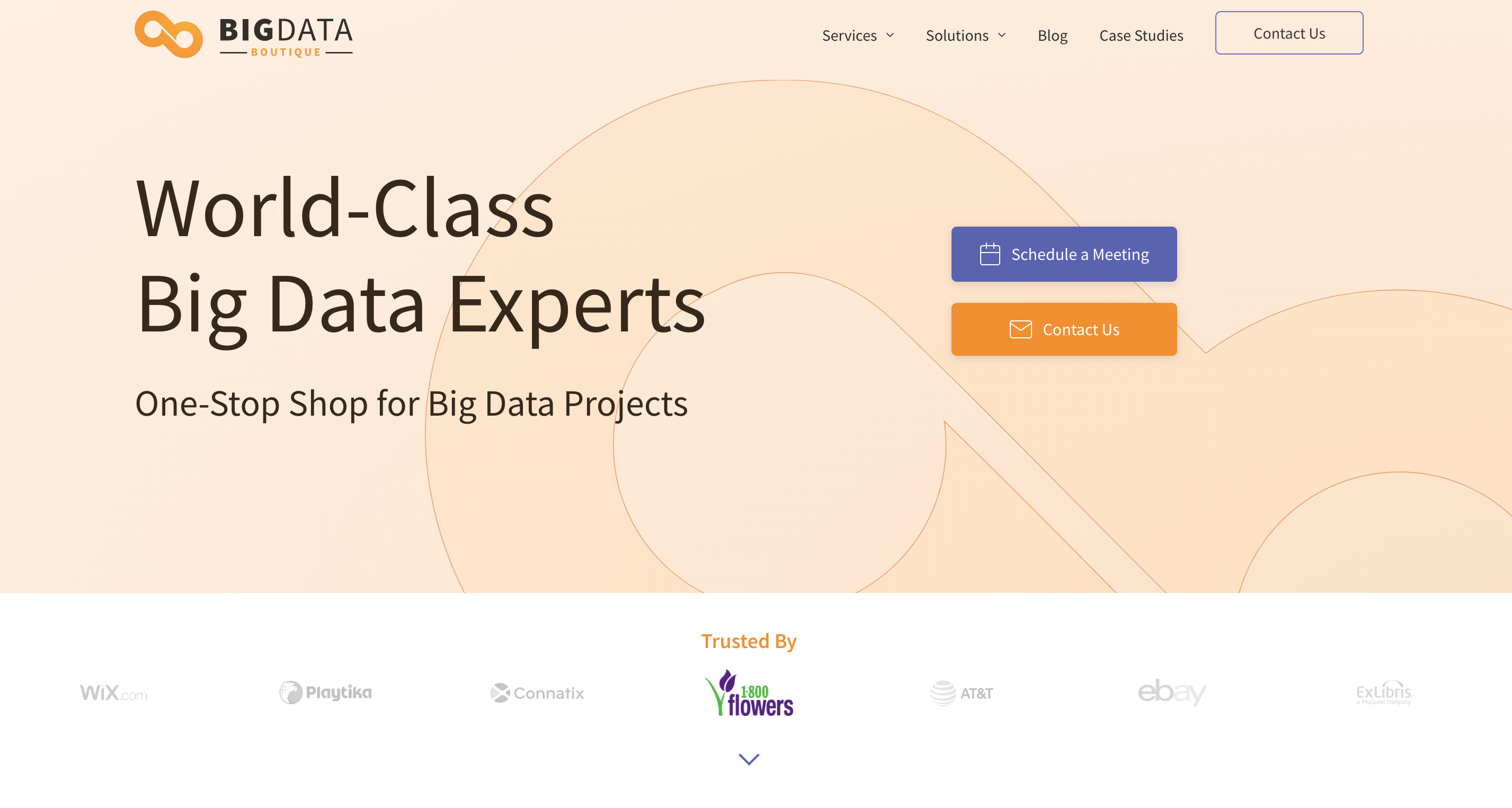 Starting our list is BigData Boutique, a leading consulting firm that delivers full-service design, development, consulting, and support services using big data and cloud technologies. Founded in 2013, the agency specializes in custom big data application development to help companies overcome data-related challenges in complex projects across industries such as eCommerce, Healthcare, Finance, Retail, Banking, Education, Marketing, and more.
Working with Elasticsearch, OpenSearch, ELK Stack, Kafka, PrestoDB, Trino, Flink, and Spark technologies, the agency offers cutting-edge solutions to help you achieve your business goals. With over a decade of expertise in enterprise architecture, process automation, and software life cycle development, this company empowers IT teams to build dependable big data infrastructures that provide value and substantial cost savings. In addition to their specialized consulting services, they offer tailored big data application development, data architecture design and modeling, and a multi-tier support system with customized plans for every project stage.
BigData Boutique's engineers are top-level experts in modern technologies and data stacks, helping you design an advanced data platform from scratch or improve an existing system.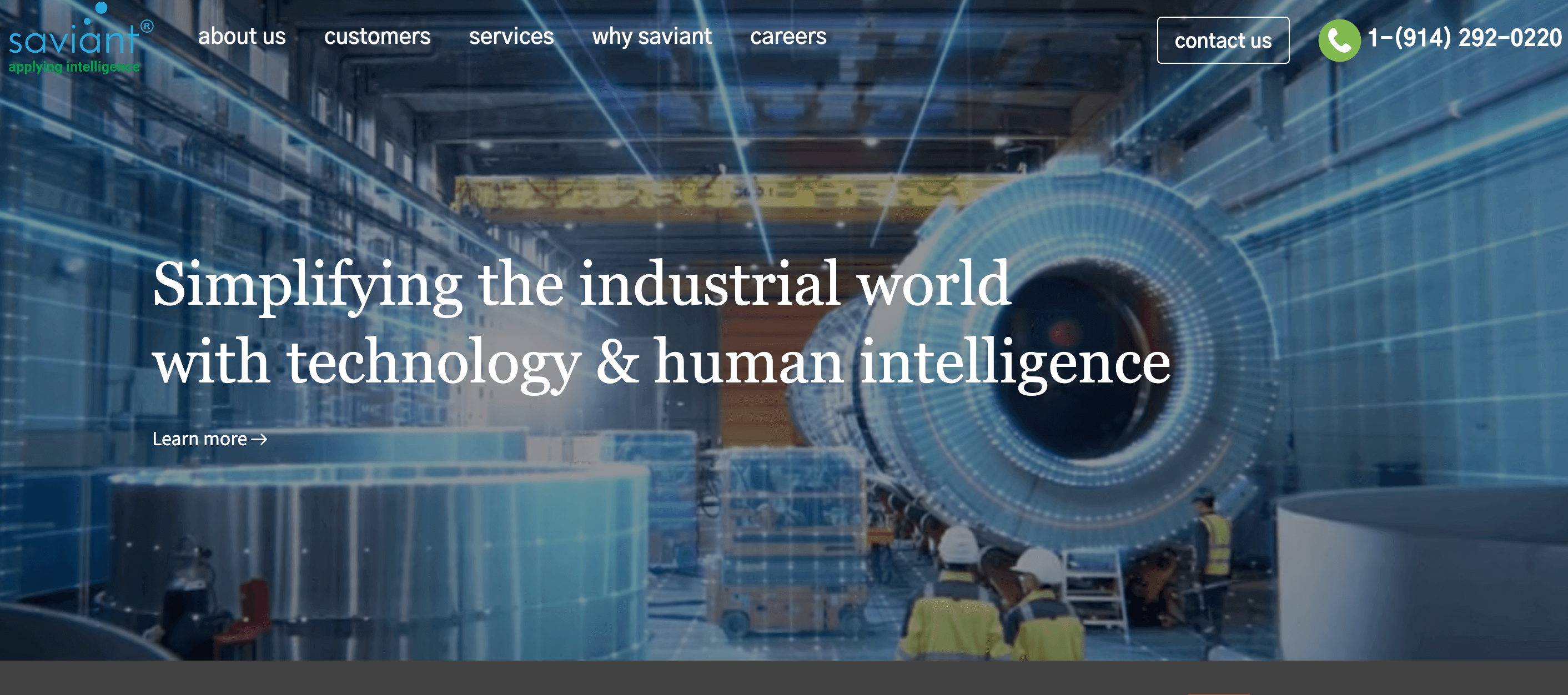 ​​Saviant has been making a significant impact in big data consulting since 2015, with a mission to simplify the complexities of the industrial world. Their machine manufacturing and industrial engineering expertise has helped them earn recognition from top industry awards, including the Deloitte Technology Fast 50 and NASSCOM Digital Skills awards.
Saviant is dedicated to helping medium-sized businesses leverage their data and deploy intelligent software solutions. Focusing on advanced analytics, data platform engineering, and human intelligence, Saviant has successfully deployed over 300 industry implementations across the USA, Germany, the UK, and Canada. They've worked with 90% of clients for over four years, showing their deep commitment to building long-term partnerships. 
Saviant is among a select group of Microsoft and AWS partners recognized with the highest-level accreditations for Cloud Platforms, Data Platforms, Data Analytics, and more.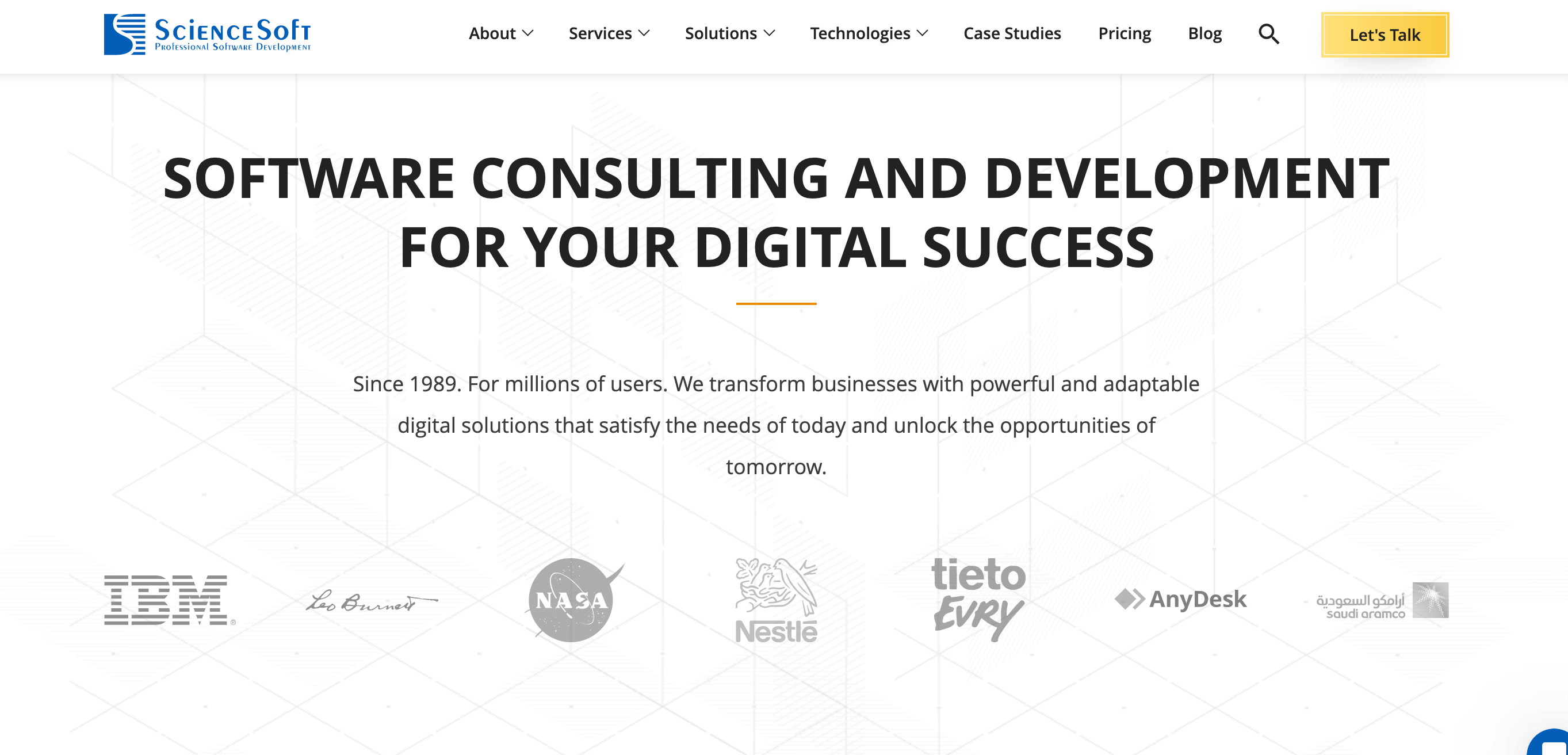 ScienceSoft is another leading big data management consulting and software development company with over three decades of experience. With its headquarters in the United States, ScienceSoft has been working with clients from 30+ industries worldwide, including Banking, Healthcare, Manufacturing, and Retail.
The company has been highly recognized by independent organizations, such as Ernst and Young and TechReviewer.com, as a reliable and trusted provider of IT services and software solutions. Moreover, the firm has been included in the IAOP Global Outsourcing 100 rating and listed among the Americas' Fastest-Growing Companies 2022 by the Financial Times.
With more than 700 highly skilled specialists, ScienceSoft can provide custom data solutions to meet each client's unique needs. Having delivered numerous quality-assured projects within deadline and budget, ScienceSoft obtained several certifications demonstrating its commitment to quality and reliability. With all these credentials, it's no wonder ScienceSoft takes a significant place on the list of the world's top big data consulting companies.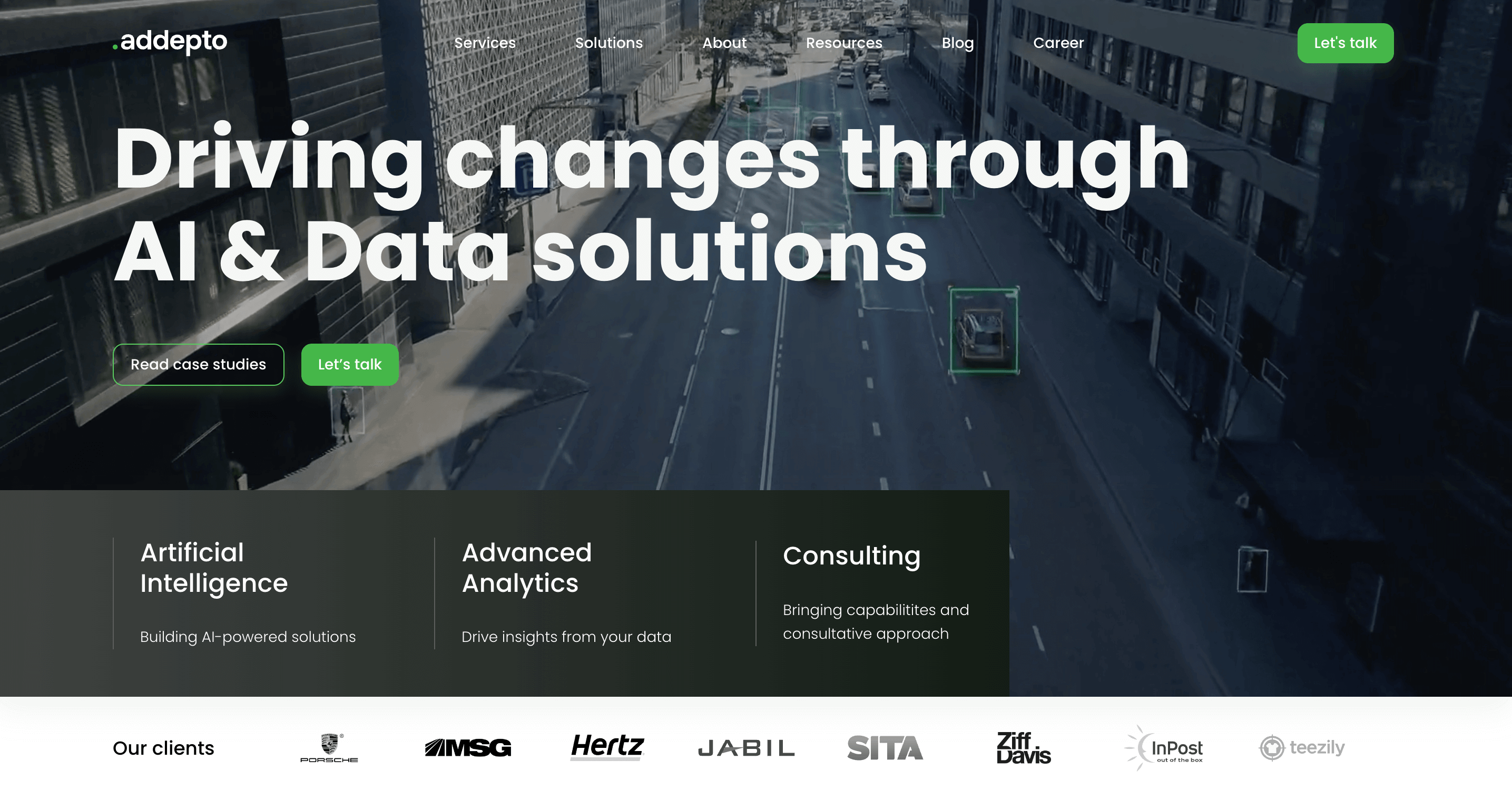 Addepto is a leading big data consulting company specializing in AI, BI, and Data Engineering technologies. Founded in 2017, Addepto's team of experts uses their skills and experience to deliver custom analytics solutions that cater to the specific needs of its clients.
Addepto's clients benefit from optimized operational costs, increased revenues from existing customers, and minimized risk through next-gen data analytics solutions. From application streaming, data lakes, data vaults, and big data processing and data integration, the company develops practical tools and innovative technologies that work smoothly with your existing software.
The team at Addepto is focused on long-term relations with customers within various industries. Together, they work towards achieving strategic goals and building innovative products and systems based on big data technology. Addepto's commitment to staying a trusted tech partner makes it an ideal choice for businesses looking to leverage the power of big data to gain a competitive advantage.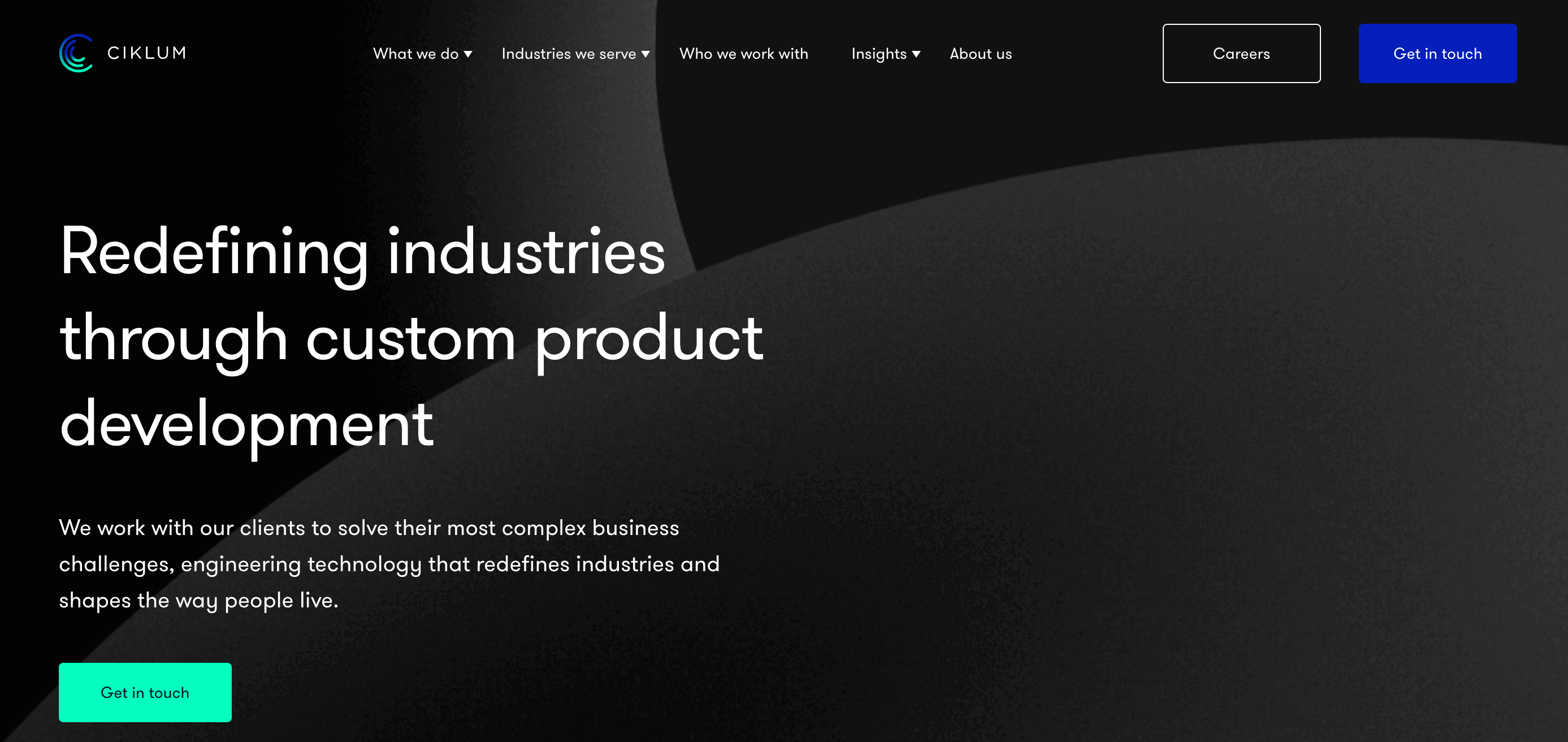 Founded in 2002, Ciklum is one of the top big data science consulting firms that provide tailored digital solutions for a diverse range of clients. Their services are based on emerging technologies to bring proven market value, enhance digitally immature products, and provide diligent client guidance based on data-driven principles. With a London headquarters and offices in several countries, the company offers various services to assist global clients with software development, IT managed services, and more. 
Their robust digital consulting is aligned with business goals and ensures that customers get the best possible solutions for their needs. The company has an impressive client portfolio, including Just Eat, Metro, Flixbus, Mercedes Pay, EFG International, Zurich Insurance, and Lottoland, among others.
With their solutions for Fortune 500 and fast-growing companies, Ciklum is a reliable partner for any business looking for cutting-edge digital solutions. Ciklum has a team of highly skilled professionals that can help clients with data strategy and architecture, data modernization and engineering, business analytics, data exploitation, artificial intelligence, and more. They deliver big data projects in various industries, including Healthcare, Agriculture, and Insurance, to mention a few.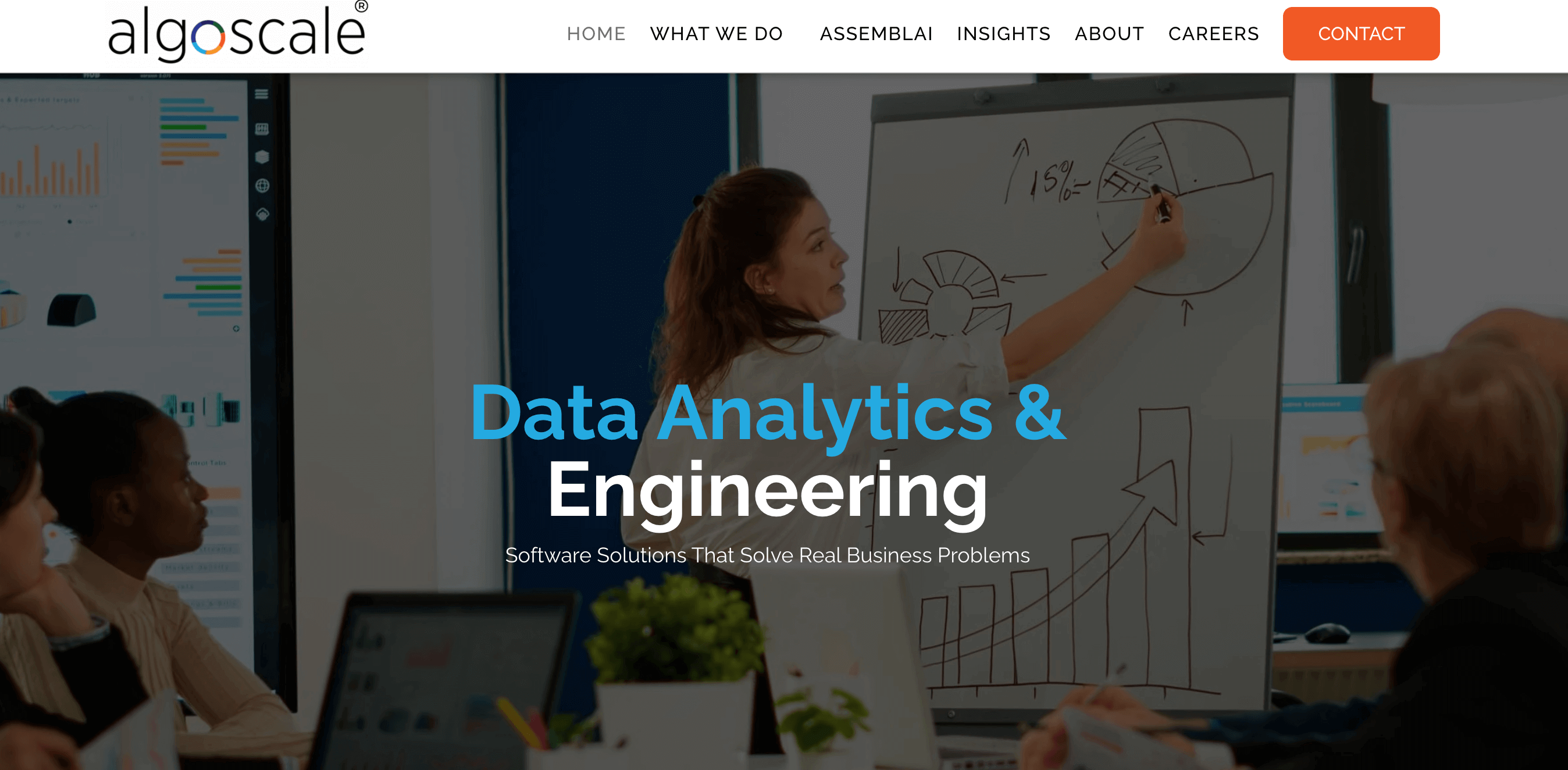 Algoscale, a top-tier big data consulting service provider, was founded in 2014 and is headquartered in India. The company has established a solid reputation in over 25 countries, helping organizations gain meaningful business insights from large volumes of data by applying advanced analytics and cutting-edge technology.
With its exceptional expertise in building and customizing technology platforms that can analyze data of any size, Algoscale has become a trusted partner to businesses seeking to leverage the power of big data. Their ability to deeply understand clients' requirements and deliver tailored solutions has earned them a loyal client base.
Algoscale's services cover big data analytics, from analysis and decision science to technology infrastructure. Their highly skilled professionals with in-depth knowledge of data analytics, decision science, and the latest trends in the field have implemented 250+ projects, making them one of the best big data companies. Such a comprehensive approach of Algoscale enables clients to benefit from a streamlined process and a single point of contact for all their data needs.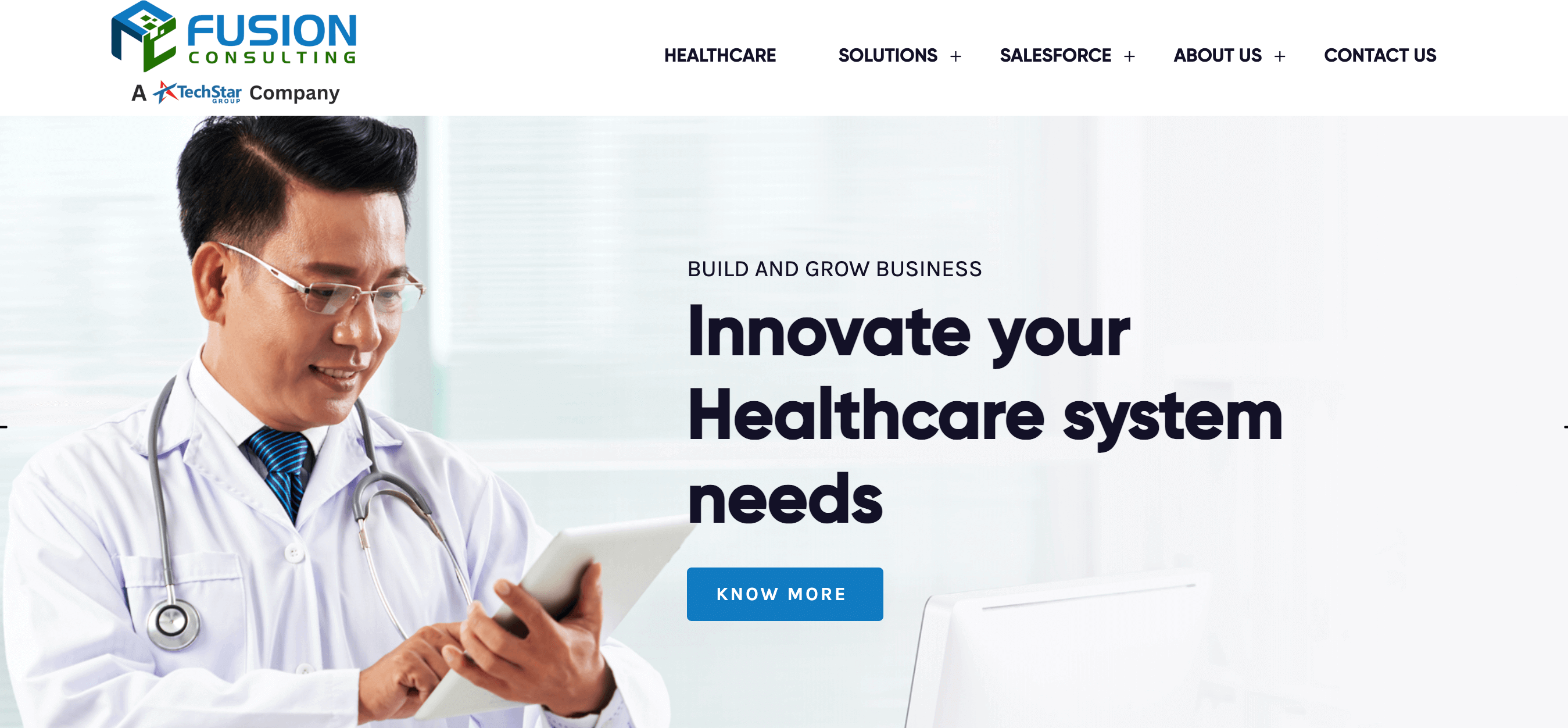 Founded in 2006, Fusion Consulting offers one of the industry's best big data consulting services. The company's focus on data warehousing and business intelligence consulting services has earned them national recognition, including several excellence awards.
Fusion's team of the best big data consultants comprises experts in the full stack of tools, including SAP BusinessObjects and other key data processing technologies. The company's ability to provide academic-standard data warehousing and business intelligence services enables its clients to visualize and explore information, leading to better decision-making and positive outcomes.
As an SAP Gold-level Partner, Fusion has been awarded for its excellence in providing solutions that drive change and help customers achieve their business goals. The company's proven process and expertise result in quicker time to market without impacting customers' current technology infrastructure.
Having defined and deployed 1800+ metrics for healthcare customers, analyzed 110k+ data points in one project, and helped save over $12Mn for a sing customer, Fusion is deservedly called one of the most trusted and effective big data consulting firms not only in Dallas but worldwide.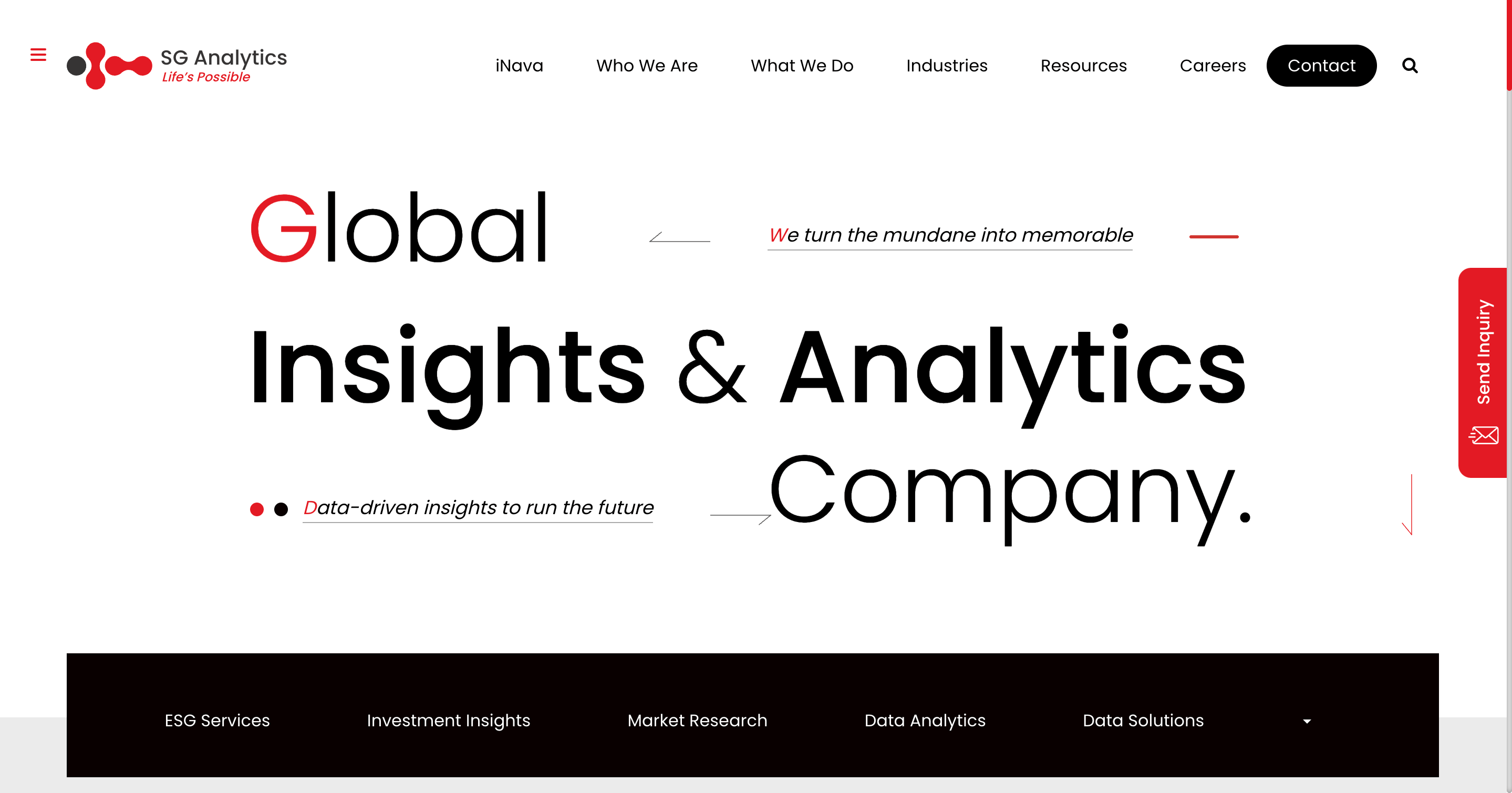 SG Analytics is an industry-leading global insights and data analytics consulting company that focuses on harnessing the power of data with purpose. SG Analytics provides data-centric research and contextual analytics services to its clients, including Fortune 500 companies, across BFSI, EdTech, FinTech, Technology, Media and entertainment, and Healthcare sectors.
Established in 2007, SG Analytics is a Great Place to Work® (GPTW) certified company and has a team of over 1100 employees and has presence across the U.S.A., the UK, Switzerland, Canada, and India.
Apart from being recognized by reputed firms such as Everest Group, ISG, Analytics India Magazine, Economic Times, and Statista, SG Analytics has been recently awarded as the ESG Research Consultancy of the year 2022 and Idea Awards 2023 by Entrepreneur India in "Best Use of Data" category.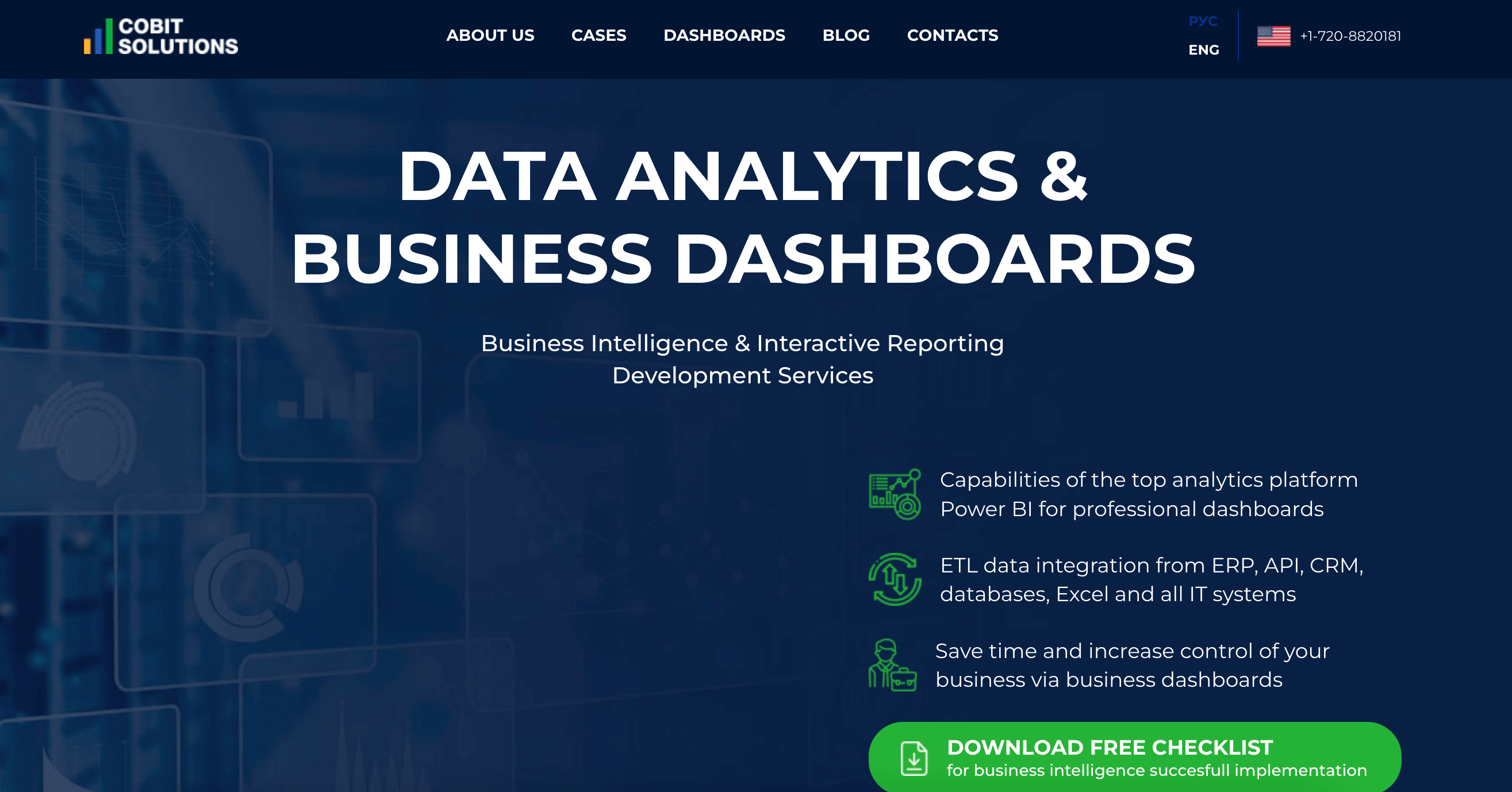 Providing the industry's best big data consulting services, Cobit Solutions covers a range of services to help businesses derive valuable insights from their data, including developing dashboards based on Power BI, Microstrategy BI, and Power BI Report Builder. The company's expertise in custom dashboards, business intelligence, and interactive reporting systems of any complexity makes them a trustworthy partner for all your data-related needs.
Founded in 2018 and based in Dallas, Cobit Solutions has quickly established itself as one of the top data management companies. The company's commitment to excellence as well as deep data management and analytics expertise will drive your business growth. Their 86 years of total experience in data analytics has helped save their clients over 215k within a month of partnership.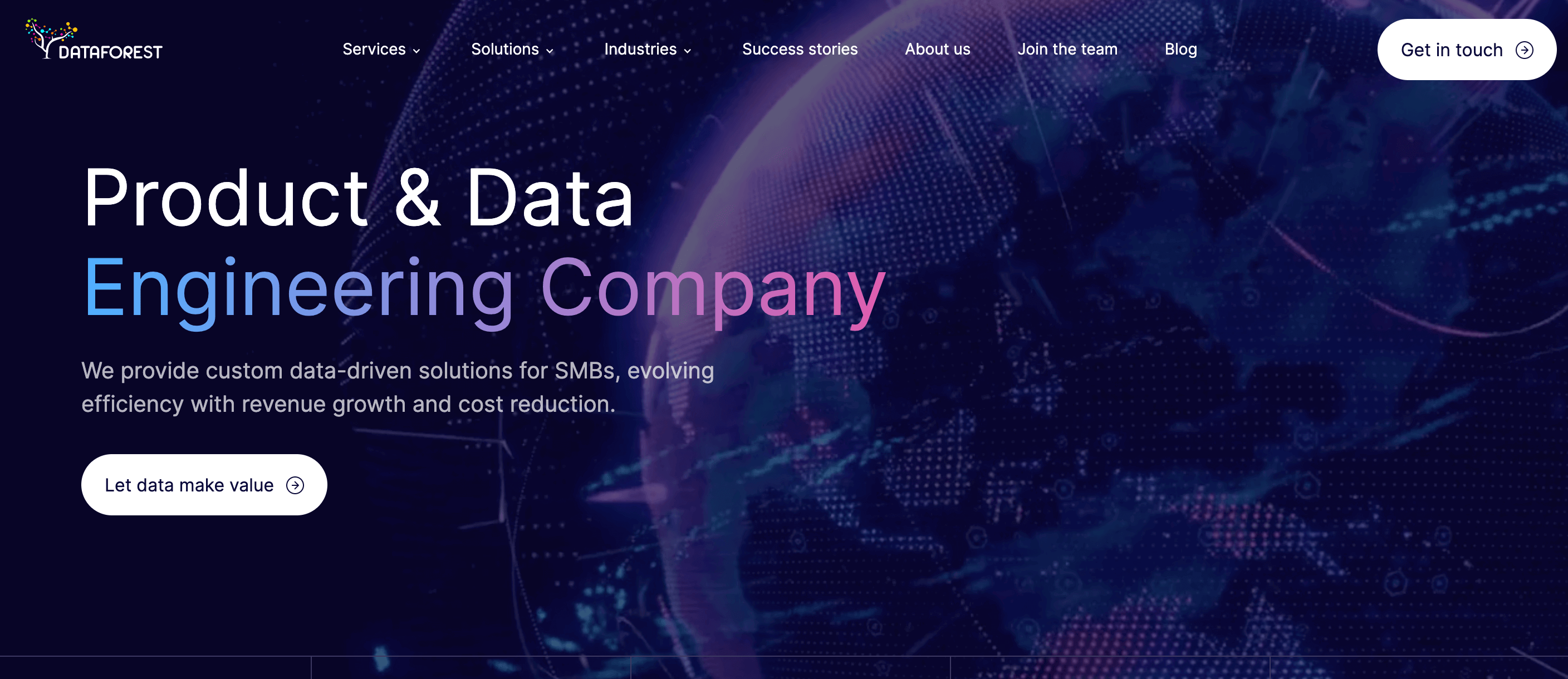 Dataforest is a prominent data science and web development agency founded in Kyiv in 2018. Their primary focus is providing data-driven solutions to organizations to help them improve their performance and create added value for their clients and shareholders.
Among Dataforest's expertise are business automation, large-scale data analysis, and advanced software engineering. The company also covers web app development, data science, advanced analytics, data integration and management, ETL pipelines and API integration/development, data visualization and dashboards, eCommerce automation, process automation, and DevOps.
Their team of skilled data analytics experts delivers custom solutions, helping clients navigate massive data and achieve their business goals. Focusing on data-driven solutions and advanced technology, Dataforest is well-equipped to meet the needs of businesses across a range of industries.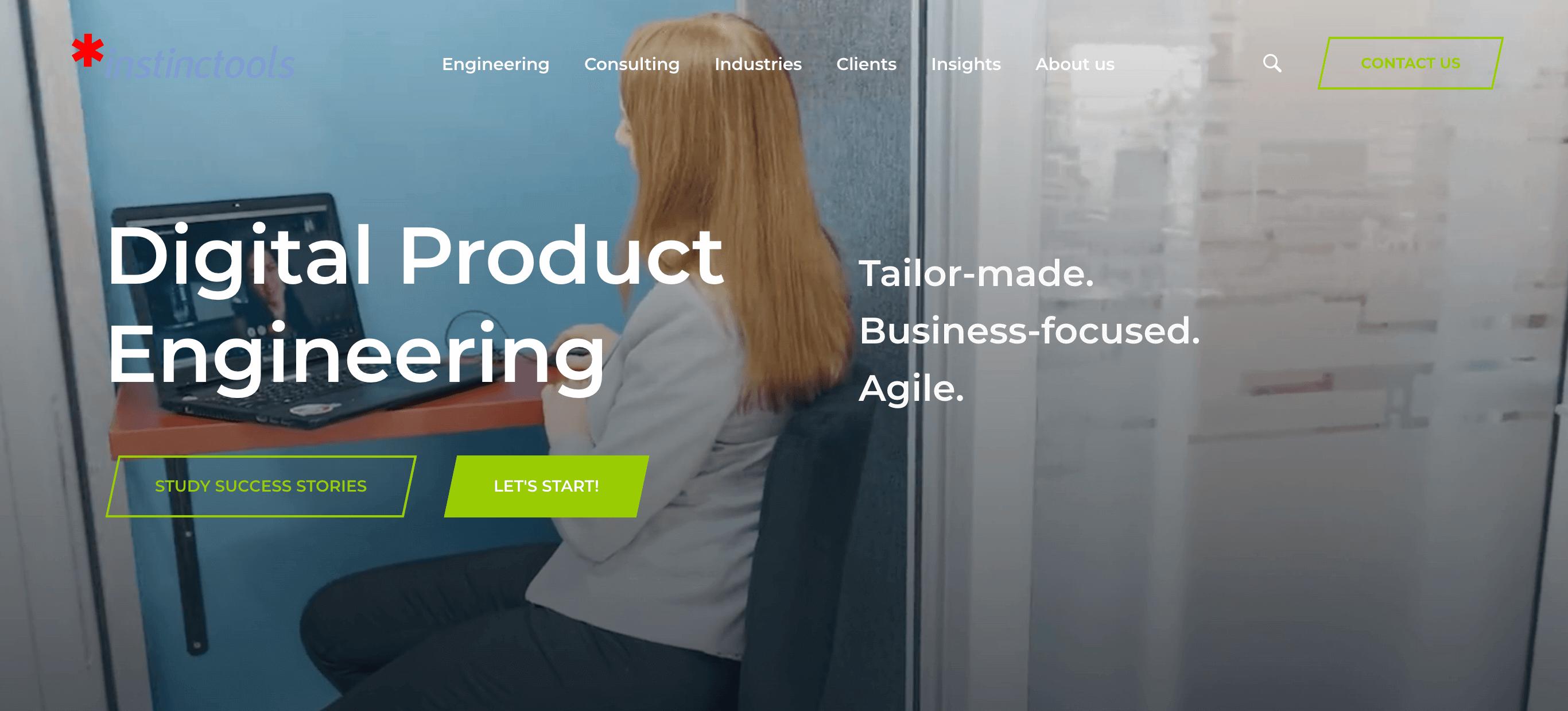 *instinctools is a superior software development and big data consulting company focused on digital transformation with offices in Germany, the US, Poland, and Kazakhstan. They offer software development, legacy software modernization, web development and eCommerce, business intelligence and data visualization, cloud computing and DevOps, mobile app development, and even crypto exchange development services. Their cross-functional global delivery model reduces development costs while increasing speed to market.
*instinctools is a trusted big data consulting partner that is well-positioned to assist organizations in their digital transformation journey. With 23 years of experience in the market, the firm has successfully completed over 1000 projects. Their team of over 350 professional engineers and consultants is dedicated to delivering high-quality and result-driven solutions.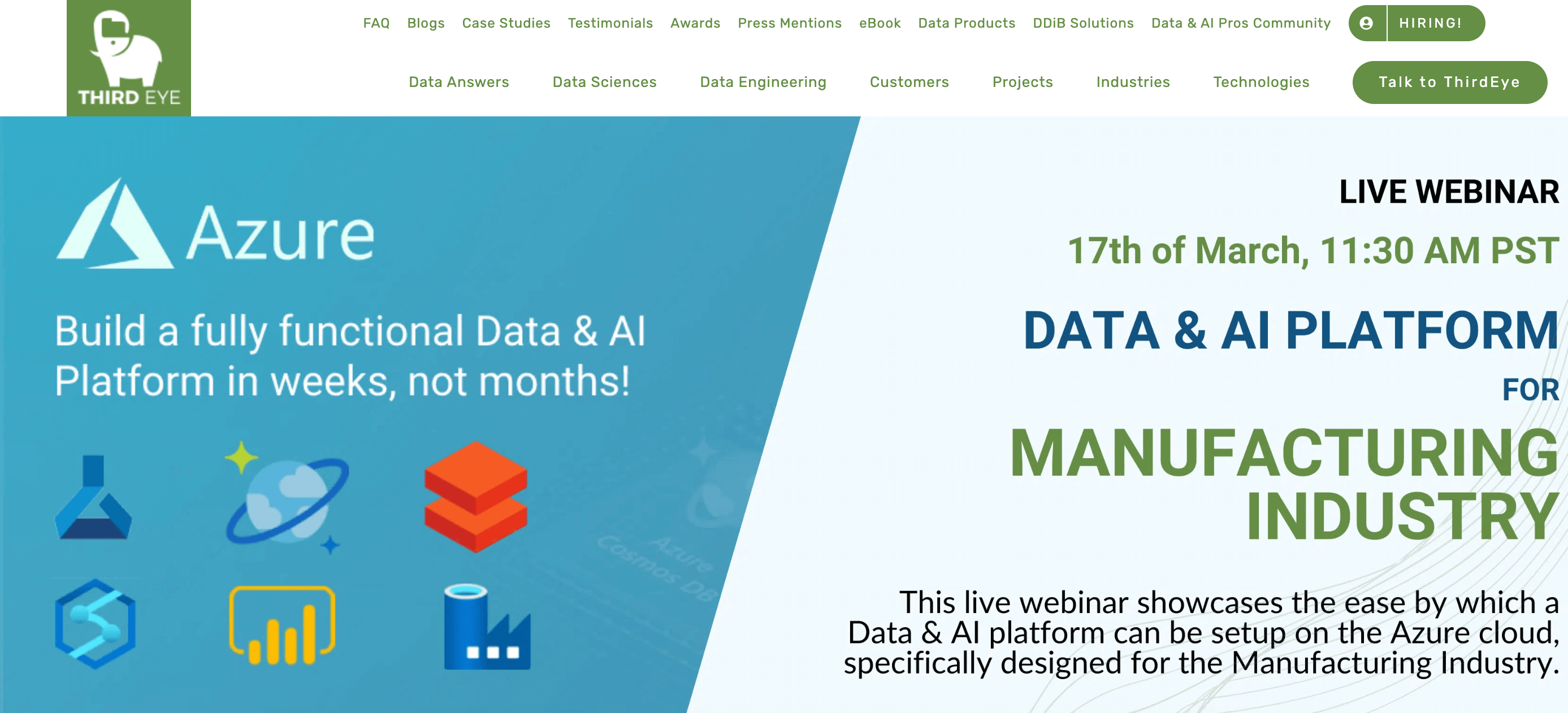 ThirdEye Data is a leading provider of innovative data and AI solutions and services with a decade of experience working with Fortune 500 companies and startups. Headquartered in California, ThirdEye Data helps organizations globally transform knowledge into strategic and tactical insights for informed and timely business decisions.
Providing services in data science, data engineering, and data analytics, the company leverages AI, ML, and deep learning technologies to implement end-to-end big data solutions seamlessly. This top-level big data analytics company serves diverse industries, including Information Technology, Retail, Energy, Marketing & Advertising, Oil & Natural Gas, Government, and Pharmaceutical, helping businesses improve operational efficiencies, increase revenues, and respond to market trends immediately. 
With customers such as Walmart, Microsoft, Xperi, Southern California Edison, British Petroleum, and GlasTrosch, ThirdEye Data has established a reputation as a trusted data and AI solutions partner.
Conclusion
Now that you have all the aces up your sleeve, it's important to analyze your current business problems and goals before choosing the best big data processing company for partnership. This will help you find the most suitable and reliable agency with proven expertise to provide solutions that meet your needs, requirements, and goals.
If you want to add your firm to our list of top big data consulting companies, please contact us via email. Our team will thoroughly review your profile and determine whether it's a good fit.