The software development industry in the European Union is expected to reach €255.3 billion in revenue by the end of 2022. 
There are currently over 375,000 IT businesses across the EU, employing more than 1.5 million people.
And if we talk about the major contributors to this achievement, countries like Germany, Ireland, Italy, Sweden, and Poland top the list. However, many smaller countries also emerge as outsourcing hubs for software development services in Europe. One among them is Croatia.
Croatia has made tremendous progress in the field of IT services in recent years. There are about 10,000 software developers in Croatia, and the country is home to around 3,100 software development businesses.
The result of the evolving IT culture of Croatia is that the country has already given birth to two unicorns: Infobip, a cloud communication service provider, and Rimac Automobili, an electric vehicle manufacturer. Some other famous Croatian tech startups are GetByBus, Bazzar.hr, Gideon Brothers, etc.
We know you are hooked by now. Thus, we have compiled a list of the top software development companies in Croatia. Our analysts considered various parameters such as IT expertise, tech stack, team size, portfolio, and clients. 
So, without further ado, let's find the best software development team from Croatia for your business.
Best Software Development Companies In Croatia

Varyence is a leading Croatian software development and cyber security agency founded back in 2012. They are also an active member of Split Tech City. Their core team works in Split, Zagreb, and Dubrovnik.
With over 100 employees and offices in Ukraine, Croatia, and the United States, Varyence helps startups and enterprises launch innovative products to market, scale their products for growth, and secure their cloud environments from cyber-attacks.
In addition to the above, Varyence provides advisory and engineering services around Artificial Intelligence, IoT, Machine learning development, and go-to-market strategy.
Locastic is one of the top IT companies in Croatia, located in Split, delivering outstanding software solutions for businesses and enterprises since 2011. The company has 29 highly skilled and experienced employees working remotely from over 6 countries. 
Locastic offers a full-service app development approach – from idea, research, and implementation to launch, testing, and maintenance. Some other significant services provided by Locastic are discovery & strategy, UI/UX design, consulting, and blockchain development. 
Their portfolio is a clear example of their diverse expertise ranging from various scalable mobile apps and attractive websites to CRM, ERP, and ticketing systems. Daikin, Cineplex, Instamotion, and many other famous businesses have trusted Locastic with their project delivery.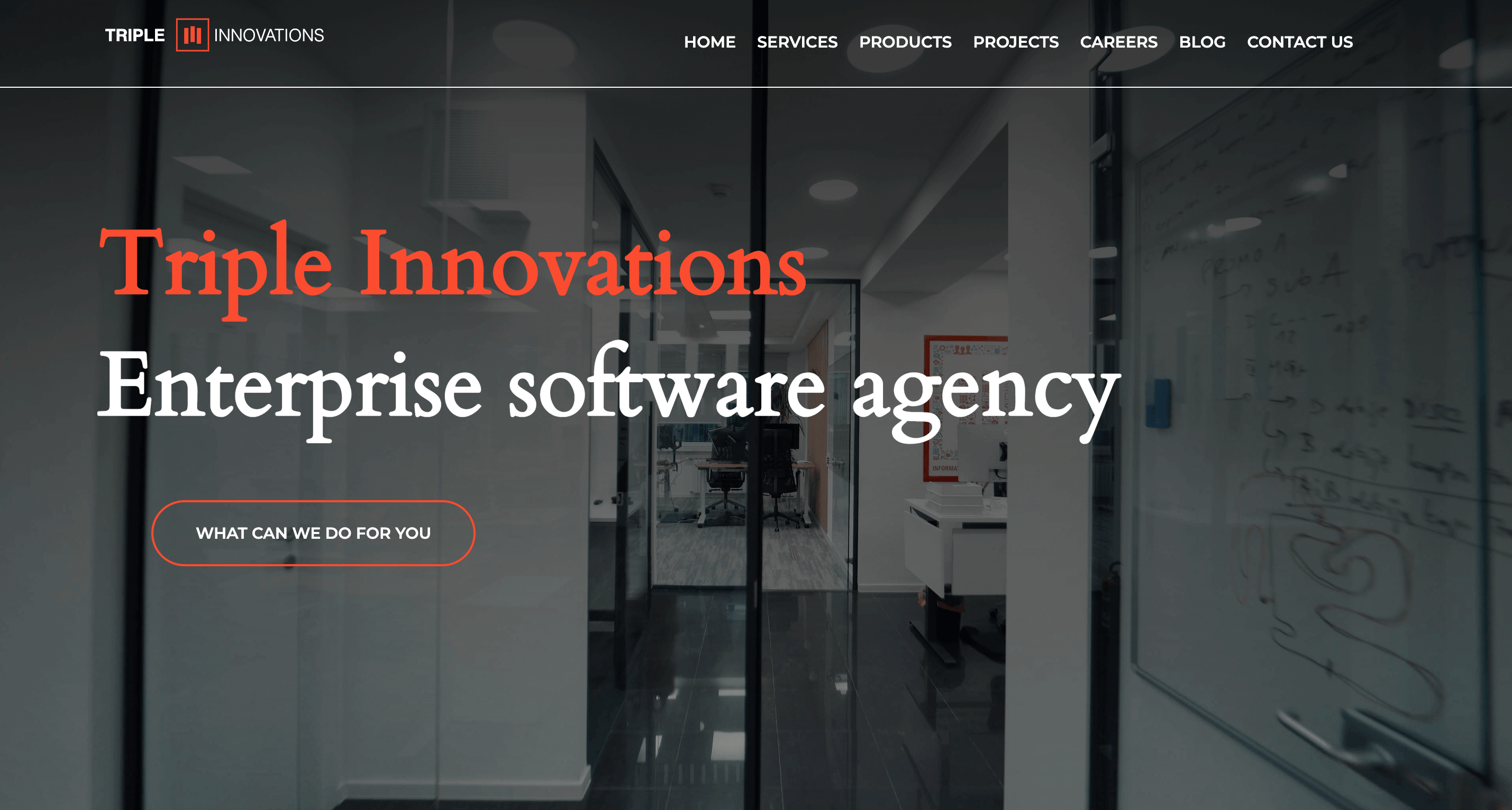 Triple Innovations is an enterprise software development firm with over ten years of experience aimed at business process automation and custom solution development. With the help of professional architects and consultants, the company helps assess business needs and provides the necessary cloud solutions — Salesforce or Microsoft Azure. 
Specializing in Telecom, Pharma, Mobility, and Gaming, the Triple Innovations team has successfully delivered over 300 projects, assisting clients in meeting their business objectives. From choosing the right architecture to tailored software development, implementation, and support, they'll help you carry out your digital transformation.
Triple Innovations offers three different work models: turn-key projects, extended teams, and dedicated teams.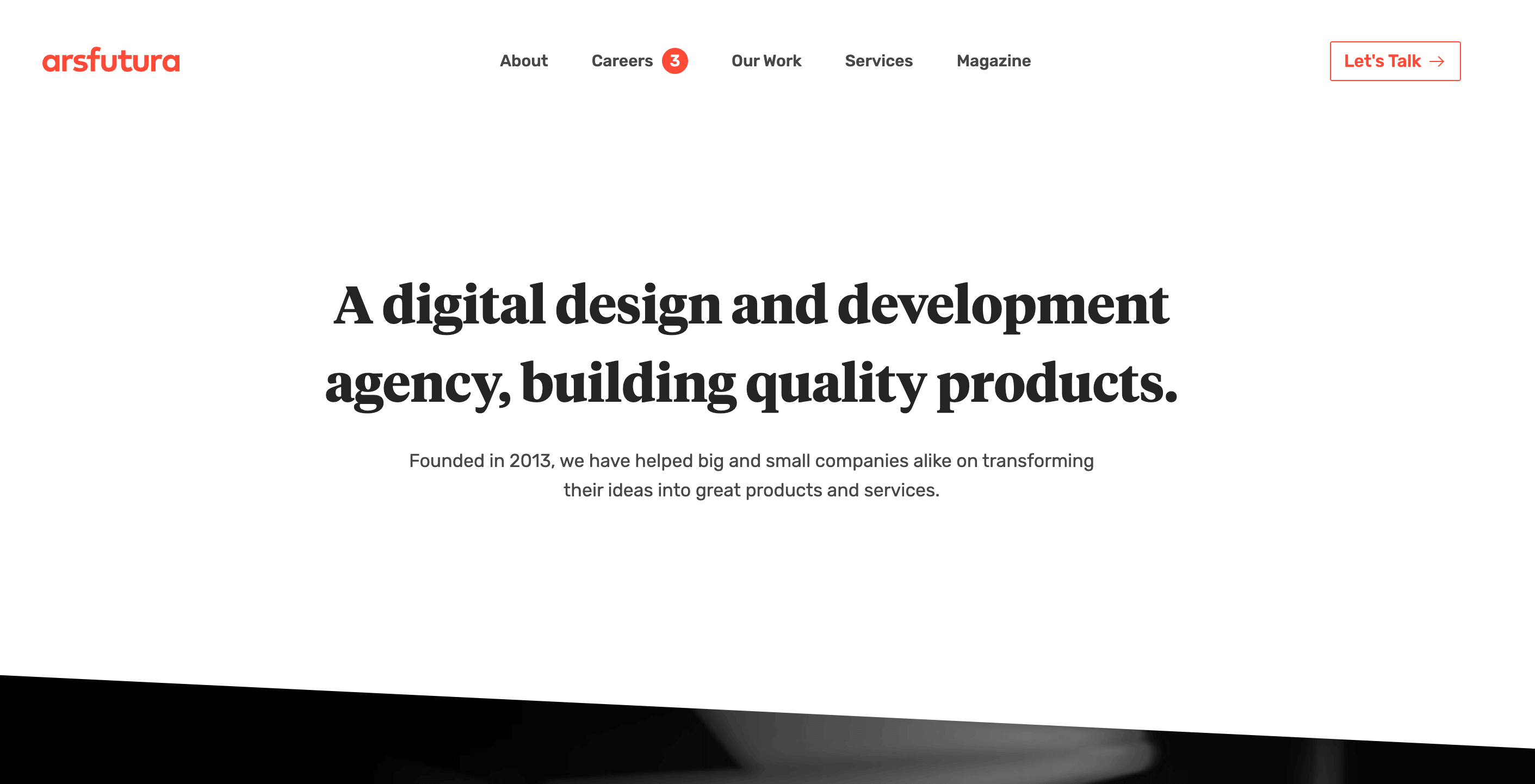 Ars Futura is a digital development and design agency located in Zagreb, delivering exceptional products since 2013. With a versatile team of designers and developers, Ars Futura converts clients' exciting concepts to reality quickly and flawlessly.
Ars Futura's fields of expertise include custom development, mobile app development, UI/UX design and prototyping, Internet of Things, and Quality Assurance. Their tech stack covers Ruby on Rails, Node.js, and React.js for web and Objective-C and Swift and React Native for mobile development. 
Their partnership with Wise, the leading digital payment system, and Activision Blizzard, one of the most prominent E-sports companies, proves their outstanding development and design skills. Some other clients are Harvard University, Navaba.net, Elemental Machines, etc.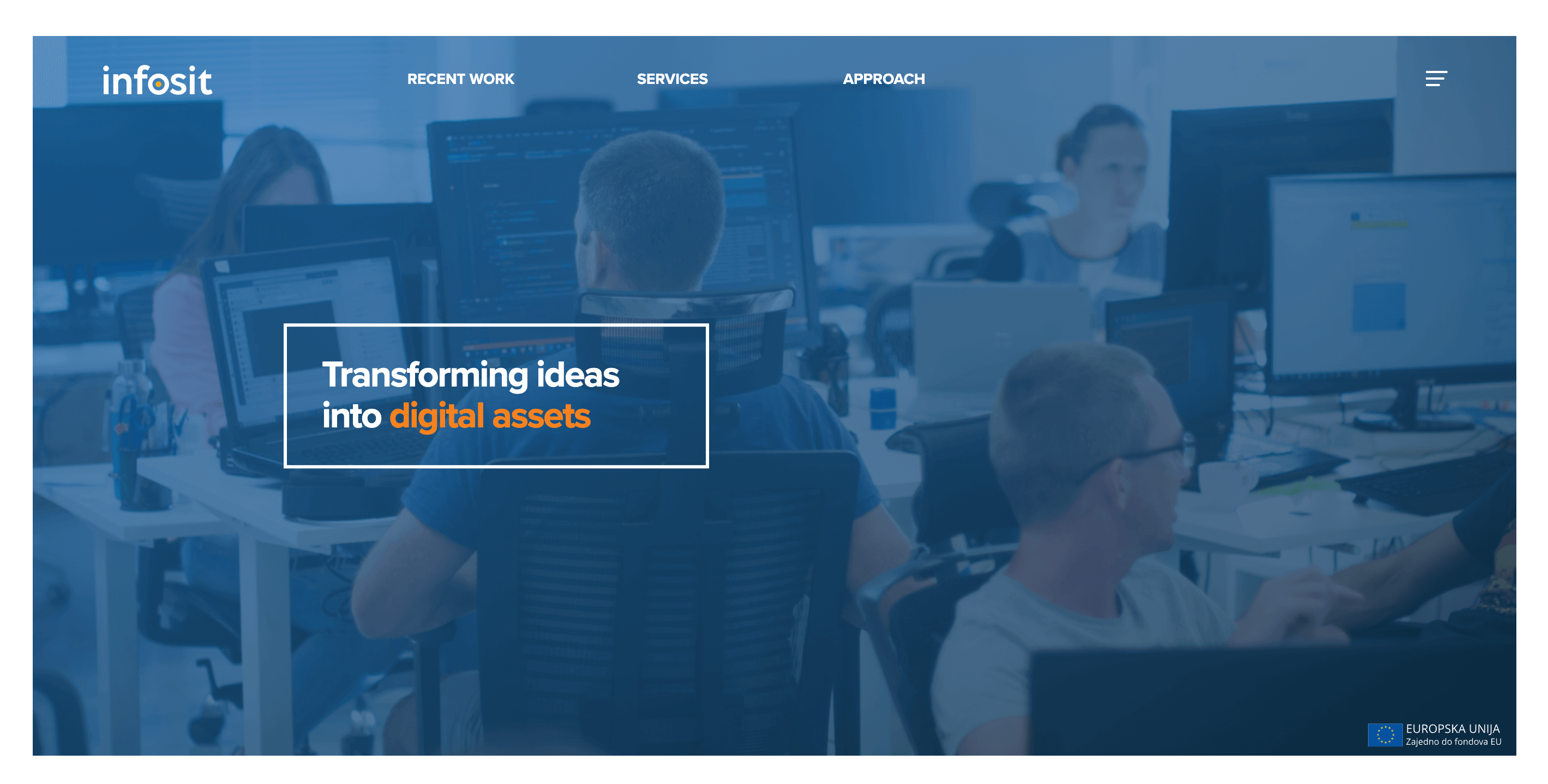 When talking about some of the oldest software development agencies in Croatia, Infosit takes a significant place. It was established in 2002, with a headquarter in Poreč, Croatia. 
For over 20 years, Infosit has been delivering innovative and intuitive web, mobile, and custom software solutions for global clients. Their dedicated team of engineers, designers, and product managers will create a profitable product that is a pleasure to interact with.
They specialize in services such as custom software development, mobile and web development, and API development. They primarily serve Hospitality & Leisure and Financial Services industries.
Infosit also offers branded digital products such as Infosit Destination Management Framework, which helped many European destinations increase online sales by 500%. Another great product from Infosit is FiskalPhone which allows small businesses and freelancers to manage simple invoice and billings more effectively.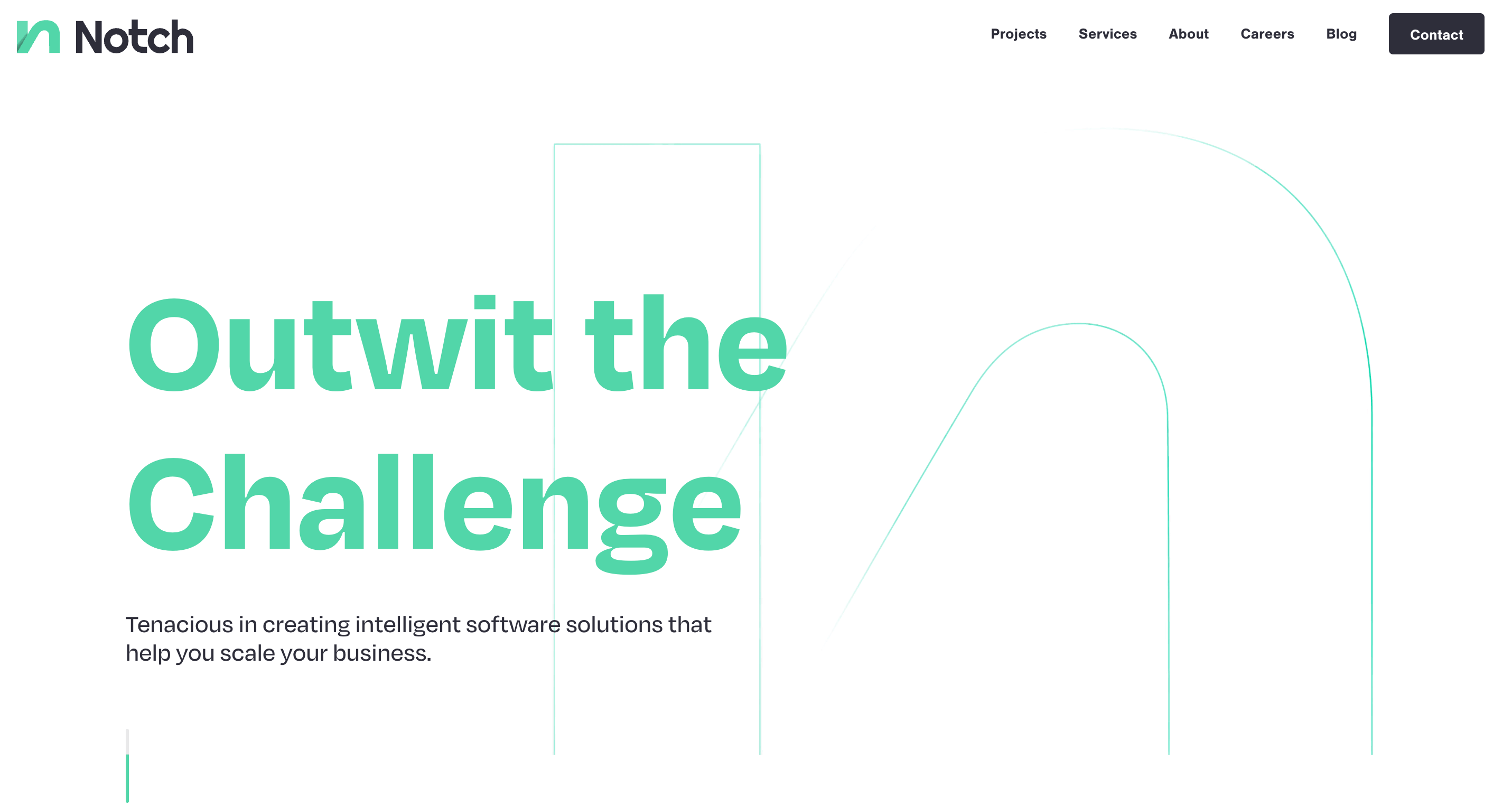 Notch is an award-winning, full-service software development agency in Croatia that offers tailor-made software solutions for enterprises and startups. Founded in 2014, the company has built a team of leading regional experts in Java-based platforms and Agile practices. 
From discovery and UX/UI design to full-stack development and delivery — Notch can allocate a dynamic, headstrong, and hardworking team ready to provide high-performance solutions to scale your business.
Headquartered in Zagreb, Notch also has offices in Frankfurt and Split. They're recognized by Deloitte and Clutch and trusted by global businesses and tech disruptors who choose Notch for their ongoing projects of over 6 years. Their team specializes in software development for Banking, Insurance, FinTech, Government, IT, Healthcare, Event, E-Commerce, Construction, Oil & Energy, Pharmaceuticals, and Telco industries.
Whether you require tech consulting or a team extension, they'll provide you with a workable solution that delivers impactful results for any project idea you have in mind.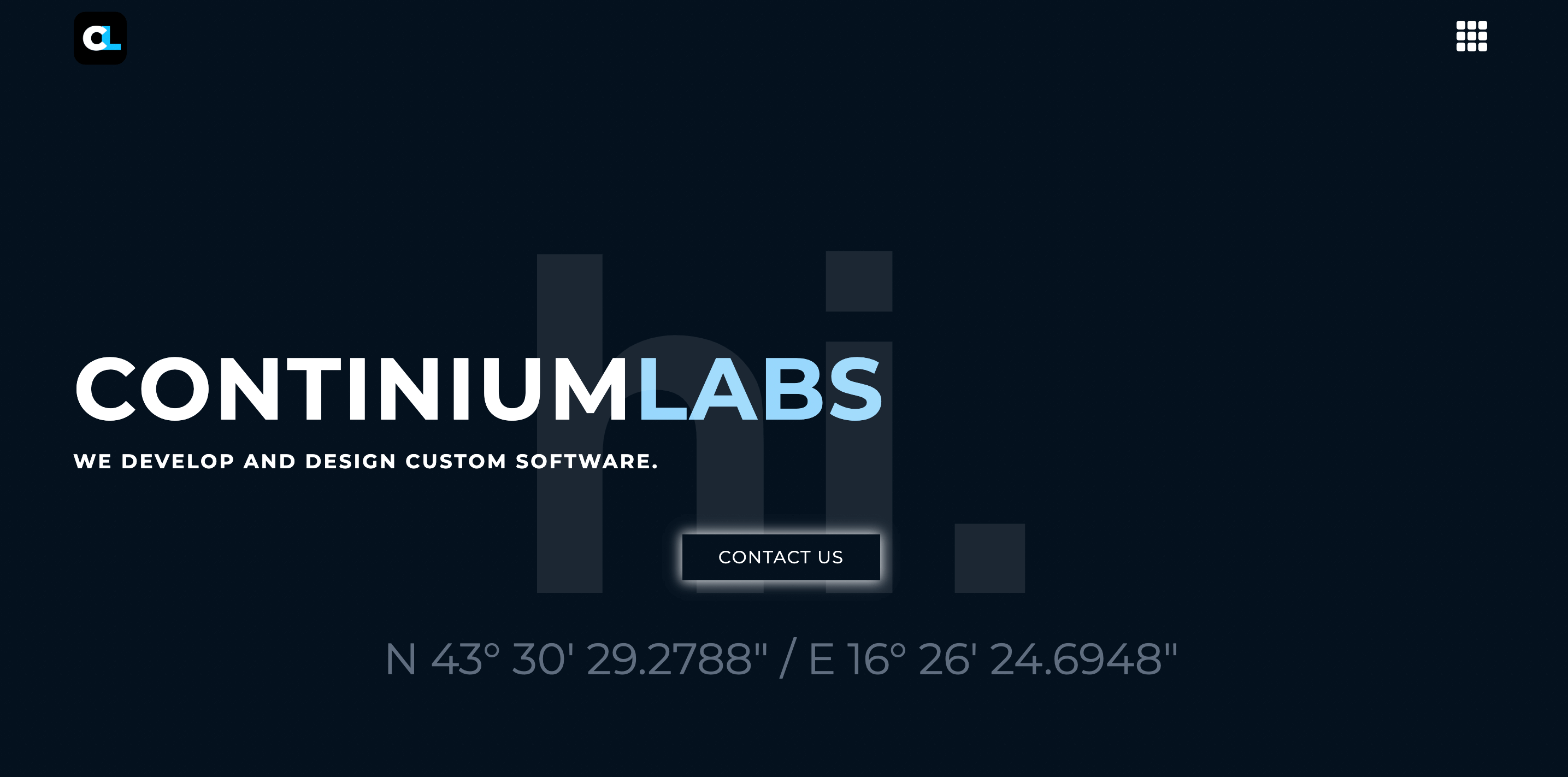 If you're still searching for a company that can help you take your business to the next level, Continium Labs is your go-to partner.
Continium Labs is a fast-growing cloud-oriented company based in Split, Croatia, offering full support for software development, deployment and DevOps. Their team of passionate developers strives to create innovative and high-quality software solutions,  focusing on scalability and exceptional communication. Continium Labs can optimize any app development for clients' business needs. 
They collaborate with both startups and enterprises in various industries, providing them with extensive tech skills and knowledge to ensure each project is completed to the highest standard. Some of the technologies they work with include JavaScript / TypeScript – React, Angular, Express.js, Nest.js, and C# – ASP.NET Core.
Having comprehensive capabilities, Continium Labs can handle any project, big or small. Whether you're building a new digital product or need to optimize an existing one, their team possesses the skills and expertise to help you achieve any of your goals.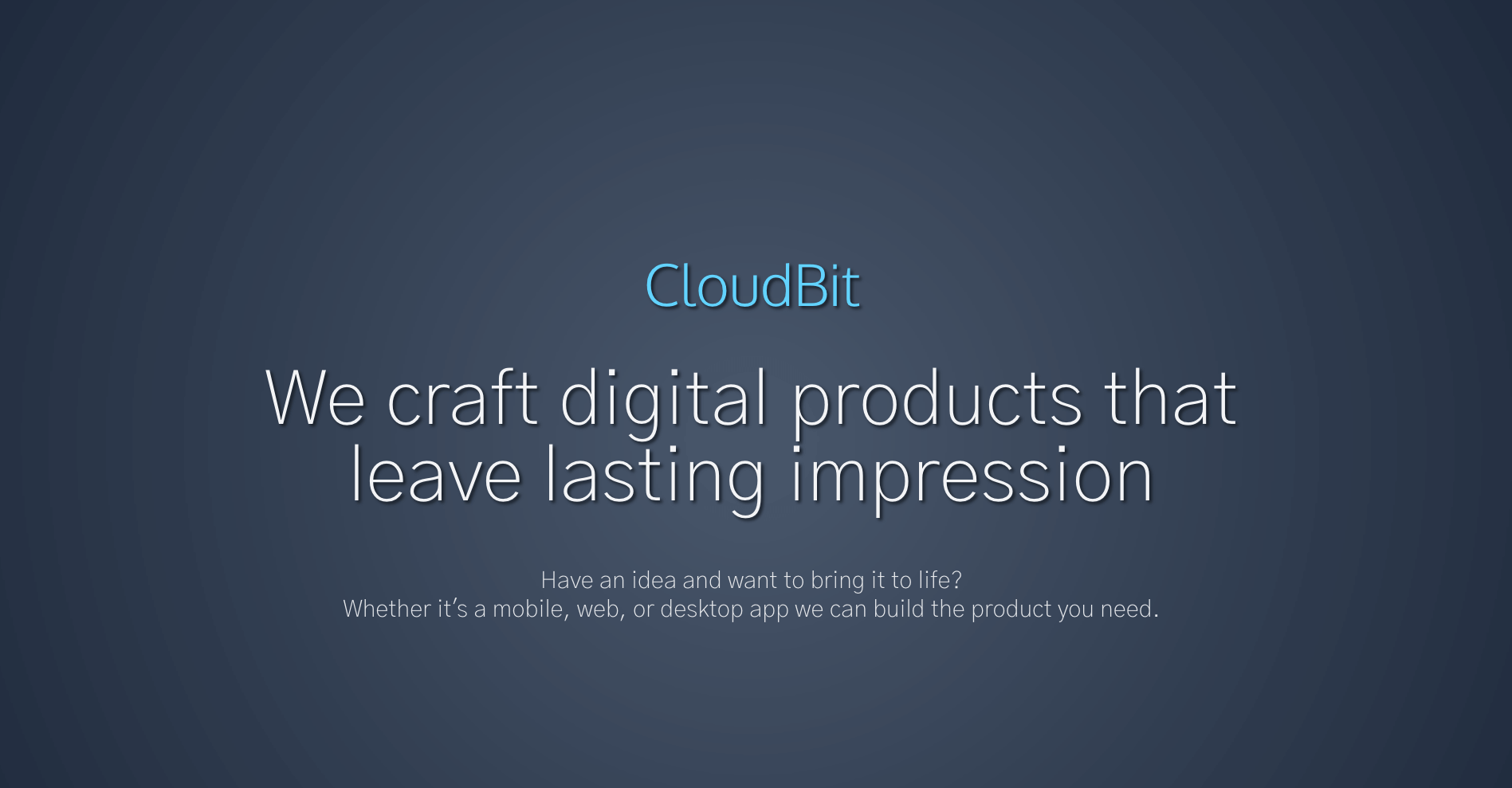 CloudBit makes the list as a software development agency specializing in mobile and web app development. They're just regular Joes, simply doing their job, which happens to be crafting exceptional software solutions. With over 10 years of experience, they create notably beautiful and efficient apps that they are highly proud of, but also pleasing for their customers. Regardless of who those customers are, they can expect a high degree of respect, transparency, and excellent service from CloudBit.
Software engineering is at the heart of their business, and staying up to date on all the latest technologies and trends is their priority. Some of the technologies they work with include Python – Django or Flask, Java, Kotlyn – Ktor, JavaScript – Express.js, and C# – ASP.NET Core.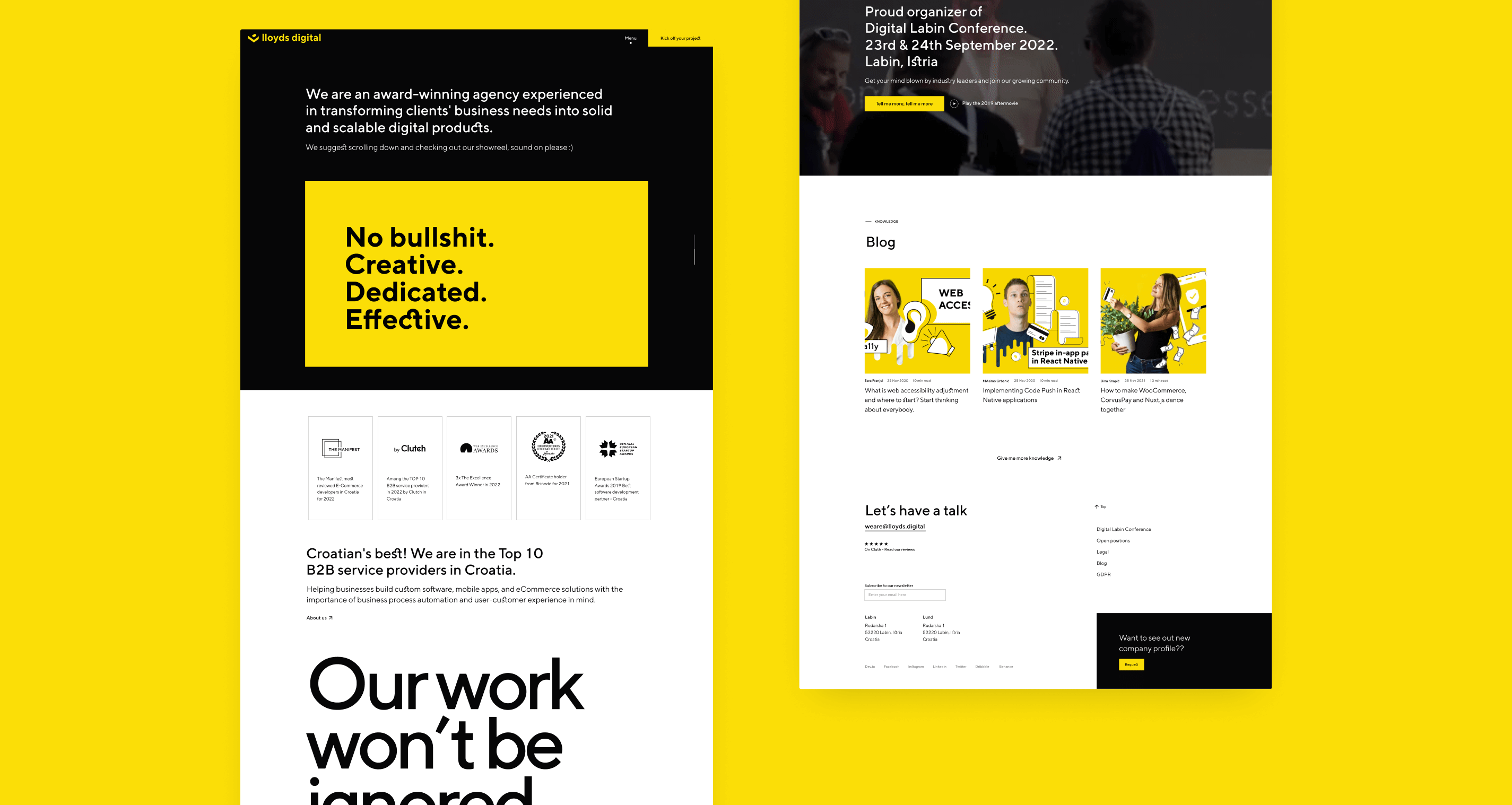 Lloyds Digital is an award-winning agency offering custom software, mobile app and website development, e-commerce solutions, UX/UI design, as well as Quality Assurance and support services for businesses worldwide.
The company has already helped over 200 clients launch their outstanding projects. Their portfolio includes many prominent names, such as A1, MasterCard, Plus Hosting, Uniline, and many more.
Working with both startups and enterprises, Lloyds digital has acquired the necessary skills, knowledge, and creativity to assist businesses in various industries.
With a team of experienced designers and senior developers, the company is ready to take on any of your tech challenges and deliver a highly efficient digital solution. They are breaking walls of tradition, noise, and relevance with the hammer of an engaging digital product.
Throughout its journey, Lloyds digital has obtained numerous awards, including Top 10 B2B Service Providers in Croatia by Clutch, 3x The Excellence Award Winner, and The Manifest Most Reviewed E-Commerce Developers in Croatia. Work with the best ones!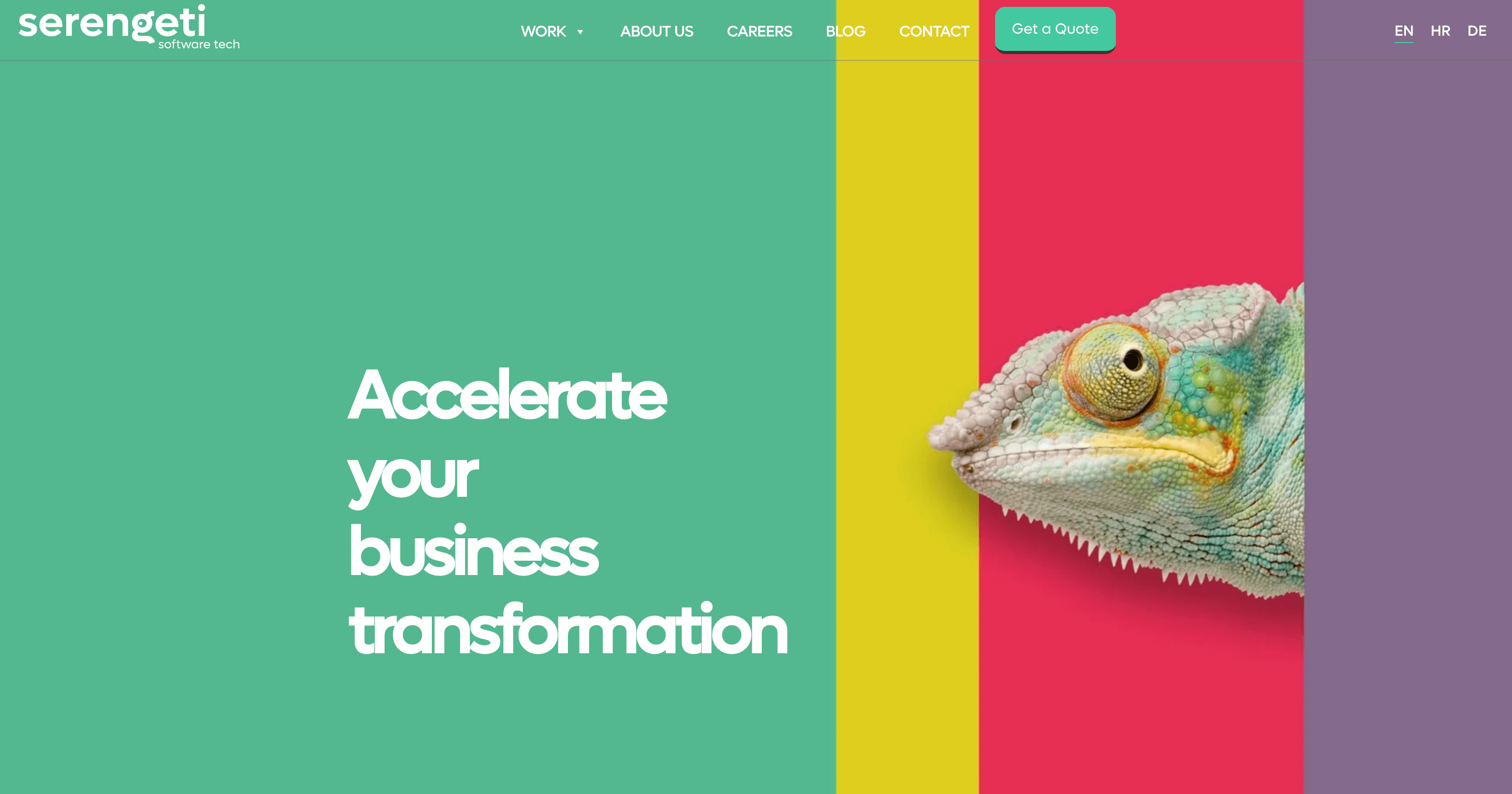 Serengeti is a famous Croatian software development and consulting agency established in 2007. They have offices in Zagreb, Bjelovar, and Varaždin.
Serengeti has developed great insight into the software development market with almost 15 years of experience and over 300 successfully completed projects.  
Their services include custom software development, Artificial Intelligence, IoT development, IT staff augmentation, and managed delivery. The primary industries they serve are Finance, Manufacturing, Energy and Natural Resources, Logistics, and Healthcare.
They've worked with companies such as KNAPP, Audifon, Fronius, and Erste Bank.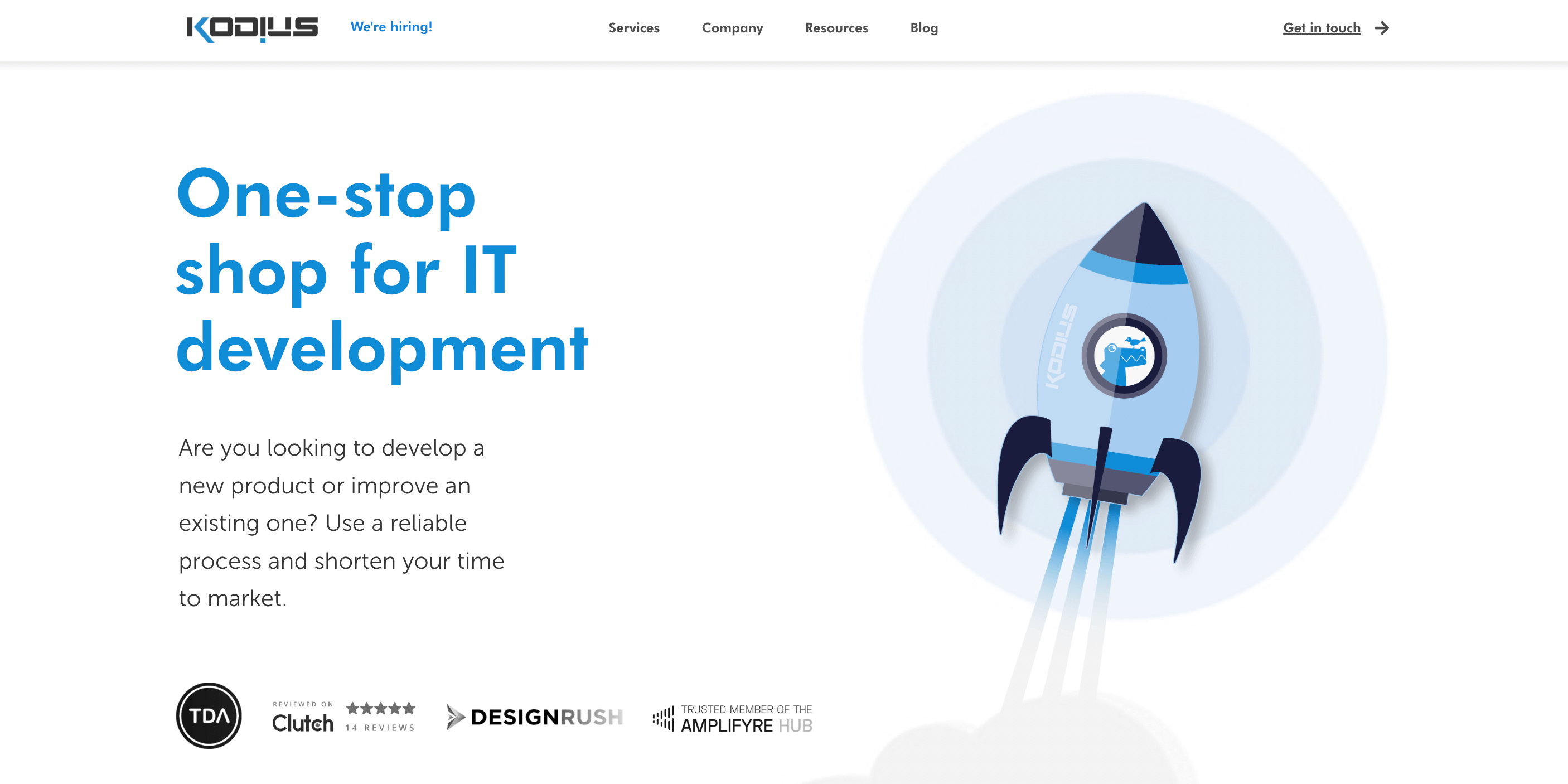 Kodius is a Zagreb-based software development and design agency established in 2016. The company provides a team of 25+ first-grade IT specialists involving product designers, frontend and backend developers, and back office. Kodius is a European company offering services in over 19 time zones.
They assist clients in custom software development, UX/UI design, Ruby on Rails upgrades, and 3D hosting. Kodius' portfolio is mainly presented by projects from Health and Medical, Real State, Business Services, and Financial Services industries.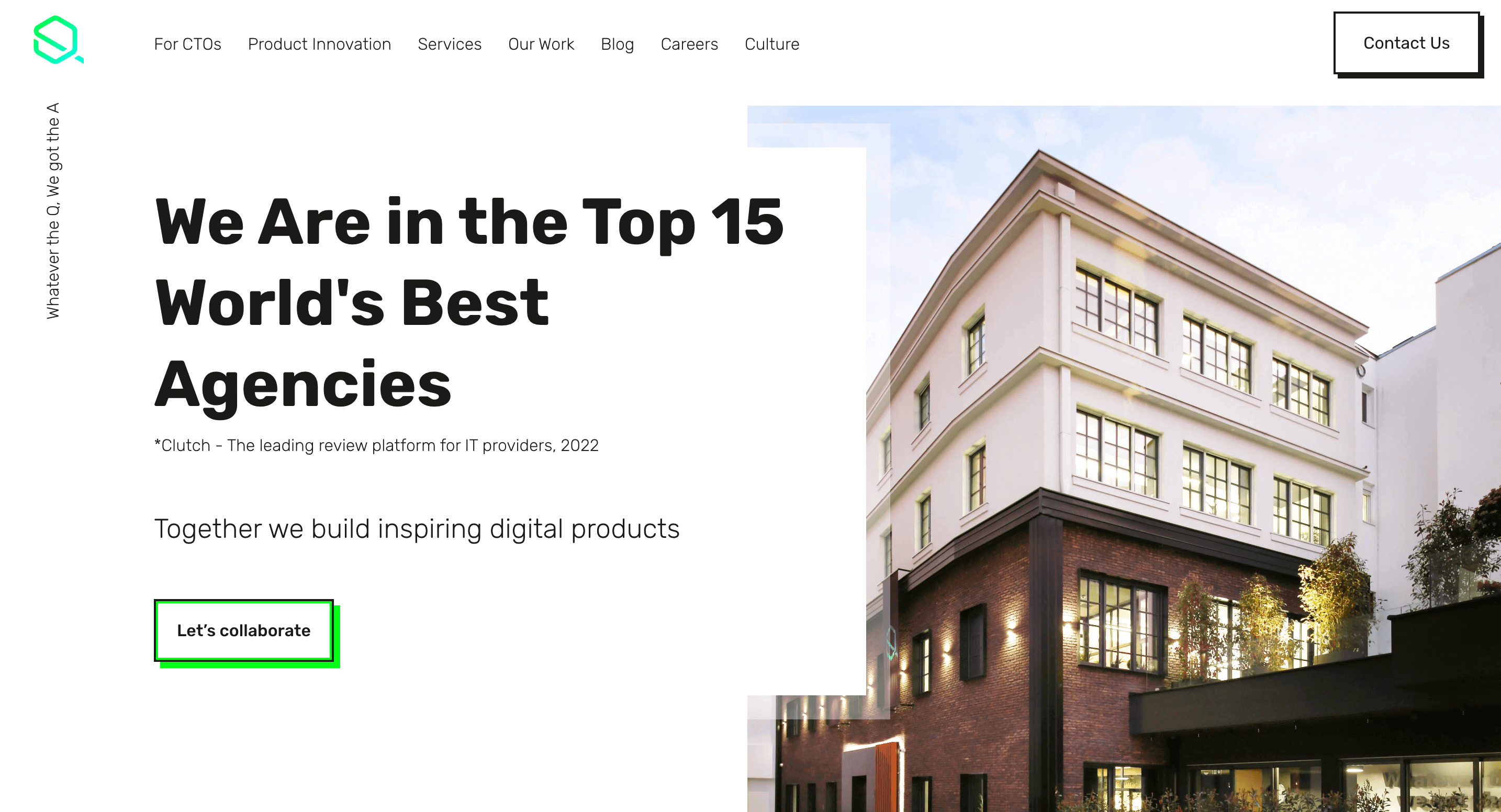 Q Agency is another popular name among the top software development companies in Croatia based in the capital city, Zagreb. They have a dedicated team of 350+ experts from different fields to serve all your business needs. 
They specialize in strategy, design, development, testing, scaling, and support. From developing Android, iOS or hybrid apps, they've got you all covered. Their tech stack consists of PHP (Symfony, Laravel), JavaScript (Angular, React, Vue.js, Node.js), Ruby on Rails, Java, and DevOps. 
Q Agency's portfolio includes many big names such as Coca-Cola, The Times, BBC, etc., and Fortune 500 companies such as Manpower. Having an extensive portfolio and partnerships with world giants, Q Agency deserves the title of one of the top IT companies in Croatia.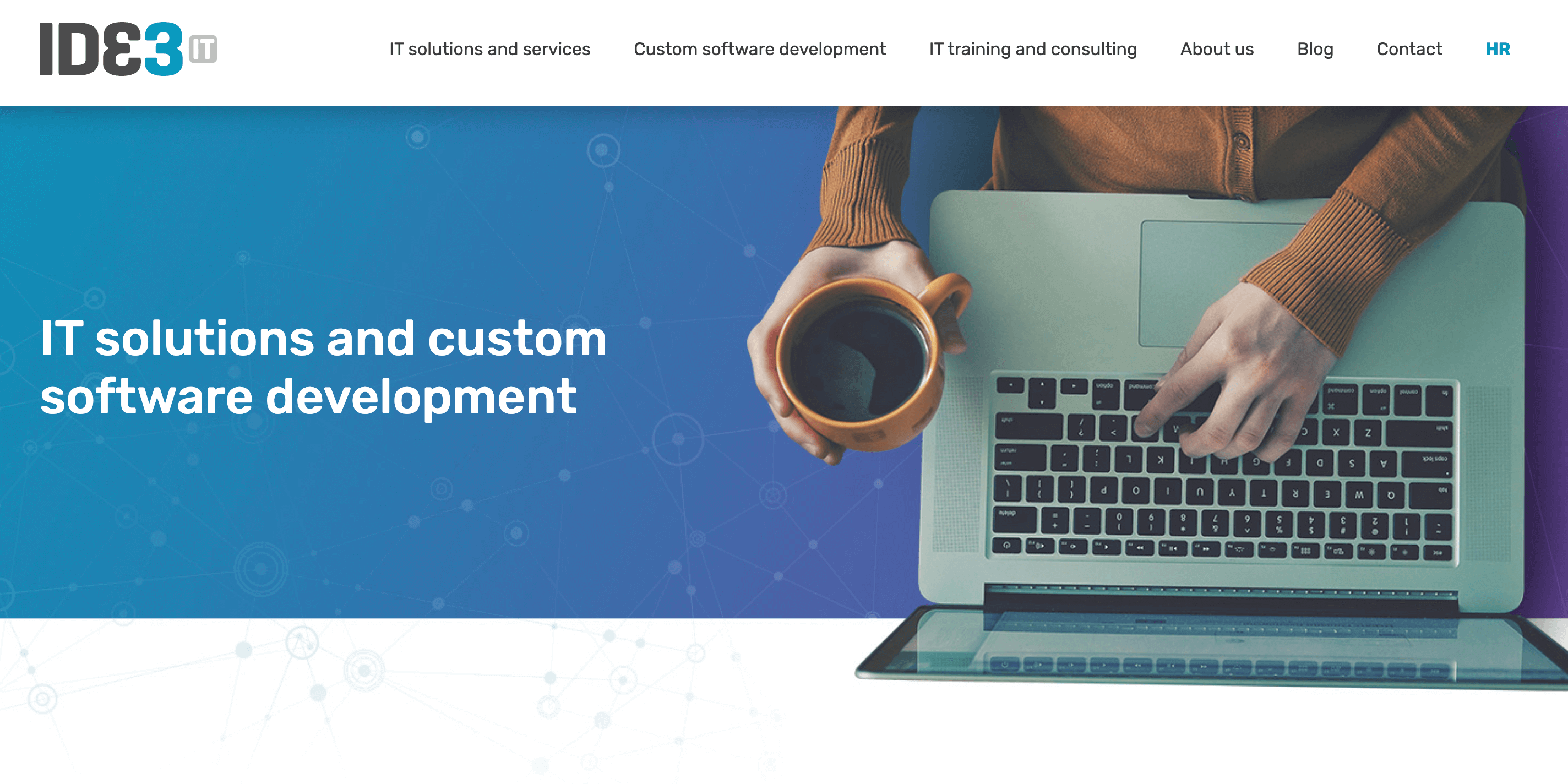 IDE3 is one of the best IT services companies in Croatia, delivering top-notch software solutions since 2008. With a client base of over 200 companies worldwide, they've worked on more than 300 unique projects. IDE3 has a talented team of engineers and other niche experts to cater to all your IT needs.
Their range of services includes software development, CRM consulting, and system integration. From helpdesk, hosting, and cloud to security and hardware, IDE3 offers all types of IT-managed services. Their technology stack primarily consists of PHP (about 80%), JavaScript, Python, and SQL.
Some of their notable clients are Kaufland, Croatian National Television, Croatian Judicial System, and IKEA.  
Conclusion
The presence of high-skilled developers in Croatia for hire and highly beneficial rates gives the country an edge over the other European countries. 
In addition, with 81% of the Croatian population being multilingual and 80% being English speakers, the communication barrier won't be a problem when outsourcing your project to an IT company in Croatia. 
However, with such a wide range of candidates in the market, thorough research is essential while selecting a reliable and trustworthy company. We hope this list helps you find a perfect IT partner. 
If you want to add your company to this list, drop us an email, and after a thorough assessment, we'll decide whether it's an appropriate addition.