According to the report, the offshore software development market was valued at $122.257 billion in 2021 and is expected to reach the value of $283.457 billion by 2030, at a CAGR of 10.13% for the period. 
Running an online business is not easy, especially when there are tons of things to take care of – product strategy, software development, marketing, and sales. While one can manage a few areas efficiently, it's literally impossible to cover them all on your own. Therefore, the winning decision is to outsource specialized IT tasks to the top offshore software development company. 
Offshore development is the trending practice among big businesses and startups when they delegate their technical tasks to a specialized firm situated in a different location, preferably in another country. Companies choose the offshoring model mainly for two reasons – to cut costs and speed up product time-to-market by distributing the workload. 
While time and cost saving are the two main advantages of offshoring, there are some more benefits this development approach can bring to your business:
On-demand updates

Managed delivery eliminating your involvement

Expansion into the new overseas markets

Access to a vast pool of global talents
So, to help you hire the more reliable and proficient offshore software development vendor, we've compiled this ultimate list. Here we feature top offshore development companies based on such essential aspects as their scope of services and expertise, tech stack, team size, and industry experience. Review them all to decide which one aligns with your requirements and personal preferences the best. 
The Best Offshore Software Development Companies For Your Next Project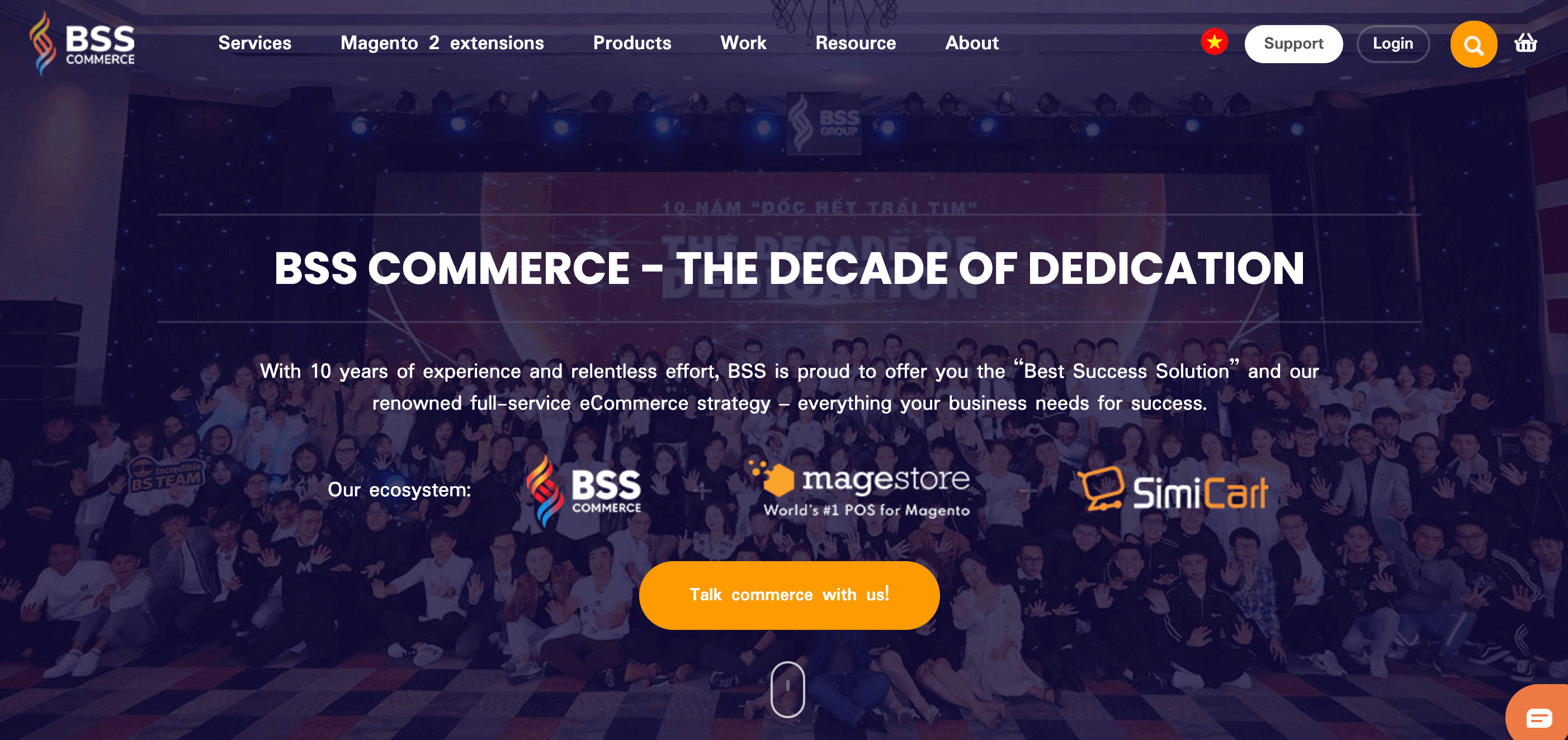 Top on our list, BSS Commerce is a prominent offshore web design and eCommerce development company from Hanoi, Vietnam. The firm is a certified Adobe partner specializing in Magento development and has a dedicated development team for businesses of all sizes and industries.
Founded in 2012, BSS Commerce has served more than 21000 customers and has delivered 500+ projects in just a decade. 
Services: o

ffshore development

,

w

eb development, B2B product implementation, web maintenance & code audit, tech strategy consulting, UI/UX design, eCommerce development and optimization, platform migration, AWS, on-demand testing

Technologies:

Java, PHP, C++, .NET, Python, Symphony, NodeJS, React, WordPress, Magento, Shopify, Shopware

Industries:

eCommerce, Consumer products & services, Media, Medical, Automotive, Arts, Entertainment & Music, Other industries 

Team size:

250+ experts

Portfolio:

Infiki, Everlast, REP Fitness, Primera Technology Inc, Volcom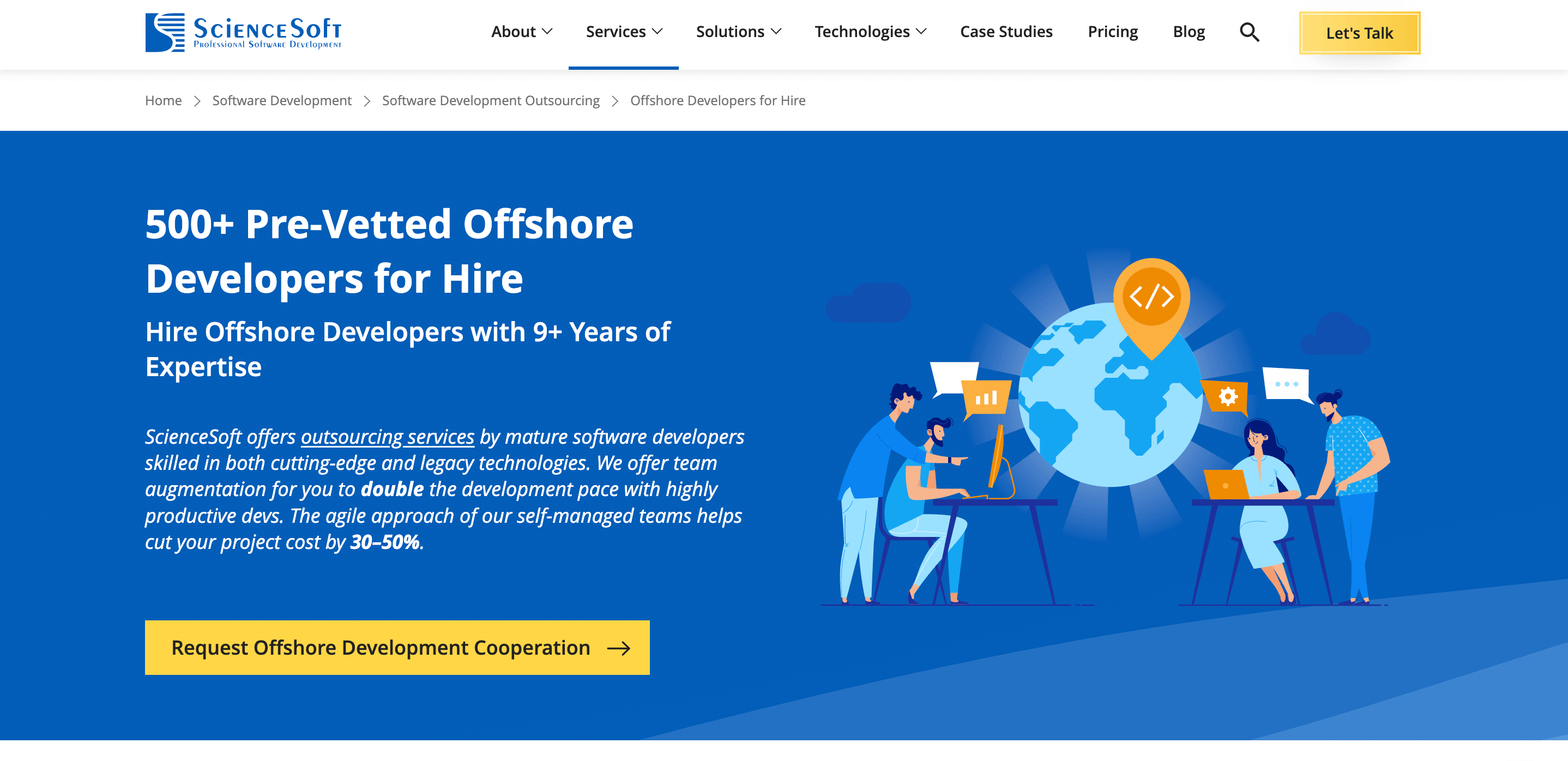 ScienceSoft is a trusted software development provider with an HQ in McKinney, TX, and six more locations across the US, the UAE, and Europe. The company gathered a remarkable portfolio of 3,600+ successful projects for 1,200+ clients. 62% of the vendor's revenue comes from long-term customers that have stayed with ScienceSoft for 2+ years.
ScienceSoft's offshore developers are widely recognized for their commitment to software quality and security, vast tech expertise, mature processes, and focus on bringing tangible business value. ScienceSoft is included in the Global Outsourcing 100 list by IAOP. The Financial Times has named ScienceSoft USA Corporation among the Americas' fastest-growing companies in 2022 and 2023. 
Services

: custom software development, SaaS software development, web and mobile development, IoT and big data software development, blockchain, AI/ML services, AR/VR development, UI/UX and 3D design, system integration, digital transformation, app modernization, cloud enablement, software testing & QA, DevOps, cybersecurity

Technologies: .NET, Java, Python, Node.js, PHP, Golang, C++, Angular.js, React.js, Vue.js, Xamarin, iOS, Android, AWS, Azure, GCP, Apache Hadoop, Apache Kafka, Apache Spark, Jenkins, Kubernetes
Industries: Healthcare, BFSI, Manufacturing, Retail & Wholesale, eCommerce, Transportation & Logistics, Oil & Gas, and over 20 more
Team size: 750+ experts
Portfolio: Nestle, Deloitte, IBM, eBay, Walmart, NASA JPL, PerkinElmer, Leo Burnet, Lixar, Viber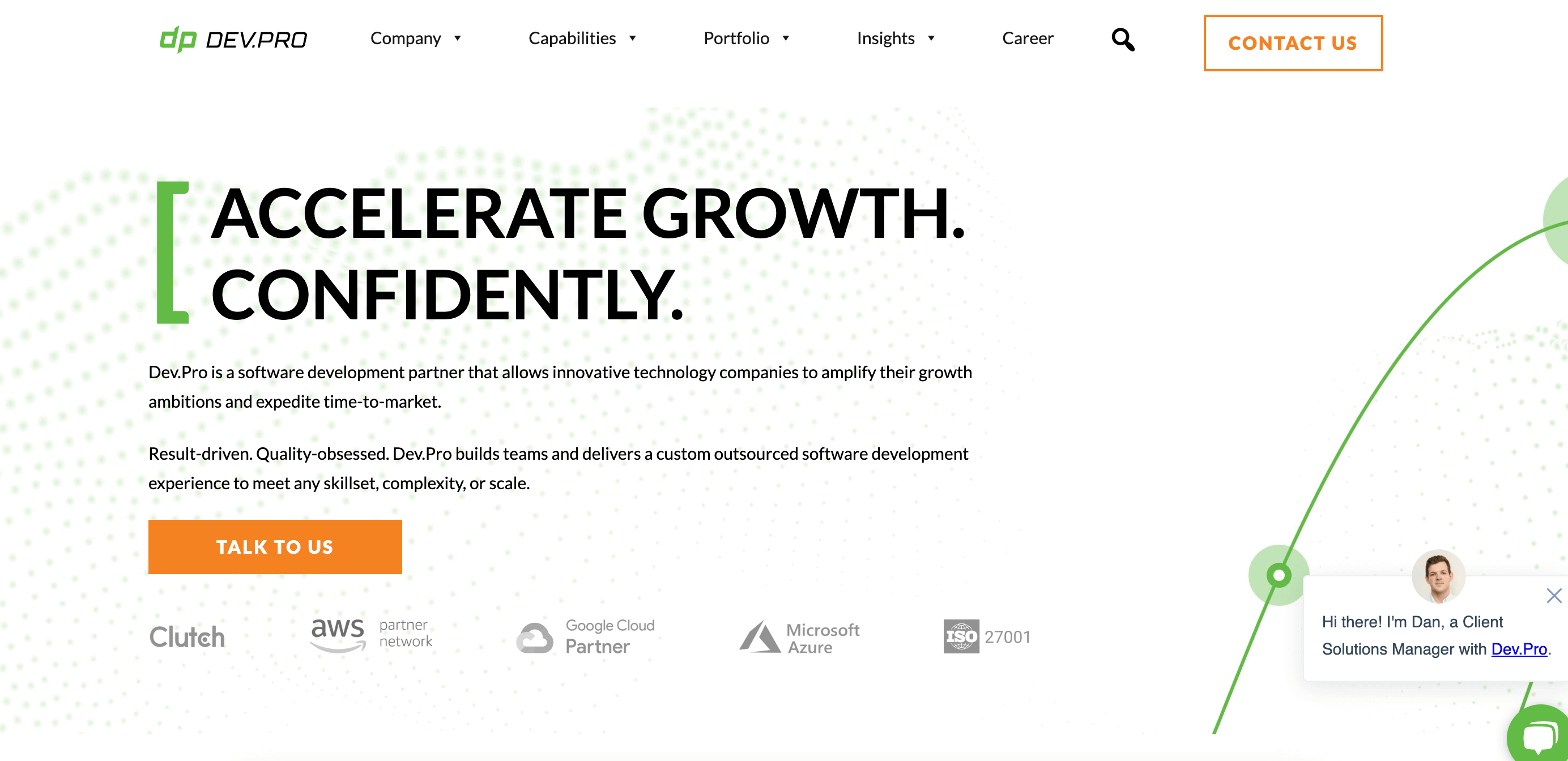 Dev.Pro is one of the top offshore development companies with a global presence in more than 50 countries across five continents. It was founded in 2011 by the US tech entrepreneur Jeff Bianco with a mindset to provide customers with result-driven development and IT services that can meet any skillset, complexity, and scale.
The company respects its words and hence offers complete transparency and collaboration in the projects. 
Services: b

lockchain development, cloud development, DevOps services, software testing & quality assurance, reporting & analytics, system integration, UI/UX design

Technologies:

C++, Python, React Native, Ruby on Rails, ReactJS, NodeJS, SQL, MongoDB, Angular, AWS

Industries:

Digital Commerce, Hospitality, HealthTech, Enterprise, Blockchain, SaaS, FinTech, Education

Team size:

800+ experts

Portfolio:

Salesloft, Heartland, Securrency, Globalpayments, Inveniam, Ascendix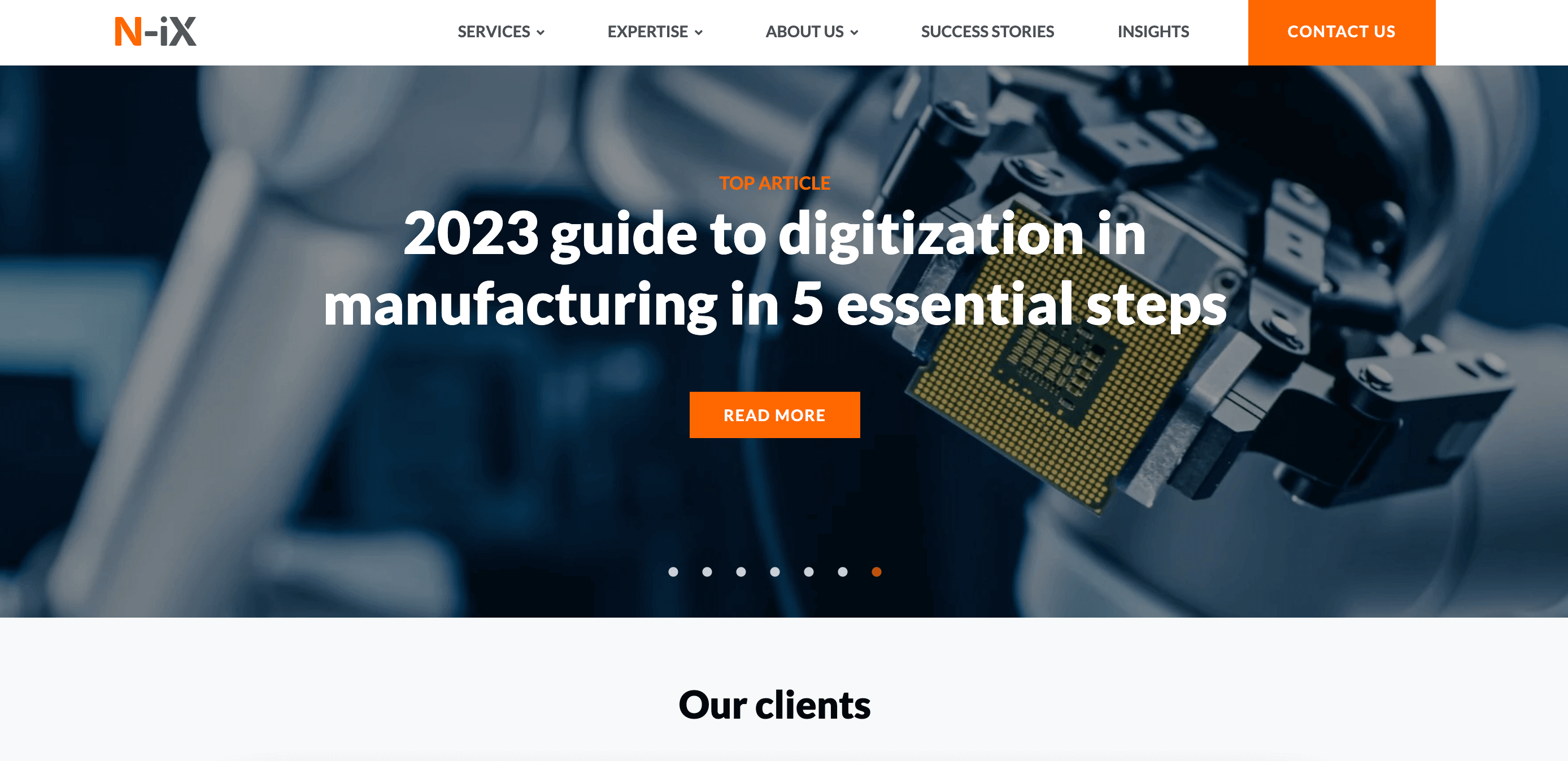 If you are looking for a trusted offshore software company with versatile industry expertise and a global presence, N-iX is your go-to partner.
The firm has been helping global businesses advance in the digital space with its class-apart engineering services and skilled workforce. Founded in 2002, N-iX has over 30+ enterprise-level clients, including Fortune 500 ones, in its portfolio. 
Services: bi

g data, business intelligence, data science, DevOps, embedded software & IoT, Cloud, AI & ML services, QA & testing, UI/UX design, game & VR development 

Technologies:

Microsoft Azure, AWS, .NET, Ruby on Rails, Java, ASP.NET

Industries:

Manufacturing, Logistics & Supply chain, Fintech, Telecom, Retail, Automotive, Healthcare, Energy & Utilities

Team size:

2000+ experts

Portfolio:

Siemens, Fluke, Viking, Messer, Gogo, ZIM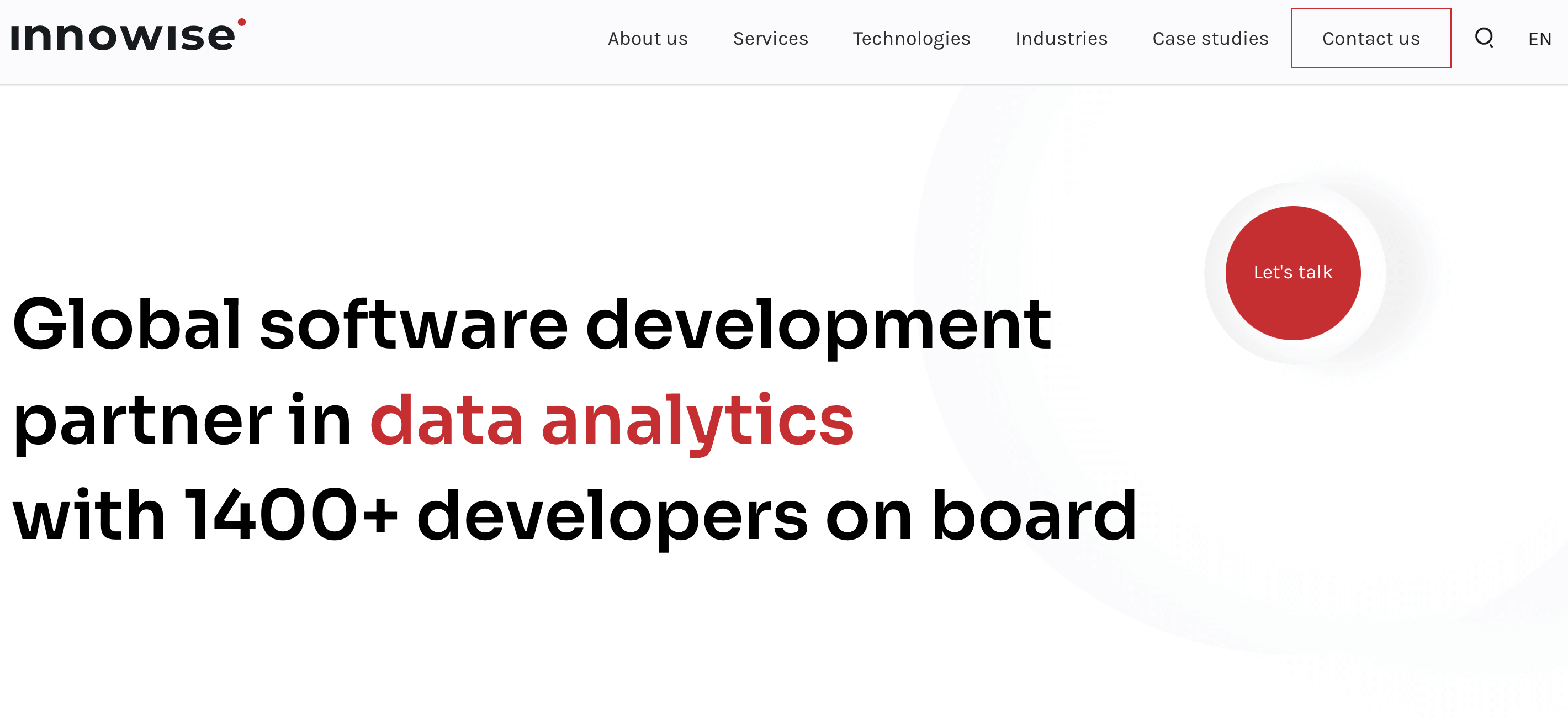 One of the leading offshore programming services providers, Innowise Group is an international full-cycle software development firm from Florida.
The company holds over 16+ years of experience in providing excellent software and engineering solutions to global businesses. Their ingenious team has successfully delivered 850+ projects in over 40 domains to 200+ clients, making it one of the best offshore software development companies. 
Services:

custom software development, web development, mobile development, IT consulting, UI/UX and 3D design, software testing & QA, business analysis, DevOps, cybersecurity, IT staff augmentation, blockchain, AI & ML services, IoT, AR/VR

Technologies:

React, Angular, Vue.js, Java, Python, PHP, .NET, Rust, C++, Unity, Ruby on Rails, Golang, Flutter, React Native, Xamarin, Objective C, Swift, Kotlin, .NET MAUI

Industries:

FinTech, MedTech, eCommerce, Elearning, Public Services, Logistics & Transportation, Construction & Real Estate, Tourism & Hospitality, Media & Entertainment, Telecommunications

Team size:

1500+ experts

Portfolio:

Terraces.io, Voka, Belyagdar, Instatsport, NFT Pro, AR Application, Tracking Systems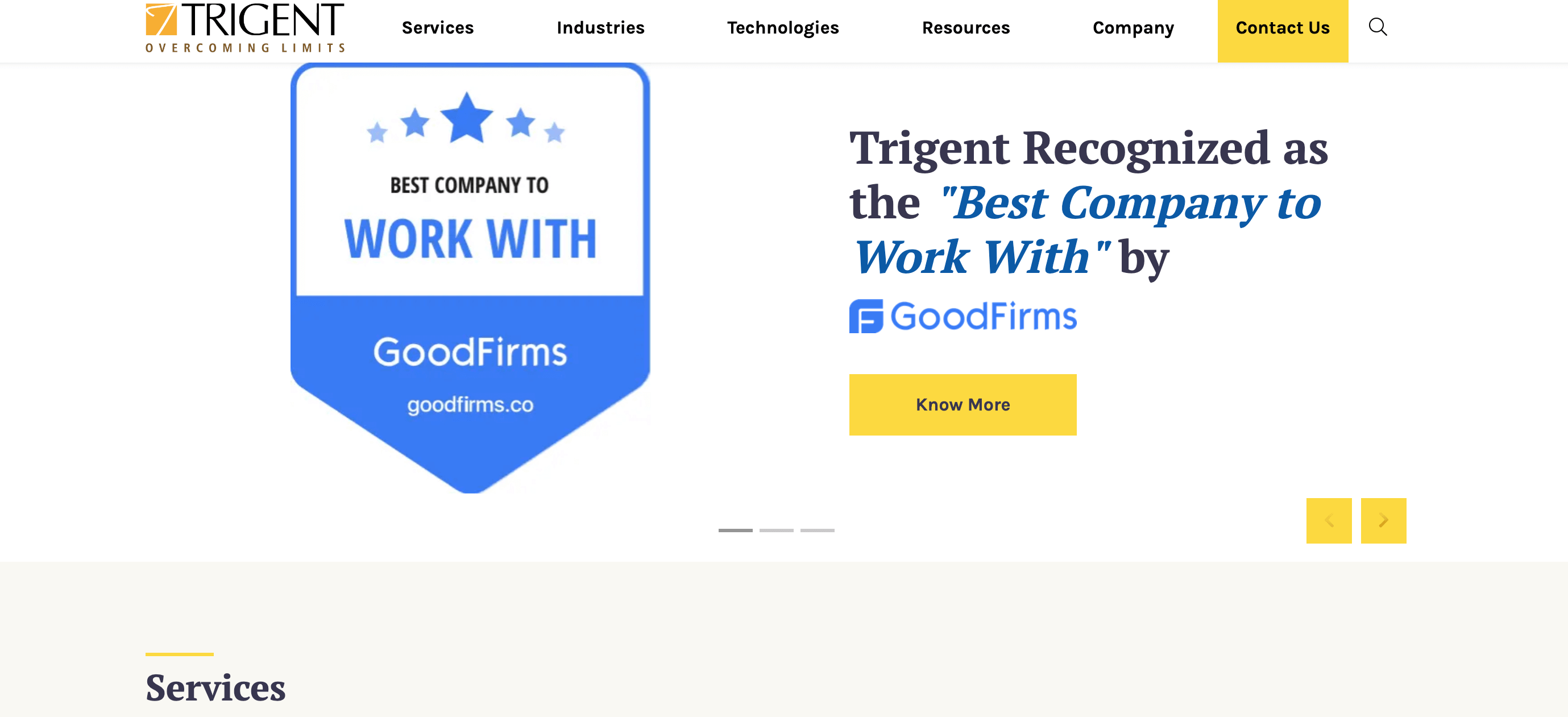 Trigent is among the best offshore development companies headquartered in Southborough, MA, and India. Founded in 1995, it is one of the earliest entrants in the segment and has been providing quality software solutions to its clients, ranging from big enterprises to SMBs.
Talking of achievements, Trigent holds 6 US patents and has delivered more than 400 top-rated products to its customers. 
Services:

application development, data engineering, cloud services, infrastructure, mobile app development and testing, business intelligence, product engineering, QA & testing, big data, artificial intelligence 

Technologies:

NET, PHP, Java, HTML5, CSS, Javascript, XAML, REST, Angular, jQuery, ReactJS, Vue.js, Bootstrap

Industries:

Financial Services, Education, High-Tech, InsurTech, Manufacturing, Retail, Logistics & Transportation

Team size:

250+ experts

Portfolio:

WebMD, Clarks, Honeywell, Oracle, Cars.com, Salary.com, Monsanto, Xcira, eLaw, CBLife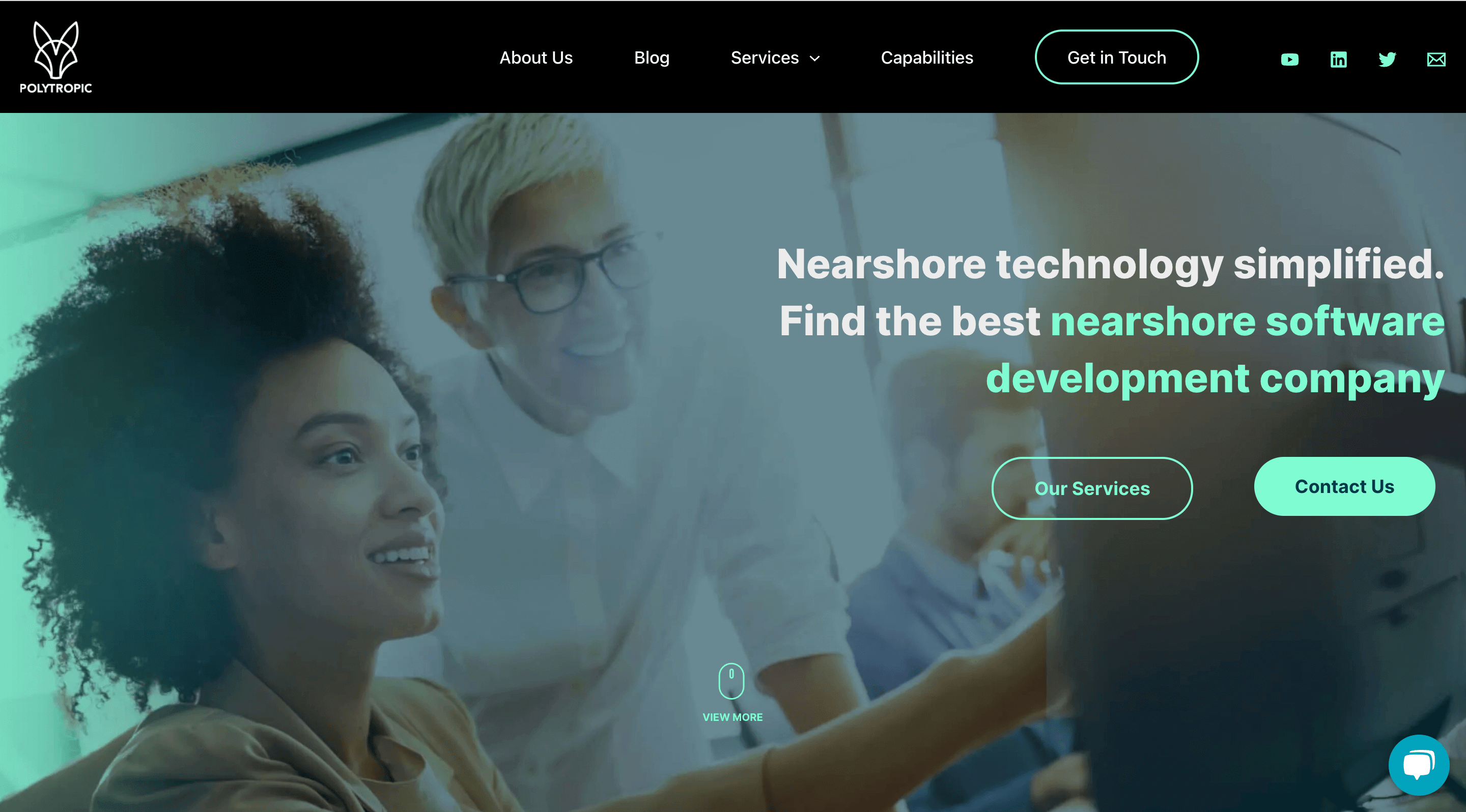 Polytropic is one of the best nearshore software development companies serving clients in Latin America with over a decade of experience in the IT market. They help local businesses accelerate their product development processes by offering a customized outsourcing strategy that delivers results. Polytropic's technology and business experts deeply understand software development and agile methodologies, enabling them to provide customers with the highest level of service and support.
At Polytropic, they believe that nearshore outsourcing is a powerful tool for driving business growth and innovation. Their commitment to transparency, collaboration, and continuous improvement has helped them establish a track record of success connecting clients with top talent in Latin America. With their cost-effective solutions, clients can leverage the fantastic benefits of nearshore outsourcing, including convenient time zone and cultural advantages.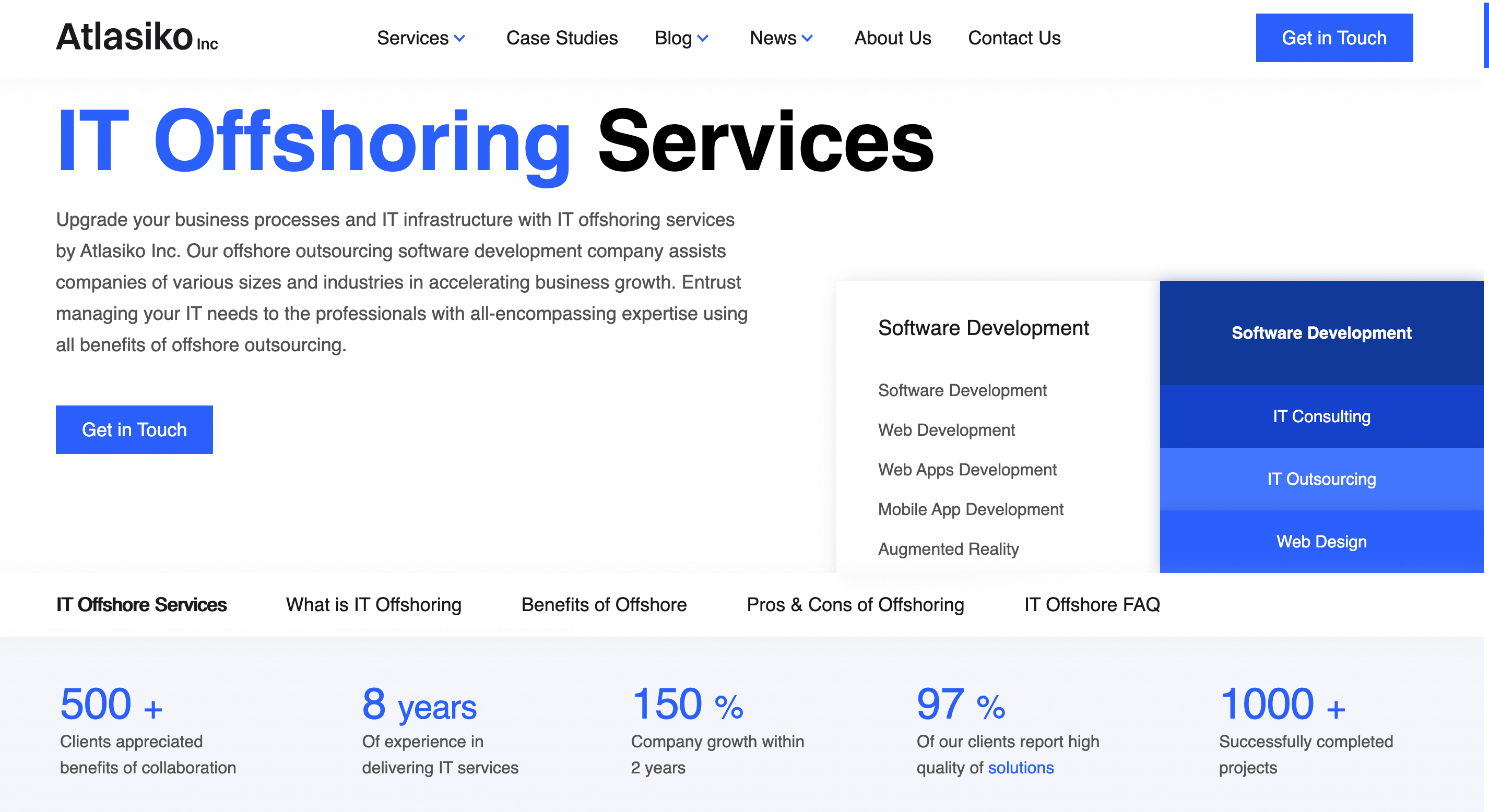 Atlasiko Inc. is one of the best offshore software development companies with offices in the USA, the UK, and Ukraine. Founded in 2015, the firm has spent over 8 years providing top-notch services for offshore development and establishing fruitful partnerships with clients across the world. With 1000+ successfully completed projects, the company can affirm the vast experience of its professionals and offer quality assurance.
Atlasiko provides 100% transparency in the company's offshoring models and uses best tech practices to ensure unparalleled results.
Services: IT offshoring, IT staff augmentation, web development, software development, IT strategy consulting, eCommerce, DevOps, web apps development, web design, mobile app development, Internet of Things, HR software development
Technologies: JavaScript, Java, PHP, C++, .NET, Python, Go, Node, React, Vue, Nuxt, React Native, others
Industries: Retail and eCommerce, FinTech, Travel and Hospitality, Logistics, Manufacturing, Healthcare, Media and Entertainment, On-demand Application Development
Team size: 100+ experts
Portfolio: Applet 3D, Formica, Lowe's, Easy Stone Shop, LG, GudHub, CountertopSmart, Onnon Building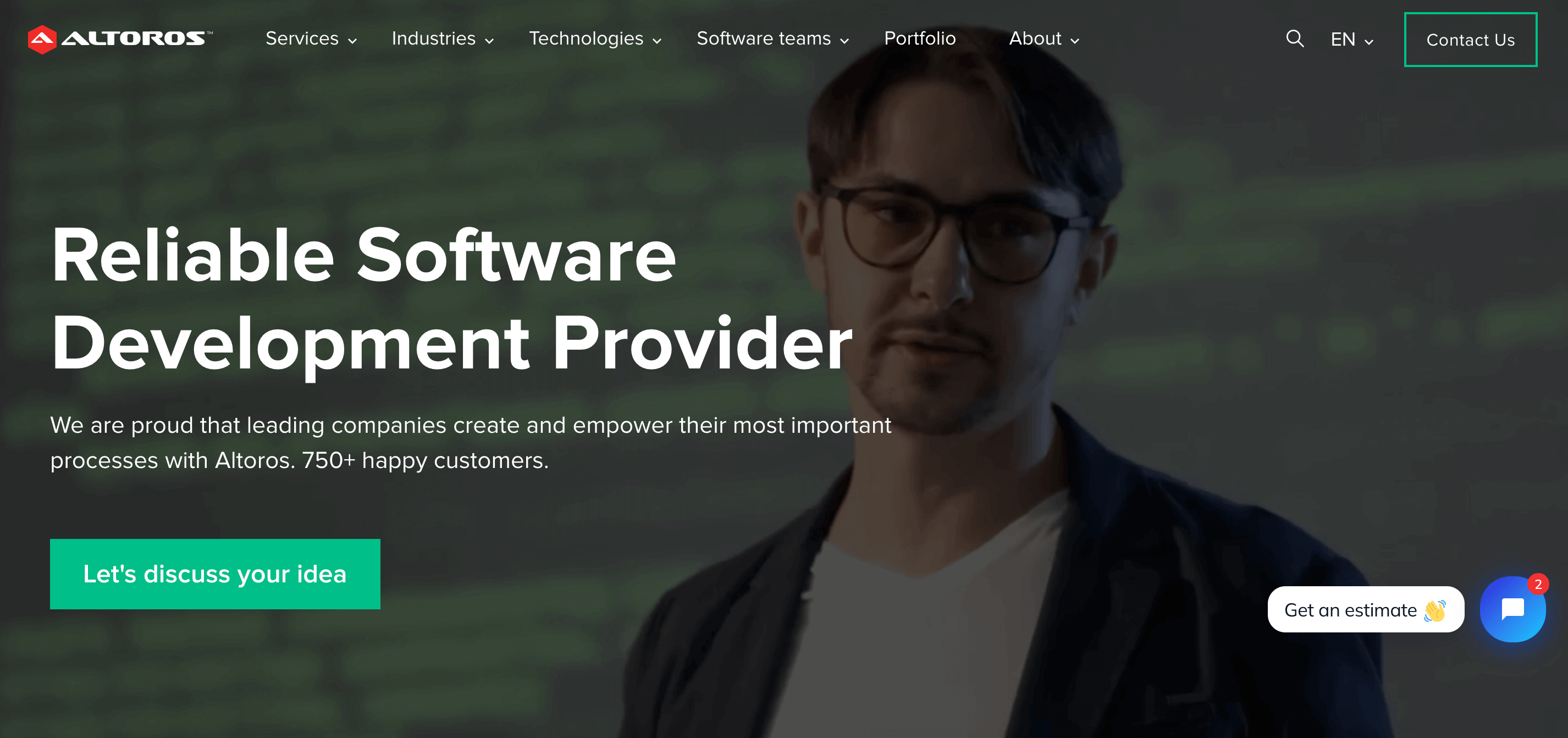 Altoros Labs is a reliable custom software development firm providing exceptional offshore software development and IT staff augmentation services. Situated in California, USA, the firm serves over 2000 clients globally with the help of its 400+ team members who hold expertise in numerous domains, be it blockchain development for Healthcare or eLearning SaaS product implementation.
Services: c

ustom software and product development, mobile development, web development, API development and integration, cloud services, IT consulting, blockchain solutions, AI & ML solutions, staff augmentation

Technologies:

.NET, C#, Java, Ruby on Rails, Python, Node.js, NoSQL, MySQL, MongoDB, React, Angular, Xamarin, Flutter, React Native, Swift, Kotlin, Azure, AWS

Industries:

Finance & Banking, Big Data, Customer support, Healthcare, eCommerce, IoT, Logistics & Transportation, Automotive, Manufacturing, Education, Insurance, Telecommunications

Team size:

400+ experts

Portfolio:

Siemens, Huawei, Toyota, Samsung, Hitachi, Couchbase, Mom Trusted, Likefolio, Allstate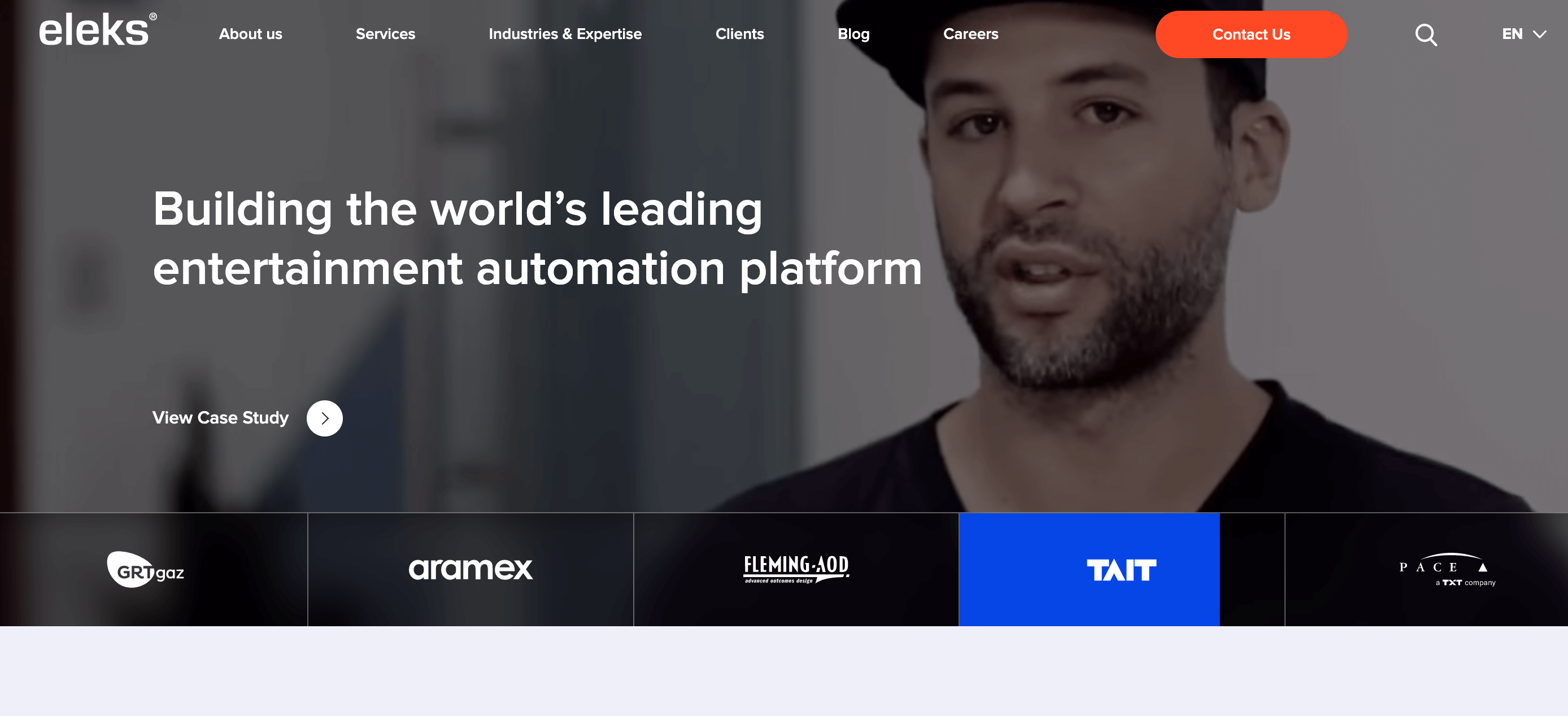 Eleks is the top choice for offshore web application development among businesses across Europe, the US, and Asia. The company is headquartered in Tallinn, Estonia, but has offices in Chicago, Las Vegas, London, Toronto, Berlin, Zurich, Tokyo, and Ukraine.
Established in 1991, Eleks has a long history of providing its clients with top-class software and consulting solutions. With a vast 32+ years of presence in the market, Eleks has delivered more than 700 projects and has onboarded 2000+ specialists so far. 
Services: d

ata science, cybersecurity, product and service design, PoC development, application development, ERP & CRM consulting, cloud migration, quality assurance & testing, blockchain solutions, DevOps, VR/AR/MR solutions, IoT development

Technologies:

NET, ASP.NET, Apex, C#, AJAX, Java, Python, C++, JavaScript, React, Node.js, Angular, Spring MVC

Industries:

FinTech, Insurance, Healthcare, Energy, Logistics, Retail, Automotive, Agriculture, Media & Entertainment

Team size:

2000+ experts

Portfolio:

WellAir, IXM, Eagle Investment Systems, Aramex, Autodesk, Acino, ESET, PACE, Imerys, MapleLife Financial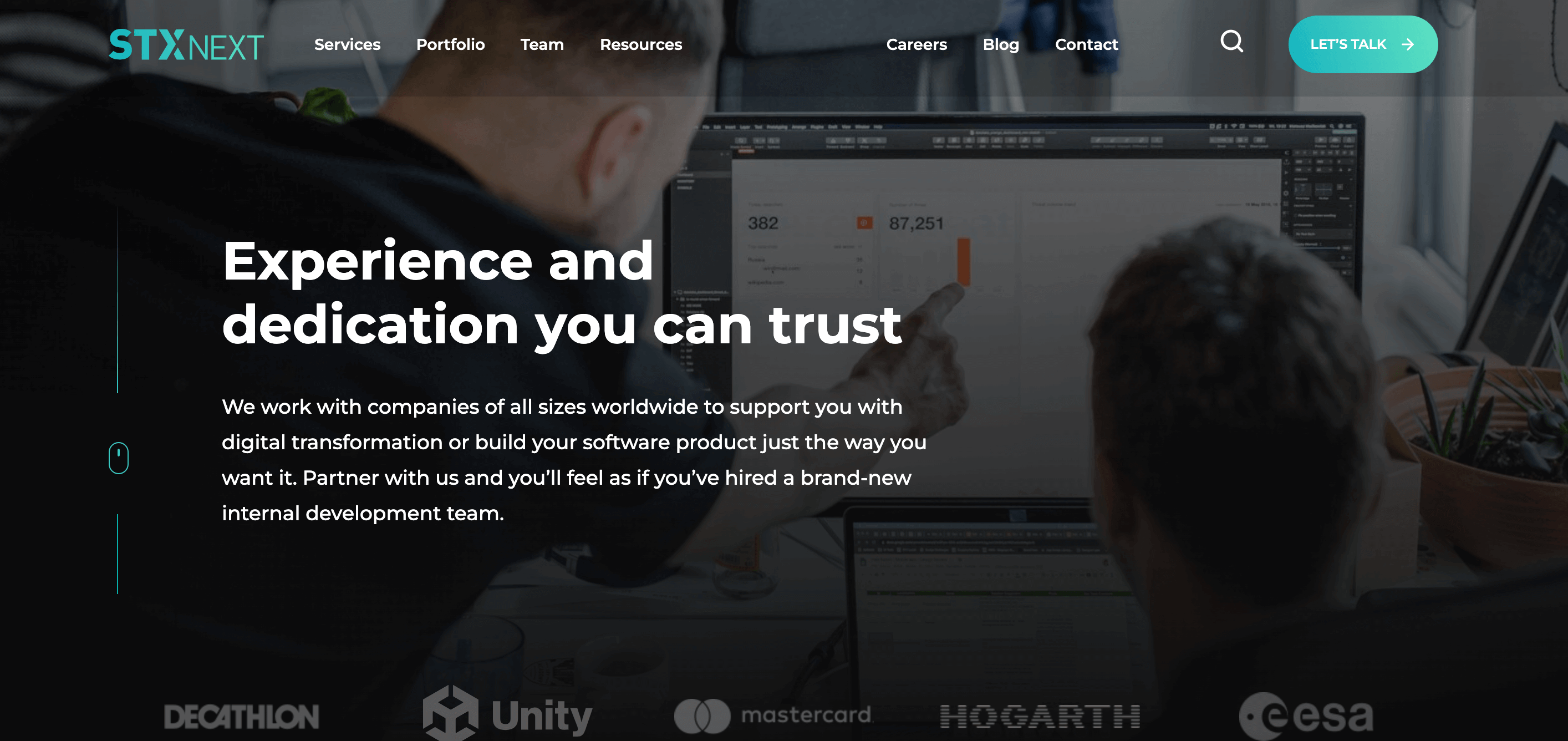 One of Europe's largest software houses focused on Python development, STX Next, is a team of talented offshore developers situated in Poland. STX has been in the market for 17+ years, and during its journey, it has grown to 550+ members and has served over 300 clients.
Their top-notch developers have an average experience of 6.5 years, and most of their client relationships have lasted for a mean period of 3.5 years. Their clients' products have also been featured in publications like Forbes, Fortune, TechCrunch, and much more, which signifies the extent of their offshore software development services. 
Services: offshore c

ustom software development, product design, mobile development, web development, DevOps, AI & ML solutions, data engineering, team extension

Technologies:

Python, .NET, JavaScript, Node.js, Django, React Native

Industries:

Financial Services, Health & Wellness, eCommerce, Advertising & Marketing, Education, Consumer Products & Services

Team size:

550+ experts

Portfolio:

Mastercard, Decathlon, Tiquets, Buildfax, Meet.mba, Pixomondo, Betbright, Deuce Tennis, Verisk, KNMP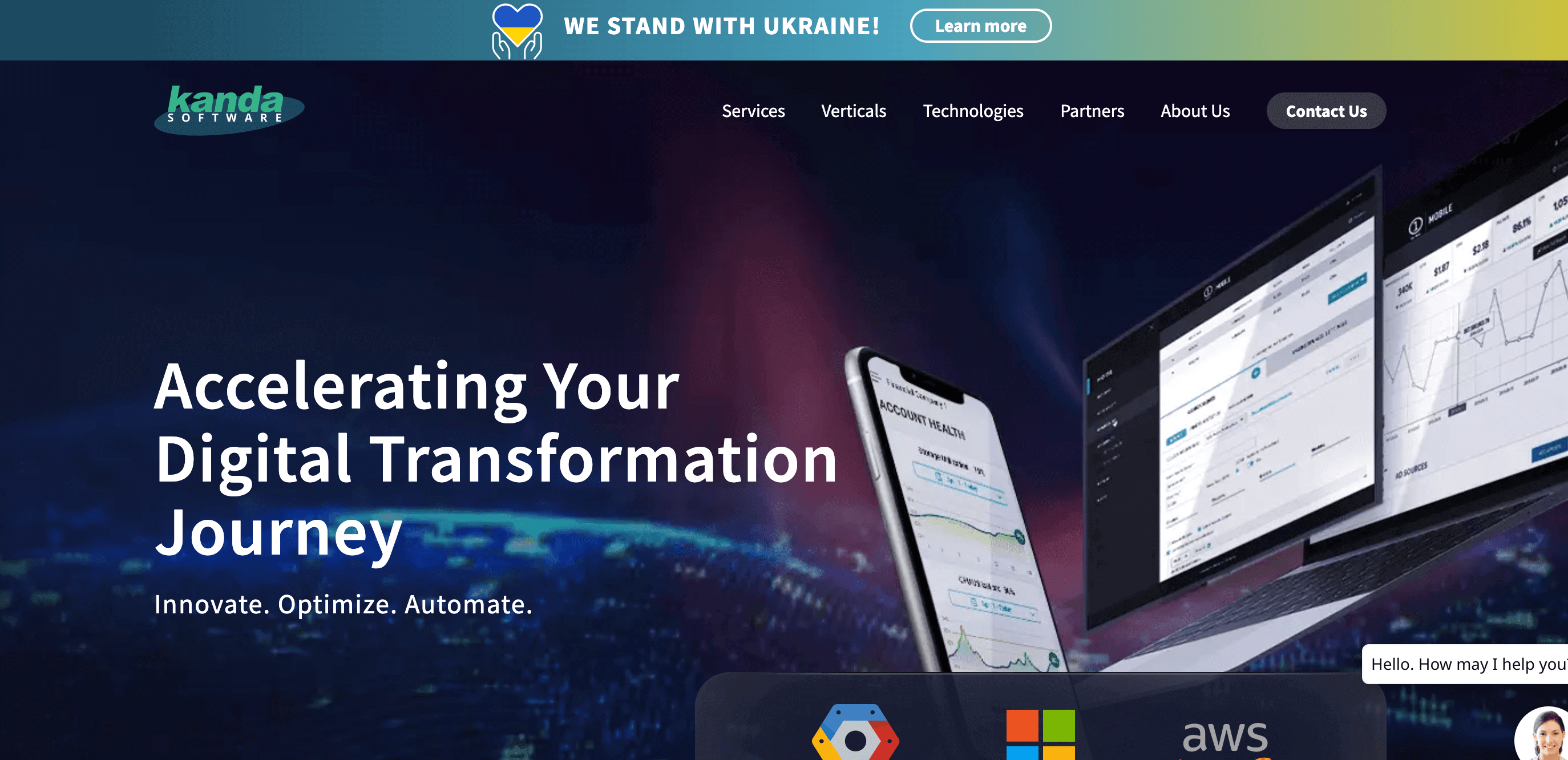 Kanda Software is a famous offshore programming company from the state of Massachusetts, USA, specializing in developing SaaS, Mobile, and IT products.
The firm was founded in 1993, and since then, it has grown to an organization of 650+ talented staff, among which 80% hold a Master's or Ph.D. in Computer Science, Data Science, and other fields. Therefore, hiring Kanda Software means you work with the most qualified offshore developers with an extensive scientific background.
Services: c

ustom software development, software product development, cloud services, mobile app development, QA & testing, web development, UI/UX design, DevOps, AI & ML services, big data, application maintenance & support

Technologies:

Java, .NET, Ruby on Rails, C++, C#, Python, PHP, HTML, CSS, JavaScript, Ember.js, Vue.js, Angular.js, React.js, jQuery, AWS, Azure 

Industries:

SaaS, Healthcare, AdTech, Finance & Banking, E-learning, Real Estate, Travel & Hospitality 

Team size:

650+ experts

Portfolio;

Verizon Media, Cancer Treatment Centers of America, Partners Health, OneSky Group, Imprivata, Janssen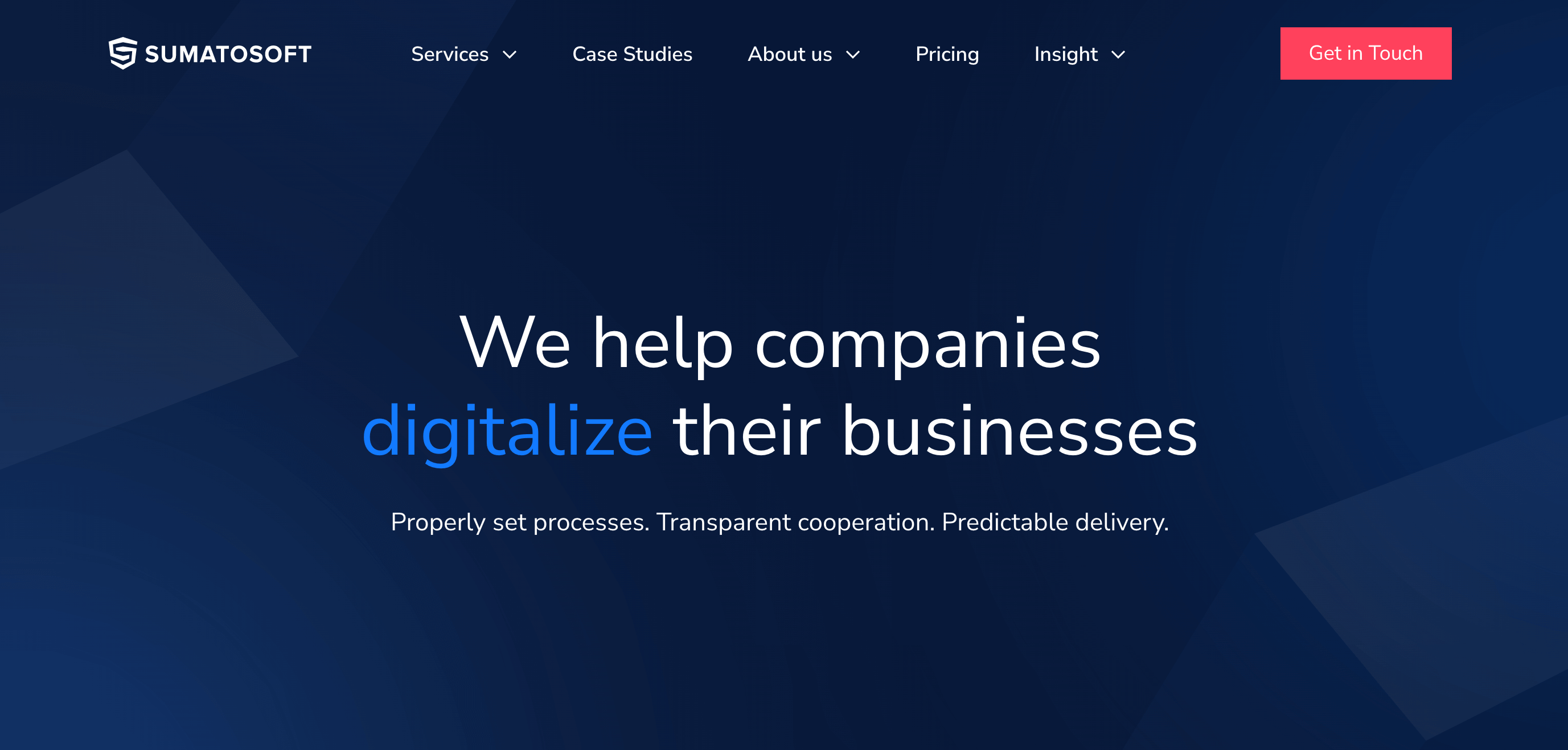 SumatoSoft is a famous offshore custom software development firm from Boston, MA, providing top-notch custom development services to businesses across the globe.
The company has successfully delivered more than 150+ projects to customers from 25+ nations, in and beyond the USA, ever since 2012. A 98% satisfaction rate and over 3+ years of client engagement prove their unparalleled development services.
Services:

website & web app development, mobile development, IoT development, business analysis, AI & ML services, UI/UX design, QA & testing, MVP development, SaaS and blockchain development 

Technologies:

HTML, CSS, JavaScript, Typescript, AngularJS, ReactJS, VueJS, Ruby on Rails, .NET, Java, Flutter, React Native

Industries:

EdTech, AdTech, eCommerce, Logistics, Real Estate, Enterprises 

Team size:

50+ experts

Portfolio:

Toyota, Dexai Robotics, Tartle, Daiokan, Boxforward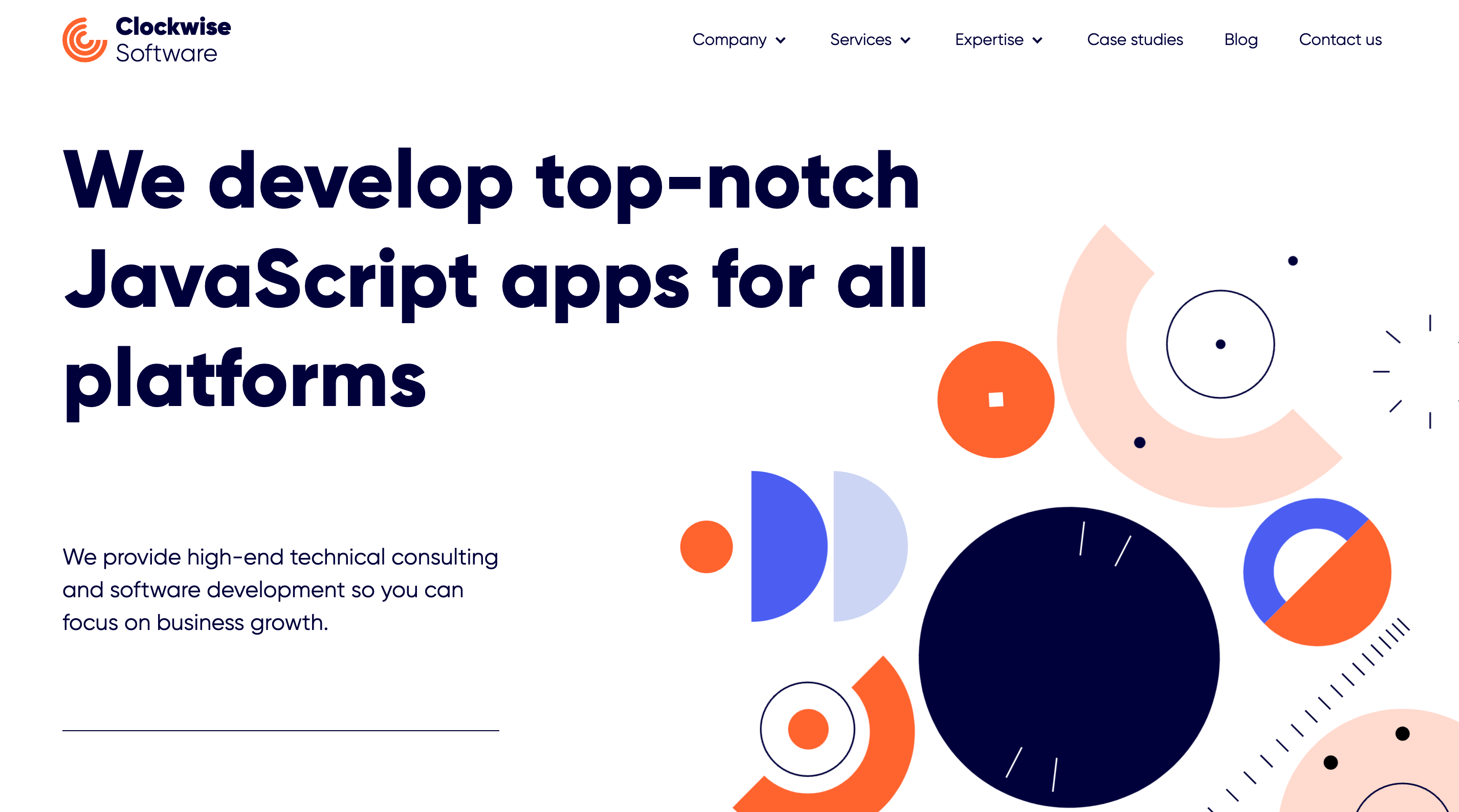 Clockwise Software is a renowned provider of software product development services, specializing in tailored solutions for global businesses. Founded in 2013 by a team of engineers in Ukraine, Clockwise has since grown into a respected organization with over 80 dedicated specialists.
With 10 years of industry presence, Clockwise Software has successfully executed 190+ projects across diverse sectors. The company excels through its commitment to partnership, swift and cost-effective delivery, adherence to industry trends, effective remote communication, and selection of highly skilled specialists.
Services: software product development, discovery phase consultation, MVP development, app deployment, IT consulting
Technologies: JavaScript, React, Angular, VueJS, NodeJS, ExpressJS, Ionic, React Native, D3JS, Redux, AWS, Docker, Laravel
Industries: Marketing and Advertising, Real Estate, Logistics, Healthcare, Travel and Hospitality, Startups, SMBs
Solutions: online marketplaces, SaaS applications, data visualization dashboards, content sharing platforms, location-based apps, on-demand services platforms, inventory/order management systems, online streaming platforms, online booking apps, AI-powered platforms
Team size: 85+ experts
Portfolio: Eventbrite, Jonson&Jonson, Rainforest Connection, Attention Experts, Knocking, EmailMeFrom, Netcom Solutions
Conclusion
Offshoring development has become the new normal as it does not just help businesses save time but to get the best talent available on a lower budget. Therefore, choosing a reliable and proven offshore development partner who understands your business specifics and the needs of end customers is essential. 
Hopefully, our list comprising some of the best offshore development companies will help you make the right decision. 
If you want to feature your offshore software development firm in this list, email us with all the necessary details. After a thorough assessment, we'll define whether it's an appropriate addition.