Today, you can hardly imagine a successful organization neglecting the power of data.
Business intelligence (BI) is a game-changer for modern businesses as it helps to get valuable real-time data insights essential for making better decisions, strategic planning, and optimizing operations.
BI encompasses a broad spectrum of activities: data collection, identification of trends and patterns, correlation analysis, dashboard and reports creation, predictive forecasting based on historical data, KPI monitoring, etc. – everything needed to understand a company's performance, customer behavior, and other essential factors that influence decision-making.
To collect data at scale and analyze it in the most effective way, partnering with a top BI company is crucial. To help you find the best-fit partner for your organization, we've compiled a list of top business intelligence service providers, focusing on their expertise, the industries they serve, as well as awards and achievements. 
The Best Business Intelligence Companies For Data-Driven Decision-Making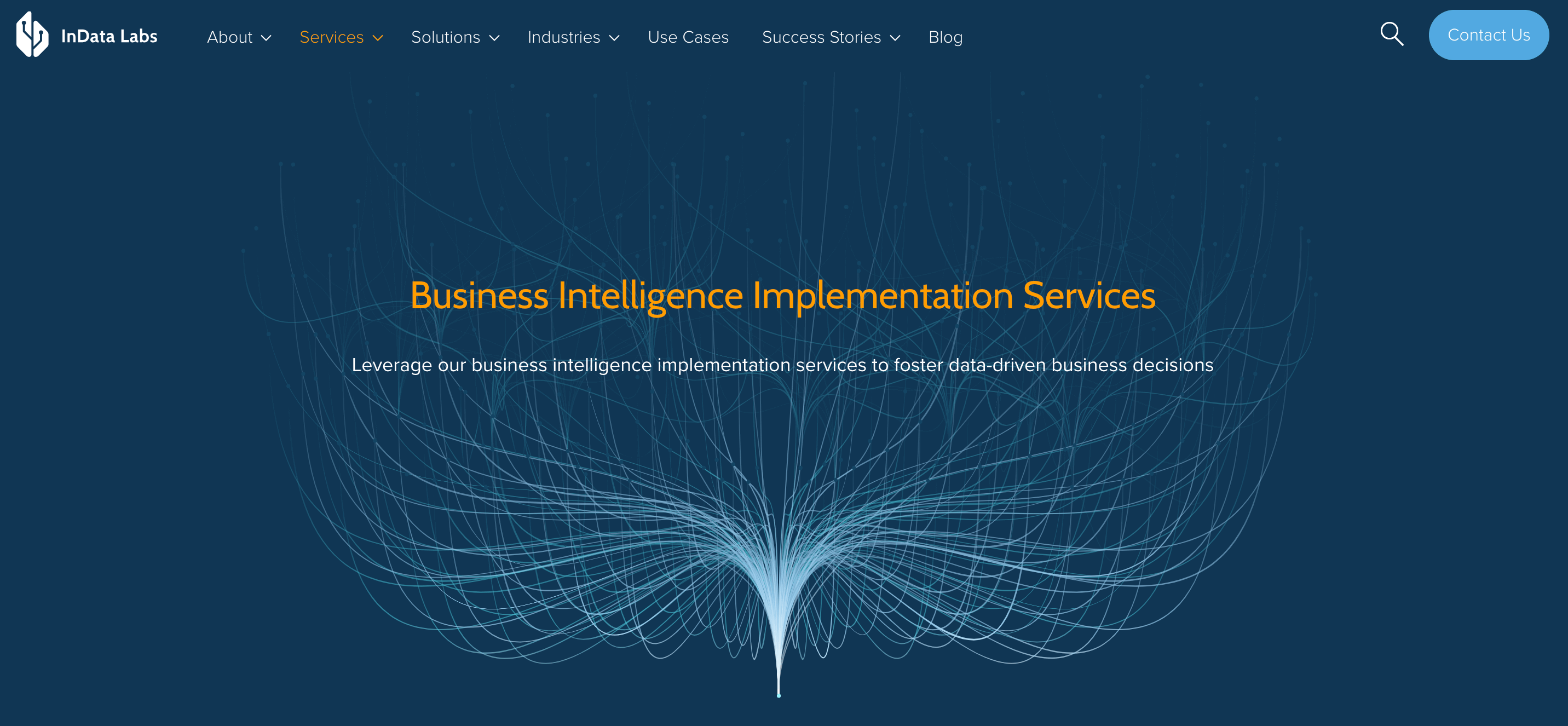 InData Labs is the leading BI company focusing on data science and AI-powered solutions. Being a mature BI implementation partner, InData Labs provides the whole suite of services aimed at improving operational efficiency, including business intelligence consulting, full-cycle BI solution development, and Microsoft Power BI services. 
InData Labs helps to analyze data within a wide range of domains. Its strategy for implementing business intelligence covers key use cases such as BI warehousing for intelligent marketing and sales, smart financial planning, intelligent manufacturing solutions, and big data development for logistics and transportation clients.
Since 2014, InData Labs has finished over 150 complex projects and was featured as Clutch's Top BI and Big Data Consulting Company, with a stable reputation as the best BI partner worldwide.
Services & expertise:

BI and data visualization, big data development and analytics,

custom software development, mobile and web app development, cloud services, generative AI and GPT solutions

Team size:

80+

experts
Industries: Healthcare and Pharma, Sports, eCommerce, MarTech, Automotive, Logistics, Games, Entertainment, Fintech, Retail
Location:

Miami, USA; Nicosia, Cyprus; Vilnius, Lithuania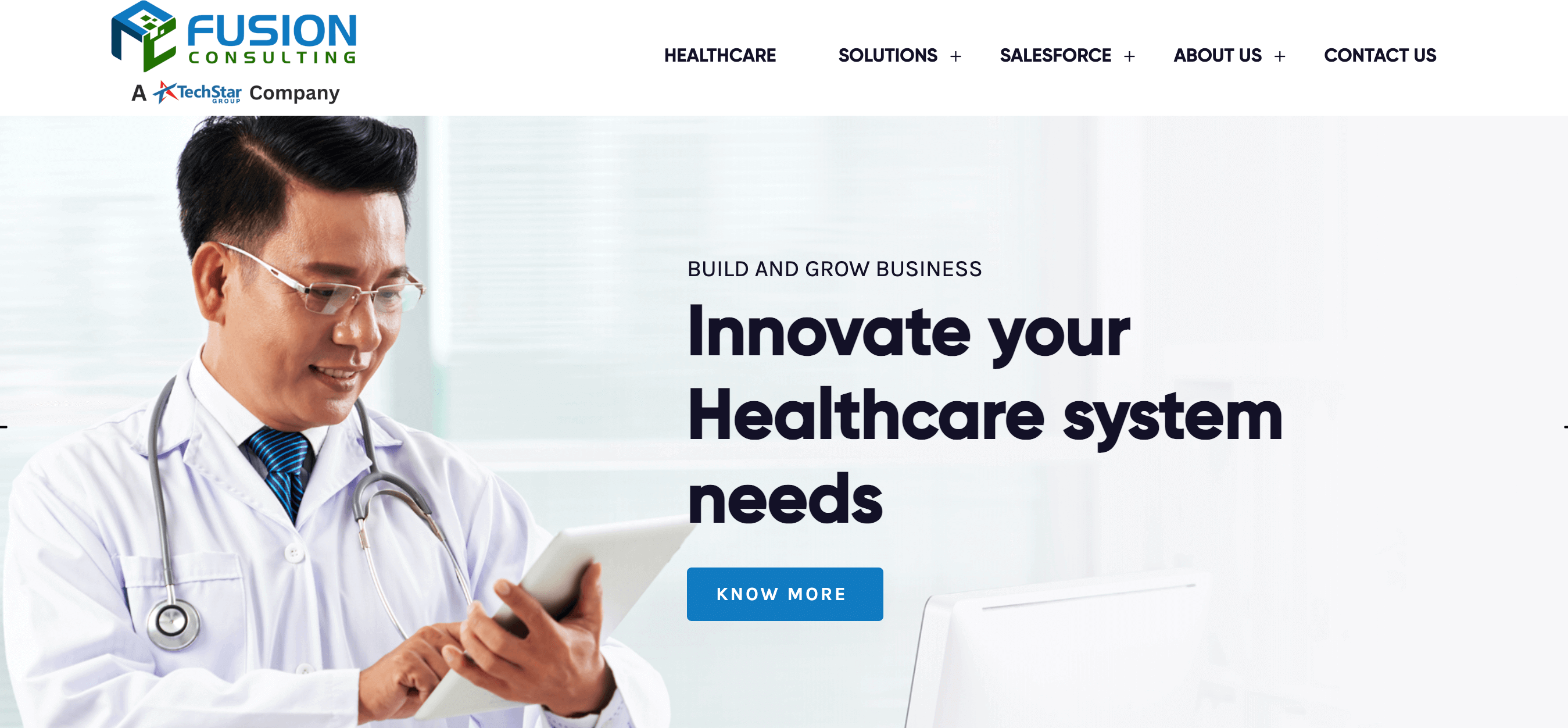 Established in 2006, Fusion Consulting is a renowned leader in big data services. Their expertise in data warehousing and business intelligence has garnered national recognition and numerous excellence awards.
Fusion boasts a top-tier team of big data consultants proficient in SAP BusinessObjects and other crucial data processing tools. Their academic-level services empower clients to visualize and analyze data, leading to enhanced decision-making and positive results.
As an SAP Gold-level Partner, Fusion excels in delivering transformative solutions that help clients achieve their business objectives. Their efficient processes and expertise ensure faster market entry without disrupting existing technology setups.
With a track record of defining and implementing 1800+ healthcare metrics, analyzing 110k+ data points in a single project, and saving over $12 million for a single client, Fusion stands as a trusted and highly effective global big data consulting firm, headquartered in Dallas.
Services & expertise:

BI and big data consulting services, Salesforce and Tableau solutions, enabled analytics, data management and integration 

Team size: up to 50 experts
Industries: Healthcare and Pharma
Location:

Texas, USA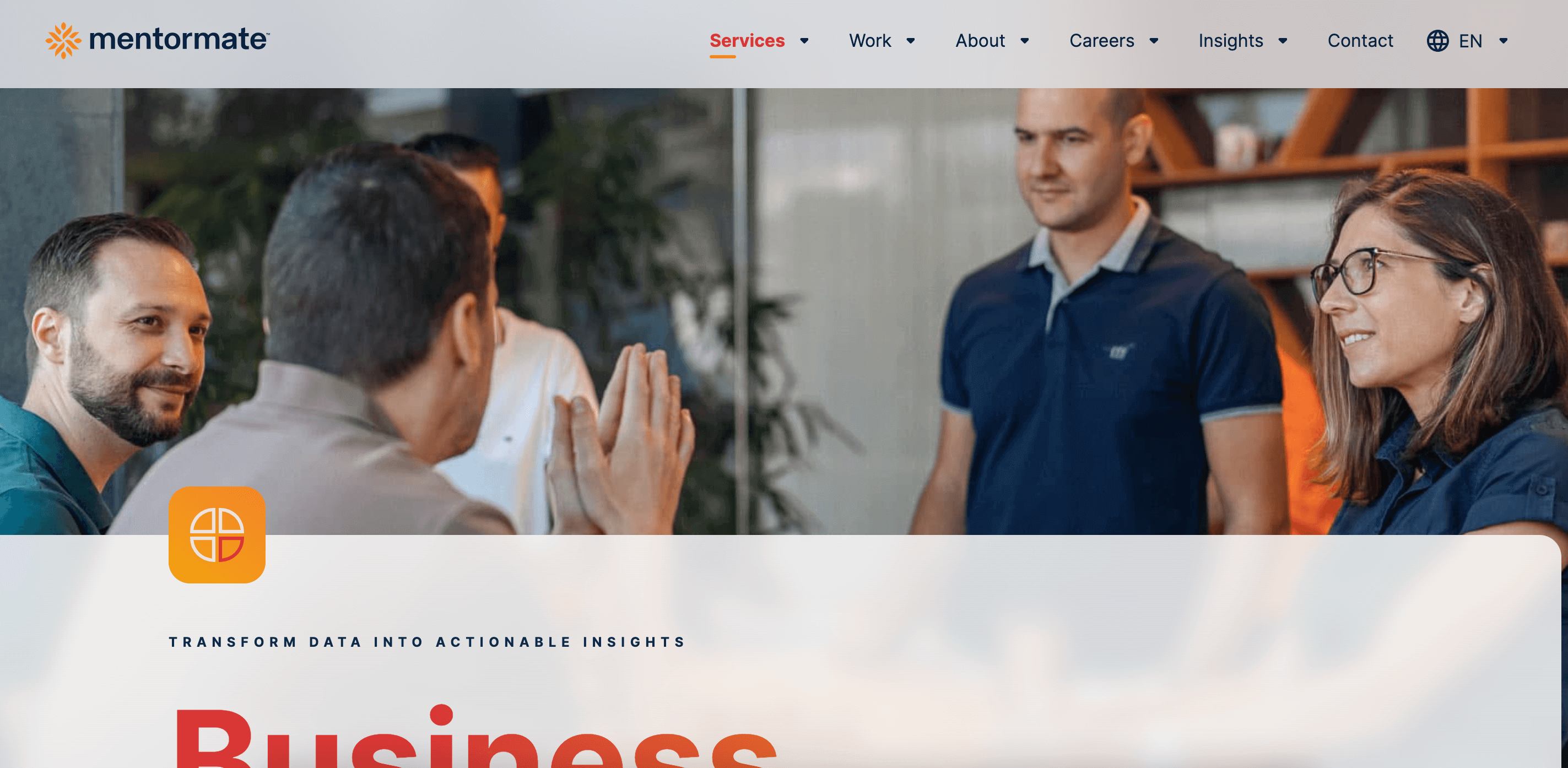 One of the best BI companies in the USA, Mentor Mate, helps business owners get more control over their internal operations, identify issues quickly, and improve productivity while saving valuable time. It's one of the biggest business intelligence vendors founded in 2001.
Mentor Mate's team of 1000+ data experts works across 25 countries all over the world, serving organizations of all sizes, leveraging their deep expertise in data analytics and business intelligence. Whether you need professional KPI reports, dashboards, custom BI solutions, or operational reports – Mentor Mate has got you covered!
Services & expertise:

business intelligence and analysis,

mobile and web app development, digital experience platform, cloud and DevOps, UI/UX design, technical support

Team size:

1000+ experts

Industries: Healthcare, Manufacturing, Education, Finance, Agriculture
Location:

Minneapolis, USA; Sofia, Bulgaria; Goteborg, Sweden; Paraguay, Paraguay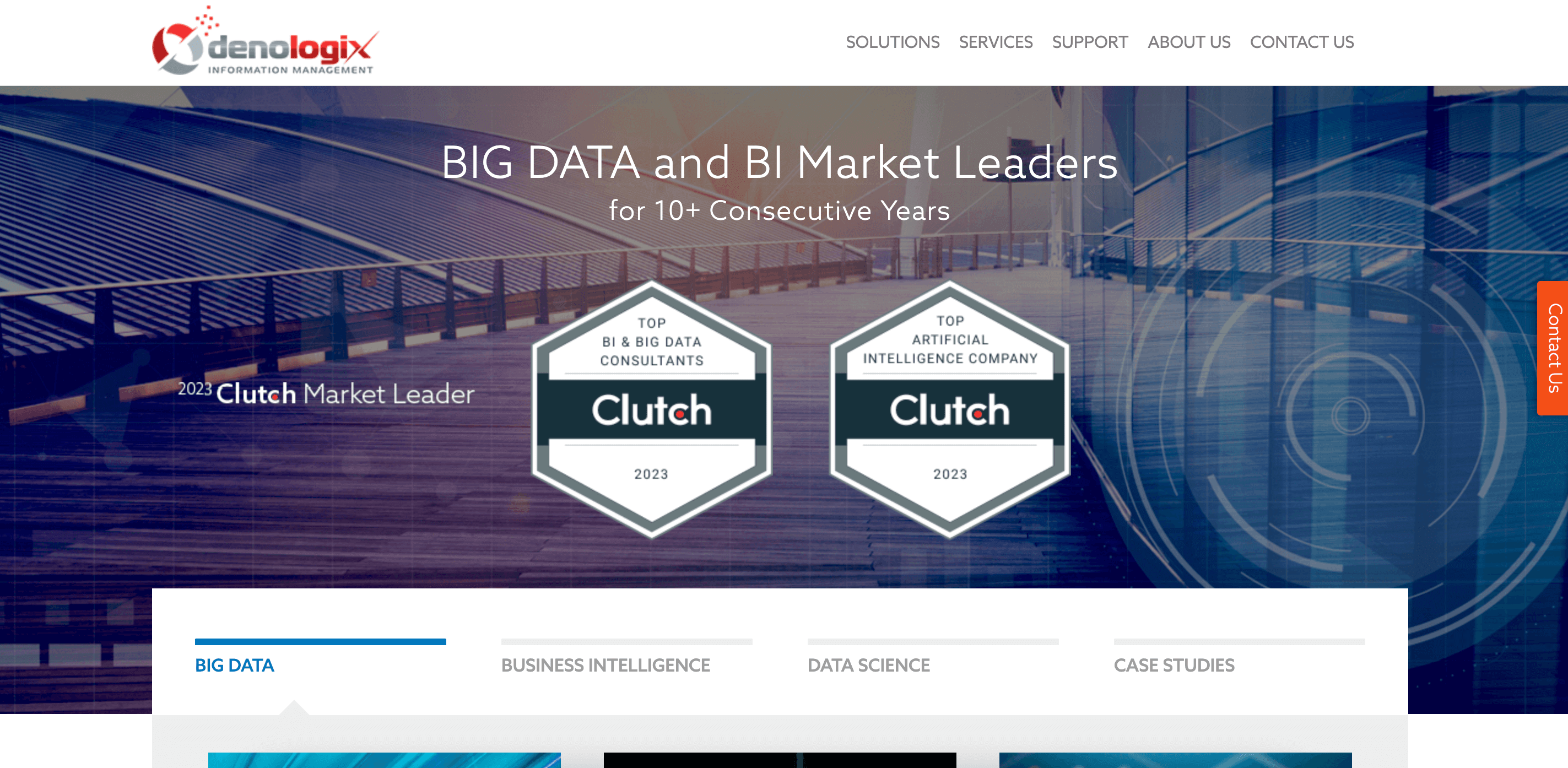 When collaborating with Denologix – success is guaranteed! Denologix is one of the best business intelligence companies, featured as Clutch's Top BI and Big Data Consultants and Top AI Company in 2023. The firm takes the leading position in the big data and BI sector for the last 10 years, leveraging AI capabilities along the way. 
The team of Denologix can assist you with the design and development of ETL processes, analytical reports, dashboards, assessment and planning of BI initiatives, KPI metrics development, and modernization of existing BI solutions. They hold unparalleled expertise in transforming complex data into valuable business insights to help clients make winning decisions faster.
Services & expertise:

business intelligence,

big data, data science, healthcare informatics, SAS services, system integration, security services

Team size:

50+ experts

Industries: Healthcare, Human Resources, Business Services, Finance, Information Technology, Government
Location:

Toronto, Vancouver, Canada; New York, Chicago, USA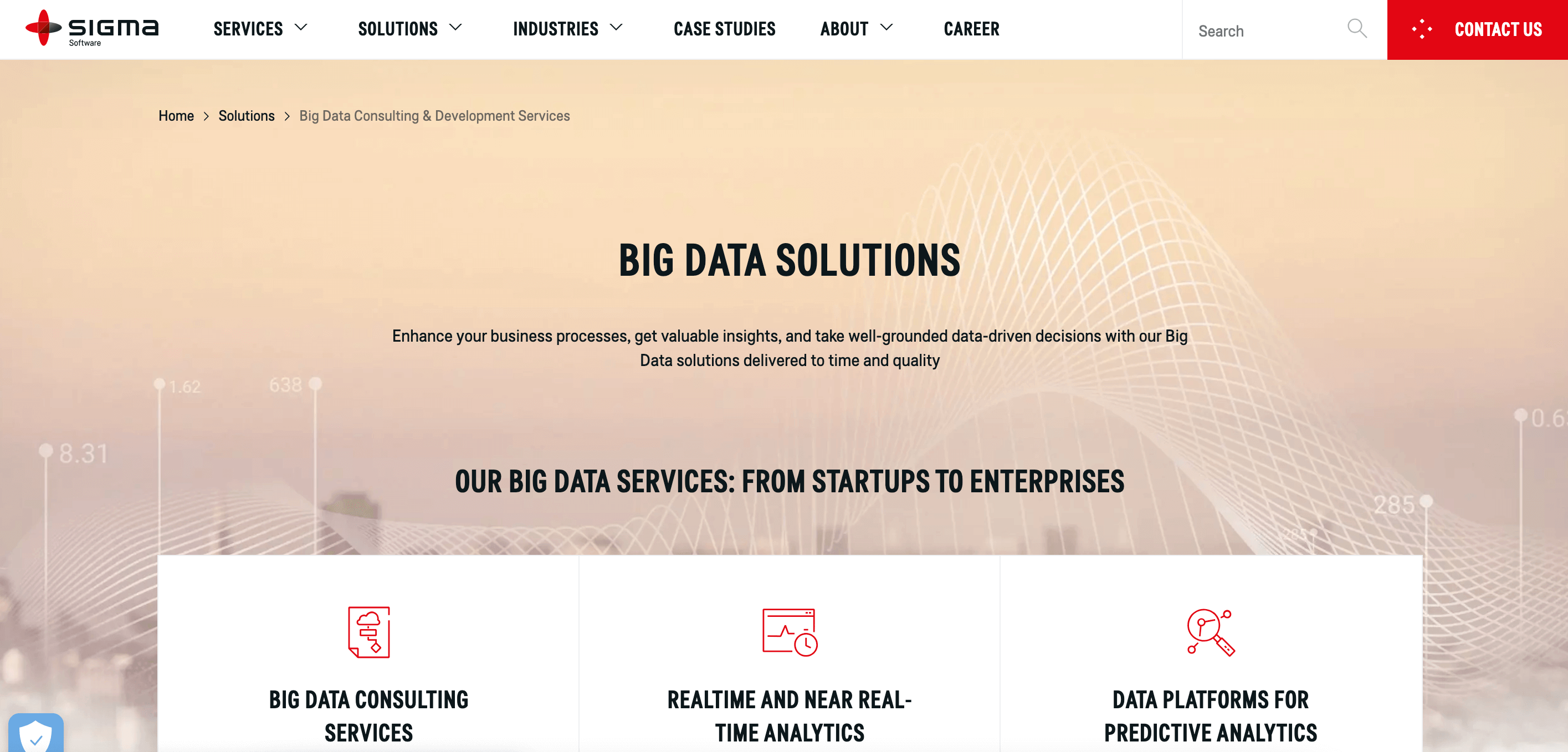 Sigma is a Ukraine-based software development company boasting of 21 years of global delivery experience for startups and enterprises. Additionally, it was recognized as a top big data compliance, fraud, and risk management company in 2023. 
Specializing in data engineering and consulting services, Sigma offers big data consulting, real-time and near real-time analytics, predictive analytics, business intelligence and data visualization, data warehouse, and data lake architecture. 
By making the most out of big data capabilities, this prominent business intelligence agency guarantees the ultimate system quality, cost-effective BI solutions, and top-tier security.
Services & expertise:

BI and big data,

web and mobile development, IoT solutions, UI/UX design, QA and testing, support and maintenance, AI and ML, AR and VR, cybersecurity, migration to cloud

Team size:

2000+ experts

Industries:Automotive, Aviation, Real Estate, Construction, Gaming, Telecom, Blockchain, Media, Advertising, Finance, Information Technology, Healthcare, Energy
Location:

Lviv, Kyiv, Kharkiv, Odessa, Dnipro, Vinnitsa, Sumy, Ukraine; New York, Saratoga, Bellevue, West Hollywood, USA; Warsaw, Poland; Montreal, Canada; Medellín, Colombia; Vicente López, Argentina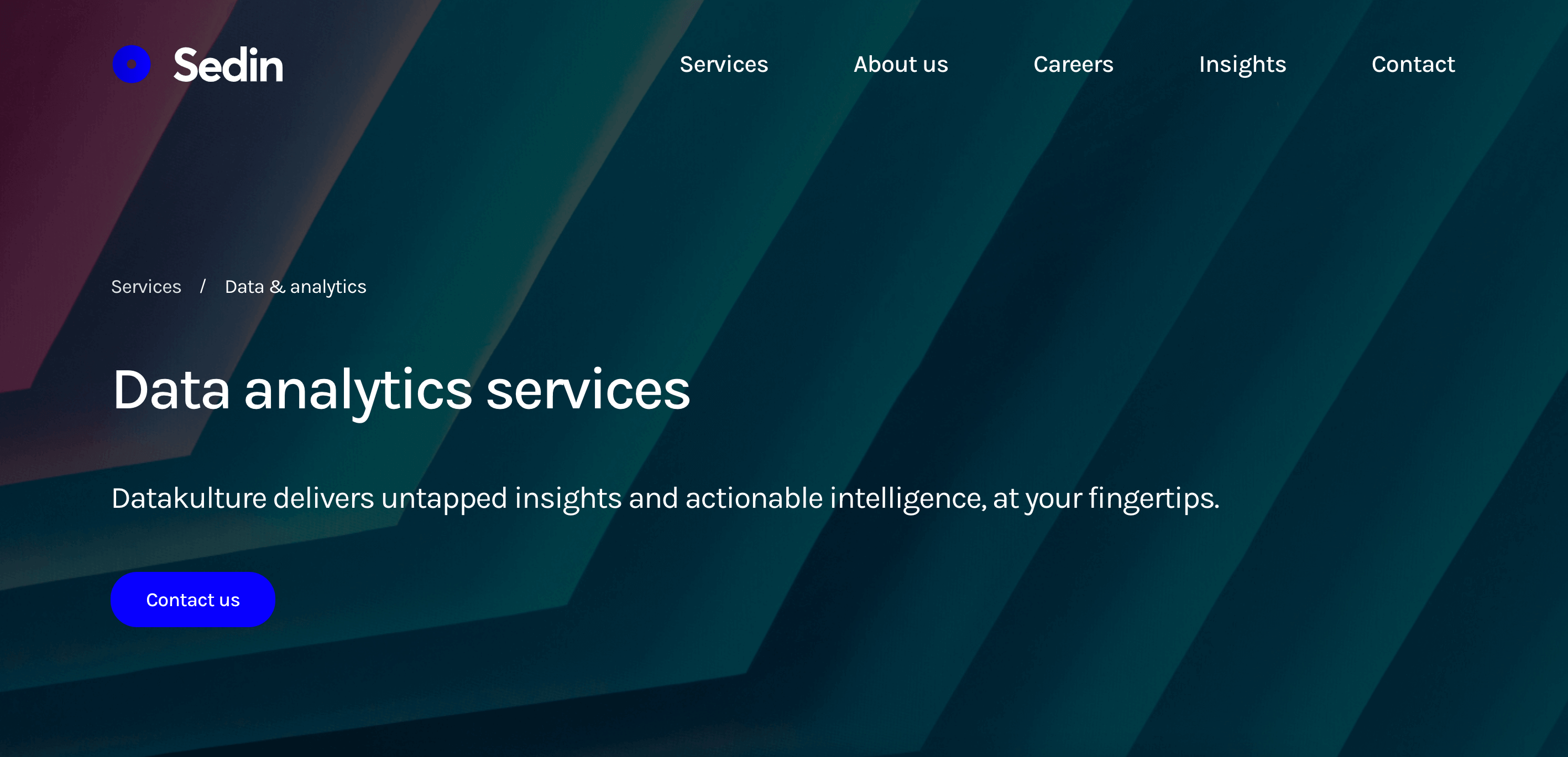 Sedin delivers top-notch BI solutions trusted by 1000+ global businesses, ranging from startups to enterprises. Through their comprehensive data analytics offerings, clients experience a remarkable digital transformation, witnessing a reduction of over 50% in time and costs and achieving more than 75% in product improvements and a significant 35% growth in innovations.
Sedin's team provides the following services related to BI and big data: augmented analytics, data preparation, data engineering, and data visualization. Be prepared to improve your productivity, security, and decision-making with the best business intelligence company!
Services & expertise: BI and data analytics,

technology consulting, engineering, robotic process automation, enterprise content management, enterprise asset management, digital commerce, Salesforce

Team size:

500+ experts

Industries:Finance, Manufacturing, Retail, Software, Information Technology, Automotive, Pharmaceutical
Location:

Sunnyvale, USA; Chennai, Bengaluru, India; Melbourne, Australia; Fredericton, Canada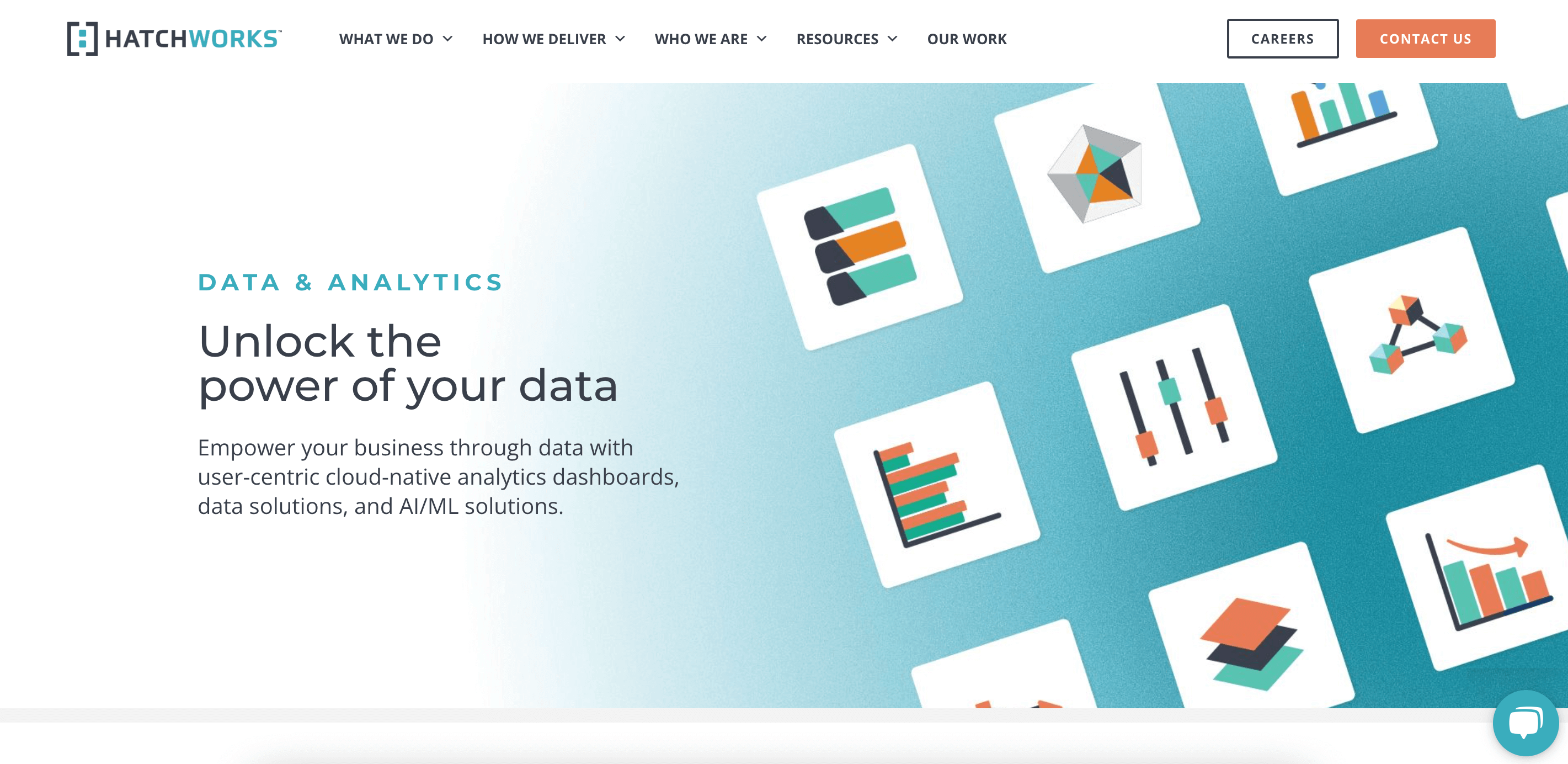 An award-winning business intelligence service provider, HatchWork is featured as a Top BI and Big Data Company by Clutch and multiple other reputable reviewers. The firm boasts a team of top-tier experts ready to empower your business using data, cloud-native dashboards, and AI/ML systems. They work with Tableau, Power BI, Snowflake, Google Data Studio, and Amazon Quick Sight platforms to build custom dashboards for various client purposes. 
At HatchWork, your journey begins with strategy generation, followed by design, development, and application management. Every step of this process is aimed at delivering tailor-made solutions that perfectly align with the unique needs of your organization.
Services & expertise: BI and

data analytics,

market analysis and validation, competitive analysis, software development, UI/UX design, technology consulting, IT outsourcing services

Team size:

50+ experts

Industries: H

ealthcare, Financial services 

Location:

Atlanta, Chicago, USA; San Jose, Costa Rica; Medellin, Bogota, Barranquilla,  Colombia; San Isidro, Peru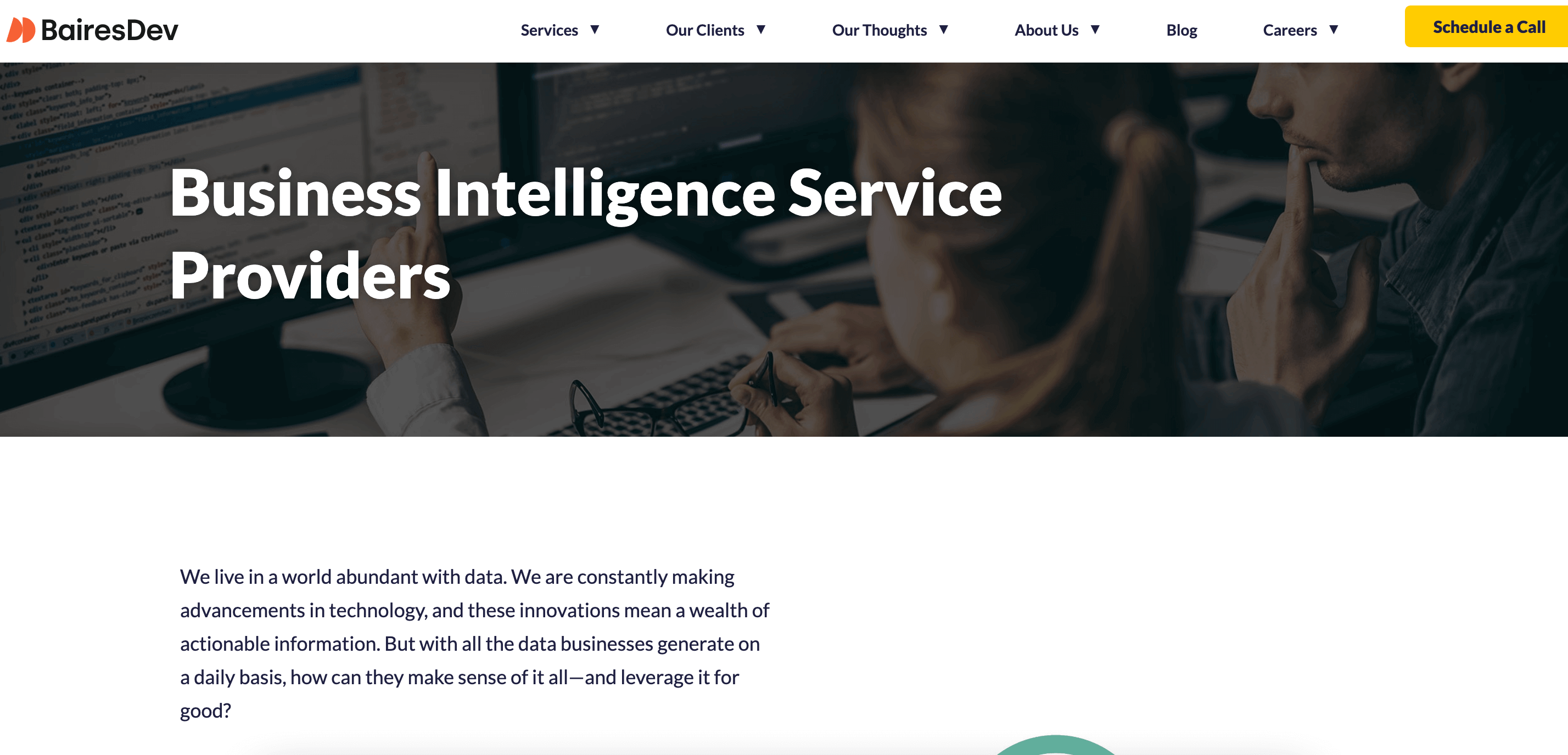 BairesDev is one of the top business intelligence providers globally. Its team possesses excellent knowledge and experience with various modern BI tools and platforms, as well as technical skills in data warehouse design, SQL, and data analysis. They work with Tableau, Power BI, QlikView, Google Data Studio, and Amazon QuickSight, providing ongoing business intelligence consulting services. 
The company covers every aspect of business intelligence services, from data warehousing and ETL to multi-device BI solutions, which makes it one of the best business intelligence firms in the global market.
Services & expertise:

data science, data engineering, business intelligence,

web and mobile development, UI/UX design, machine learning, QA testing and automation

Team size:

1000+ experts

Industries:Software, Education, Information Technology, Education, Sports, Healthcare, Advertising and Marketing, Entertainment, Music, Finance, Agriculture, Transportation
Location:

San Francisco, USA; Buenos Aires, Argentina; São Paulo, Brasil; Bogotá, Colombia; Barcelona, Spain; Ciudad de México, México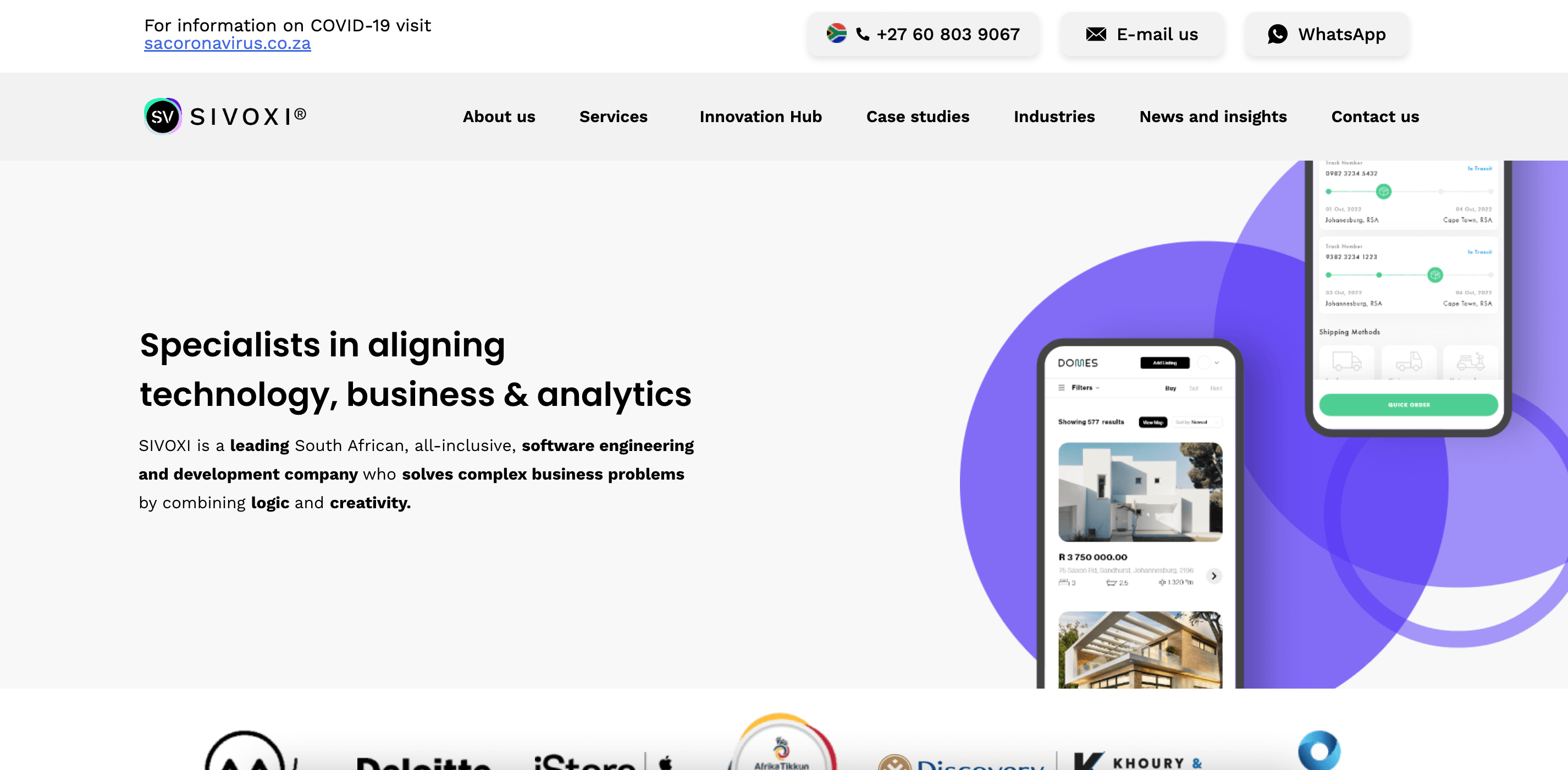 As a leading all-in-one software development company, SIVOXI specializes in business intelligence and big data services. Utilizing BI and AI together, SIVOXI helps you achieve crucial business goals like customer acquisition and retention, strategic decision-making, smart and fast reporting, and uncovering new opportunities with the help of predictive analytics. 
Headquartered in Sandton, South Africa, SIVOXI has a globally distributed team of world-class experts who can provide you with all the necessary tools and insights to make more informed decisions. From data warehousing to reporting, analytics, and visualizations, they have a full suite of skills and experience to help you turn data into actionable insights that drive business growth, proving SIVOXI is one of the top BI companies. 
Services & expertise:

BI and big data,

web and mobile app development, artificial intelligence, API integration and development, IoT development

Team size:

15+ experts

Industries: Education, Automotive, Technology, Agriculture, Industrial, Energy, Mining, Retail, Consumer Services, Sports, Entertainment, Media
Location:

Johannesburg, South Africa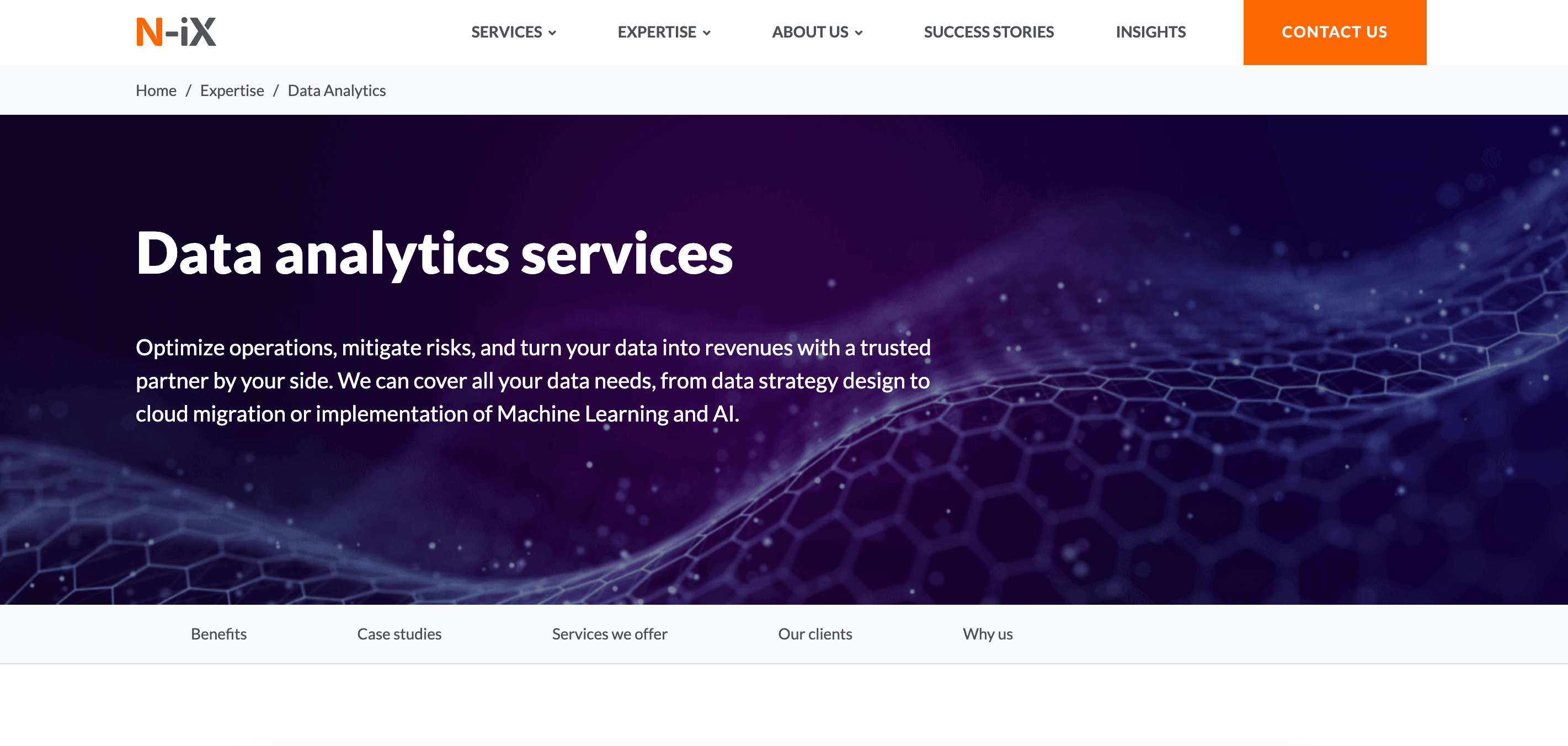 N-iX is one of the top business intelligence companies that can cover all your data needs, from strategy to implementation of AI/ML-powered data systems. N-iX was founded in 2002 in the USA and is now recognized as a trusted partner and best-in-class BI service provider worldwide, with a team of 2000+ engineers.
In addition, N-iX has the capability to either build or expand your data team with its premier experts, providing advanced analytics and staff augmentation services. They're a perfect partner for developing smart solutions reinforced by data science, artificial intelligence, and machine learning.
Services & expertise: BI and data analytics, software development, digital transformation, VR and game development, cloud, AI and ML, QA and testing, cybersecurity, UI/UX design
Team size:

2000+ experts

Industries: Agriculture, Finance, Information Technology, Media, Healthcare, Education, Consumer Products, Telecommunications, Automotive, Entertainment, Nonprofit, Manufacturing, Supply Chain, Energy and Utilities
Location:

Florida, USA; Krakow, Poland; Lviv, Kyiv, Ukraine; Sofia, Bulgaria; Malmo, Sweden
Conclusion
The synergy of business intelligence services and advanced analytics tools empowers organizations by transforming data into a carefully planned roadmap leading directly to success. 
The demand for business analytics companies is on the rise, covering diversified sectors. Additionally, its popularity extends beyond just large enterprises, as startups are also embracing the utilization of BI services.
Hopefully, this list helps you discover a reliable BI firm for a lasting partnership, enabling you to unlock the full potential of your data.
If you want to add your business intelligence company to this list, email us with your request. After a thorough review, we'll decide whether it's a valuable addition.